I am sharing with you my white kitchen inspiration & initial design thoughts on my kitchen transformation.
Now that we're a bit further into the design process for our kitchen, I thought I would share some progress and initial design thoughts. Along with that, I thought I'd share some of the white kitchen inspiration photos that are helping us narrow down our final look.
I've been working with a local designer, Erica Bryant Design, who is then coordinating with local tradesmen on the various design projects that need to be completed. We had pretty specific design plans in mind, but given this is our first kitchen renovation, I knew I wanted to work with an expert to bounce my ideas off of and to ensure we weren't making any serious mistakes.
If you're new around here, you can read my last kitchen post that digs a bit more into our specific needs and why we are making updates. At this point, I've met with the designer, cabinet maker, trim guy (who would also install the windows), and then today I'll be meeting with a painter. Here is how our kitchen looks: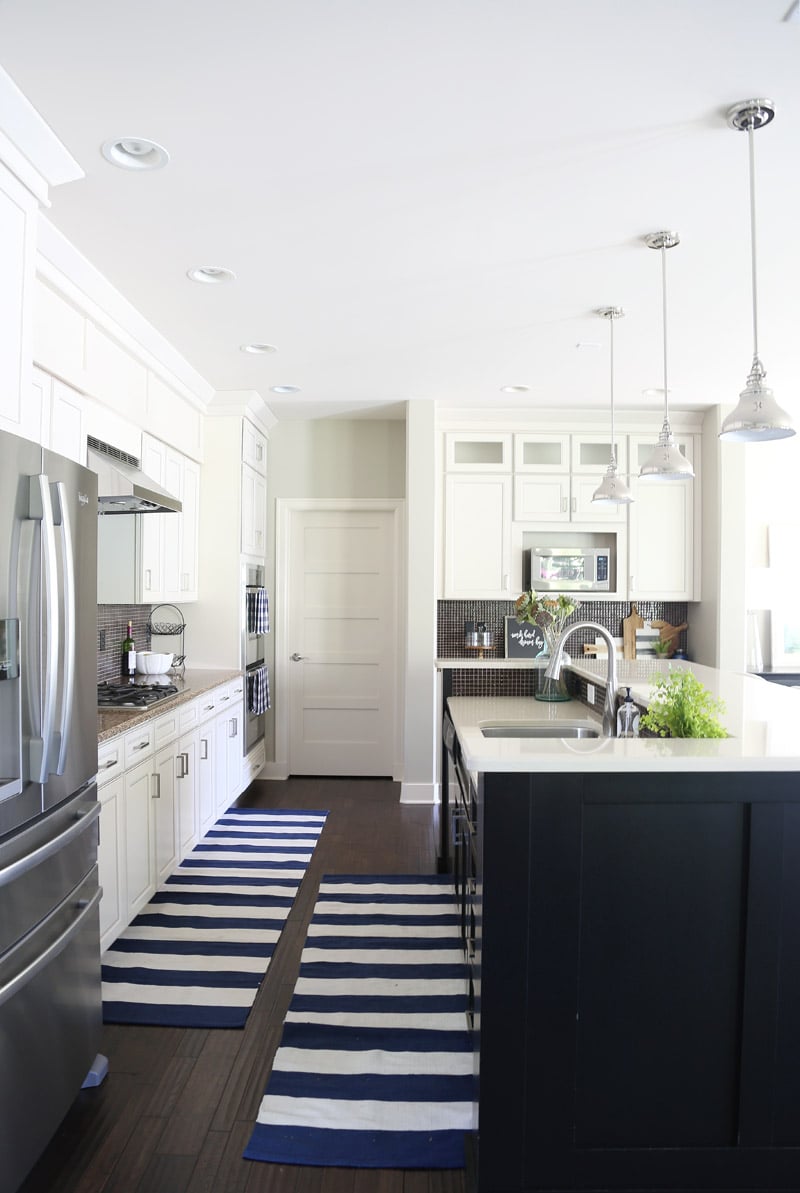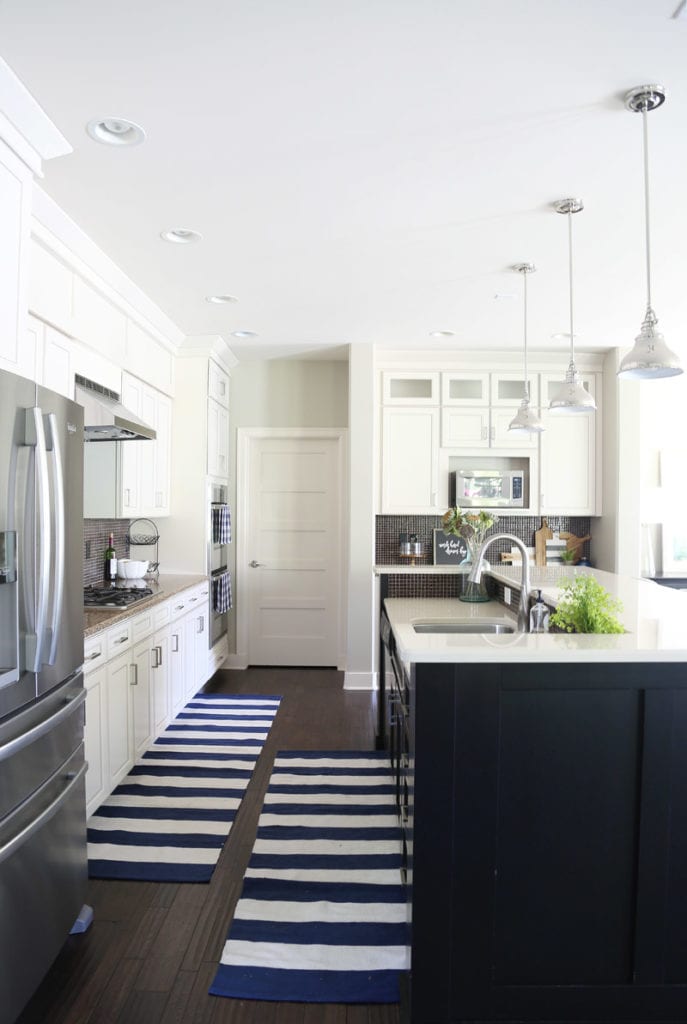 This is my last mock-up of a potential design: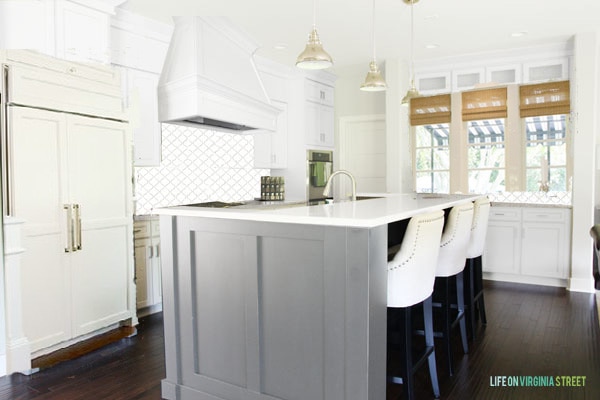 We still have a lot of decisions to make, but I feel like we're making great progress!
White Kitchen Inspiration
Following are some of my favorite polished white kitchen inspiration photos that are helping steer our final design decisions.
We're talking about doing x-front uppers like the kitchen below from Studio McGee, while the remainder are all simple shaker style cabinets like these. I also love the mix of grain bin pulls and functional knobs on the cabinets.
A wider-angle view of the kitchen above. These are likely the barstools we'll be using as well (more details below in the design section).
I'm loving the shape of the range hood in Randi Garrett's new kitchen. The design of her lower cabinets is also very similar to what we're looking for:
I love the simplicity of the painted white backsplash in this kitchen from Blackband Design:
The timeless look of this island from Ambert Interiors is very similar to what ours will look like when it's lowered to one level. I'm also really liking the color of this particular one:
I would love to replace our countertop stove with a legit range like this one below from Pure Salt Interiors, but I'm not sure it's in the budget. I love the serene simplicity of the backsplash below, as well. It adds a touch of glam without being over the top!
I'm envisioning our window wall a bit like the one below from Monika Hibbs, minus the sink. We would just have lower cabinets and a countertop workspace.
This post contains affiliate links for your shopping convenience. Click here to read my full disclosure policy.
Initial Kitchen Design Thoughts
Following are some of our initial kitchen design thoughts. They could still be scrapped once bids come in but I thought it would be fun to share what we're initially thinking versus reality once the budget strikes 🙂
I'm so happy I reached out to a designer. There are so many things I hadn't thought thru and it's great to have a designer that also has a lot of local contacts and one that acts as a contractor/coordinator of sorts. If you're looking for one in your local area, I think it's easiest to start by word of mouth or to look on Houzz for top-rated designers in your area that have the look you're going for.
The kitchen cabinets will all be white. The island will either be white, a light gray-ish blue, or a warm greige color. I initially was leaning towards navy blue, but I feel like that would be a bit too much contrast in the space.
We will be lowering our island to one level, and then widening it by about two feet to accommodate a fourth barstool. Since we primarily eat dinner at our island, the extra seat will be so nice when we have other couples or our parents over!
Our existing thermofoil cabinet doors will all be removed. Several are bubbling and peeling and we have heard mixed thoughts on whether or not they can be painted. For the cost, it's nearly just as cost effective to have new doors made as it to have ours painted (which may not actually even work)
We will be going with a basic shaker style cabinet front. As mentioned above, the upper cabinets may have the x-front detail.
We will be removing our small metal range hood to go with a custom white wood range hood. Because it will require more space, we will also be removing some of the upper cabinets.
As long as the bid comes back reasonably, we will be removing the wall of upper cabinets where the microwave currently sits and replacing it with a large window. We may also be adding a window to the pantry to allow for some natural light.
The microwave will be moved regardless. You guys gave us a lot of great ideas in our last kitchen post, so we're still finalizing exactly where the microwave will go. But for sure, it will not return to the random shelf in the middle of the cabinets.
We will be adding upper and lower cabinets in our pantry to accommodate a prep space of sorts. This basically means Kurtis will be leaving all of his breakfast prep requirements (waffle maker, protein powders, oatmeal, etc.) in the pantry on that countertop.
We'll likely go from three island pendant lights down to two so they have a bit more bulk and don't block the view of the TV when you're standing at the sink. I have mixed thoughts on the lighting style though. I've contemplated the Darlana Pendants to coordinate with our dining room light, but I've also thought of trying something totally different. Following are a few options I'm considering. You can click on any of the images to learn more about each item:

I'm also fairly certain we will be using these bistro counter stools, since our current barstools will be too tall when we lower the island to one level.
We want our countertops to look like a warm marble like Calacatta Gold. At this point we're leaning towards a quartz that will give the same look.
We still need to really talk about backsplashes. I'm leaning towards a really simple white beveled subway, but because we need so little with the new design, it may be a fun way to add in a pattern or unique tile.
I'll plan to check back in on the project once we have all the bids back and a more realistic expectation as to what can and can't be done!
If you would like to follow along on more of my home decor, DIY, lifestyle, travel and other posts, I'd love to have you follow me on any of the following:
Pinterest / Instagram / Facebook / Twitter / Google+
disclosure: some affiliate links used