I hope you all had a great weekend! I was in Austin from Wednesday thru Saturday, so I have a busy week ahead of me prepping for Easter guests and for a mini-vacay we have coming up soon. Can you even believe it will be April already by this time next week?!
Home Updates & Projects
Before I left town last week, I had meetings with our roofing company, landscaper, and kitchen designer/cabinet maker/trim guy – plus a dentist appointment. It was all a bit crazy! I'll fill you in on most of those meetings later this week so I can go a bit deeper into the details.
Because of the meetings, I didn't get any more painting done in the entryway. But, I'm hoping to wrap that up in the next day or two so I can share the updated look with you. Even after only a few days, and incomplete paint, I'm loving how much brighter the space feels!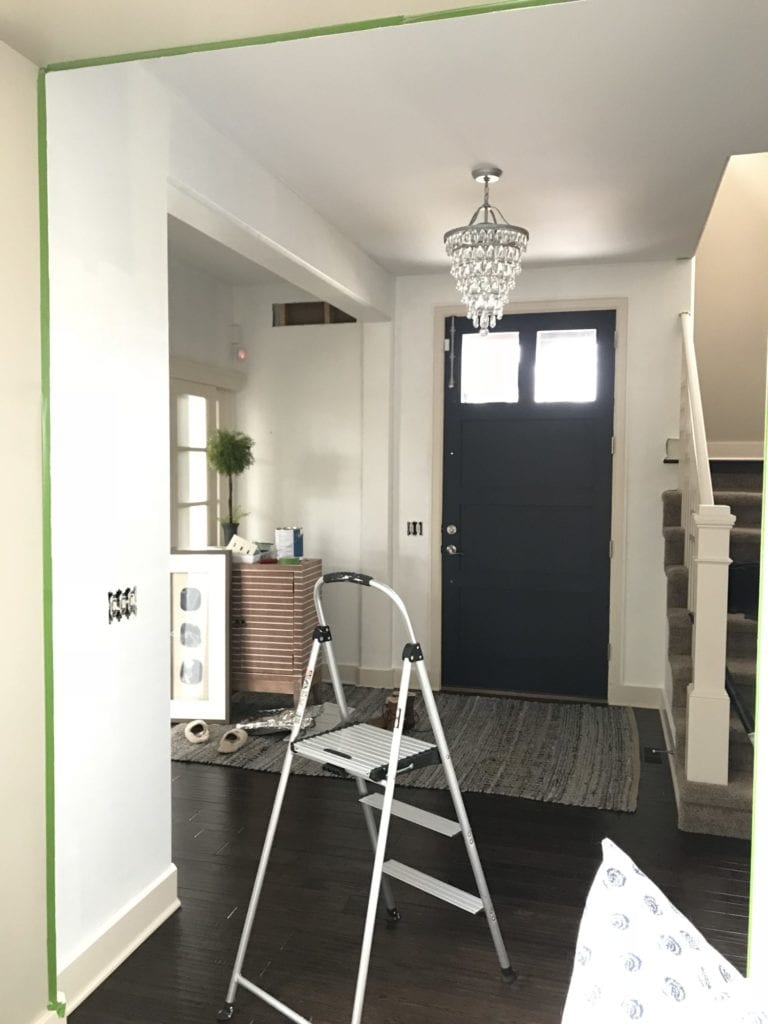 A Few Days In Austin
Wednesday morning I headed to Austin for a blogging conference. It was one of the most informative and action-packed conferences I've been to, but it was also full of some of my closest blogging friends.
Here was me and Kelley Nan on Thursday. It's one of the only photos I have of the event because I was terrible about remembering to take pictures! But I sure do love the filters Kelley uses  – and the fact that she's one of my favorite people ever! I spent a lot of late nights in her room (she was rooming with Kris from Driven By Decor), in our pajamas, talking, catching up and eating too much candy!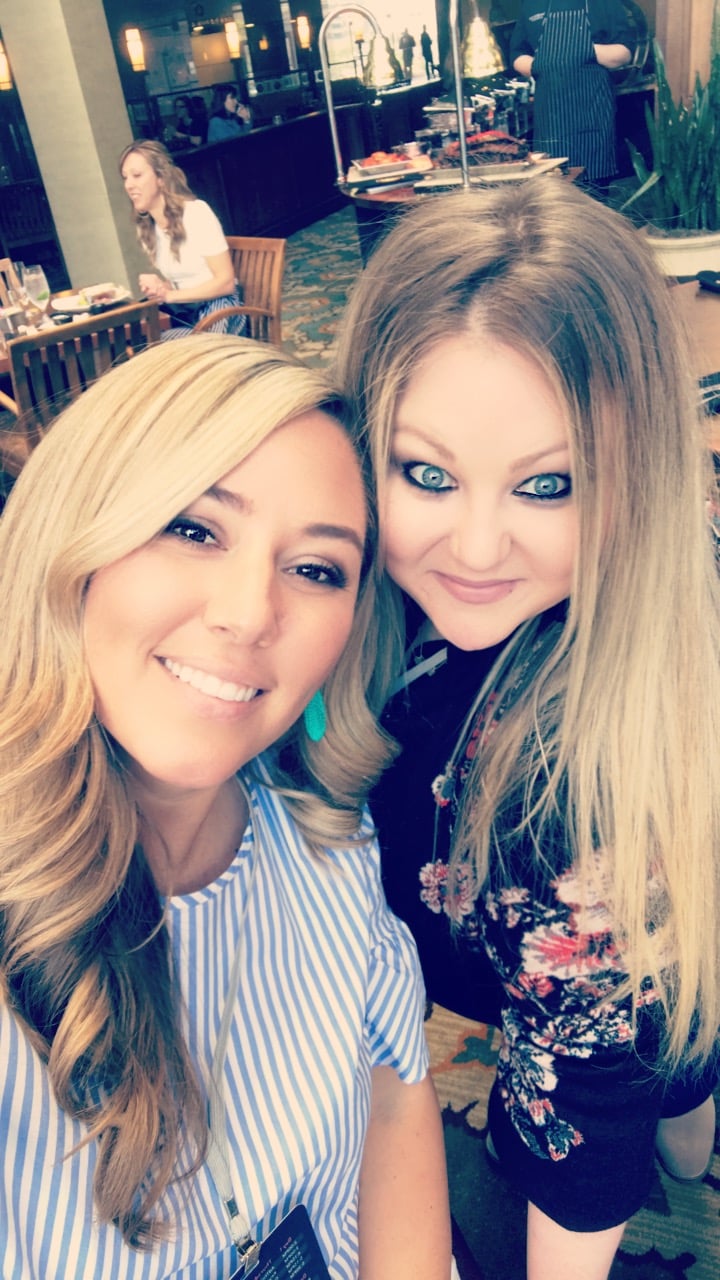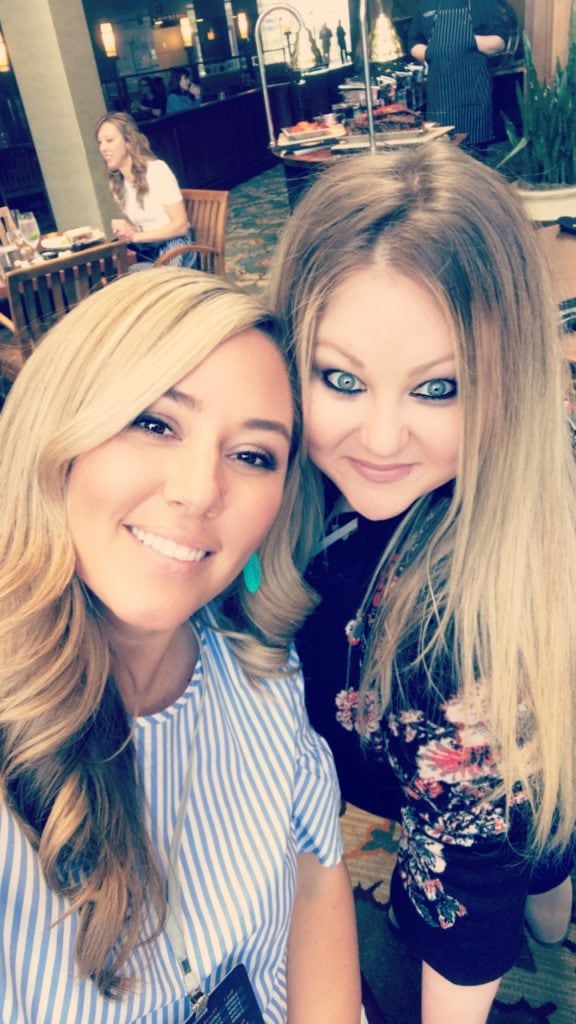 Friday night I went with some of my favorite ladies to dinner on South Congress Street at Guero's Taco Bar. Before we headed out, Katie from Bower Power stopped us for a quick photo and I'm so glad she did! I was so bad about taking photos the whole trip, so this definitely captured one of my favorite nights of the week.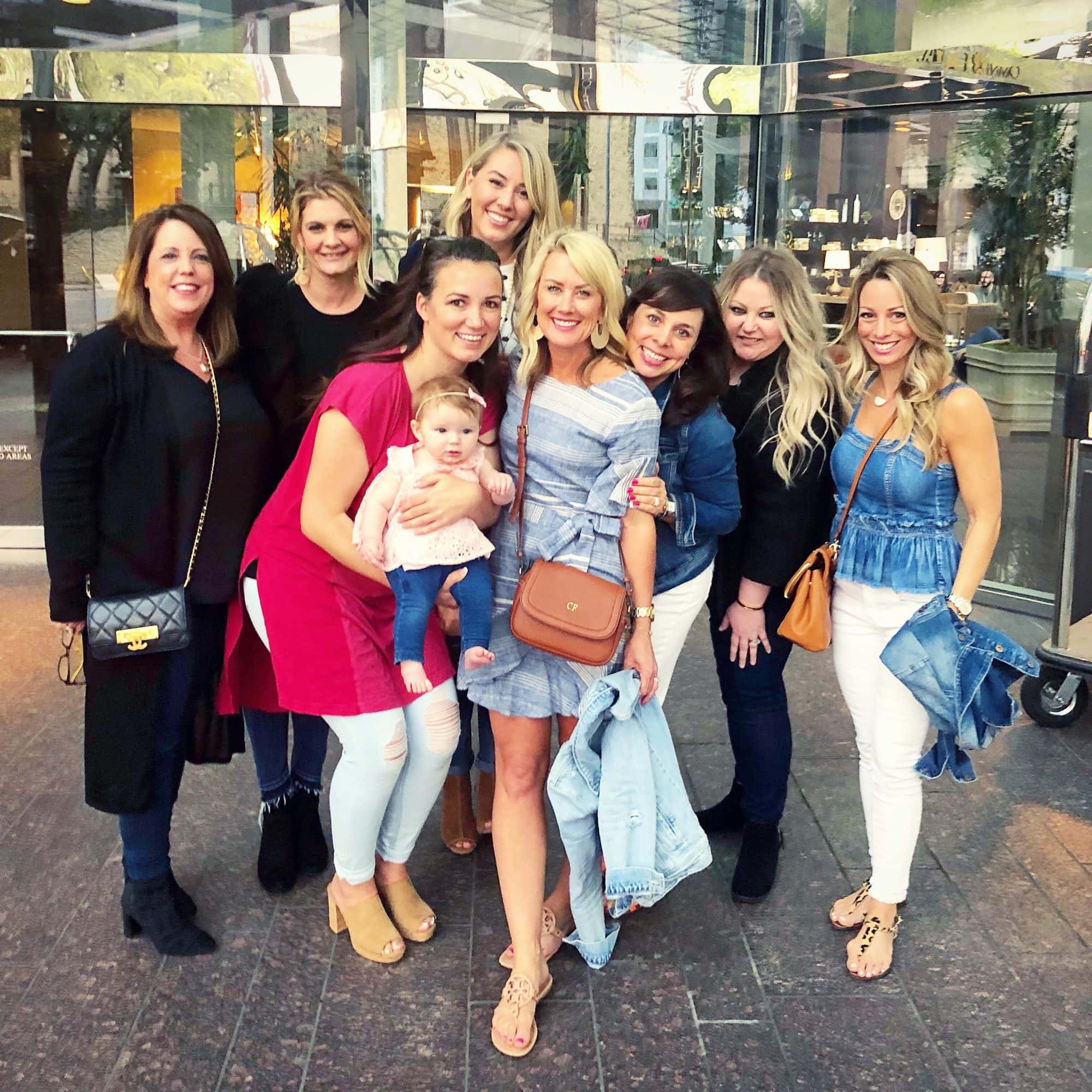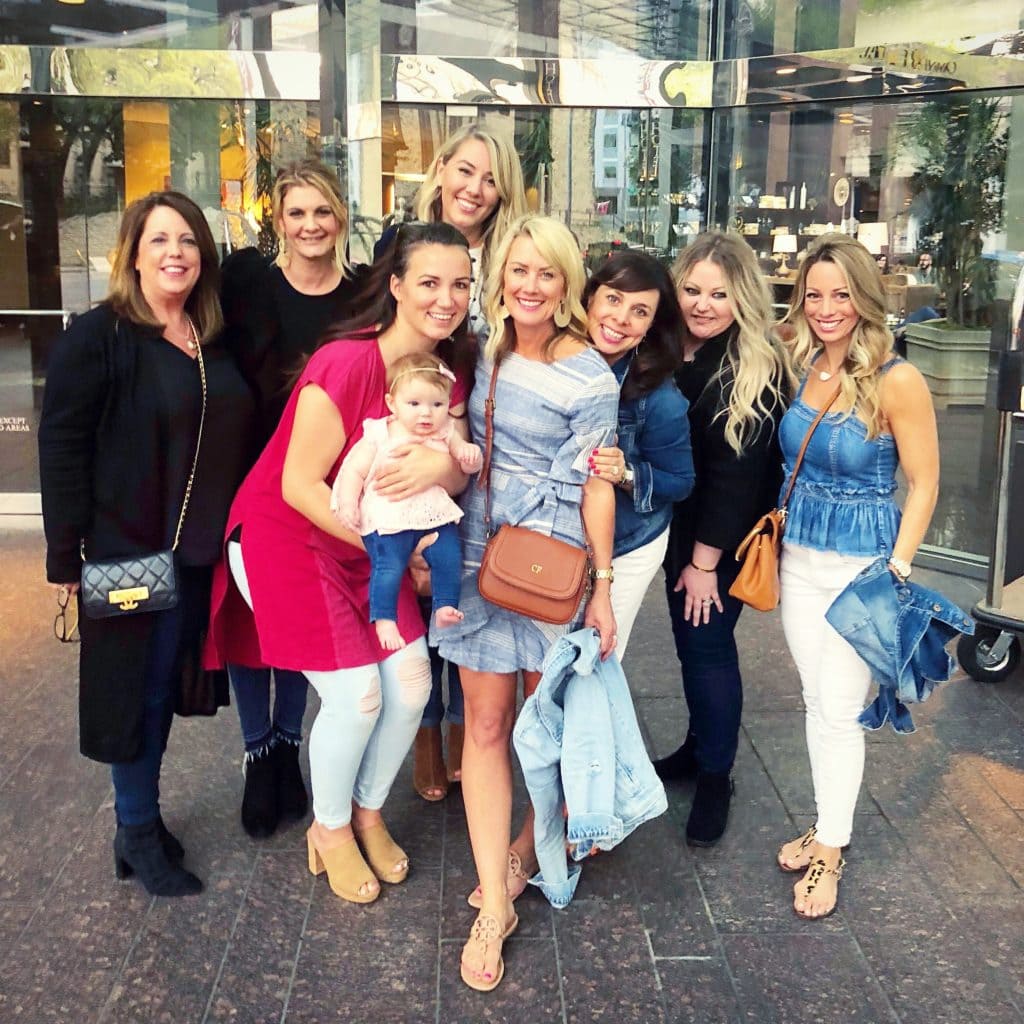 Cyndy (The Creativity Exchange) | Rebekah (A Blissful Nest) | Me | Sheaffer (Sheaffer Told Me To) | Kelley (Kelley Nan) | Megan (Honey We're Home) | Katie (Bower Power) | Cassie (Hi Sugarplum) | Photo Credit: Sherry (Young House Love) | Not Pictured: Kris (Driven By Decor)
After dinner, I grabbed cupcakes with Cassie, Megan and Sheaffer at Hey Cupcake. It was fun to catch up with them and talk shop!
I love the sense of community in the blogging world. All of these ladies are so successful, but also so down to earth and always willing to give support and tips along the way. I love that we all try to boost one another's growth.
Our closing speakers – Andrew Shue and Amy Robach. We also heard from Randi Zuckerberg (Mark's sister) and folks from Google and Pinterest, among others. So much great information!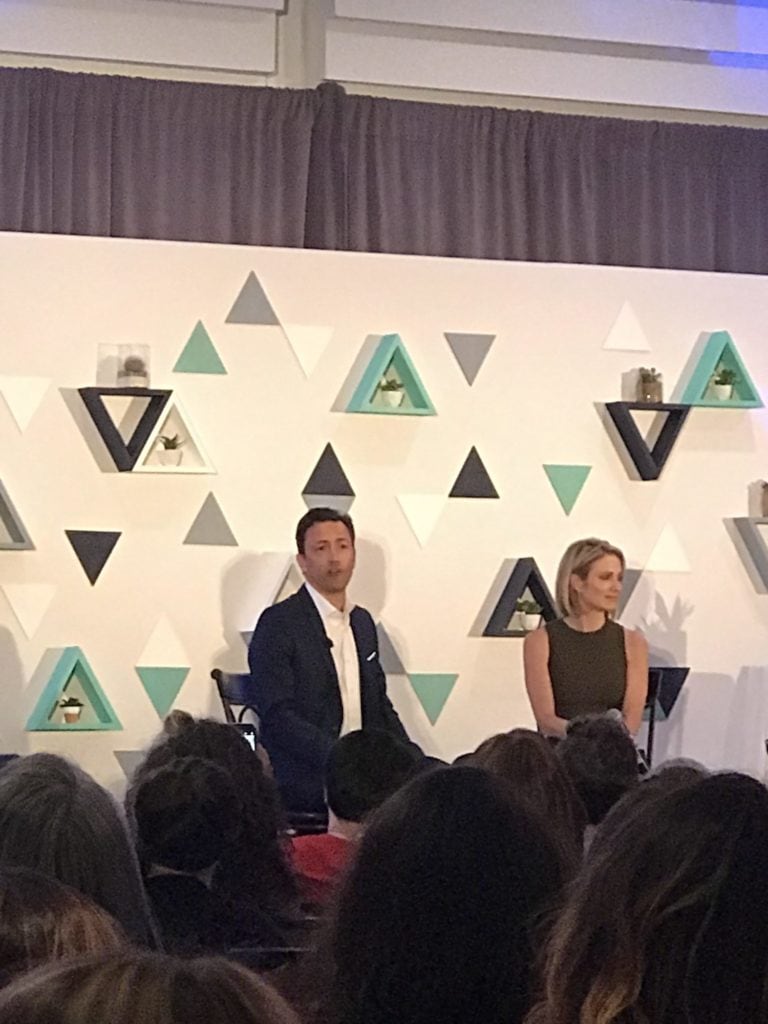 Around Town & For Fun
I didn't get home from Austin until late Saturday night so my time in Omaha was a bit limited. But we did manage to get in Sunday brunch at Blatt! Kurtis was craving their chicken and waffles and I was craving their Kale Caesar Salad (random, I know). The weather turned cold again while I was gone, so it still doesn't really feel like spring is here yet.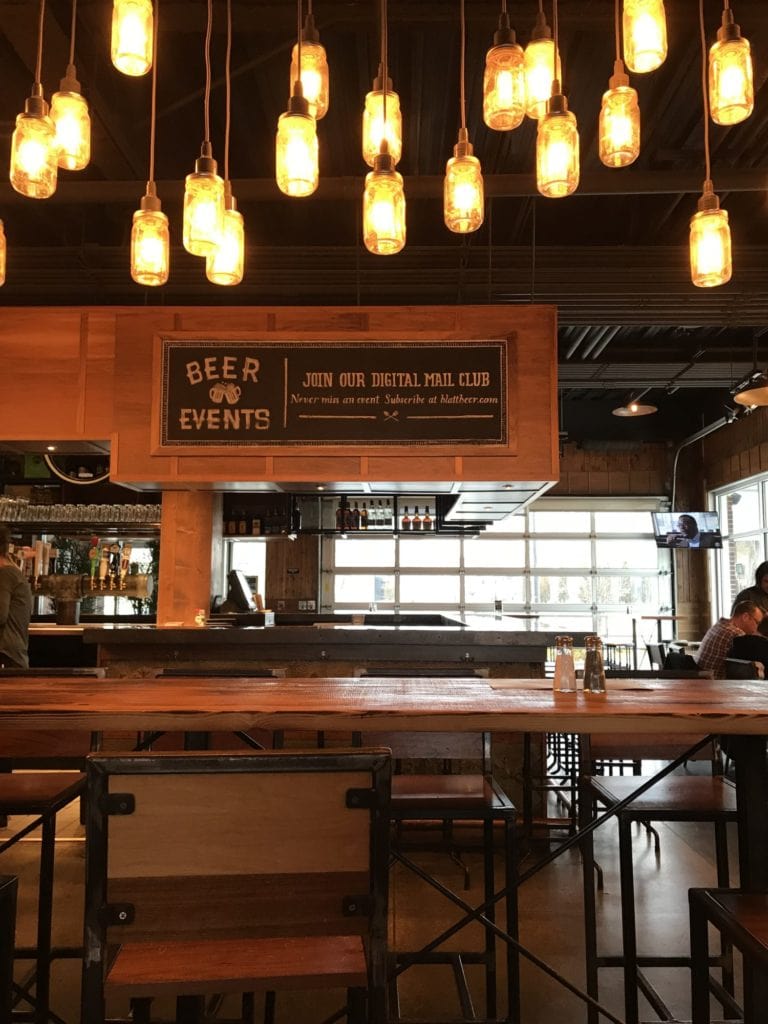 We came home, turned on the fire, and watched some basketball. The cats weren't sad about that plan at all 😉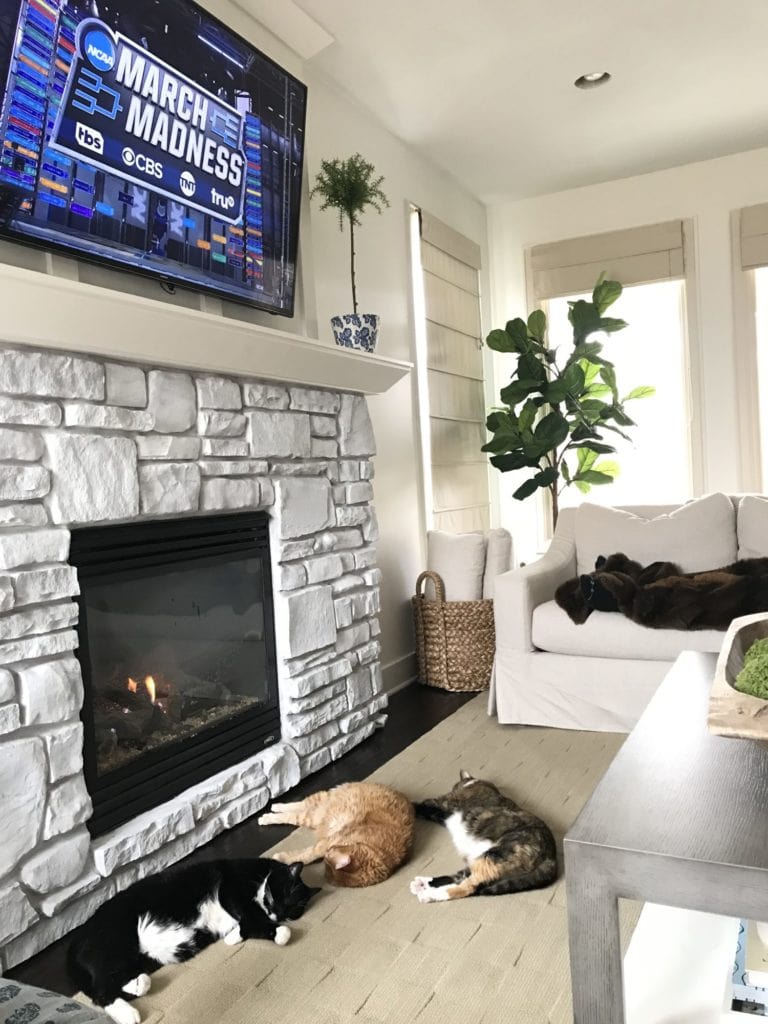 Recent Outfits
Following are a few of the outfits I took with me to Austin. I know you've seen this first one several times, but it makes for the perfect travel outfit too! I can't stop wearing it!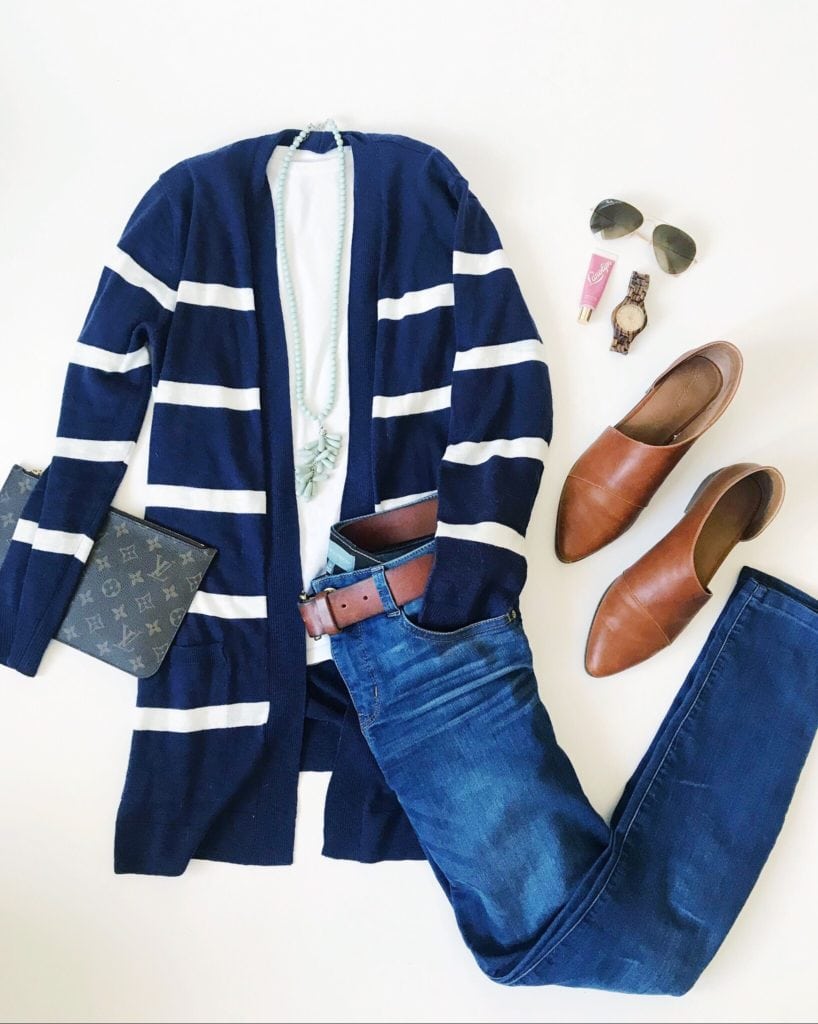 Striped Open Cardigan | Perfect White T-Shirt | Skinny Jeans  (cropped version here) | Clutch | Necklace | Booties | Sunglasses | Lipgloss | Wood Watch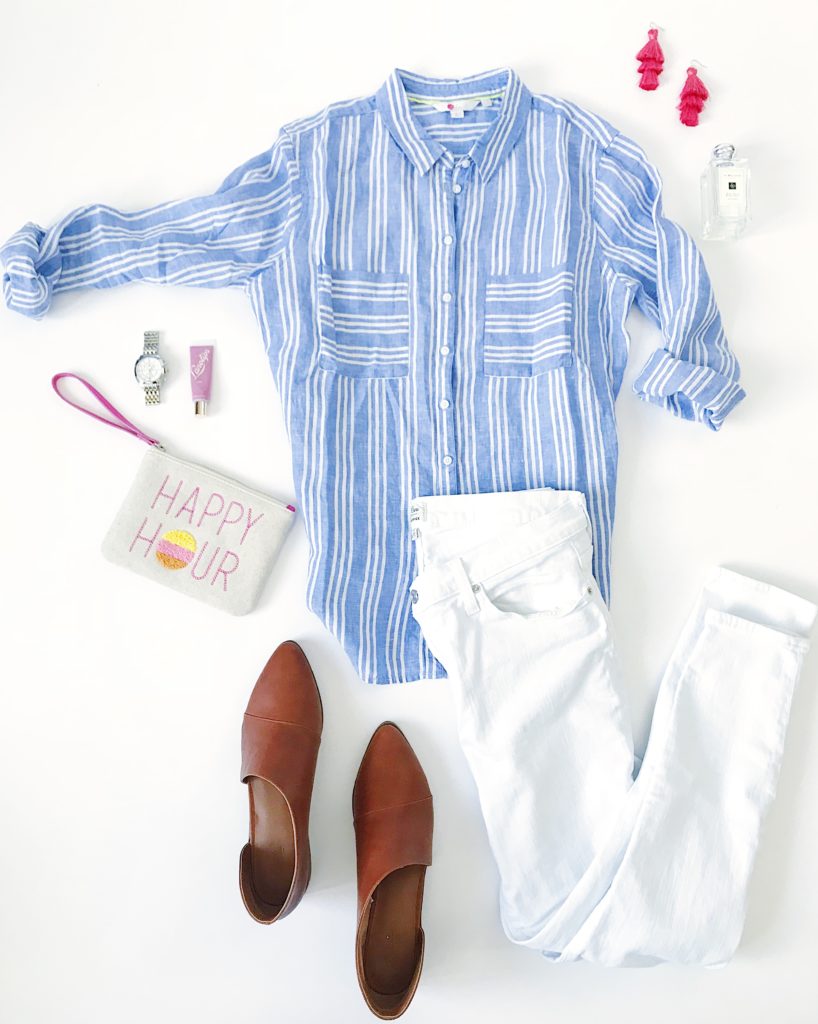 Striped Linen Shirt | White Jeans | Booties (Knock-off of these) | Happy Hour Clutch | Watch(similar) | Lip Gloss | Tassel Earrings | Cologne
I wore this the first full day of the conference, and I got multiple comments that I was dressed like my logo and brand 😉 Definitely a favorite look recently!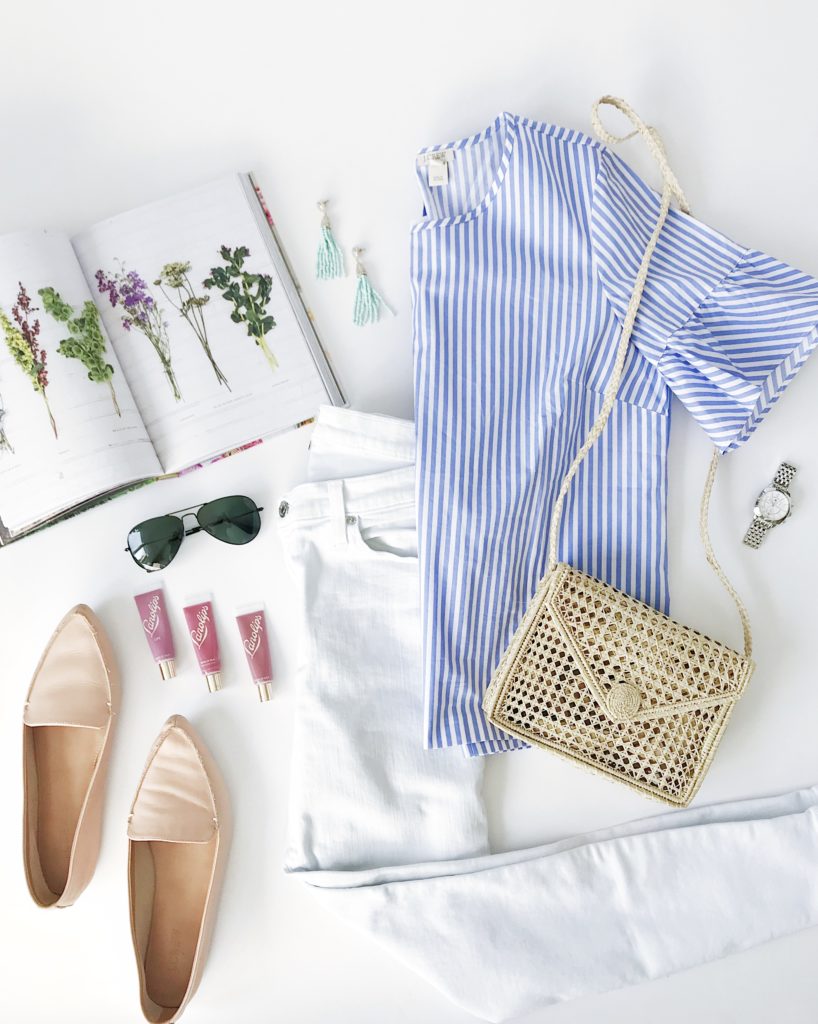 Blue and White Stripe Ruffle Top | Favorite White Skinny Jeans | Straw Cross-Body Bag | Watch(same brand, similar style) | Nude Loafers | Tassel Earrings | Aviator Glasses | Tinted Lip Glosses | Cut Flower Garden Book
I hope you all have a wonderful week!
If you would like to follow along on more of my home decor, DIY, lifestyle, travel and other posts, I'd love to have you follow me on any of the following:
Pinterest / Instagram / Facebook / Twitter / Google+
disclosure: some affiliate links used