Welcome to this week's Wednesday Watch List, where I share the random things that captured my attention and stole my heart over the past week!
This post contains affiliate links for your shopping convenience. Click here to read my full disclosure policy.
1 – I'm loving this entire gorgeous coastal home tour from Lisa Tharp! Once you click over if you click any of the images it will take you to a larger version you can scroll through. I love every thing from the kitchen to the gorgeous cabinet leading into the bedroom to that indoor/outdoor shower and that gorgeous book page covered wall! All so beautiful!
2 – Kurtis and I rarely exchange gifts for anything. We're more of an "experiences-over-things" type of couple. However, I saw this white and gold watch over the summer last year and still can't stop thinking about it. So, I may strongly suggest I need it for Valentine's Day or my 40th birthday or any of the other holidays in between 😉 Michele watches are never cheap, but this one is one the more cost-effective side of the brand. It also comes in navy, pink and a few other colors but the white has been calling my name!
3 – I couldn't be more excited when I heard that Lauren Liess launched a bedding, pillows and throw line at Bed Bath & Beyond. However, by the time I found out, most of the items had already sold out. And although her fabric is usually trade exclusive (and crazy expensive) this exclusive line is so affordable! This paisley lumbar pillow may be my favorite – I love how large it is! It would be perfect on a bed in front of regular pillows or Euro shams.
4 – I ended up ordering several Amazon items from my 2020 Resort Wear post for our upcoming trip, and shockingly, I love every single item! I ordered this dress, these raffia earrings and these designer-inspired sandals and I'm super happy with all of them. Better yet, the entire purchase was right around $50 for all of it (no idea if they'll fluctuate the prices like they do sometimes when a surge of clicks come over)! I usually struggle with Amazon quality and sizing, but I feel like these are all great buys for the price.
I'm 5'8″ and usually a size 12 and ordered a Large in the dress and it fits great! The cinched waistband is elastic so it makes it super comfy (and a better fit). The length is about 4″ above my ankle, so while I'd prefer it an inch or two longer, I still think it looks really cute (and not like I bought a shrunk dress). The first couple stock photos with the model make it look like a wrap front, but it's just a vertical set of three buttons running up from the waist band (like the stock photo with white background shows).
My friend Jill bought the designer-inspired sandals last summer and I fell in love with them. But, since it was prime sandal season, the sizing was limited and size 10 (my usual shoe size) never came available. They appear to be fully stocked now in six colors (I got the dark nude). They're perfect for throwing on when you don't want sand and other elements to ruin your "fancy" flip flops. I ordered my regular size 10 and they do fit, but if you're between sizes I would definitely go up a size.
Lastly, these raffia earrings are super cute and easy to throw on with really any resort outfit and/or spring/summer outfits! I couldn't tell in the stock photos what the round portion was made of (it looks like fake gold or resin or something) but it's actually a light wood and so pretty! Some of the raffia pieces were a bit bent in shipment, but they were easy to bend and re-shape into place!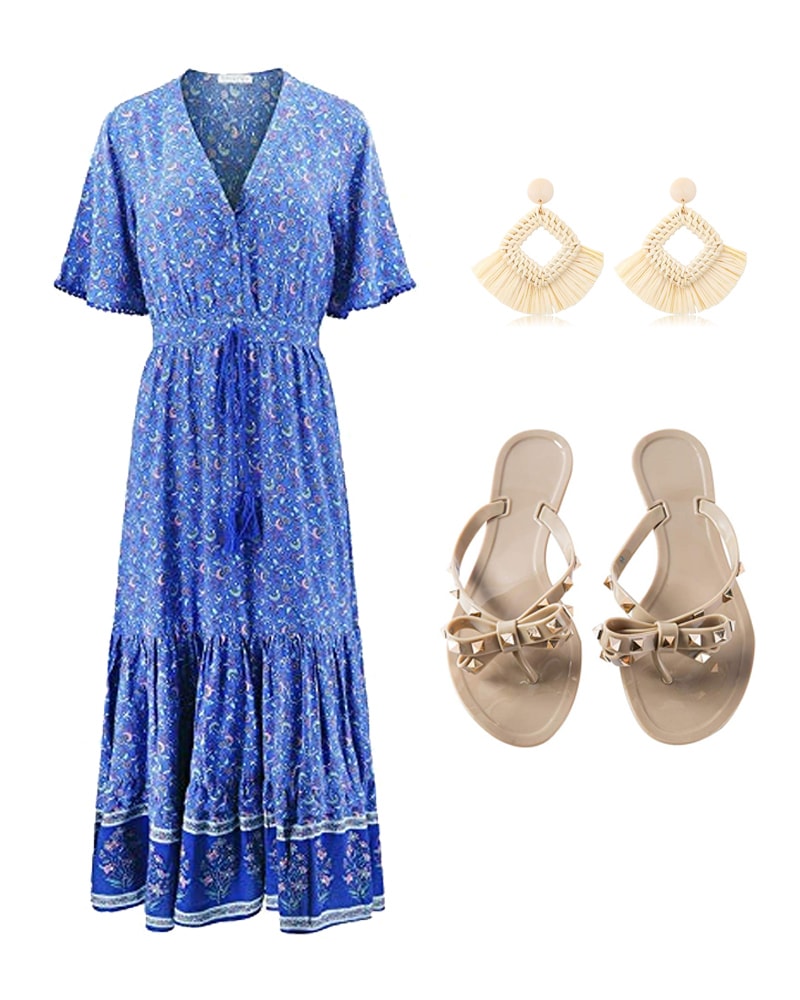 RESORT WEAR SOURCES: Dress | Raffia Earrings | Sandals
5 – My friends over at Brooke & Lou (started by the super talented Bria Hammel Interiors), launched a lighting collection yesterday and it is to die for! They have so many unique options I haven't seen anywhere else! They are definitely more designer-priced, but their collection is full of so much inspiration and statement pieces that would completely make a room! You can see their entire gorgeous collection here.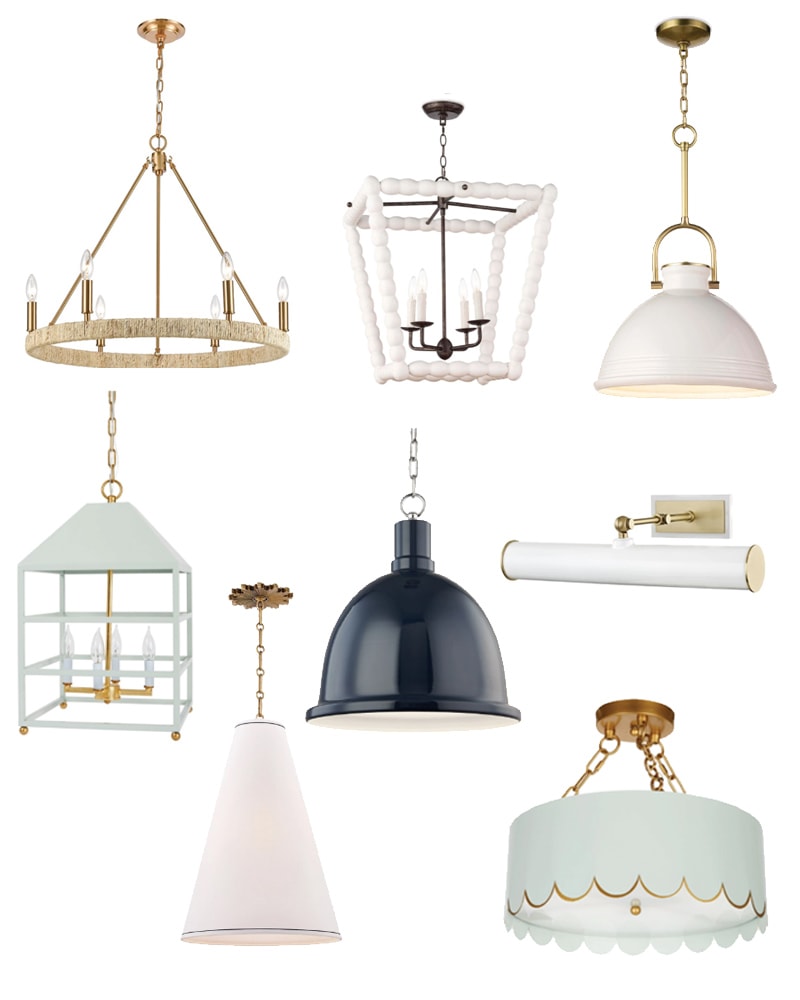 LIGHTING SOURCES: | Gold Rope Chandelier | Spool Lantern | White & Gold Pendant | Cage Pendant Light | Slim Pendant Light | Navy Pendant | White & Brass Picture Light | Scalloped Semi-Flush Mount Light
If you would like to follow along on more of my home decor, DIY, lifestyle, travel and other posts, I'd love to have you follow me on any of the following:
Pinterest | Instagram | Facebook | Twitter 
disclosure: some affiliate links used