Not only did I post on Sunday, but I have two posts today?! We must have officially entered the holiday season 😉 You can check out the other post here if you missed it. Over the coming six weeks I already have a lot of content lined up, so you can likely expect frequent posting on my part as we lead into Christmas!
Thursday night we met with our landscaper again on the pool plans. We're getting closer on finalizing everything, but we all agreed that it was best to push construction back until early spring, rather than starting yet this fall. There are too many unknowns at this point on the construction of our retaining wall and it isn't something we want to rush just to get started. I'll continue to keep you posted as we know more! It is fun to see everything painted and flagged though!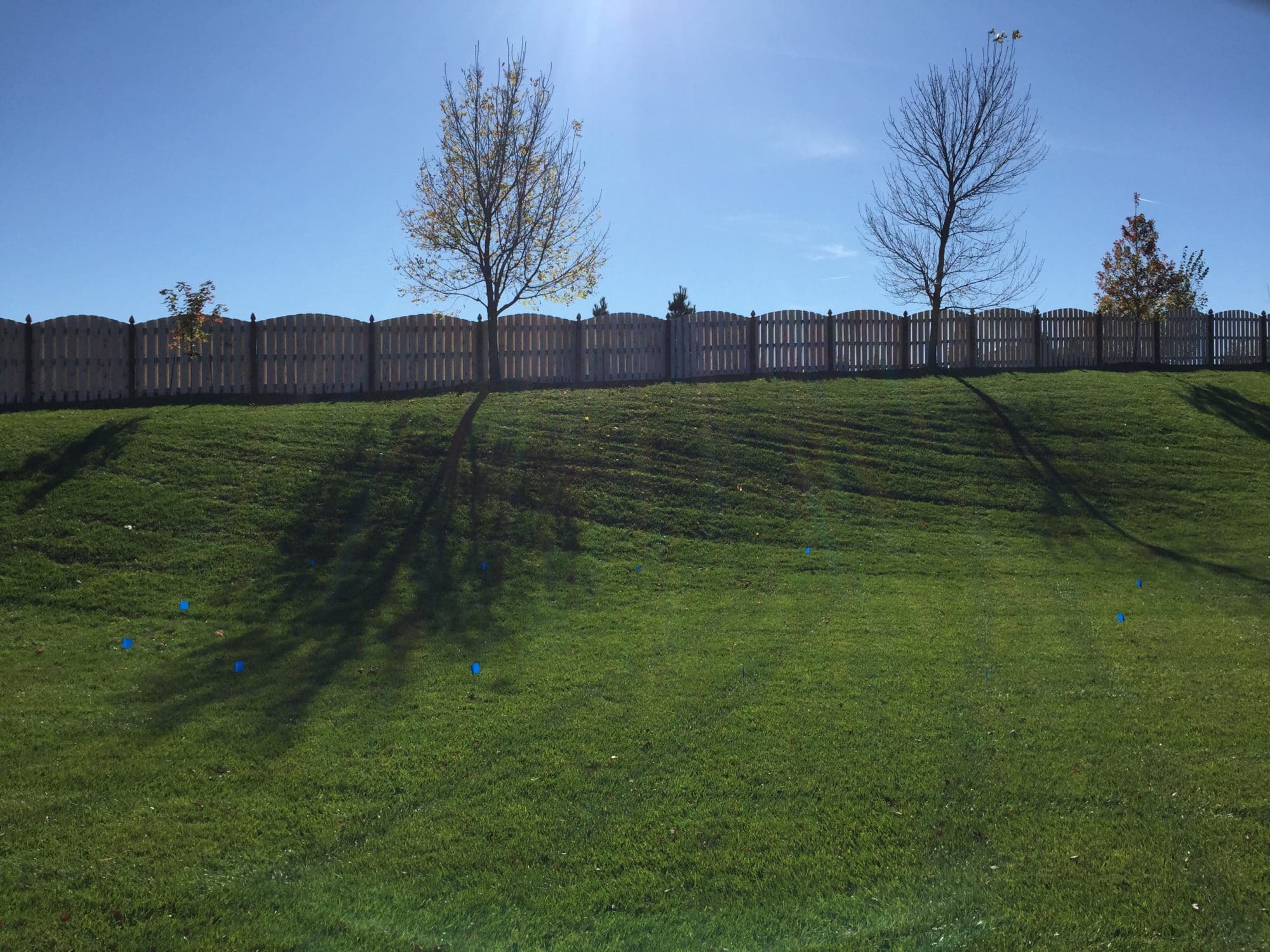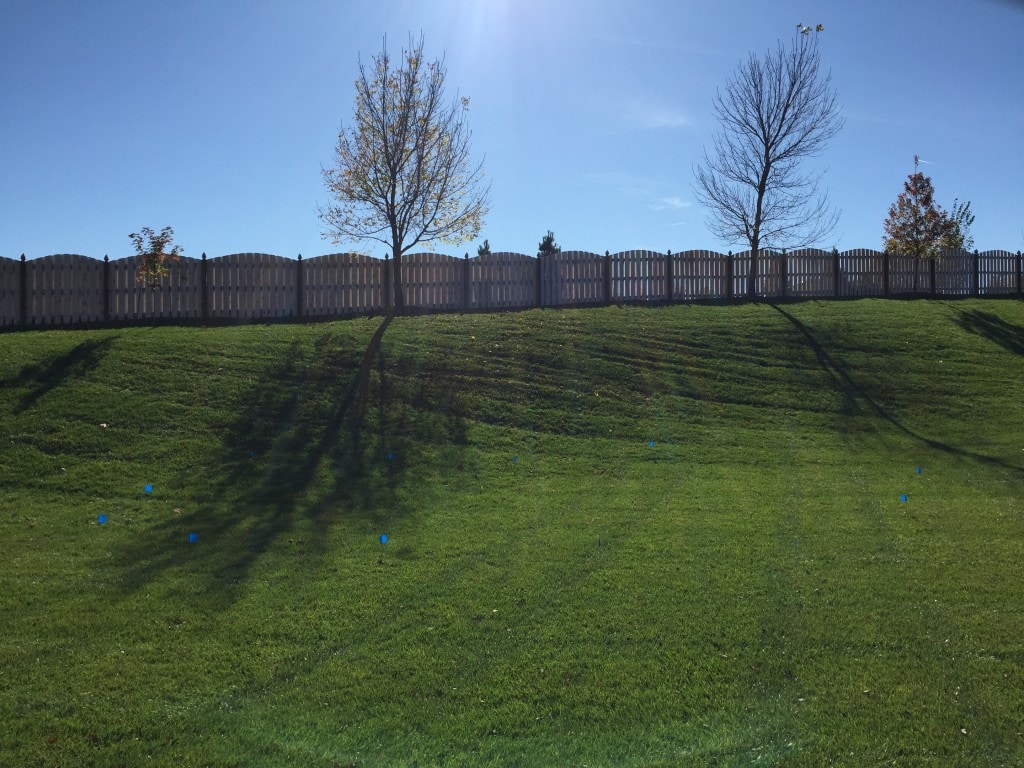 We had a lot of fun this weekend. Friday night we went to our annual neighborhood costume contest. This year's theme was superheroes and villains.
And now, for your viewing pleasure, I present our Halloween costumes: Nacho Libre and Sister Encarnacion. This was pre-darkened wig/mustache/eyebrows on my husband though. He was looking a little too "Napoleon Dynamite" here. Let's just say he got a lot of laughs throughout the night though.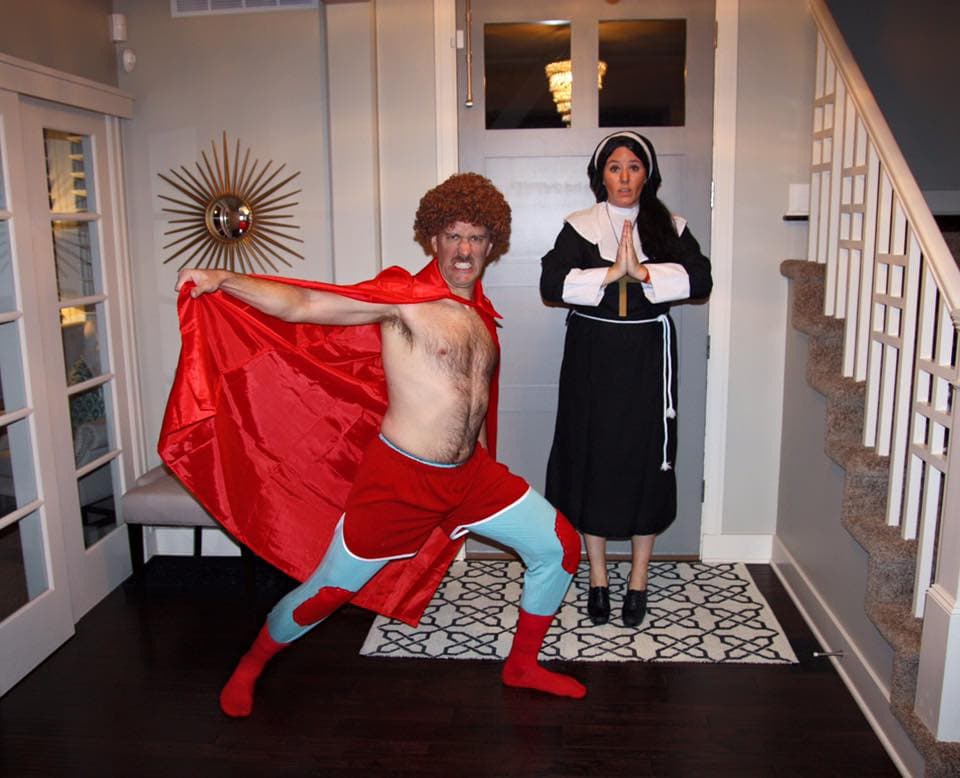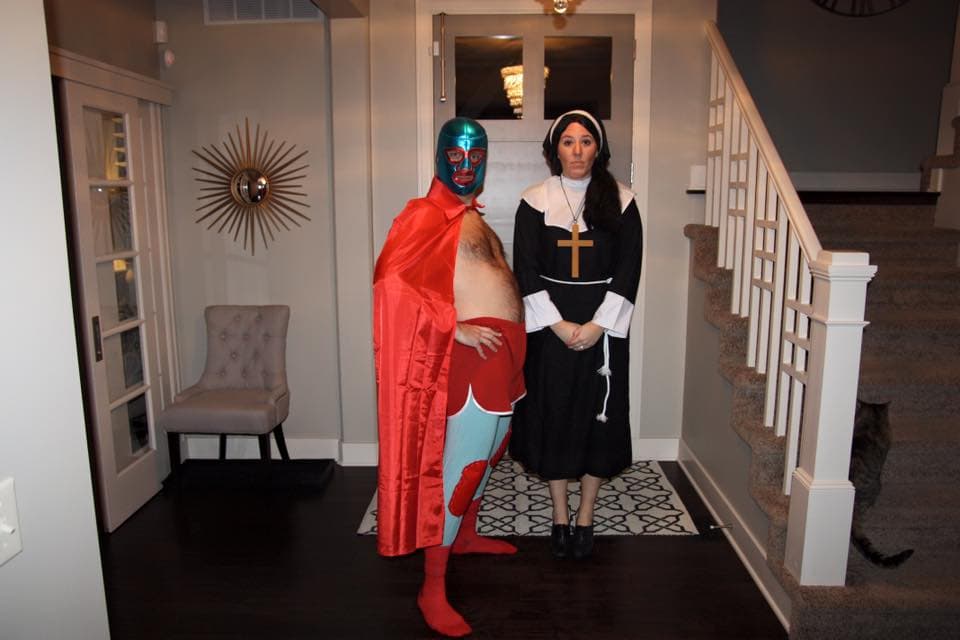 In reality, 90% of the photos looked like this one though because I couldn't stop laughing.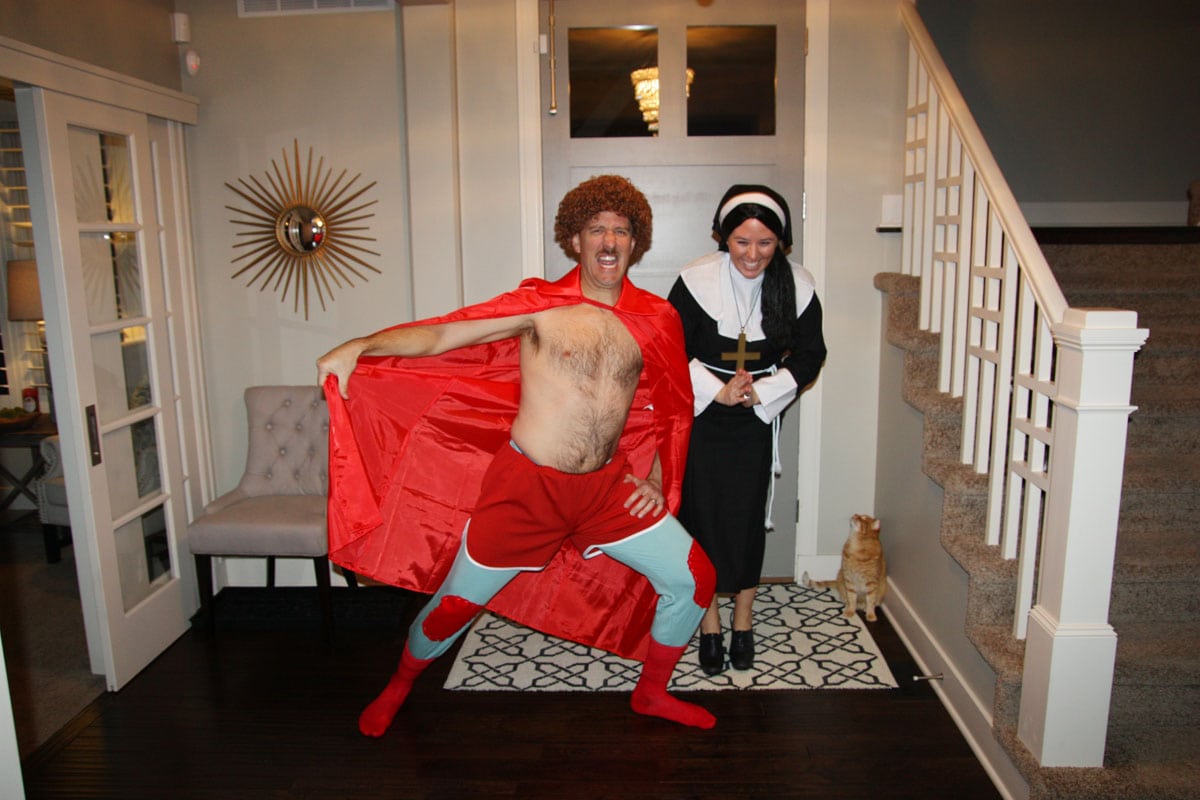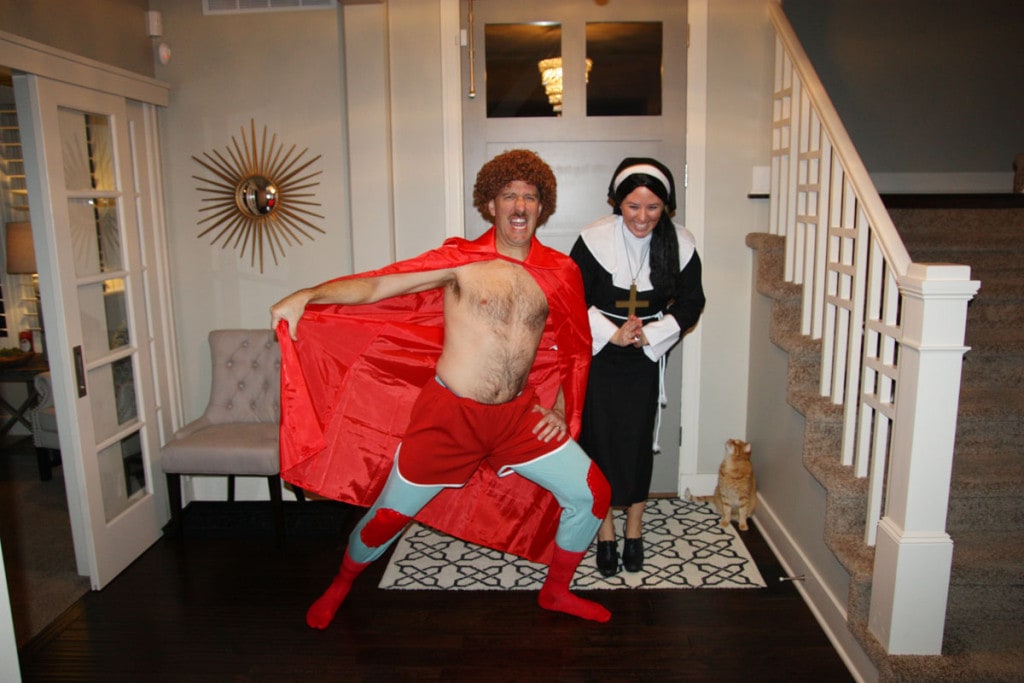 Saturday I ran all over town for various holiday posts I have planned over the coming months (I even bought a Christmas tree for our living room)! I was happy to hear that many of you could relate to my Instagram post on Saturday. Did I really need that striped vase and striped apron (even though I don't cook)? Yes.
Saturday evening we headed out to dinner with my sister-in-law and brother-in-law and then headed to their house afterwards for some mean games of cards and darts. It was a perfect Halloween night!
I've been on the hunt this past weekend for the perfect plaid pillows for my Christmas home decor. I've gone back and forth on whether I want a traditional plaid or a buffalo check. I found these buffalo check napkins that would make perfect pillows (and they're on clearance) plus I also found this black and white buffalo pillow on clearance. Then, I
But, what I've really been loving are the red and black buffalo check pillows at Pottery Barn. At $35.50 a pop though, they're a bit out of the budget for seasonal decor. But, when I saw this tablecloth, I got pretty excited thinking about just how many pillows I could make at a fraction of the price!
Then I came across this kitchen with red and white buffalo check curtains and I wonder if that color scheme is a better route to go.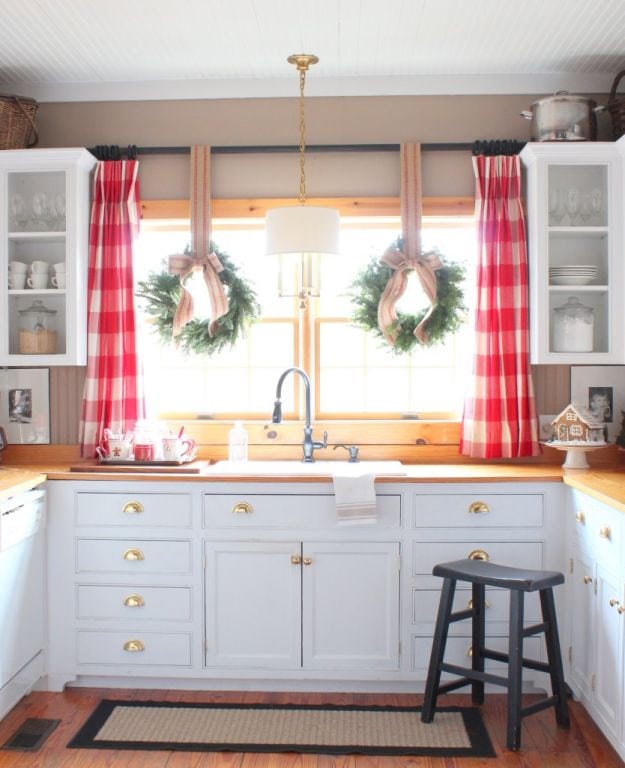 And doesn't this buffalo check scarf (click on the black and white one) look like it could be perfect in home decor like the image I shared in last week's Wednesday Watch List? It could also be used to sew into pillows – and they would be cheap! I ordered two of the black and white yesterday just to be safe.
So many decisions! At least they are fun ones 😉
Yesterday I spent a lot of time lounging around, enjoying my latest obsession (you can read more about it in yesterday's blog post).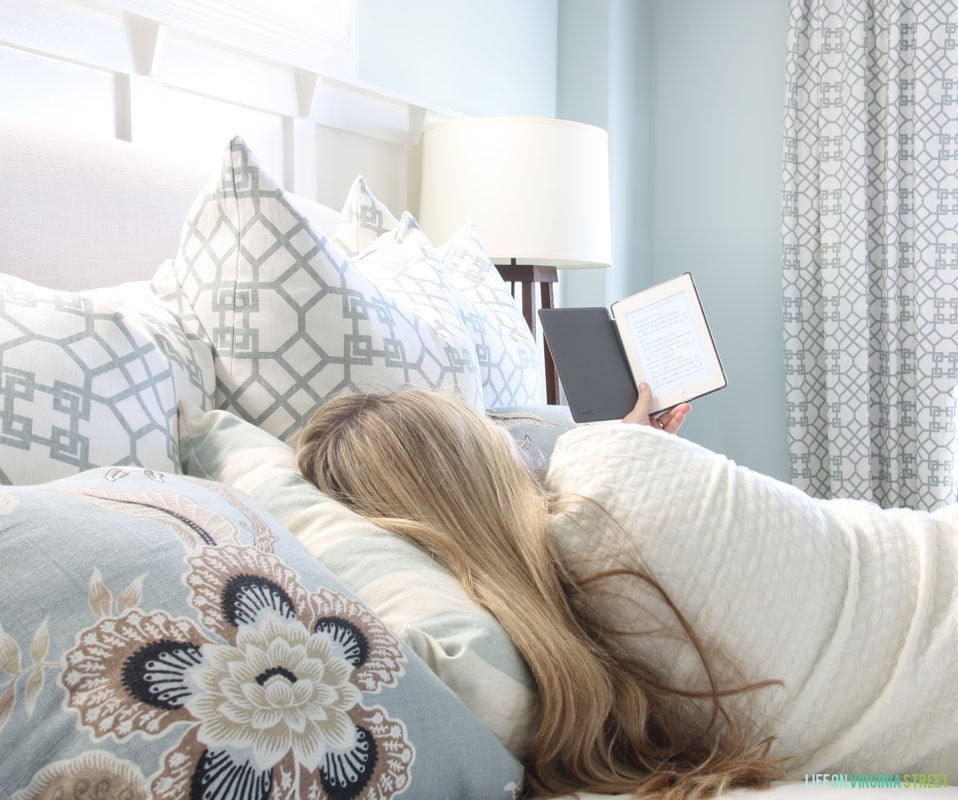 I hope you all had a wonderful holiday weekend!
If you would like to follow along on more of my home decor, DIY, lifestyle, travel and other posts, I'd love to have you follow me on any of the following:
Pinterest / Instagram / Facebook / Twitter / Bloglovin' / Google
disclosure: some affiliate links used