I'm still in shock that it's November. Although I am sad summer is clearly over (sometimes the denial hangs on), I absolutely love this time of year! I can stomach fall and "winter" until New Year's. Then I'm ready for summer again. Over the next few weeks I have a bunch of fun holiday and entertaining posts to share with you that I think you'll love.
Today I'm really excited to share with you a fun blog hop. I've partnered up with some of my favorite blogging ladies and Birch Lane for a Thanksgiving themed blog hop. The concept is simple: one of us shares a place setting, one shares a centerpiece, a custom drink, artwork, etc., etc. I happen to be sharing a creative Thanksgiving menu display! Hopefully by hopping around all these posts, you'll gain inspiration and some really fun ideas for my second favorite holiday, Thanksgiving!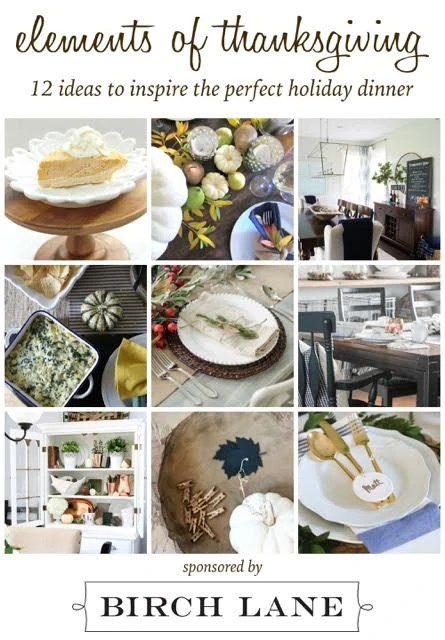 Here is my creative Thanksgiving menu display!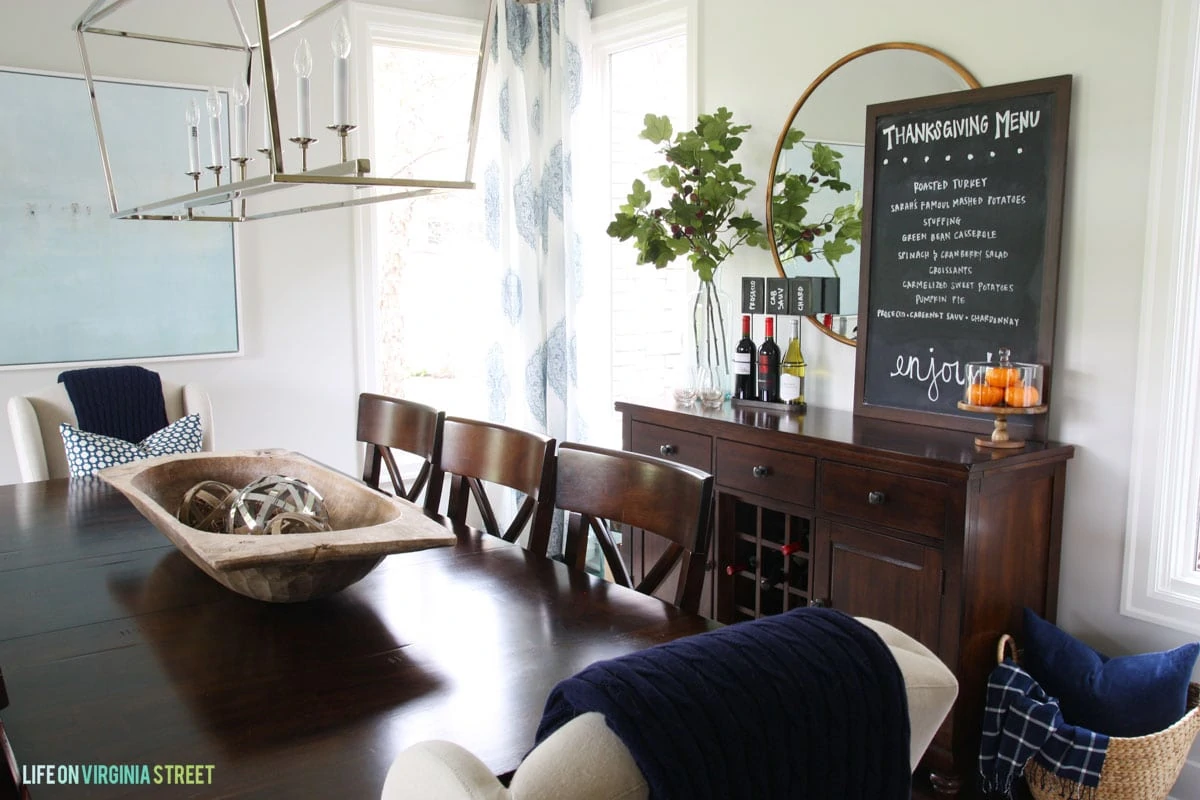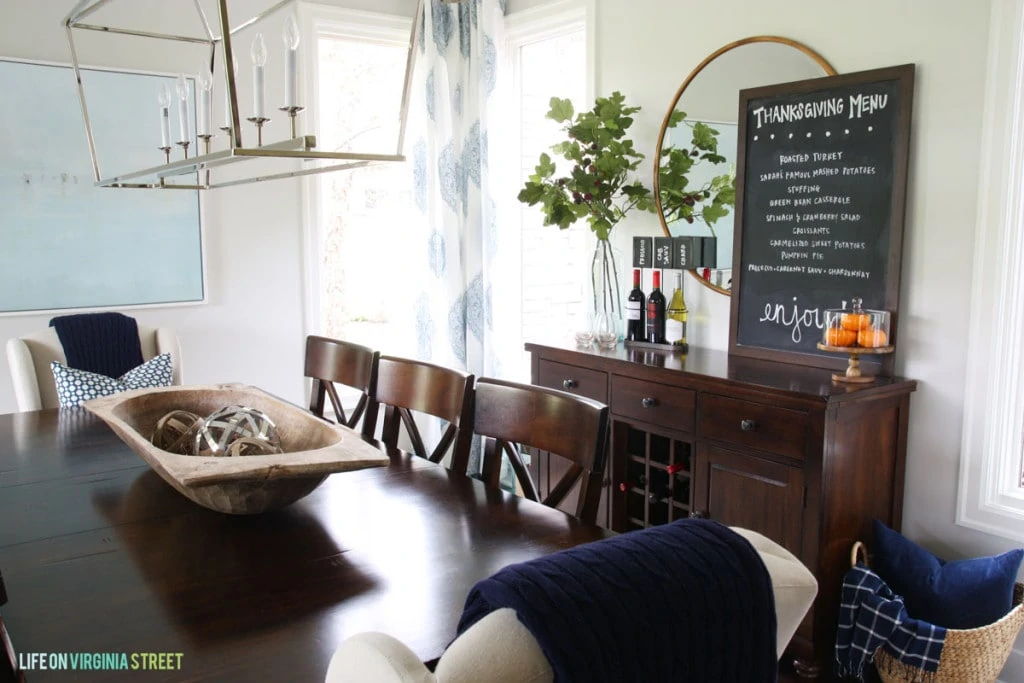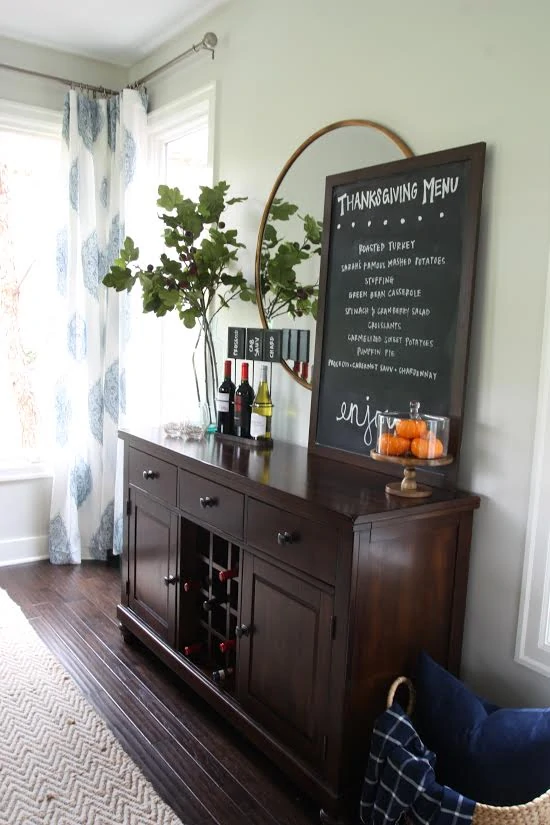 To display the main menu, I used my DIY Chalkboard that I've used for other holiday "art". This time around, I also used my trusty chalk markers to freehand the menu. I started at the top and then simply worked my way down. At one point, I had the food in upper and lowercase and didn't liked it. So I simply washed it off and started over. I could have continuously corrected everything until it was perfect, but I wanted it to have a homemade feel and not a perfect magazine quality to it. I not-so-secretly love how it turned out and I wouldn't be surprised if it lasts longer than the Thanksgiving season!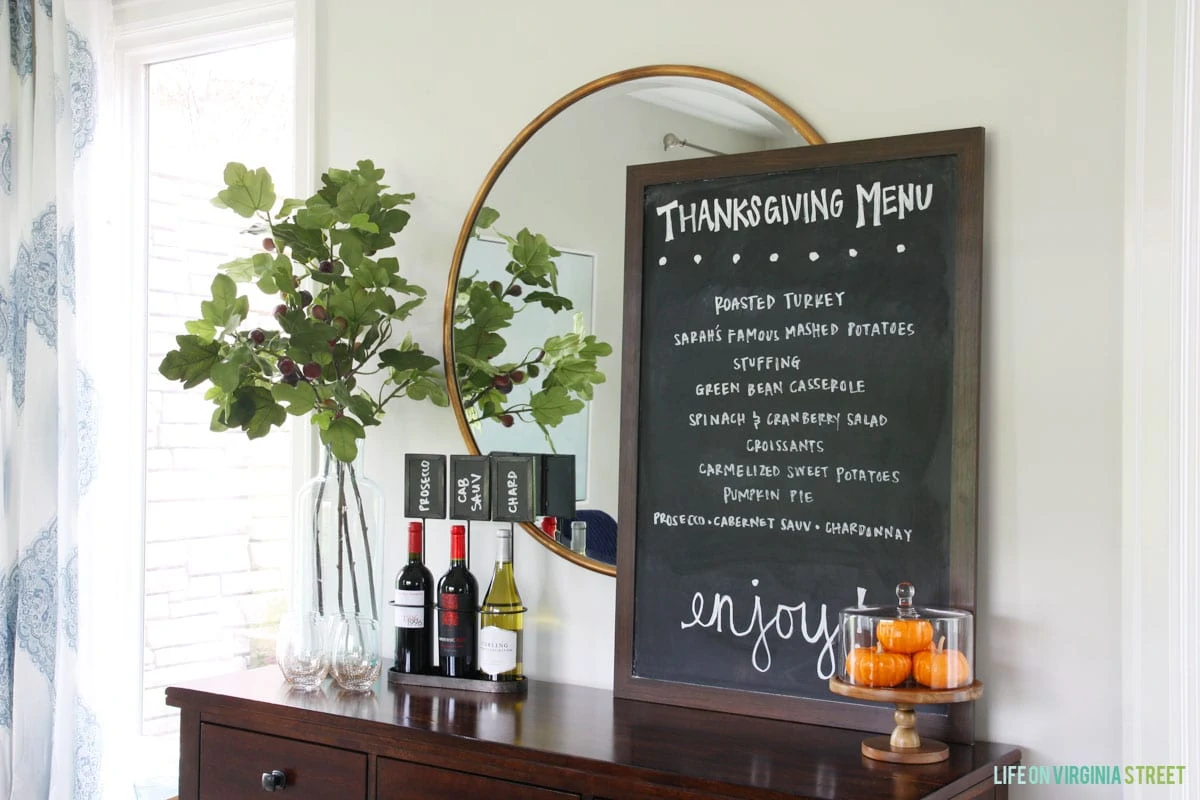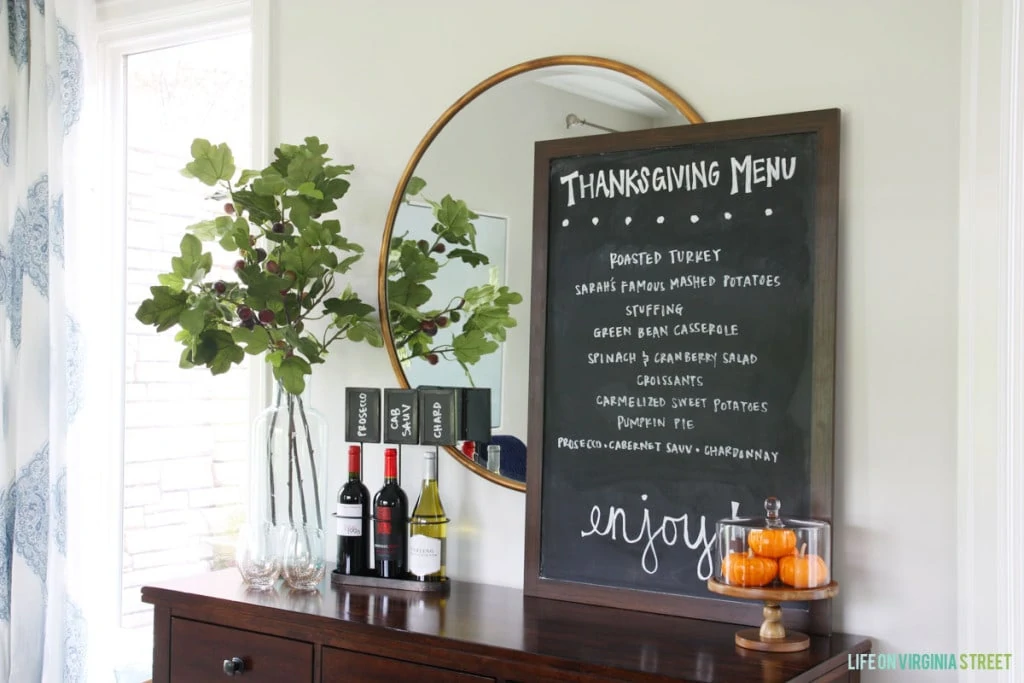 For the wine menu, I fell in love with this chalkboard wine rack, which is a really fun and easy way to label your drink offering. Again, I used the chalk markers to label my wine. I also picked up these stemless wine glasses – the gold dots are the perfect, simple amount of bling for the holidays. I filled my wood and glass cake stand with mini-pumpkins, but it would also be perfect to hold your pumpkin pie on the day of your Thanksgiving meal!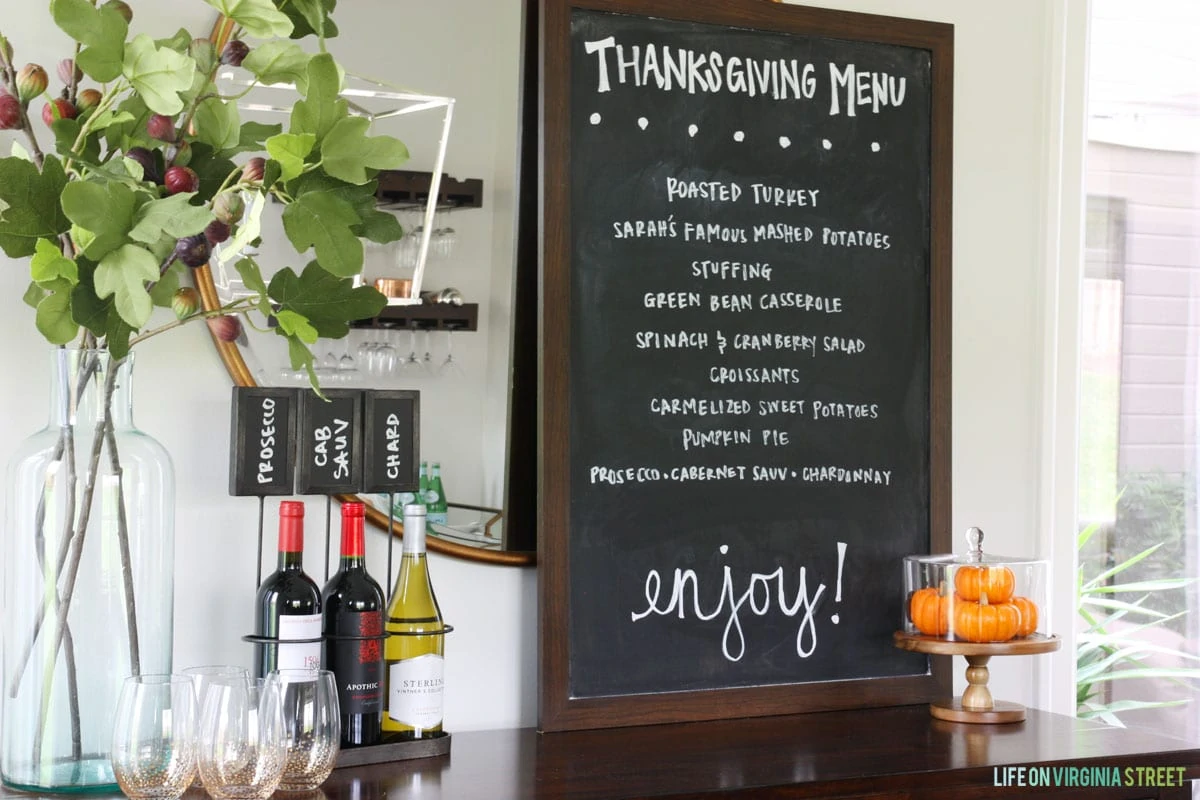 If you're interested in the "Sarah's Famous Mashed Potatoes" recipe you see on the menu, be sure to check out my mashed potatoes recipe. I promise you it is life-changing and you'll never use another recipe again. Not only do they taste amazing, but you can make them several days in advance and then just reheat them in a crockpot!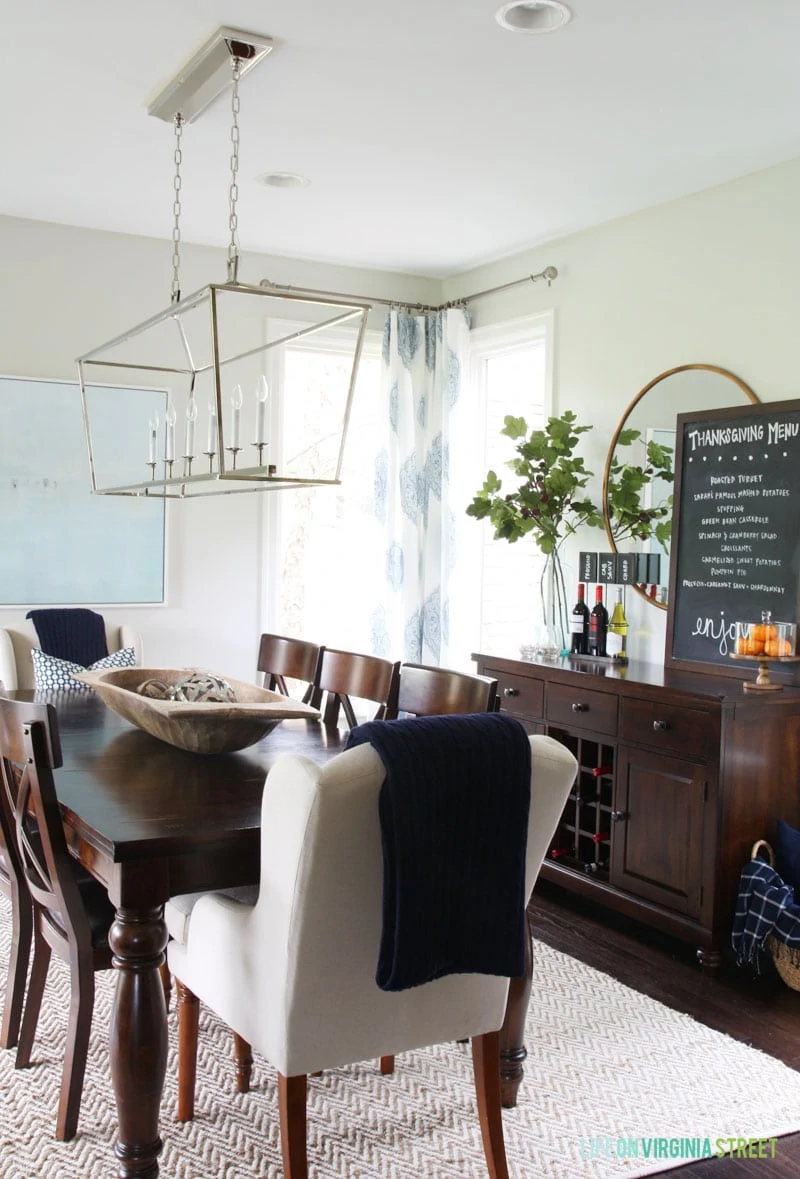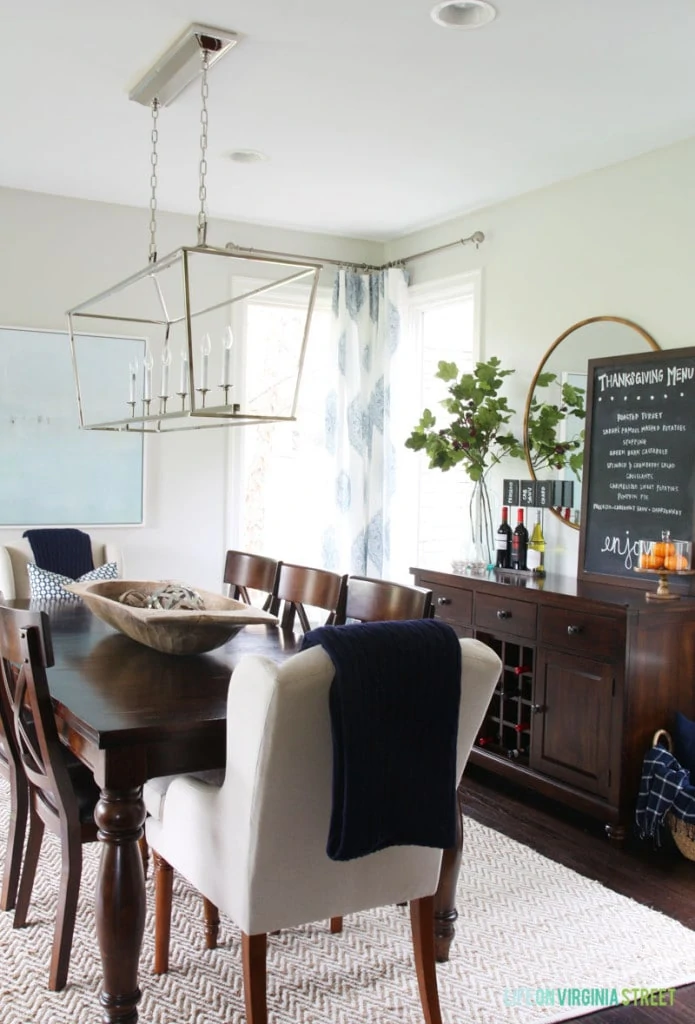 A big thanks goes out to Birch Lane for partnering with us on these posts! Now, be sure to hop over to the next stop to see all the other gorgeous Thanksgiving inspiration!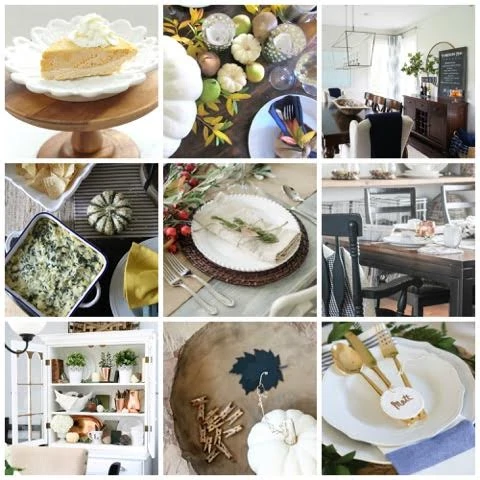 If you would like to follow along on more of my home decor, DIY, lifestyle, travel and other posts, I'd love to have you follow me on any of the following:
Pinterest / Instagram / Facebook / Twitter / Bloglovin' / Google
Disclosure: Some affiliate links used. This is not a sponsored post, but Birch Lane did provide us with a gift card to select items to use for this post.