Happy Monday! I hope you all had a great weekend! I first want to start off by saying thank you all so much for the interest and kind words about the carriage house tour I shared yesterday. It's such a fun space and we're so happy it's already being put to use with the arrival of Kurtis' sister and brother-in-law. Here's what else we've also been up to this week!
This post contains affiliate links for your shopping convenience. You can read my full disclosure policy here.
Home Projects & Updates
Despite the fact that we still don't have our refrigerator (they've given us a used loaner until ours arrives) and our countertops still have issues, our kitchen feels like the most finished spot in the house right now. It's just not photoworthy at this point from all angles until the gaping hole for our fridge is filled, and our countertops continue to dry out. But here's a view you may not have seen before! It kind of shows the layout with the front door in the distance, the stairs, the door leading to the powder bath, and then the laundry/pantry door.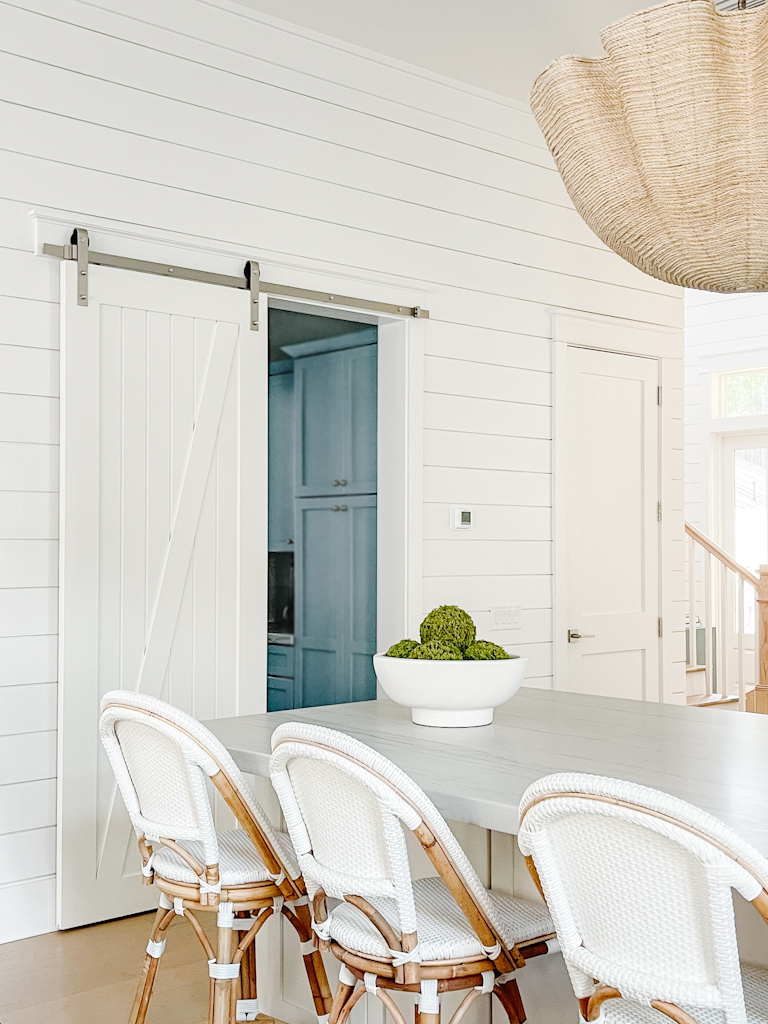 KITCHEN SOURCES: Swivel Counter Stools | Scallop Chandelier | Footed Bowl (large size) | Similar Moss Balls
I finally found an in-stock outdoor umbrella that I liked! I've actually been searching for a month or two, and was having a difficult time finding anything other than reds, yellows, blacks, etc. that were still in stock with it being near the end of the season.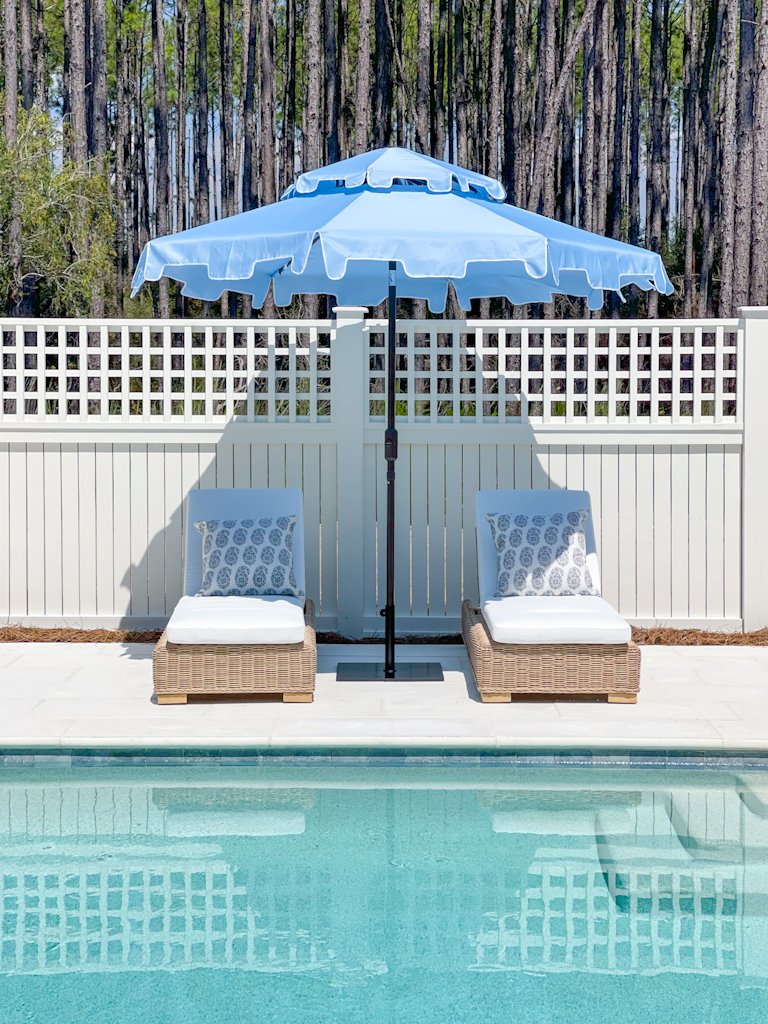 SOURCES: Chaise Lounge Chairs | Reversible Outdoor Pillows | Outdoor Umbrella | Umbrella Stand
Now that I've wrapped up the carriage house for the time being, I can turn my attention back to our main house so I can start sharing more of the spaces with you!
Top Sellers Of The Week
Following are the top sellers from last week across all of my channels. Links to each item are below the graphic.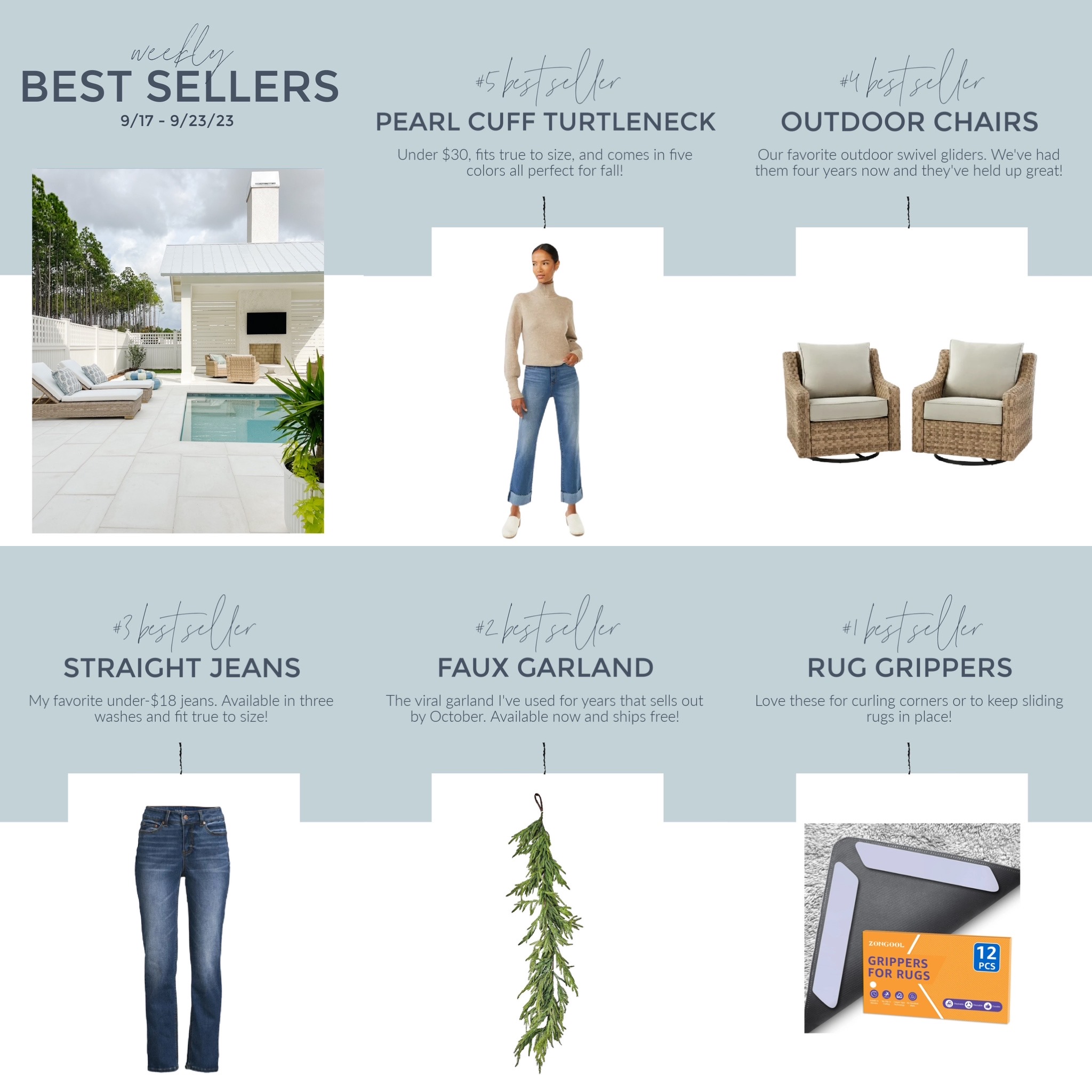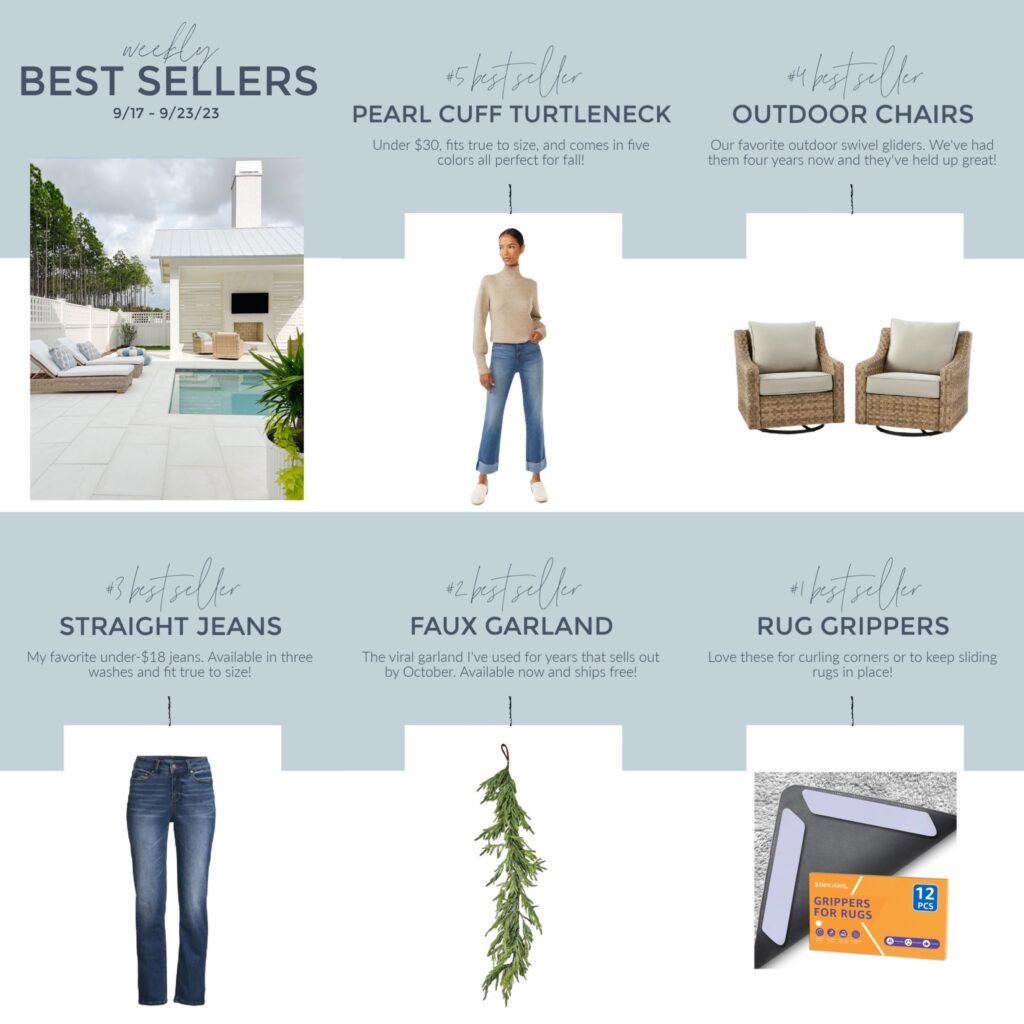 BEST SELLERS (each number is clickable): #5 | #4 | #3 | #2 | #1
In Case You Missed It
Following are the posts I shared over the past week, in case you missed some days!
Around Town & For Fun
Kurtis was in Omaha four days last week, so I was on my own for most of it. But it gave me a chance to wrap up all the details in the carriage house apartment.
I had a Lowe's pick-up late last week, and since I was pretty deep into Panama City Beach and had nothing else planned later that afternoon with Kurtis being gone, I did some exploring. Stopped in at one of my favorites, Maison 30A.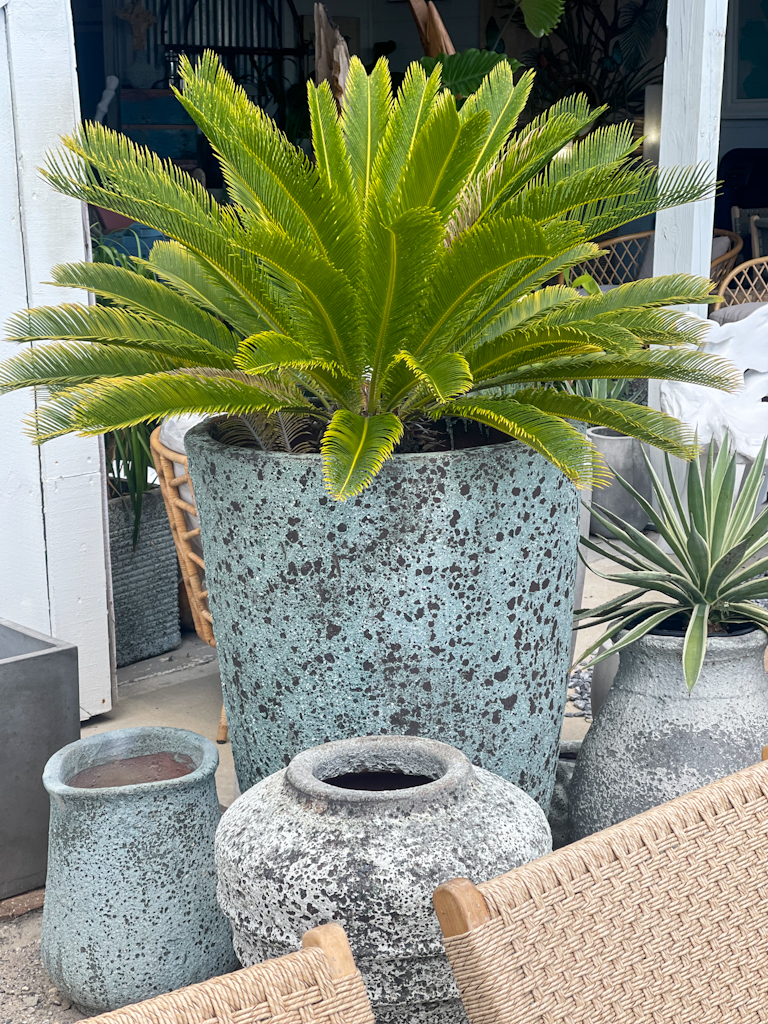 I really want to snag a few cool planters there for around our backyard and front porch. Still trying to decide 100% on which style I want to go with, but they have so many gorgeous options. Literally hundreds if not thousands of pots and planters. I had a few of you tell me you love that they bring a truck down to Round Top too, so thought I'd throw that out there for those that attend. They're definitely worth visiting!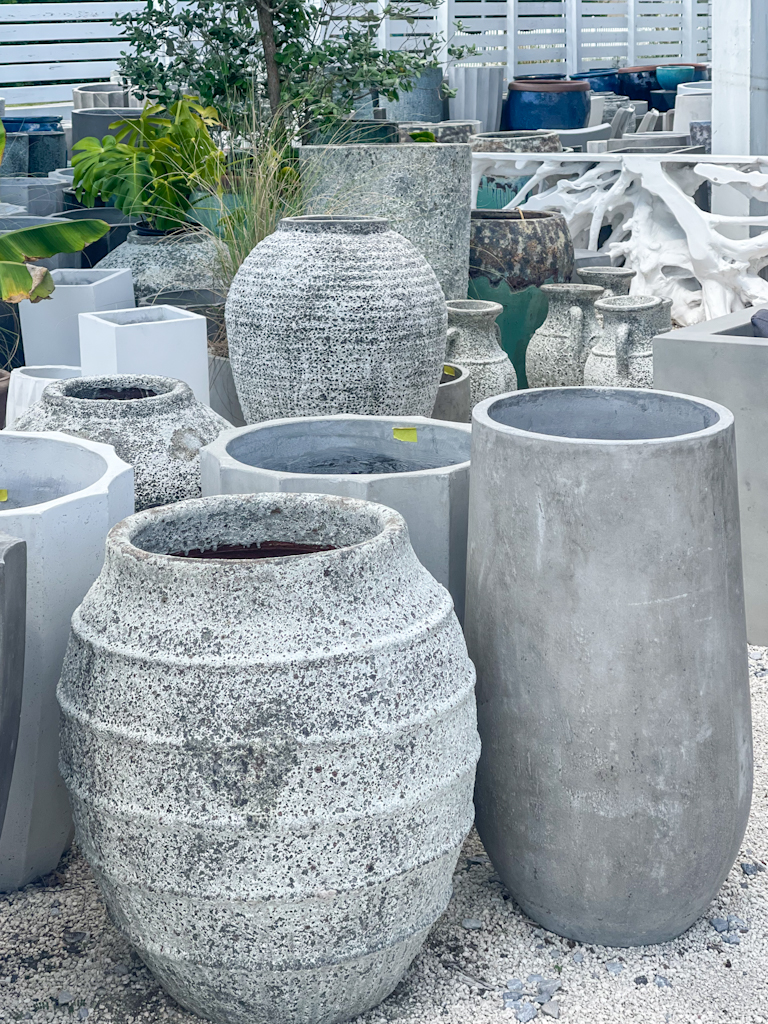 I also swung into SummerStory in Alys Beach. It's a high-end design store but they also have a really beautiful tabletop and gift-like section with candles and cute gardening items. This fresh hydrangea arrangement was so beautiful in person! Photos do not do it justice.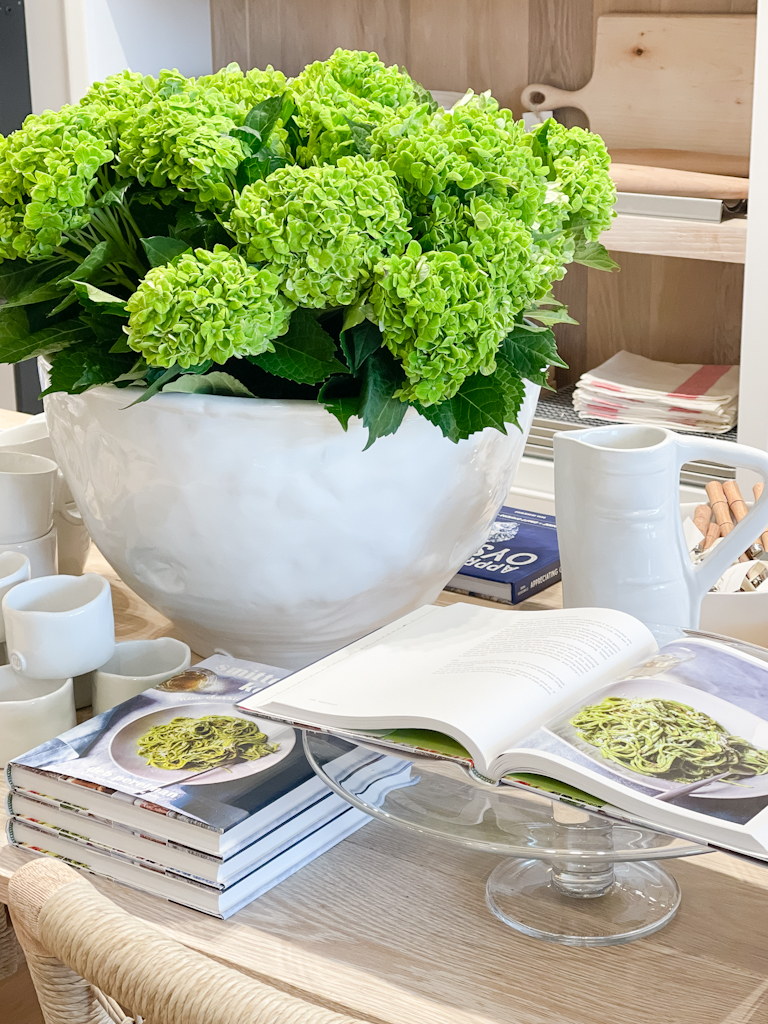 This whole bedding situation was stunning too. I would have bought it all if the duvet cover alone wasn't $600 😉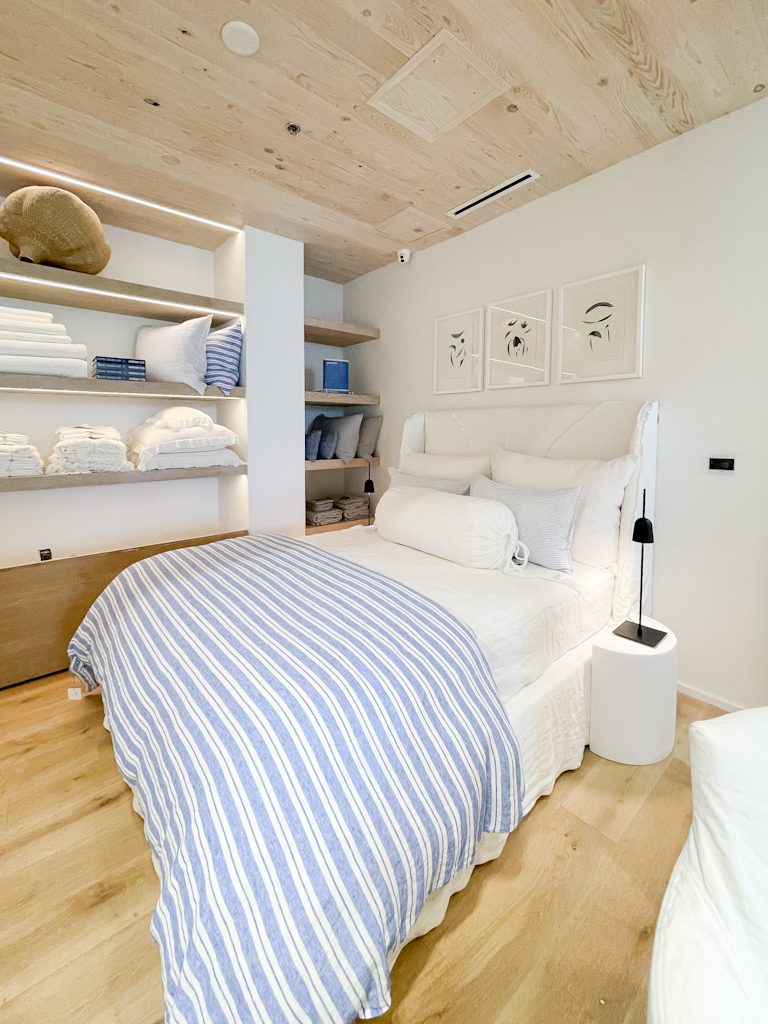 I came home with a few new candles, a white teak bowl, these wood links and the cutest little volcano trinket holder/planter that I also found here.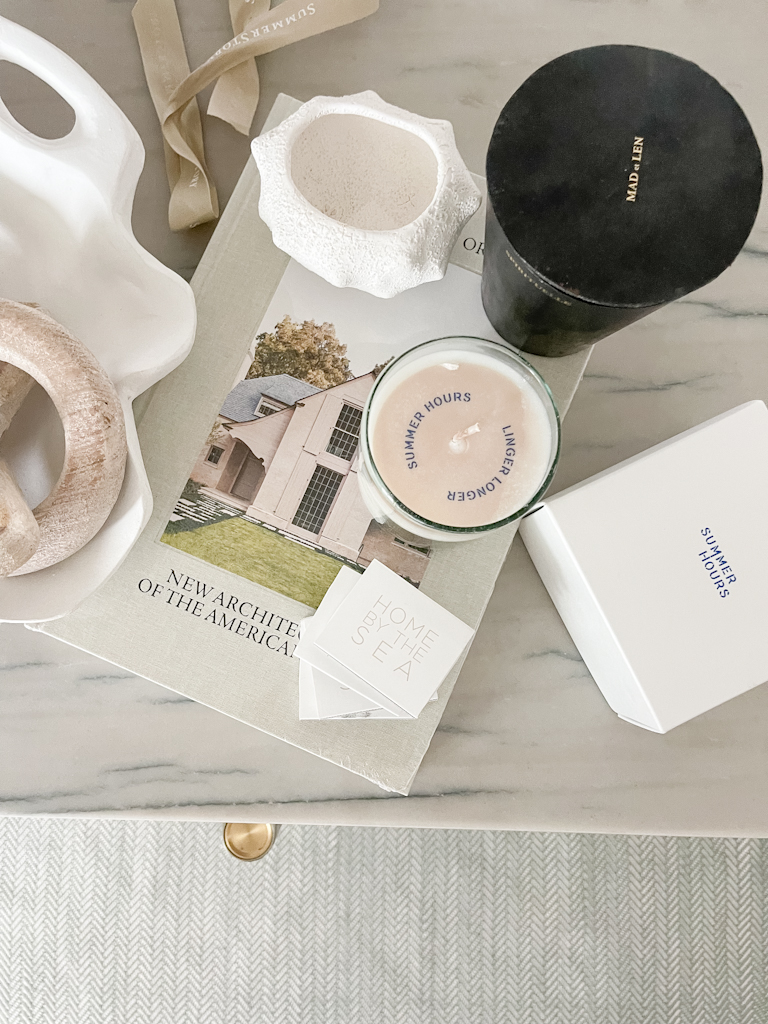 I had another Pottery Barn delivery that finally included my desk and our outdoor sofa. I'm on the hunt for extended length outdoor drapes for behind the sofa (it overlooks our beautiful driveway). Friday morning was cool for us (maybe 68 and or 69) and I actually needed a blanket while sitting out for a bit with my coffee and the cats. I think we're really going to enjoy this space this fall and winter! And once our outdoor dining table ever arrives 😉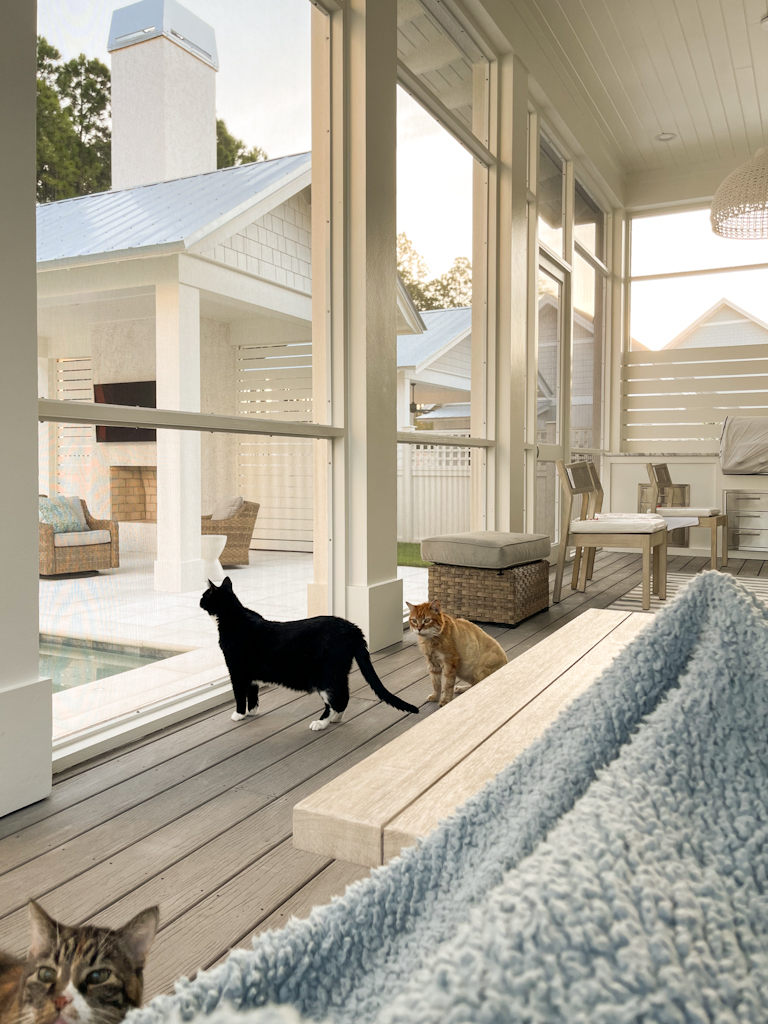 Once Kurtis got back from Omaha on Friday afternoon, we headed out for a late lunch at George's in Alys Beach. Coming off the busy tourist season, it's fun to get back to places we semi-avoided for a few months. It was also great to see all the bikes, now that the humidity has died off a bit and the temps aren't quite so stifling. We're both anxious to get back on our bikes this fall!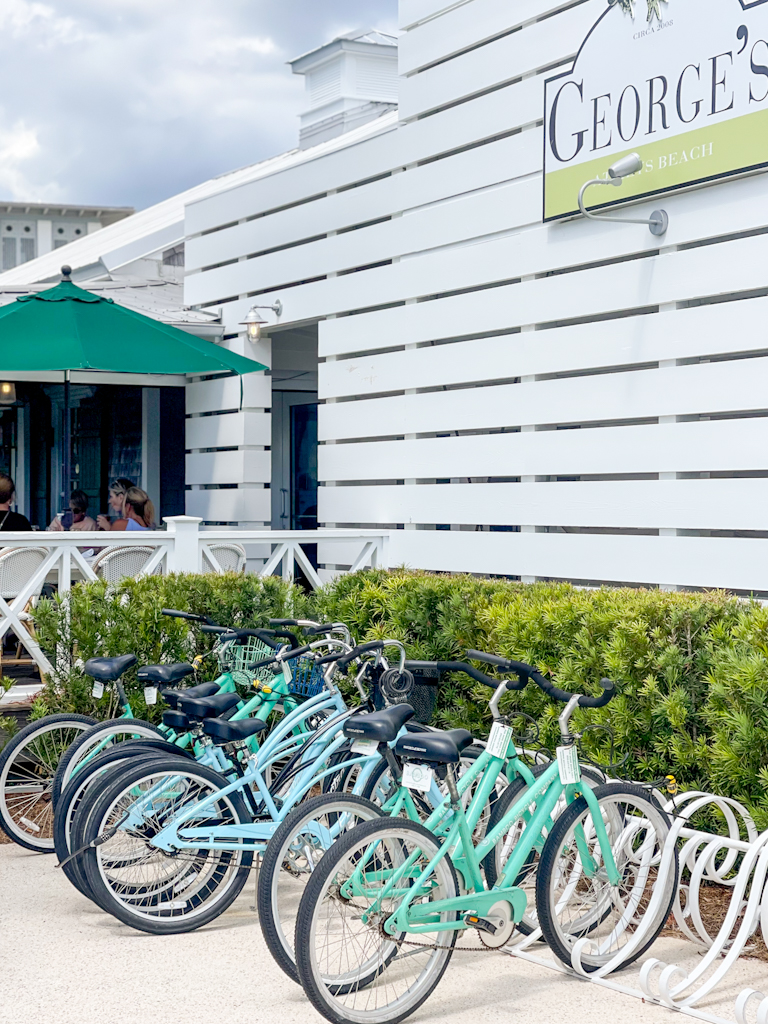 The cats are still in their wet food era and are obsessed with the two times a day they get their portion. The time also coincides with Bailey's insulin shots, so everyone is eager for her to get her medicine 😉 I had to laugh at them all lined up just waiting for Kurtis to hurry up!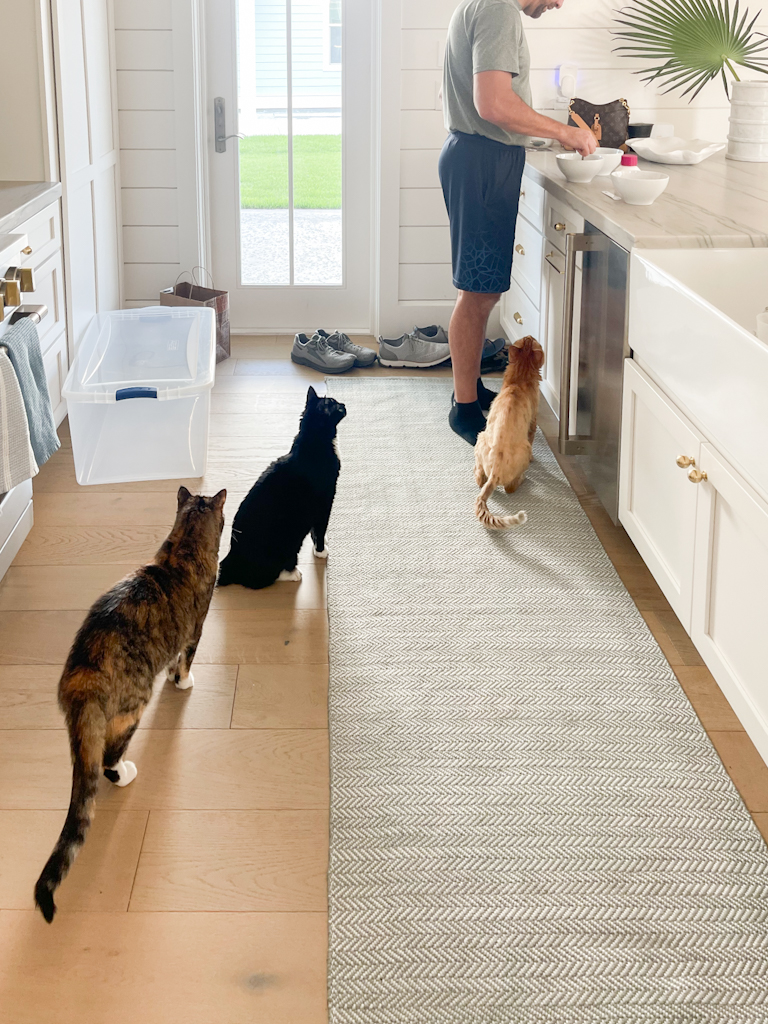 Kurtis' oldest sister and brother-in-law arrived Saturday afternoon and will be staying in our carriage house for three weeks! It was so fun hanging out with them again all weekend! We went out for dinner and drinks Saturday night. We then came home to watch the Iowa game out in the cabana. Such a beautiful night! Side note: our outdoor swivel chairs are still in stock after the latest restock and are finally available for shipping again!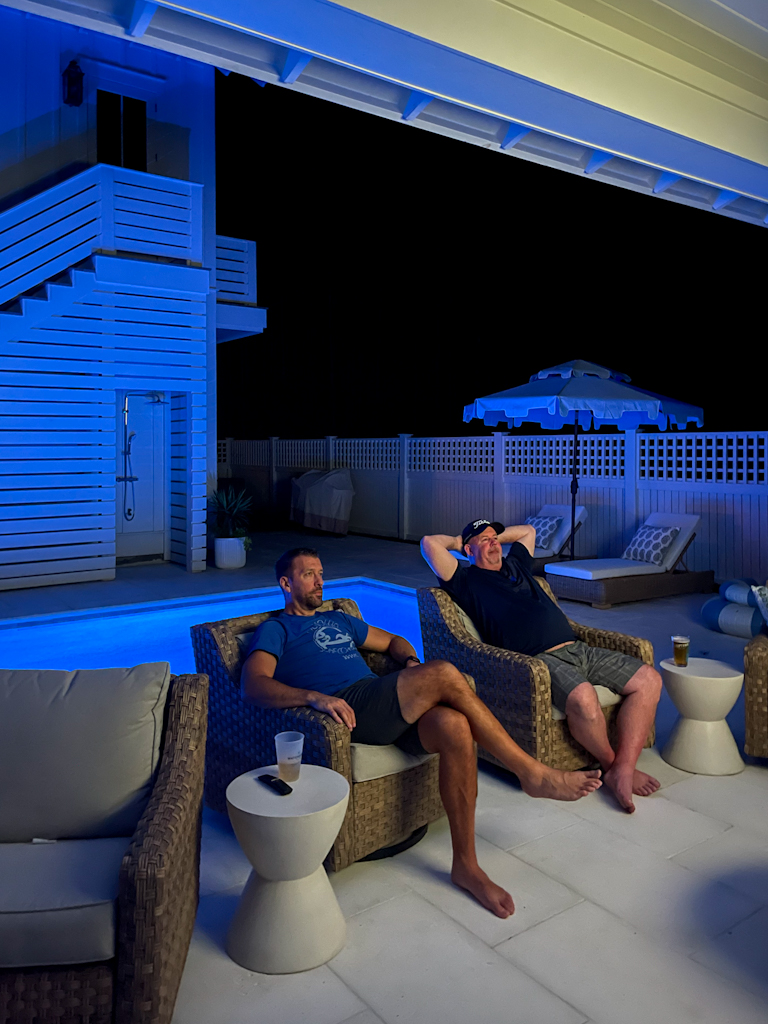 The guys golfed Sunday morning and then we met up again for dinner last night at Camp Creek Inn. The weather is just starting to cool down a smidge (especially in the evenings) and it actually started to feel a bit like fall as we were leaving. The beautiful fall sunsets are definitely making a comeback and we are here for it! I always love that the stars come out so much more brightly this time of year. Not sure if that's because the humidity is lower so better visibility?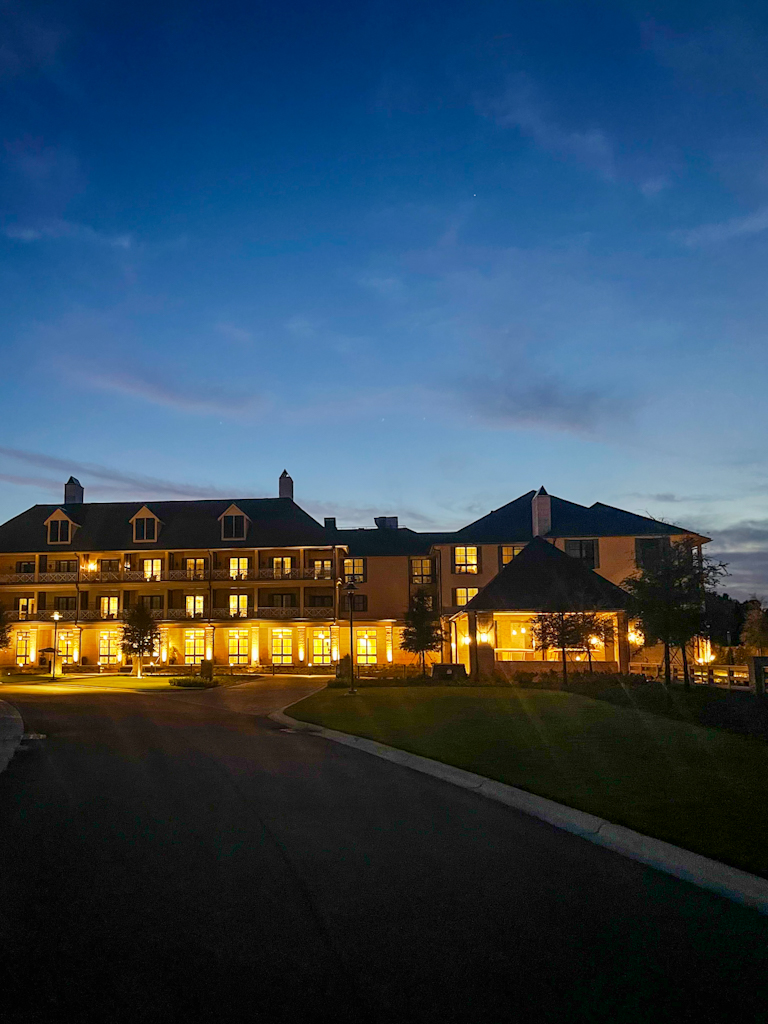 Kurtis and I are headed to Minnesota later this week for my cute cousin's wedding! We're excited to see my parents and brother and his wife, as well as my mom's side of the family (it's a big one!). The cats will be in good hands here at home with their favorite babysitters 🙂
Recent Buys & Sales
Following are some sales from the weekend that have carried over and are still going strong!
I hope you all have a great week!
If you would like to follow along on more of my home decor, DIY, lifestyle, travel and other posts, I'd love to have you follow me on any of the below channels: