Good morning! I hope you all had a great weekend! I'm coming at you a day late, but today I'm sharing what we've been up to around here this past week.
This post contains affiliate links for your shopping convenience. You can read my full disclosure policy here.
Home Projects & Updates
Our focus this past week has been getting the carriage house ready. We're so excited to be able to have friends and family be able to stay out in this mini apartment when they come visit. I'm hoping to share a full tour by next week so you can see what it's all like. I call it a mini apartment because, while it is almost fully stocked, it's lacking a laundry setup as well as a dishwasher. Other than that, it's a pretty self-sufficient space over our garage!
Getting it set up has been no joke! Kurtis' oldest sister and brother-in-law arrive late next week from Omaha to spend three weeks here! They can work remotely, so they thought it would be fun to head south for a few weeks. Since their stay is extended, I wanted to ensure they have everything they need to feel at home. There are so many things to consider (especially when stocking a kitchen) so it's been rather time-consuming! That has also required all the furniture to be here, assembled, and ready to go. I'm waiting on a few rugs, kitchen tools, and our washer and dryer (which still haven't been delivered two weeks later, but that's a whole other story) so I can wash the new bedding and towels.
I ordered this affordable dining table for the space and am very happy with the quality and size! It works perfectly with these look for less rattan dining chairs! We'll actually have four dining chairs out here, but the flow works better with the table pushed in the corner when not in use. We have another chair at the desk and we'll put one in the bedroom for when they're needed at the table. Also, pretend there isn't styrofoam all over the floor. We still need to buy a vacuum for out here 😉 I ordered this simple two-toned jute rug to go under the table. We had the same one in the rectangular shape in our Omaha house and loved it so decided to use it again here! It's super helpful it comes in five shapes and a bunch of sizes so it's easy to find a great fit.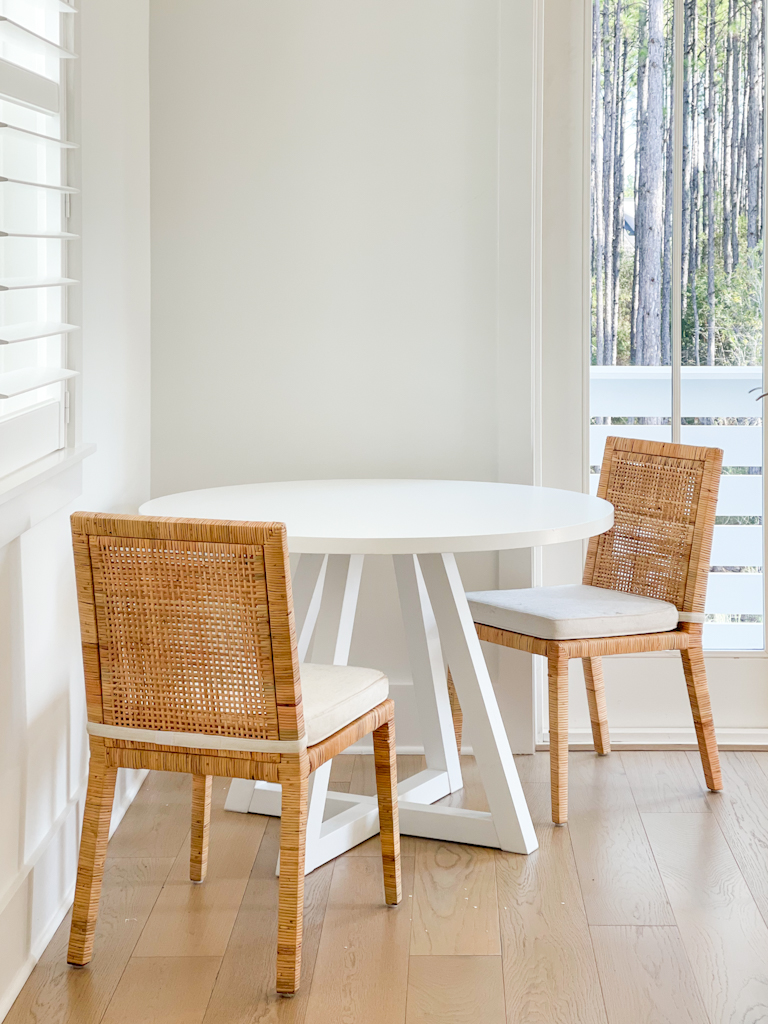 SOURCES: Dining Table | Dining Chairs
I underestimated restocking an additional kitchen. Man! It gets expensive quickly. So I did some research on affordable, yet decent quality items. I know these will only be used a handful of times a year so I decided which of our items I wanted to upgrade (and could then move our current items out to the carriage house) and which made more sense just to buy new. I'm happy to put together a list if any of you are interested (the below picture shows just a fraction of what I've ordered but I'm trying to wash them all in batches).
We've had this 15-piece knife set for several years and love it and I was thrilled when I saw the white version that we have was marked down so much! So, I ordered another set and will plan to keep the new for us, and move the older set out to the carriage since it's still in great shape.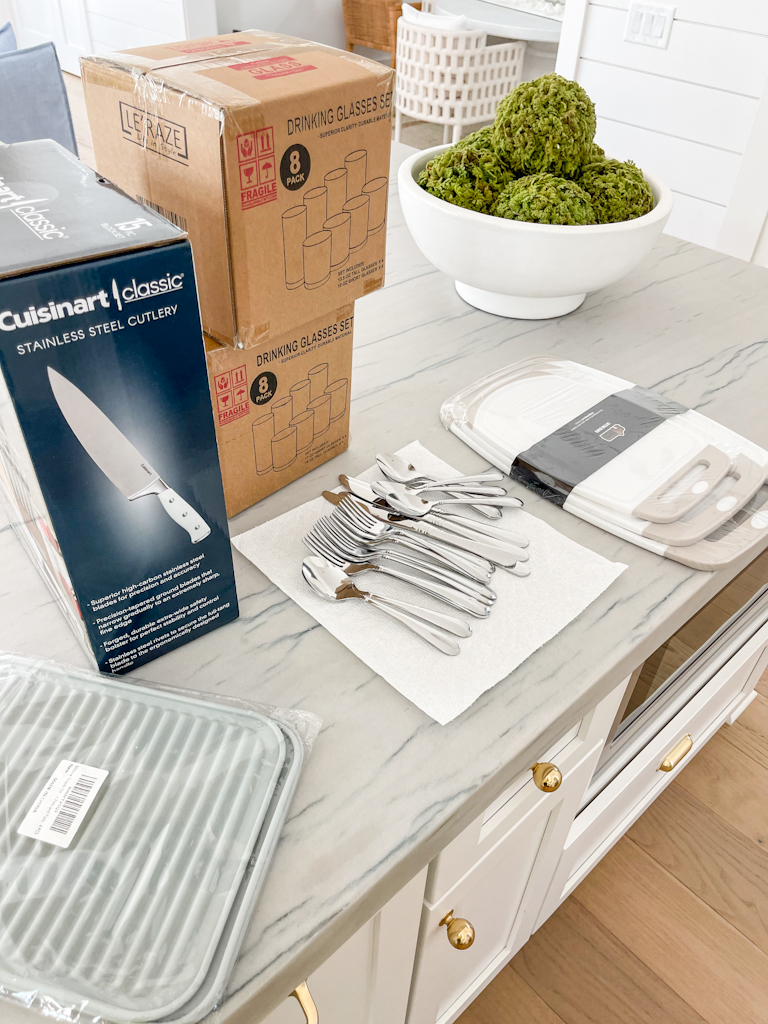 SOURCES: Knife Set | Silicone Trivets | Drinking Glasses | Flatware | Cutting Boards | Footed Bowl (large) | Similar Faux Moss Balls | Cabinet Hardware
Sunday we spent a few hours in the carriage house bathroom. It still boggles my mind a bit that our builder only installs a hand towel bar. So we had to install regular towel bars/hooks in all the bathrooms on our own. I also opted to provide my own mirror here, since I prefer that look over the built-in option they were offering. So, we hung the mirror, towel bar, and several hooks. And of course I forgot to take an "after" shot.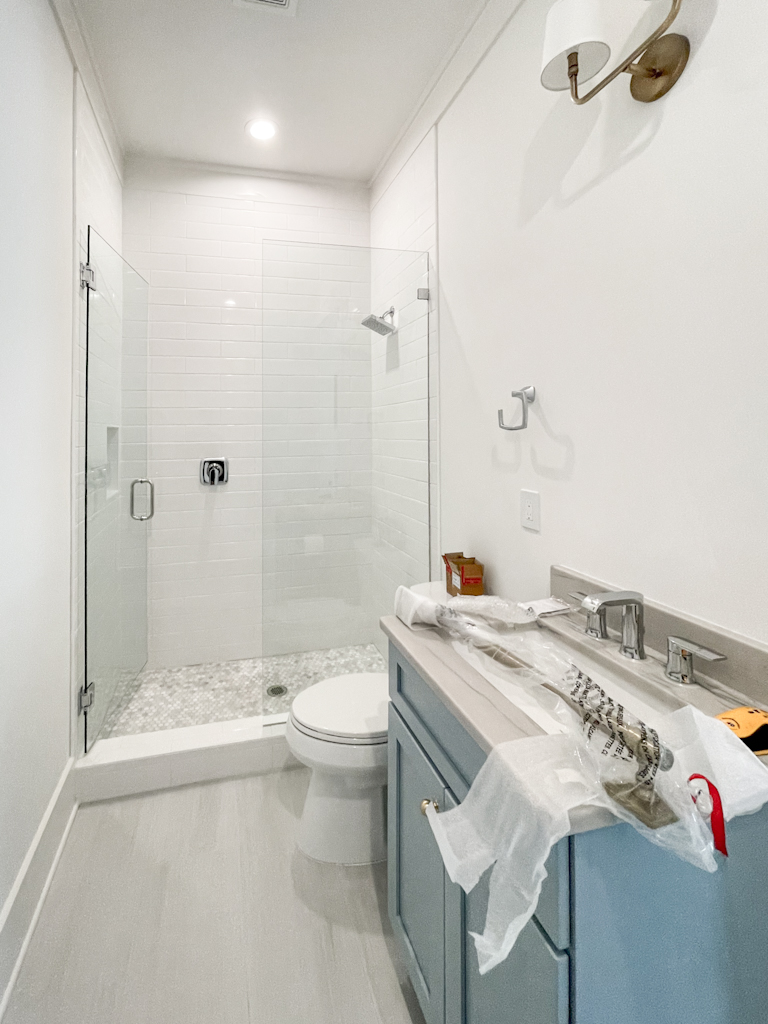 While I should absolutely not be decorating yet until I get more boxes unpacked, I took a minute to make this quick fall arrangement in our entryway. These are the oak stems I shared in a Wednesday Watch List a week or two back. I love them so much! This vase is rather large, so I used three stems here (but still had to bend the base nearly in half). I love the little acorns on them and the golden yellow works so well with shades of blue for fall!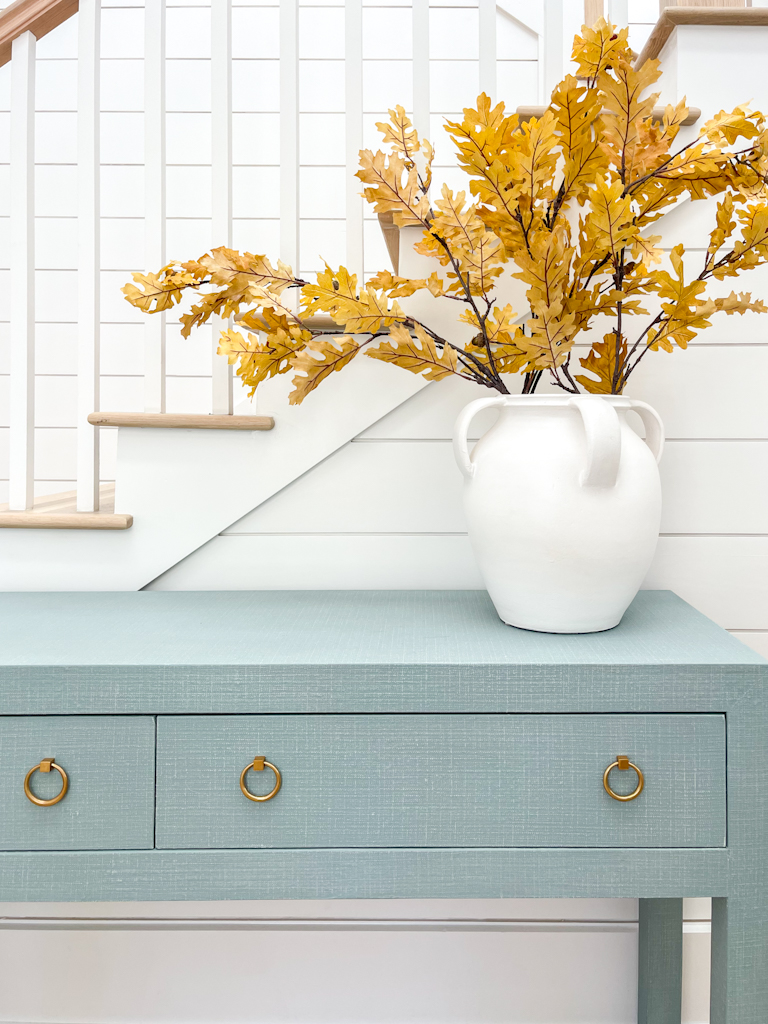 SOURCES: Console Table | Vase (large size) | Faux Oak Stems
Top Sellers Of The Week
Following are the top sellers from last week across all of my channels. Links to each item are below the graphic.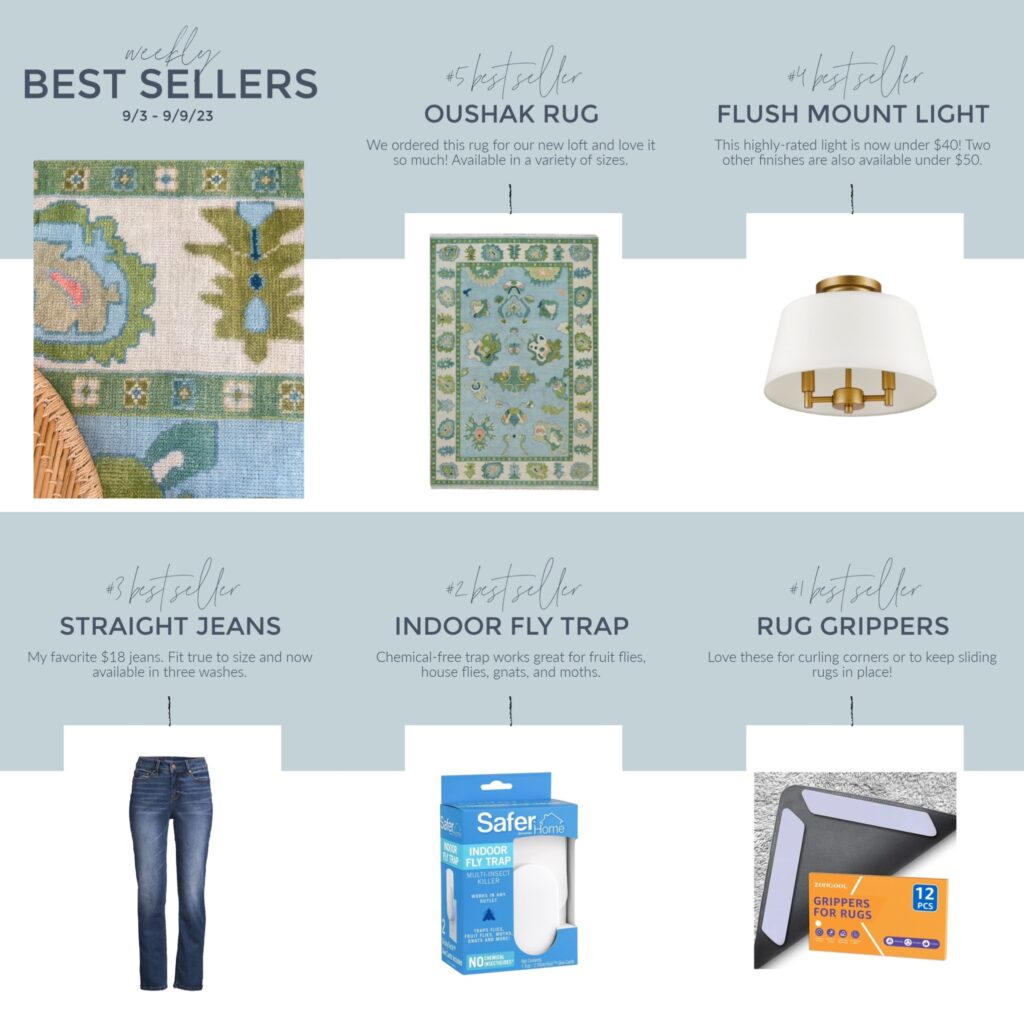 BEST SELLERS (each number is clickable): #5 | #4 | #3 | #2 | #1
In Case You Missed It
Following are the posts I shared over the past week, in case you missed some days!
Around Town & For Fun
Wednesday was my 43rd birthday (!!). Kurtis took me out to Gallion's in Rosemary Beach on Tuesday night and then we met some friends at Amigos on Wednesday night to celebrate. I enjoyed both of the low-key evenings so much! Unfortunately I didn't take pictures from either night.
Sadly when I woke up Thursday, I was pretty sick. And it honestly knocked me out most of the weekend and Monday. My energy levels were at an all-time low, which couldn't have been more annoying since all I want to do is get fully unpacked!
Needless to say, I'm nowhere where I thought I'd be from an unpacking perspective at this point. But I'm okay with that. I don't want to relapse by pushing too hard!
Saturday Kurtis was in football heaven. His dream has always been to watch football in the swimming pool. He tried it once before we moved in Omaha, but he didn't really enjoy it because there's only a weekend or two there in the fall that the pool is open and is conducive to being in the pool comfortably. But he knows his season is just getting started here!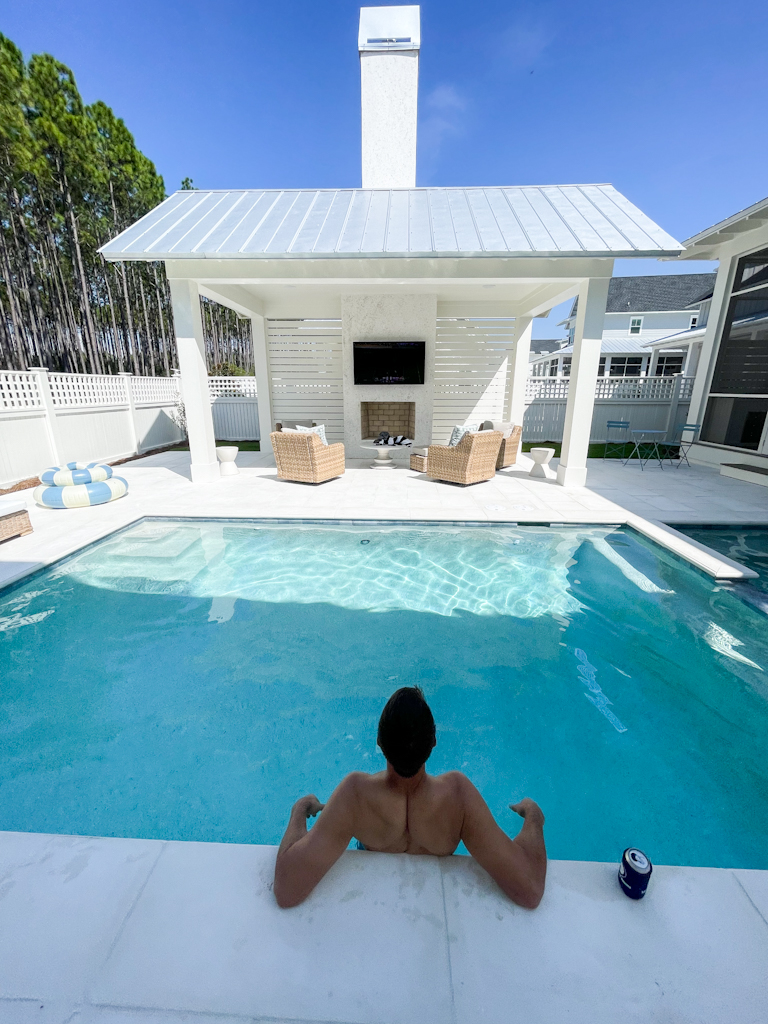 I sat out with him for a bit but I still wasn't feeling well and the heat was making me crazy dizzy. I spent a little time inside unpacking with my "helper".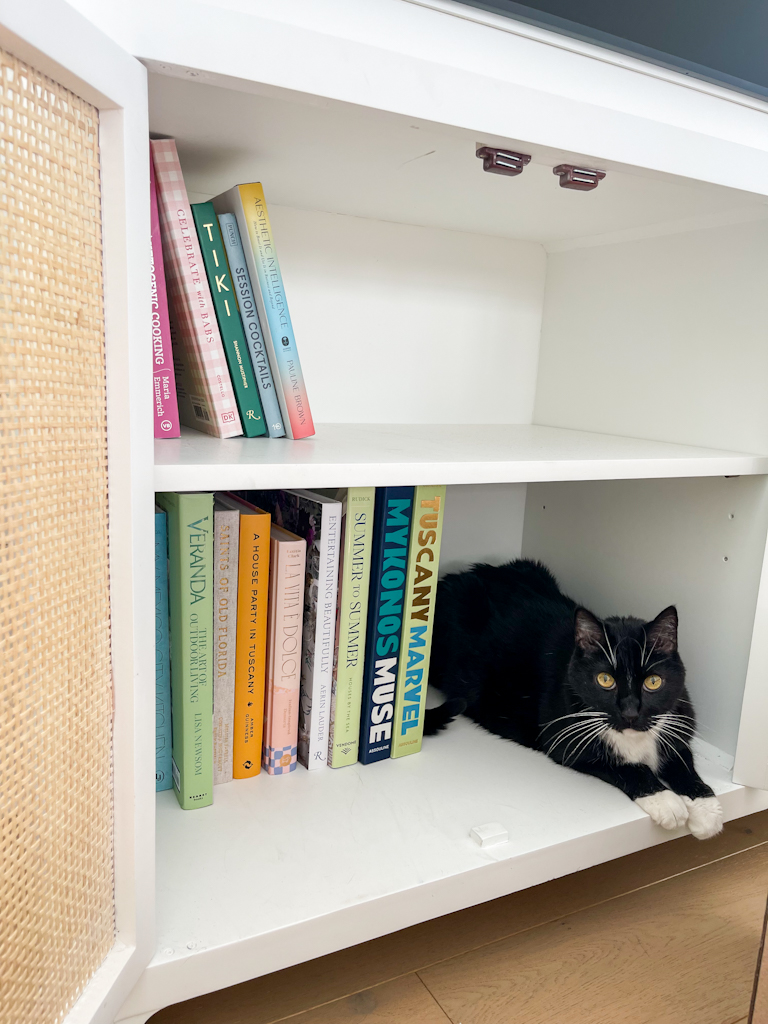 Henley was not impressed. She spent most of the time up on her perch just glaring at him.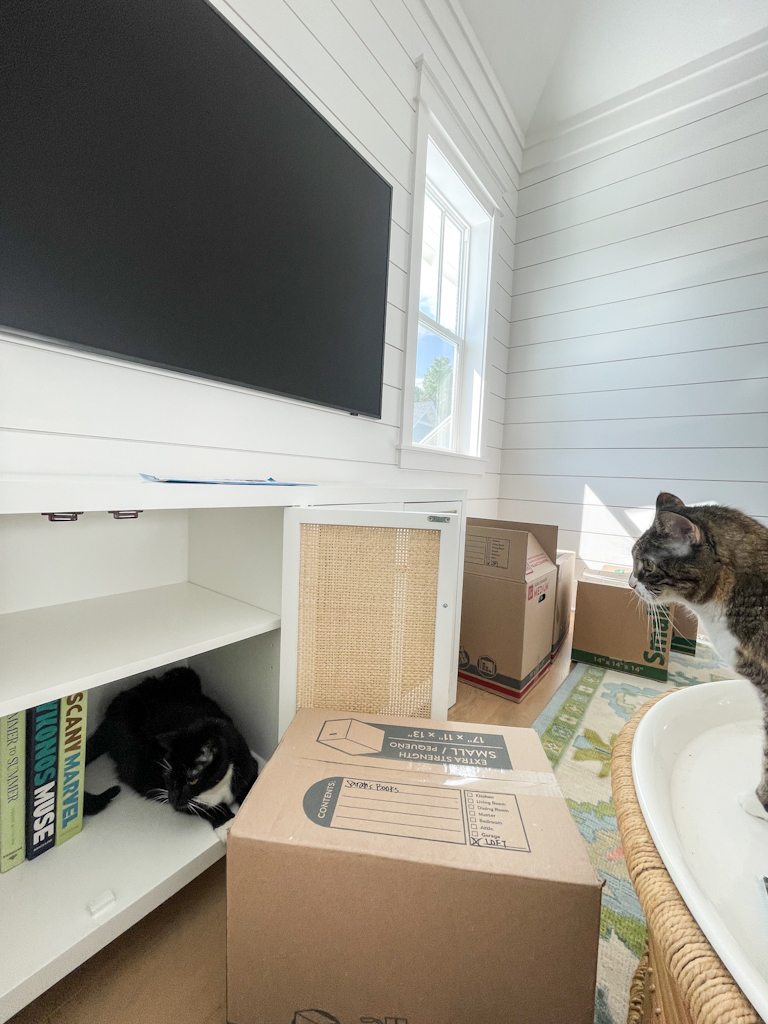 Bailey lasted about ten minutes helping.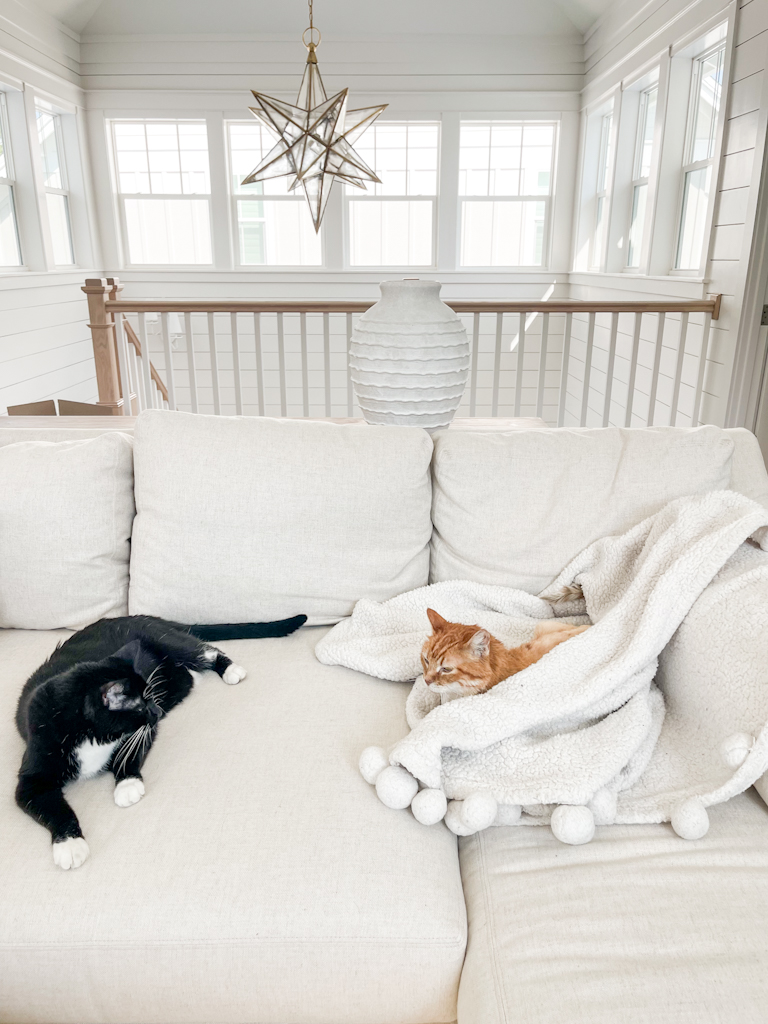 SOURCES: Sectional | Vase | Moravian Star Chandelier | Pom Throw (just thinking I need to order a few more because this one is our oldest and looking a little rough!)
She much prefers her little spot outside! She'll now sit at the back door and cry the most pathetic cry to get us to open the slider for her. Whatever makes her happy!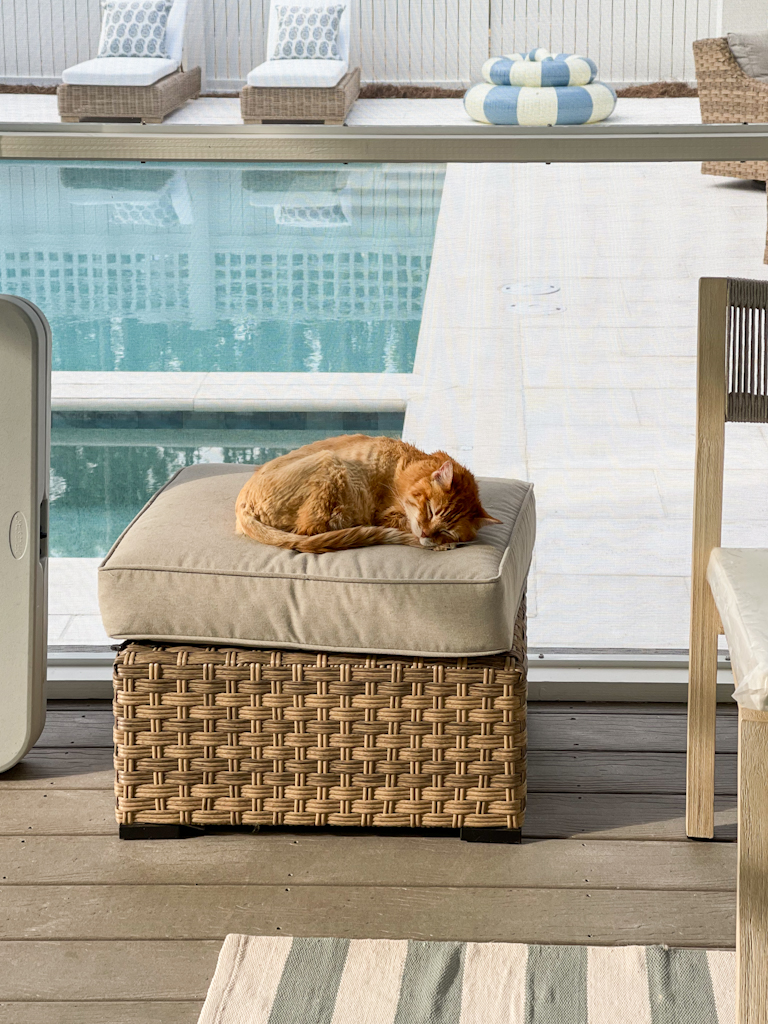 We had Pottery Barn delivery trucks here three times last week and they'll be coming twice more this week. Efficiency at its finest! 😉 But I'm thrilled we'll finally have an outdoor dining space on the screened in porch. They brought our dining chairs but forgot the dining table so that's coming Friday. They were both clearance finds, but I'm really hoping they restock the chairs because they are so good!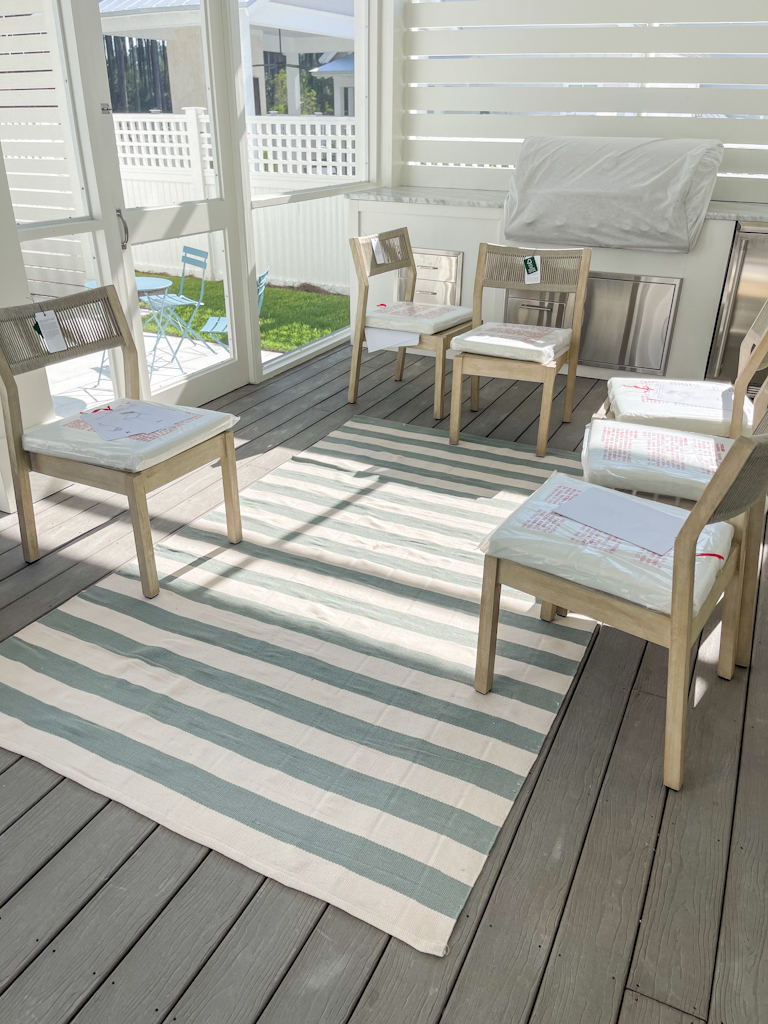 And Kurtis finally got his desk! He just forgot to tell me that his solution to my "three monitors is out of control, find a better option" was this option. Not sure which is worse. At least there's less cords?? It just caught me a bit off gaurd but I think in the long-run a much better option!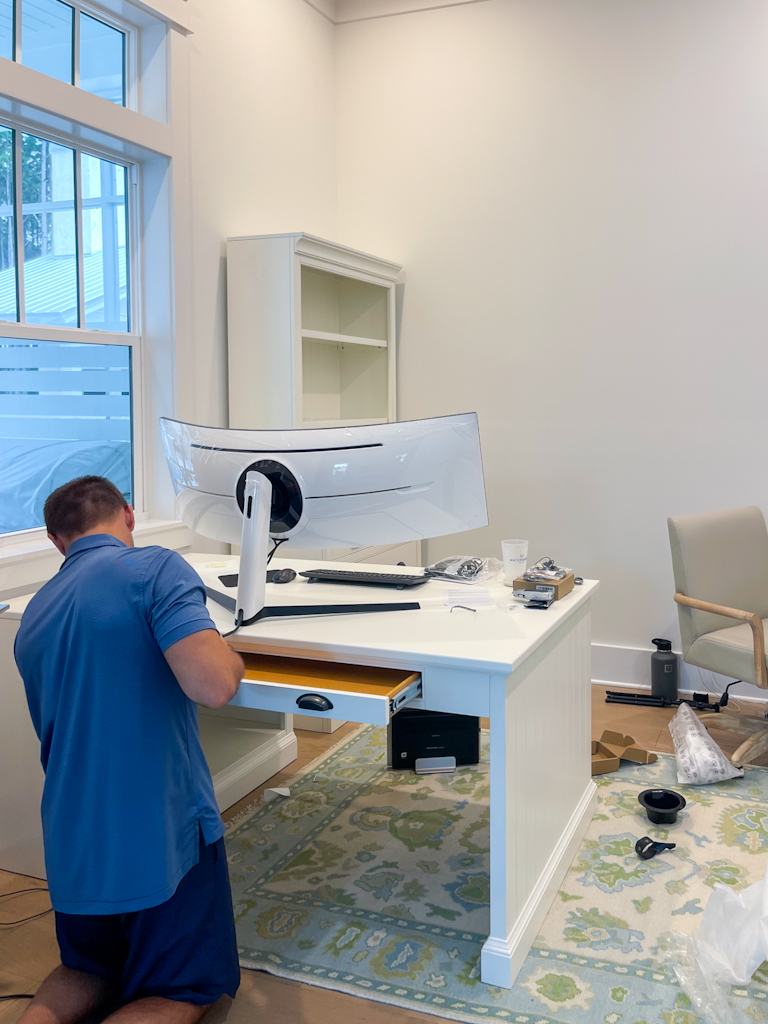 He's pretty happy with it, so at least his office has doors so I don't have to look at it 😉 His view is pretty great too!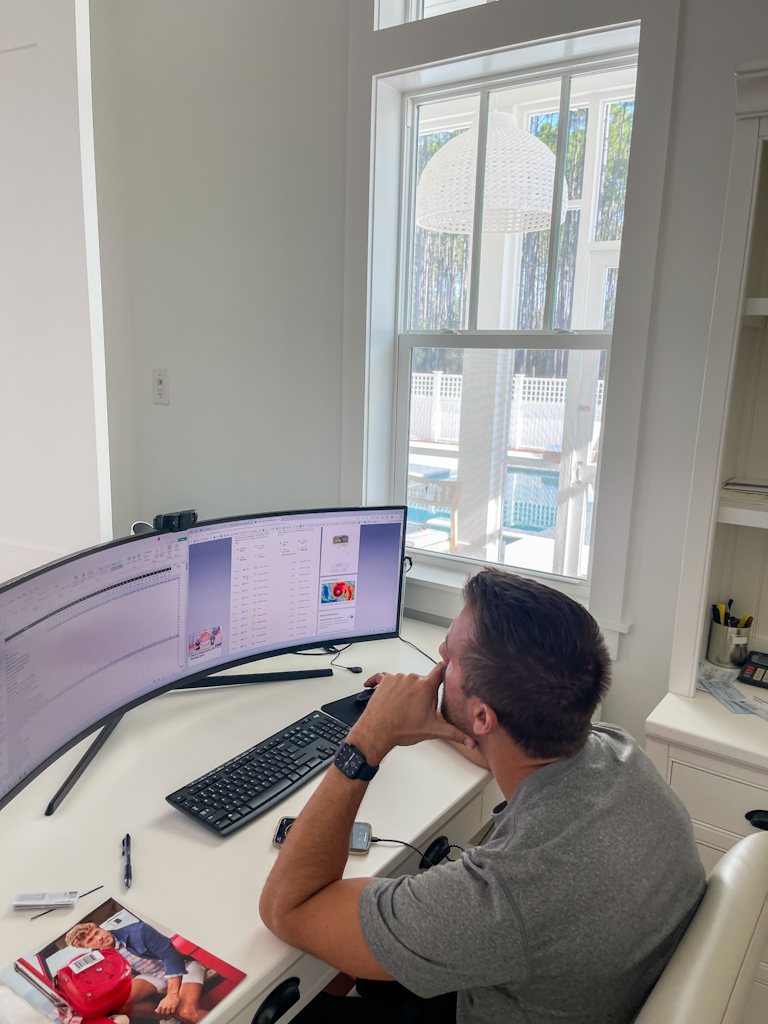 I've been slowly unwrapping some of the items I've picked up locally and packed away. I can't wait to use these cute seashells from Susie Bettenhausen and these beaded napkin rings from Becasa!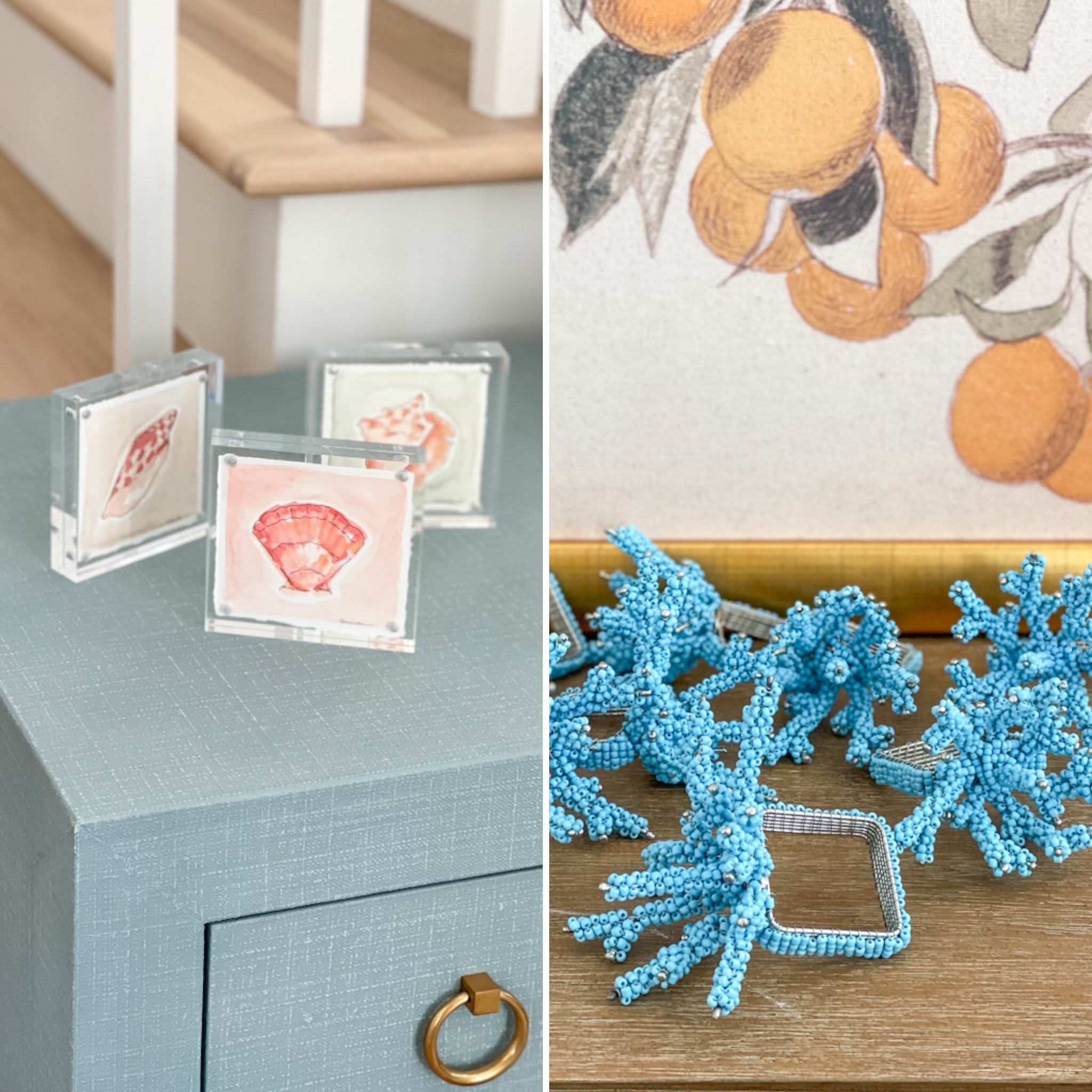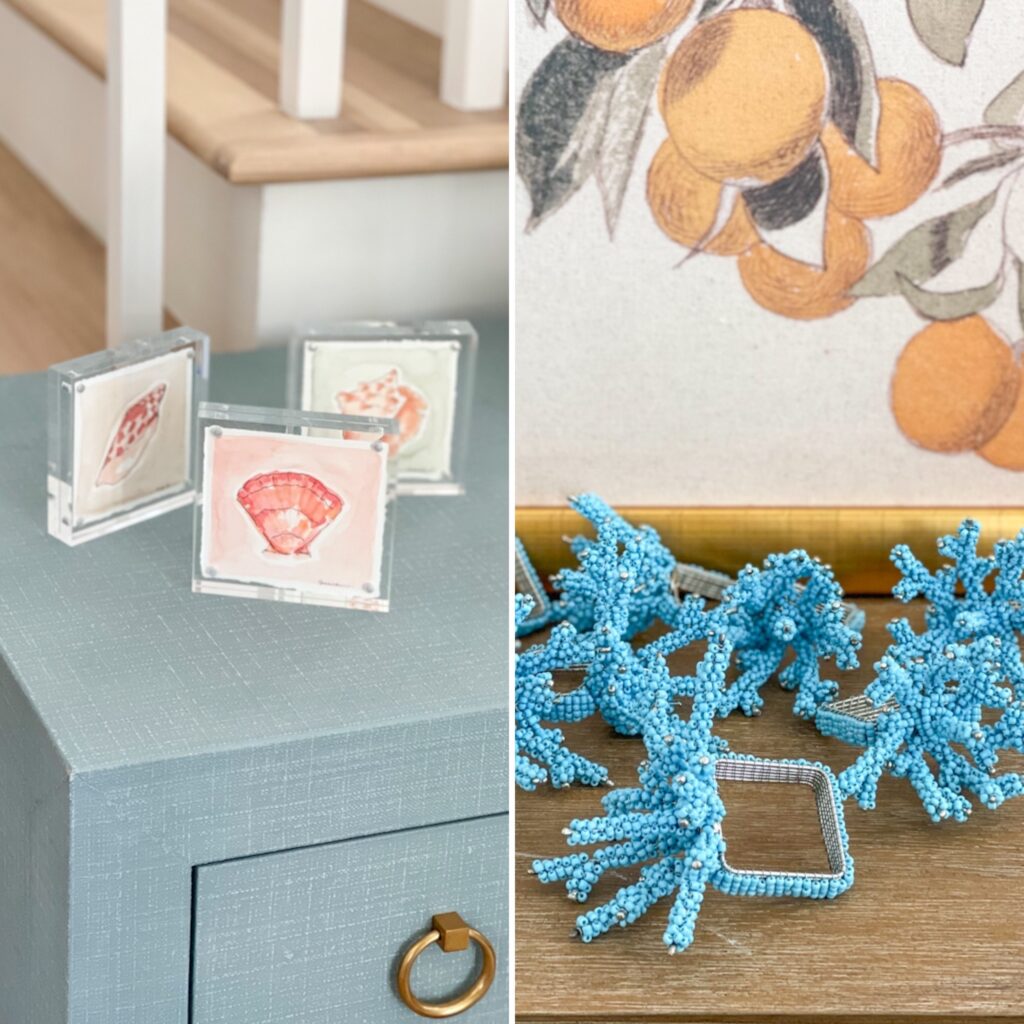 We've received so many sweet and thoughtful housewarming gifts, calls and texts over the past week or so and they're all making us feel so much more at home, and well-loved! Now I just need to get us fully unpacked (or at least mostly) and put some decor out. I'm excited to share it all soon!
Kurtis is in Omaha twice between now and the end of the month, when we then fly to my cousin's wedding in Minnesota. We have friends hosting a murder-mystery party this coming weekend and we all need to come in character. It's going to be a lot of fun and I'm really looking forward to it! It's hard to believe Kurtis' sister and brother-in-law then arrive next week to spend a few weeks with us! It's going to be a busy fall!
Recent Buys & Sales
Following are some sales from the weekend that have carried over and are still going strong!
I hope you all have a great week!
If you would like to follow along on more of my home decor, DIY, lifestyle, travel and other posts, I'd love to have you follow me on any of the below channels: