Good morning! I hope you all had a wonderful weekend! Ours was action-packed and the weather was beautiful. It's been so nice to get outside a bit here and there. Here's a little of what we've been up to this past week.
This post contains affiliate links for your shopping convenience. Click here to read my full disclosure policy.
Home Projects & Updates
Our new living room chairs arrived last week! With as backordered as everything single thing in the furniture world is right now, I was shocked how quickly they arrived! If you want the background story or more of my top contenders, you can check out this post on modern coastal living room chairs! I think the scale is much more appropriate for our rather shallow living room, so it helps make the space not feel so cluttered. Once we have the old ones fully out, I'll be sure to share a pictures of how everything looks together!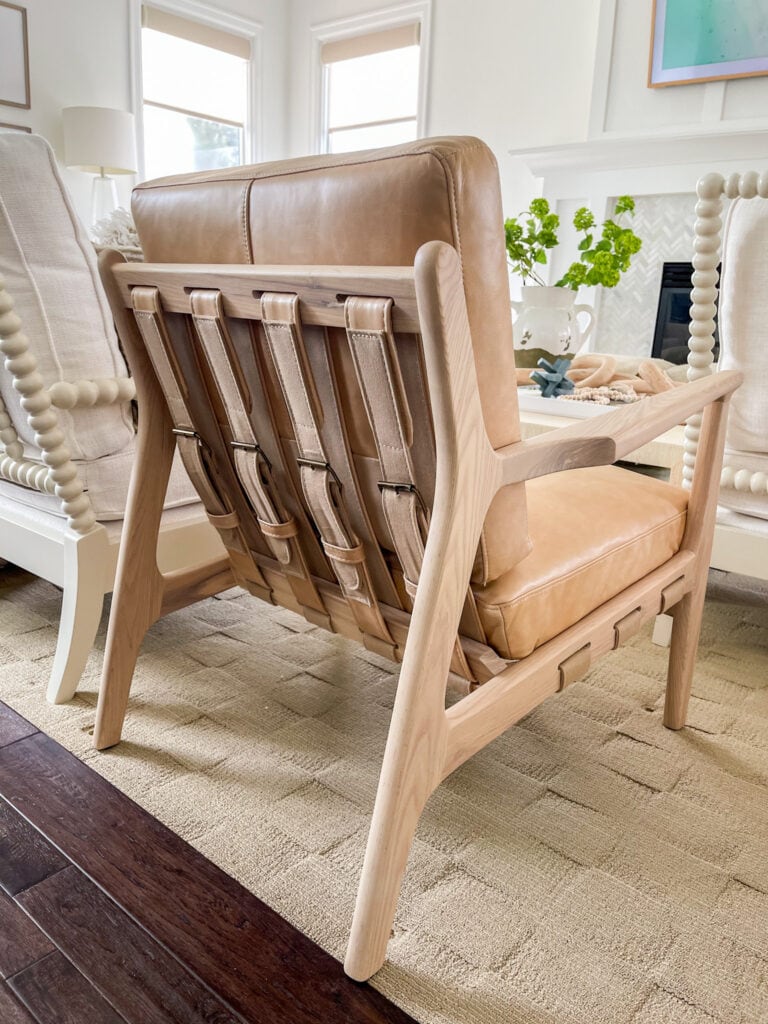 We spent a bit more time wrapping up the garage this weekend, which means we were also able to have our POD picked up! It's so nice to finally have it out of our driveway! But it worked like a charm while it was here. I'm hoping to share part I of the garage with you later this week! The before and after transformation is pretty dramatic! Just a little reminder, this is how it looked just over a month or so ago. Yikes!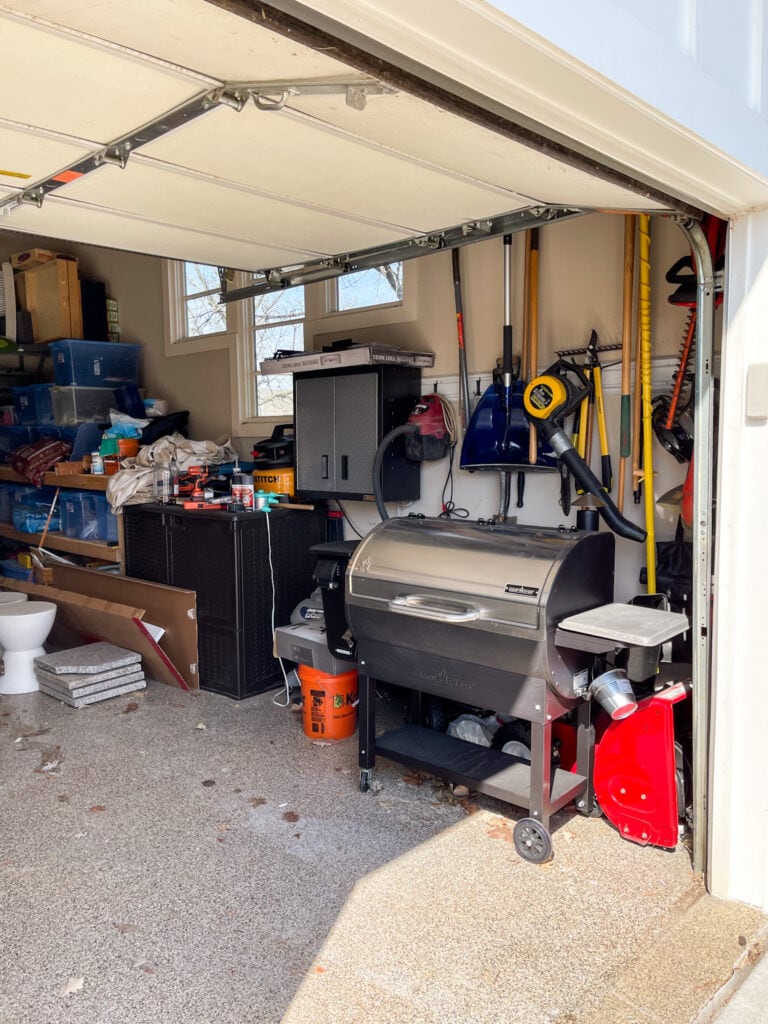 The most exciting thing we're looking forward to this week? Tomorrow is spring clean-up for our yard (meaning everything will be getting cleaned up, trimmed, and new mulch delivered). And then Wednesday, if weather permits, our pool will be opening! Maybe the wind will eventually die down so my furniture and cushions will stop getting blown around so much every time I fix them 😉 It's amazing how much the grass has greened up over the past week! I'll plan to share some of the pool-opening process in my Instagram Stories this week for those that are interested!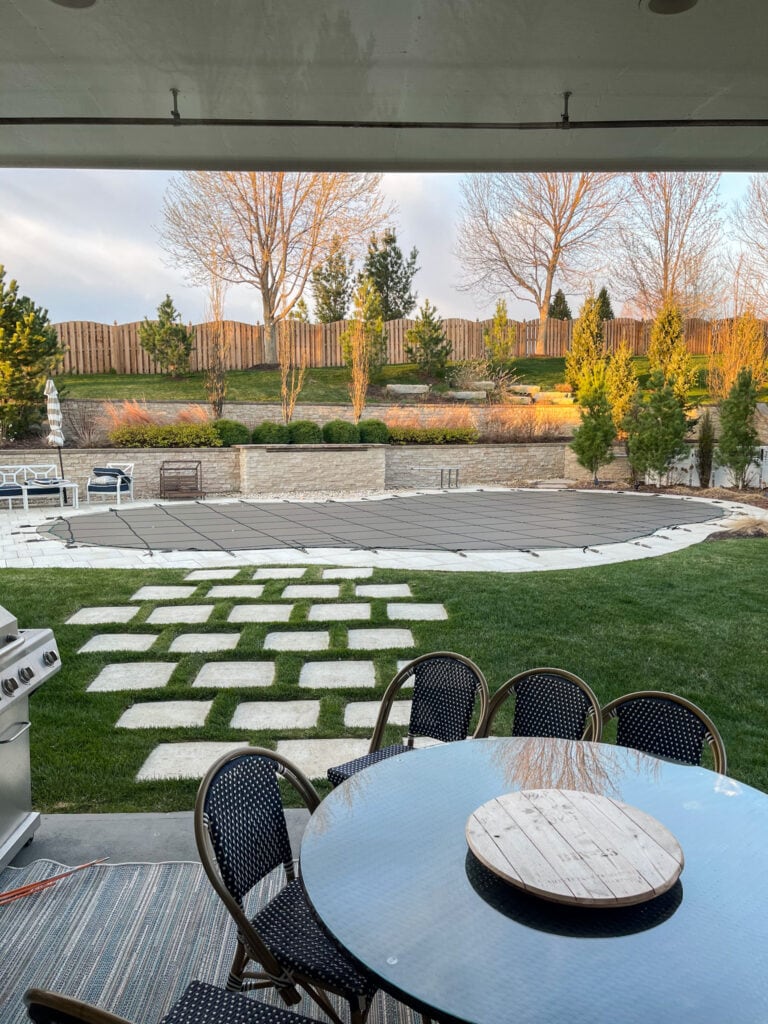 PATIO SOURCES: Round Outdoor Dining Table | Similar Dining Chairs | Outdoor Rug
Does anyone remember when it opened it on April 15th last year and the next day we had nearly 8″ of snow covering everything?! It was so beautiful! We're probably a bit aggressive going even a few days earlier this year, but so far no snow in the forecast!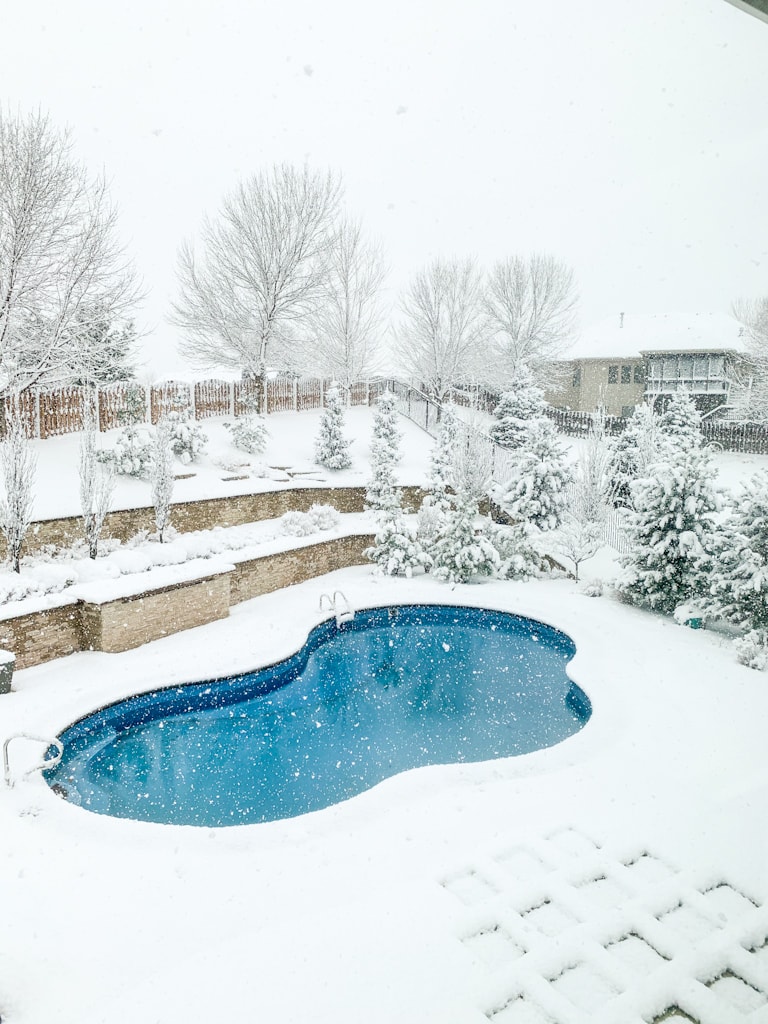 With all this talk of spring and the outdoors, I'm already itching to get out and start making some planters! Sadly, we still have nights in the 30s still for as far as I can see on the 10-day forecast so I probably need to wait a little longer. But I always try to get a head start prior to Mother's Day (the typical "safe" timeline to plant here). I don't want all the good stuff to be gone! But I'm also pretty sure Kurtis will give me away if I try to convert our nice clean garage into a greenhouse for a few weeks!
Top Sellers Of The Week
Following are the top sellers of the past week across all of my channels. Links to each item are below the graphic.
With my favorite fertilizer taking the number once spot (by far!) it's pretty clear you guys are just as eager for spring and summer planting as I am! If you're looking for some new planter ideas, be sure to check out my posts on summer planter ideas and front porch planter ideas.
Around Town & For Fun
Super random, but I was scrolling Instagram last week and saw a local bloggers' post about leftover hardboiled eggs and her egg salad sandwich recipe. I don't know why, but it sounded so good that I decided we were eating it for dinner that night! It was really good (I didn't follow the recipe exactly). My only regret is that we only had Dave's Killer Bread thin slices on hand, which I found the taste to be a little too overpowering. But the egg salad was super yummy and I'll definitely be adding Thousand Island to it again in the future!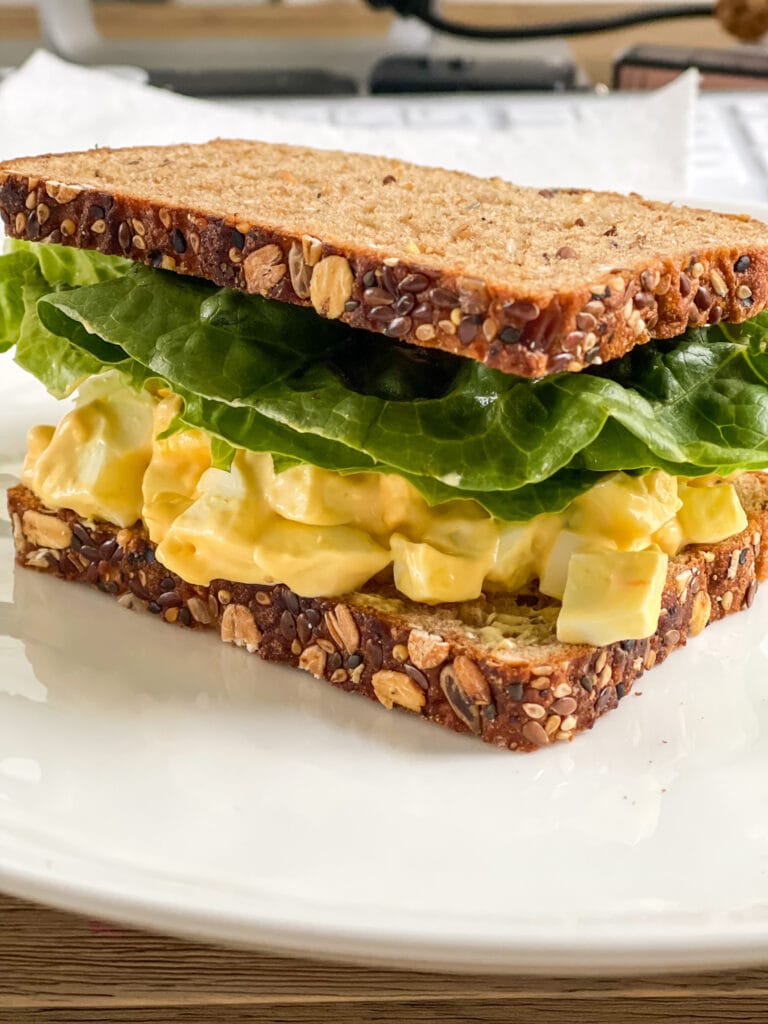 If you love Italy and/or are a food lover, we started watching Stanley Tucci's Searching for Italy series. We have been really enjoying it – despite the fact it's making us want to get back to Italy ASAP, even more so than we were already wanting to! We're learning so much, and as Tucci travels the various regions, it reminds us of why we love each one so much! Highly recommended.
Just a typical weekday morning view with a peek at how my desktop typically looks 😉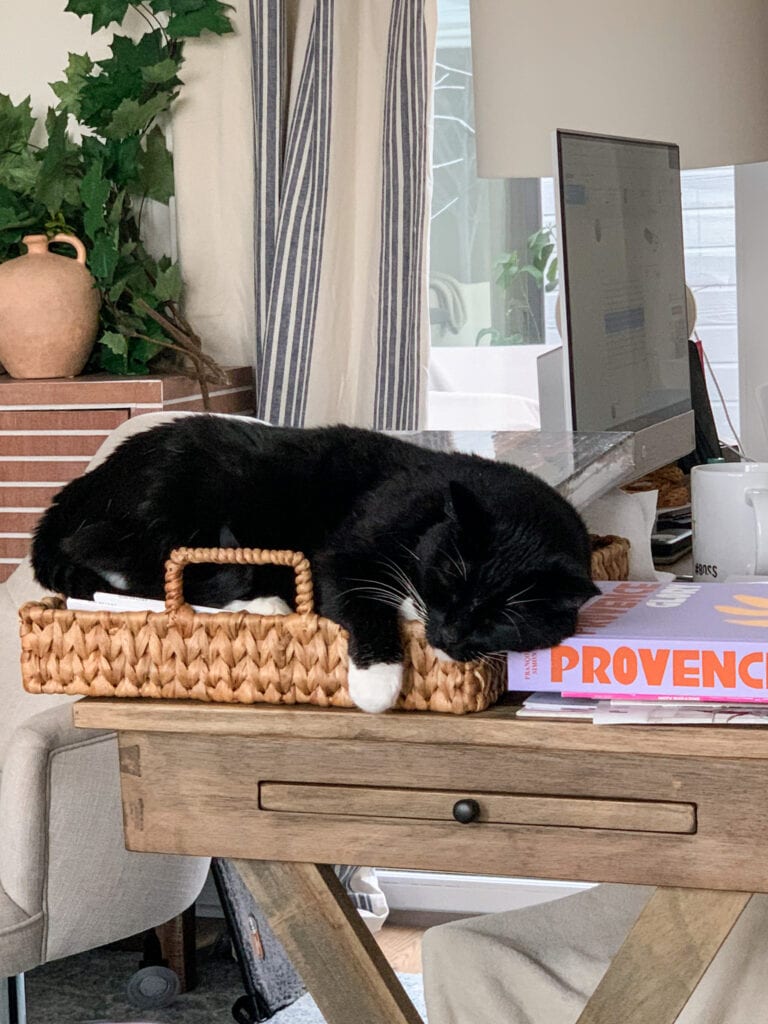 We attended our goddaughter's third birthday party on Saturday afternoon! She's very into dinosaurs right now, so she requested a dinosaur birthday party with a pink dinosaur cake. It couldn't have turned out cuter!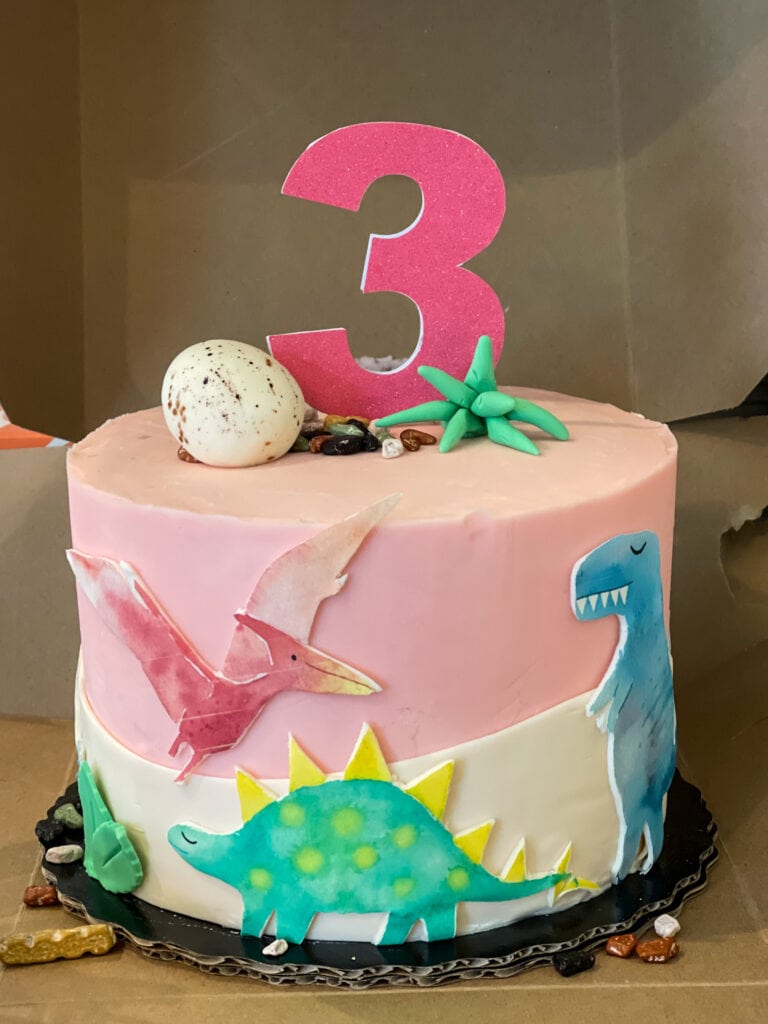 Our oldest niece and her fiancé came into town Saturday afternoon, as well! As part of their wedding gift, we're helping them plan their dream honeymoon, so they came to visit to so we could get things wrapped up! She's already a tee-ball professional. Just look at that bat grip 😉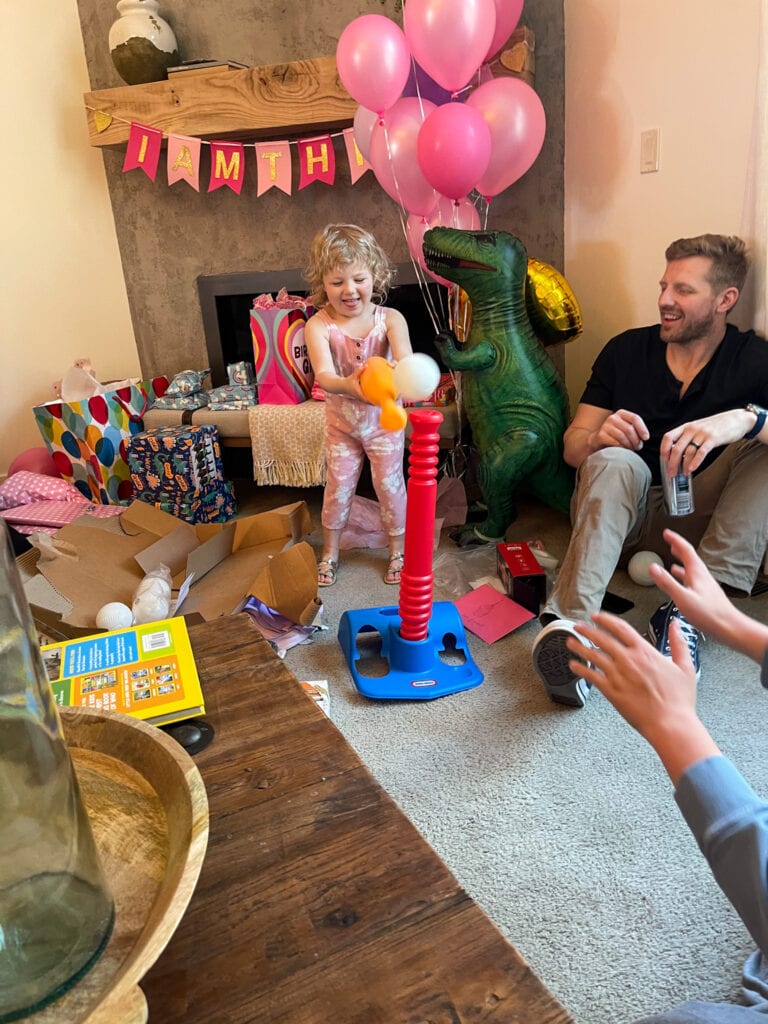 Despite it only be in the 50's Sunday morning, we took the crew to brunch at Jam's. We all packed jackets and decided to take advantage of the sun and sit on the back patio. It was so nice to eat outside. You could actually sense the excitement and buzz around us at all of the other tables – spring is truly here!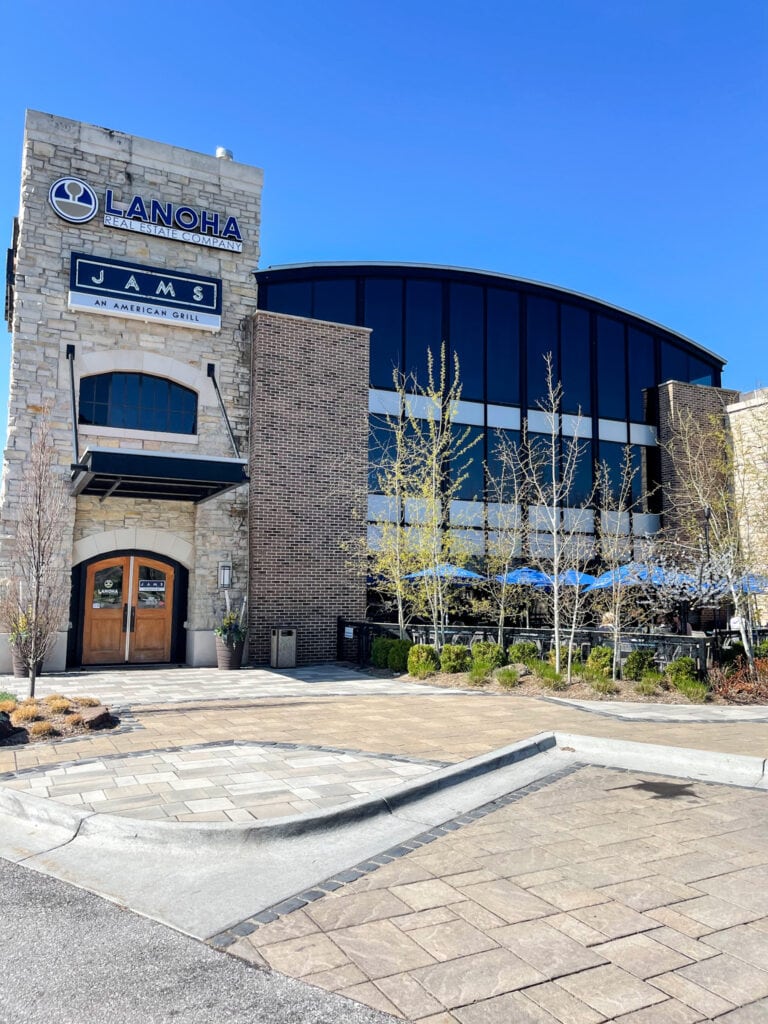 If you're local, our niece and I each ordered the Berry Frenchy, which is cinnamon sugar French toast with strawberry cream cheese filling. It was out of this world. Remember when Kurtis and I were supposed to start dieting last week for their wedding?! Diet starts again today 😉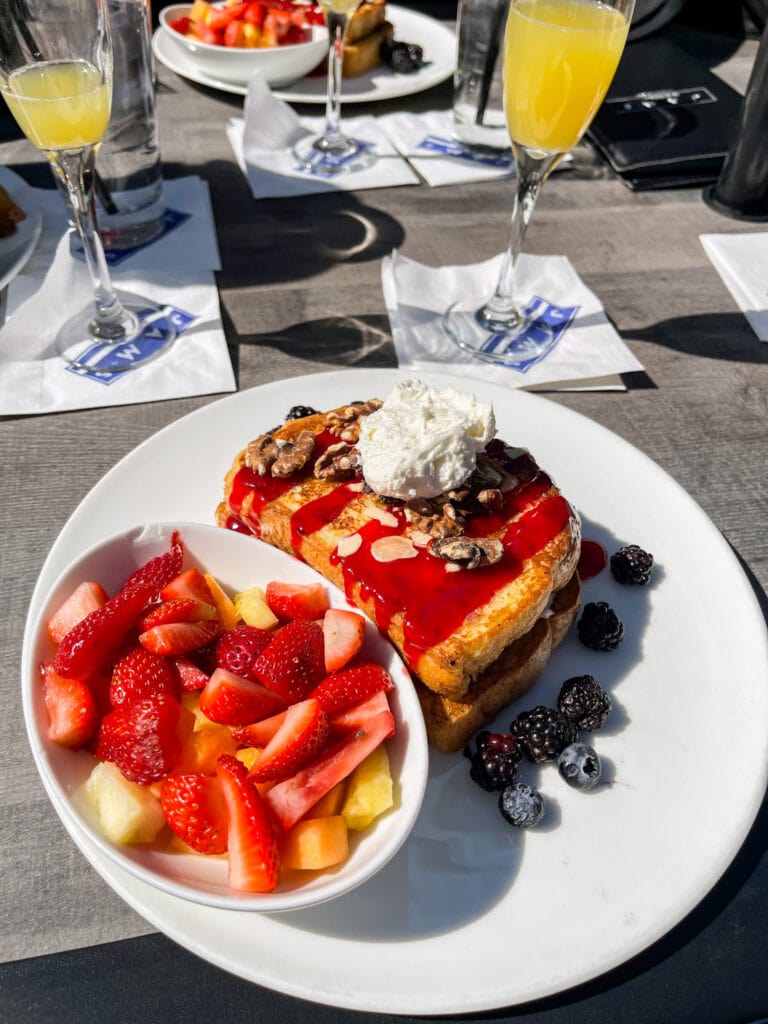 We finalized their honeymoon plans after brunch before they headed back to Iowa. It was so great to spend some one-on-one time for them, even if it was a short stay!
Recent Buys & Sales
Following are the sales from the weekend that are still going strong. You can see my top picks from the weekend here.
I hope you all have a great week!
If you would like to follow along on more of my home decor, DIY, lifestyle, travel and other posts, I'd love to have you follow me on any of the following:
Pinterest | Instagram | Facebook | Twitter
disclosure: some affiliate links used