Happy Monday! I hope you all had a nice weekend! I'm excited for Easter weekend and to be rolling into April and a new quarter later this week. Here's a little of what we've been up to around here.
This post contains affiliate links for your shopping convenience. Click here to read my full disclosure policy.
Home Projects & Updates
There was a lot of action in our garage last week! On Monday, our garage was fully insulated! We had found out this past winter that only about 1/4 of our garage was insulated (just the parts that touch our interiors and pass code). Unfortunately, with how much we store out here, it's important things not be able to freeze like they did this past winter. Since the walls were already finishes, they have to drill a hole at the top of the wall in between every set of 2×4 studs to blow the insulation in.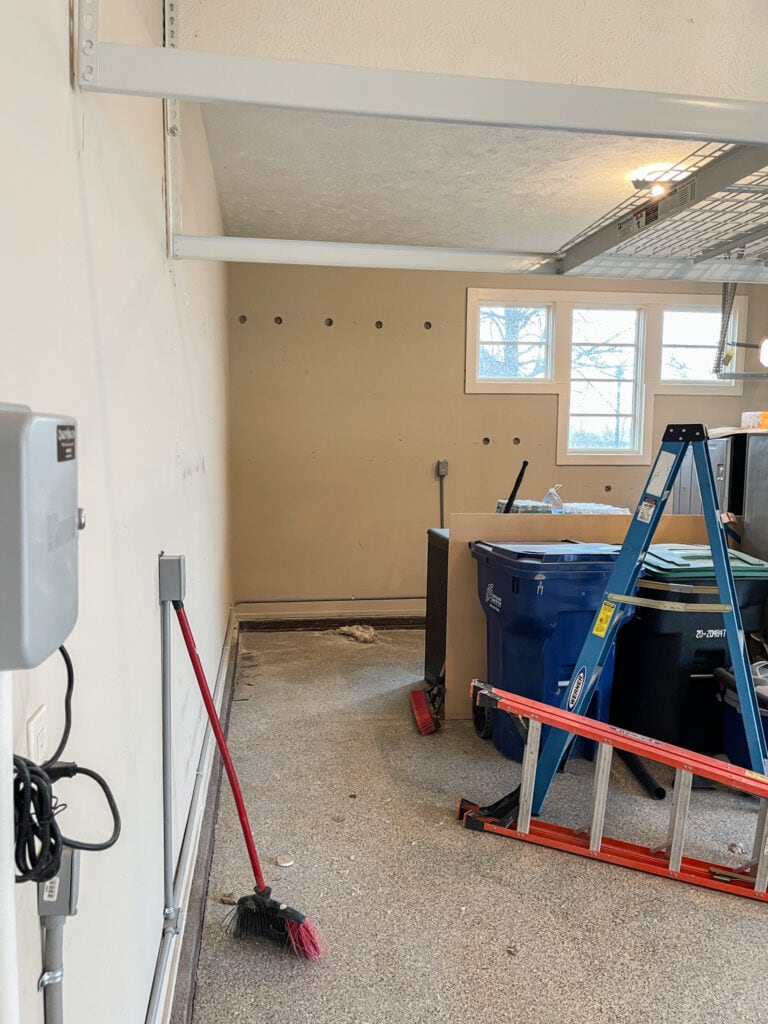 So, after they were done, we were left with mud patches all around the garage like the picture below. Cute, right?! 😉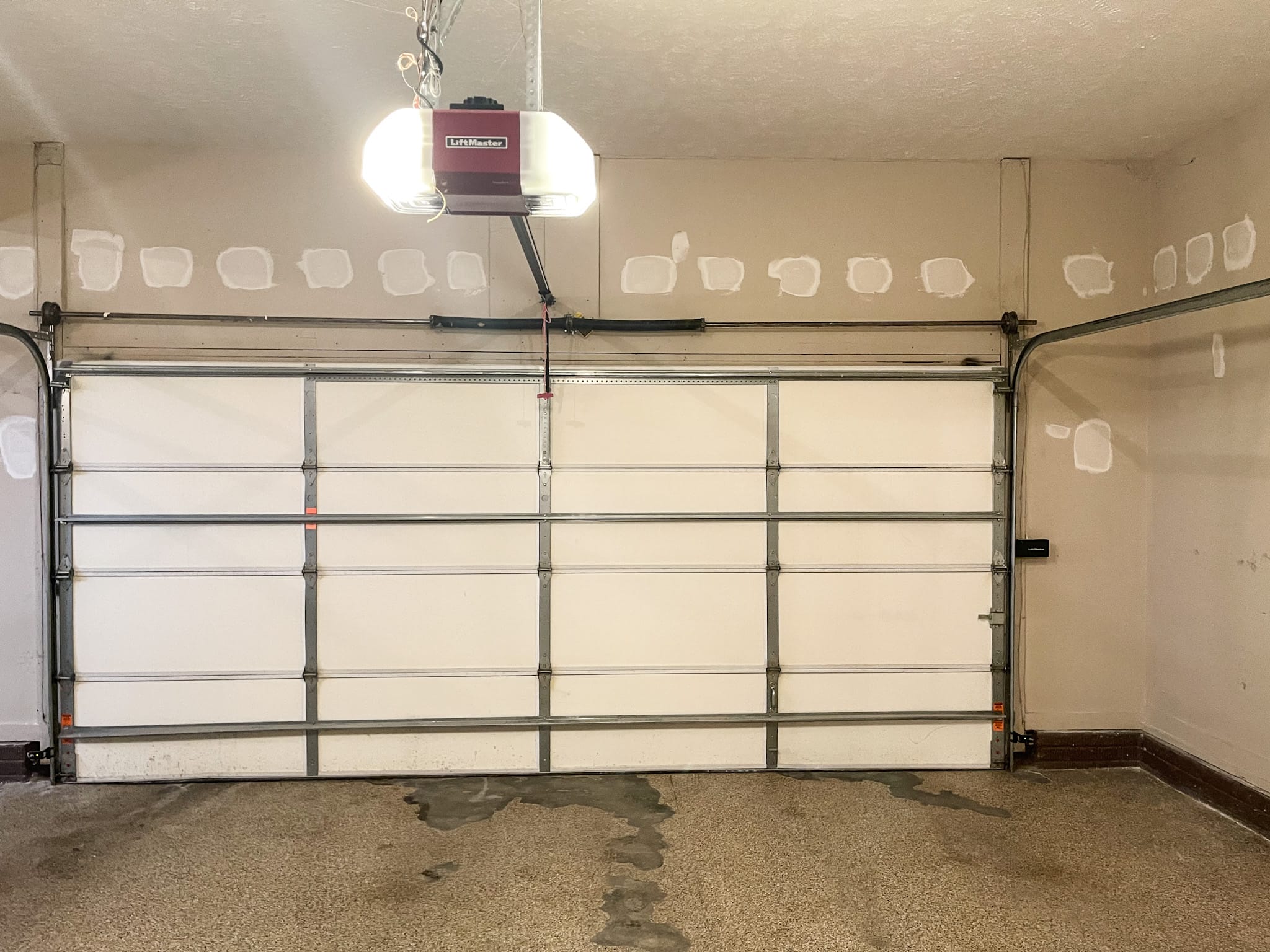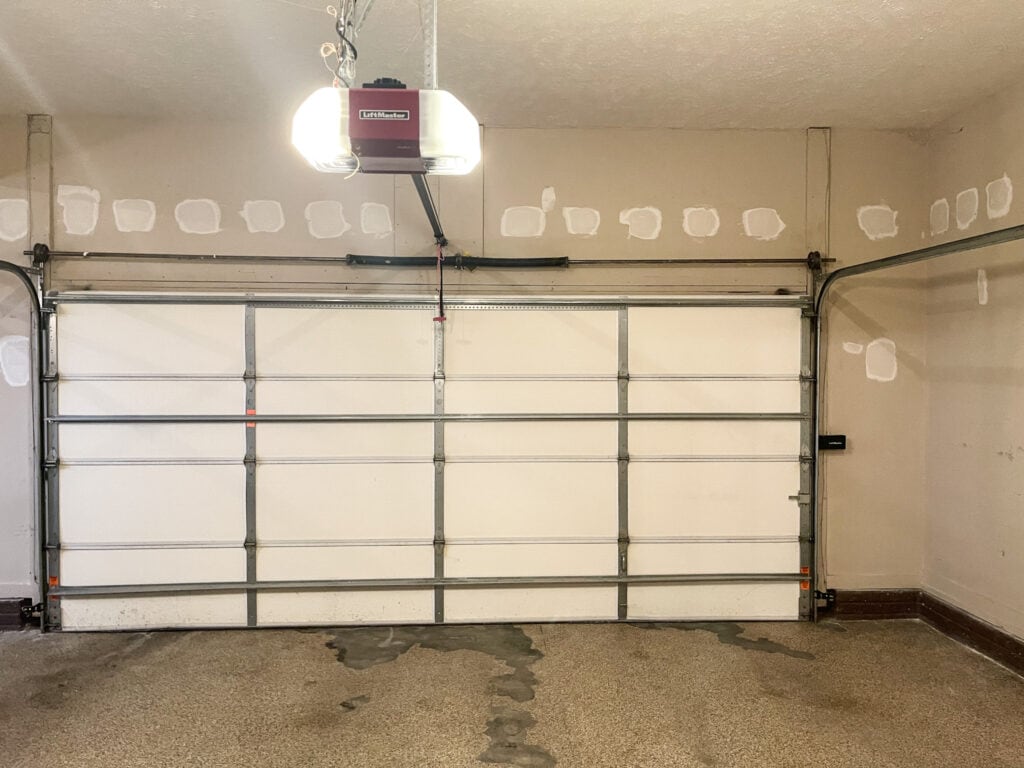 Kurtis warned me that was coming so we already had a painter lined up a few days later. I can't even tell you what a dramatic difference the fresh paint made in our garage! We used Benjamin Moore Classic Gray since I thought it paired nicely with the new floor coating we picked. I thought the old trim color would be "fine" since it's just our garage. Turns out, it was driving me insane and looked extra pink. So I took on a painting project over the weekend to freshed it all up.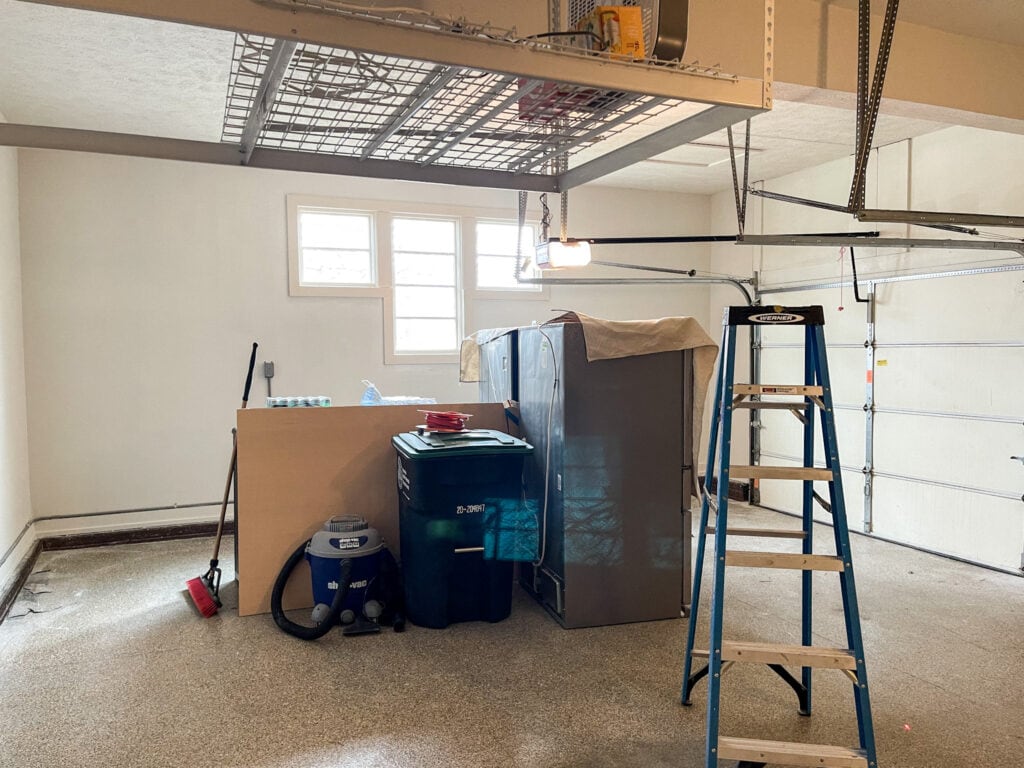 Friday I applied the first coat of paint to the window trim. Here is a quick snap right after I threw some on just so you could see the difference in color. I ended up using Benjamin Moore White Dove because there was an extra exterior gallon available from touch-ups that were also done to the exterior of our house from the bathroom window. It's not the brightest of whites, but obviously much more white than the old trim color!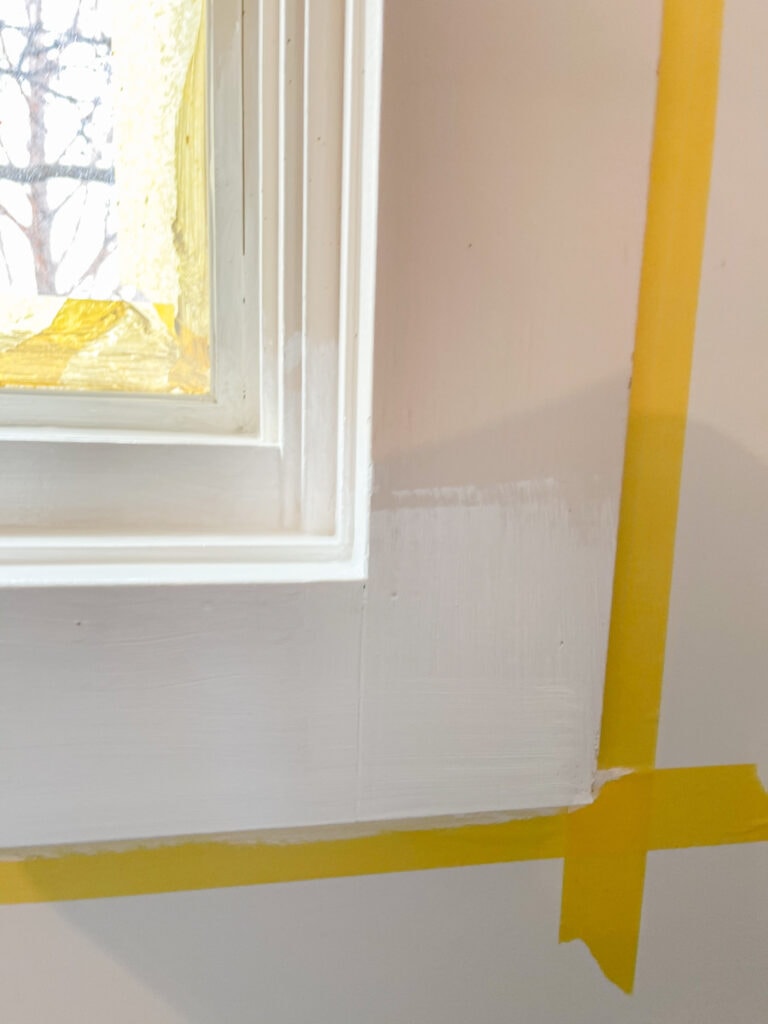 I had to paint the door trim and exterior portion of the door from the garage leading into the house, as well. Here you can really see the difference in color! And that's only after one coat! I actually applied three coats to get it to really cover.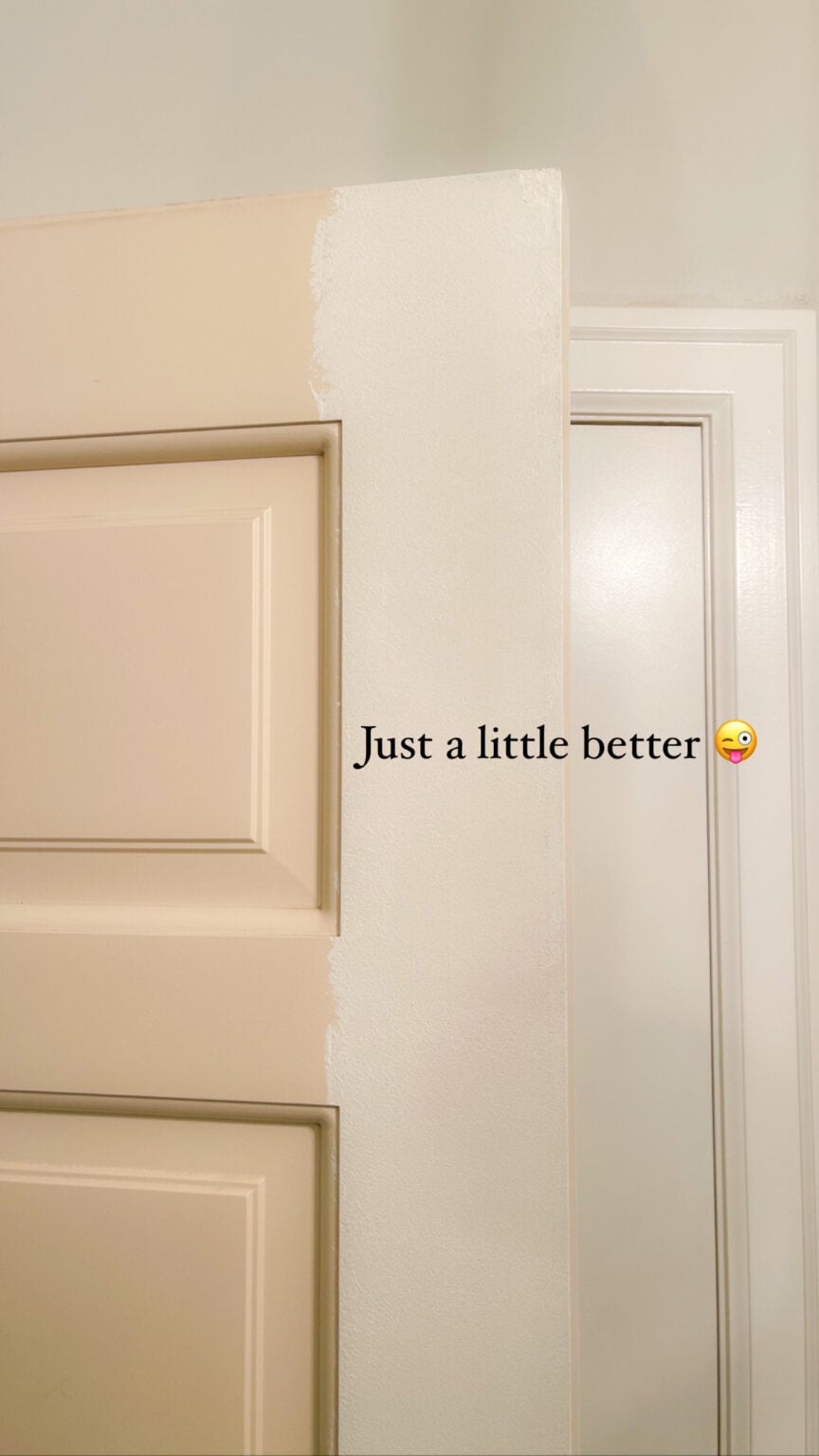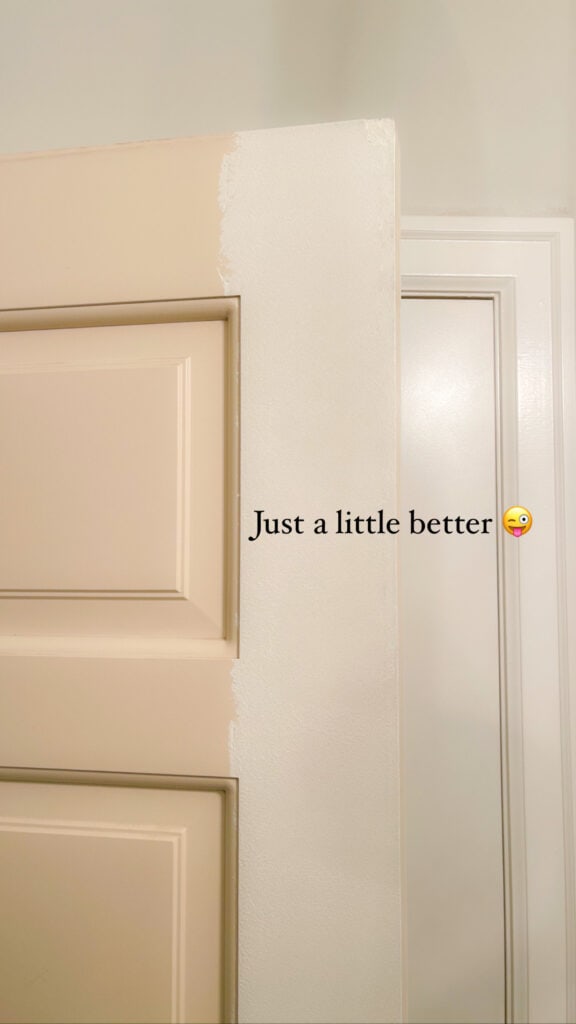 Today the crew from Hello Garage arrives to grind out our old epoxy garage floors! They'll be installing their polyaspartic coating and then tomorrow all the organizational pieces arrive! This project has been moving fairly quickly considering all that needed to be accomplished! By this time next week, we should have the POD emptied and our garage will be fully functional again – and much more beautiful! I hope to share the full reveal within a week or two after that!
I added some new art to the den this weekend! I'm actually partnering with the artist, Caroline Pacula, along with Serena & Lily and a few other coastal home decor bloggers. We're going to be giving away one of Caroline's pieces of art of your choice (see the collection here) tomorrow on Instagram! It's a $1500 value, so be sure to check my Instagram feed tomorrow if you're interested in winning! I'd love for one of my readers to be the winner!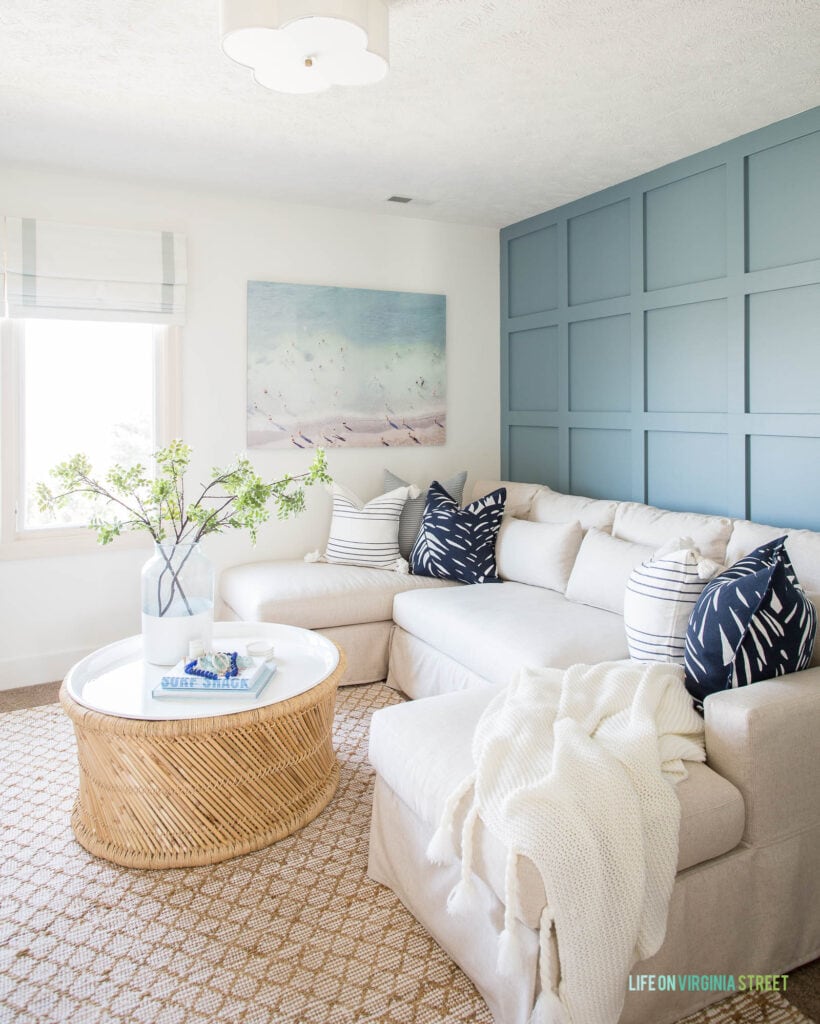 DEN SOURCES: Linen Sectional | Acrylic Beach Art | Indoor/Outdoor Diamond Rug | Scallop Light Fixture | Coffee Table | Paint Dipped Vase | Faux Greenery Stems | Raised Stripe Pillow | Striped Tassel Pillow | Palm Print Pillow | Roman Shades | Recycled Glass Beads
And lastly, my friend Mandy is coming over today to photograph the smaller bathroom! I'll finally be able to reveal it for you guys once I get the photos back from her. Hopefully later this week or early next week!
Top Sellers Of The Week
Following are the top sellers of the past two weeks across all of my channels. Links to each item are below the graphic.
Around Town & For Fun
If you want to make yourself really sick, invite someone over to bid out window replacements 😉 Holy cow was that a shock!! Turns out our window replacement may evolve into a 5-10 year plan, rather than all in one shot. But as I mentioned last week, we don't really have a choice on a handful of them after one of ours leaked during a storm a few weeks ago.
Want to know the best way to save money while window shopping? Don't take me with you. Ha! I fell in love with this door below and declared we needed it for our courtyard, office and dining room. And then I heard the price 😉 Turns out our existing sliders are just fine!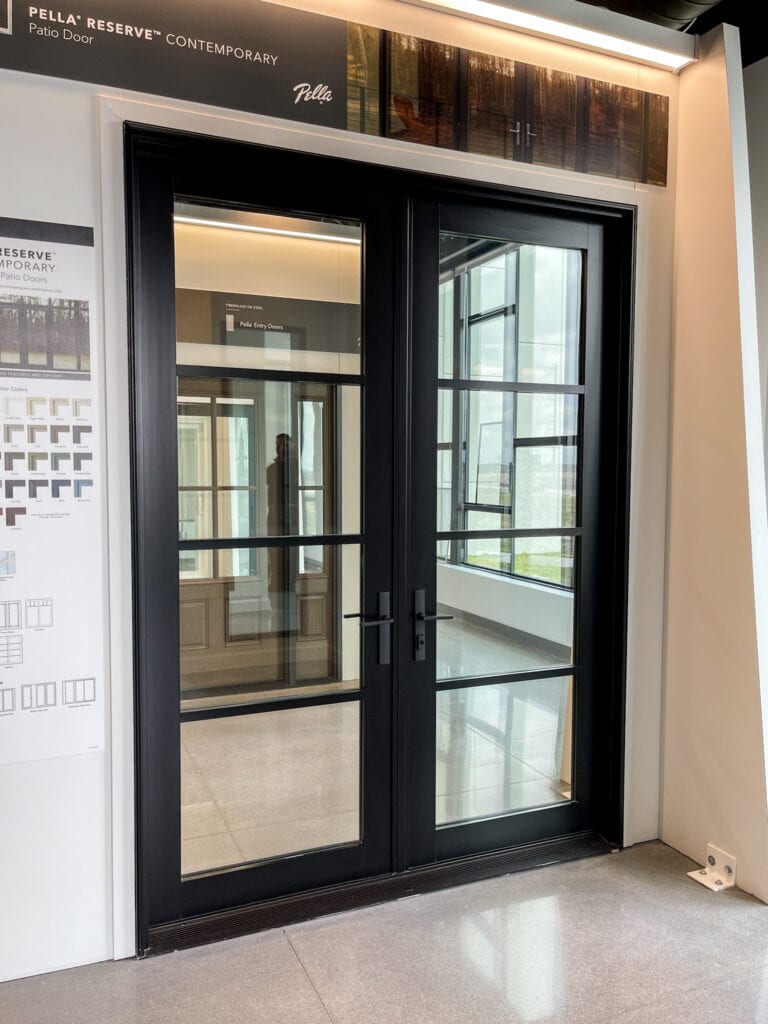 To celebrate figuring out a semi-plan for windows, we tried a new restaurant called Backlot. It's off 204th and Qish in the Coventry area (hooked to the new movie theater). I had an Instagram follower recommend it and it was so good! We'll definitely be back. They have Detroit style pizza, and she recommended we also try the OG fries. Admittedly it's something I would have gravitated to, but holy cow they were amazing! It was my first time trying pork cracklings, too. They also have, what looks to be, a great patio for when the weather starts warming up!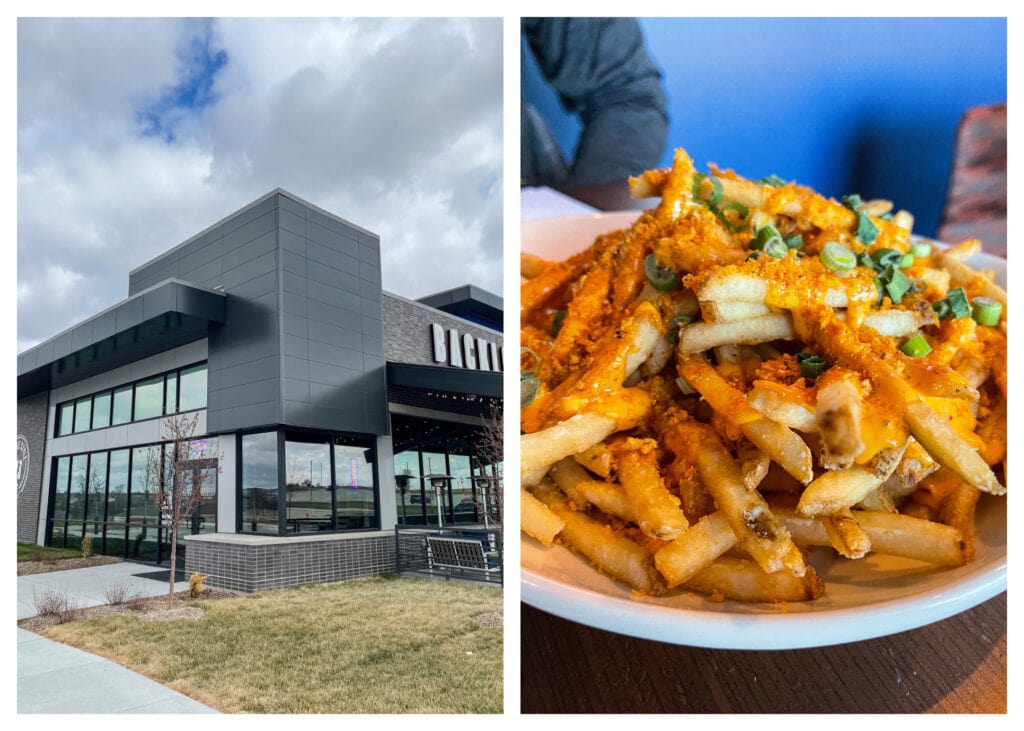 Somedays you would think that we don't have any beds or soft surfaces in this house…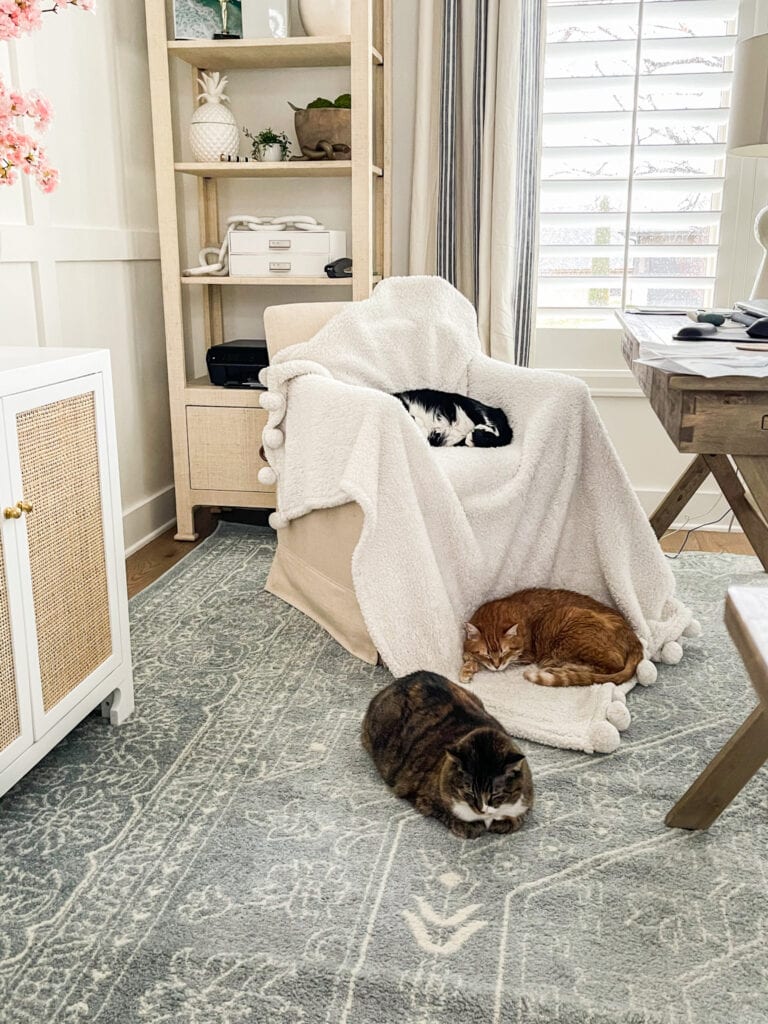 OFFICE SOURCES: Cozy Pom Blanket | Chair | Desk | Drapes | Rug (slate/ivory) | Cane Cabinet | Raffia Bookcase | Cherry Blossom Stems
Bailey's getting more extreme with her blanket obsession.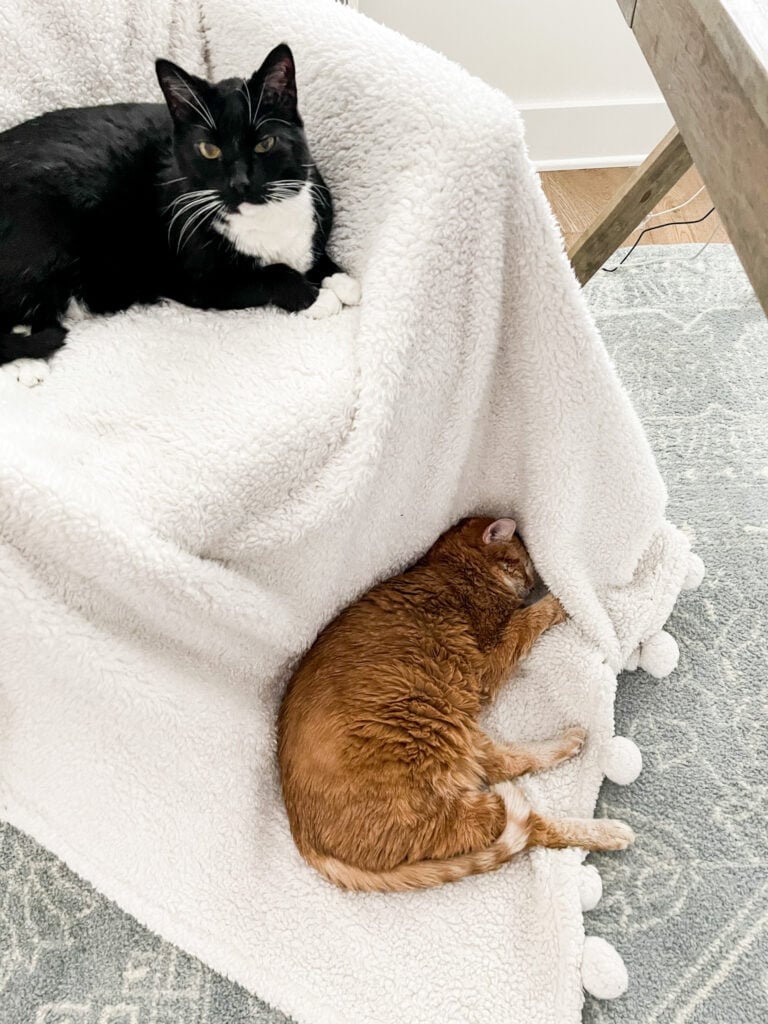 Ignore the pillow that badly needs to be lint rolled, but could you just die with this sweet face? Granted, she looks a little annoyed, but I assure you she was a happy camper in her little pillow fort Kurtis built for her 😉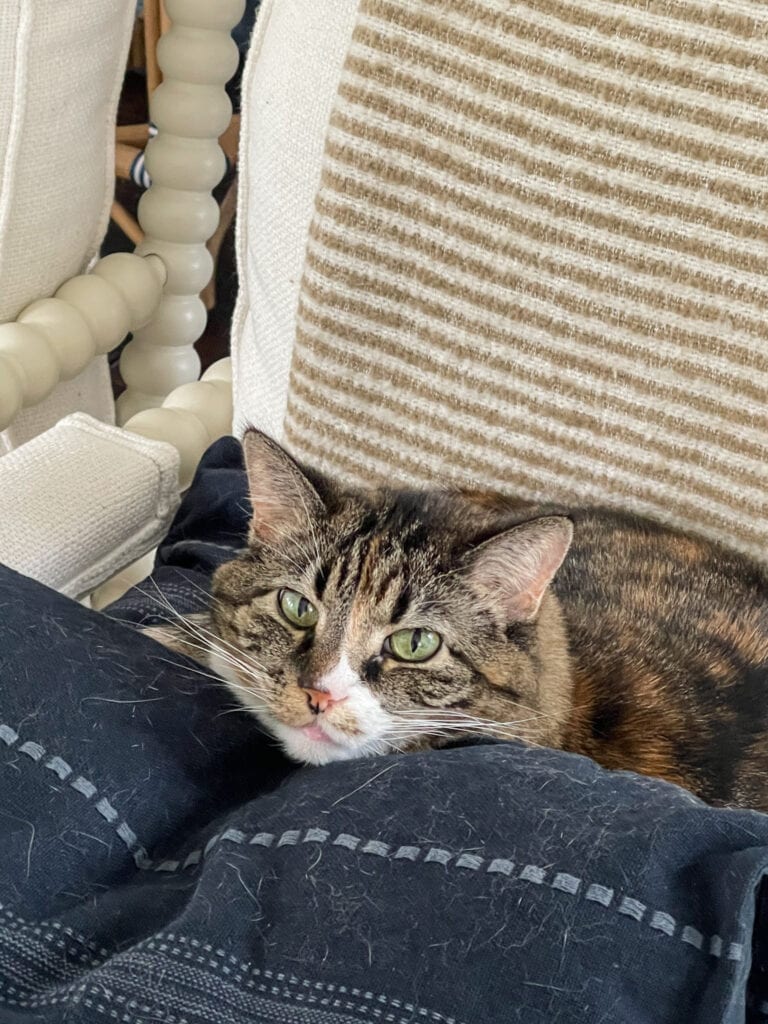 We had a pizza party at our BFFs house (that's what Z calls it anytime we have pizza). She had a good week with her sitter and a great behavior chart so she got a sucker to celebrate. She was pretty excited to show everyone that it turned her tongue blue.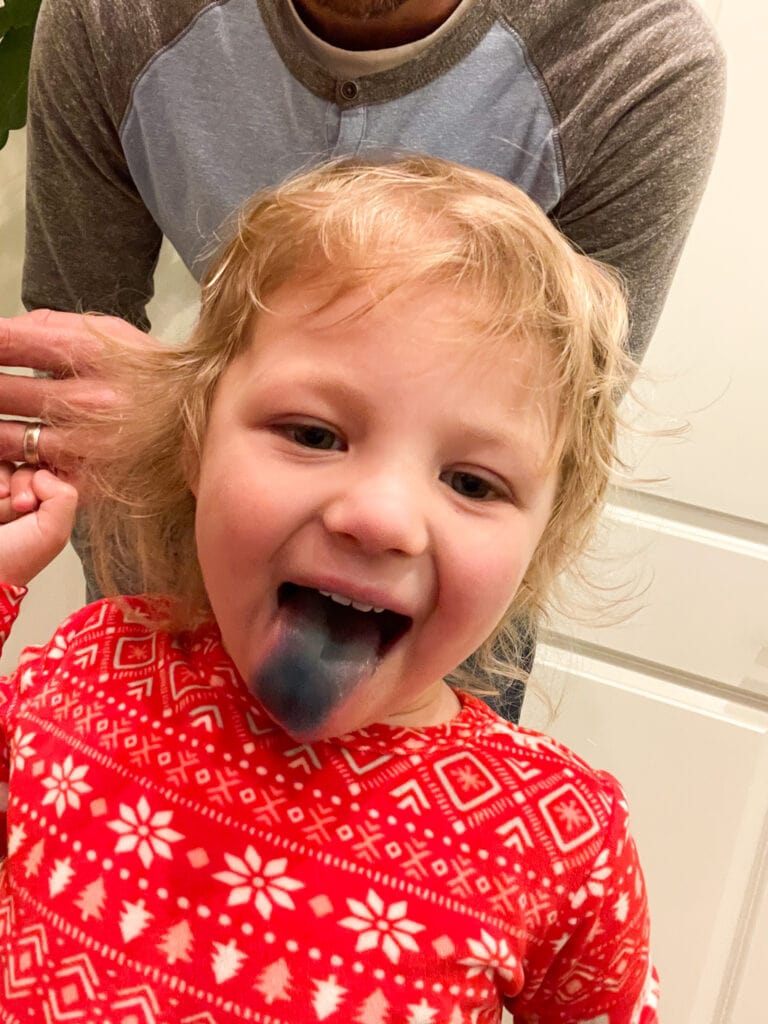 My new diamond pattern rug arrived to replace the plaid one I used this fall and winter! Here you can see the color variation. The color I ordered was "gray" which is definitely more of a warm gray.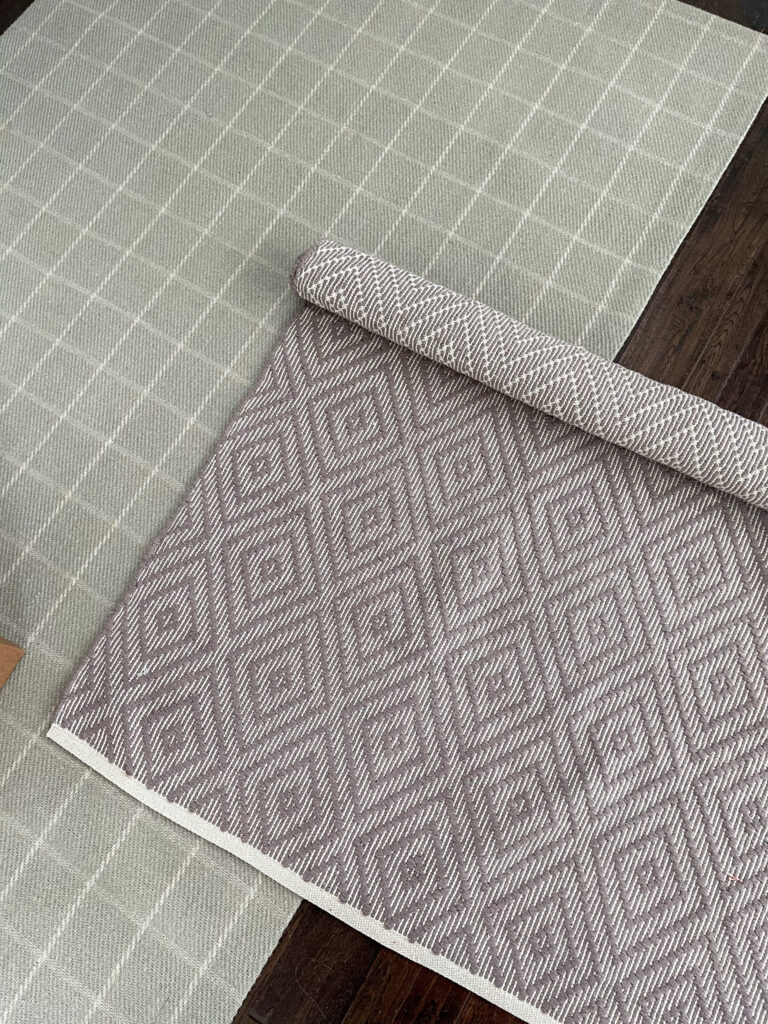 I'm going back and forth on whether or not I do a spring home tour on the blog this year. If I don't, it may be the first time in eight years I haven't done one. But, we have so many projects in the works I'm thinking it may just be easier to skip right to summer! I'm hoping this week or next I'll share details on the next big project we're starting (that has actually been in the works for a bit)! But, I wanted to get the bathroom reveal and garage reveal wrapped up first so there aren't too many balls in the air. Stay tuned!
Recent Buys & Sales
Following are the sales from the weekend that are still going strong.
I hope you all have a great week!
If you would like to follow along on more of my home decor, DIY, lifestyle, travel and other posts, I'd love to have you follow me on any of the following:
Pinterest | Instagram | Facebook | Twitter
disclosure: some affiliate links used