Good morning! I hope you all have had a nice few weeks and are staying safe and warm. I was unexpectedly off the grid most of the week last week. And although the week was a bit chaotic, it was actually nice to disconnect for a bit! Here's a bit about what we've been up to these past to weeks.
This post contains affiliate links for your shopping convenience. Click here to read my full disclosure policy.
Home Projects & Updates
I have a lot to catch you up on from the past two weeks, particularly as it relates to the bathroom renovations!
The bathrooms have all been painted and they even came back Thursday for final touch-ups! The image below demonstrates just how not-white our old trim color was. It was nice to finally have even more doors and trim painted BM Simply White! Only a few left to go when we tackle some other projects!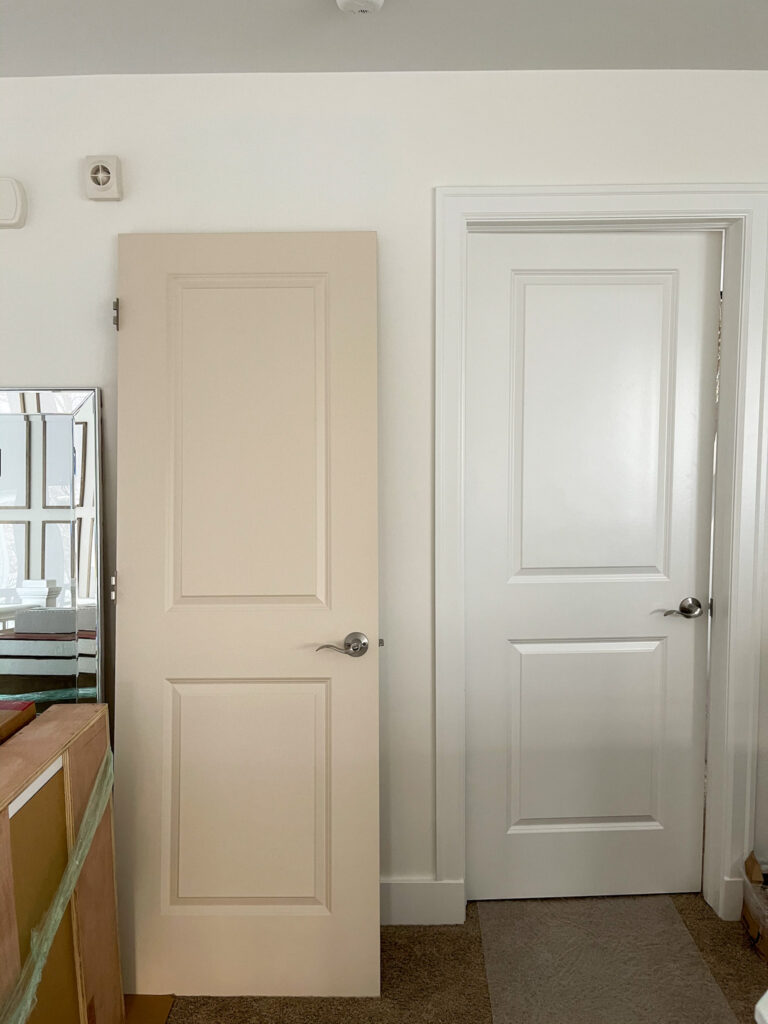 The plumbers also came back and added most of the fixtures! There was an issue with one of the shower kits, so we're waiting on that. We also had to rework the shower door plan in the smaller bathroom, so we're in a bit of a hold pattern until the parts can come in. I'm super happy with these designer look for less faucets we used in both of the bathrooms! I used the chrome version in the smaller bath and the polished nickel in the Jack & Jill and love them both!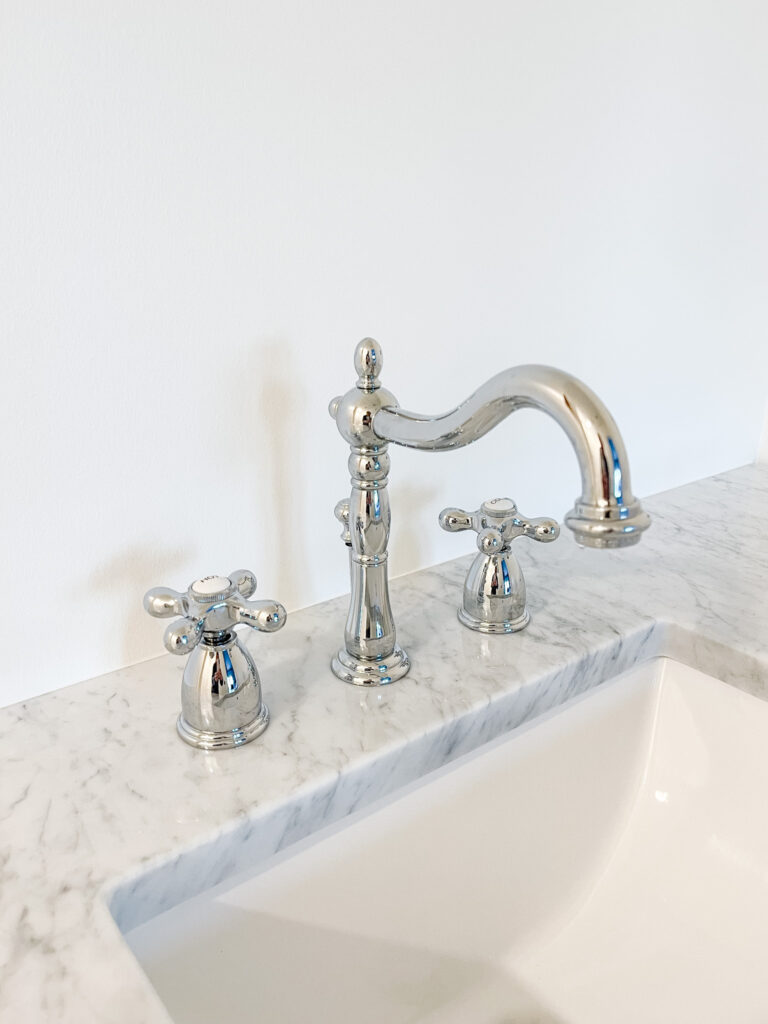 The electricians also came to hang all the light fixtures! This Moravian star fixture was a last minute decision but I'm so glad I went with it! This was actually a can light in the Jack & Jill bath above the toilet. But, with the addition of another can light over the shower, I felt like it needed a little pizzazz and am so happy with this one!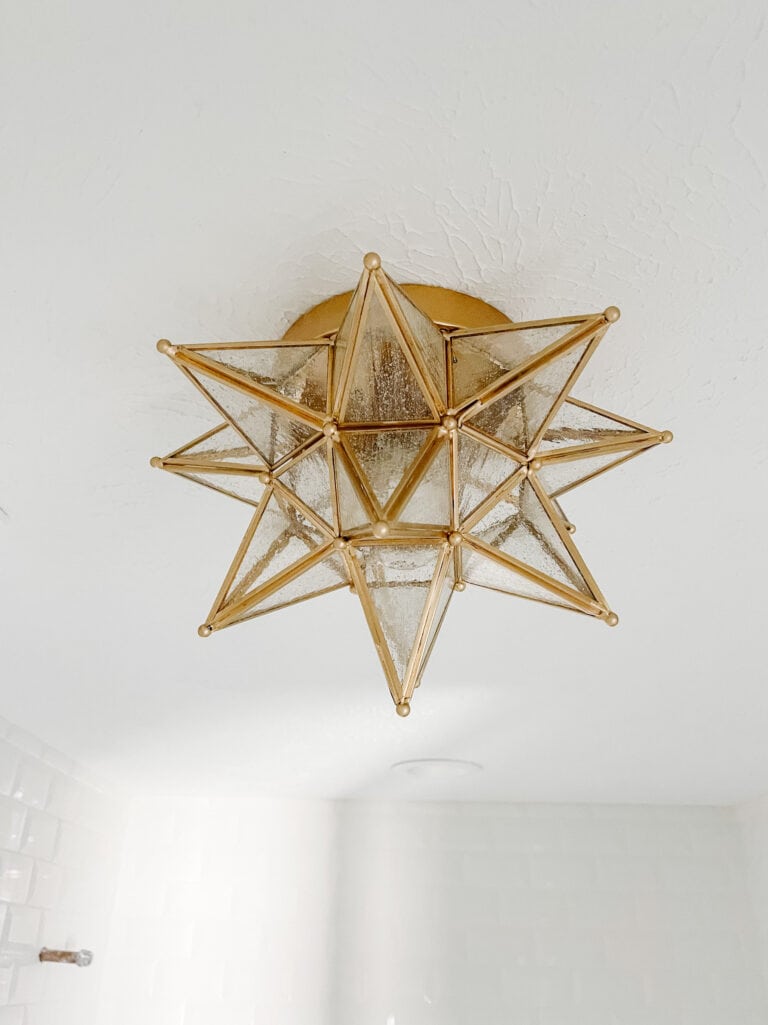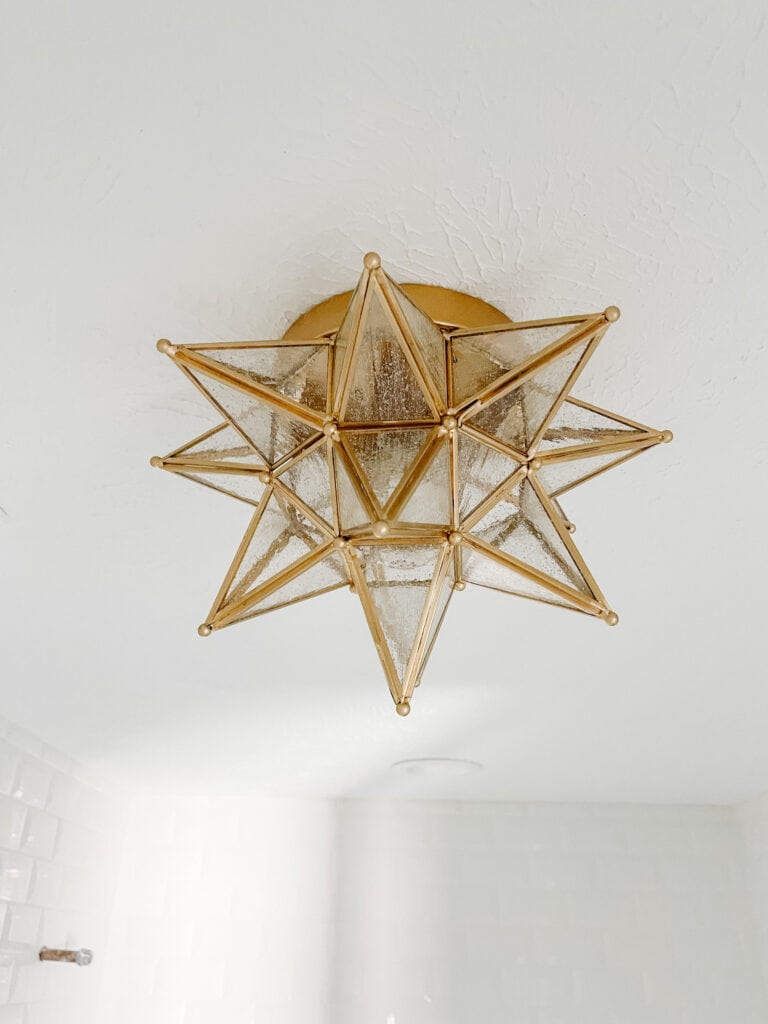 And in the biggest news of all, the window went in! With our insane temps, we had to have them wait until Wednesday to get it added when it had warmed up to 12 degrees 😉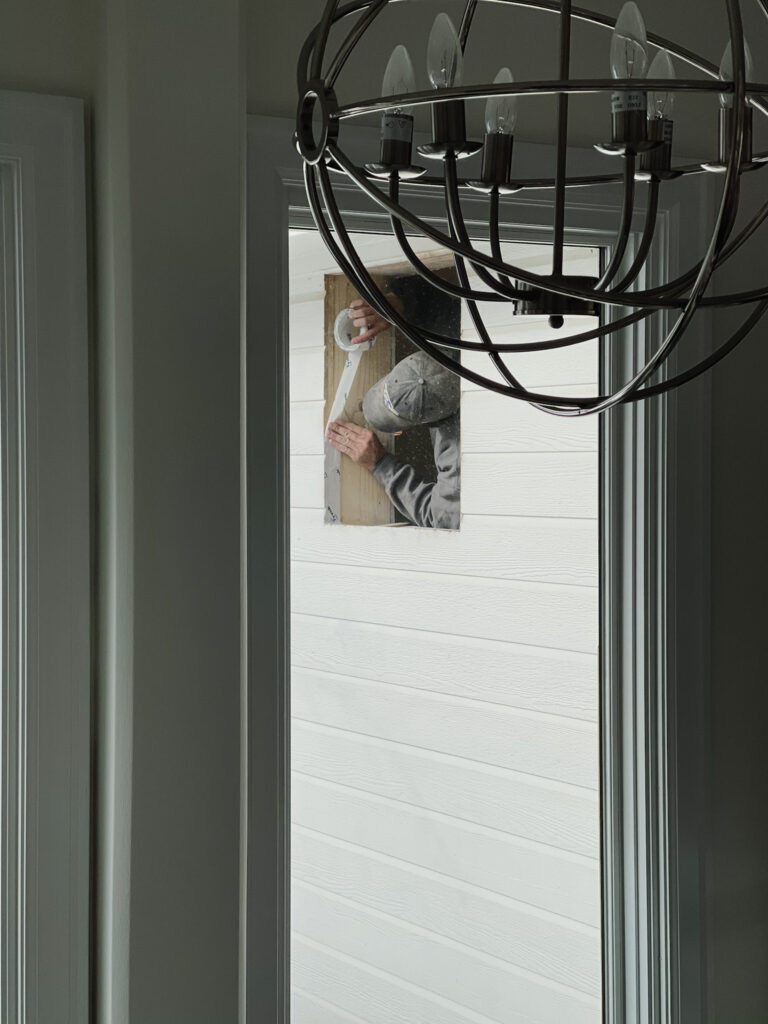 But holy crap! I'm so excited we made this work! I ended up sharing the photo below on Instagram after it went in. It's way more of a sneak peek than I was wanting to share, but I was too excited to wait! Now that the windows been all trimmed out and painted, I love it even more! I know I owe a few of you some details on the shower door suggestions, and I'm hoping to get those added this week!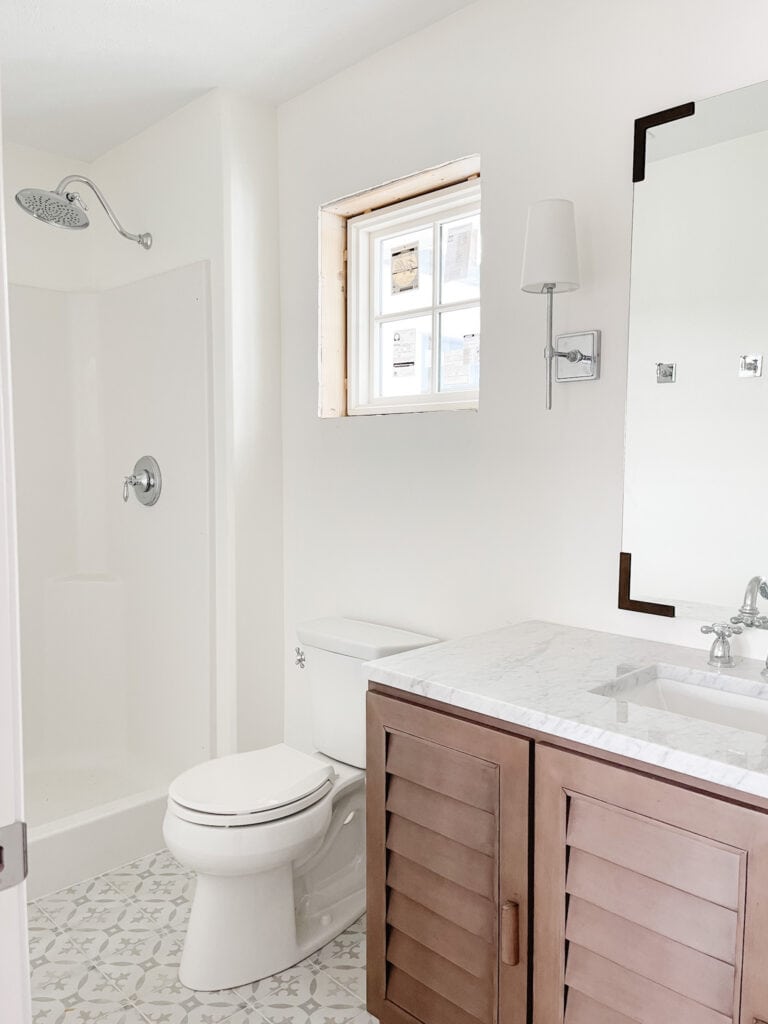 BATHROOM SOURCES: Shower Kit | Tile Floors | Toilet | Sconces | Vanity | Mirror | Faucet | Bathroom Hardware
With the delays of the shower hardware and door, I likely won't be doing the reveal until the second week of March. They'll be back to install everything 3/1 when everything is here and then they have a cleaner coming on 3/2. That might be the best part of this whole renovation process! I'm definitely at the point of being over the dust and chaos. But we're so close!
Despite the cold temps, I added some spring touches in our living room in the form of these faux viburnum stems! Hoping the spring vibes get this weather turned around in a hurry.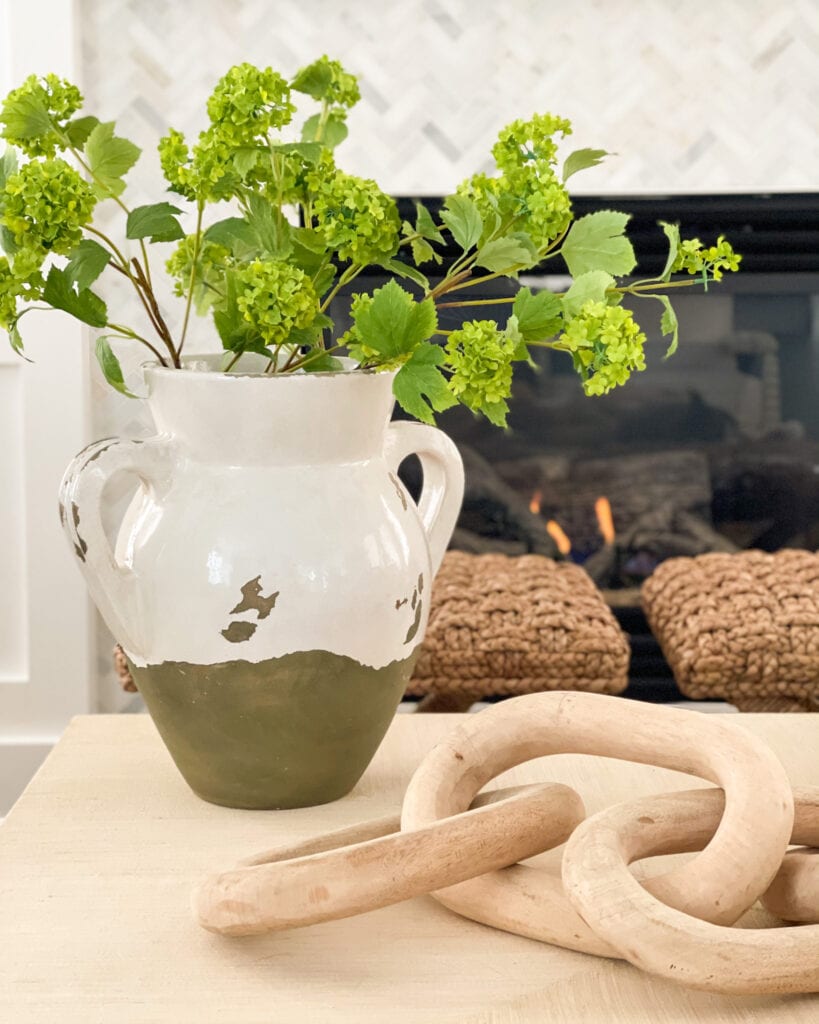 LIVING ROOM SOURCES: Faux Viburnum Stems | Vase | Raffia Coffee Table | Similar Wood Chain | Woven Benches
I had taken down our Christmas plaid bedding a few weeks ago and switched to these simple pick-stitch shams and quilt. I ordered this lumbar on Etsy about a month back and it arrived pretty quickly, but I had to wait for the insert to arrive that was backordered. I'm really into super long lumbar pillows lately! Such an easy way to make a statement.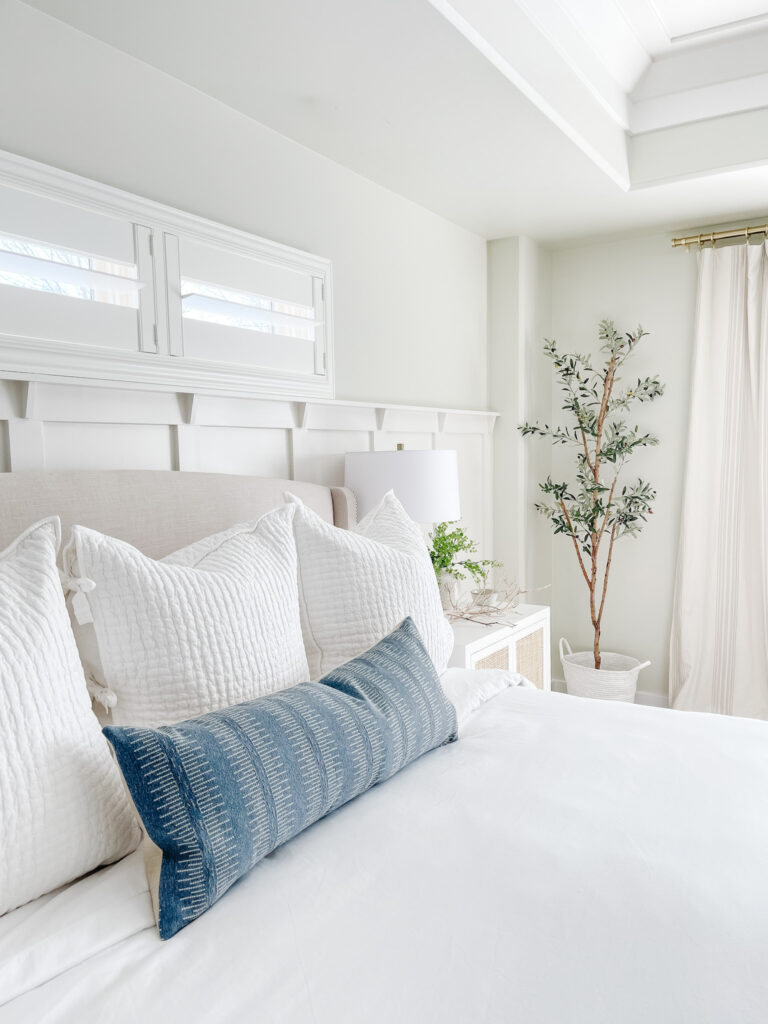 BEDROOM SOURCES: Similar Bed | Pick-Stitch Shams & Quilt | Lumbar Pillow | Lumbar Insert | Cane Nightstand | Faux Olive Tree | Striped Drapes | Brass Curtain Rod | Duvet Cover
Top Sellers Of The Week
Since I skipped a weekend recap last week, following are the top sellers of the past two weeks across all of my channels. Links to each item are below the graphic.
Around Town & For Fun
Like much of the country we had record-breaking colds temps this past week. Most days we'd wake up and the inside of our windows had ice on them. It was so cold out (-20 at the worst, and that was without the windchill) that any moisture in the air froze on contact. I hope all of you that were impacted by the severe weather last week are safe and had minimal or no damage. Our hearts go out to everyone in Texas and other areas that were impacted in any way by the cold last week.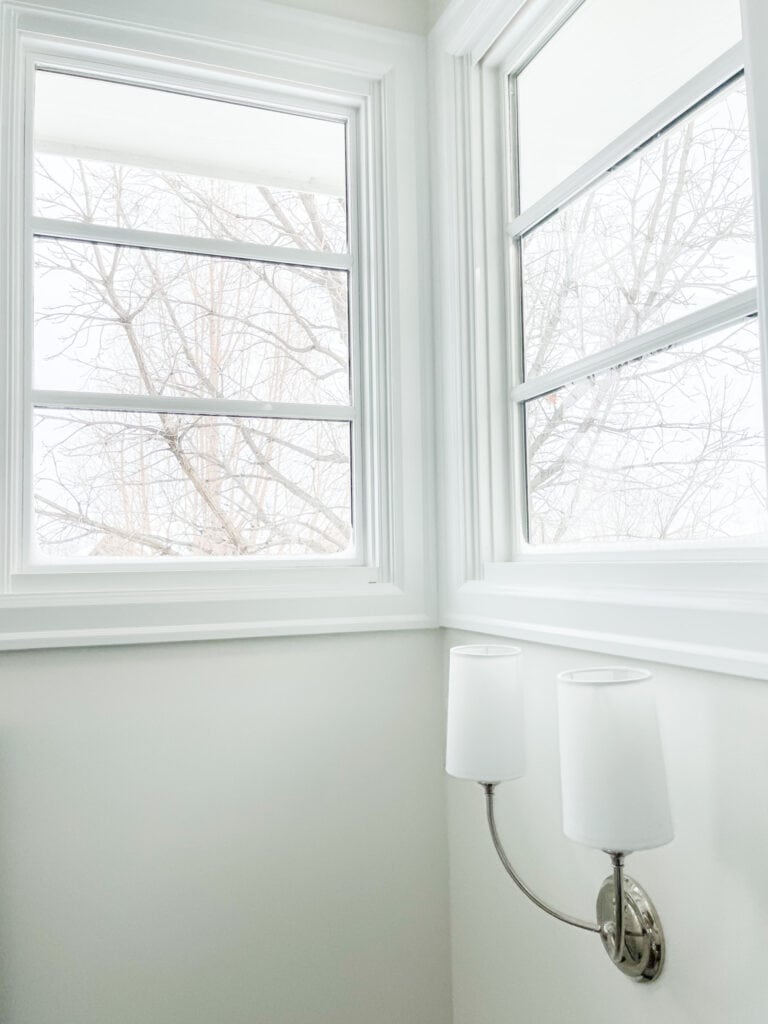 The weather seemed to finally take a turn in Omaha and started warming up by Friday. And by warming up, I mean we made it to the teens or 20's 😉 We had a big, somewhat unexpected, snowstorm blow through yesterday morning. We got a lot more snow than expected. I thought it was actually amusing that when I took this photo early Sunday morning, it was 52 degrees WARMER than the temps when we woke up Tuesday morning. Isn't that wild?!? It sure was a beautiful snow!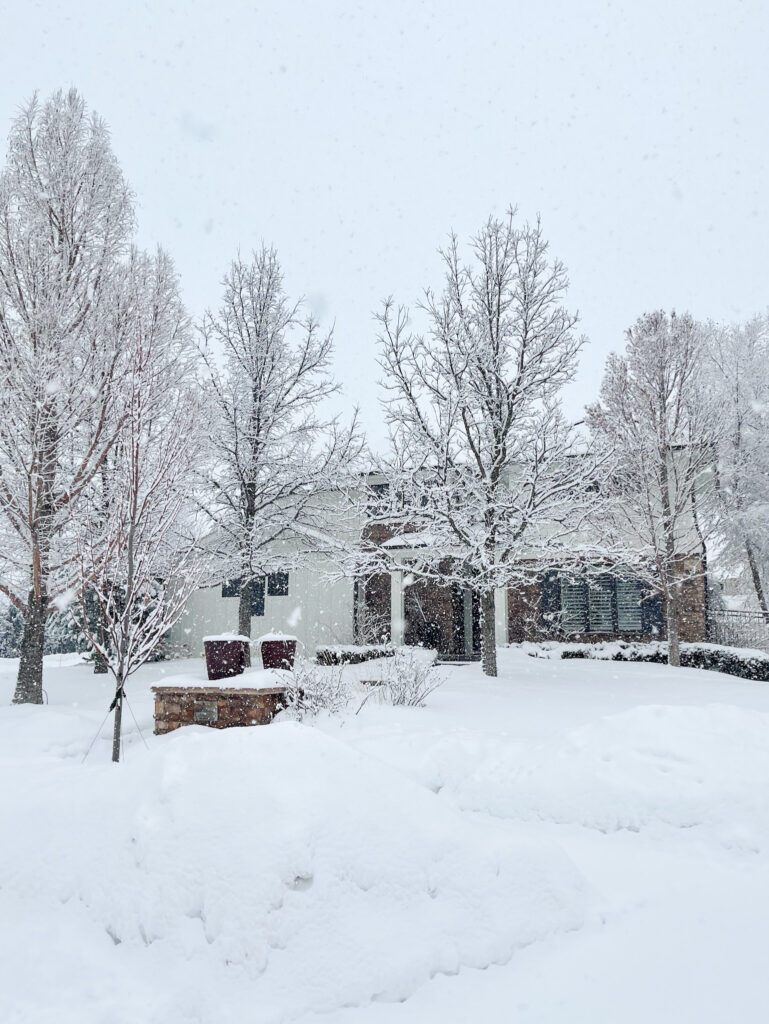 We binged watched Emily in Paris and I thought it was really cute and a fun show to watch. It definitely made me miss Europe much more than I already did! These three always love "family movie nights". Can you spot the two toy mice also laying with them?
Bailey had her follow-up glucose appointment this week. They sent her home halfway through the day, because they said it was pretty clear the initial insulin dosage was too low. So now we're trying two cc's twice a day and then we'll have her re-tested in another few weeks. It sounds like it can take some time to find the right dosage. She seems pretty unaffected thankfully!
I've had to keep putting off photographing the flip for one reason after another for months on end. I finally went Saturday and the floors were filthy from people going in and out the past month. Turns out we also had a pipe freeze and break earlier in the week (thankfully with minor damage but it didn't require repair work) and we close soon so I'm running out of time. I still took photos and will try and edit them this week to share a reveal next week. But it was literally my last chance to get in there for photos so you guys will have to excuse my streaky Swiffer attempt to clean the floors. I only took two pads thinking they'd be minorly dirty. Turns out I should have brought about 50! Super frustrating but it is what it is. I was going to try and run down yesterday after the cleaning crew went through and then we got hit with the snow storm. So, the reveal will including dirty floors and all! But I'm excited to share this one with you – and finally have it all wrapped up and behind us soon!
Speaking of mess, despite our construction guys being relatively clean, there was still a ton of dust and paint particles in the air and on every surface in our home. We've been trying our best to keep up with it and now that they're most finished, I think it will be more manageable. I was finally able to vacuum the whole upstairs Friday once the plastic was removed from parts of the floor, and I used our old vacuum knowing the particles were so small. I then vacuumed again yesterday with our new upright vacuum and was shocked at how much more it picked up. This pic below was just from our hallway – not even the bedrooms – less than 48 hours after I had already vacuumed. Isn't that crazy?!? We've been super happy with this upright vacuum and today it's on major sale. Plus if you're a new customer, there's an additional $10 off code with HELLO10. It's great for anyone, but especially if you have pets!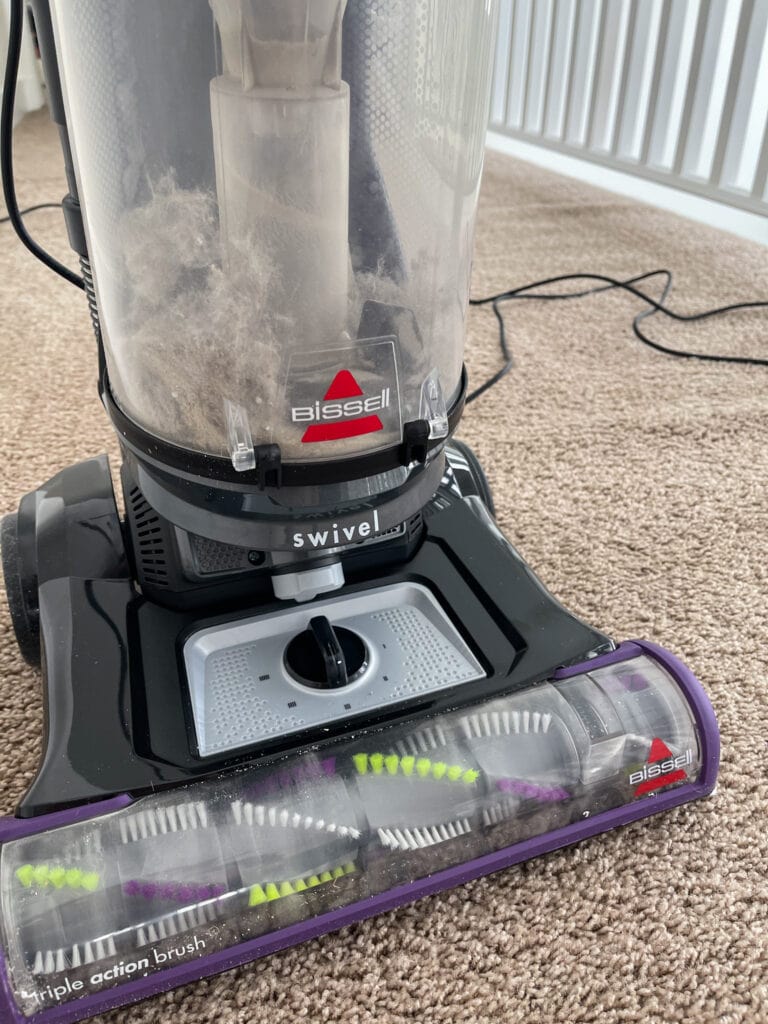 I also wanted to mention that my faux cherry blossom stems have finally been restocked! They're sold as a set of three, and I have two set here. They are so beautiful in person and the price is hard to beat for how large they are!
With all the cold weather, I was in a mood to purge and donate. We took multiple carloads of clothes and home items to the donation center and it felt good! Especially during a week when there were so many people in need of help. The guest bedroom dresser arrived a week or two back and basically had to sit in our entryway until the vanities were installed and all the packaging was removed. We then had to clear the bookcase and donate all of that as well, so it kept us busy! We finally moved the dresser into the guest room this weekend but I don't have a photo yet. But here it was in the entryway so you can see the actual finish. It's darker than the stock photos for sure, but I still really like the color.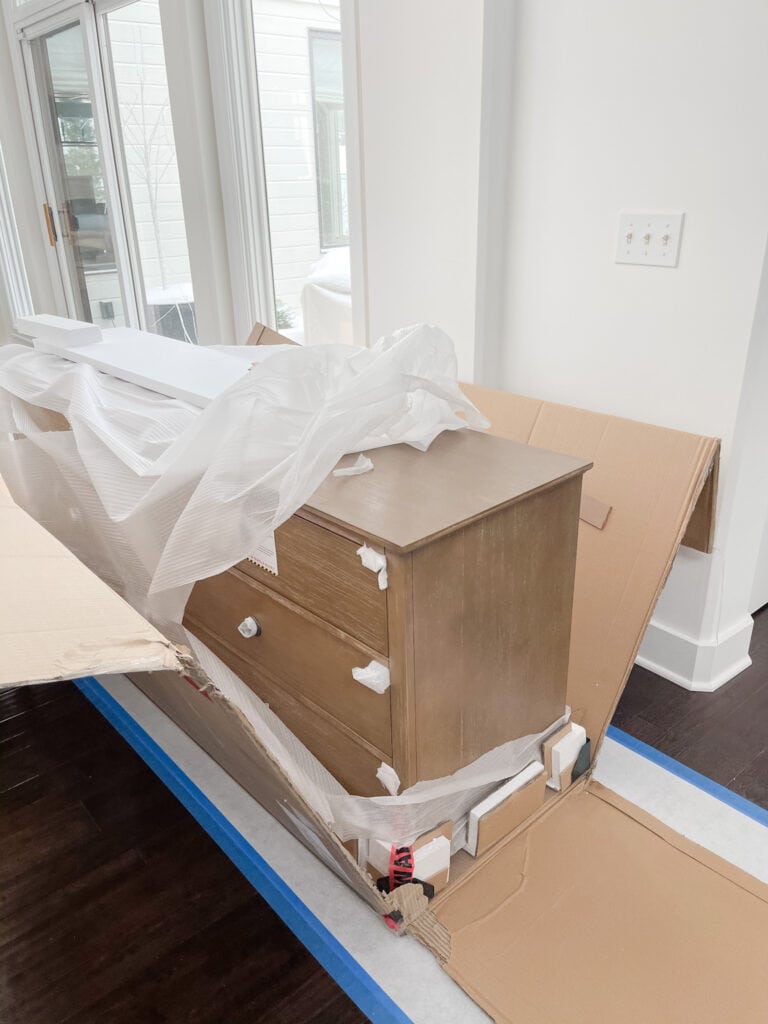 I hope you all have a great week! And I hope we all start seeing some signs of spring sooner rather than later!
Recent Buys & Sales
Following are the sales from the weekend that are still going strong.
J CREW FACTORY is offering up to 50% off everything, including their cute new arrivals! They also have an additional 60% off clearance items with code BIGCOZYSALE. Below are a few items included in the sale! You can shop their sale here.
I hope you all have a great week!
If you would like to follow along on more of my home decor, DIY, lifestyle, travel and other posts, I'd love to have you follow me on any of the following:
Pinterest | Instagram | Facebook | Twitter
disclosure: some affiliate links used