I hope you all had a great weekend! I'd like to thank all of you that gave me feedback last week on my Weekend Recap posts. As you can see, I'm back today, and I think I'll continue the posts as I have in the past, but may just plan to skip days here and there as lack of content warrants. I enjoyed reading all of your feedback so I really appreciate it!
This post contains affiliate links for your shopping convenience. Click here to read my full disclosure policy.
Home Projects & Updates
Fall color arrived in Omaha last week in full force! Our yard was never really designed with fall colors in mind, but it was fun to see our one ash tree turn so bright yellow this year. We don't ever remember it being that colorful in years past! Around town the colors were stunning all week. Unfortunately we had a pretty bad wind storm last night, so I'm guessing many of the leaves were impacted.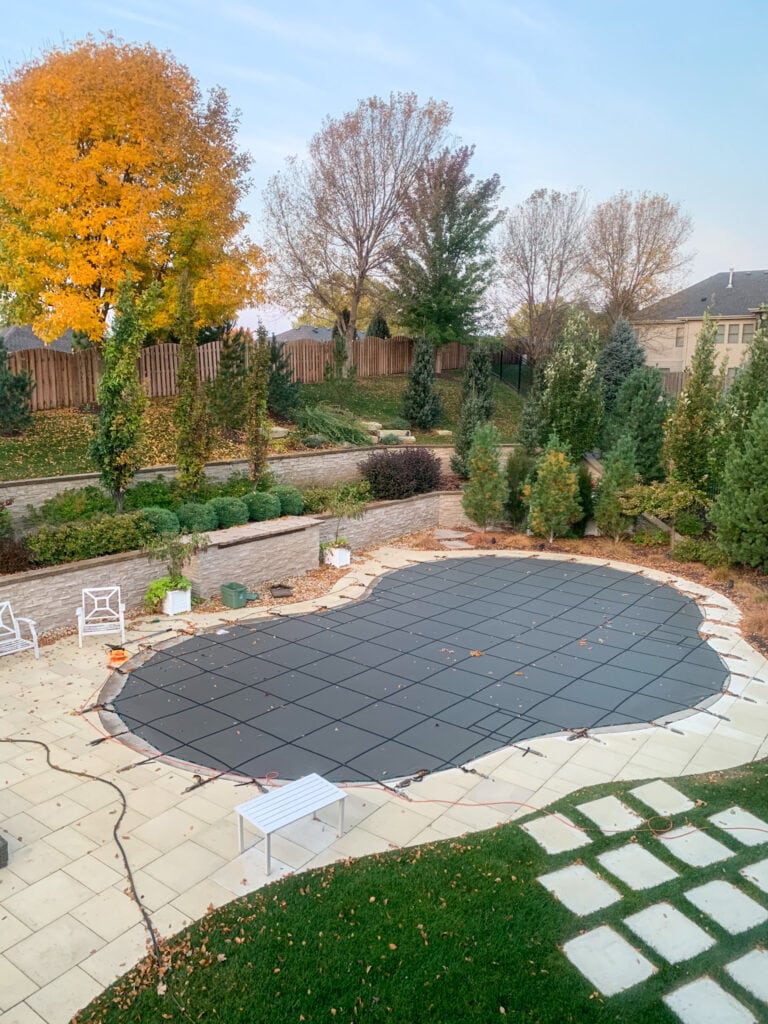 Even the hydrangeas are showing off this year! They always turn pink in the fall, but they just seem so much prettier this year!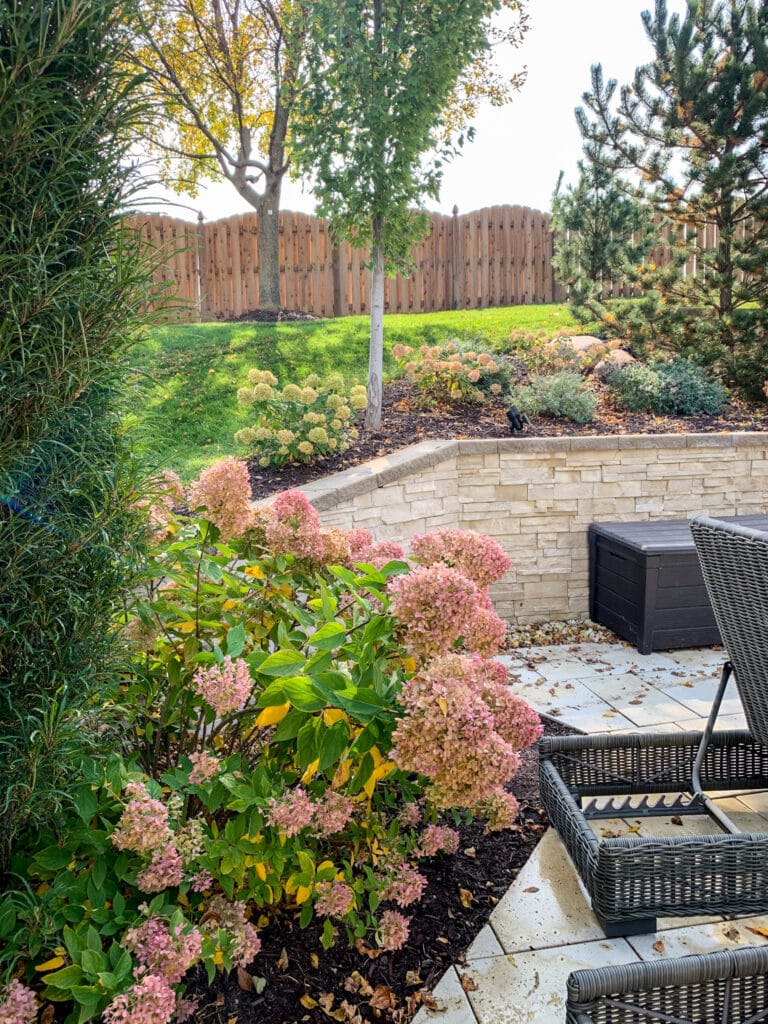 Sunday we dedicated to putting all our pool furniture away. It seems like the process goes a little bit quicker each year. This may be the latest we've ever put it all away, but the weather over the weekend was beautiful and it worked out well.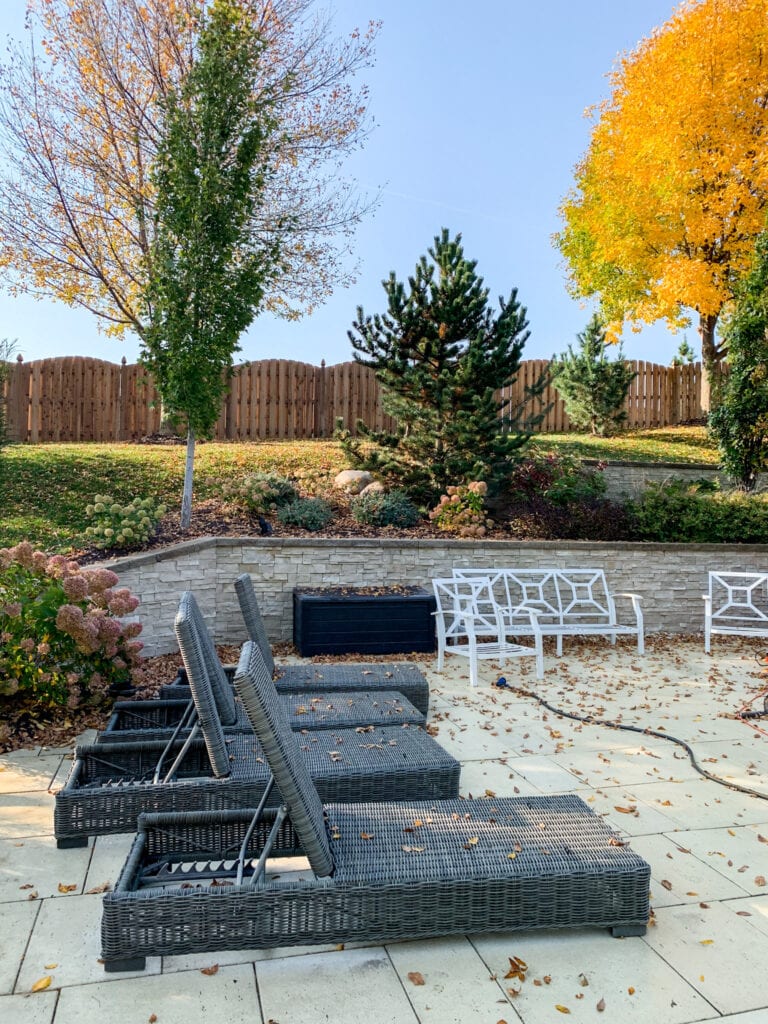 SOURCES: Chaise Lounge Chairs | Conversation Set
I did a few Instagram Stories yesterday during the process. But essentially, we stack two of the chaise lounge chairs on each of these racks that we have hung above our cars. It actually works really well, and allows us to leverage our vertical space instead of setting them on the floor!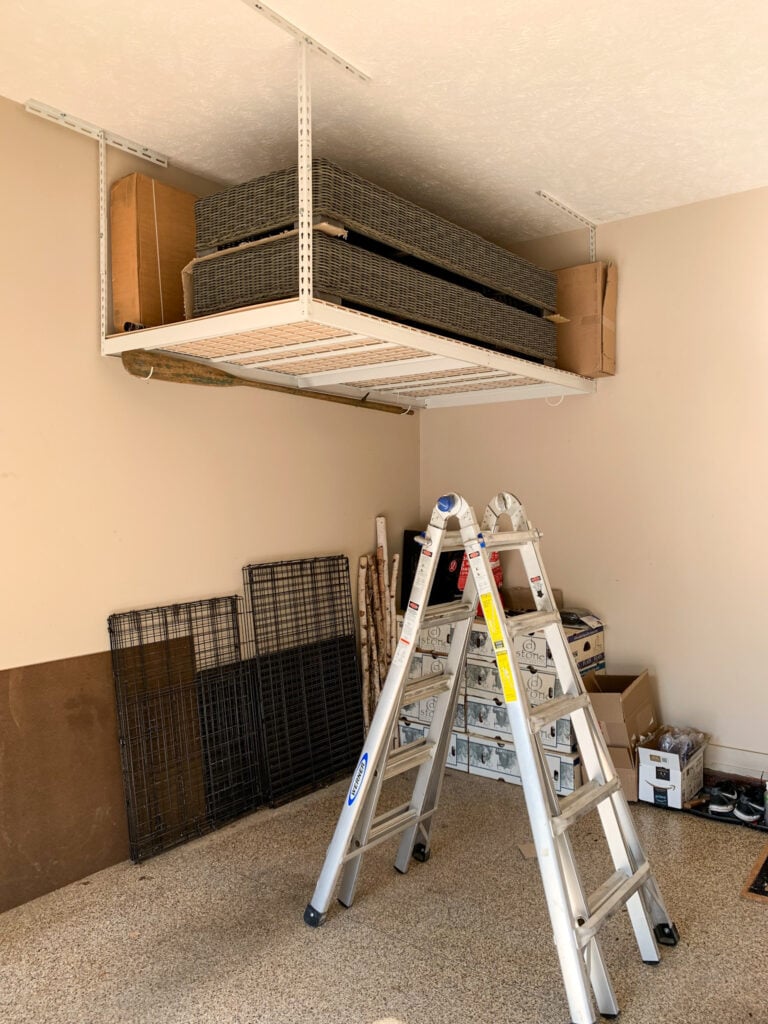 And here's the other side. Clearly our garage will never be one of those "pretty" garages 😉 But you can also see here how we stack the white/navy conversation set. You can also see a glimpse of one of these trees. My goal is to get the planters cleaned out in the courtyard after garbage/yard waste pick-up comes tomorrow and I'll get the trees set up for the season before the weather gets too cold. They were one of my favorite additions last year!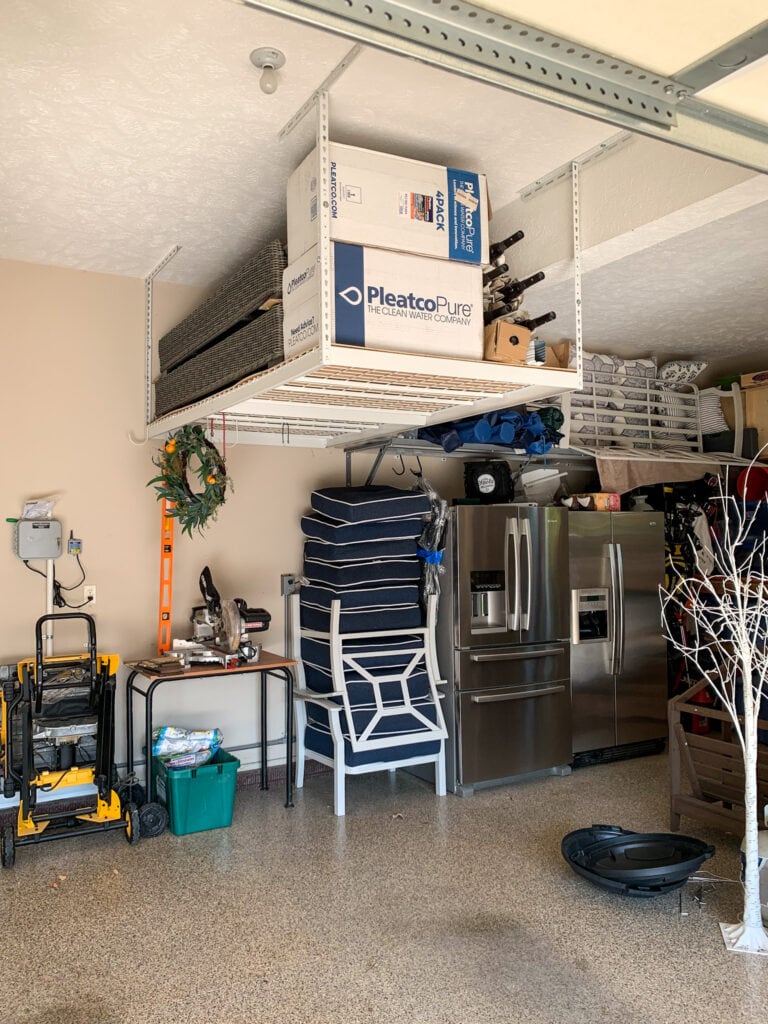 Speaking of planters, I have five or six left to pull apart. My garbage cans just keep getting too full. Apparently my plants got a lot bigger this year or I went a little crazy with planting this year 😉
This garland I ordered from AFLORAL arrived and I think it's going to be beautiful! I know this particular one sold out by November last year before I could get my hands on it, so I was glad to see they brought it back! To the touch, it feels rubbery, which I prefer over the hard plastic type. It looks pretty lifelike in person! After trying fresh garland one year, and realizing what a mess it was, I'll likely never go back!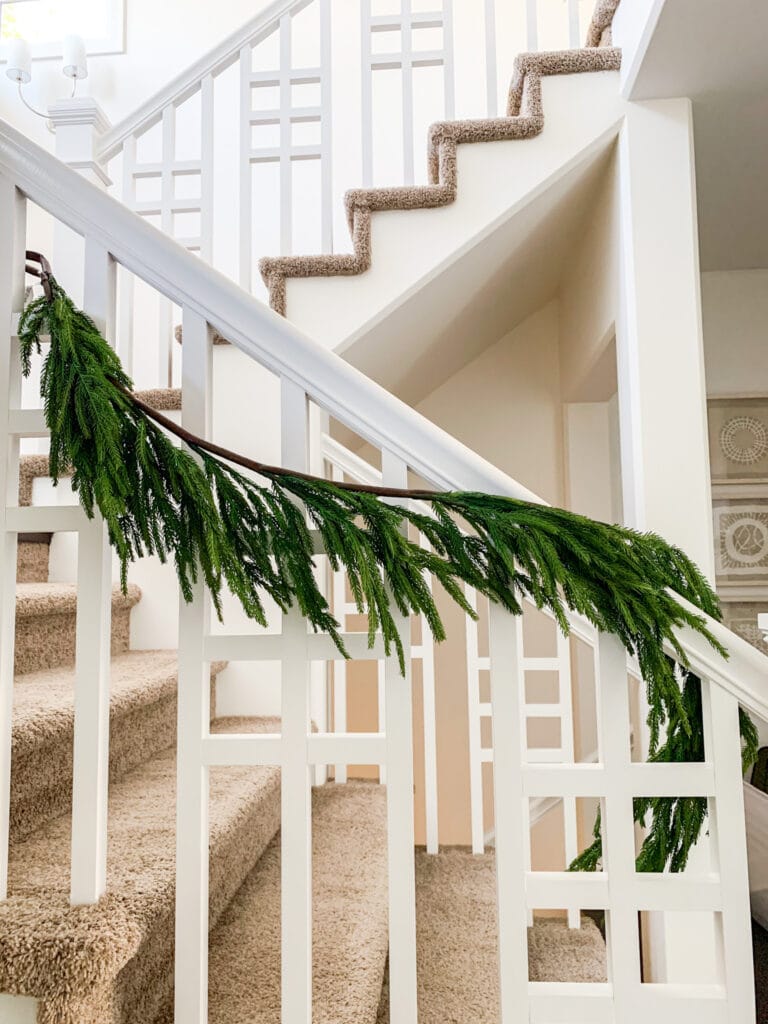 My cute wicker lamps arrived as well! I was really happy with the quality and the size. Some task lamps are super tiny, but I felt like this one was just about right. Now I just have to decide if I'm going to paint the frame or not! Kurtis actually saw them and asked if he could use them in his home office because he wants one that takes up a lot less space than the one he is using.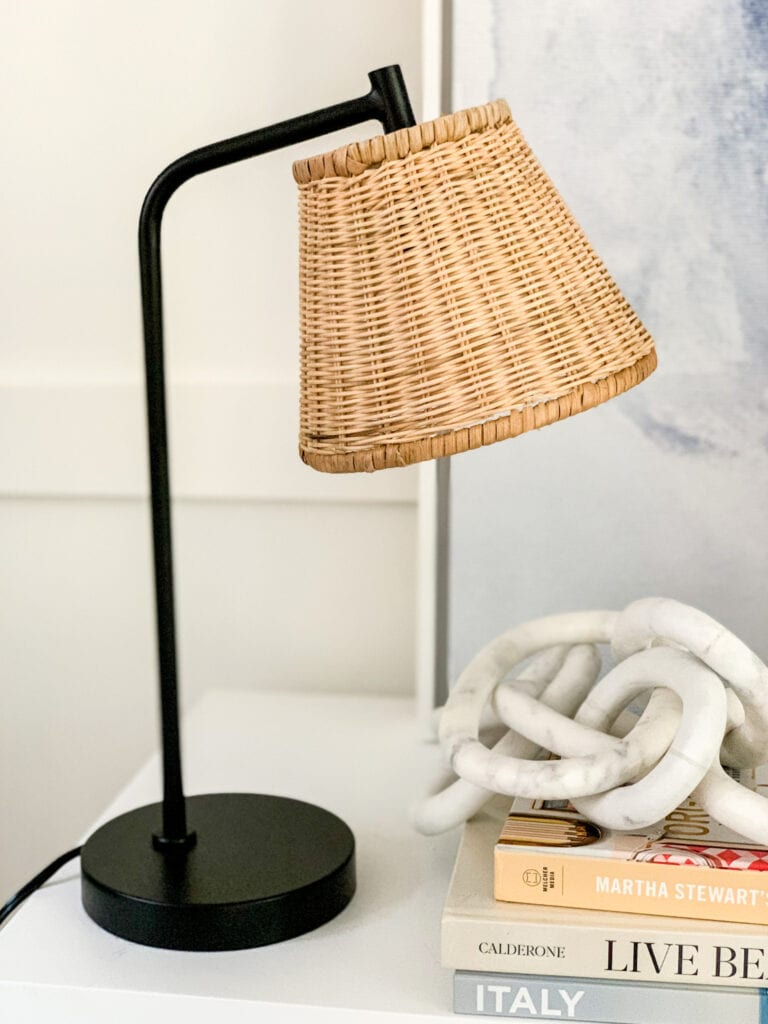 And this isn't my DIY, but an Instagram follower, @our.next.adventure, sent me her project to share! She used this cabinet from Target and painted it to look like the cabinet we have in our office! Doesn't it look amazing?!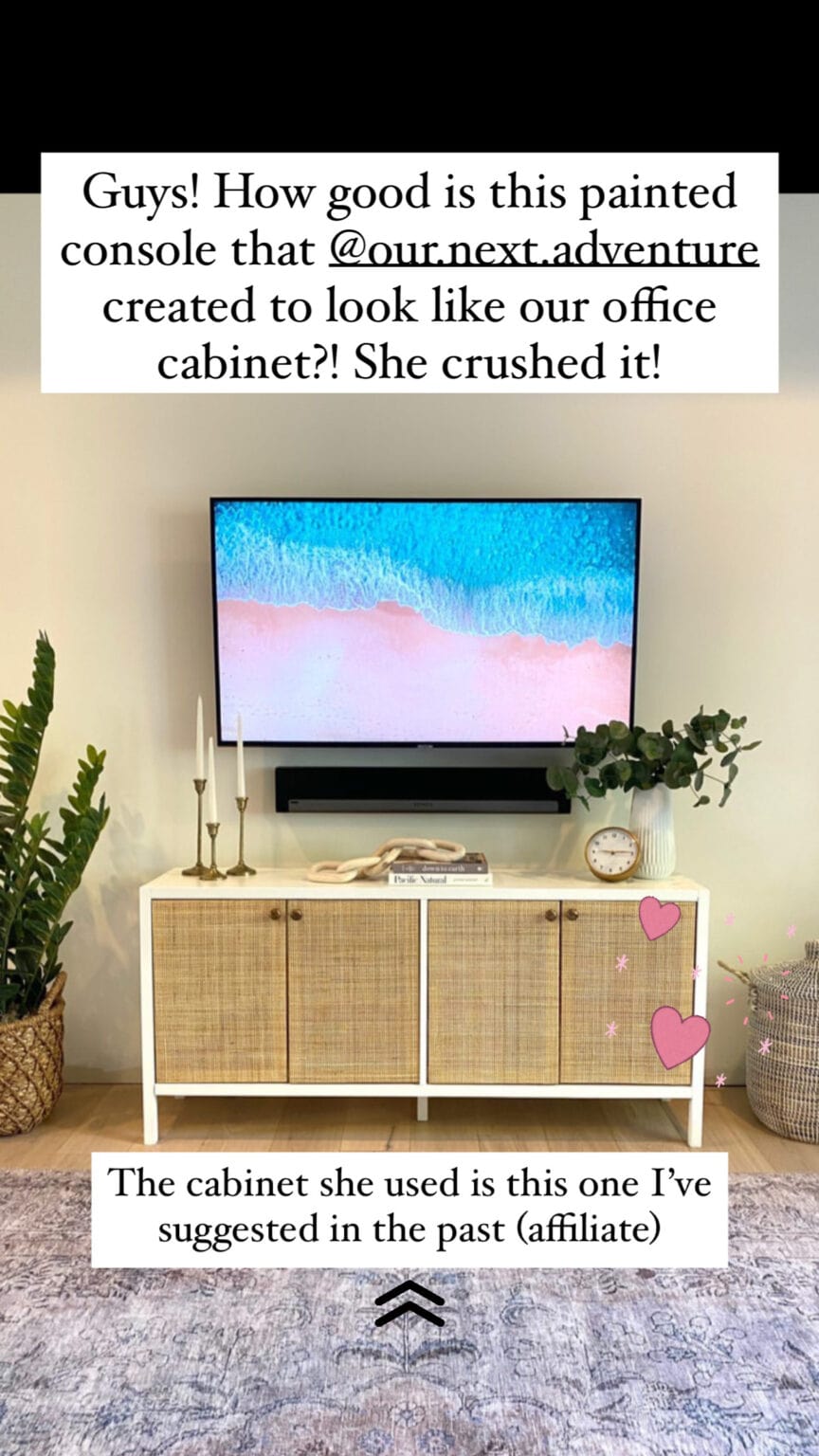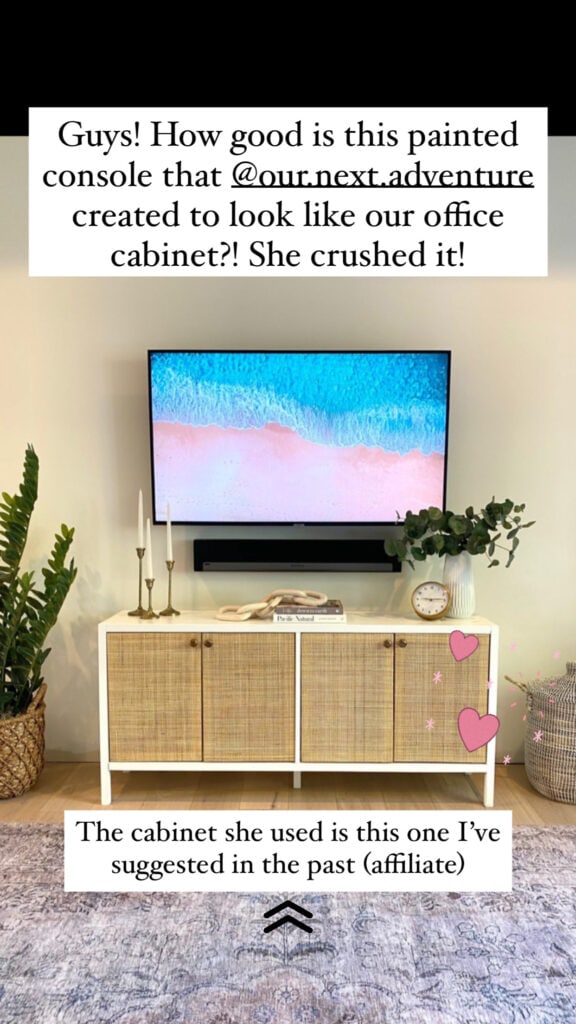 Top Sellers Of The Week
Following are the top sellers of the week across all of my channels. Links to each item are below the graphic.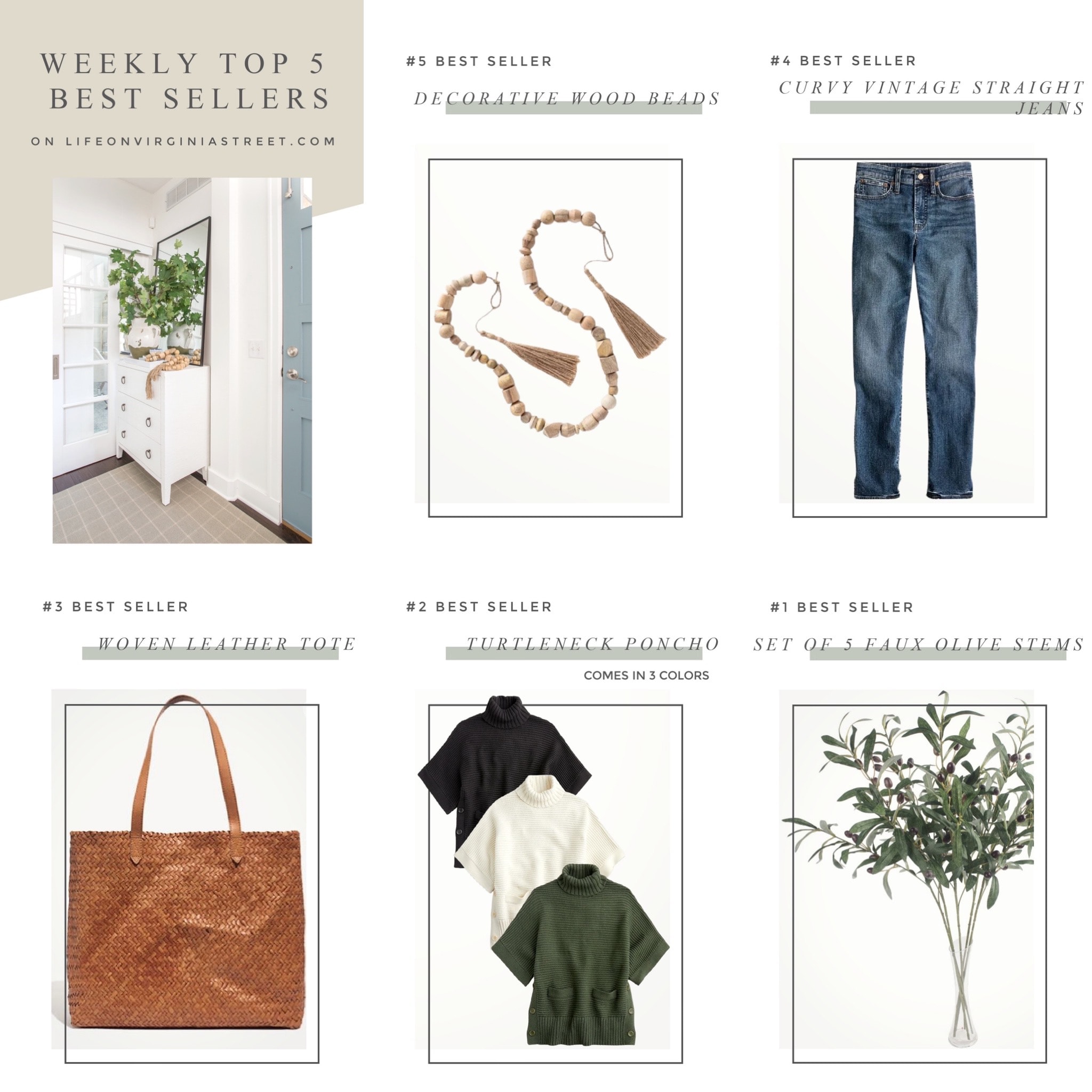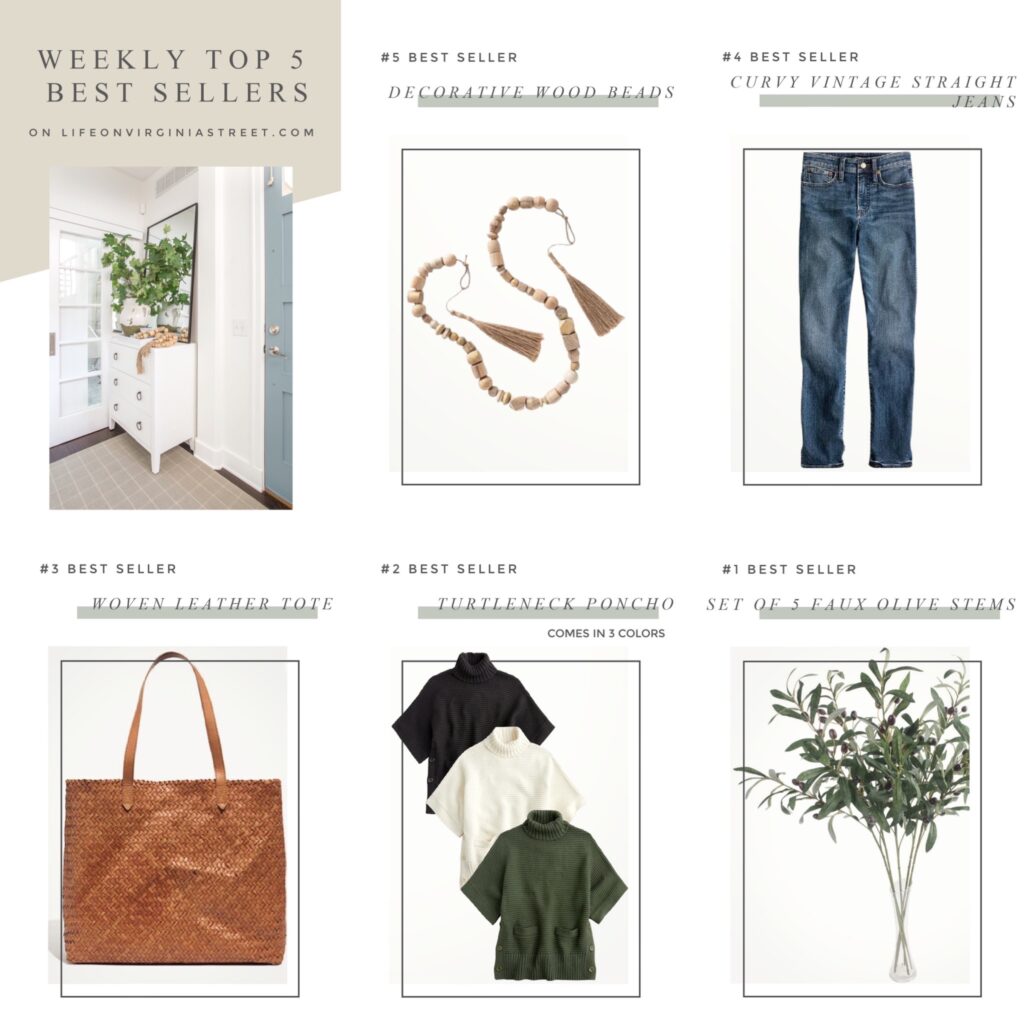 The faux olive stems were part of my fall home tour I shared last week. And right now there is a 5% off coupon you can clip to bring them to around $5.50 per stem! I also have a highlight video in my Instagram called "Amazon Fall" that you can watch where I compare them to the Pottery Barn olive stems.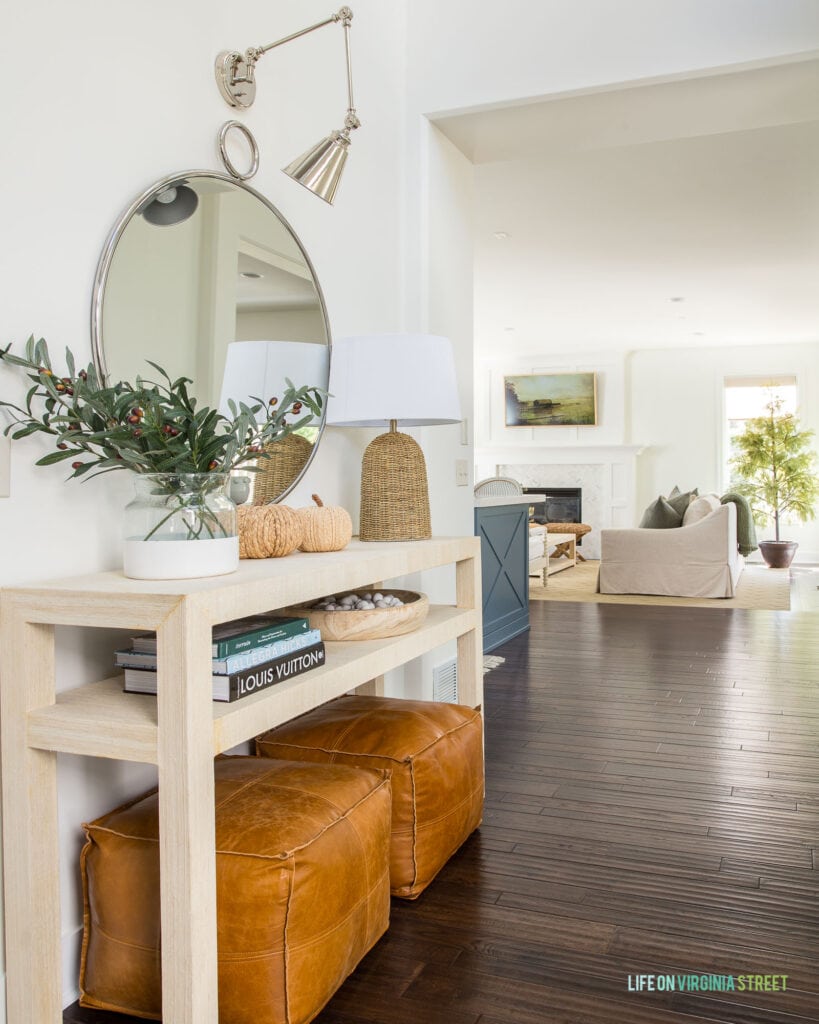 FALL ENTRYWAY HALLWAY SOURCES:  Raffia Console Table | Paint Dipped Vase | Faux Olive Stems | Larger Raffia Pumpkin | Smaller Raffia Pumpkin | Seagrass Lamp | Similar Wood Bowl | Leather Poufs | Similar Round Mirror | Swing Arm Sconces
Around Town & For Fun
We spent about half of the week last week with our goddaughter! It was in the high 80's the latter part of the week so we spent a lot of time outside.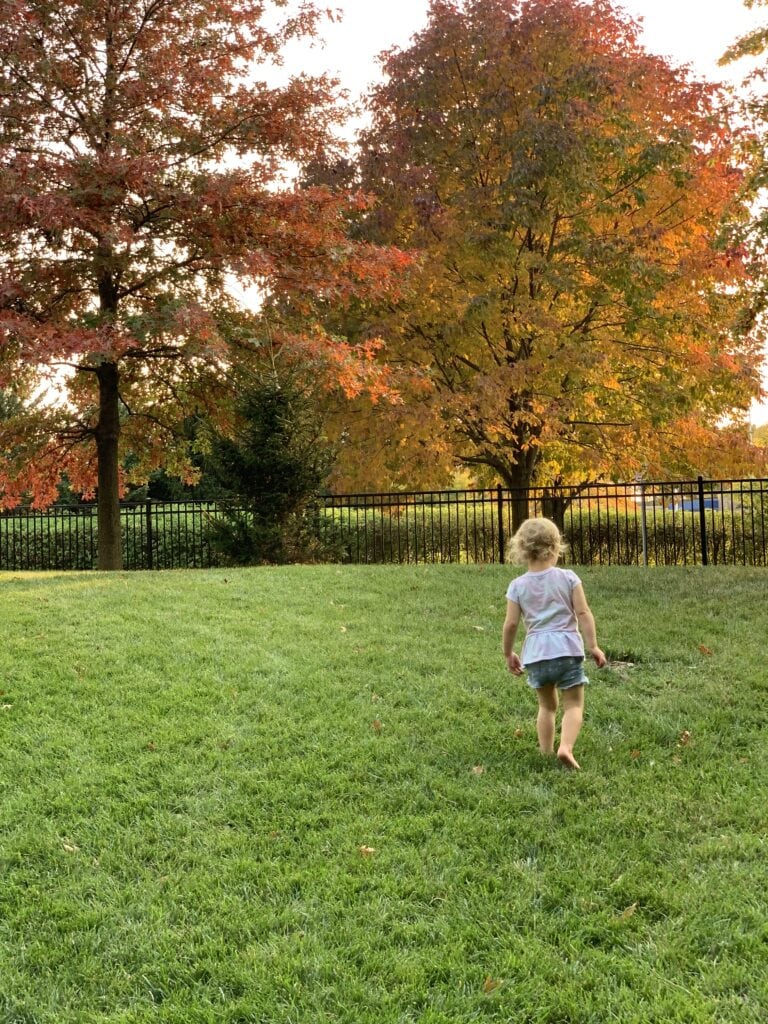 Little Z was a great helper and loves to give the cats treats. She loves it so much she gives them about a week's worth in one serving 😉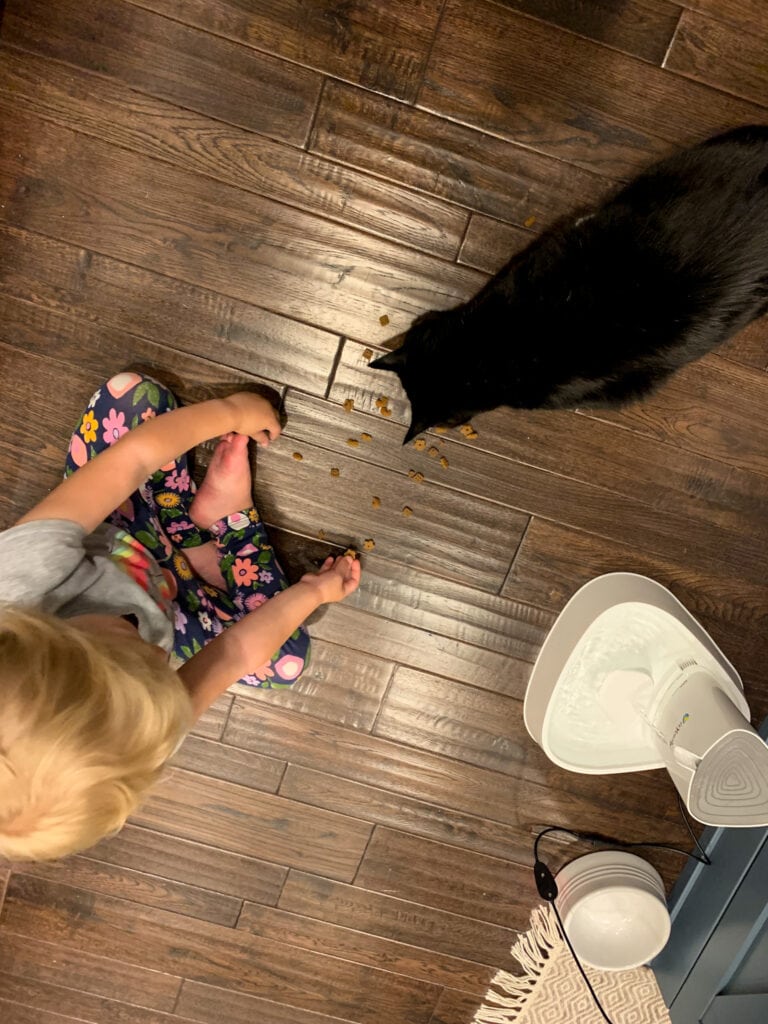 Friday we grabbed some items to set up when our friends and the baby came home. So we grabbed a "Twinkle Twinkle" balloon for Z and you would think it was the greatest gift she'd ever received. When I got her out of her crib Saturday morning the first thing she said was "Balloon – where go???"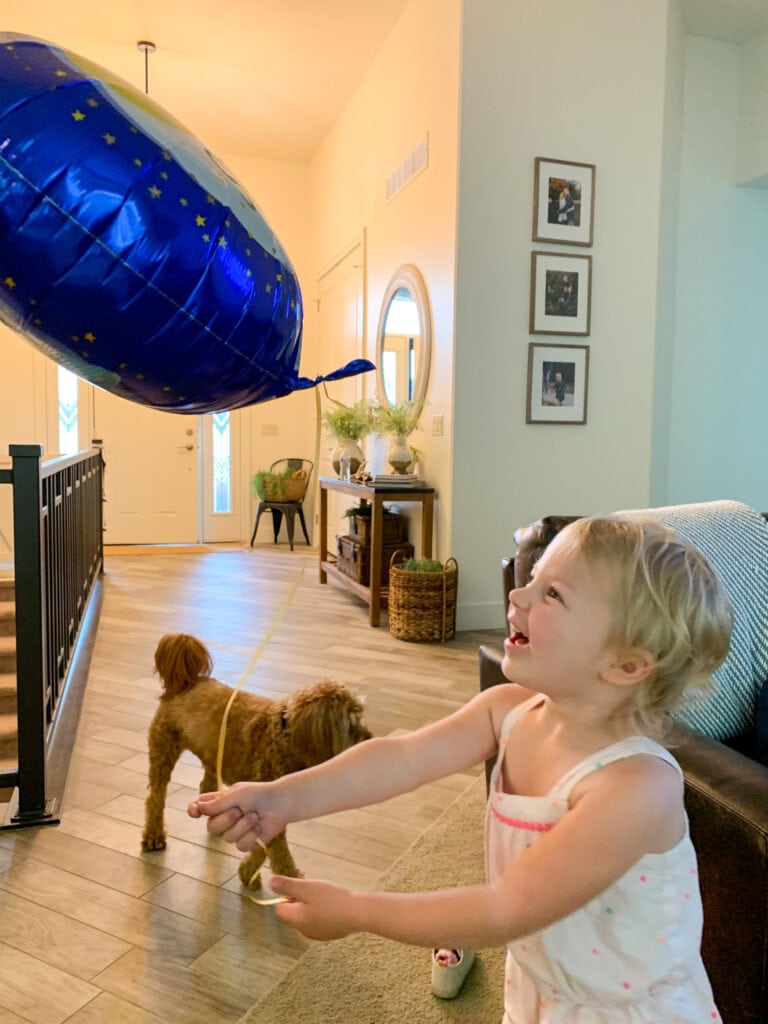 There was also a lot of this until we got the string situated 😉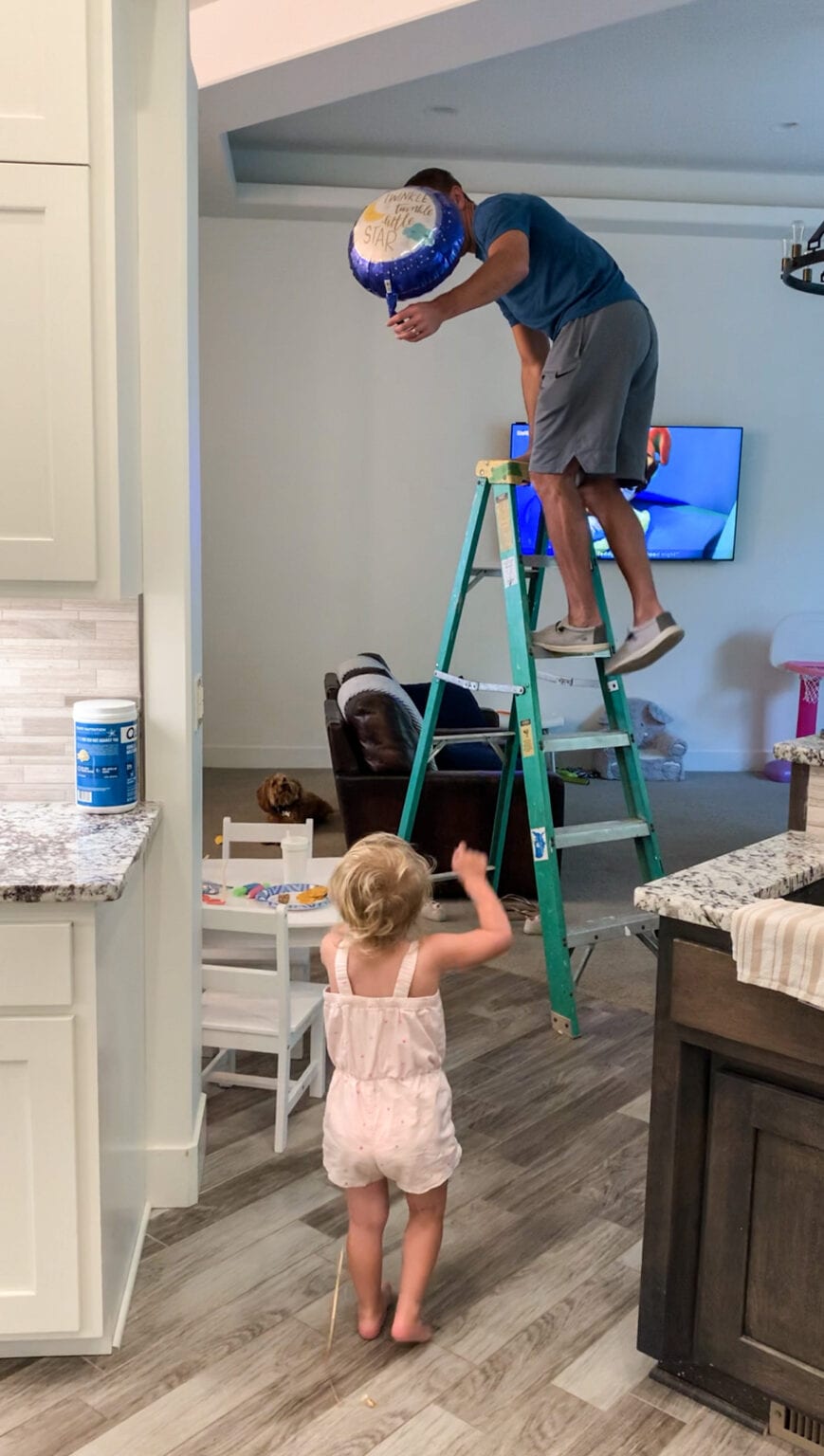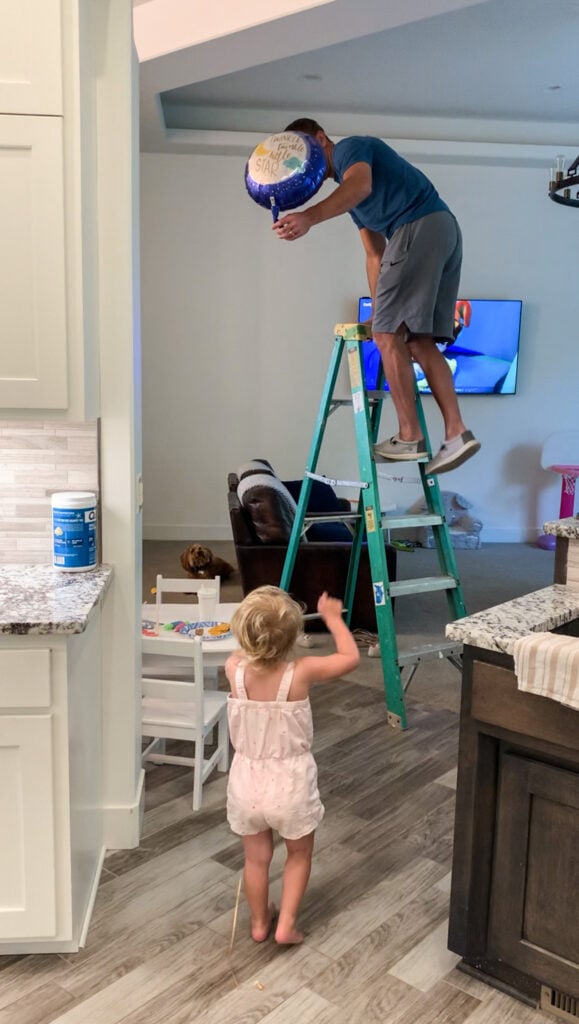 Baby sister is an absolute doll and seems so tiny! It's hard to believe Z was nearly a pound and a half smaller when she was born!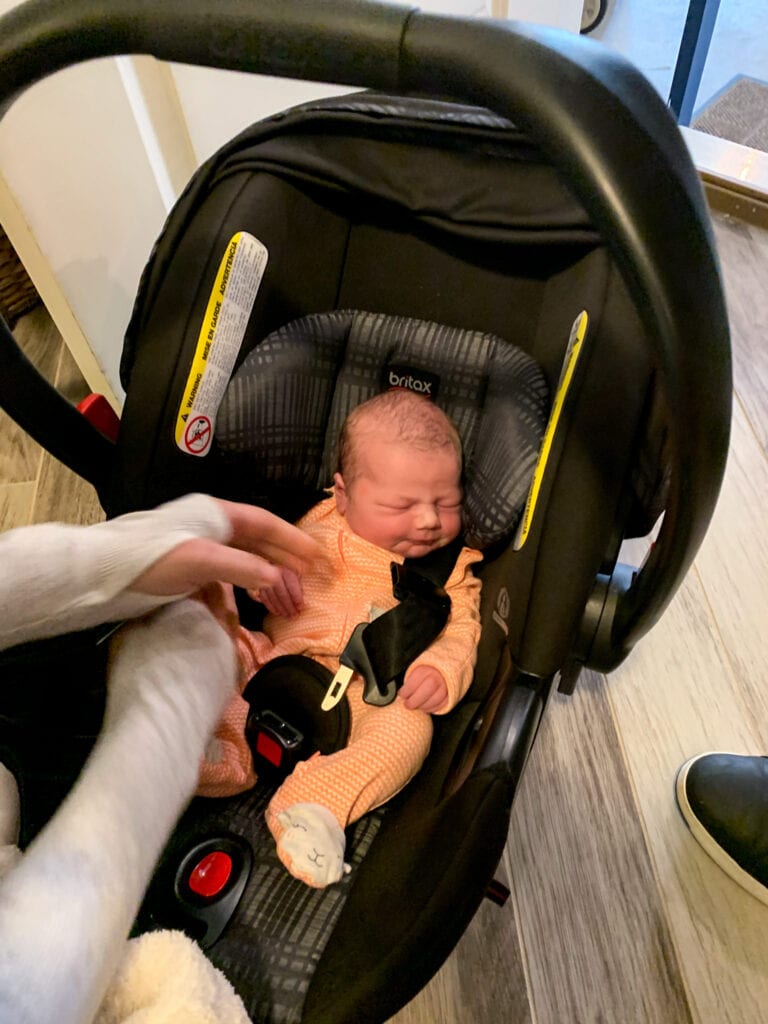 We had a lot of fun with Z – and I think she was living her best life 😉 But, we definitely required a lot of naps over the weekend to make up for it!
The cats didn't love that we spent a few nights away from them even if we still saw them each day. Lots of snuggle time. Hawkeye even got back in the habit of sleeping on my lap when I'm working at the computer. And I'm not sad about that at all!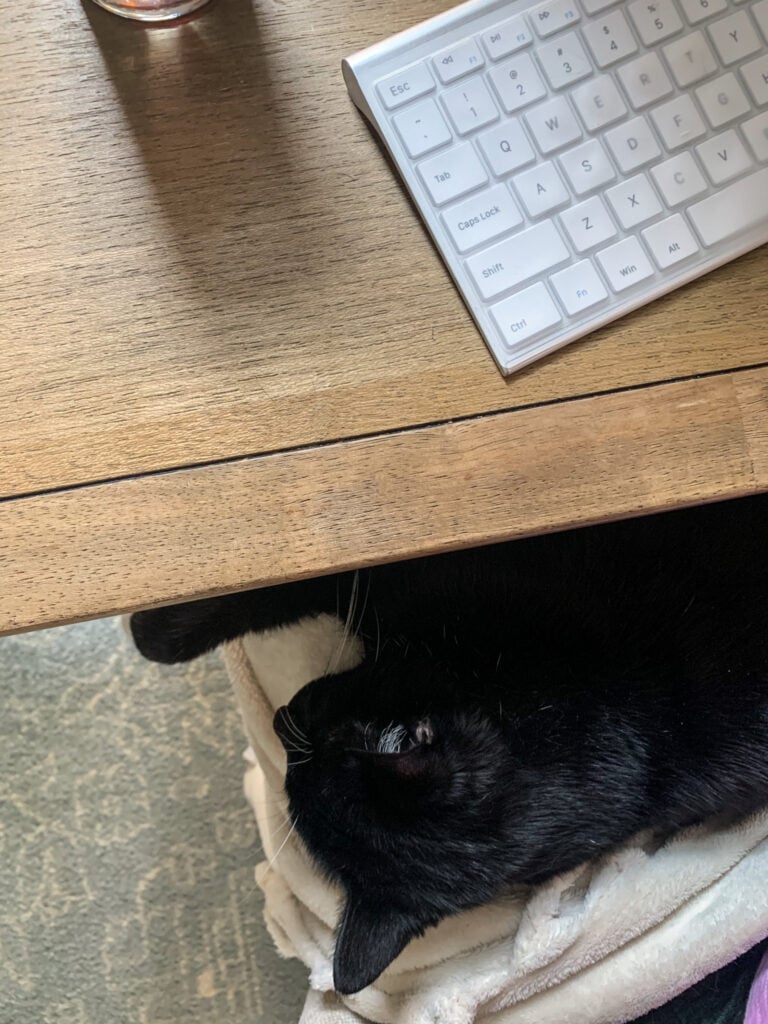 I shared some Instagram Stories on Saturday after we got home, demoing my new favorite dry shampoo. I also got a lot of questions on the floral top I was wearing. They were all a perfect color match 😉 But the top is one of my favorite purchases all fall. Up close the colors on the top are a bit more saturated than they appear on their website, but I can't recommend it enough! And today it's an extra 60% off the already 40% markdown! I also wore the flax color of this top on Stories last week, and after realizing it's also on huge markdown, I ordered the blue/white color combo too. Both fit true to size.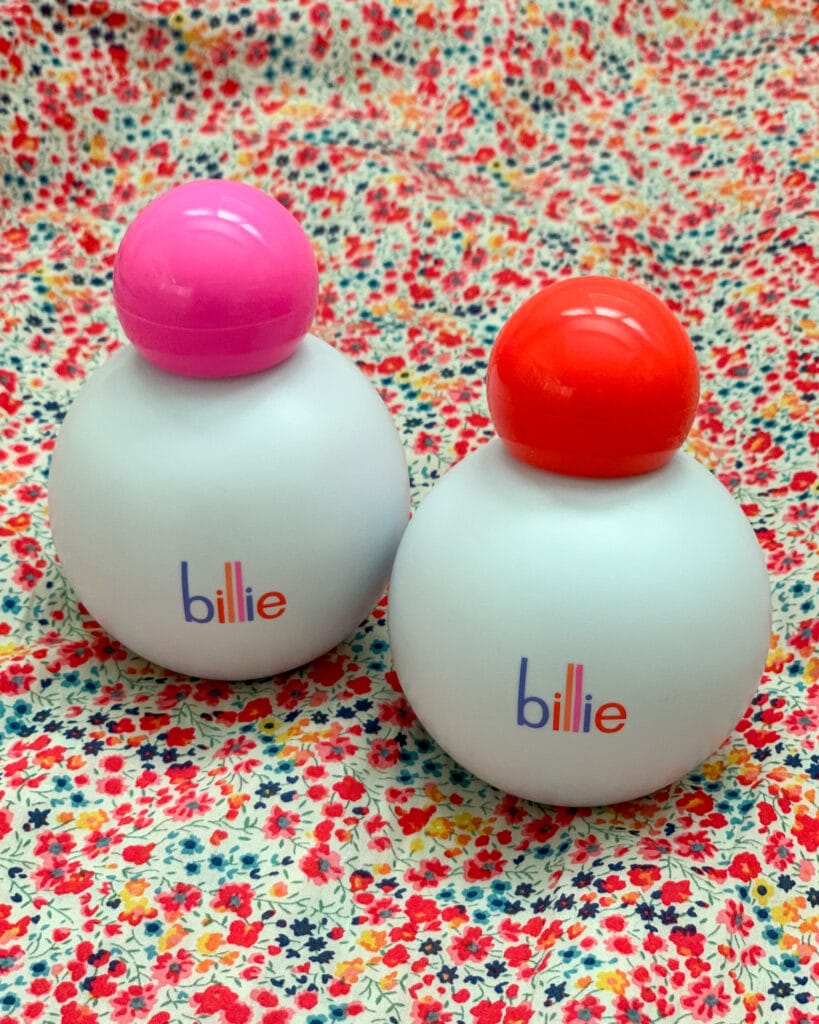 Tonight at midnight marks the start of Amazon Prime Day! Which also means tons of other sites will be doing Black Friday type sales in order to compete. I'll be working on a post with all of my favorite finds, but if there's something you're looking for specifically, leave a comment and I'll try and hunt down the best deals! With shipping delays this year, I think so many people are starting their holiday shopping early.
Alright – that's a wrap on the past week! Hoping to get back to working out again since I've been so bad since we got back from vacation. I can't give up now!
Recent Buys & Sales
Following are some of the sales that have carried over from the weekend. You can see my top picks here!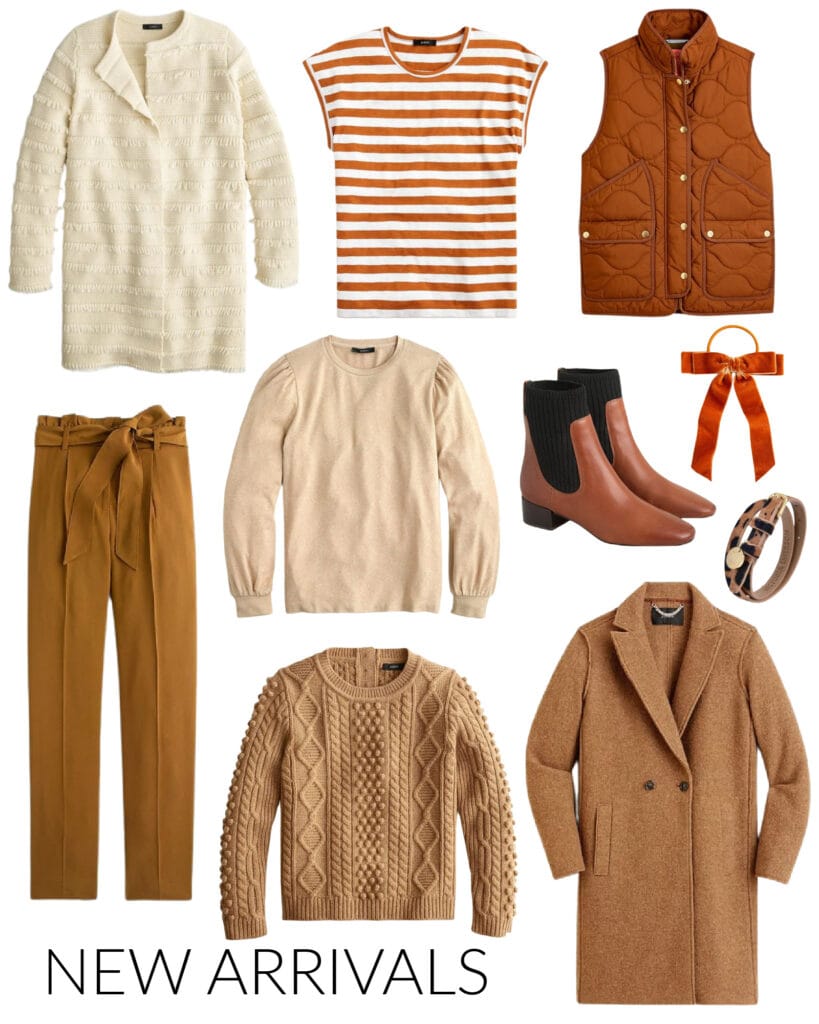 SOURCES: Collarless Sweater-Blazer with Fringe | Drop-Shoulder Tee in Stripe | Quilted Vest | Velvet Hair Tie | Double-Wrap Bracelet | Cozy Puff-Sleeve Pullover | Paper Bag Wide Leg Pants | Ribbed Chelsea Boots | Topcoat in Italian Boiled Wool | Button-back Cableknit Sweater
I hope you all have a great week!
If you would like to follow along on more of my home decor, DIY, lifestyle, travel and other posts, I'd love to have you follow me on any of the following:
Pinterest | Instagram | Facebook | Twitter
disclosure: some affiliate links used