I hope you all had a nice weekend! Ours was a perfect mix of work and relaxation – just as I believe all weekends should be!
This post contains affiliate links for your shopping convenience. Click here to read my full disclosure policy.
Home Projects & Updates
Well, I officially have a lot more time for projects now that football season is here! Kurtis spent most of Saturday watching college football, and I got the itch to paint something. It sounded a lot more exciting than cleaning or putting my summer decor away. #priorities So, I raided my paint sample cabinet and then found my next victim. The color I went with was Benjamin Moore Van Courtland Blue. I had it on hand from when I was testing paint color samples in the office. With all the natural light the office gets, it didn't work in there, but I love it in the den! Be sure to also check out this post if you're on the hunt for a good blue gray color!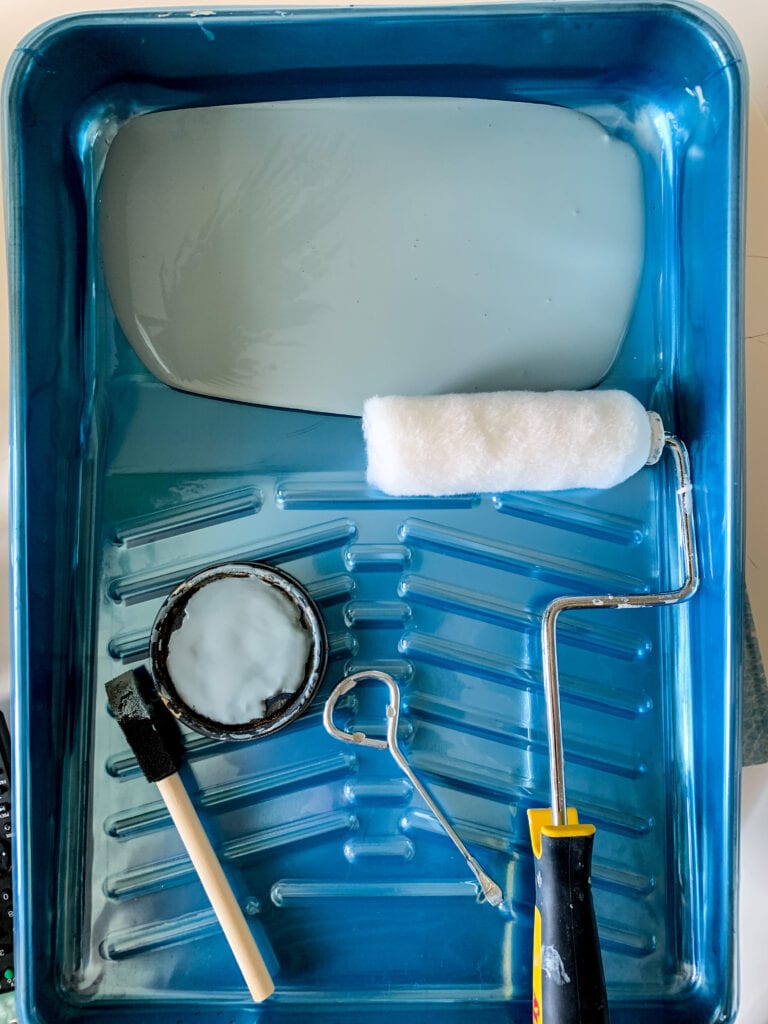 It was always in my initial den design plans to paint the board and batten wall, and I decided Saturday was the day! My plan over the weekend had just been to paint one square and then live with it a bit to see how much I liked it. Well, as you can see, ultimately finished the entire sample pot 😉 It's only one coat so still a bit streaky, but I absolutely love the color! I'm actually debating painting the entire room (including the trim) to give it a truly moody library/den feel. Since we really only use this room to watch movies and read, I feel like it could be a fun room to go bold and much darker. Let me know your thoughts! I'm sure my summer I may want it all white again, but for the cost of a gallon of paint, it's a pretty easy change up if I really wanted to. It's a good thing I love painting!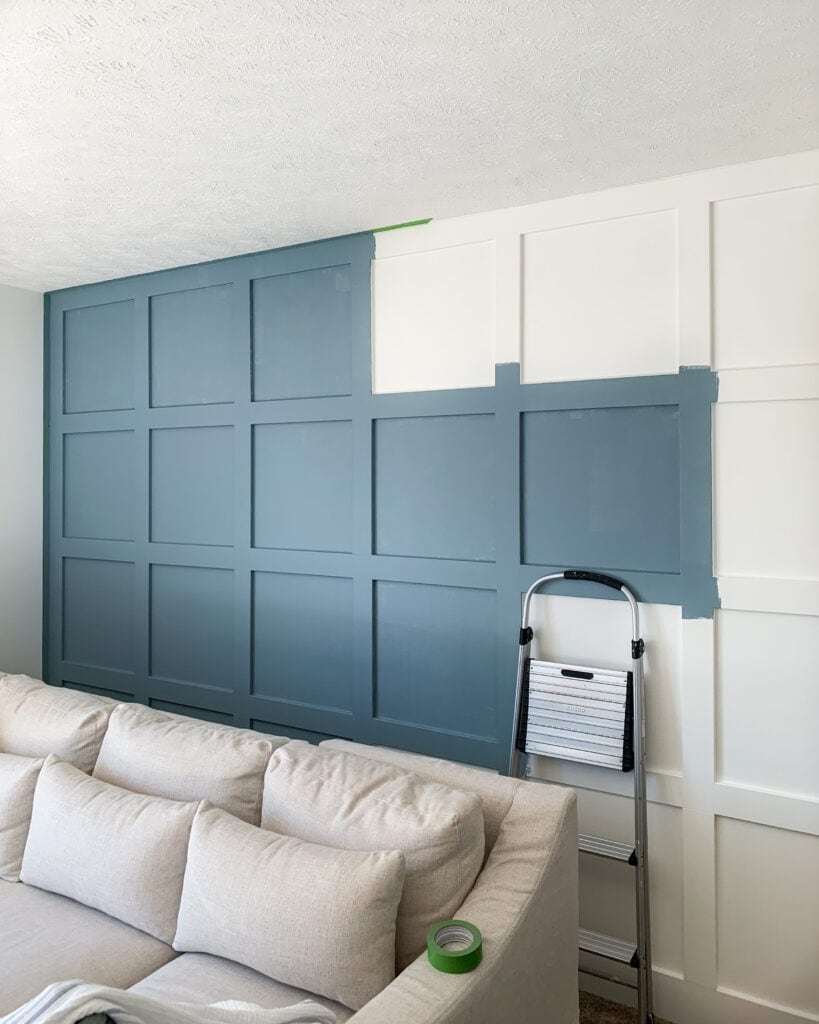 I'm going to try and run to the paint store to get a full gallon of the color to paint the rest of the wall and then get a second coat on all of it later this week. But I'm already so happy with the direction it's headed!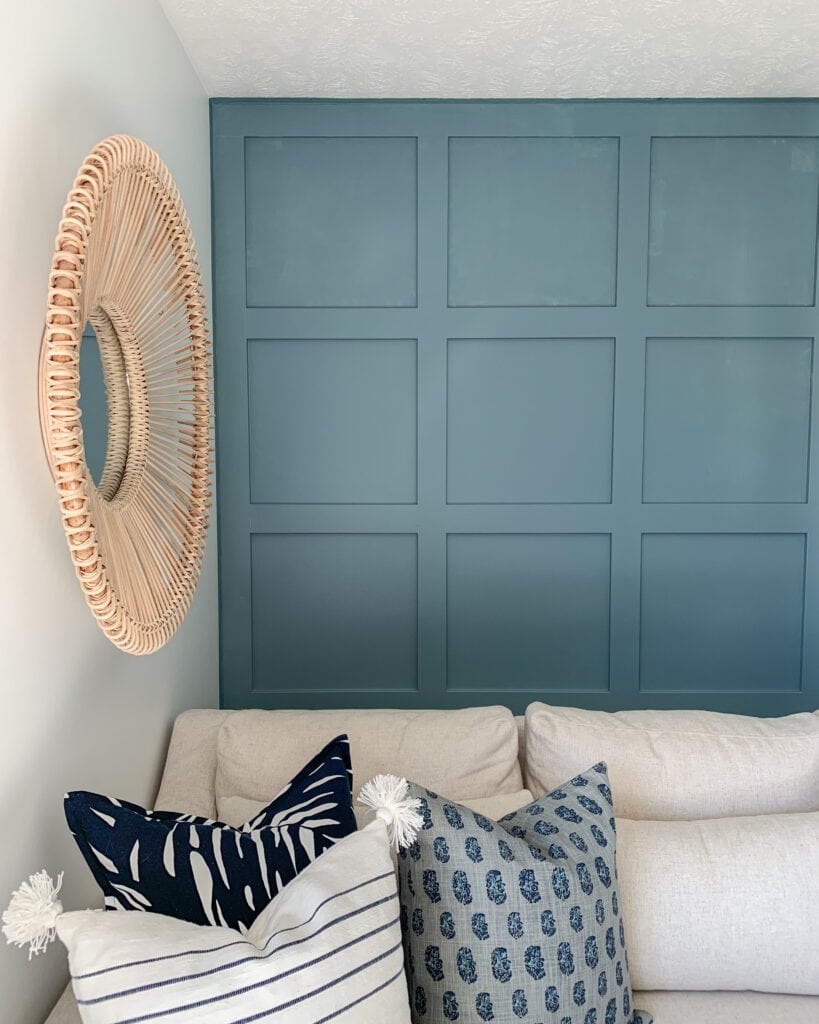 DEN SOURCES: Similar Mirror | Sectional | Palm Pillow | Striped Tassel Pillow | Similar Block Print Pillow
I spent a lot of time last week trying to get things caught up for taxes and I always want to kick myself when I let the books get so far behind! I had too many late nights at the computer. But I've found I enjoy my new view at night so much better when I have our courtyard string lights on!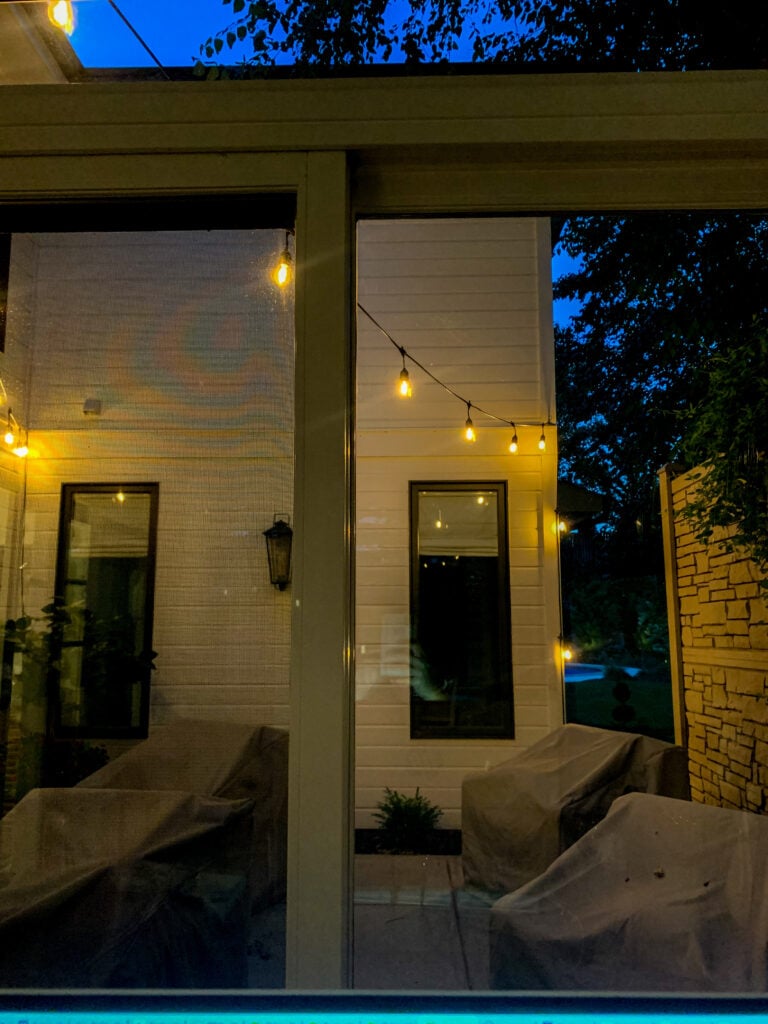 Our cabinet and mirror arrived for the entryway last week so I'm working on getting them setup and styled so I can share that with you soon. But I'm loving both of the pieces from what I can tell so far! You can read more about my plans here.
Top Sellers Of The Week
Following are the top sellers of the week across all of my channels. Links to each item are below the graphic.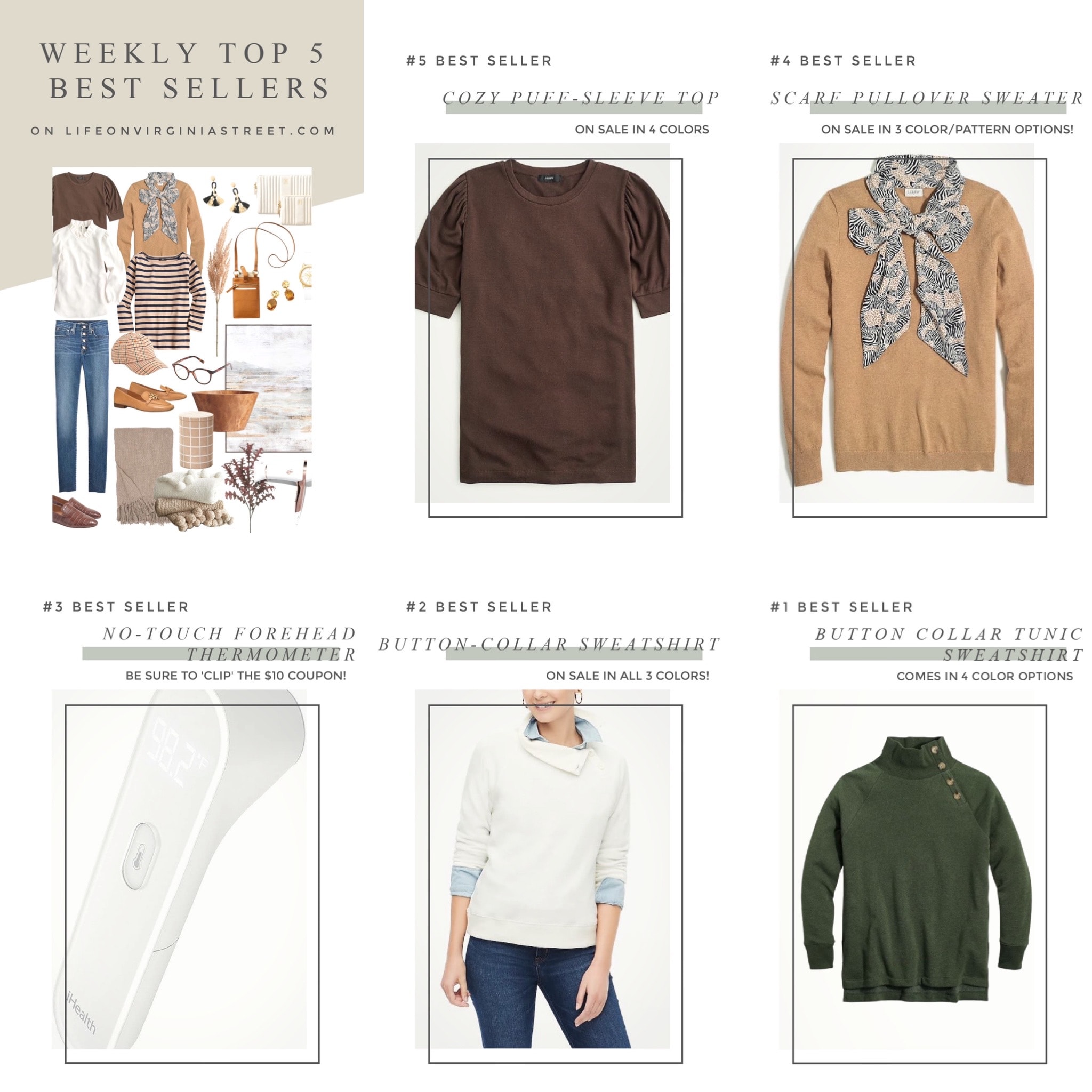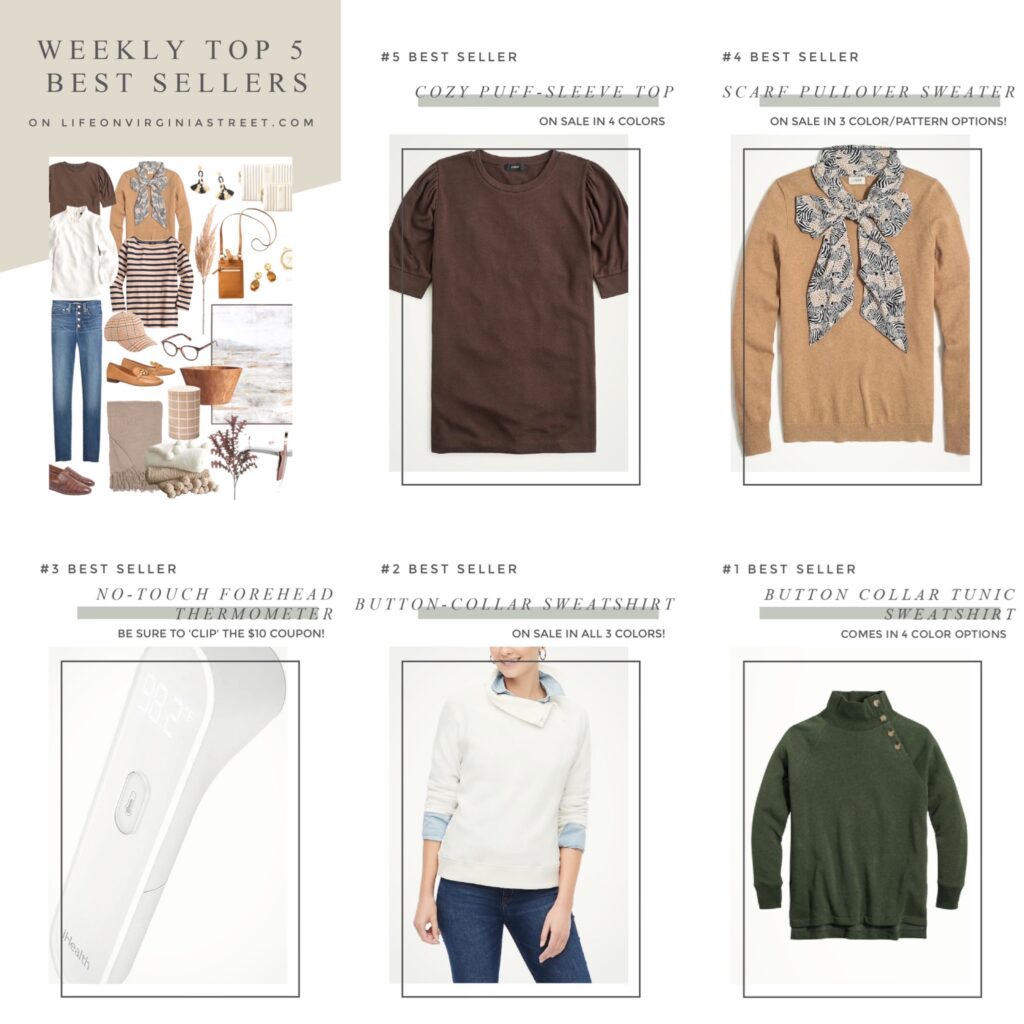 BEST SELLERS (each number is clickable): #5 | #4 | #3 | #2 | #1
Around Town & For Fun
We didn't see the sun around here much of the entire week last week. It was a cold and rainy and dreary. But given that we were nearly a foot behind on rainfall for the year, we needed it! So I took the opportunity to embrace the fall-like weather and get somethings done around the house I had been avoiding. I also did another sweep of my closet to get clothes ready for donation. It's so nice to have it all organized and purged again! I decided it was time to finally part with my "blog pants" as my friends call them. I think every paint color I've used in the last decade is part of these jeans, but they are more than a a little threadbare in most places and no longer appropriate to wear. Sadly, these went in the trash pile, but they lived a good life!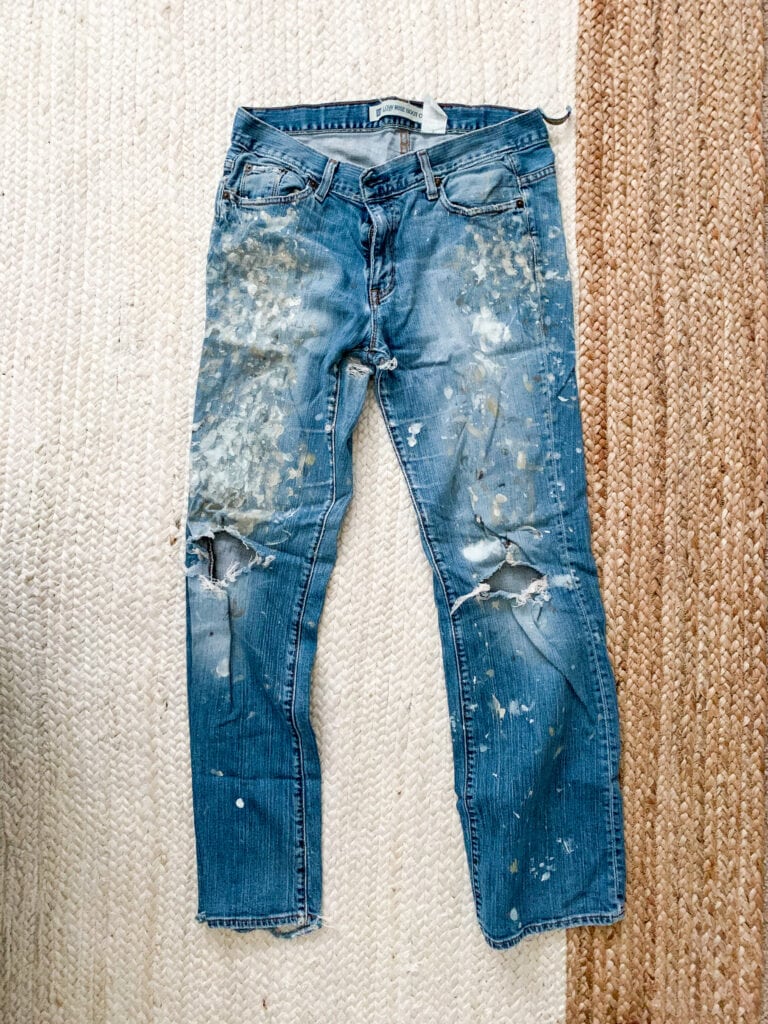 With the colder temps, I also took the opportunity to make a big batch of soup. I could eat soup every single day during the fall and winter months, so it's one of the few things I look forward to in the colder months. I don't ever follow a recipe, and basically just use up veggies we have on hand. This time around I added canned tomatoes, chicken stock, carrots, zucchini, onion, shredded chicken and then just some spices. So good! Just ignore the fact I spilled chicken on the burner next to my pot 😉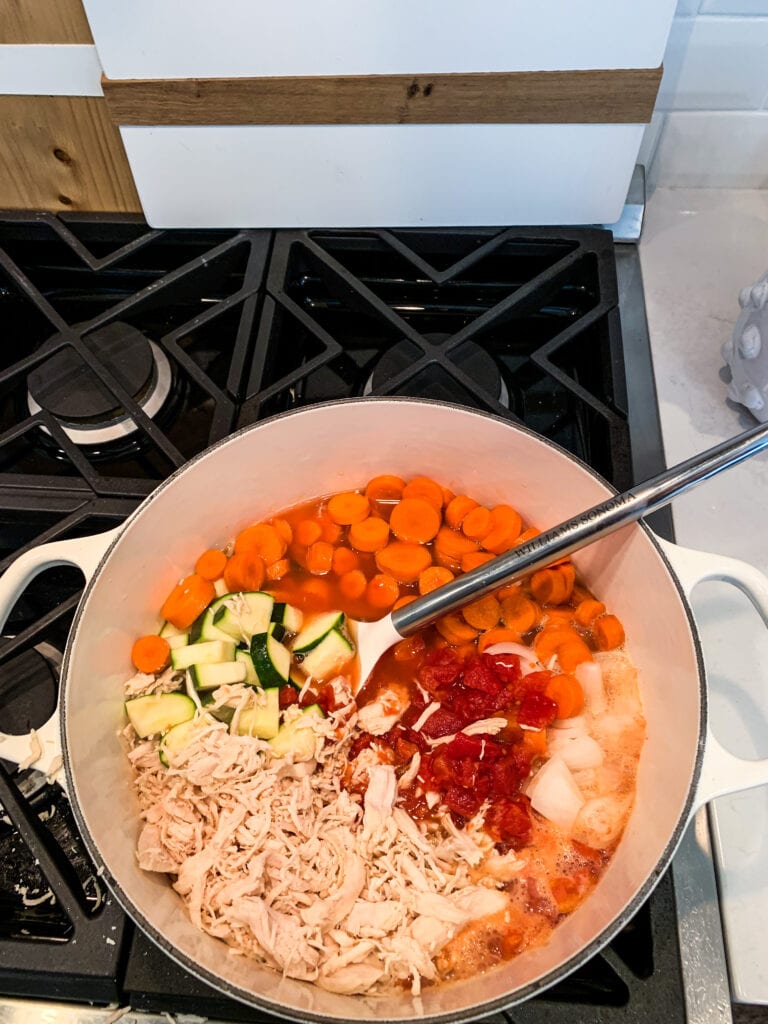 We also had the first fireplace night of the season! Kurtis and I basically want to cry when pool season ends, but the cats aren't sad at all since it means we're inside more and they get the fireplace on in the evenings.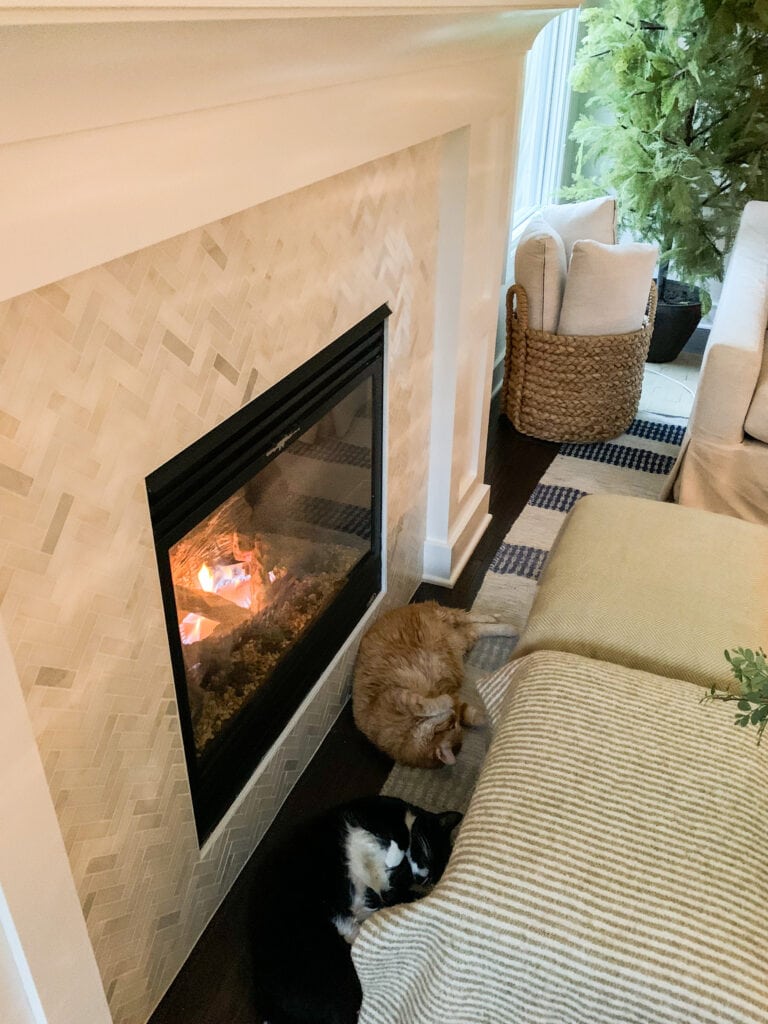 It was definitely sweater weather most of the week! On Saturday I wore this sweater I featured in my Wednesday Watch list two weeks ago. This is the olive color but I also got the black and I'm pretty sure I'll be wearing them a lot this fall! I love the weight and the longer length! And my lips aren't always this ghostly white, but I was rocking a healing cold sore and some Abreva for this look 😉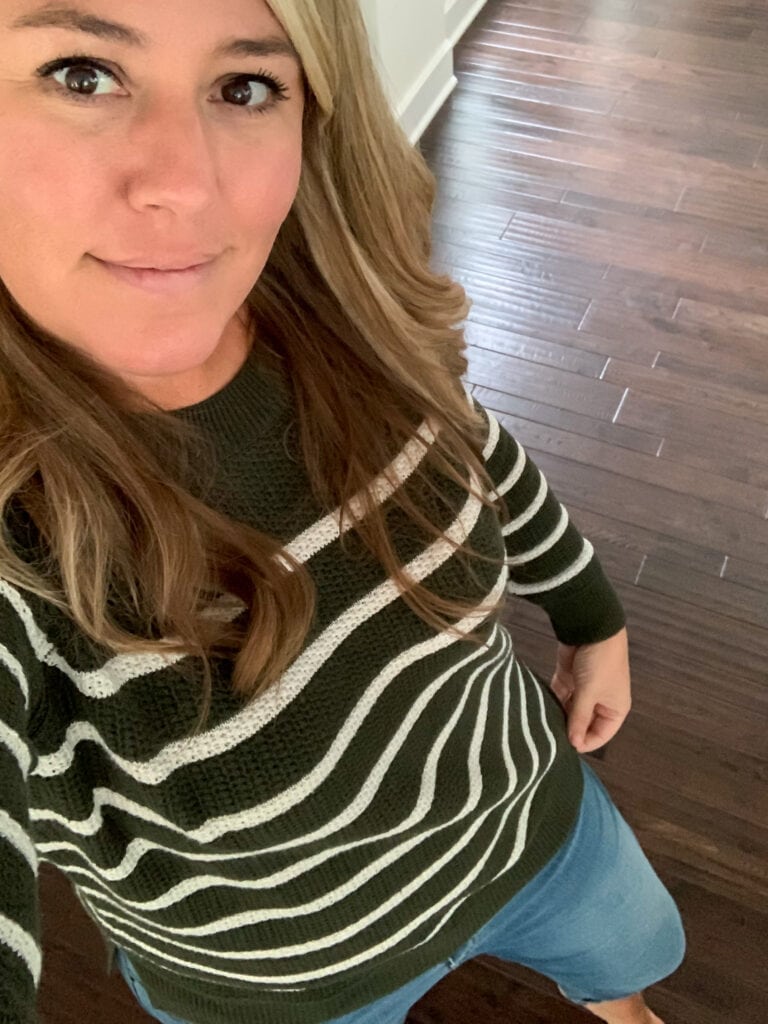 I was one of those crazy people that set my alarm for 2 AM to shop the Studio McGee launch at Target. I know a lot of you were frustrated with the lack of inventory, and I get it. I was checking out at 2:05 and already had items pulled from my cart because they had already sold out. I watched some of Shea's stories and she doesn't have any control on inventory, but she did say that Target has confirmed that they will be restocking a lot of the items (she doesn't know which). So, I'll try and keep my eyes out for the popular items and let you guys know if/when things come back! I was excited to get this olive tree (still in stock!) and this abstract art. Many of the other items I wanted though were in-store only, and ours didn't stock them.
Sunday the weather was absolutely beautiful and almost hit 80 degrees again! We got our workout in and then did some house-sitting duties before heading out to Juke's in Elkhorn again for a patio lunch. I also got in some reading, which was nice since I hadn't opened my book for so long! Then den is in complete disarray but that didn't stop the cats from find a way to join me!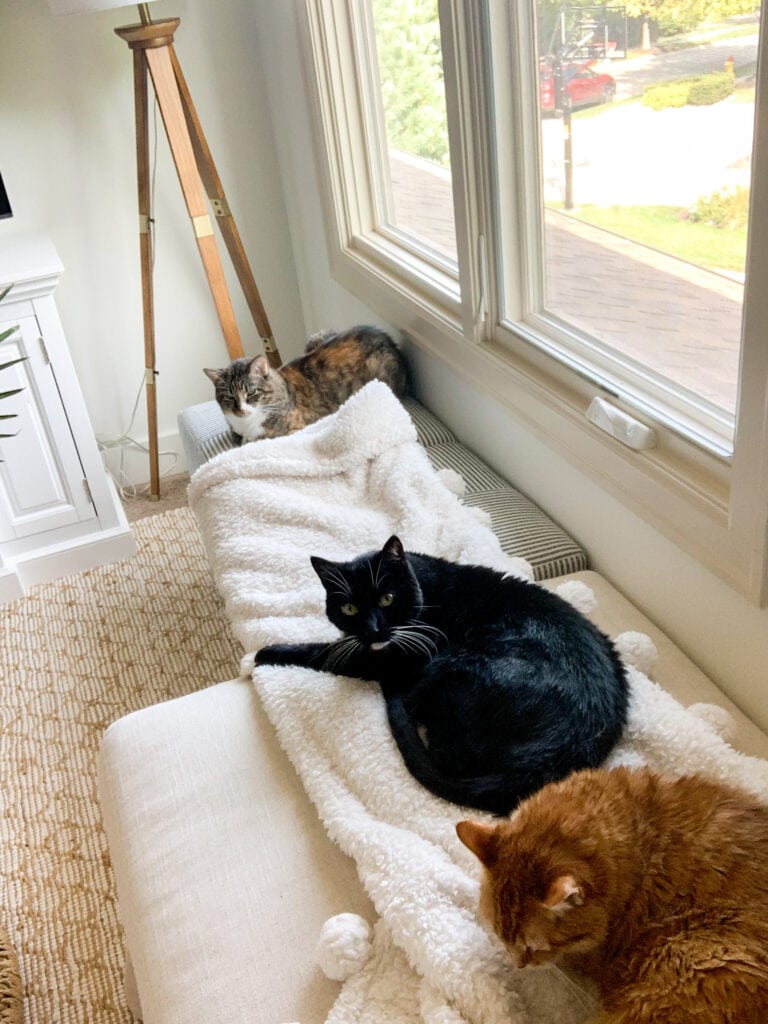 Our summer-like temps are supposed to be back this week so we're hoping to get in another pool day or two before we close the pool late next week!
Recent Buys & Sales
Following are some of weekend sales that are still going strong! You can see my top picks here.
I hope you all have a great week!
If you would like to follow along on more of my home decor, DIY, lifestyle, travel and other posts, I'd love to have you follow me on any of the following:
Pinterest | Instagram | Facebook | Twitter
disclosure: some affiliate links use