I am still in the very early process of designing our den, but as promised a few weeks back I'm going to share more of the process with you in real time! So today I'm sharing our den design plans and details on why we ordered a Pottery Barn sectional versus trying a different brand.
This post contains affiliate links for your shopping convenience. Click here to read my full disclosure policy.
Why We're Creating a Den
The room formally know as my craft room, TV room and workout room has worn many hats over the years. But the truth is, it hasn't worked for us for a long time and has essentially become dumping grounds for our crap (again). Added to that, we only have one TV space in our home but that also doubles as the only sitting space. So, if one of us wants to read or watch something different on TV there really isn't anywhere to go.
Our main guest bedroom bed essentially becomes the reading space. Since Kurtis created a workout area in our unfinished basement, I no longer needed this room for that purpose. And the truth is I don't really do "crafts" or scrapbook any longer. Bottom line – we've really changed how we've used certain areas in our home over the past few years, and this room hasn't kept up! We've been talking about it for a few months now (we're really trying to no longer rush design decisions!) and ultimately decided we needed a den with another TV and some cozy seating for reading. We started the ball rolling a few months ago by cleaning up the basement to create more storage so we can have this room properly function going forward! The room also connect to our main guest bedroom (via the jack and jill bath) and will be a great spot for guests as well!
Our Den Design Plans
Following is my current den design board. Most of the items in the den design plans board are placeholders to represent items I'm on the hunt for. The only item we have actually purchased is the Pottery Barn sectional (UPDATE: Read my full Pottery Barn Sectional Review for more info).  The wall color isn't an actual paint color either – just a color I created in Photoshop. We're thinking something like a muddy blue with green undertones but I may just as easily leave it all white. We're going for cozy and warm! But I'll get into much more of the specific product details in all of the sections below. The room is actually a bedroom and measures about 13'x13'9″ so a sectional makes the most sense for the space we have in the room (there are doors on three walls so spacing gets awkward).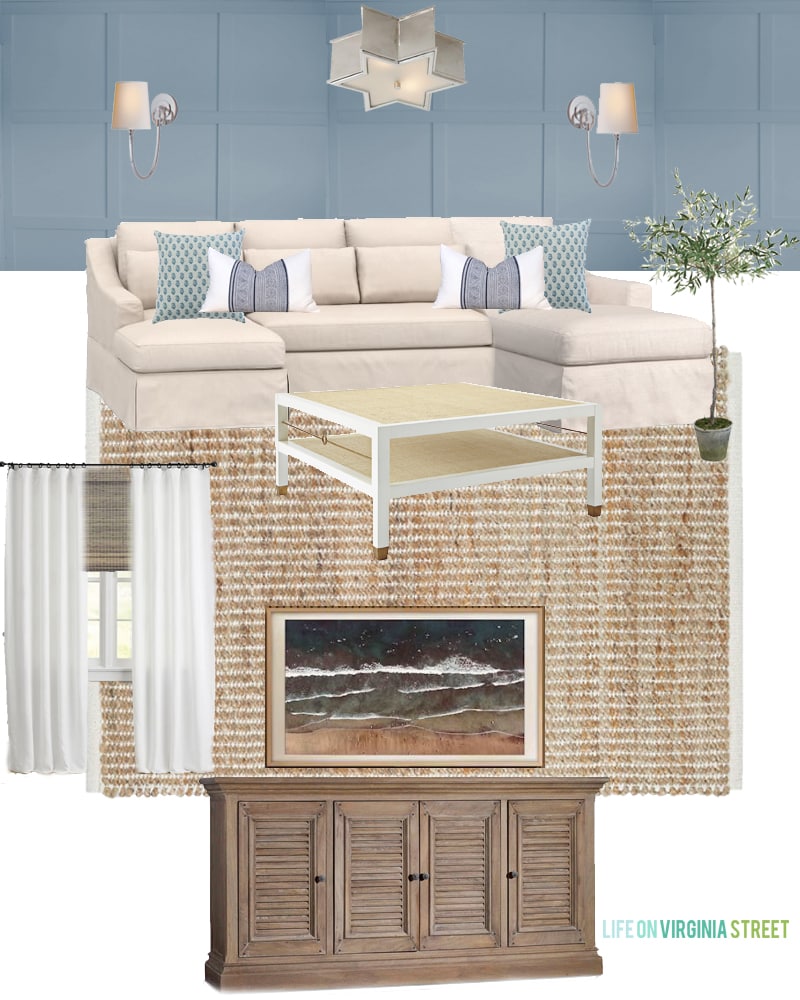 DESIGN BOARD SOURCES: Sectional | Coffee Table | Rug | TV Stand | Drapes | Woven Shades | Star Light | Sconces | Olive Tree | Square Patterned Pillow | Lumbar Pillow | TV with Art Mode
Why We Ordered a Pottery Barn Sectional
I want to start off by saying that this is in no way sponsored by Pottery Barn! We paid for our York Sofas that we love so much and we also paid for this sectional. But, I wanted to share why we chose to order a Pottery Barn sectional. If you've read my Pottery Barn York Sofa review, you know that we've been very happy with the purchases. In fact, I recently updated the post with even more details after their one year old birthday! The comfort level has always been amazing, but after having them for more than a year now, we know that the fabric durability is also insane! I can't say enough positive things about the Performance Everydaylinen™ by Crypton® Home. I did a red wine test on it, and we've had everything from melted chocolate to cat puke, you name it spilled, and it all comes off with nothing more than water! We've been beyond impressed! We want this sectional to stand the test of time – because they aren't cheap. And we feel confident this is the right selection for us.
I was so close to ordering this Pottery Barn sectional, but thankfully before I hit submit, Kurtis and I had a further conversation about it. Apparently he thought the chaise portion was for him. Ummm….no. This is my TV room and that's my chaise 😉 We decided in the end it made more sense to go with the customized components so we could have a chaise on each side.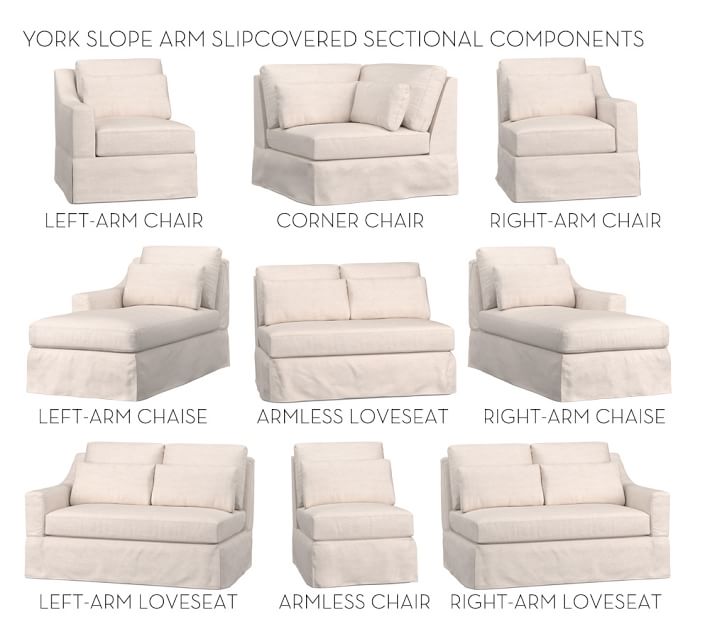 After carefully measuring the room, we opted to get a left-arm and right-arm chaise, along with the armless loveseat to go in the center. It will essentially be this sectional but with an extra chaise added at the end. We went with the Performance Everydaylinen™ by Crypton® Home in the Oatmeal color again, because we still love it so much and know it's extremely durable. For such a large purchase, we really weren't willing to try another brand when we know how much we love our current sofas. Especially given that we'd most likely have to order one blindly without being able to test it in person first!
And I've said it before but it's worth mentioning again. If you ever plan to buy a Pottery Barn sofa or sectional, only do so if you get at least 20% off! They run sales frequently enough that you should never have to pay full price! Ours was purchased during a 25% off sale, so the savings were huge!
We ordered the new sectional on January 6th, so it's already been in process for about a month. If all goes according to plan, the sectional should be delivered within the next month or so! Which means we have a lot of work to do to get the room in order!
Additional Design, Furniture & Decor Ideas
As I mentioned above, the design plans are super tentative at this point. In fact, many of the items are purely only representative of a look I'm going for, but I plan to hunt down alternatives. In many of the items shown, I'm hoping to find a designer dupe for less that will give me a similar look. Following are some additional ideas for each of the items shown in my design board.
RUG IDEAS:
We hate our carpet and in this room, it's buckling worse than anywhere in our house. So, we plan to cover the bulk of the floor with a rug until we decide what to do with the flooring.

TV STAND IDEAS:
I actually love the TV stand in the mood board so much, but I'd love to find something a bit more cost-effective (this one is the closest I've found so far). Fingers crossed, but I haven't bought a TV stand in years and forget how pricey they can be! Here are a few more ideas:

PAINT COLOR IDEAS:
As mentioned, we're leaning towards a muddy blue/green/gray color. I originally wanted to take it really dark, but as Kurtis reminded me, I usually hate the darkness after a month or two of living with it. So, we'll see where this one takes us. I feel like if any room can go dark for me it's a den, but I'm also still considering white. And if I go with a color I haven't decided if I take it all the way around the room or just on the board and batten accent wall. Stay tuned on this one!
OTTOMAN/COFFEE TABLE IDEAS:
If we leave the room white, I'm thinking I'll do a leather ottoman/coffee table. Regardless, I'm a bit hesitant to even order this one until the sectional is here because I want to make sure I order something that won't be too tight! Since we don't have space for side tables, the ottoman/coffee table will be key for holding drinks, books, etc.

Again, we're still in some of the early stages of planning, but we know the main components. I'll continue to keep you posted with any progress! But, we're really excited to watch this room evolve!
If you would like to follow along on more of my home decor, DIY, lifestyle, travel and other posts, I'd love to have you follow me on any of the following:
Pinterest | Instagram | Facebook | Twitter
disclosure: some affiliate links used