I hope you all had a good weekend! Were any of you impacted by the Saharan dust cloud? We could actually see the result of it here in Omaha yesterday which is crazy to me! Thankfully it didn't impact our air quality too much (other than just the overhead haze when the skies were otherwise blue). But I think we can all agree we're done with all these weird phenomena in 2020, right?!
This post contains affiliate links for your shopping convenience. Click here to read my full disclosure policy.
Home Projects & Updates
Last week was kind of a blur for me, and now it's hard to believe we'll be into July this week! I keep alluding to a massive project we're working on, and I haven't meant to be secretive about it. But it's one of those things I just haven't decided if it's really blog-worthy or not yet. We're doing something with our real estate business that's a new undertaking for us. It's been taking a lot more of my time than I envisioned and we have other partners involved, so it's been a learning process to say the least 😉 Long story short, I may start sharing bits and pieces about it as time allows, but if I randomly go missing for a day (or three or five) over the next month or two, just know I likely got pulled away. Although I didn't love the four onsite meetings I was called to last-minute last week, I did find it refreshing to step away from the online and social world for a few days. Something I have a hard time doing most of the time.
I spent some time in the yard on Saturday. I find it so relaxing and apparently that translated to me trimming even more trees and shrubs. Because we really needed that 😉 I had to stop when our yard waste bin was at capacity. Because I wasn't about to rent another dumpster!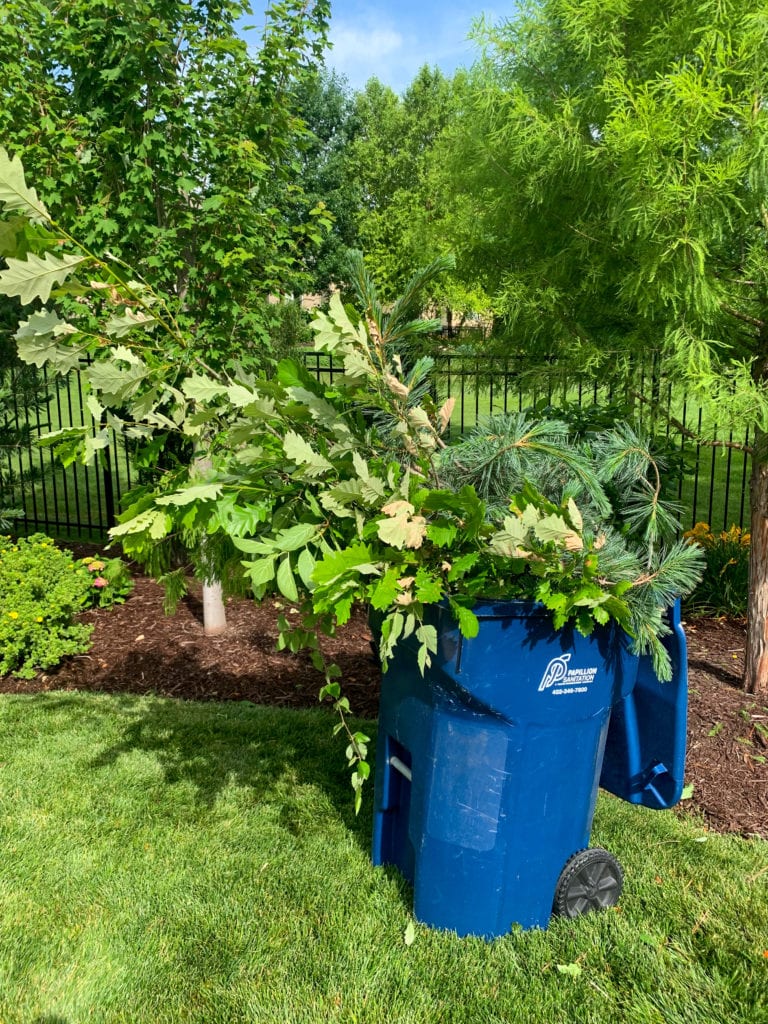 Some of our hydrangeas are coming out in full force! Our Annabelle hydrangeas in our front yard started blooming too.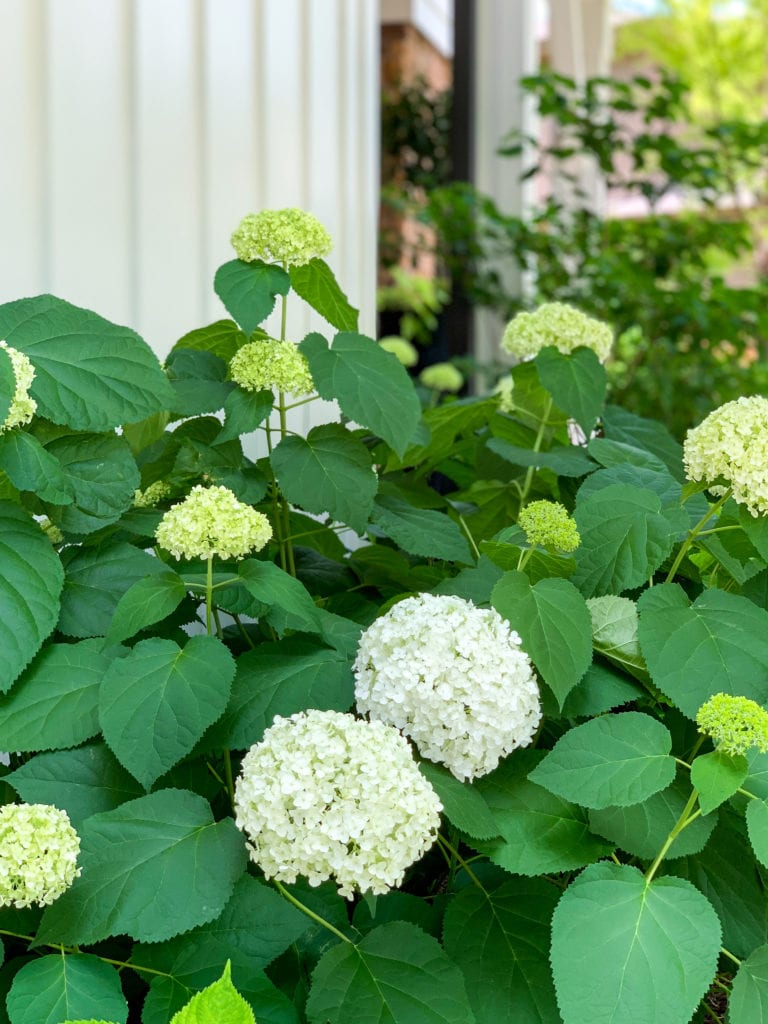 I'm so happy I decided to add some hibiscus to our planters this year too! Kind of a happy accident! I used my favorite fertilizer on all my flowering plants and shrubs about a week ago, and I think it's really paying off with all the new blooms!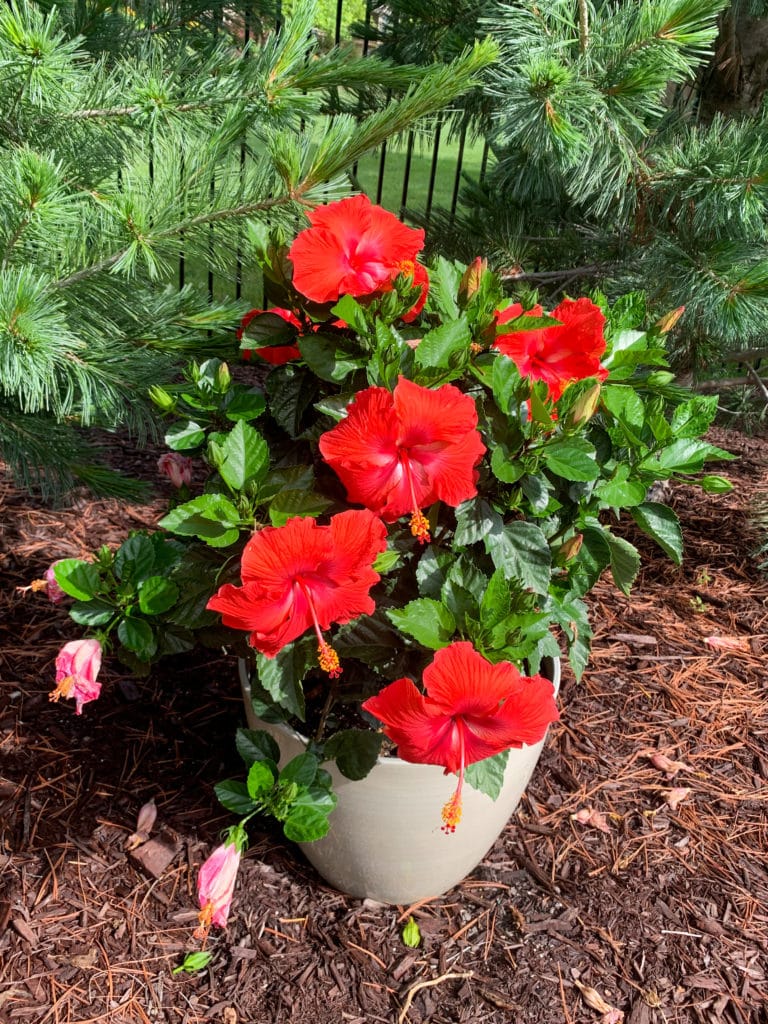 On Sunday, I brought out my star pillow covers for the 4th of July! I'm absolutely loving them in our living room. I love that they can be used for a variety of holidays (even Christmas!).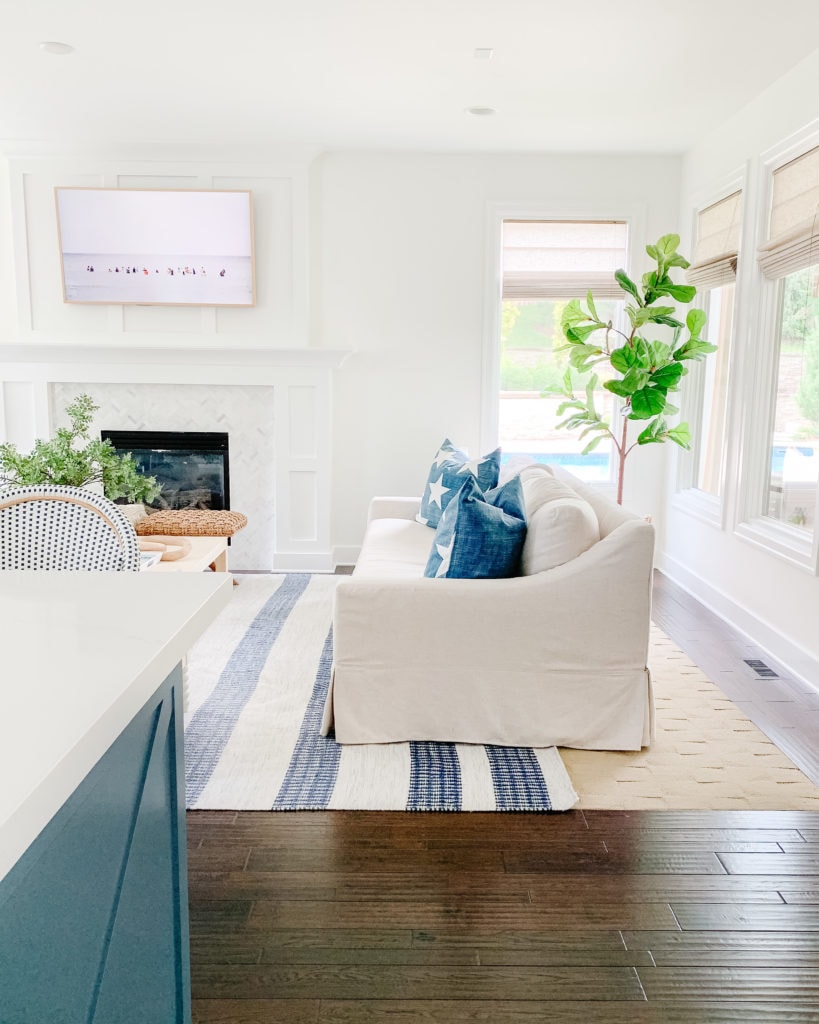 LIVING ROOM SOURCES: Star Pillow Covers | Striped Rug | Linen Sofas | Spindle Chairs (similar here) | Raffia Coffee Table | Faux Fiddle Leaf Fig Tree | Seagrass Basket | Similar Wood Chain | Similar Vase | Faux Greenery Stems | Woven Stools | Frame TV
Here you can see a close-up of the pillow. So cute! I love how it feels like a handmade quilt with the pieced chambray and white twill.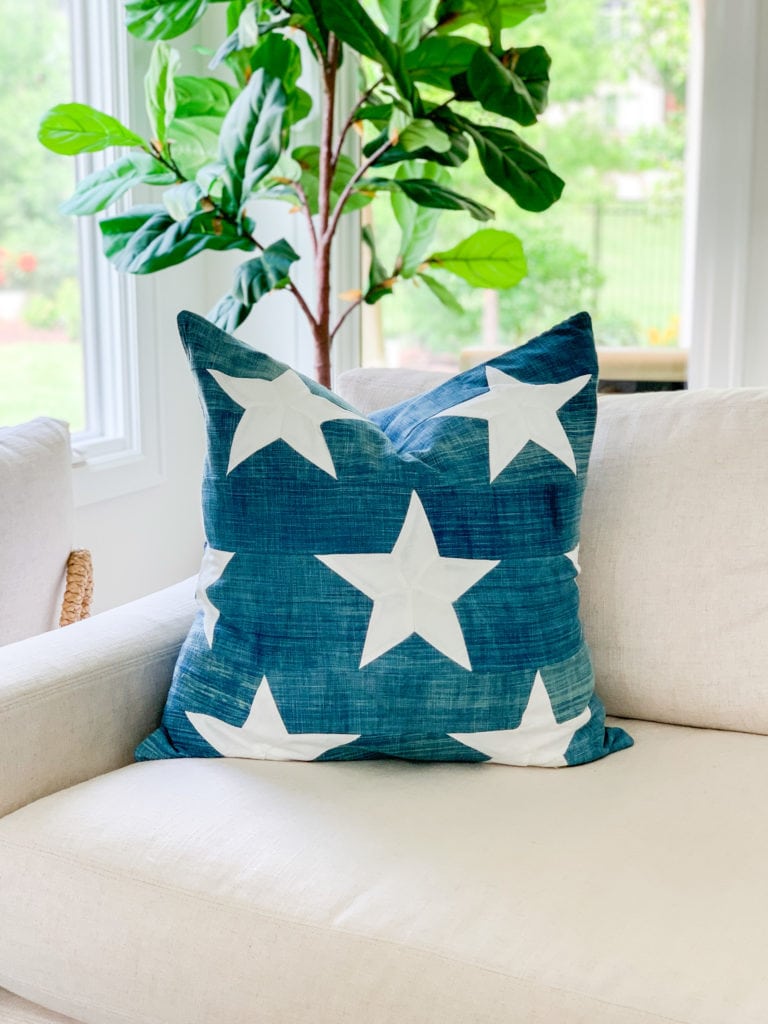 Top Sellers Of The Week
Following are the top sellers of the week across all of my channels. Links to each item are below the graphic.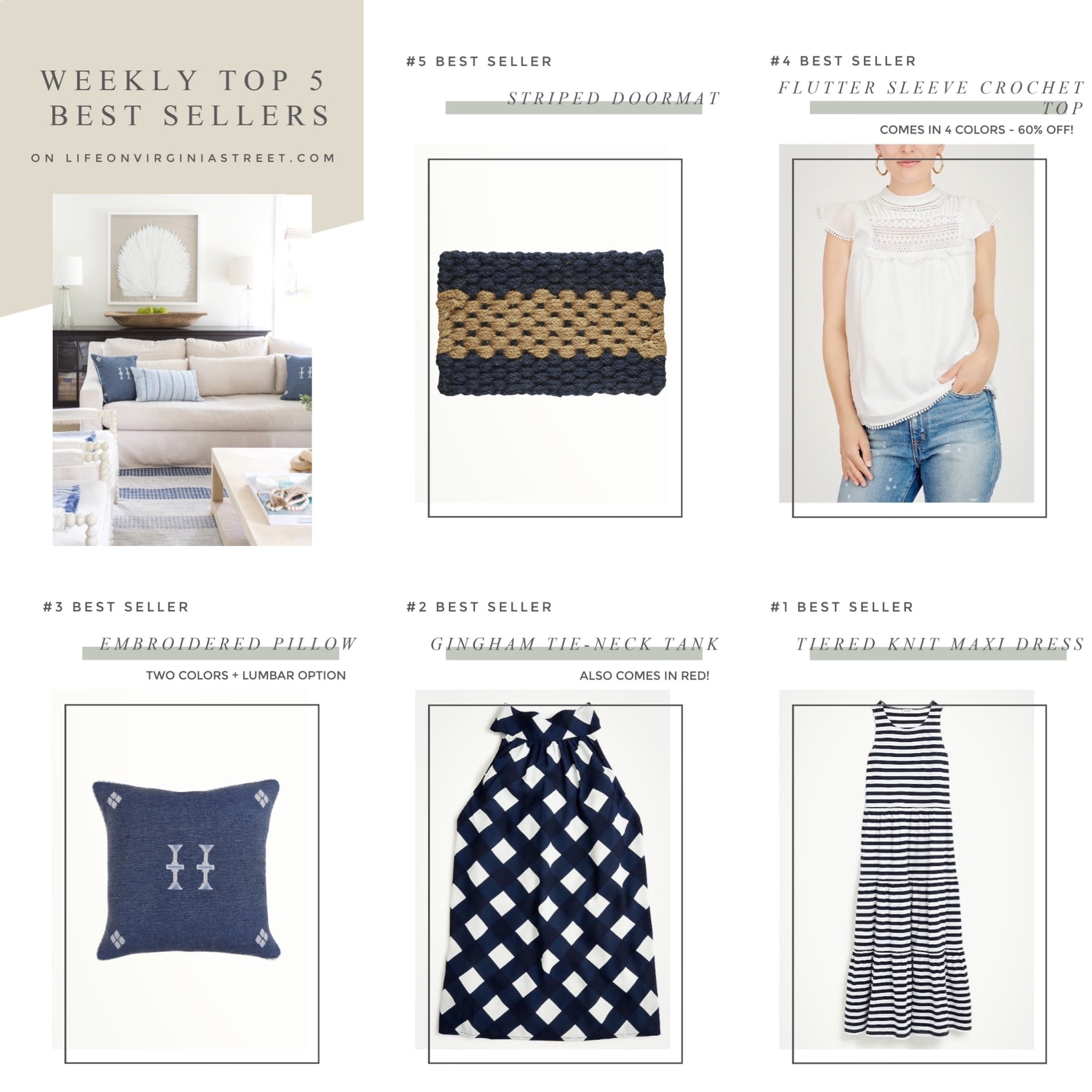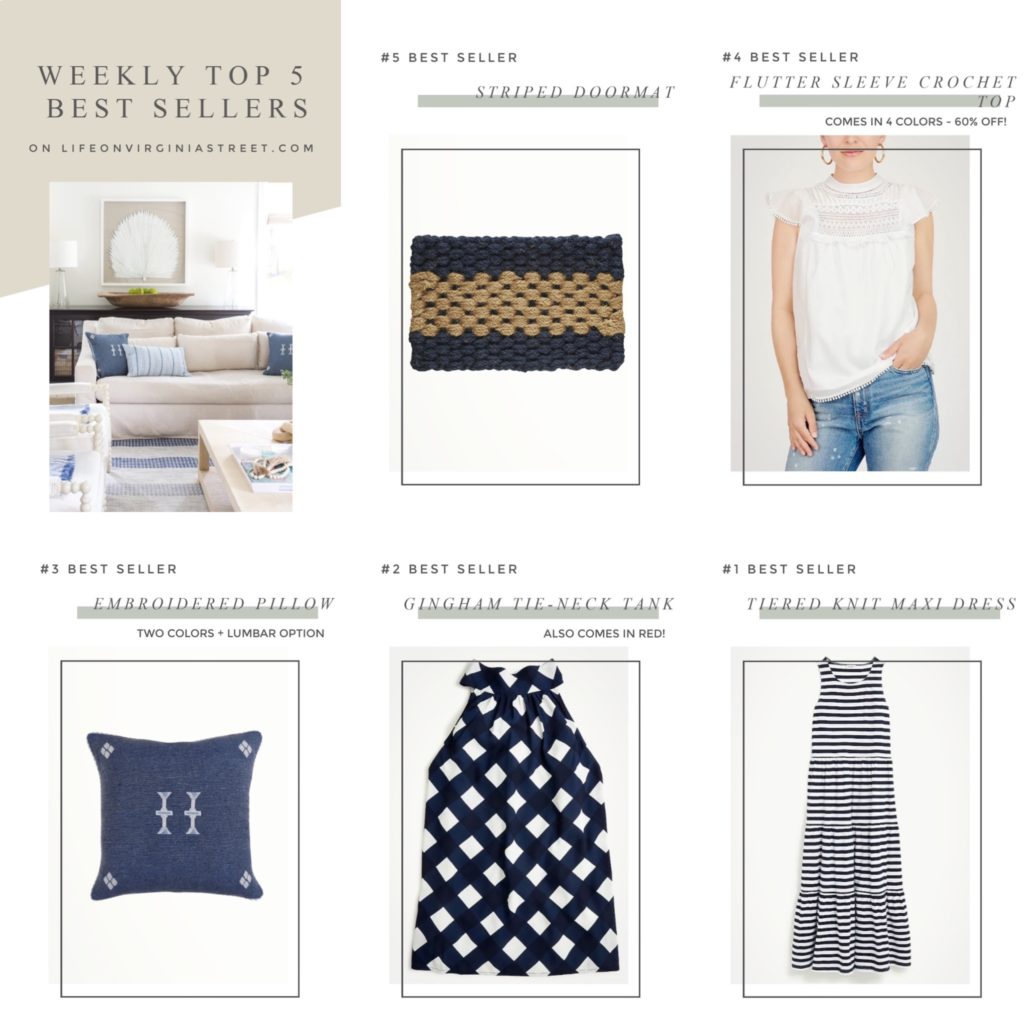 BEST SELLERS (each number is clickable): #5 | #4 | #3 | #2 | #1
And if you loved some of the top sellers from the Hi Sugarplum x Gibson Summer line, but your size was sold out, they did a huge re-stock today! And don't forget – if you use code SARAH25 on any of it you will save 25%! I would say it all fits fairly true to size, but a little large, so I'd order down if you're between sizes. I'm in a Large in all the pieces. The top is such a cute cut, and I love that it's a bit longer and flowy on the bottom so you can tuck it in if you want. And the skirt is so easy to wear in the summer, either for a casual or more dressed up look!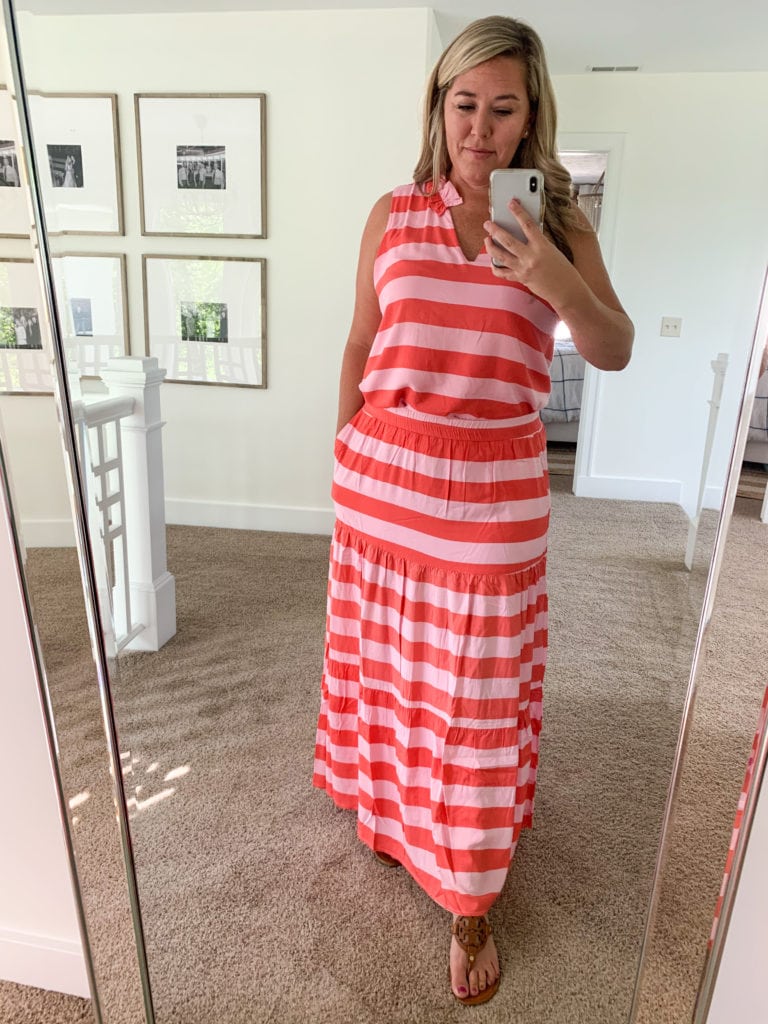 I wore this top to one of my meetings last week, and I just love this color combo for summer! My boyfriend jeans were from J. Crew Factory earlier this year, but they have since sold out.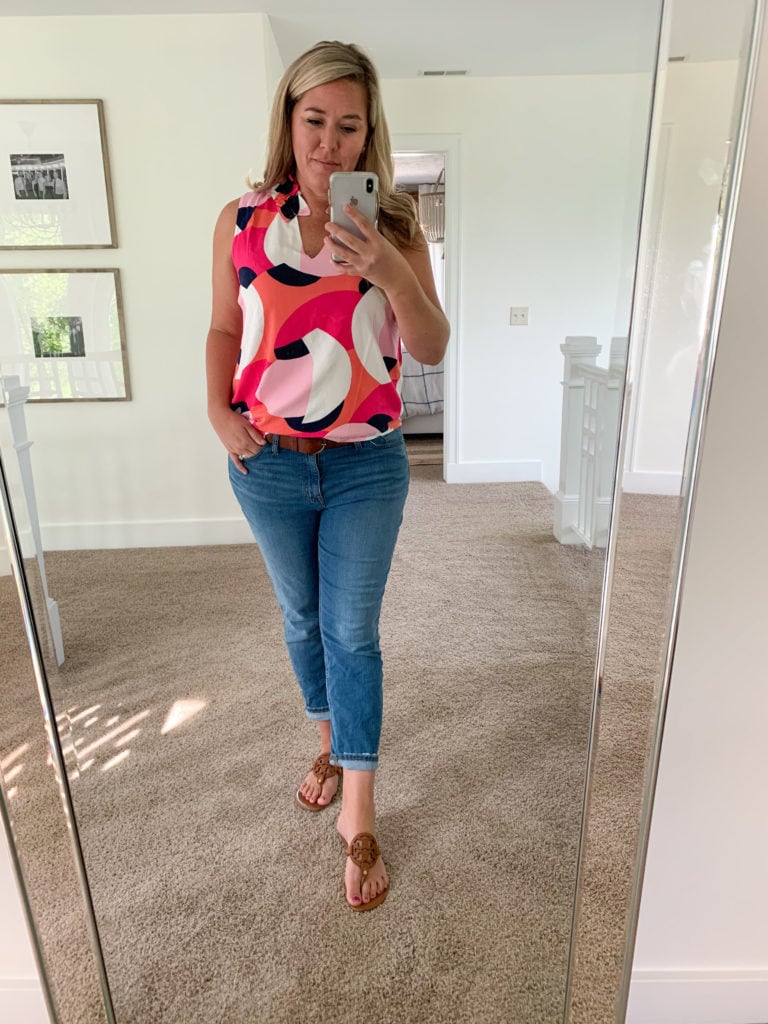 I didn't share this image last week, but here's the skirt with the ruffled racerback tee knotted for a more casual look!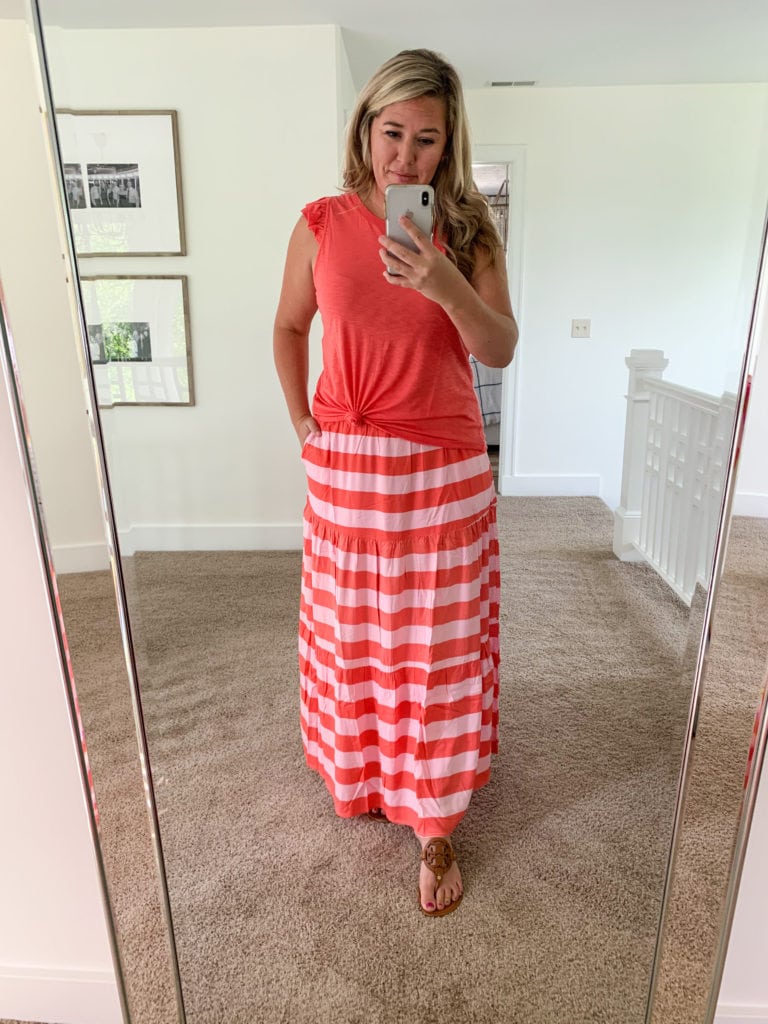 Around Town & For Fun
One of the side effects of so many meetings last week – I got ready 6 out of 7 days. I think it was more than the combined total of all of the two months prior. But it was fun to bring out some of my spring/summer clothes I had planned to wear prior to the pandemic!
Kurtis and I have both gained a fair amount of weight these past few months, and we decided enough was enough. We started intermittent fasting last week and stuck with it every single day, so it's a start. He had never tried it before (I have several times with FWTFL). I was joking around last week that one unintended benefit of intermittent fasting is that you kitchen stays clean for a lot longer when you remove a meal for the day 😉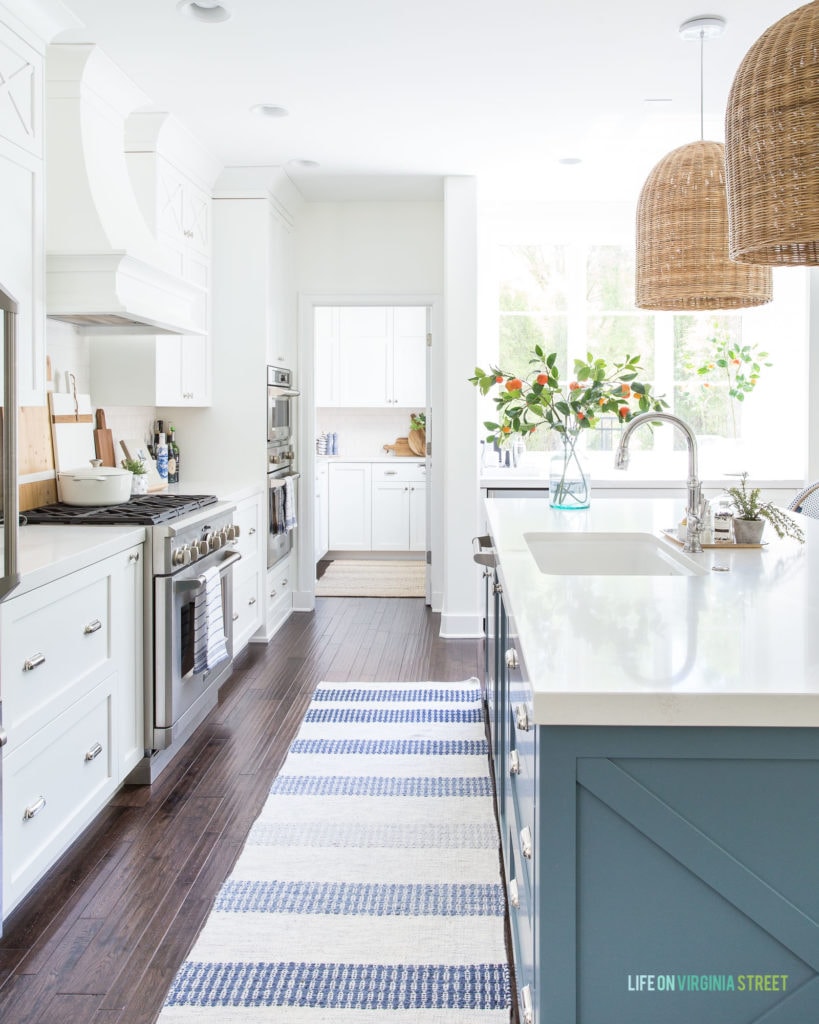 KITCHEN SOURCES: Counter Stools | Basket Pendant Lights  | Striped Rug | Faux Orange Stems | Similar Glass Vase | Faux Orange Topiary | Large White Ceramic Dot Vase | Natural Wood Serving Board | White Serving Board | Small White Ceramic Dot Vase | Similar Faux Asparagus Fern | Sunday Suppers Cookbook | Similar Recipe Book Stand | Island Paint Color: Benjamin Moore Providence Blue
We only made it out to the courtyard one night last week, but it's becoming one of our new favorite activities. It's like our own little happy hour location and the cats love that they get to join us 😉 I've still been checking on our chairs daily, but still no re-stocks. I'll let you know if I see it happen though! I'm also loving the addition of these striped Sunbrella pillows (ours are the 18×18 in Spa Blue).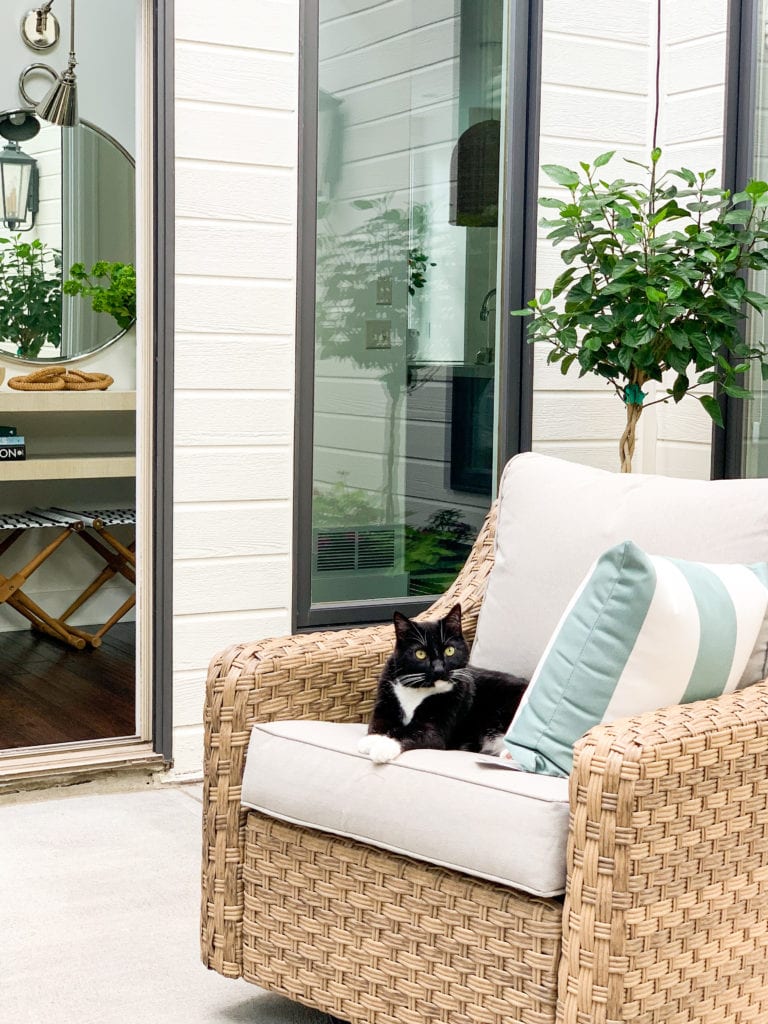 I'm not exaggerating when I say Bailey would literally move out here if she could. She's obsessed!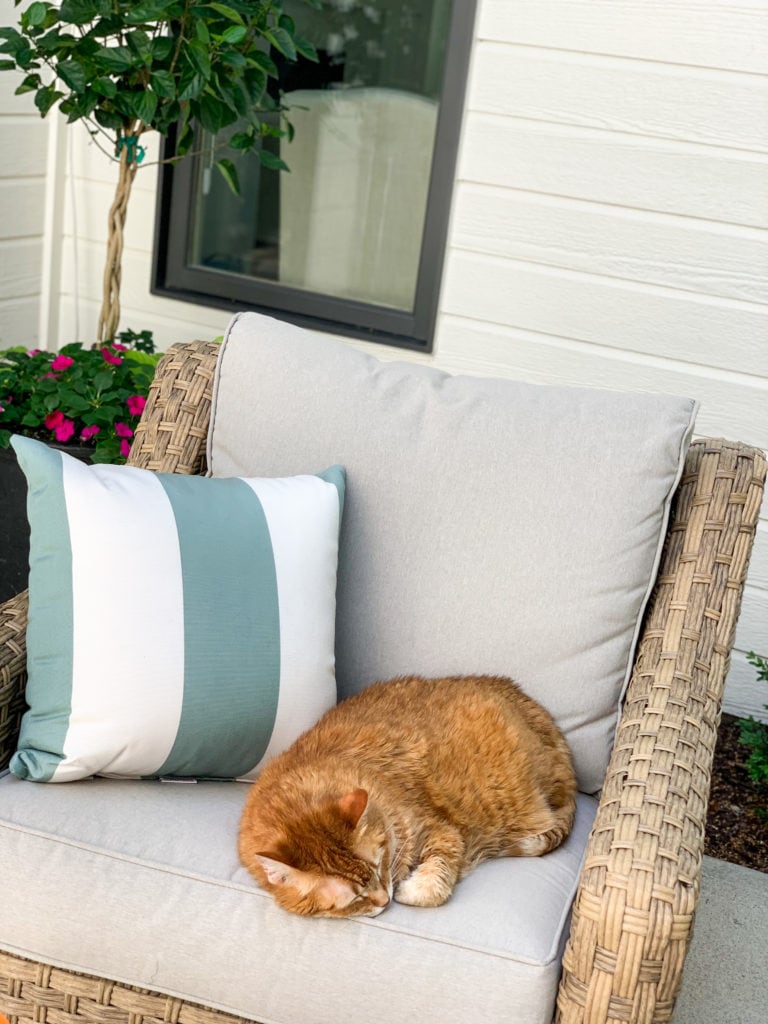 Henley prefers to sleep on whatever random pile of crap she can find in our house 😉 Side note: I think all of my linen dining chairs are spoken for now, so hopefully after this week, they'll all be gone and I can do a dining room update!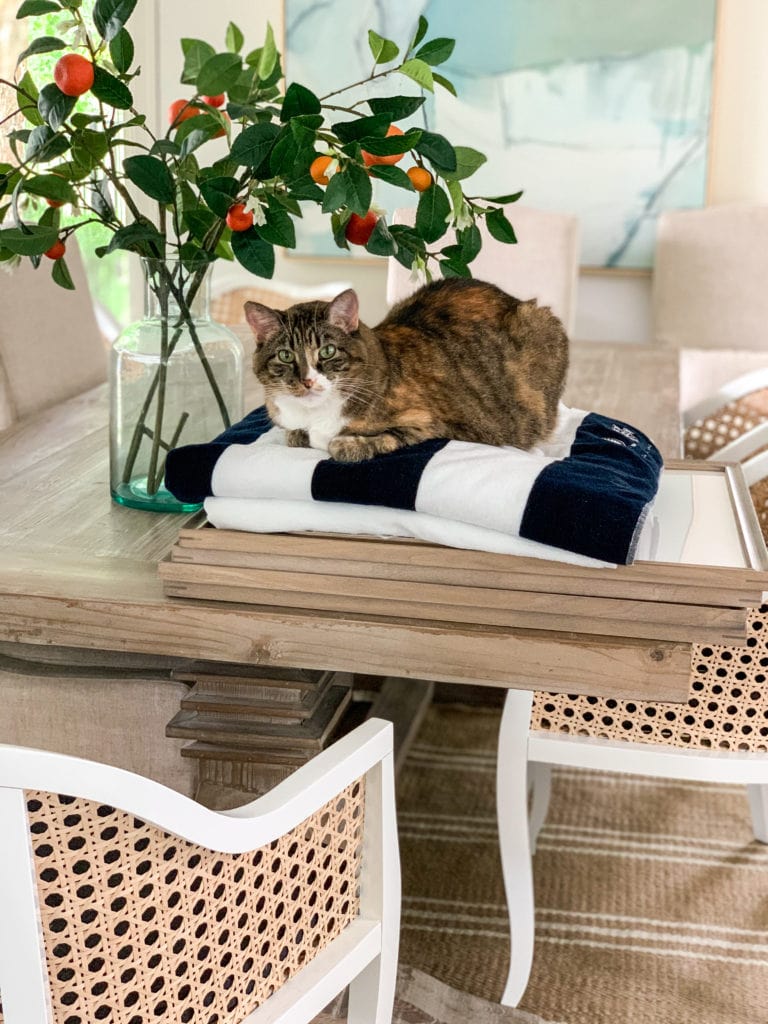 DINING ROOM SOURCES: Faux Orange Stems | Similar Vase | Cane Chairs (similar here) | Abstract Art | Striped Rug (sold out) | Dining Table
If it were possible to morph into the food you eat most, Kurtis and I would for sure be turned into caprese salads. It's basically all we want to eat in the summer months! We had to get a bit crazy with this one since we only had huge heirloom tomatoes and small mozzarella balls (that we usually use for the grape size tomatoes). But regardless, it's still so good! Gotta make use of all that basil I'm growing! This balsamic vinegar is expensive, but it will change your life. I'm hoping they offer a sitewide sale over the 4th so we can get another bottle!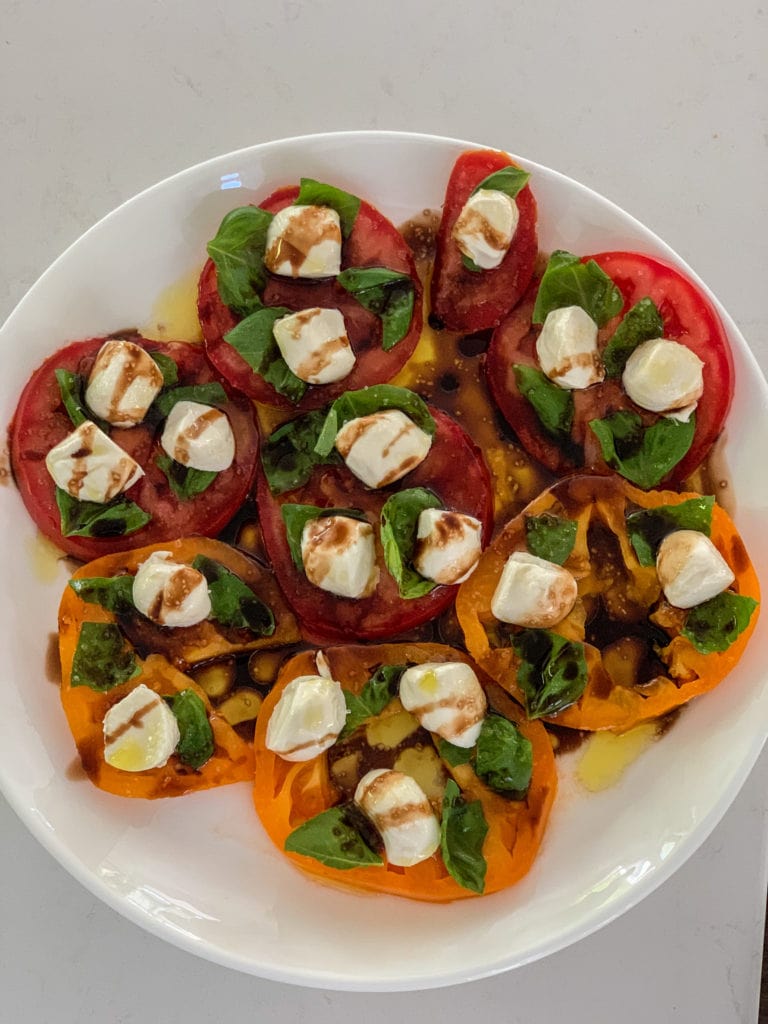 On Saturday, we got in some much needed pool time! It had been a bit since we had been out there, and it was nice to soak up the sun and relax after such a crazy week. I'm finding so much joy in our flowers lately!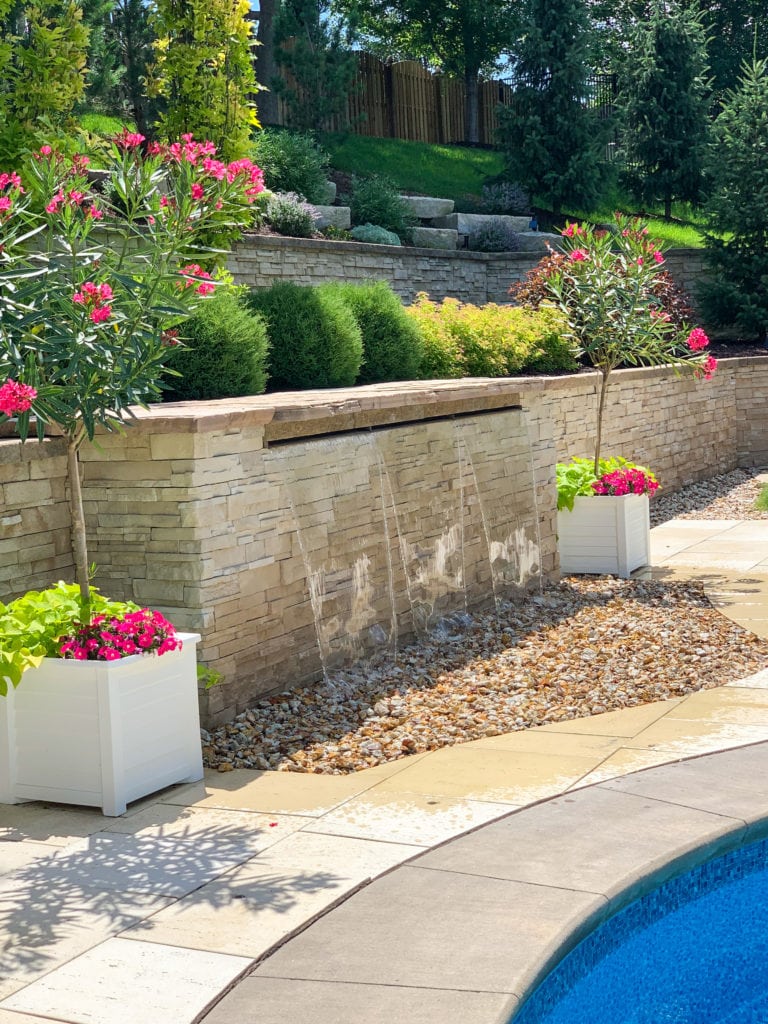 This wide-brim packable straw hat has been on my head most of the summer so far. It may be one of my all-time favorite purchases of the year. I have a giant head, too, and the L/XL fits perfectly. I love that it's comfy to wear, is packable, and provides good coverage. Highly recommended – and it's currently 40% off with code CHECKOUT!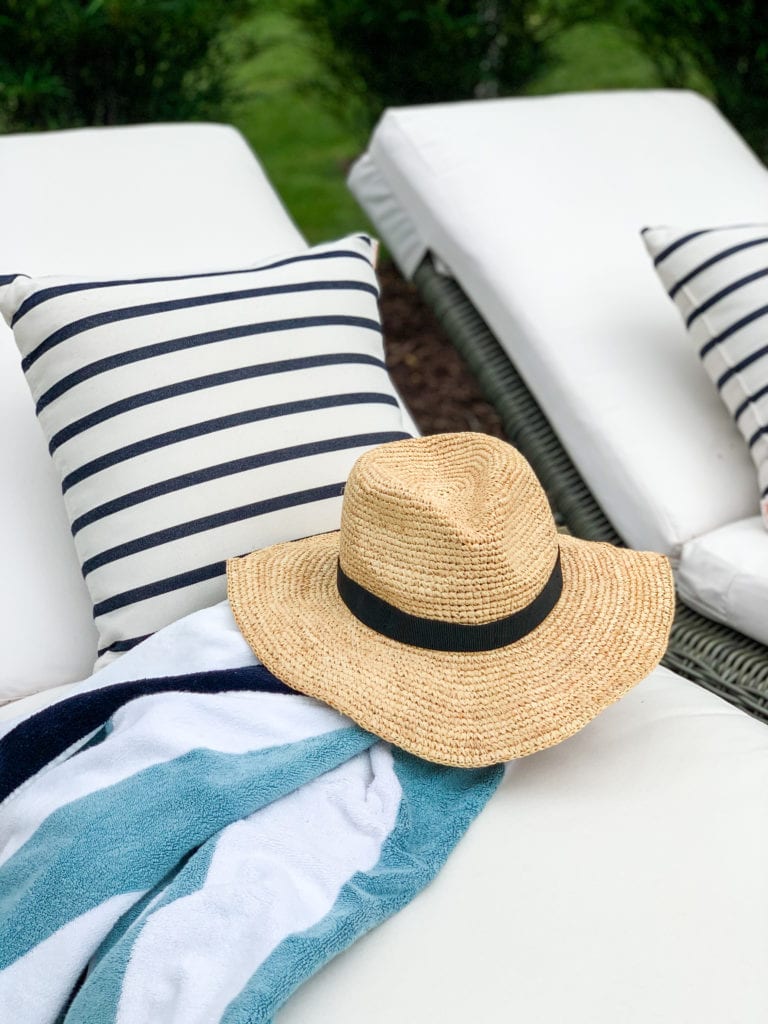 SOURCES: Packable Straw Hat | Reversible Striped Towel | Outdoor Chaise Lounge Chairs | Striped Pillows
Recent Buys & Sales
Following are some sales that have carried over from the weekend, as well a a few new additions. You can see some of my top picks here.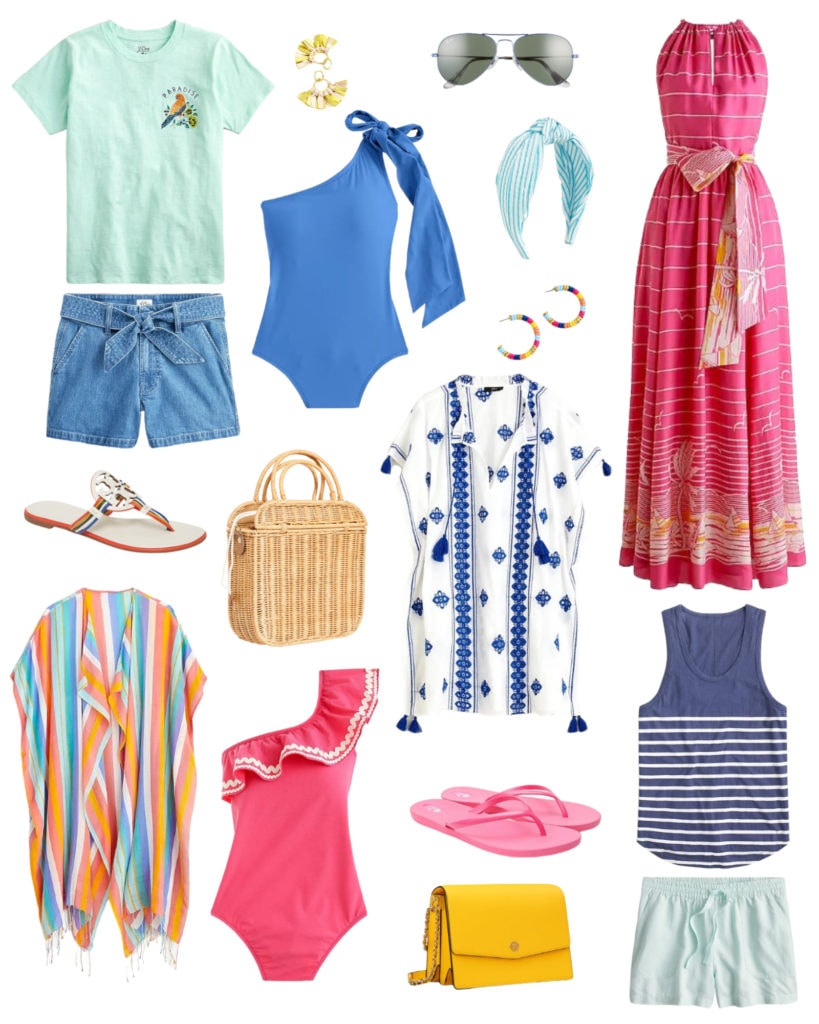 Paradise T-Shirt | Bow Tie Shorts | Tassel Earrings | One Shoulder Bow Tie Bathing Suit | Blue Aviator Sunglasses | Striped Knot Headband | Tropical Silk Dress | Rainbow Tory Burch Miller Sandals | Striped Poncho Cover-Up | Wicker Bag | Ric Rac Bathing Suit | Rainbow Hoop Earrings | Tassel Embroidered Poncho Cover-Up | Flip Flops | Yellow Tory Burch Purse | Striped Tank | Drawstring Linen-Blend Shorts
I hope you all have a great week!
If you would like to follow along on more of my home decor, DIY, lifestyle, travel and other posts, I'd love to have you follow me on any of the following:
Pinterest | Instagram | Facebook | Twitter
disclosure: some affiliate links used