I hope you all had a great weekend! How are you all holding up?
Our state mostly opened up two weeks ago (with a lot of restrictions), but it still feels odd leaving our house so we've mostly stayed home. The few times we have ventured out, everything just feels so foreign! I'm such an expressive person, that I feel so much is lost in translation behind my mask. I probably need to start being a little less sarcastic and sassy, since people can't see my smile or expression 😉 Learning something new each and every day in this new world!
This post contains affiliate links for your shopping convenience. Click here to read my full disclosure policy.
Home Projects & Updates
I finally brought our new doormats for our front porch outside. I think I've had them two months, but finally just got around to taking them out. I'm loving this plaid rug and block print mat combo!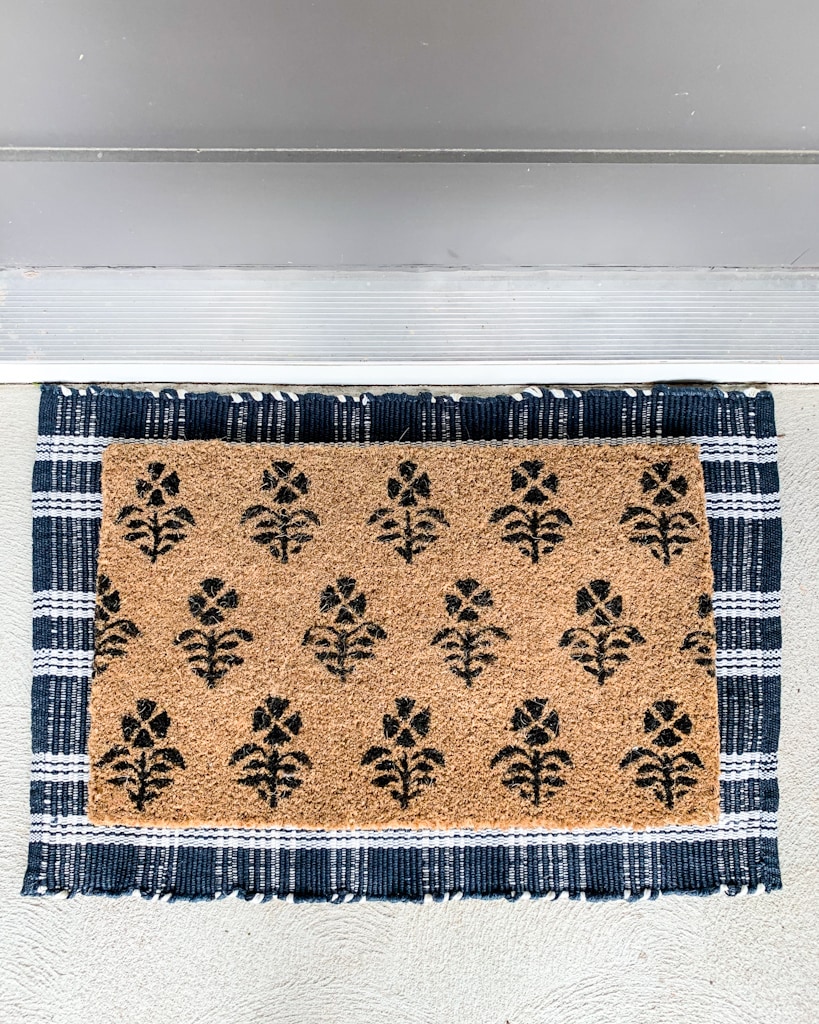 I also got two new pillows from Target: this striped lumbar pillow and this embroidered pillow. I threw the blue one in the mudroom. It's just here temporarily until I put away some of my spring pillows and swap them out for some summer options. But I love both of them and it's hard to beat the prices!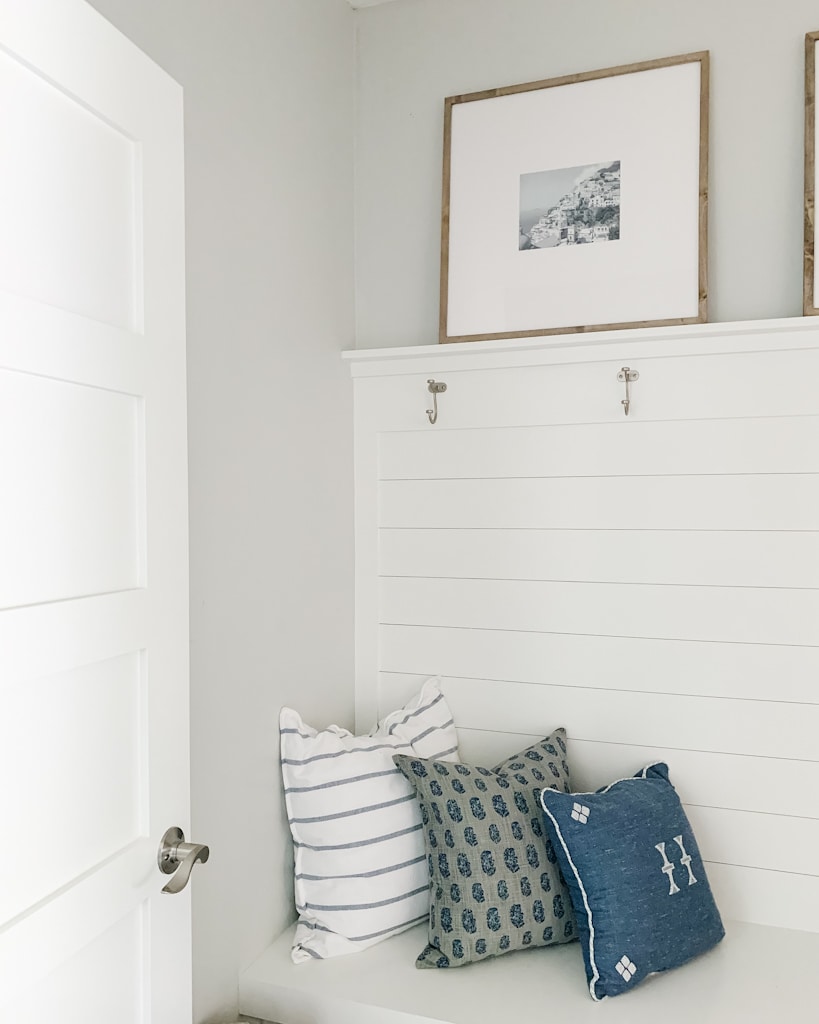 MUDROOM SOURCES: Striped Pillow | Similar Paisley Pillow | Embroidered Pillow | Oversized Gallery Frame
My wicker chain link object arrived last week and it couldn't be cuter. I'm not sure if this will be it's permanent home, but as soon as I got it, I styled it here and snapped a quick picture. I love it!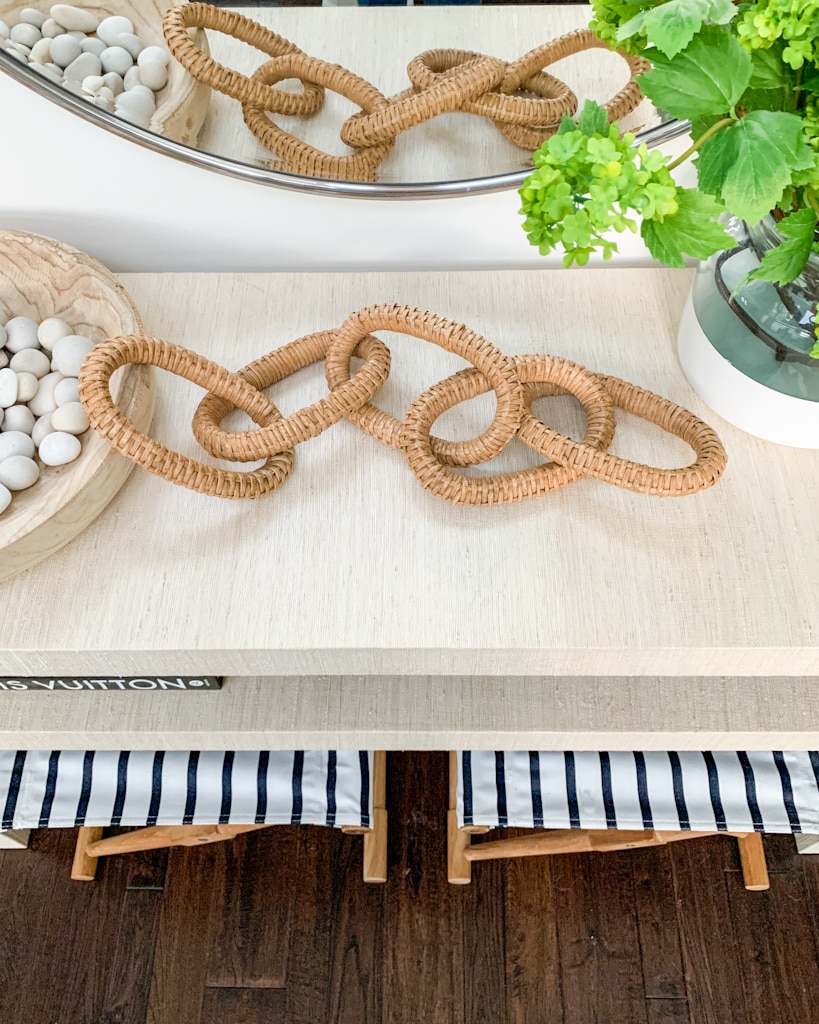 ENTRYWAY SOURCES: Raffia Console Table | Striped Stools | Wicker Chain | Paint Dipped Vase | Similar Faux Viburnum | Similar Round Mirror
Friday I ran to the Lowe's garden center and stocked up on a few summer plants! I got a flat of sweet potato vines (I use these in nearly every planter) and a few pop-in planters to save me a bit of time!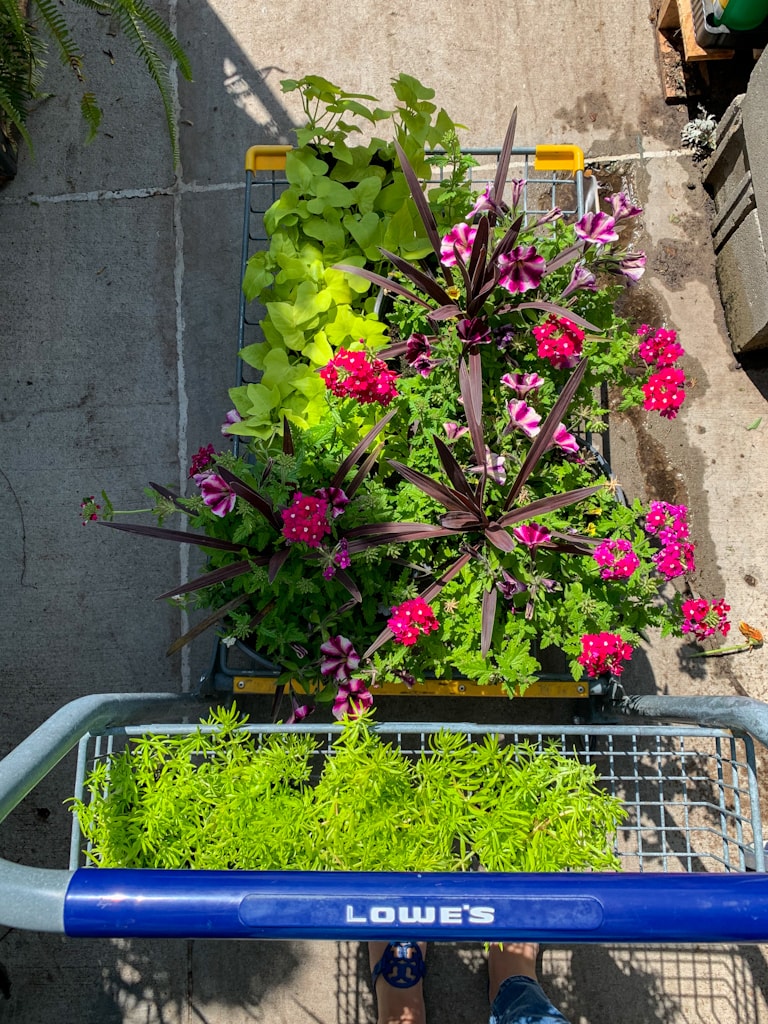 These pop-in refill planters work great because they're cheaper (since they don't have an actual pot) and are very similar to what I plant regardless. They didn't have the exact combos I usually buy, but this one had petunias, verbena, and calibrachoa. Now I just need some potting mix, which I totally forgot to get! I'll also likely add a sweet potato vine to this collection for some drape and length.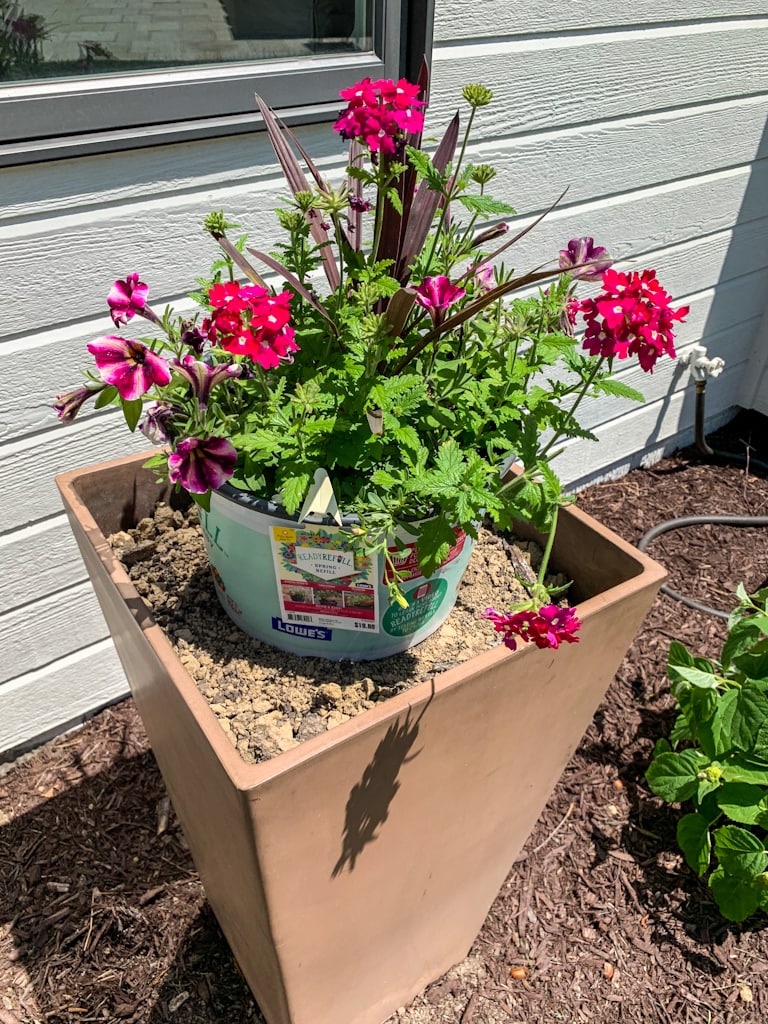 I also wrapped up the planters by our waterfall. The tall plants are the oleander, and then I just filled the base with petunias and sweet potato vines. These things grow wild each year, so I start really small. I know they look a little puny right now, but after a few weeks they'll be looking pretty good!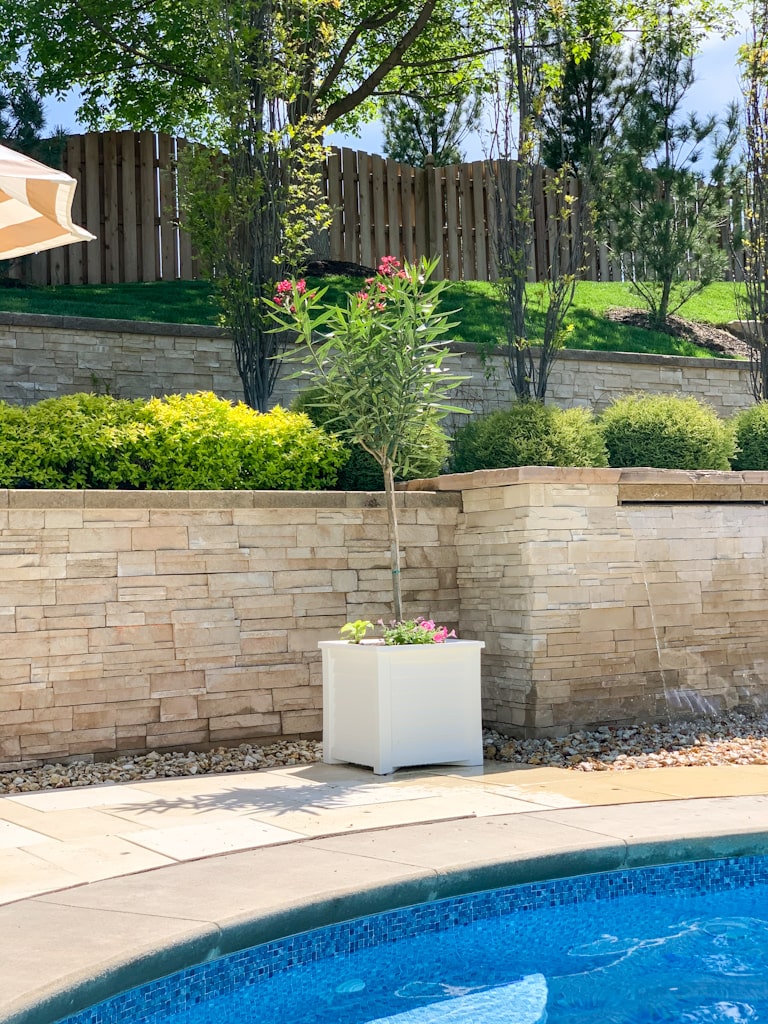 Hoping to finish up the remainder of my planters this week so they can start thriving for summer!
Top Sellers Of The Week
Following are the top sellers of the week across all of my channels. Links to each item are below the graphic.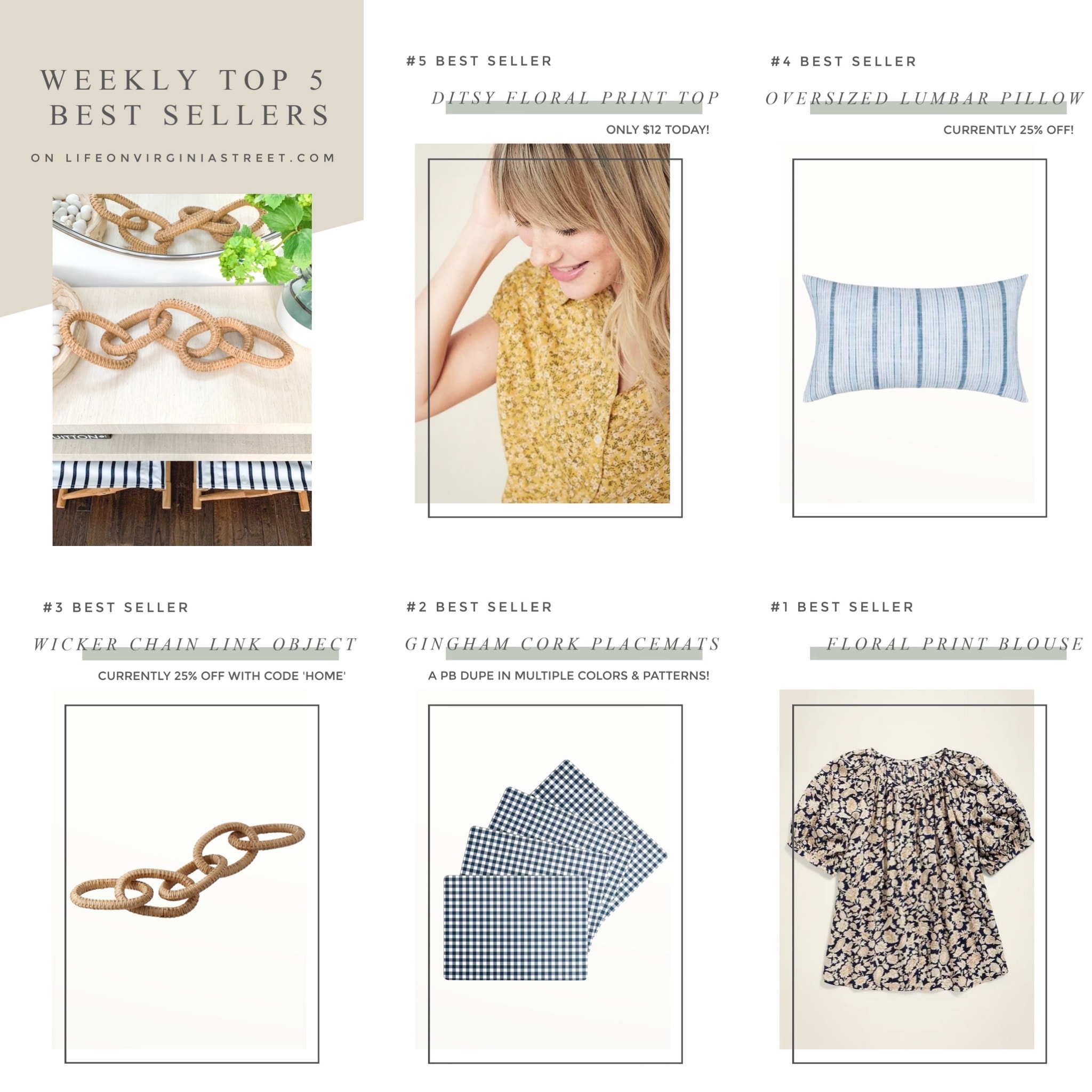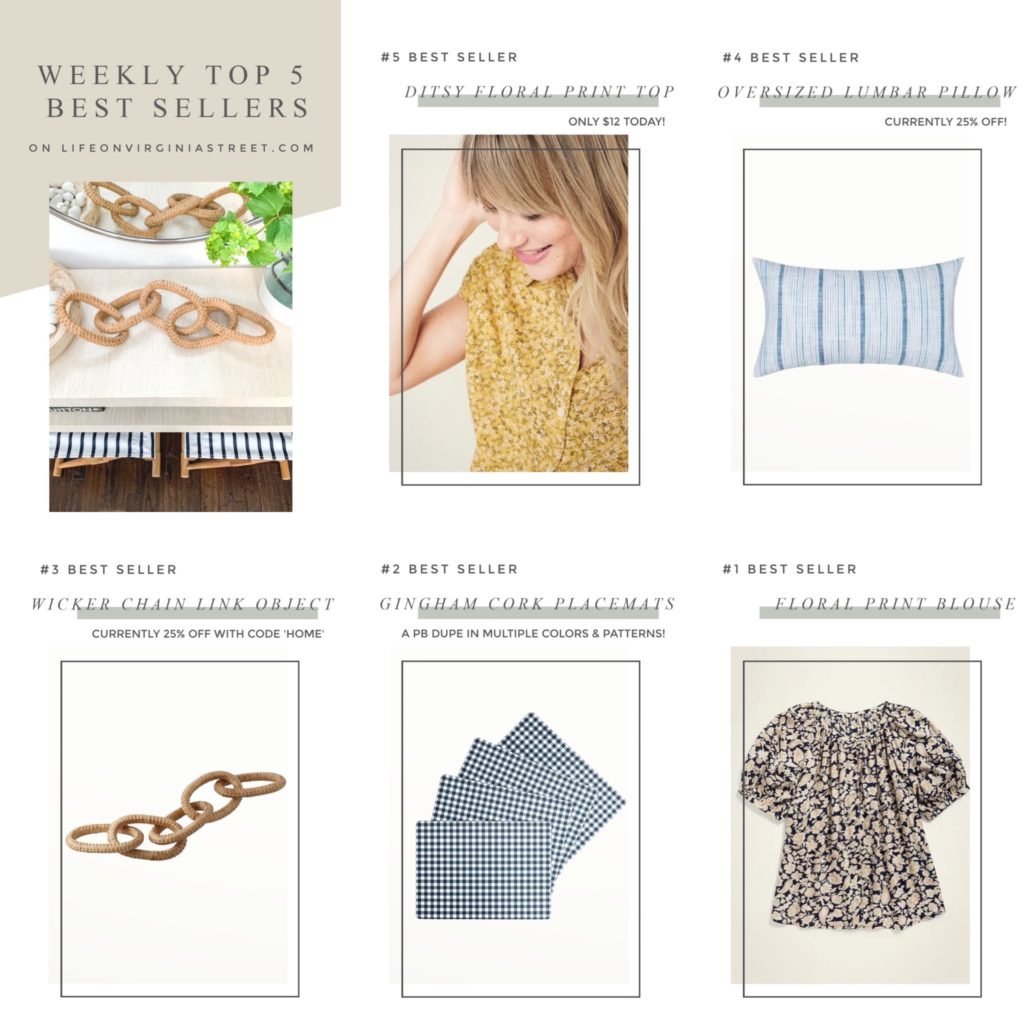 BEST SELLERS (each number is clickable): #5 | #4 | #3 | #2 | #1
Around Town & For Fun
Despite the fact Kurtis and I are both home almost 24/7, the cats are still super clingy. You think they'd be ready for a little alone time by now! Needles to say, it's a bit hard to work like this, but I don't mind!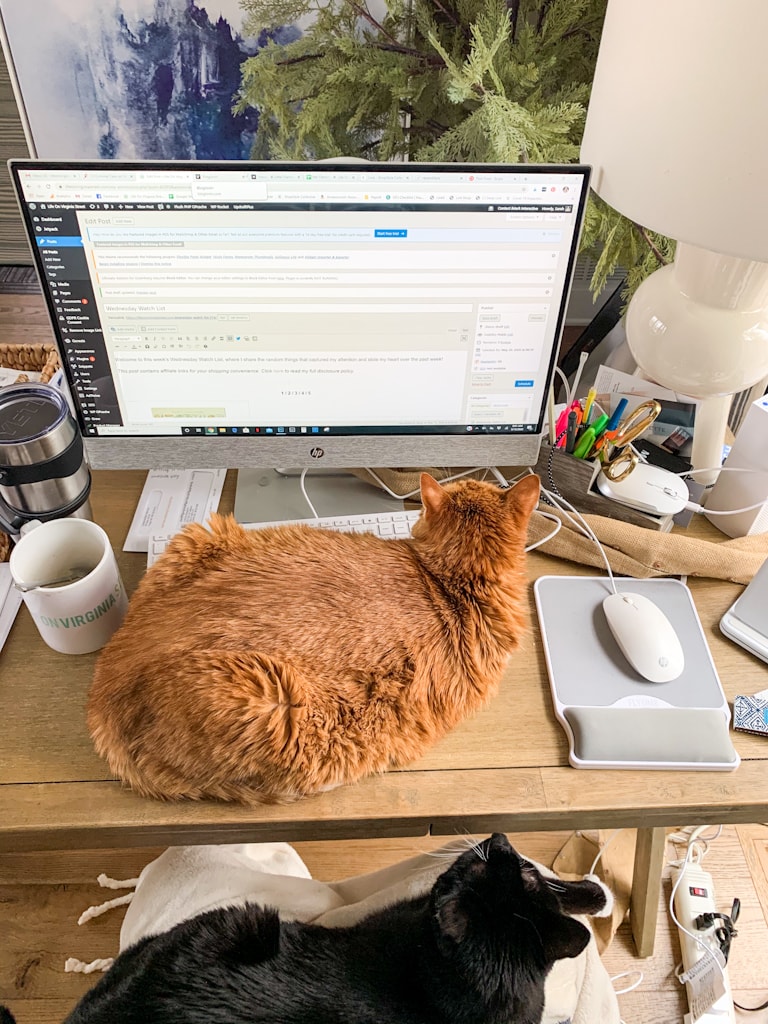 Last week was a week of non-stop meetings for me – both offsite and from my office. At one point during one of my conference calls, I felt like someone was watching me. Sure enough, it was Henley just starting because she was so mad I wouldn't let her in. The only problem is, if one of us is on a call, she barks non-stop for attention and overpowers the call. So, I just kept getting "the stare". 😉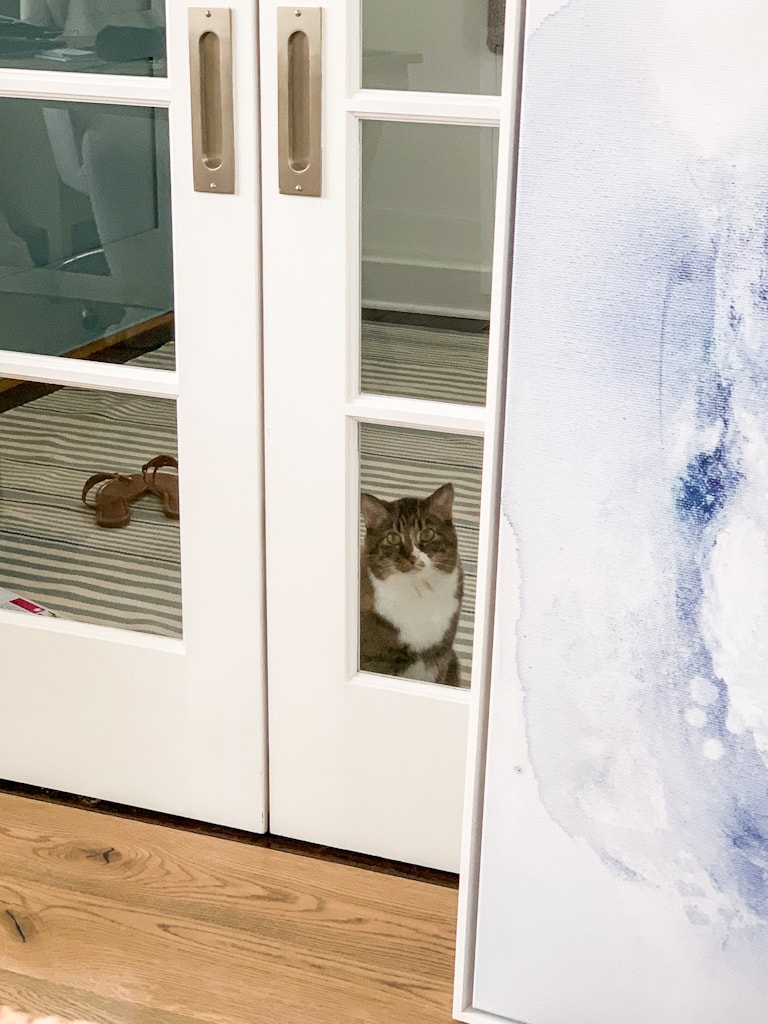 My stylist had texted me the week prior and was able to start seeing clients again. Although the salon has 40 stylists, only 10 were able to return at this time due to occupancy rules. They take your temp at the door and you must bring your own face mask and wear it at all times. I hadn't been in since January so I took her up on an appointment time! Slowly starting to feel human again, even if it's a totally different world still.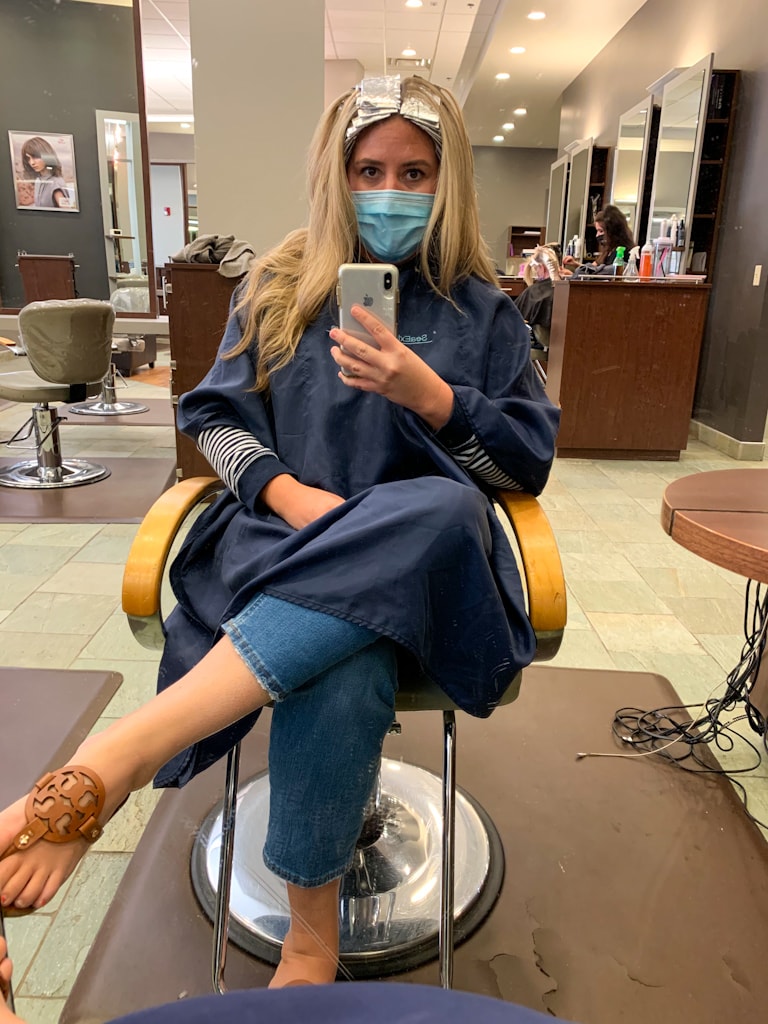 We've kind of been in a TV show rut lately. We wrapped up The Good Place, which we really liked, but weren't sure we wanted to dig into anything too deep. I took it to Instagram and got some good suggestions in the comments of
this post
if you're interested! We ultimately decided to start the latest season of Ozark. We were worried it would be a little too heavy right now, but we're actually really enjoying it!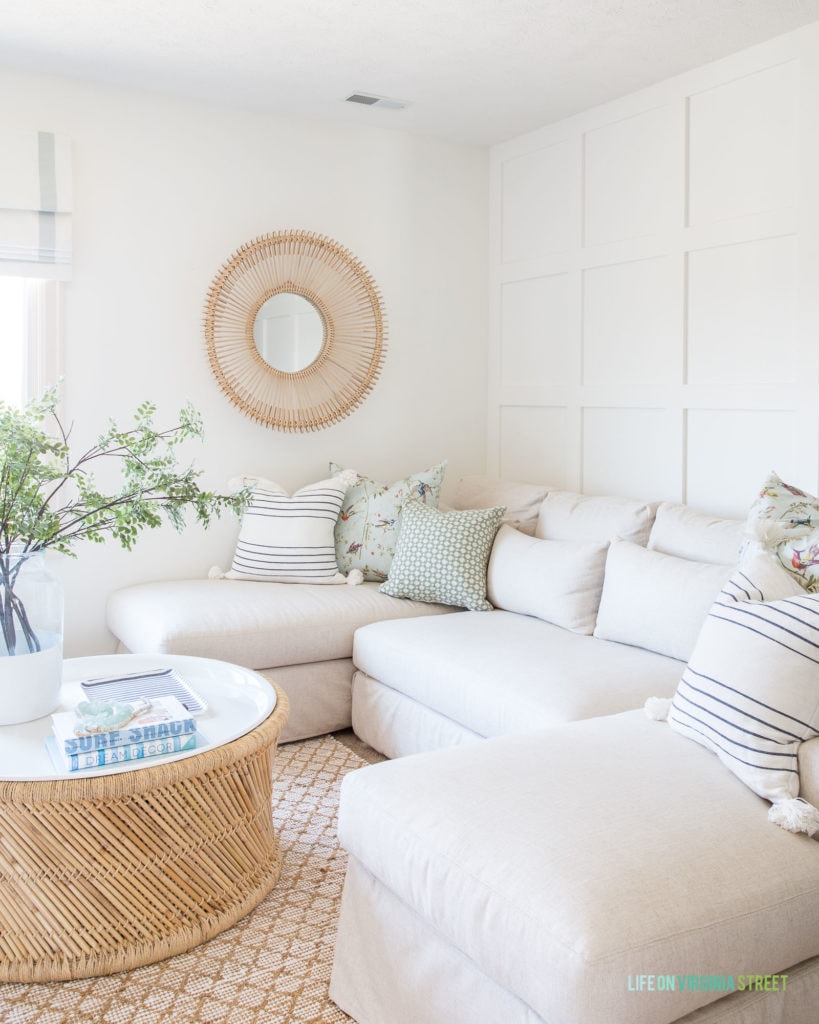 DEN SOURCES: Linen Sectional | Indoor/Outdoor Diamond Rug | Scallop Light Fixture | Rattan Mirror (similar here) | Coffee Table | Paint Dipped Vase | Faux Greenery Stems | Striped Pillow | Hummingbird Print Pillow (fabric available here) | Woven Geometric Pillow (fabric available here) | Roman Shades
Friday afternoon, I sat outside for a few hours while Kurtis decided to jump in the pool. It's still not quite warm enough for me to get in, but it was so nice to spend some time outside getting some fresh air!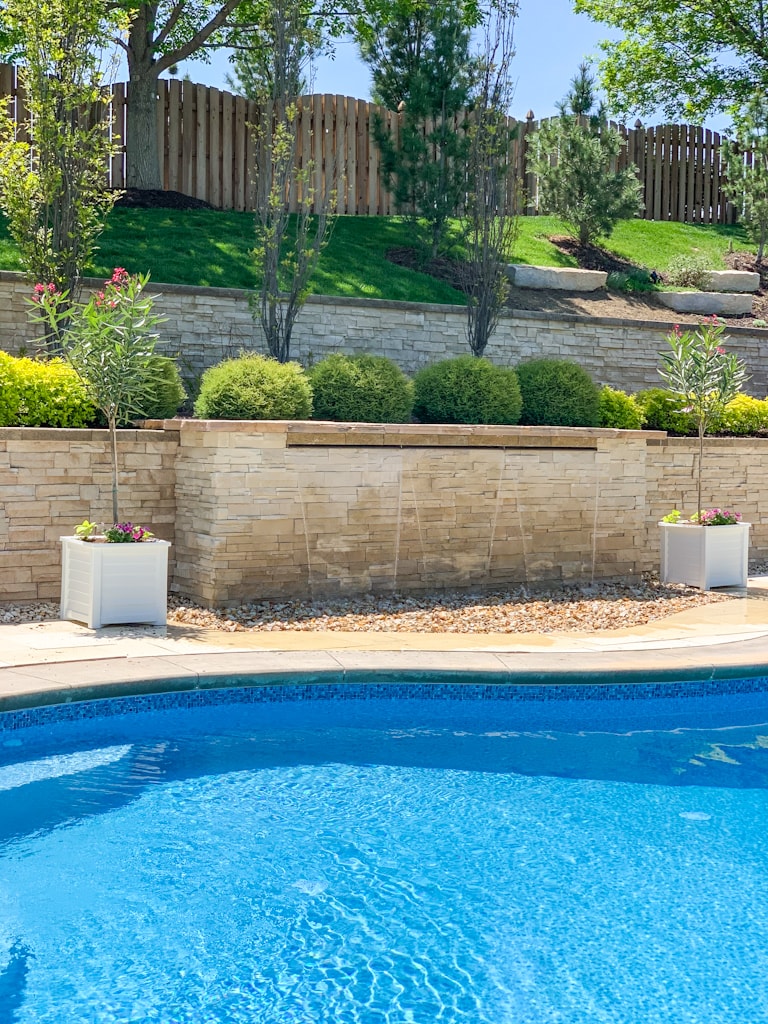 That night we had pizza with the BFFs out on their patio and little Z had her first ice cream cone. She couldn't get enough of it! She's been a typical two-year-old, clinging non-stop to mom and dad, so we don't even have to worry about her crossing the invisible 6-foot line these days 😉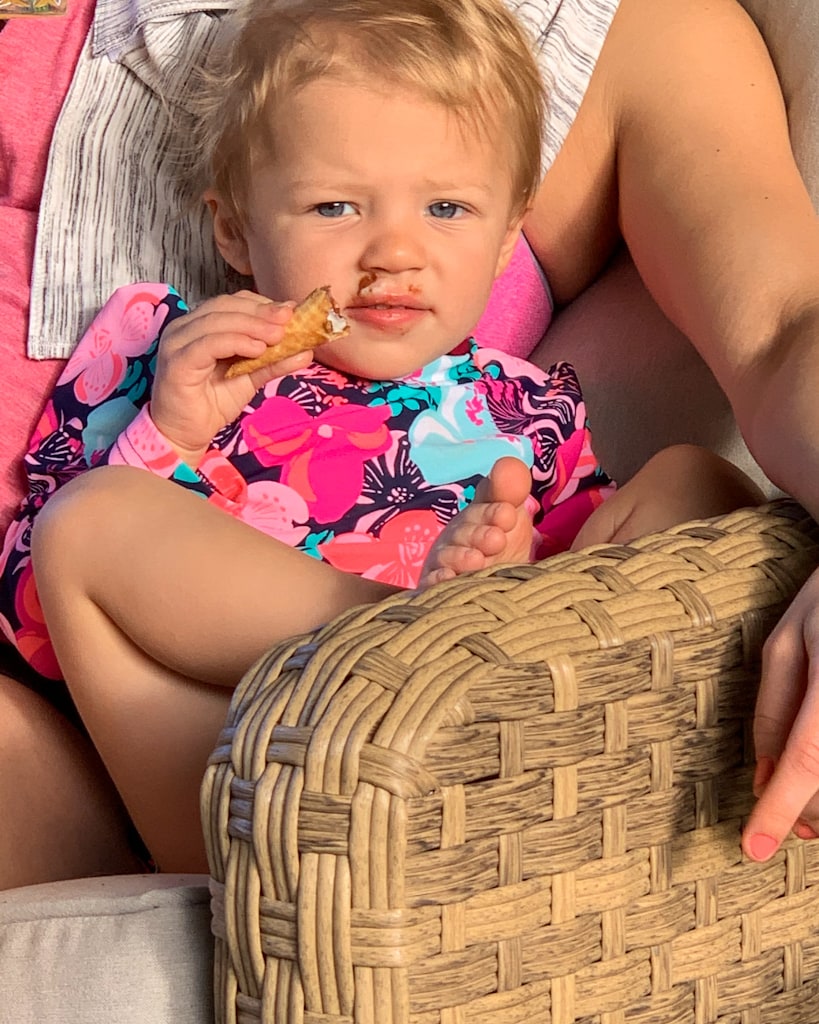 Saturday and Sunday were both pretty lazy day for us. I even snuck in a nap on the sofa both days! These two, once again, were my shadows and basically slept on me both times. It was nice to have some down time after such a crazy busy work week!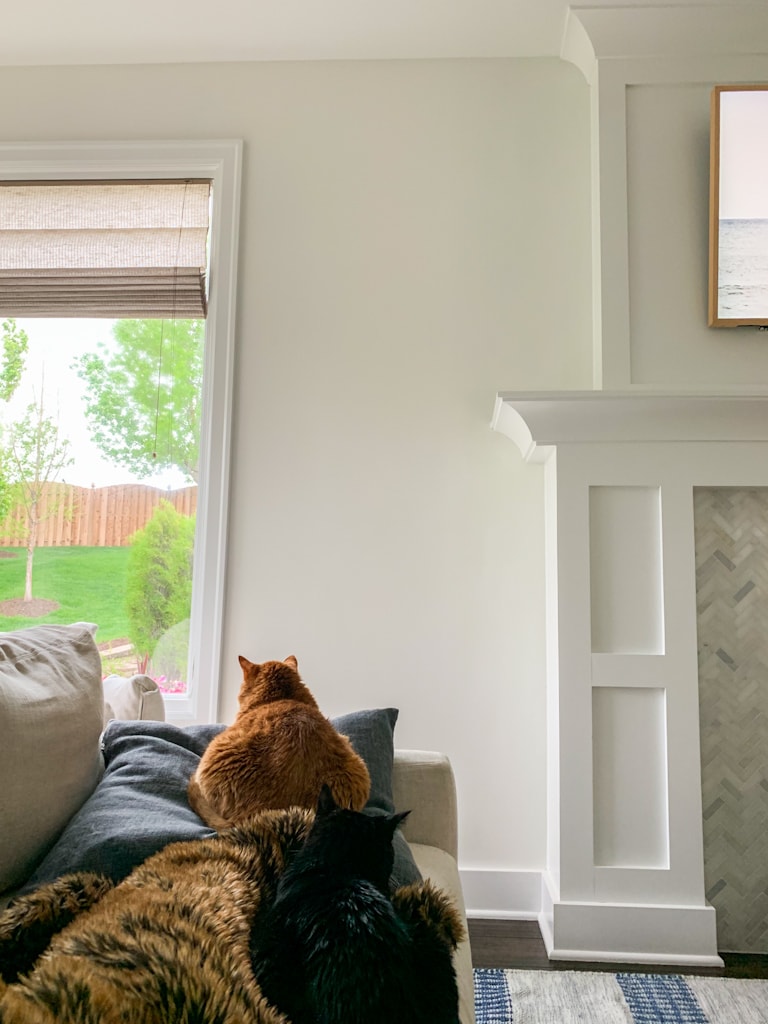 We've been trying to eat as many meals as possible outside. And if that cats are lucky, they usually get to come out for about three minutes. Until one of them (usually Hawkeye) tries to eat grass. But, we're loving these lunch and dinner dates outside! Hoping those continue even more as the weather improves!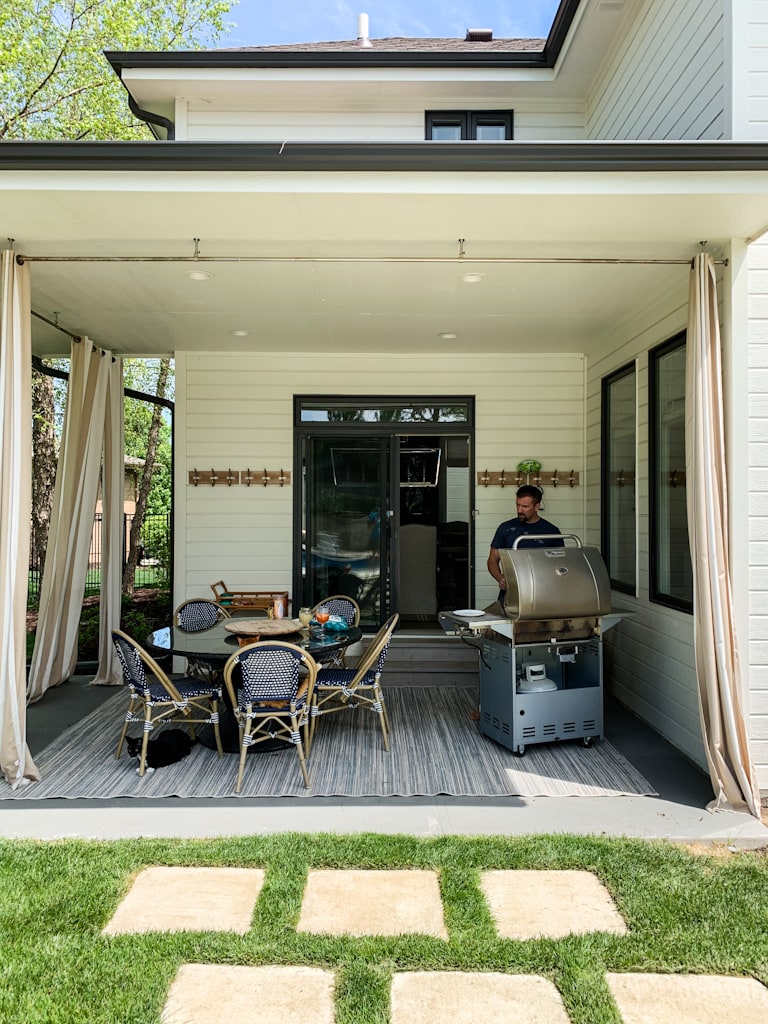 Recent Buys & Sales
Following are some sales that have carried over from the weekend. You can see some of my top picks here.
I hope you all have a great week!
If you would like to follow along on more of my home decor, DIY, lifestyle, travel and other posts, I'd love to have you follow me on any of the following:
Pinterest | Instagram | Facebook | Twitter
disclosure: some affiliate links used