It's so crazy to me that tomorrow is already the last day of 2019! It's safe to say this is by far the fastest year I can remember. I hope you've all had a wonderful holiday break so far! Today I'm recapping what's been happening around here for the past two weeks or so.
This post contains affiliate links for your shopping convenience. Click here to read my full disclosure policy.
Home Projects & Updates
As I mentioned in my last weekend recap back on 12/14, we tried to wrap up a lot of small projects around our house prior to Kurtis' surgery. Once those were done, it prompted me to complete even more while he was recovering during that first week and a half!
The first order of business was getting all the crap I was storing out of our small guest bedroom. We chose this room to be his while he's on crutches. The bed is much more firm than any of our others and the bathroom is only a few steps away. I also surprised him with a small TV for the space since I knew he'd be spending a lot of time in here! I wanted the space to feel a bit more intentional and cozy and not so thrown together.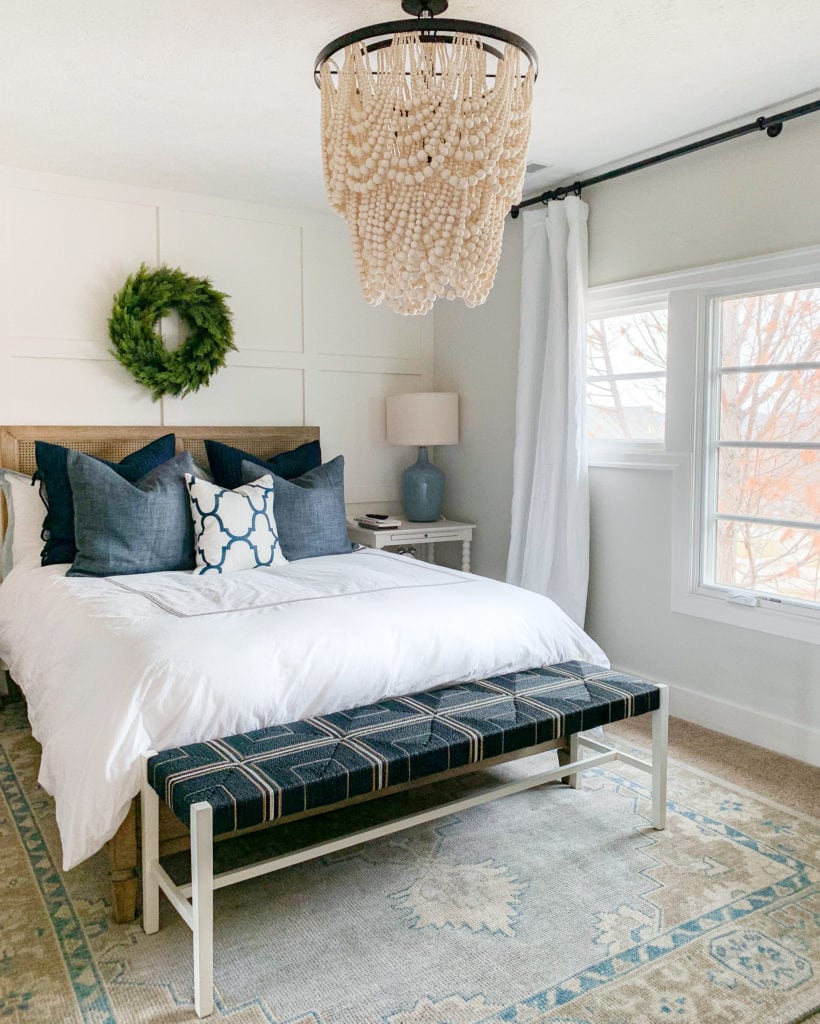 GUEST BEDROOM SOURCES: Cane Bed | Bead Chandelier | Nightstand | Lamp | Wreath | Pick-Stitch Shams | Linen Pillows | Trellis Pillow | Bench | Linen Drapes | Curtain Rod | Tapered Finials | Curtain Rings | Mirror | Hand-Knotted Rug
After more than seven years of living here, I also finally got something hung on this long hallway wall upstairs! I can't wait to share it with you soon once it's 100% finished!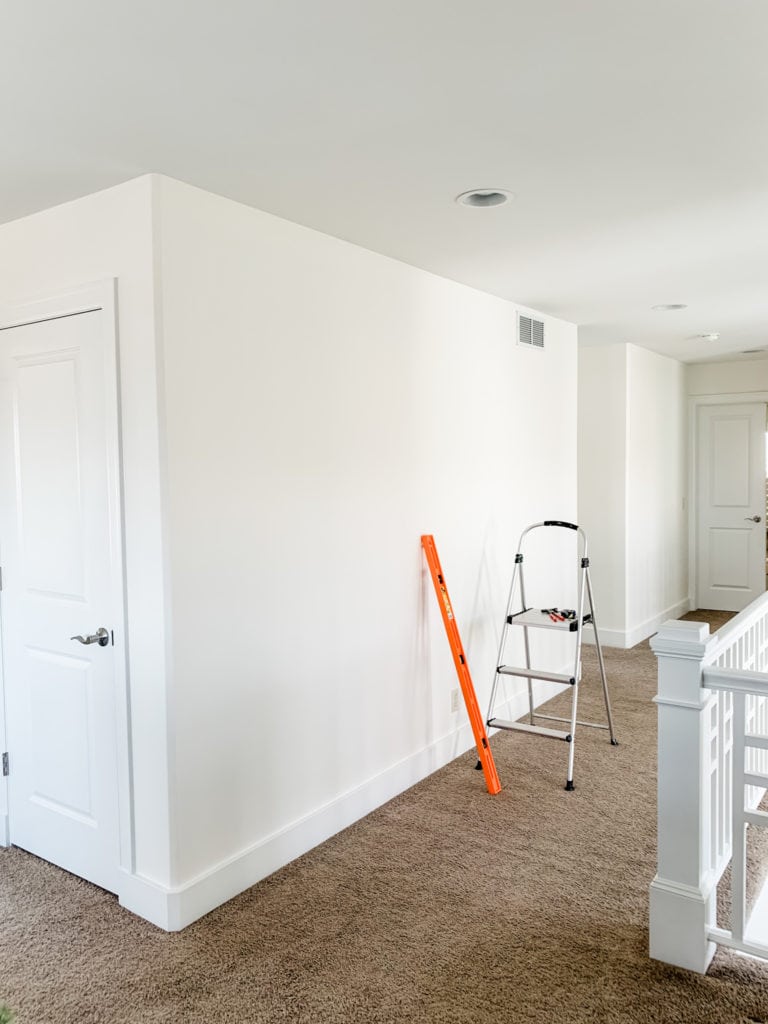 A few days before Christmas, I also finally assembled and set up these birch trees (also available here) in our courtyard outside. I've literally had them since October, and for some reason I was expecting them to be much more complicated to set up. They were so easy and I can't get over how much I love them in this space! They are by no means fancy (and on super close inspection, it's basically white duct tape with black lines making up the trunk). But once you're a few feet away they look so good! My brother-in-law even commented how much he loved them when they stopped over to visit!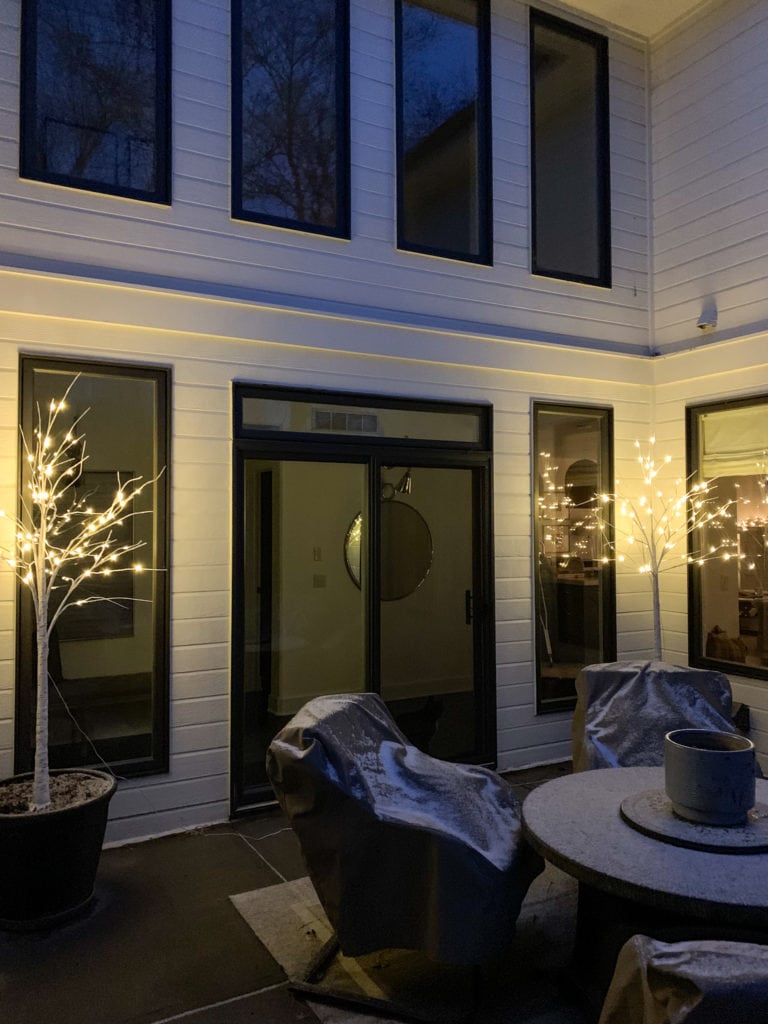 This view from my chair in the office is my favorite! I can see the birch trees, our dining room Christmas tree and the living room Christmas lights!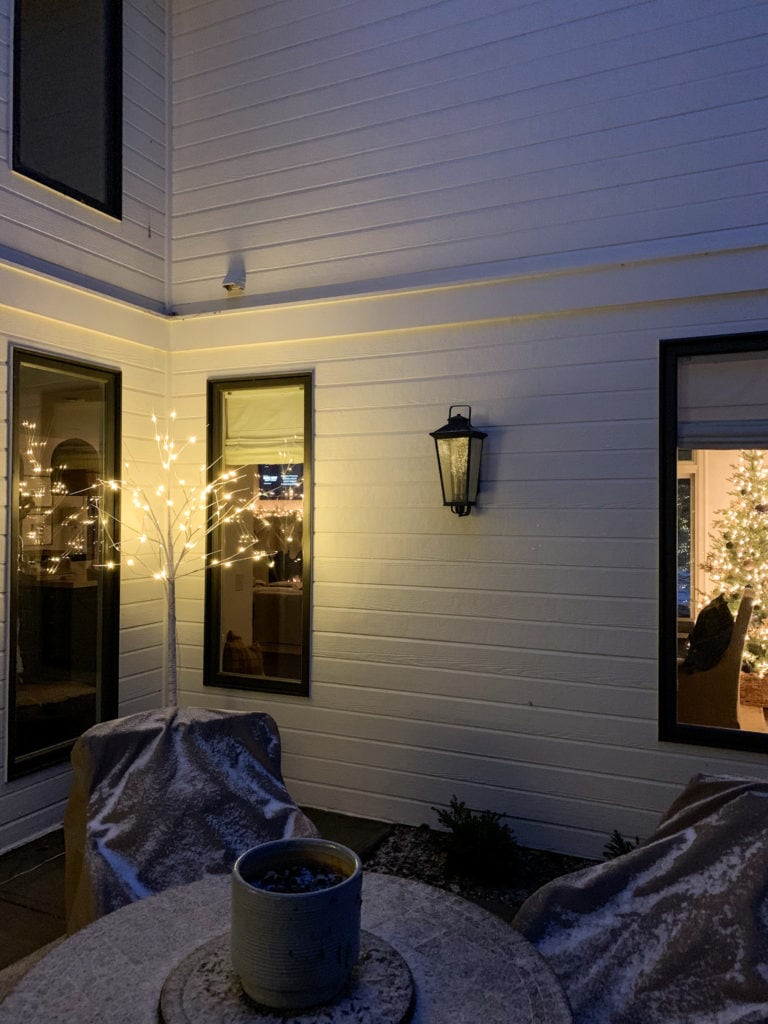 The day after Christmas, I finished decorating our dining room. Kurtis' family was set to start coming in town Thursday and stay through the weekend and we were hosting all the events at our house. However, there were a few illnesses so we've had to postpone until next weekend. Which is maybe a good thing so I have a little longer to look at our dining room all dressed up before I take everything down! Side note: I added these next two images of the dining room to our Christmas home tour post in case you're interested in pinning them and would rather it go to that post vs. this random weekend recap 🙂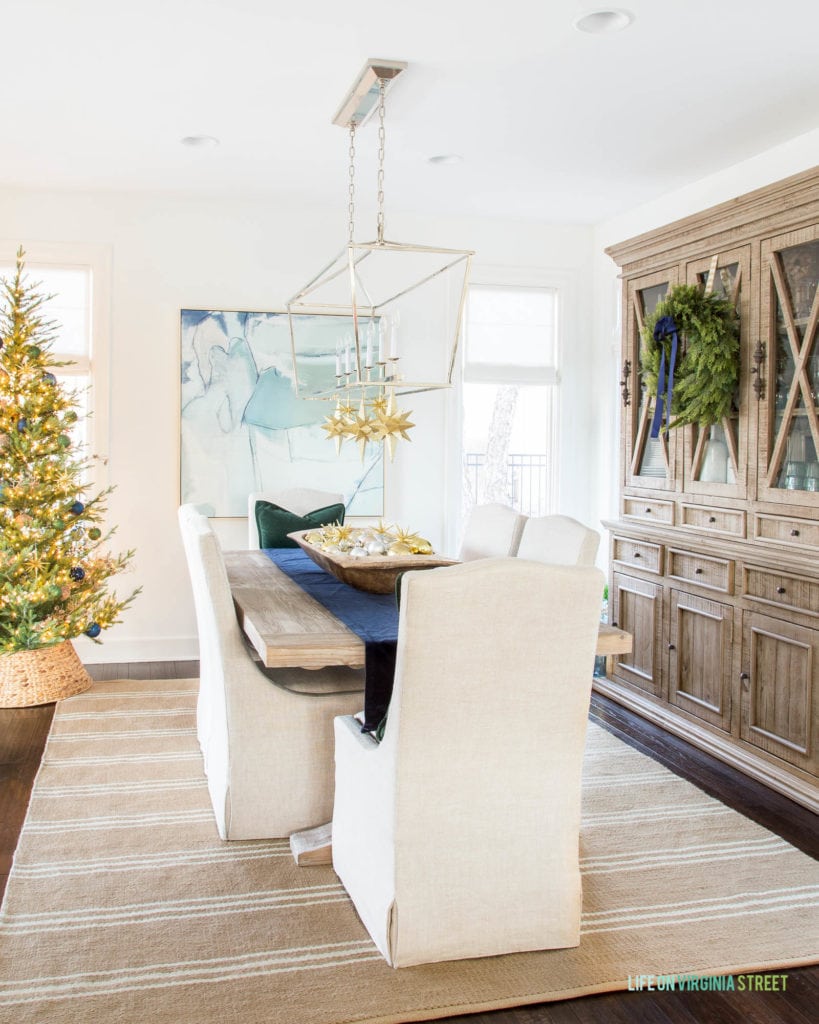 I had the tree decorated for well over a month, but didn't get the stars added until last week. But I've decided they may have to be an annual addition because I love them so much! I figure at this point they'll work just as well for New Year's as well!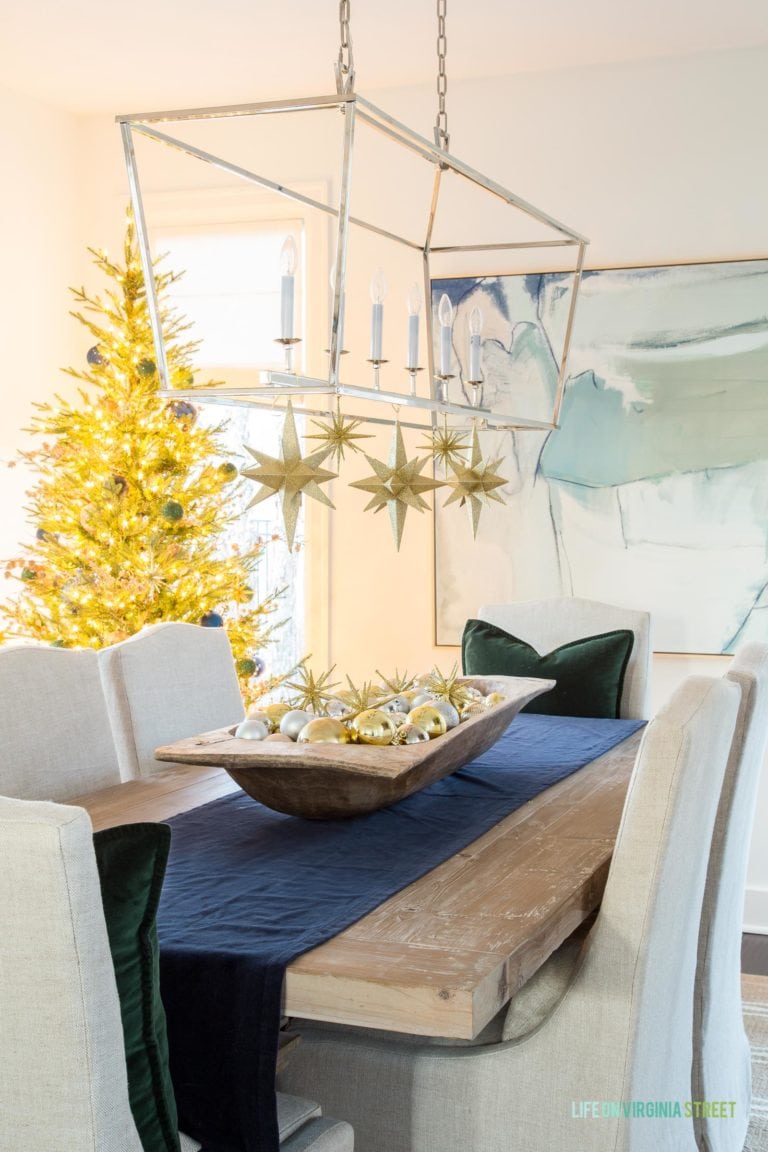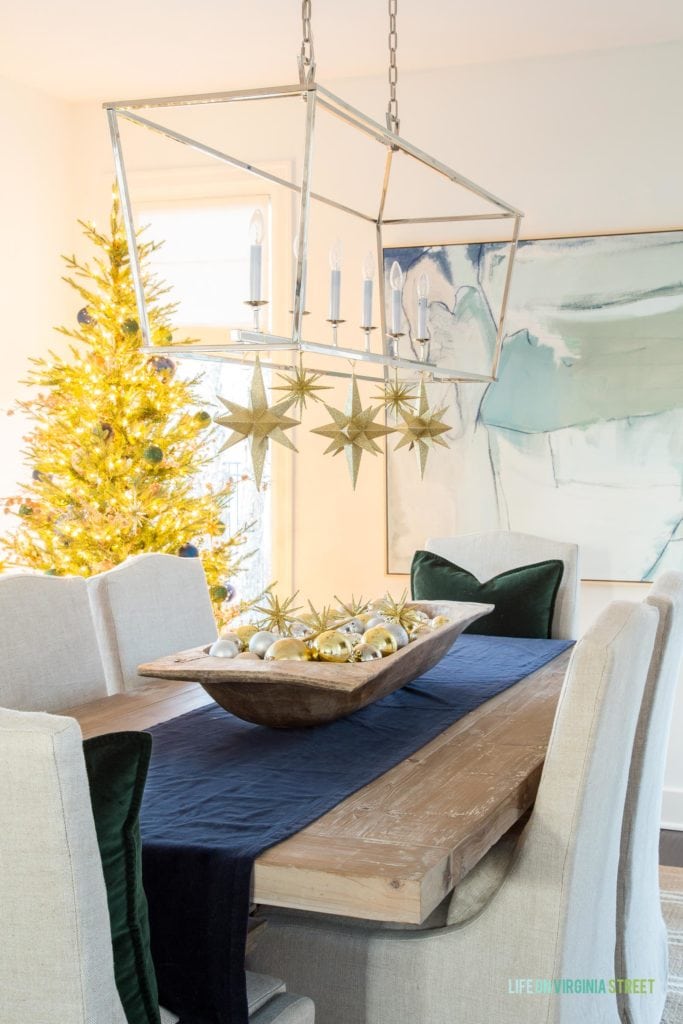 CHRISTMAS DINING ROOM SOURCES: Dining Table | Linen Dining Chairs | Striped Rug c/o from Dash & Albert | Chandelier (look for less here) | Velvet Pillows | Velvet Table Runner | Hutch details | Abstract Art | Faux Christmas Tree | Similar Woven Christmas Tree Collar | Dough Bowl | Wreath | All Ornaments (including stars):  Hobby Lobby
I posted this image on Instagram last night and shared how I felt like these past two weeks since Kurtis' surgery have simultaneously felt like the laziest and most product I can remember in a long time! I'm pretty sure all the lazy days have made me even more productive when I sit down to finally do some work!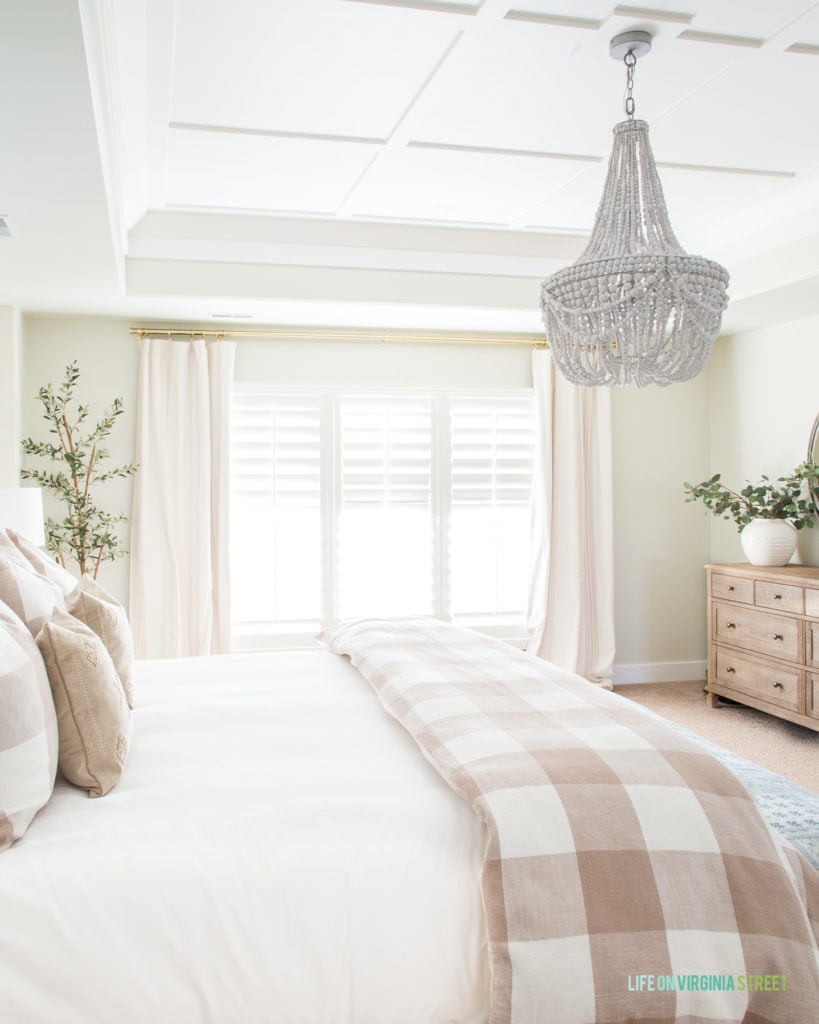 MASTER BEDROOM SOURCES: Buffalo Check Duvet Cover & Euro Shams | Embroidered Pillows | Faux Olive Tree | Beaded Chandelier | Bench | Dresser | Vase | Faux Eucalyptus Stems | Mirror | Striped Drapes | Curtain Rod & Rings
I actually made a list the after Kurtis' surgery of everything I wanted to get done over the two weeks following up until the end of the holiday break. Some of the items have literally been on my list since the beginning of the year! I've made it about 80% of the way through the list and I can't wait to share more of what I've worked on!
Top Sellers Of The Week
Following are the top sellers across all of my channels for the past week! I'm actually including the past two weeks, since I didn't share a Weekend Recap last week. Here are the top sellers for 12/15-21. And oops! A week later I just realized I put the #2 and #4 items in the wrong spot in the collage below. But the number on each image are right 😉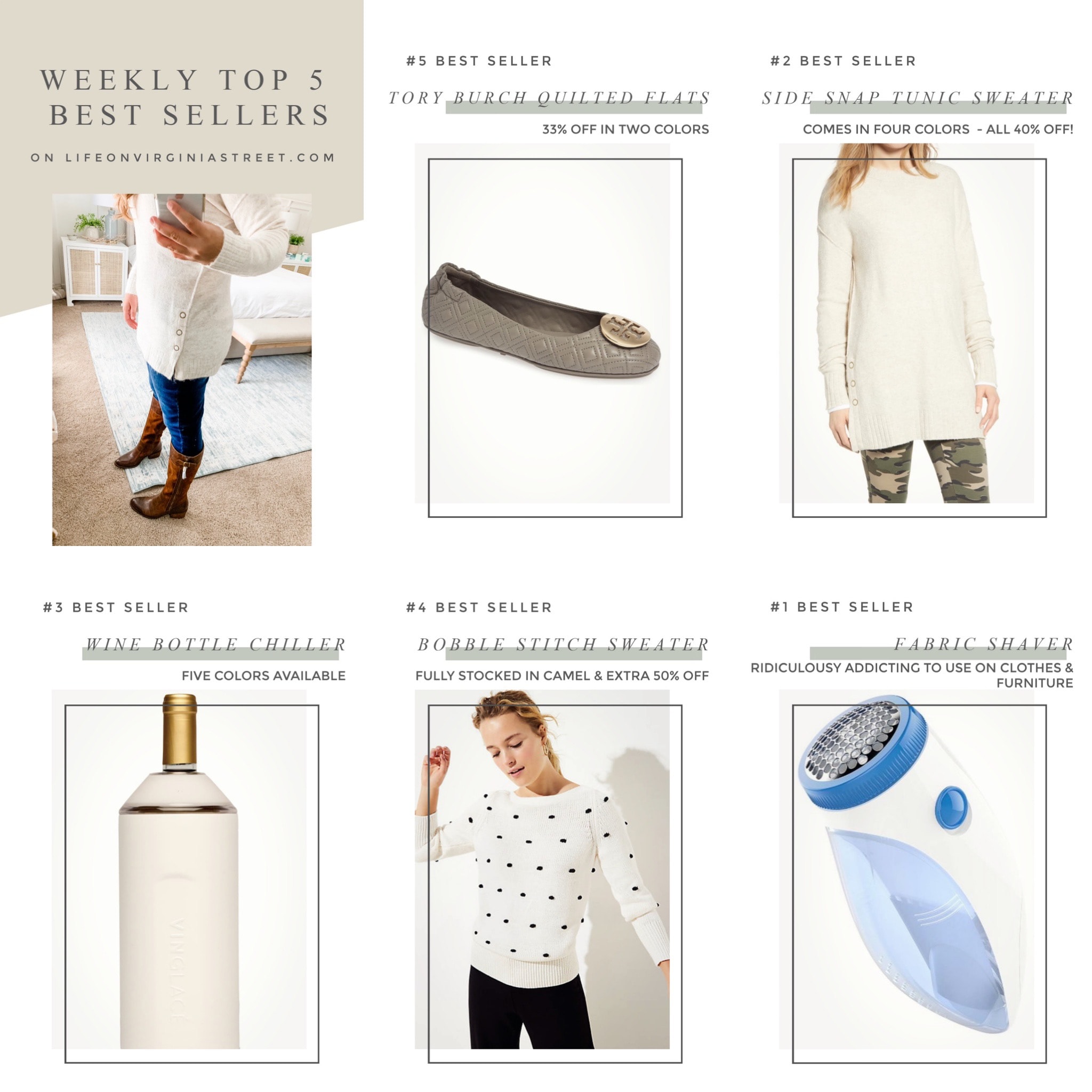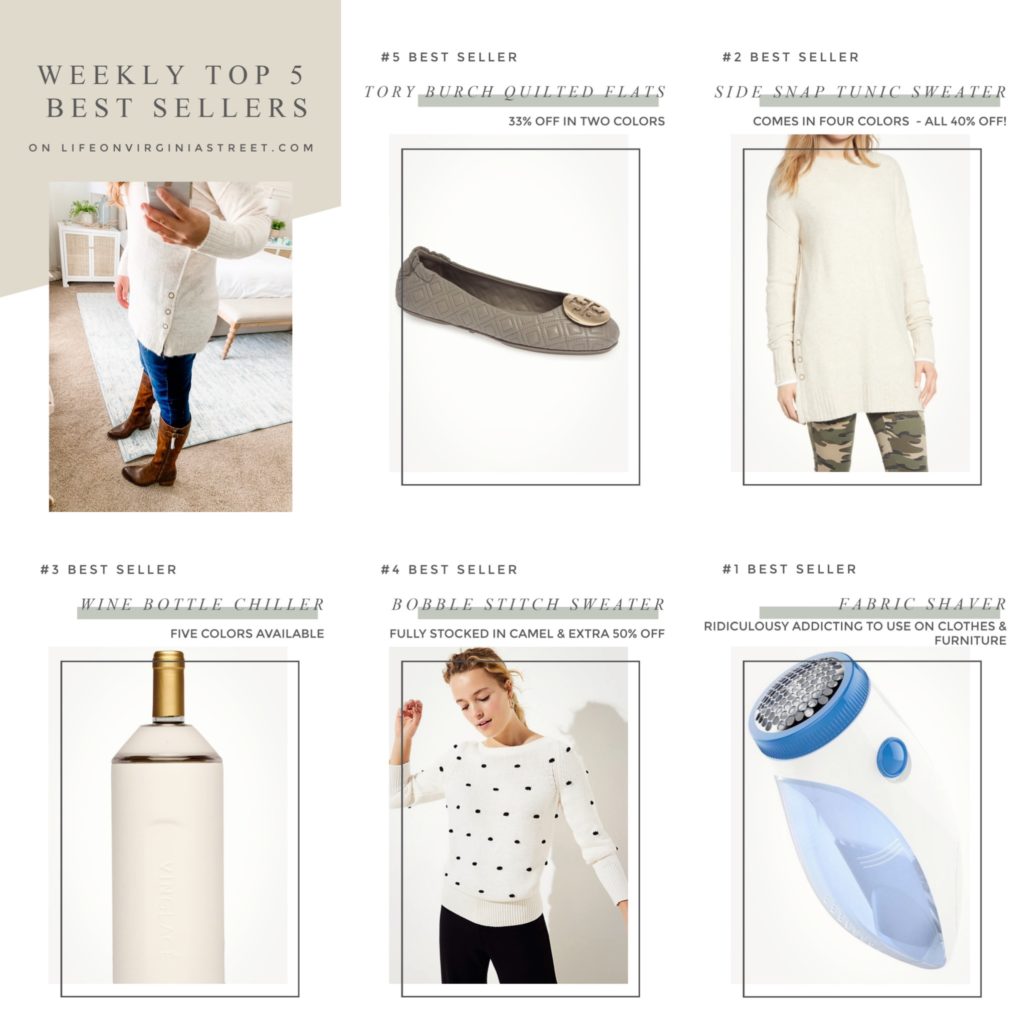 BEST SELLERS (each number is clickable): #5 | #4 | #3 | #2 | #1
And here are the top sellers for 12/22-28. As expected, that round wood coffee table already made it into the top sellers list in less than 24 hours of my new Target home decor picks post going live!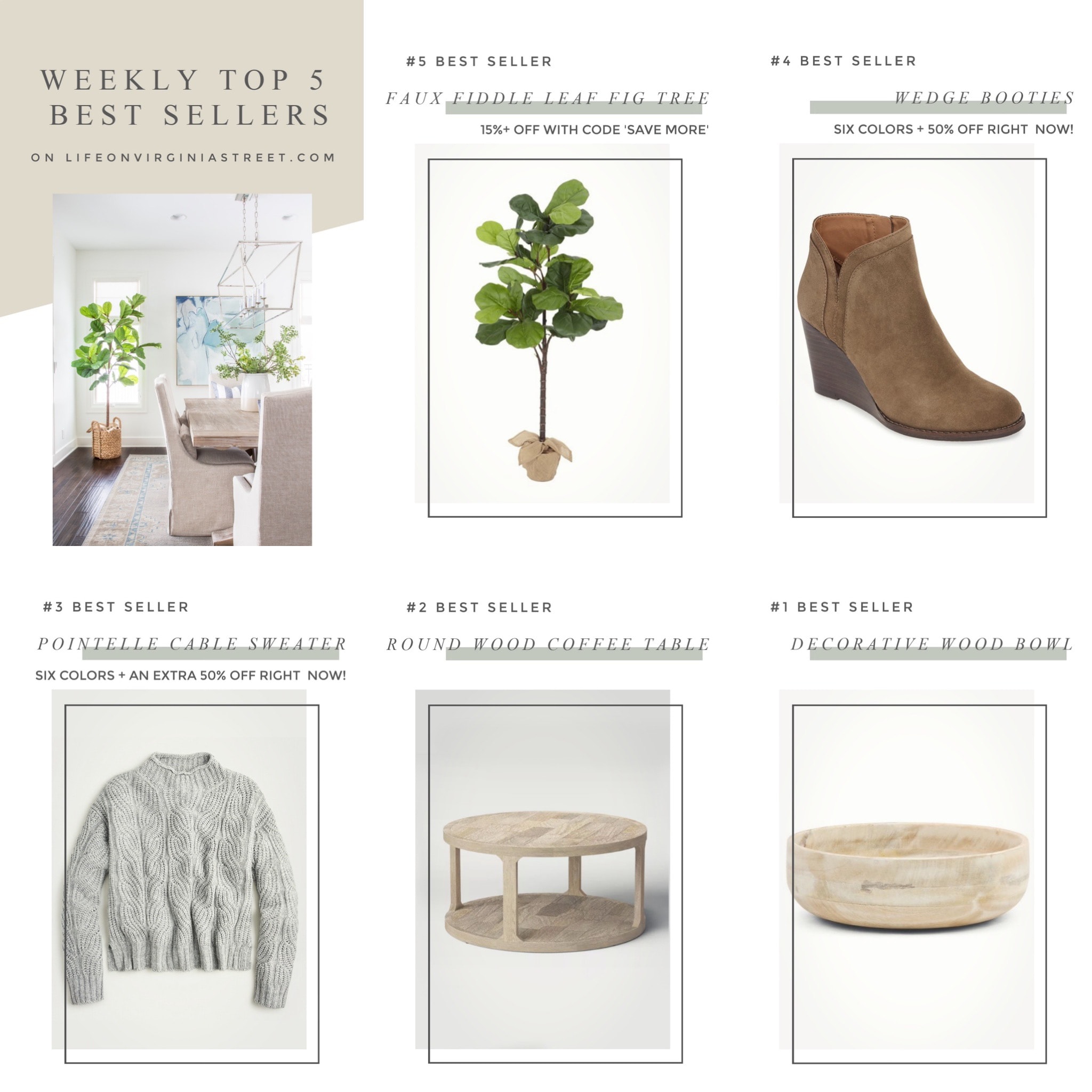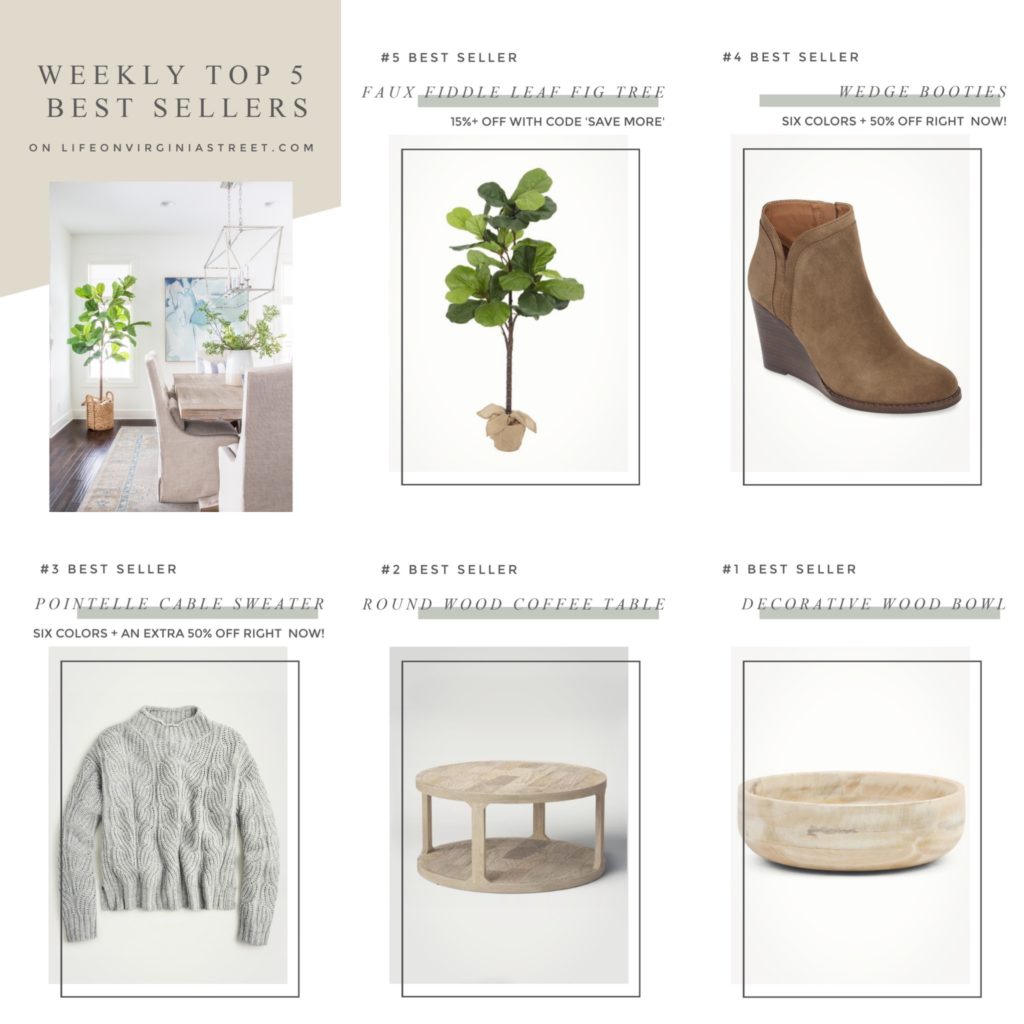 BEST SELLERS (each number is clickable): #5 | #4 | #3 | #2 | #1
Around Town & For Fun
With Kurtis' surgery on the 17th, we've been homebodies for the past two weeks. This shot was the day after the surgery. The doctor specifically said pets were not allowed to sleep with him, so the girls really enjoyed their visiting hours when he was awake. Kurtis is doing very well post-surgery. He said that pain is tolerable at this point, and the hardest part has been mentally adjusting! And yes – he started growing a beard the end of November for Kauai and hasn't shaved since 😉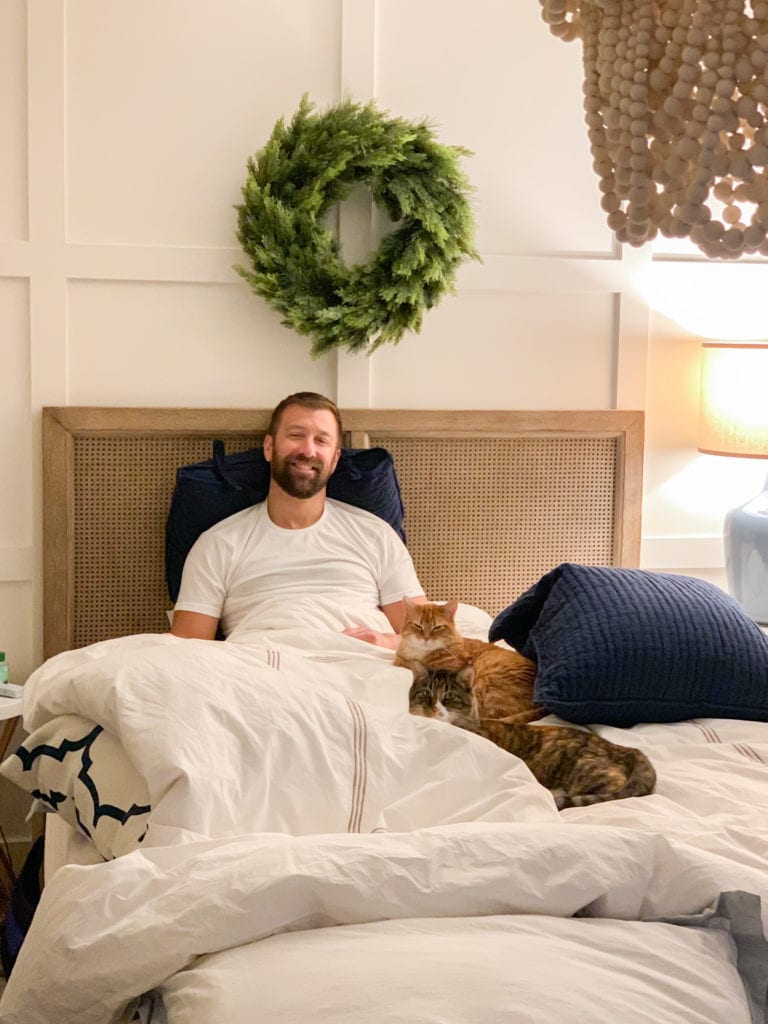 I think we both underestimated just how dependent he would be on me for nearly every task. The first several days, he also had seven different prescriptions and most had to be taken multiple times a day, at different intervals. I actually had to make a grid of all of the meds to make sure I didn't make him overdose on anything! I also had so many timer reminders going at time to make sure I didn't forget various tasks that needed to be done (including multiple times throughout the night)!
He's at the point he can make his own food but I still have to carry everything for him. The first few days I was also his "chef". I use the word lightly because most meals look like the one below. He was still pretty nauseous the first from days from the anesthesia, so he would tell me what sounded good. And many days it was super random like the meal below of squash soup, a piece of bread with ham, and applesauce.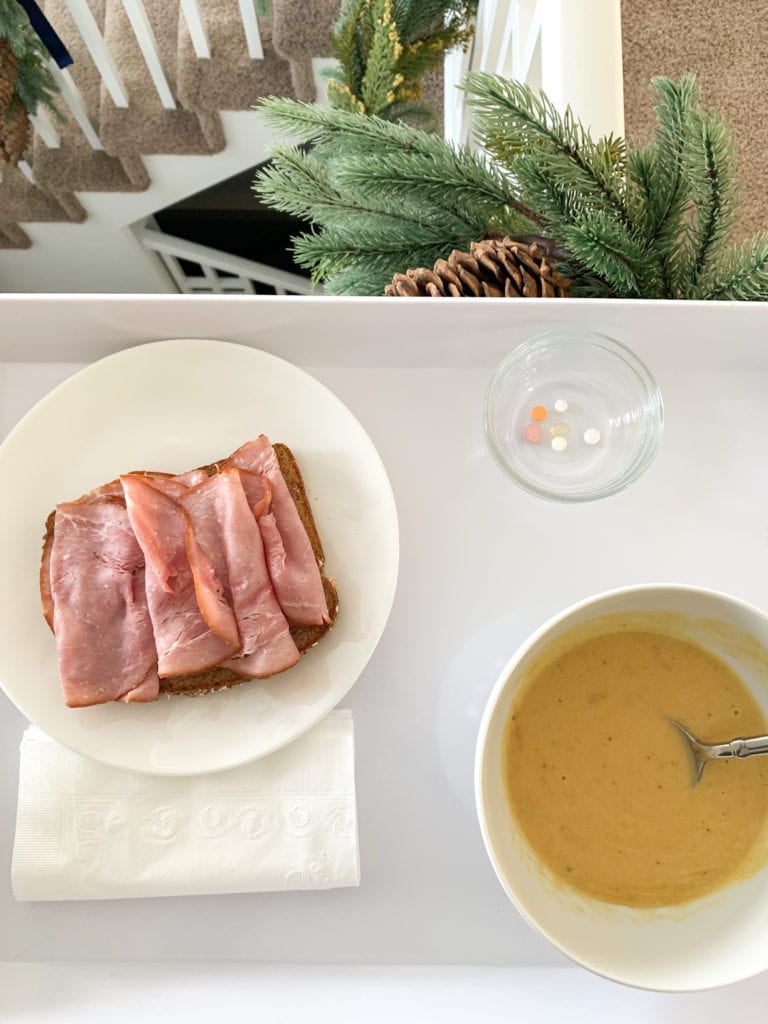 Needless to say, I have a whole new level of respect for caregivers. That first week was rough on both of us (especially when we were both so short on sleep). But, we're both so grateful I could be home that whole time with him and that he's recovering so well! He'll still be on crutches and likely can't drive for another month, so that will limit a lot of what he does, but he's slowly gaining some of his independence back! And a huge thank you to the friends and family that brought us dinner or had meals sent to us. I promise Kurtis really started to appreciate it once he was eating my meals all day, every day! We also want to extend a thank you to each and every one of you that commented, emailed, etc. with tips, checking in on him and sending well wishes and prayers. We really appreciate it all!
This little nugget is going to be pretty upset when Kurtis goes back to the office in a few weeks. She literally lays next to him all day every day. Except for this small window when I was working on the upstairs hallway and she was demanding attention down below by crying and rolling around 😉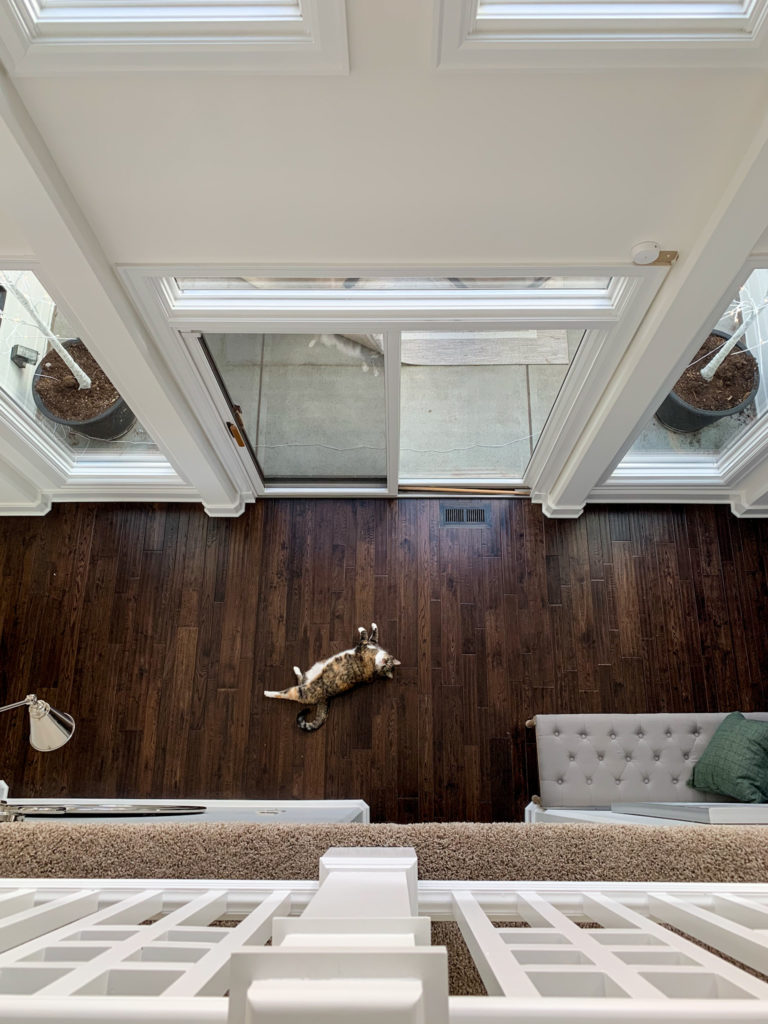 I really tried to disconnect as much as possible these past two weeks. But I think I have an illness where I still have to get a certain percentage of work done in any give day. It's good thing I love what I do! 😉 I mentioned my two-week goal list. It was filled with tasks that have been hanging over me but also a few fun ones. I wanted to read at least two books (I'm already on my third)! So, that meant lots of cuddle time for the cats. You have to wonder if you're house is too cold when you can barely see Bailey!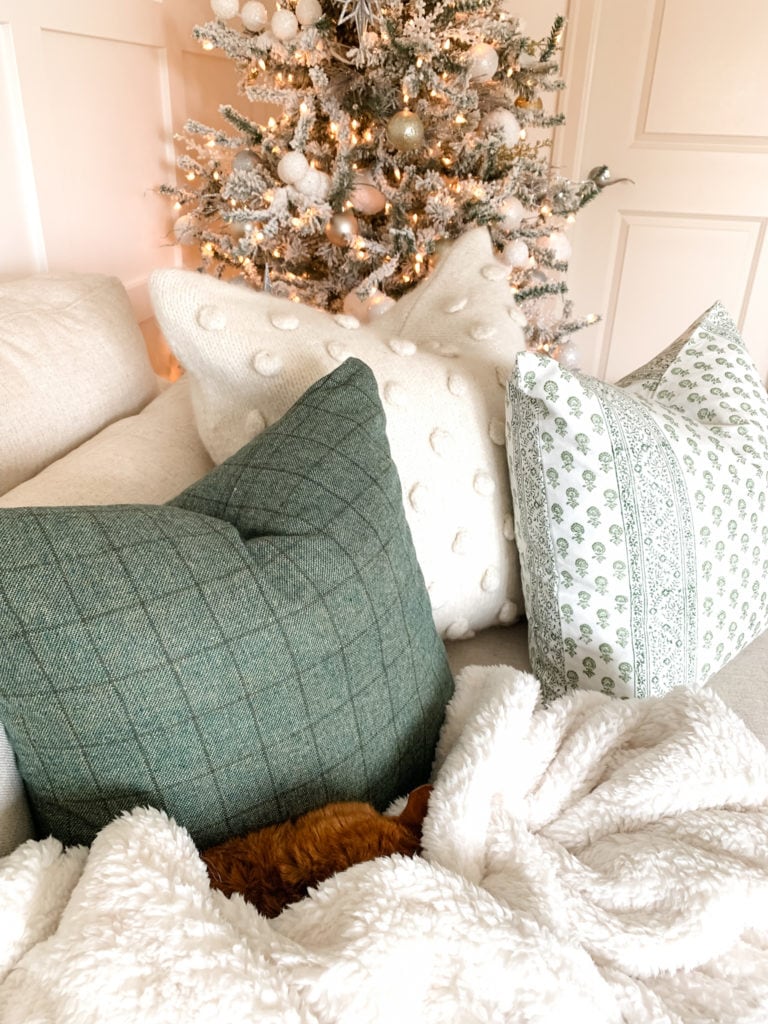 DEN SOURCES: Windowpane Plaid Wool Pillows| Hand Block Pillow | Pom Pillow (similar look for less here and here) | Linen Sectional | Flocked Christmas Tree | Ornaments and Picks: Hobby Lobby
Christmas morning was the first time we left the house. The sunrise when I woke up was so beautiful!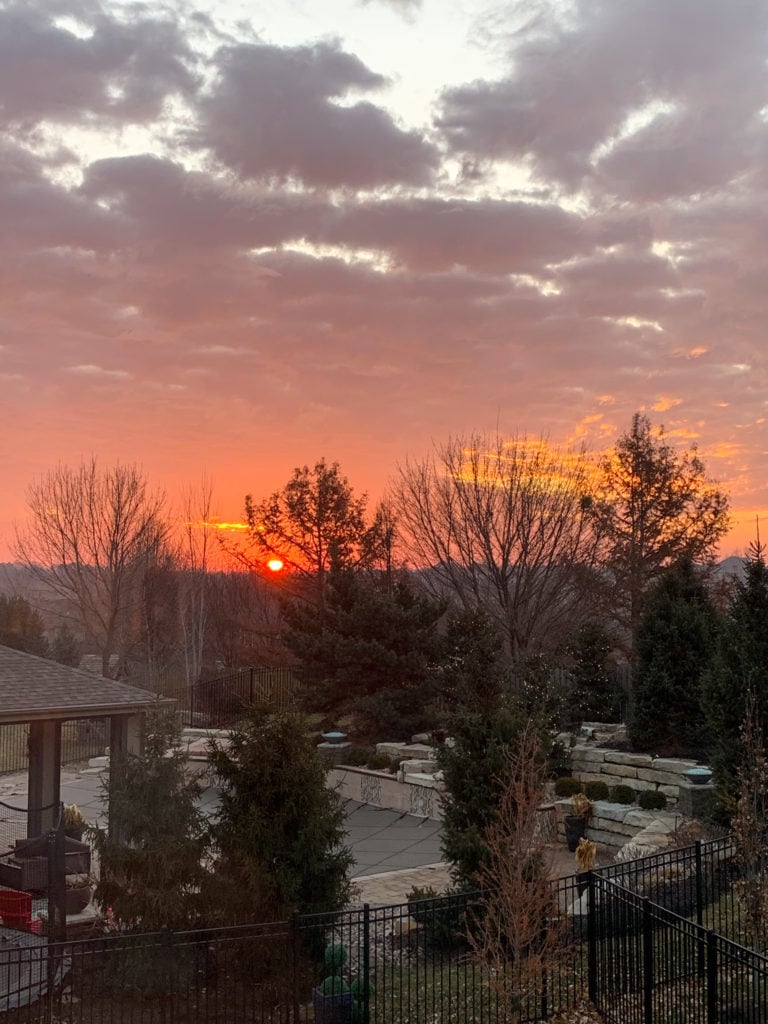 We ran down quickly to give Zoe her gift. She's been obsessed with Spirit lately. When the theme song comes on, her entire face lights up and she looks around at all of us and wants us to dance with her. It's hilarious. So, we got her a Spirit stuffed animal. It was super affordable and she loves it! We know at her age, it doesn't take much to impress her, so we kept it simple. Here she is watching the show (it was already on when we stopped over) holding her new buddy.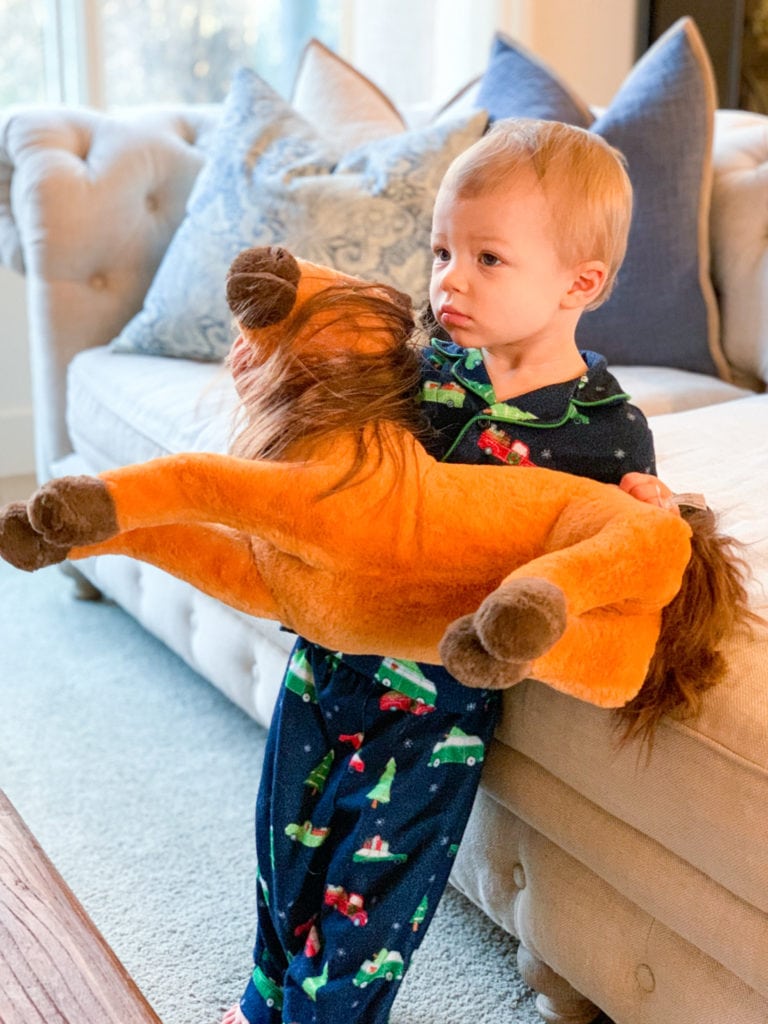 This past Friday, we finally ventured out of the house. It was the first time in a week and a half (other than when we ran down to Nick and Jill's on Christmas! We needed to pick up some more prescription cat food for Hawkeye, so we also decided to grab lunch at Local. I let Kurtis pick since we weren't sure when he'd get out next. And navigating many places on crutches can be hard!
My original plan had been to take my Christmas decor down this week. But, now that we'll be hosting this coming weekend, it will likely be up for at least another week. So, I'm switching gears and ready to organize a few spots around our house that have been driving me crazy. First up – our spice drawer. It's a disaster and not as efficient as it could be and nearly impossible to quickly find what you're looking for. I already bought the items I'm going to use to improve the set up, so I'm hoping to get started today. Stay tuned!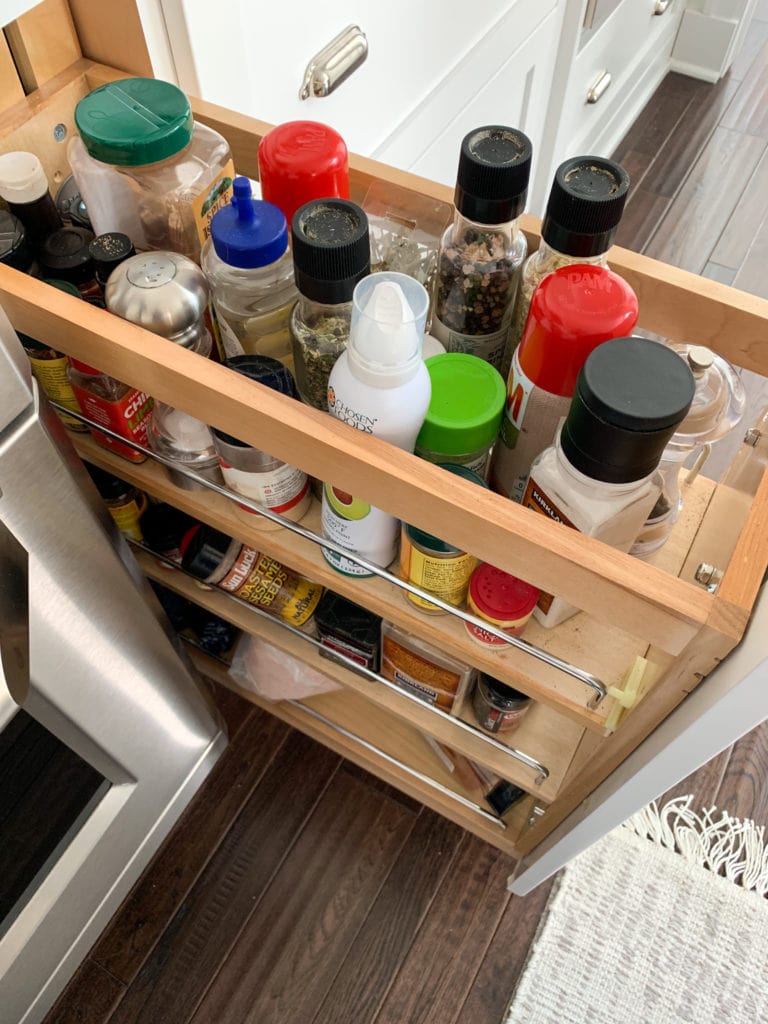 I'm still working on my list of goals for 2020. Not only is it a new year/decade, but we also celebrate our 15 year wedding anniversary and I'll be turning 40! So I feel like my list has to be even more intentional! One of those items is to get back in shape (isn't it always?!). I signed back up for FASTer Way to Fat Loss. I actually did really well with the program the first half of the year last year before our cruise. Then we came home, lost Bearcat, summer kicked off, and I officially lost all willpower with my eating and drinking habits. I need to get back on track, and I'm actually looking forward to getting back in the program. If you want to be in my group you can read more about it and sign up here. It sounds like they've made a few improvements to the program since I was last involved and I'm excited to get started again on 1/6!
Recent Buys & Sales
I ended up buying the Dudley Stephens fleece you all strongly recommended during their Cyber Monday sale and I love it so much! It might be the coziest top I own. Now I just need to learn to photograph it better 😉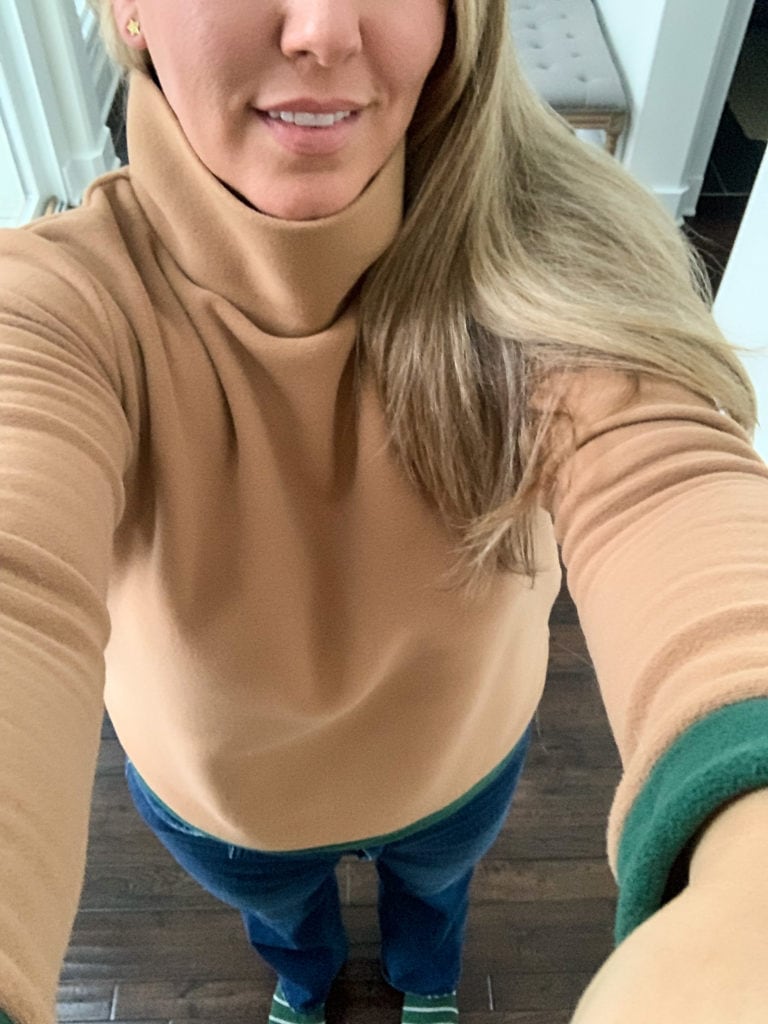 Following are the sales that are still going on from the weekend. Most of them are still going strong! You can see my inspiration picks here.
I hope you all have a great holiday week!
If you would like to follow along on more of my home decor, DIY, lifestyle, travel and other posts, I'd love to have you follow me on any of the following:
Pinterest | Instagram | Facebook | Twitter
disclosure: some affiliate links used