At the end of each year, I love taking a trip down memory lane to explore everything we accomplished both personally and professionally. With that, I always research which blog posts from the year were most popular. I always find this post each year so interesting, seeing what type of content you loved the most! It's fun to see how much Pinterest or Google users can sway the results, as well. With that, today I'm sharing my top ten most popular blog posts that were written in 2019!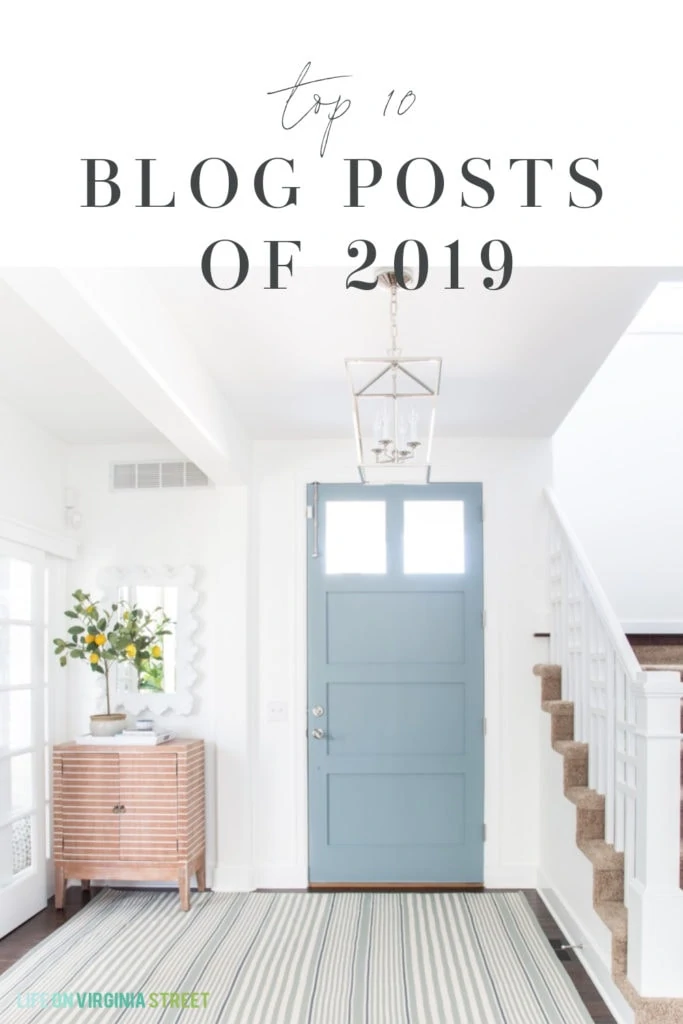 If you're interested in my prior Top 10 Posts, I've included those below as well! Many of the posts in those lists made it into my top for 2019, as well, but for today's post, I'm only including blog posts that were actually published in 2019 – not just read in 2019. If you're newer here, this is a great way to see some of my top projects and posts. And if you're a veteran, you may enjoy the trip down memory lane too 😉
This post contains affiliate links for your shopping convenience. Click here to read my full disclosure policy.
Top 10 Blog Posts of 2019
In true countdown fashion, I'm starting with my top 10 post and counting down to number one!
10 – Coastal Dining Chairs & Dining Room Thoughts
Although this post about my thoughts on some necessary changes for the dining room was written the first full week of 2019, I didn't make much progress on it. I've researched hundreds of dining chairs (many of my top picks are in the post). And…. I finally made a decision on Cyber Monday. Once everything arrives (hopefully by February), I'll share the updates to the space with you!
I was so happy when TJ Maxx really expanded their online offering earlier this year. I think you all loved this post as much as I did and used these items in your spring decor like I did in my spring home tour! Seeing this post make the list helped inspire my December 2019 TJ Maxx Home Decor Finds post I wrote last week! I wanted to see what other great scores I could find – especially since so many of the items below are no longer available.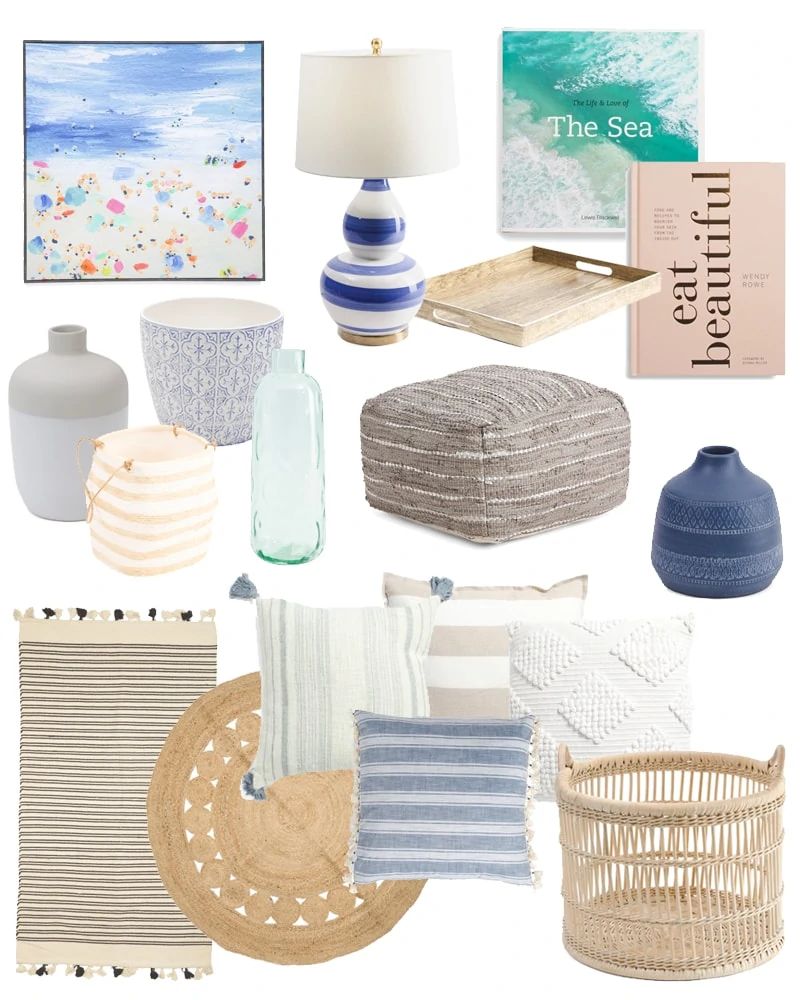 Fall crept up way too quickly on me this year so I actually kept our 2019 fall home tour very basic and re-used a lot of the pieces from fall 2018! I loved the neutral and organic feel of the tour!
It's no secret that summer is by far my favorite season! So it's safe to say, I probably have a little bit more fun decorating in the summer than other times of the year. And this year was no exception! You can take our summer home tour here.
I think our den reveal tied with our master bedroom makeover as my personal favorite for the year! I can't tell you how happy I am to have this project completed – and how much we love having this lounge space! The transformation was pretty dramatic, both from a visual and functional standpoint!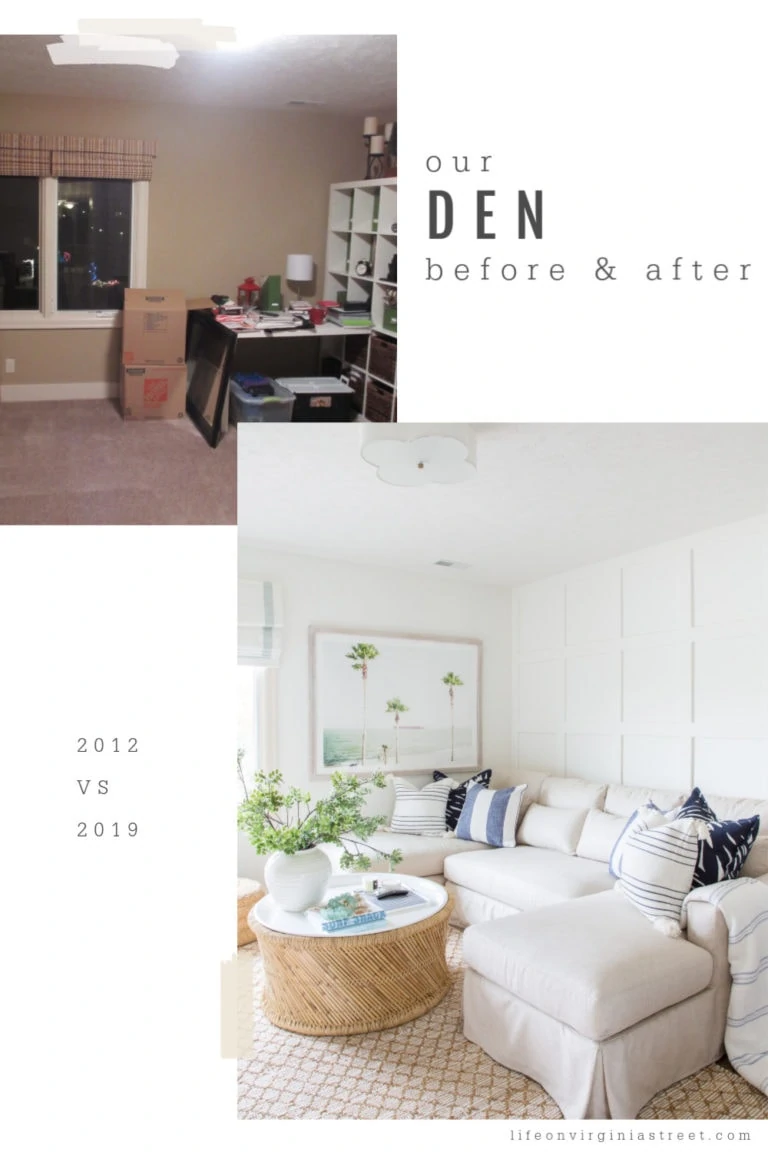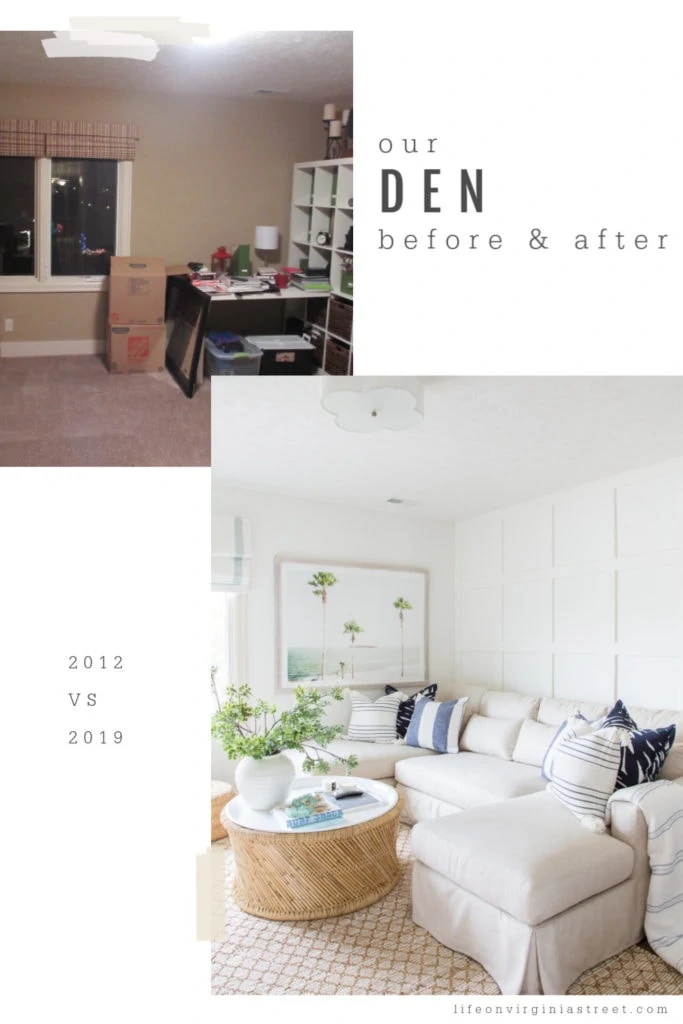 DEN SOURCES: Linen Sectional | Indoor/Outdoor Diamond Rug | Scallop Light Fixture | Coffee Table | Palm Tree Art | Jute Poufs | Similar Ceramic Vase | Faux Greenery Stems | Small Striped Pillow | Wide Striped Pillow | Palm Print Pillow | Striped Throw | Roman Shades
5 – A Real-Life Guide to Swimsuits
This post not only ranks as my most scary post I've ever published, but it also received the highest number of same-day views of any post I published this year (and possibly ever??). Probably because others were just as shocked as me that I shared so many pics of me in bathing suits 😉 But the support I got from the post was overwhelming, and you all made me not regret hitting "publish" for even a second after it went live. So thank you!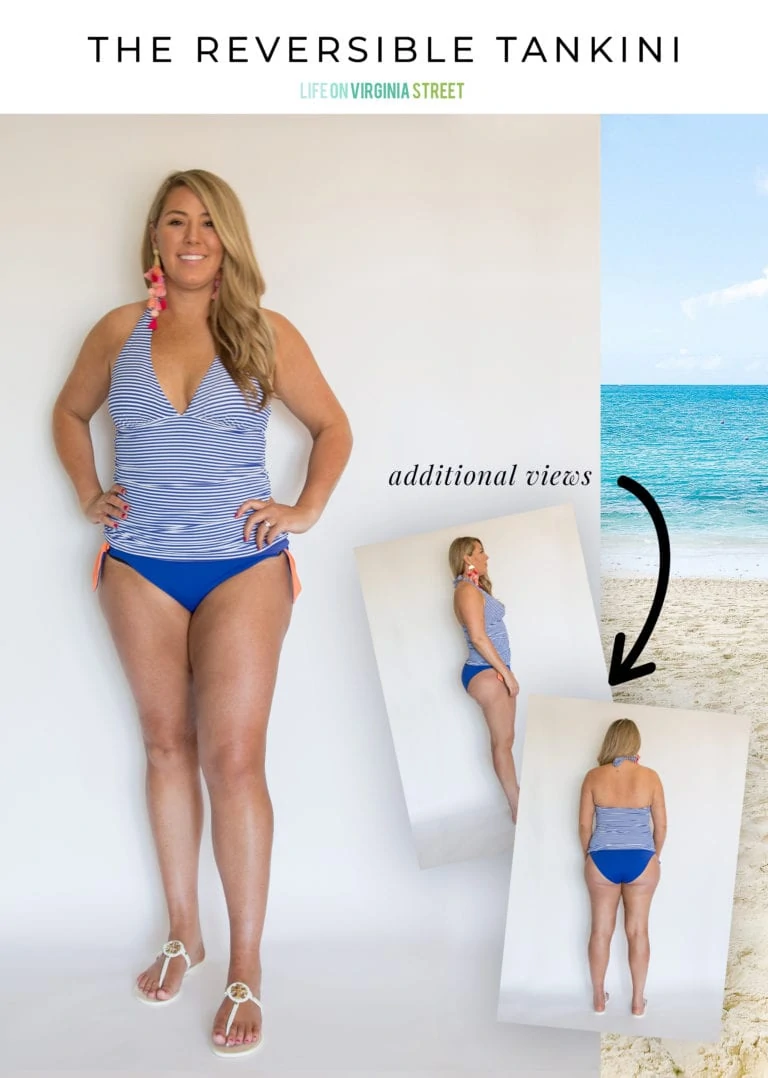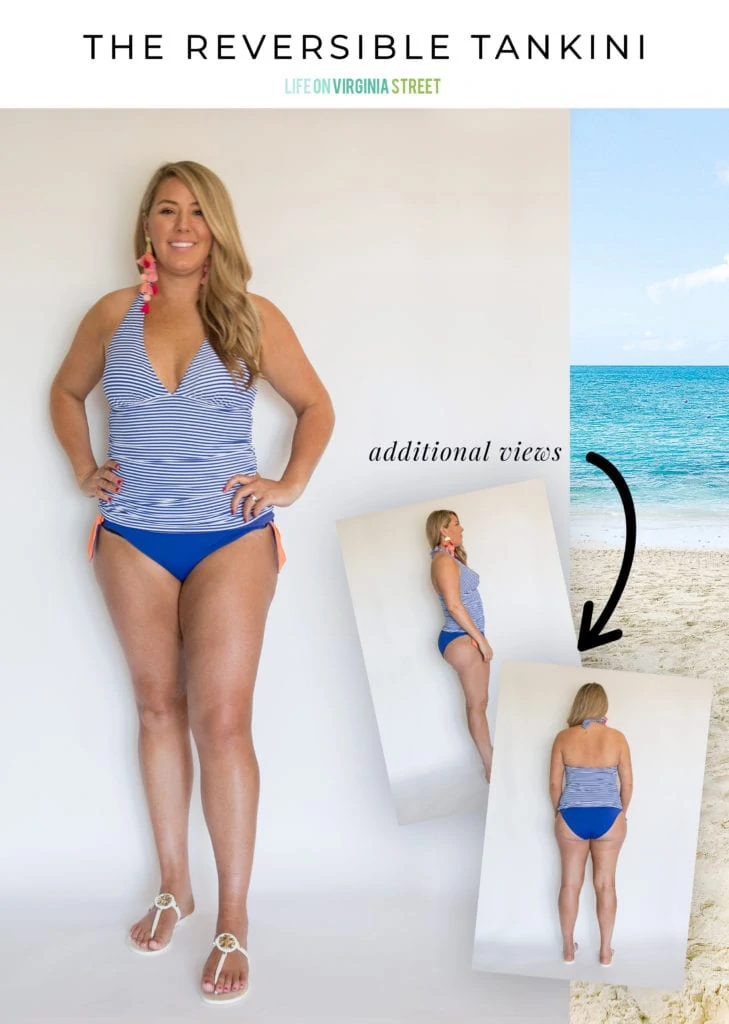 4 – The Best Faux Fiddle Leaf Fig Trees & How To Make Them Look Real
My post on how to style faux fiddle leaf fig trees (and the best options for all budgets) was one of my top requested posts by readers. A year or two back, I shared a video tutorial on Instagram of how I made our fig tree look real, and I got so many requests for an updated video that could be permanently accessed as well as written details and additional options. So, I was glad to see it made the top list and you all found it helpful!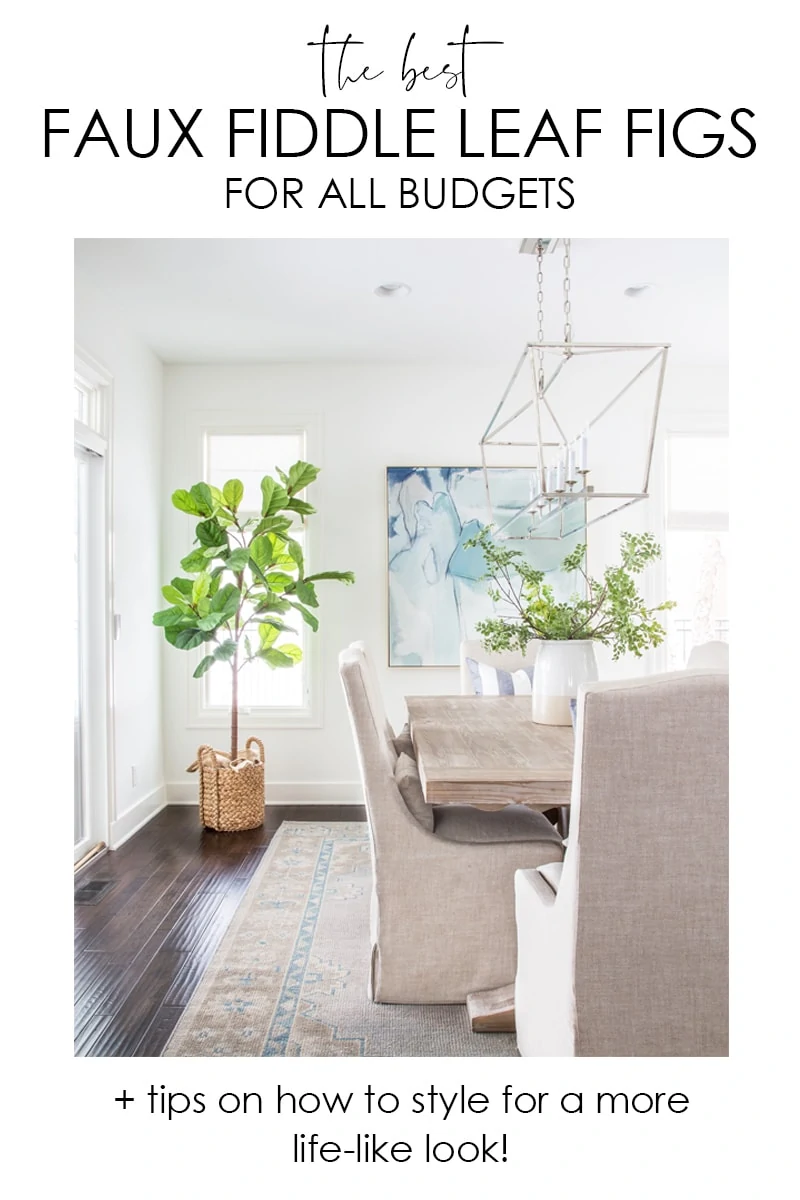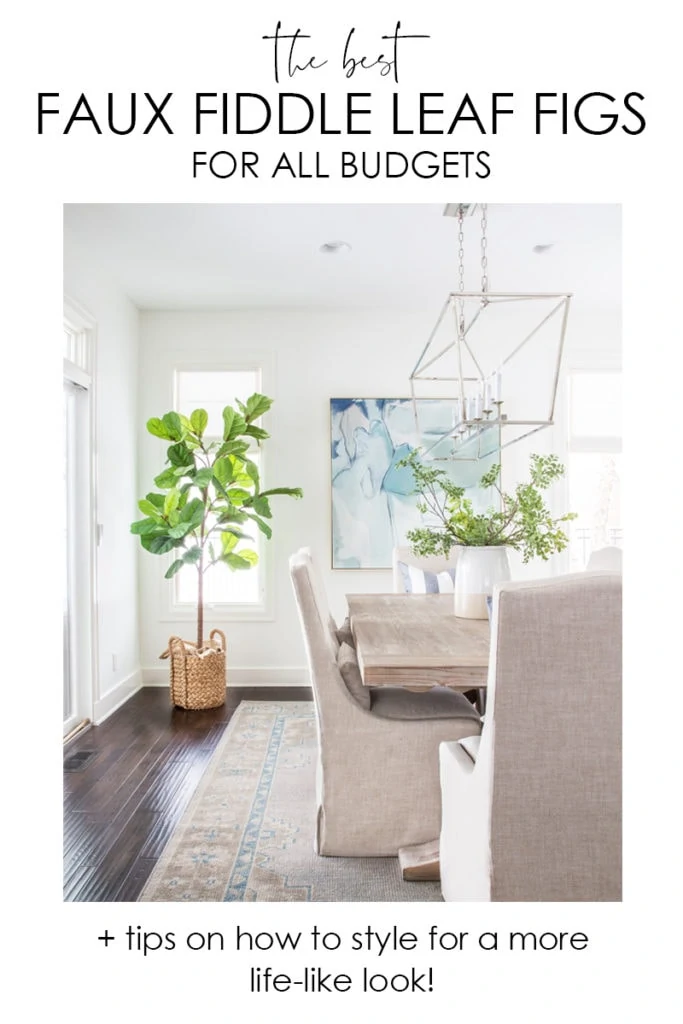 3 – Resort Wear Favorites 2019
Kurtis has his company trip each year at the end of February or early March. So, for the month prior to that, I'm making a list of all the items I need and want to pack. For several years I've shared my resort wear favorites and the 2019 version made the top 3 list! I think by mid-January, we're all ready for some warm weather vibes and inspiration! I've actually already started on this year's version of the post as I prep for our next trip to Nevis! But, many of last year's favorites are still available!
2 – The Best White Paint Colors for Interiors
It's no secret I'm a huge fan of white paint – well, really paint in general! My post on the best white paint colors for interiors not only shares my top picks for white paint, but also gives advice on how to pick the right color for your own home. Surprisingly, white is one of the hardest colors to get right, so I tried to give as many tips as possible to help you narrow down your selection!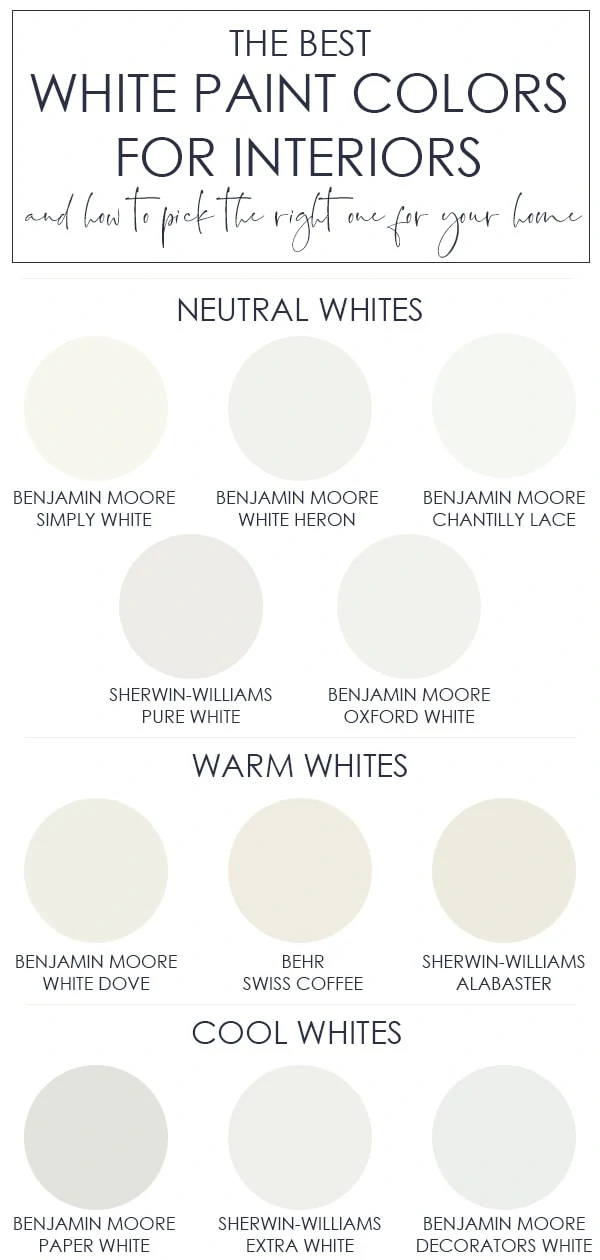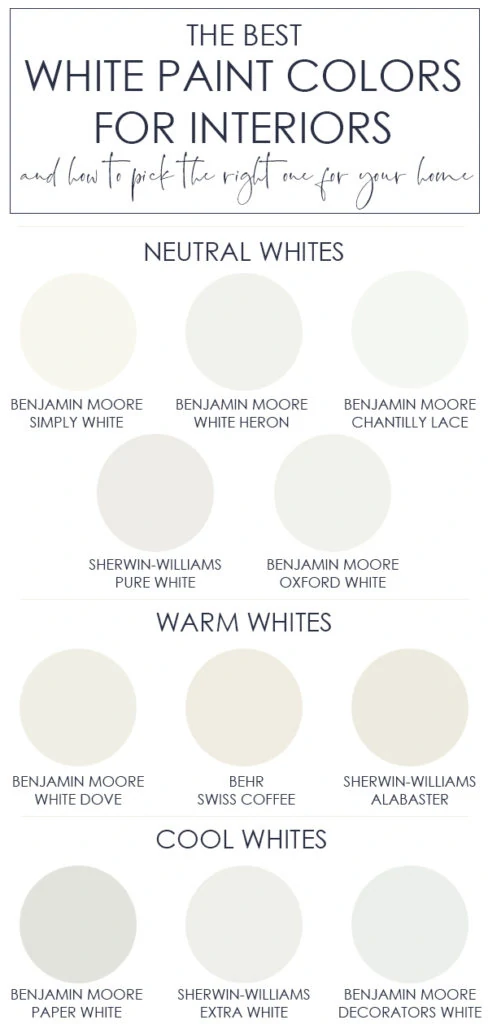 1 – The Best Blue Gray Paint Colors and Our Freshly Painted Front Door
My post on the best blue gray paint colors (and our front door reveal) was by far the top post of the year. Second place was only about half the traffic if that gives you any indication! But it's also one of my personal favorite posts of the year too! Clearly I have an obsession with this shade and tone of paint colors! And our little entryway makeover (done with a simple sample pot of paint) was also one of my favorite projects of the year! Not bad for about $10!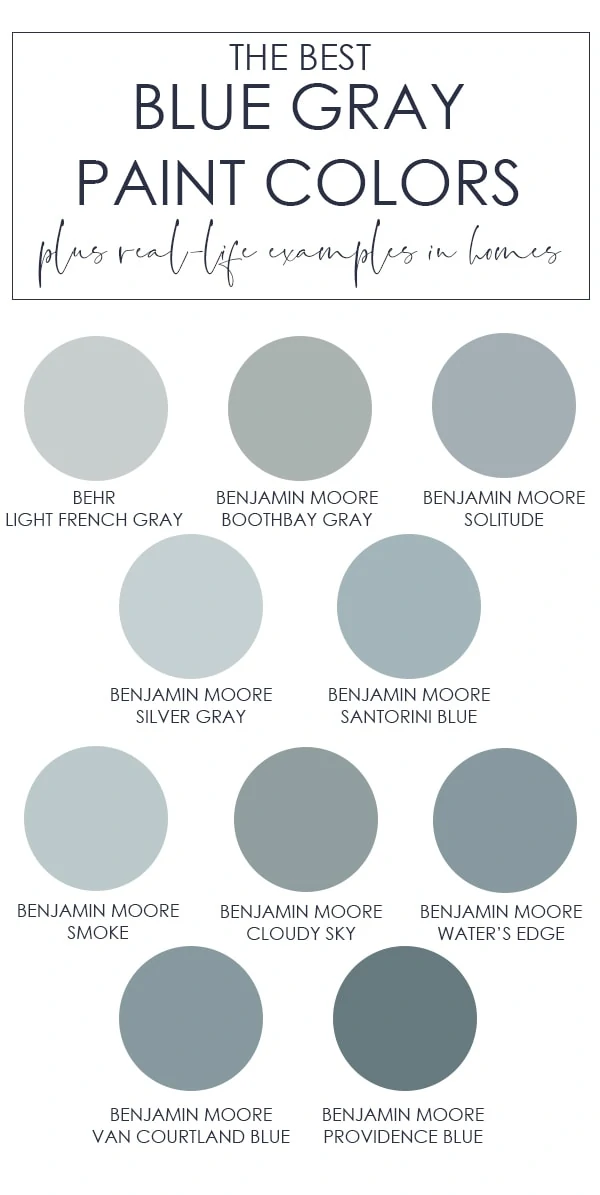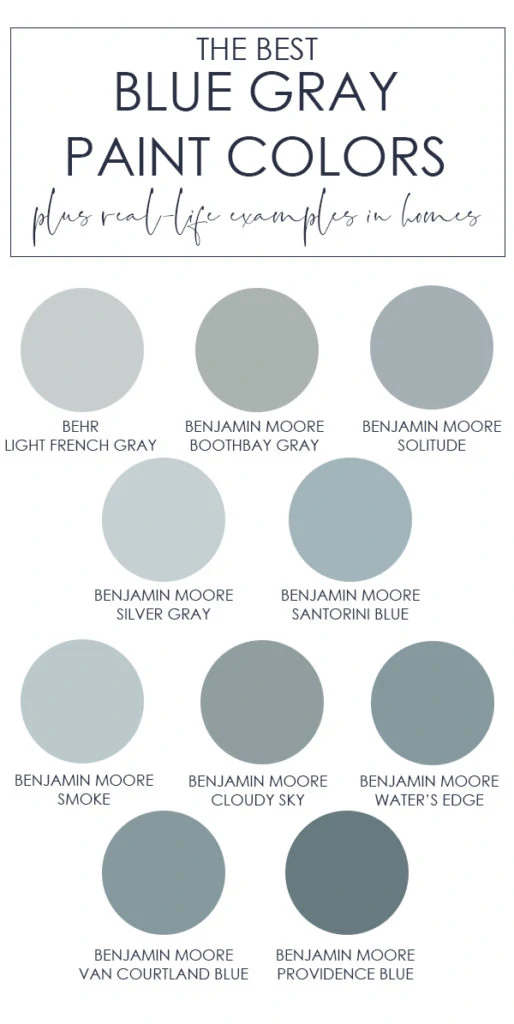 Interestingly, and likely for the first time ever, my #1 top post on Instagram also came from this blog post! This image of our front door was by far the winner and out of my top 9 top IG posts, five included our front door in them. Sounds like you all may be loving blue gray paint colors as much as I do!
I hope you enjoyed my 2019 content! I want to thank each and every one of you that shows up here to read my posts and interact with me on a daily basis. I feel like we're friends through this screen and I want you all to know how much I appreciate your support in 2019 and every day! I hope you all have a happy and safe New Year!
If you would like to follow along on more of my home decor, DIY, lifestyle, travel and other posts, I'd love to have you follow me on any of the following:
Pinterest | Instagram | Facebook | Twitter
disclosure: some affiliate links used