I hope you've all had a great weekend so far! I'm popping in about 12 hours early with our Weekend Recap. I have lots to share but also have another gift guide going live first thing in the morning so I thought I'd spread them out a bit. It's going to be a crazy week ahead, but we're really looking forward to it!
This post contains affiliate links for your shopping convenience. Click here to read my full disclosure policy.
Home Projects & Updates
The biggest news of the week? Our dresser was finally delivered! Guys, it took them FOUR attempts when all was said and done, but thankfully it's here and we love it! It's has a bit more of a gray undertone in person, but I was so excited to share it I just shot this on my iPhone when the sun was still rising yesterday after we got the mirror hung. Once I find a rug for the space, this room will finally be done!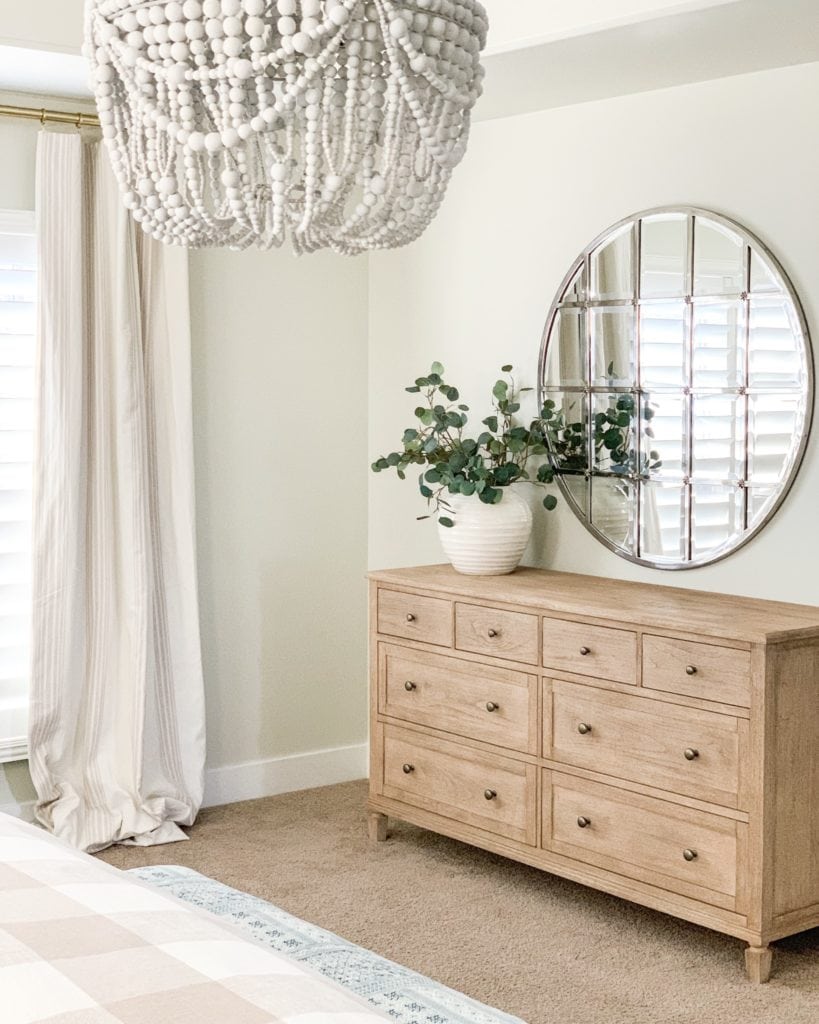 MASTER BEDROOM SOURCES: Dresser | Mirror | Wood Bead Chandelier | Striped Drapes | Gold Curtain Hardware | Buffalo Check Bedding | Bench | Vase | Faux Eucalyptus
I got the flocked tree decorated in our den and started playing around with pillows pairings. I'm loving this ivory and green combo!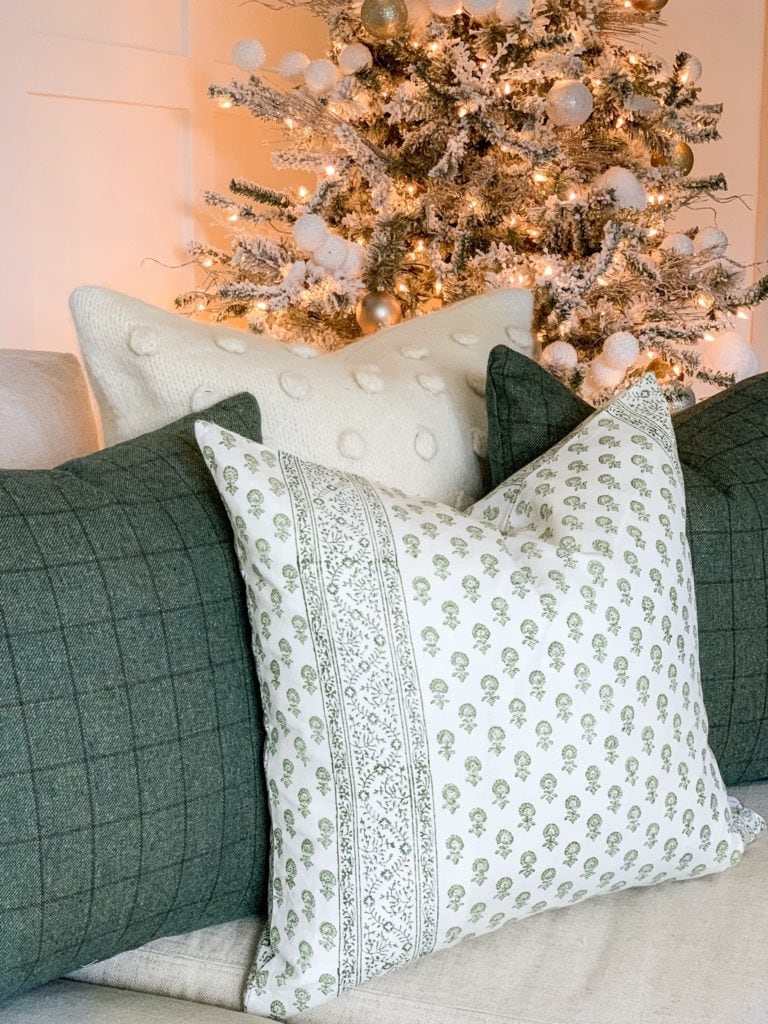 DEN SOURCES: Windowpane Plaid Wool Pillows| Hand Block Pillow | Pom Pillow (similar look for less here and here) | Linen Sectional | Flocked Christmas Tree | Ornaments and Picks: Hobby Lobby
I've very slowly been working on some updates in our smaller guest bedroom. This will actually be Kurtis' temporary office when he's home for a minimum of 3-4 weeks after his surgery.
I finally got the new curtains hung and the roman shades down. I'll likely be adding shades back and installing them up pretty high (closer to the curtain rod). I obviously have some wall touch-ups to do and need to make the bed at some point 😉 But I'm enjoying taking it slow to really decide what I want to do. I may even try to get this room decorated a bit for the holidays!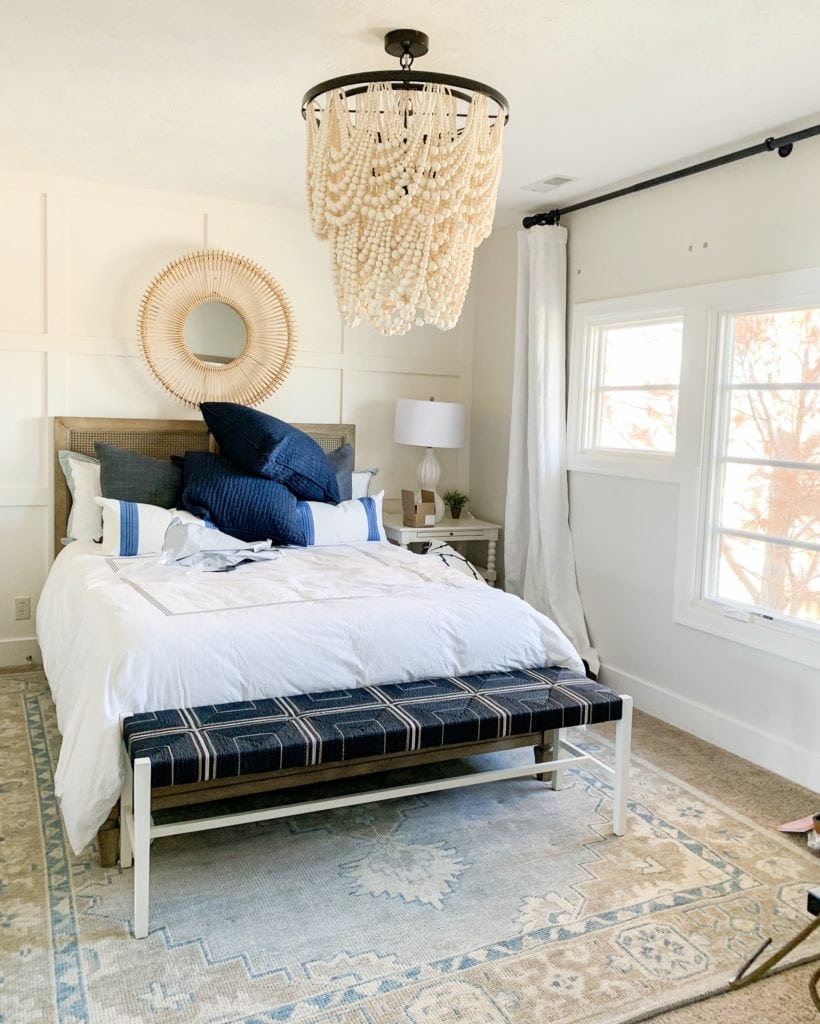 GUEST BEDROOM SOURCES: Cane Bed | Bead Chandelier | Bench | Linen Drapes | Curtain Rod | Tapered Finials | Curtain Rings | Mirror | Hand-Knotted Rug
I'm hoping to wrap up the rest of my Christmas decor by Wednesday so we can sit back and enjoy it all through the end of the season!
Top Sellers of the Week
Following were the top sellers across all of my channels for the past week! Those windowpane plaid pillows continue to dominate! And for some reason, Nordstrom keeps changing the URL on these cashmere sweaters. They are not sold out! They just keep moving the listing!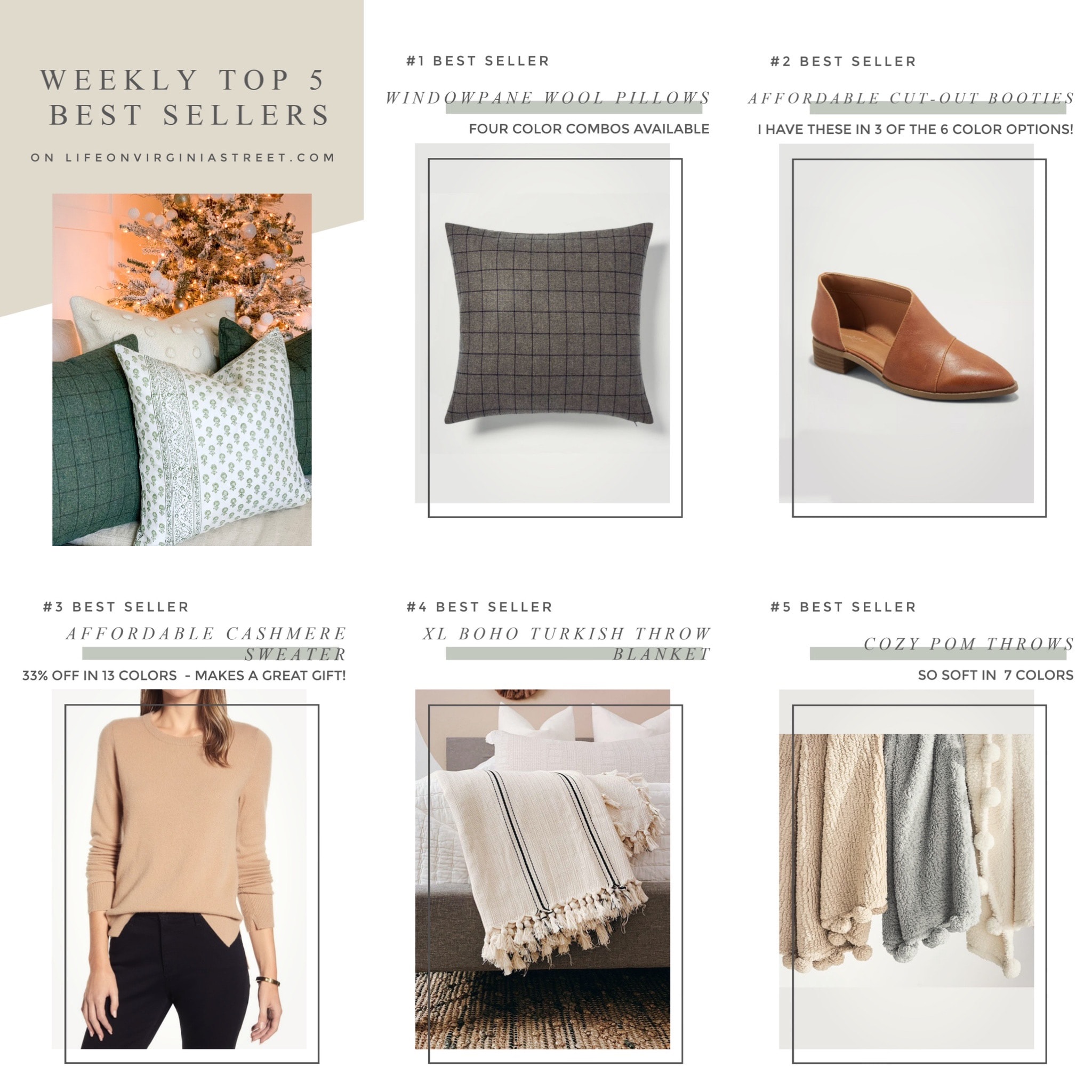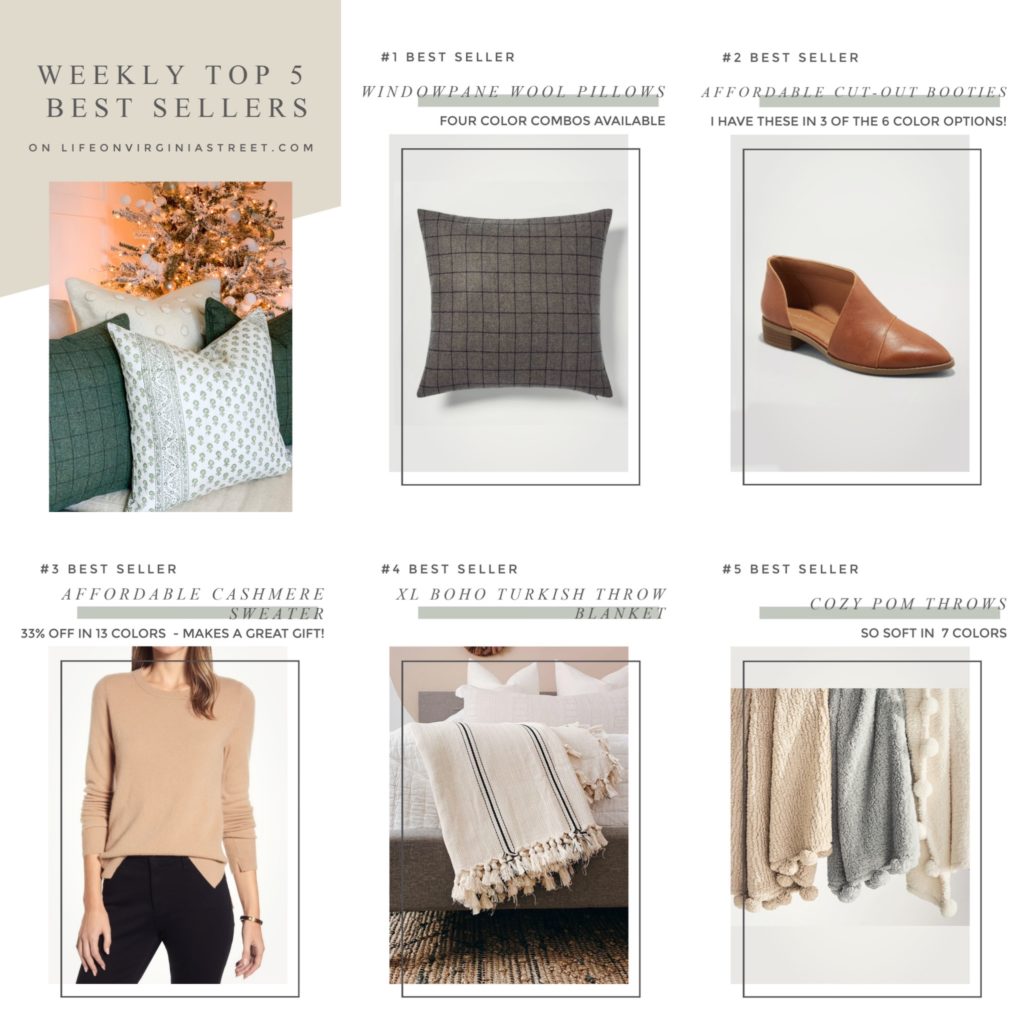 BEST SELLERS (each number is clickable): #5 | #4 | #3 | #2 | #1
Around Town & For Fun
I ran into Hobby Lobby this past week to grab some ornaments while they were half of. I'd also been needing one more tree collar and found this cute option. It was usually $49 but was half off when I was there. It's a great affordable option! You can see all my other Christmas tree collar picks here.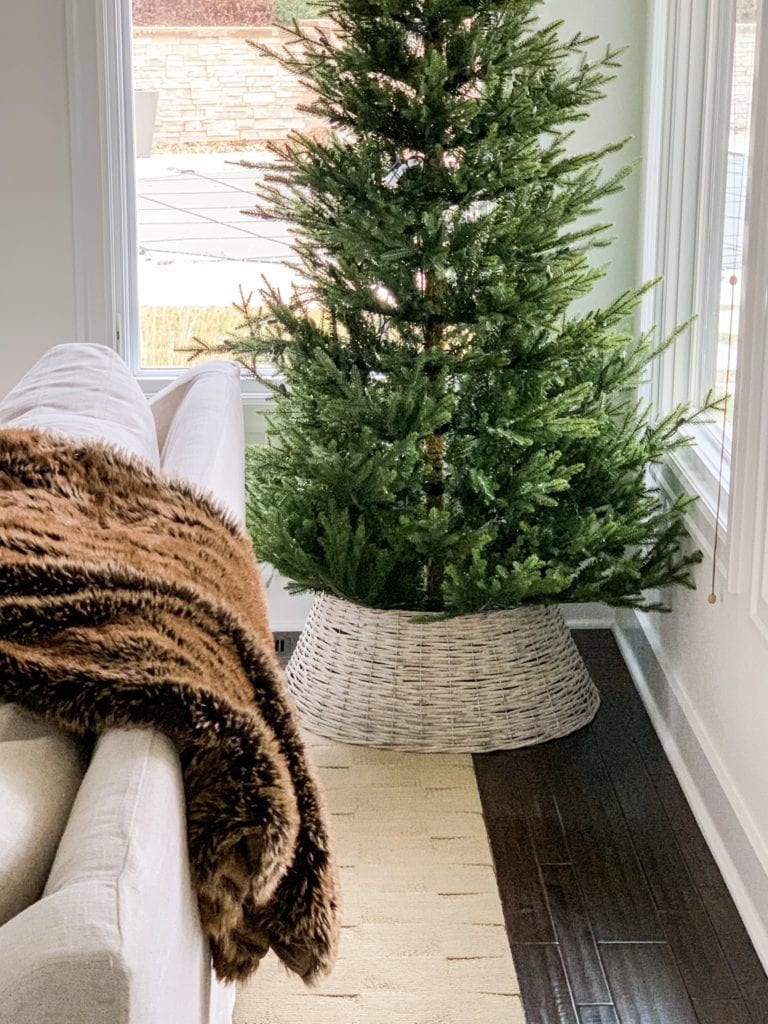 The sad news of the day was when I leaned over to grab some ornaments at Hobby Lobby and my sunglasses feel off my shirt where I had them hanging. One lens did not survive. Kurtis said I looked like a pirate and wanted me to share 😉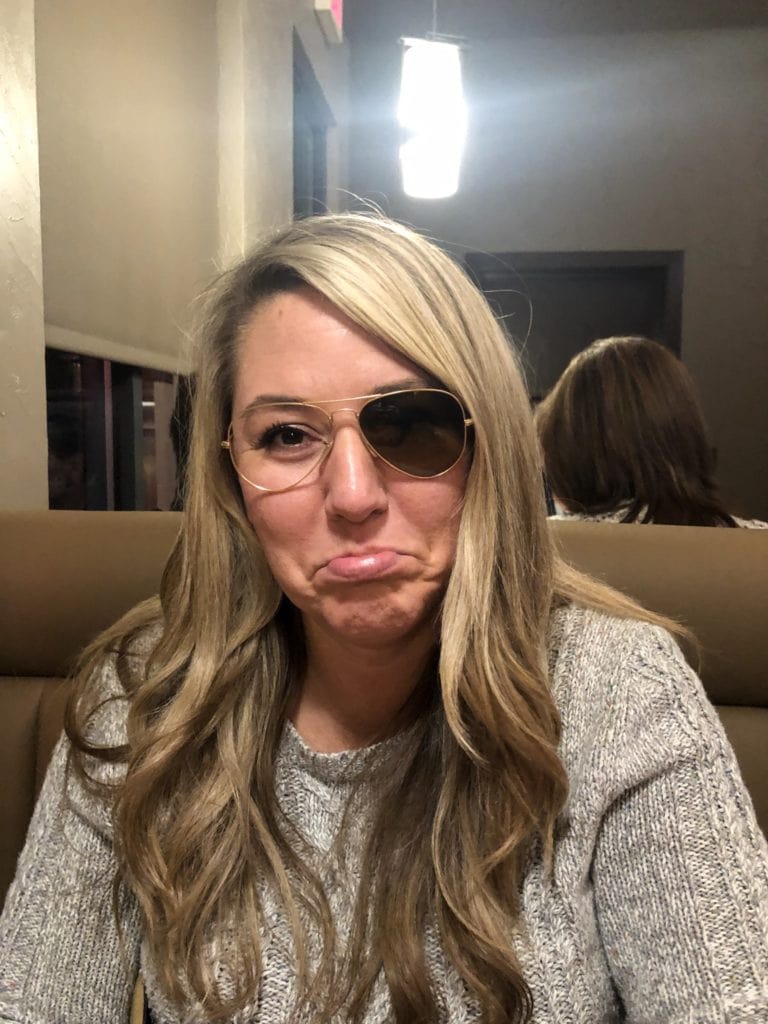 Our friends Jill and Nick had some dead space in their garage and decided to turn their little pantry closet into a full walk-in pantry. It's going to be pretty amazing! It will be a similar shape to ours and is a great way to make use of previously un-used space! We stopped over Wednesday night after teaching Confirmation class and dinner to check out progress.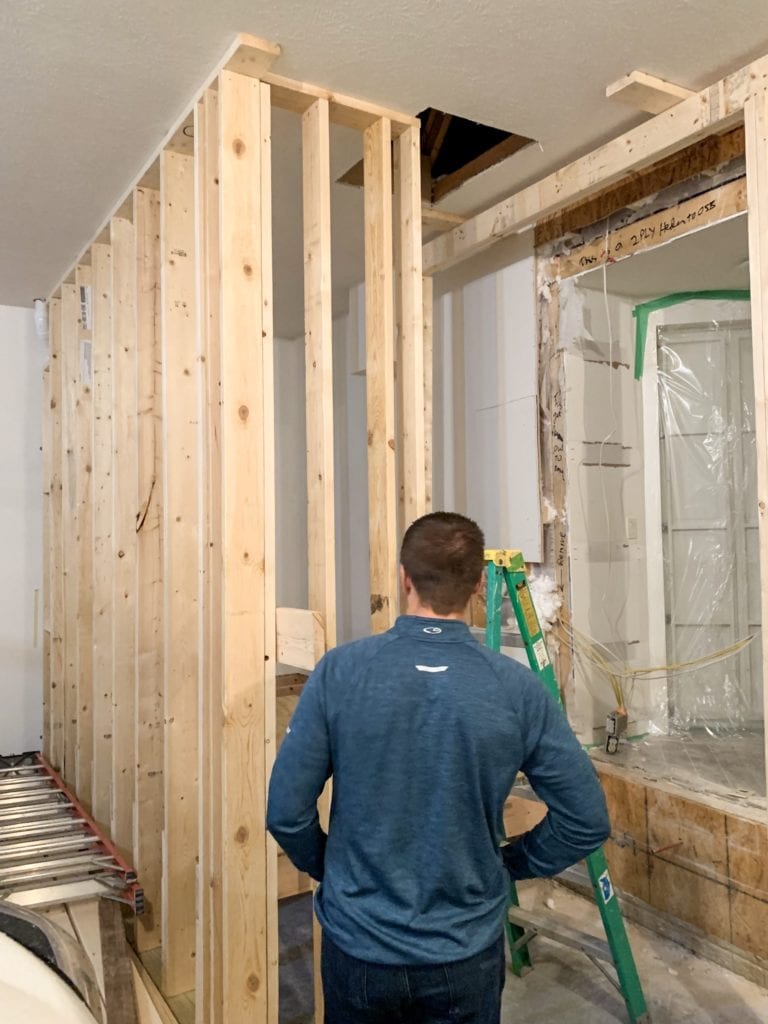 I finally started decorating our living room Christmas tree. My little assistant quickly fell asleep on the job!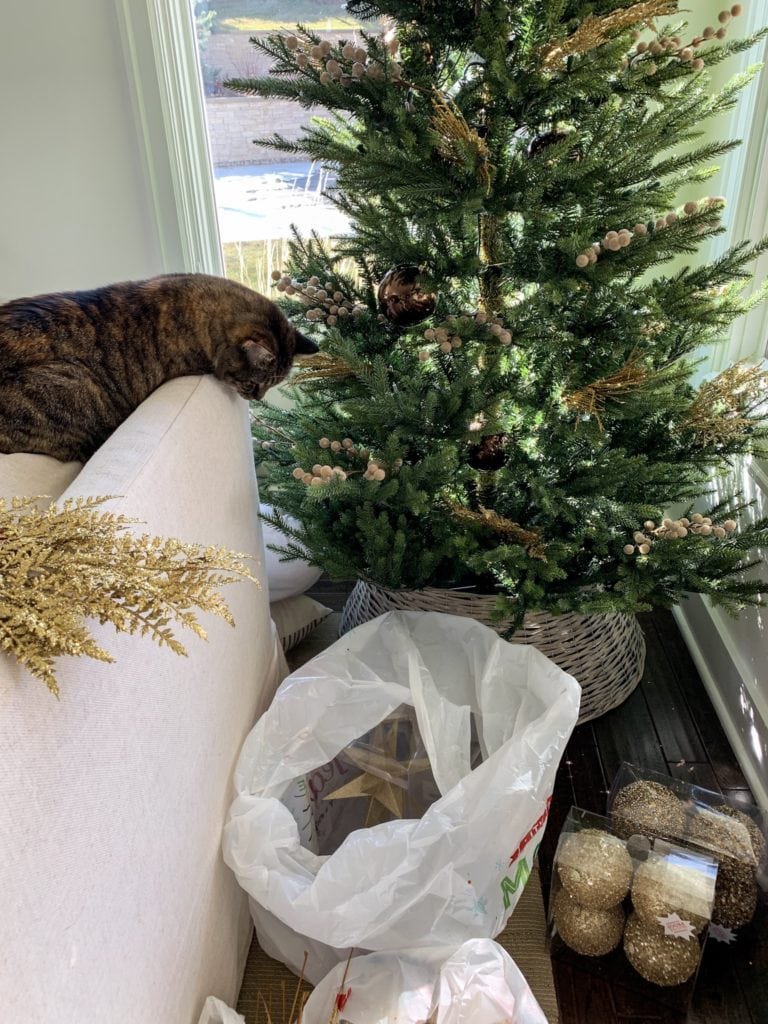 We've also been babysitting our little cat niece, Lexi while her parents are away! She's always so busy eating her fresh food we give her that she doesn't even pay us much attention once fed! We love her cute little upside-down heart shape on her back!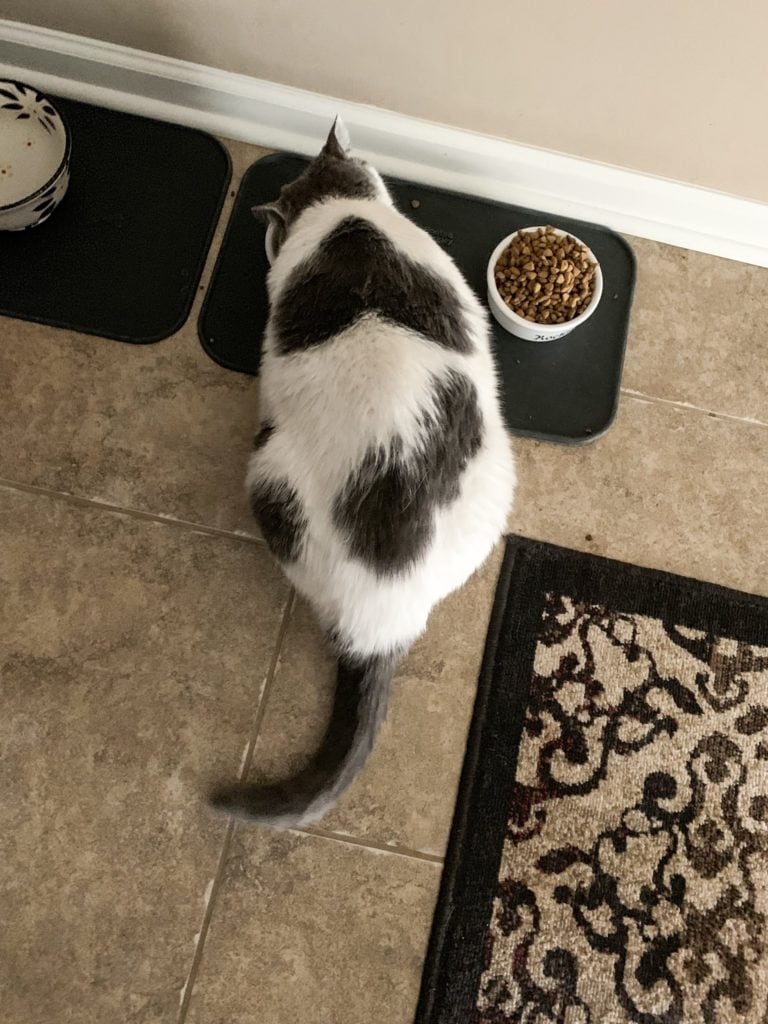 Thursday night I had dinner with a local designer (Nancy from Pearson & Company), an editor from Traditional Home and a few of their joint friends. I got to try a new-to-me restaurant (J. Coco) and we spent hours laughing and getting to know each other. So much fun! I basically wore everything in this outfit from my Thanksgiving outfit ideas post!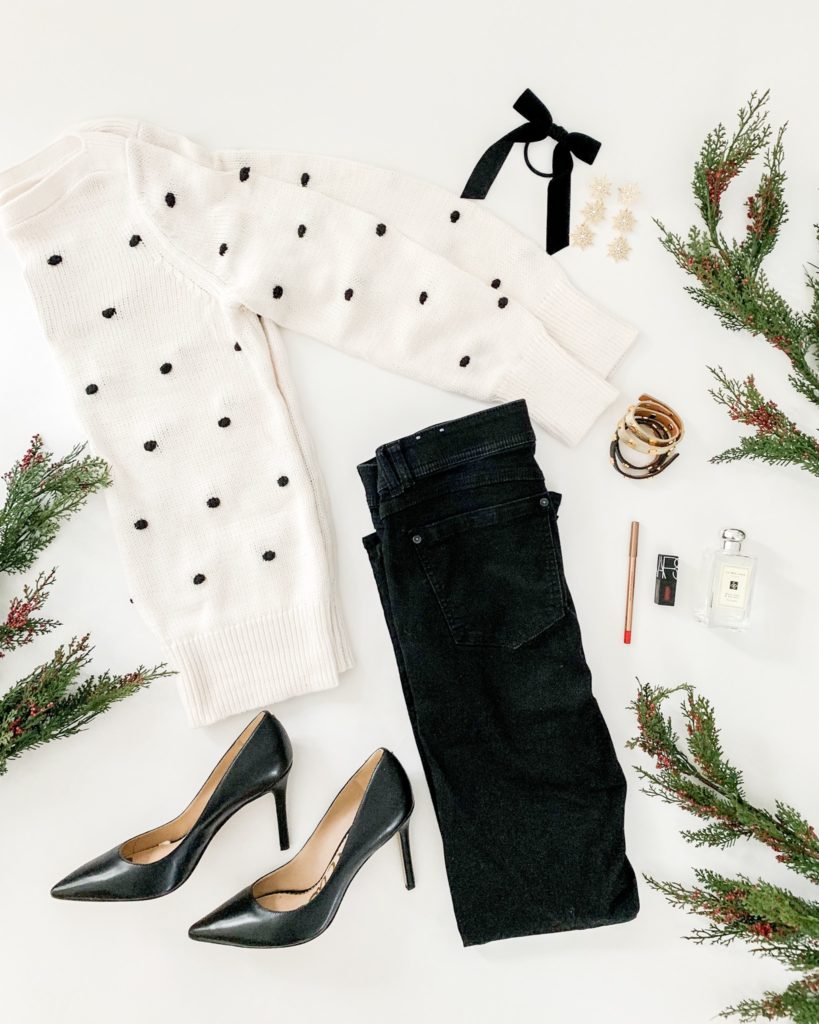 OUTFIT SOURCES: Pom Pom Bobble Sweater | Black Baby Bootcut Jeans | High Heels | Velvet Hair Tie | Gold Starburst Drop Earrings | Favorite Jo Malone Cologne | Favorite Lip Liner (color is Kiss 'N' Tell) | Red Lip Stain (red trio set) | Tory Burch Bracelets(similar) | Faux Berry Juniper Branch Greenery
Friday afternoon, we had a meeting with our CPA who also happens to be a really close friend. As I told him, I only was willing to meet as long as we did (more QuickBooks training for our two businesses) if it meant there was beer in my future. We tried a new brewery in Elkhorn called Jukes. It was really good! The only thing we didn't love was that our 14 oz. beers were $10 each and there weren't any happy hour specials. We're the cheapest eaters 😉 But it was all really good and we'll likely be back!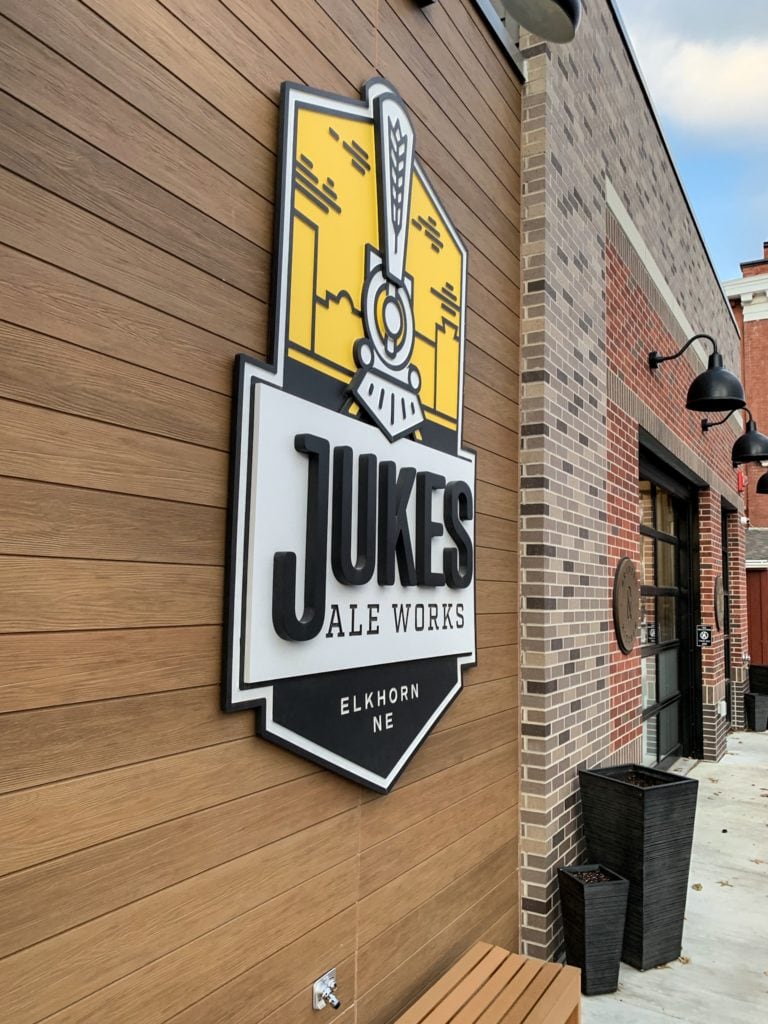 Earlier this afternoon we headed to the outlet mall to do some quick shopping and grab lunch. We're headed on vacation in about a week, and were hoping to find some summer clothes on clearance for our chubbier bodies. No such luck, but I did find so much plaid goodness at J. Crew Factory! Too bad my size was sold out in tons of things.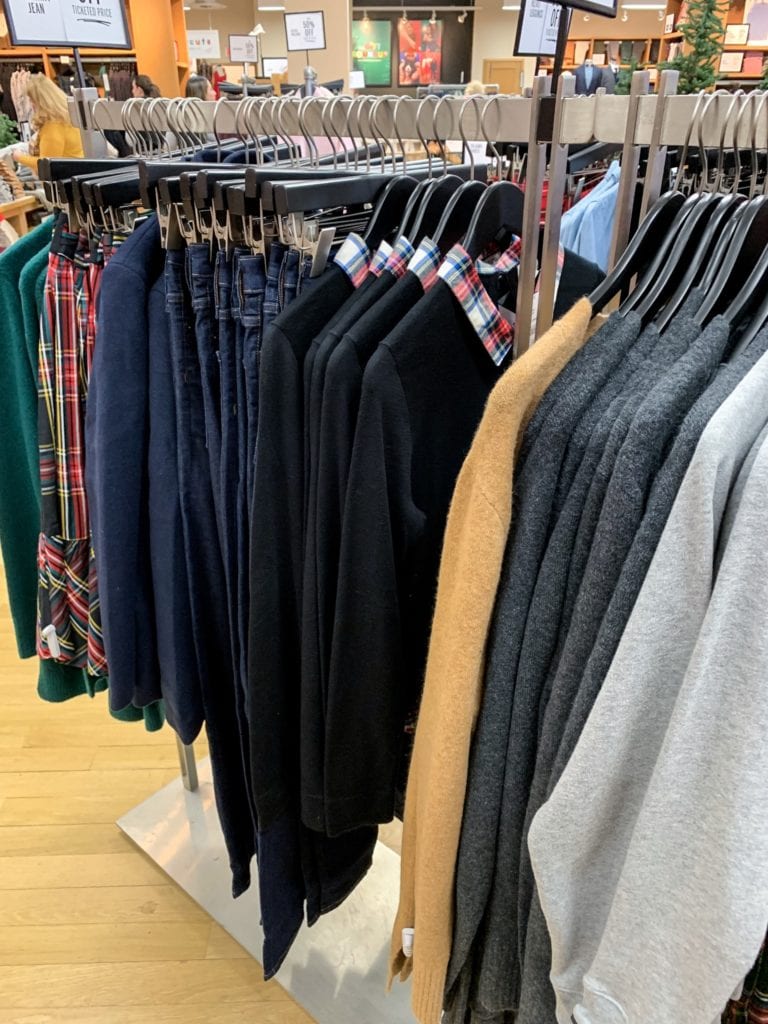 Most of our weekend nights looked a lot like this! Kurtis probably looked similar but over on the couch 😉 I cranked out a lot of movies and shows and it's always so fun to veg in front of a fire with the Christmas lights on!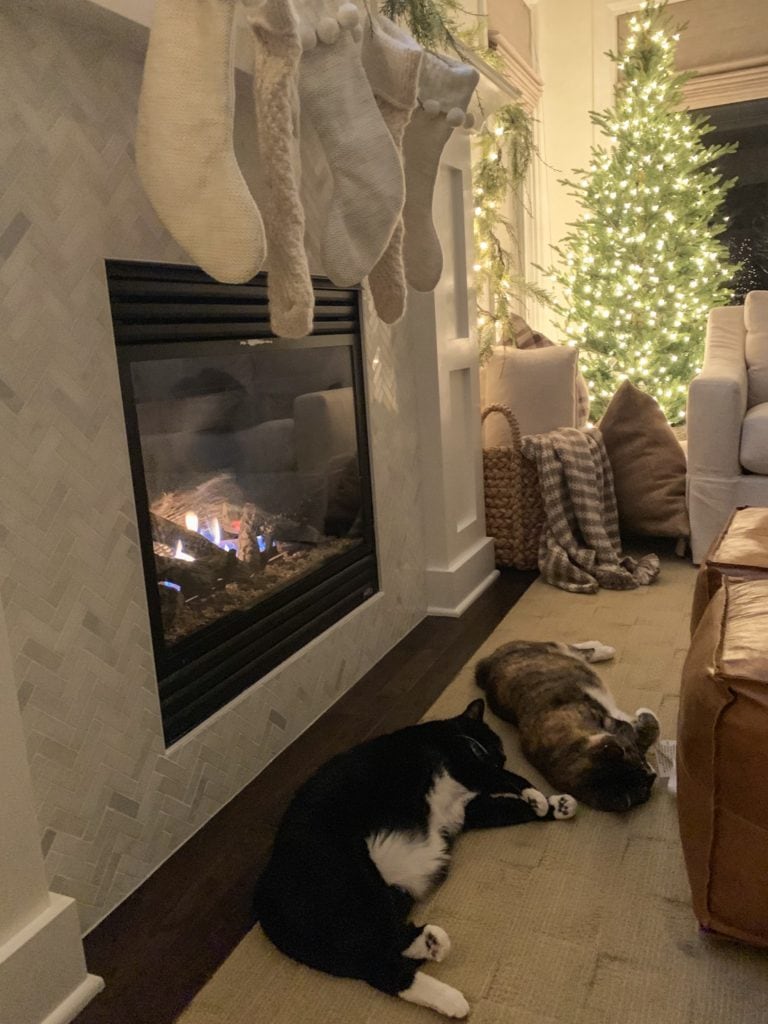 LIVING ROOM SOURCES: Linen Sofa | Leather Poufs | Pom Stockings | Chunky Knit Stockings | Faux Christmas Tree | Woven Basket | Plaid Alpaca Throw | Garland – old from Pier 1
It's going to be a super busy but exciting week ahead! I need to wrap up all of my Christmas decor and get it photographed. Kurtis' parents are coming into town for the holiday and we're hosting Thanksgiving. On Black Friday we're headed to the Nebraska vs. Iowa game, and then Monday we're off to Kauai to celebrate my mom's 65th birthday and an early Christmas with my family!
I'd love to hear your Kauai suggestions! I went the year I graduated high school, but that was more than half my life ago and my friends and I weren't even old enough to get a rental car 😉 I'd love to know of any favorites you may have on the island! We'll be staying in the Poipu area. Lots to do before then, but we're really looking forward to it!
Recent Buys & Sales
Following are some of the current sales that are still going on. I'm guessing some will carry on into early this week with all the pre-Black Friday sales going on! You can also check out my top picks from the weekend sales here.
I hope you all have a great week!
If you would like to follow along on more of my home decor, DIY, lifestyle, travel and other posts, I'd love to have you follow me on any of the following:
Pinterest | Instagram | Facebook | Twitter
disclosure: some affiliate links used