I have put together a gift guide list for him and her with great ideas on what to buy that hard-to-buy-for person! This are tried and true favorites!
Today I'm sharing a holiday gift guide centered around things we already own and love! I'll be sharing more creative gift ideas throughout the next week and into December. But this Favorite Things Gift Guide for Him and Her may also give you ideas for things you want to add to your own wish list, in addition to gifting!
This post contains affiliate links for your shopping convenience. Click here to read my full disclosure policy.
Want to know what Kurtis' initial response was when I asked him to name a few things he loves and buys all the time? "Bananas and egg whites." Huh?!? Sadly he wasn't kidding! I'm guessing you don't want to gift perishables to the men in your life. So we talked it through and both thought long and hard about what we use and love that could make for great gifts. It's not the most beautifully curated list, but these are tried and true favorites we love!
Not only that, I've teamed up with my friend Sarah from Thrifty Decor Chick and 13 other bloggers who will also be sharing their favorites! You can find the links at the very end of this post. And if you're a regular reader around here, I shared our Weekend Recap a day early last night, so you'll want to check that out as well!
I'm sharing even more details about each of our selections below! I even have a few bonus items below that aren't shown in the graphic above!
Wood Cookbook Stand – I have a similar wood cookbook stand in our kitchen (also from McGee and Co. but has since sold out). Use code SNOWWHATFUN right now for 20% off! I love displaying my favorite cookbooks and its super handy when you need to have a recipe nearby. They also work well for holding iPads and phones if you need to pull up a digital recipe! They're so pretty you can leave them out full-time in your kitchen! This one and this one are also cute options!
Tory Burch Miller Flip Flops – No matter what and always and forever, these will likely always be my favorite sandals! They really are worth the investment and I wear them non-stop in warmer weather. I have a few colors, but the Make-Up color and Vachetta Leather are likely my two favorites and easiest to wear. Recently they have been running small, so I would recommend ordering up at least 1/2 size.
Oversized Mat Gallery Frames – We now have three sets of these gallery wall frames in our home and they've quickly become some of my favorite decor! I usually hang the art in a grid format and swap out the photos seasonally with some of our favorite photos from travels, etc. I print them at Target super cheap, and once I invested in the frames, it's an easy way to change our artwork out without breaking the bank! The oversized mat provides enough white space to make all the photos used look cohesive! They come in several sizes and finishes and would make a great gift with a favorite photo, recipe or kid's artwork!
Barrel-Aged Balsamic Vinegar – In my holiday hostess gift guide, I shared our love for this 25 year barrel-aged balsamic vinegar. We only buy it when they are offering 20% off sales, and it's still a bit pricey, but once you try it, I'm guessing you'll never go back to the grocery store versions! This is worth every penny!
Windowpane Blanket Scarf – This blanket scarf is so perfect for the winter months and also great for travel! I love the classic pattern and full color options, and you can also get it monogrammed if you want to customize your gift! It's so soft and versatile and I love mine so much!
Barefoot Dreams Socks – We all know most people are obsessed with Barefoot Dreams and all they offer, but their items are pricey! These socks are a total dream (I have them in two colors) and are a great Christmas stocking stuffer or gift for someone who loves the brand! Sharing a few other cozy favorites and gift ideas below.
YETI Coffee Mugs – We've both become obsessed with our YETI coffee mugs lately! They come in tons of color options and ensure your coffee stays hot for hours on end! We both prefer the mug version over the tumblers for coffee. I use mine in my office while I'm working in the mornings and not drinking it quite as quickly. I love that it stays hot and doesn't require me to go reheat my coffee constantly!
Frame TV – I love that it looks like art, and Kurtis loves all the smart features and image quality. It's a win for both of us! If you're like us and don't exchange gifts but usually decide on a shared big ticket item or trip instead, this TV may be a good option for you! When we have visitors over, it's probably the single most commented on item in our home. It's even better in real life than in photos and I love that you can customize the frame options! I can't even tell you the number of times I'm asked on a weekly basis where I got the art over our fireplace from. I change it monthly and it's fun to change up the look and vibe!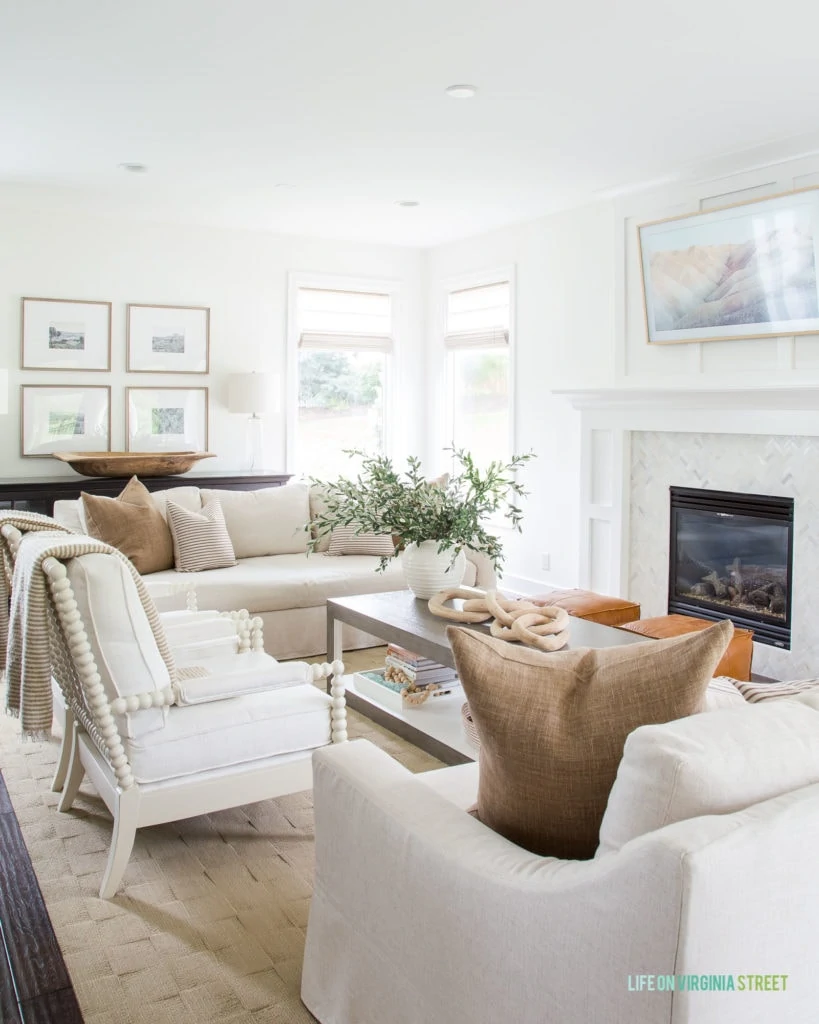 LIVING ROOM SOURCES: Frame TV | Linen Sofas | Spindle Chairs (similar here) | Coffee Table | Leather Poufs | Bronze Linen Pillows | Striped Pillows | Similar Wood Chain | Similar Vase | Faux Olive Stems | Gallery Wall Frames (similar here) | Wood Dough Bowl | Lamps
Jo Malone Cologne Travel Gift Set – I always add these gift sets to my list each year because I love having a new travel size of my favorite cologne and to try new scents. The Jo Malone Collections are designed to be layered so it's fun to create your own custom scents without having to commit to the full-size bottles!
Sugar Lip Treatment Set – This is by far my favorite lip set for keeping lips hydrated! This is one of the few times a year you can get discounted combos like this, so I always stock up! The full-sized versions also make great gifts. I love putting them on before bed!
Le Labo Santal 33 Cologne – My second favorite cologne, this one is so perfect in the winter months to change up my scent from my usual one!
You can see even more of my beauty favorites in my Five Minute Makeup Routine & Tried and True Favorites post!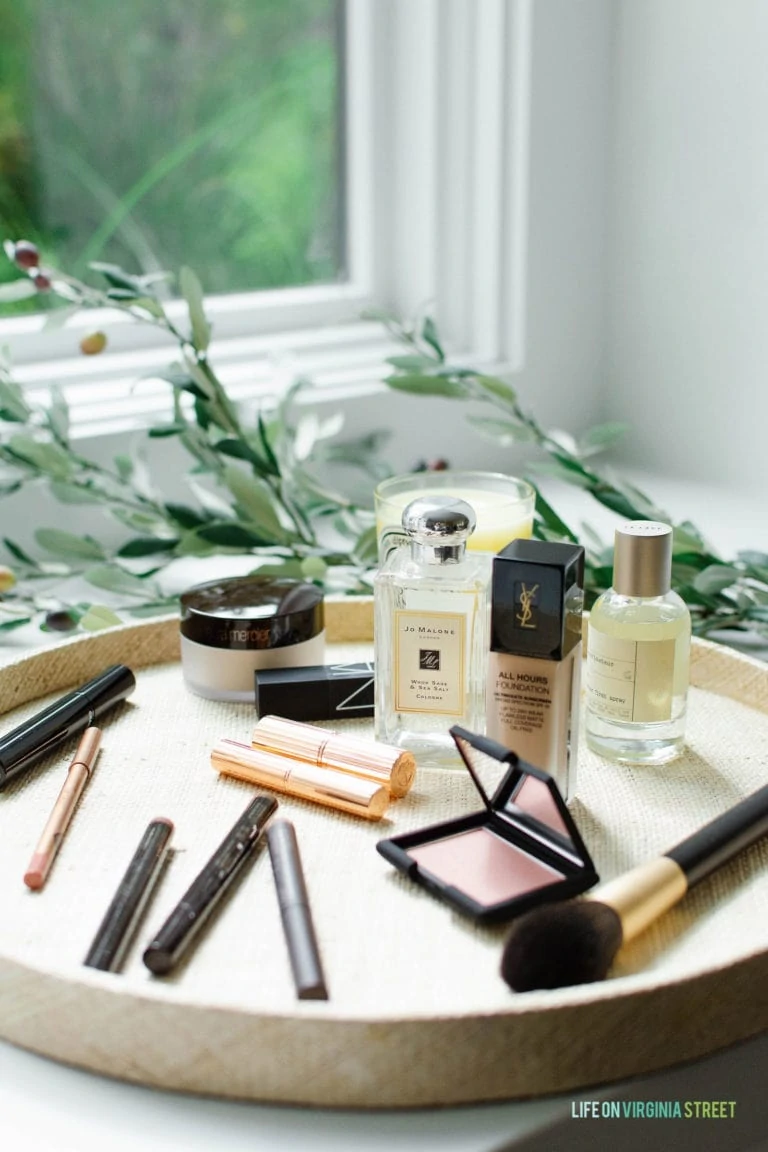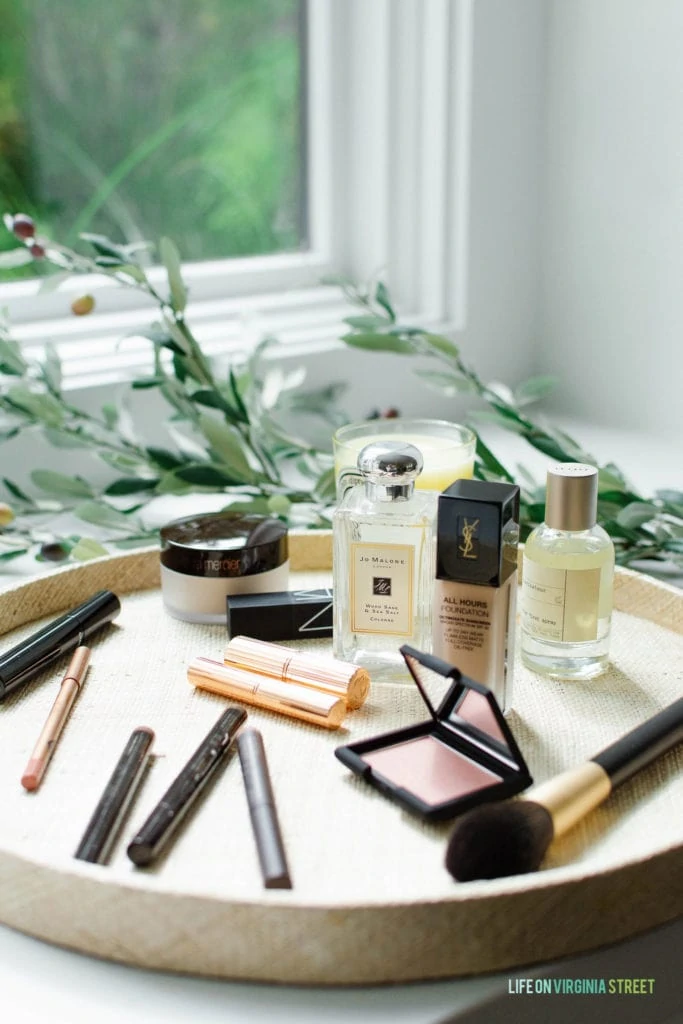 T3 Hair Dryer – I bought this hair dryer a few years ago during the Nordstrom Anniversary Sale and it's been excellent! I have very thick, long hair and blow drying is one of my least favorite activities. But, this hair dryer has shaved minutes off my routine and makes my hair much smoother (I always use the attachment). So happy with it and to see they brought it back at Anniversary Sale prices for the holidays!
Frasier Fir Candle – This candle scent has been my favorite in the winter for years, and I still haven't found anything I love more! Kurtis is also a fan, so it's a win-win for both of us!
Suede Moccasin Slippers – The best budget slippers out there! They beyond comfy and super cute and come in a great selection of colors and patterns. I rotate them frequently with my other favorite pair!
DJI Mavic 2 Pro Drone Quadcopter – After spending a few months researching, we made one of our biggest purchases this year. It's a major investment, but it's definitely one of our favorites! We went with this model because of the camera and the fact it's virtually impossible to crash. You can buy just the drone, but after a lot of research we ended up going with this package that includes a lot of necessary supplies and extra batteries. Now that we're much more comfortable flying it, we can't wait to make some really cool blog content with it! We're also excited to bring it with us on vacation next week!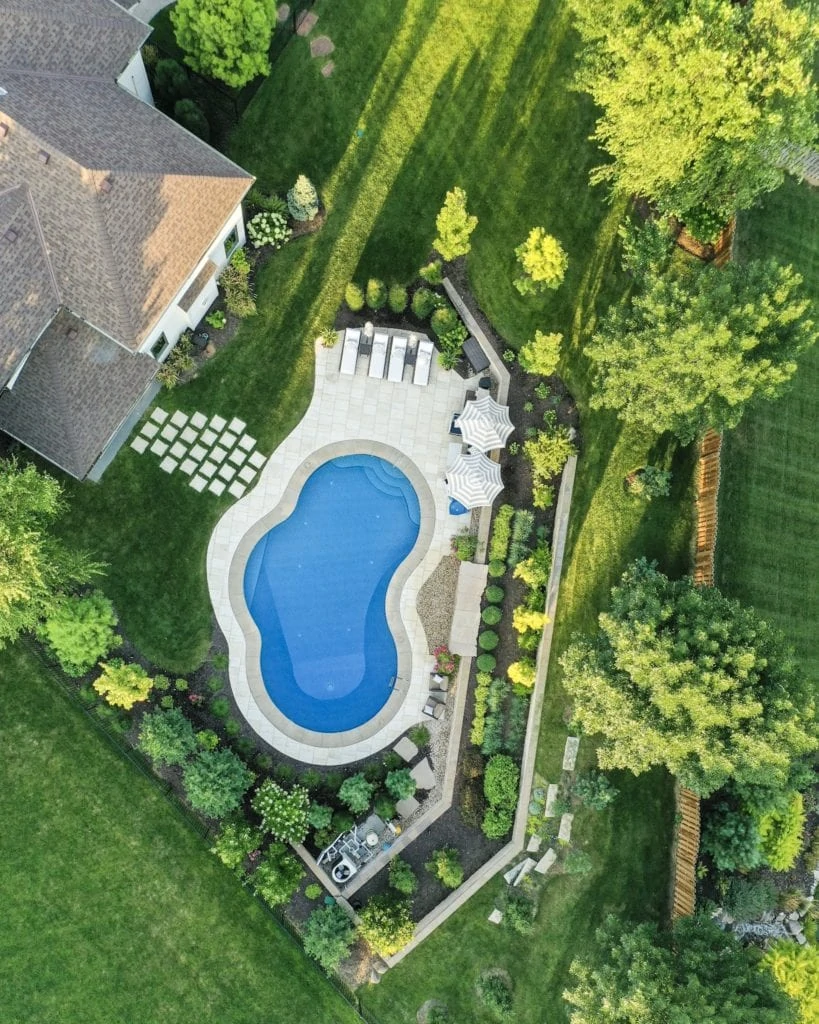 Bose Revolve + Speaker – When we first built the pool, Kurtis had looked into getting a sound system outdoors. But after really evaluating the costs, it made no sense. So we bought one of these speakers about four years ago and have loved it ever since. We ended up getting a second one this year to add to another area in our large backyard because they'll sync together for full surround sound effect. I have to say that we can't recommend them enough! We have the black but now I'm wishing they had the gray option when we originally bought ours!
Plush Throw – There's a reason these plush throws have over 1400 positive reviews! They're so soft, come in thirteen colors and are so affordable. And hint: they usually get marked down to $29 for Black Friday! I can't guarantee that will happen again this year, but I'm guessing it's pretty likely!
MyQ Smart Garage Door Opener – We're starting to really appreciate all that having smart home technology can bring. Kurtis added this one to the list because it's something we use daily and totally take for granted! The MyQ Smart Garage Door Opener allows you to open and close your garage from your phone. No more running downstairs at night to make sure it's closed. It's also super handy when we're out of town and want to ask a neighbor to grab a package for us off the porch!
Battery Organizer – I bought this battery organizer for Kurtis out of the blue in the spring. He thought it was weird and wasn't sure he'd use it. Fast forward six months and he told me he can't believe how much he loves it! No more searching in random drawers for the battery you need. Just store them all this case (that also has a battery tester) and you'll never search for one again! It's also really easy to see when you're running low on a particular size.
Caséta by Lutron – We have had this system for years and continue to add to it because we love it so much! We use it to program our lamps, add our holiday lights to timers, control most of the lights in our home (from our phones or with Alexa) and so much more! It also lets you dim lights to any percentage you want! We have the hardwired version on our pendant lights on our island, and then we use the wall outlet version everywhere else. Once you get a starter kit with the hub, it's easy to add additional units throughout your home! It's a bit ridiculous just how obsessed we've become with this!
Reef Flip Flops with TQT – Kurtis never used to be a flip flop person. But after he found this pair, he's a convert. He also loves showing of the TQT (thirst quenching technology). No idea what that is? It's an actual bottle opener built in to the sole of the shoe. It's actually shocking just how many times it's come in handy! You can find even more options here.
Dyson V8 Absolute Cordless Stick Vacuum Cleaner – To be honest, we never understood the hype about Dyson's because we never owned one. Last Black Friday, we decided to give this one a try. I don't think either of us have used a vacuum more in our combined lives that we have in the last. The attachments are so easy to take off and on, it works wonders with cat hair, and has been such a huge improvement for our dark hardwoods floors.
You can also check out some of my favorite pre-Black Friday sales and top picks for even more ideas! A few favorites are shown below, but all the discount codes and details are in this post.
Following are even more Favorite Things gift ideas I think you'll love from some of my OG blogger friends!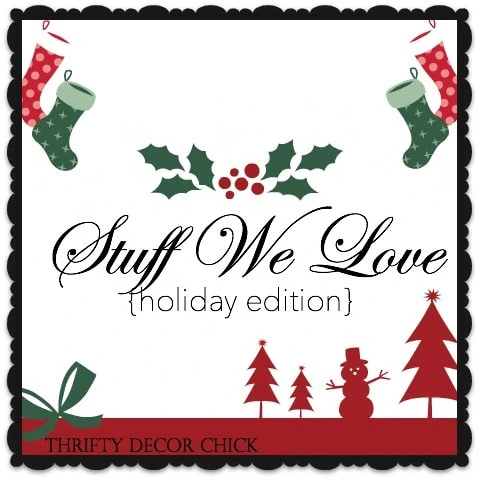 If you would like to follow along on more of my home decor, DIY, lifestyle, travel and other posts, I'd love to have you follow me on any of the following:
Pinterest | Instagram | Facebook | Twitter
disclosure: some affiliate links used