I hope you all had a great weekend! It doesn't even make sense to me that today is already that last day of September. Does that mean pool season will be here again before I know it? Fingers crossed!
This post contains affiliate links for your shopping convenience. Click here to read my full disclosure policy.
Home Projects & Updates
I ordered some of these wool windowpane pillows and they arrived last week. These are the ones I shared in my Wednesday Watch list a few weeks back. The quality is really great for the price, and I love that they have a zipper so I can add my own inserts. The colors I got were the brown and the blue. But I really want a set of the olive green version when they come back in stock!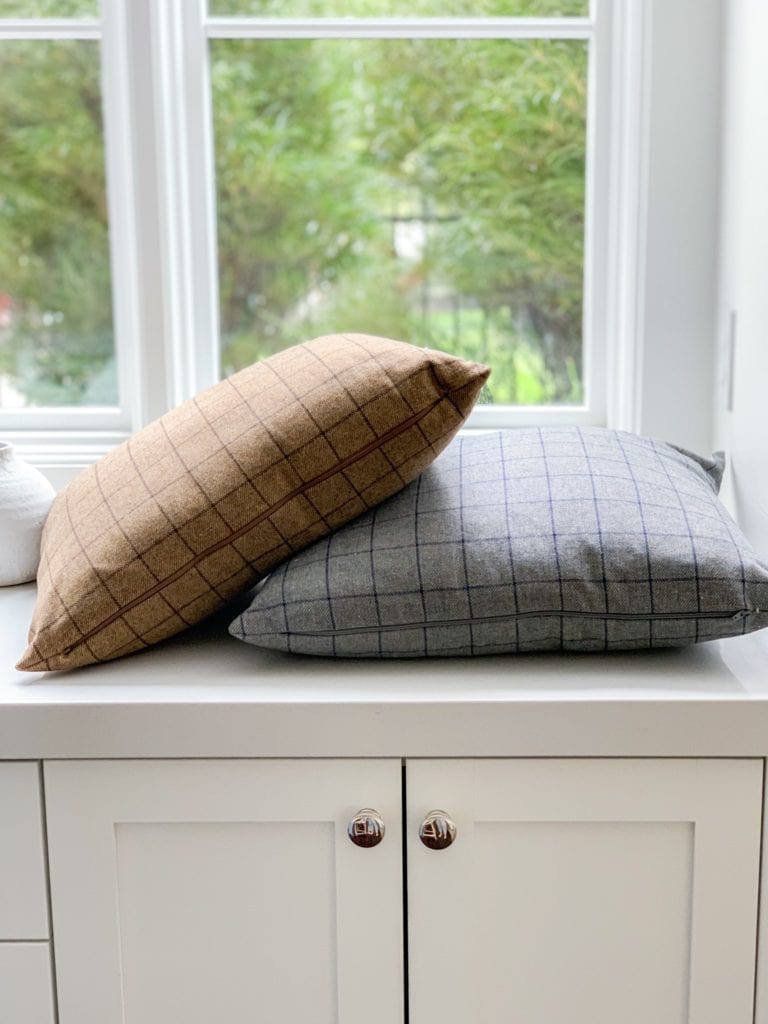 Thanks for all of your great feedback on the paint color organizing printables I shared last week! While I had my paint out to make my cards, I did some touch up work in our powder bath. Last year when we had the trim painted white on our main level during the kitchen renovation, there was some overspray and marks that had gotten on the cabinets. I seriously hadn't updated it yet. Oops! I forgot to take an 'after' shot, but here's what I was dealing with. It actually looks much worse in photos because the room is actually quite dark naturally and I had to lay on the floor to take this photo 🙂 Since it was just on the toekick, I used a foam brush to apply some fresh paint. It looks so much better now, and it's one less random project on my list! You honestly couldn't even see it before unless you were in the mudroom sitting on the bench, but it still always bothered me in the back of my mind! Now I need to touch up around the walls at some point since the tape job was questionable there.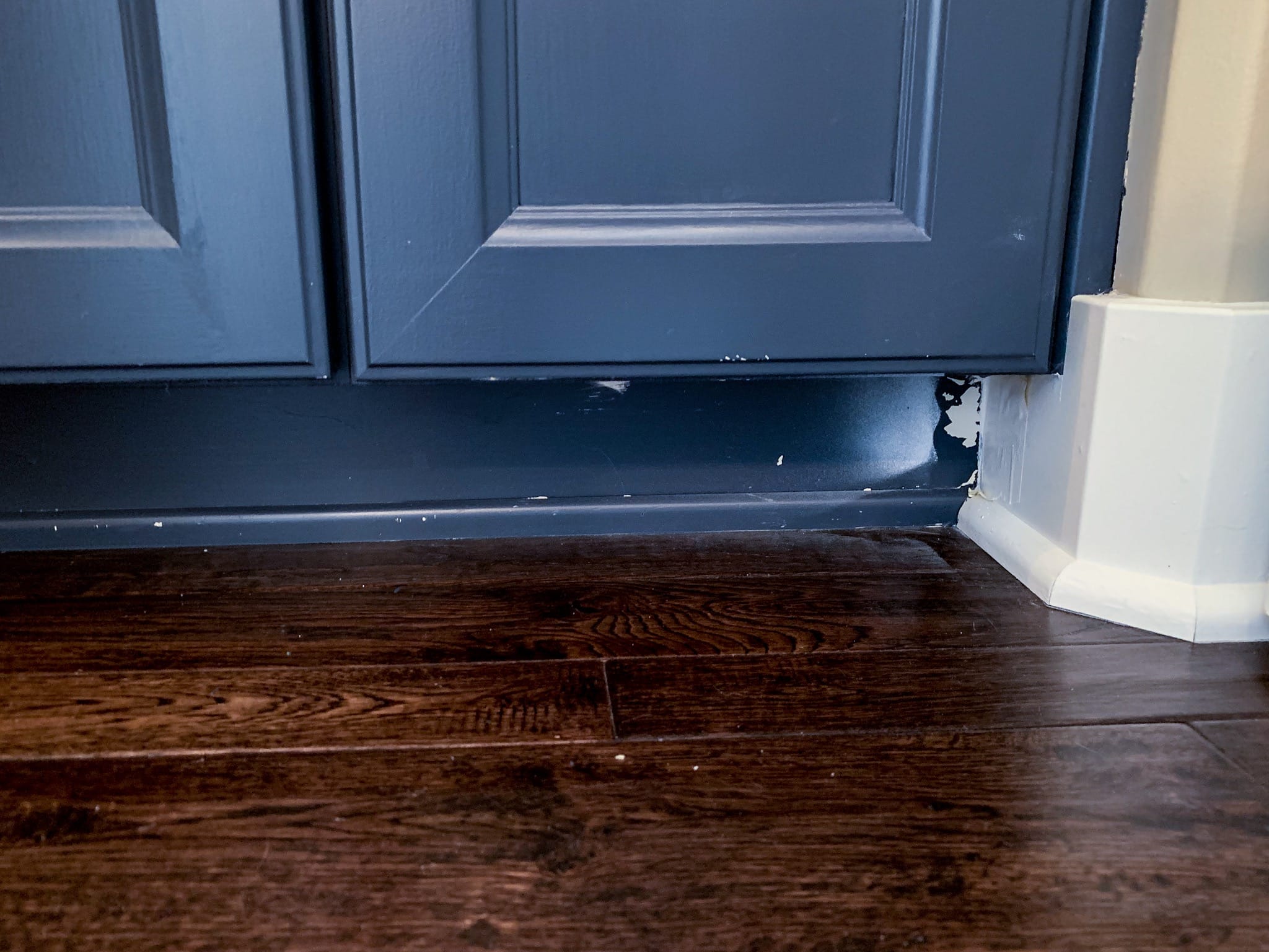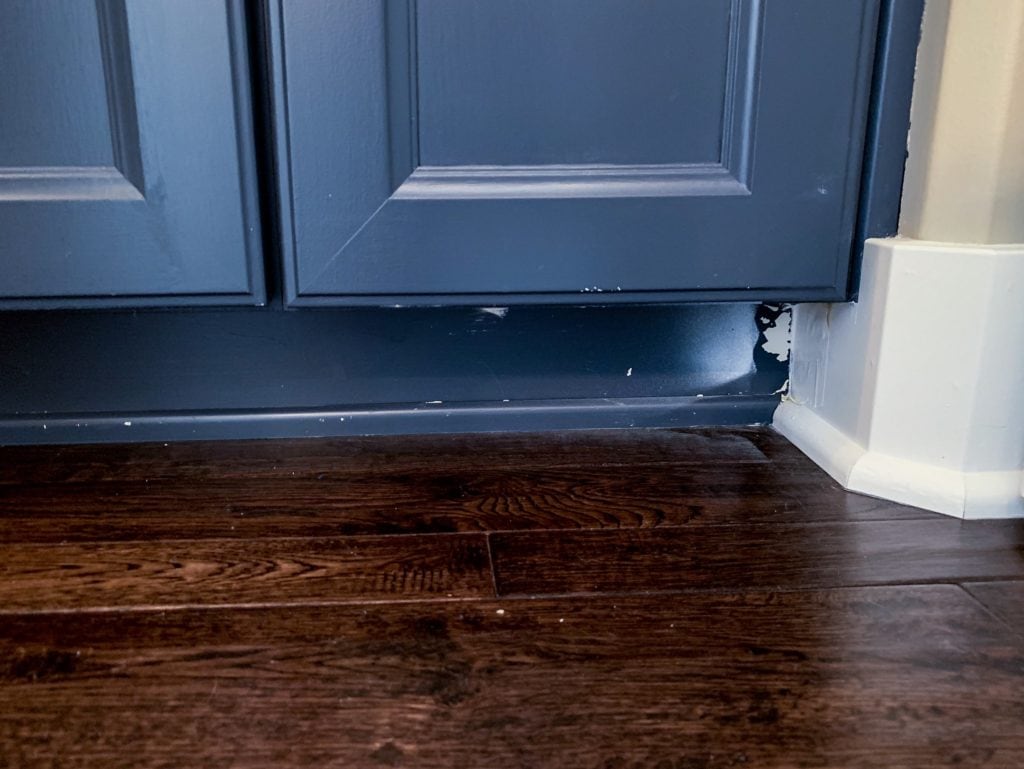 Although it's hard to tell in the pic below, I washed the windows in our living room last week. I feel like in the early spring and fall the light shifts just enough to really make me notice the filth on my windows. Anyone else? Although I only washed the insides, I feel like it made a huge difference (especially on the window on the right)! Even if the one window on the left is still completely fogged over 😉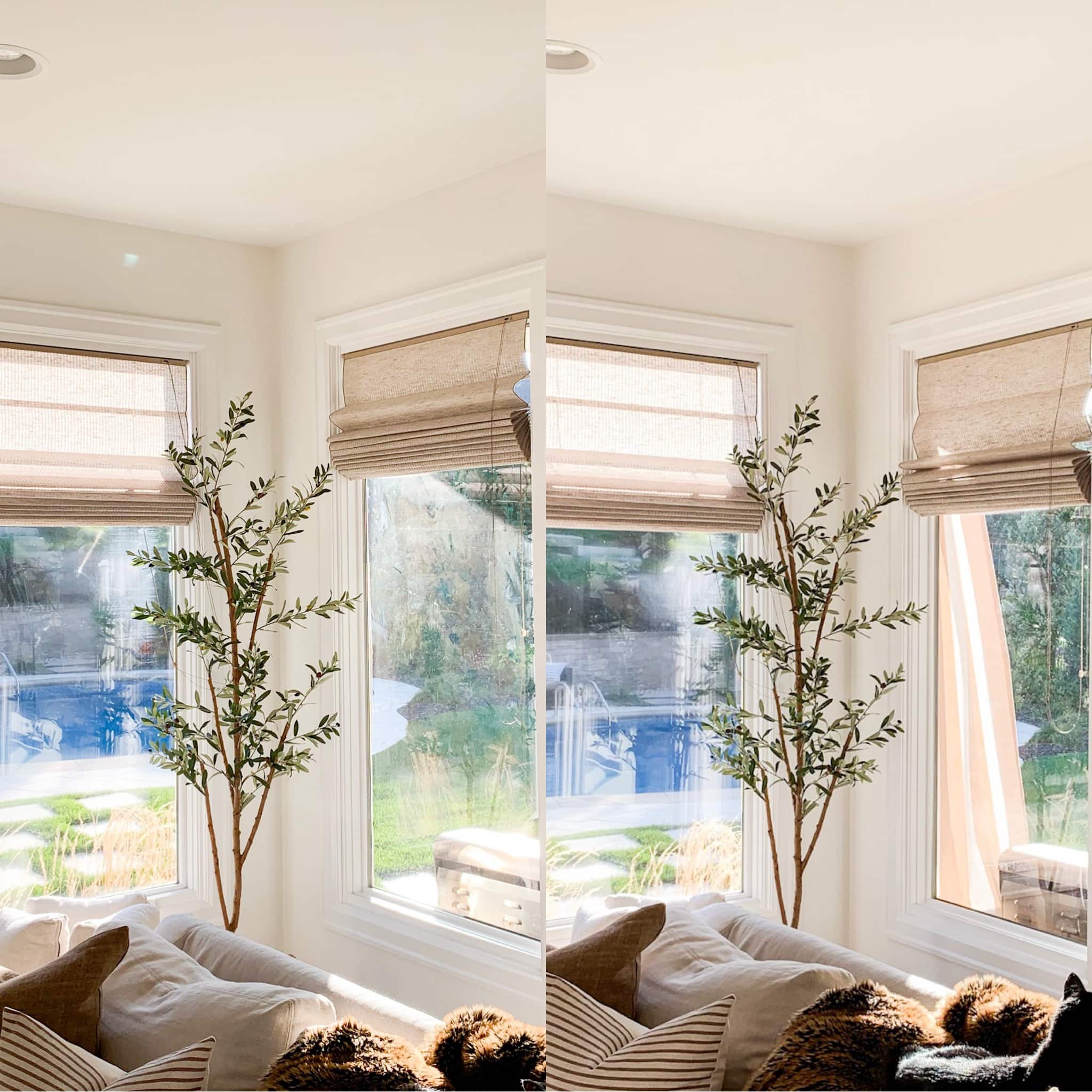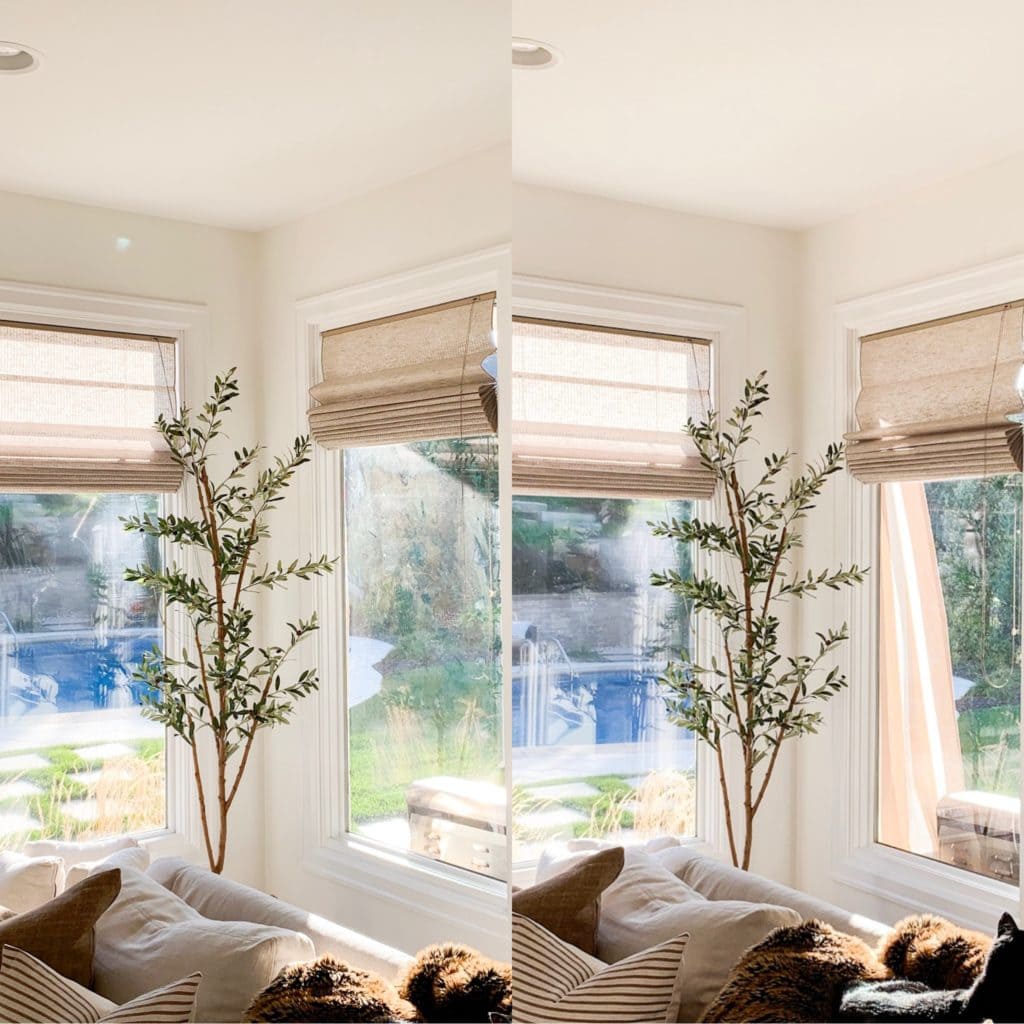 LIVING ROOM SOURCES: Faux Olive Tree | Striped Pillow | Bronze Linen Pillow
Sometimes throughout the week I make random moodboards of items that I find. They don't always make it to the blog and are sometimes only shared on social media. But I thought I'd share some of these finds from last week here on the blog as well. They are all very affordable, but I love their overall vibe! That rug has over 30k reviews and the price is pretty insane. I'm also really loving that armchair (on major sale) and that ceramic lamp (the shade is included)!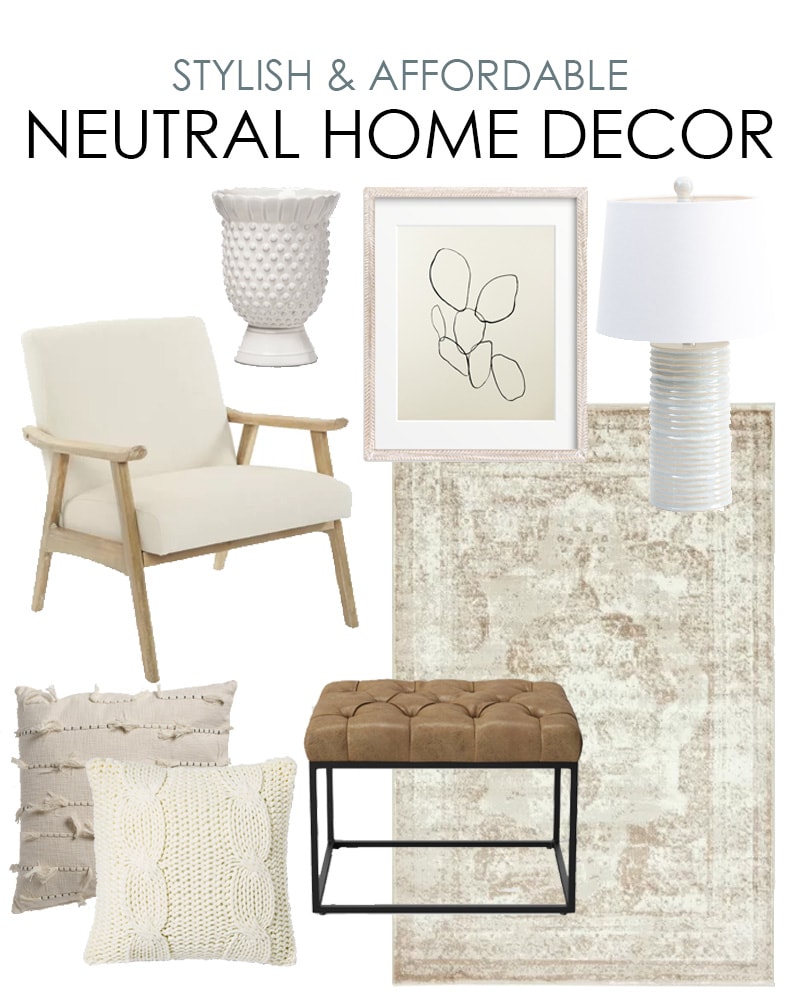 MOOD BOARD SOURCES: Neutral Armchair | Hobnail Vase | Cactus Line Drawing Art | Ceramic Lamp | Neutral Rug | Tassel Throw Pillow | Chunky Knit Throw Pillow | Faux Leather Ottoman Bench
Speaking of mood boards, I made major progress on three room updates I've had in mind for a while. One is to wrap up our master bedroom (I finally ordered a dresser)! You may recall, I wrapped up our master bedroom makeover back in April (with the reveal in May and June). But, I refused to order a dresser until I had more time to research one. Well, then summer came and the whole thing sat on the back burner. But, with a sale last week and some PB Reward dollars burning a whole in my pocket, I finally ordered this one! I can't wait to finally share fuller shots of our bedroom. Our current dresser and mirror was a set we bought with our old nightstands nearly ten years ago. It's a total beast and is much larger than what we need. I'm excited to get something less intrusive (and lighter) into the room!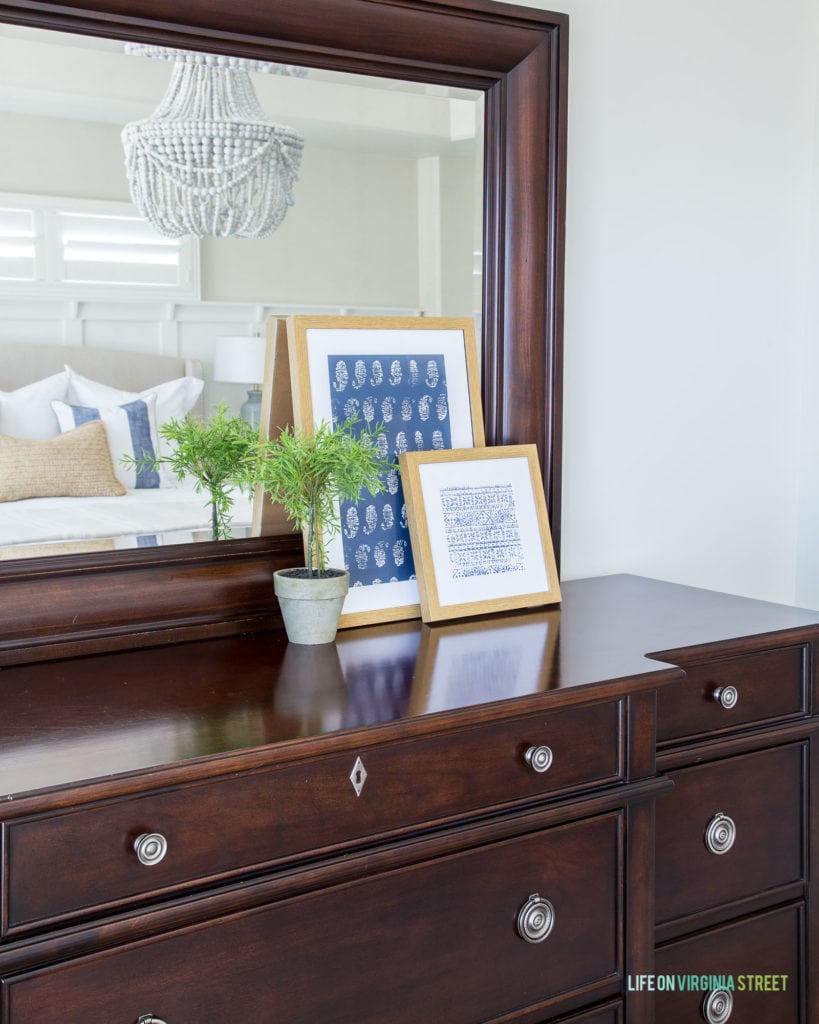 MASTER BEDROOM SOURCES: Wood Bead Chandelier | Ceramic Lamp | Tall Blue & White Art | Short Blue & White Art | Striped Pillow
The other two future projects are refreshes to our guest bedrooms. I've already shared some progress on our smaller guest room, but I have a few changes coming for our other guest bedroom as well! I'm hoping for a DIY wall treatment this fall and I made a purchase for the room with the remaining reward dollars that I can't wait to show you soon. I'll be sharing each of the plans for the spaces over the coming weeks once I put the final details on them!
Lots of fun updates coming soon! I'll also plan to share my list of furniture contenders for these updates because I know sometimes it can be helpful if you're in the market for something similar. I found a lot of great options which is why it took me so long to finally move forward with anything!
Top Sellers of the Week
Following are the top sellers for the week of 9/22-9/28 across all of my channels. We had a few items make it back on the list for the second time!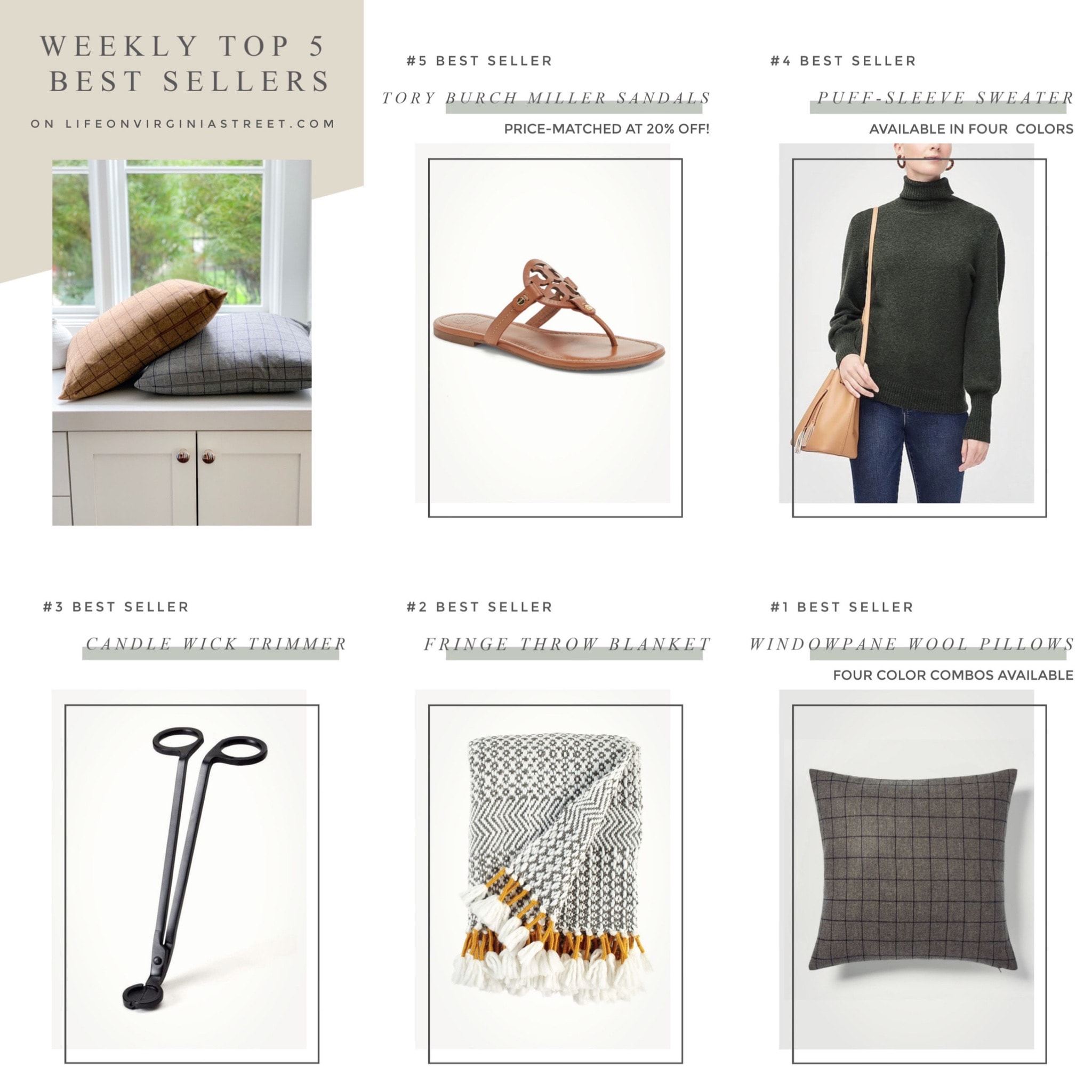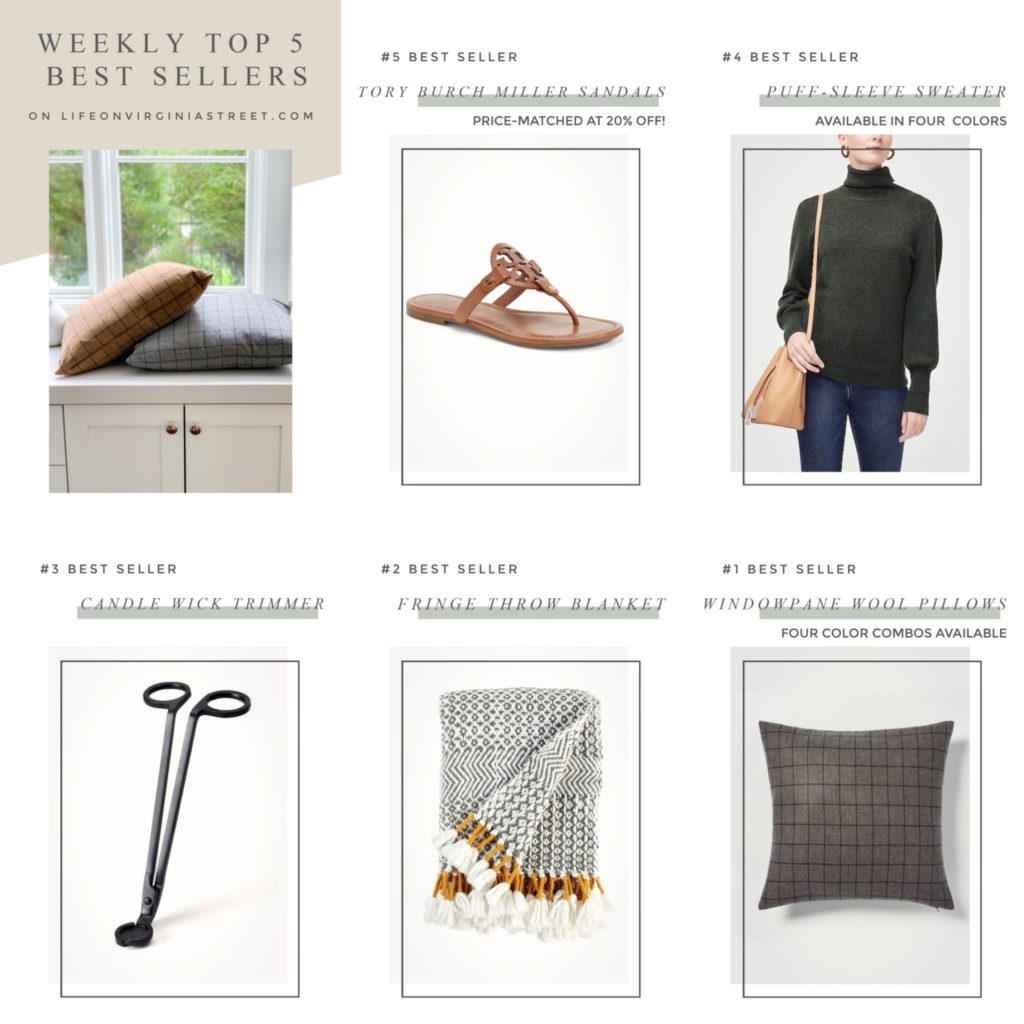 Around Town & For Fun
I have no reason to share this photo of Henley, other than to show just how stinking cute she is!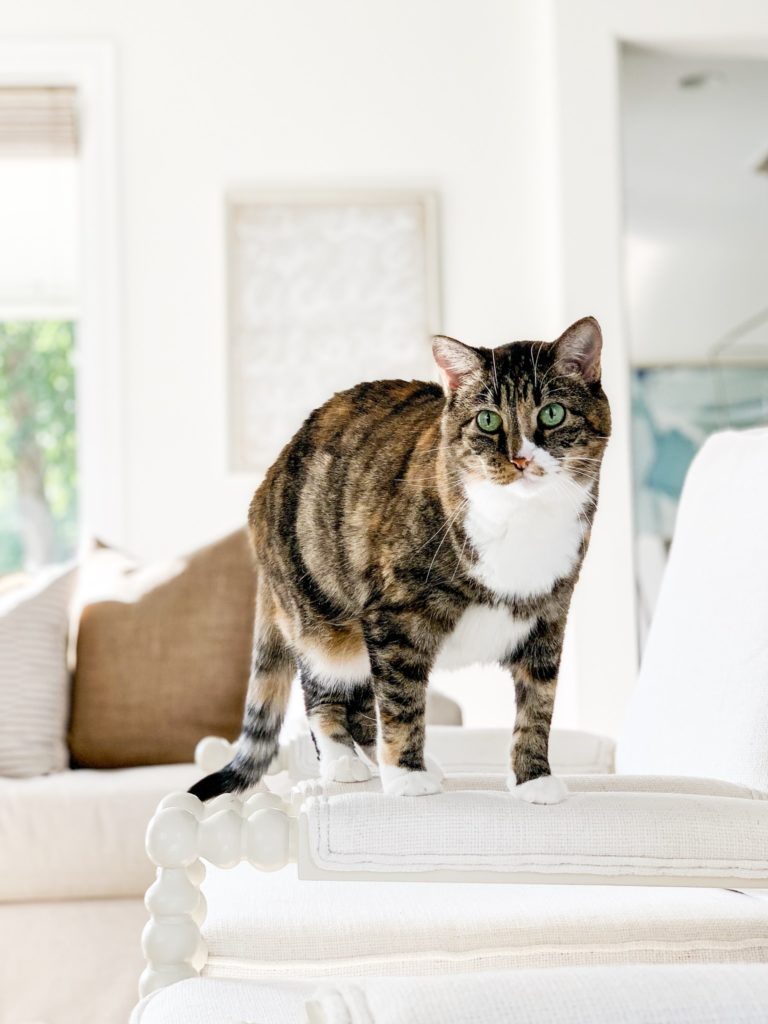 You know it's starting to get a lot colder outside when you see our faux fur throws make an appearance and when the cats start to cuddle with one another.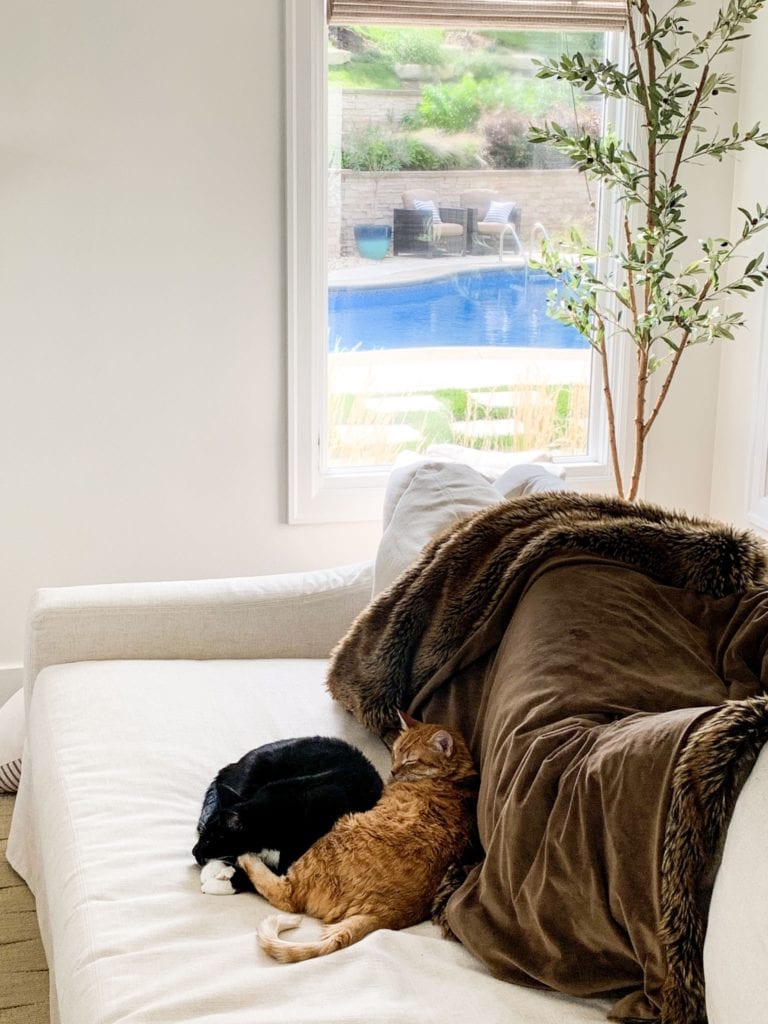 Hawkeye will literally just go lay on top of whoever he feels like cuddling at the moment. It lasts as long as they are willing to tolerate it 😉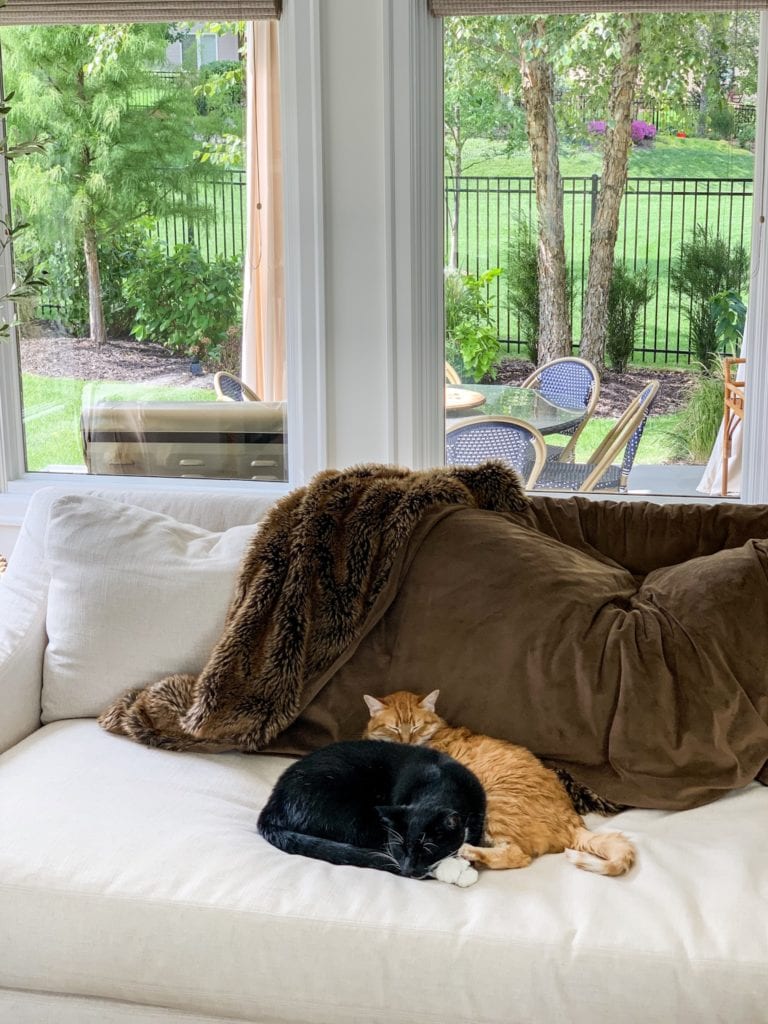 Friday afternoon, we tried a new beer tasting room that opened near our house. It's the Zipline Beer Lounge on Highway 6 for any locals interested. They have tons of their beers on taps that you can't find in their stores.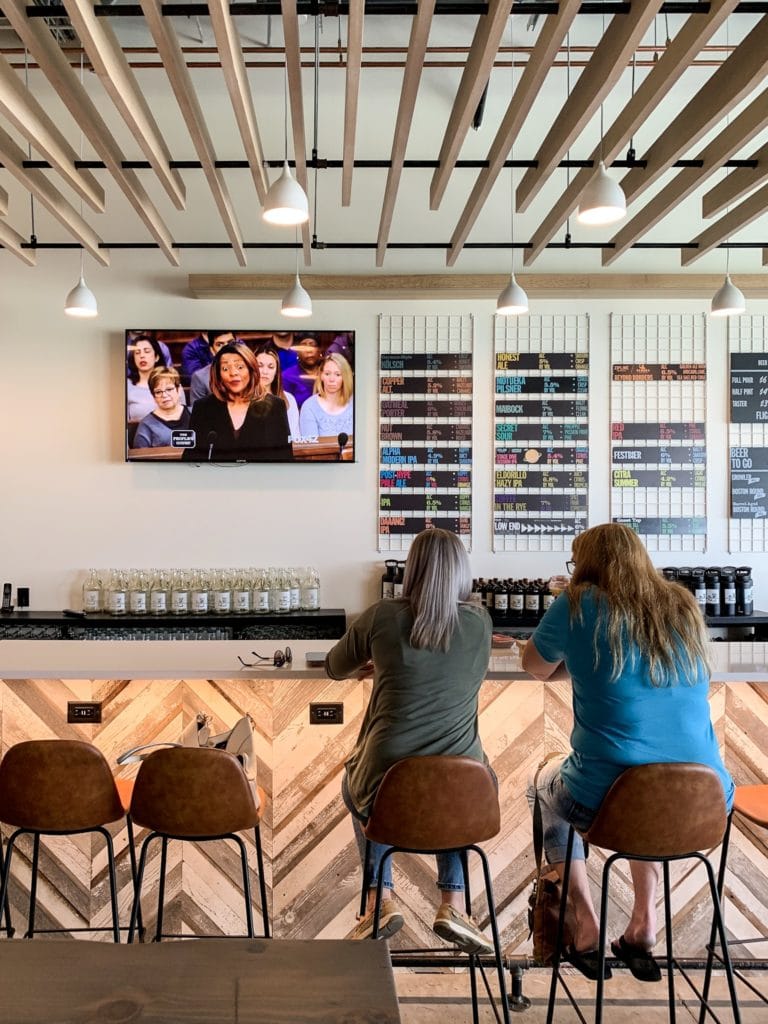 They don't serve any food but it was fun to try little mini beers and rate them all. I think it was $10 for a flight of four.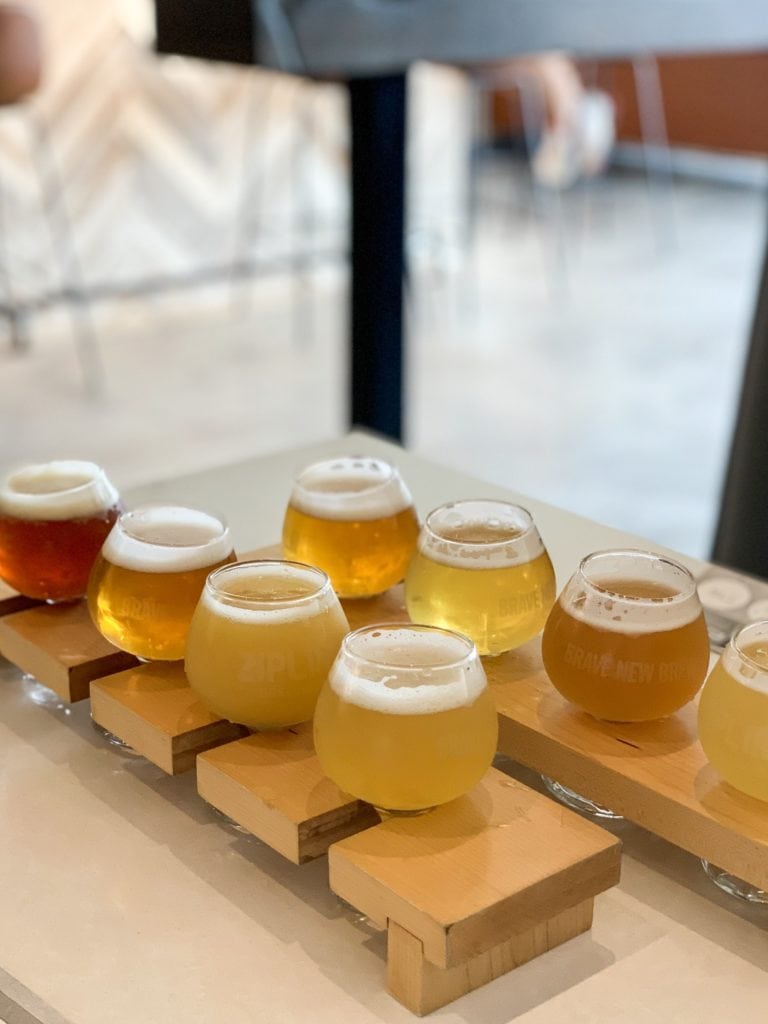 Afterwards, we headed home and got some DoorDash for dinner (Red Robin burgers)! It's basically our default now when we don't want to mess with going out to a restaurant!
Saturday morning, Henley had some fun stalking a squirrel that was out front burying acorns. It was so funny to hear her chattering at him.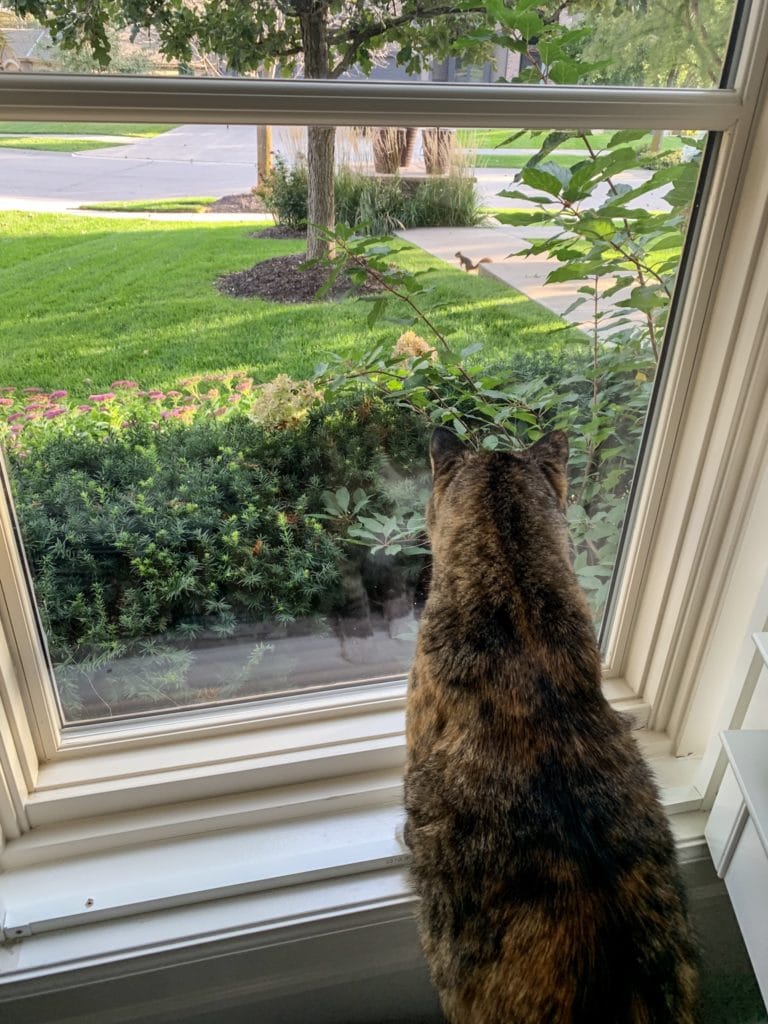 Saturday afternoon, Kurtis and Nick and two other neighbor friends headed down to Lincoln for the Husker game. They did some tailgating and then went to the game that night. So, Jill and I decided to make a girl's night out of it with Zoe. We DoorDashed some sushi to their house and then watched cat videos (Zoe's choice) and the game. She found an oven mitt to drink her milk sippy cup from and thought she was pretty funny. She's also become obsessed with cat videos on YouTube. I've never seen her laugh so hard as when she's watching cats on TV. It's so stinking cute (and if you follow me on Instagram you may have seen it in my stories over the weekend)!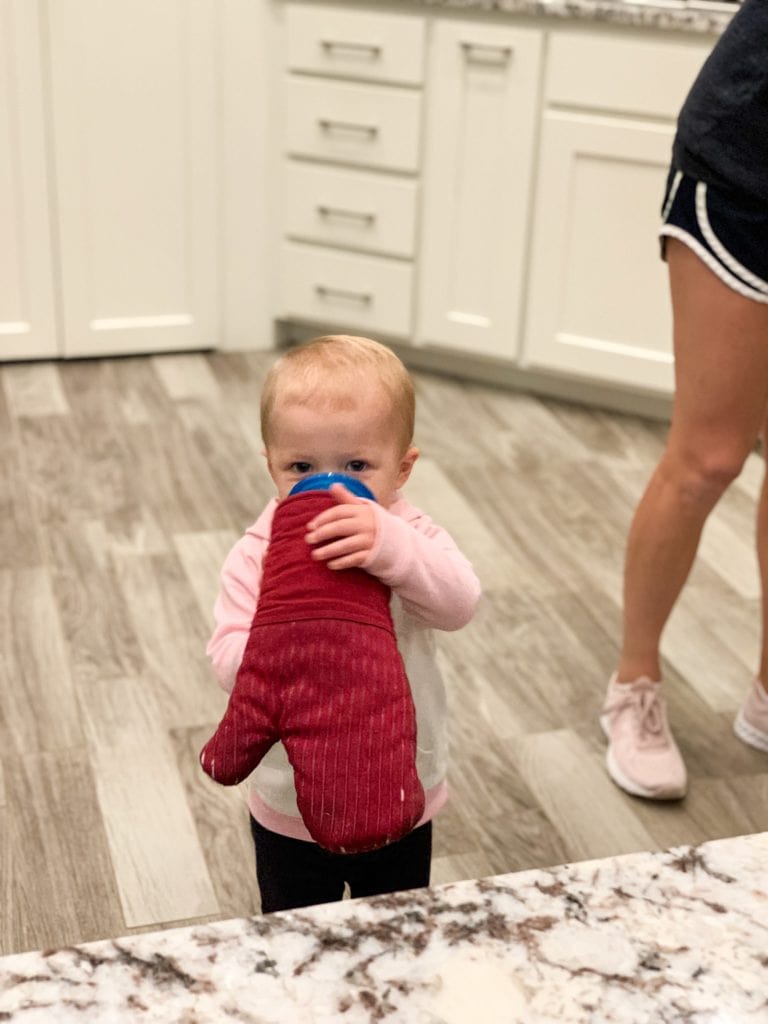 Sunday, Kurtis was supposed to have a work event at Vala's Pumpkin Patch. But, we woke up to crazy thunder and rain and decided we didn't really want to traipse around the mud (or ongoing rain). So, we had an easy day at home. I spent some time reading in the den while he watched football. My two little shadows love following me around (and sometimes just lay right on top of me)!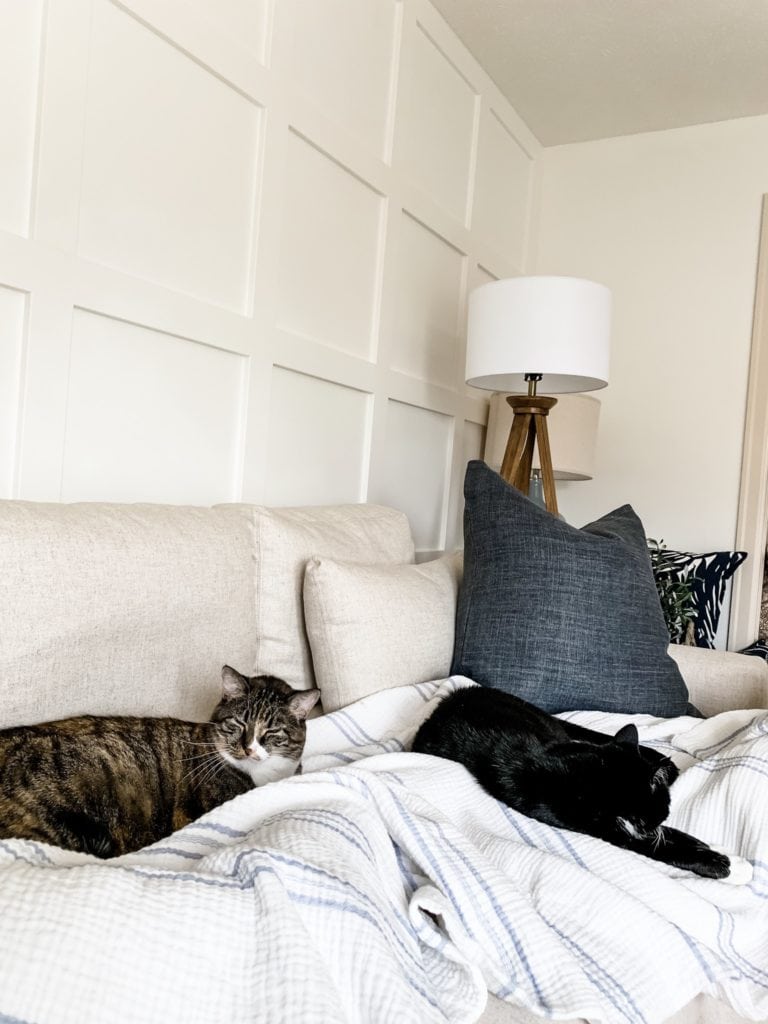 Now that football season is here, I asked for some girly book, movie, and show recommendations on Instagram. I need something that Kurtis wouldn't want to watch with me. I thought I'd share some of the responses here in case you were interested. I didn't actually get any book recommendations so I bought a few random ones to try out. Here are the show recommendations I received:
Big Little Lies on HBO
Outlander (Book or Show)
Dead to Me on Netflix
This is Us
A Million Little Things
Pearson on USA
Friday Night Lights
If you have any other suggestions let me know!
I also wanted to let you know I have a really fun giveaway over on Instagram on this post that you won't want to miss! Hint: it's for a rug that so many of you love!!
My parents are flying into town this week for a wedding so that should be a lot of fun! It's supposed get to nearly 90 degrees today, but then it's like the weather knows tomorrow is October and temps are basically in the 60's here on out. Not sure how we already got to October!
Recent Buys & Sales
Following are some of the sales that have carried over from the weekend! You can see my top picks here.
ANTHROPOLOGIE is offering an extra 30% off sale items at checkout (no code required)! You can shop the sale here.
I hope you all have a wonderful weekend!
If you would like to follow along on more of my home decor, DIY, lifestyle, travel and other posts, I'd love to have you follow me on any of the following:
Pinterest | Instagram | Facebook | Twitter 
disclosure: some affiliate links used