Today I am sharing with you some tips on how to make a comfy bed!
One of my goals this year is to finally get our master bedroom finished! And one of the steps in that process was finally to upgrade our bedding essentials. So today, I'm going to share my step on how to make a comfy bed!
This post is sponsored by The Company Store. As always, all thoughts and opinions are my own. Click here to read my full disclosure policy.
Our master bedroom has come a long ways since we first moved in six years ago. But the reality is, most elements haven't changed at all since we moved in. And actually, many came from our last house! Which wouldn't be a big deal if we had invested in quality bedding, but I'll share more of the details below.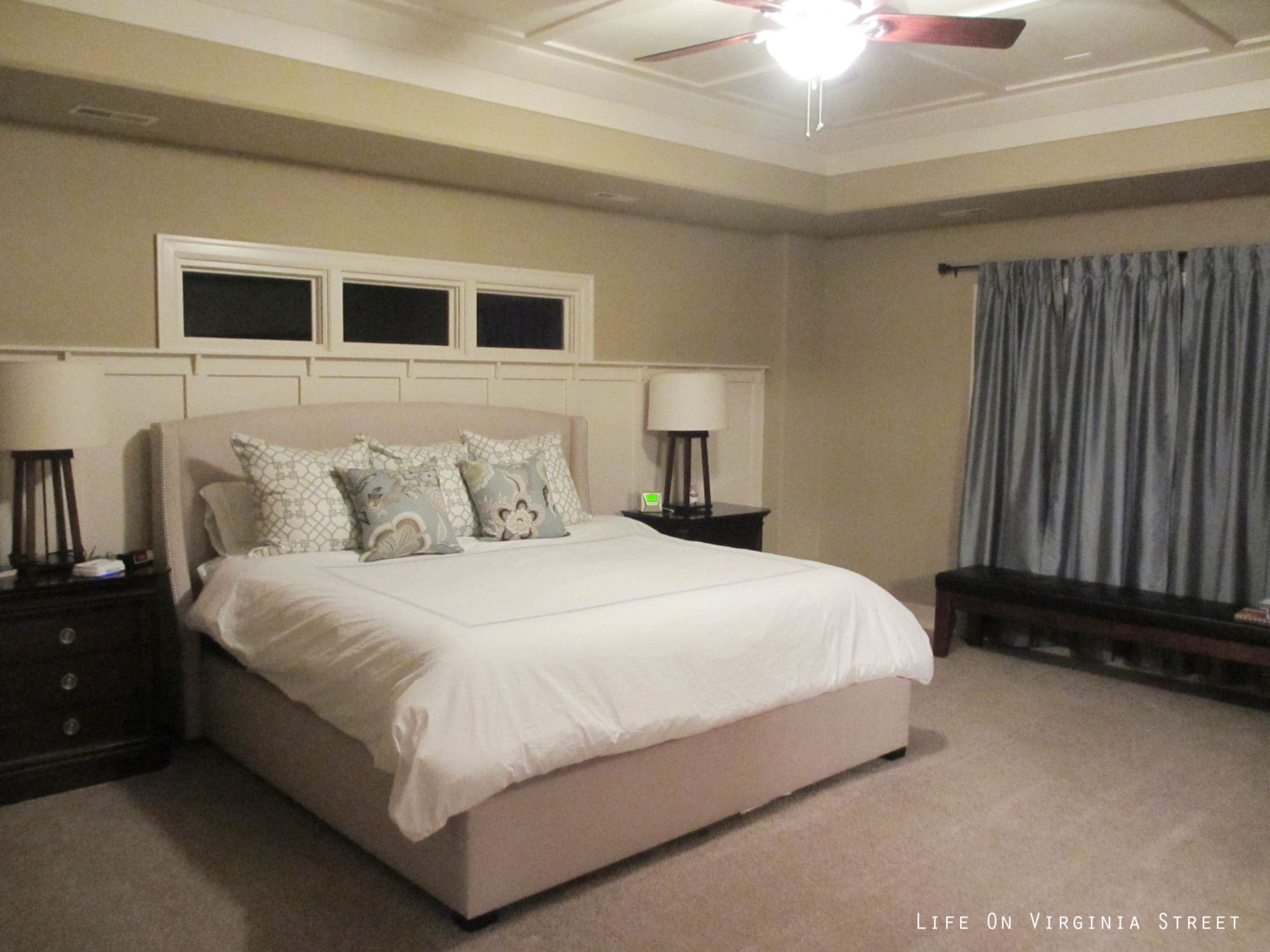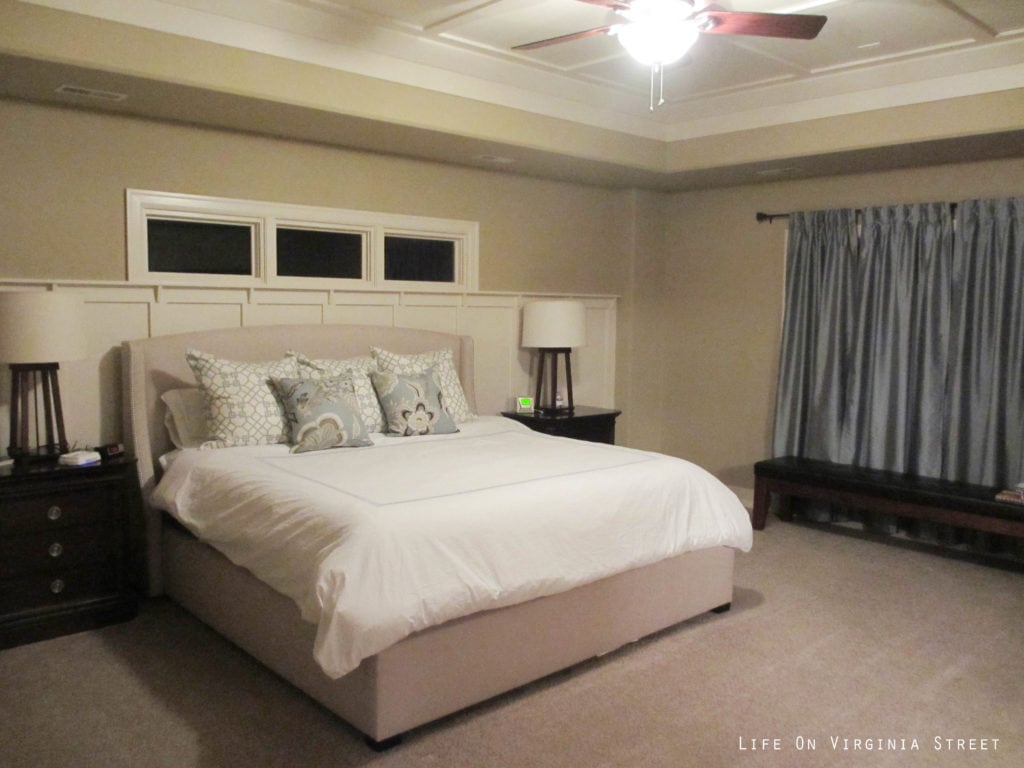 I also painted the walls shortly after we moved in. The color (Sherwin Williams Sea Salt) is beautiful and if you actually have white trim (which we do not in here) and when the sun is shining. When it's nighttime or a cloudy day, the color is a bit too saturated for my liking. So, I'll also likely be painting the walls in the next few months. Thankfully that's a relatively easy and affordable update!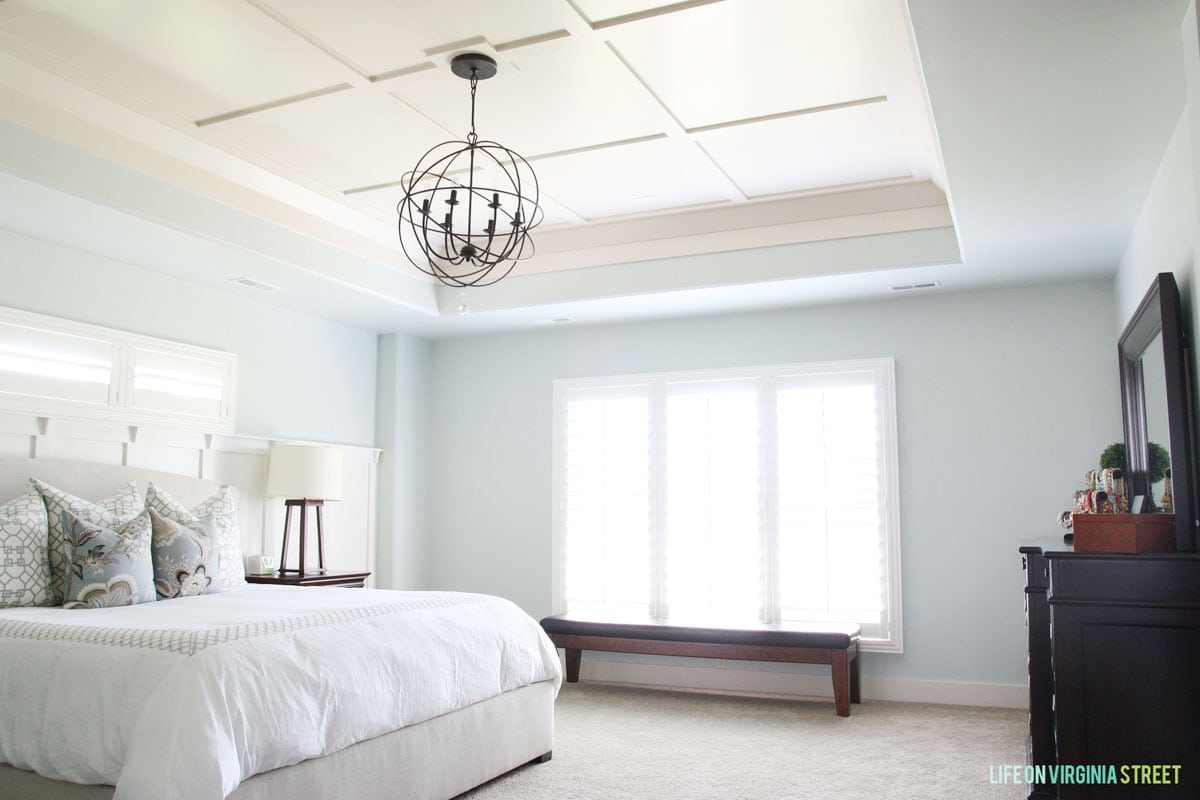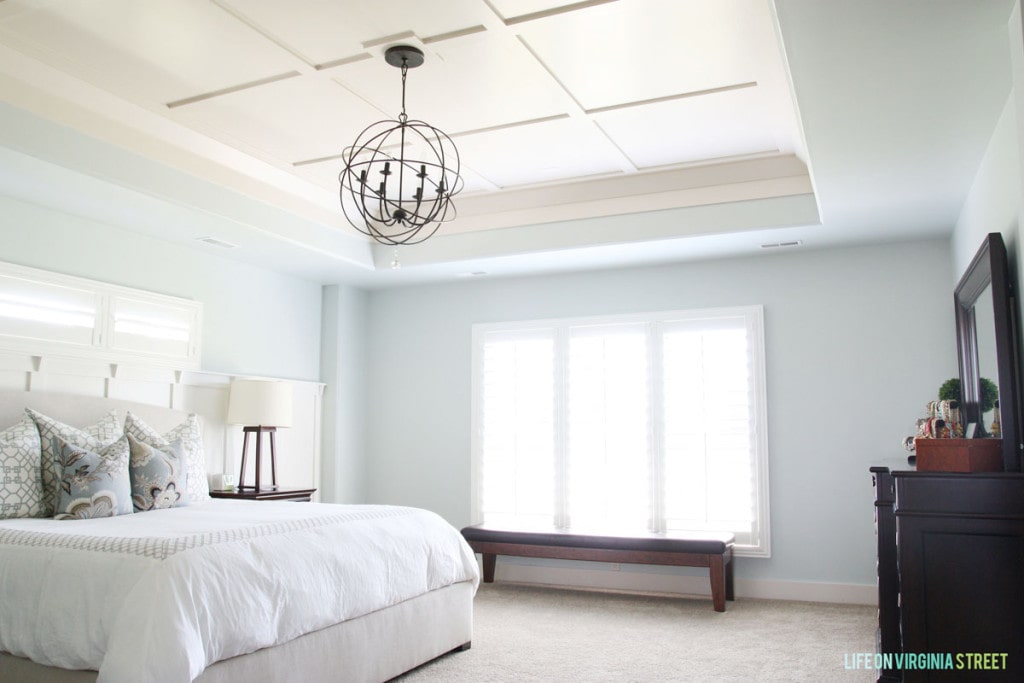 But, on to the bedding issues! Today I'm going to share some simple tips on how to make a comfy bed and walk you through the steps I take to make a perfect bed!
I turned to The Company Store because they are known for their high-quality bedding and other soft goods and I knew they'd be the perfect fit to re-build the foundation of our bedding. And the best part? They are hosting their white sale right now with 25% solid bedding and bath!
Choosing The Right Pillows
I don't even remember the last time Kurtis and I bought pillows. Three years ago, five years ago? No idea. But I do remember we went to the aisles of TJ Maxx and just each pulled the pillow we felt was comfiest. They weren't the same brand, size, color, anything. Kurtis likes soft pillows and I prefer them a bit more firm. Ours had both gotten super beat down, his laying basically flat, and mine not much better. So, having real adult pillows that matched was top on my priority list. It's hard to make your bed look nice when your pillows are three inches different in height!
We opted to try these LoftAIRE Down Alternative Pillows (firm for me and soft for Kurtis). I love that they look the same, but there are four levels of support available so you can get exactly the one that fits your sleeping habits! They're like sleeping on a soft cloud and we love them! Tip: I prefer a king size pillow to other sizes because they tend to fill the space of most beds better and not make it look half-made. Not only that, there's more space for your head to roll around at night which should mean less wake-ups when your head falls off a too-small pillow!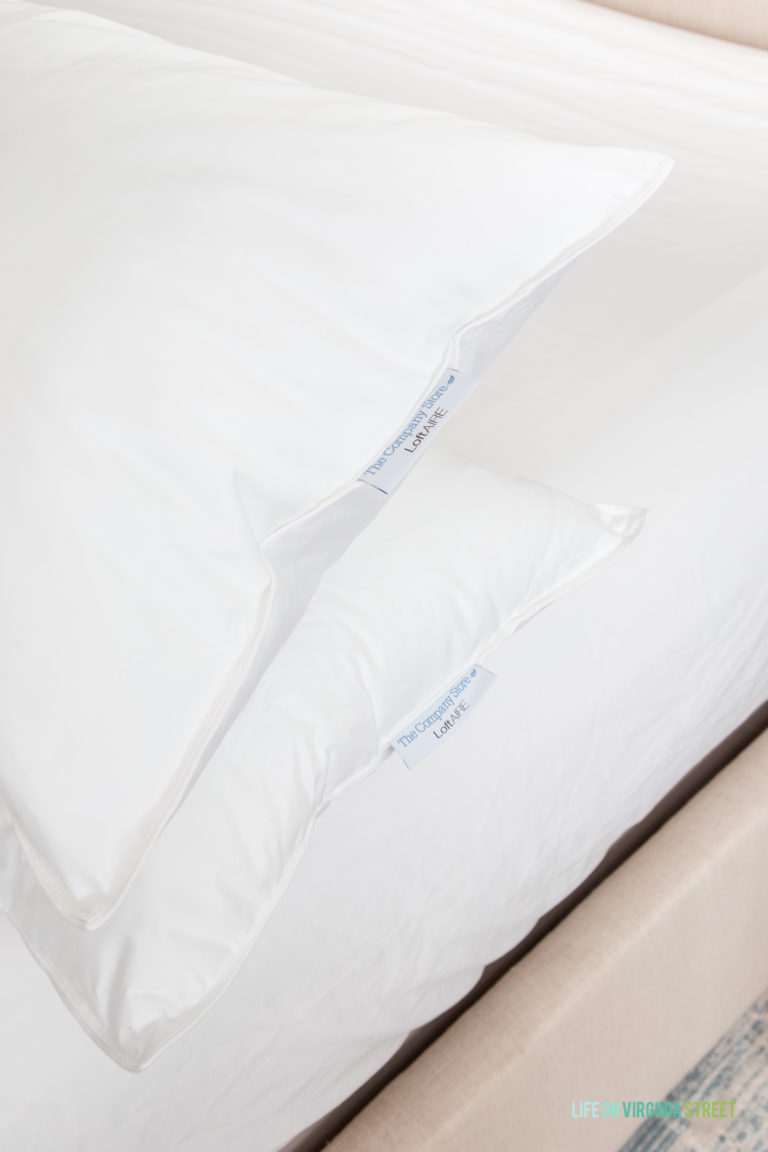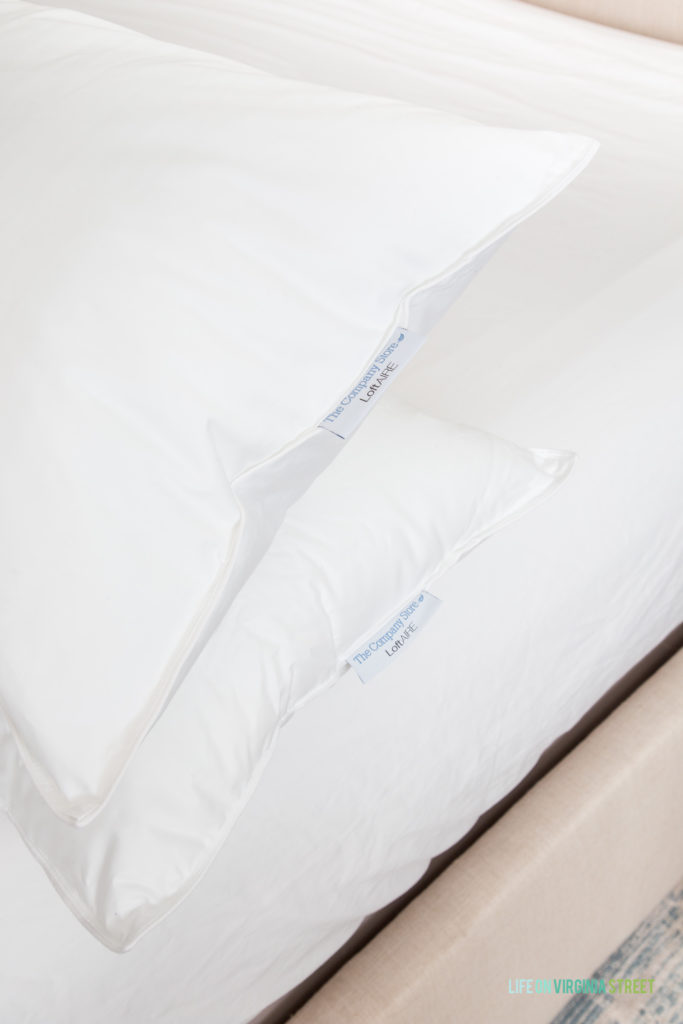 The next step in achieving a comfy bed is your sheets. I hate sheet sets that are too small for the mattress, so we opted to try the deep version of these wrinkle-free sateen sheets (and pillowcases). They're super soft and the deep version is more than wide enough even for our deep mattress! Like maybe the biggest I've ever found! And if you take them out of the dryer right away, they really are nearly wrinkle-free – which is perfect, because there is no possible way I'd every iron my bedding 😉 There's something so comforting and welcoming about crisp white linens! I think they'll always be my favorite! Tip: In order to get your bed to look as smooth and clean as possible, it's critical to ensure each layer is smooth and fitted as you go. Starting with the sheets, ensure you are building as smooth of layers as possible to make the end result the most beautiful! And not to mention comfy – no lumps!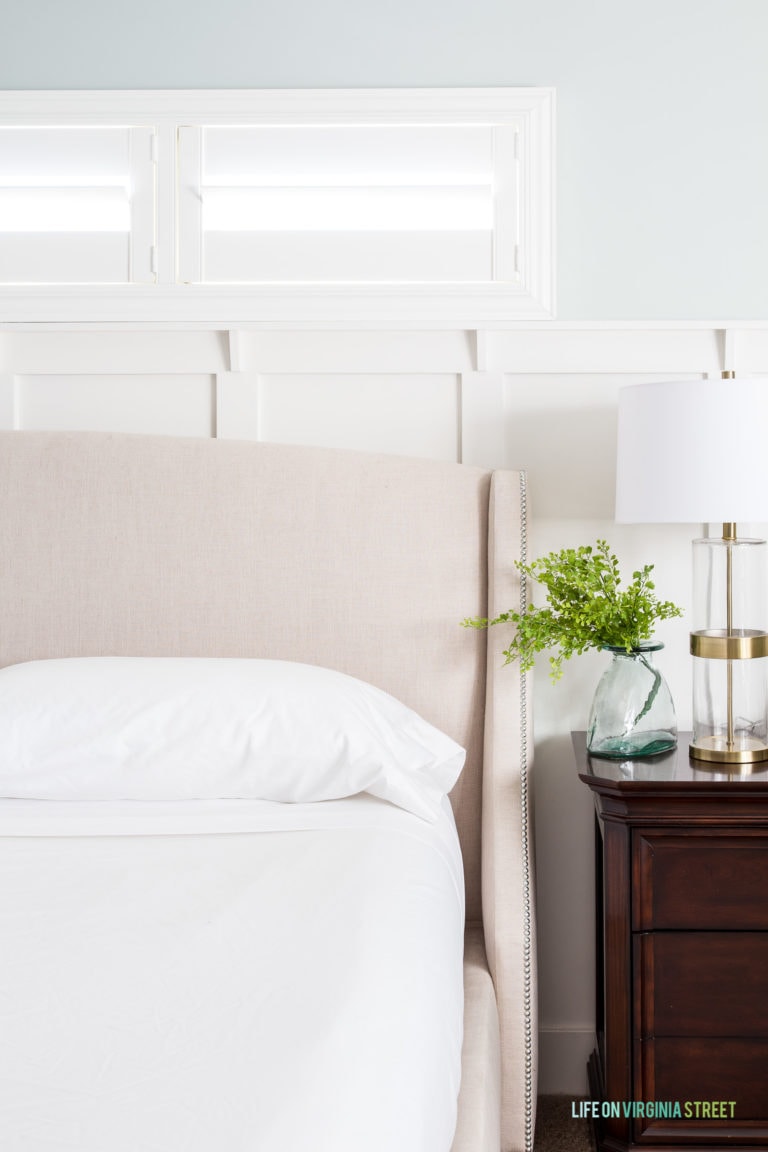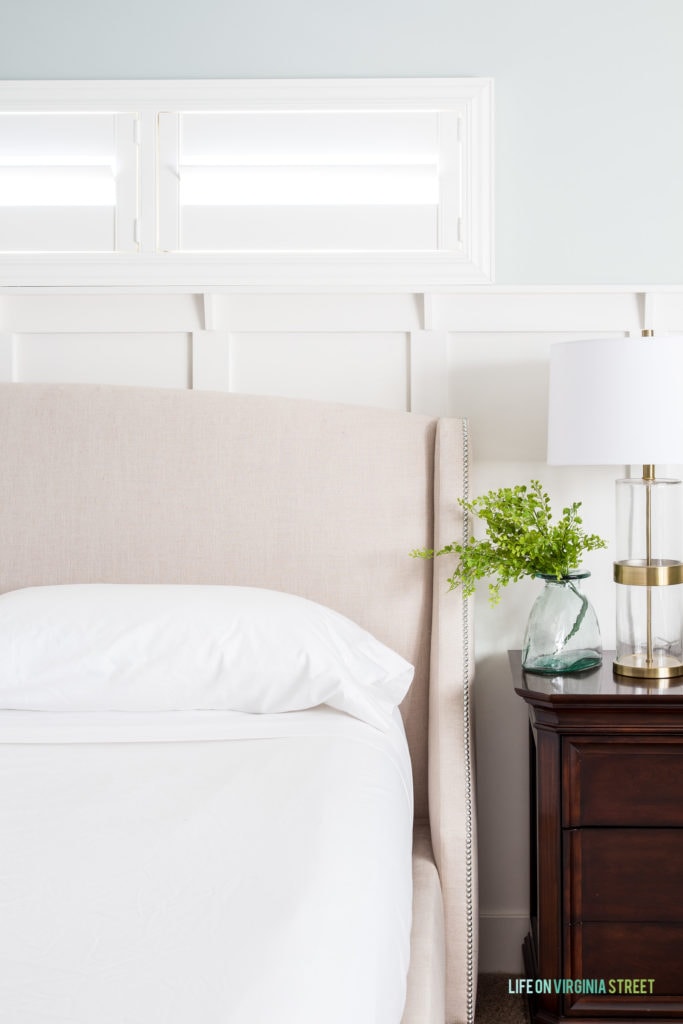 Next, we always add a comfy blanket to our bed. A few weeks back, we had washed all of our bedding, and Kurtis had asked me if the blanket we'd been using from Target had been shrunk.  Nope, it had actually always been about two feet too short even though it was a king size. So, I love that this cotton bamboo blanket is crazy long (our is the sand color). It isn't super wide on the sides (but more than covers that top and a portion of the sides, but the length is one of the best I've found. I love the visual texture it adds, and I feel like the weight is perfect. Tip: If you select a cotton blanket, you'll find that it will work most season of the year in most climates.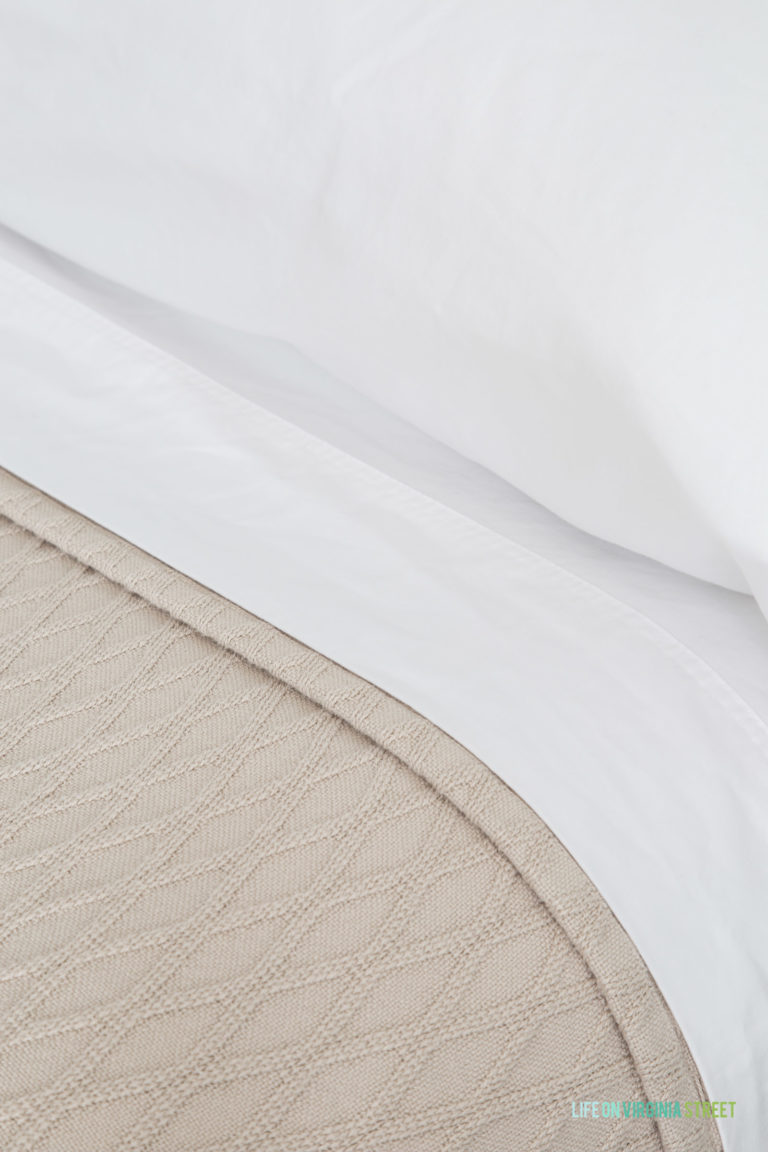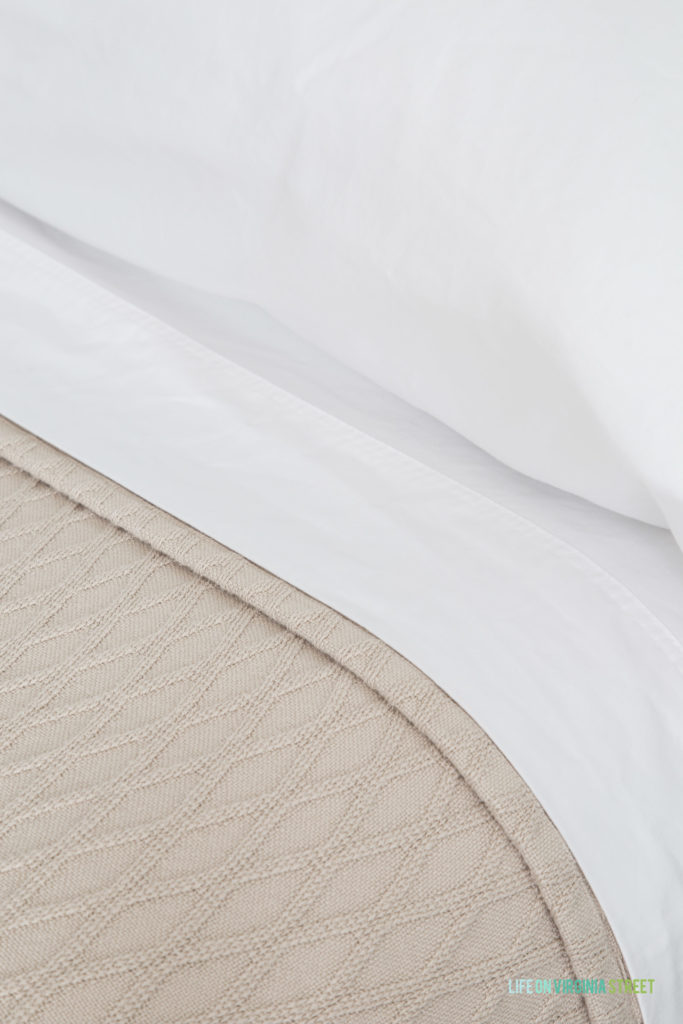 The blanket is so pretty on its own, that I could see us removing the duvet entirely in the hot summer months and just let the blanket be the star!
Adding Layers To Your Bed
The last step is to add additional layers to your bed. Our former duvet was pushing eight years old and I can't say it was ideal even when it was brand new. But, again, one of those things we just never messed with replacing. I love that the PrimaLoft Deluxe Comforter/Duvet Insert we selected has three weights so you can customize your order to fit your ideal sleeping conditions. We almost always keep our indoor temp at 68 degrees when we're sleeping, so we went with the Medium Warmth weight and it's perfect! Tip: Adding a duvet to the end of your bed adds that additional layer that also adds a luxe vibe to the overall look! It will keep you warm in the colder months, but visually also adds that layer of fluffiness we all crave in a comfy bed!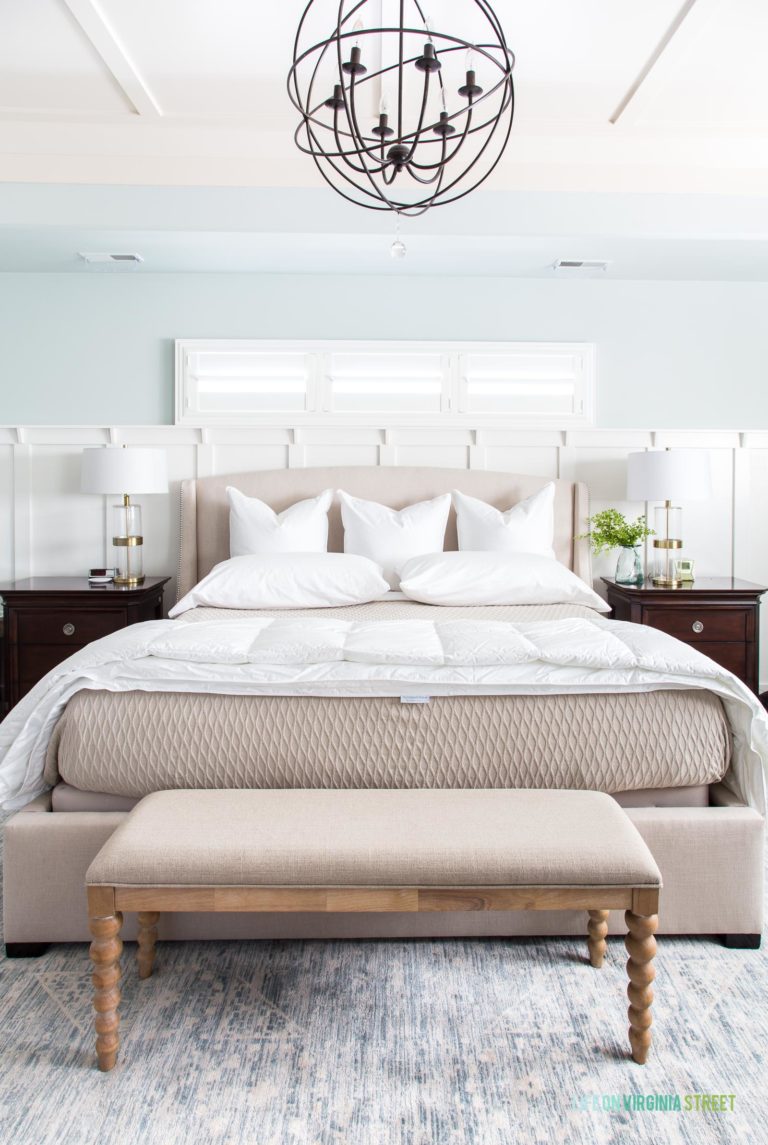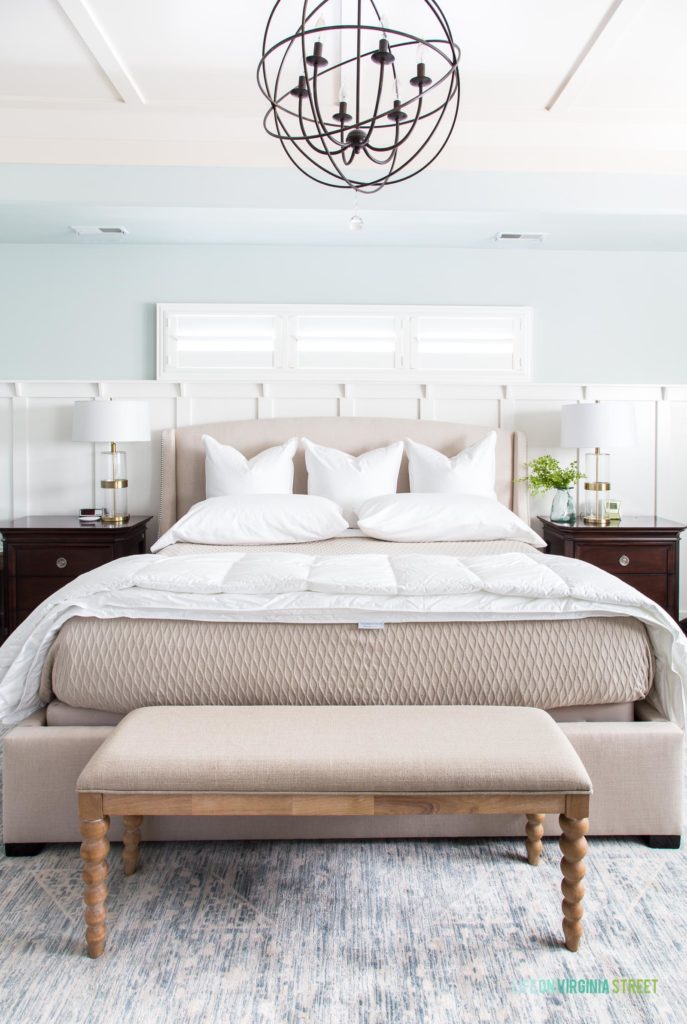 I had also been using mismatched Euro pillows – basically whatever was free and not being used in one of our guest bedrooms. So, I upgraded to these down-free inserts as well! And I actually love how beautiful they look even without a cover! Tip: By sticking with down or down alternative pillow inserts, you'll add a visual level of comfort you just can't achieve with most polyfill pillows. Even if you're not a karate chopper like me, the down and down alternative pillows immediately elevate the look of your bedding. Not only that, they are much comfier if you every lay on them!
I'll eventually add a duvet cover and more pattern and color to the overall look. However, I'm waiting a bit to see what direction I take the design and wall color. But I can't tell you how much better it already feels with fresh bedding!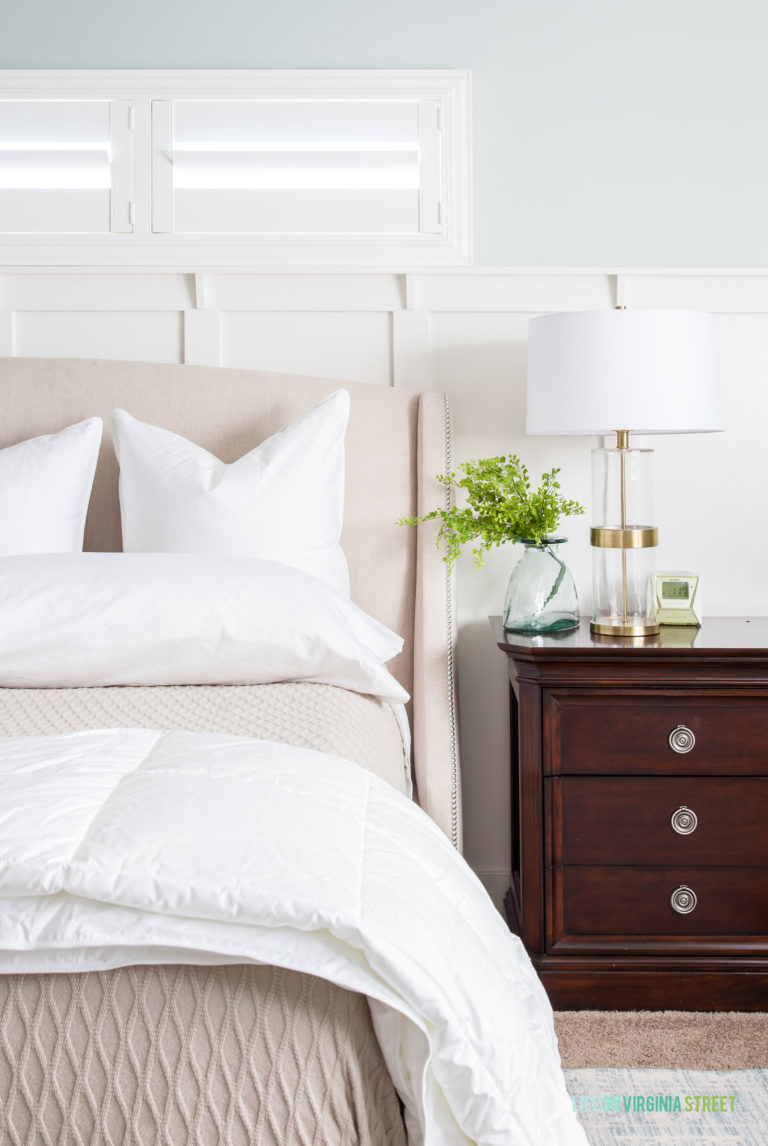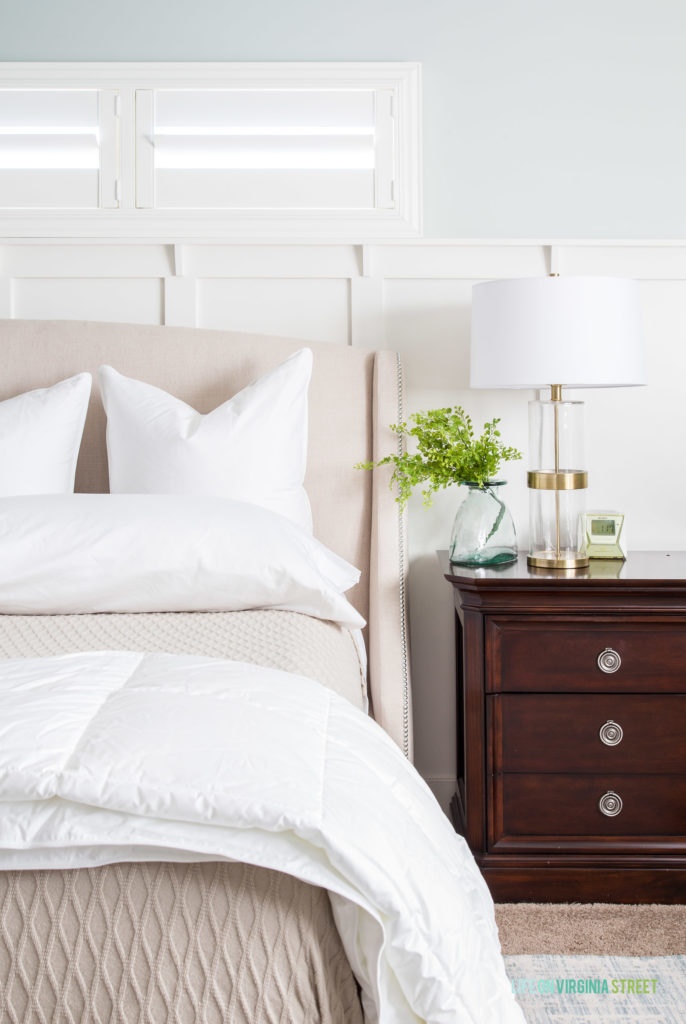 And just to play around with the basic white and neutral look, I added these Dakota Stripe pillow covers to add a more coastal vibe. I haven't washed them yet because I wanted to try them in here first to make sure I liked the look, so they have a few packaging wrinkles. But overall, I'm obsessed with them!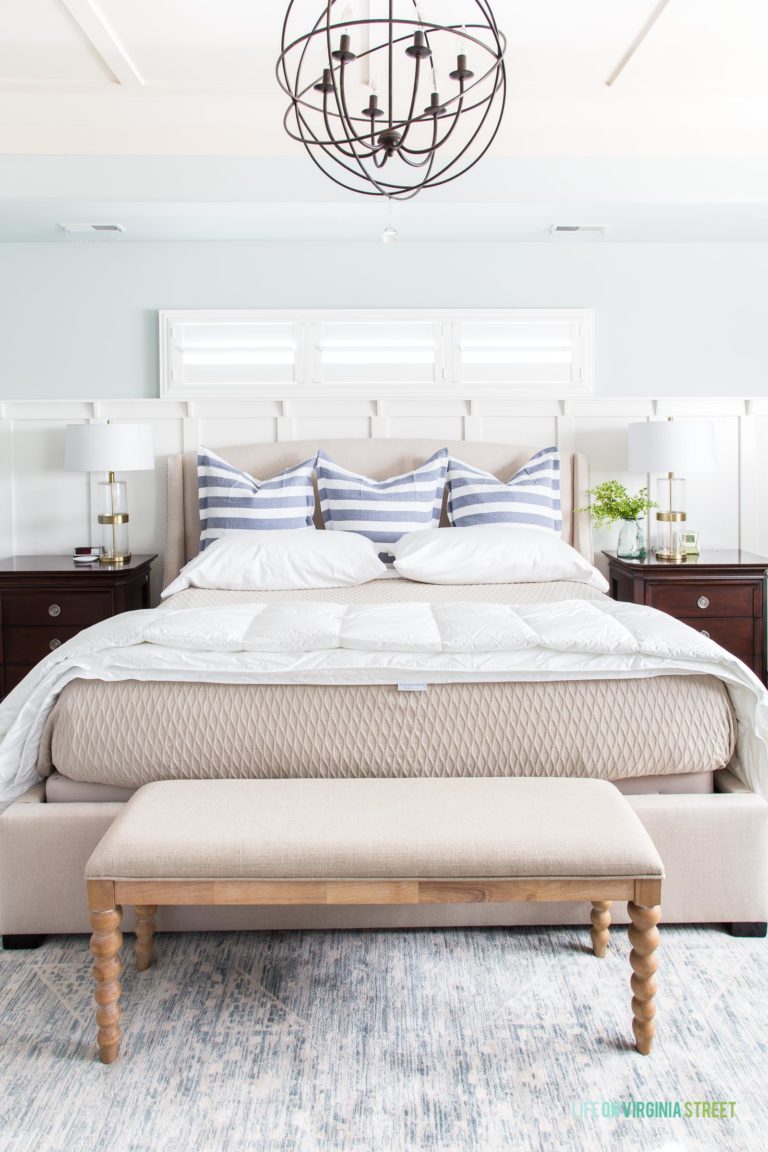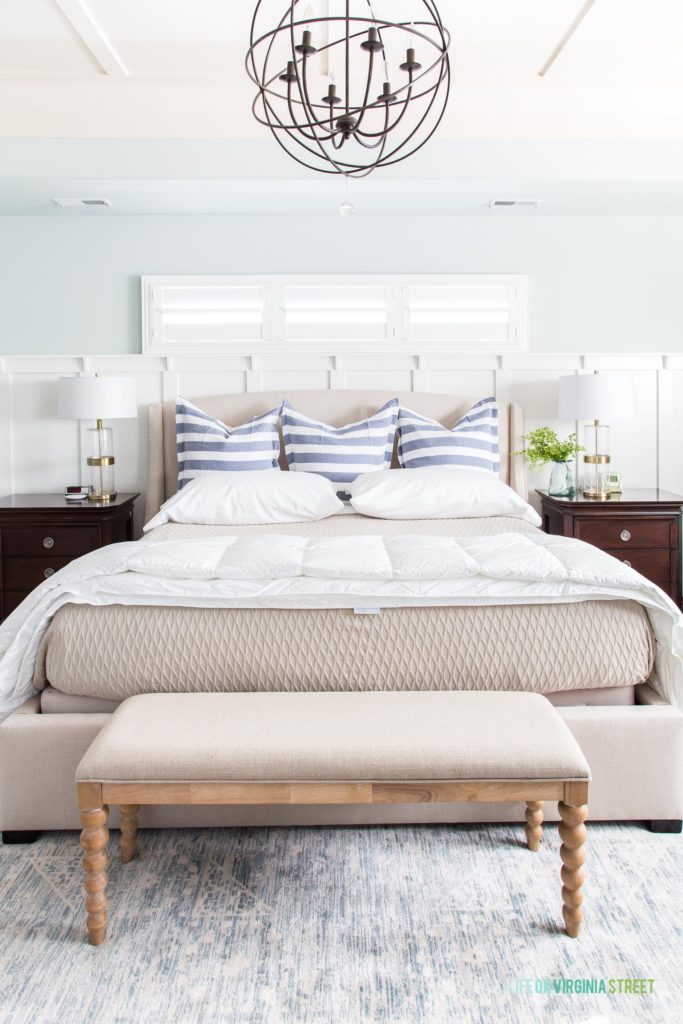 They have the prettiest texture and I'm excited to use them throughout the years in a variety of our rooms. You know they'll be making the rounds because they'll go with so many other patterns! I can never say no to a good stripe!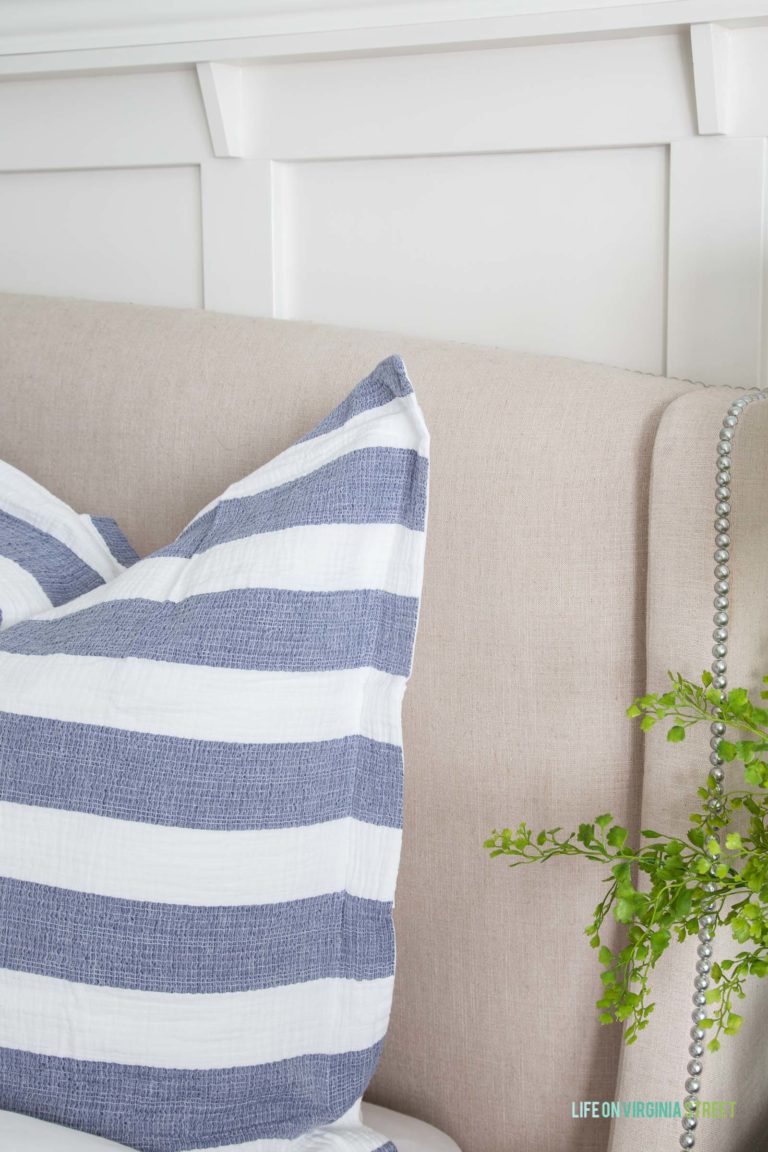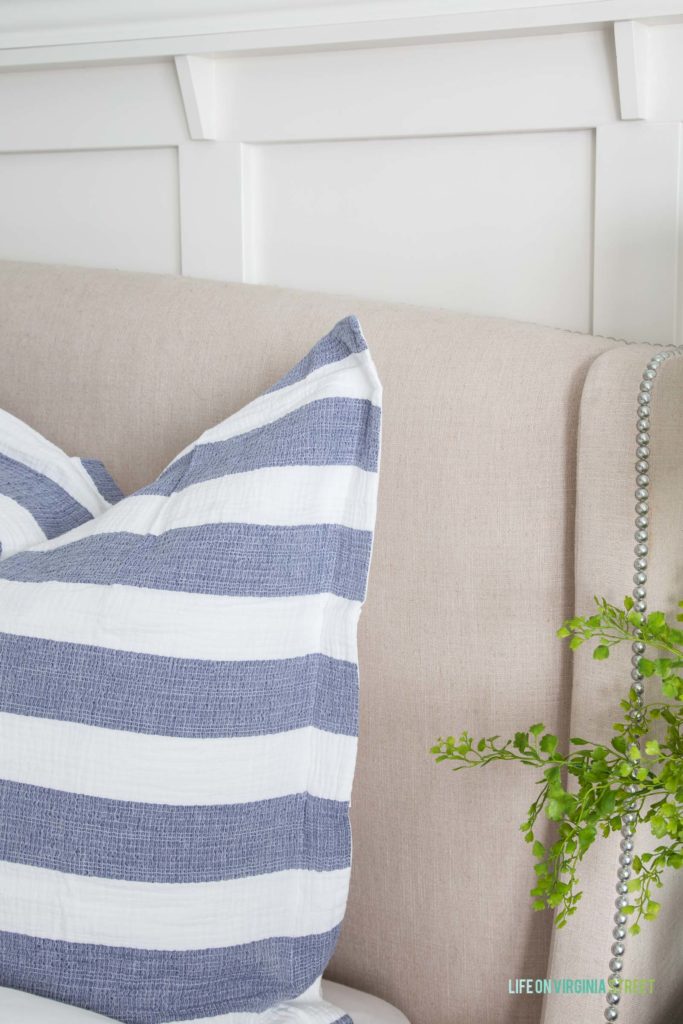 It feels so good to finally have "real" bedding! I plan to be back next month to share an updated look once I pick a duvet cover and other patterns and colors to add to the space. I can't wait to show you!


If you would like to follow along on more of my home decor, DIY, lifestyle, travel and other posts, I'd love to have you follow me on any of the following: