Happy Monday! I'm actually glad the weekend is over, so I can put last week behind me! That sounds horrible but I'm so ready to get back into a routine (and to not have our house as torn up)! The bulk of my weekend was spent hiding away in our house or outside while the painting crew was here, so I got next to nothing done and really didn't do much relaxing. But the good news is, they're almost done! More on that below, and in tomorrow's kitchen progress post.
This post contains affiliate links for your shopping convenience. Click here to read my full disclosure policy.
Home Updates & Projects
I haven't mentioned this much before, but when I had the painting in the kitchen bid, I also had them include bids for other areas in our home. We figured while we were in the mess, it was worth having a look at the numbers. We actually included the window trim/doors/railings in all the common areas in this project! So, when I said I was hiding away, for the weekend, I really wasn't kidding. I had to crawl thru a plastic hole to go to bed each night! I'll share more in tomorrow's post, but here's a sneak peek of just how crazy it was. Worse than when the ceilings were painted!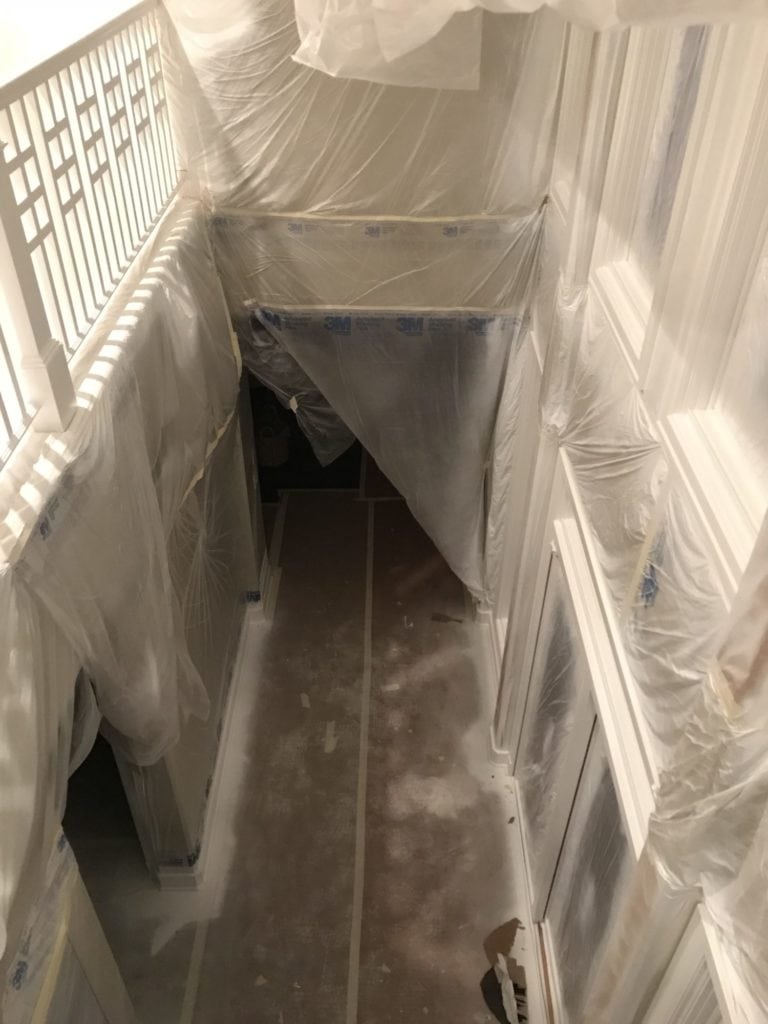 The kitchen moved so quickly that we borderline felt like everything was done. So, having our house covered in dust again was far from fun. But, it's obviously just part of the process!
Also, I need your help! While the painters were here, they set our metal waste basket from our powder room on the countertop so they could do some taping. The countertop must have been wet, and as the waste basket sat there for two days, it rusted into the quart. Guys, we can't get it out! The painters are going to try something later, but I'd love to hear if you guys have any suggestions for getting rust out of quartz. We thought this stuff was pretty much supposed to be indestructible and impenetrable, but apparently that isn't the case. Our exact material is Daltile called One Quartz in the Luminesce color. I want to ensure that whatever we use won't dull the polished surface. Help!!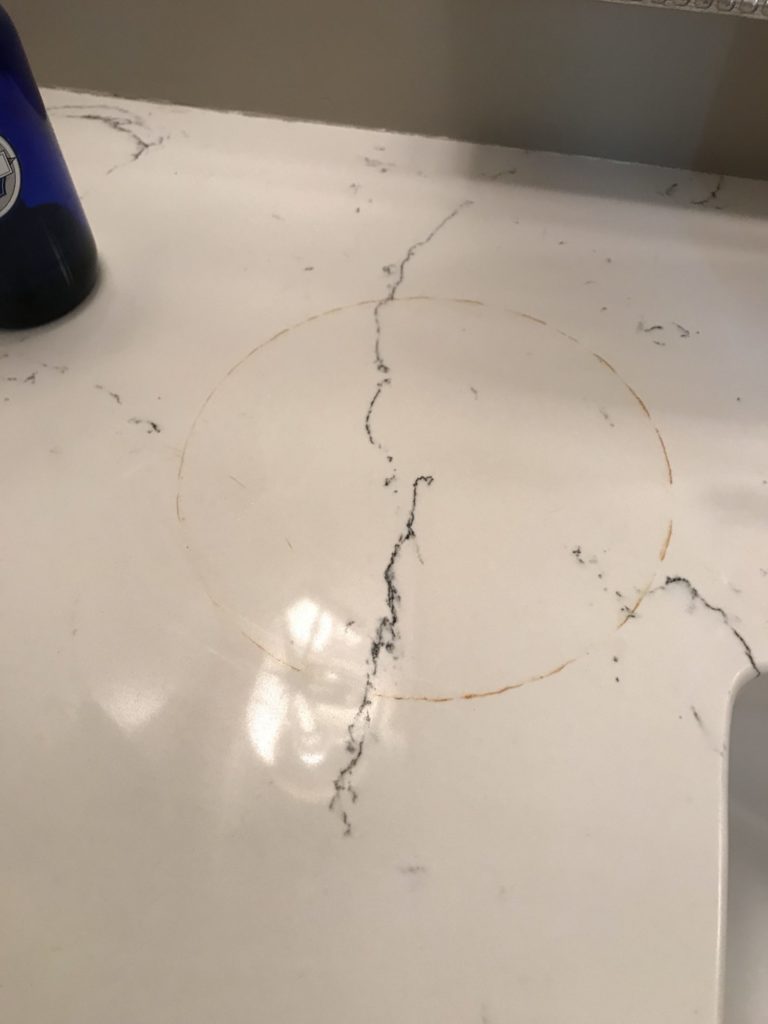 Around Town & For Fun
Kurtis headed to Iowa for the weekend to help with his Grandma's estate sale. He had originally planned to only be gone Friday night, but ended up staying thru Sunday afternoon to help with other things. So, it was just me and the painters all weekend. The poor cats had to stay locked in the basement all weekend to avoid the painting mess. I was basically trapped at our house for the weekend, so it was a bit boring. I did go out a few times to check on my sister-in-law's cats but otherwise I was at home. I can't wait for the days of freedom, post kitchen-renovation, where I'm not trapped at our house any longer!
When I wasn't inside hiding in my hole, I was outside just sitting on the patio. It was nearly 90 degrees most of the weekend, so while it would have been perfect pool weather, I was fully dressed. I figured the painters didn't need to see my business 😉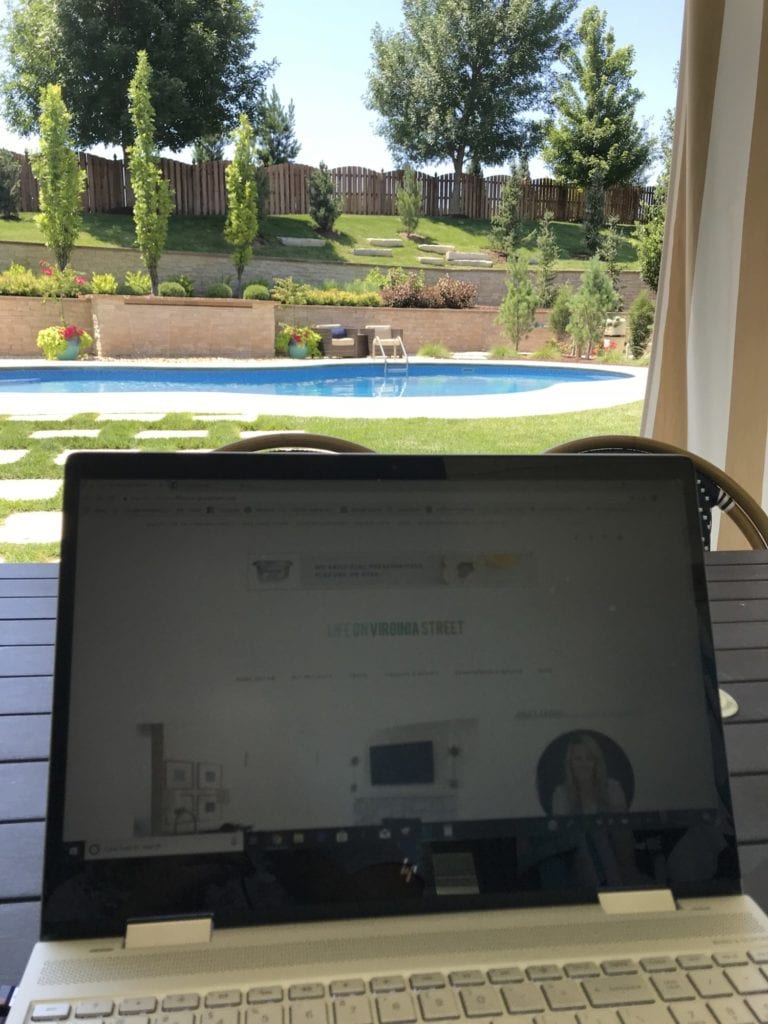 I ended up reading and finishing The Wife Between Us, after receiving a lot of recommendations for it. It was pretty good, with some unexpected plot twists. I would compare it to The Girl on the Train, or other similar psychological thrillers (just not as scary). After finishing that, I wanted something a bit lighter, so I started Love and Other Words last night. I'm already about 25% of the way through it and really enjoy it so far!
Friday night, I watched a few Netflix movies, but on Saturday, the TV was covered in plastic so I couldn't even do that. I told you I was boring this weekend! Like I said, it's all just part of the process, but it's definitely frustrating when you're in the moment. So, I'm looking forward to the week ahead – we're so close to the finish line!!
I've been so wrapped up in the kitchen stuff, that I haven't been posting on Instagram either. It's hard to share anything when your house is covered in an inch of dust and drop cloths everywhere 😉 But, I'm wanting to take a bunch of photos this week and share all the fun updates we have going on. I mentioned this once before, but there is also a mini project I haven't talked about yet that will be wrapping up soon. I'm excited for all the reveals I'll have to share over the coming month or so!
Recent Buys & Sales
This week is full of some of the best sales of the year! The Nordstrom Anniversary Sale opens to cardholders bright and early on Thursday. I ended up getting a Nordstrom card last year just so I could have pre-sale access. I hated how in prior years, most things sold out before the sale ever went live for the public! Get ALL the details on the sale here. As a reminder, I'll be doing a huge post with my top picks once the sale goes live.
Then, Amazon Prime Day starts next Monday for all Prime members! You can get a sneak peek of what's to offer here. In prior years, this sale has been bigger than their Black Friday and Cyber Monday offerings!
And now, that the 4th of July has passed, I feel like stores already think it's fall/winter and are offering crazy markdowns on summer clothes. Which is great since there are basically still two months left of summer! Here are a few of the best sales going on right now: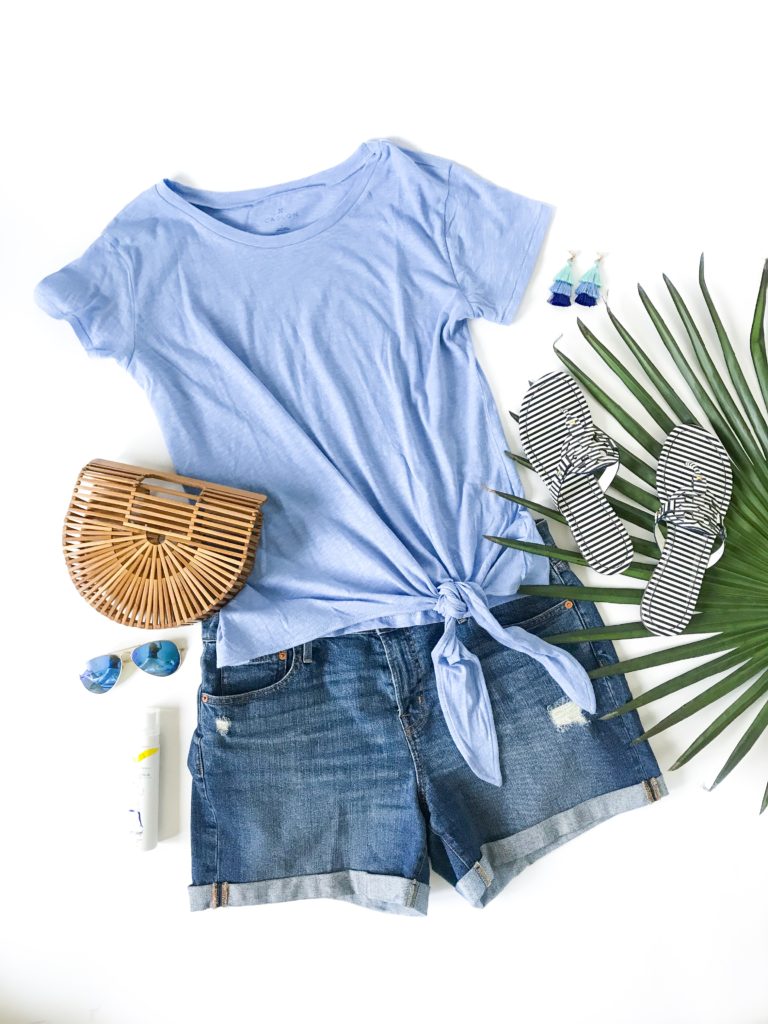 Tie-Front Top | 5″ Denim Cut-Off Shorts (currently 40% off with code THANKU) | Striped Sandals | Tassel Earrings | Bamboo Bag (knock-off version here) | Blue Aviator Sunglasses | Makeup Setting Mist | Faux Palmetto Palm
I hope you all have a great week!
If you would like to follow along on more of my home decor, DIY, lifestyle, travel and other posts, I'd love to have you follow me on any of the following:
Pinterest / Instagram / Facebook / Twitter / Google+
disclosure: some affiliate links used