Well, this will likely be my last progress report until the full kitchen reveal! We're so close now at this point, with only a few small things that need to completed.
If you're new around here you can get caught up by reading some of the following posts (listed in order from oldest to newest):
Let's move on to what happened last week during Week 3 (last week) of our kitchen renovation!
This post contains affiliate links for your shopping convenience. Click here to read my full disclosure policy.
On Monday our range hood arrived and I almost squealed. I was so happy with how it turned out! You can also see our cute x-doors were installed. I love how they turned out. They're still missing the hardware but that should hopefully arrive this week!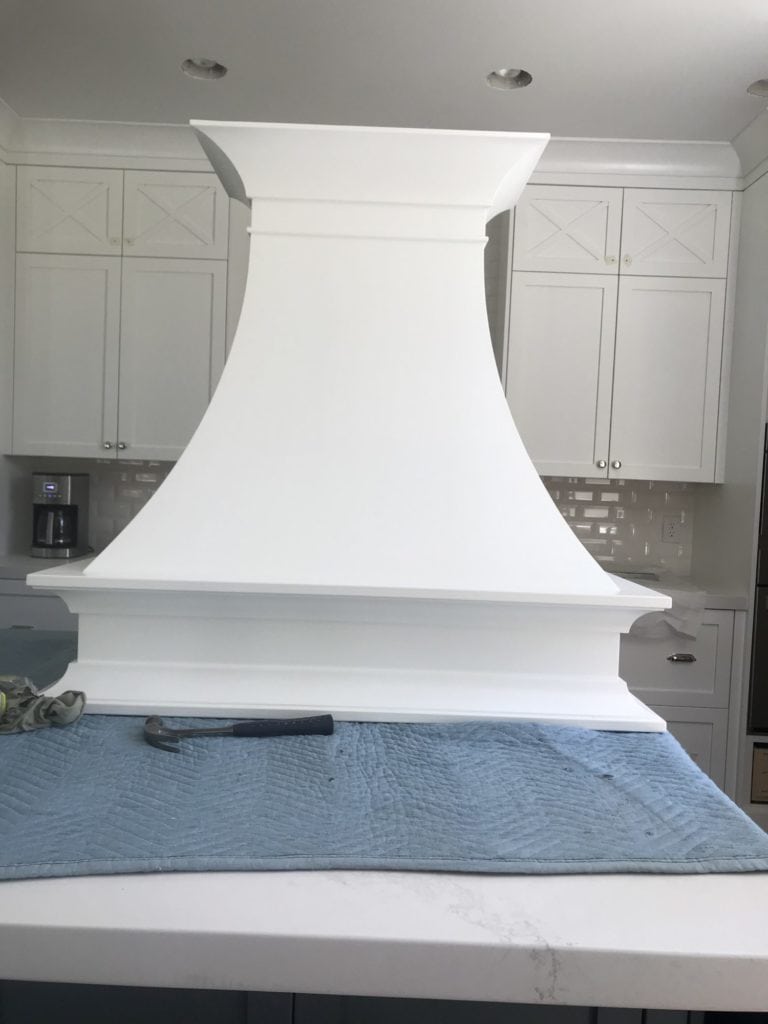 I'm not going to show the hood installed at this point, because I want to save a few surprises for the big reveal 🙂
By Monday, we had managed to re-wash and store most of our items in the kitchen! Such a great feeling! The dining room is still a mess, but if you saw the pictures in prior posts, you know this is a huge improvement! We're hoping to tackle the rest of this this weekend, if not sooner! It felt like major progress though to store as much as we did.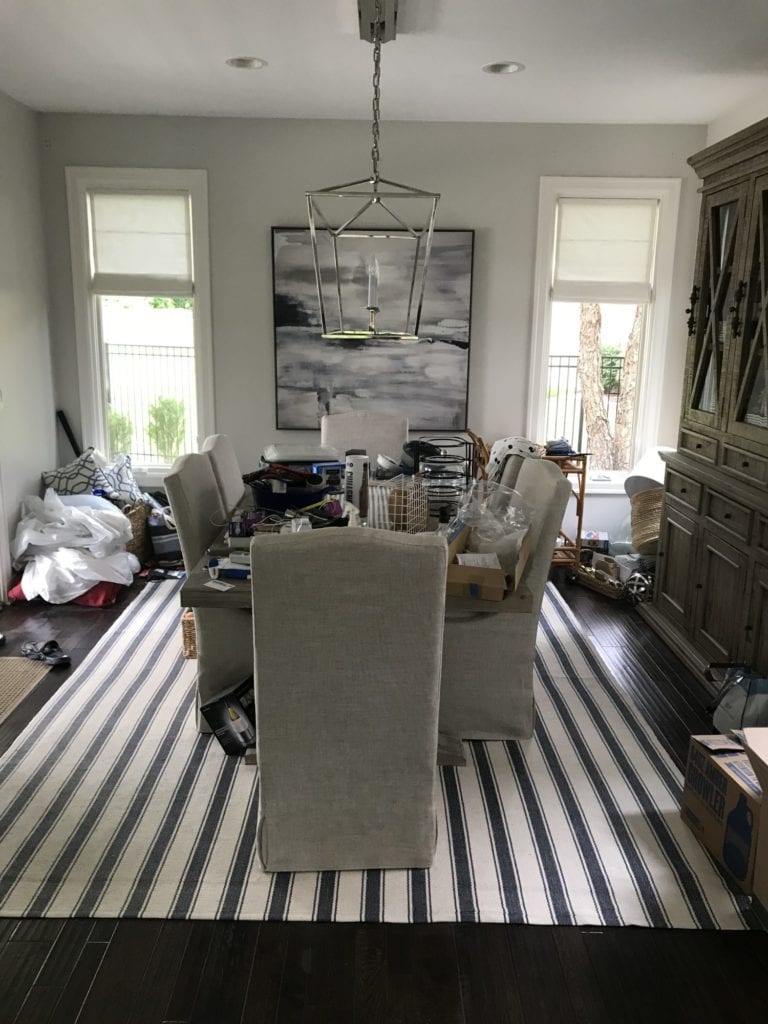 We also had the carpenters here working on something Monday and Thursday  (the project I promise to talk about soon). It's not a big project by any means, but rather one that makes a big impact in a small space!
The cabinet guys finished all of their work on Tuesday. Once all the trim was added to the cabinets/baseboards/etc. the space looked so much more finished! They did such an amazing job! Wednesday was the 4th of July, so Thursday morning prep work started to paint all of our trim in the main areas of our home.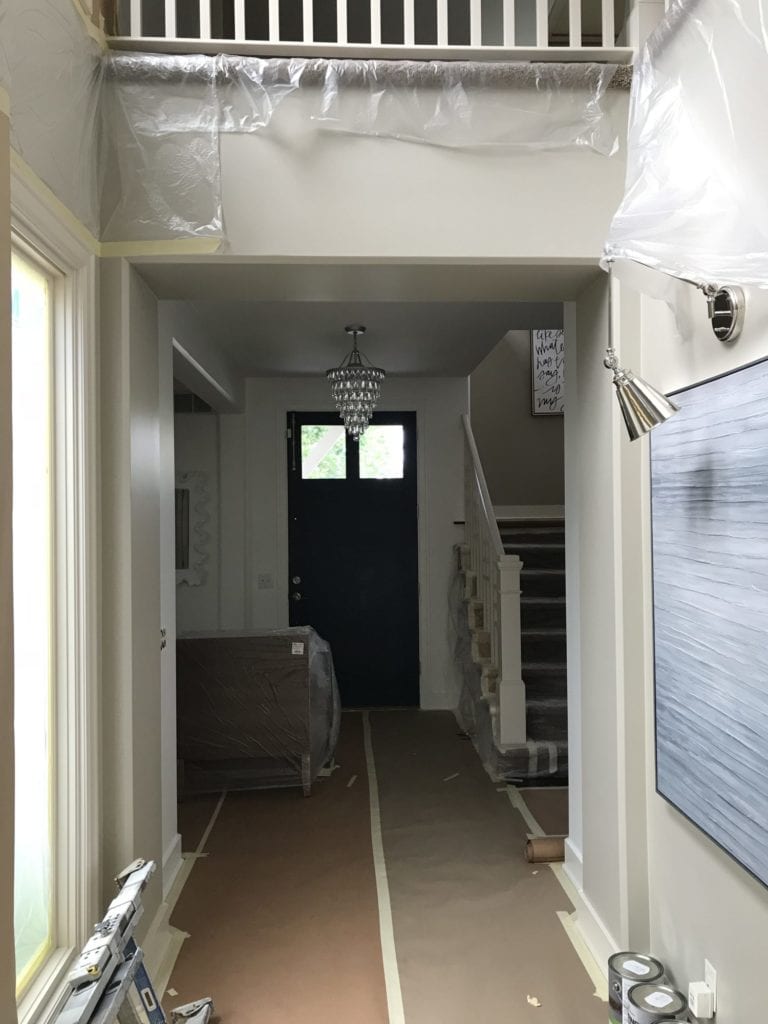 By the end of Thursday, they still had a ways to go in terms of prep work, but you can definitely see they had made a lot of progress!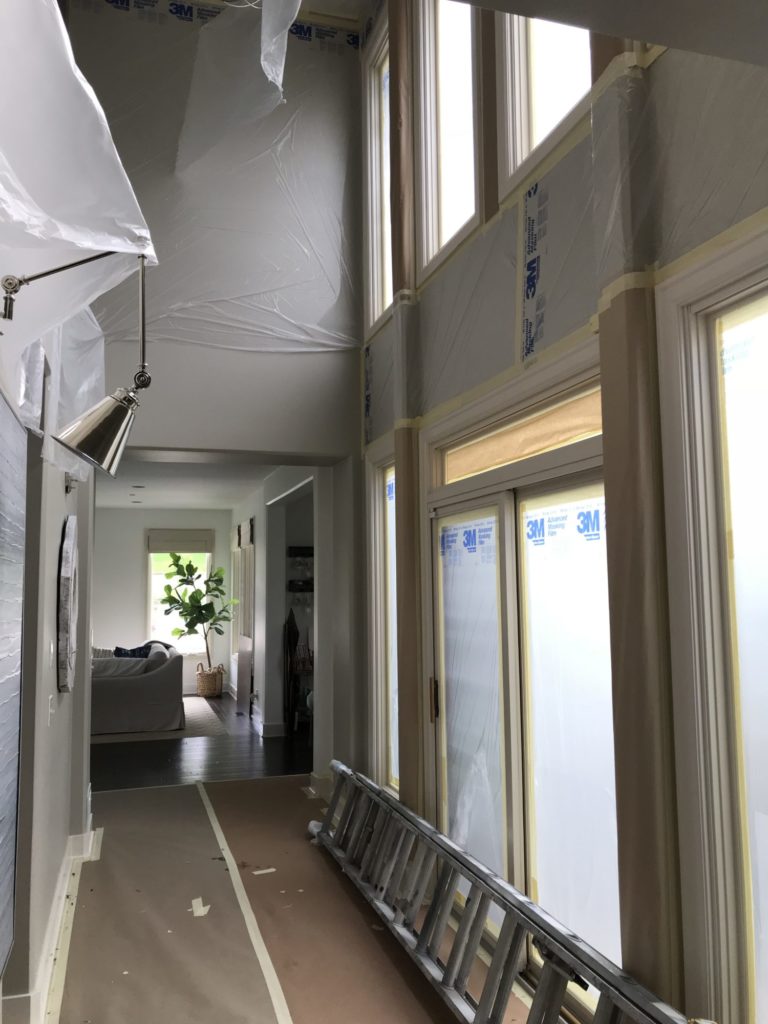 Our barstools arrived Thursday afternoon and I couldn't wait to unpack them. It's funny how something as simple as barstools made the room feel like a real space again rather than a construction zone. I know the picture looks a little off, but it's hard to capture the color outdoors without making the kitchen super dark. But, I think this gives you an idea of the overall feel! I'm loving all the all white with the blues and greens. Shocker, I know!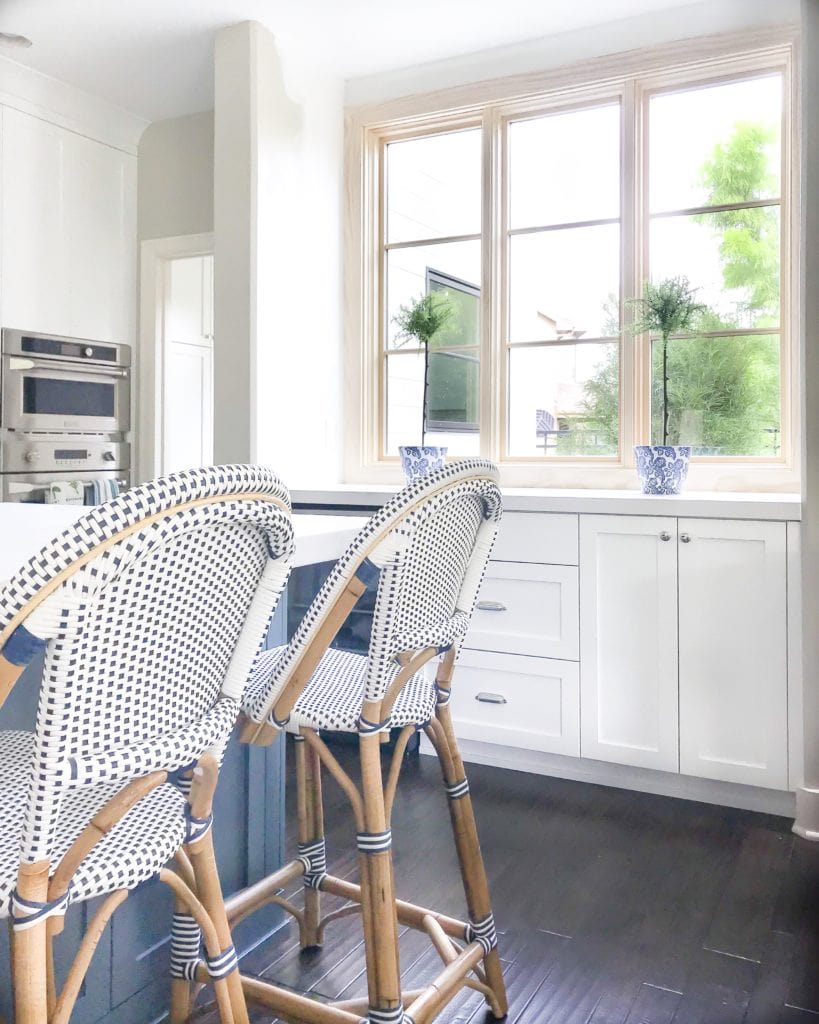 Several of you asked how everything was staying so clean during our renovation. I want to make it clear it has been a crazy dust zone on a daily basis. But, at the end of the day, I would try and clean it all up again as much as possible. As much for my sanity as for the cat's sake, because I didn't want them walking around and then cleaning their paw with sawdust/paint residue/drywall dust. We actually installed new furnace filters a week ago, and after checking them last night, realized they were already toast. I'm really not sure there is any way to avoid all the dust!
On Friday, Habitat Restore came and picked up the old kitchen. It was great to get some garage space back, but even better knowing that our old appliances and cabinets will have a new life for someone that needs them!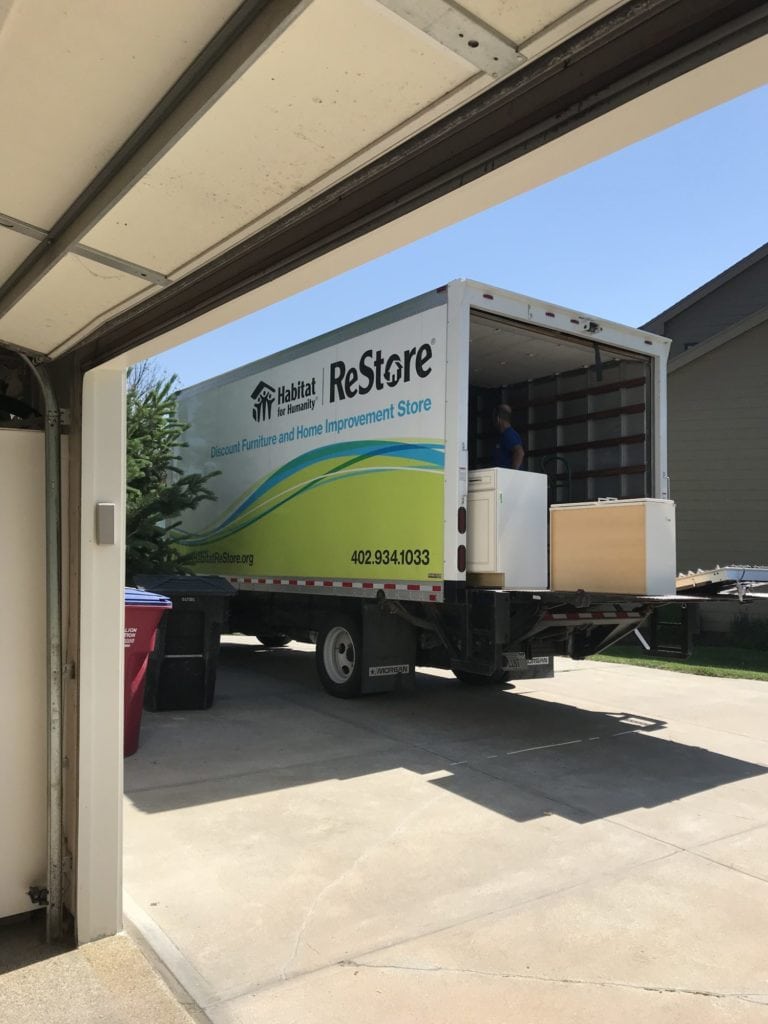 The painters also came back Friday and spent another day prepping. It's moments like these that really make me realize I have no business tackling trim/windows/doors on a scale like this. SO much prep work! This is probably why I feel like I don't make much progress when I start these types of projects! It took a team of five guys to get all this done!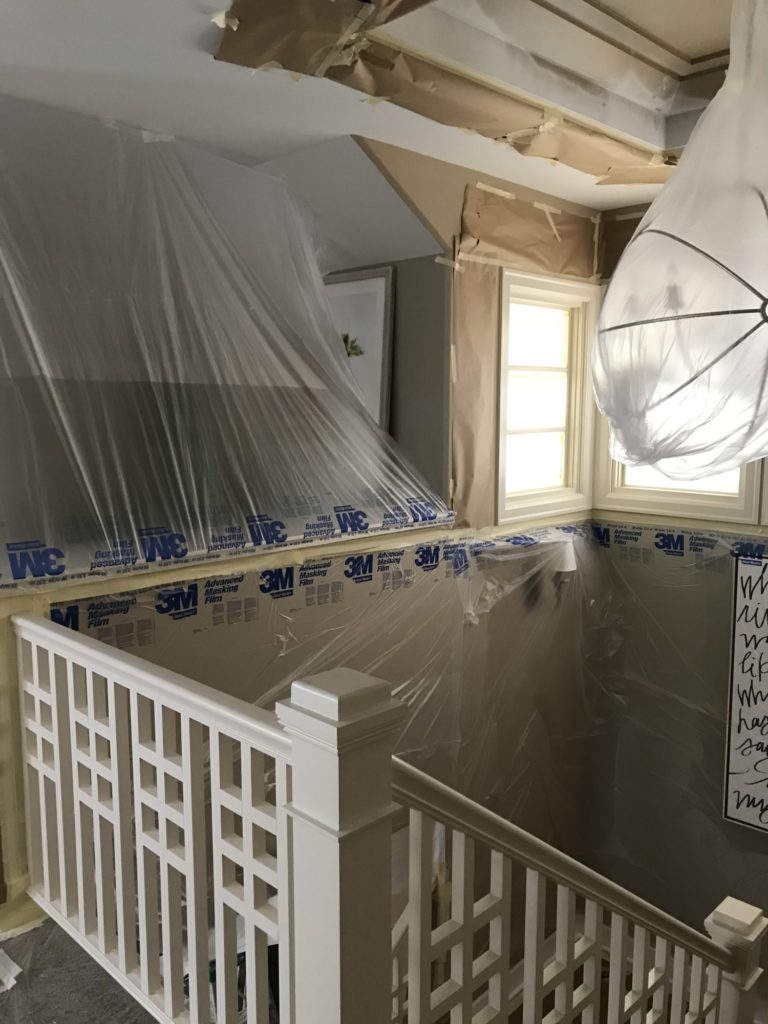 And, it got a lot worse before it got any better by Saturday!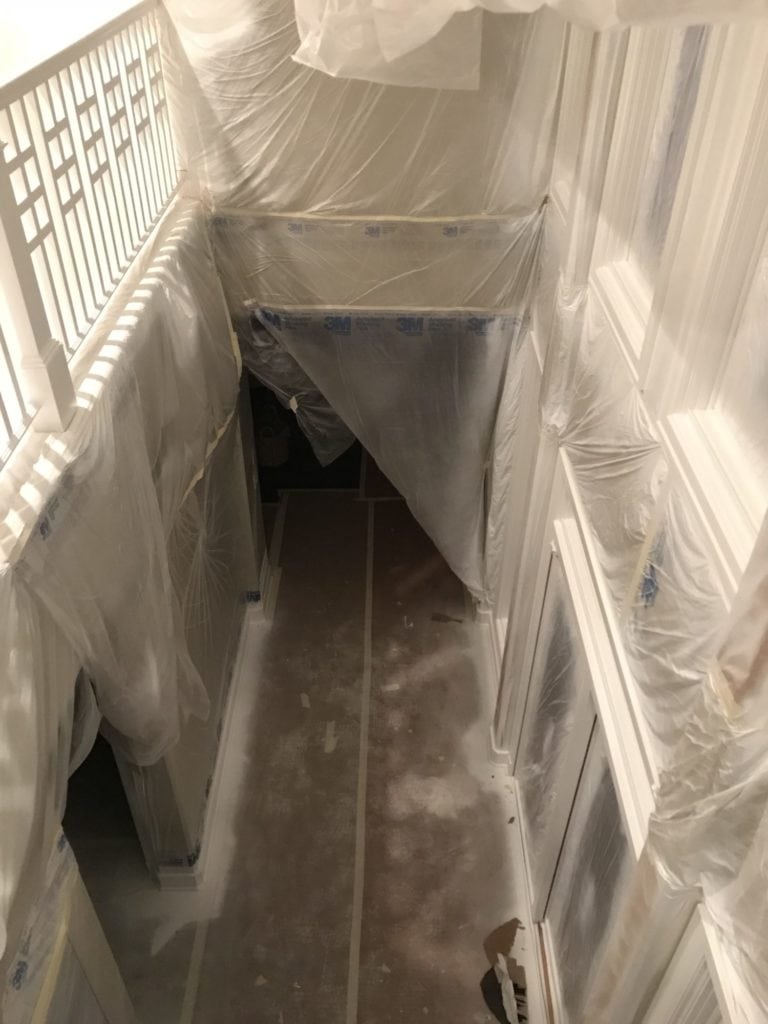 Literally everything other than the trim was taped or covered in paper or plastic. But I was geeking out once I saw the fresh white paint going on (BM Simply White).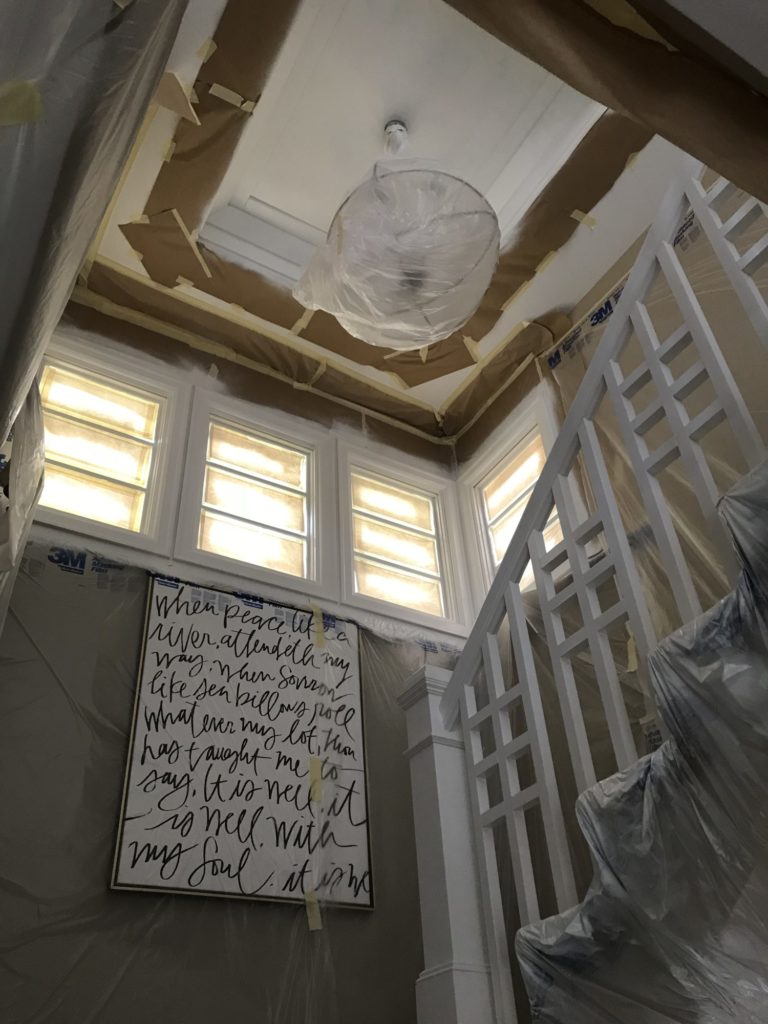 Let's just say it was a little intense for a few days. I would even have to ask permission to use the bathroom because everything was taped up so tightly! But we absolutely appreciated all the prep work to ensure that paint didn't get on areas where we didn't want it!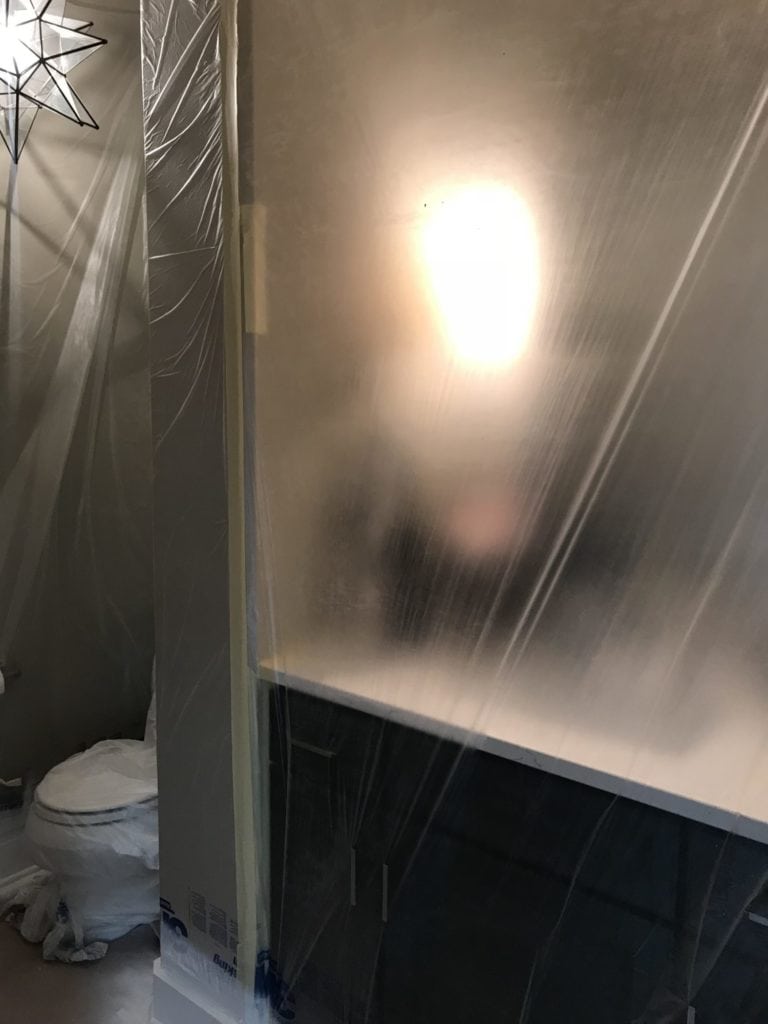 Remember our mud room that I basically haven't talked about in a few years? Kurtis and I had put shiplap on the walls four years ago, and then I never finished painting it.  You can read more about that change here. I figured if I hadn't tackled the paint in four years, I'd just have them do it when they were doing the trim in the room anyways. We'll still have to address the cabinet door situation at some point (they are also thermofoil, so not a long-term solution). The updated paint has me more excited to tackle this room once and for all now! Hopefully I can make it a fall project.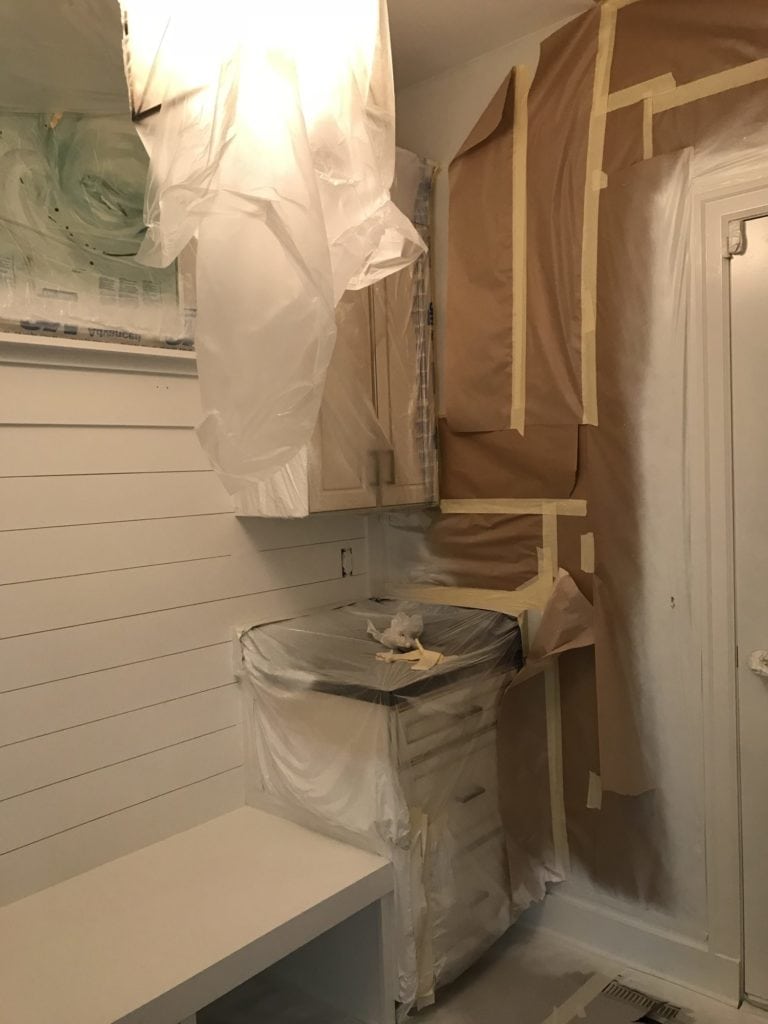 Now that the painters have wrapped up (as of yesterday afternoon), it all looks so good! It's even more apparent now how dated and beat up our ten-year old almond trim work was. I also had no idea just how much prep work was involved and so glad I didn't try to tackle all of this myself. I would estimate there was 40-50 hours of prep work (2.5 days with multiple guys) which is crazy! Definitely a job best left to the pros!
And, in follow up to my post yesterday about the rust stain on the bathroom counters. The painters asked to try and fix, it and after about 30 minutes of elbow grease and some Goo Gone, they were thankfully able to fully remove it! I was about to head out to the store to buy some of your suggestions when they let me know it worked! But I was happy to see your list of such great suggestion for the future, as I imagine over the years, something like this is bound to happen in our kitchen too at some point. Many of you suggested Soft Scrub, which I later was was also recommended by Caesarstone (the brand in our kitchen) so that's super helpful to know (and have on hand)!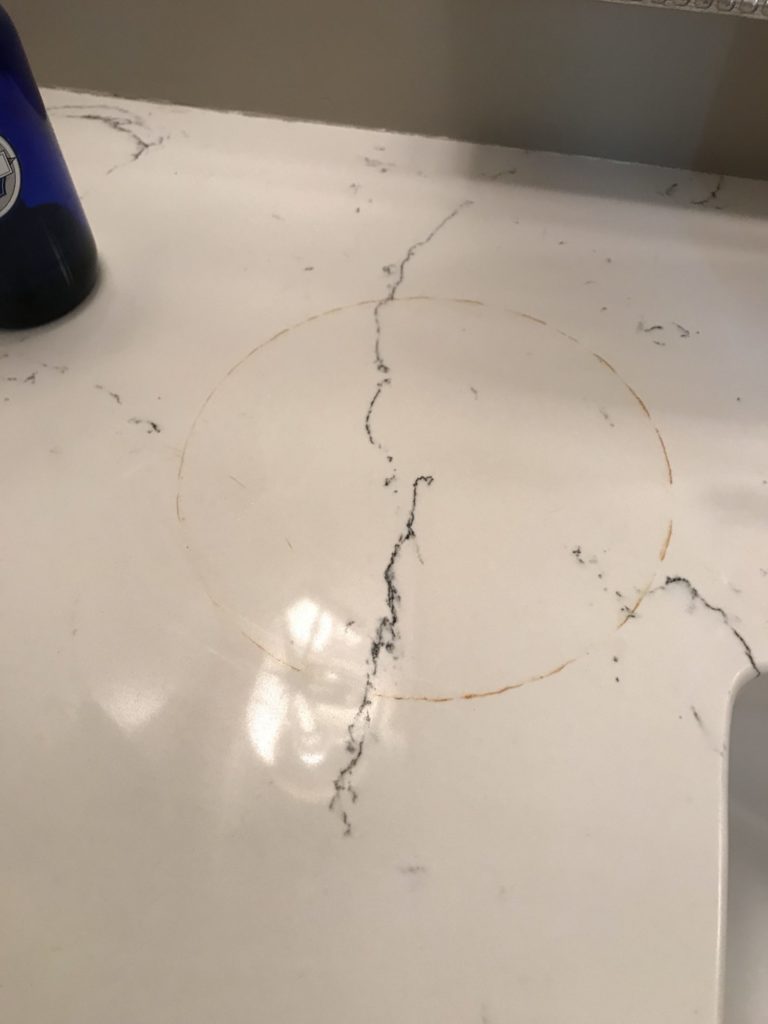 After more painting yesterday, we're getting close to the finish line! I think the messiest part is over now and it's just some odds and ends (and organizing!) that needs to be wrapped up now! As with most renovations, it's been a trying few weeks, but we are so excited about the results so far. It's honestly turning out better than we could have imagined! Once the painters left yesterday, I gave the kitchen a deep clean again and then went outside and clipped some hydrangeas. It helped make everything feel so much more finished! You can also faintly see in the background that the window trim is all painted now too. This tightly cropped photo is obviously hiding a lot of chaos in the surrounding areas, but it makes me so happy to look at!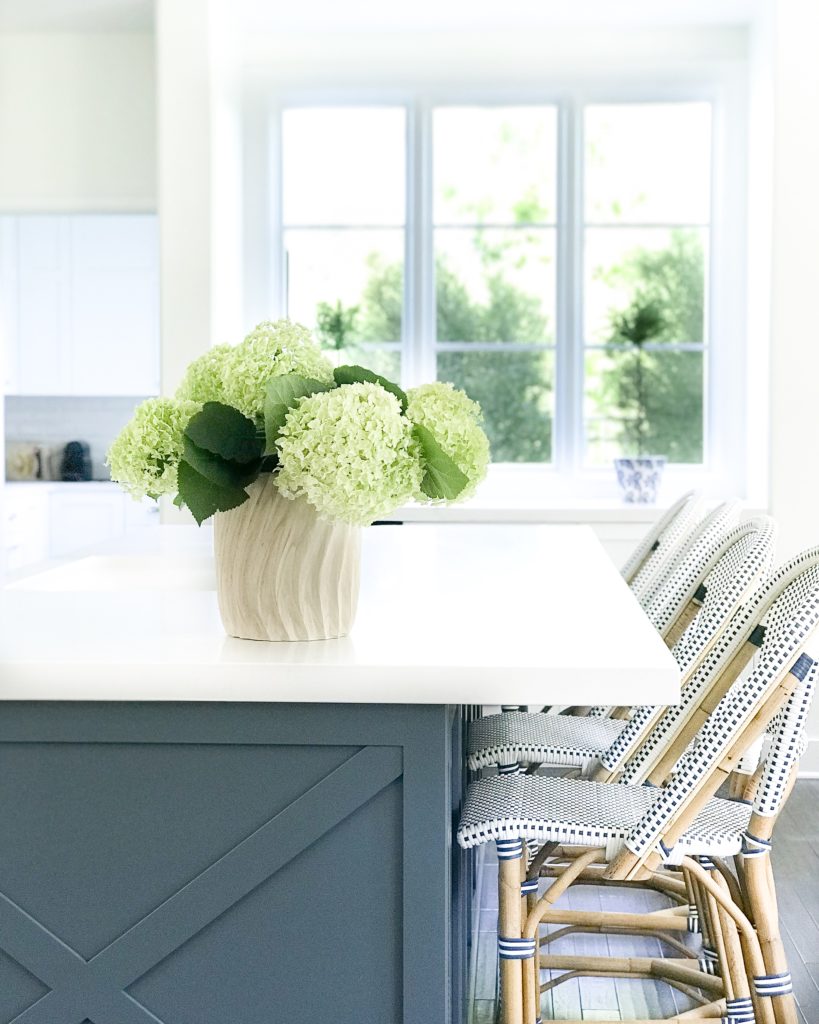 Counter Stools | Wood Vase | Island Color: Benjamin Moore Providence Blue | In background: Topiary, Blue & White Vase
What's left:
Electrical work: Island electricity/outlets/switches, fuse box addition for the oven, installation of range hood vent
Range installation (hopefully this Friday) – looking forward to this so we can start cooking again!
Install island pendants (back-ordered until the end of July)
Arrival/installation of additional cabinet hardware
Update can light casings (ours were very yellowed over time so we just need to run to Lowe's and get new ones)
Installation of smoke detector (can you believe we don't have one in our kitchen/pantry/living room/dining room??)
Put all remaining dishes/small appliances/etc. in cupboards once the hardware is installed
Once everything is wrapped up, I'll plan to share the big reveal! Thank you for following along on this journey with us!
If you would like to follow along on more of my home decor, DIY, lifestyle, travel and other posts, I'd love to have you follow me on any of the following:
Pinterest / Instagram / Facebook / Twitter / Google+
disclosure: some affiliate links used