I can't even believe how much has changed in the past week, since I shared our Week 1 Kitchen Renovation details!
If you're new around here you can get caught up by reading some of the following posts (listed in order from oldest to newest):
Now, I'll be sharing everything that happened the second week of kitchen renovations! I've also been asked by many parties to stress that this renovation is moving at lightning speed, and that most don't move quite so quickly. So I want to mention that for others thinking of undertaking a similar reno!
But first: I had several people ask about my old cabinets/appliance. Habitat Restore is finally picking them up today, so I anticipate they'll be available next week some time but I don't know for sure! just wanted to make note for those that were interested.
This post contains affiliate links for your shopping convenience. Click here to read my full disclosure policy.
As you may recall, progress halted at the end of week 1 because we needed to have our hardwood floors patched. The builder left a handful of leftover pieces in the basement so thankfully we could use those (because we don't have any other info on this ten year old flooring). After calls to a bunch of flooring companies that are booked out for over a month, we finally found a local handyman that would help.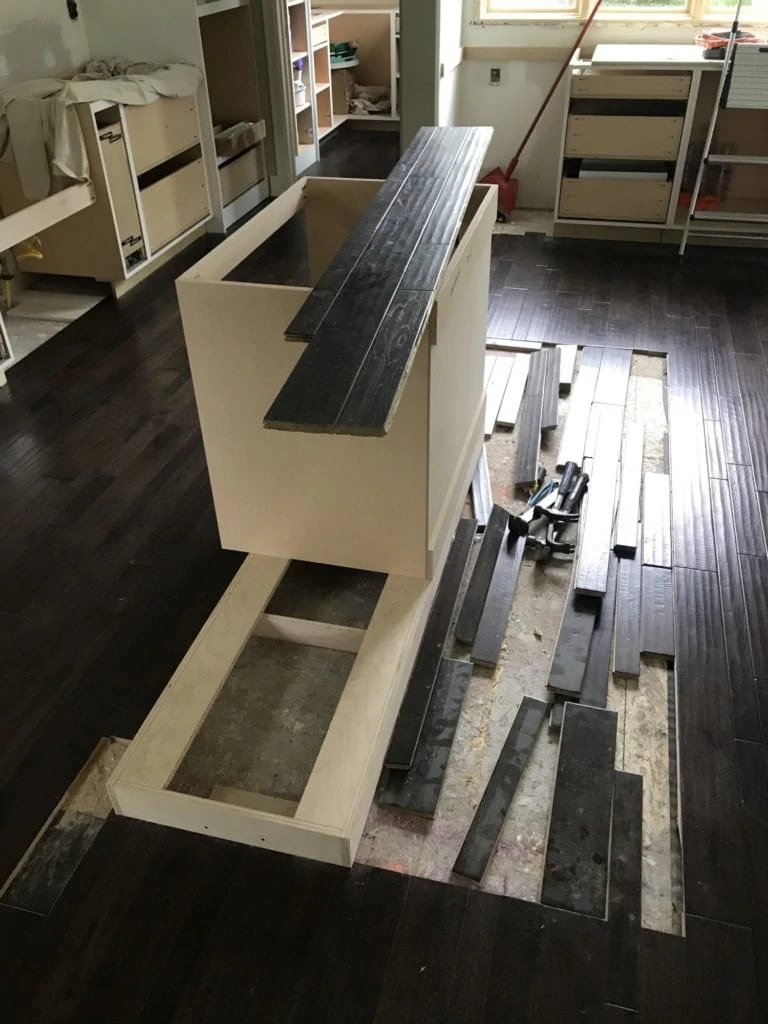 He worked over the weekend and that Monday and was able to get it done in time for our cabinet guys to come back last Tuesday! Which was critical for the counter install date on Wednesday! He had to get a little creative on the patching, and even keep some seams in a line on a few pieces, but overall, it looks amazing! You probably wouldn't have known there were patched in pieces if I hadn't told you 😉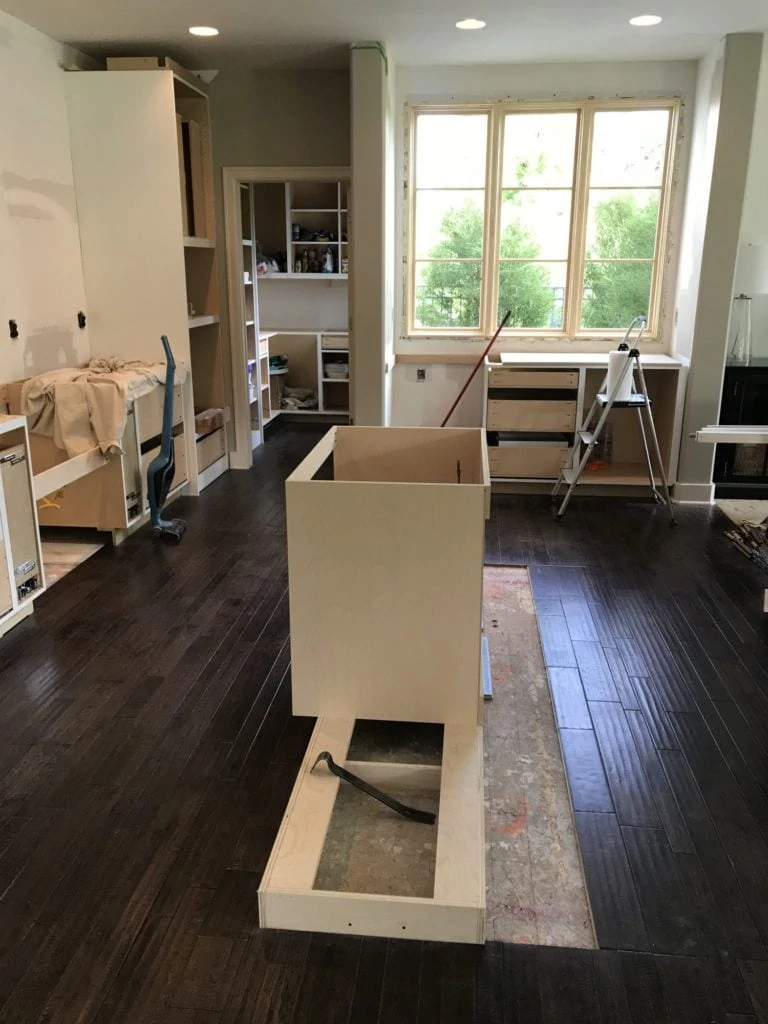 On Tuesday, the island was built rather quickly. With countertops scheduled for Wednesday, this was the top priority for the day. Since the sink base was still set (from when the countertops were templated the week before), it went much more quickly this time around!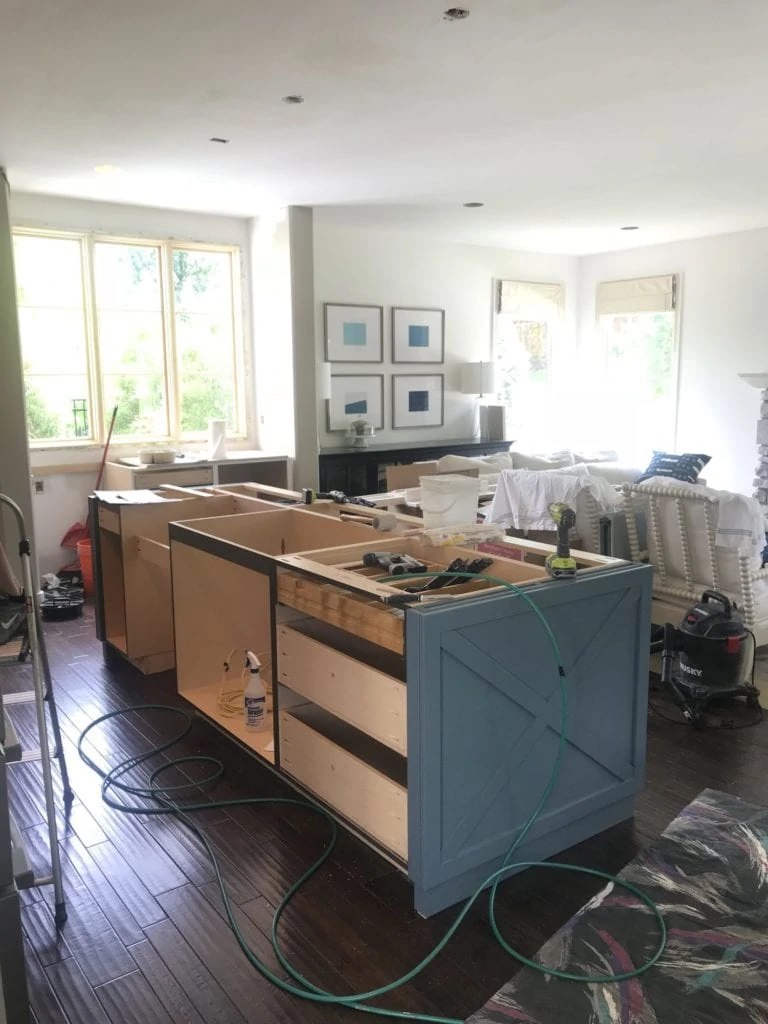 I started geeking out when I realized just how much storage we would have on the back side of the island! This was something we never had before, and although the shelves are somewhat shallow, it's the perfect spot to store seasonal plates and miscellaneous items we don't use that frequently.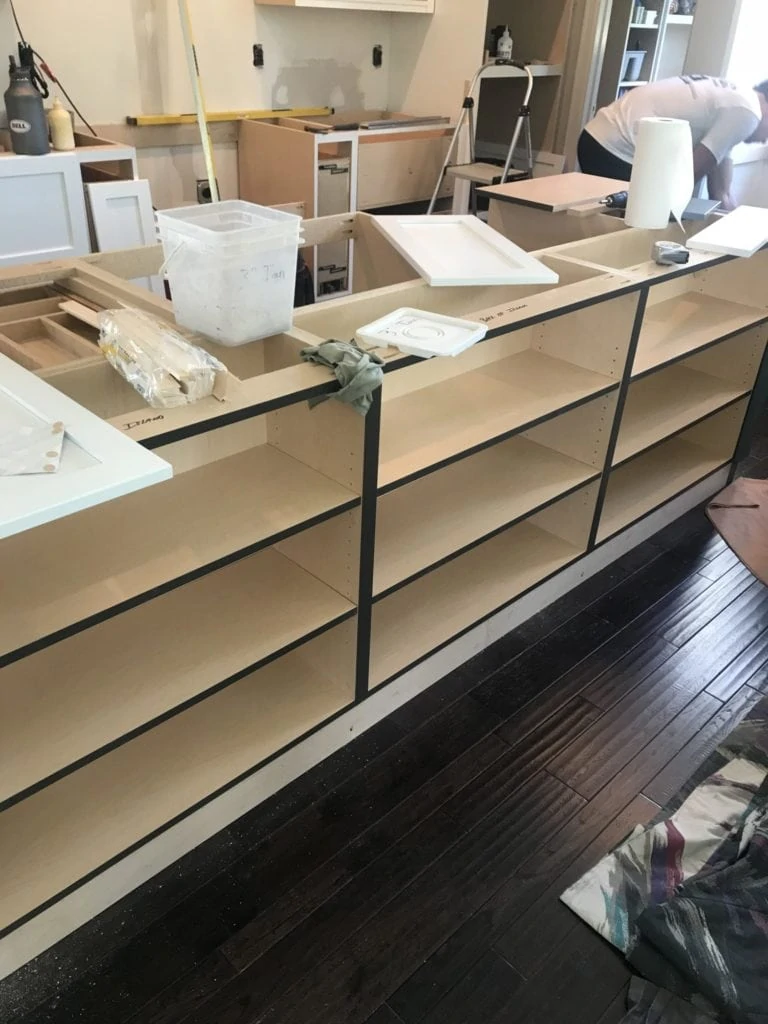 The cabinet guys at McClain's Custom Cabinets were also able to get several of the doors and drawers up that day too. That's when I started getting even more excited! It was even more obvious at that point just how amazing their craftmanship is. The doors were all gorgeous! There were several they felt weren't curing fast enough (the humidity was crazy that week) so we opted to have them left at their shop for a few days to let them properly cure.
Side note: I feel like I might just have to write a whole post on the guys from McClain's. They are amazing and have been so great to work with throughout this whole process! I'll share more in the reveal, but if you're looking for cabinets, I can't say enough great things about them! I'm actually kind of sad they've wrapped up their portion (as of this week) because I'll miss talking to all of them daily! Although, they may not say the same about me though 😉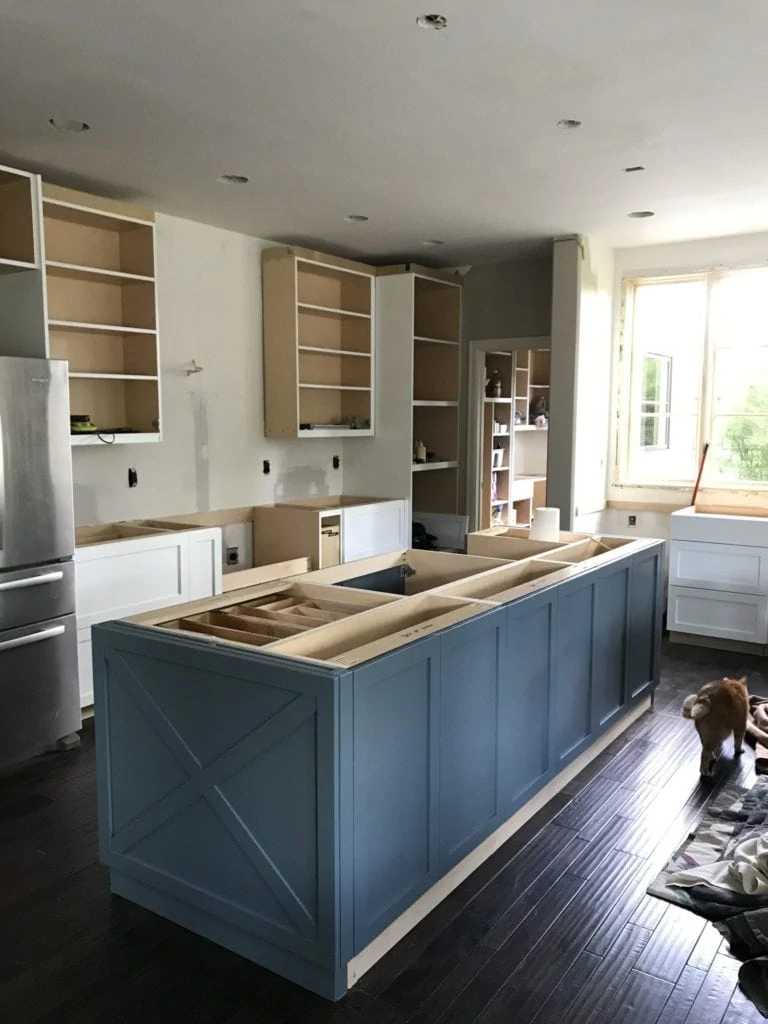 Hawkeye loves the new storage as much as I do 😉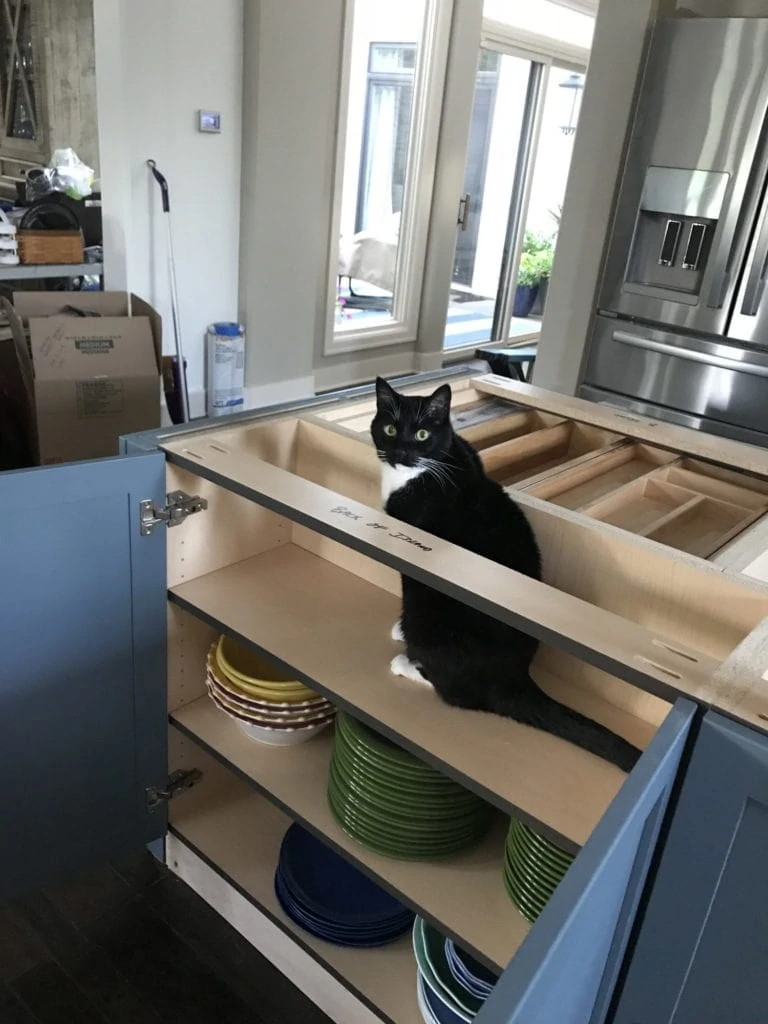 Wednesday morning, the countertop installers arrived from Martin's. I saw the sink and started texting minute by minute updates to Kurtis about the progress. Because I'm sure he really cares as much as I do. Haha!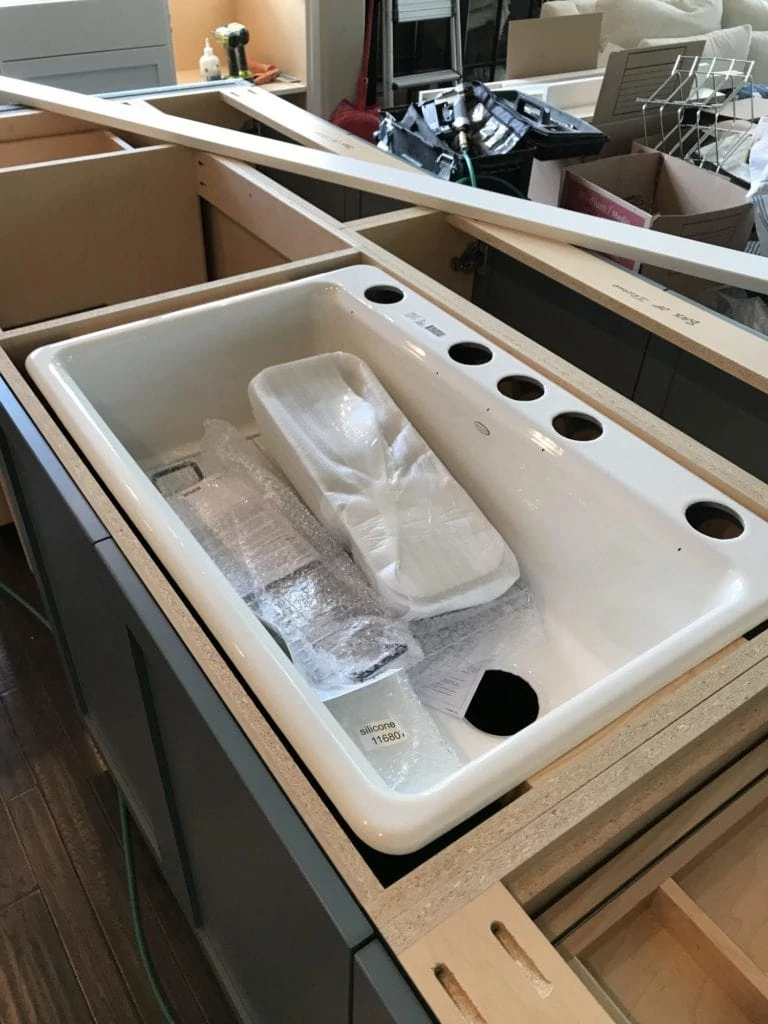 The first countertop was placed under the window and I was so excited. Talk about making the room look a lot more finished! As a reminder, we went with Caesarstone's Calacatta Nuvo quartz and it is gorgeous!
I'll get some better shots when I do the reveal, but here you can see it's a fairly white background (with a slight gray tint) with some gray and warm beige veining. We are so happy with this selection!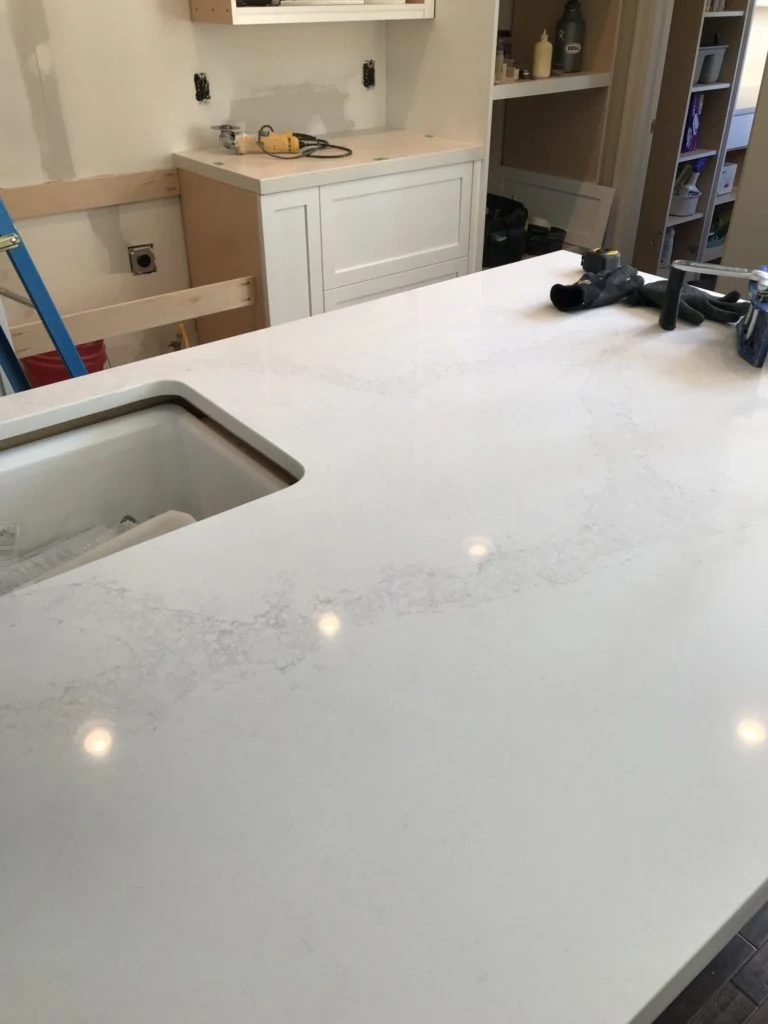 I had to take a breather when the island was wheeled thru the front door. I'm not sure how only two guys managed that beast! It was essentially one full slab of quartz.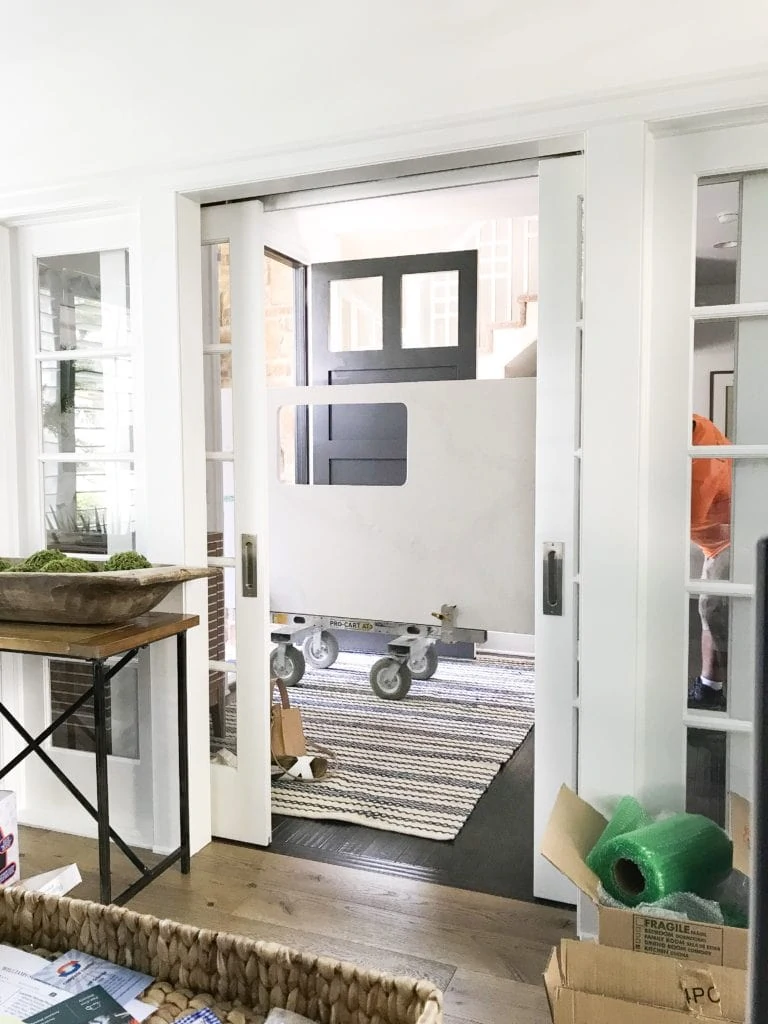 The pantry got crown molding, countertops and a few drawers so we started filling the space up more!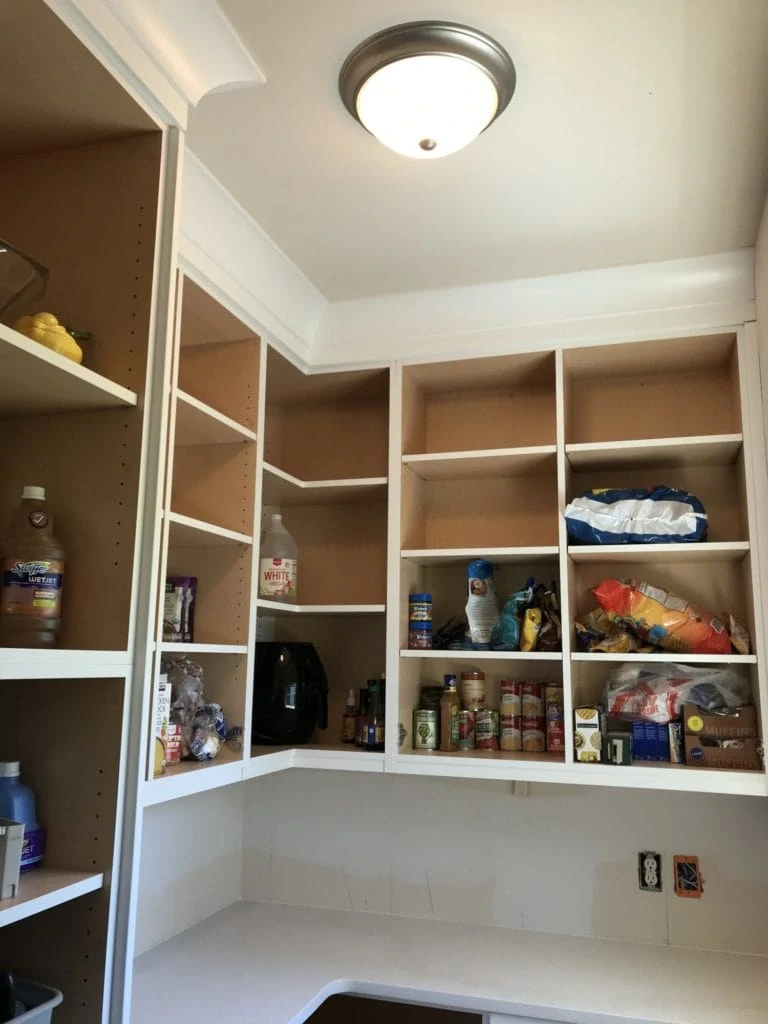 I'm so happy we decided to upgrade to the 2″ mitered edge in the main kitchen area. It makes the countertops looks so much more substantial! We opted to leave the standard size in the pantry and both options look so good in their locations.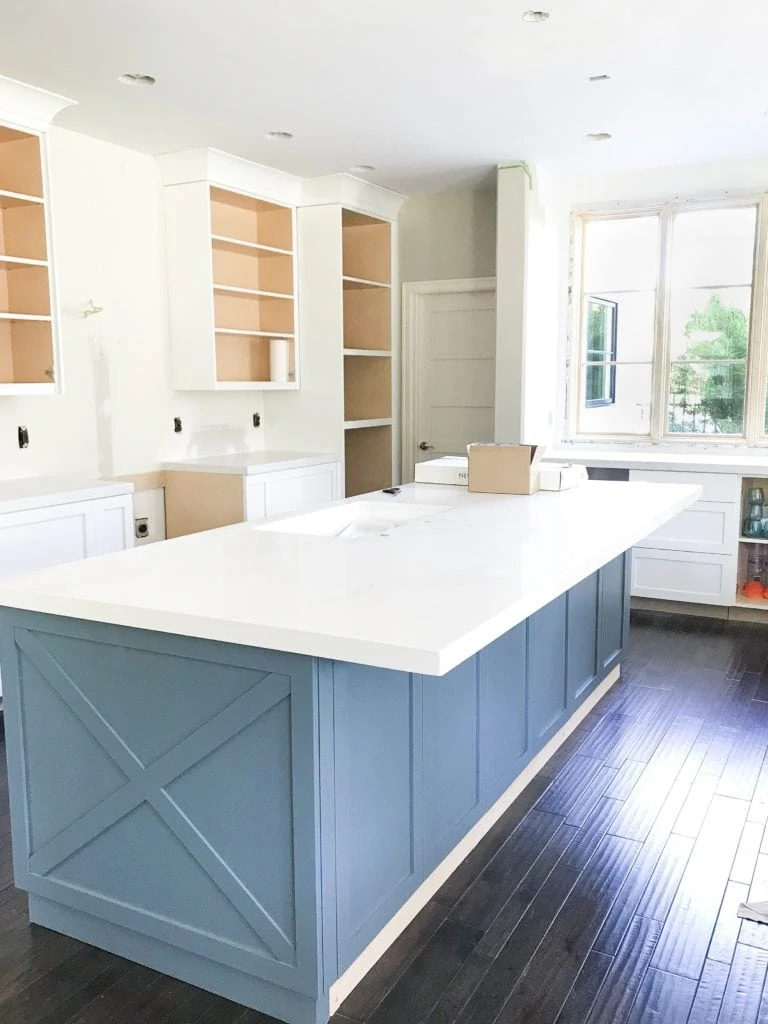 It was the Strawberry Moon that night, and it was pretty amazing to watch it out the kitchen window!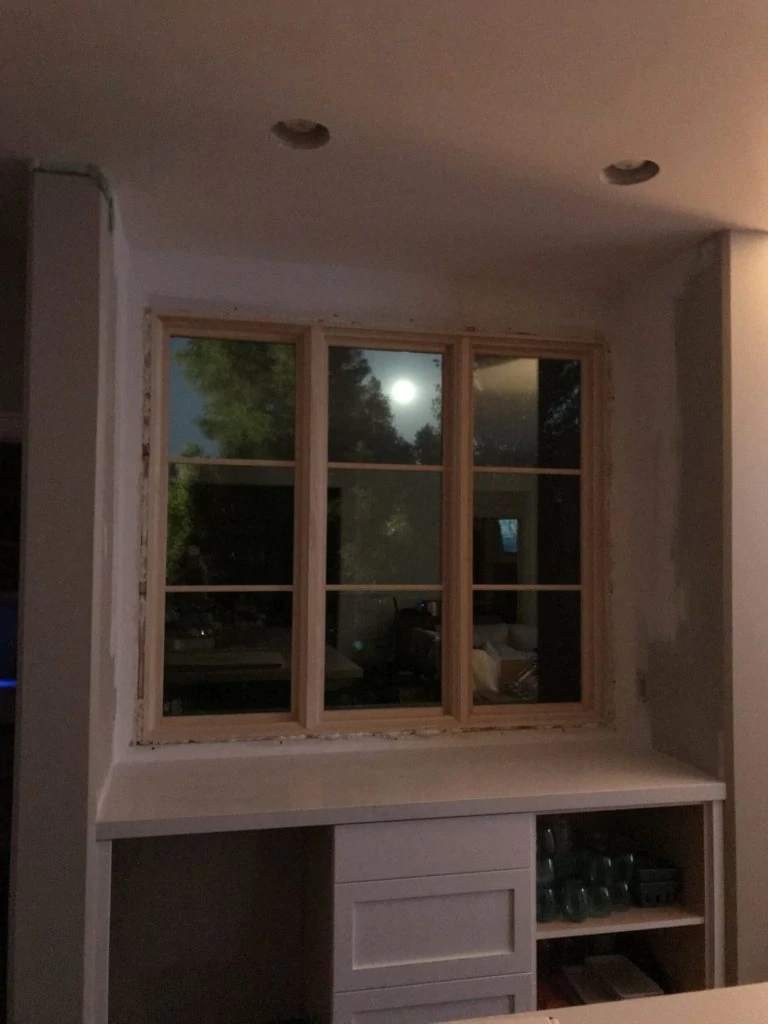 Thursday things turned a bit chaotic and I think by the end of the day, I almost hit my breaking point. So. Many. People. That day, the plumber, cabinet guys, tile guys, painters, electricians, and appliance guys all showed up. I'm sure they loved working on top of each other too 😉 I'll go into more details on what I'm having the painters do, but on Thursday their sole focus was to paint the kitchen/living room ceiling, the mudroom ceiling, and then the two-story portion of our entryway/ceiling. Those were basically the only three areas left in our entire house that I hadn't yet fully converted to white, so I figured I'd have them do it while the equipment was out.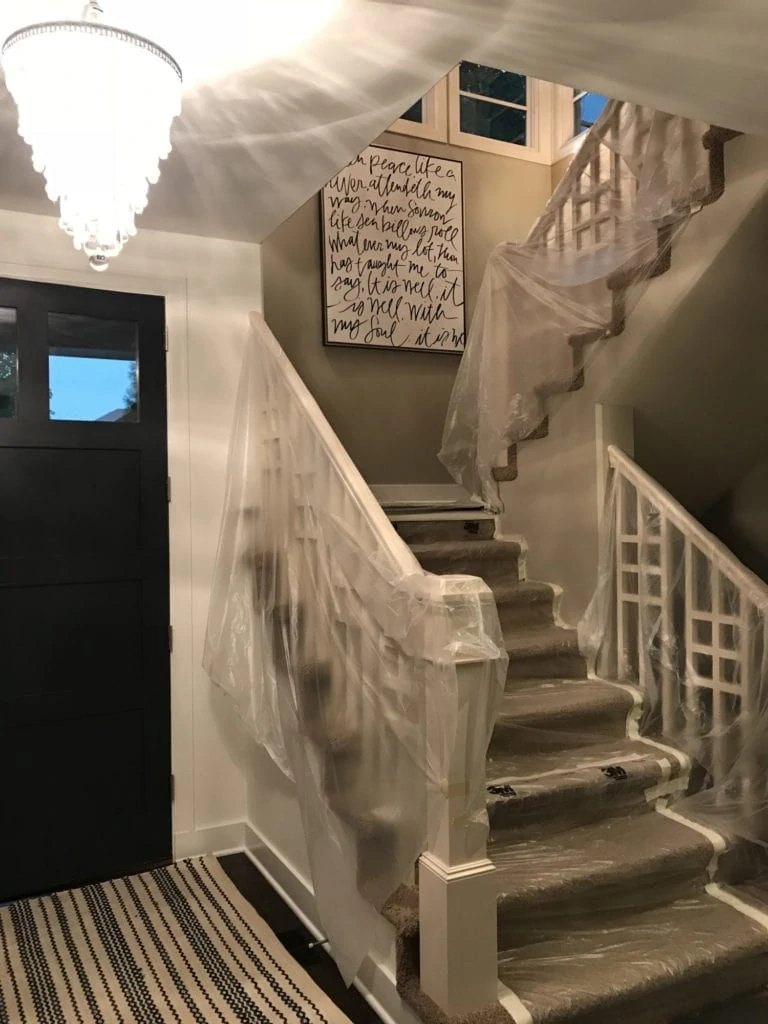 Talk about prep work! It seriously felt like a scene out of Dexter! I would estimate they had about five hours of prep work just in those three areas, and then once prepped, it only took them about two hours to get all of the painting done! They're back this week wrapping up a few other things, but I'll save that for my Week 3 update!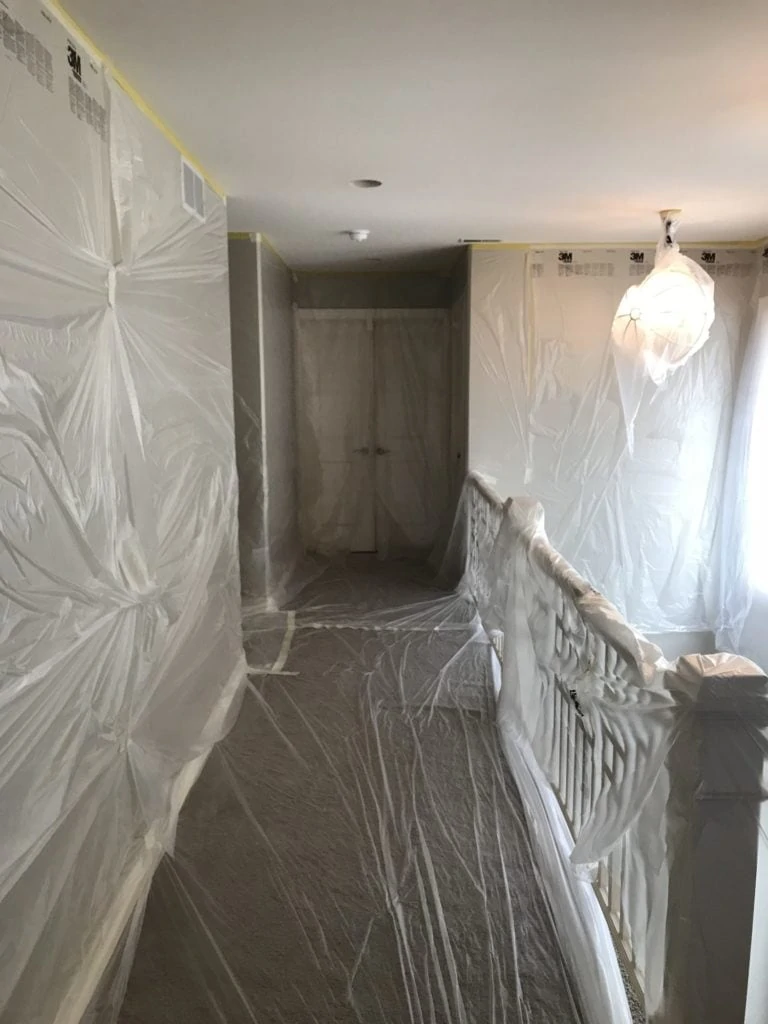 As I mentioned, the tile guys also unexpectedly showed up Thursday and moved at lighting speed. I knew immediately I was going to love the tile!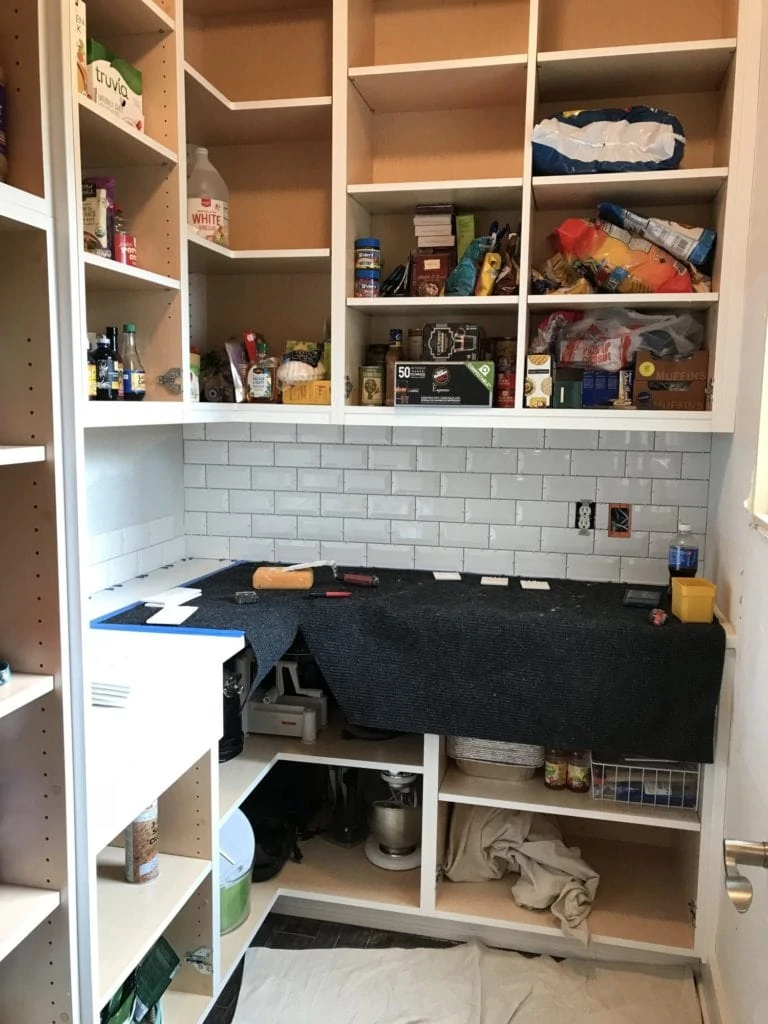 Thanks to all of the great feedback from many of you, we opted to go with the $.49 tile from Lowe's. So basically, all the tile for our kitchen and pantry came in at under $200 – and we couldn't be happier with how it turned out! I don't even remember the company the guys worked for that installed it (Erica lined it up). But they were so nice and did an amazing job. This photo is pre-grout, so you can see just how perfect all those tile cuts were!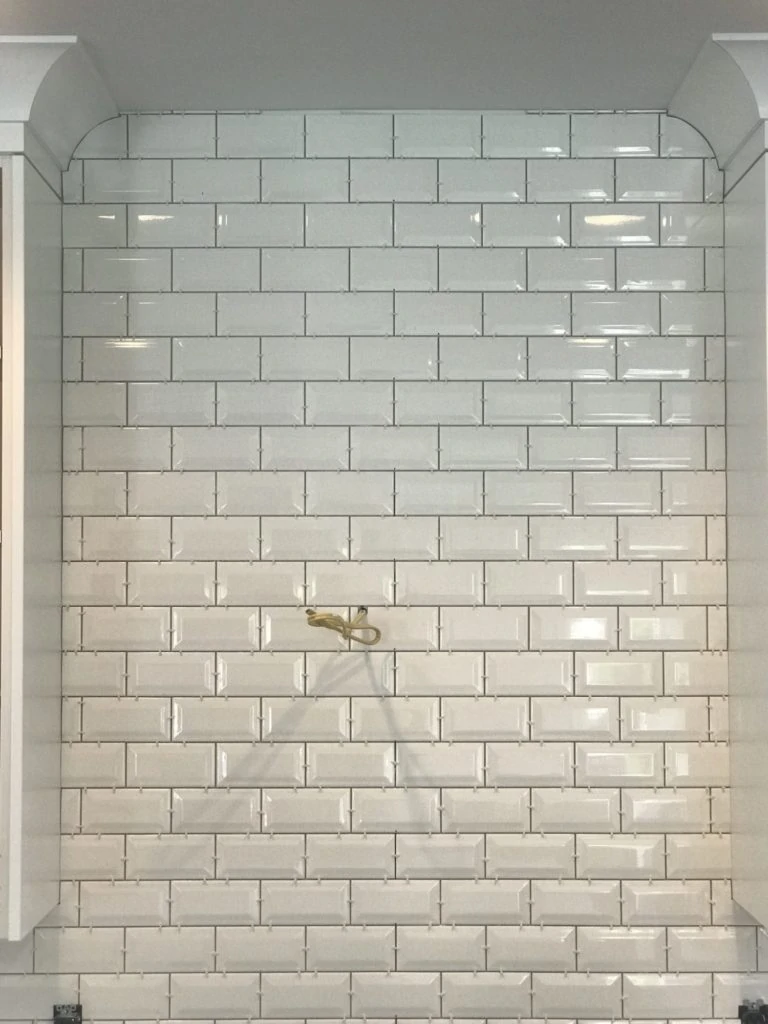 By the end of the day it was all really coming together. And, let's just talk about that crown molding on top of the cabinets! It came from the cabinet builders and I'm in love! On Thursday our sink and faucet were also hooked up so we had running water again in the kitchen!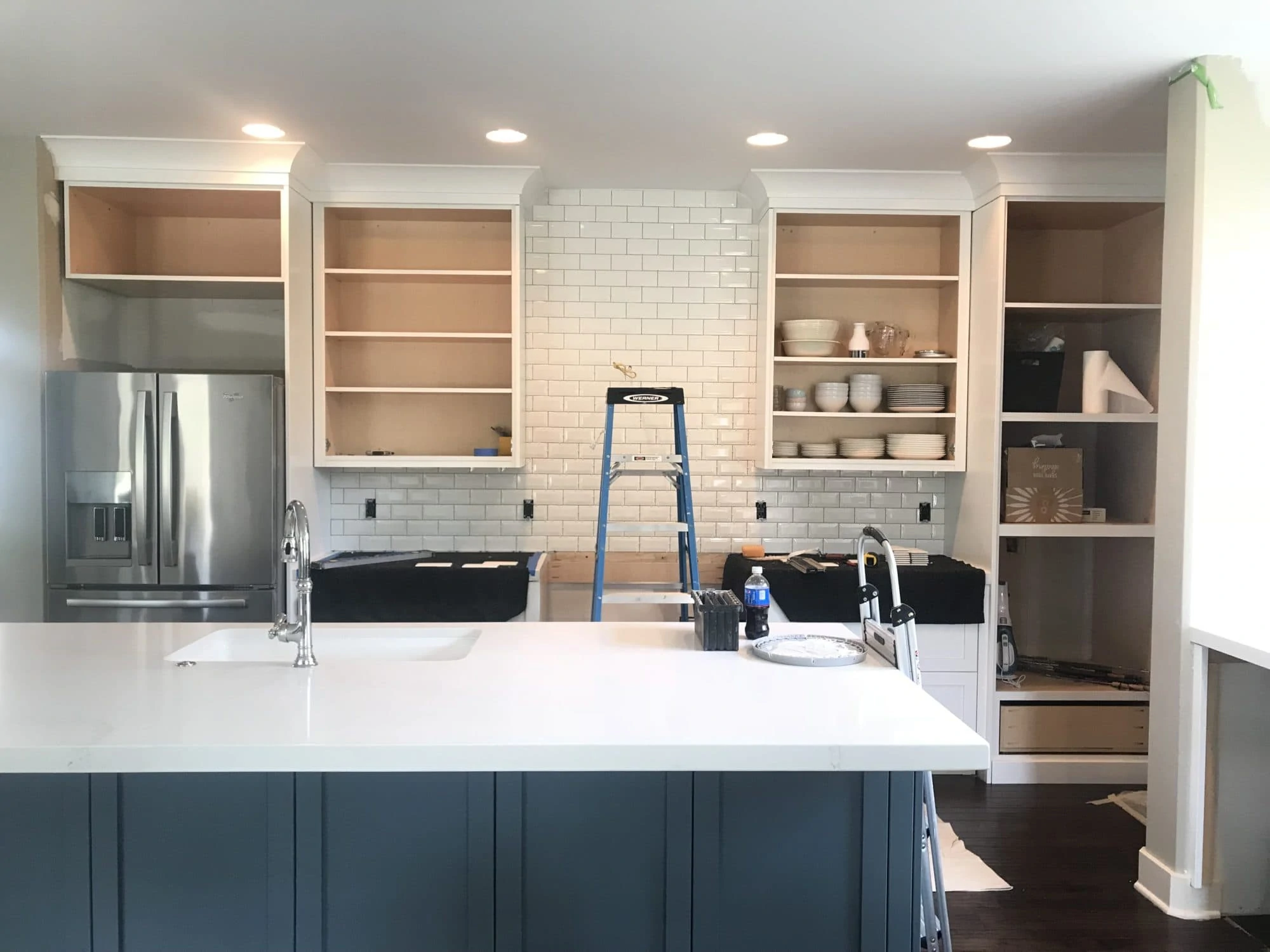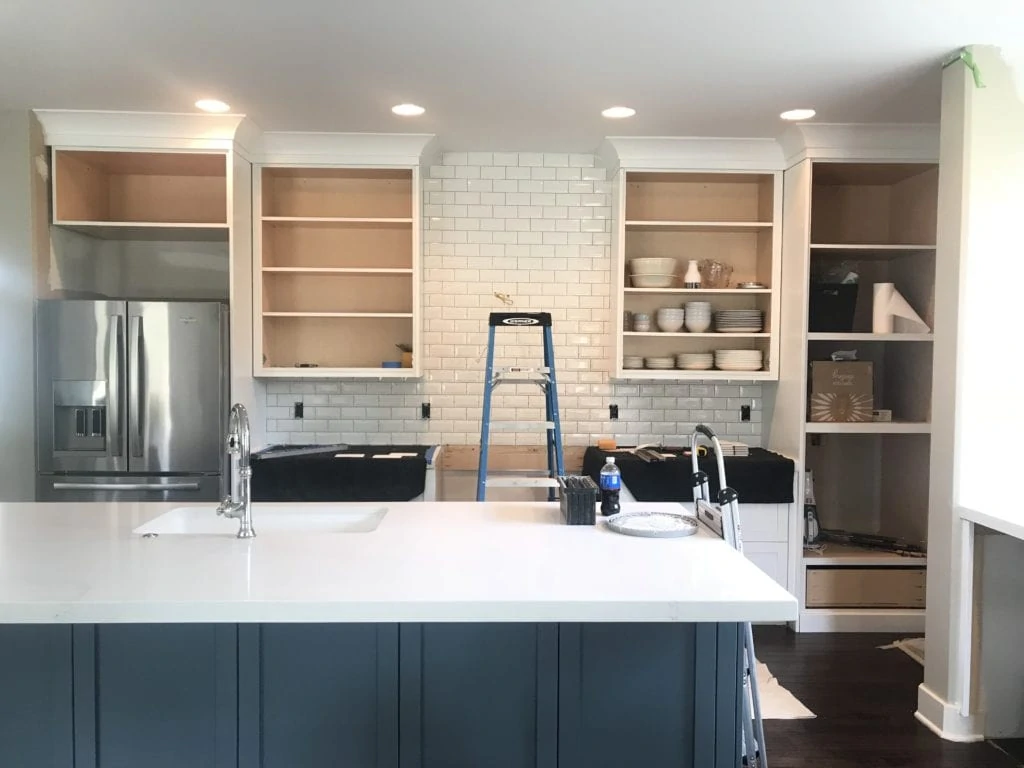 The rest of our doors arrived Friday! Such a pretty sight to see 🙂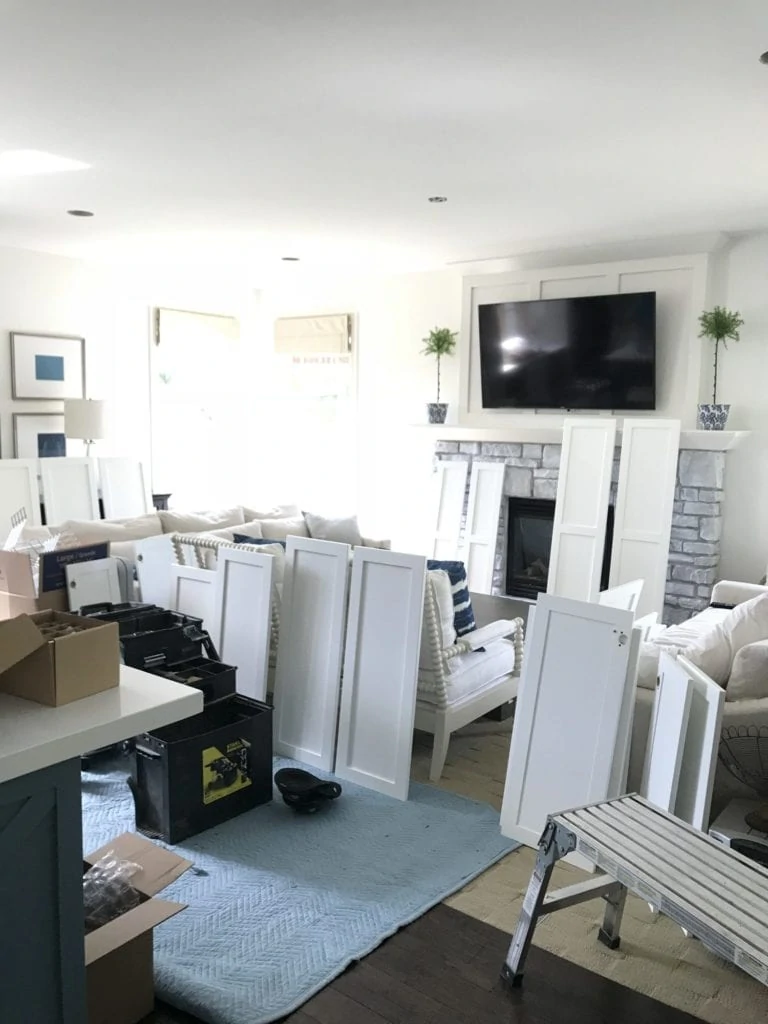 The appliances were delivered Thursday, but other than the fridge, none were installed until Friday. Due to some electrical outlet issue not being in the right place, our range still hasn't been installed, but we're hoping to have that completed early next week so we can truly start cooking in our kitchen again!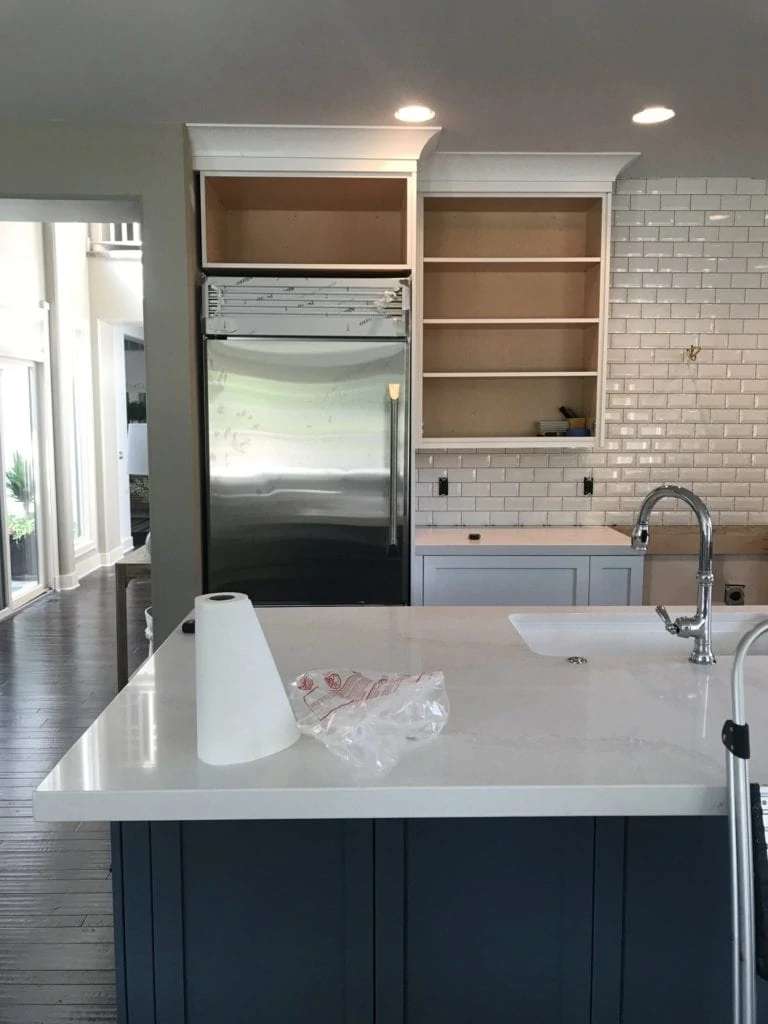 The tile was grouted Friday morning and looks so good! We went with a fairly white grout (I'll get all the specifics later). I didn't get an updated shot, but I love the way it finishes the space so much!
It's amazing to me just how much the color of the island can change based upon lighting! I would say the image below is probably the most accurate representation of the Benjamin Moore Providence Blue color. But at night, it goes much darker, and other parts of the day it looks much lighter and with a bit more green undertones. That's one of the reasons I love it so much! And doesn't it look so good against the hardware!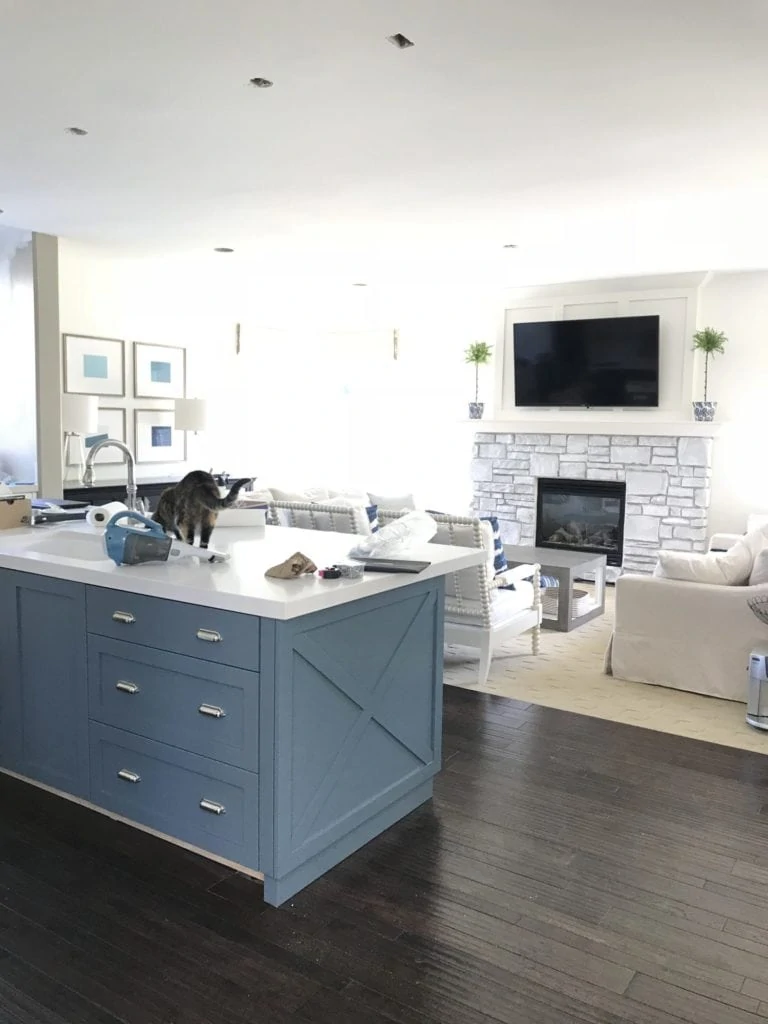 We opted to go with double bin pulls on many of the drawers as you can see above, so we actually ran out of both the knobs and pulls we selected. I'm hoping those all arrive by the end of next week so we can make the coordinating doors/drawers functional!
With my family arriving Friday night, the week ended up progressing pretty well! We were able to make the kitchen look somewhat pulled together by the time they arrived which was one of our goals all along!
We had people here working Monday, Tuesday and Thursday, and some will be here again today, so I think it will be 95% complete by the end of the day! We're looking forward to getting everything clean again and to put things back in their place. It will also be nice to finally see our dining room again too 😉
Have a great weekend friends!
If you would like to follow along on more of my home decor, DIY, lifestyle, travel and other posts, I'd love to have you follow me on any of the following:
Pinterest / Instagram / Facebook / Twitter / Google+
disclosure: some affiliate links used