And just like that, it's already the middle of May. What?! The weather last week was gorgeous here (other than the weekend) so things finally greened up and are starting to look like summer is near!
Home Updates & Projects
I met with the kitchen designer and cabinet maker on Wednesday last week. A lot of changes have been made to our plans so I'll plan to write a post on that shortly to fill you in on everything!
I ended up splurging on two bougainvillea topiaries when I was picking up a few other plants last week. Bougainvillea is one of my all-time favorite is one of my favorites ever – probably because it only seems to grow in places I think of as vacation destinations. I haven't actually planted them in their new pots yet because I'd still like them to be mobile for another week or two in case it freezes again. But I can already tell they are going to be gorgeous out by the pool!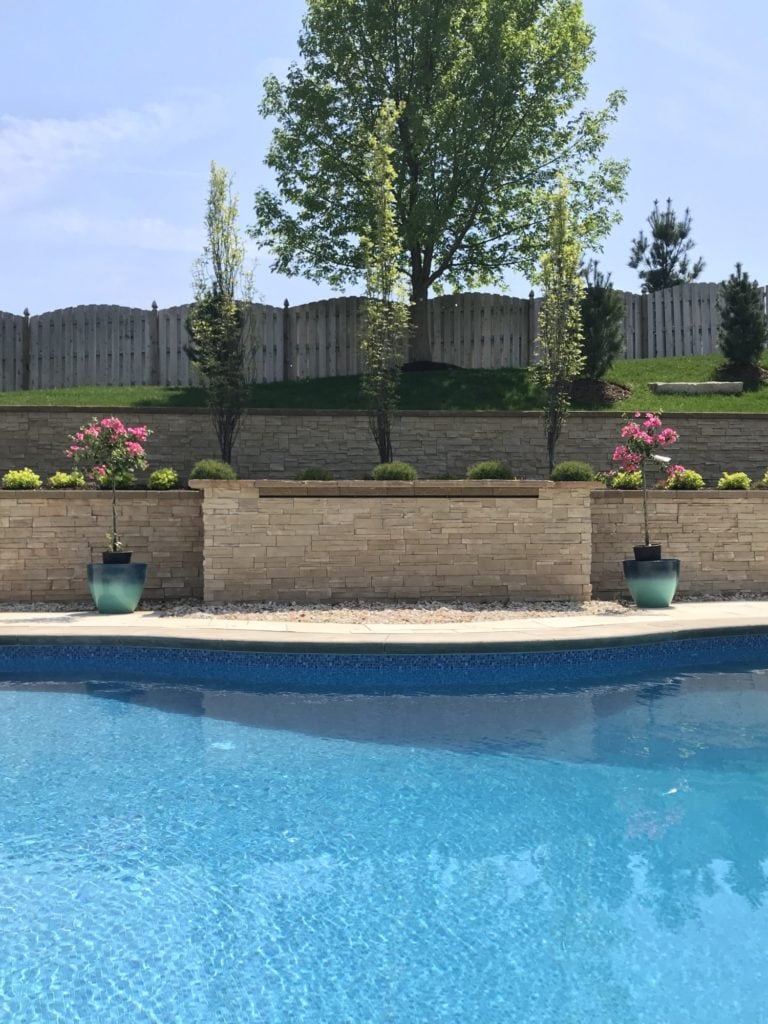 I finally cleaned up my craft room/TV room/junk room last week.  I worked on tackling the "pretty" side first and then organized and purged from the bad side. I had so much home decor items (pillows, greenery, vases, etc.) that needed to be dealt with. It looks so much better in here now!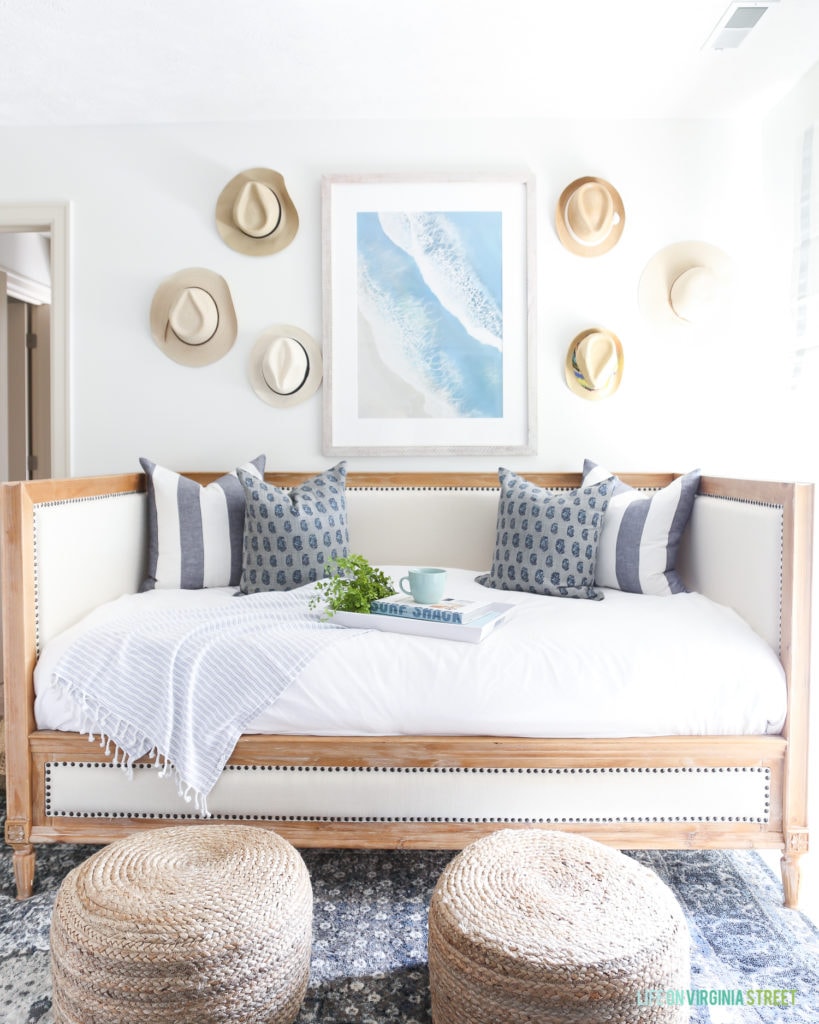 Daybed (also here) | Beach Art | Jute Poufs | Rug | Striped Pillows | Paisley Pillows | Surf Shack Book | Ribbon Roman Shades
Here's what the other side looked like before I tackled it. Just keeping it real, people! Thankfully, it's about 90% better now.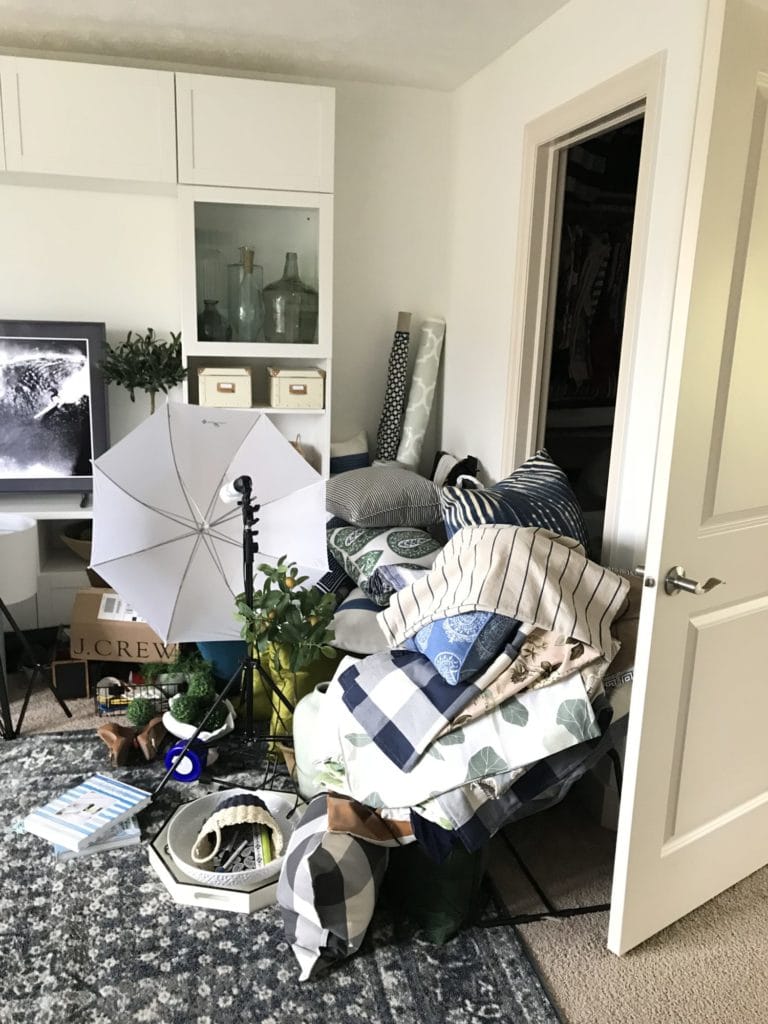 Once I was in the purging mood, I attacked other areas upstairs that had been neglected for a few months. With as much travel as I've done since mid-February, it gets way to easy to allow unpacked clean clothing to stack and allow things to not be put away. I still have some work to do (and plan to tackle my closet soon for donations), but it feels good to organize and tackle the clutter!
I also made some updates to both of our guest bedrooms and can't wait to share those soon.
Last night on Instagram, I posted this shot of our living room. I still haven't filled those frames. I'm leaning to ocean/beach photos from vacation, other travel photos, family photos (maybe in black & white), or just solid colors of the same tone. Thoughts? Also, can you tell those pillow have been on major rotation? 😉 You may also see one of them in a guest bedroom in the near future.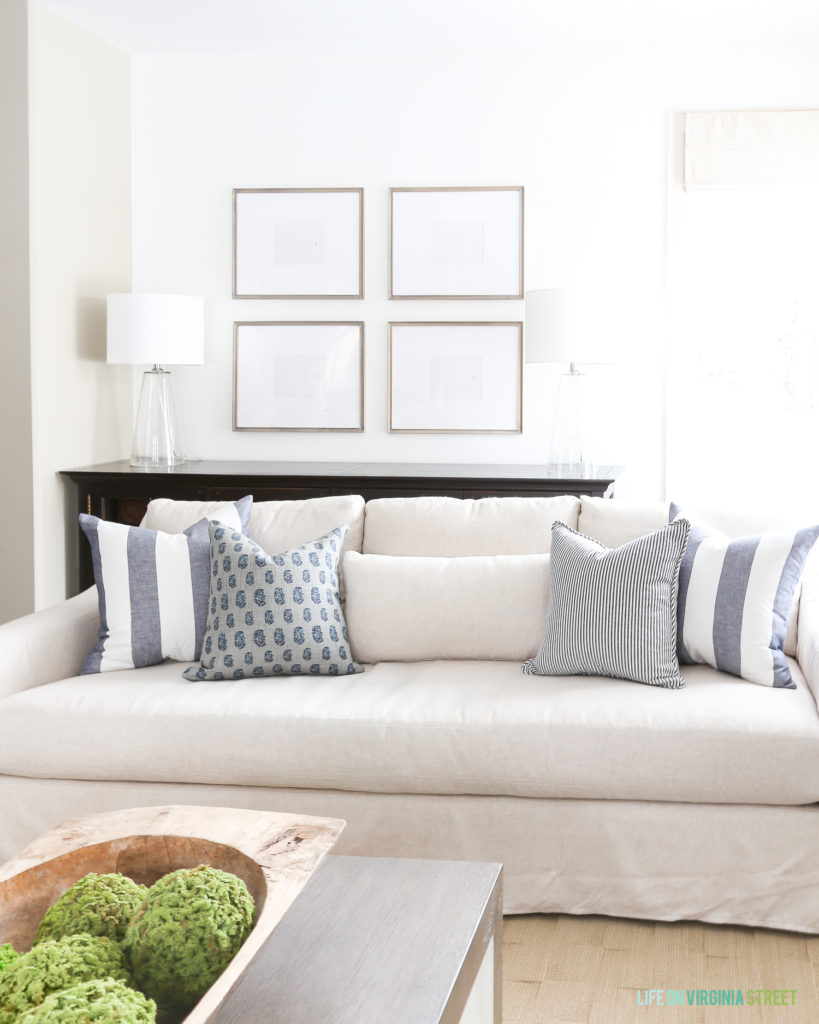 Sofa | Wide Striped Pillows | Paisley Pillow | Ticking Stripe Pillow here(similar ) | Coffee Table | Frames (similar here) | Lamps Dough Bowl |
Around Town & For Fun
Tuesday I was asked to speak on a panel in front of 60 or so PR professionals in the Omaha area. The moderator asked us questions about how PR firms can better work with influences, and it was a fun (but scary experience). I love talking (a lot, if you ask Kurtis) in smaller groups but in front of large groups can be so intimidating! I wore my stand-by outfit that I've also worn to every single conference I've been to this year!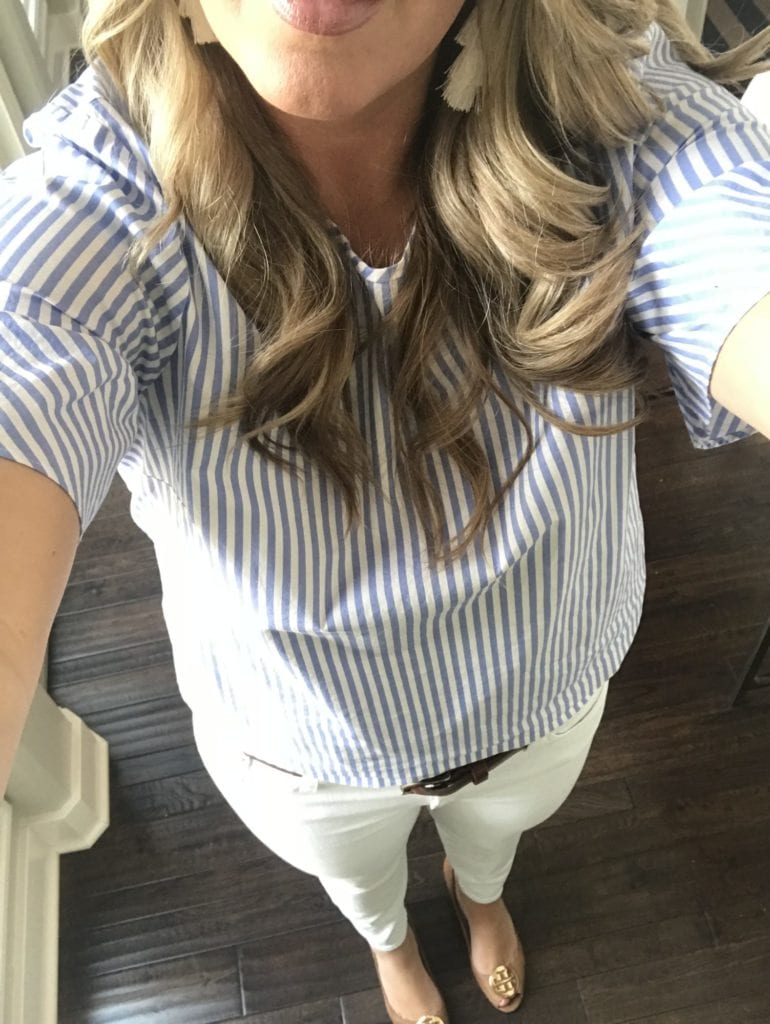 Blue and White Stripe Ruffle Top | Favorite White Skinny Jeans | Watch (same brand, similar style) | Wedges (similar here) | Tassel Earrings | Lip Gloss (color is Love Child)
That evening, I had a blogger meet-up at a new bar called Trio (near 132nd and Pacific for you locals). The drinks were fantastic and very creative. It's fun to get out and try new places! The drink I had (shown below) had Mezcal and pureed strawberries. It's always fun to get out with other bloggers in the area from all genres!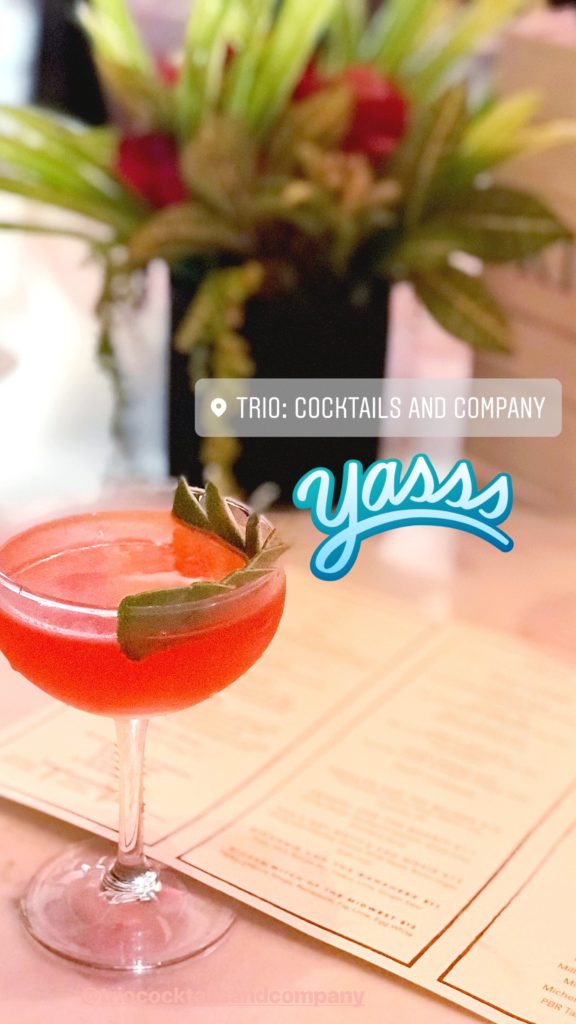 Thursday afternoon, the weather was absolutely gorgeous! Kurtis was let out a few hours early from a leadership event he was at so we hit the pool. Kurtis clearly needs to work on his diving skills after a seven month hiatus 😉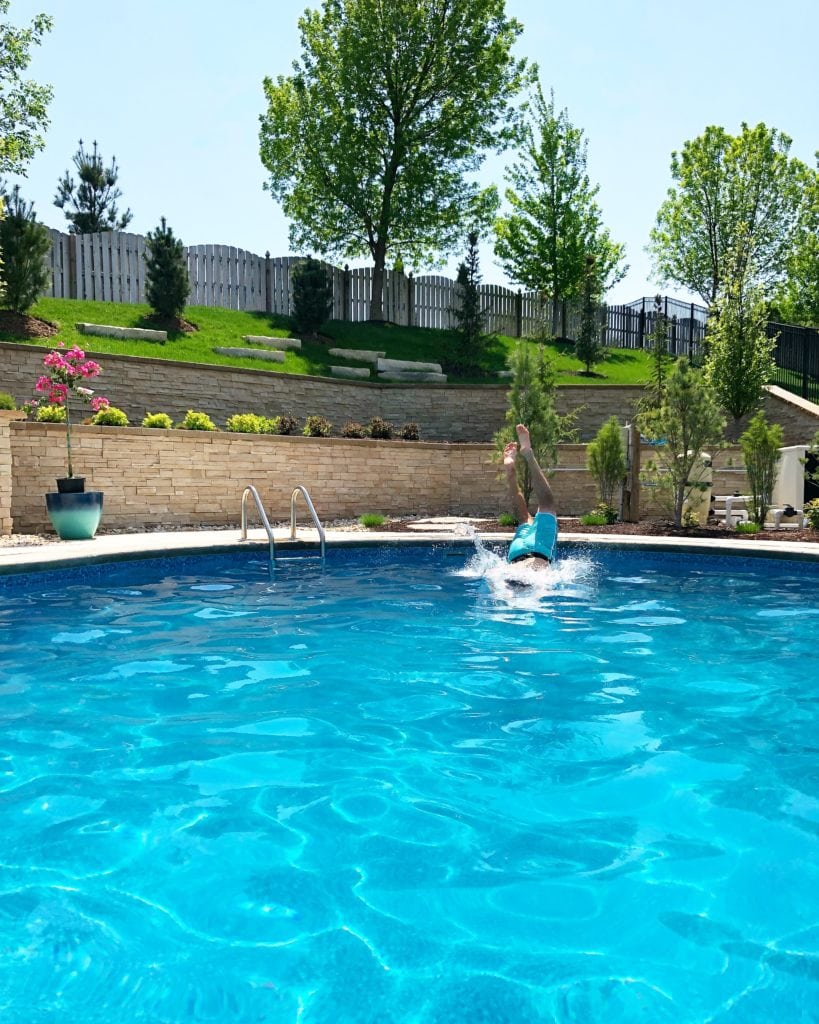 We woke up to storms Friday morning, and cute pair of ducks that decided to swim for a few hours in our pool. Or I should say they were cute until I saw all the "presents" they left on our pool deck. Thankfully they headed back to their pond after a few hours. The showed up two other times this weekend, but we tried to gently scare them as soon as we saw them.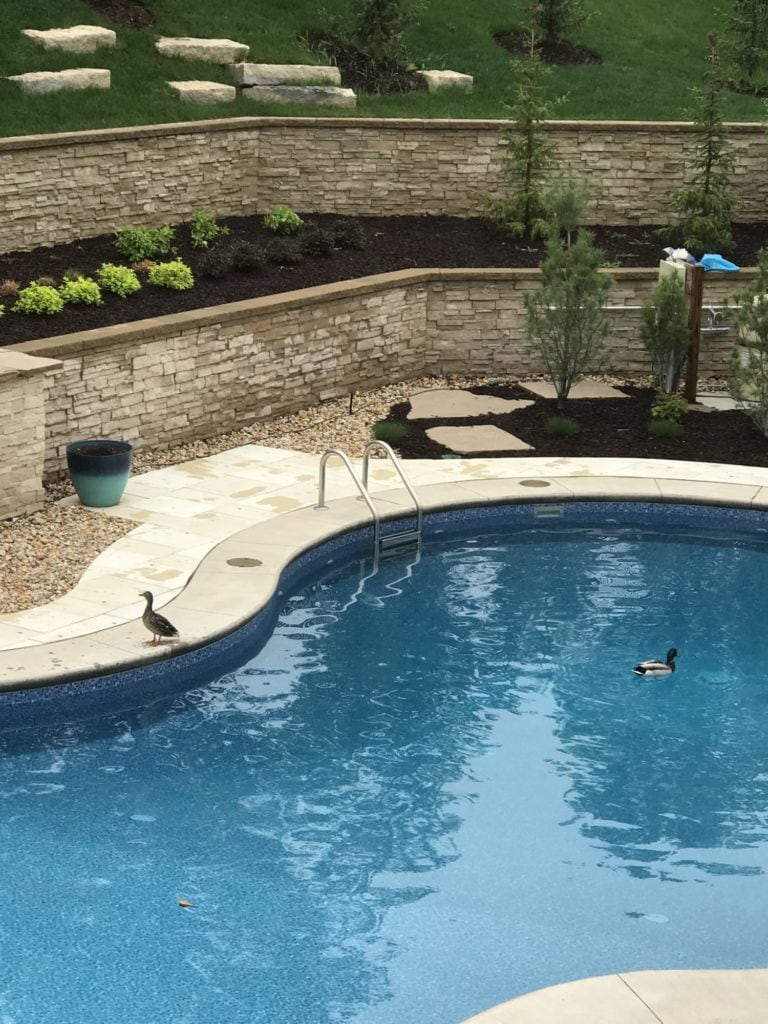 Friday night we went out for Mexican food and then binge-watched Justified. We watched four episodes, including the series finale. We're so sad it's over! It's by far one of the better series we've watched in awhile. Bearcat was duck hunting while we were watching our show.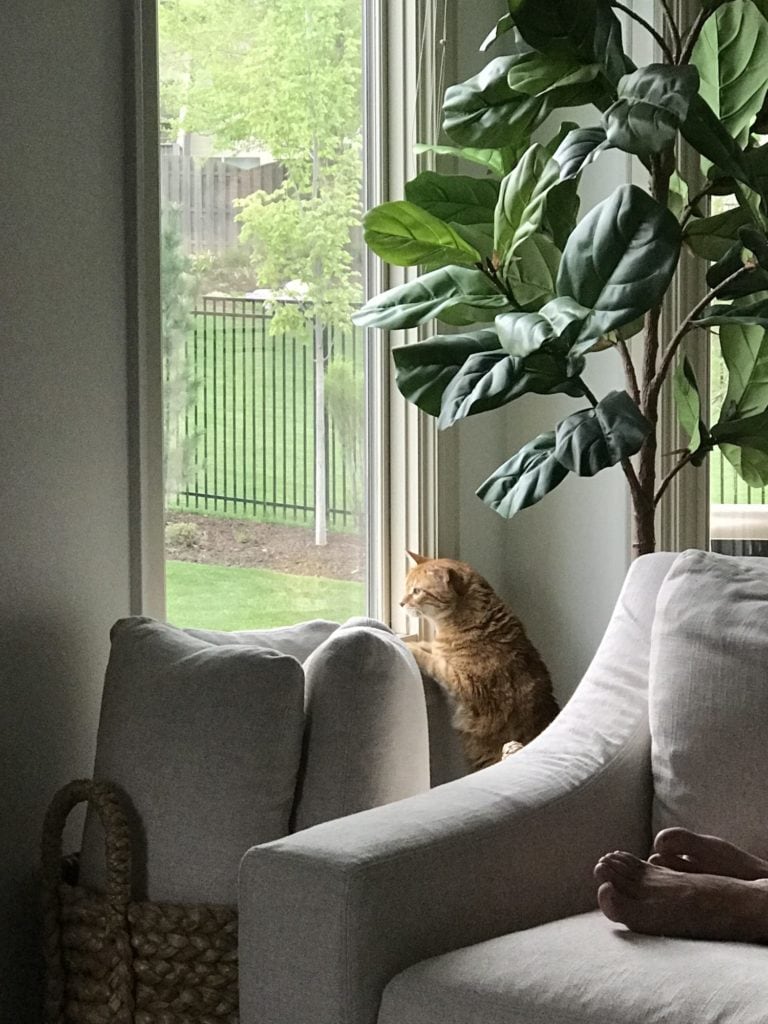 Saturday was the day I spent most of the day cleaning, organizing and purging. Kurtis spent most of the day outside, cleaning pool filters and other tasks that need completed this time of year. That night we had to fix something at one of the rentals and then we hit up Lazlo's for dinner. We've started to get into a bad habit of eating out again, and we really need to stop!
Sunday morning we had brunch at Jill and Nick's house. The boys made their famous breakfast sandwiches again, while I was in charge of bloody Mary's and mimosas.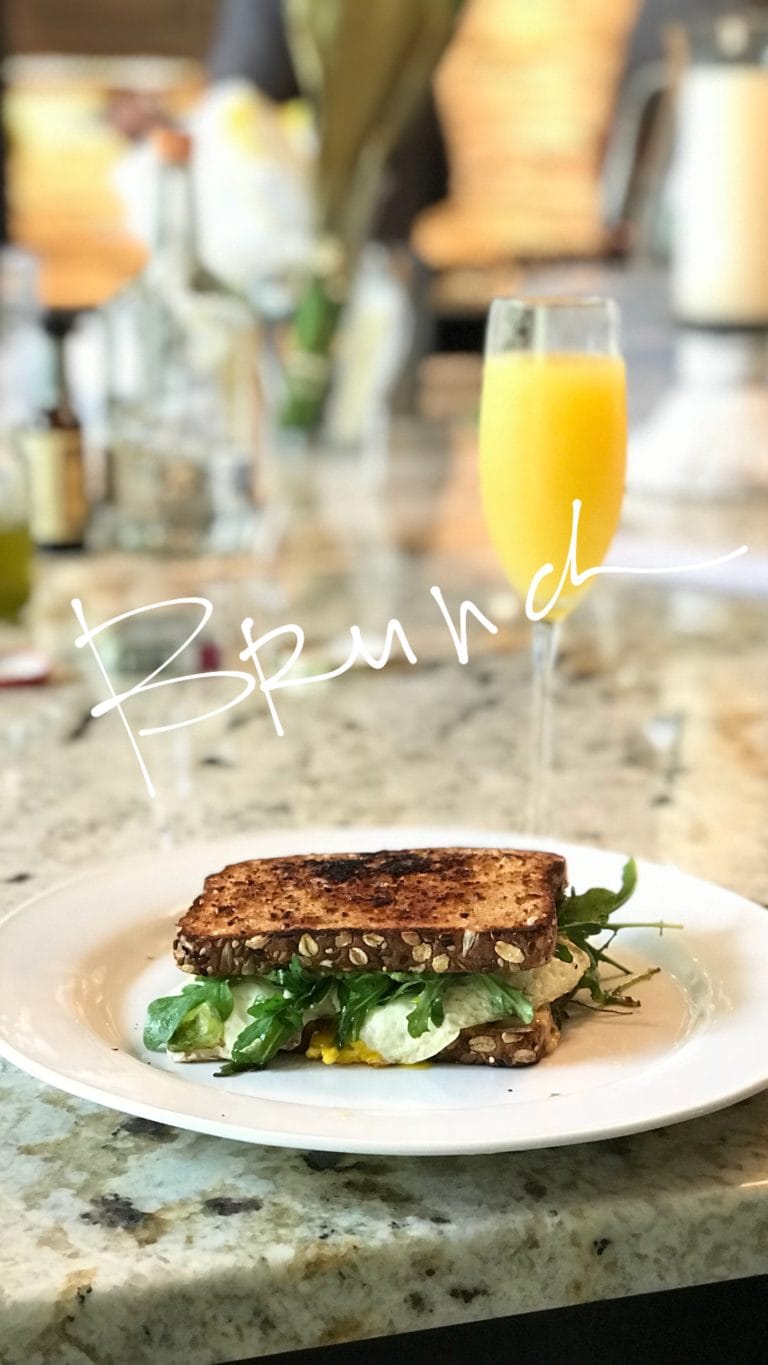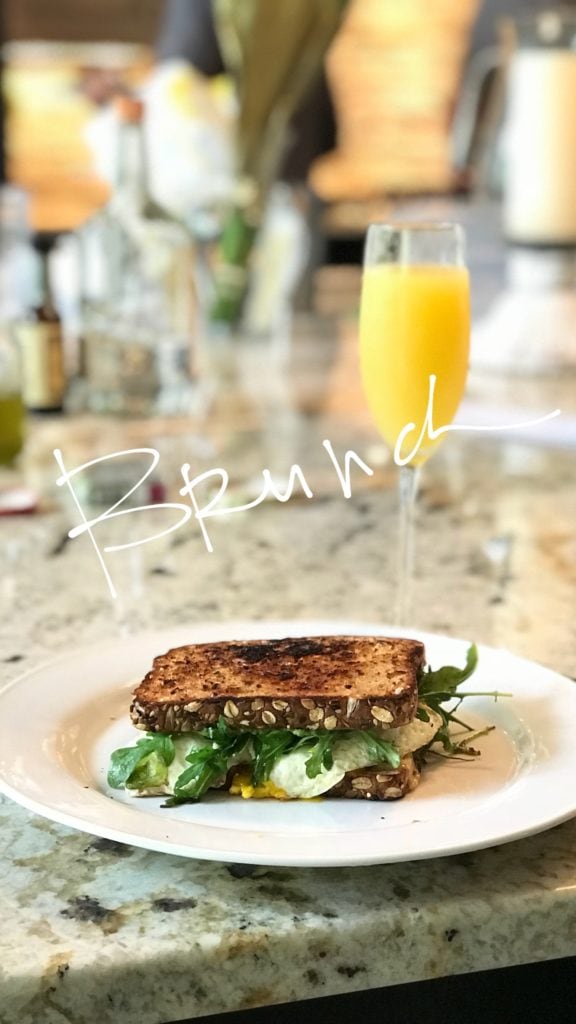 Little Zoe is growing like a weed but is still cute as ever!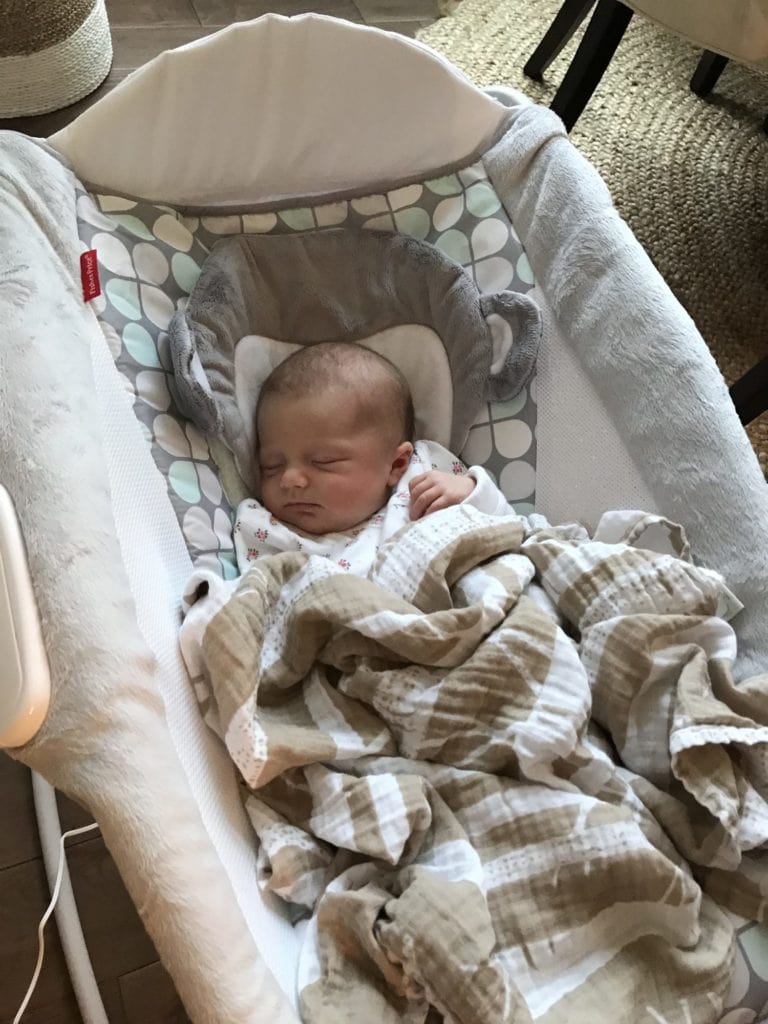 After brunch, Kurtis and I headed out to see the new Avengers movie. I won't give away any spoilers, but I hated it. I've liked all the others, but we left this one thinking "did I just sit here that long to watch what I just watched?!?"
We came home and wrapped up a few other smaller projects and then started watching Parks & Recreation after dinner, at Jill and Nick's recommendation. We were ready for a lighthearted show to start watching. Especially with summer coming, knowing we won't be that dedicated to watching our shows at night 😉
Recent Buys & Sale Alerts
Here are few recent outfit favorites!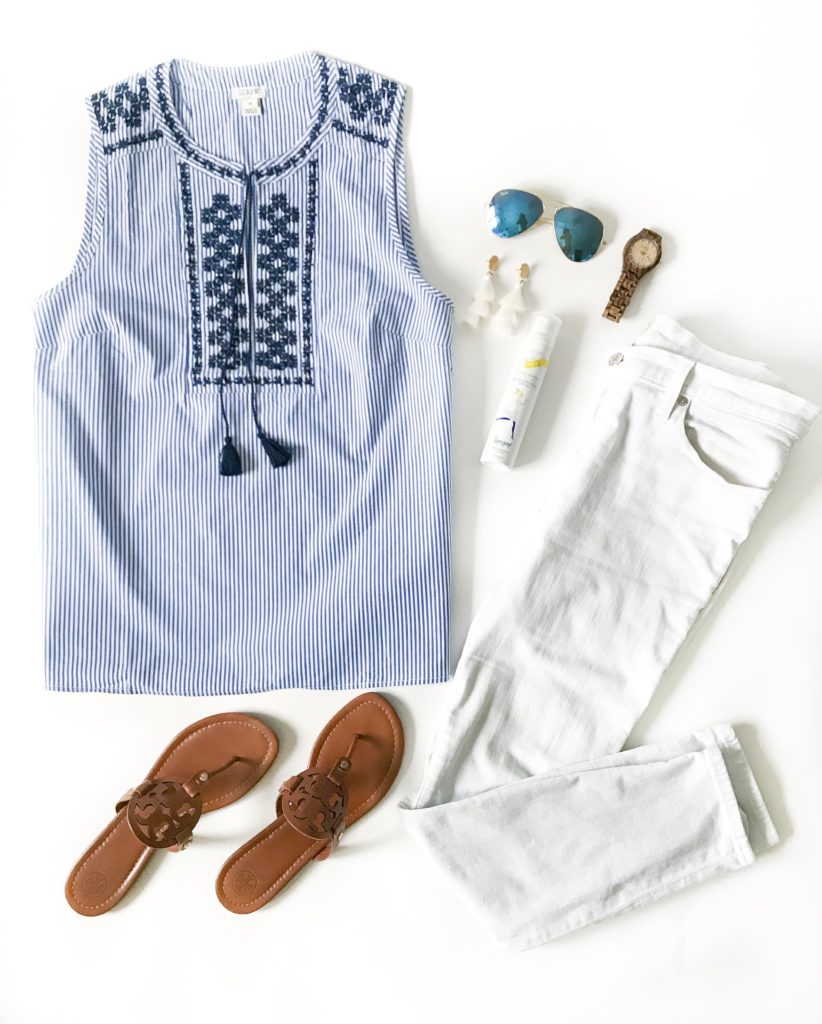 Striped and Tasseled Top | Favorite White Jeans | Leather Sandals | Blue Aviator Sunglasses | Tassel Earrings | Wood Watch | SPF Make-Up Setting Spray (amazing!)
Loving the slightly boho vibe of this next look!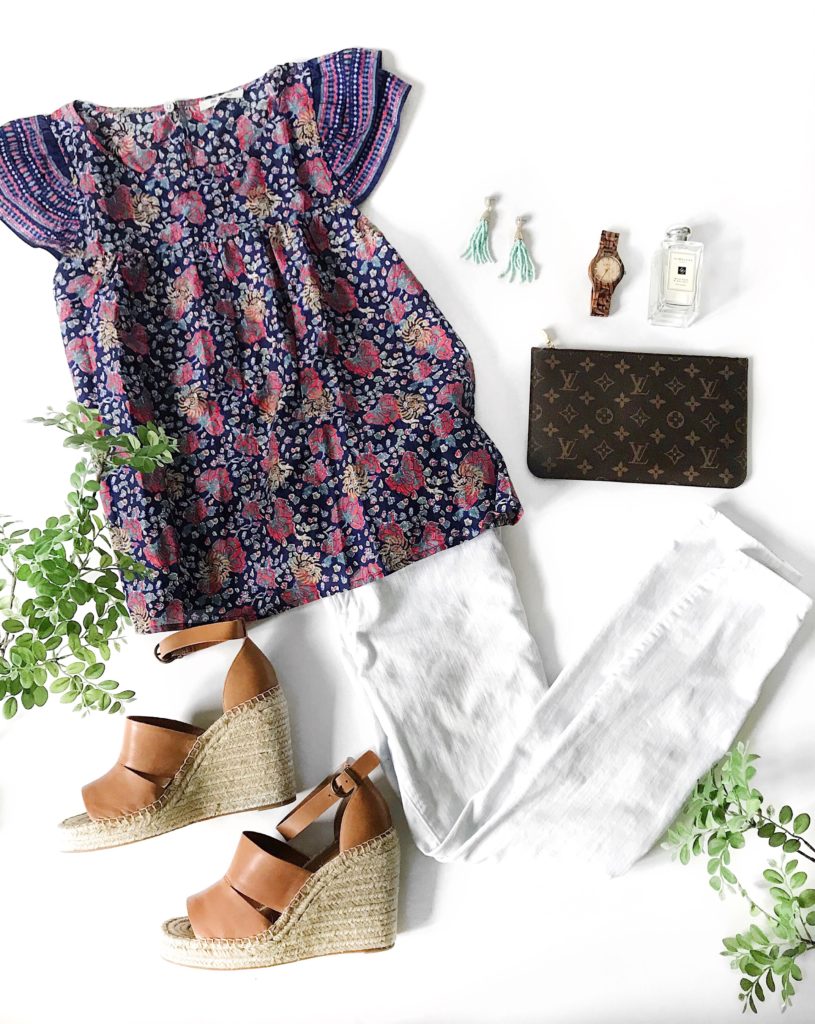 Top (also here) | Favorite White Jeans | Wedge Espadrilles | Clutch | Cologne | Earrings | Wood Watch | Faux Greenery
There weren't any amazing sales over the weekend, so I decided not to share a post with you guys. Nothing really caught my eye. But today, there are a few I thought you should know about!
J Crew Factory is offering 50% off your purchase, with an extra 20% off at checkout with code AMAZING! They have so many cute things right now. Here are a few of my recent buys. You can also shop the sale here.

I hope you all have a wonderful week!
If you would like to follow along on more of my home decor, DIY, lifestyle, travel and other posts, I'd love to have you follow me on any of the following:
Pinterest / Instagram / Facebook / Twitter / Google+
disclosure: some affiliate links used