Welcome to this week's Wednesday Watch List, where I share the random things that captured my attention and stole my heart over the past week! It's the second week of January, so I've basically convinced myself it's almost summer. Today's looks may have you itching for warmer weather, as well!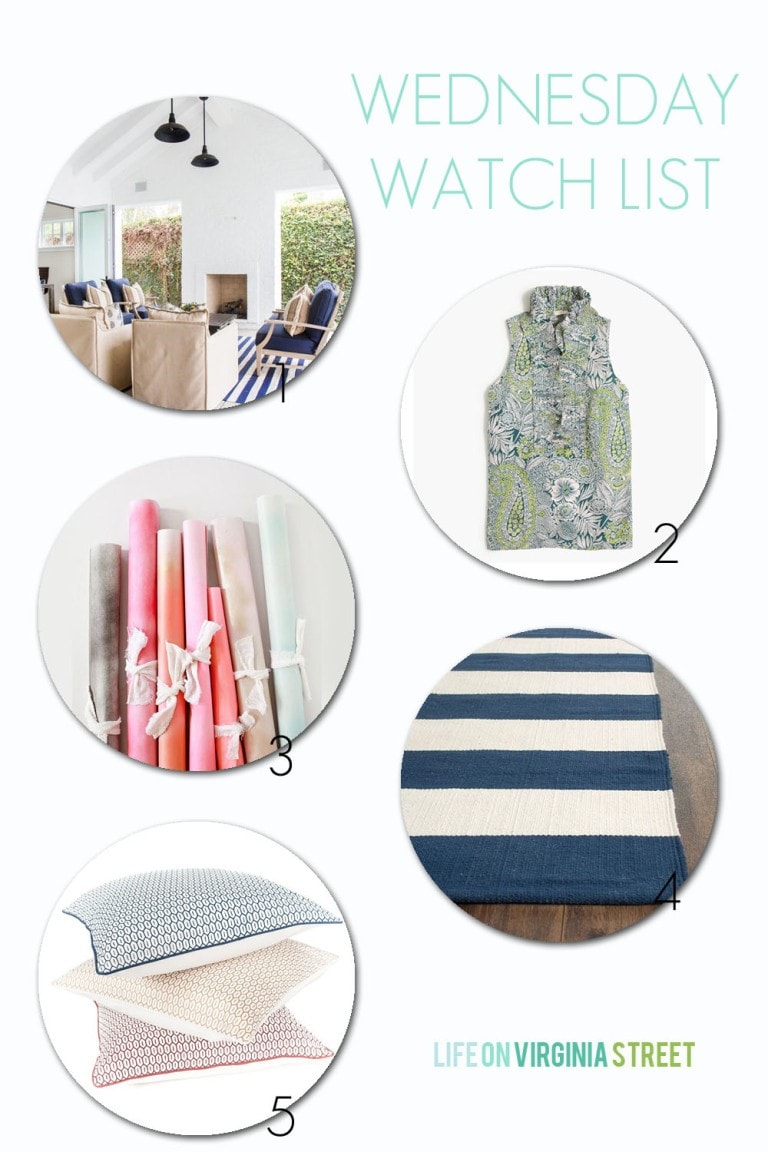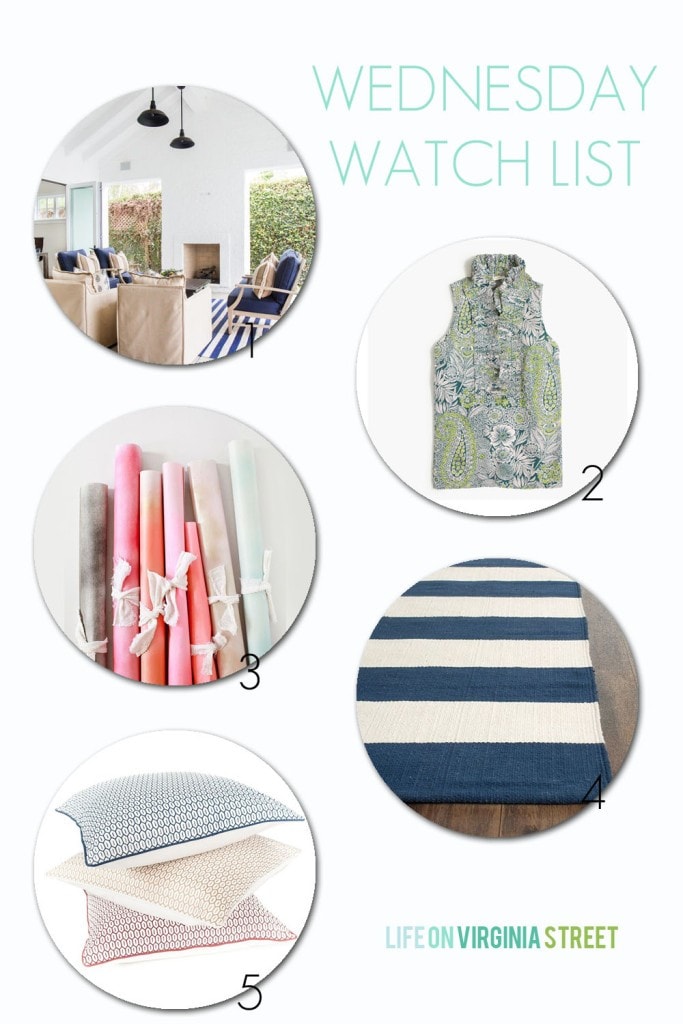 1 – This modern farmhouse home tour by Blackband Design, and featured on Style Me Pretty, is a total stunner. I love every single element of the home and the outdoor living space is to die for!
2 – I was thrilled when I came across this ruffle-color sleeveless top last weekend. I had actually purchased three of these in solid colors about five or six years ago in California at J. Crew Factory. I think they were made just for the outlets and I have literally worn the ones I've had into a slow, painful death. My professional LinkedIn picture even has me in one 😉 My husband likes to call them my pirate shirts (eyeroll for Seinfeld), but every time I wore one, I got multiple compliments – likely because they were just so unique. Long story short – I ordered this one that minute I saw it! The top looks great on it's own in the warmer months, or with a cardigan or suit jacket it colder months.
3 – I know the holidays are over, but I came across this DIY Spray-Painted Wrapping Paper and had to share! It says it's a holiday wrap tutorial, but I think the principles hold true all year round. Isn't this a gorgeous alternative to pricey designer looks? I love the marbleized look, especially with the pastel colors, and can't wait to try this!
4 – I just ordered two of these striped rugs for our kitchen. Not only were they fairly affordable with all the sale offerings, but I was able to get two separate runner lengths – one for in front of our sink and the other for in front of the stove. They actually come in 12 colors and 16+ sizes, so I'm pretty stoked for their arrival. I'll share more once I update the kitchen with them!
5 – So, a few week's back I featured this gorgeous guest bedroom with the pillow combination it was clear we all were obsessed with. House of Jade lists their sources on their site (which I love!), but I also know some of you don't sew. Today I found a throw pillow and fabric that will give you the look of the middle throw pillows. The pattern, Braemore Paloma Indigo, is a lot like my beloved Schumacher Betwixt, in that it can pair with so many different patterns and look beautiful every time! And I found it for only $12.95 a yard 🙂 Score! A big thank you goes out to those on Facebook that helped track down the fabric, as well (I already bought some)!
If you would like to follow along on more of my home decor, DIY, lifestyle, travel and other posts, I'd love to have you follow me on any of the following:
Pinterest / Instagram / Facebook / Twitter / Bloglovin' / Google
disclosure: some affiliate links used