Welcome to this week's Wednesday Watch List, where I share the random things that captured my attention and stole my heart over the past week!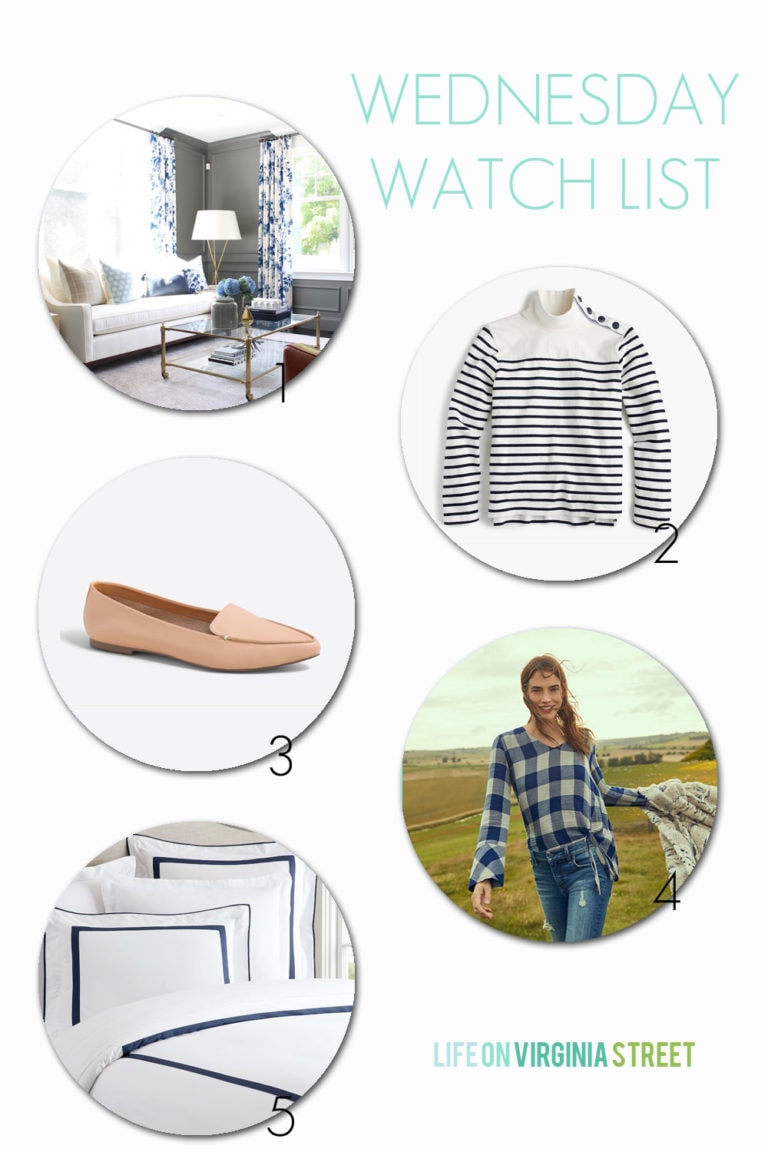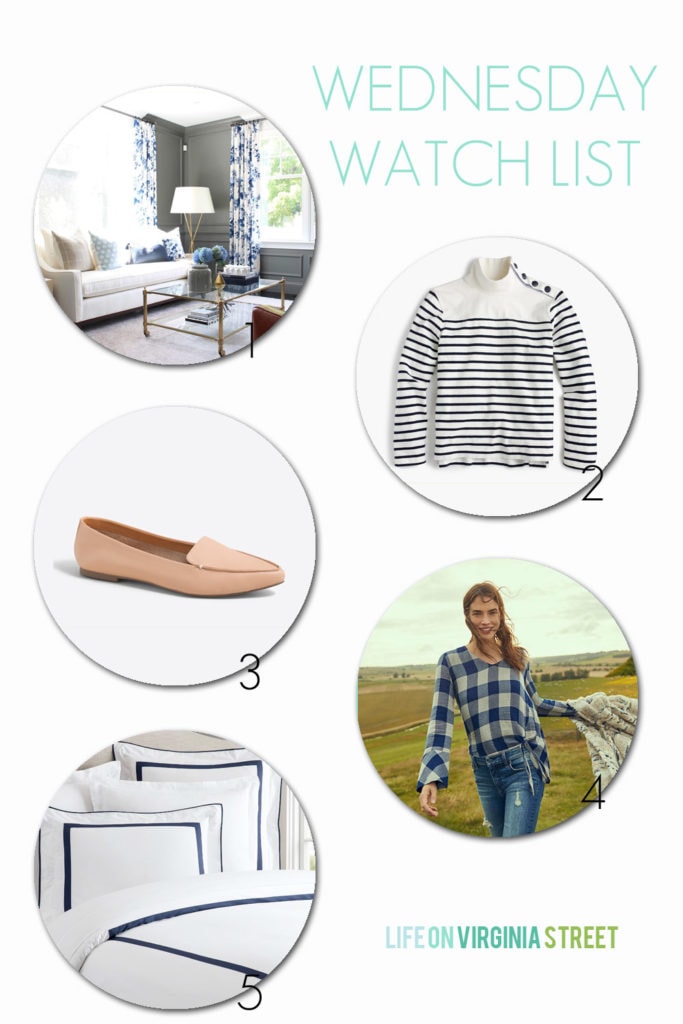 This post contains affiliate links for your shopping convenience.
1 – It takes a lot for a floral print to impress me, but this stunning living room transformation from View From My Heels makes me a believer! Those blue and white floral drapes paired with neutral upholstery, dark gray walls, and leather chairs makes for one gorgeous space!
2 – I just received this striped button collar turtleneck (also available here) and it is the cutest top ever for fall if you still want to keep a nautical vibe. The anchor buttons with the underlying striped ribbon trim add the cutest details! Also, my blue striped bell sleeve top arrived. I personally love it but Kurtis said I look like a hippie. Basically I think it's a keeper 😉
3 – I ordered these leather loafers last week in the warm beige color (they also come in black) and I'm completely obsessed. They are the most perfect, soft leather in a nude color is so perfect for fall (or really any time of the year). They are so comfy too! I also ended up getting these suede block heels (in cabernet) but they haven't arrived yet. I'll keep you posted!
4 – I'm loving the relaxed vibe of this buffalo check top with flared sleeves. I also love that it's a high-low top, so it is a bit longer in the back  but look a bit more polished in the front. The reviews are all excellent too (although it sounds like it does run a bit small). Adding this to my fall wish list! Clearly all these birthday month discounts have been tempting me lately 😉
5 – I finally bought a new duvet cover and shams for our bedroom. I feel like this is the year I may actual focus on making our bedroom a cohesive space. I know I need to paint the walls and the ceiling, but short of that, I haven't really worked up a plan. Then I realized it was dumb to buy the duvet cover without a plan, so it may go in the striped guest bedroom for the time being. I'll have it figured out shortly. But, bottom line is I have been loving this look for so when it was on sale, I bought it knowing I would use it somewhere. It's the perfect, clean look (without being too plain) and it will pair well with so many fabrics and prints. Plus it's super soft. Now we are in need of new sheets. Any recommendations on ones that you love?
If you would like to follow along on more of my home decor, DIY, lifestyle, travel and other posts, I'd love to have you follow me on any of the following:
Pinterest / Instagram / Facebook / Twitter / Google+
disclosure: some affiliate links used