Welcome to this week's Wednesday Watch List, where I share the random things that captured my attention and stole my heart over the past week!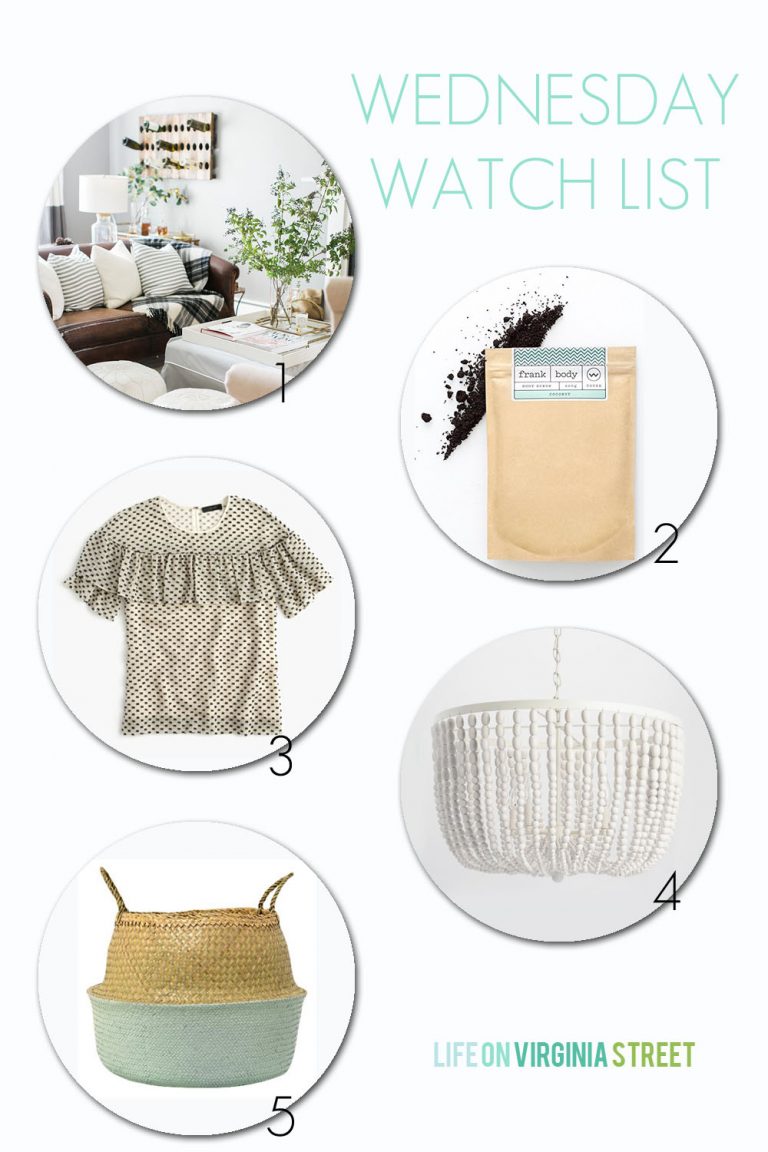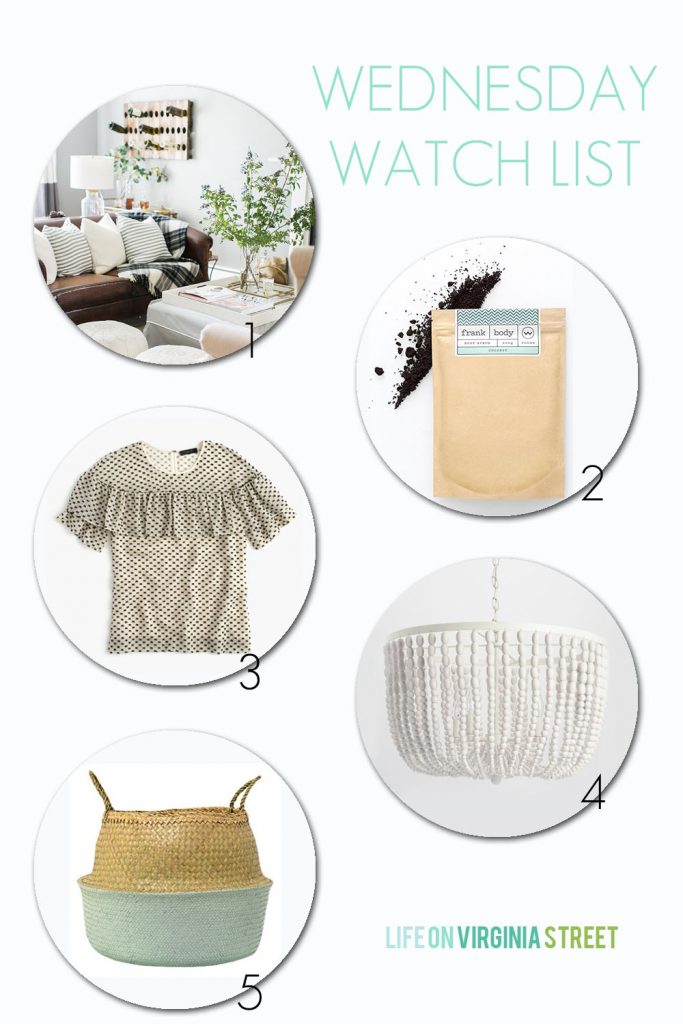 This post contains affiliate links for your shopping convenience.
1 – A gorgeous home tour that is full of style, but also feels welcoming and achievable. She and I clearly share a love of many of the same fabric, and stripes and navy blue.
2 – My latest and craziest obsession? Frank Body Coconut Coffee Scrub. This might be the most obsessed I've been in a product in a while. So much so, I actually look forward to showering so I can use it! It feels messy when you're using it (all those dark coffee grounds) but the smell is maybe my favorite thing ever and it leaves your skin beyond soft. I don't even use a lotion after, because the coconut oil stays behind enough to leave your skin hydrated. This stuff is beyond good!
3 – I finally decided to try the ruffle shoulder trend, since it appears the look isn't going anywhere even into spring. I've always feared I'll look like a football player and look even broader. I ordered this textured dot ruffle top during a recent sale and it's supposed to arrive today. I just felt like on the model, it the ruffle falls in a better location that others I've seen. I'll let you know how it goes! Oh, and this sweater I shared last week might be my new favorite. But it definitely is bright! But I wore it yesterday and I got a lot of compliments on it. I think it helped that it was so bright because the pink reflected onto my face and I swear it made me look tanner! 😉
4 – I usually get a copy of World Market's lookbook a few months before products come out in stores. I have been dying to share this whitewash wood bead chandelier with you since the day I saw it and it's now available! I am completely obsessed. It comes in two sizes (regular and large). I really wanted to use it in my updated craft room but I was worried it may hang a bit too low (especially since it's my workout room).  I've been wanting something like this for ages (in more of a white tone) and couldn't find anything that didn't come with an insane price tag. I can't wait to use this somewhere!
5 – My need for organization this month continues, and I am obsessed with these painted baskets. They definitely have a Serena & Lily vibe but at a fraction of the cost. They are only sold online, so I haven't seen them in person, but I'm loving all of the colors they offer! This sky blue version is my favorite though!
If you would like to follow along on more of my home decor, DIY, lifestyle, travel and other posts, I'd love to have you follow me on any of the following:
Pinterest / Instagram / Facebook / Twitter / Bloglovin' / Google
disclosure: some affiliate links used