Check out all my gorgeous photos and hear all my stories of the most incredible Rome and Amalfi Coast vacation!
Today I'm sharing all the gorgeous details of our recent trip to Italy for Kurtis' 40th birthday. More specifically, our time in Rome, Capri and the Amalfi Coast. This was our fourth trip to Italy, and it never ceases to amaze me that I fall even more in love with Italy every time I visit. We had visited both Rome and Pompeii/Sorrento/Capri on a Mediterranean cruise we took seven years ago, so while it seems we may have skipped some of the highlights in each area, that's only because we likely visited them on our last trip. If you're planning a trip to either area soon, it may be worth looking over those posts as well!
Since this is likely one of the longest posts I've ever written, I've tried to make it easy for you to navigate through each portion of our stunning trip. I've added large headings along the way in case you are specifically looking for information on one location from our vacation. I took over 800 photos on my "real" camera and nearly another 800 on my iPhone. I've really tried my best to limit those down for you today. If there are any areas you would like more info about, leave a comment and I'll get back to you as soon as possible!
Side note: in our minds we knew everything we wanted to see on this trip. However, when it came to the details, we enlisted the help of Travel Design Lounge in Omaha and worked with Abby Bebout. I'm checking currently to see if she can help those of you out of state that have asked for her contact info! This isn't sponsored and we fully paid for their services, but all the details worked out so well that I wanted to give them a shout out! If you mention my name or blog name, Abby should be able to give you any of the info from our Italian trip. They just charge a flat $75 fee for your entire trip, regardless of how much you book with them. Well worth the money!
Rome
We arrived in Rome around 9:30 Friday morning. We had tried our best to sleep on the flight, but only managed to get about 3 1/2 hours after there was a medical emergency on board. When we arrived, we were pretty exhausted but eager to start exploring!
We stayed at the lovely Romanico Palace Hotel at the recommendation of our travel agent. It was about a 20-25 minute walk to most of the sites in Rome, but we loved that it was quiet, serene and the neighborhood felt really safe. It was actually only about a block from the US Embassy. Because we arrived so early (we got to the hotel around lunchtime), our room wasn't ready. So, we headed up to the rooftop restaurant for a quick bite to eat and changed clothes in the lobby bathrooms.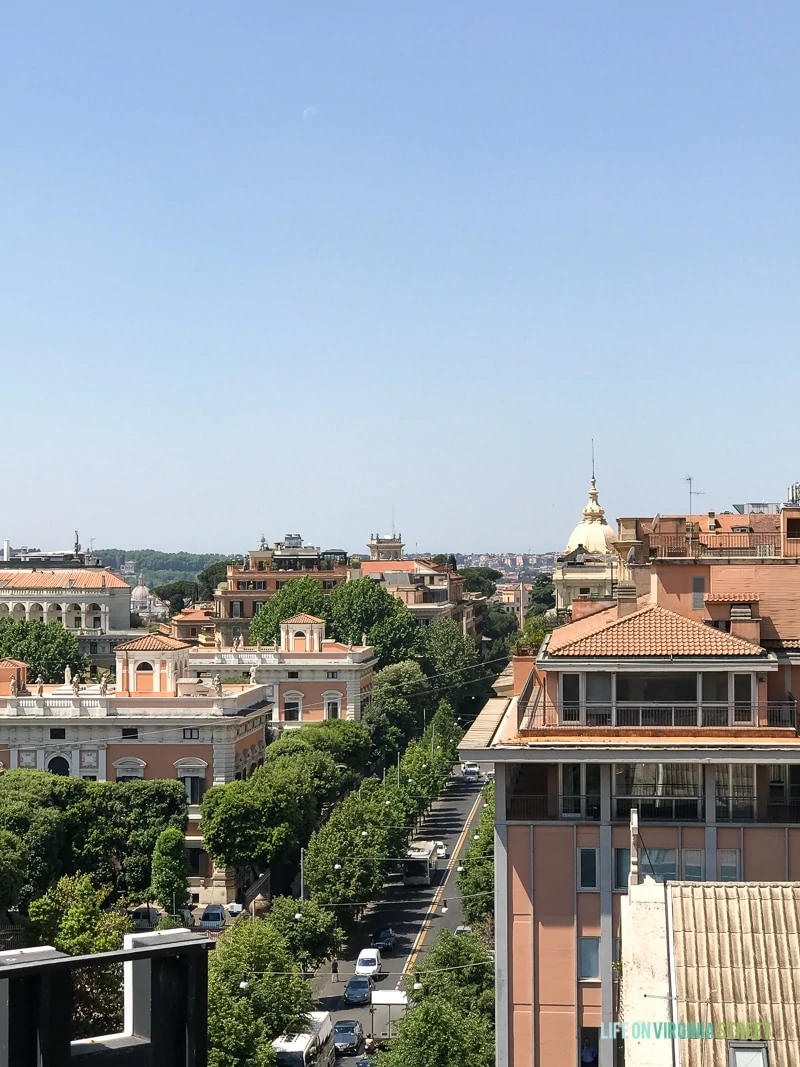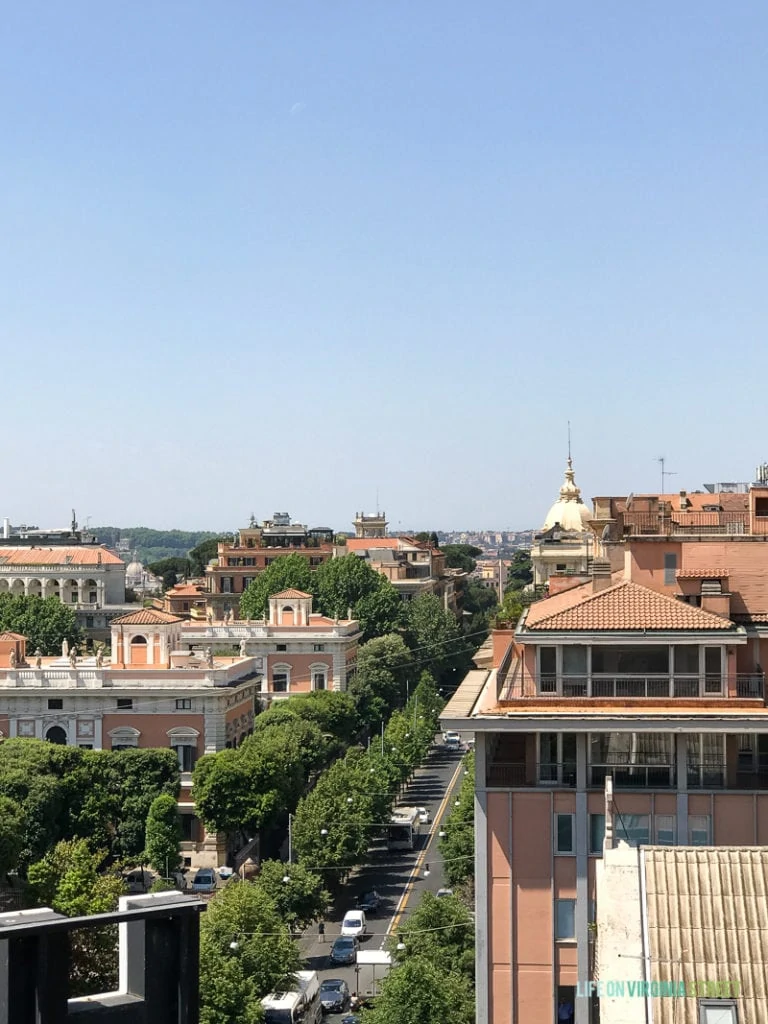 We ordered a delicious meat and cheese tray to share and I had my first of many aperol spritzes! The chef also brought us each a salad that he had made for us to sample.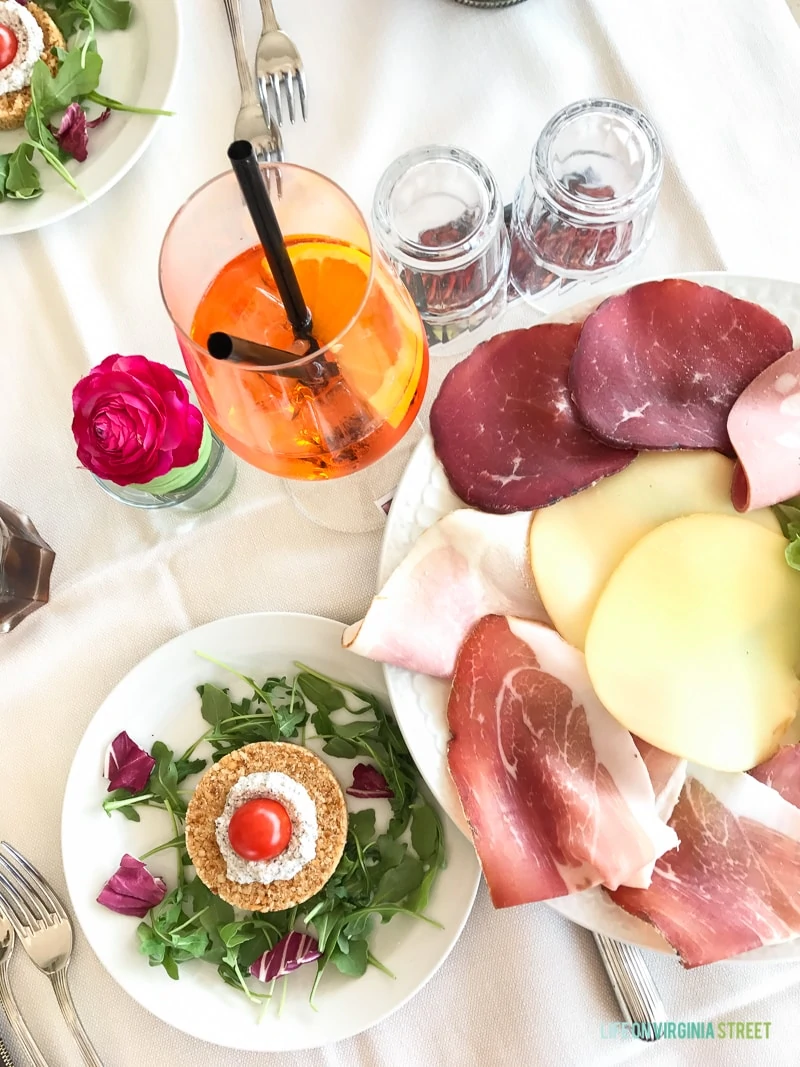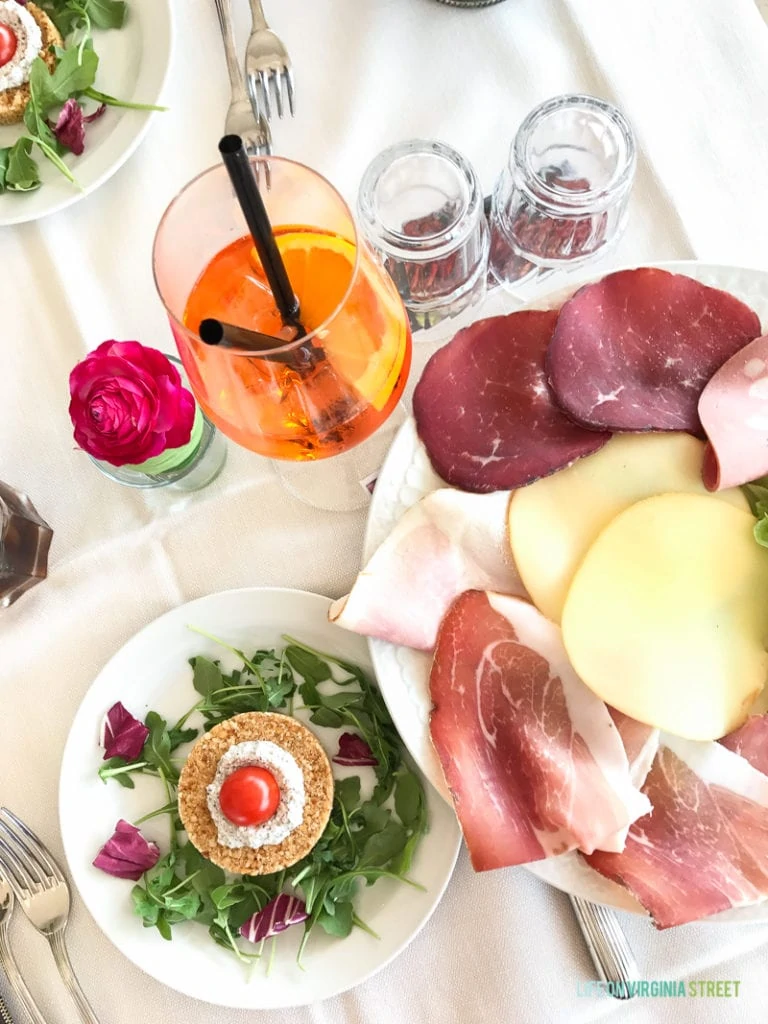 Kurtis' #1 priority in Rome was to see the Pantheon. He's a huge history buff, and last time we were in Rome, his first request was the Colosseum, so we had planned our itinerary accordingly. Unfortunately, that didn't leave any time for the Pantheon, so we made sure to hit it first on this vacation. We opted to walk from our hotel. It should have only been a 25 minute walk, but we diverted to see Trevi Fountain. Legend has it, if you throw a coin in the fountain, you'll come back to Rome. It worked last time so we didn't want to leave anything to chance 😉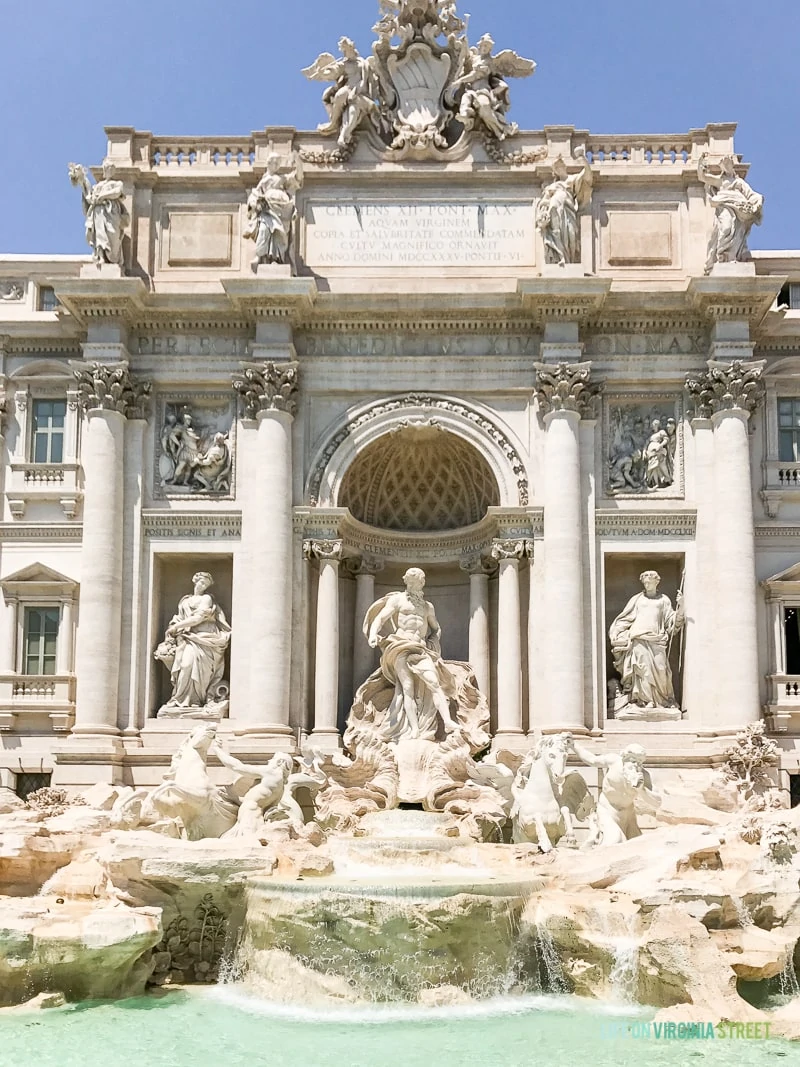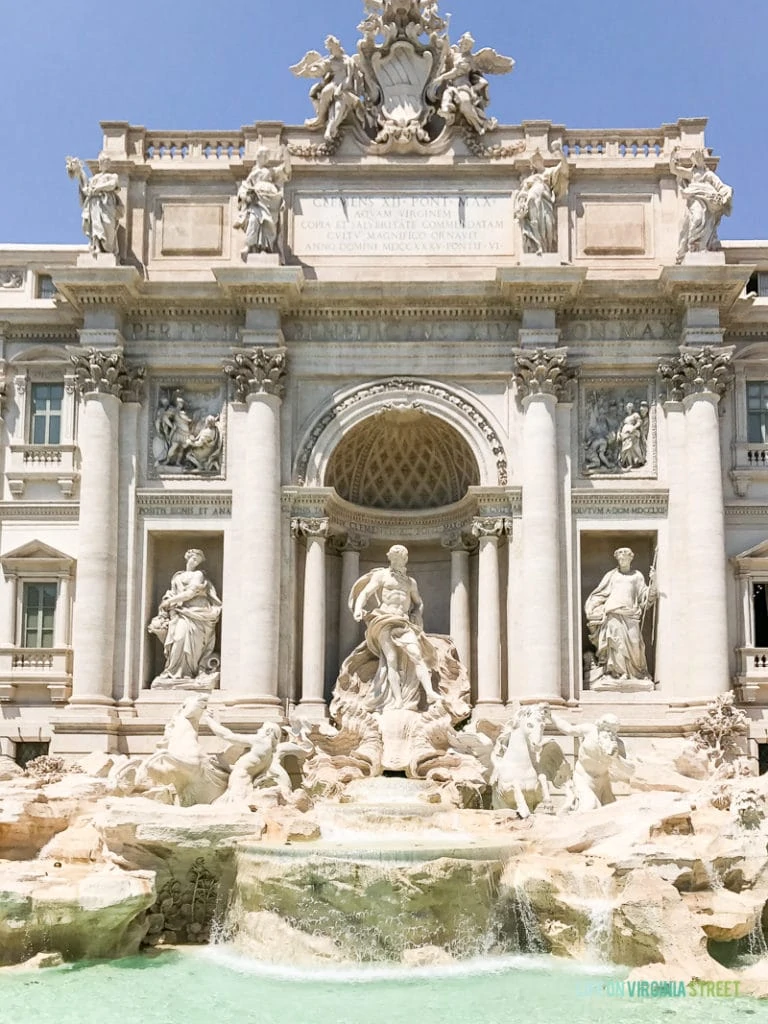 Our exhausted selfie by the fountain.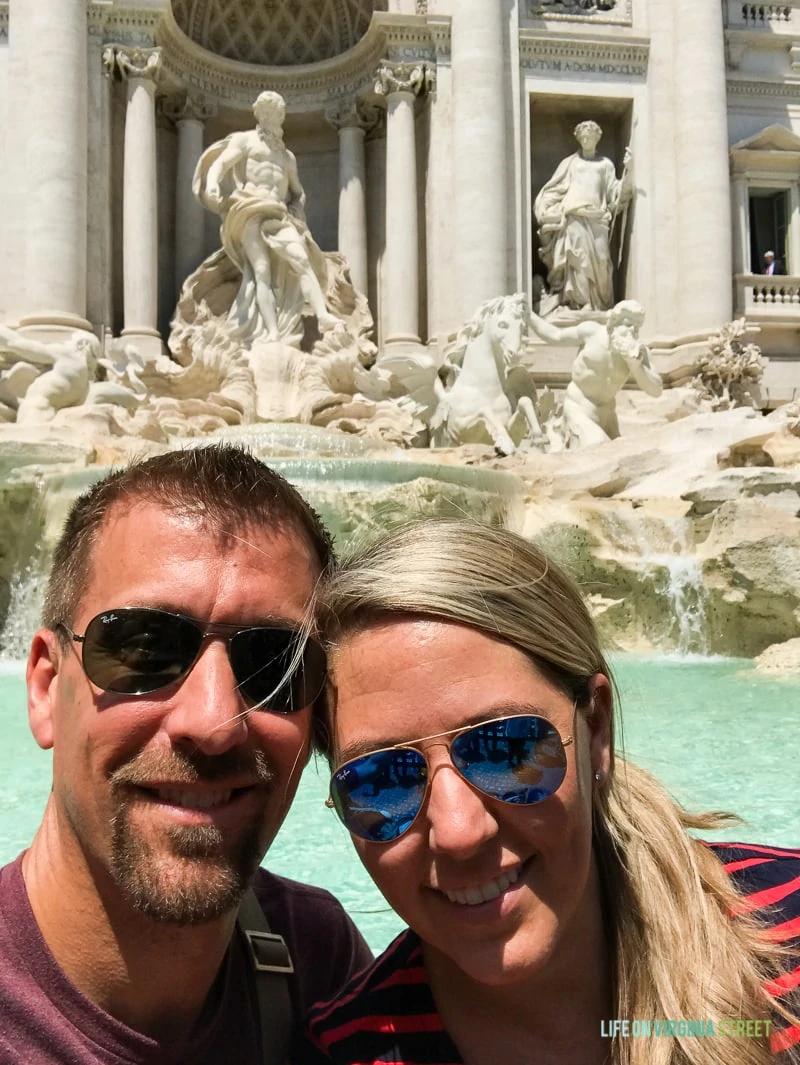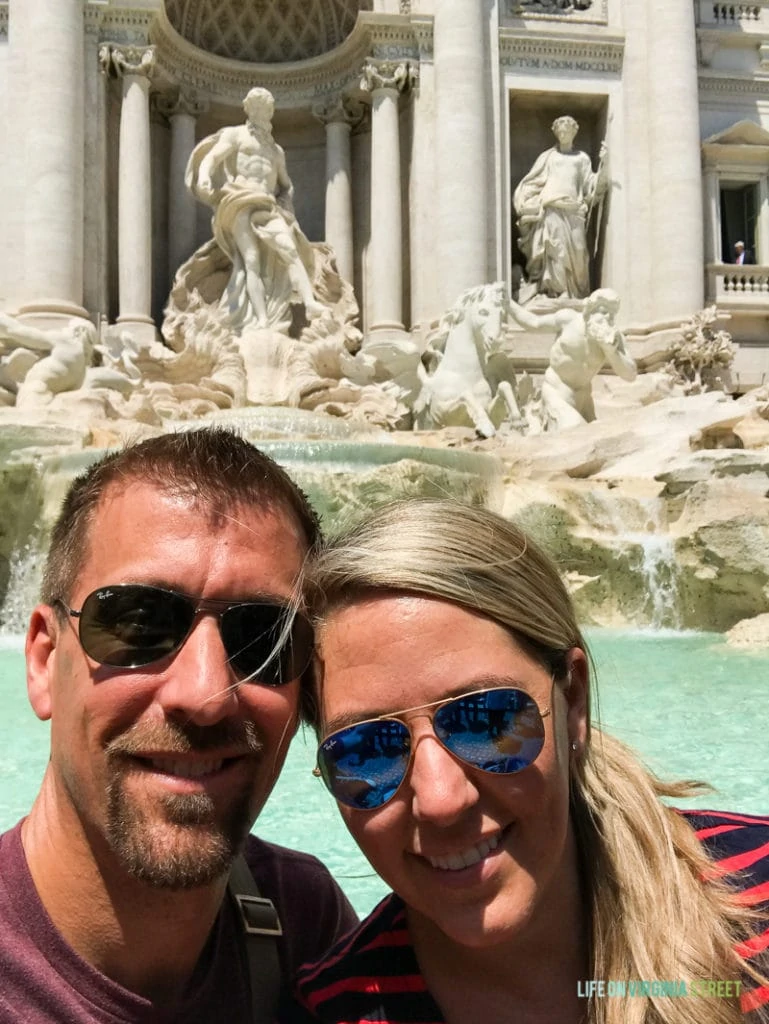 It's such a beautiful fountain and a must-see in Rome. It looks so quiet and peaceful from this shot.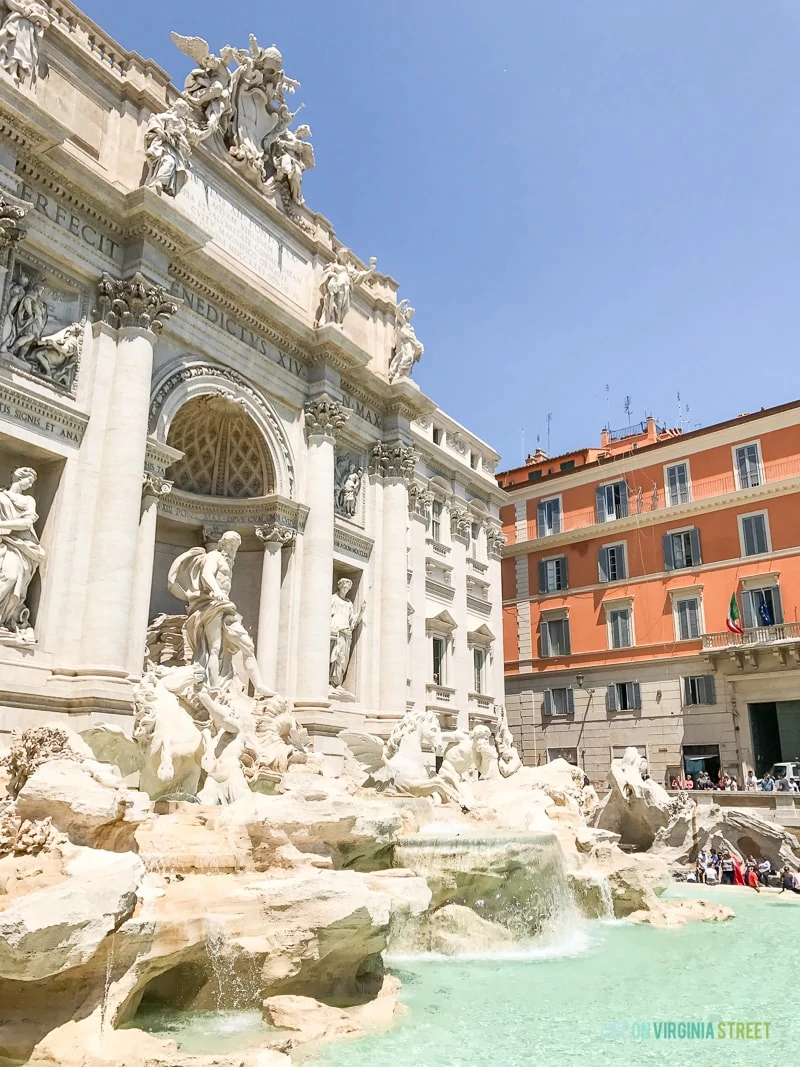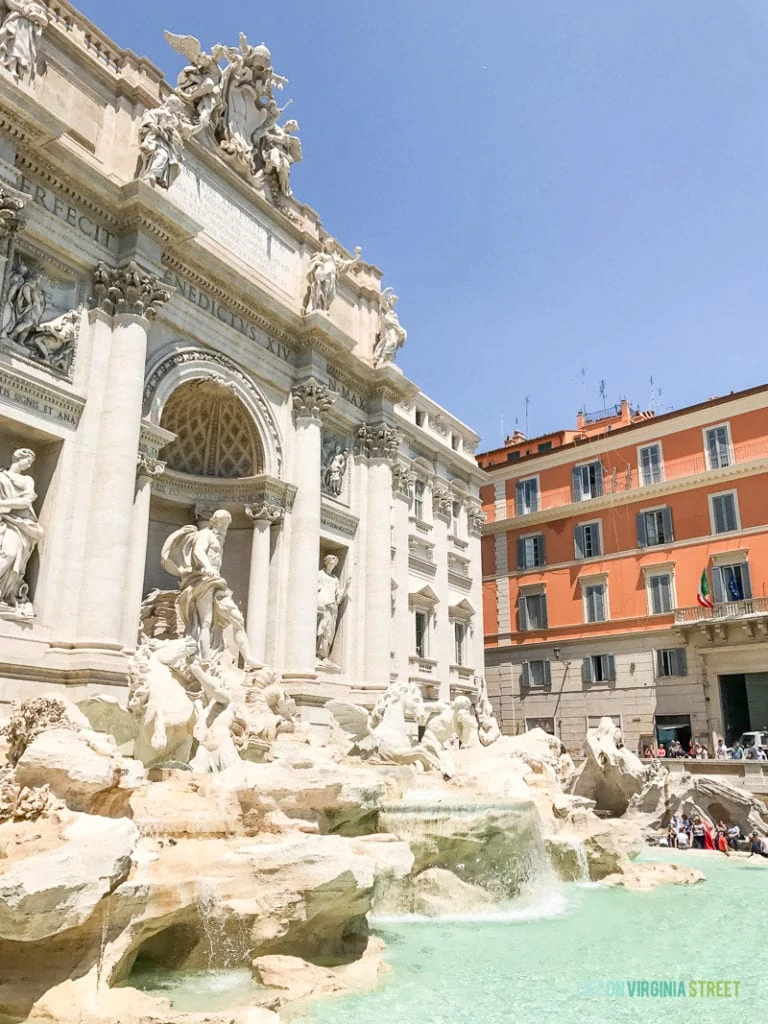 But it's total chaos. The funny thing is, this is about half as many people as were here the last time we saw it.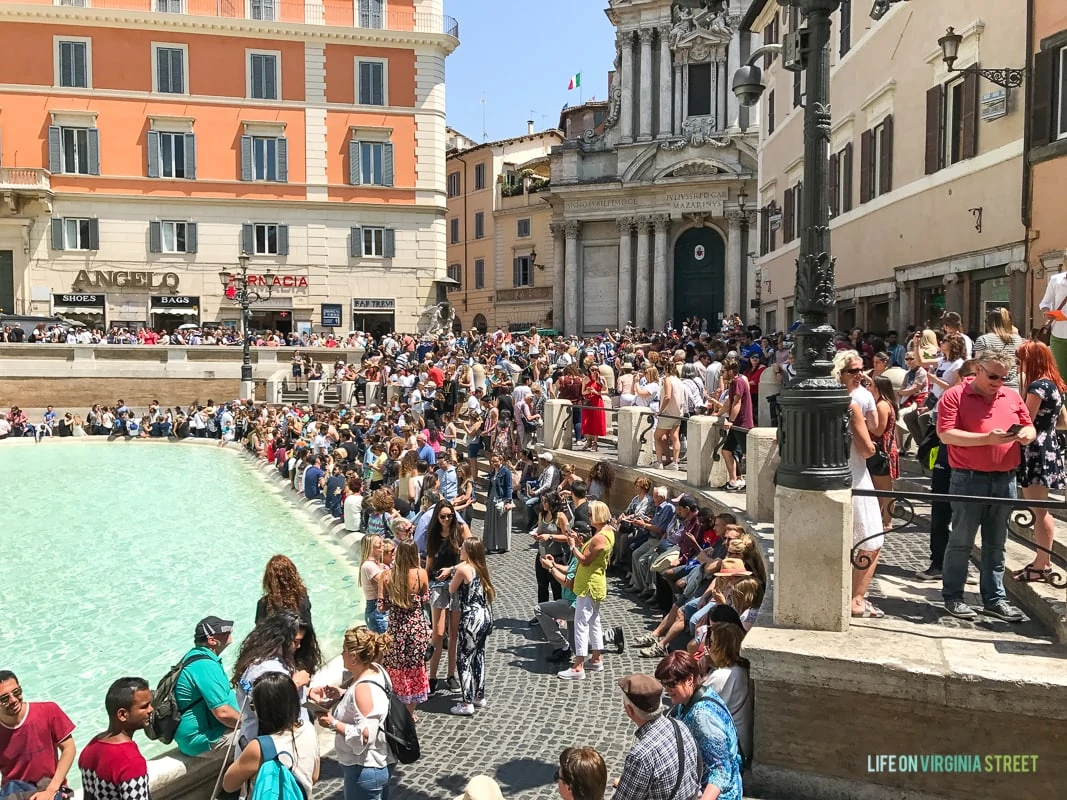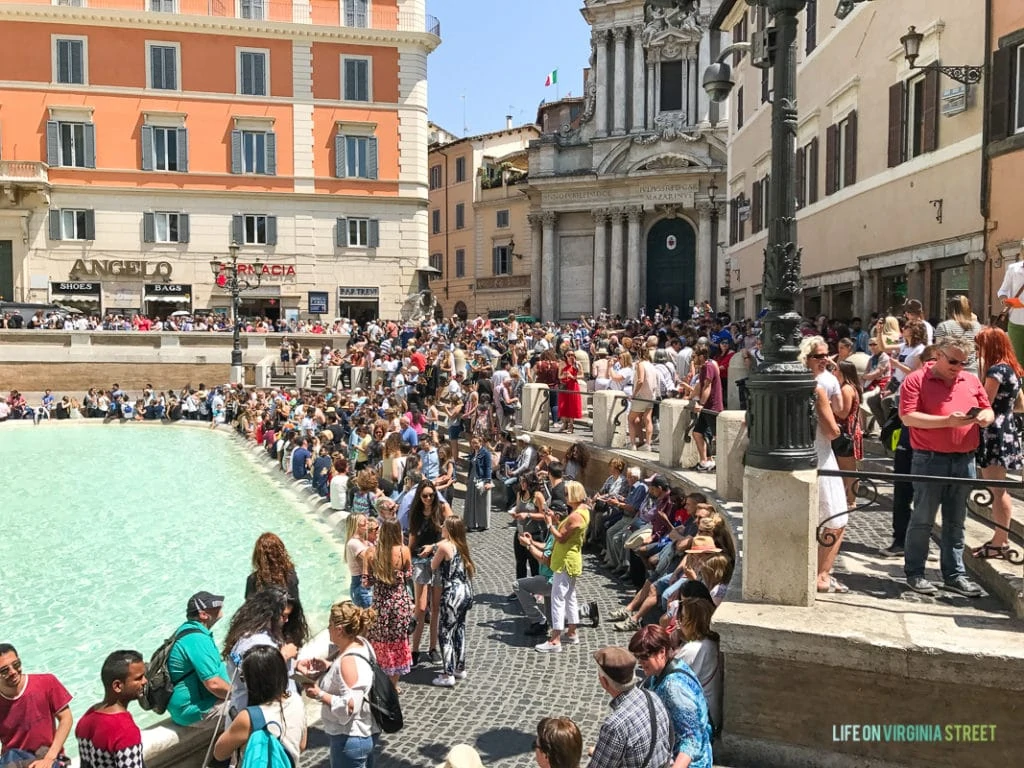 We wandered the cobblestone streets and enjoyed looking at the buildings along the way.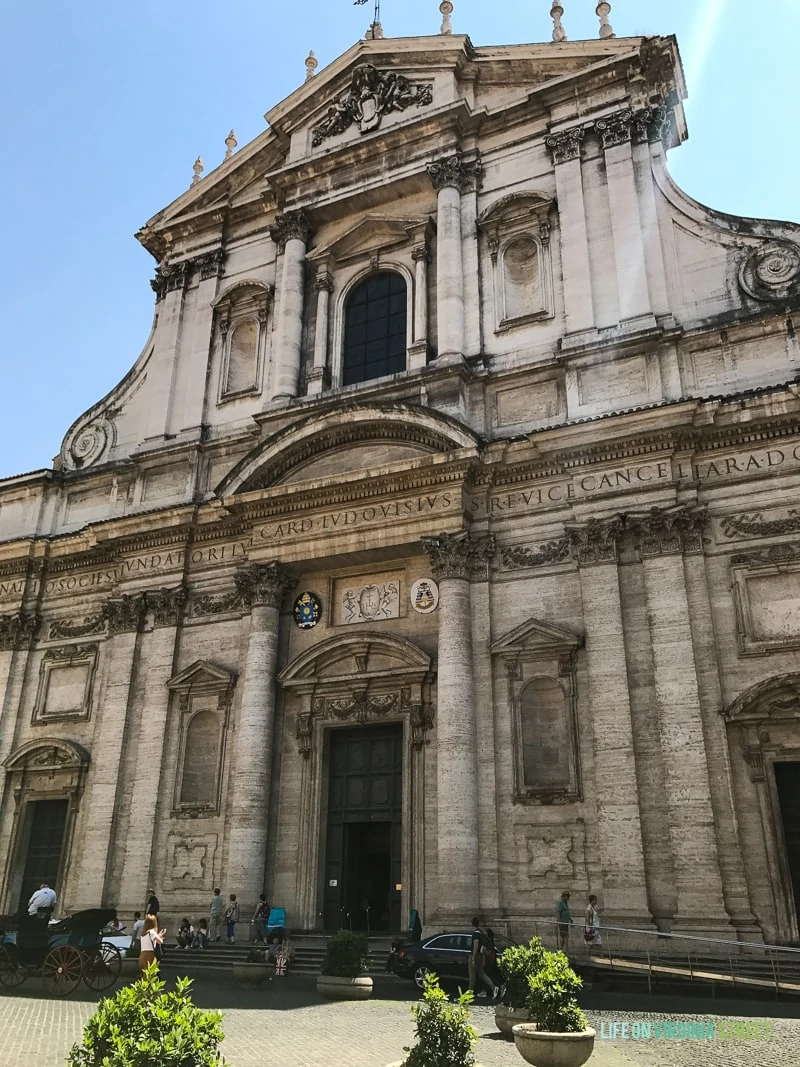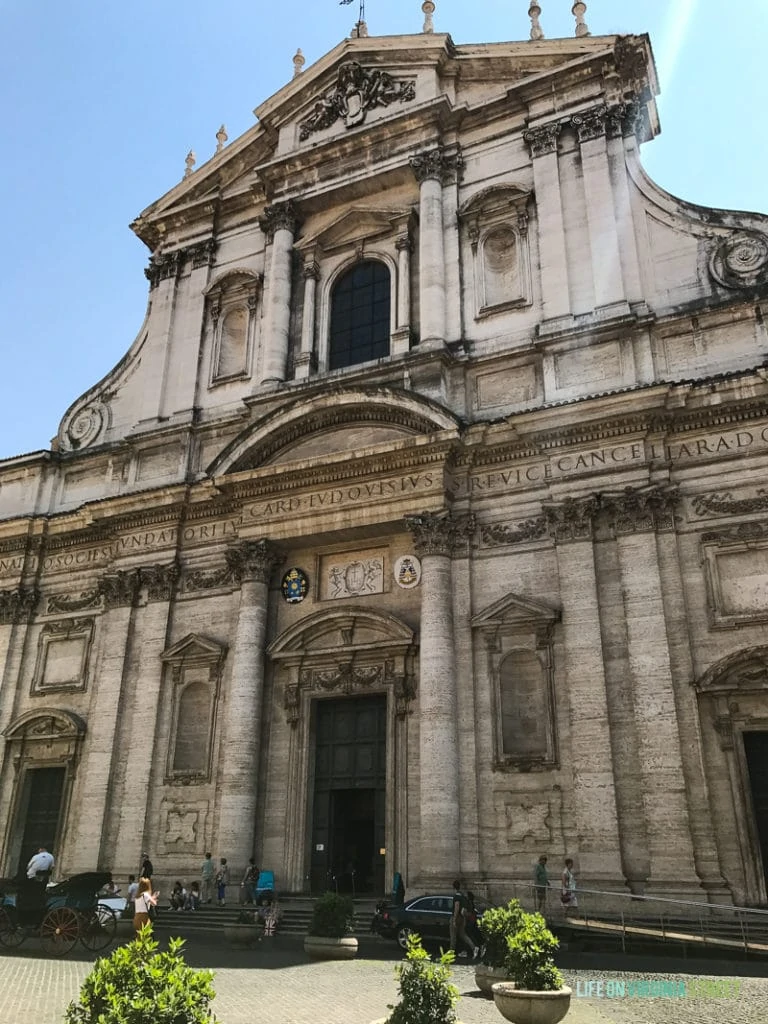 After about a five to ten minute walk from Trevi Fountain, we arrived at the Pantheon. It is massive and looks so old and grand when you first see it. It is a pretty spectacular building.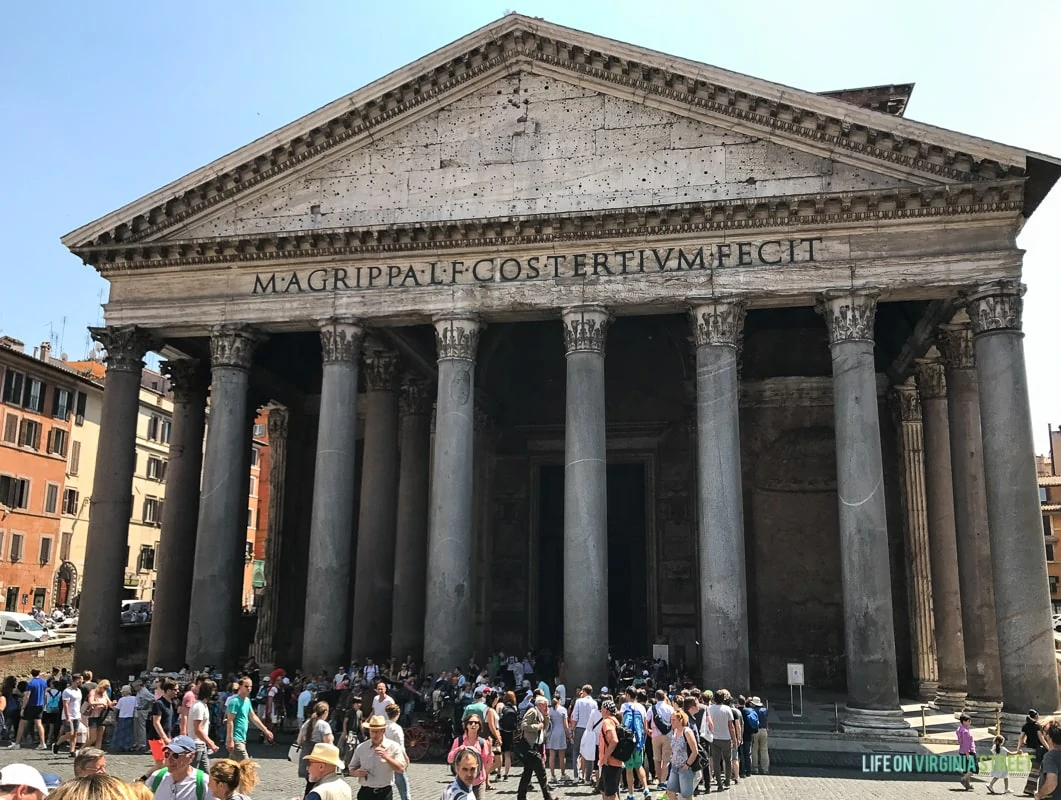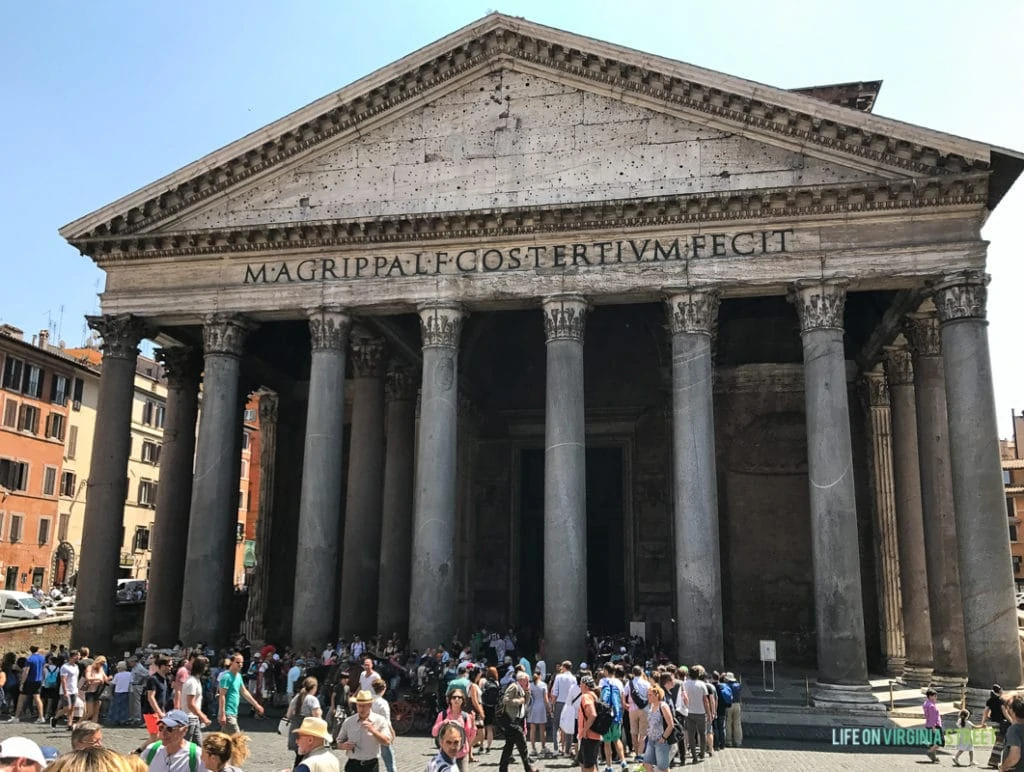 The gigantic doors leading in.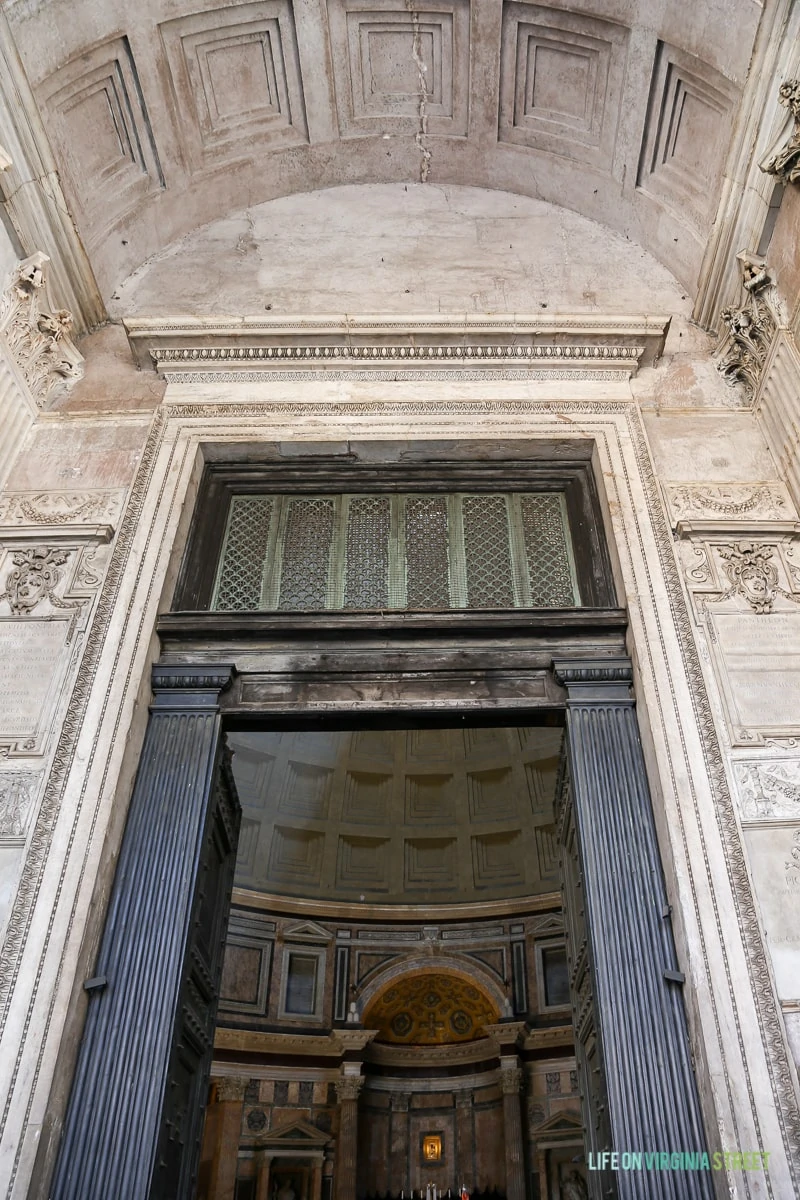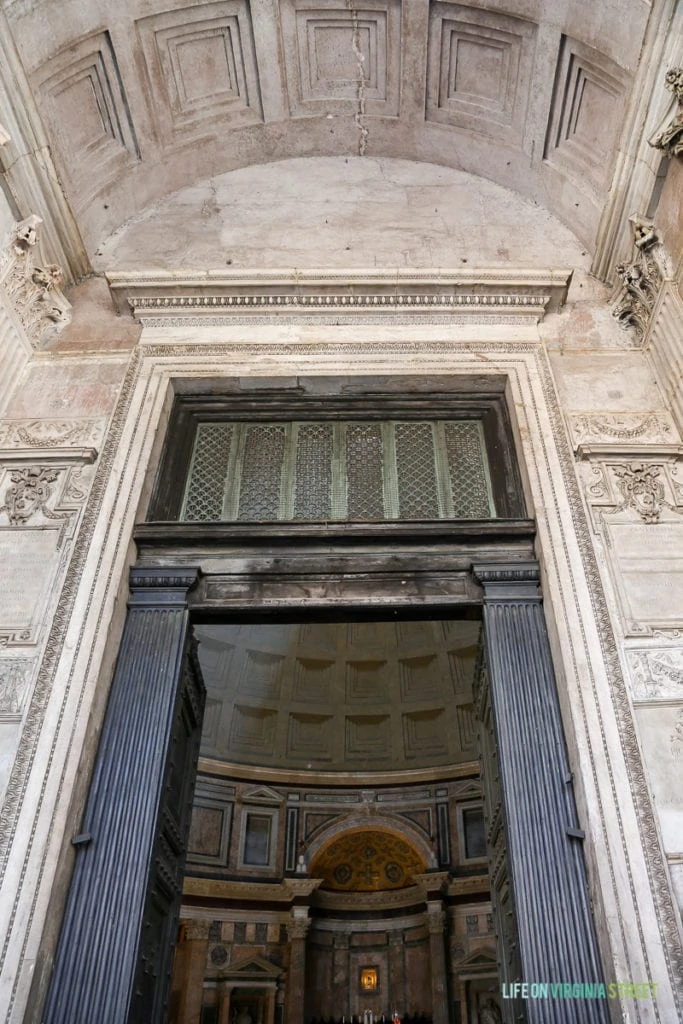 The building is nearly 2,000 years old, and it's rather incredible that the Roman Empire could build something so perfectly. Although, you find yourself saying that a lot as you wander around Rome. The open-air oculus in the middle casts such beautiful light into the cathedral.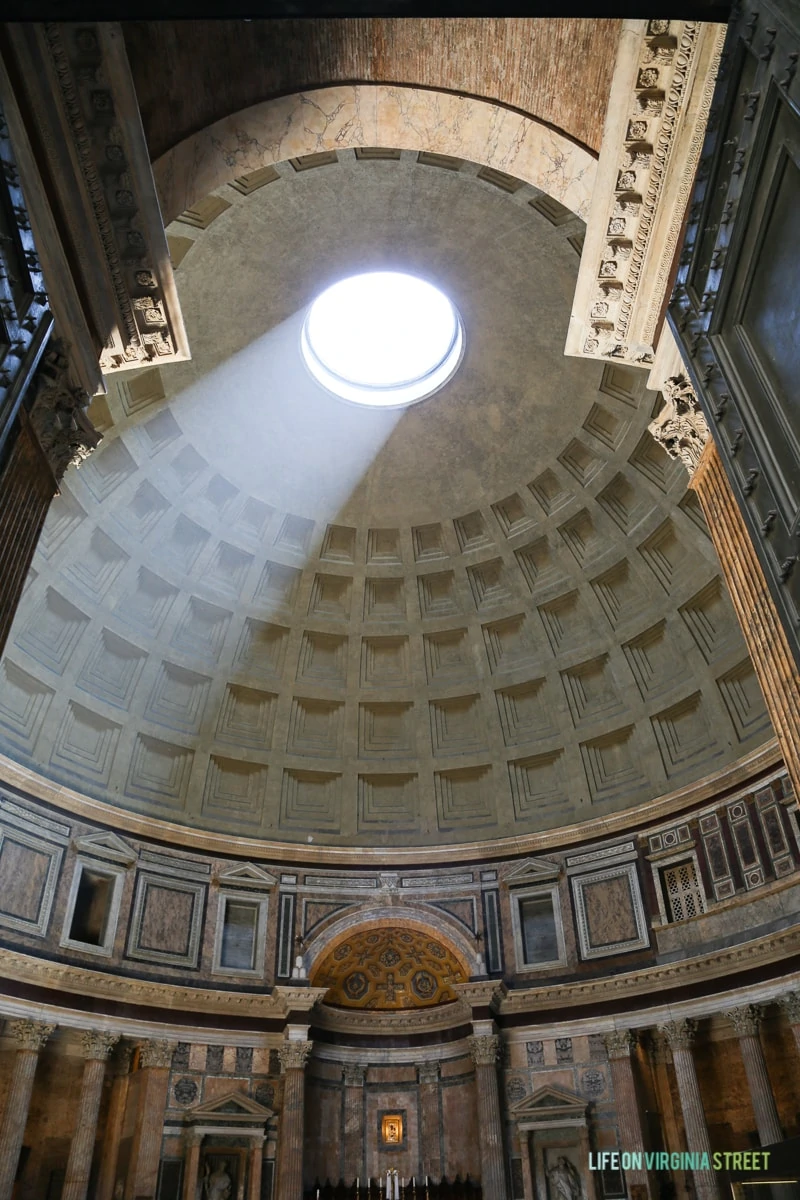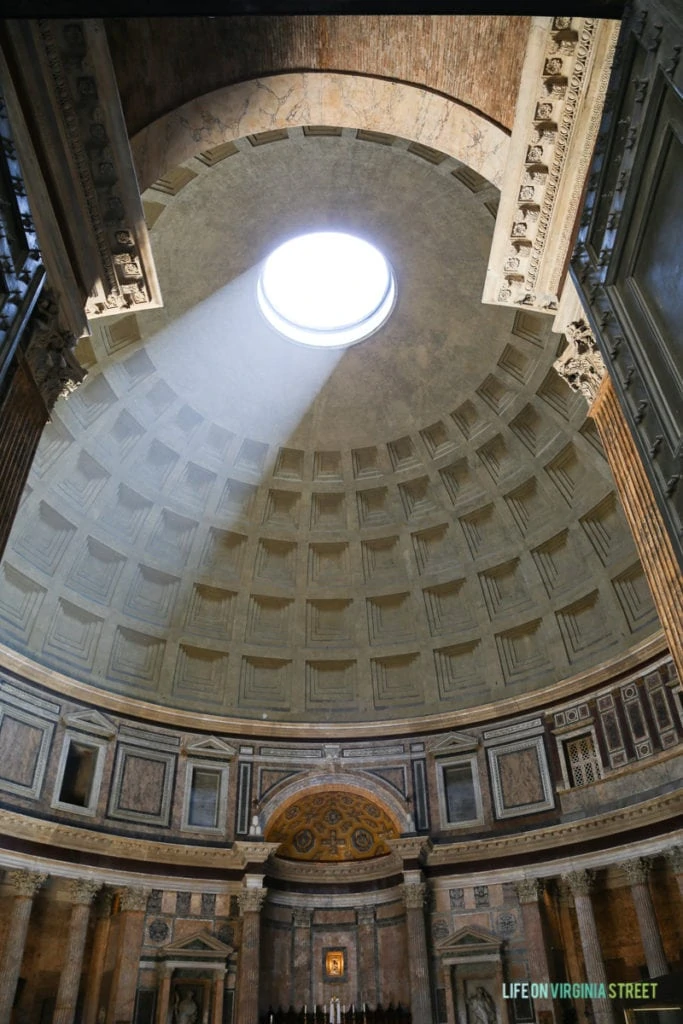 This picture shows just how massive the dome is! We spent about 20 minutes inside looking around (it's free to enter).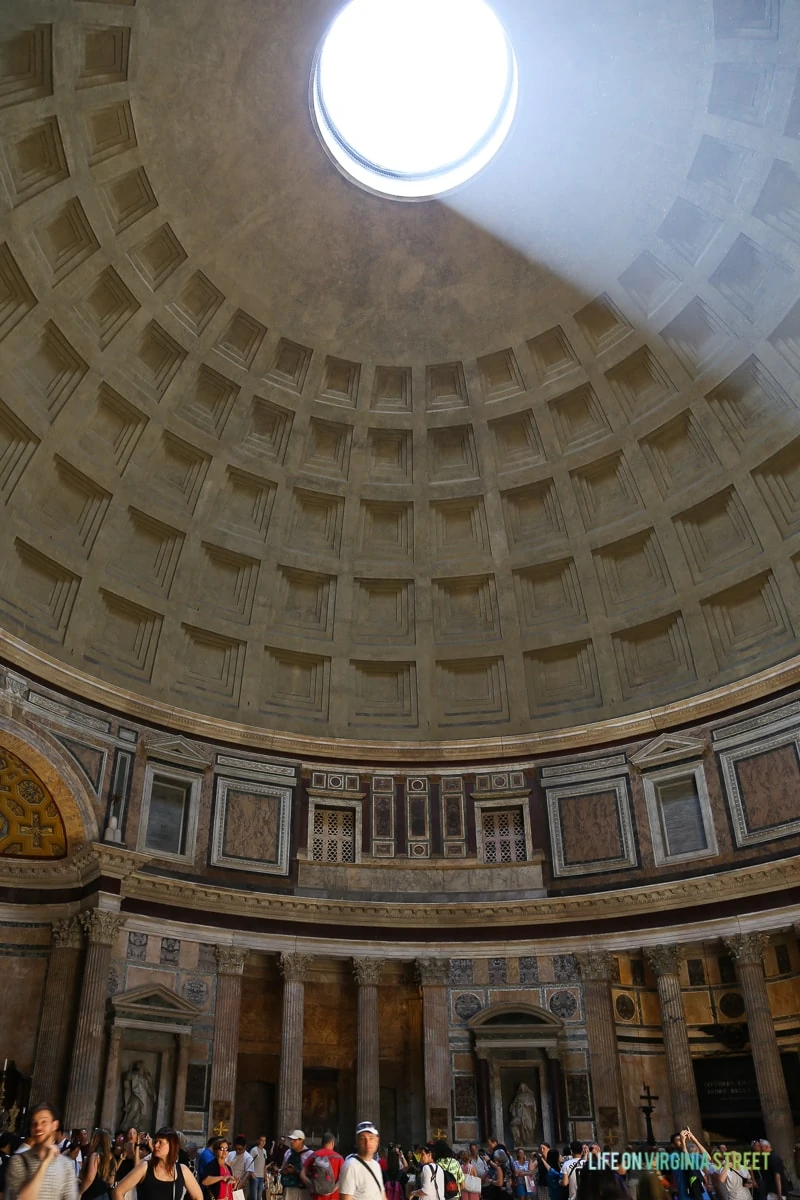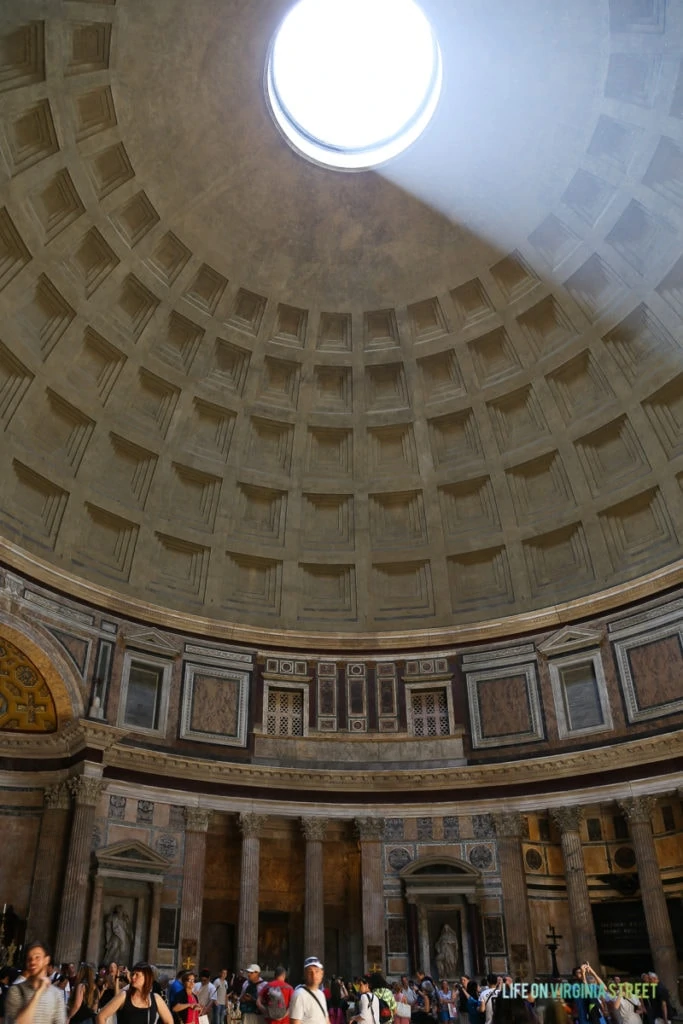 Details on the Fountain of the Pantheon outside.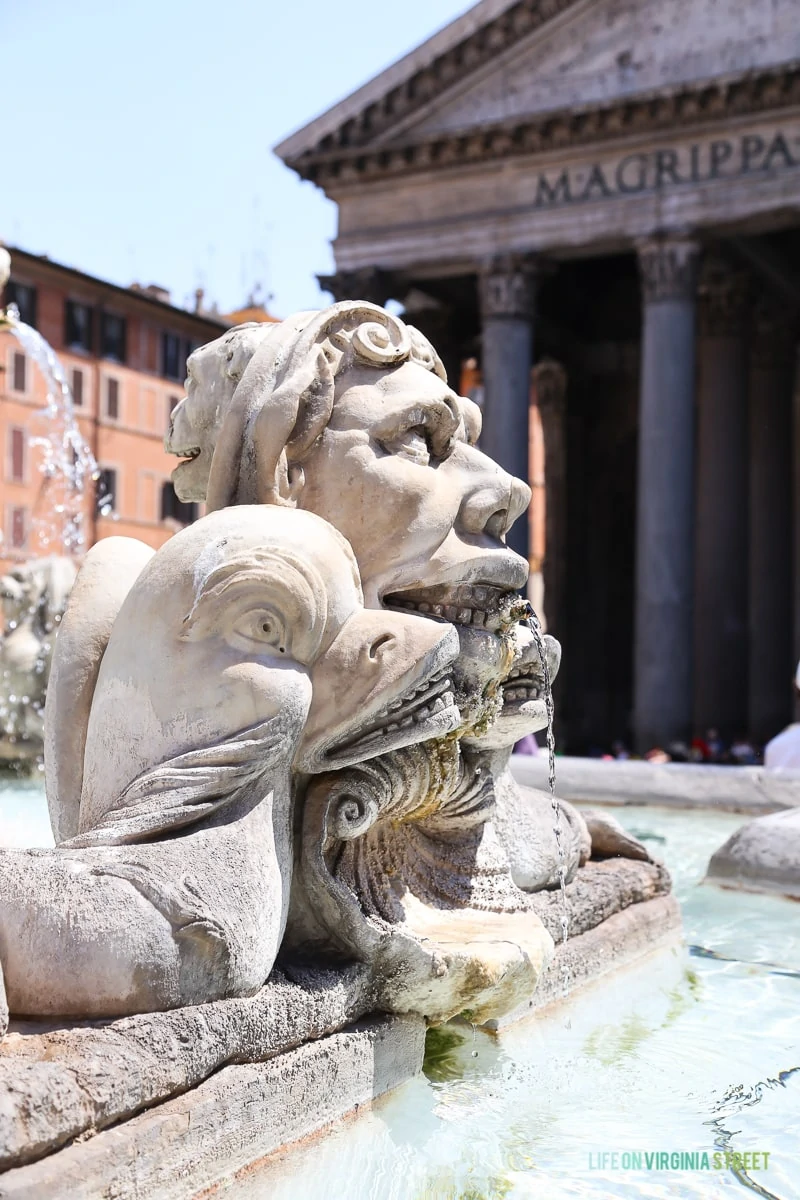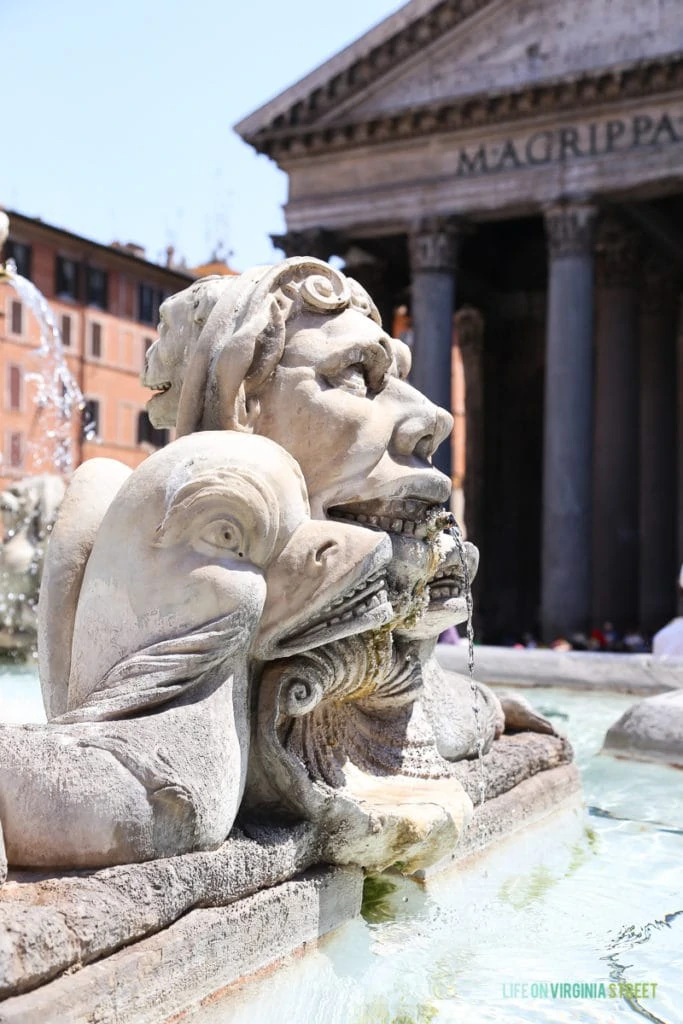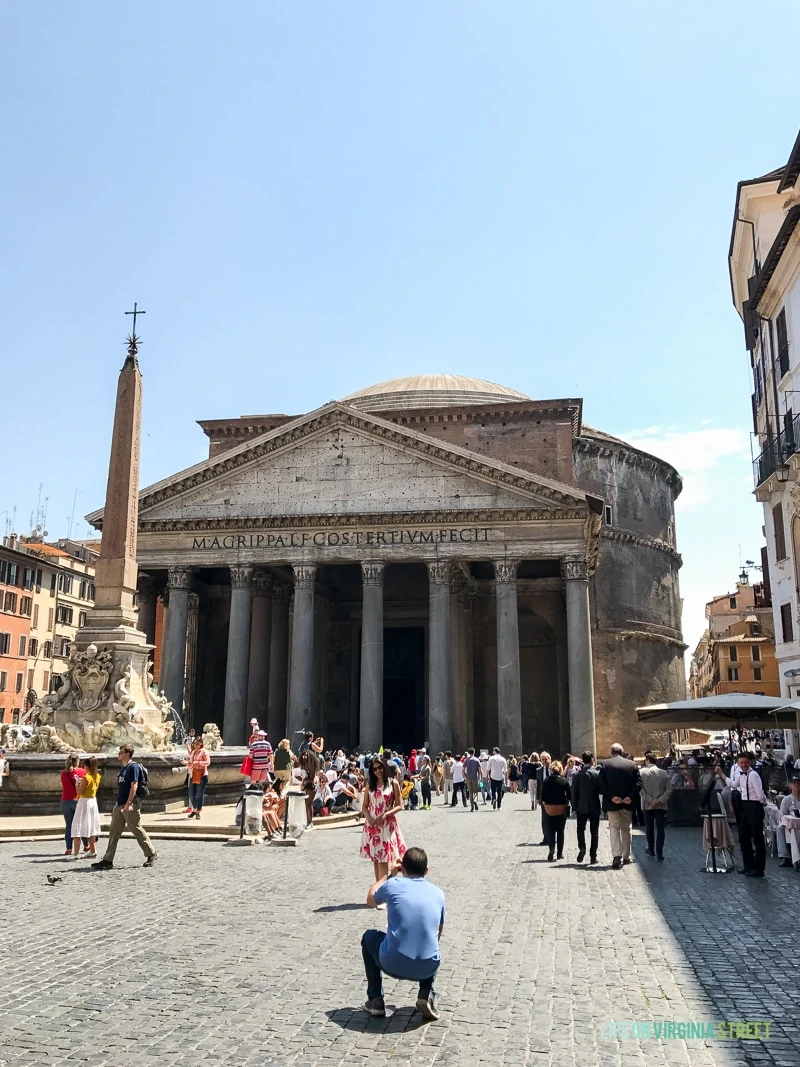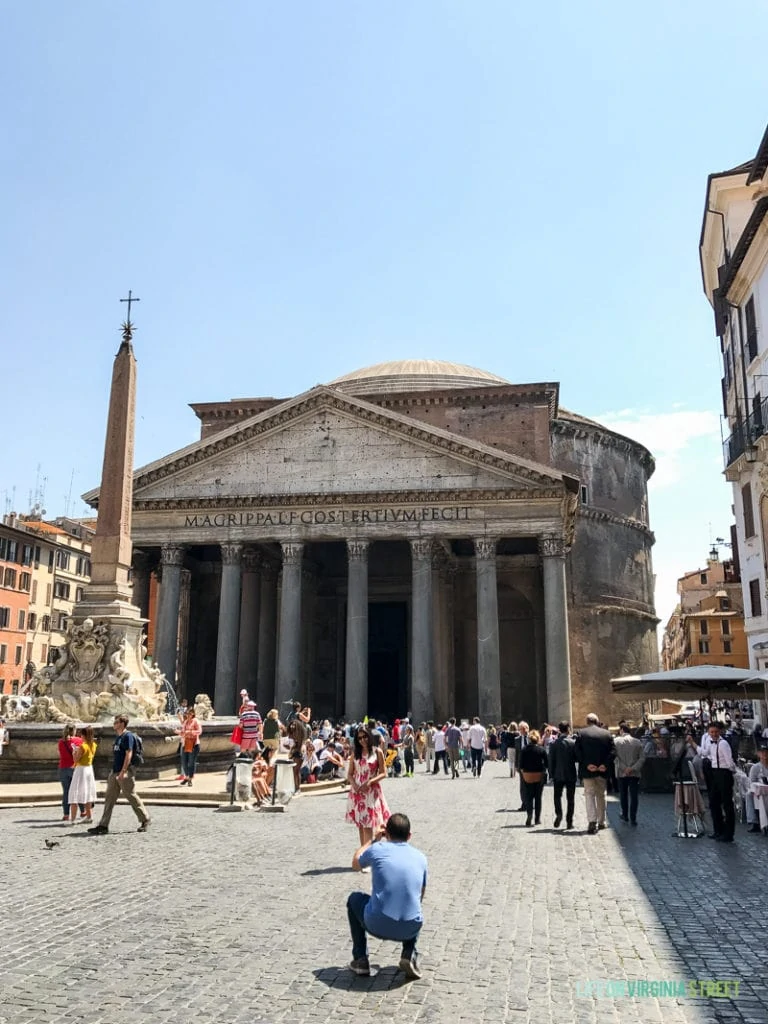 After we left, we stopped for some refreshing gelato and then headed to Piazza Navona. It's a huge square with a large central fountain.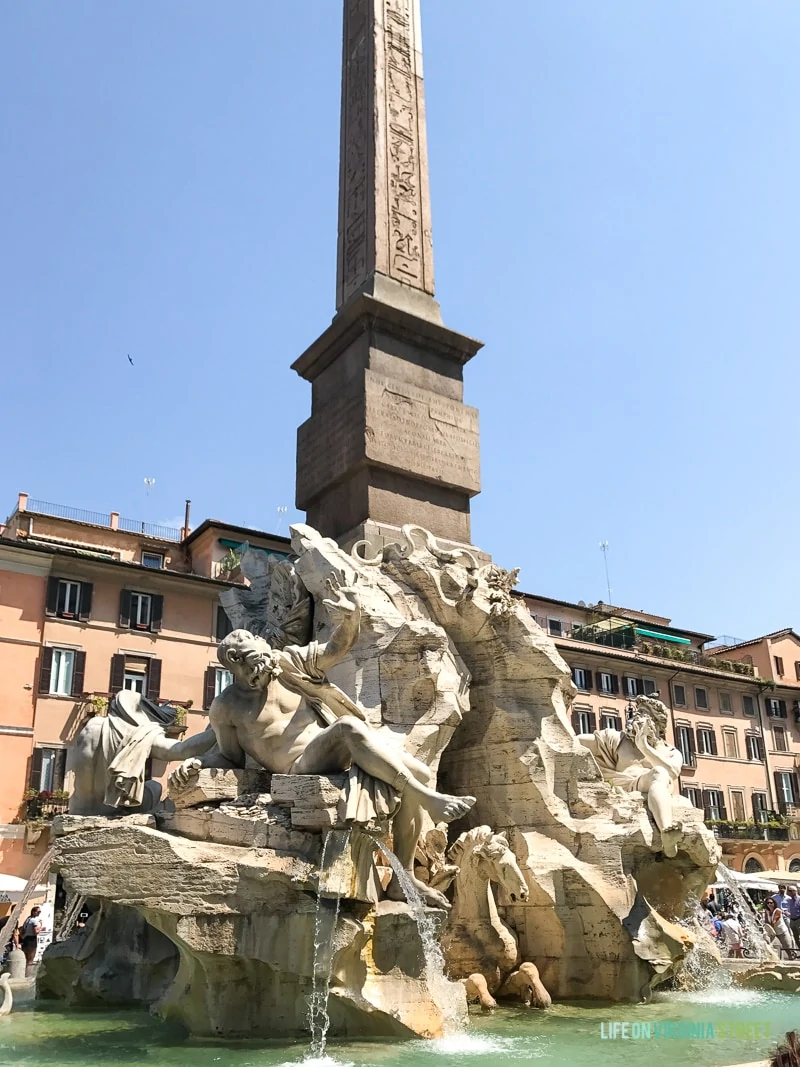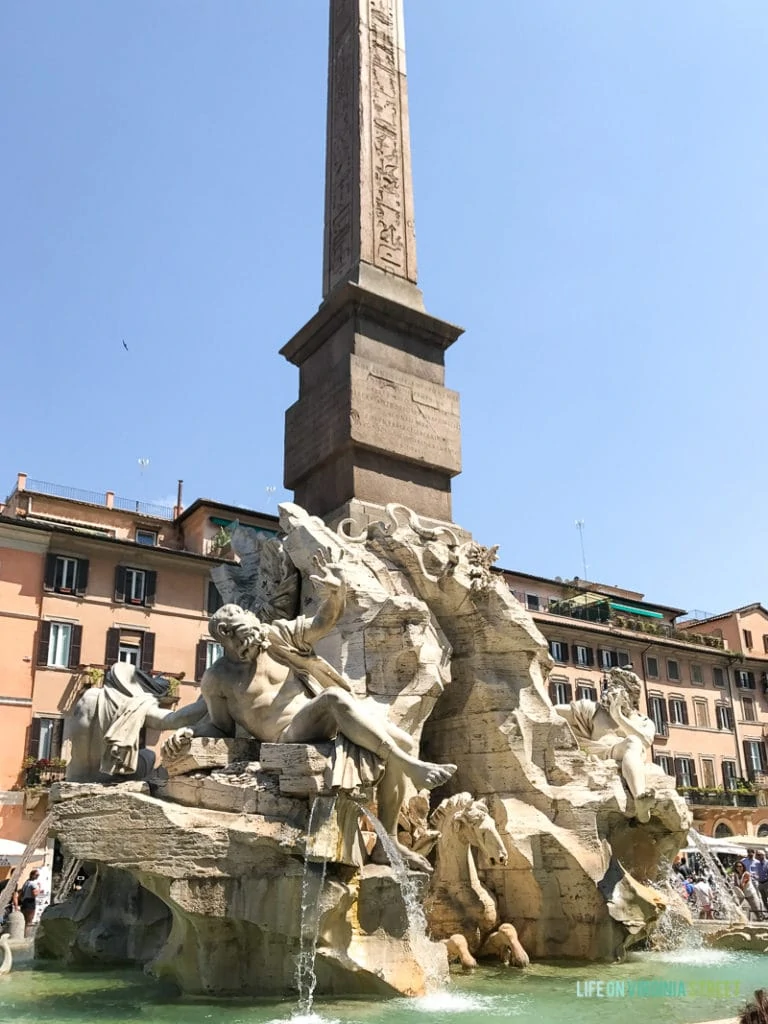 The restaurants and buildings along the square were exactly what you'd picture in your mind when you think of Italy. So much color and charm!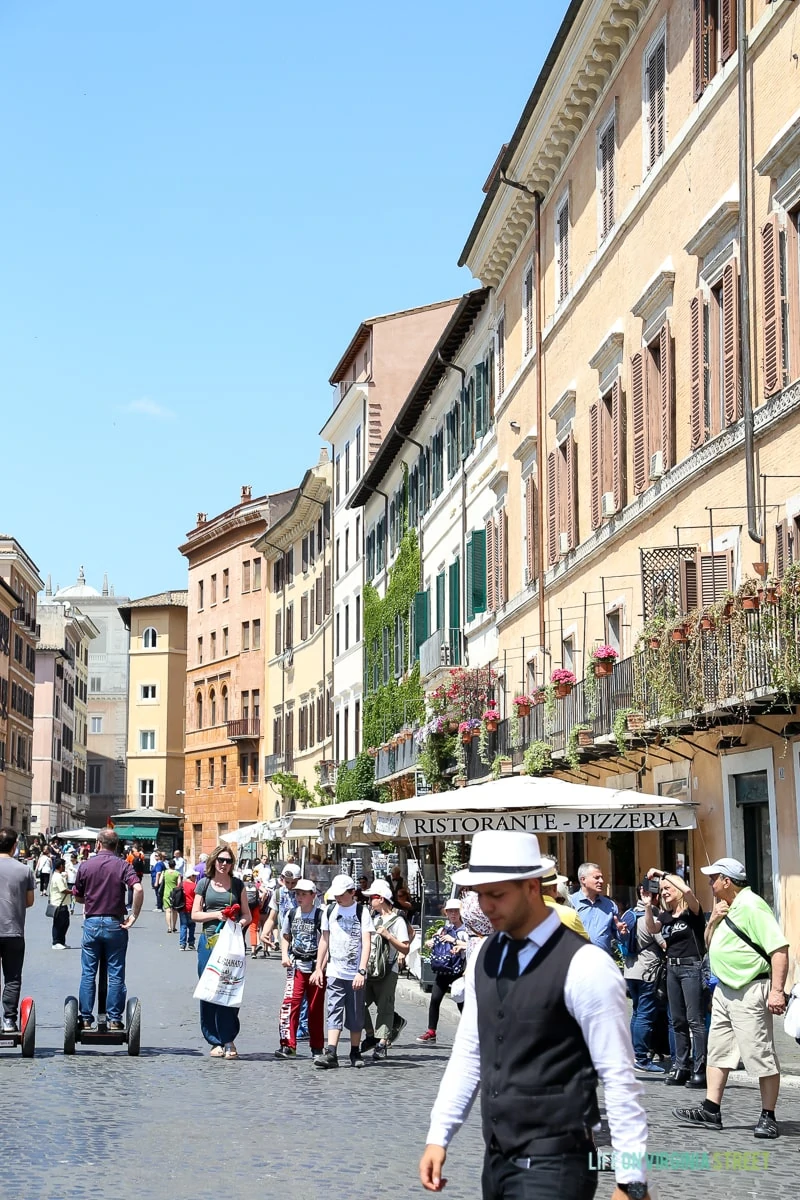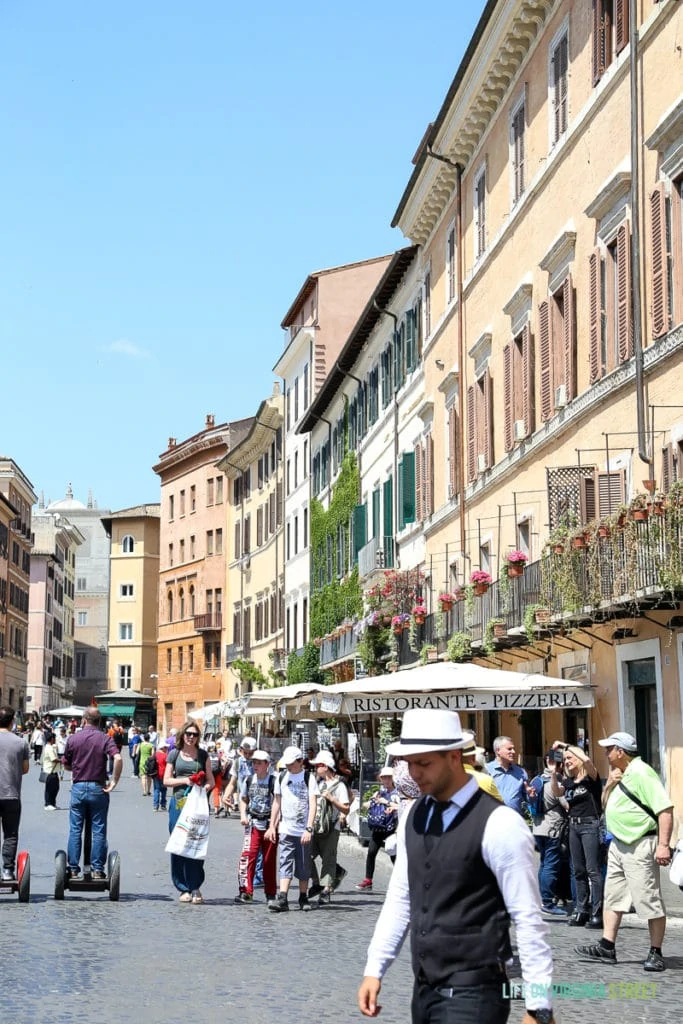 The reality is, we were super burned out already by the time we got to Piazza Navona. Not only were we exhausted from only three and a half hours of sleep, but the jet lag was starting to set in and the 80+ degree temps were taking their toll. So, we took a taxi back to the hotel for a nap. You really have to be careful not to sleep too much during the day when you arrive. It's such a huge temptation, but the sooner you can get on the Italian time zone, the better off you'll be.
We checked into our room. Most hotels in Europe (especially in older parts of town) have the most random rooms. Every single one is typically different and the decor is never consistent. We had an exquisite fresco painted on our ceiling and traditional Roman decor. But the room (and bathroom) was spacious. We allowed ourselves a two hour nap.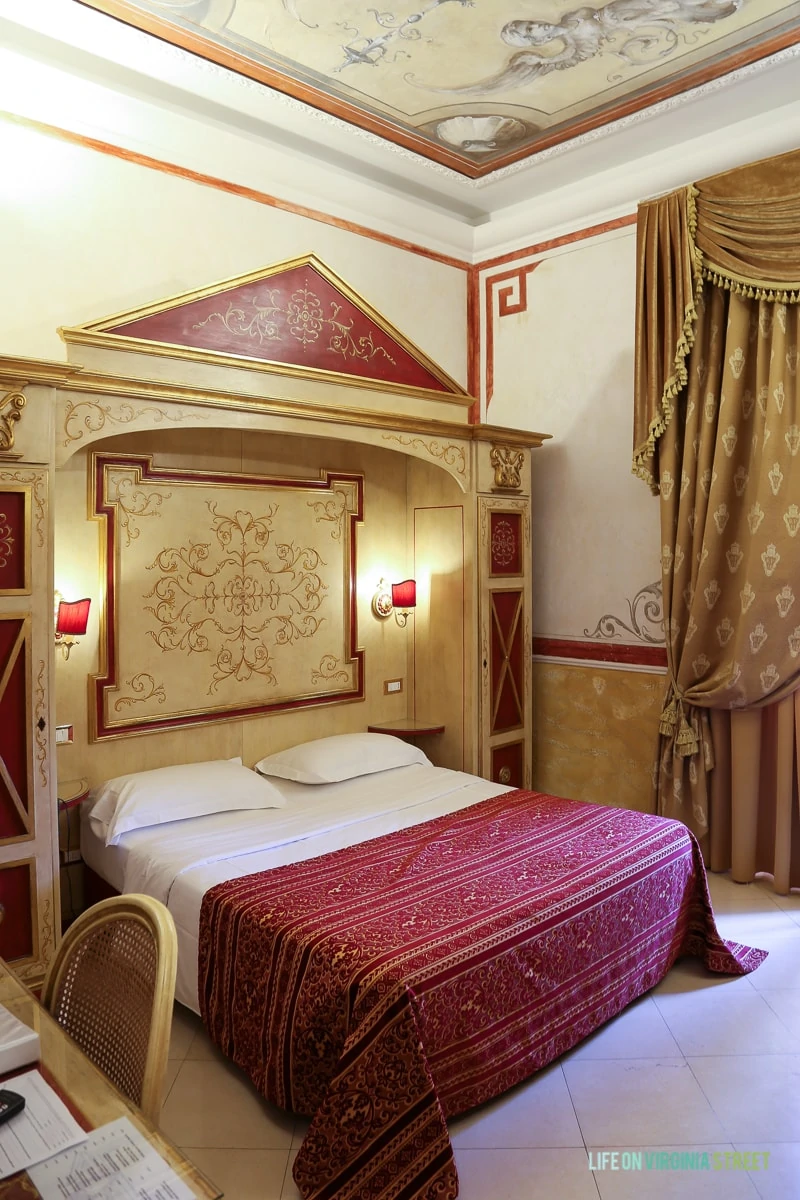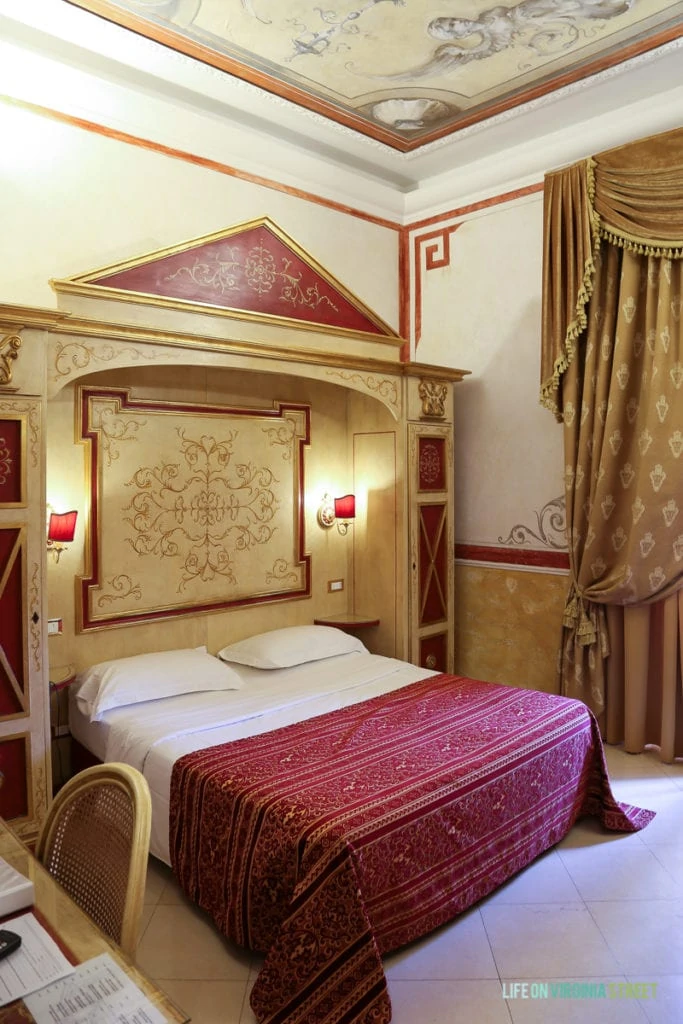 It was rough waking up but we knew we had to. We pulled up our phones to find somewhere to go for dinner. We found a restaurant about two blocks from our hotel that had rave reviews so we decided to give it a try. One of the best decisions of our trip! Osteria 44 was one of the most memorable meals we've ever had!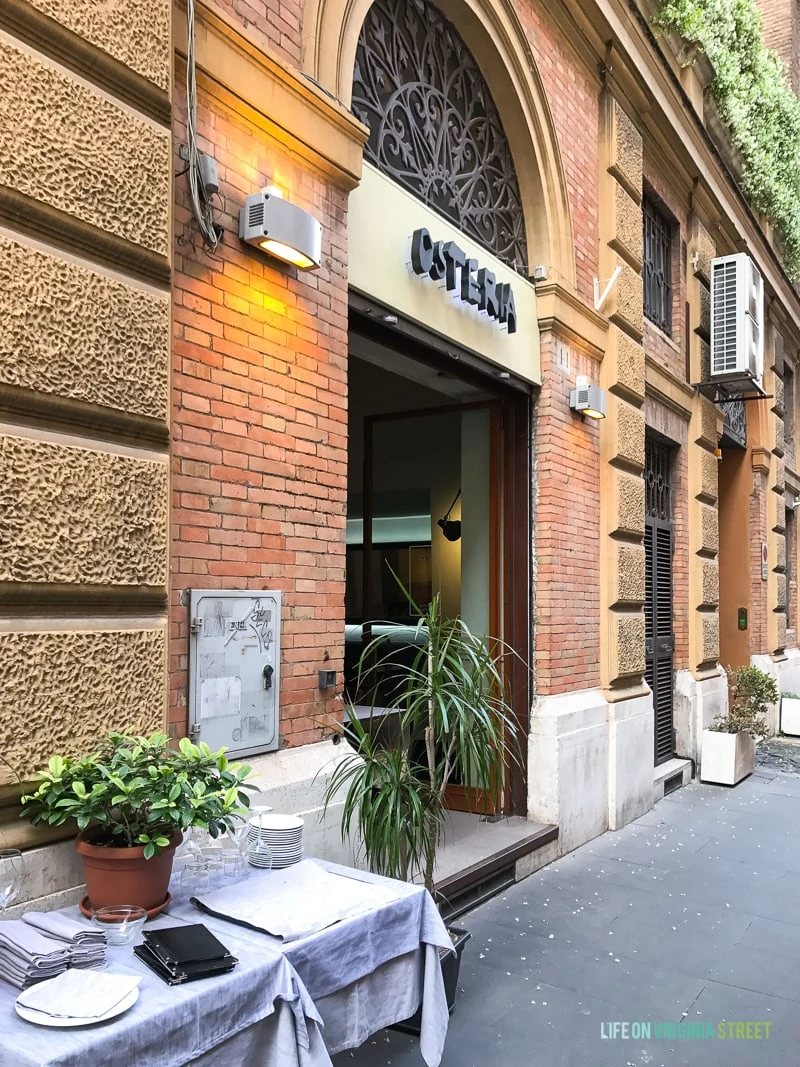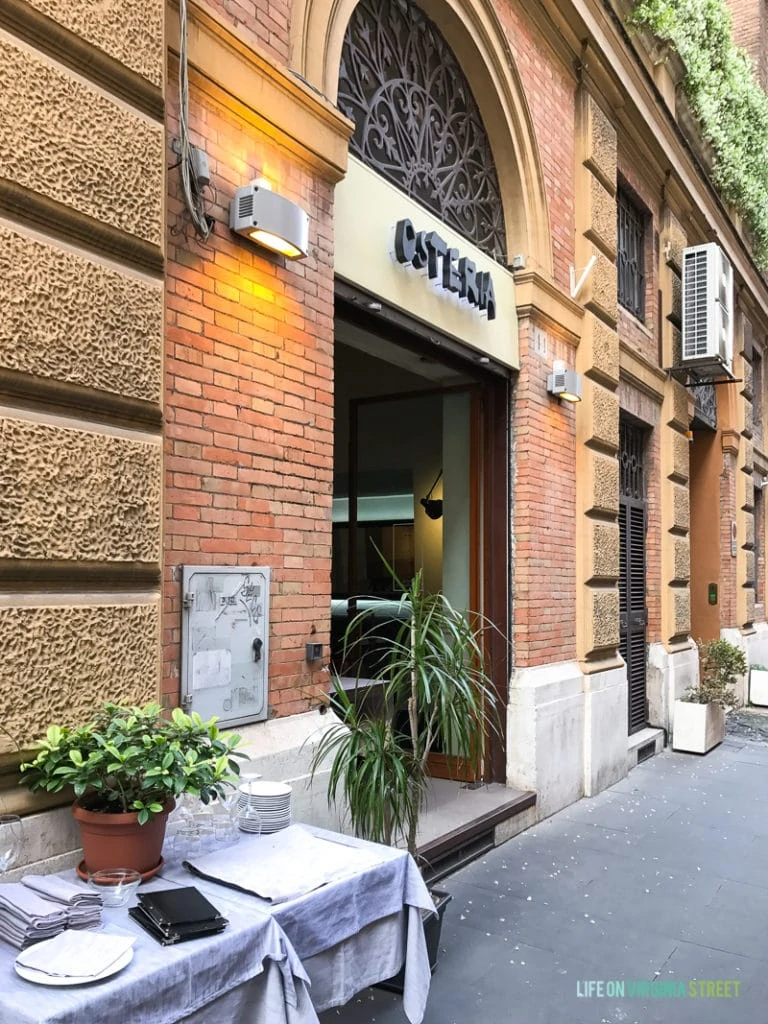 We opted to sit outside in the area on the sidewalk. You'll see these set ups frequently at restaurants in Rome and it's fun to see the action on the Italian streets. This was actually a fairly quiet street. We think it was a banking and/or business district so it seemed pretty quiet at night.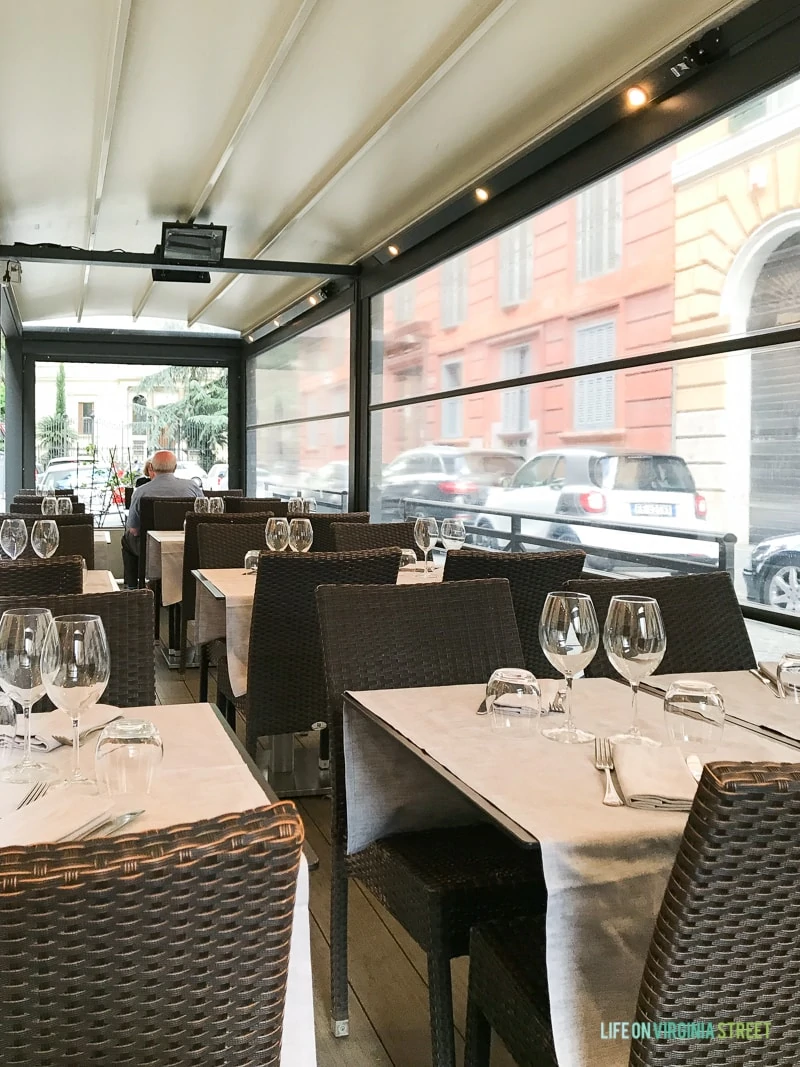 This was the view across the sidewalk, looking into the restaurant. It opened up to a larger space on the right-hand side of the bar.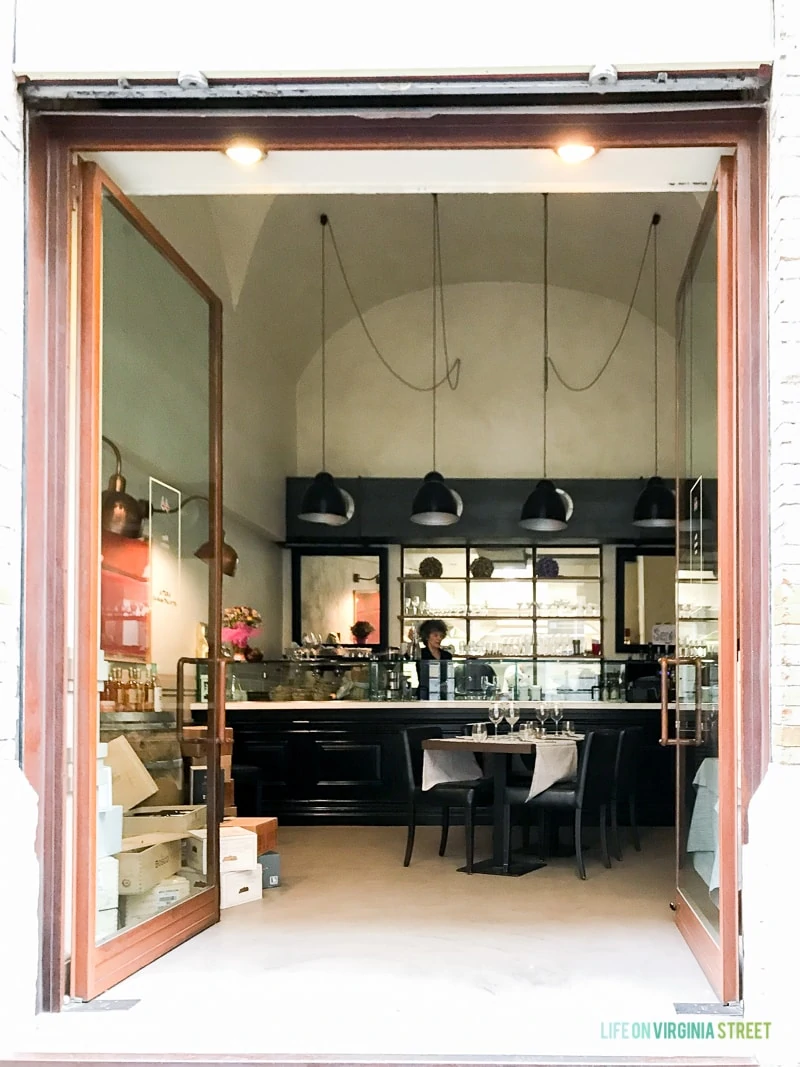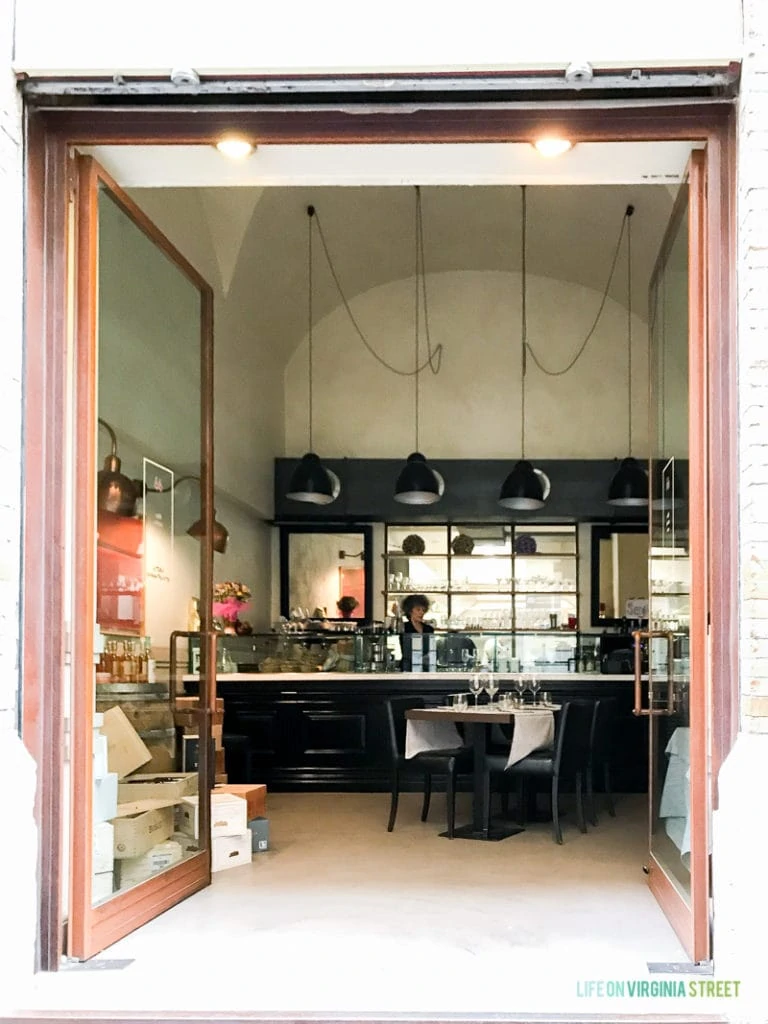 The service was phenomenal and very hands-on. We could tell within a few minutes we were going to love it. The owner actually came to talk to us about the menu (it's all written in Italian). He was so passionate about the food we let him select everything we would eat for the night.
We had a fresh artichoke salad that was one of the best things we've ever eaten, pasta, beef, fish, dessert, a bottle of wine, and cappuccinos. It was so incredible and I can't recommend this restaurant enough! Definitely the best and most memorable delicous meal of the trip!
The next day, we had breakfast at the hotel (it was included). By the time we got ready, it was downpouring rain. We decided to take a nap for a few hours because we still felt a little rough from the flight. Once we woke up the skies started to clear.
We decided to take one of the hop-on-hop-off tourist buses offered in the city (we used City Sightseeing). We'd had good luck with these types of buses in the past in both London and Barcelona, but honestly we didn't love it for Rome. It seemed like we were stopped waiting for more pick-ups all the time. It also started to rain on us (it was an open-air bus up where we were sitting). But, it did give us a good chance to see the Colosseum (we didn't go in but I would highly recommend it if you've never been before) and other parts of Rome we hadn't seen before.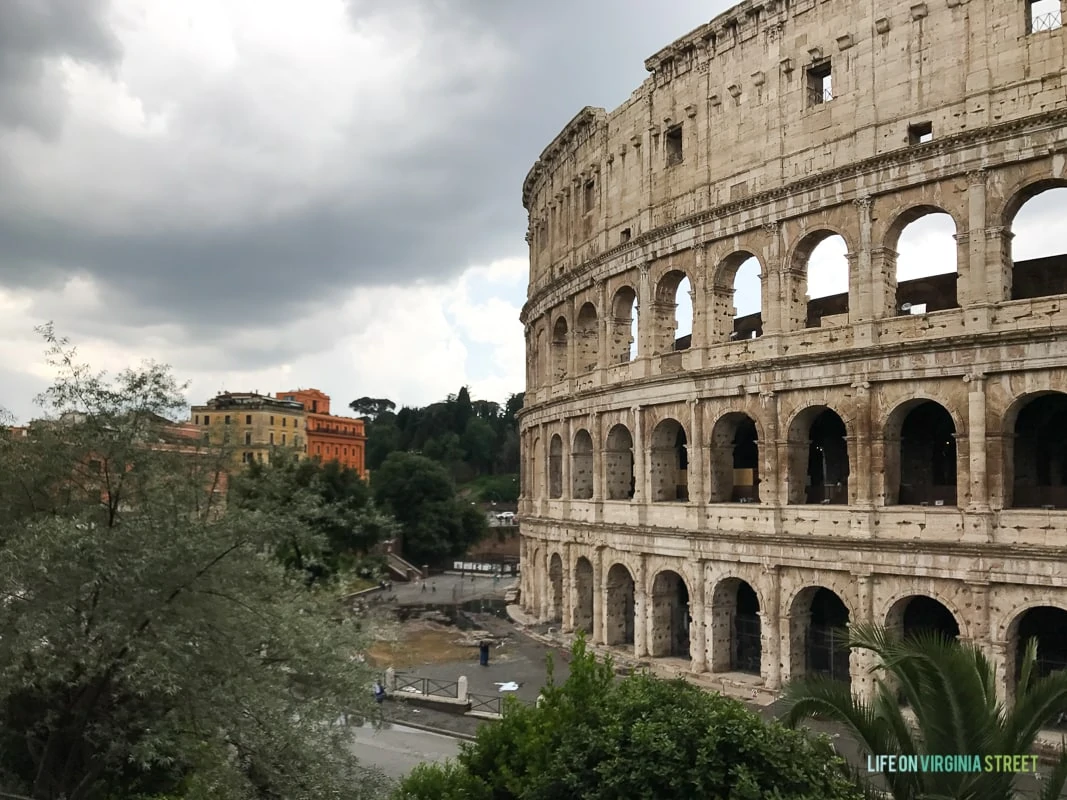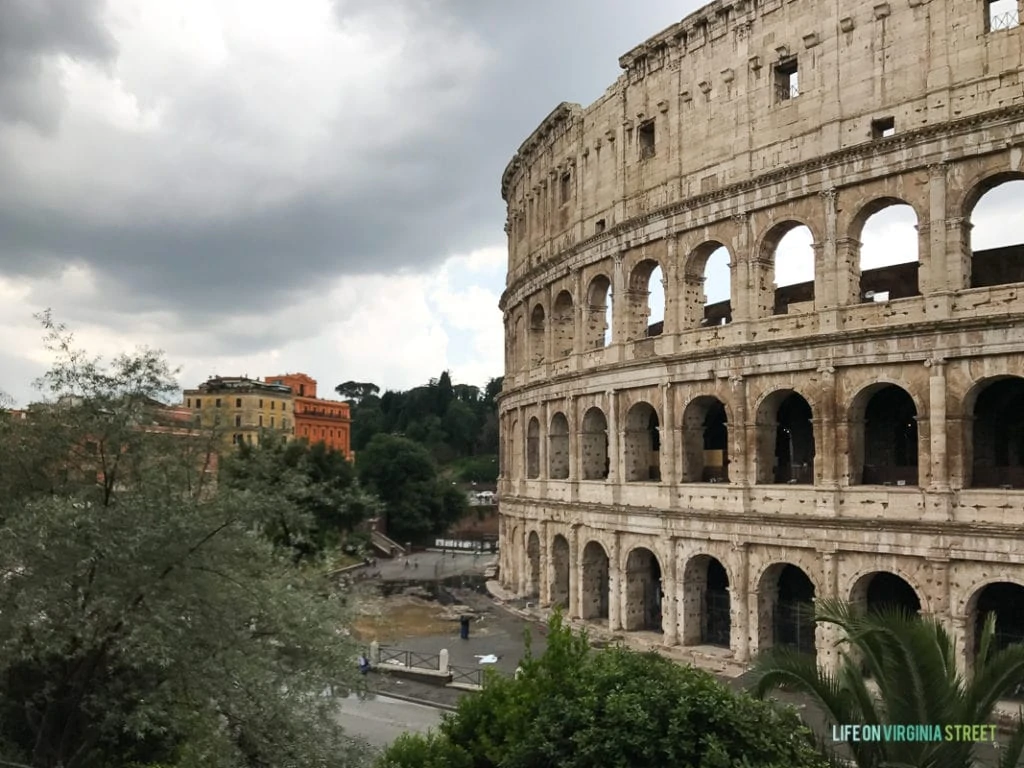 We did hop off at the stop for Piazza Venezia. This is such a great stop if you want excellent views of the Roman Forum and the Wedding Cake Building (Monumento Nazionale a Vittorio Emanuele II). After walking up the long flight of stairs just down the hill from the stop, we were surprisingly greeted by crazy good views of the Roman Forum. This was the Roman's shopping mall back in the day, and the scale is unreal. You have to pay to get into the Forum and since we were short on time, we opted to admire from above.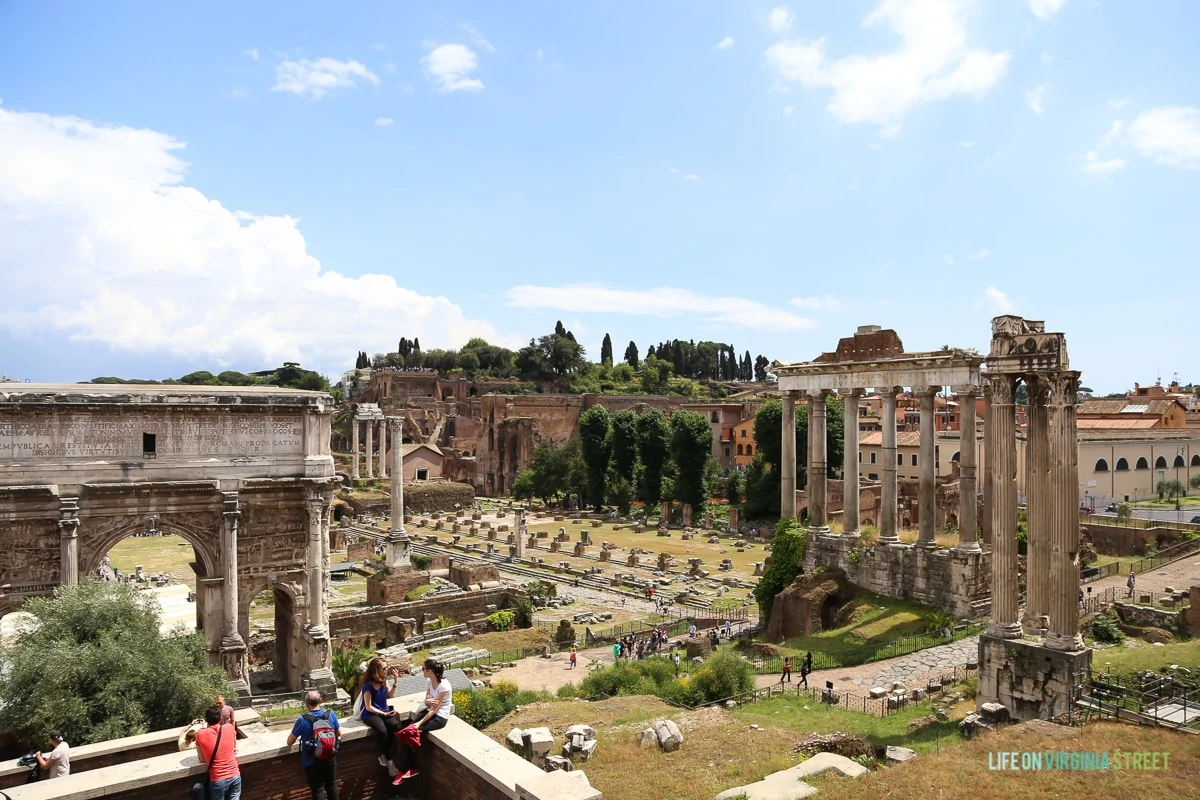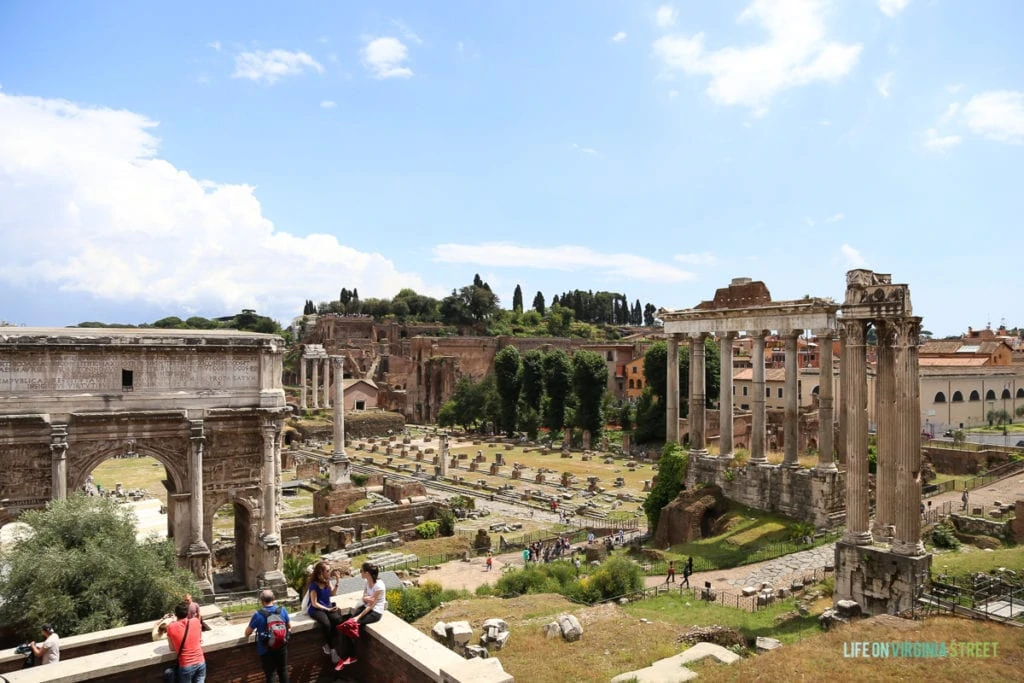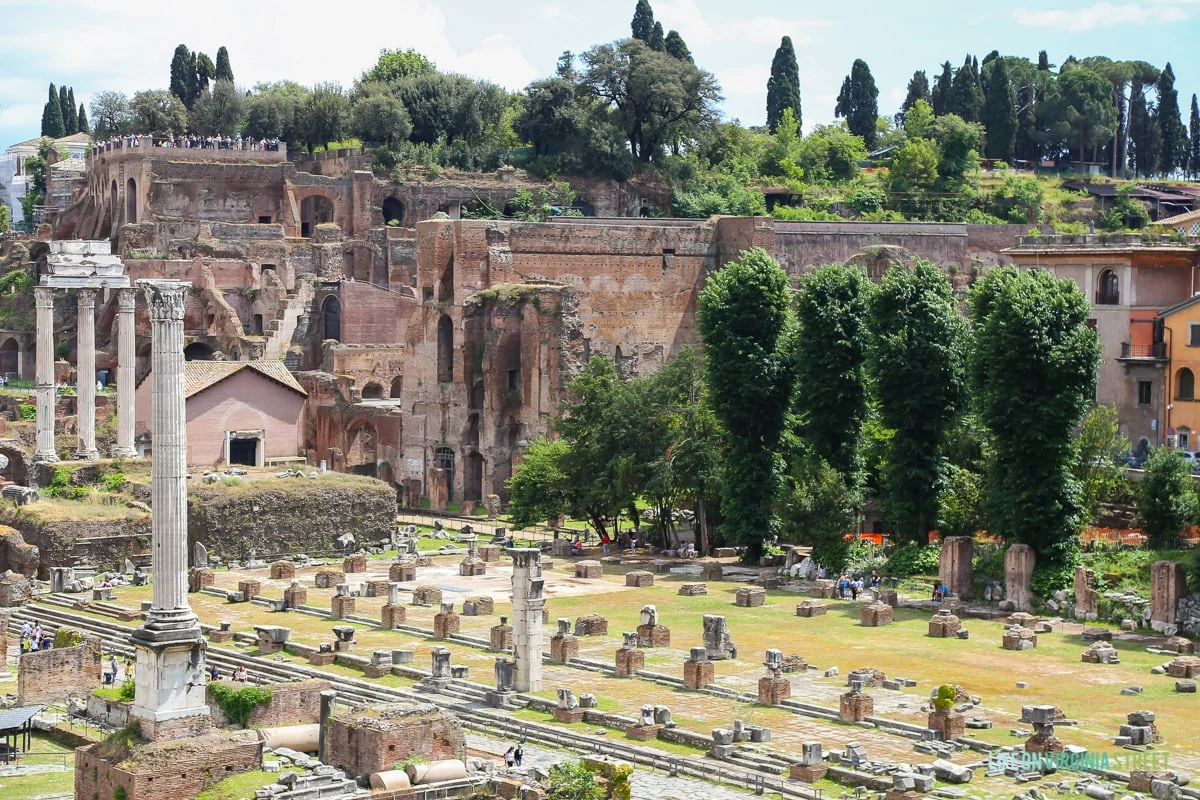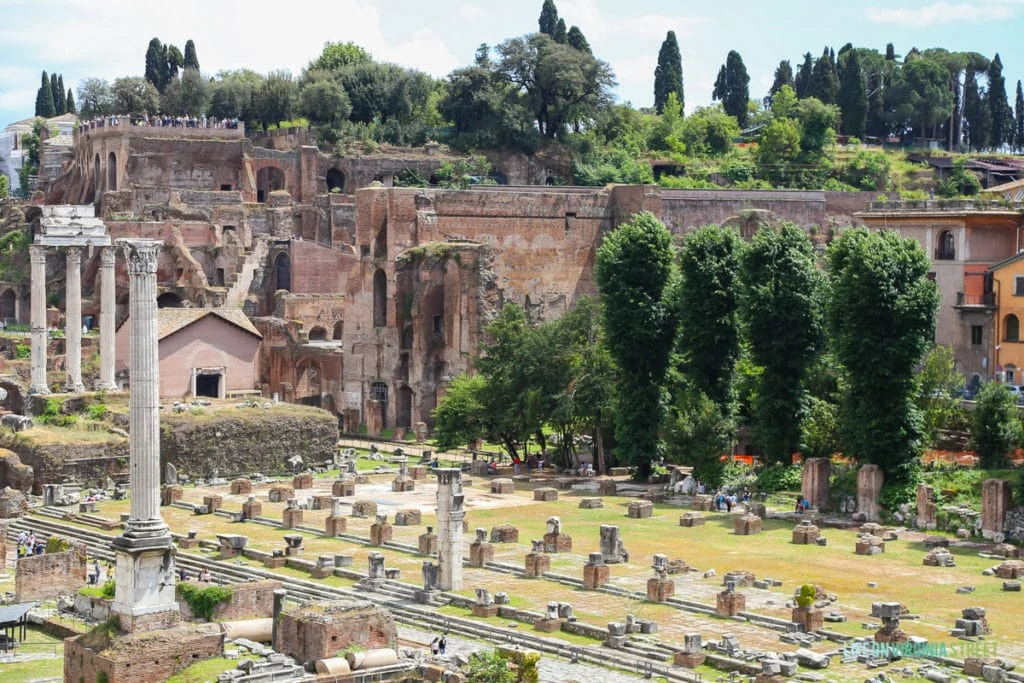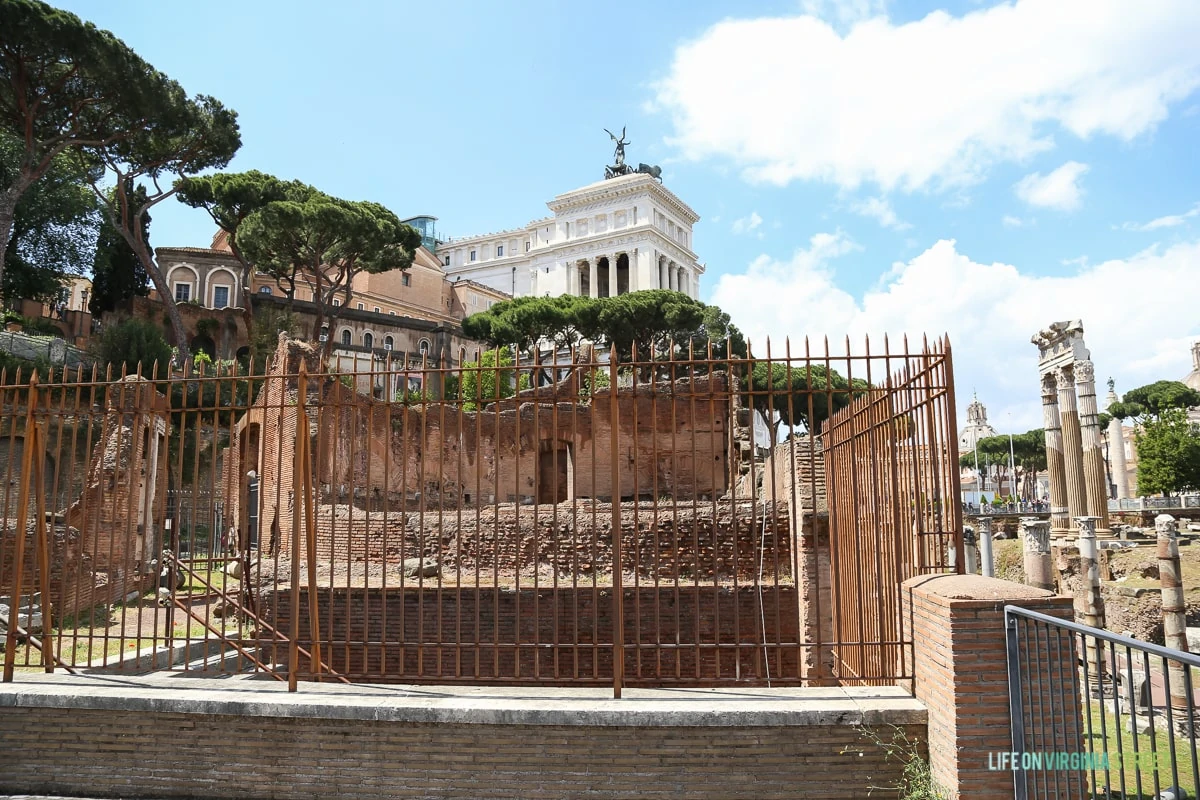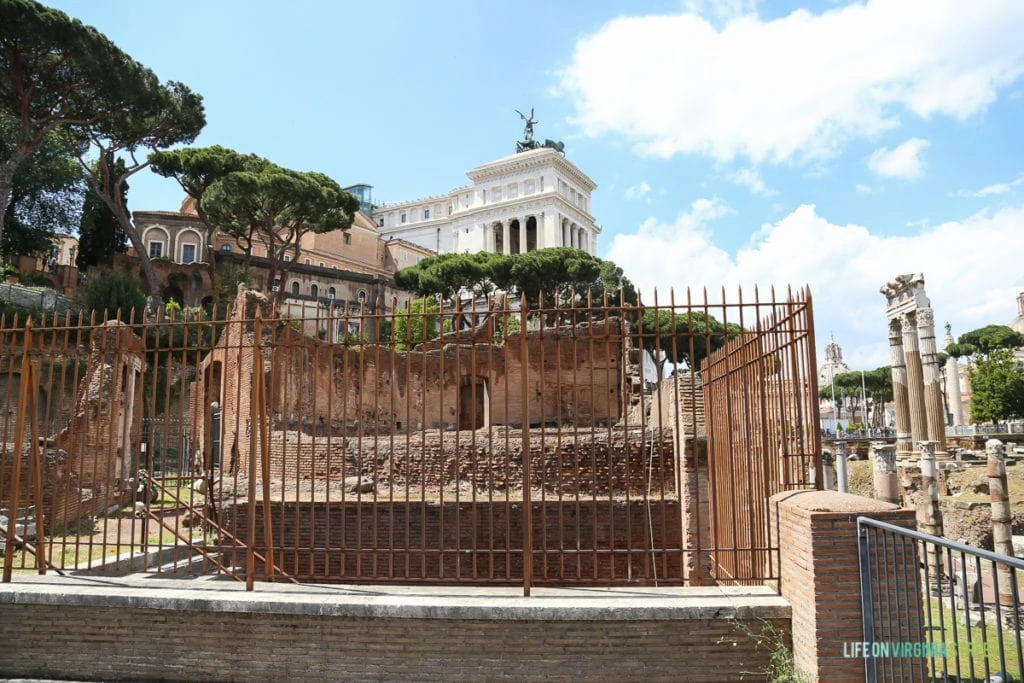 We headed over to the wedding cake building and took in the views from there as well. Because we were coming from the back side, we actually entered at the top and them came down the front stairs. It is such a beautiful (and massive) building!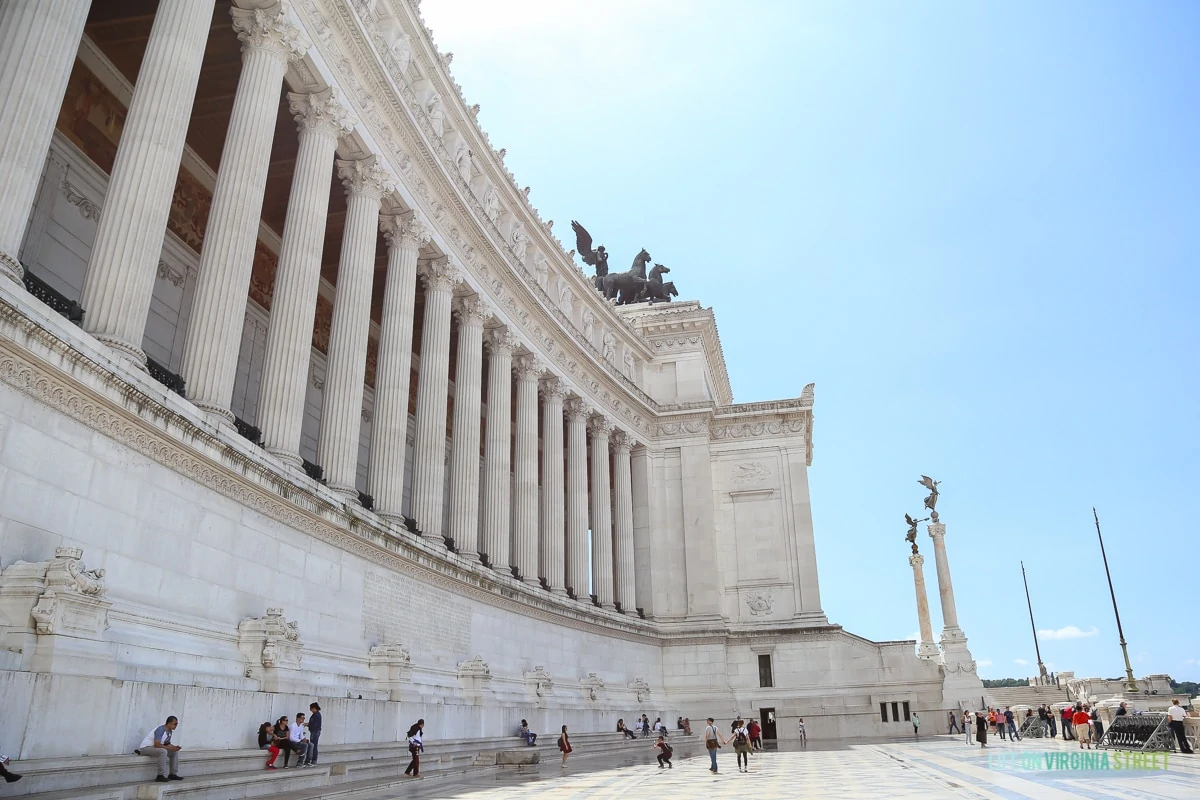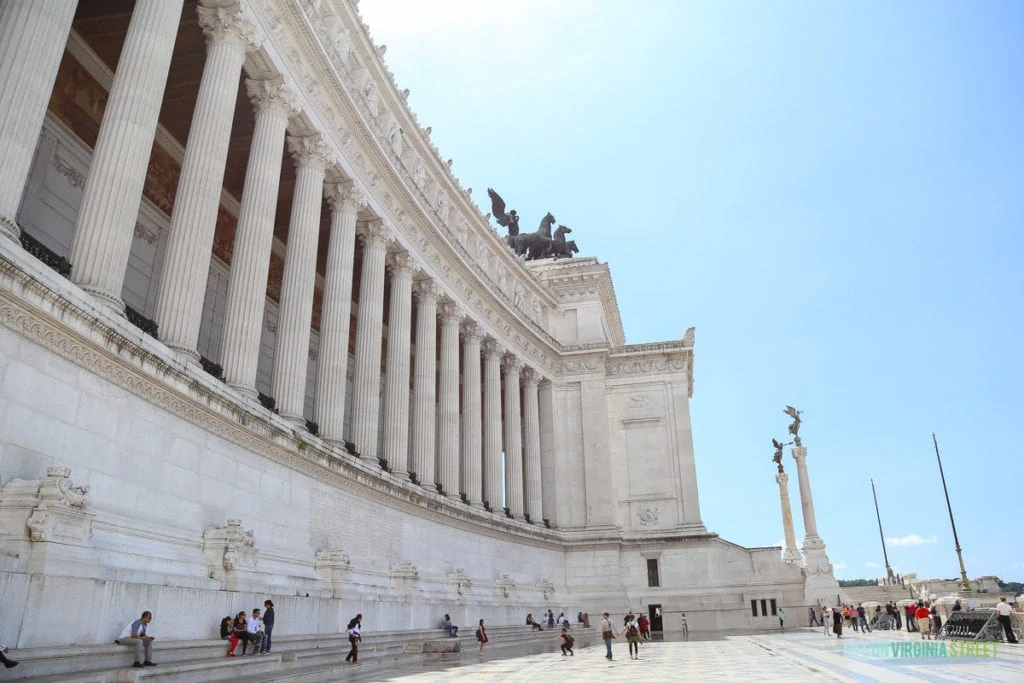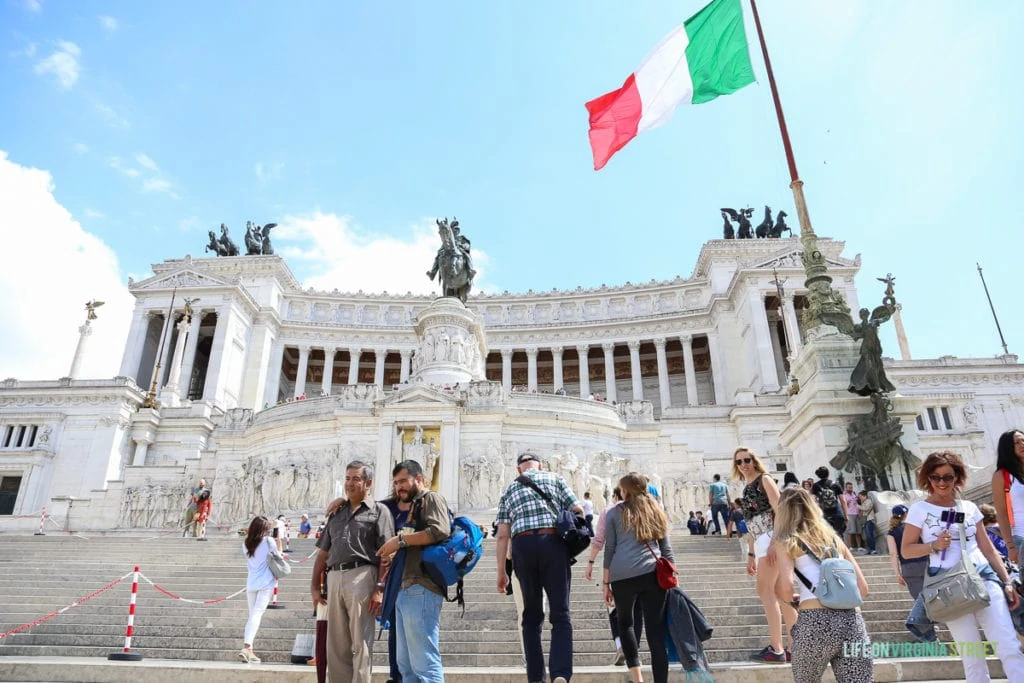 In the late afternoon, our bus had an alternate route that would stop at Piazza di Spagna, which was perfect because we had also wanted to visit the Spanish Steps. We actually arrived up by the top of the steps and found a perfect stylish rooftop bar to take in all the craziness happening below. There were so many people! But there was also so much contagious energy and it was such a cool area! It was my father-in-law's birthday, so we took advantage of our break (and the time change) to call him from here as well.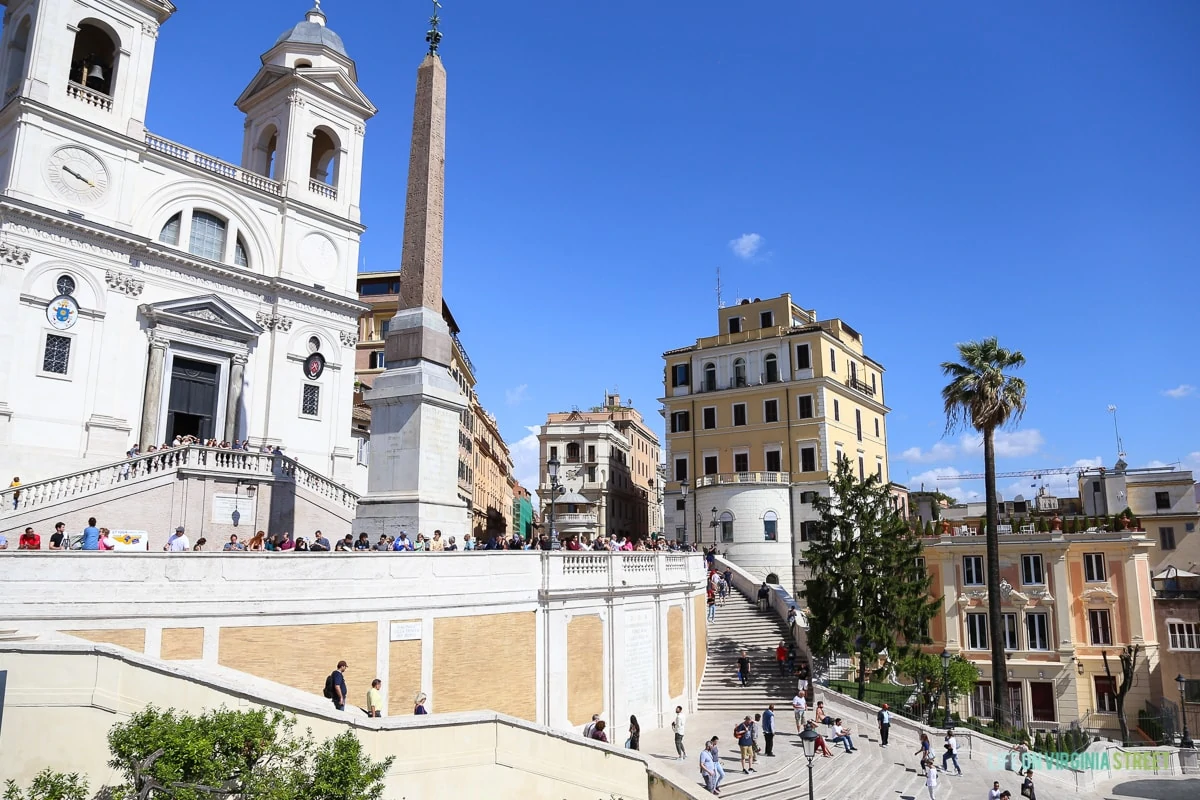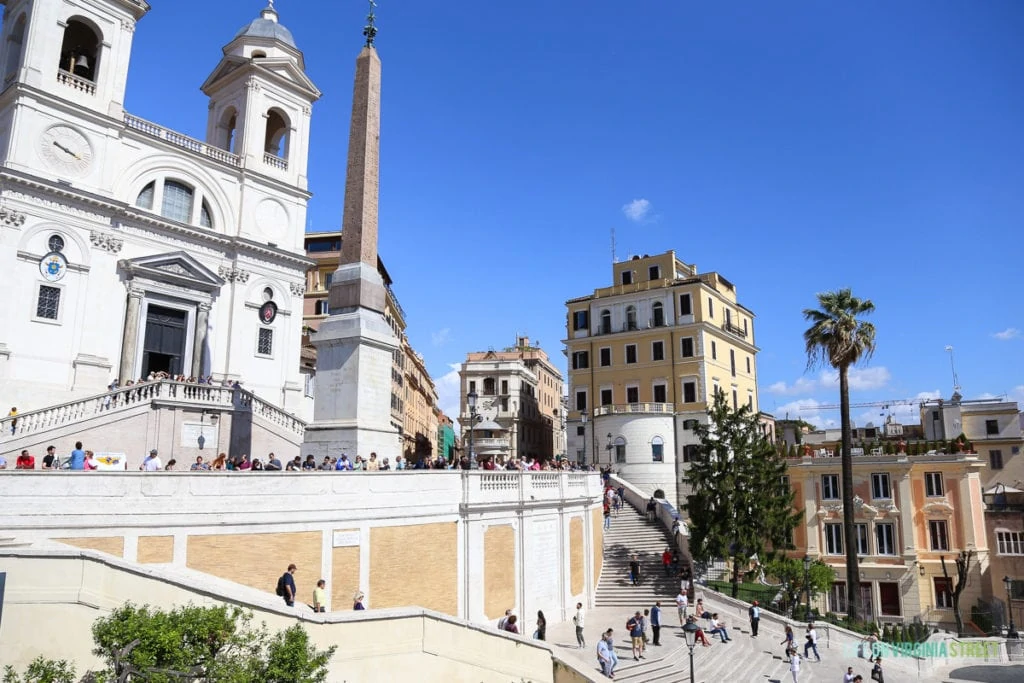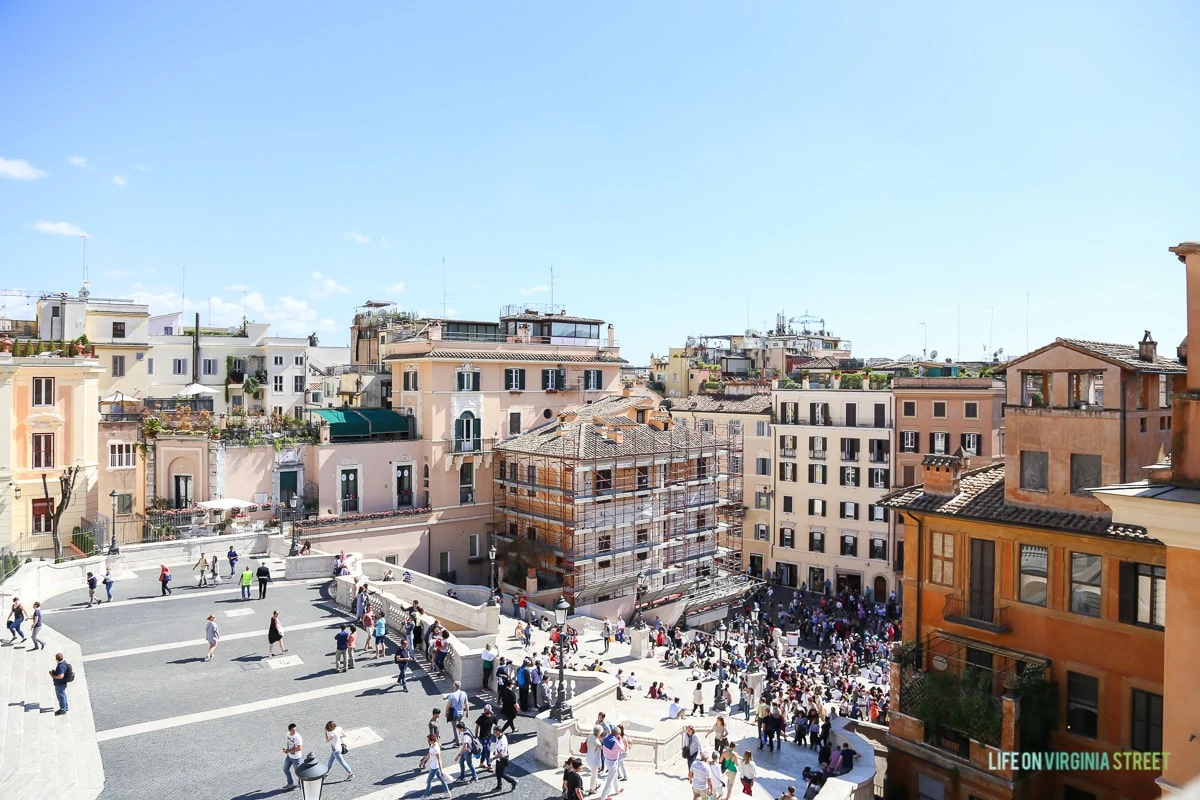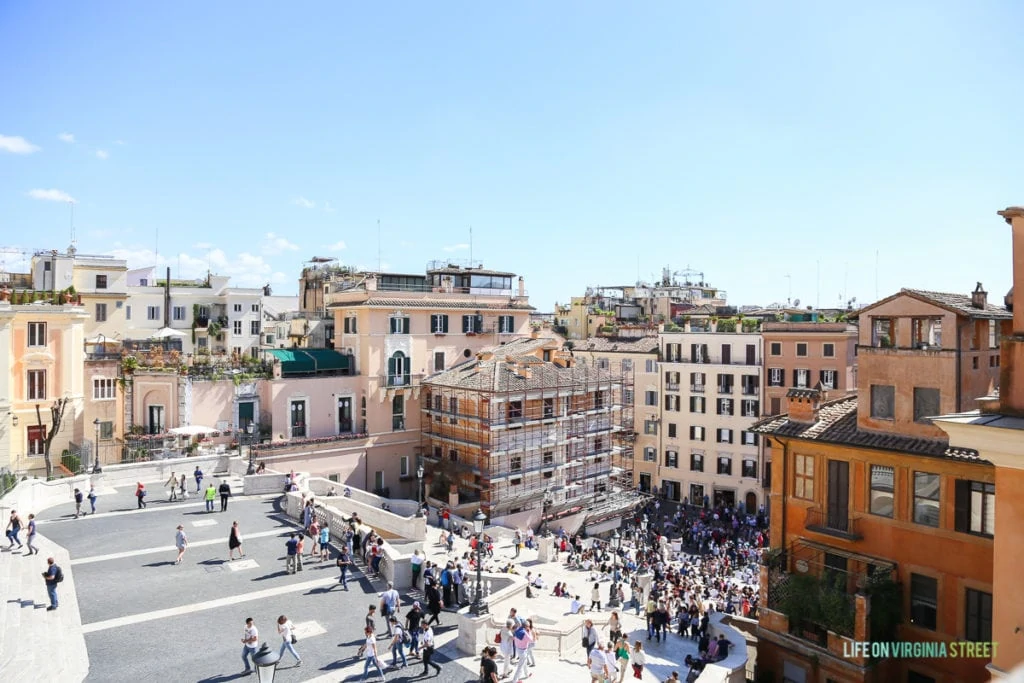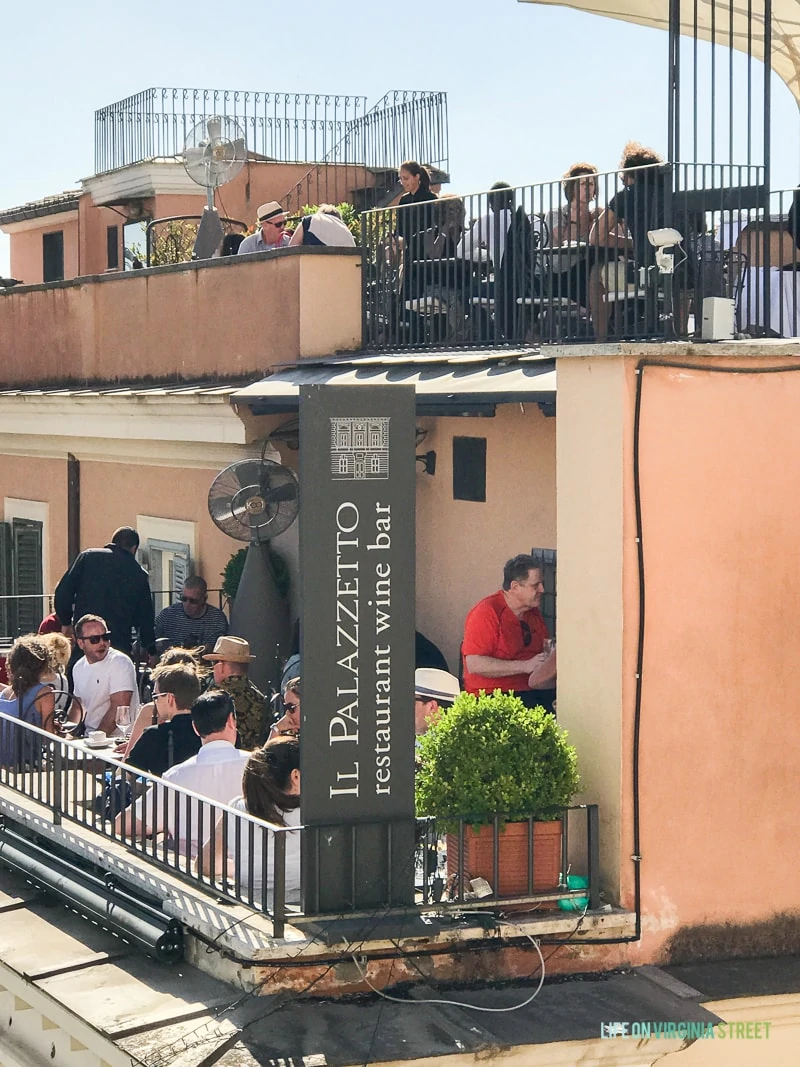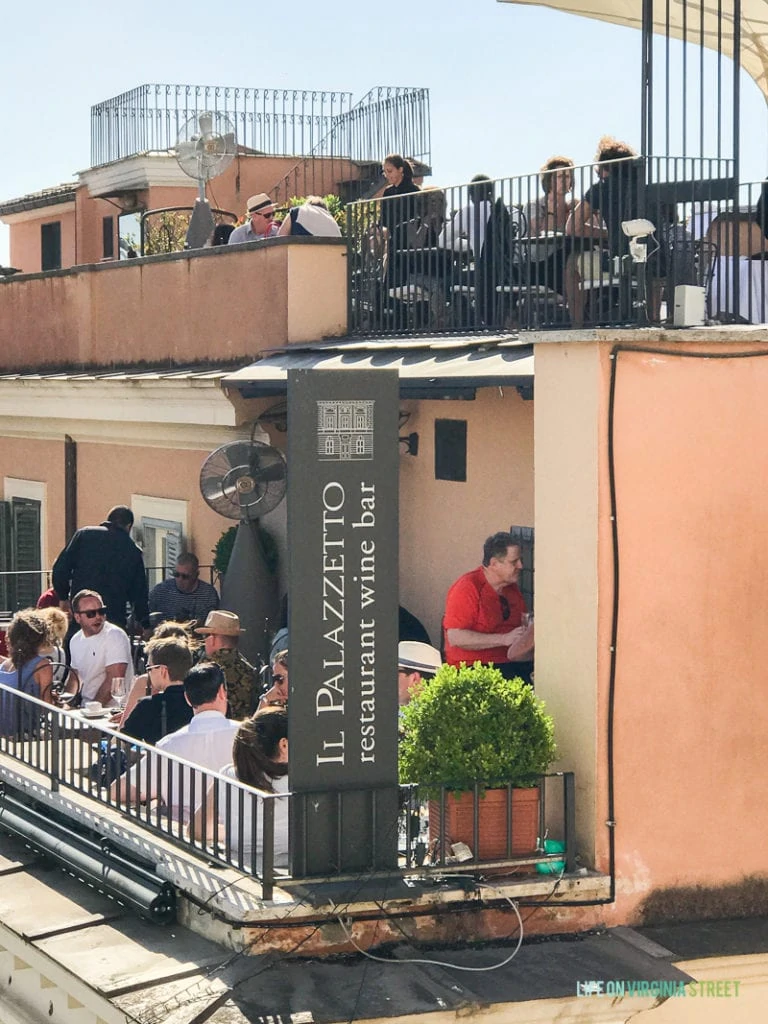 We decided to walk back to our hotel that evening. But first, I wanted to swing into Louis Vuitton at the base of the Spanish Steps before we left. There were a lot of really great stores, but with all the crowds, we were ready to head back after LV.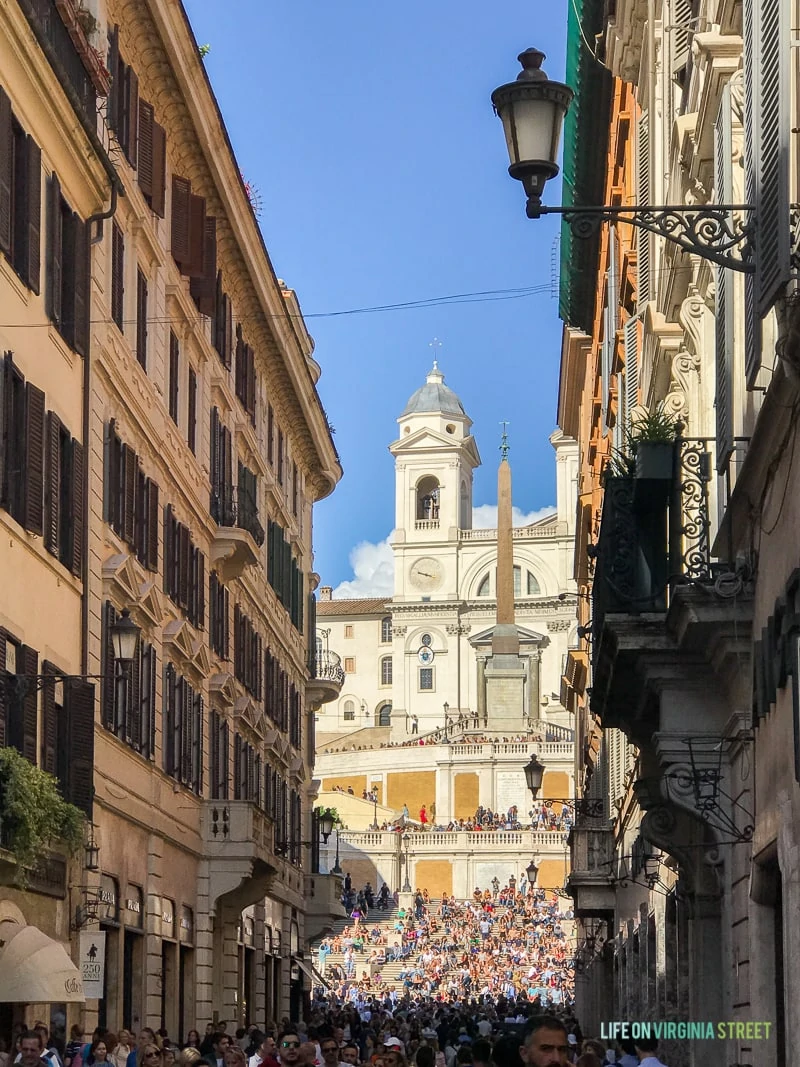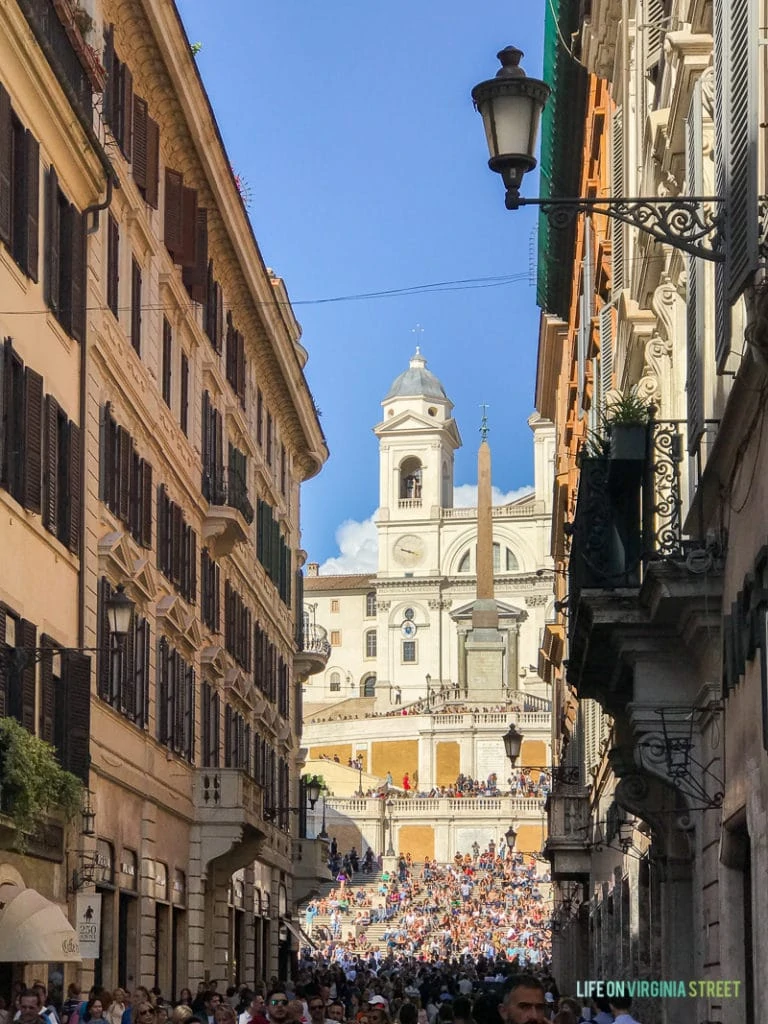 That evening, our last in Rome until the end of our trip, we decided to eat dinner at our hotel. The views and sunset were so ethereal and beautiful!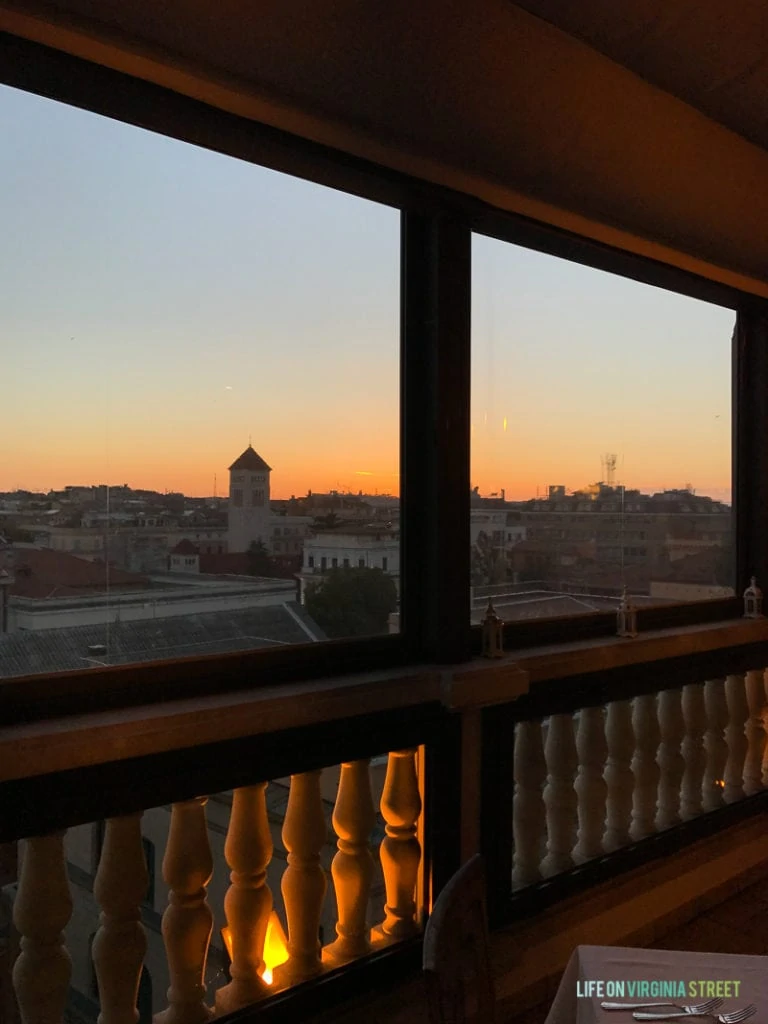 The next morning we packed up our belongings and headed to the train station. We had pre-purchased a train ticket from Rome to Naples, and then had a driver picking us up in Naples. Guys, we seriously had no idea what we were doing. And obviously it was apparent because a lady came up to us and offered help and told us how to find our platform. And then demanded money. Insert eyeroll here. The worst part was, after I paid her, we realized (almost too late) that she told us the wrong platform. So, here's our advice. Get your tickets and then head upstairs. We didn't figure this out until we'd been there about 30 minutes. There is a nice cafe-like area with bathrooms (you do have to pay). But it is much calmer and feels safer than the chaos below.
Once we were on the train it was a breeze. Other than the fact my suitcase wouldn't fit in the luggage closet (it was already full). So we were the annoying Americans that had to leave their suitcase in the aisle. Thankfully nobody seemed to mind too much.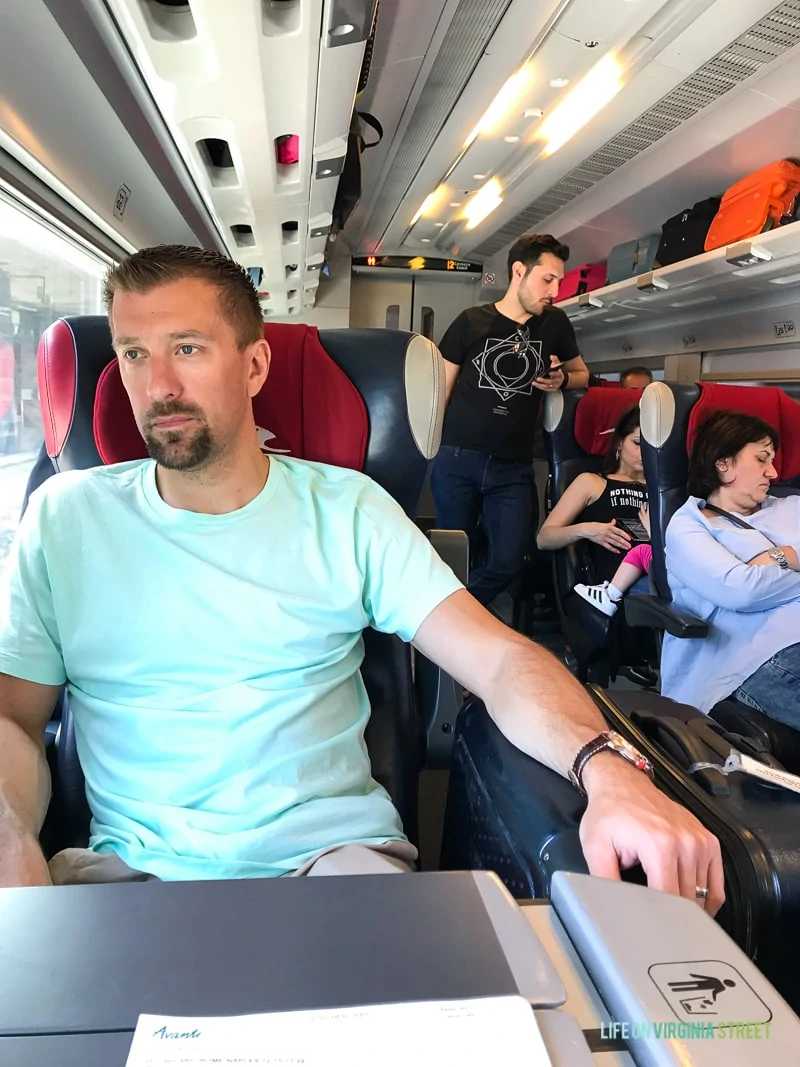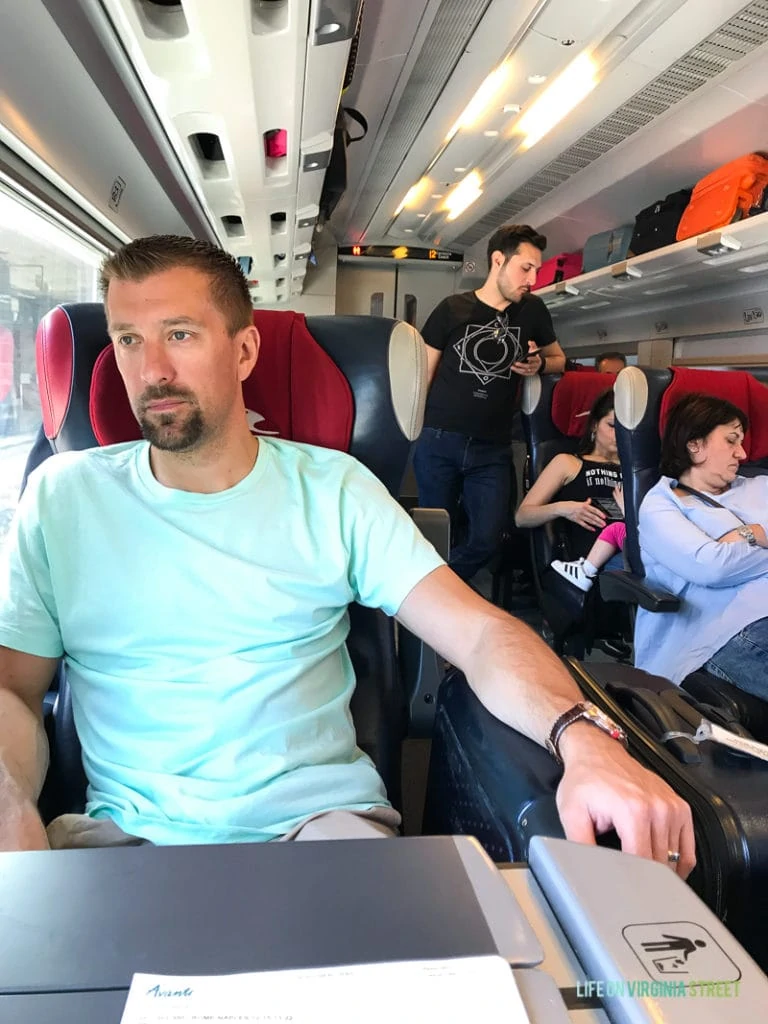 We arrived in Naples exactly on time. The train station there is a bit sketchy but our driver was waiting for us and we hit the road. And almost a bunch of pedestrians and other cars 😉 The driving there was INSANE.
Pompeii
As part of our private transfer fee from the Naples train station to Sorrento, we had a private tour of Pompeii for about two hours. We had been to Pompeii on our prior trip, and I surprisingly really liked it. It was so interesting this time around to see new things and hear new stories and data. It is seriously such a fascinating place. We are awestruck when we hear of the sculptural engineering marvels and technology that existed there over two thousand years ago!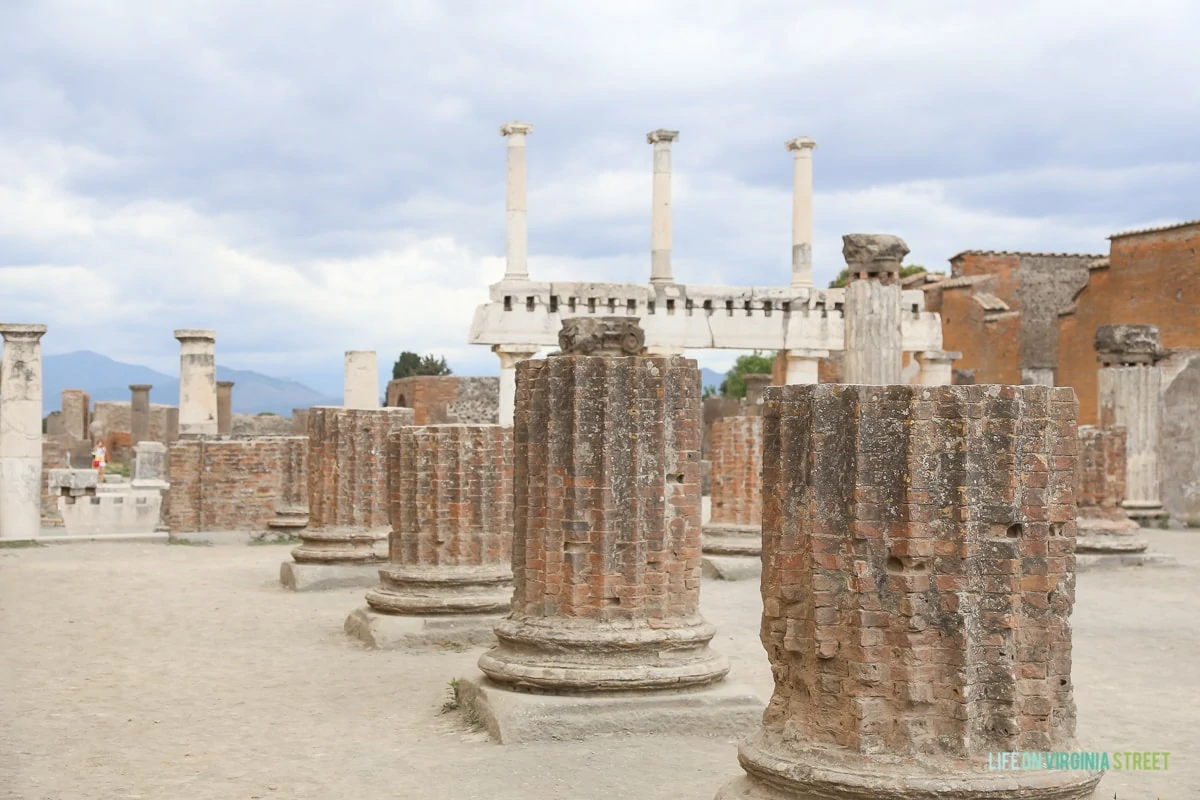 One of the main squares in Pompeii with Mt. Vesuvius in the background. For those not familiar with Pompeii, Mt. Vesuvius erupted in 79 AD and literally buried the town alive in ash. It was preserved because of that and what remains today is phenomenal.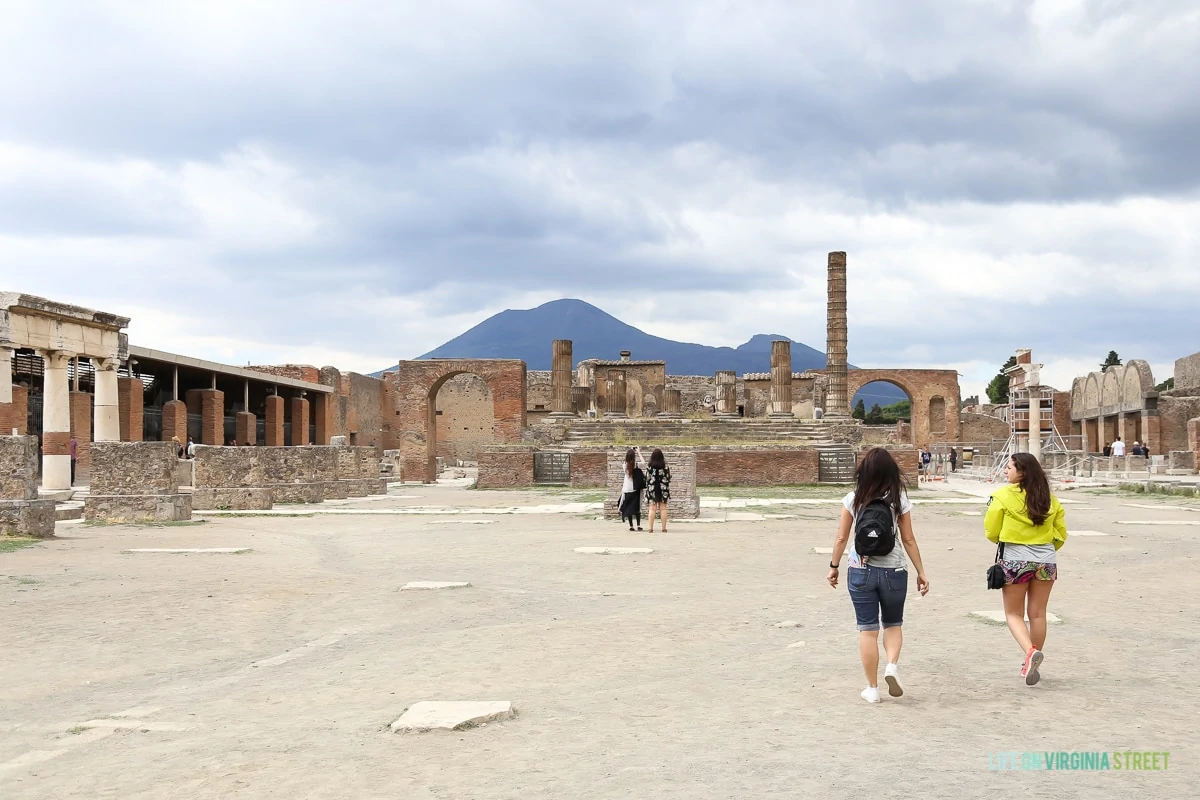 This was the spa. Yes, they had spas, complete with swimming pools, saunas, and more.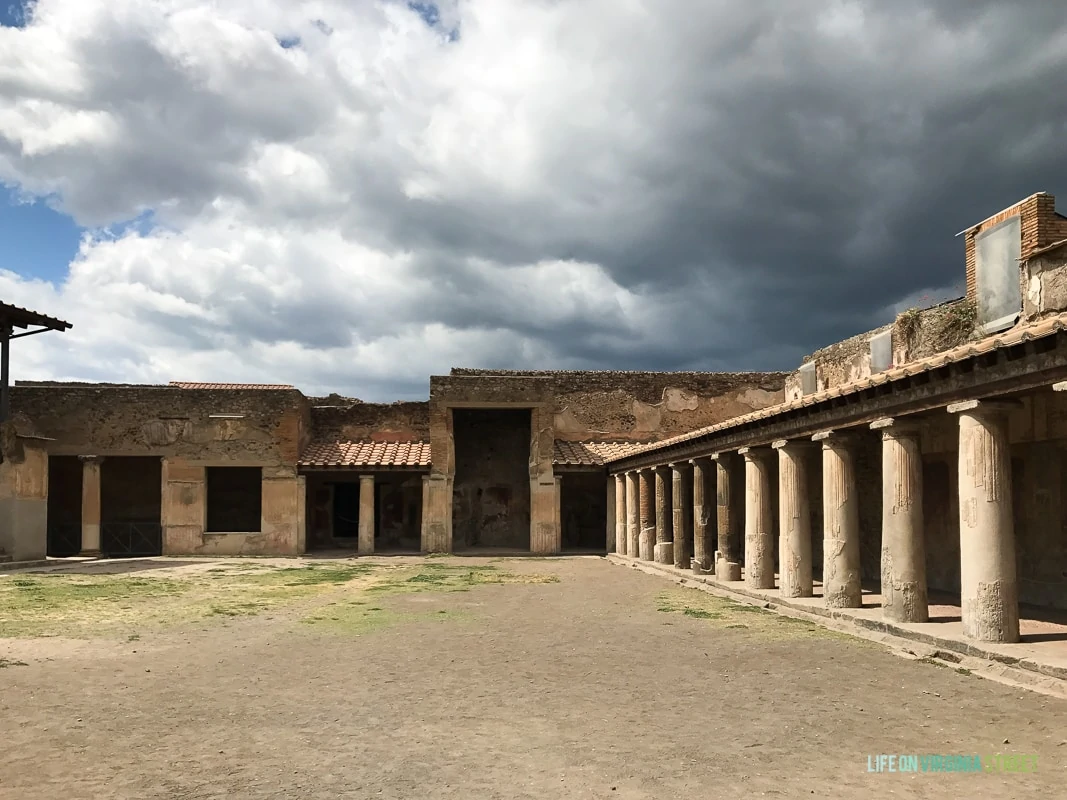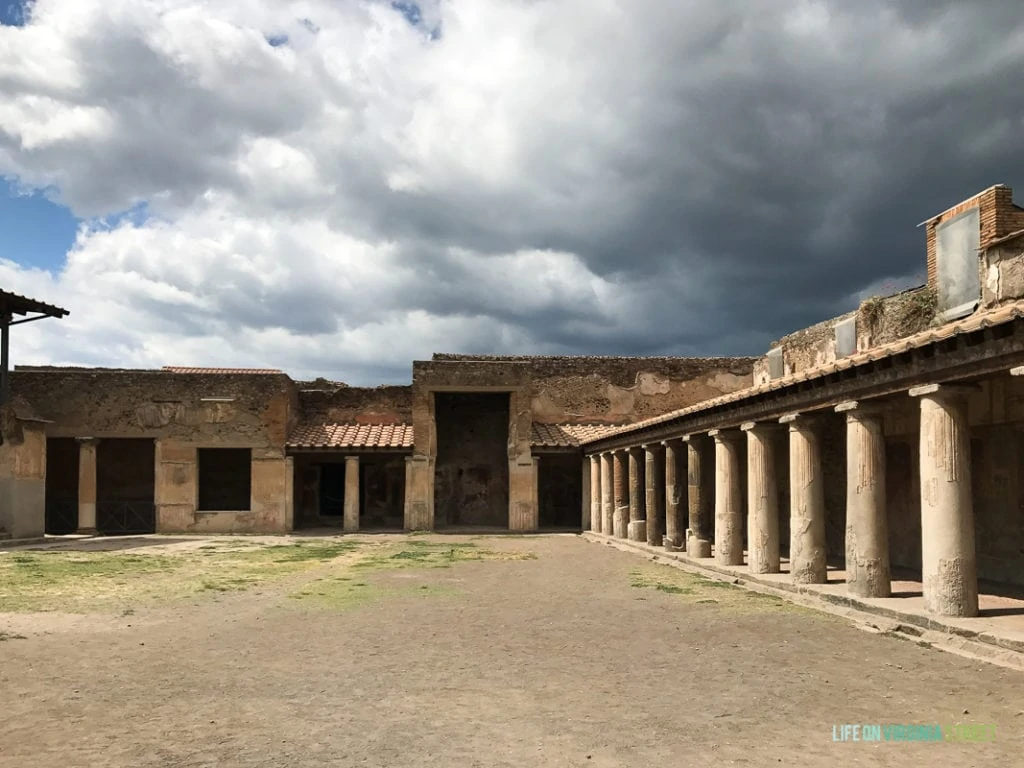 The tile floors in the spa on the women's side was so beautiful and I couldn't believe how intricate and perfect it was!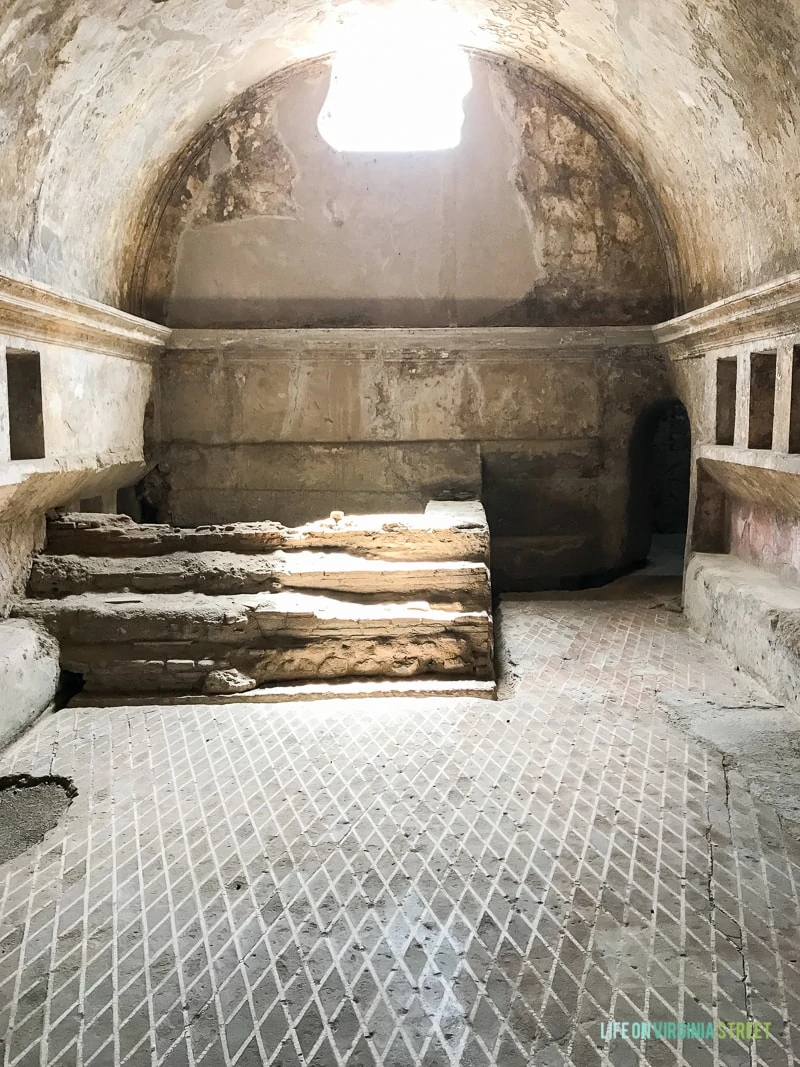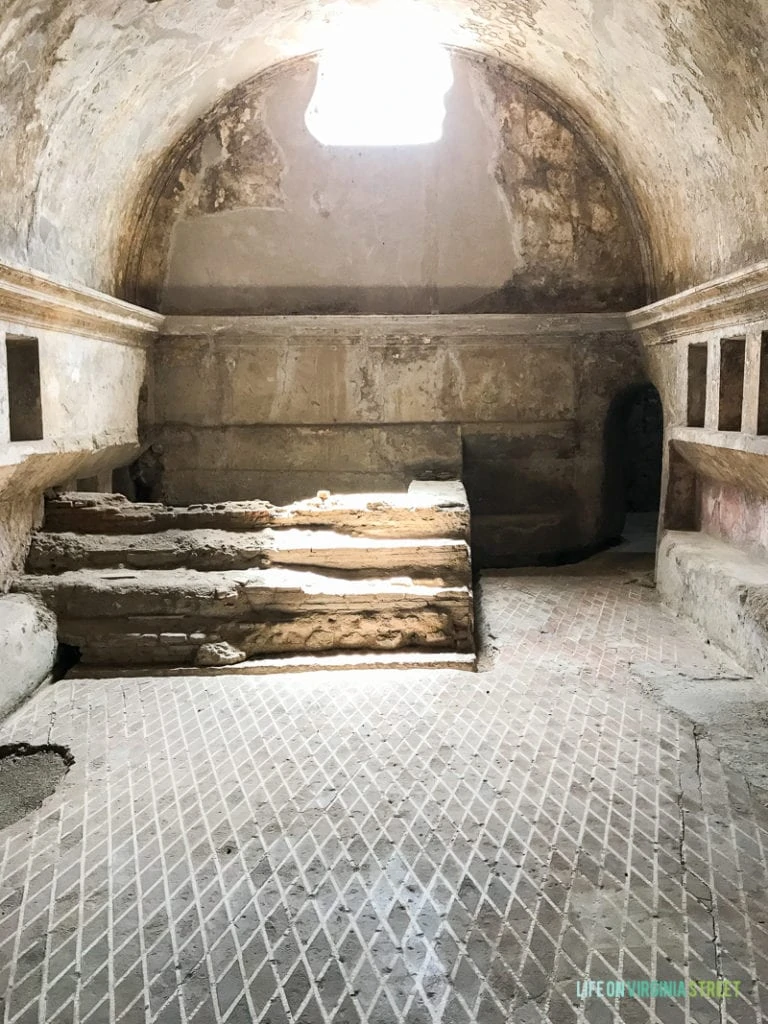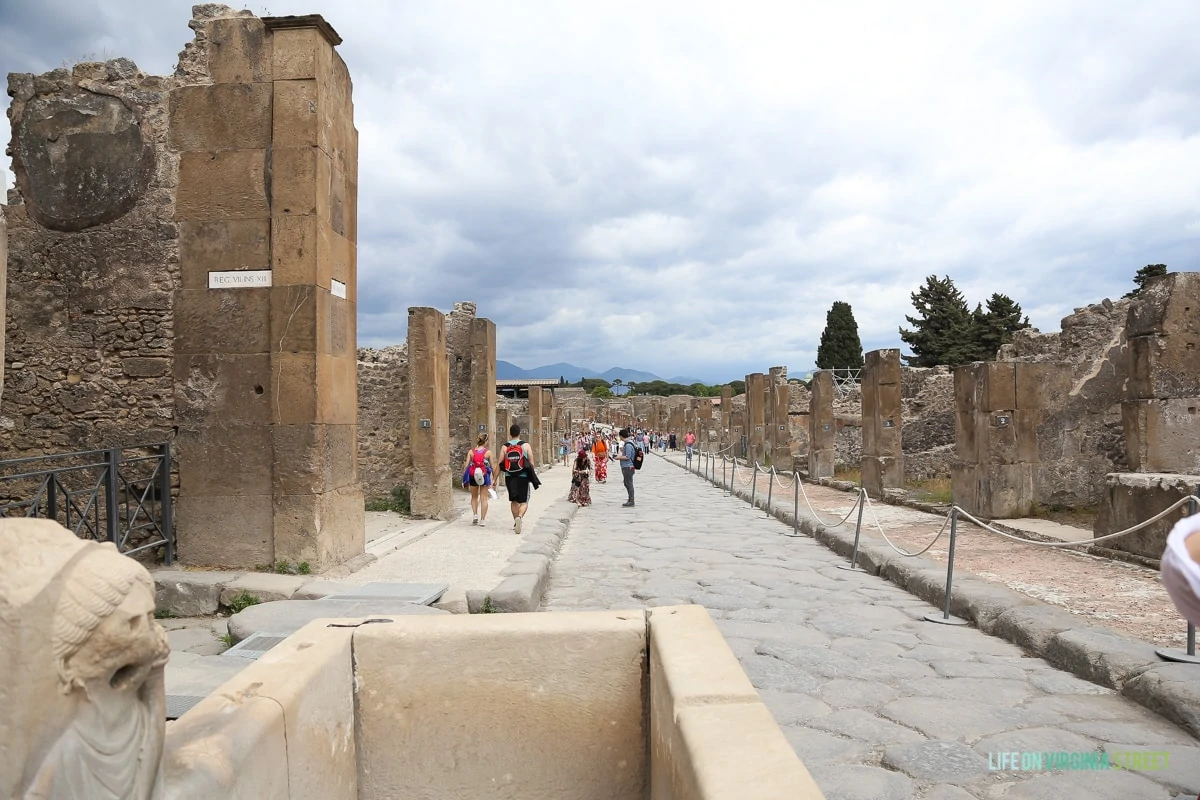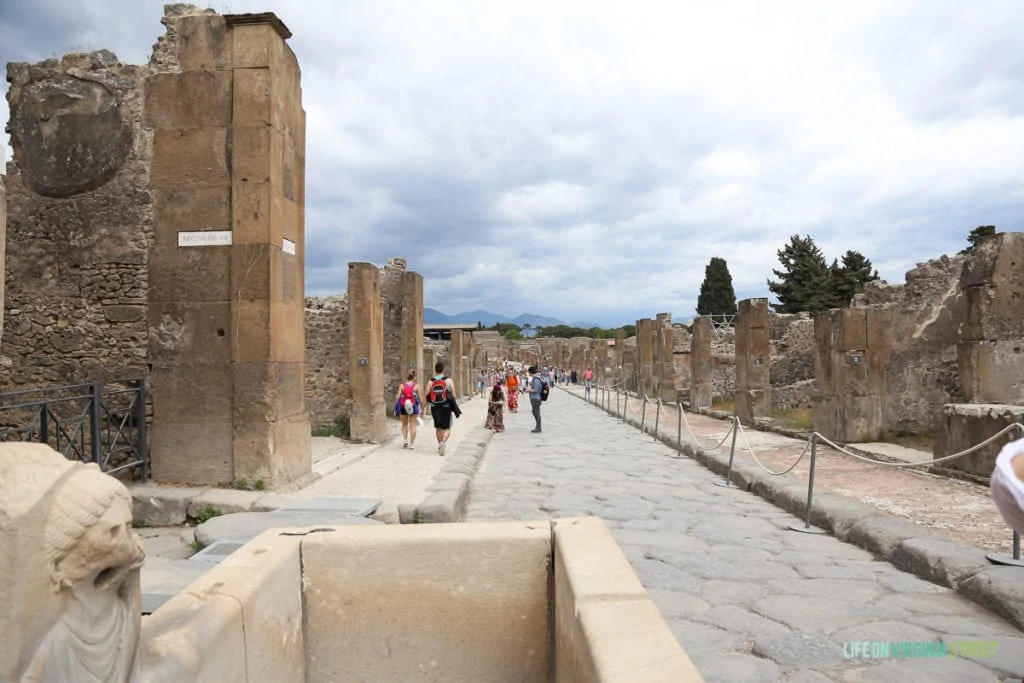 If you've never been to Pompeii and have the opportunity, go! It is massive and I would highly encourage a guide. I think that entirely too much would be lost if you're just trying to figure things out on your own. This is definitely an area where a guided tour is recommended!
Sant'Agnello and Sorrento
After Pompeii, our driver took us to our hotel to check in.
For our time on The Amalfi Coast, we stayed in the town of Sant'Agnello which is just outside of Sorrento. We stayed at Hotel Corallo (they offer free shuttles into town) and it was seriously so perfect for us. We were greeted with lemon sorbet and by the manager (who made a point of saying hi to us each night) and he escorted us to our room. Our jaws dropped when we saw the size of our terrace. A+ work for our travel agent, because we seriously had no idea (we had just asked for sea views).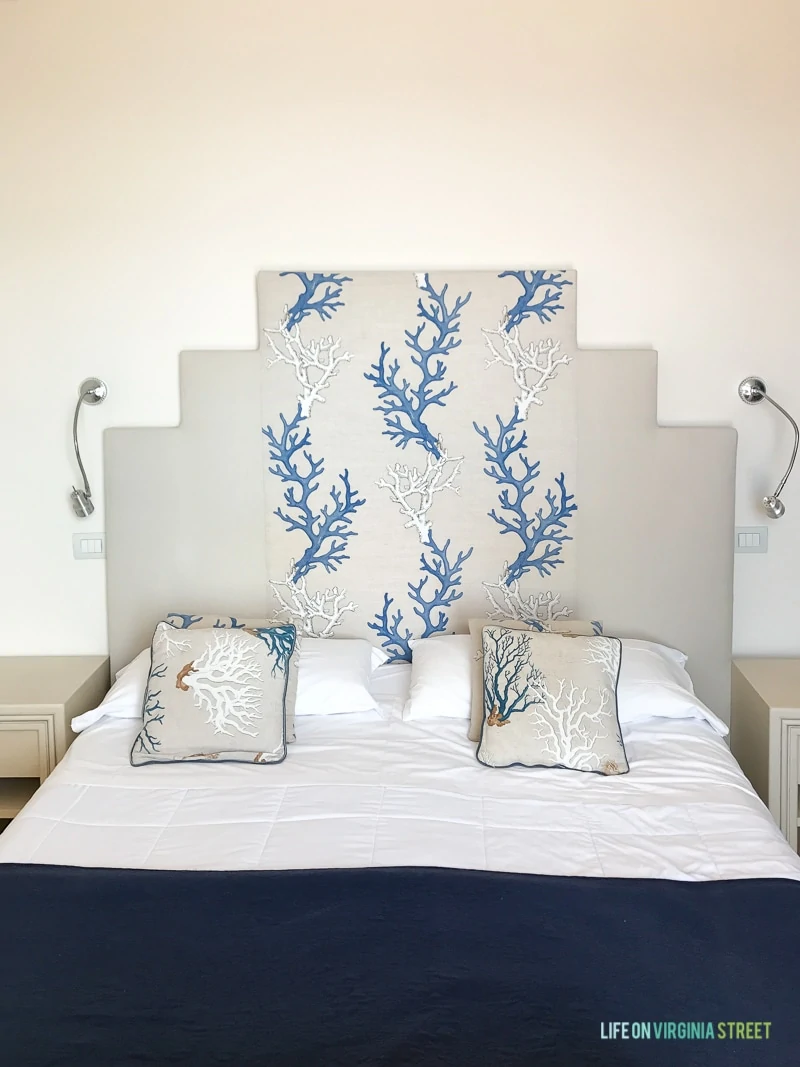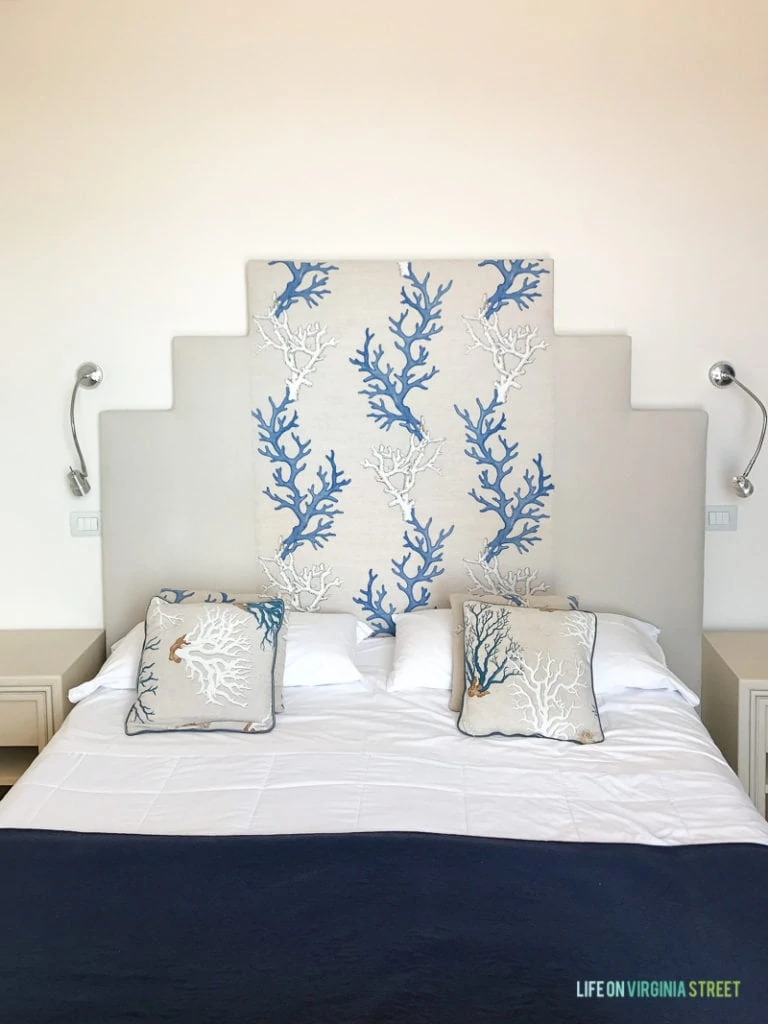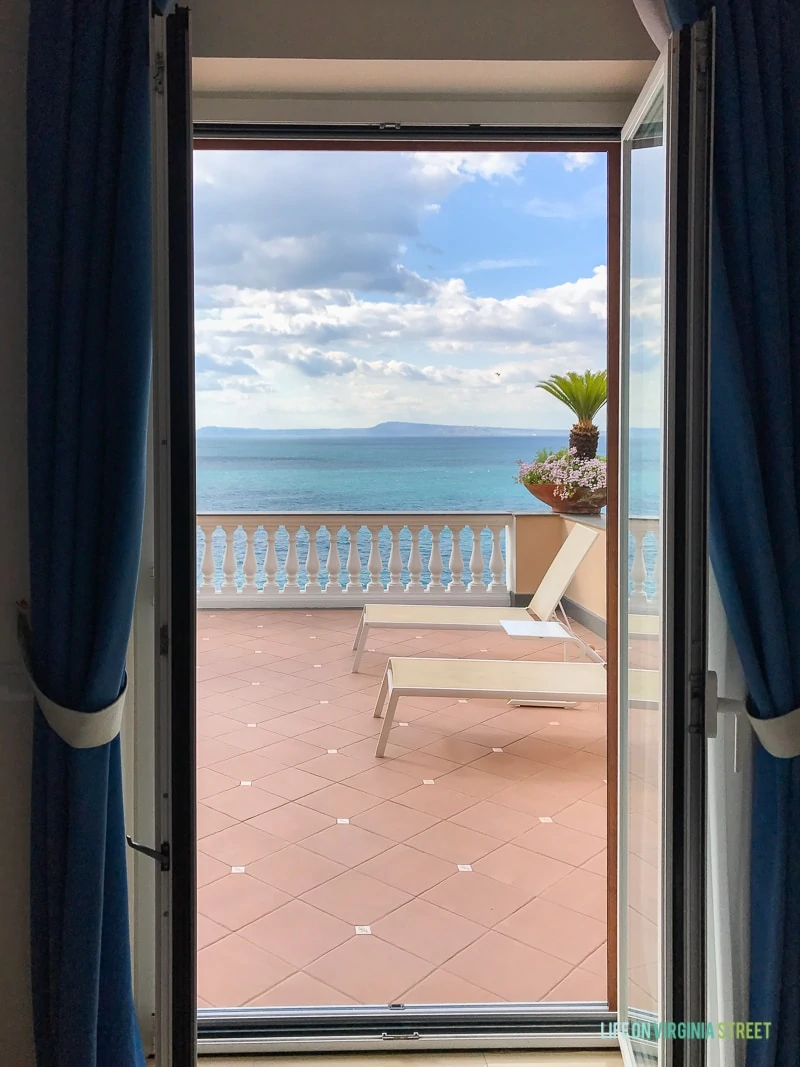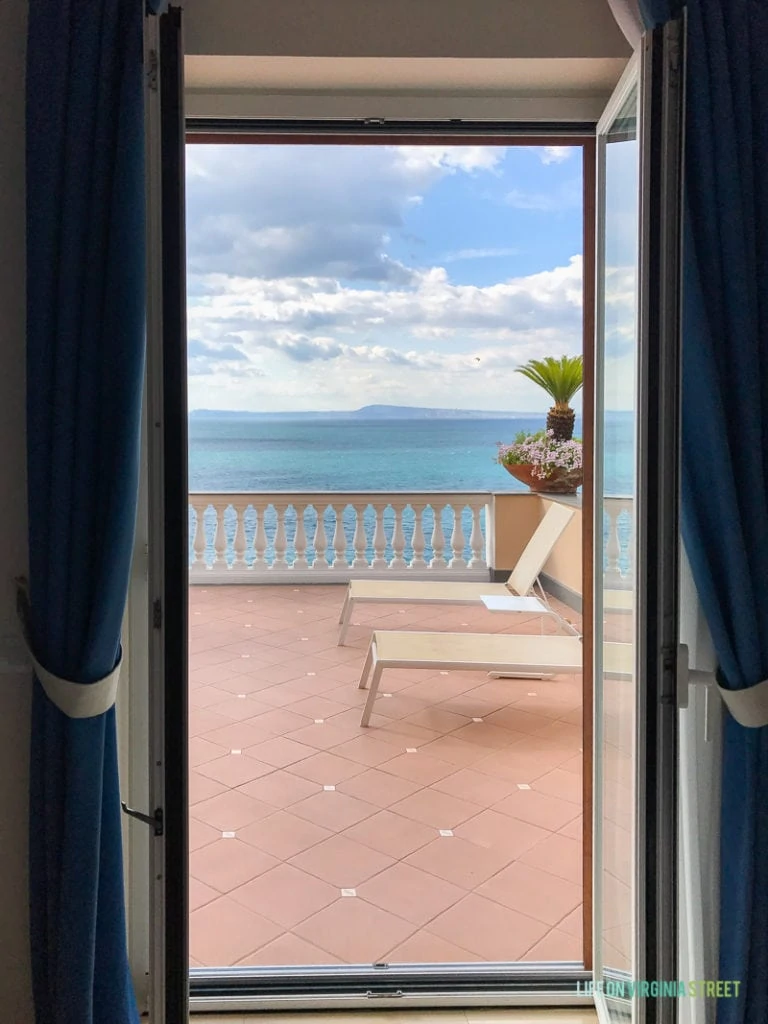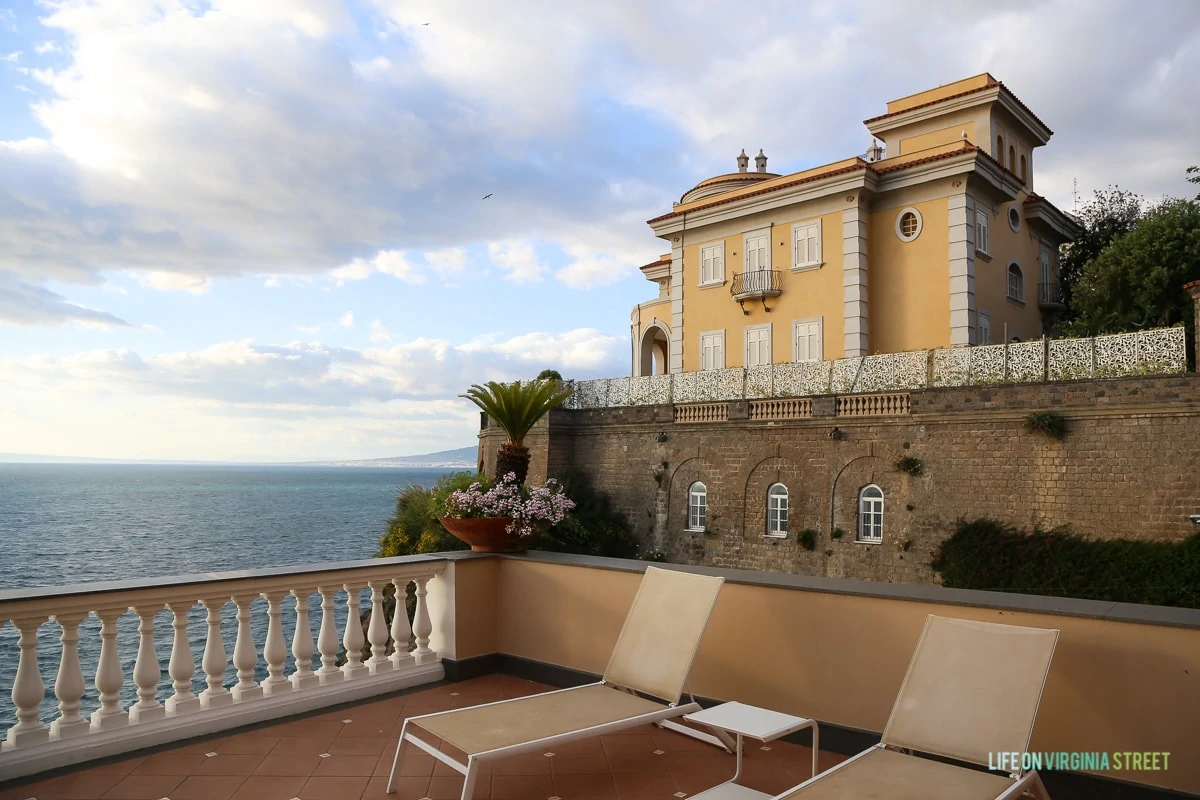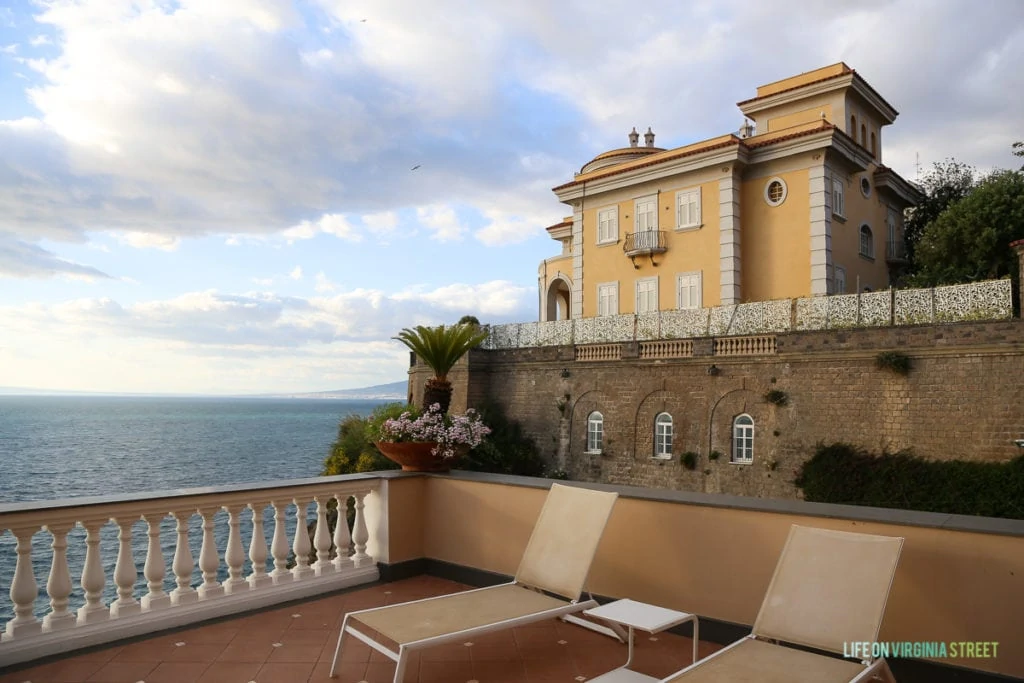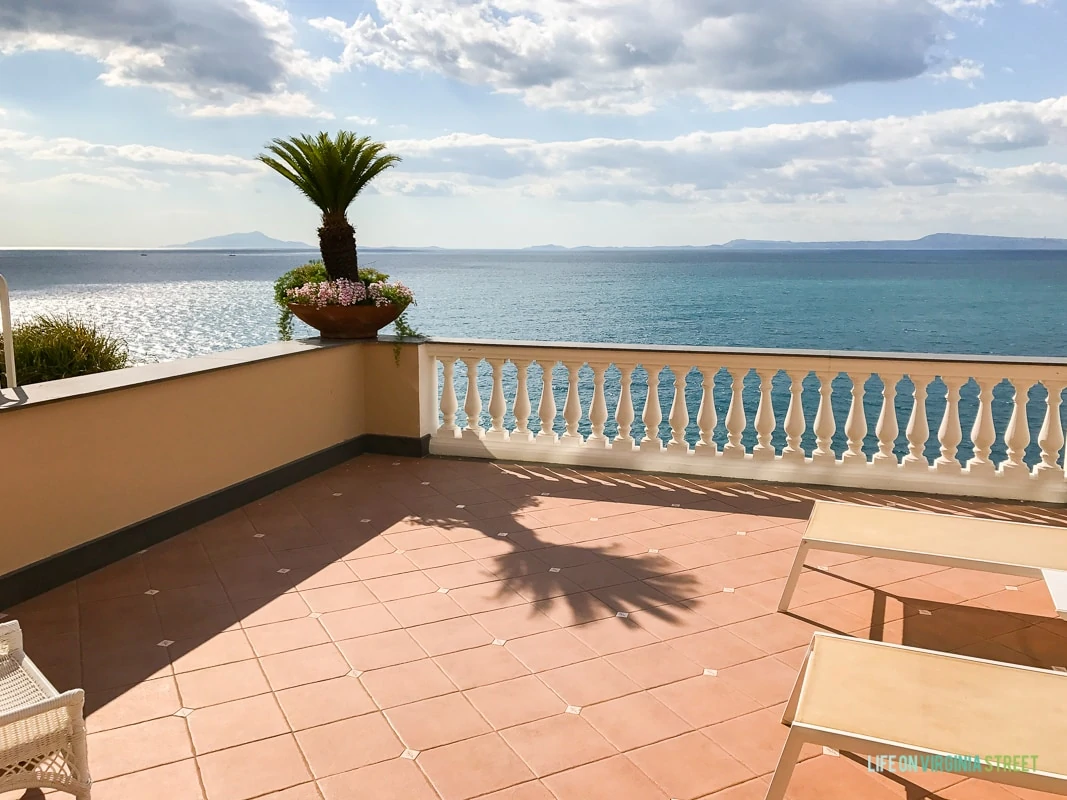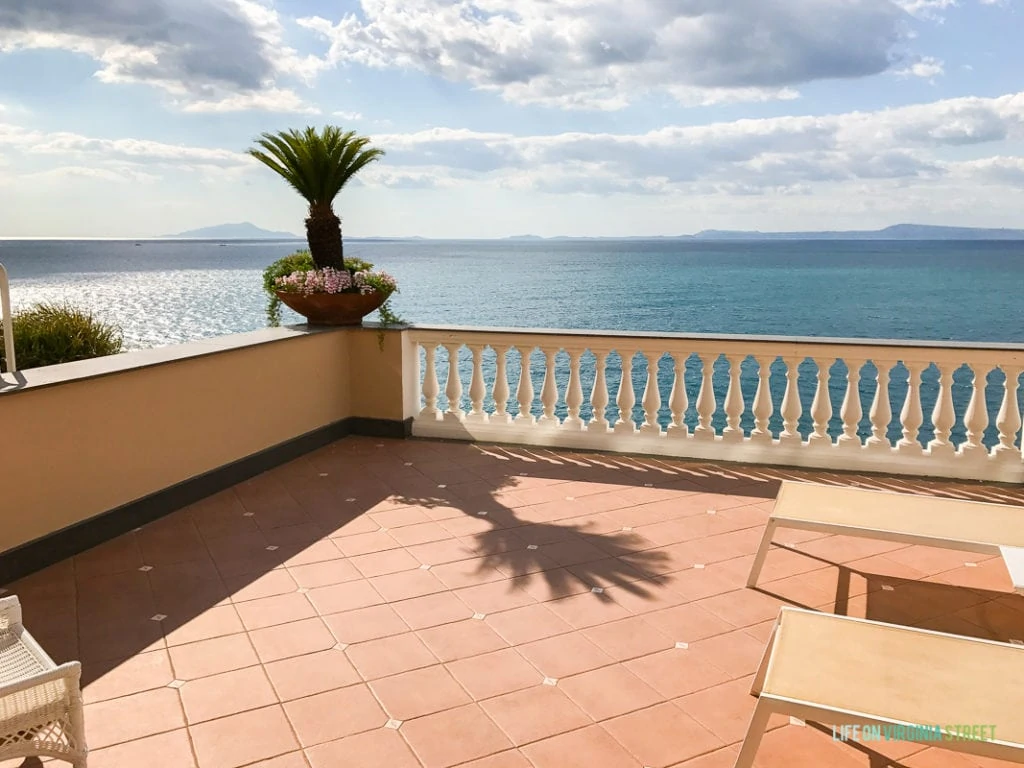 The room was spacious enough (by no means large) but the terrace added so much to our trip. We made a point of having coffee out on the terrace every morning and it was beyond peaceful and relaxing. Ask for room 249 if you ever stay here!
The lobby was small but bright and colorful with incredible views of the sea.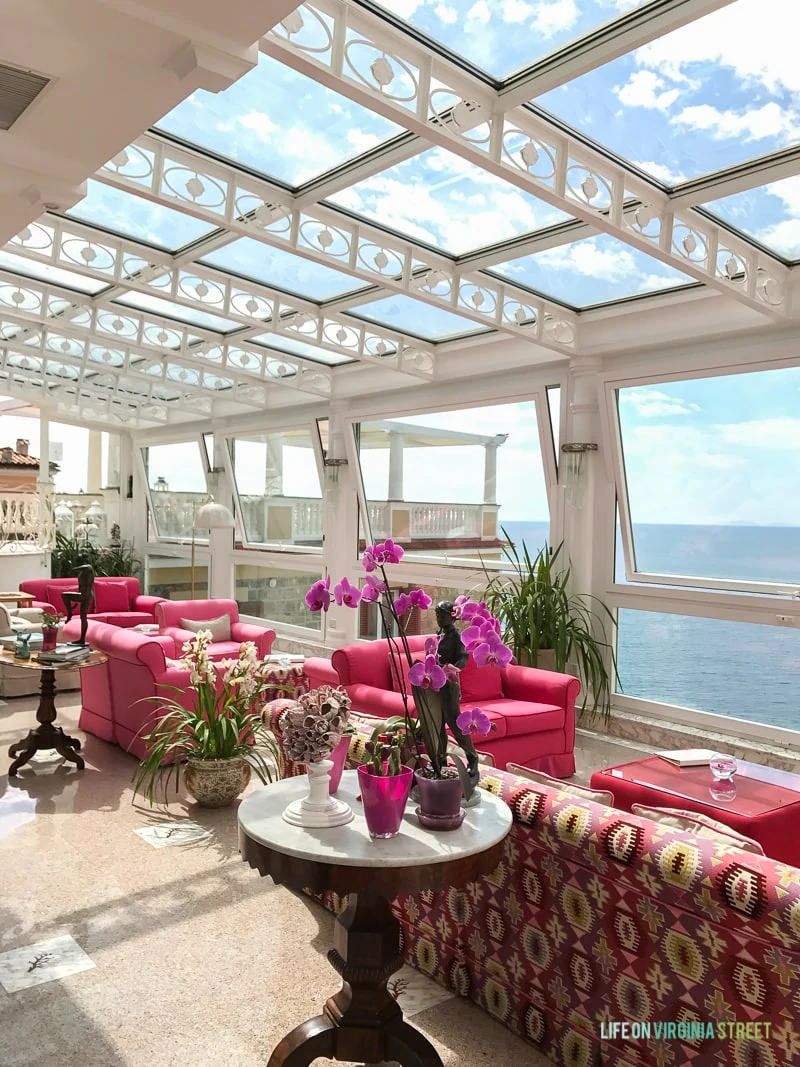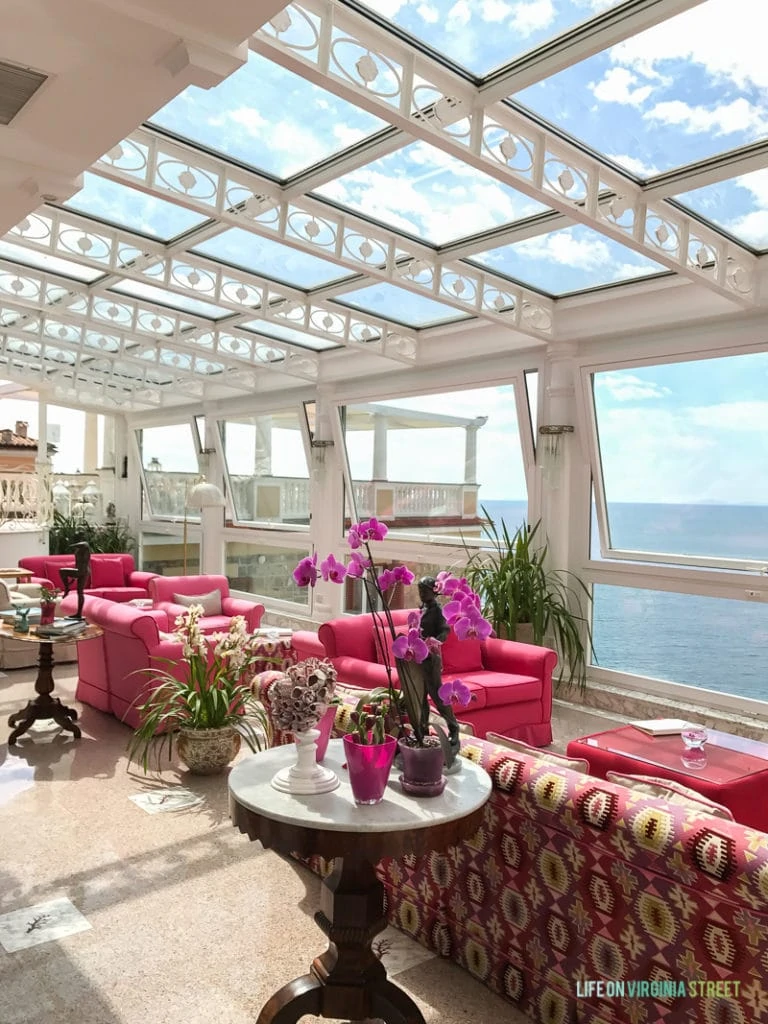 The sunsets at our hotel were absolutely unreal. They were like California sunsets, only better and even more intense. I probably took at least 100 photos of the combined sunsets while we were there! Here was the view from our room's terrace one night.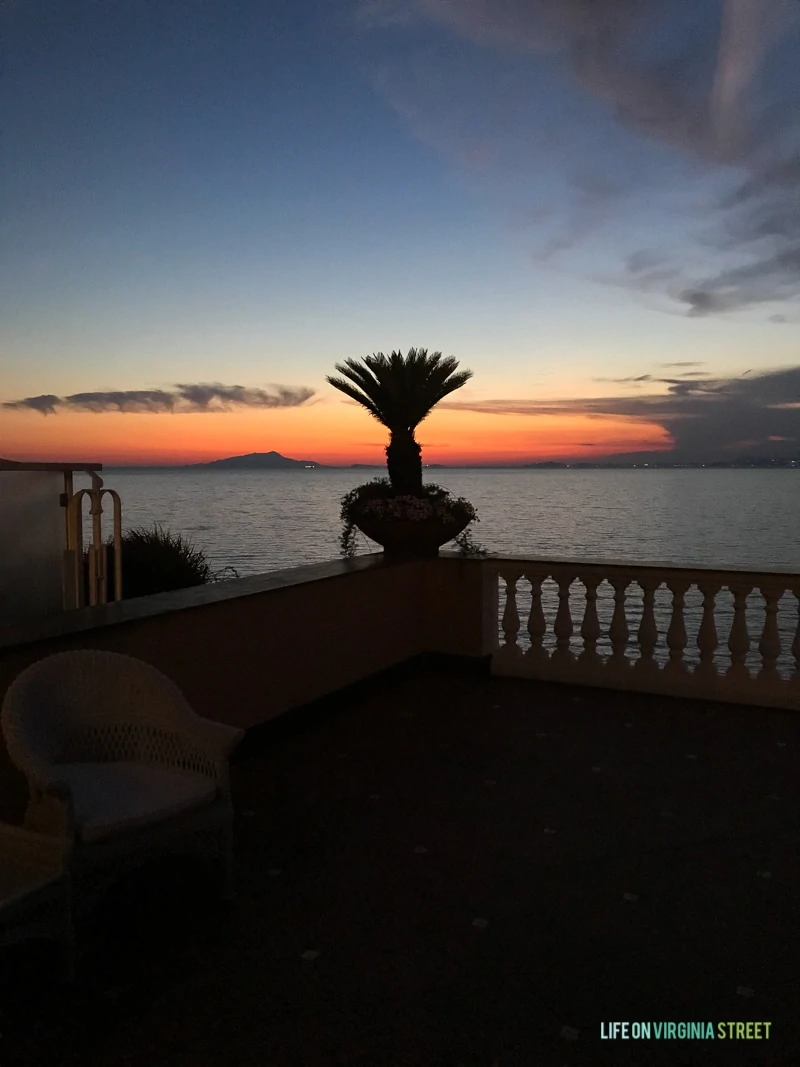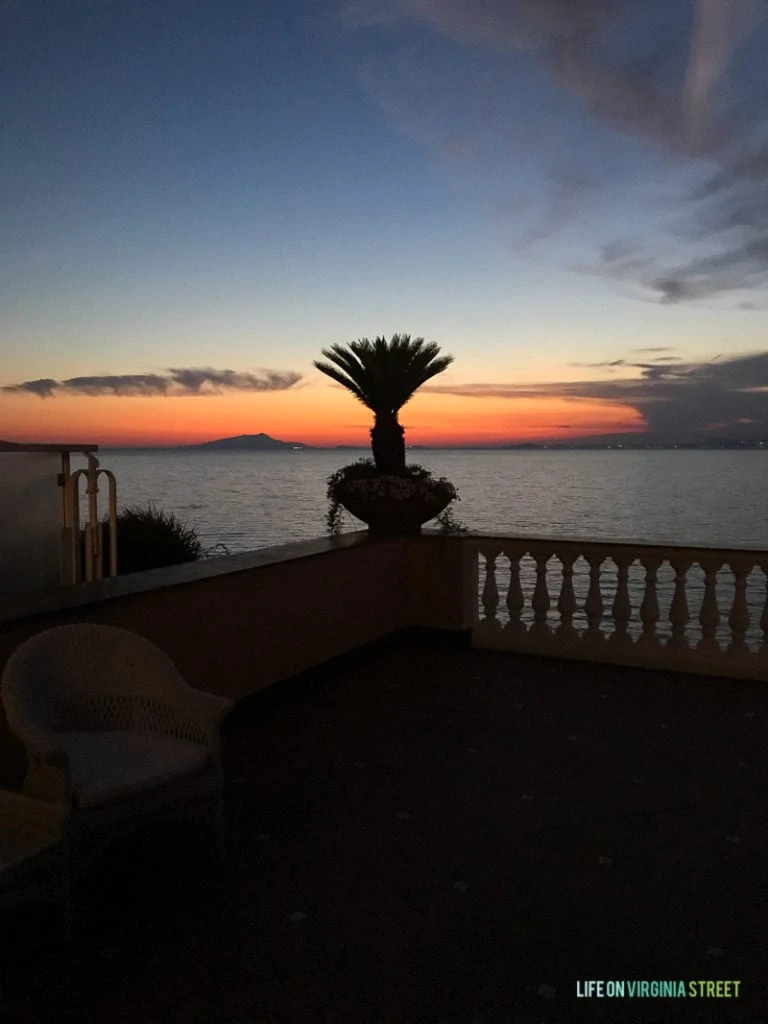 We walked to dinner twice in Sant'Agnello, both times at the same restaurant. We fell in love with Il Ruttino. The pizza is so good and we loved the owner (I'll share more towards the end of the post). Highly recommended for a super casual and fun dining experience!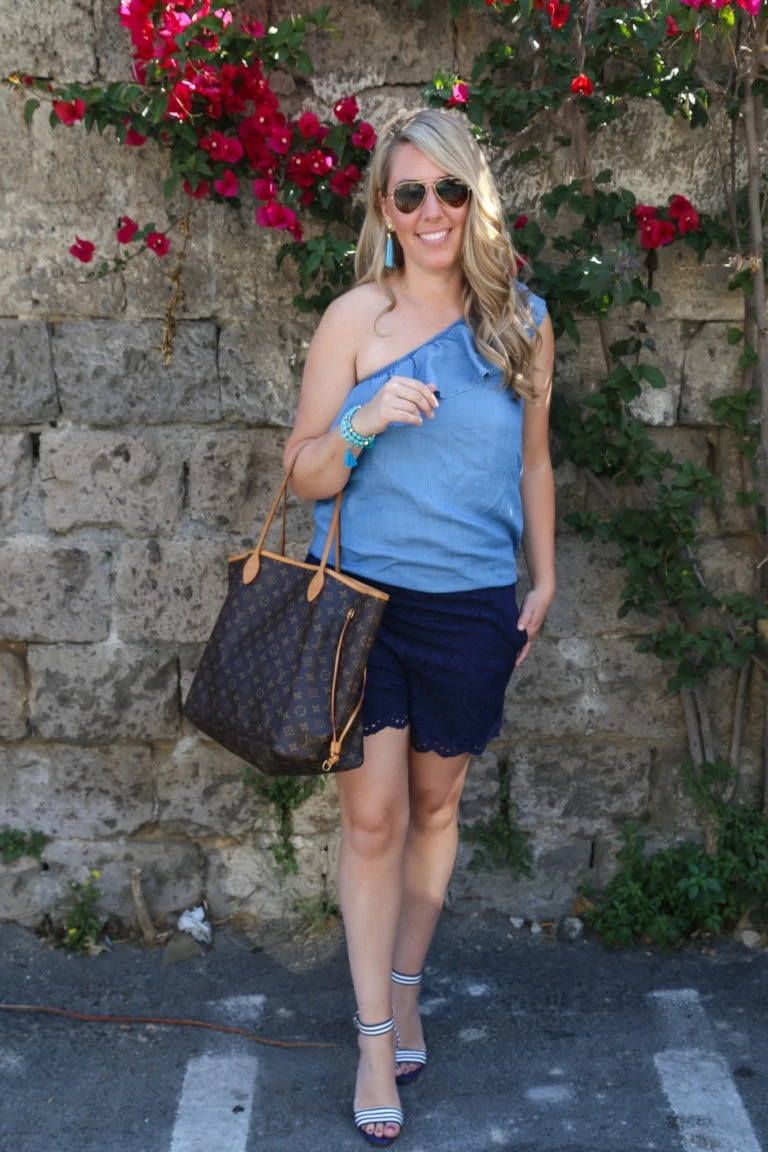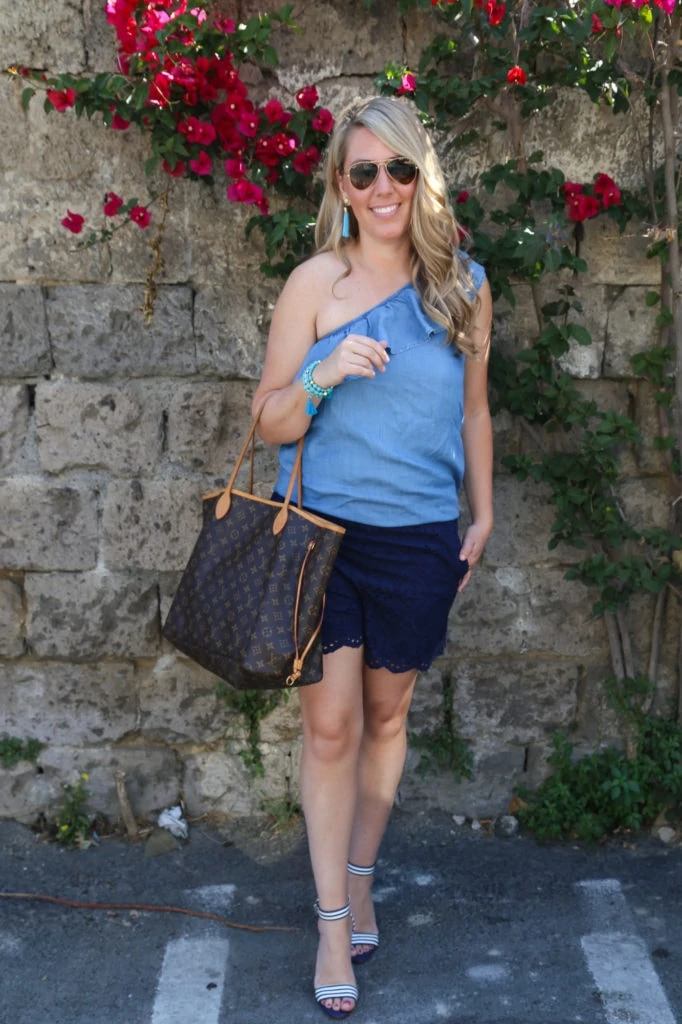 What I wore: Top | Shorts | Shoes | Earrings | Bracelets | Sunglasses | Tote
Capri and Anacapri
Our first full day by the sea, we headed to the island of Capri. We had been to the island on our Mediterranean Cruise seven years ago, and it was one of the most amazing places we had ever seen. Our travel agent recommended joining a tour group for the day so that we could make the most of our time on the inviting island. We got up bright and early to meet our group and then took the jetfoil (a large passenger boat) to the island.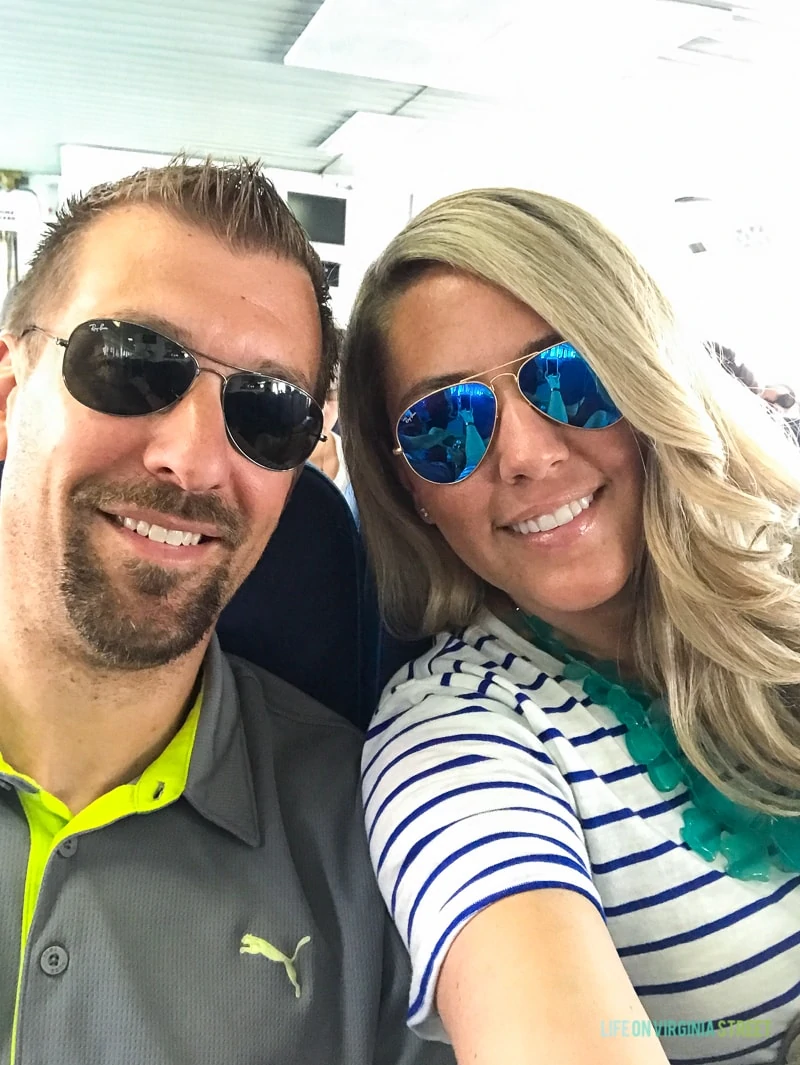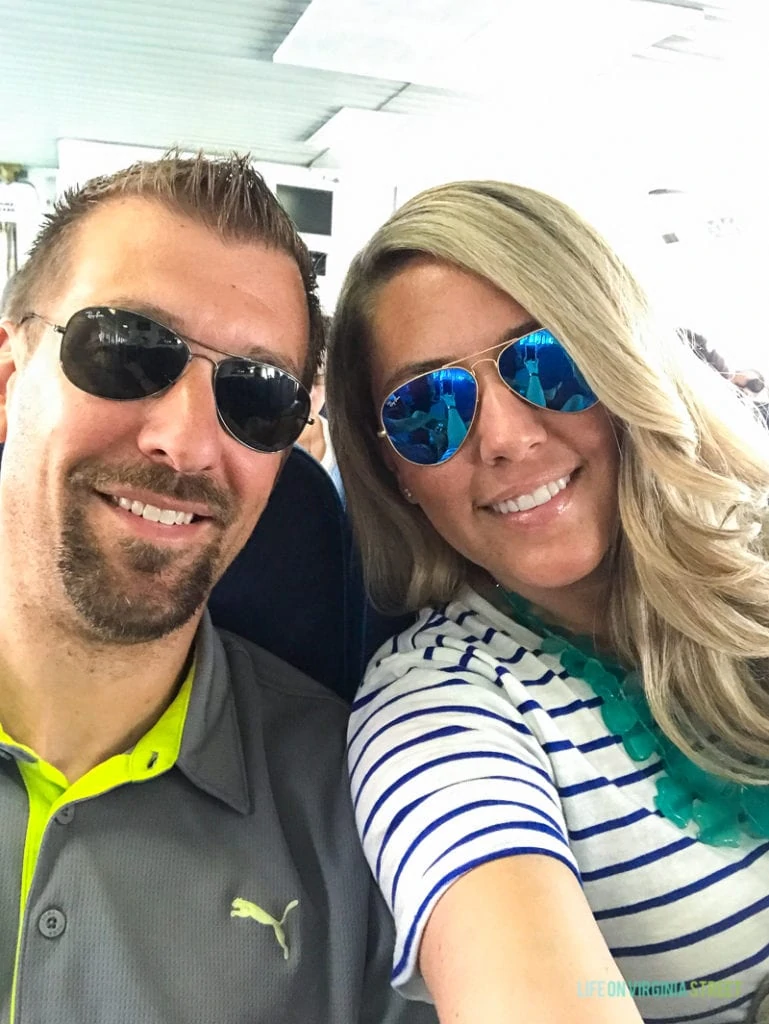 What I wore: Top | Shorts | Shoes | Necklace | Sunglasses | Camera Bag
You arrive by boat at the pier. There's so shopping along the water but you typically head to Anacapri (which we had never visited before) or up the hill from the pier to Capri. Our morning started with a bus right up and over the mountain to Capri.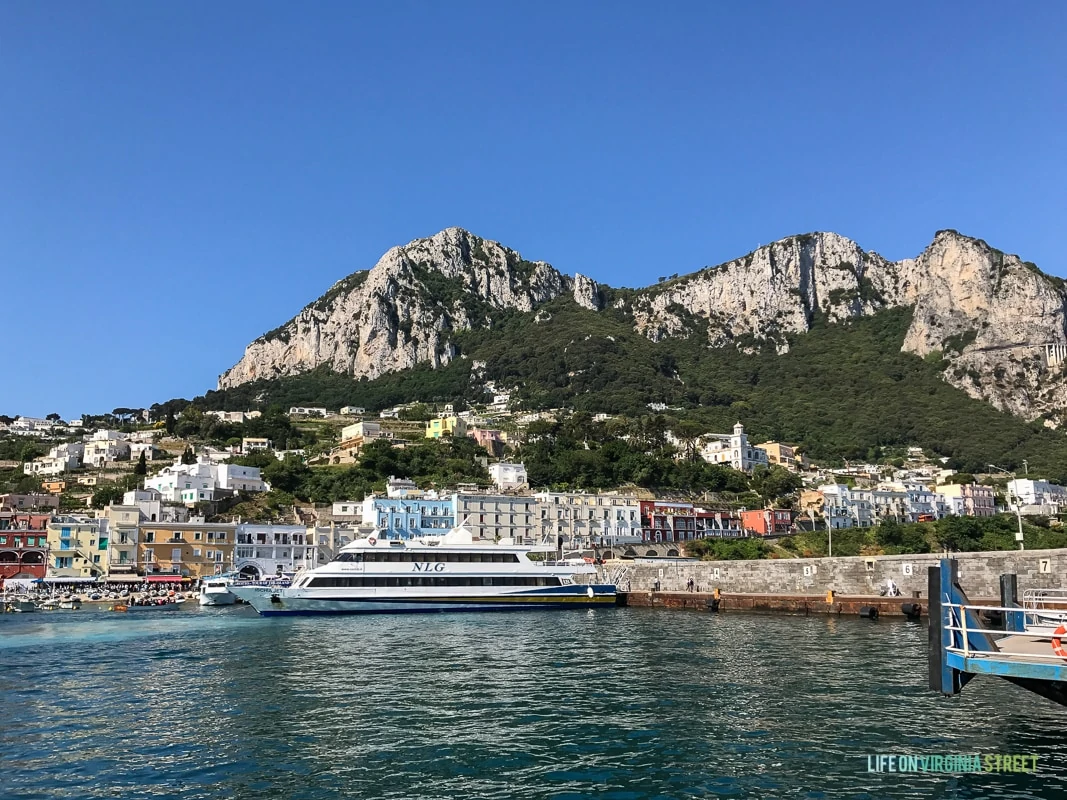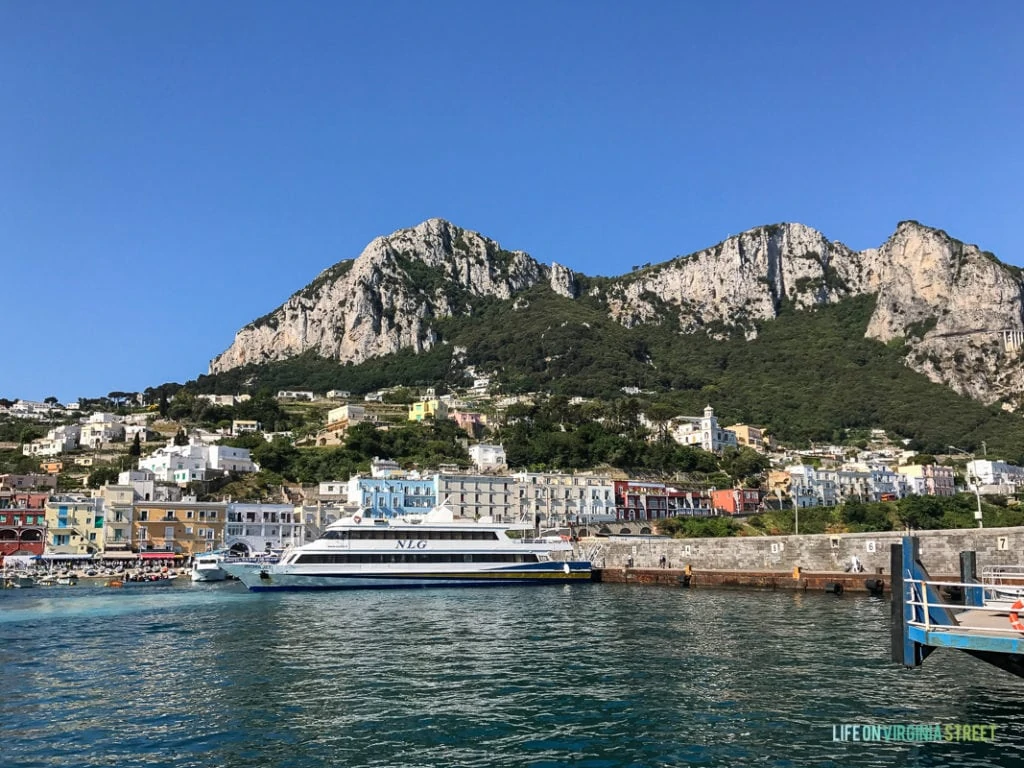 We then took a chair lift to the very top peak from the town of Anacapri. Since we had never been on this side of Capri before, we loved every minute of this. Kurtis doesn't love heights, but even he was excited to do this (even if his hands got a bit clammy). 😉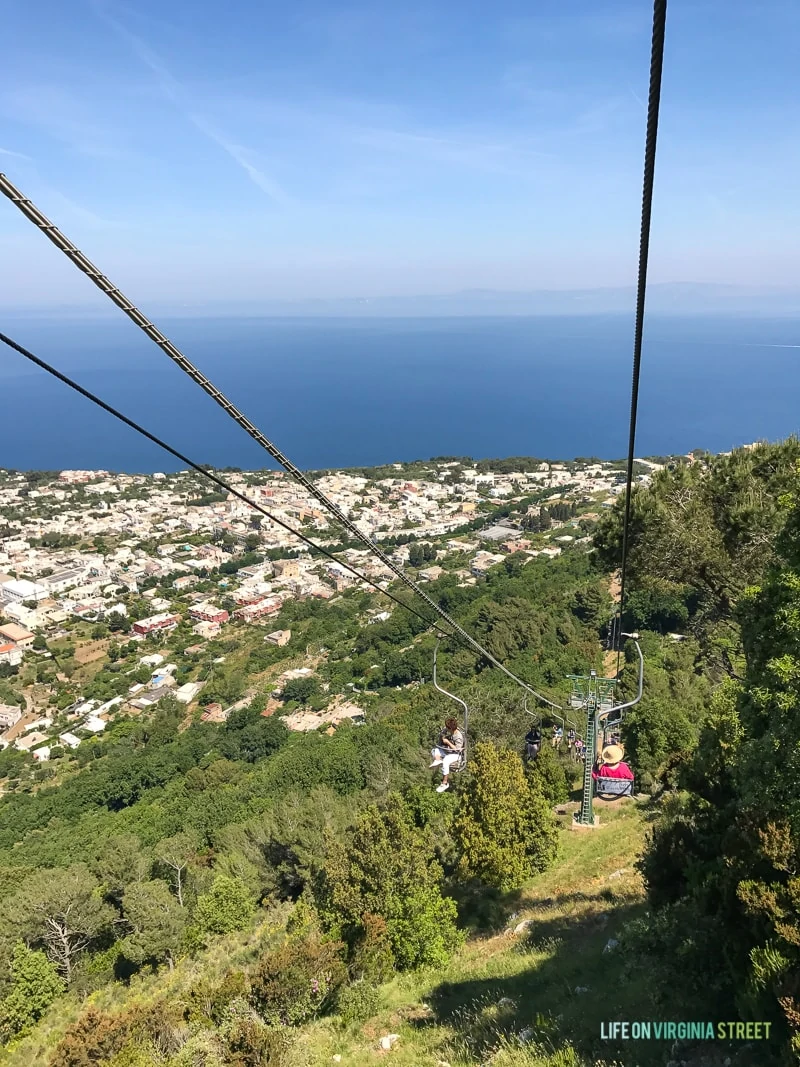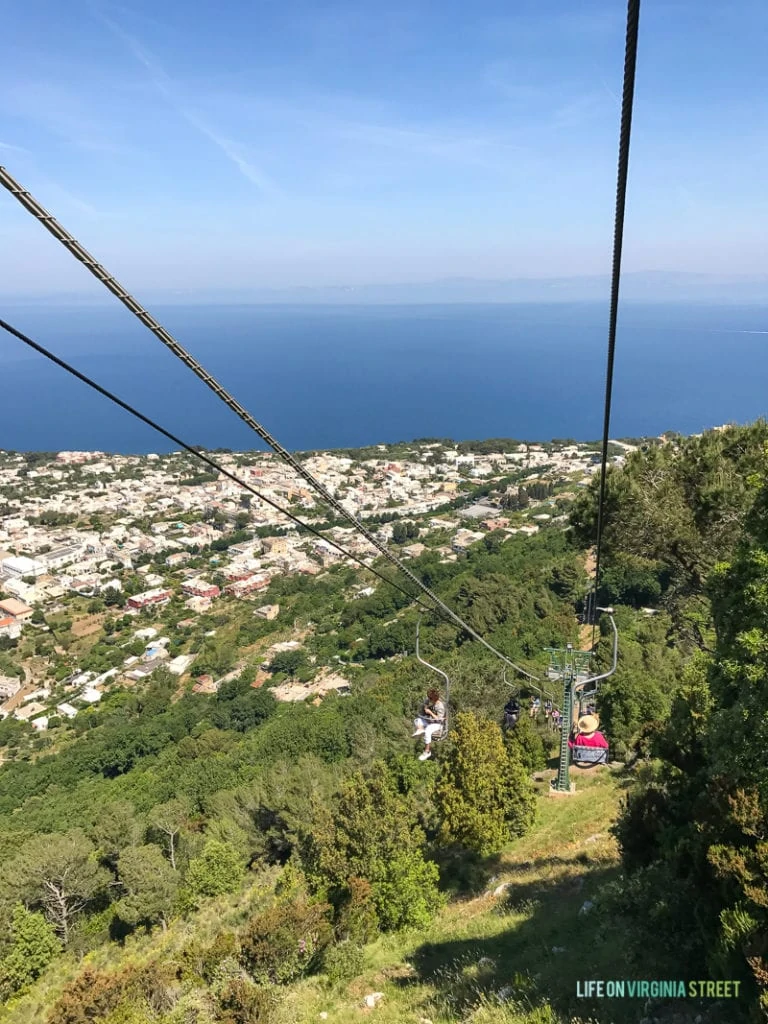 Once at the top, there were stunning panormic views of the island of Capri and even the Amalfi Coast in the distance.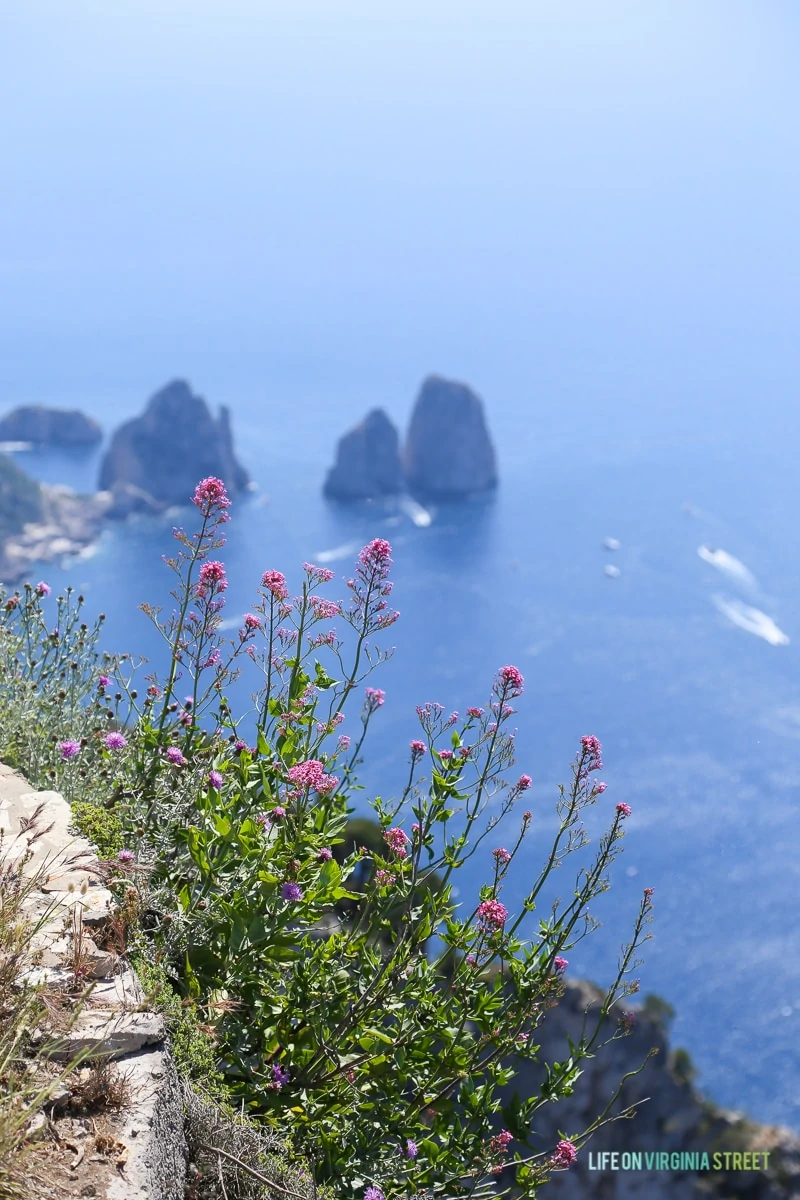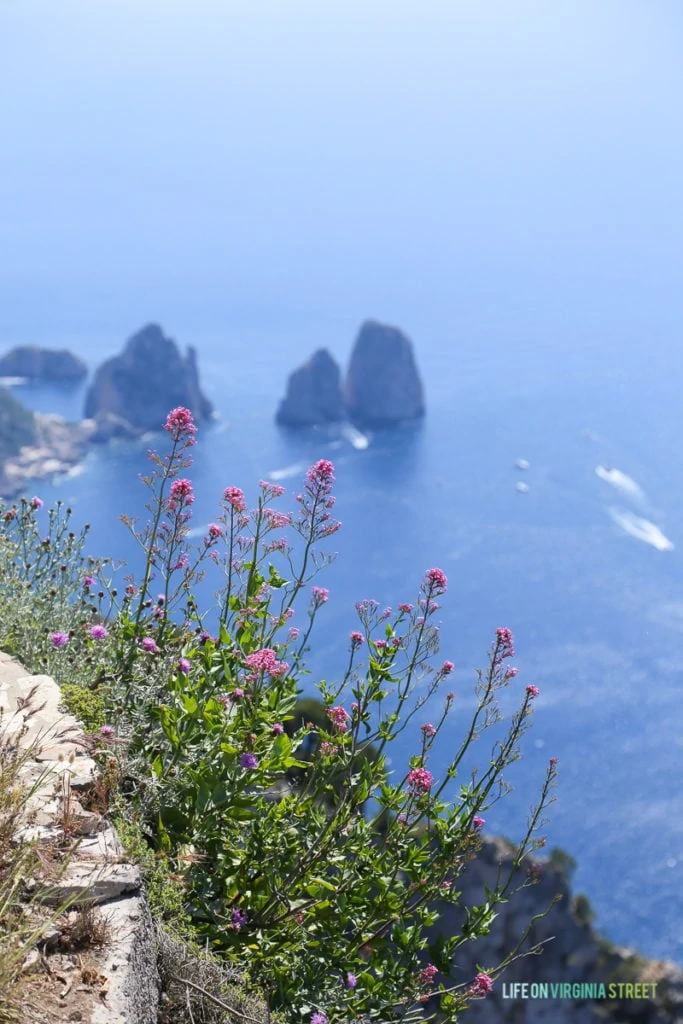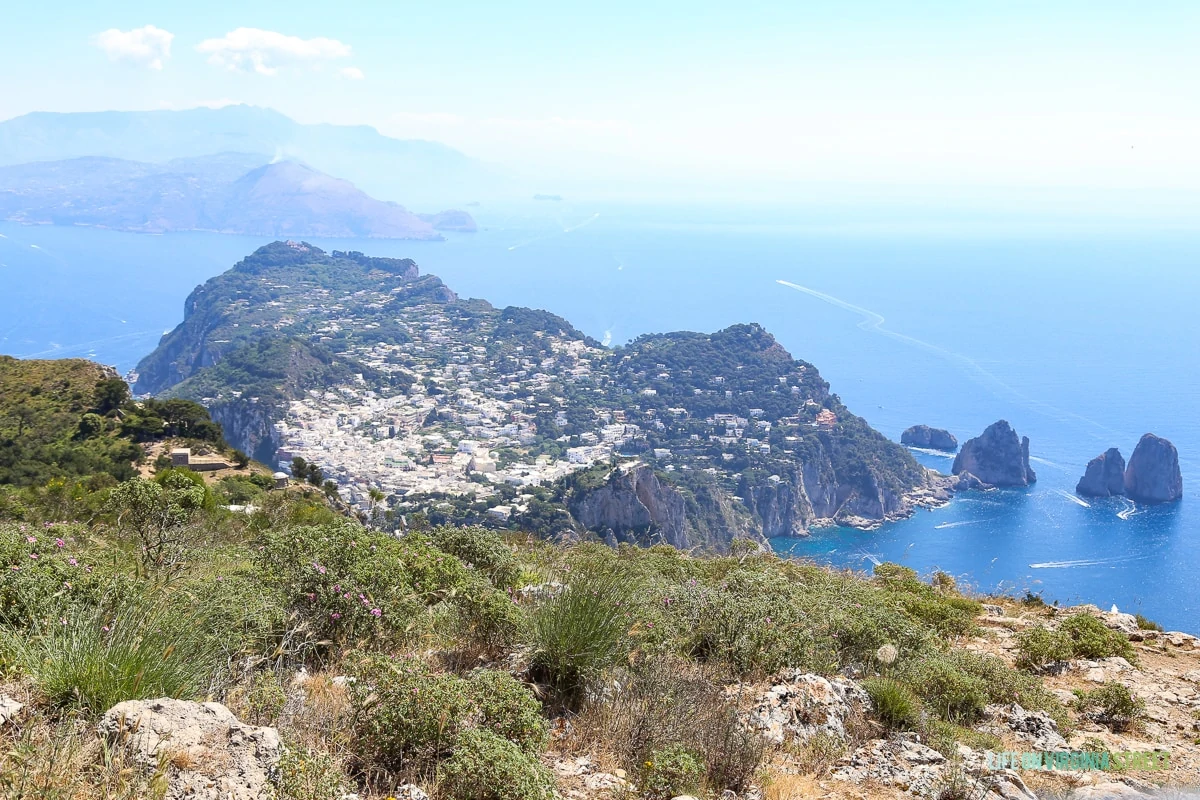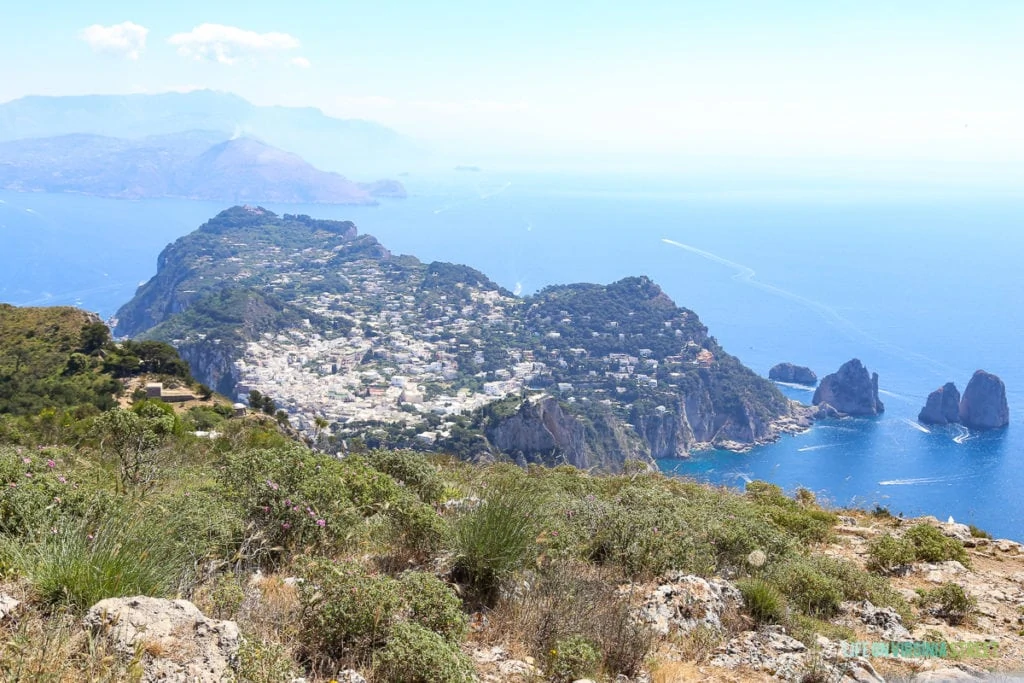 We were surprised to find a really cute patio area, little shop with snacks and drinks and a place to lounge when you weren't taking in the stunning views. We only had about 20 minutes at the top before we had to meet the group for lunch, but we wish we had more time to hang out up here. It was amazing!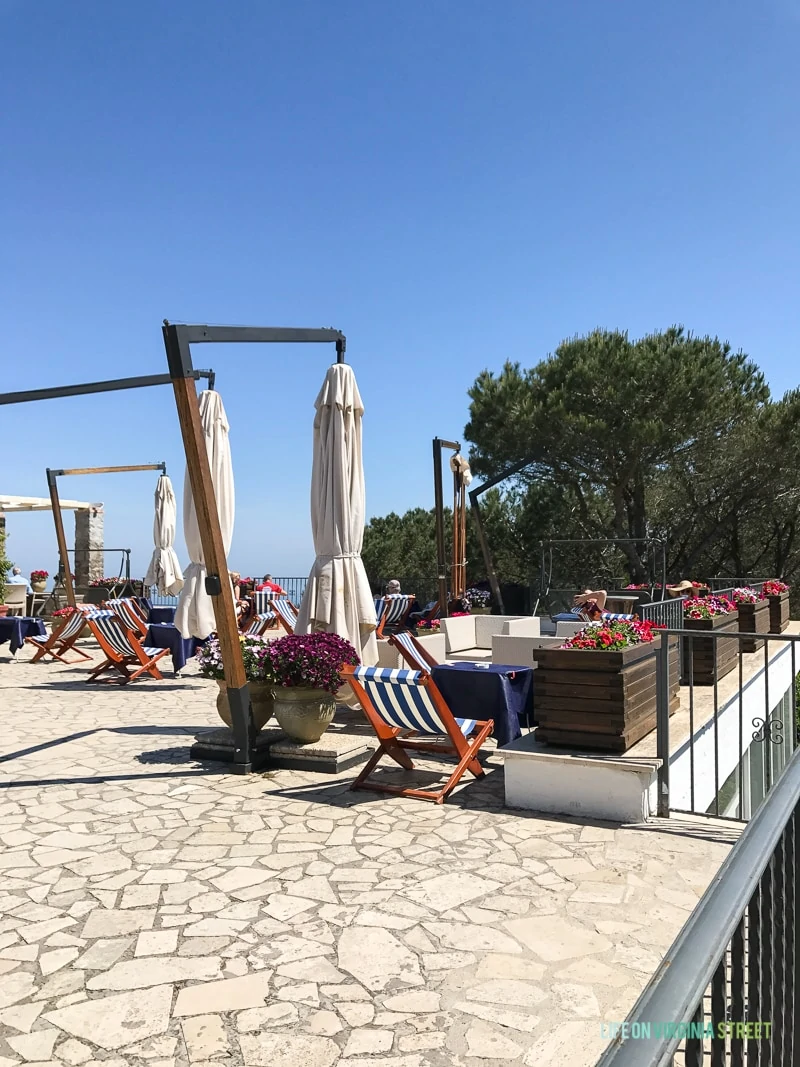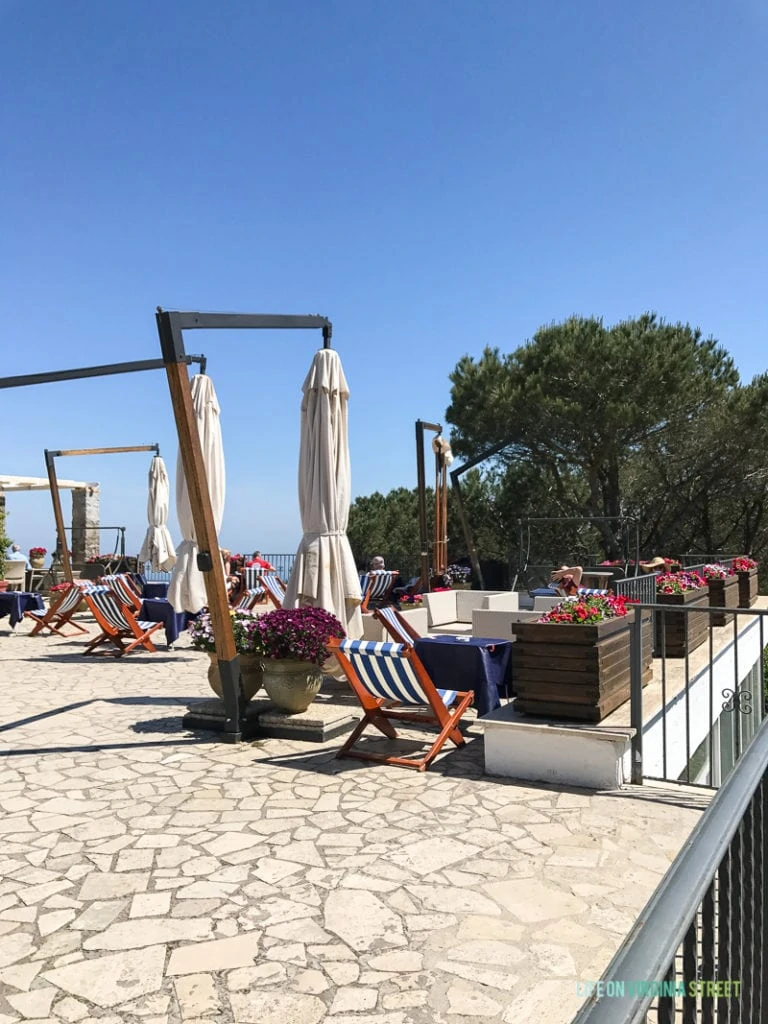 After we made our way back down to Anacapri, our tour group had lunch at a spot called La Terrazze. The food was decent but it was apparent that they specifically cater to large tour groups. In the 45 minutes or so that we were there no less than four other groups of 20+ people were corralled in, served the same family style meals, and then corralled back out. The ambiance was lacking a bit 😉
We then got back on the bus to head over to the Blue Grotto. Since it is typically only open about 30% of the time (because of waves and/or wind), when it is open, there is a line. We had to wait about an hour and a half for our turn.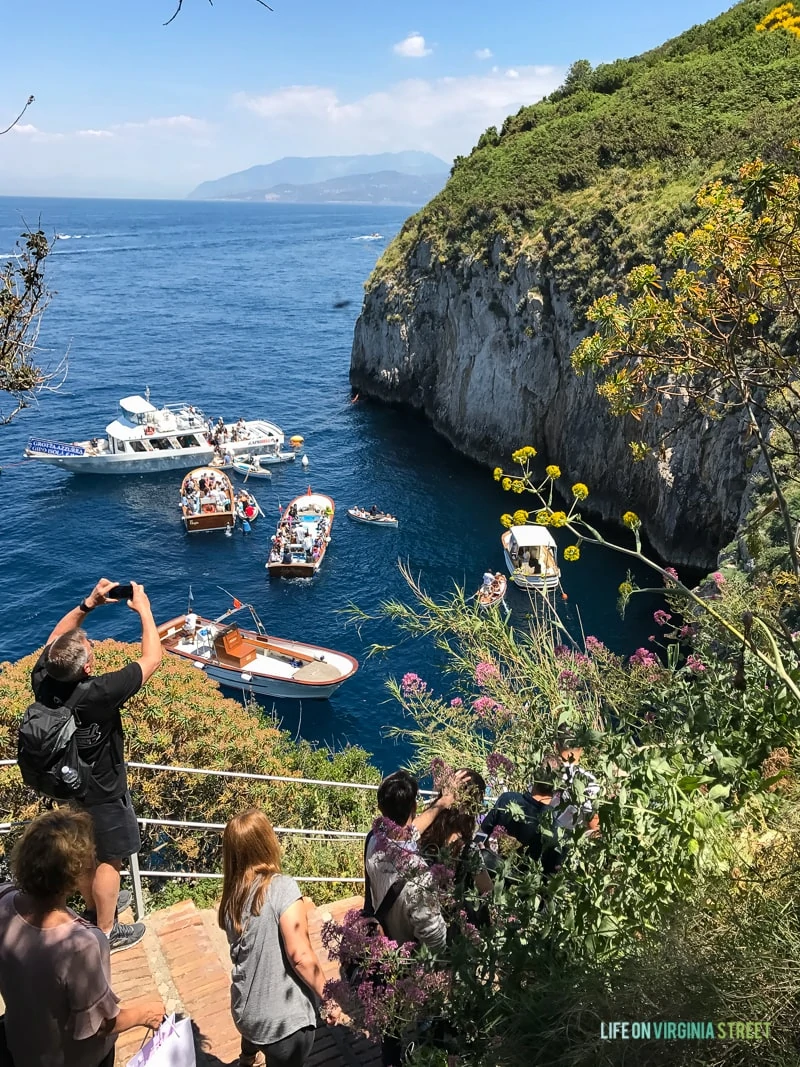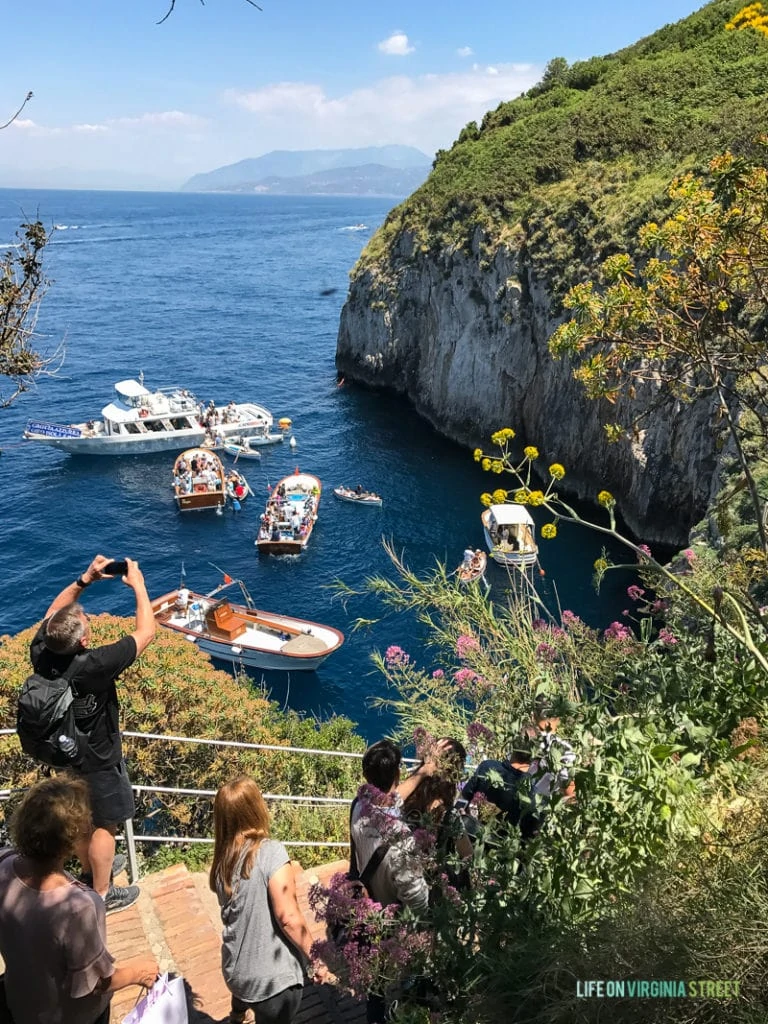 The take you in the cave with a rower and four tourists. When you enter, you all have to lay flat in the boat so as not to hit your head. They row you around the large cavern for about six minutes and then row you out. It was absolutely beautiful to see (the water glows a really intense blue and it's the only source of light) but it's definitely a once-and-done kind of thing. We are super happy we went, but we don't ever envision waiting that long for our six minute tour again!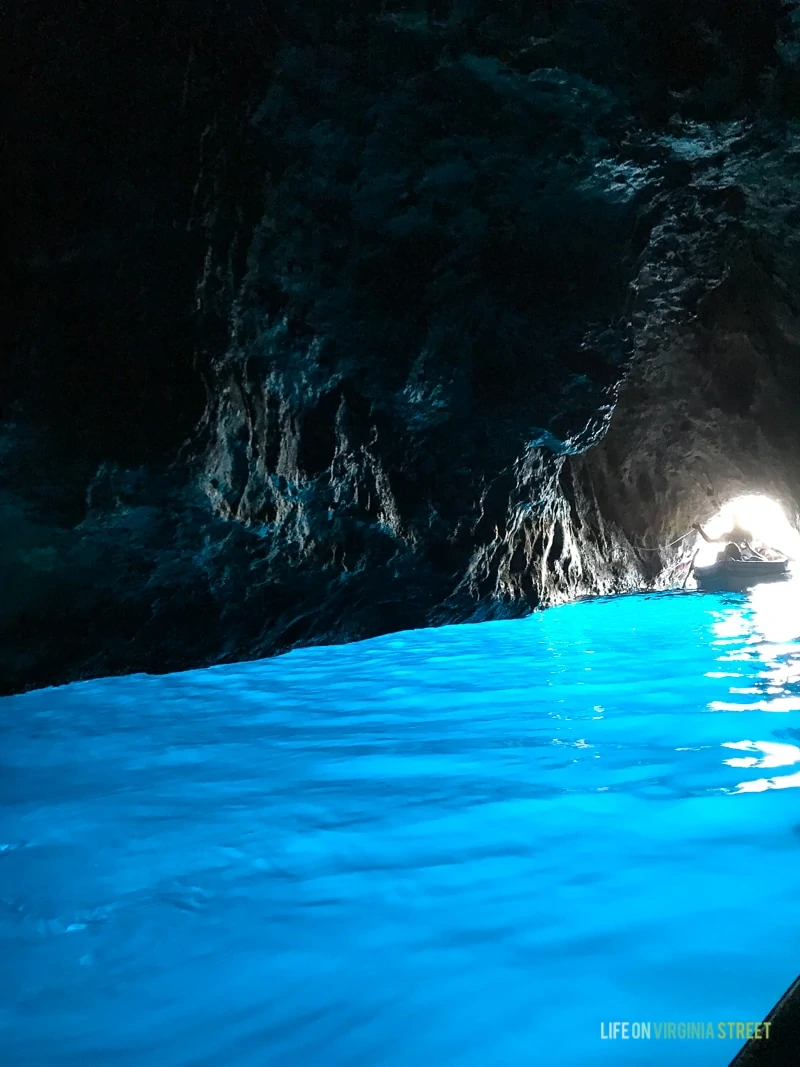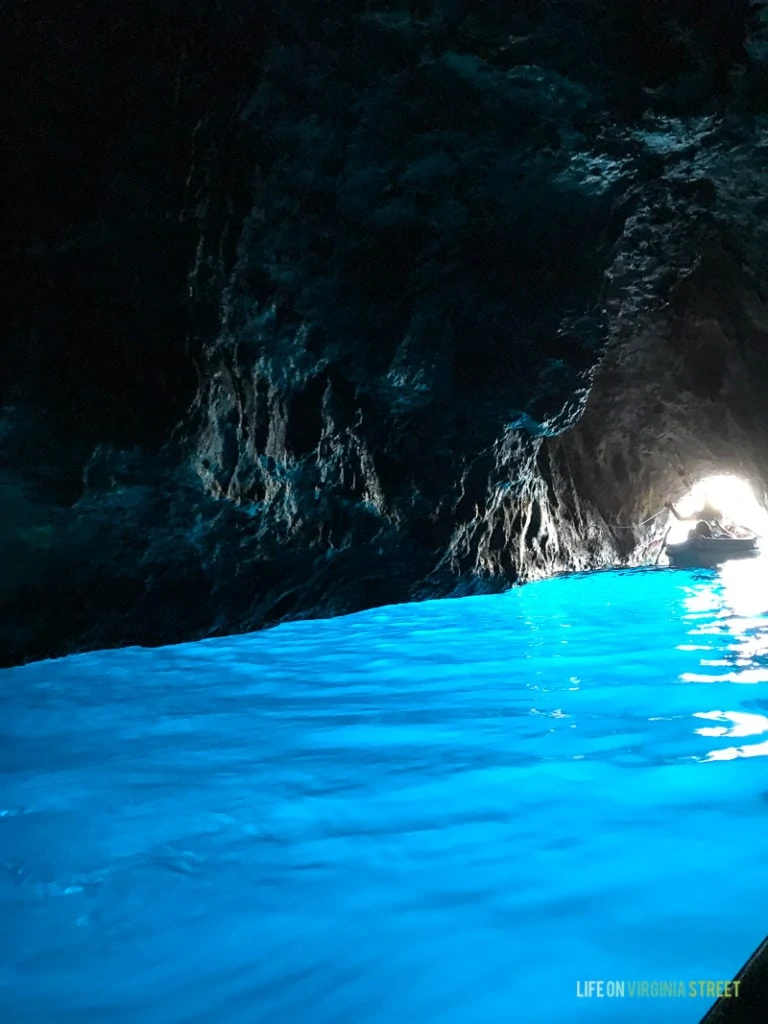 Once the Blue Grotto tour was done, we loaded back on the bus and left Anacapri for Capri. This was the area Kurtis and I visited on our last trip, and we only had about 45 minutes to explore this time around. We were actually dealing with an issue at one of our rental houses, so we took the time to get some lemon sorbet (so good here!), people-watch and to make a few phone calls. If you've never been before, this art of Capri is stunning and I would absolutely loved to explore even more. Next time, we'll likely plan to spend a full day here.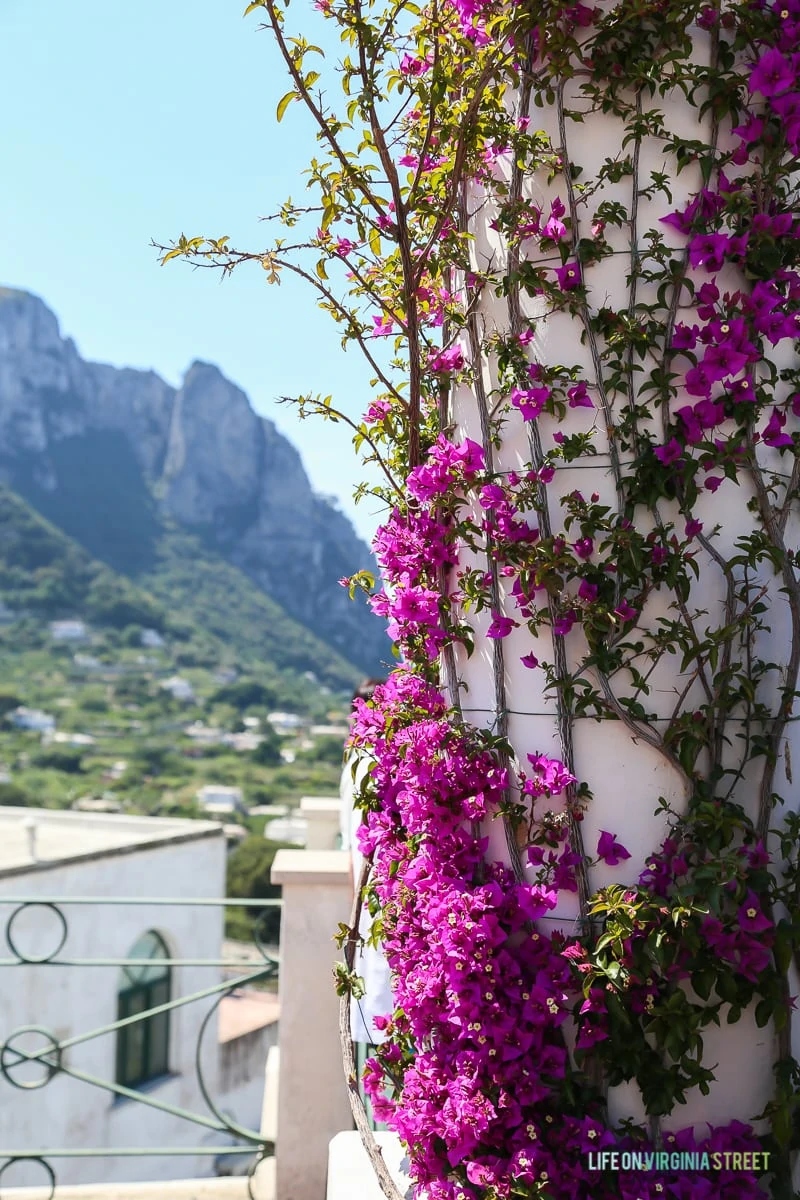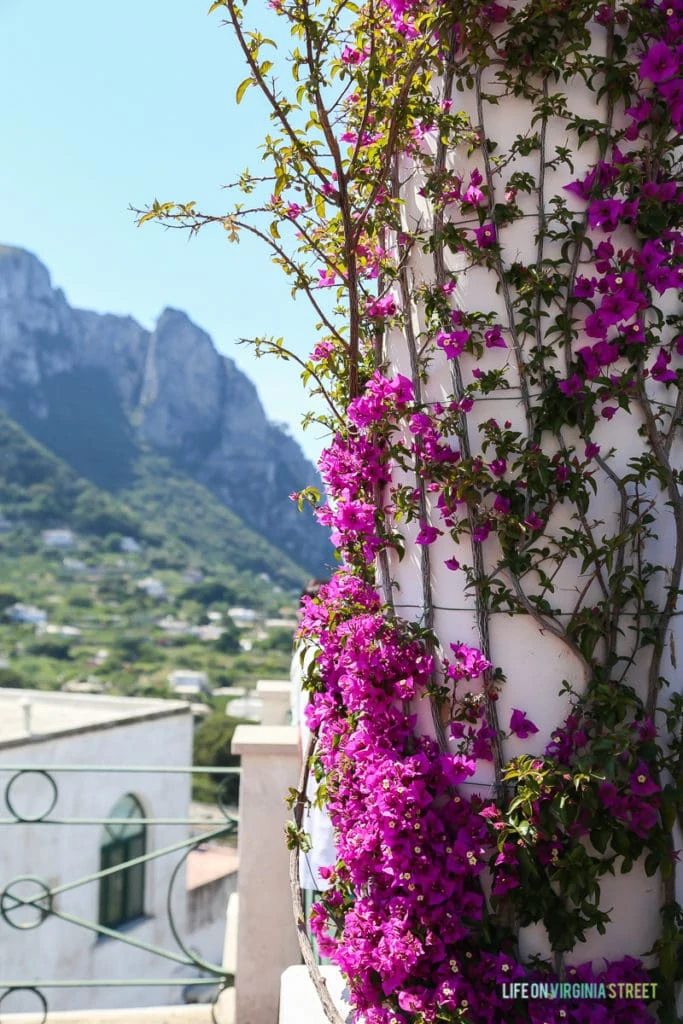 That evening, we opted to have dinner at our hotel restaurant around sunset. The food was excellent and we almost died when we had their sponge cake with lemon cream for dessert. It was so good!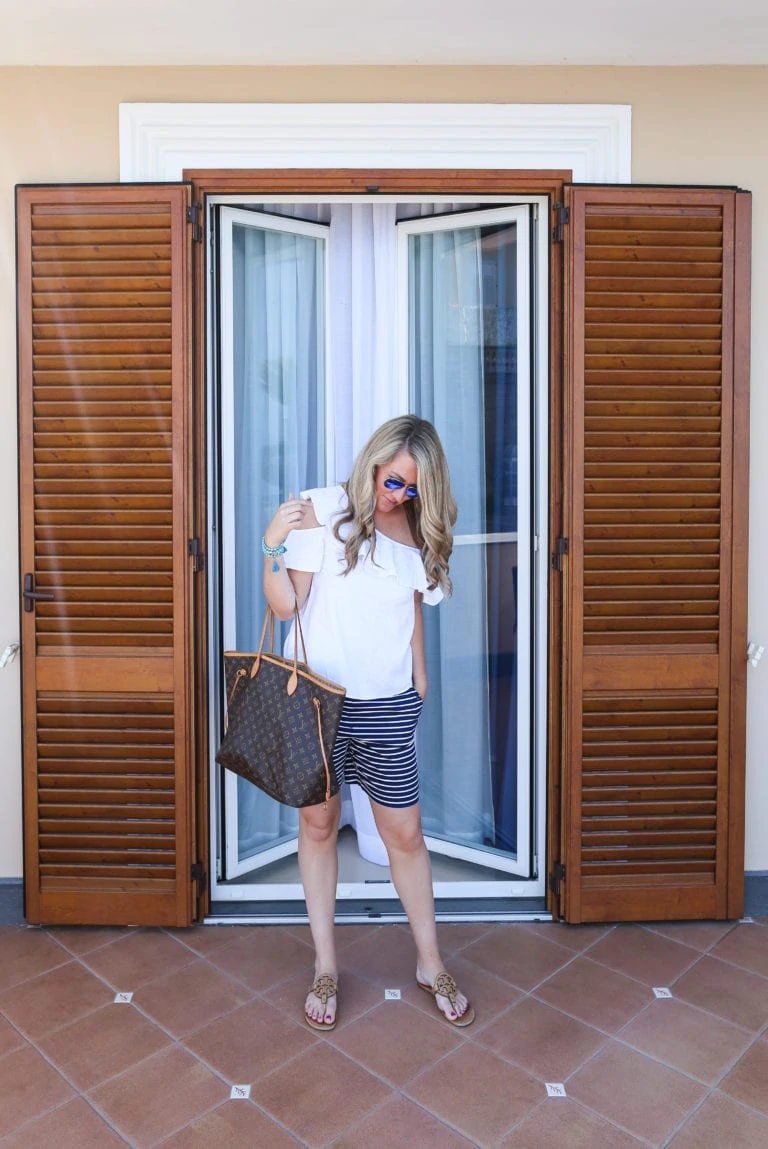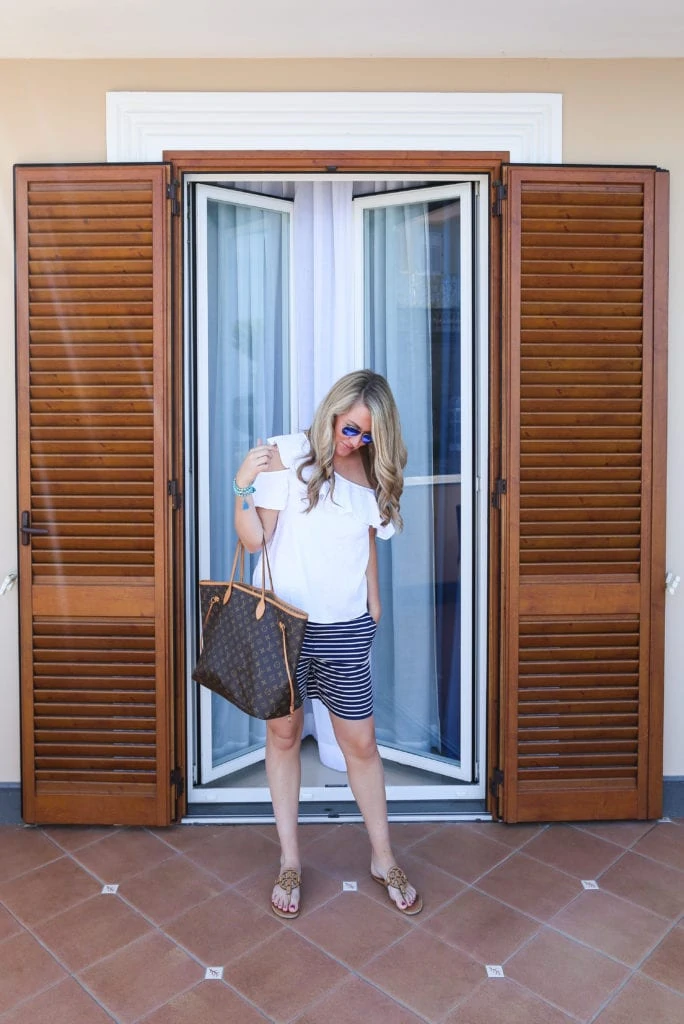 What I wore: Top | Shorts | Shoes |  Bracelets | Sunglasses | Tote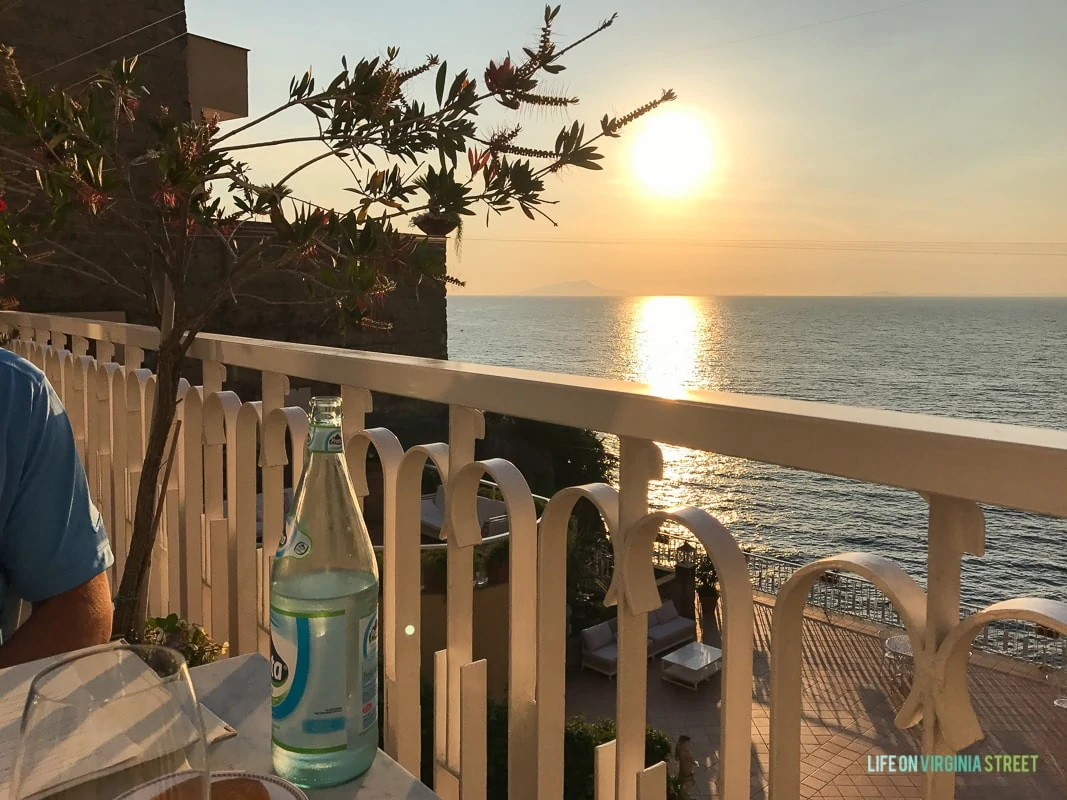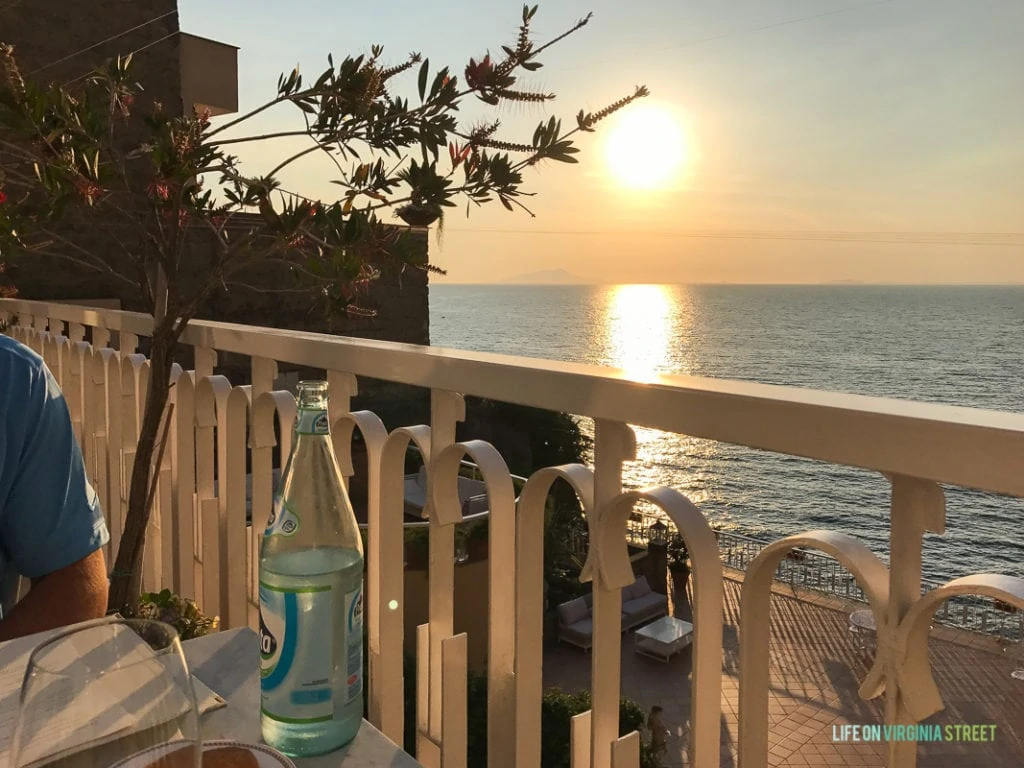 The Amalfi Coast
The following morning, we were picked up by our private driver, Carmine. This was another travel agent recommendation, and essentially we had a driver take us around the Amalfi Coast for eight+ hours. After seeing the crowds upon our arrival, we agreed this was some of the best money we spent the entire trip.
Our first stop was Positano. It was everything I dreamed it would be and more. I can't wait to go back. It's beauty is so surreal!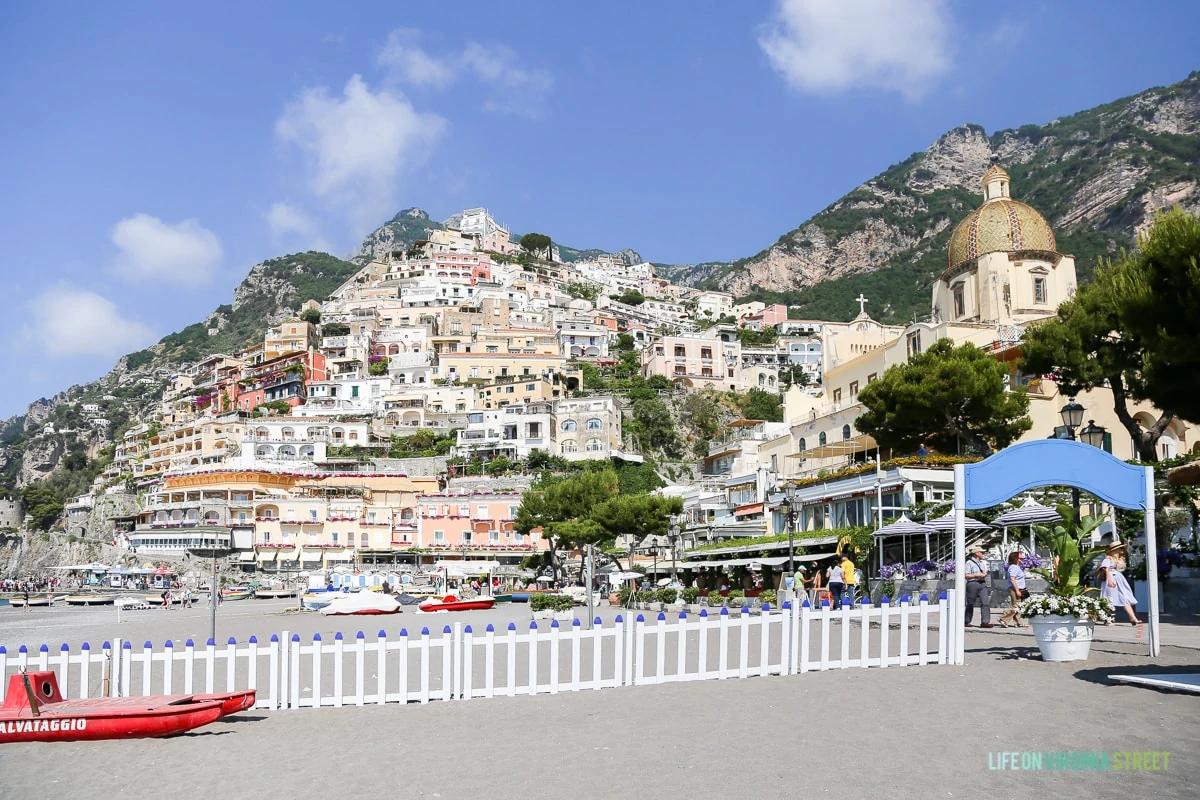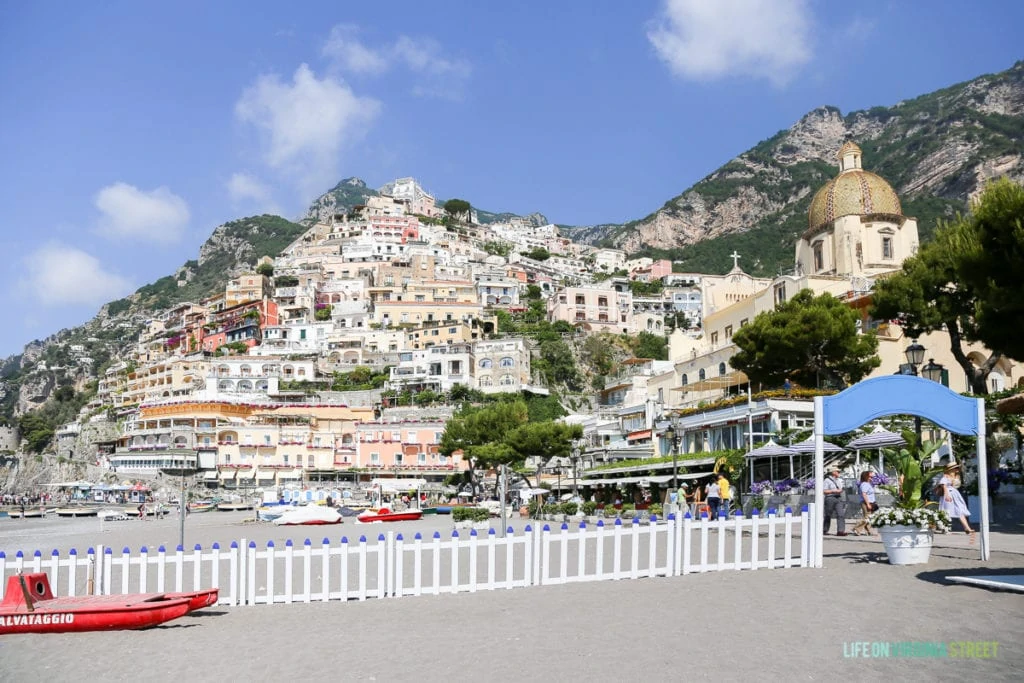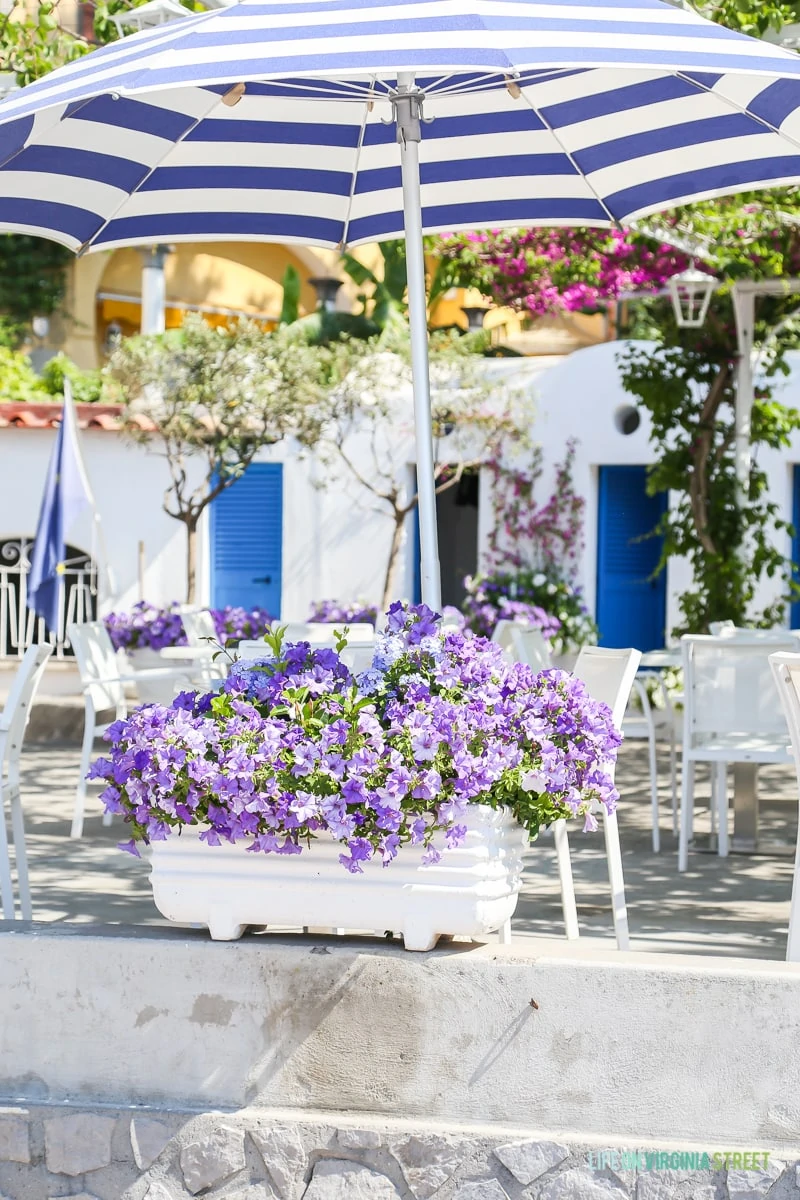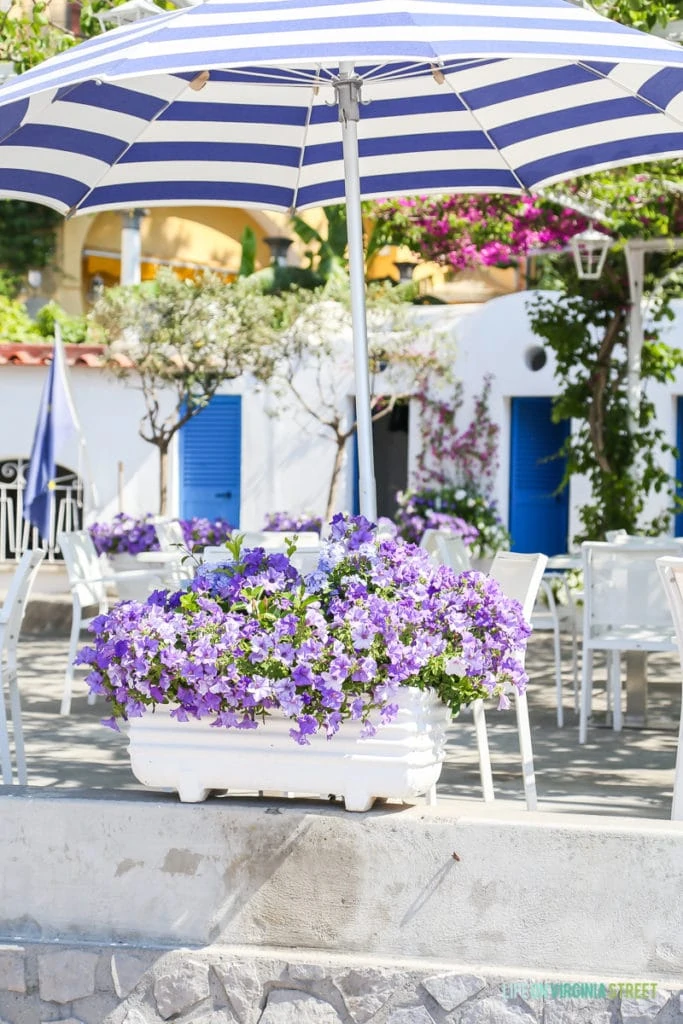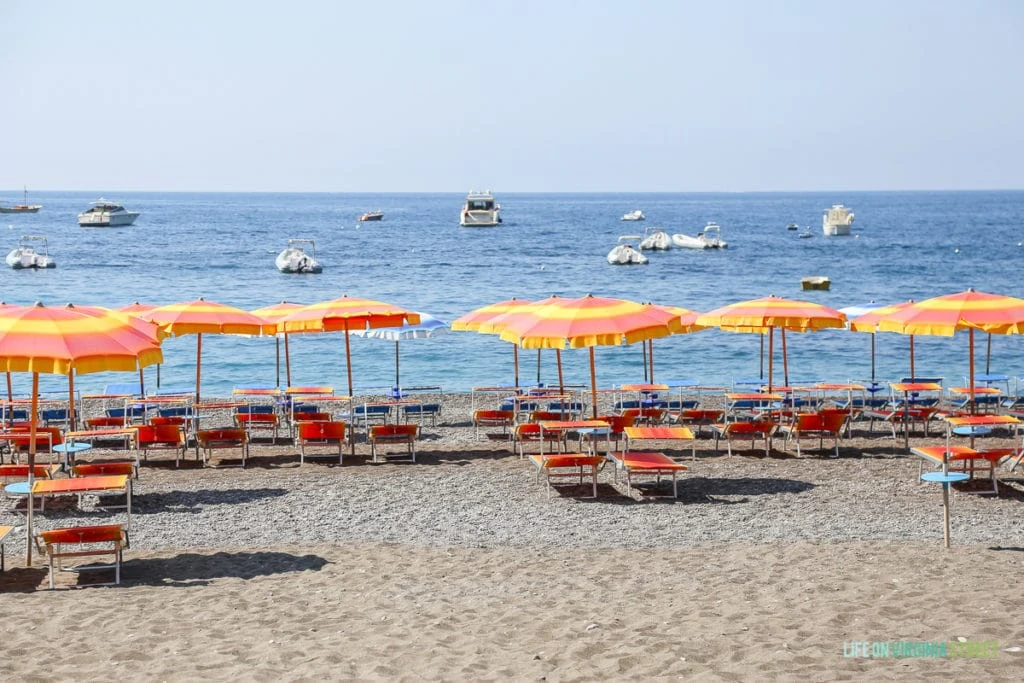 I asked our driver to swing by Le Sirenuse because it looked like the hotel for photos. We only had a few minutes but took a few photos of the gorgeous town.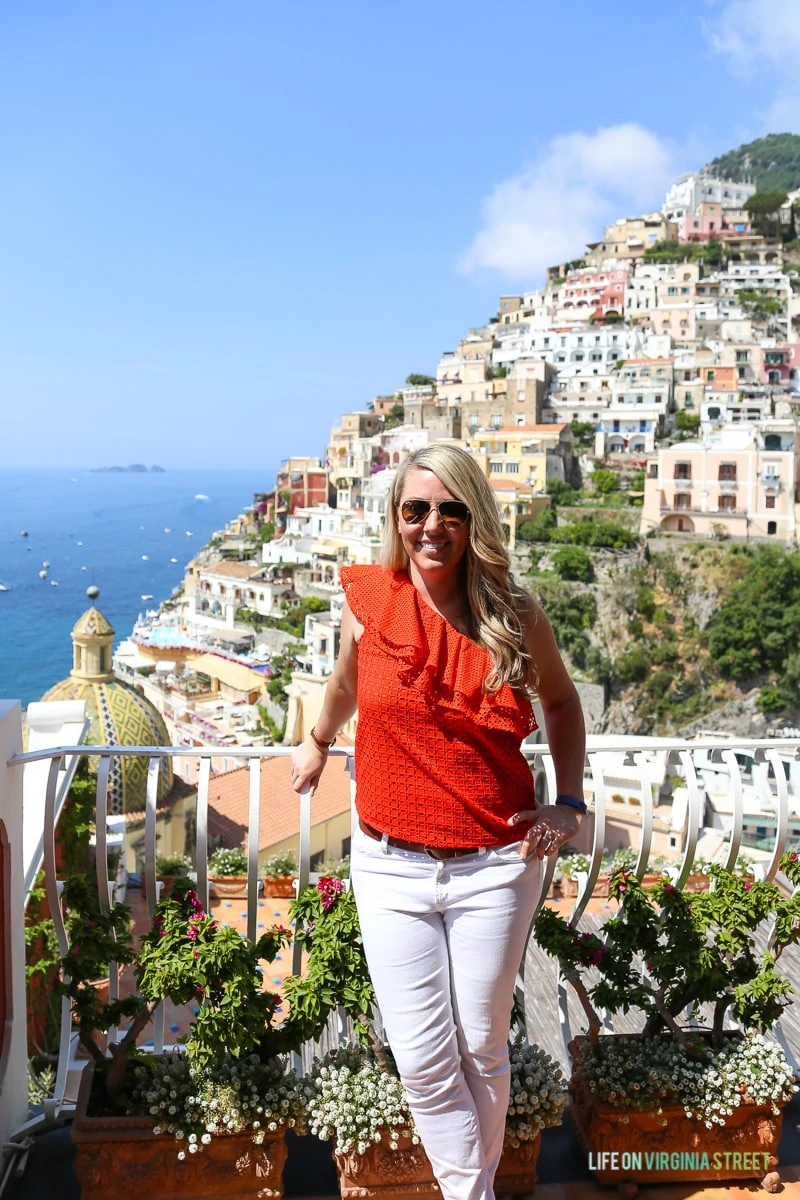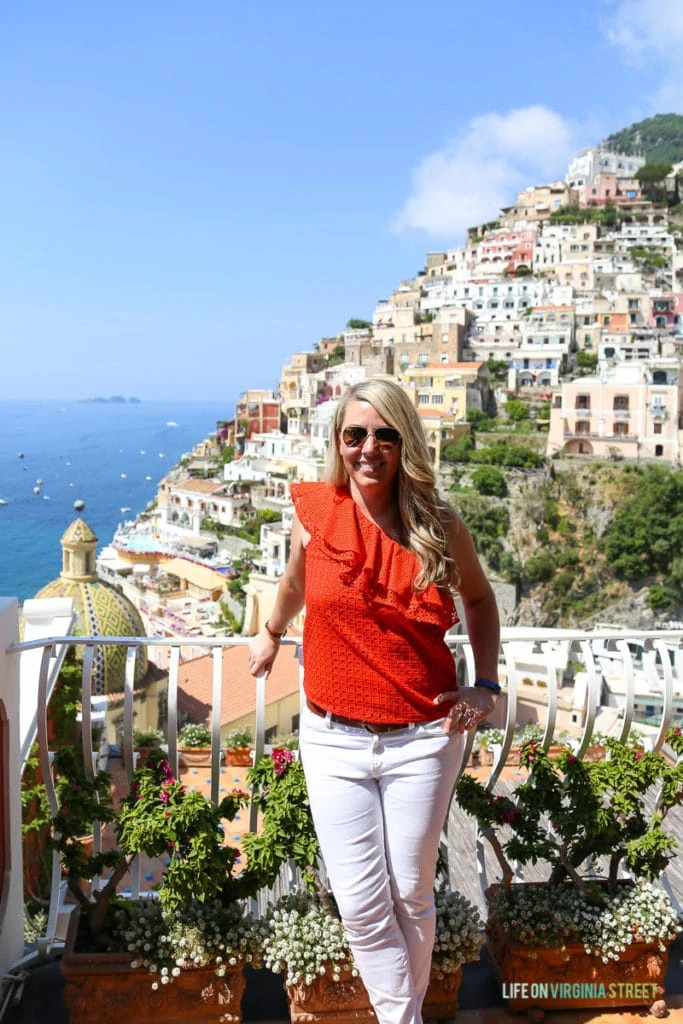 What I wore: Top | Jeans | Shoes | Sunglasses | Camera Bag
Our next stop was Amalfi. Another super gorgeous location. There was a cruise ship in port so there were so many people. But we had fun wandering the narrow streets before we headed to lunch.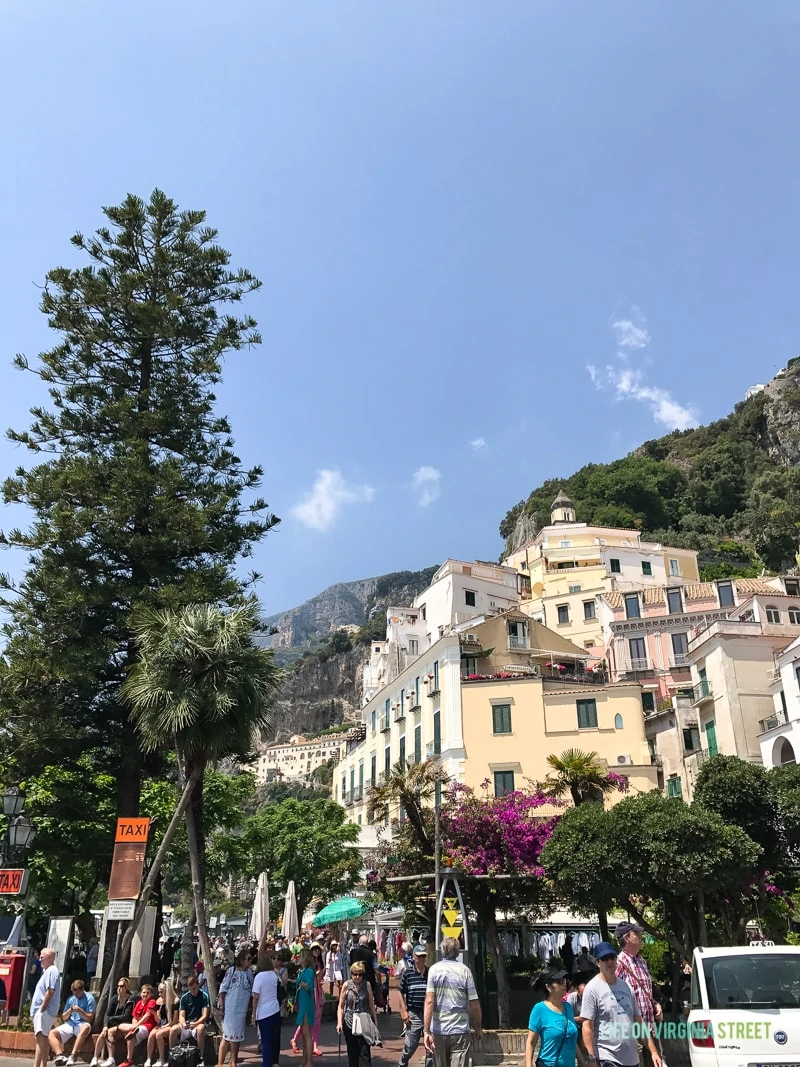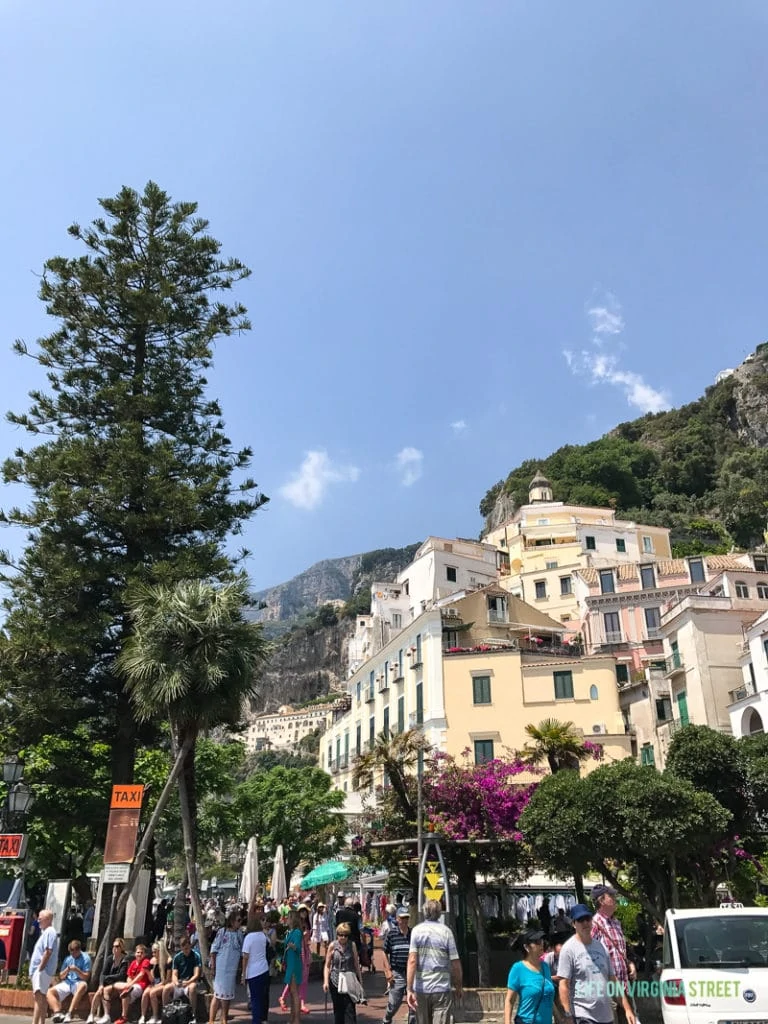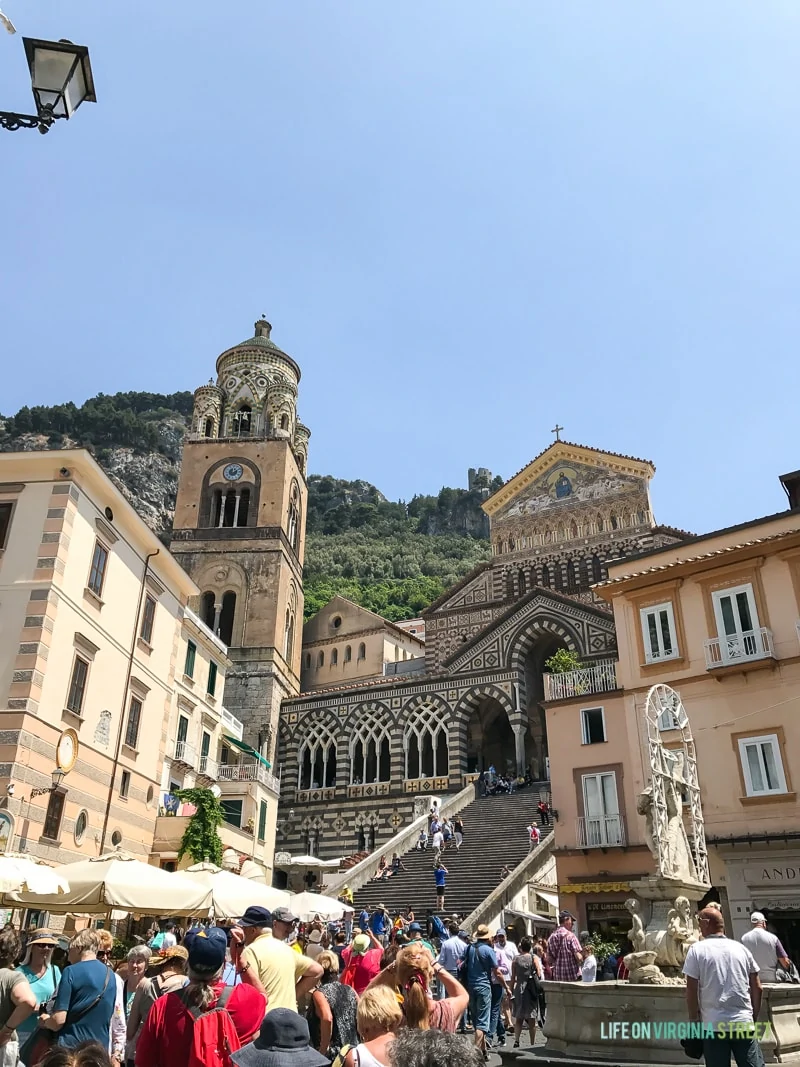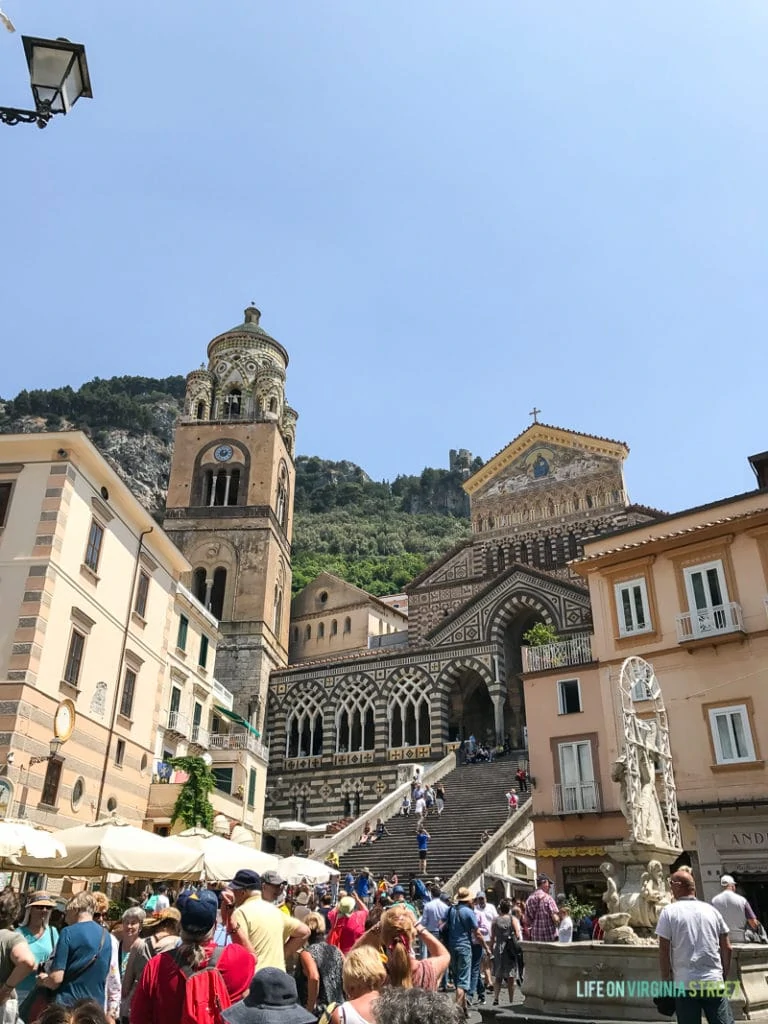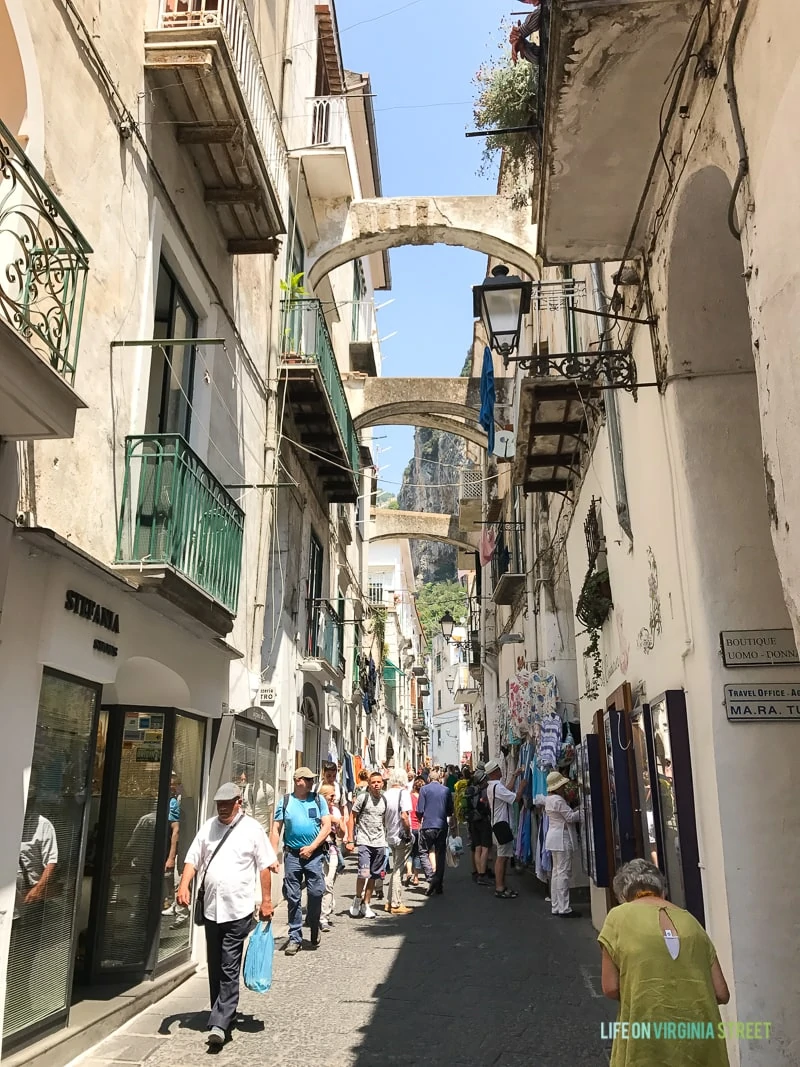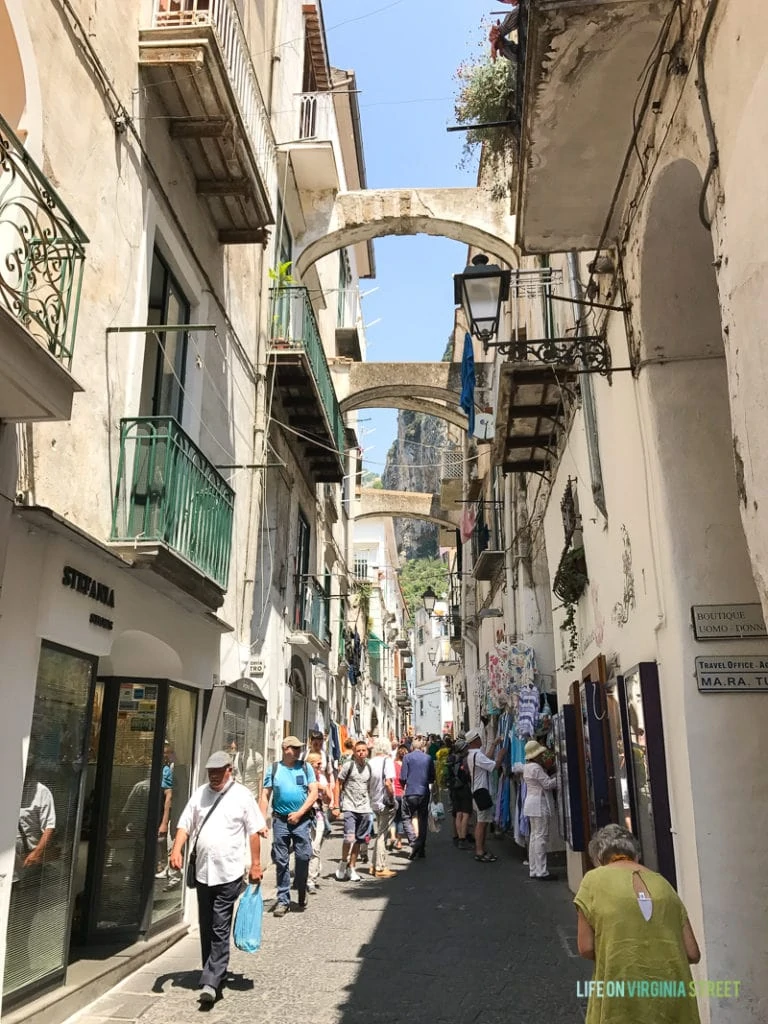 Our driver made lunch reservations for us based on the feedback we gave him and what we were looking for. He booked this seaside restaurant in Amalfi, Lido Azzurro, with the most gorgeous views. It was a bit down from the main port area so it wasn't as crowded. I had the fresh fish with lemon cream sauce and Kurtis had pasta with mussels. The food and views were amazing and it was the perfect location for lunch!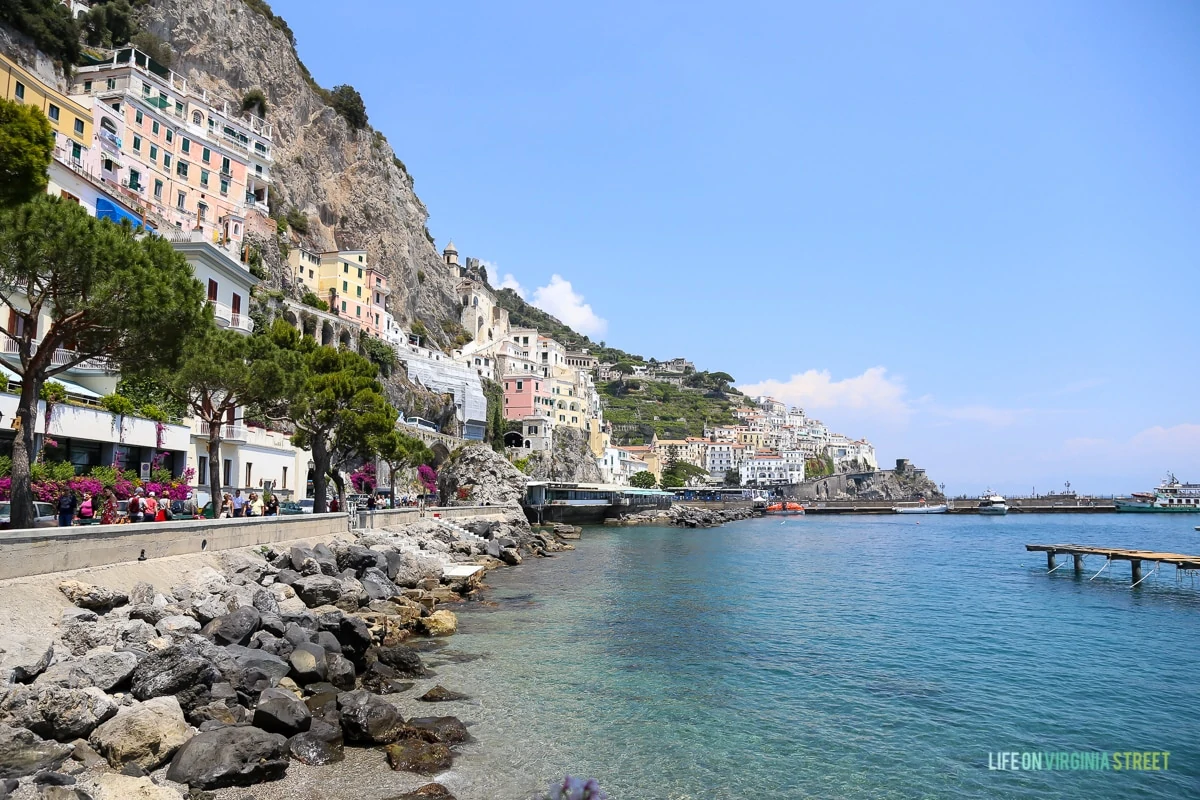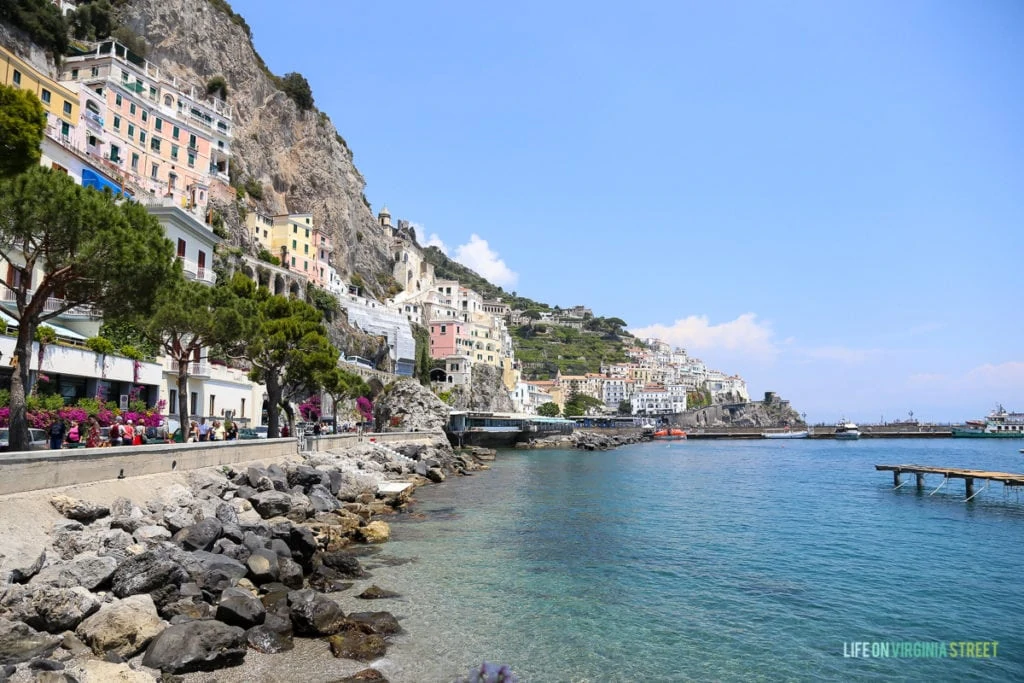 Here's our driver and our car. Love that so many Italian men wear custom suits.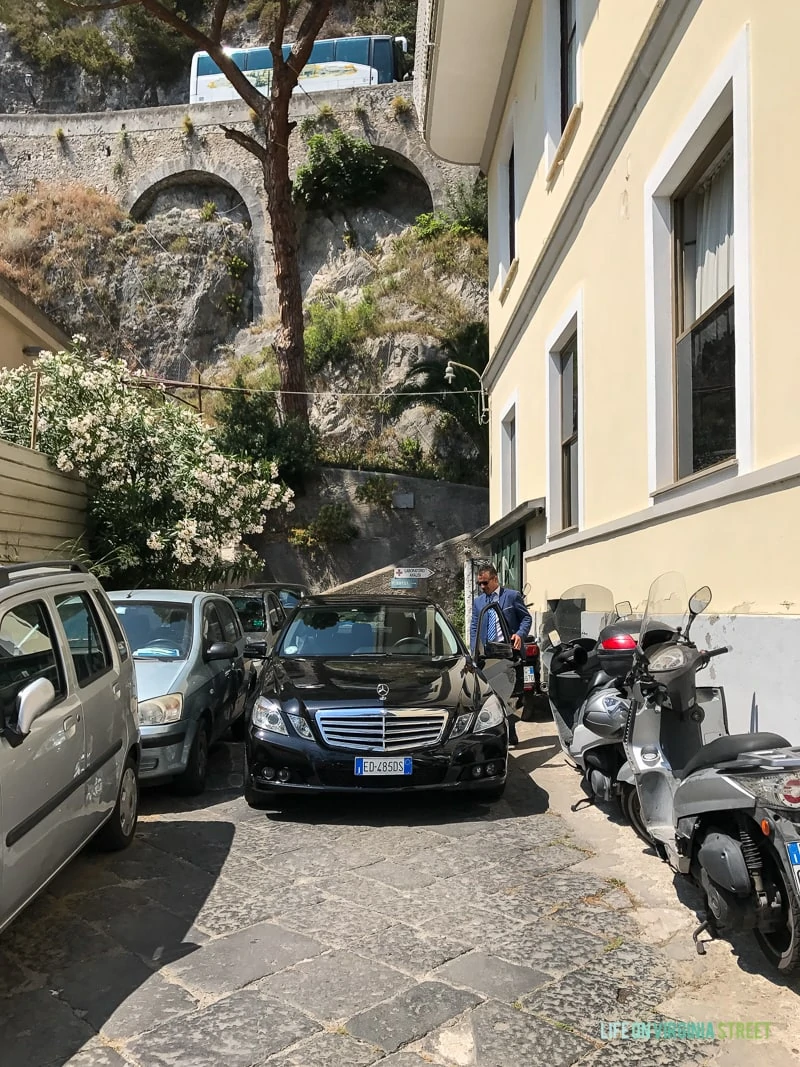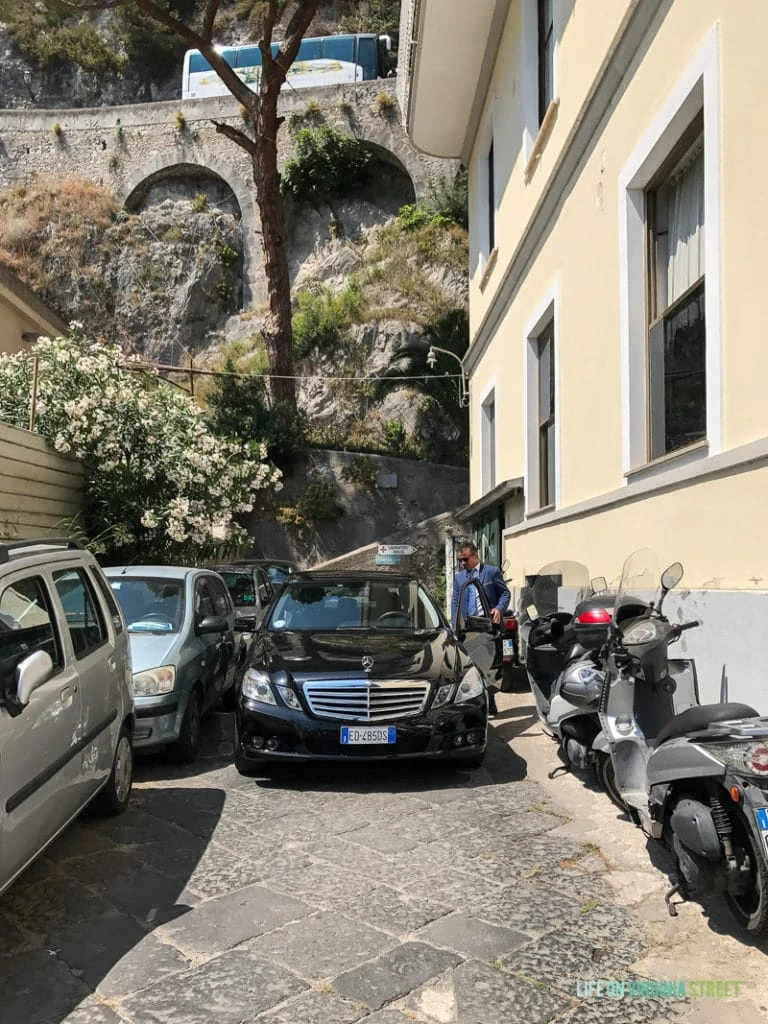 Our next stop was the hilltop town of Ravello. This is the one I honestly hadn't heard much about until you all gave me such great feedback on this Instagram post (so much great advice for both Rome and the Amalfi Coast). But, by the time we made it to Ravello after travelling down the rest of the coast, it was already about 3 in the afternoon. We only had about 45 minutes to explore before our driver had to start taking us back.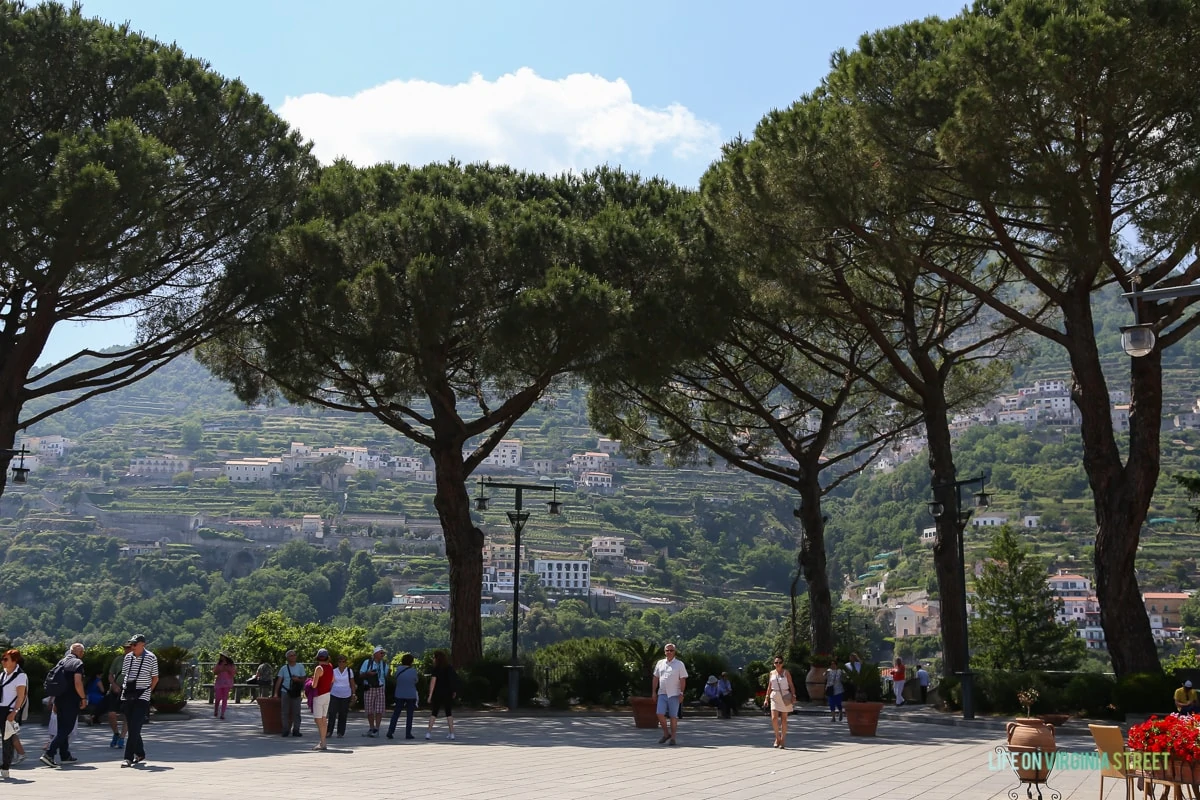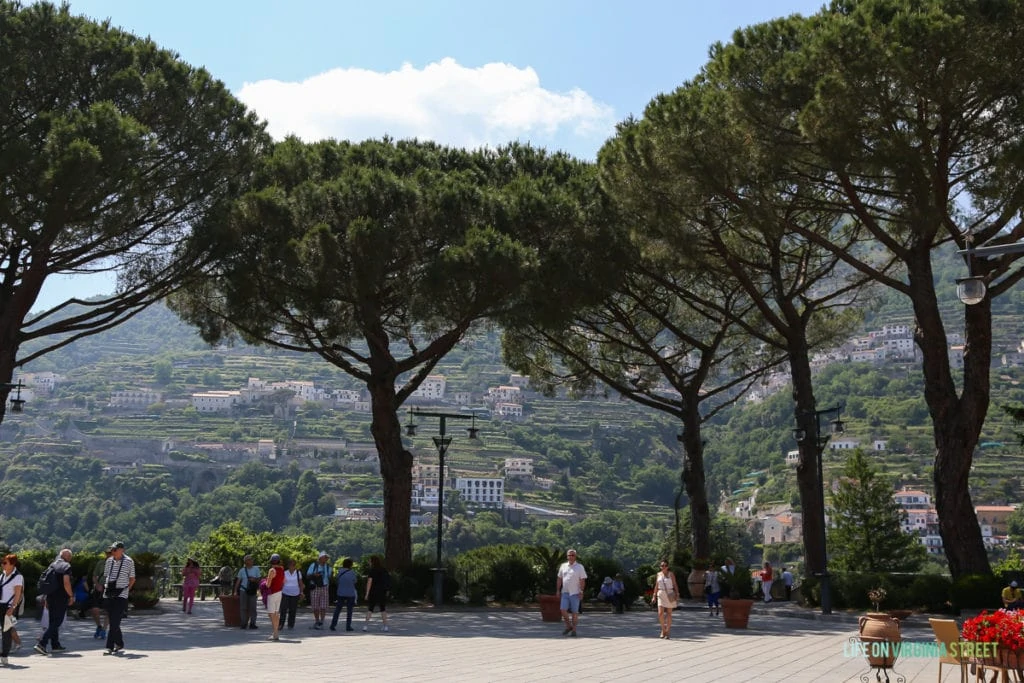 Ravello is up high in the hills and has such fresh air and beautiful views! The town felt almost medieval compared to the other stops. We both loved it and for whatever reason, it reminded us of our visits to Oktoberfest at Snowbird each fall in Utah (random, I know).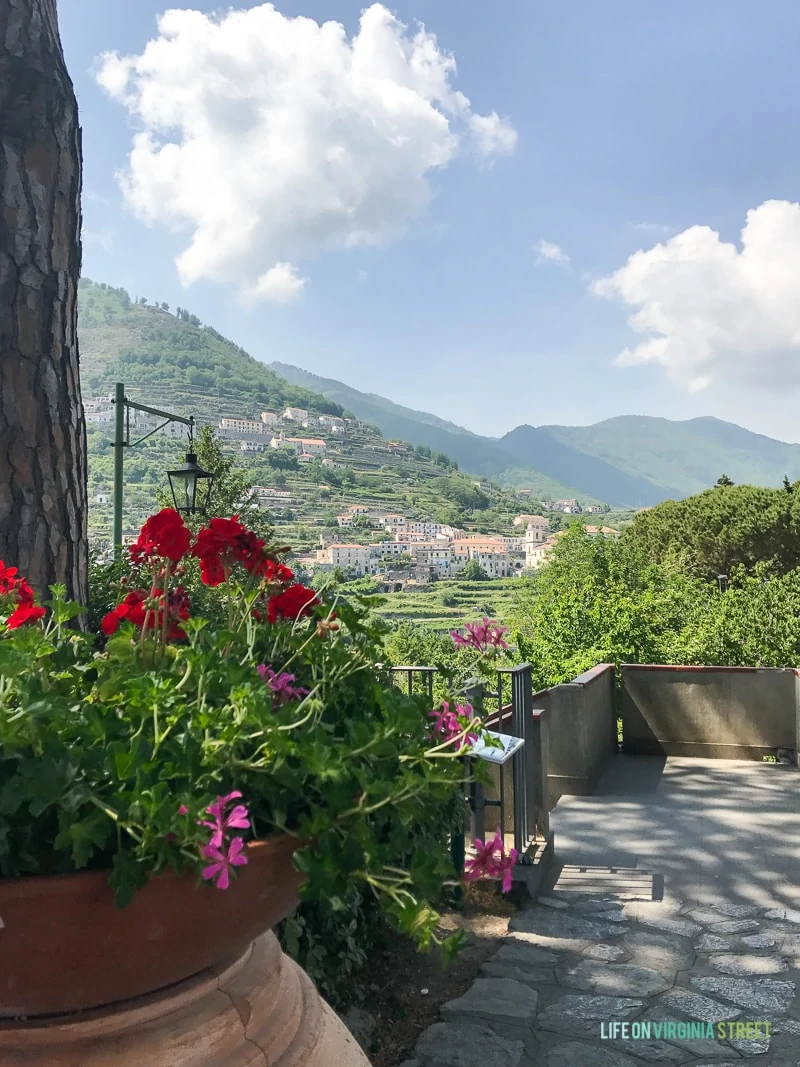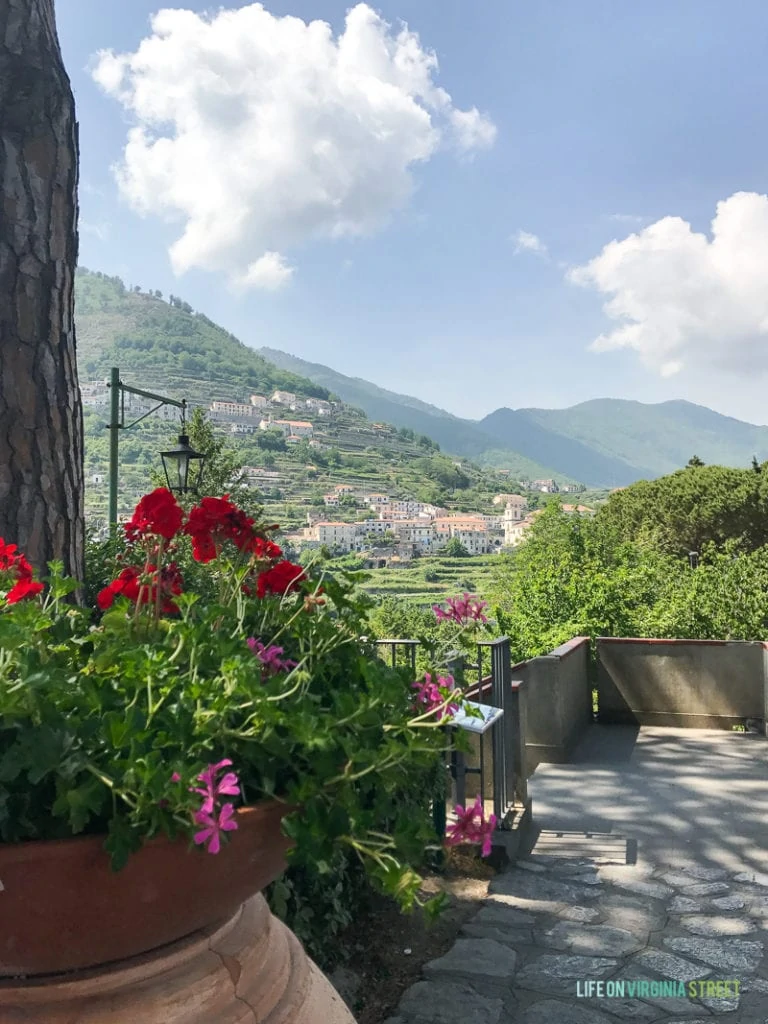 We walked a bit through town before we found this restaurant/bar with killer views of the coastline. We grabbed a few drinks and talked about our day while enjoying the views.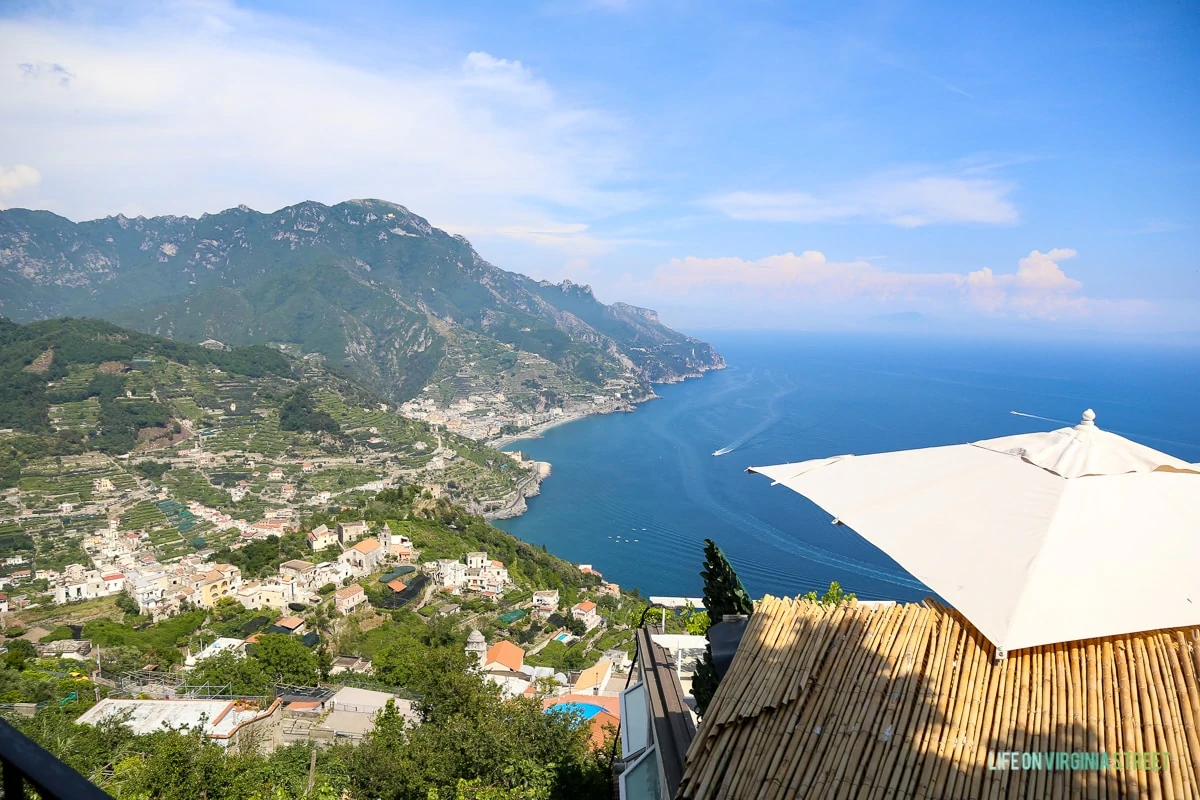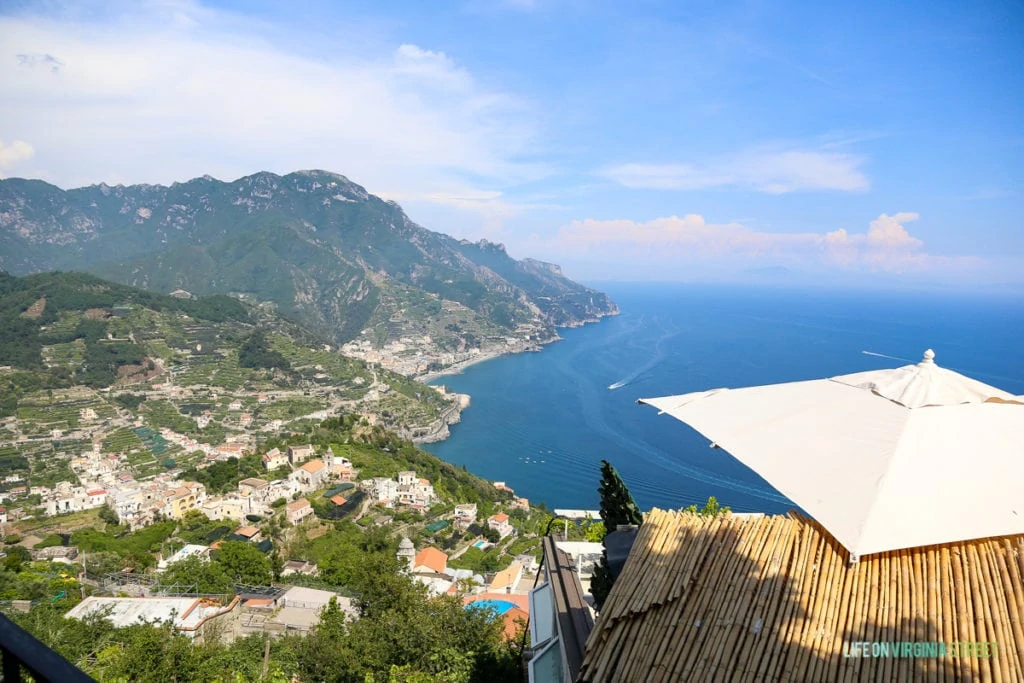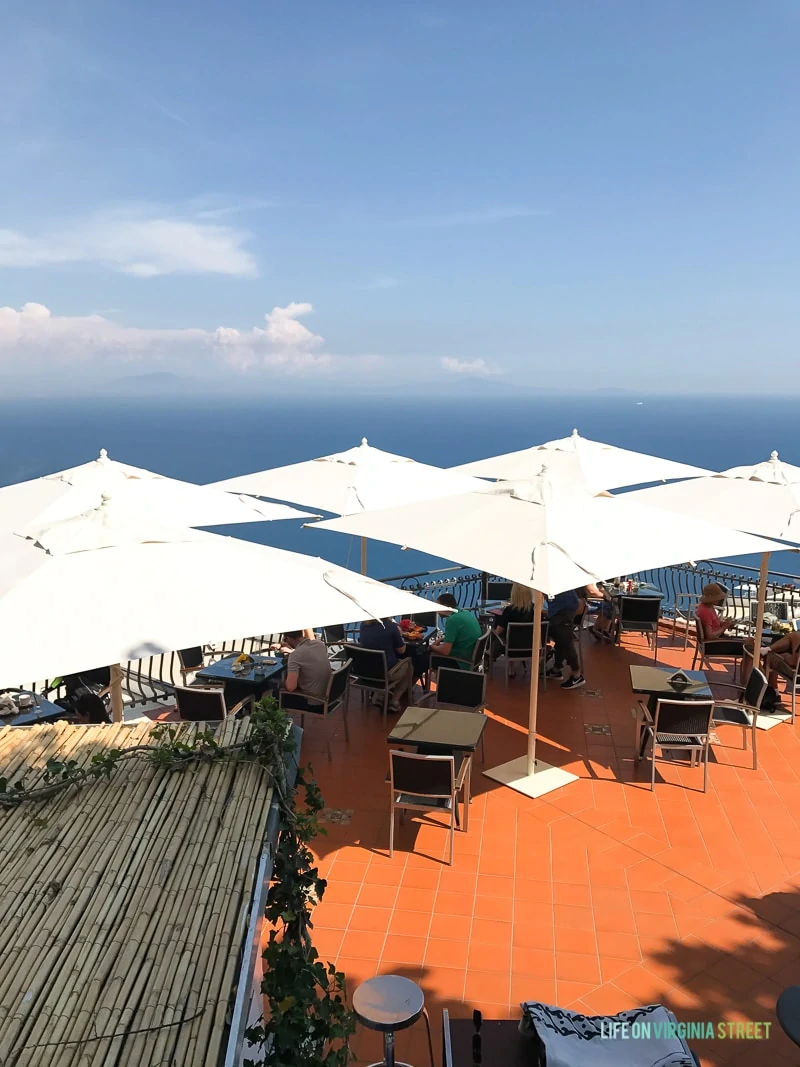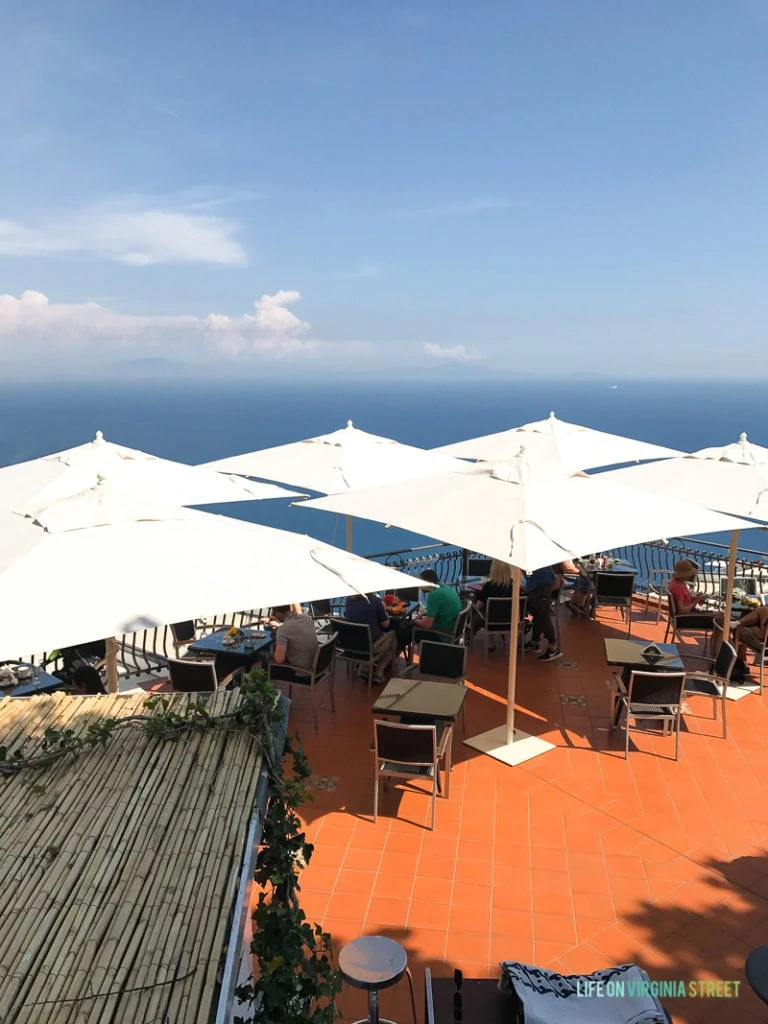 To get back to Sant'Agnello, we actually wound through the mountains rather than taking the coastline back. Our driver stopped at the summit to take our picture with Naples in the background. That peak you see off to the left is Mount Vesuvius.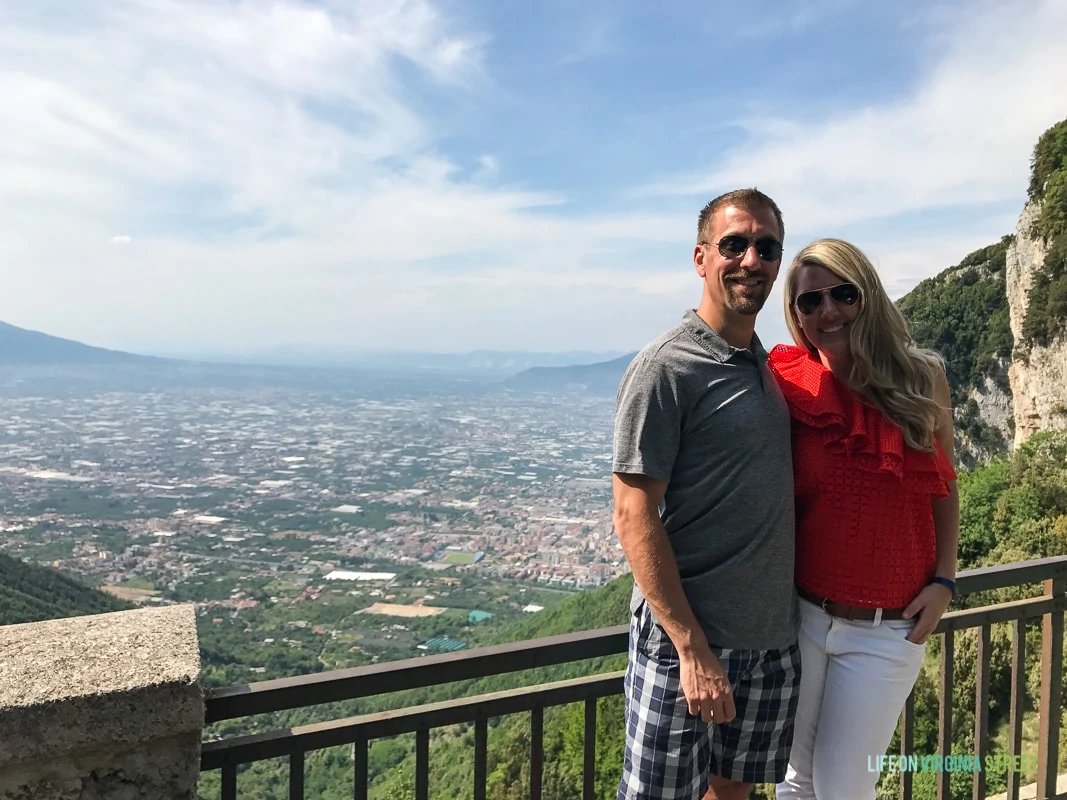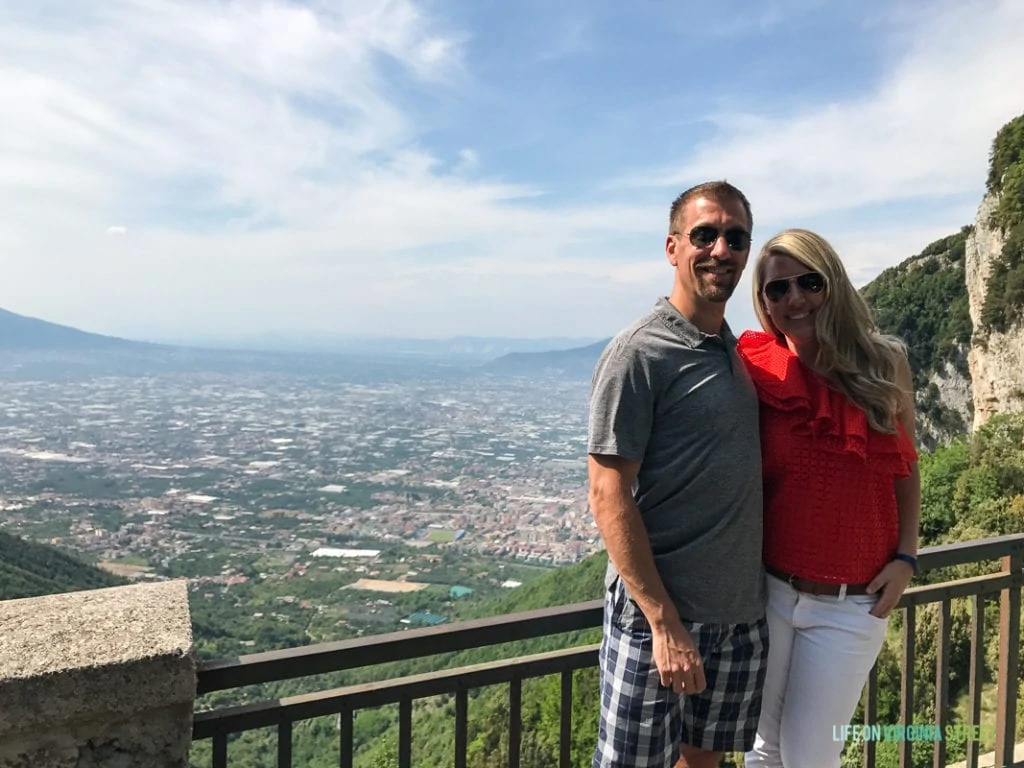 We absolutely, 100% want to get back to this area soon. We'd love to be able to stay in Positano (since it's not super quick to get into). We'd also love to spend more time in both Amalfi and Ravello to really explore the area and get to know it better. You could easily spend several days in each location, so my only tiny regret for the day is that we didn't get more time in each location. But, with the drive times involved, it really wasn't an option!
That night we opted to have a really casual dinner on our hotel's bar patio. We had sandwiches and pizza and watched the sunset. We had picked up a bottle of wine in Amalfi and drank it on our terrace after dinner. Needless to say, it was an exhausting but amazing day and it was great to relax on the terrace outside!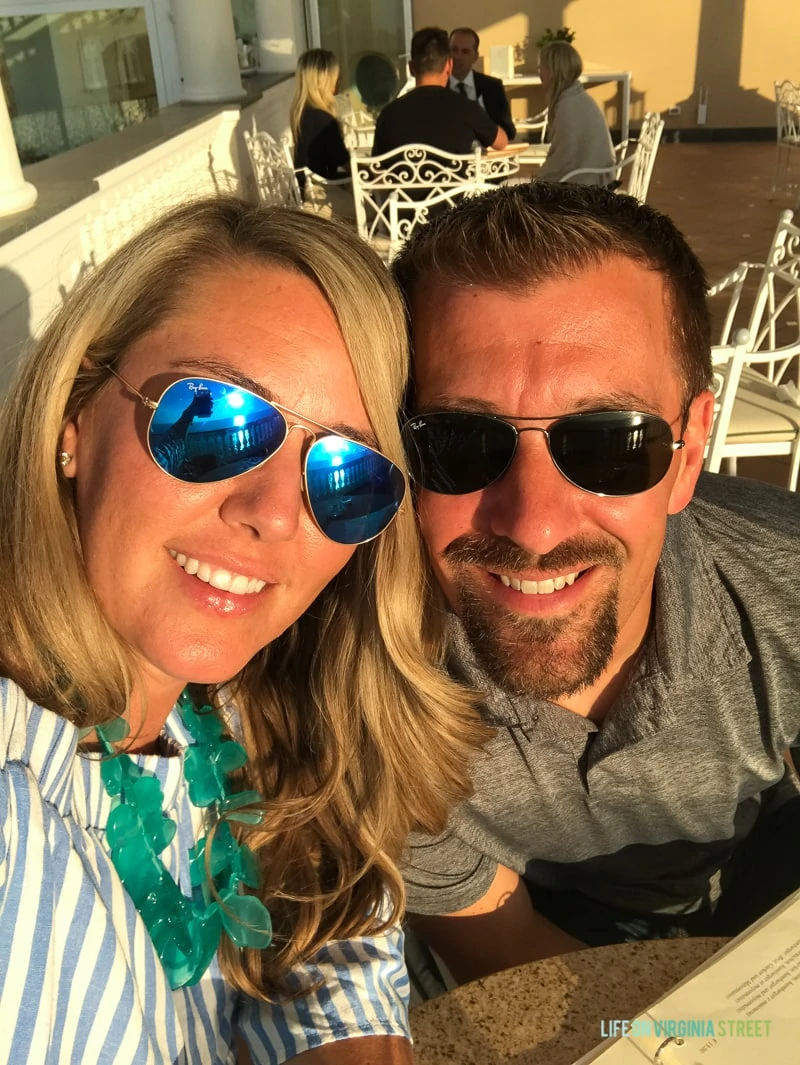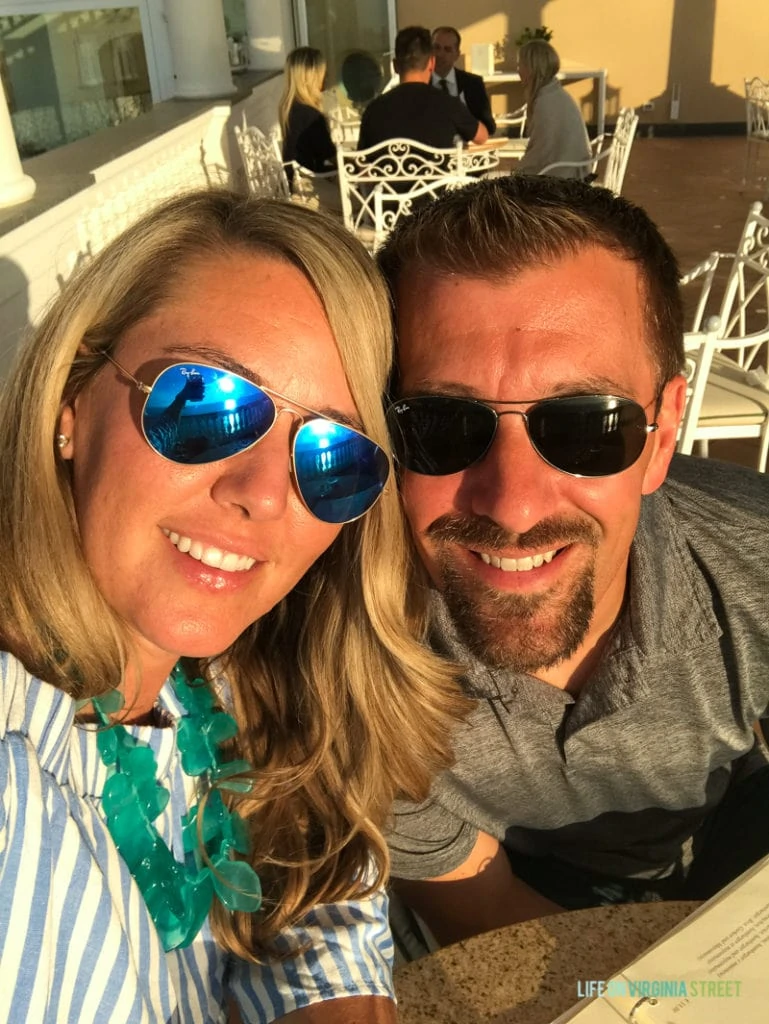 What I wore: Top | Jeans | Shoes | Necklace | Sunglasses | Camera Bag
Hotel Corallo Pool Day
Our last full day in Sant'Agnello, we decided to relax as much as possible and spent most of the day at the pool. We contemplated going into Sorrento, but we were really looking forward to vegging after our action-packed schedule all week. We had breakfast at the hotel, as we had each morning (it was included). I had to laugh when Kurtis told me he was going to go grab a pastry (after he'd already polished off another plate of food). He came back with this. Boy loves his pastries! 😉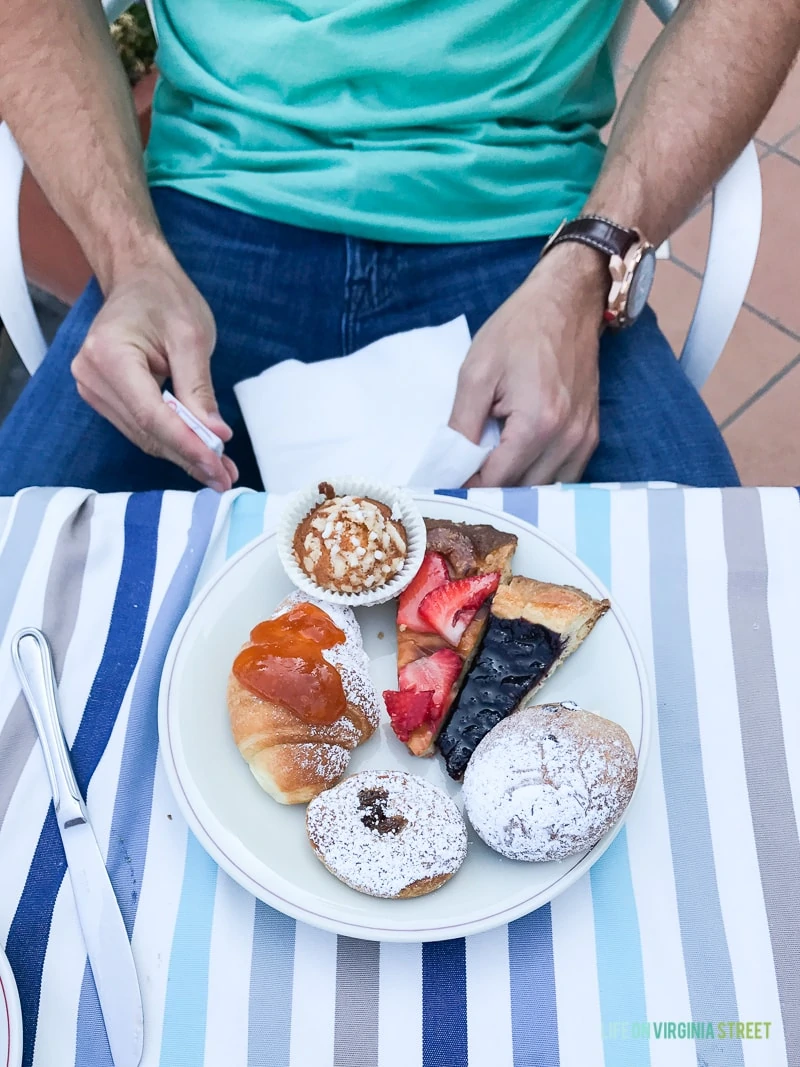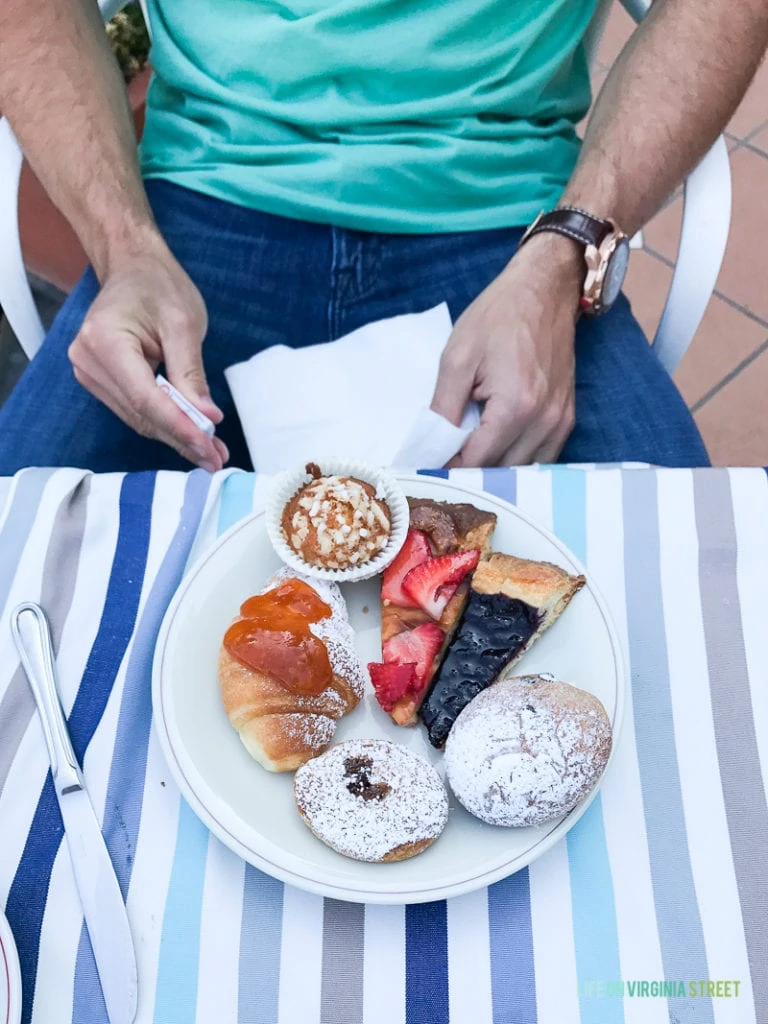 The pool at our hotel was rather small, but given the size of the hotel, it was perfect. It also had killer views of the sea and was surrounded by jasmine and oleander. It seriously smelled divine!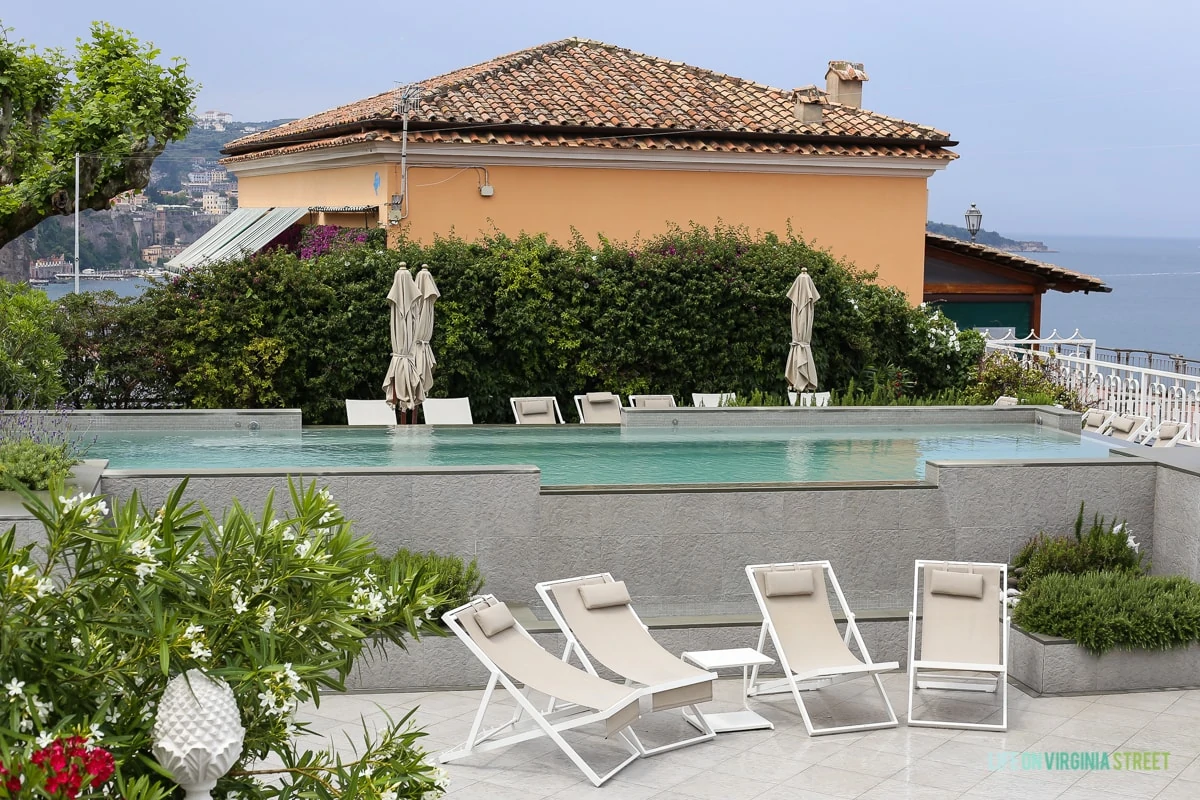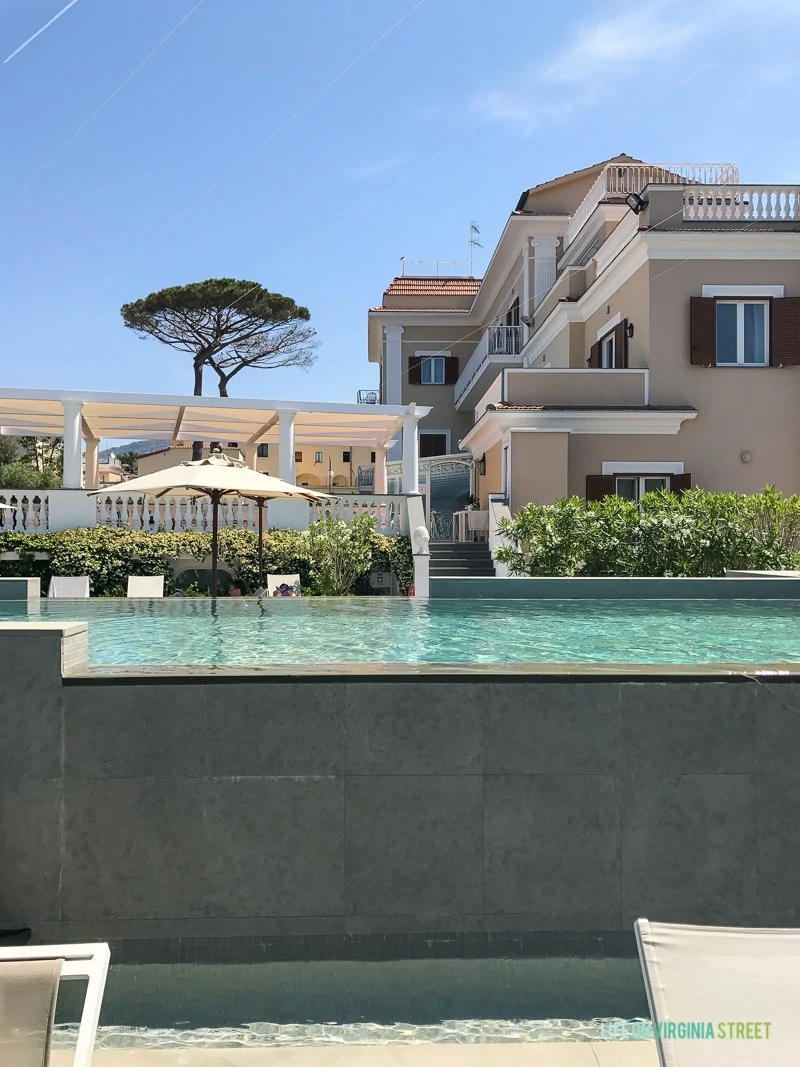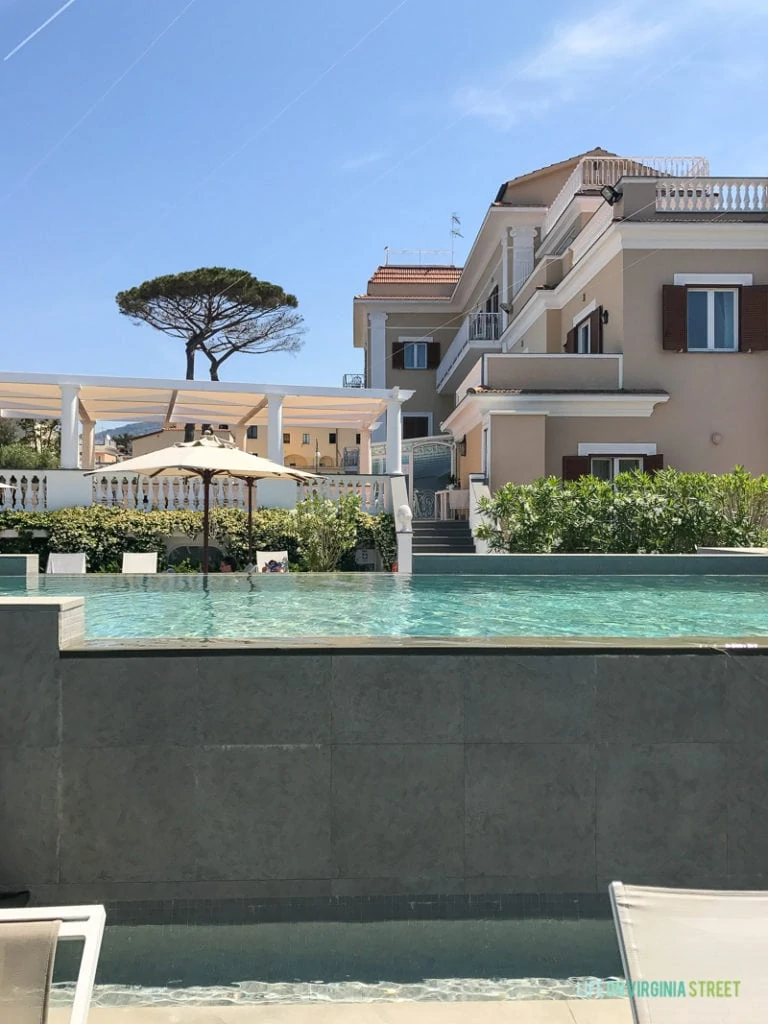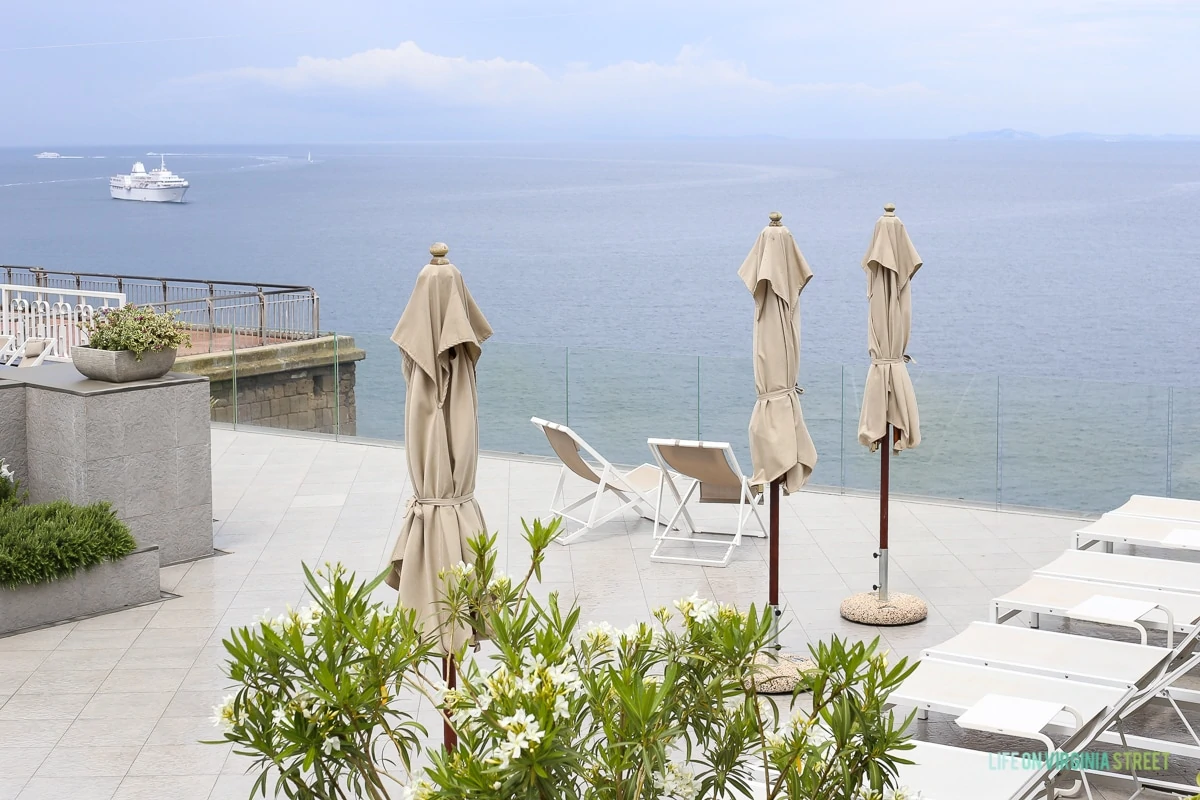 That night we headed back to Il Ruttino for dinner. It's the place we went on our first night in Sant'Agnello and it seemed fitting we end an amazing trip there. When the owner saw us walking up the street he got so excited and ran into the road to stop traffic to let us through. We were dying of laughter.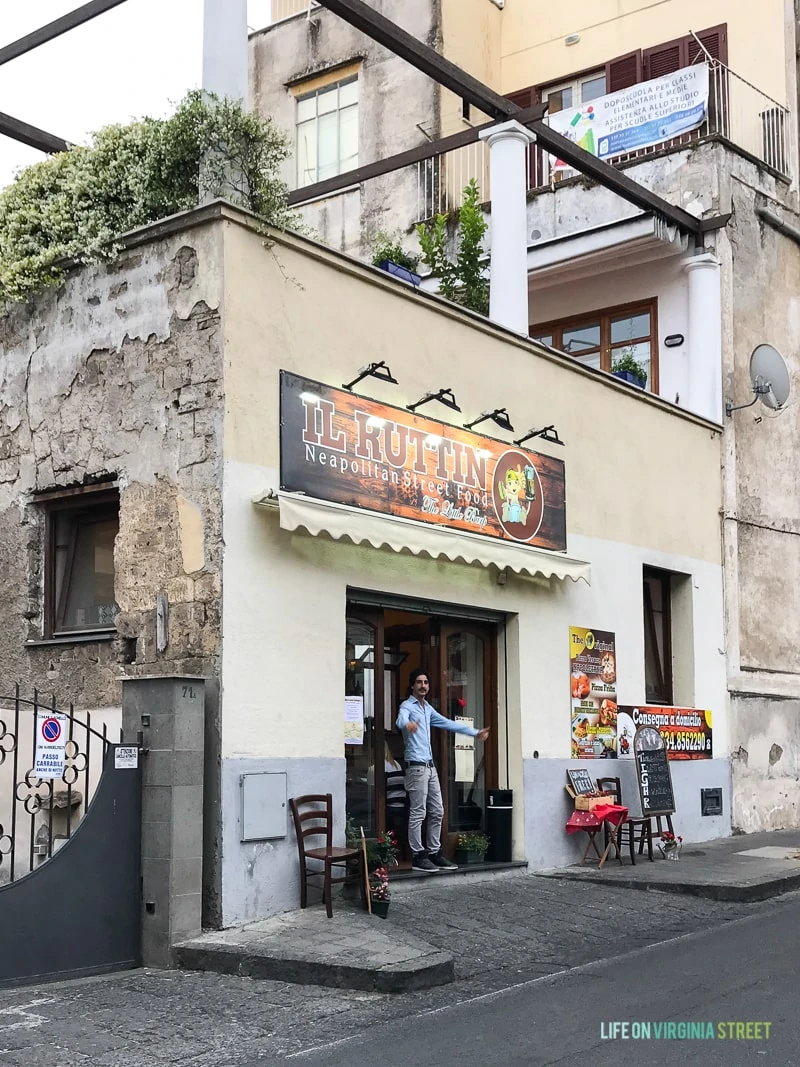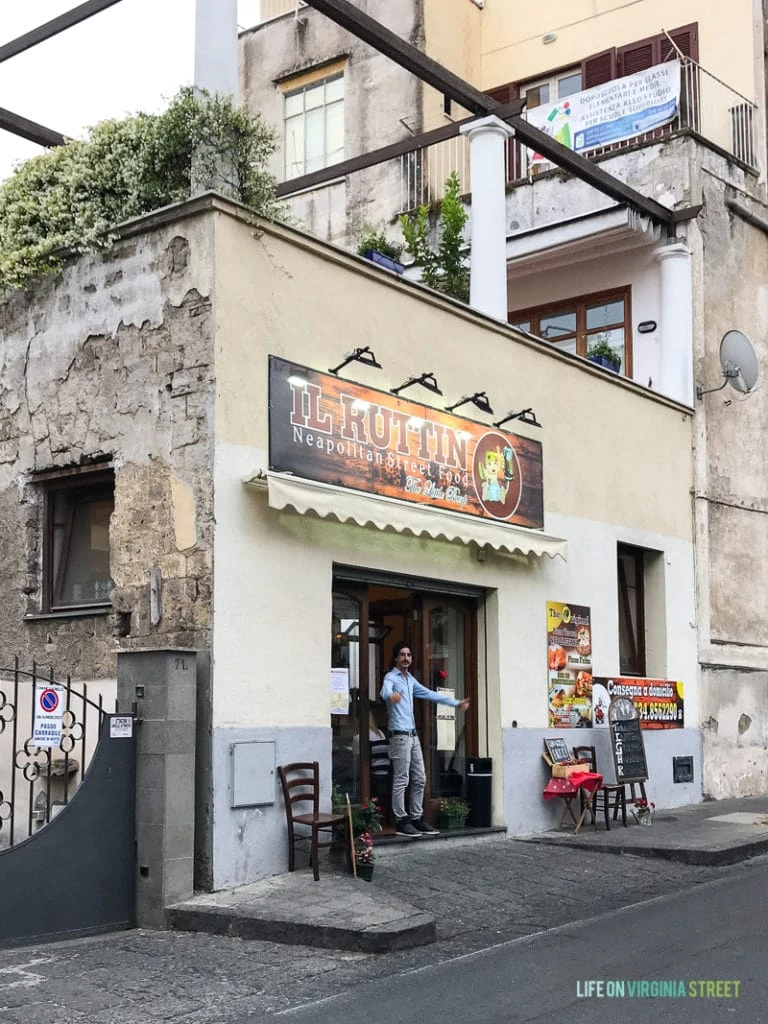 The pizza we ordered was insane. It was served folded in half and was stuffed with ricotta cheese. Beyond good. Our new friends brought us limoncello to end the night. The restaurant is tiny (they do a lot of delivery) but both times we went on their back patio. Highly recommended if you're in the area. The pizza is so good and we loved the chill and fun vibe.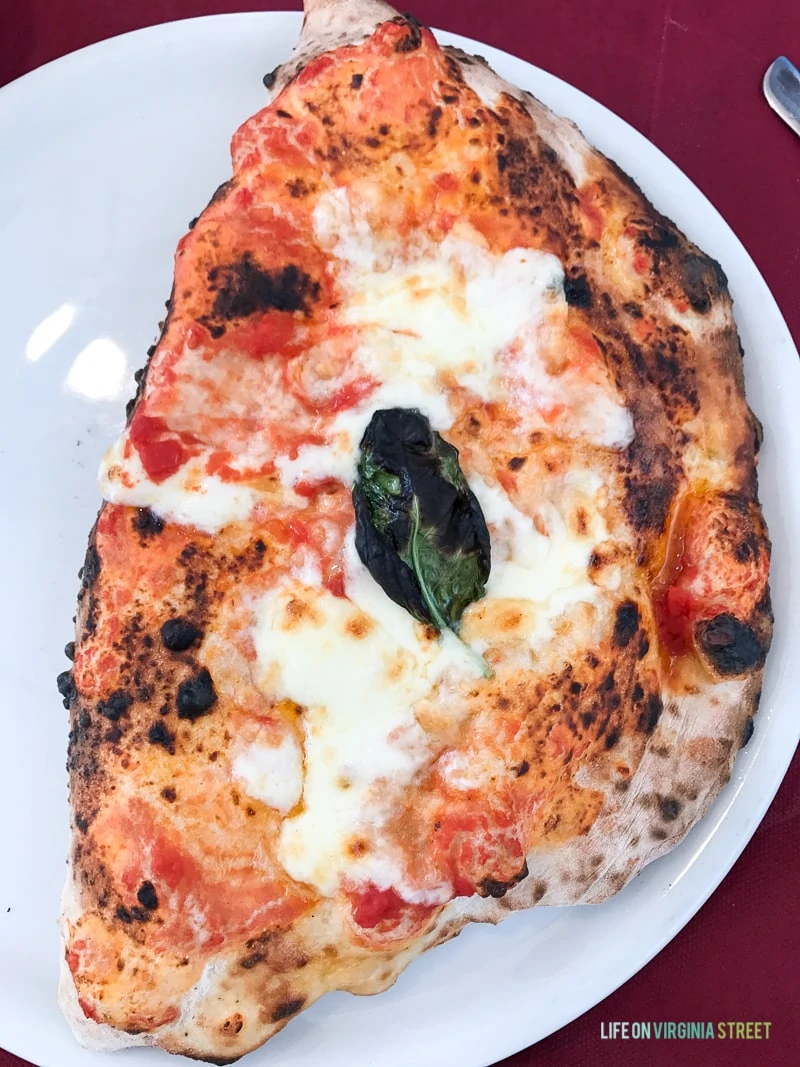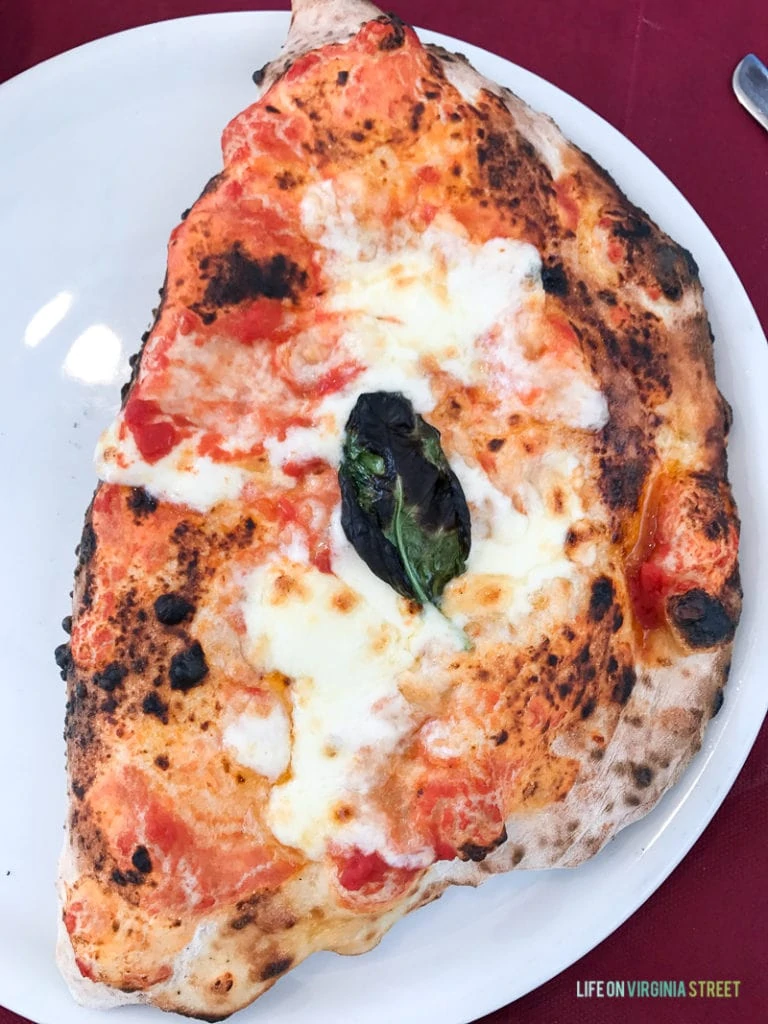 Later that night, the sky was absolutely unreal as the sun set. It's like it was showing off for our last night there. I also made Kurtis document the fact that my outfit and sunglasses I wore to dinner happened to match the sky that night 😉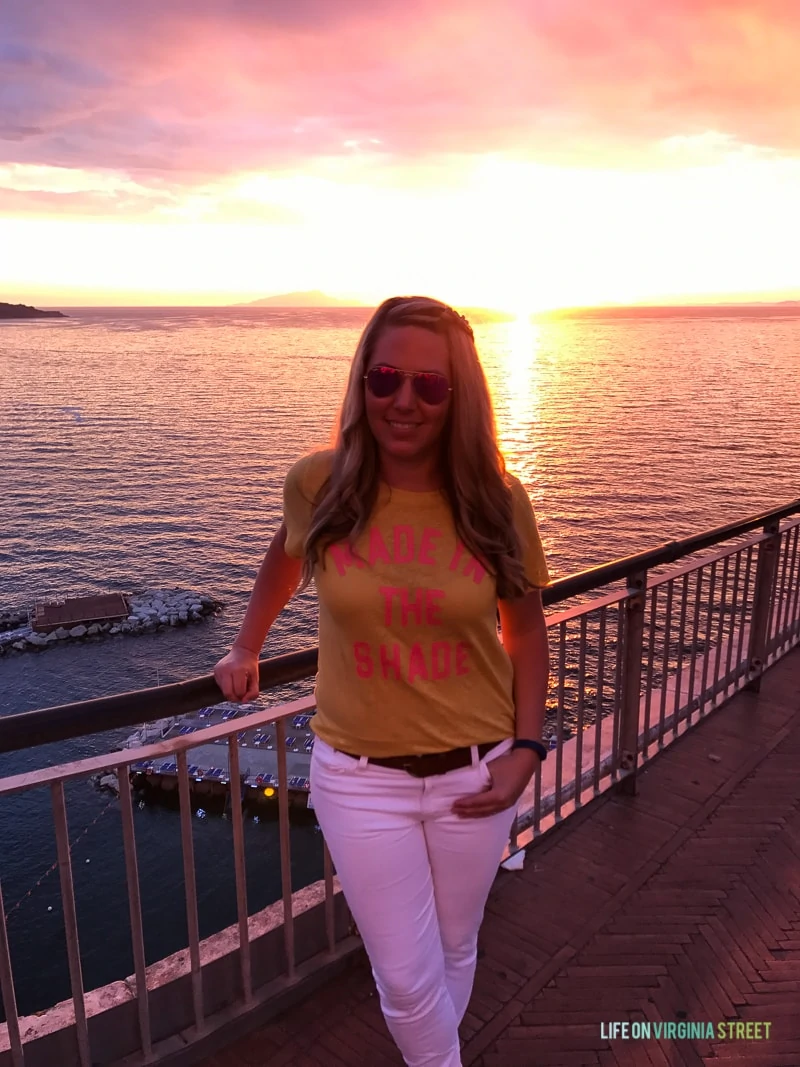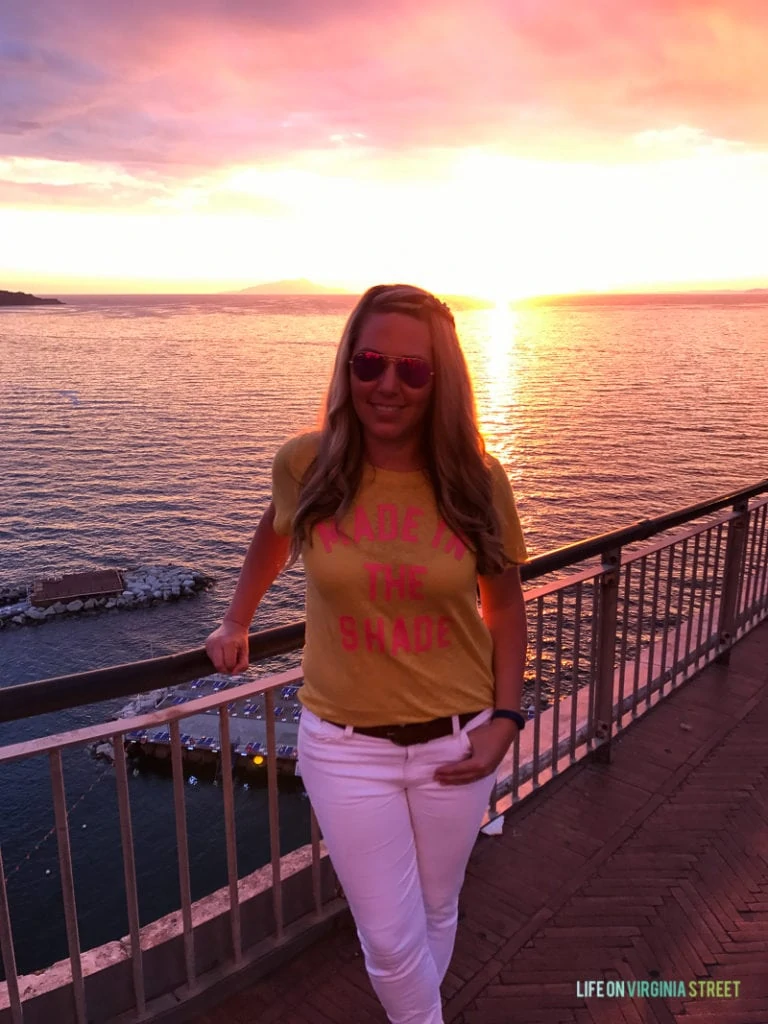 What I wore: Top | Jeans | Shoes | Sunglasses | Camera Bag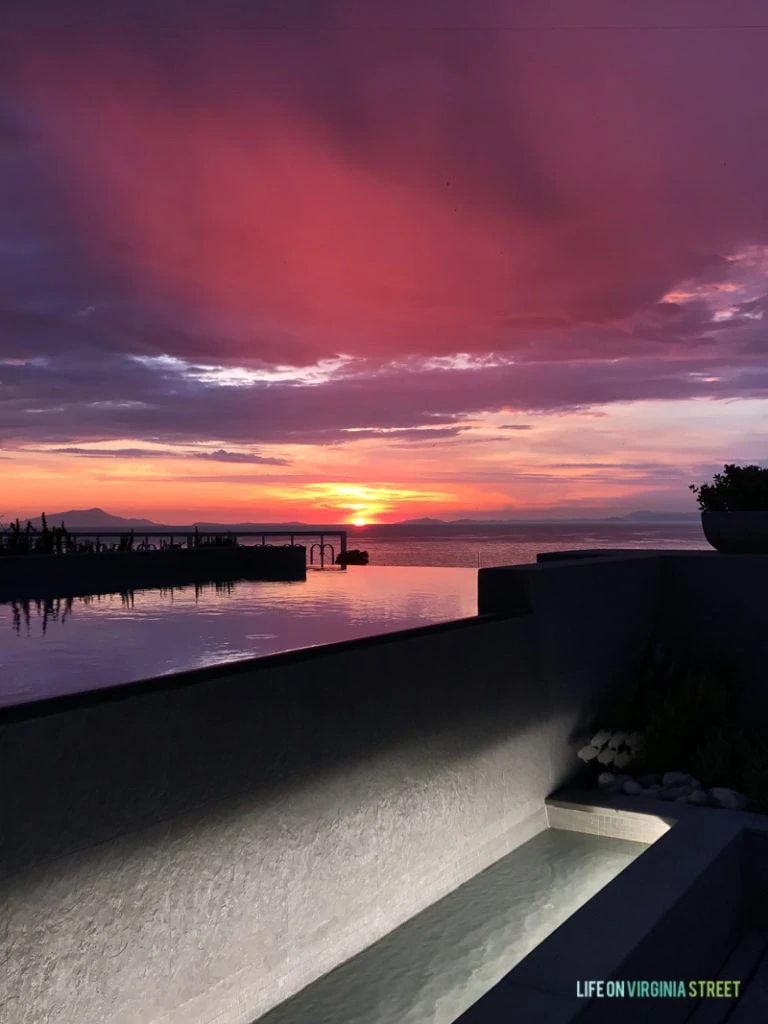 Transfer Back to Rome
Thursday late morning we had to check out of our hotel. I had arranged for a later pick-up for our transfer back to Rome, so we had to kill some time until our driver arrived at 4:00 pm. The drive by car back to Rome was about 3 hours but it was all interstate so it went quickly. At our travel agent's recommendation, we stayed at the Hilton Airport our last night. It's actually attached to the airport so you don't have to arrange for a ride. Since the historical area of Rome is about an hour from the airport, it only made sense to stay at the airport hotel. It was very clean and nicely equipped (and built like American hotels). The best part – we got hamburgers and beer and it was divine! Sometimes you just need a taste of home 🙂
Trip Highlights & Top Recommendations
Our favorite memories from the trip:
Osteria 44 for dinner in Rome
Chair Lift to the top of Anacapri
The entire Amalfi Coast
Private driver for tour of Amalfi Coast (best money spent)
Dinners at Il Ruttino in Sant'Agnello
Always have extra Euro coins available as you have to pay to use public bathrooms
Get Euros before you leave from your bank. We only brought €200 with us, and ending up needing an additional €400 while we were there (ATMs are readily available). It's more cost-effective to avoid the ATM fees though
All hotels in Italy charge a nightly city tax per person that has to be paid in cash when you check out. In Rome it was €6 per person, per night. In Sant'Agnello it was only €1. Ensure you have enough cash on hand to pay these the day you check out.
Bring comfortable shoes and rotate them frequently! You'll do a lot of walking!
Consider the off-season. We went the week before Memorial Day, and although there were still a lot of other tourists, it wasn't nearly as crowded as when we visited in July. Plus we avoided most of the humidity and heat that rolls in during the summer.
We opted to add International coverage on my phone only. I'm with Verizon, and for $10/day, I could use my normal plan benefits (it just came out of my normal data plan).  We were glad we added it, especially with the issues at the rental house while we were gone.
In closing, Italy is pure magic. If you ever have an opportunity to go, I couldn't encourage you moreso to do it!
If you would like to follow along on more of my home decor, DIY, lifestyle, travel and other posts, I'd love to have you follow me on any of the following:
Pinterest / Instagram / Facebook / Twitter / Google+
disclosure: some affiliate links used