Thank you to Gordmans for partnering with me on today's post. As always, all thoughts and opinions are my own.
Over the coming weeks, I'm going to be sharing various tips for getting your home ready for the holidays! Today, I'm going to be focusing tips on how to prepare your guest room for the holidays. You'll also get a peek at some really cute updates I made to our guest bedroom (and bathroom) along the way!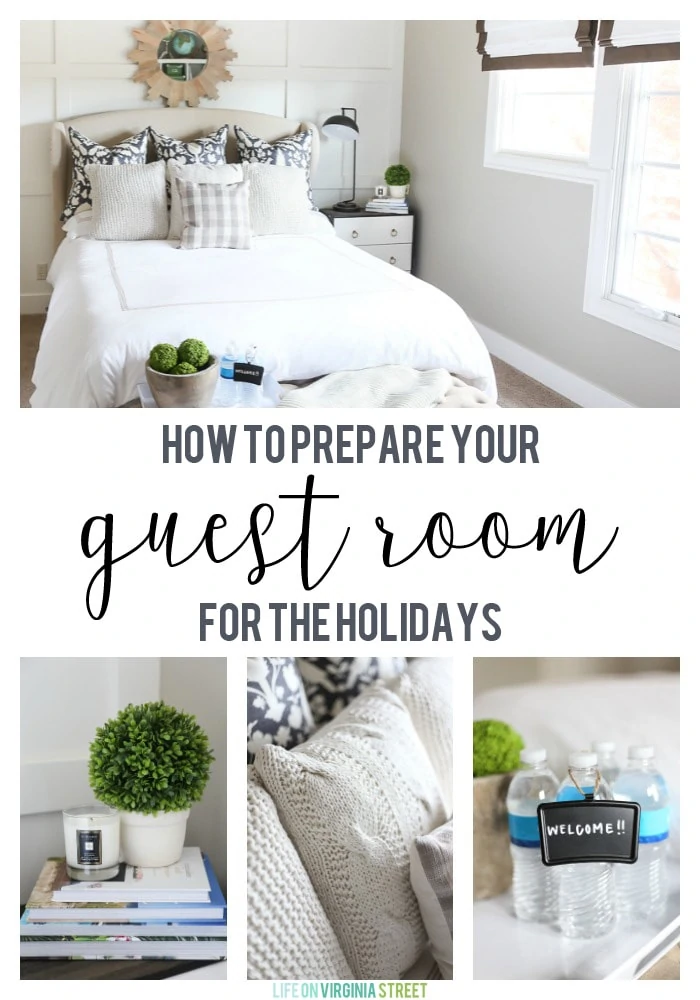 I like to save the cleaning of the space (including washing the sheets) until a day or two before our guests arrive so everything smells fresh. Then I shut the door to keep out the cats. The tips I'm offering below are items you can take care of several weeks prior to the arrival of your guests to reduce your stress levels! All the extra details will ensure your guests have a welcome stay!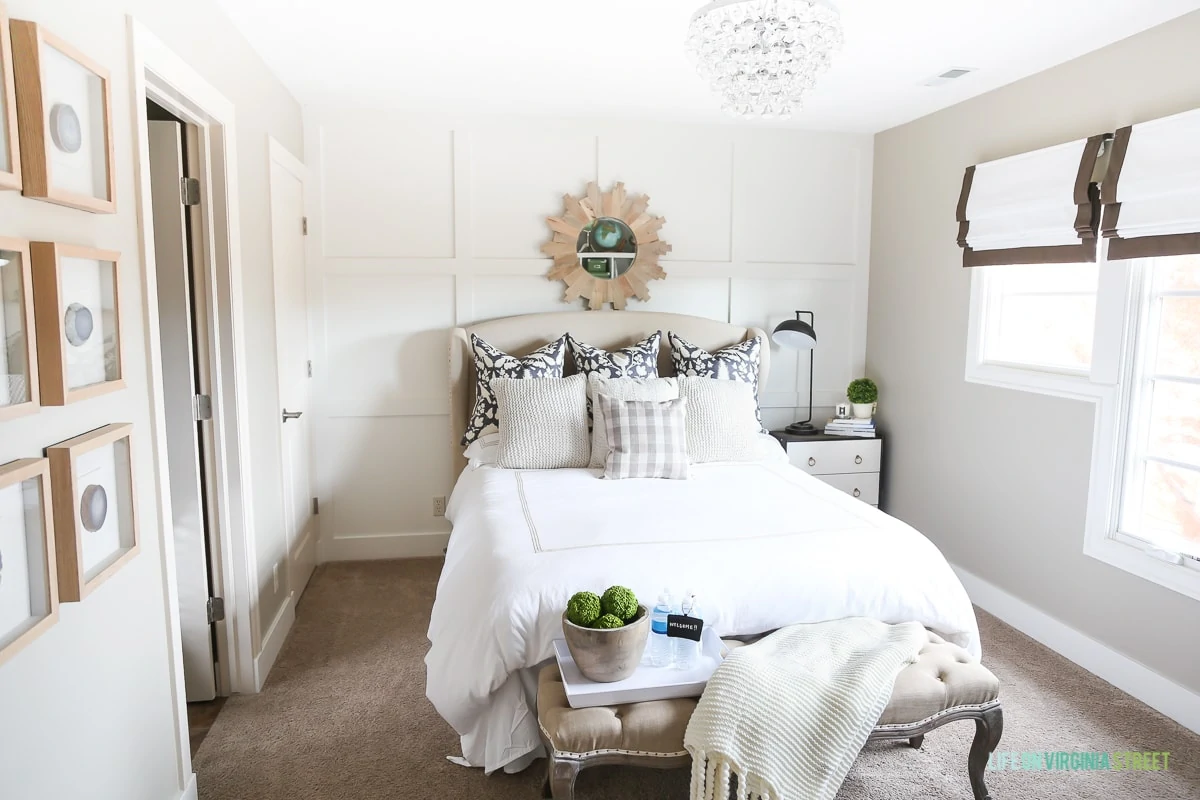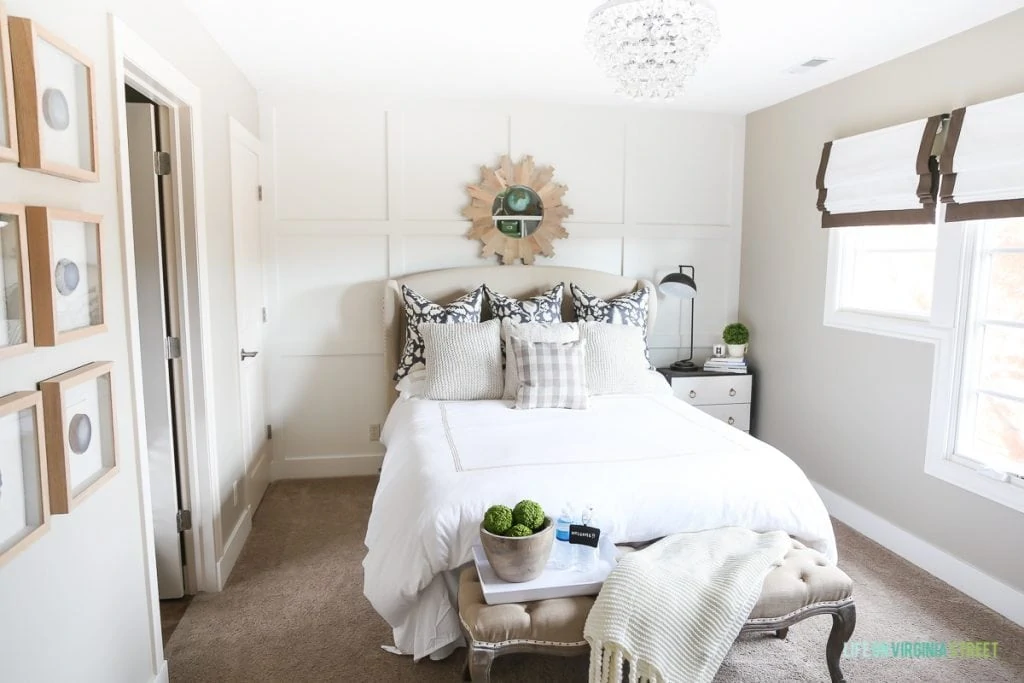 Add Extra Layers and Texture to Bedding
It's probably going to be difficult to have your house the exact temperature that is ideal for every guest you host. I love to add several throws and extra layers on our guest bed so that guests can be comfy regardless of their temperature sleeping preference! As an added bonus, the throws help add texture and warmth to your room. I also found those gorgeous sweater throw pillows and buffalo check pillow at Gordmans and I'm completely obsessed. The sweater pillows were only $16.99 which is a fraction of what I've seen them for in past years at other stores. Although they're neutral, that texture makes them really stand out!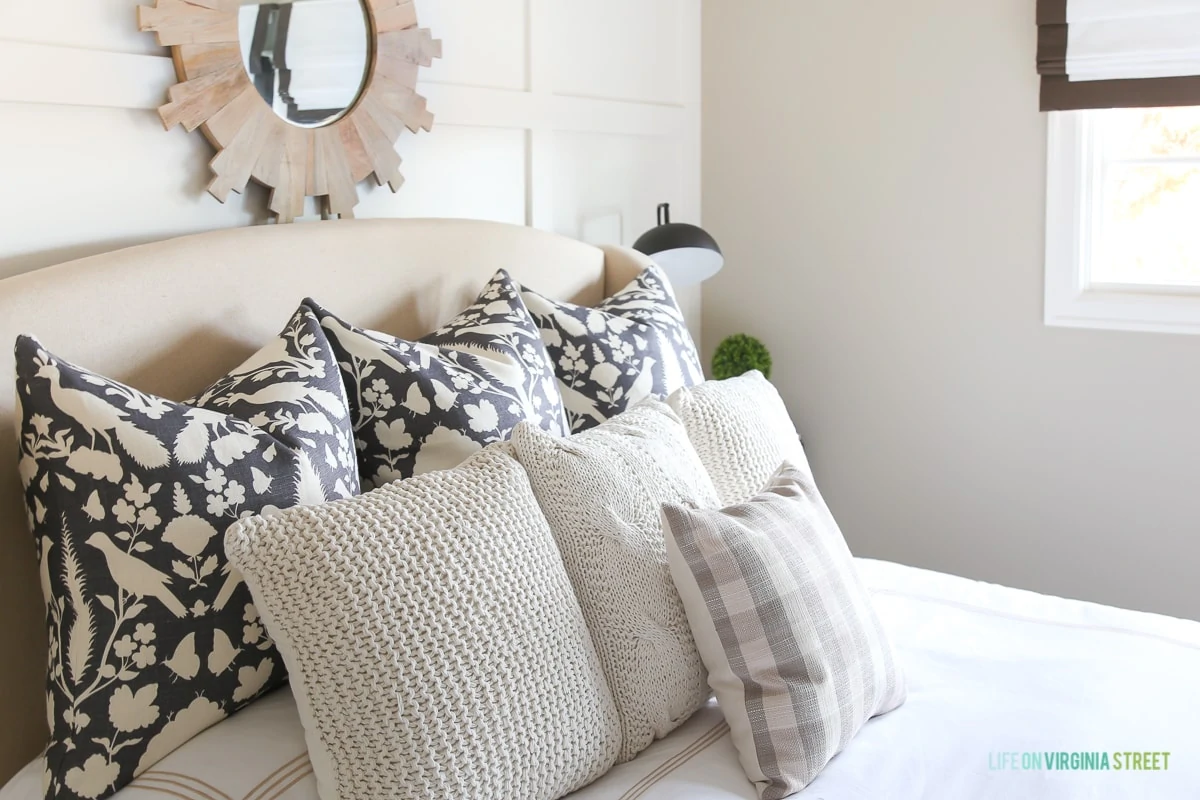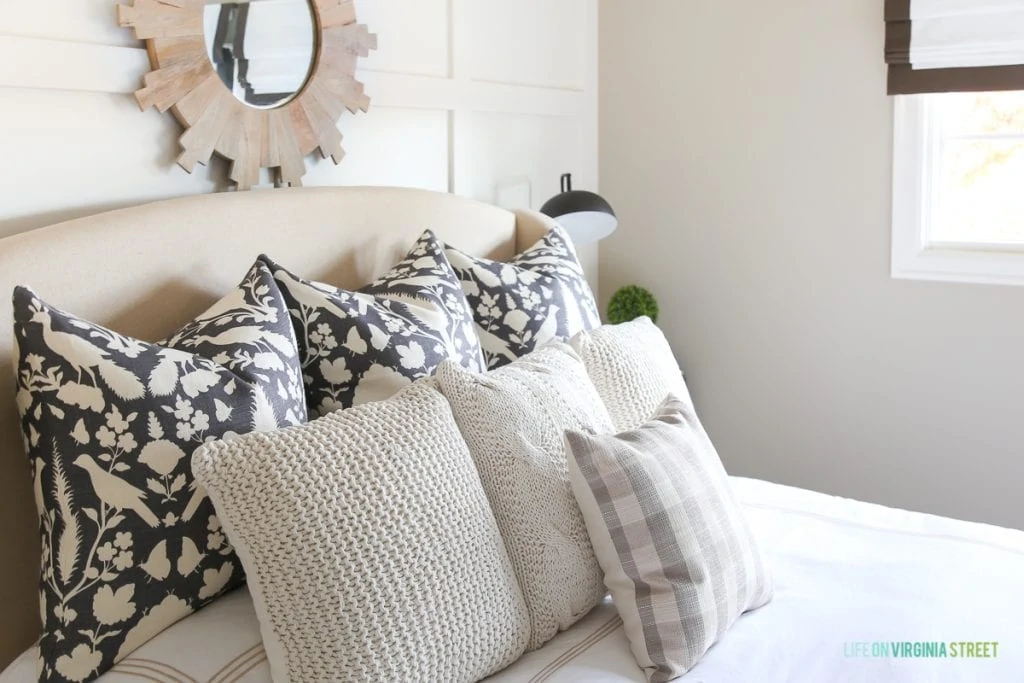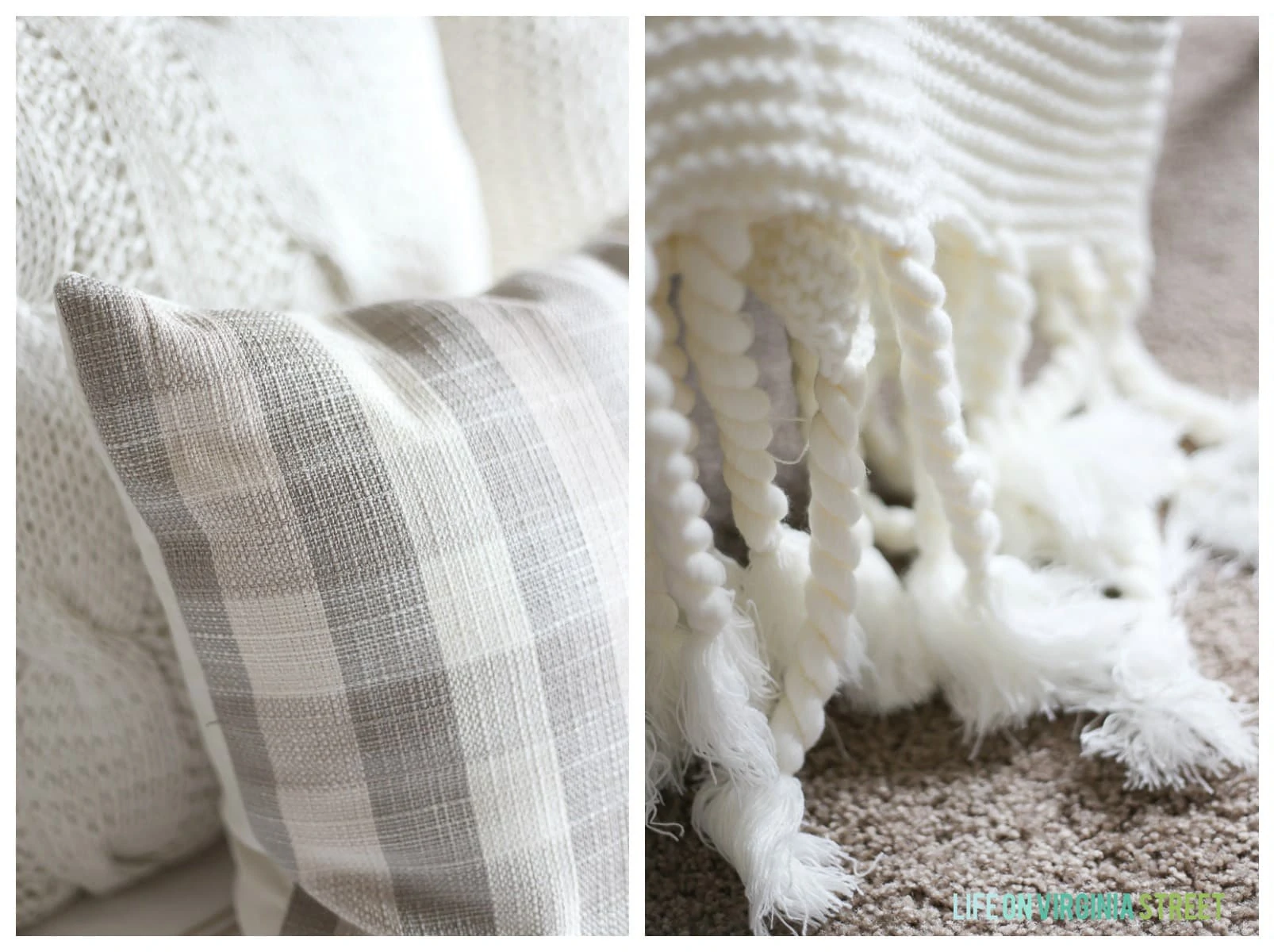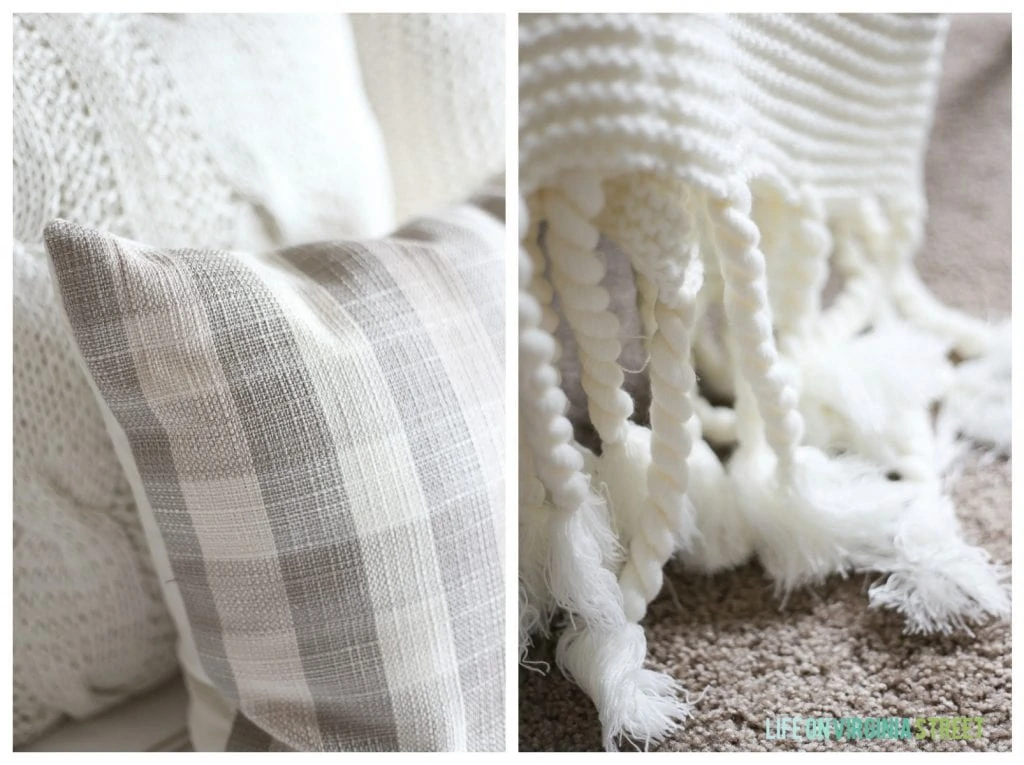 Add Art to Bare Walls
Sometimes guest bedrooms become a decorating afterthought. We focus on the essentials like bedding and then move on to more frequently used spaces in our home. In our guest bedroom, the only thing I had ever hung on the walls was the mirror over the bed. When I saw these agate shadowbox frames at Gordmans, I knew they would be perfect for a focal wall on a large empty wall we had in the room. Although this was my most expensive addition, it is by far my favorite and can be left hanging for every season!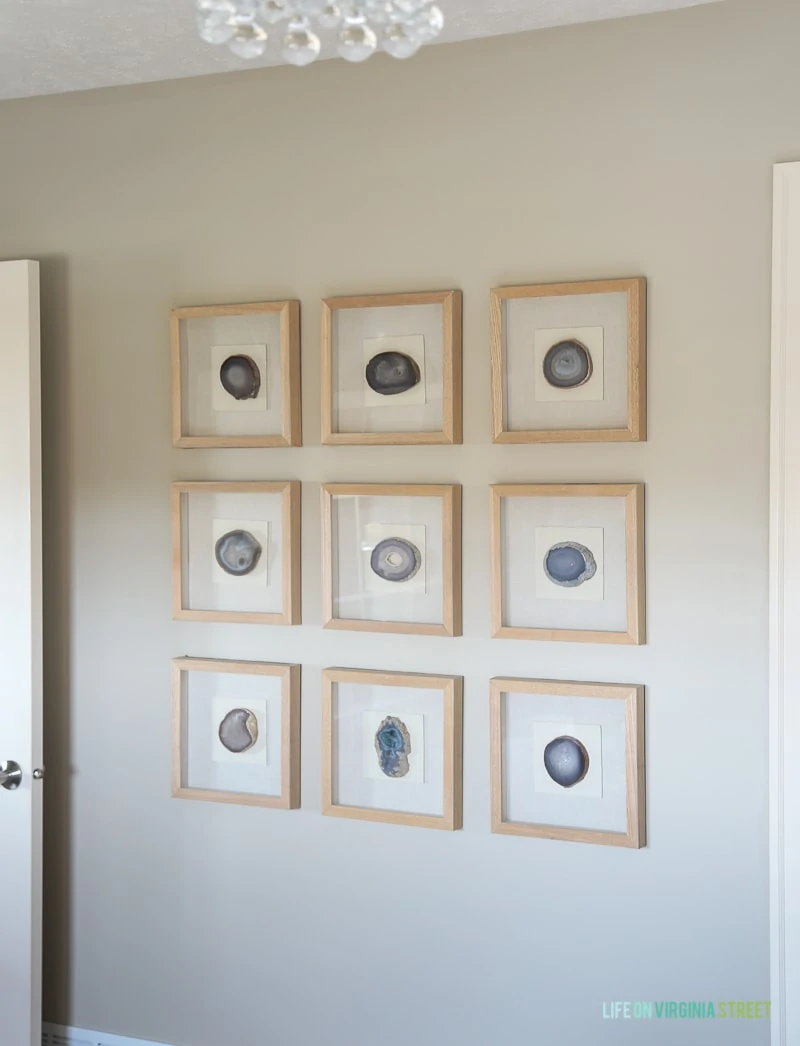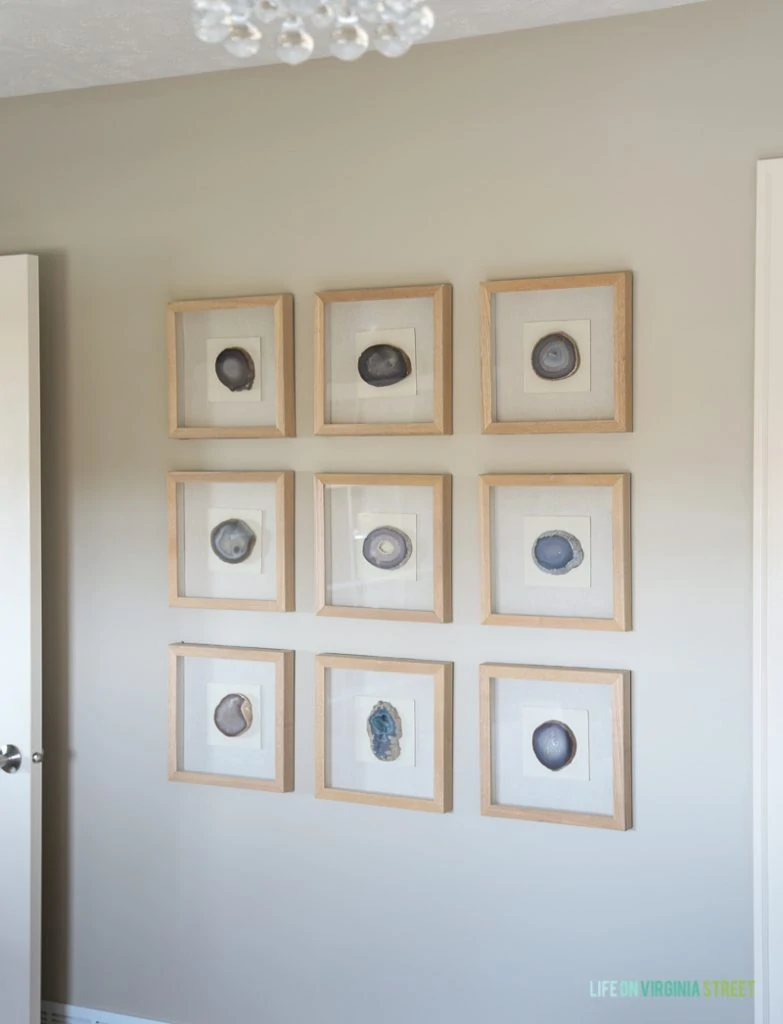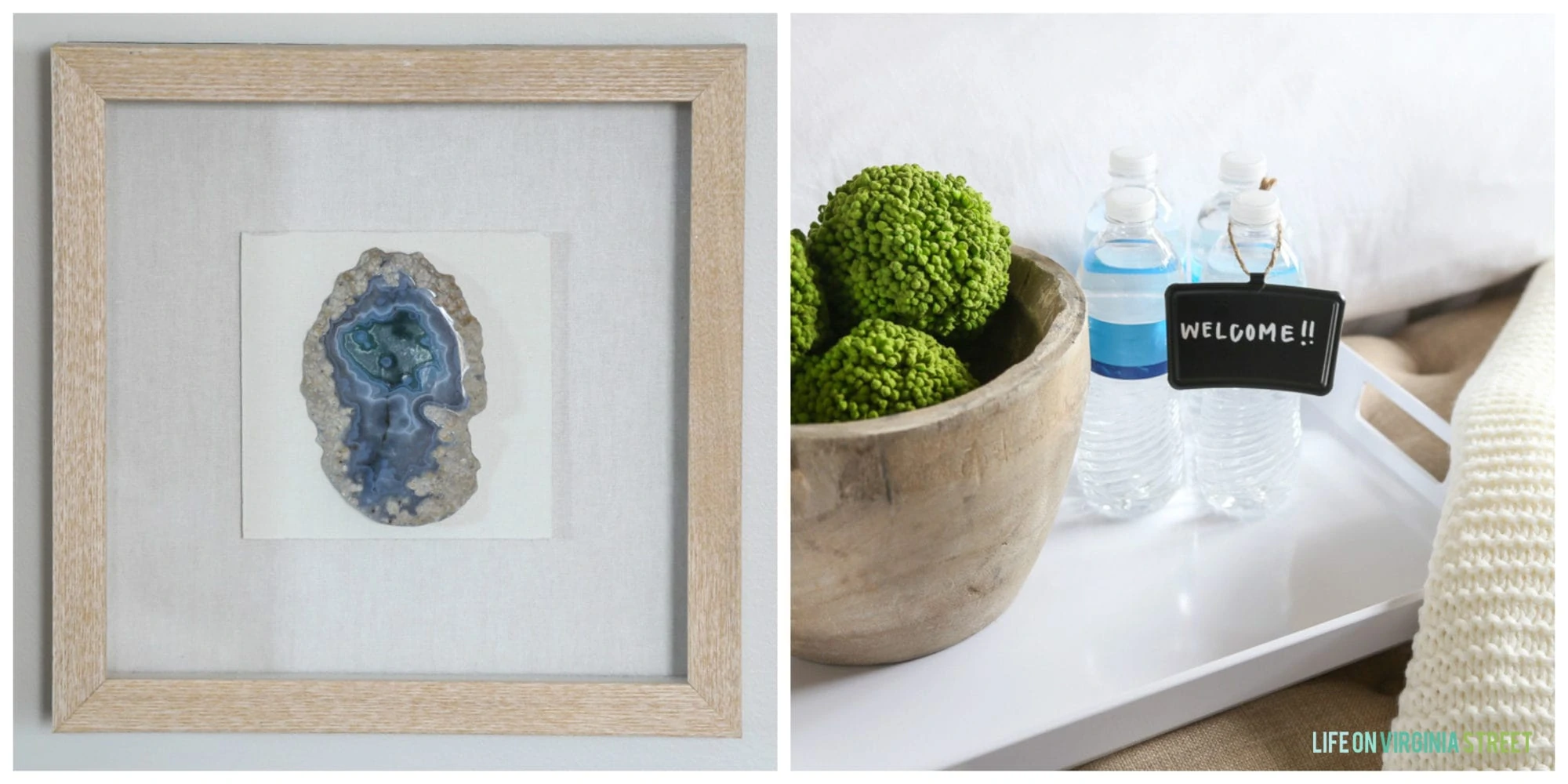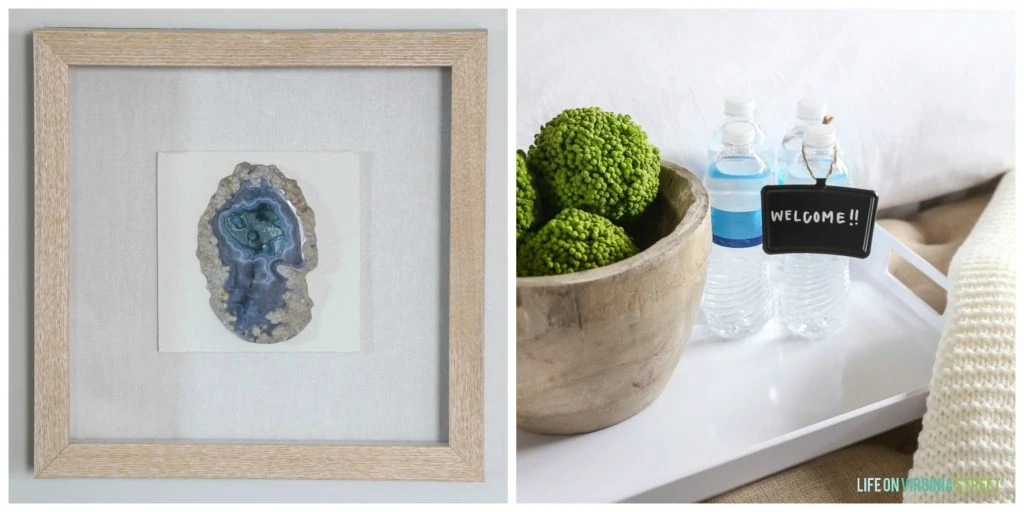 And a Rug to Cold Floors
If you have bare tile or wood floors, add a rug for warmth in the colder months. I found this super cute rug at Gordmans that reminded me a lot of the much pricier Dash & Albert versions. Bonus – it can hide ugly tile if you're not a fan of yours! I was so excited to be making all these updates in this guest bedroom, that I got a wild hair and decided to paint the bathroom cabinets. They went from blue (you can see more on those here) to gray. While editing the photos – I realized I forgot the toekick. Oops! It was a super random update, but one I had been wanting to do for some time. Sometimes, the anticipation of guests will push you to complete those projects you've been pushing off! I'll share more details on the bathroom updates soon, but first, I want to get the walls painted. They're still the flat, flesh-toned paint that was in all the rooms when we moved in.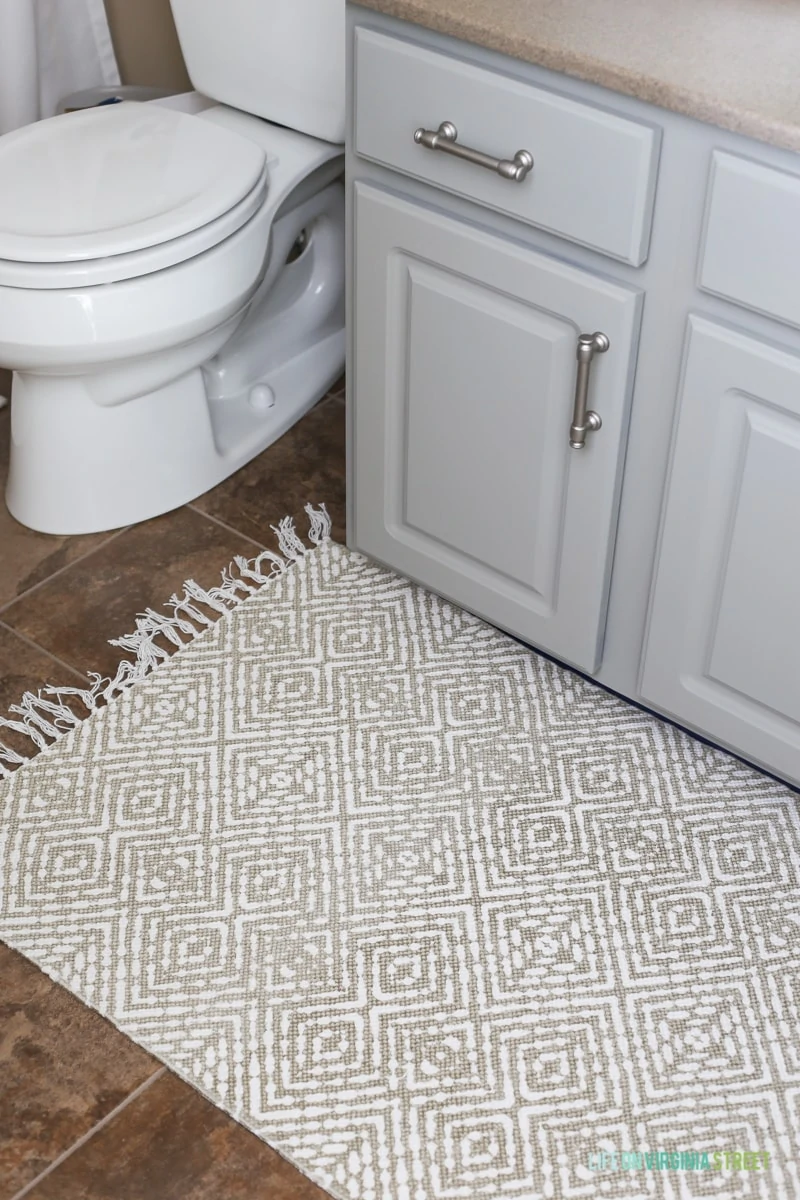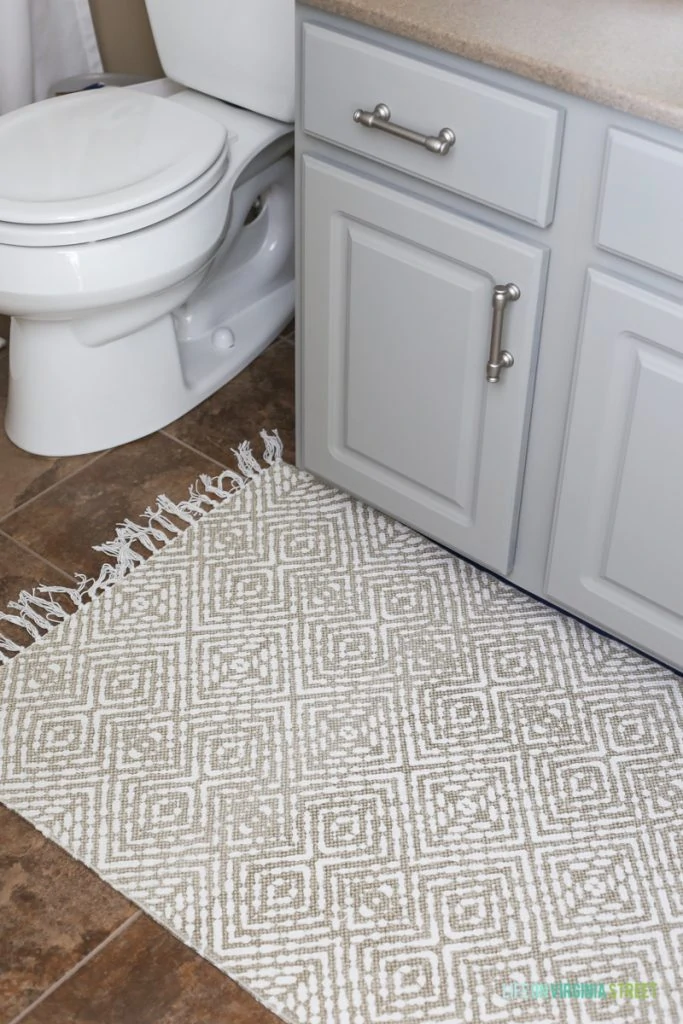 Stock Your Guest Bathroom with Essentials
I found this tray from Gordmans and stocked it with canisters full of cotton balls, q-tips, toothpaste and hair products. This is a great place to use travel-size products in case your guests forgot theirs! I also found that cute No. 3 jar and added some maidenhair ferns for a pop of color. Everything looks more organized when it's corralled in a cute tray.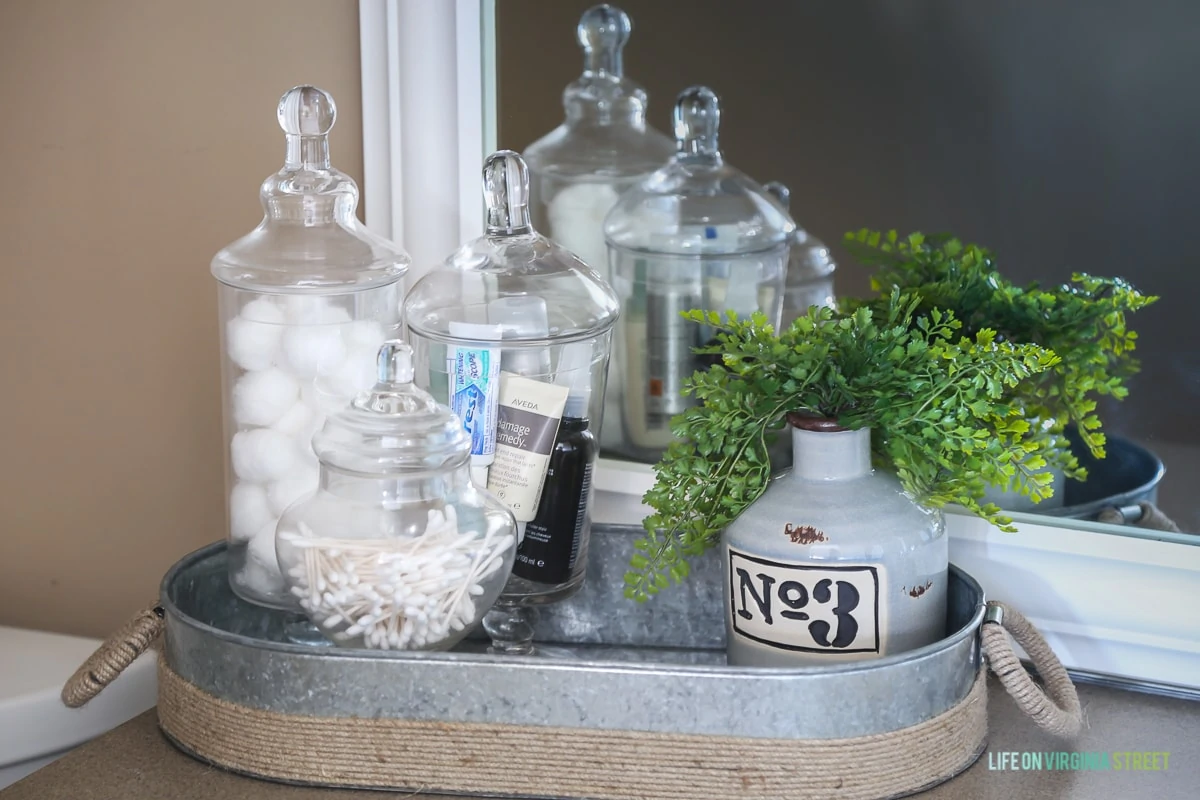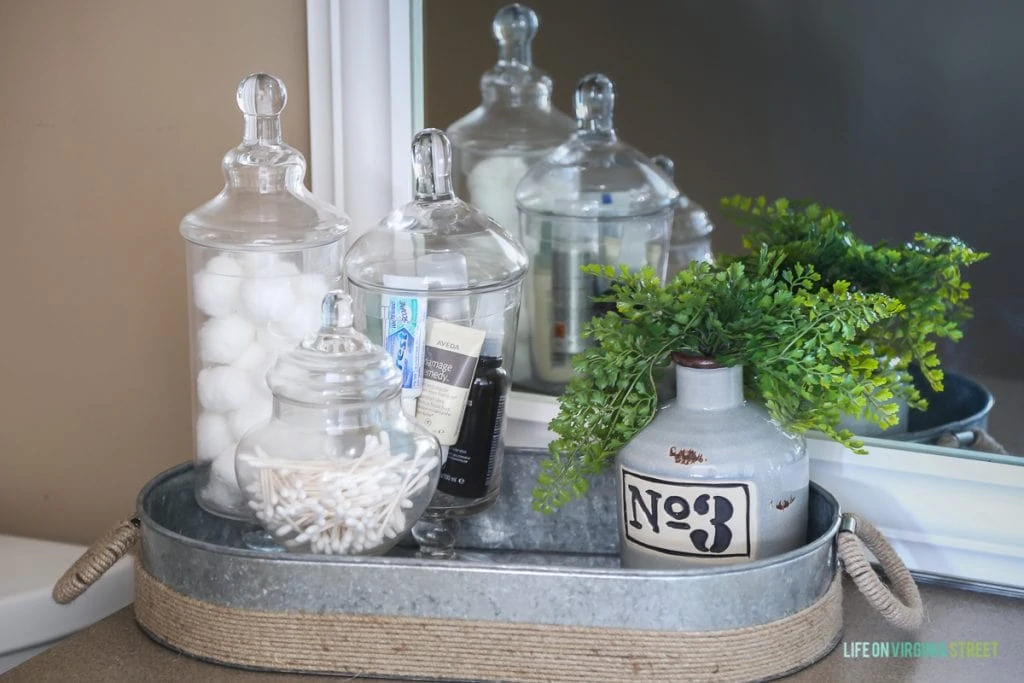 Add 'Life' With Greenery
Even if you use faux greens like I did in this room, the color can instantly help to inject life into your space. Gordmans has a really great selection of faux boxwoods, moss balls, and other green fillers – and they are much more affordable than most other stores. It's where I got all of the greenery in this room! I also like to add a variety of coffee table books or magazines to the nightstand for guests to flip through.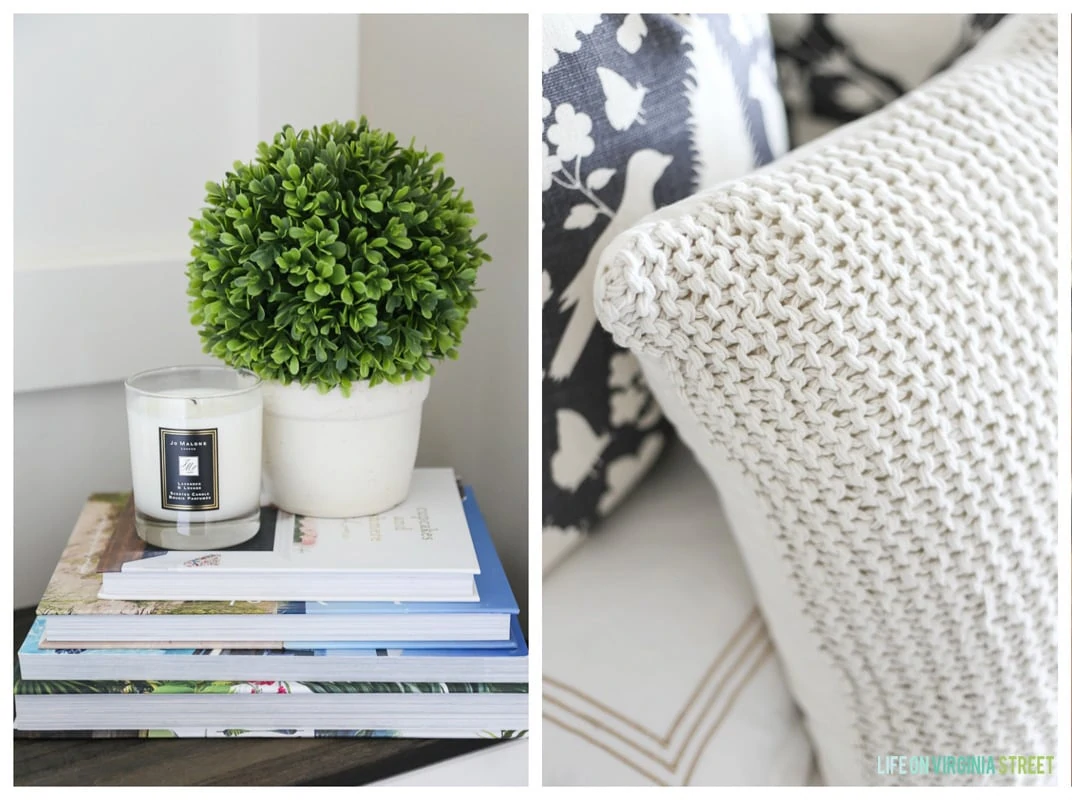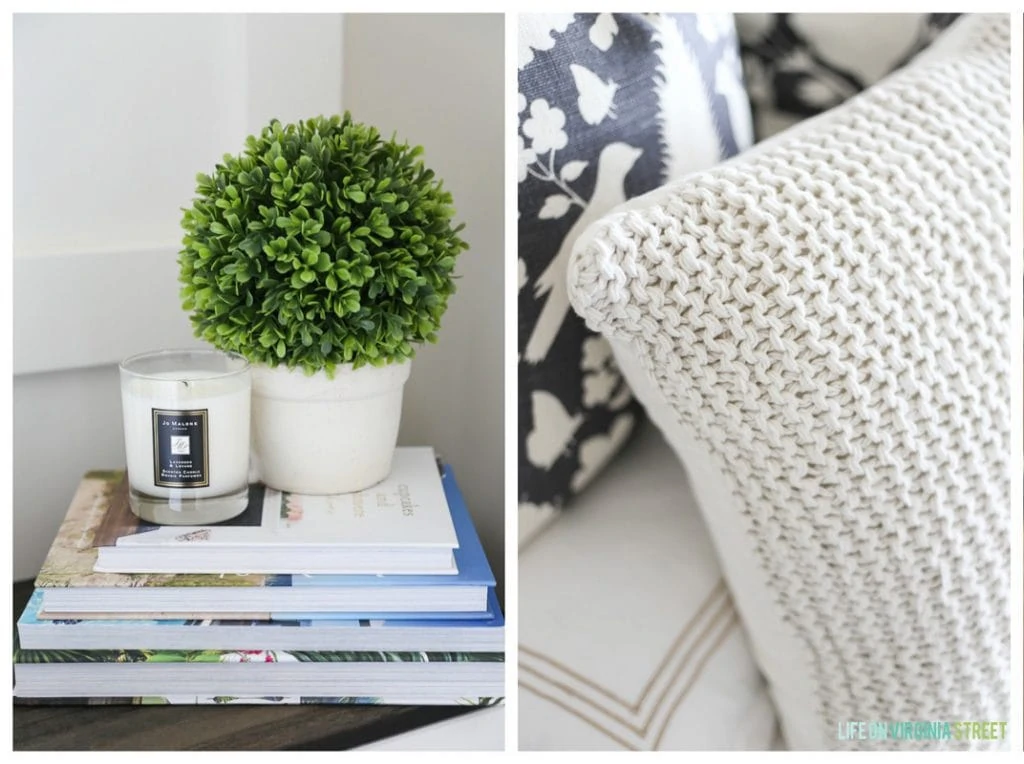 Little Details Matter
Simple, thoughtful touches like extra water bottles, convenient reading lights, scented candles, etc. go the extra mile in making your guests feel more welcome in your home! I loved the darker, industrial touch this lamp from Gordmans added to the guest room. Not only does it coordinate well with the roman shades, but it has a rotating head, making it easy for guests to adjust and get just the right amount of light. A tray at the foot of the bed can be stocked with water bottles, granola bars, etc. so guests can help themselves without feeling like they are imposing by asking you for a drink or light snack. I made the cute 'welcome' tag with a wine bottle tag and my chalk paint markers.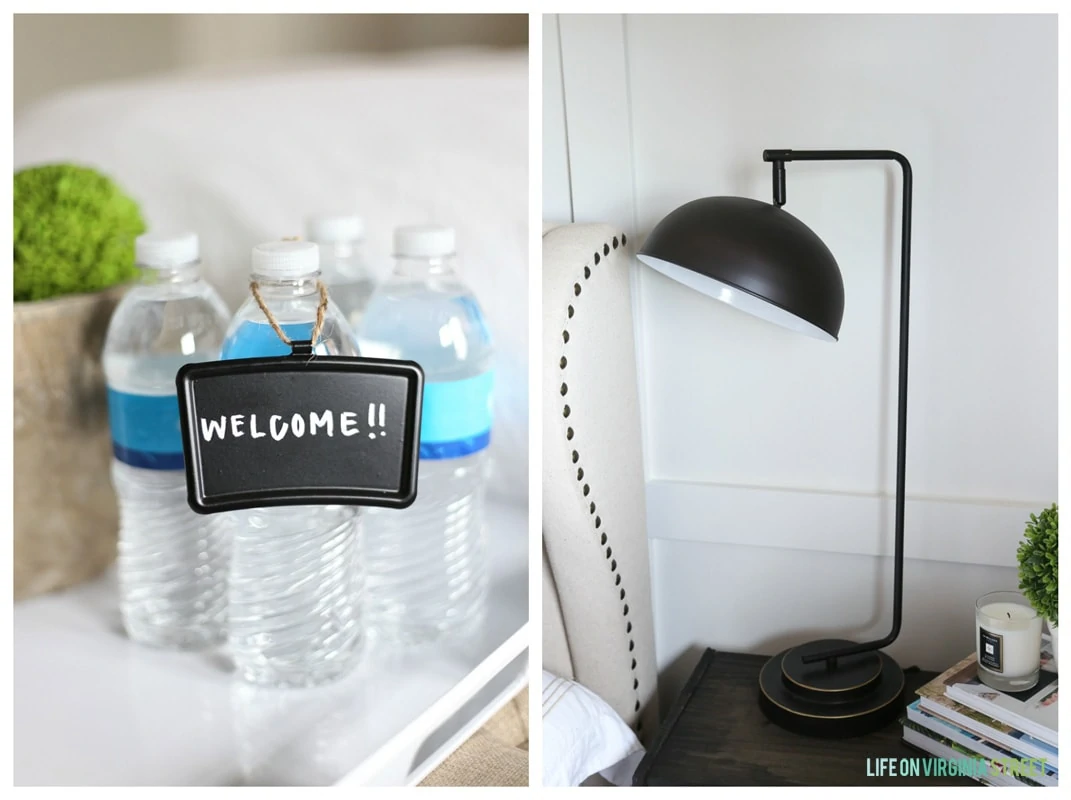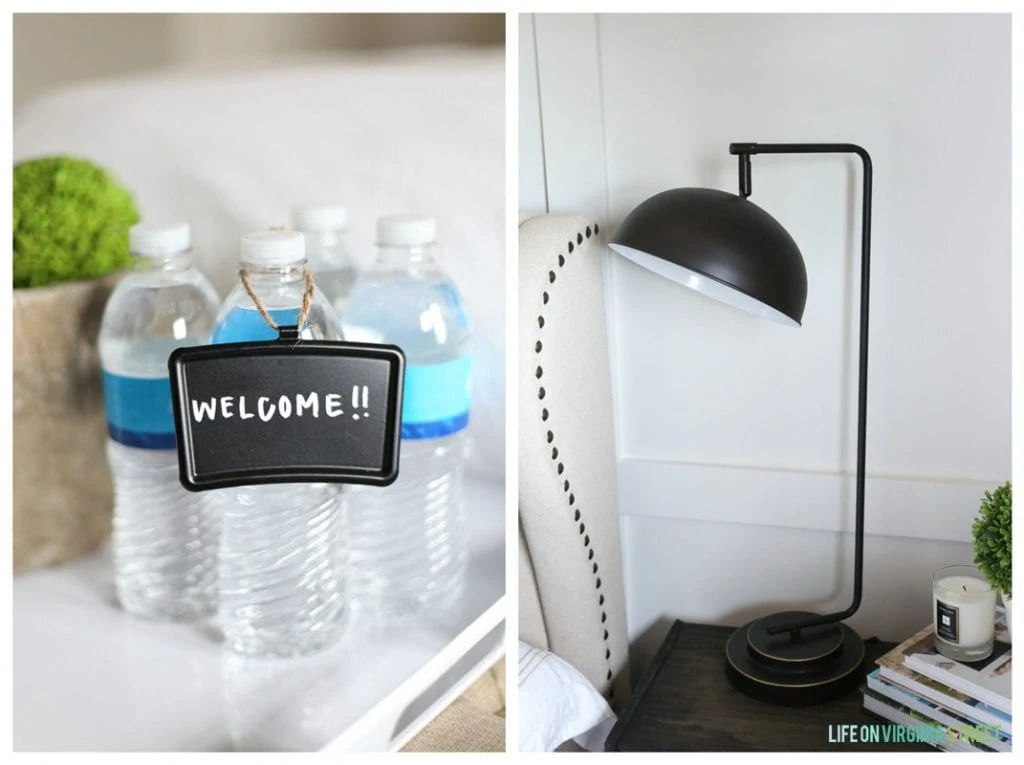 By putting in a little extra work on the front end, you'll ensure your guests feel like they're welcome and at home!
What other tips do you have for creating cozy spaces for your guests? I'll be sharing more tips over the coming weeks to prepare other areas in your home!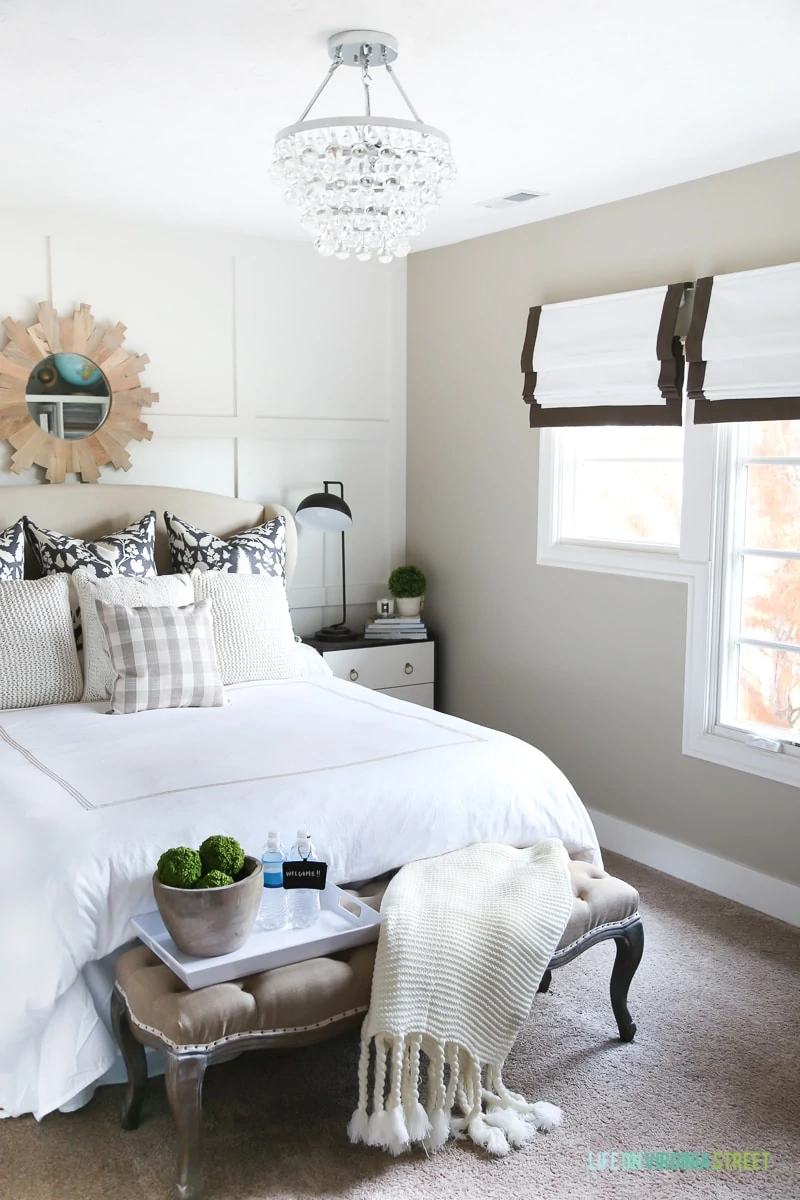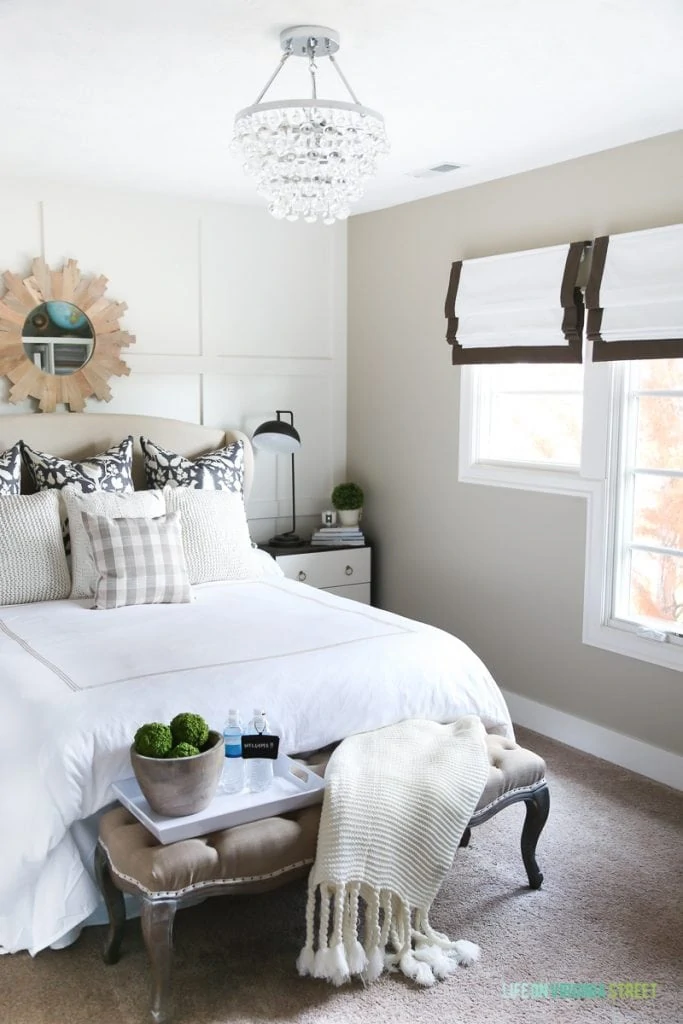 Thank you to Gordmans for sponsoring today's post! I encourage you to check out their website or stop into one of their stores to see all of their great selections! To shop the look of the other items in our room, see below.


If you would like to follow along on more of my home decor, DIY, lifestyle, travel and other posts, I'd love to have you follow me on any of the following:
Pinterest / Instagram / Facebook / Twitter / Bloglovin' / Google
disclosure: some affiliate links used in this post