Try one or all of my simple tips for entertaining in the summer and watch your guests be very impressed!
This is a sponsored post for IKEA U.S., where I am a 2017 Brand Ambassadör. As always, all thought and opinions are my own.
If I could eat every single meal outside, I would. However, living in Nebraska, it's not always an option! So, in the warmer months, I make every effort to eat outside as much as possible. Today I wanted to share some tips for simple summer entertaining with style!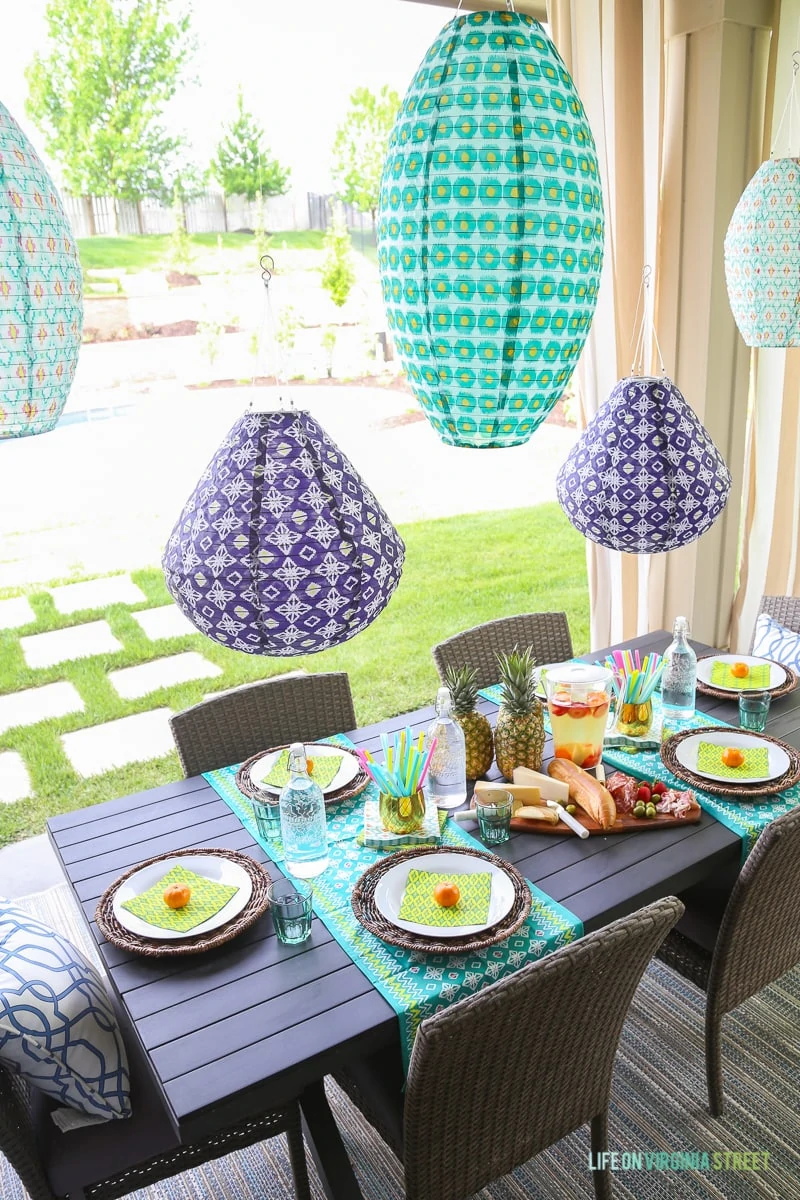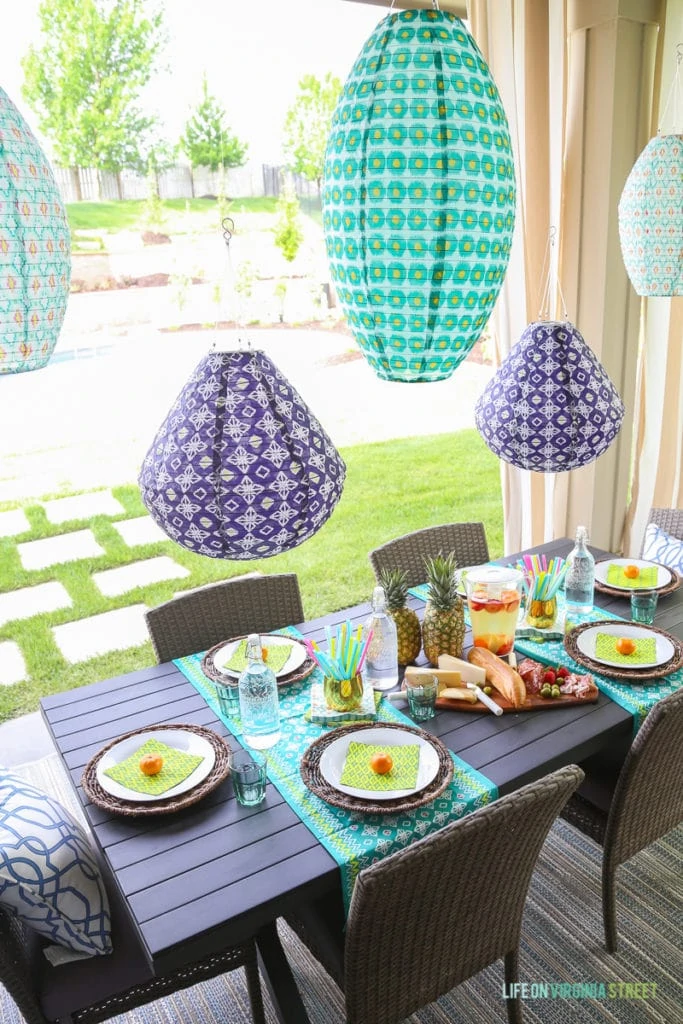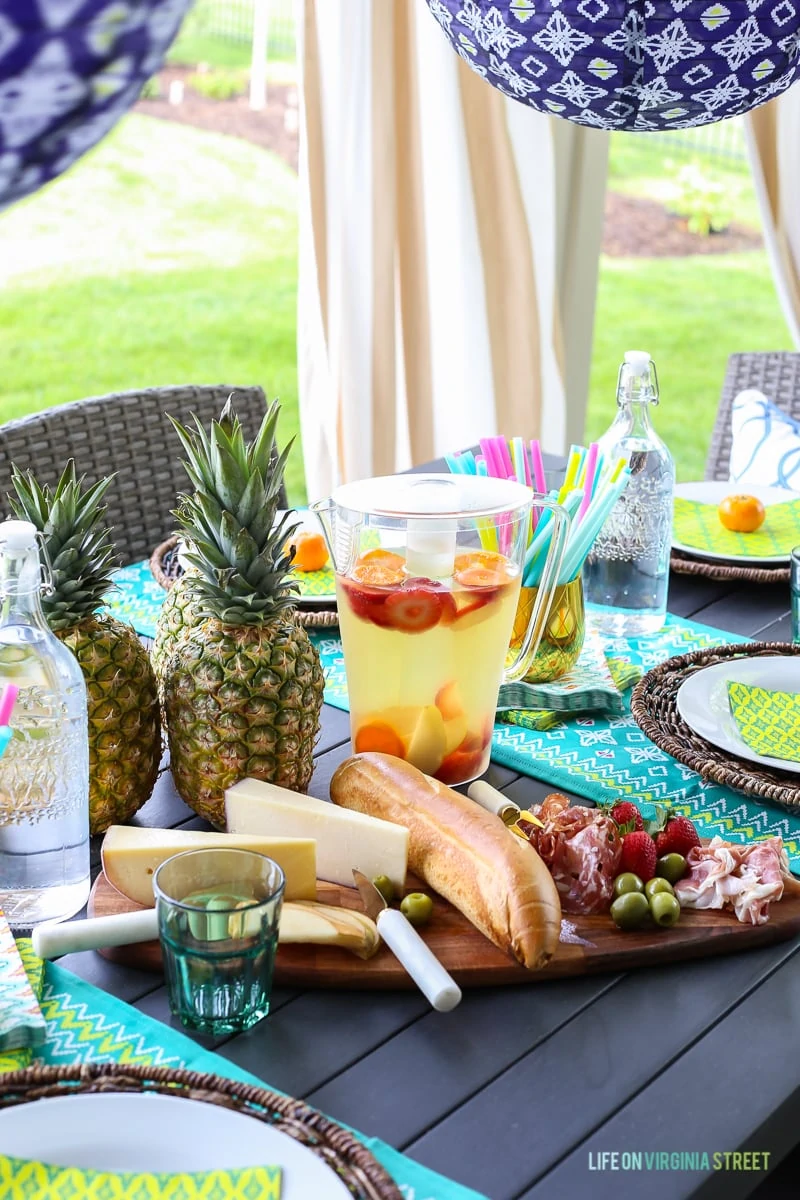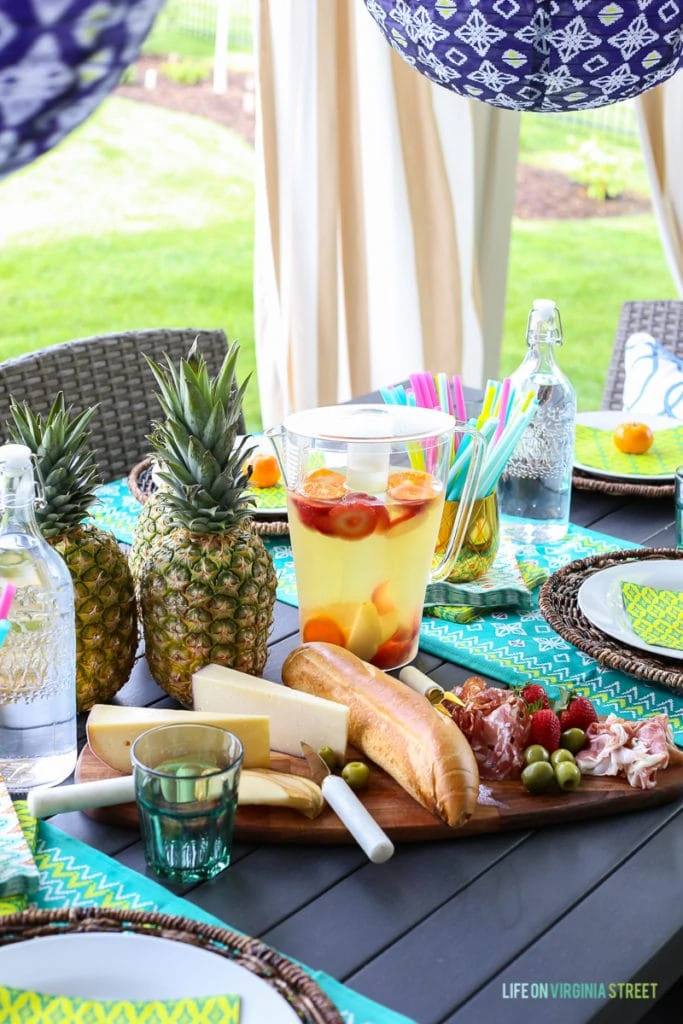 Skip the Fancy Centerpieces
Your table can still have a party vibe without a fancy centerpieces. I picked up three fresh pineapples at the grocery store, and used two of these SOMMAR table runners to add some bold personality to the tablescape.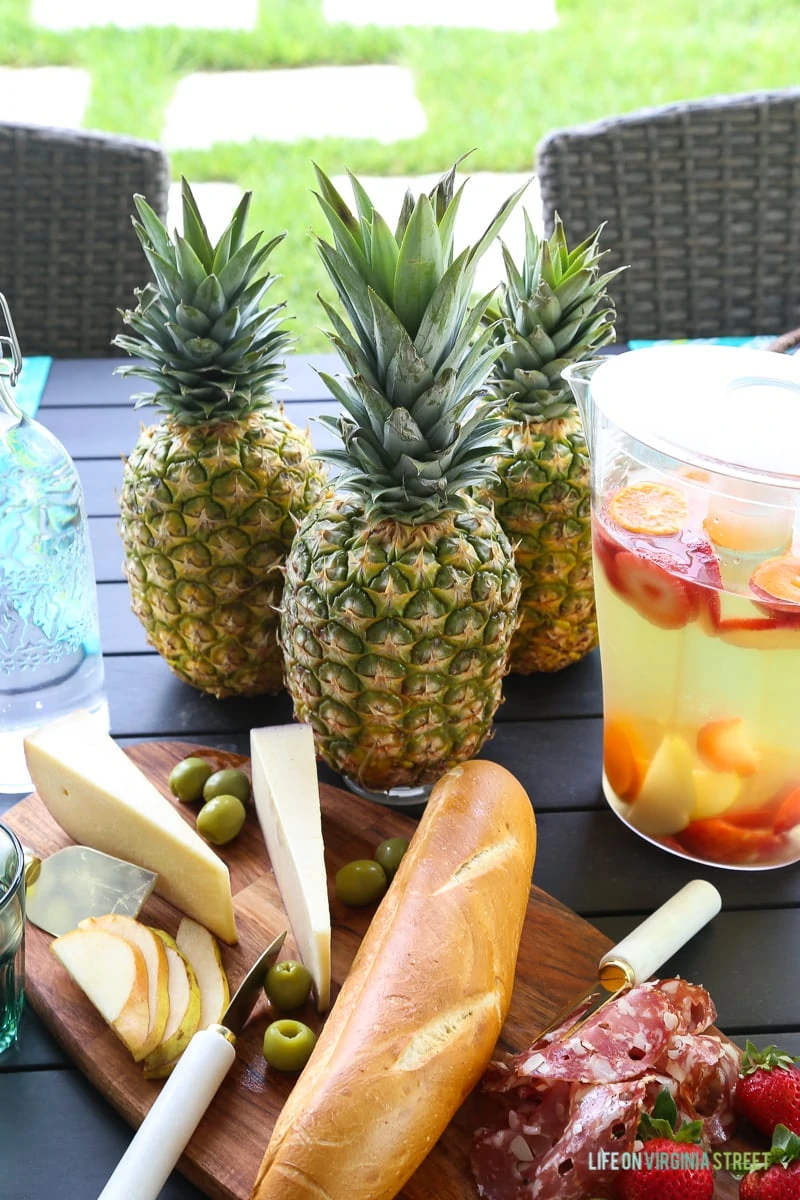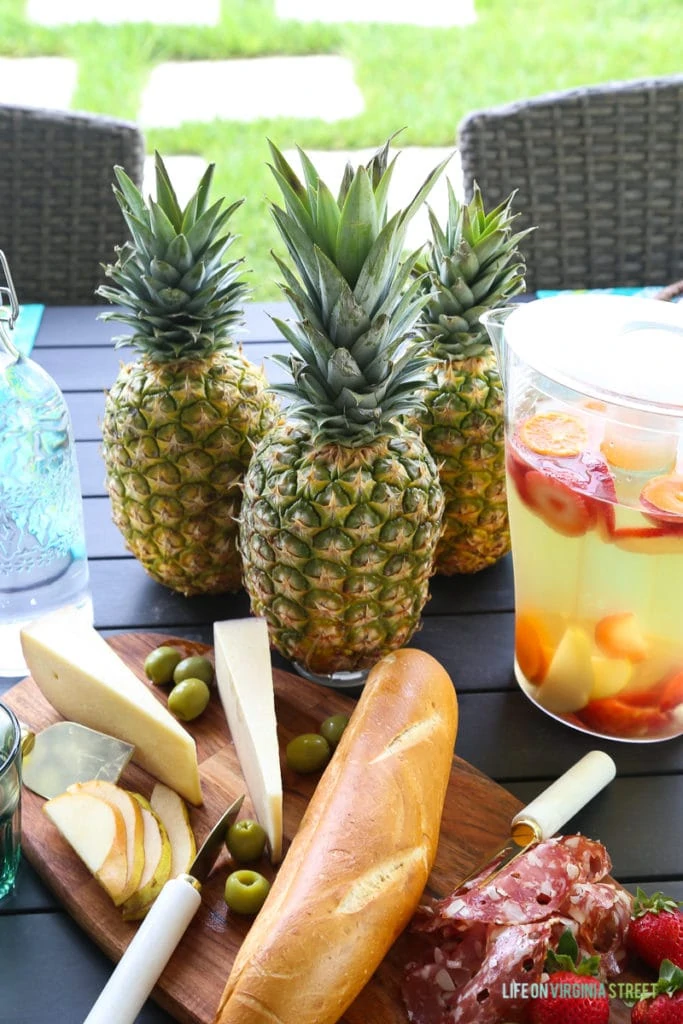 Add to the Ambiance with Fun Lighting
The addition of whimsical string lights, fairy lights, lanterns, etc. help to add a magical feel to your outdoor parties, especially at night! I opted to use these patterned SOLVINDEN pendant lamps (found here, here and here). Although this was a day-time spread, the lanterns are solar powered and have built-in LED lights that create such a cool vibe at night! We had them hung in about ten minutes with some string and push pins! They'd also be beautiful hung in trees throughout a yard! This ambient lighting can make even the most basic of meals feel special!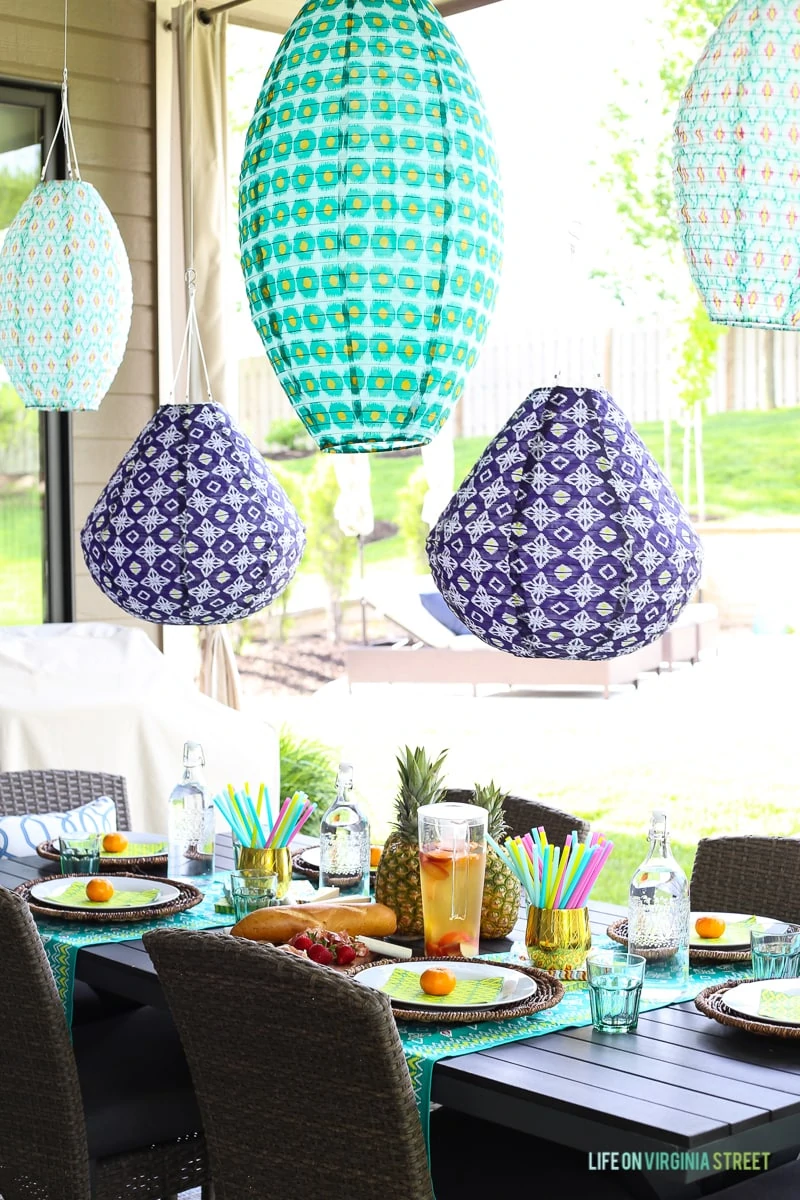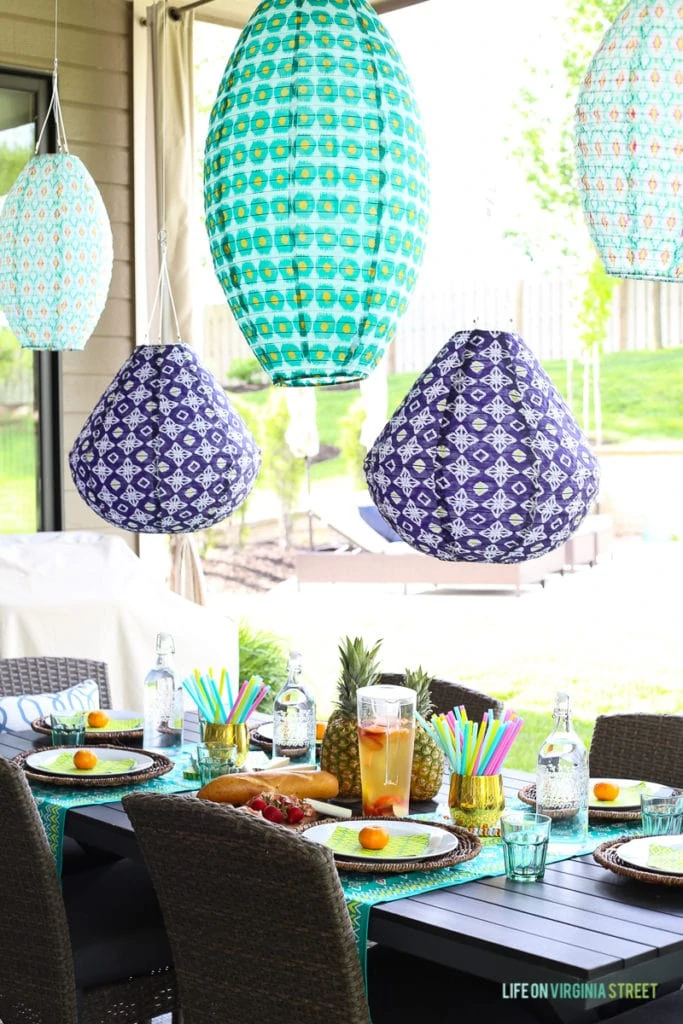 Get Creative with Serving Pieces
I love the SOMMAR pitcher because there is a clever long, freezable insert that goes down the center of the pitcher and connects to the lid. It makes your drinks really cold without watering them down with ice!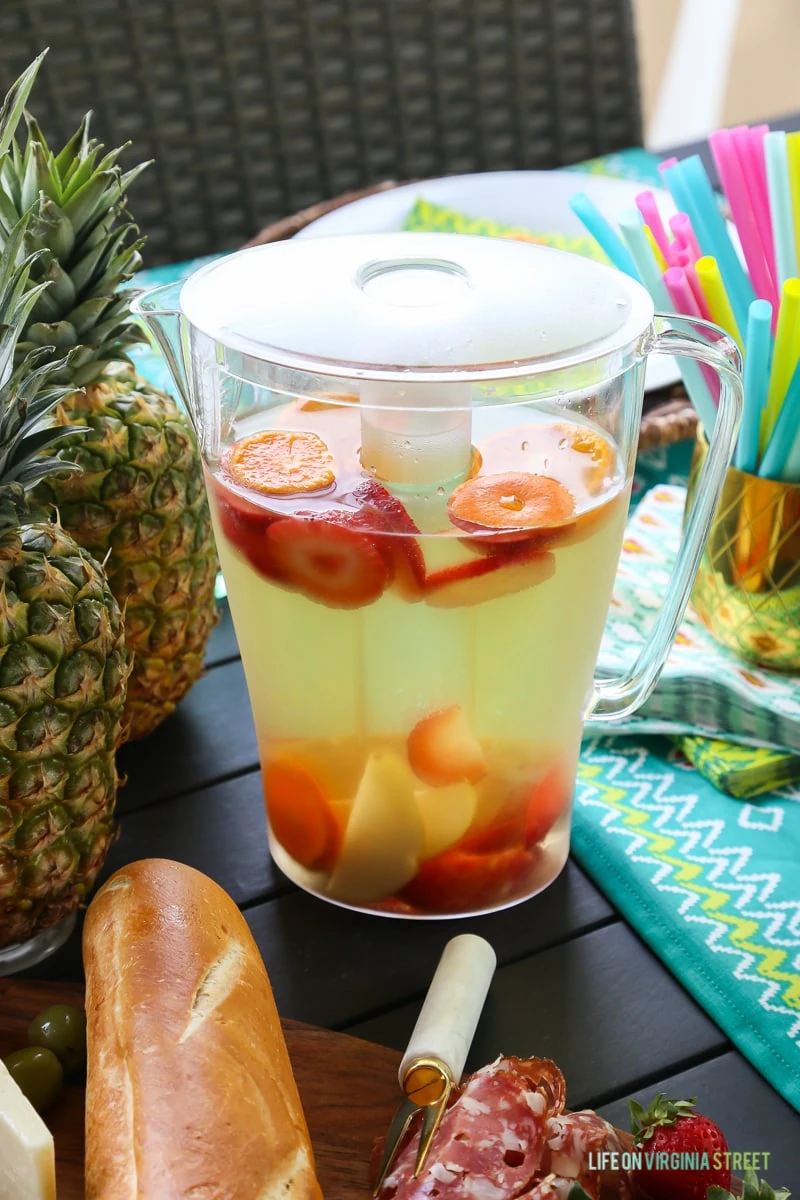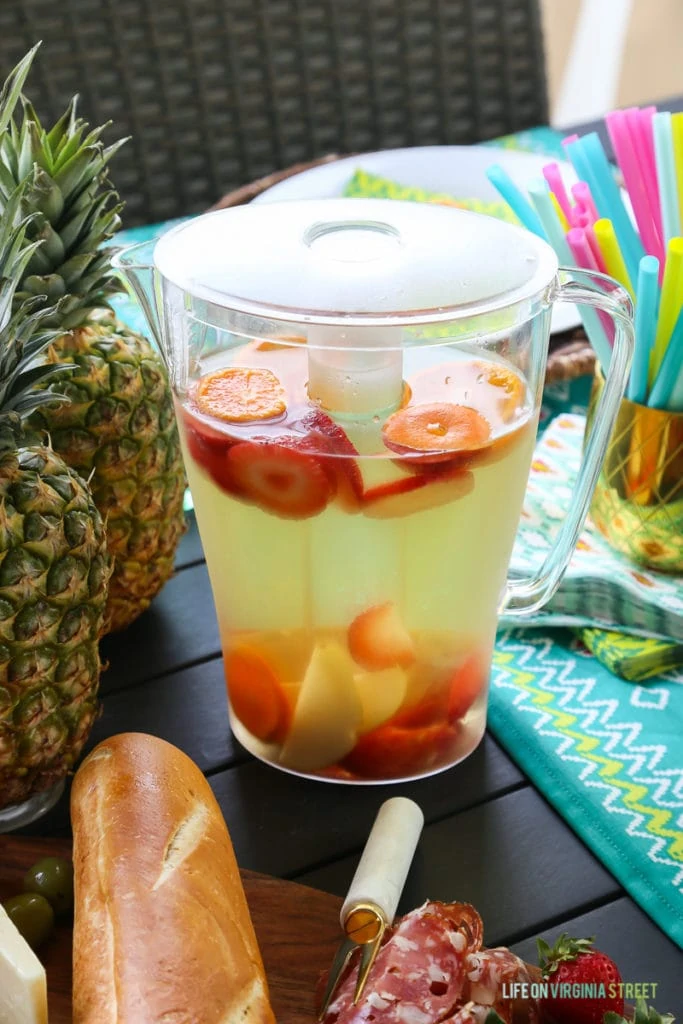 I also love to add water in unique containers to make it feel just a bit fancier. These SOMMAR bottles with stoppers are the perfect solution! And the pretty pattern on the glass coordinates so well with the other items.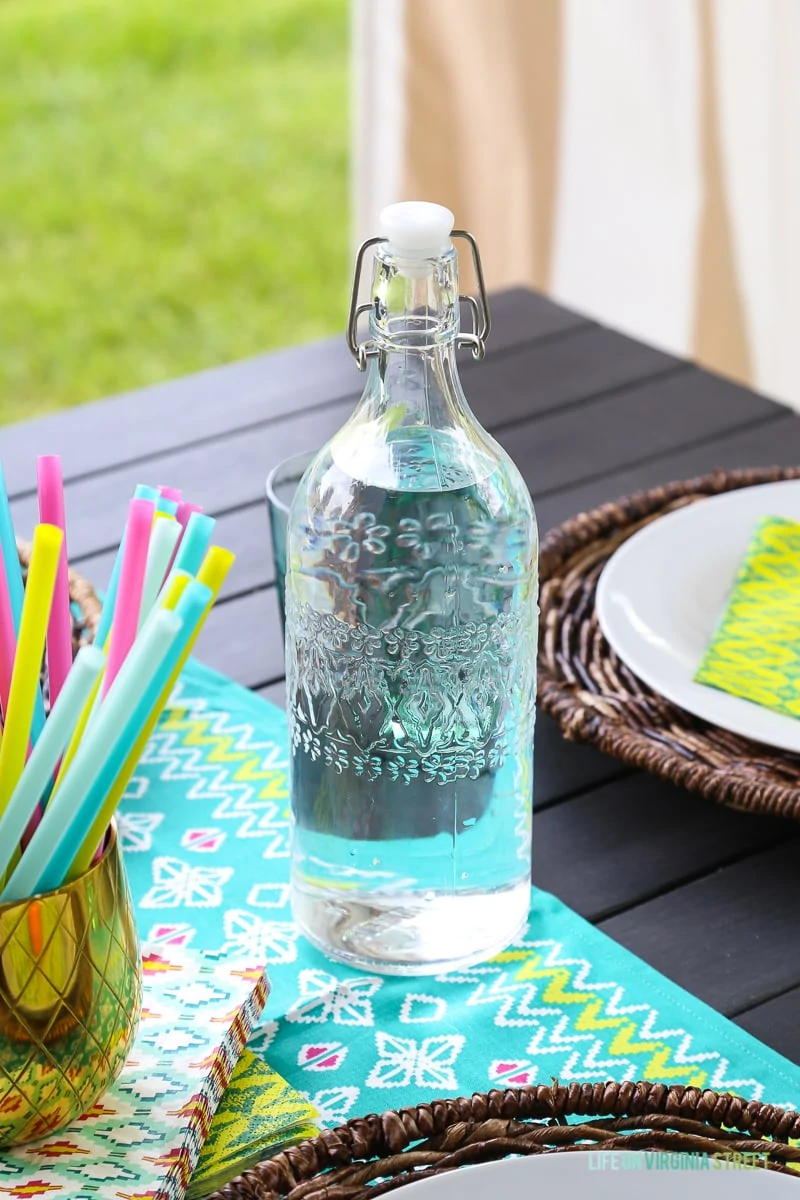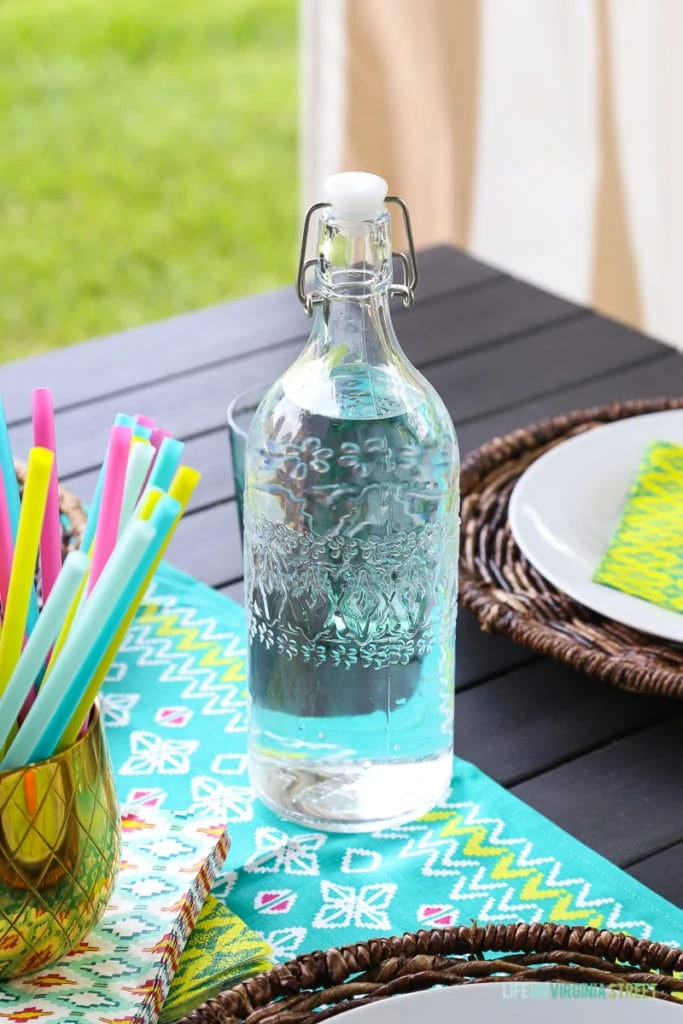 Plan Out Your "Anchors"
To plan for windy days (or "every day" as we call it in Nebraska), coordinate to have some anchors to hold down decor items that can blow away. To go with the fruit theme, I simply used some clementine oranges to hold down the napkins at the place settings. I then used the gold pineapple straw vessels at each end of the table to anchor the extra napkins there. Your anchors can look like intentional parts of your decor, even if their purpose is to solely stop items from blowing away!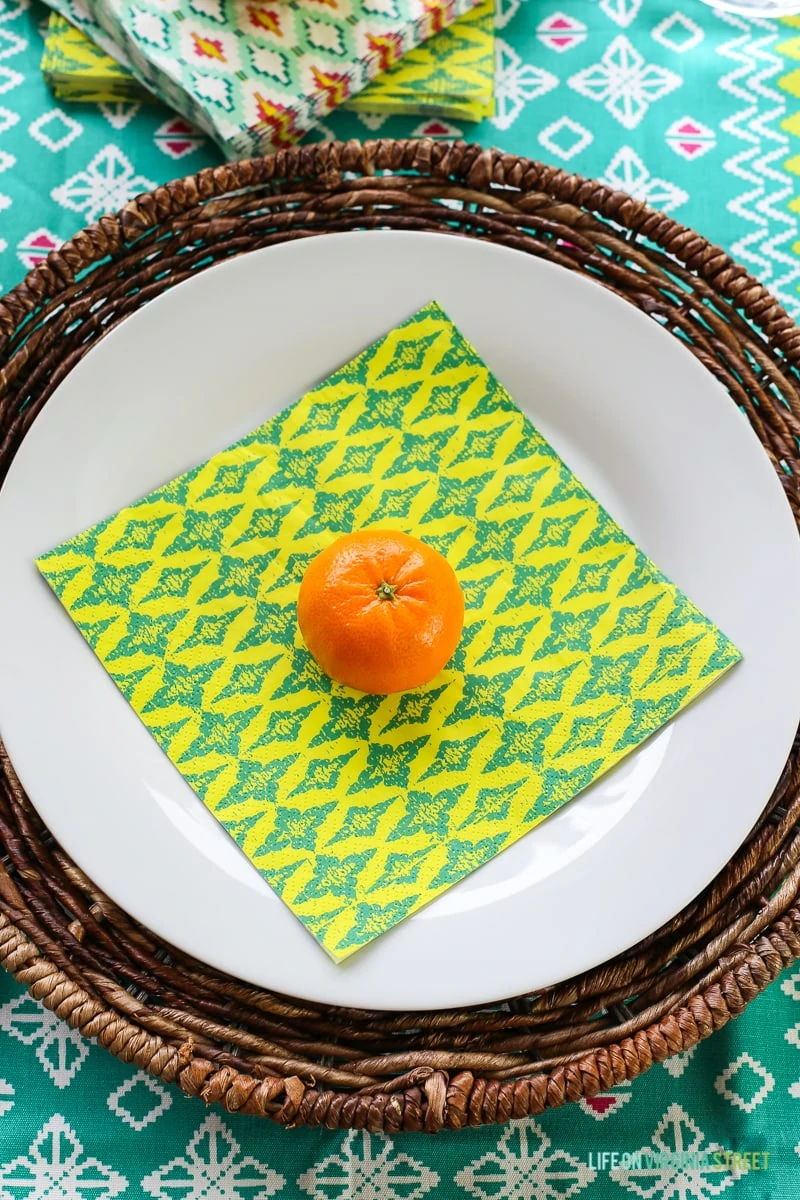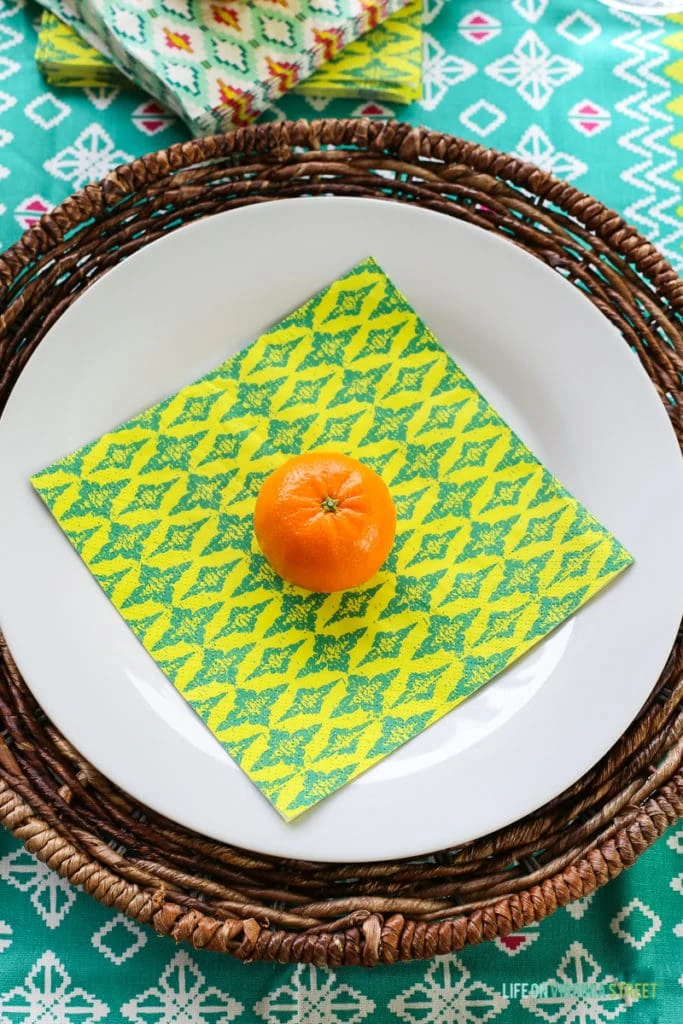 Add In Some Color
When hosting a party outside, keep in mind that the sunlight tends to wash out colors. I love to use bright and saturated colors for outdoor entertaining. These colorful SOMMAR napkins (I used this set and this set) are incredibly affordable and coordinate perfectly with the lanterns.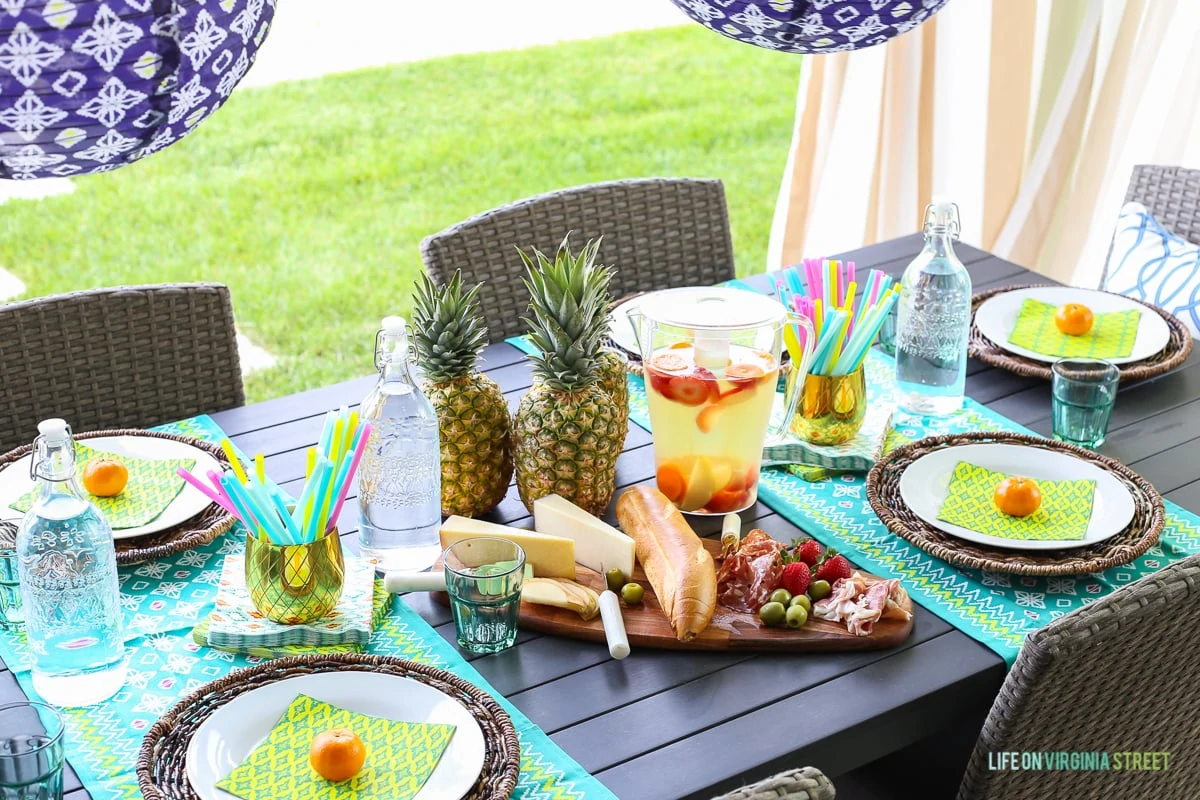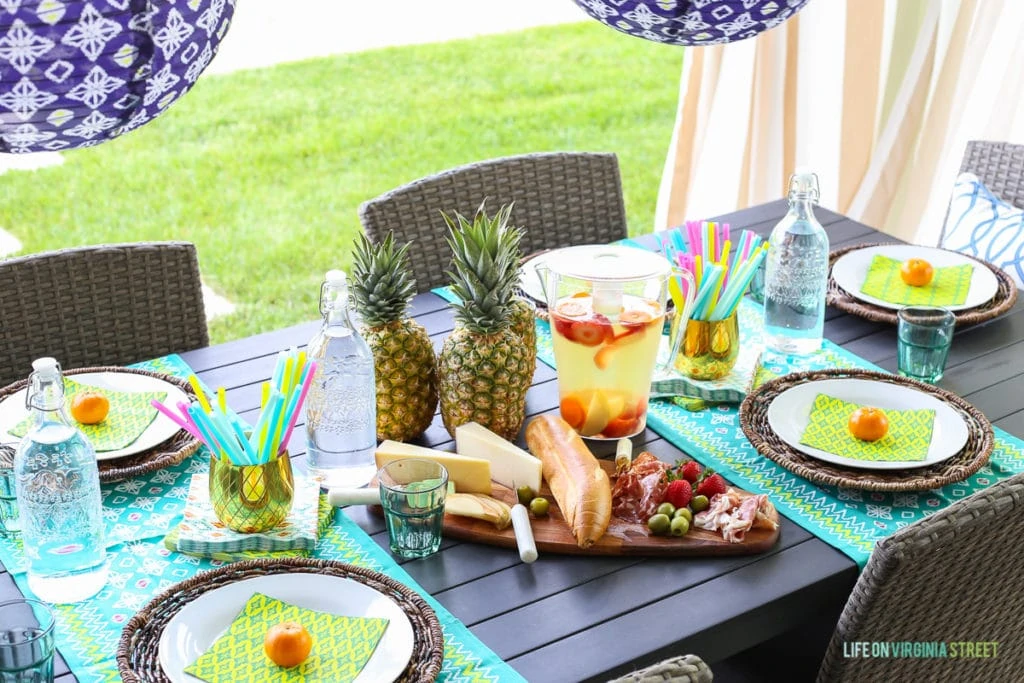 If being obsessed with straws is a thing, then I'm definitely obsessed with the SÖTVATTEN straws. It may be hard to tell in the pictures, but they are bigger than traditional straws, and I absolutely love the combination of colors included! Plus, they're only $1.99 for a 100 pack! These green SOMMAR glasses are also a perfect addition!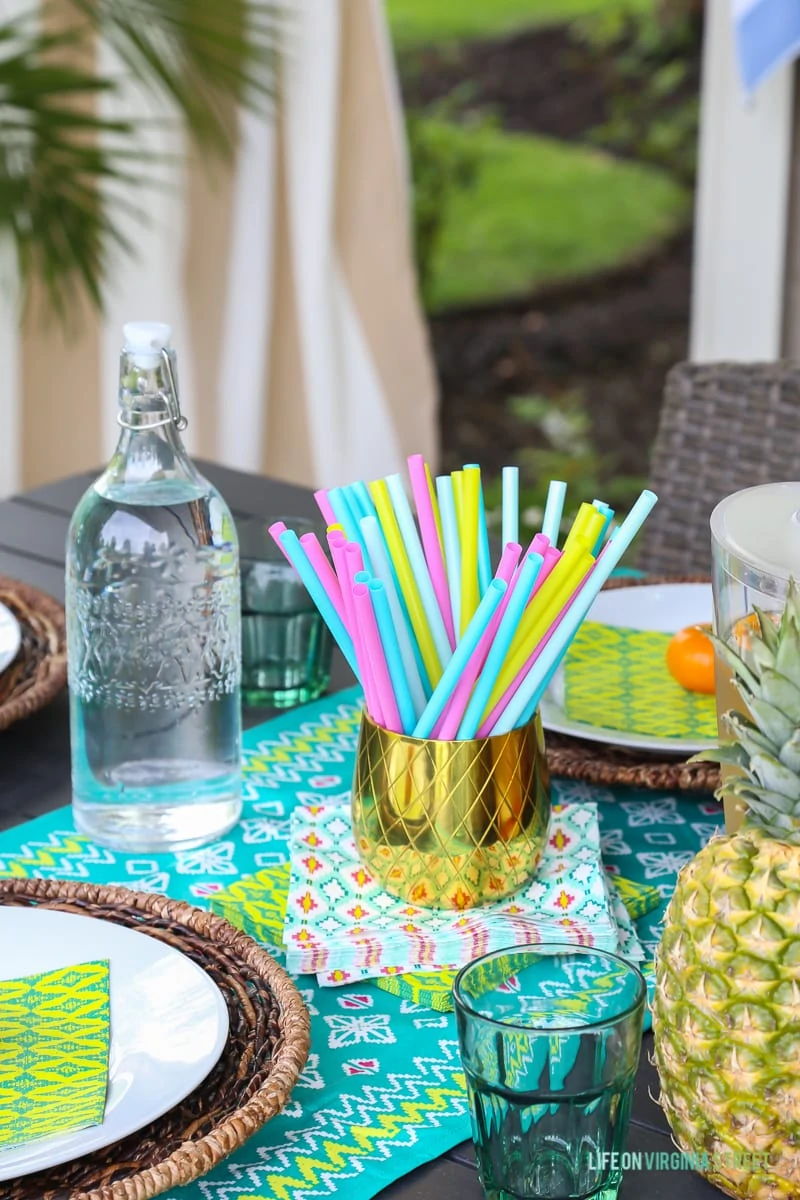 Have a Back-Up Plan
If you don't have a covered space, plan to have an indoor backup plan for bad weather. By ensuring you use serving pieces that are easily mobile, you should be able to move things indoors in a hurry if necessary! The FASCINERA chopping board is great for food prep, but is also the perfect size for a large meat and cheese spread. And it's super mobile and easy to carry!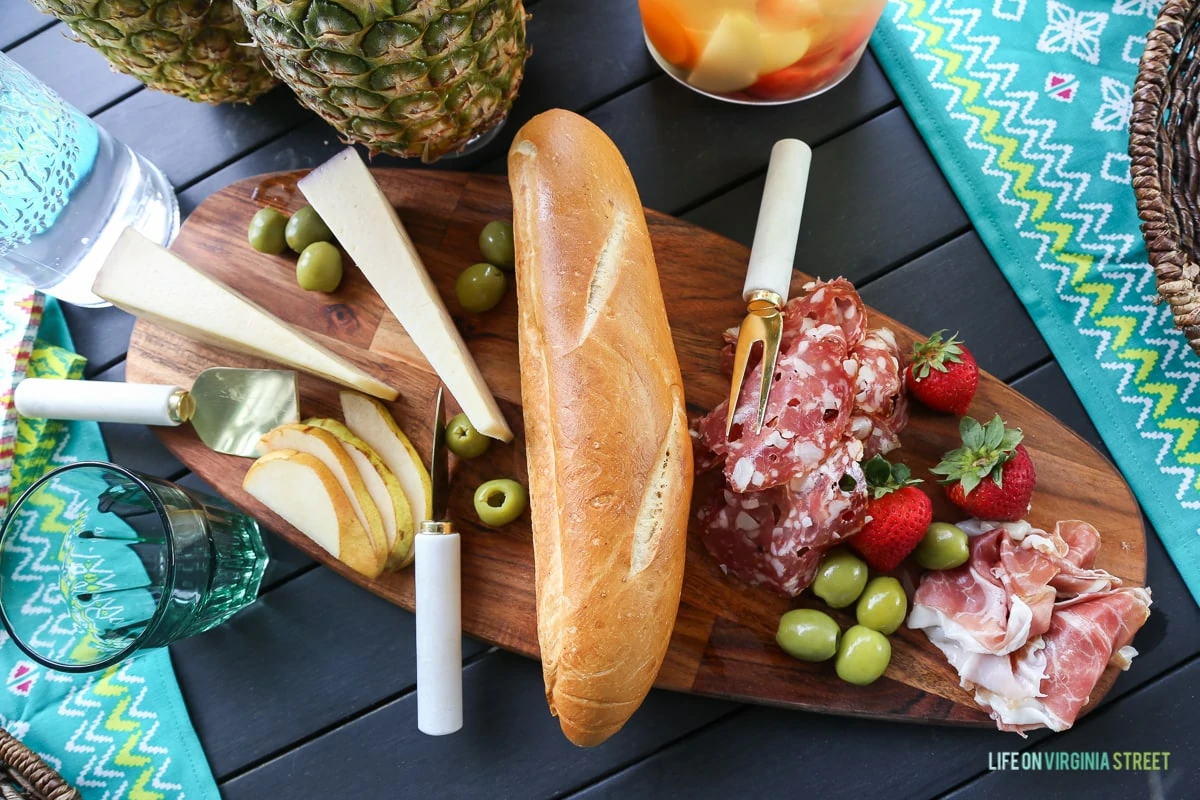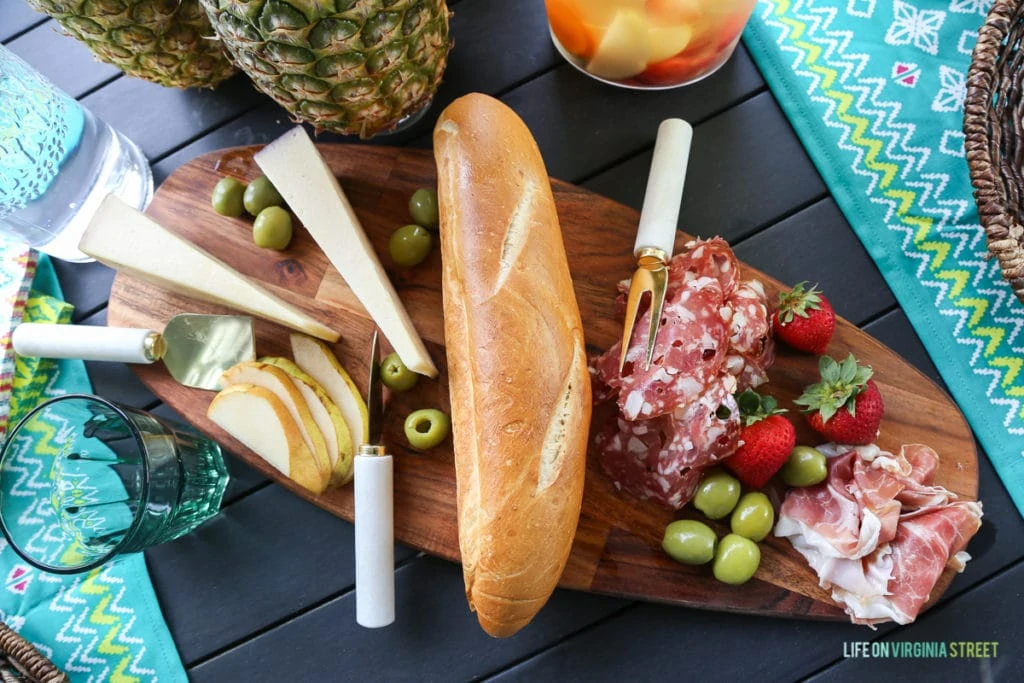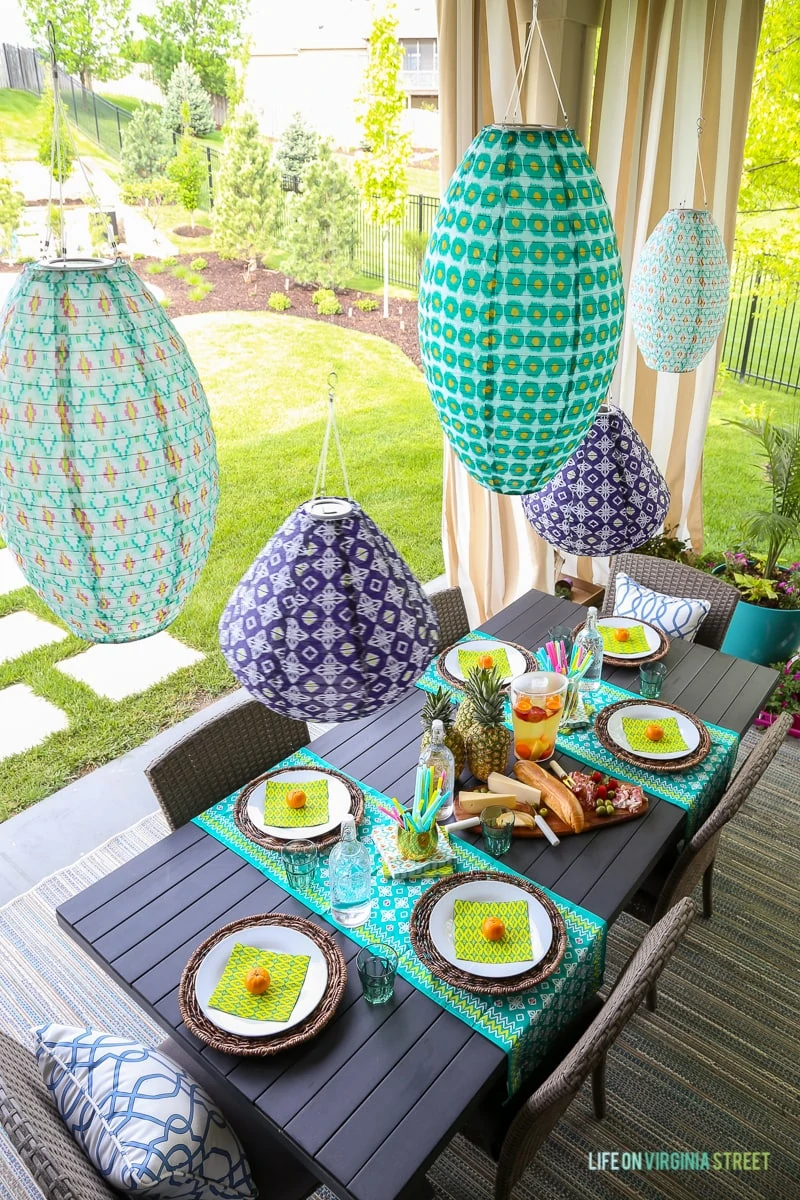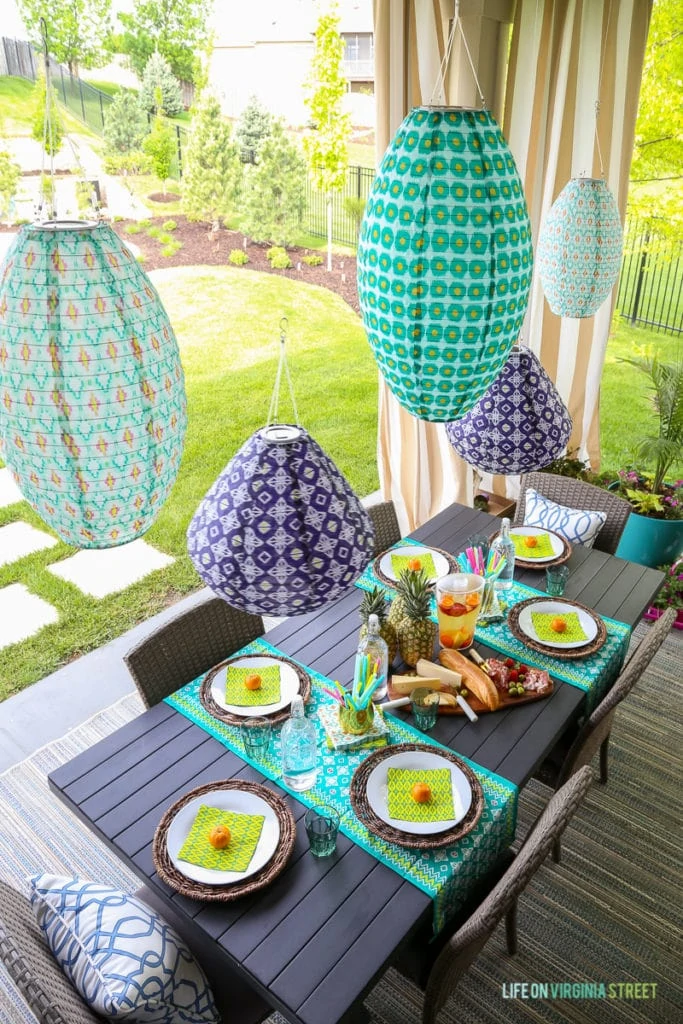 Remember, simplicity really is key when entertaining! Keep your menu simple so that you can spend more time enjoying your guests and spend less time executing your plans. Yay for summer parties!
For a fun indoor summer tablescape idea, be sure to check out this summer lemon and stripes tablescape too!
Thank you to IKEA U.S. for sponsoring today's post! IKEA is a registered trademark of Inter IKEA Systems B.V. and is used with permission. The views, ideas and opinions expressed here are my own.
If you would like to follow along on more of my home decor, DIY, lifestyle, travel and other posts, I'd love to have you follow me on any of the following: