A step-by-step tutorial to show you how to create a DIY cat herb garden!
A month or two back, one of my friends shared a video of a DIY cat herb garden and she said it reminded her of me. I'm sure that's not because we have four cats and I love herb gardens or anything 😉 Recently, I set out to create my own simple version of the DIY cat herb garden.  Today I'm going to share the full shopping list and steps to create your own treat for your furry felines!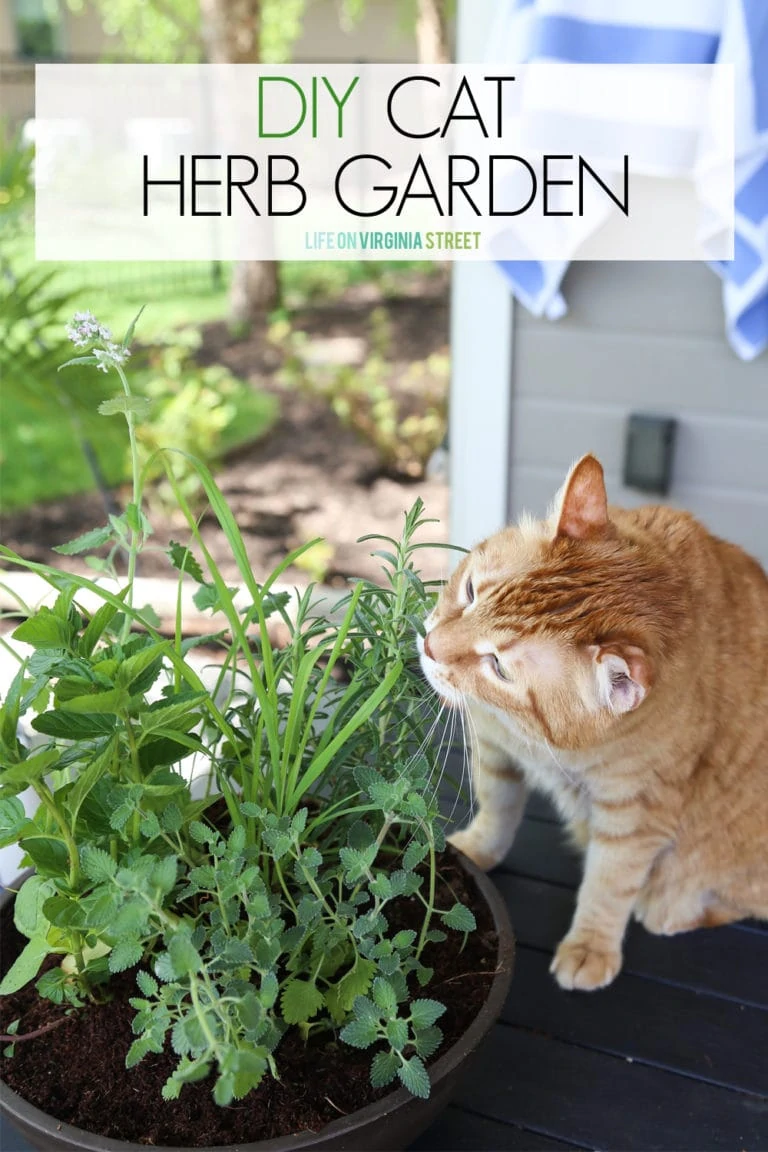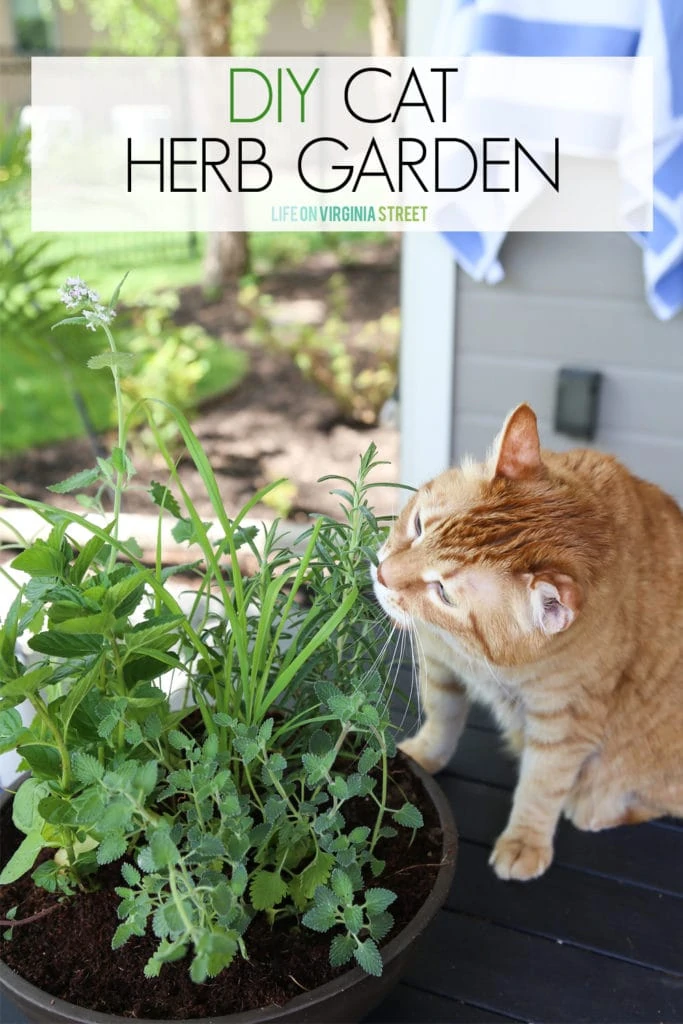 Our cats literally beg to go outside on a daily basis during the warmer months. However, since they are exclusively indoor cats, we only let them out occasionally for a few minutes at a time with full outdoor supervision. The plan is to leave the DIY cat herb garden on our back patio table, and we'll bring them out to it as a treat when we let them outside.
This is a quick project that your cats will be sure to enjoy!

This is a sponsored post written by me on behalf of Miracle-Gro and contains affiliate links. All opinions are 100% mine. Click here to read my full disclosure policy.
DIY Cat Herb Garden – Supply List
Miracle-Gro Expand 'n Gro planting mix. You can find even more details about the product in this post. I love that you can order it online (it's only available on Amazon) and it will ship right to your door because it is so lightweight! No more messy, muddy cars!
Planter. Choose your size depending on your needs. I didn't want our cats to tip over a tall planter so I went with a bowl-shaped planter.
Water
Gardening Gloves (I really like this pair)
A small gardening shovel
Herbs safe for cat ingestion. You may want to double-check this information with your vet to ensure your cat will not be adversely impacted by any of these herbs. I selected the following herbs based on some research I did:

Lemongrass. Be sure to use the actual grass (not the essential oil, as it can be toxic). Lemongrass has similar effects to catnip on cats
Catmint – aphrodisiac-like qualities
Catnip – stress reliever
Rosemary – natural flea repellent
Thyme – soothing effects
How To Create a DIY Cat Herb Garden
Before I started the process, I wanted to ensure my cats seemed at least somewhat interested in the herbs I selected. Lets just say it was apparent rather quickly that it wouldn't be an issue. 🙂 Wear your gardening gloves for the remainder of the tutorial to keep your hands clean!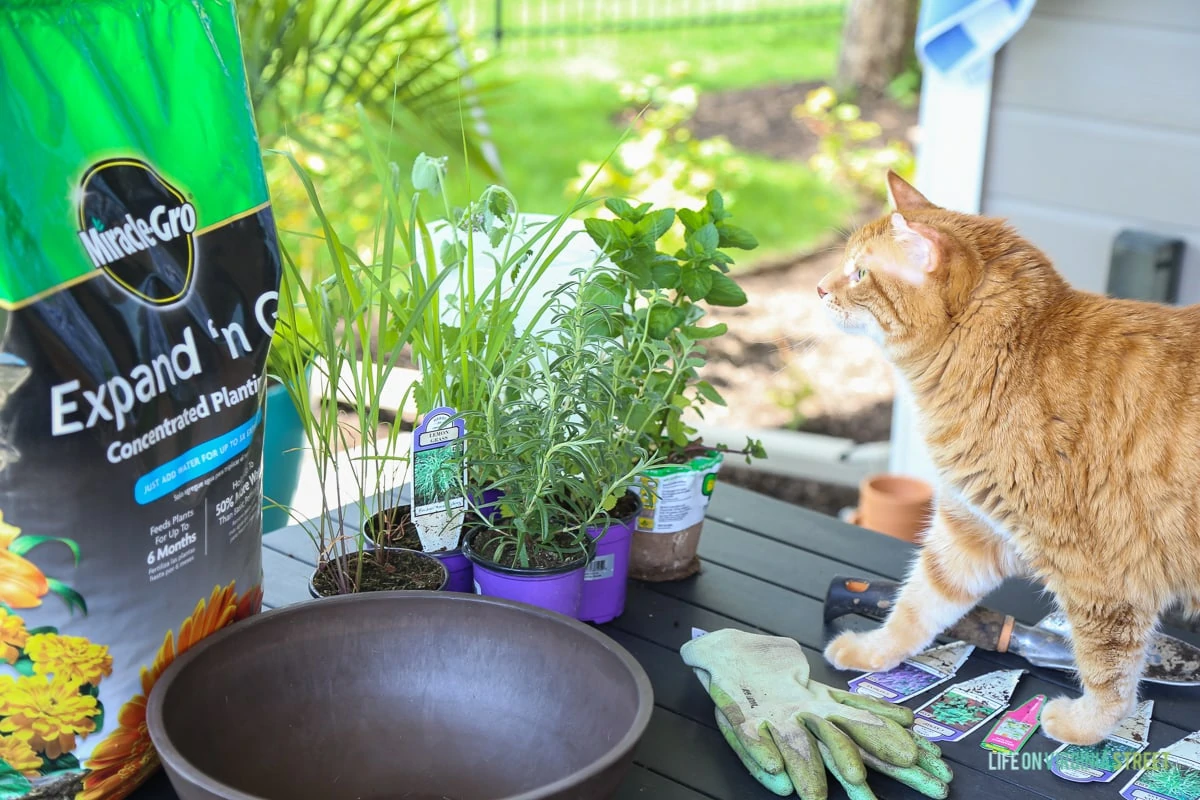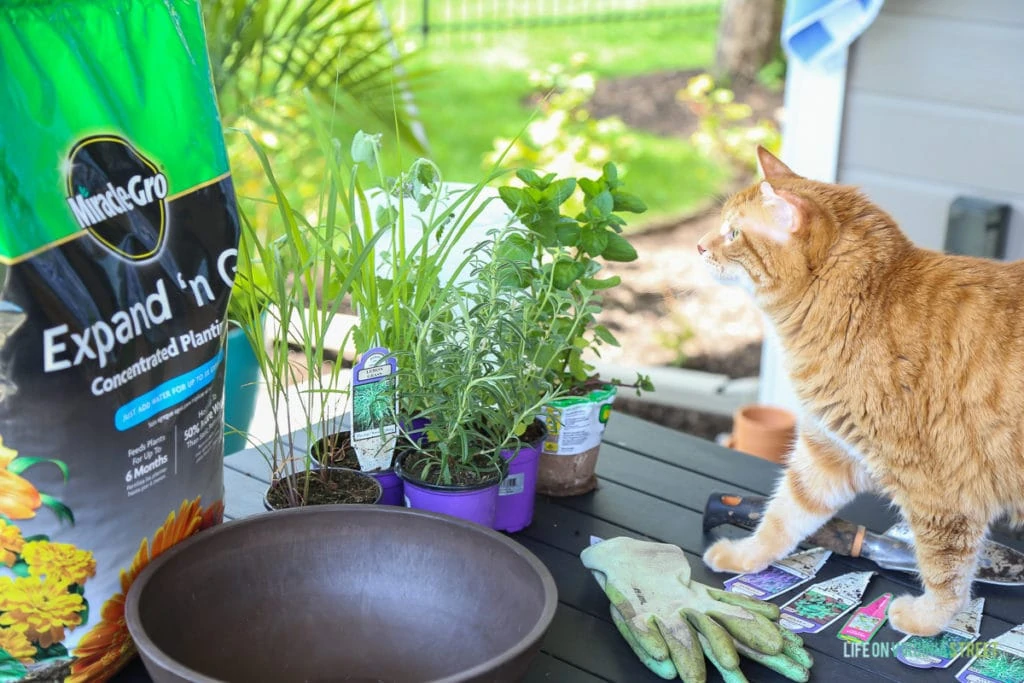 I first filled my planter bowl about one third of the way with the soil mix.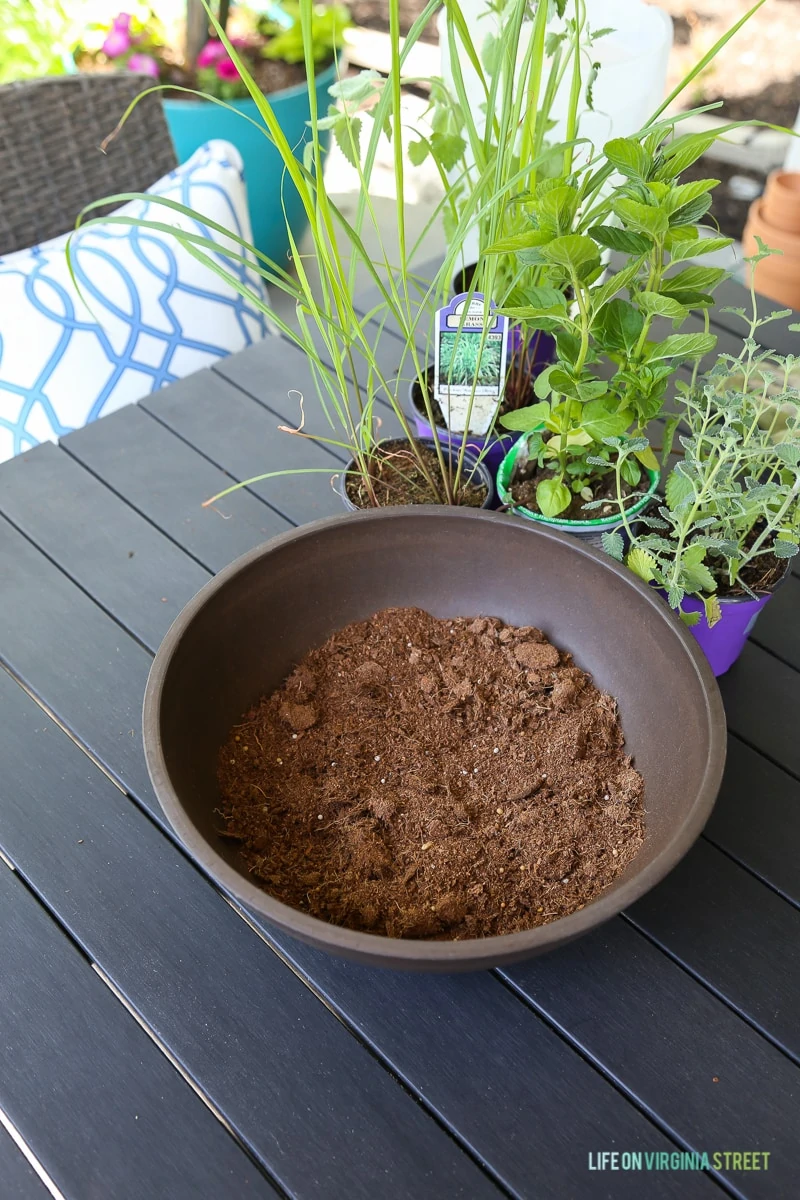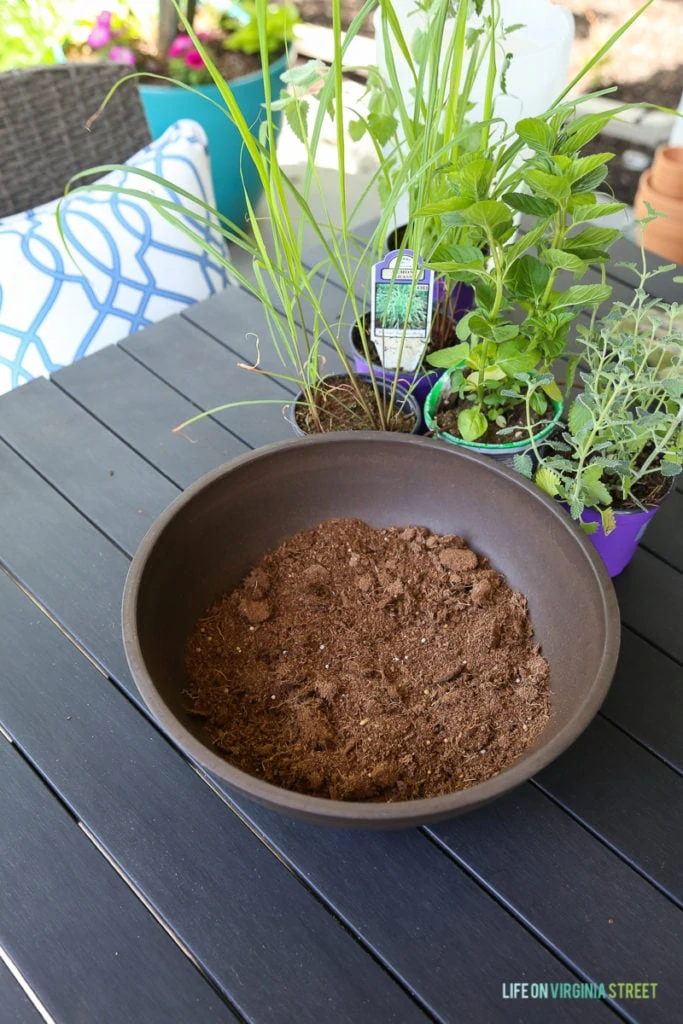 Next, start adding water to the soil mix. I would a little at a time, stir with the small shovel, and then continue adding more.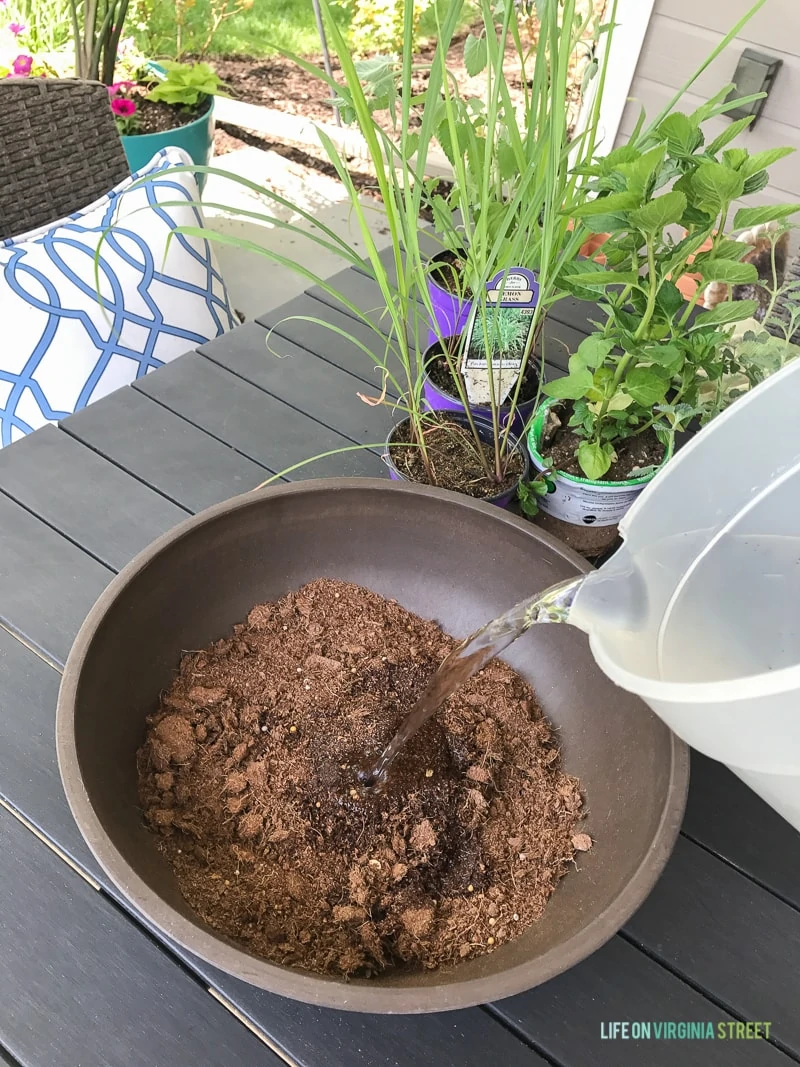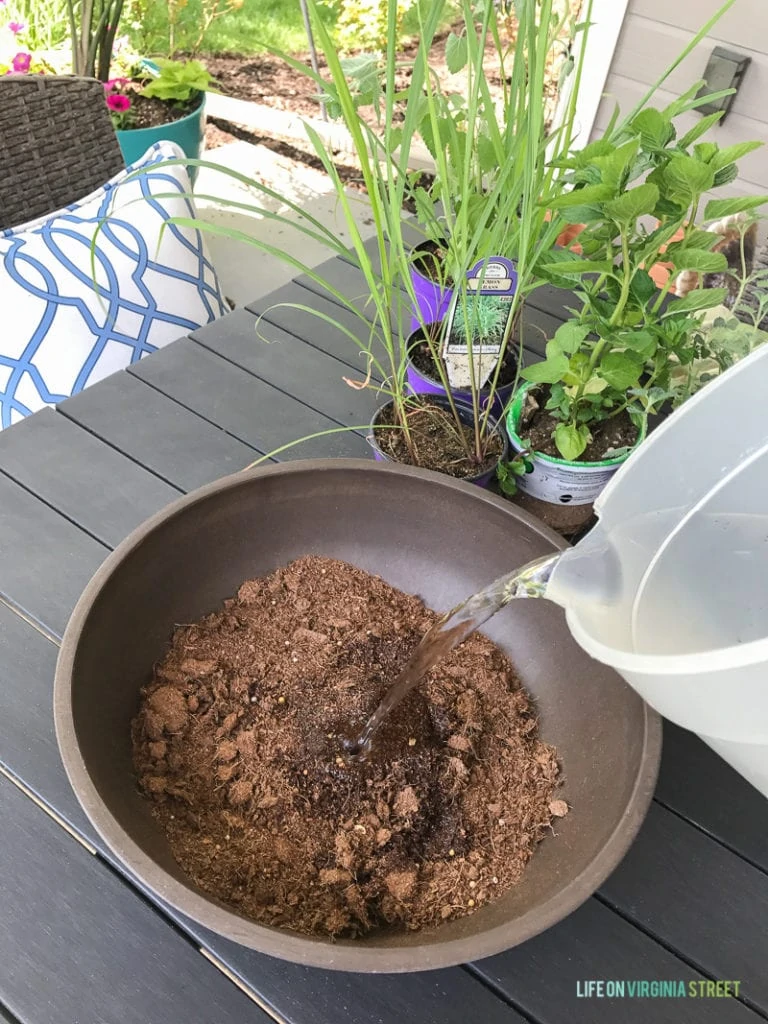 It's much like making batter or dough – you can actually just tell when you've added just the right amount. There is a lot of dry spots if you need more water and it gets really soupy if you add too much. At one point, I added a bit too much water, so then I just sprinkled a little more soil mix back in the bowl and it was good to go!
Here's how the mix looked when I felt it was the right consistency. Notice how much it grew as well! I absolutely love this feature of the product because you need so much less than you would anticipate. Each bag goes so far!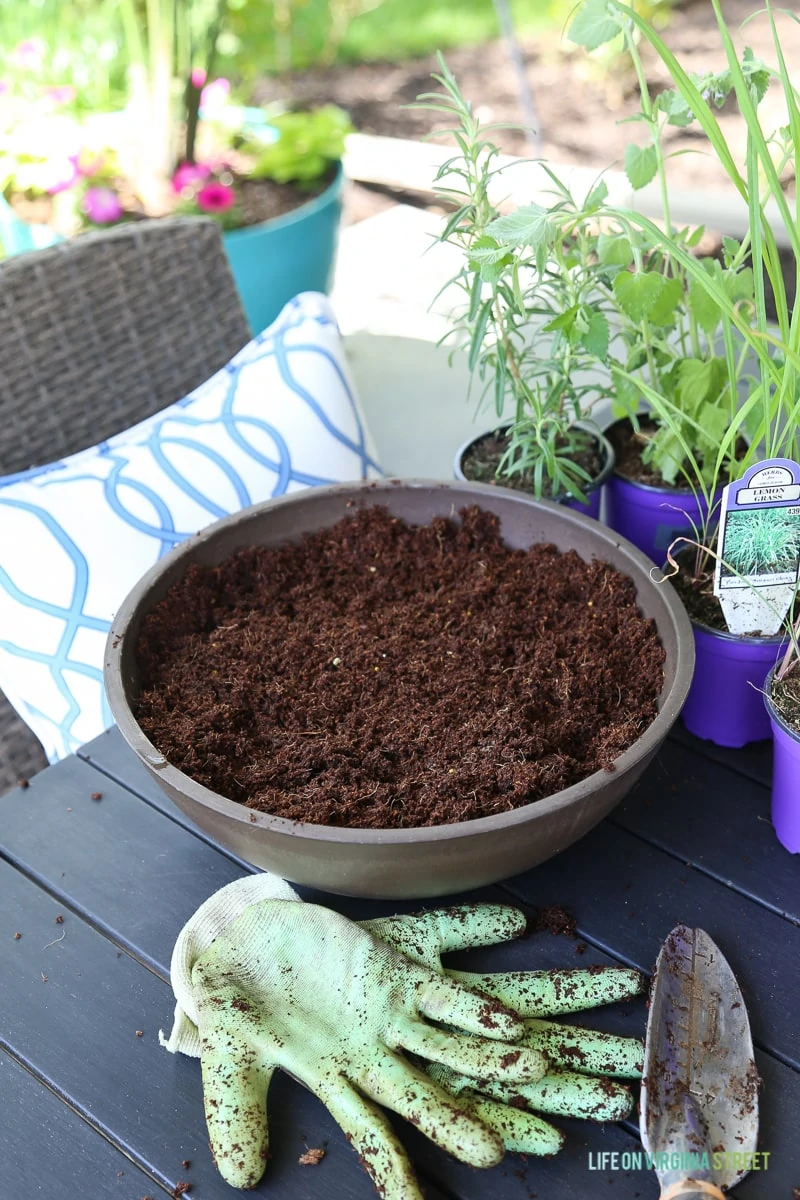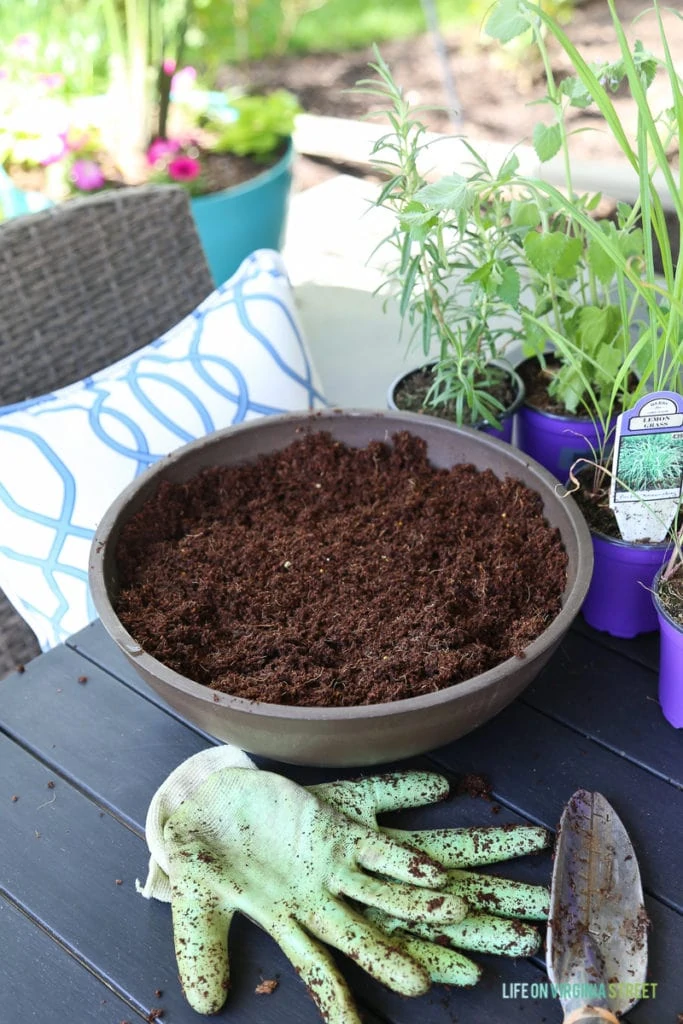 Next, you will start adding your herbs! I always start with the plant in the center (in this case, the tall lemongrass), and then add additional herbs around the planter. I also like to gently loosen the roots with my gloved hands so they thrive in the soil.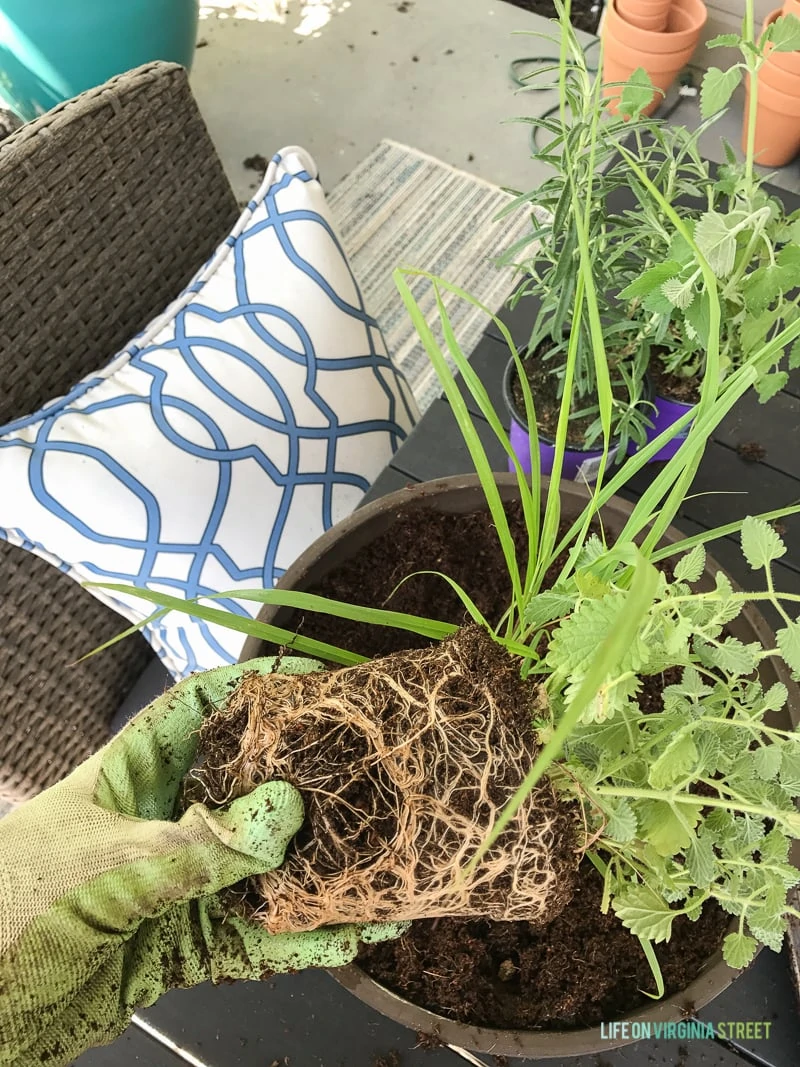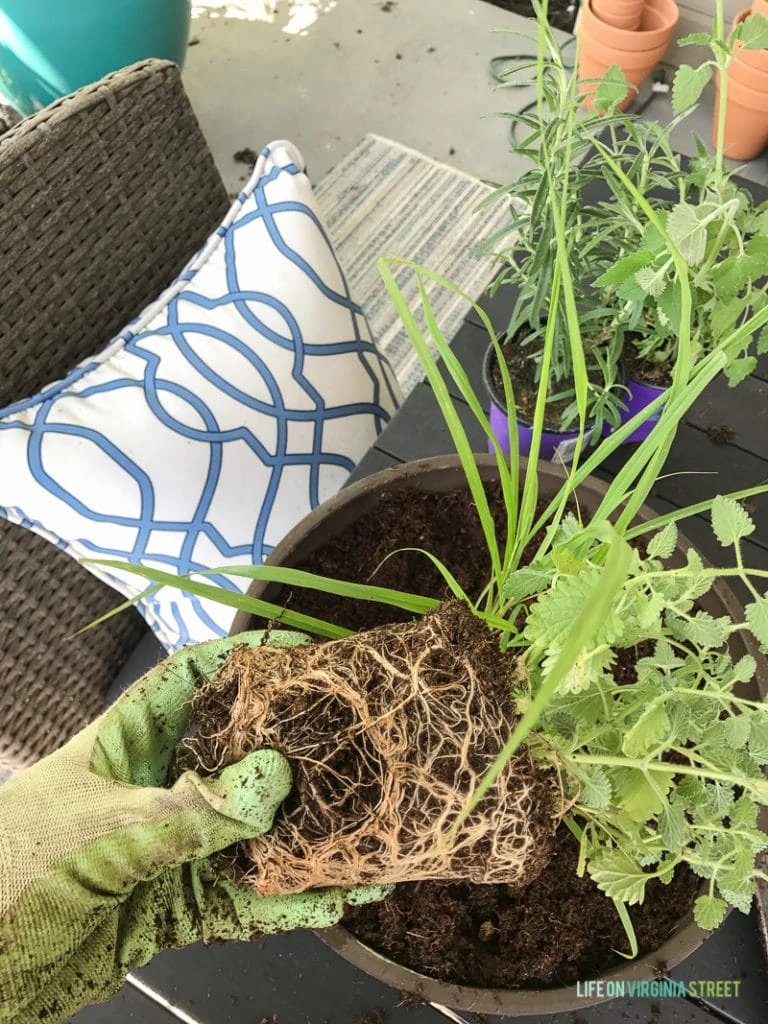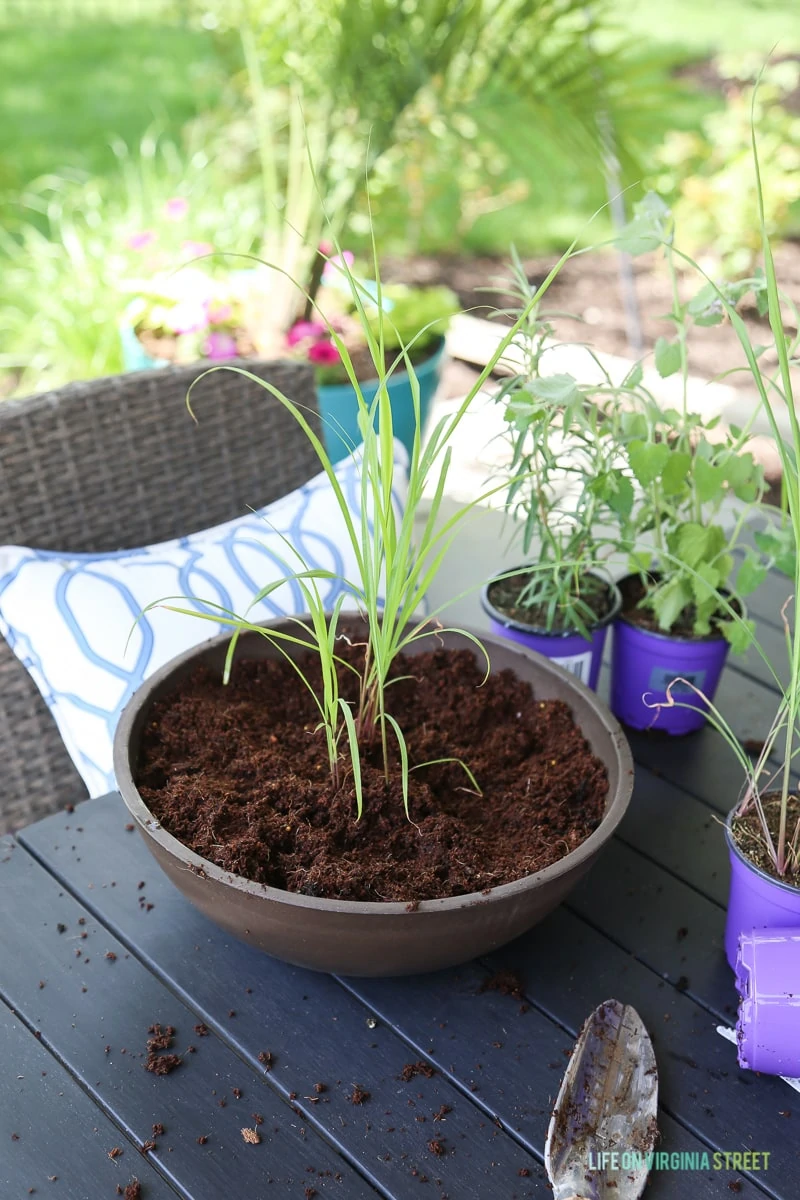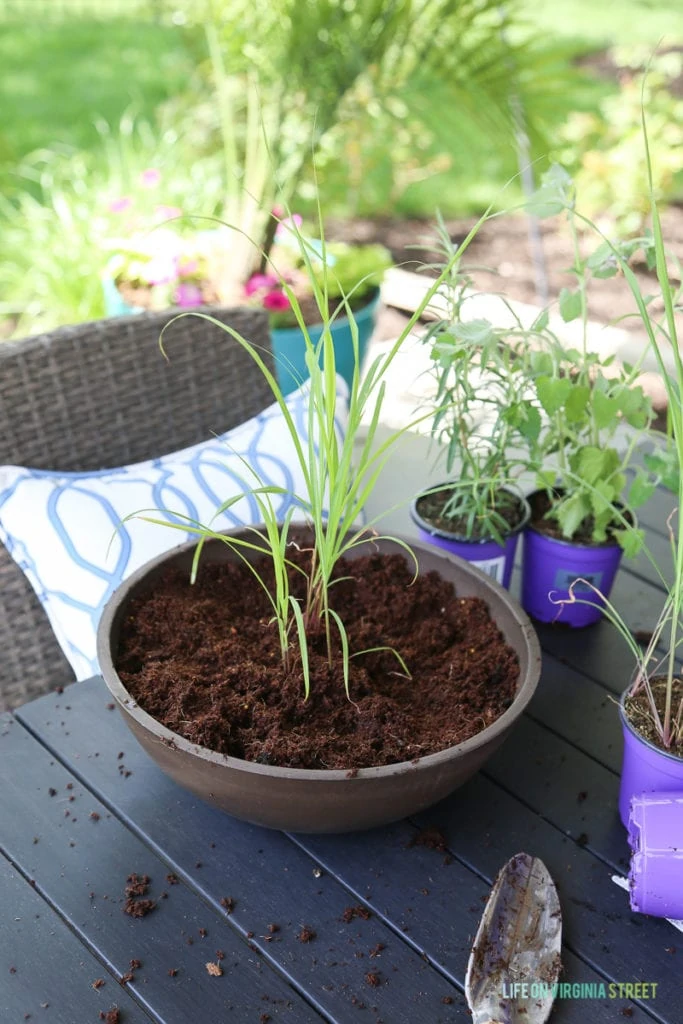 Start to finish, this project only took me about ten minutes! I'm excited to see how the planting mixture helps benefit this little herb garden over the coming months. Since it holds 50% more water than regular planting mix and feeds the plants for up to six months, it should be super low-maintenance! The little garden looks so pretty on our back table too!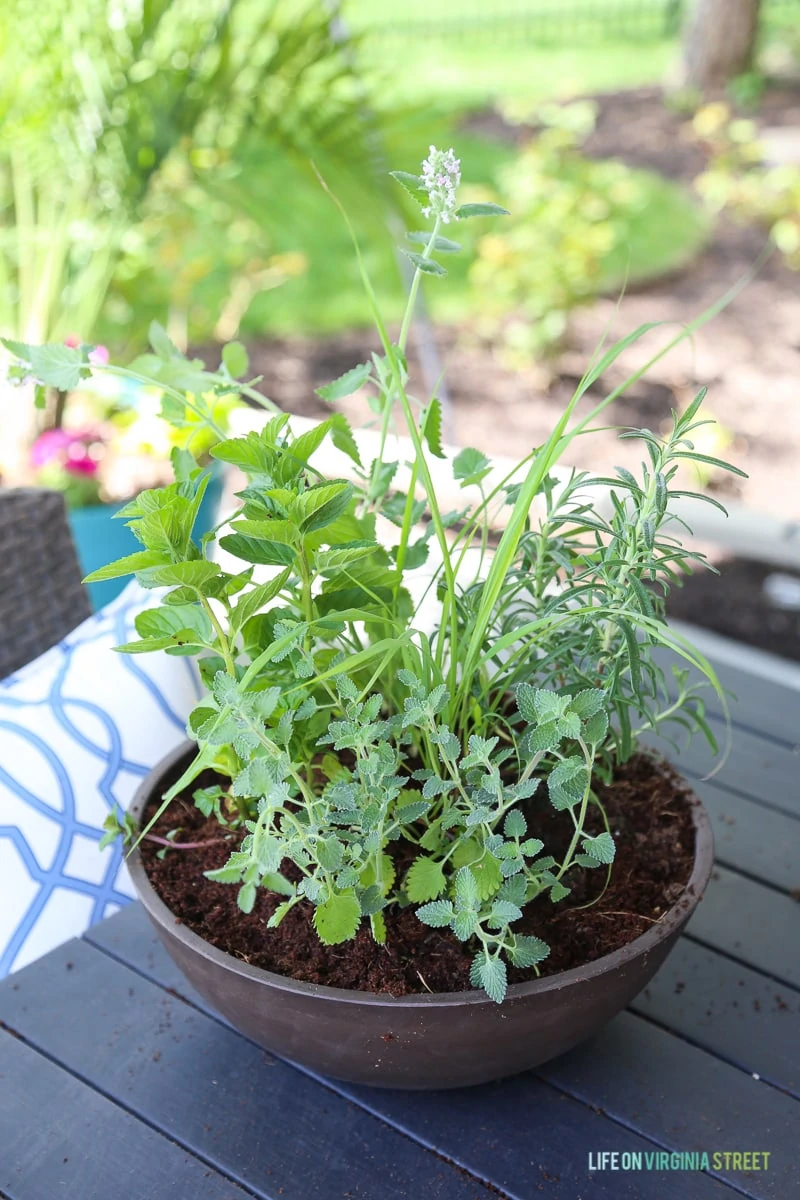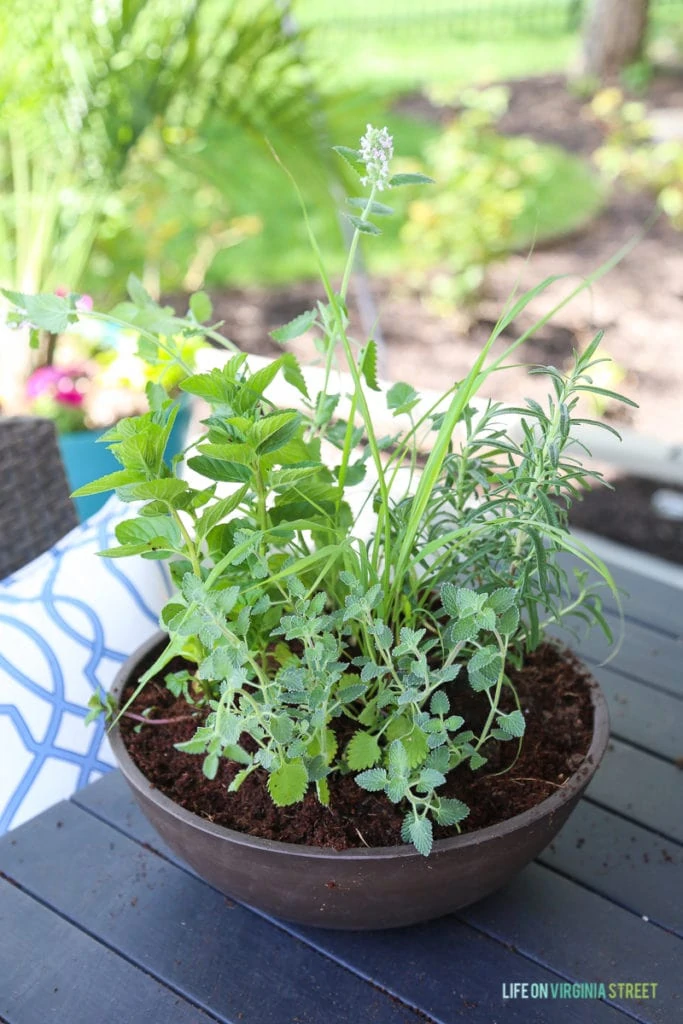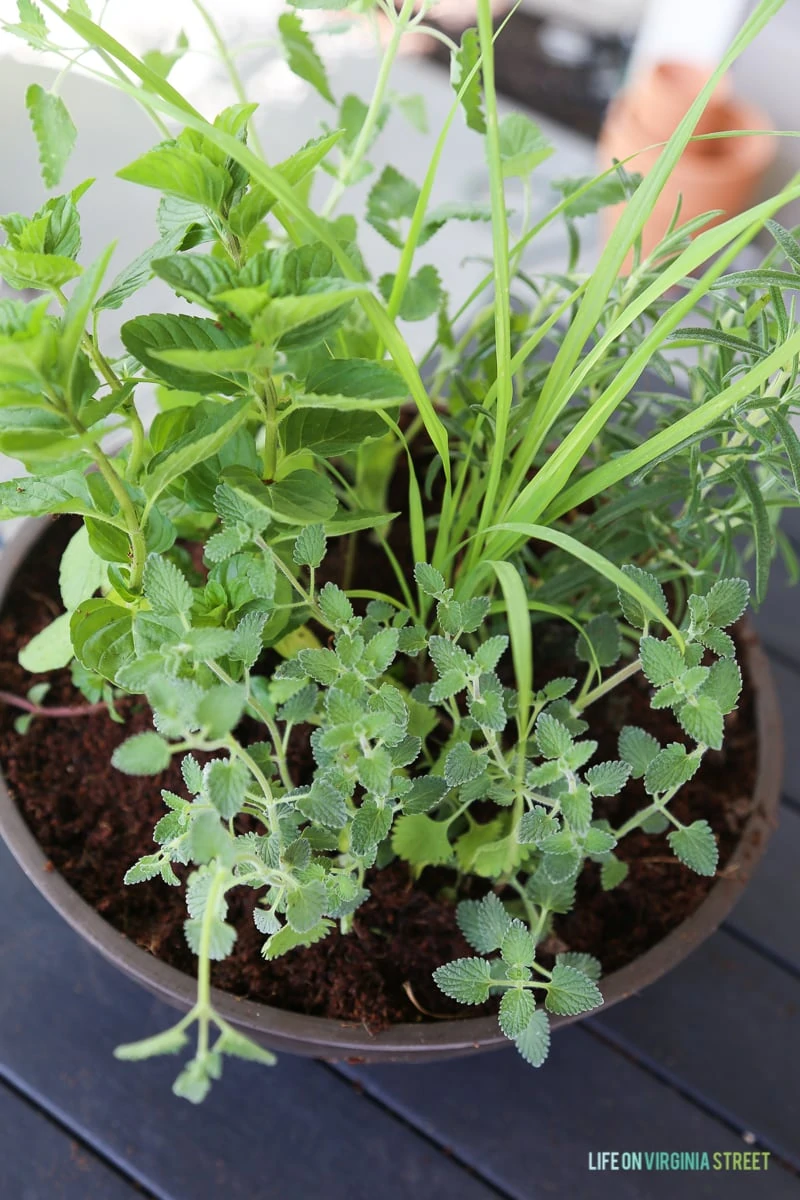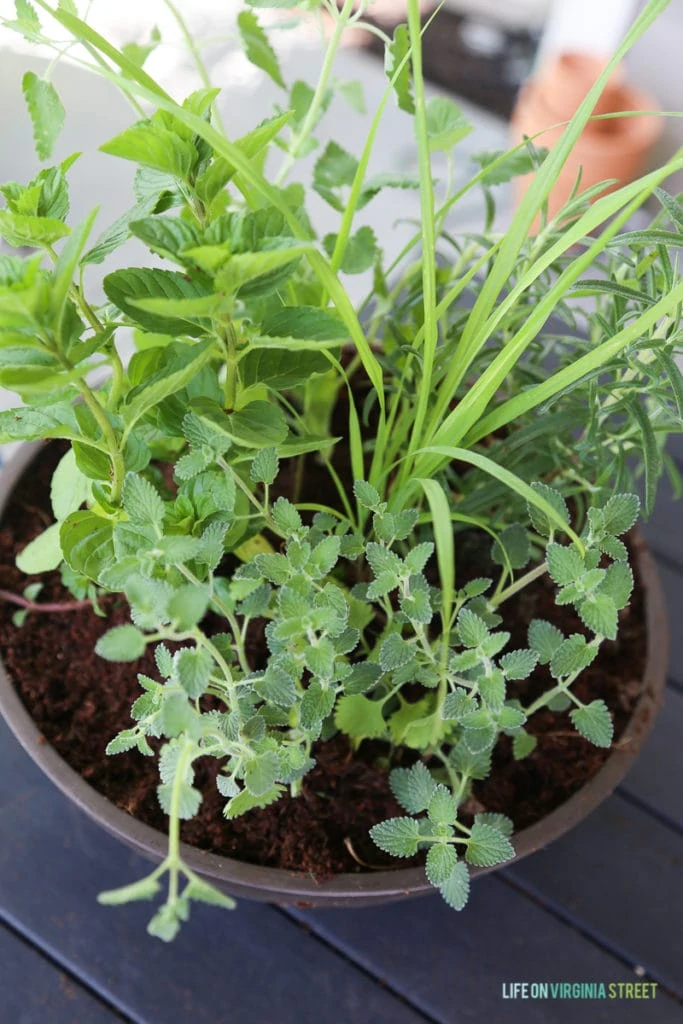 And now, the moment of truth with my little child models. Or, I should say, three out of four of my child models. The other was too busy sleeping to be disturbed for snacks. Henley loved the lemongrass.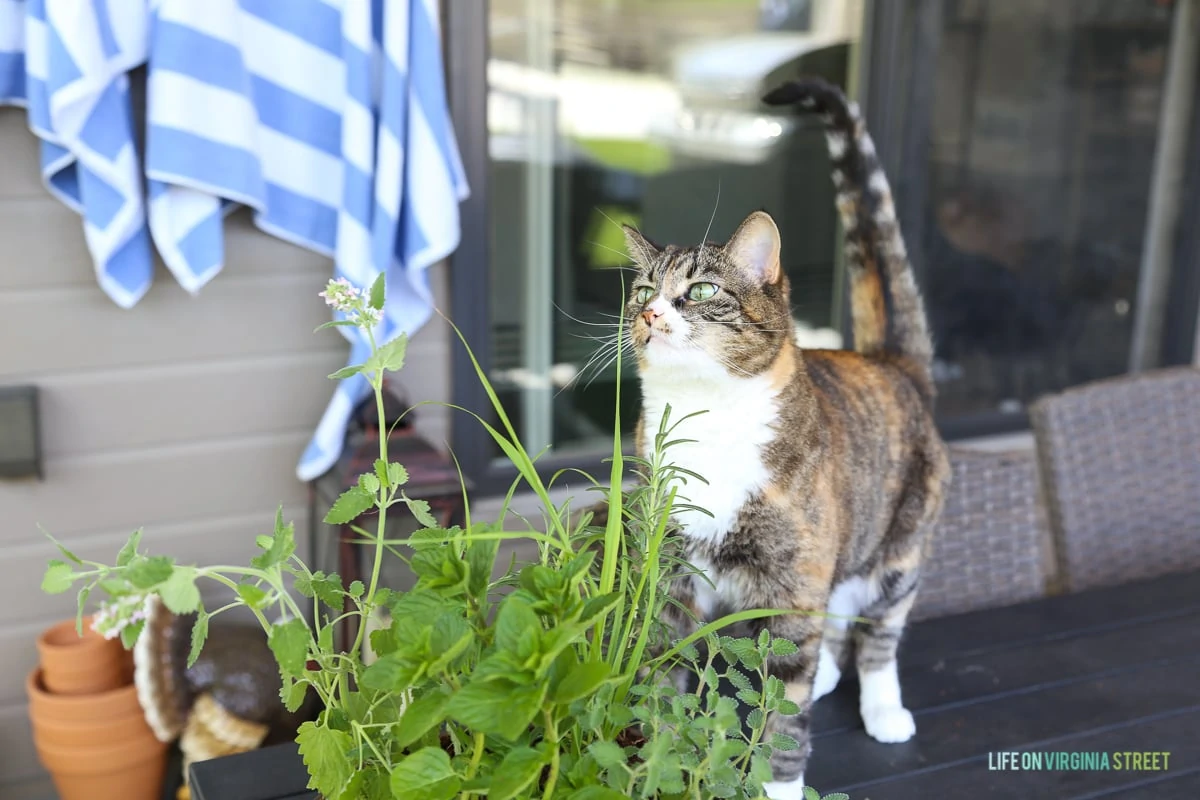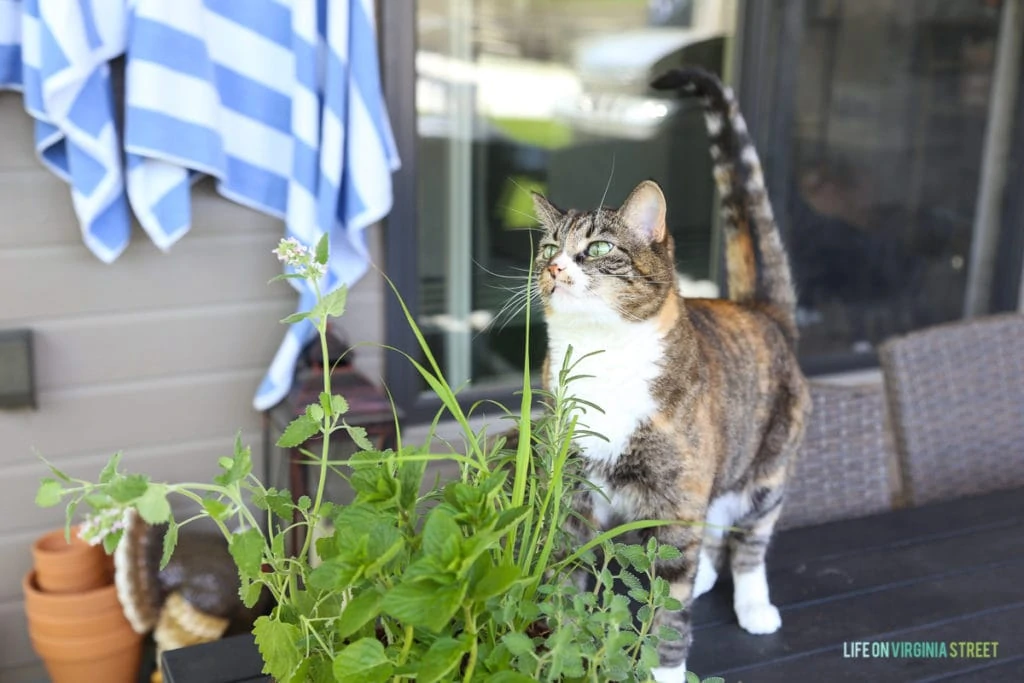 Hawkeye was curious about all of it, but was mostly nervous about why he was being allowed to eat grass. He also loved the lemongrass.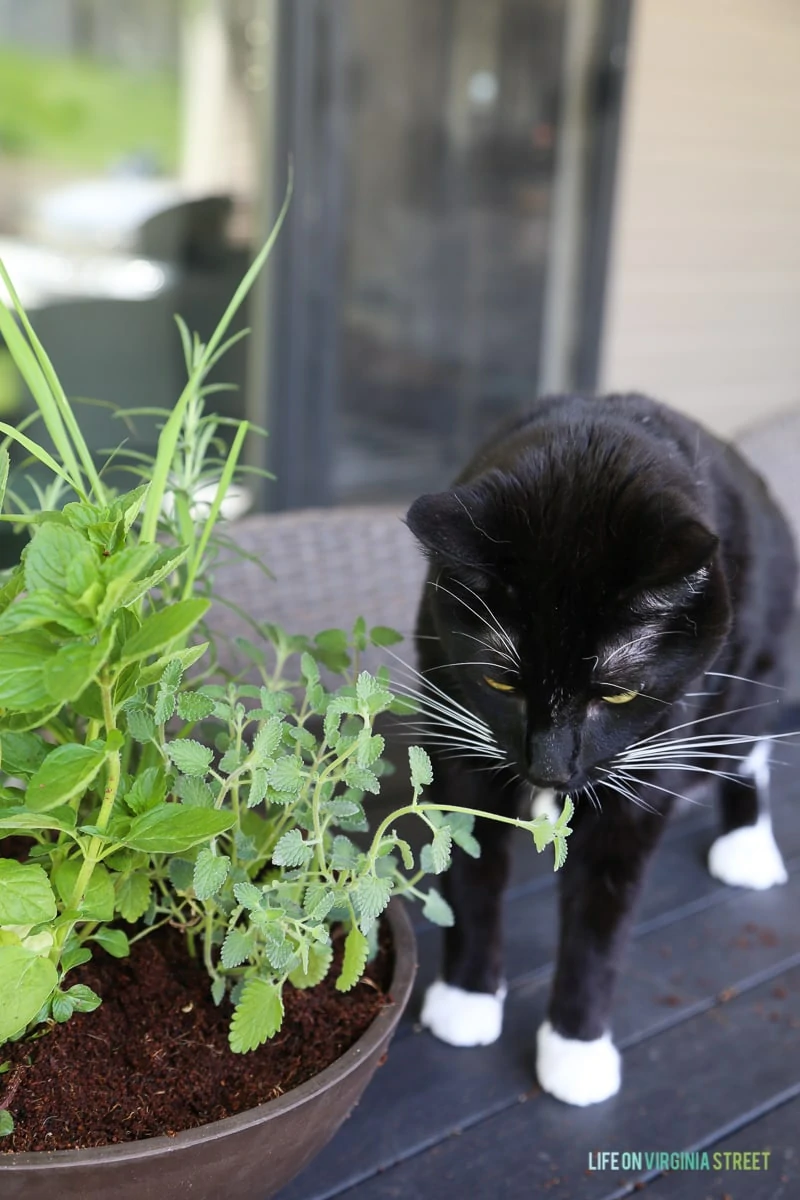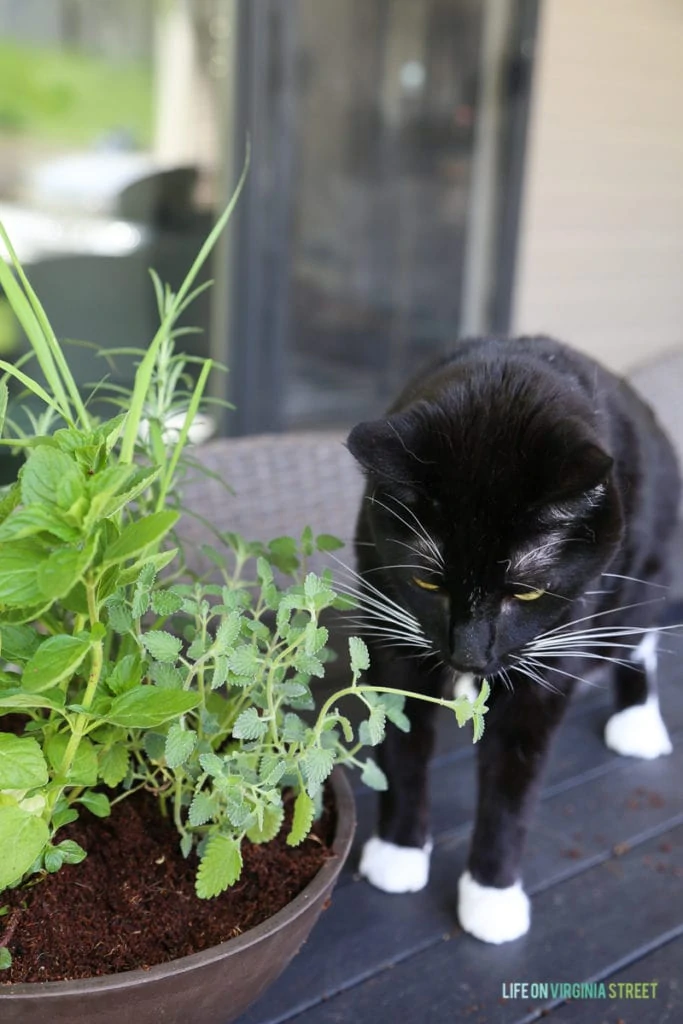 Bearcat treated it like an all-you-can-eat buffet and pretty much sampled everything.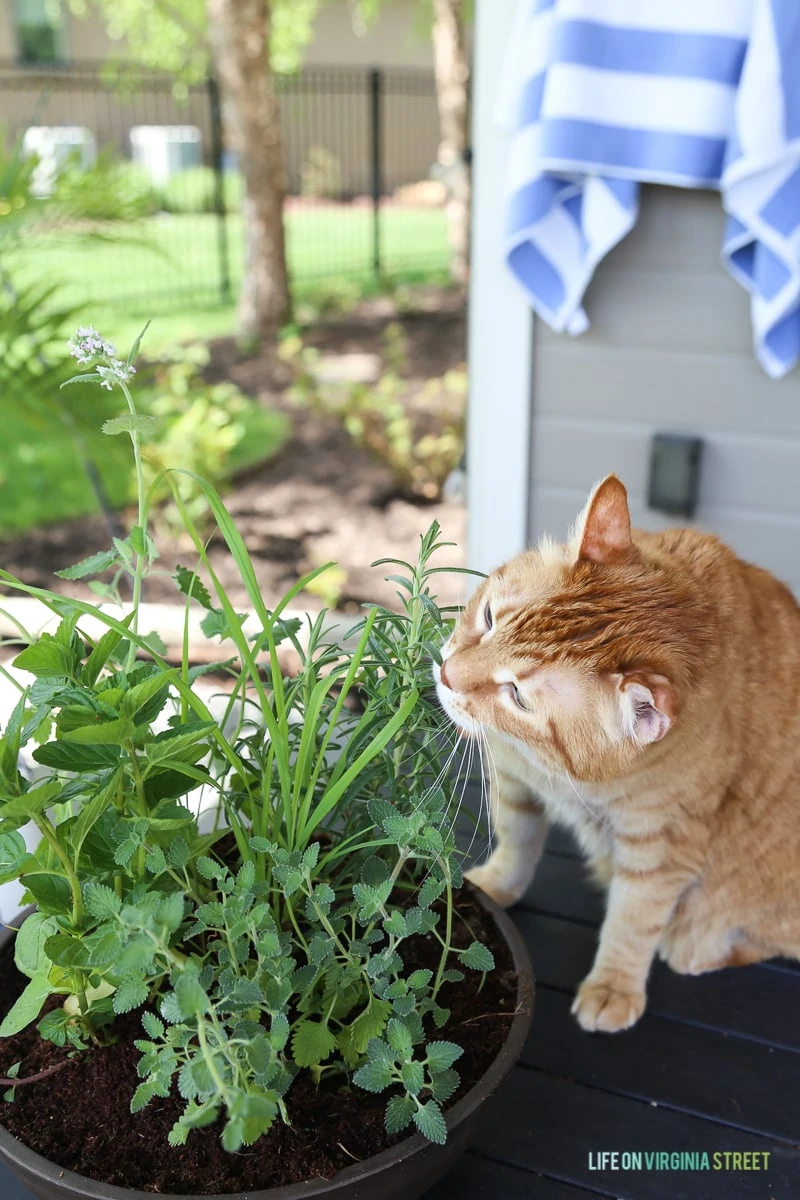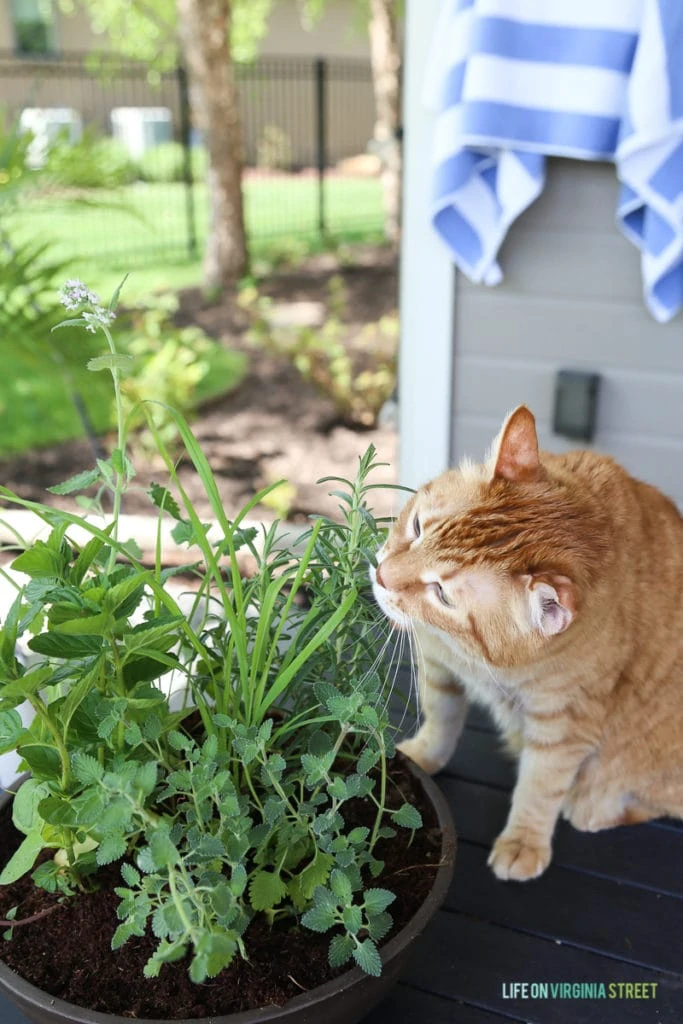 Ultimately, they all loved it! Thankfully I bought a second lemongrass plant (knowing that would likely be their favorite), as I may have to replace it soon. I'm sure the cats will be excited to enjoy their little snack garden all summer long!
If you would like to follow along on more of my home decor, DIY, lifestyle, travel and other posts, I'd love to have you follow me on any of the following:
Pinterest / Instagram / Facebook / Twitter