It can be hard to choose the right living room chairs, but in this post I have a collection of the best chairs for our room!
This post contains affiliate links for your shopping convenience. Click here to read my full disclosure policy.
With our new sofas arriving sometime in the next week or two, I'm scrambling to figure out the other decor elements for the room. Admittedly, I don't want to rush my decision but I've been stockpiling some gorgeous ideas for some time now. So, it's really just a matter of finalizing my decisions at this point. Our sofas will officially look like the following image for reference (the fabric is the Performance Everydaylinen™ by Crypton® Home, Oatmeal). We went with the bench seat and the 95″ deep seat option.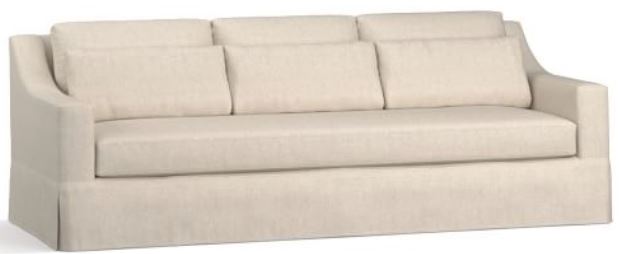 You can read more about our decision to search for new sofas in this post. We basically never put any effort into our living room, which is crazy since it's the main room in our home. It essentially got all the furniture from our last home, regardless of the fact that it didn't really fit and was way too large for the space. And the furniture we do have was essentially bought because they were items were could each compromise on nearly seven years ago. So, I'm at the point where I'm making more conscious thoughtful decisions about the space. Here's a picture of the space from earlier this year. What's also not apparent is that immediately backing the dark leather chairs is our large, black kitchen island. It all just feels so heavy down the middle with the TV, fireplace, coffee table, chairs and then the island.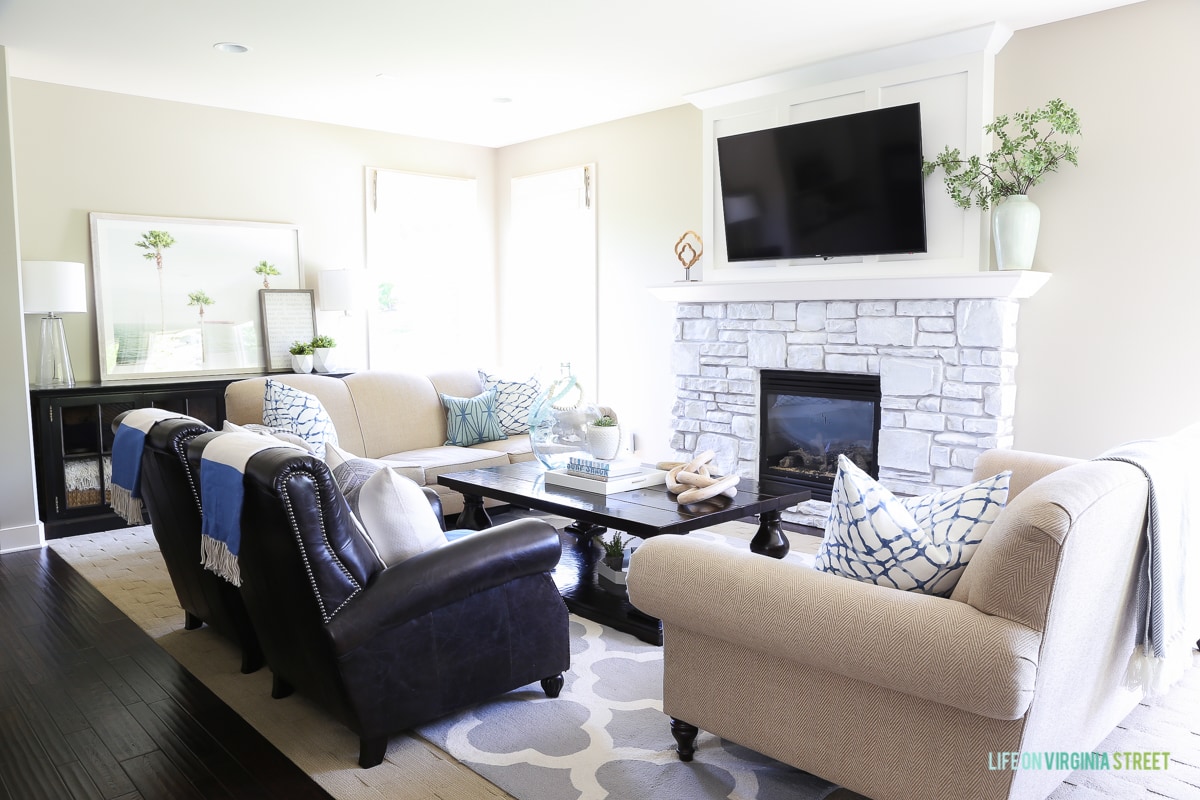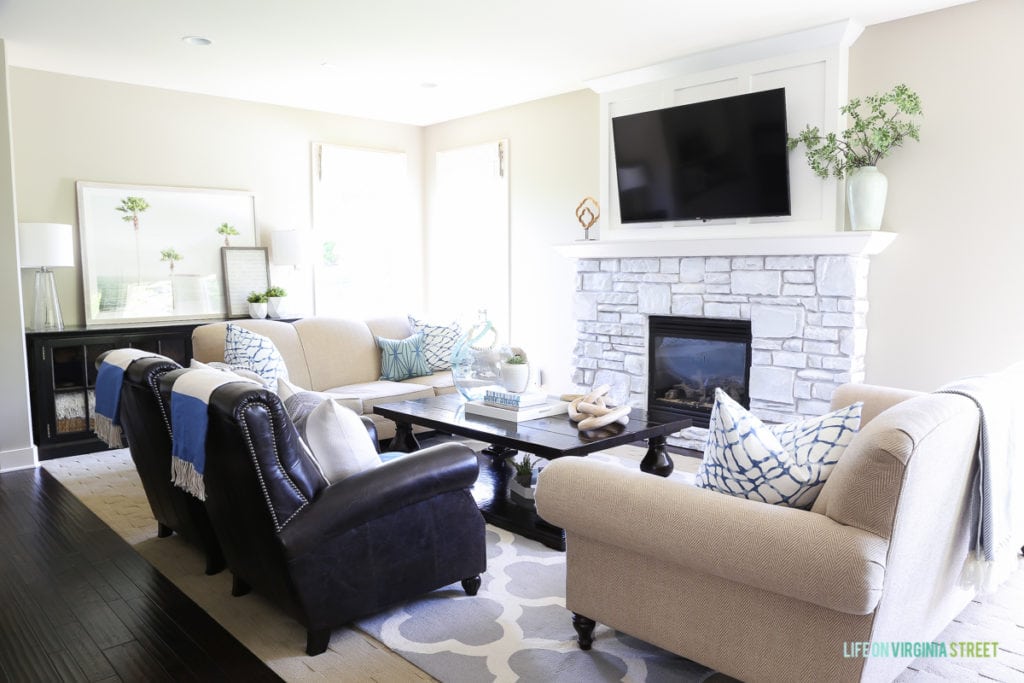 Here's an older pic that demonstrates the flow from the kitchen to the living room.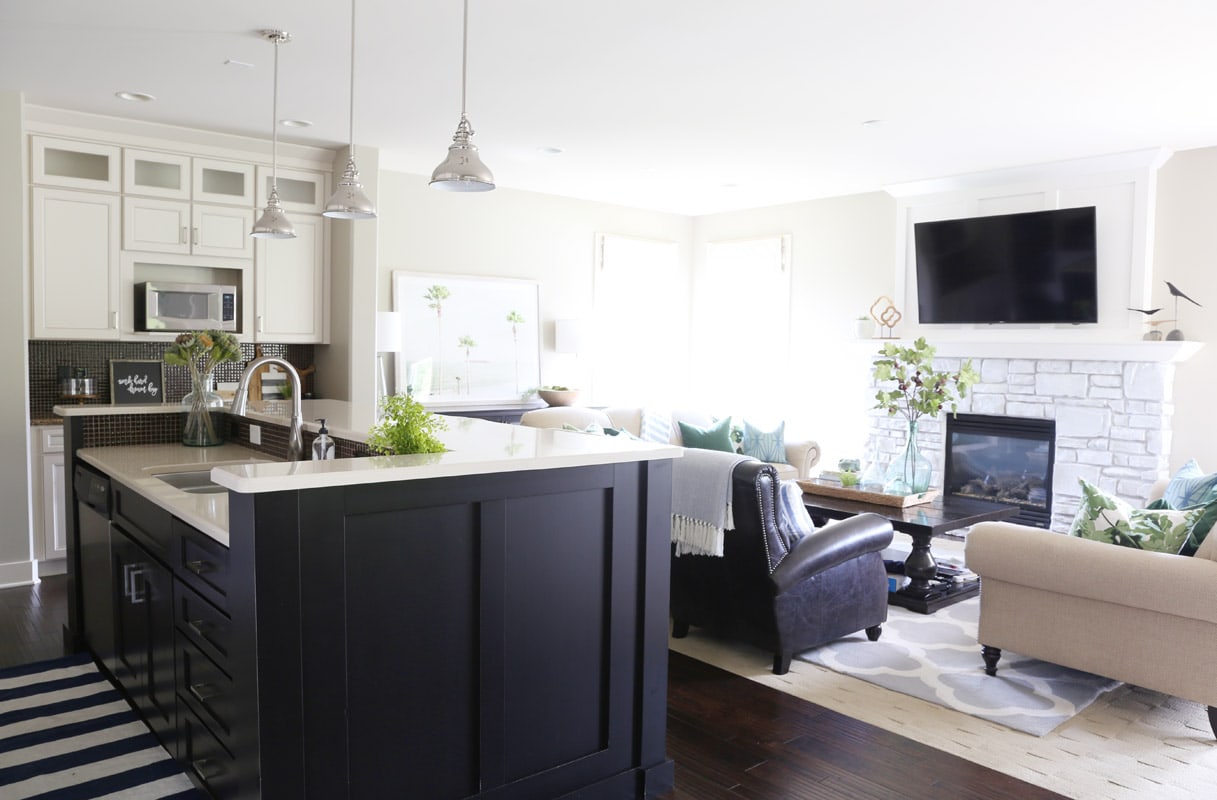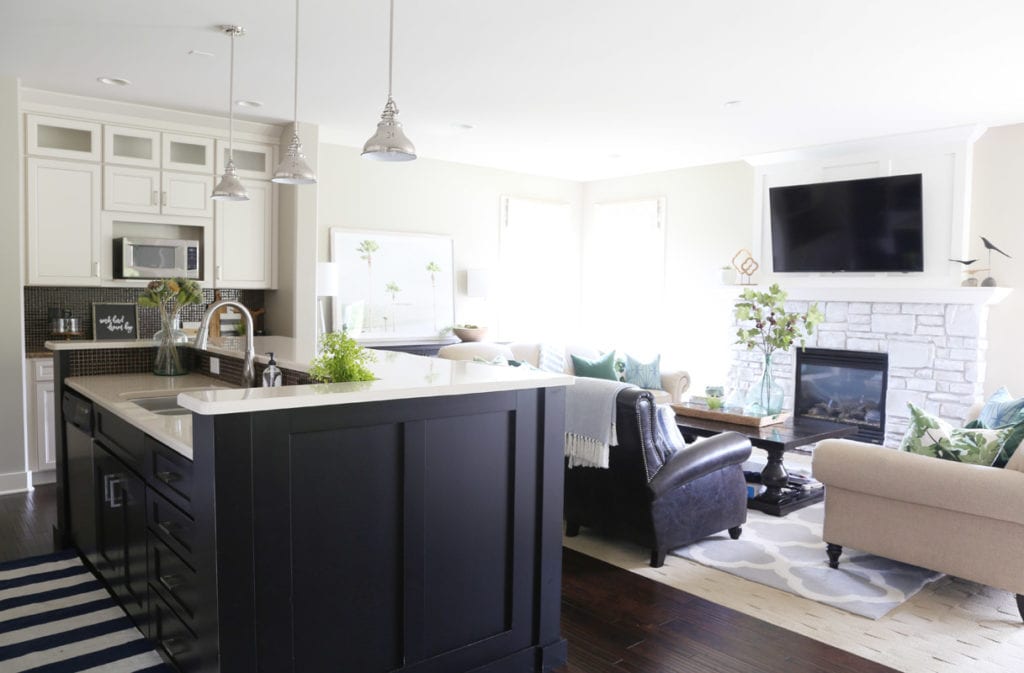 I'm thinking I really want to paint the walls in the room white. Kurtis is a bit skeptical though. Every single living room image I look at that I feel is my style, has white walls. My only concern is where I stop the paint though, because if I butt up to the cabinets, it will be super apparent just how cream/almond-colored they are.
In an effort to fully finish the room, I've started looking for chairs to replace our dark leather chairs. We'll still need a coffee table too, but I'm searching for one item at a time. Admittedly not the best approach, but it's a bit overwhelming for me to look for everything all at once!
I know we want something much lighter and ideally a bit smaller. The current ones have a fairly large footprint because of the sloped backs and arm width (our barstools actually hit the back of the chairs when we try to sit at the island each night for dinner). The living room is really tight (it's wide but not very deep) so if I can get new chairs a few inches smaller than the current ones, that would be ideal. I'm not opposed to leather (if it's lighter) but it isn't my first choice (but is what Kurtis would prefer). The other issue is that leather ups the costs by nearly double or more. I ultimately want a look that's beachy casual yet also looks polished.
Today I've rounded up a few categories of types of chairs I'm looking at (even more than what's shown in the graphic below). If any of you own any of these, I'd love your feedback!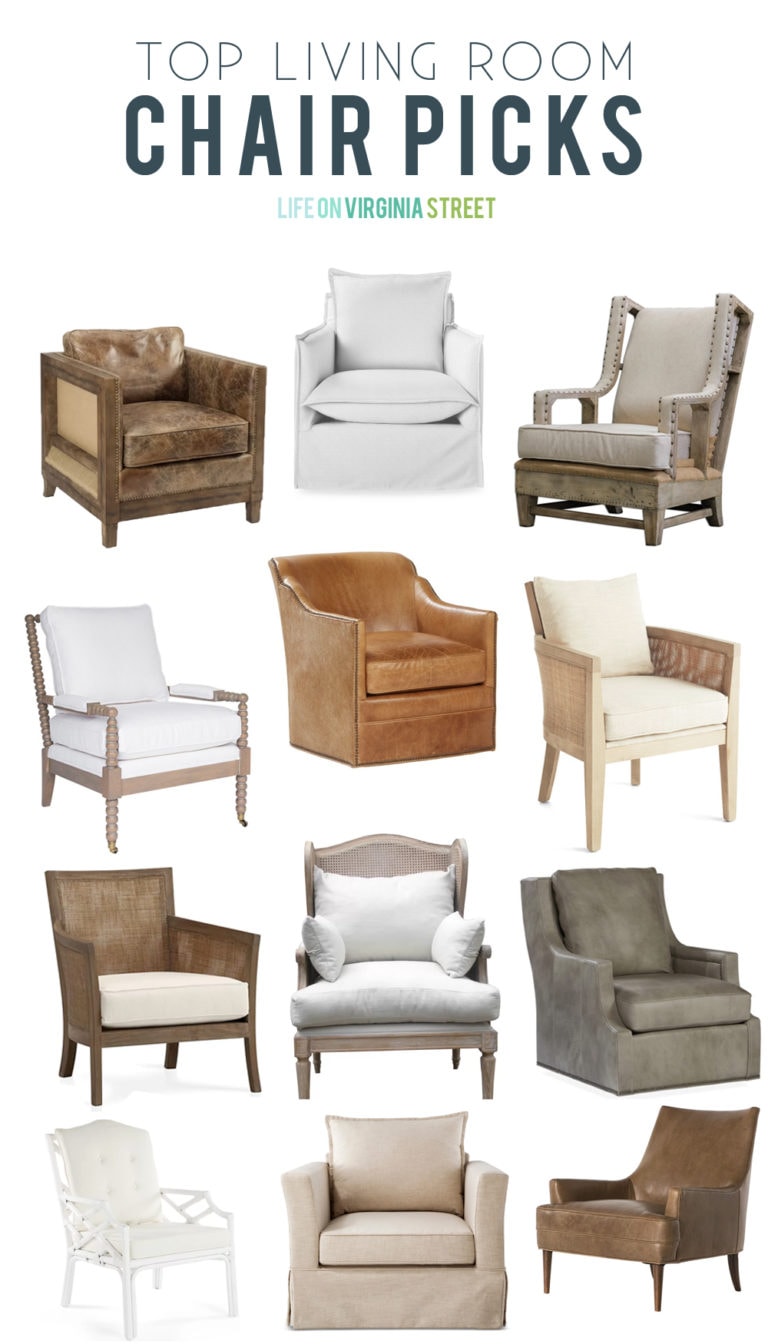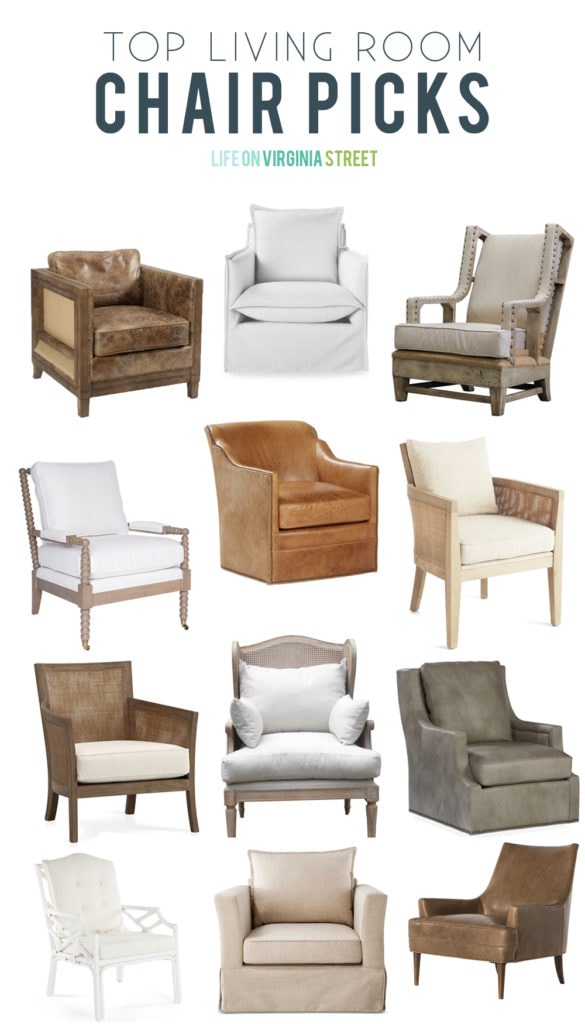 Learn more about all the chairs I'm considering by clicking any of the images below to learn more about each item!
Cane & Woven Chairs

Spindle Chairs

Leather Chairs

Upholstered Chairs

I think this spindle chair may be at the top of my list from a cost and look perspective. I actually ordered some of the free fabric samples Wayfair offers and it definitely changed my initial thoughts on what I thought I would like so that was super helpful. My only concern is that the spindles may be too cream colored for my taste. I'm also a huge fan of this rattan chair and the reviews are excellent. It's a bit more expensive than I'd ideally like to spend, but I'm guessing they do sales occasionally? I also really like this super cost-effective option. It has excellent reviews, but my only concern is that the fabric may not work well with the oatmeal linen I ordered for our sofas.
As I mentioned before, we're planning to sell all of our old furniture. The reality is, simply by selling furniture and odd and ends around the house on a local Facebook group, I should be able to fund more than half of this decorating update. That's huge! I've already sold enough to cover nearly one full sofa! I've had a bunch of questions about how I sell so if you find that a post on this would be helpful, let me know in comments and I'll start working on one. I just don't want to post something that just seems super obvious to everywhere either 😉
Have a great weekend! We have our annual neighborhood costume party tonight so I should have some fun photos to share come Monday 😉
If you would like to follow along on more of my home decor, DIY, lifestyle, travel and other posts, I'd love to have you follow me on any of the following:
Pinterest | Instagram | Facebook | Twitter
disclosure: some affiliate links used