This post is sponsored by Nordstrom and contains affiliate links. As always, all thoughts and opinions are my own. Click here to read my full disclosure policy.
I don't know about where you live, but it has legit turned into fall around here. Cold nights, cool days, and leaves that are finally starting to change. One of the only things that gets me excited for fall is a wardrobe refresh. Today I'm going to share my top fall essentials for my wardrobe and for our home, that I recently ordered from Nordstrom.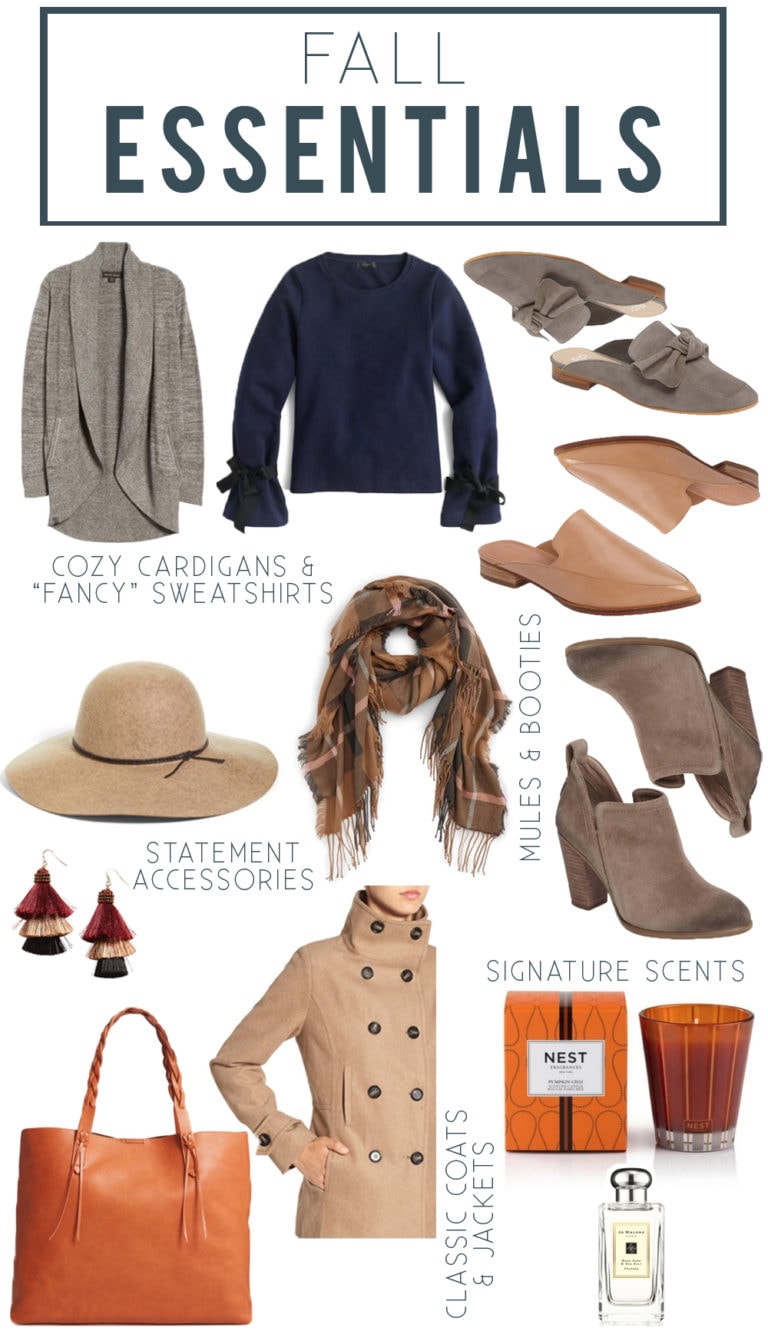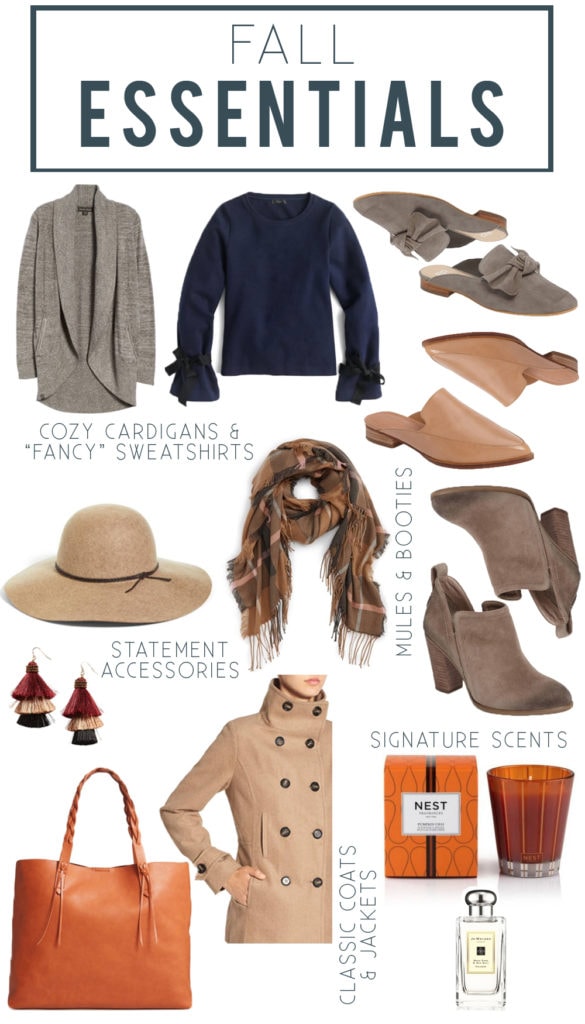 My love for Nordstrom began at a very early age. I would save my babysitting money in the early 90's to use for school clothes shopping (back in the day when B.P. was Brass Plum!). You can read more about that story here. As an adult, my love has continued. Since we don't have a Nordstrom in Omaha, I love that they offer free shipping and free returns, and honestly, just their ease of doing business. And if you have a store locally, you can buy online and pick up in store (or curbside)! I'm actually that person that will fill my cart online and then complete the transaction if shipping seems high. Definitely one of the many reasons Nordstrom has been one of my go-to stores the past few years for clothes, even living in Nebraska.
I'm breaking down my top picks by category and sharing a few alternative options in each category as well! On to my favorites!
Cozy Cardigans & "Fancy" Sweatshirts
I have already been living in cardigans this fall. I'm absolutely loving this year's trend of longer lengths, pockets, and open front. These are so perfect for layering, especially when morning and nights can be cool, but the day time temps allow for tees! A few of my favorite are linked below (click any of the images to learn more about each item):

This year has also quickly become the year of the "fancy" sweatshirt! Basics are getting girly updates and instantly look much more polished and stylish – without losing any of the comfort! This tie-sleeve sweatshirt has become a recent favorite (loving this style too!). I also own this striped sweatshirt with tie-cuffs and love it as well! It also happens to come in six other colors and patterns so I'm thinking of adding another version while they're on sale! This front twist fleece top is crazy soft and gives that faux tuck look that I love! I have it in the oatmeal color but it comes in 13 other options! I also got this cowl neck pullover when I was visiting my Grandma in Minnesota and it's the perfect lounge day top. I love the longer length! I did find it to run large though so I would plan to size down (I actually have the XS/S in the army color and it's definitely not snug).

Classic Jackets and Coats
I recently ordered this crazy affordable pea coat and absolutely love it. I got the camel color but it comes in five classic options (and has nearly 800 positive reviews). I'm working on my weight right now, but needed a new pea coat for fall and winter. But, I wasn't willing to spend a lot knowing this may the only season I wear it. I absolutely love the classic look and the buttoned collar. I would order up a size if you plan to wear with heavier tops. If I was at the weight I want to be at long-term, I would invest in this gorgeous option. I love the burnished cedar color and think overall it's such a classic look for years to come. Pretty much everything Madewell does is perfection in my mind!
A few other jacket and coat favorites (click on any of the image to learn more about each item):

Booties & Mules
I've been more into shoes this year than I can say I ever remember have been in the past. This fall, I just can't get enough of booties and cute mules. These nude mules have been on my wish list this year, and I wear these booties multiple times a week. Vince Camuto basically nailed it with all of their styles this year. I seriously want it all. Following are a few other favorite.

Statement Accessories
This hat and these earrings are two of my favorite purchases for fall this year! Add in a go-to tote and the perfect scarf or cape and you're ready for any fall day!

Signature Scents
If you buy nothing else this year, you need this candle. We've been burning it non-stop for the past few weeks and just can't get enough of the smell. I've mentioned it before, but Kurtis and I are both pretty sensitive to a lot of smells and can rarely agree on one. We basically have a selection of three or four we rotate. I've always love the Nest brand (grapefruit is my favorite), so we decided to give this one a try. It smells so good and we both love it! The perfect fall scent! The brand is definitely on the pricier side, but they have a 50-60 hour burn time, and the scent is such that you can smell it even when it's not burning. In terms of personal scents, this cologne I bought in February is still my go-to and I think it's the perfect year-round scent!
As a last minute note if you're in the market for new denim, these bootcut jeans and skinny jeans are two of the only pairs I've been wearing recently (I love the slightly higher waists on both). Such a great price point and they fit like a dream!
Thank you to Nordstrom for partnering with me on this post! I hope you enjoyed seeing some of my fall essentials!
If you would like to follow along on more of my home decor, DIY, lifestyle, travel and other posts, I'd love to have you follow me on any of the following:
Pinterest / Instagram / Facebook / Twitter / Google+
disclosure: some affiliate links used