Today I'm sharing an epic organization round-up to help you get organized in the New Year! 45+ bloggers teamed up to share some of the best organizing tools on Amazon – and most are included in Prime so they ship free! Check out our picks and what we use the items for below. Not only that, we're offering TWO(!) lucky readers a $375 Amazon gift card to kick start your organization projects for the year!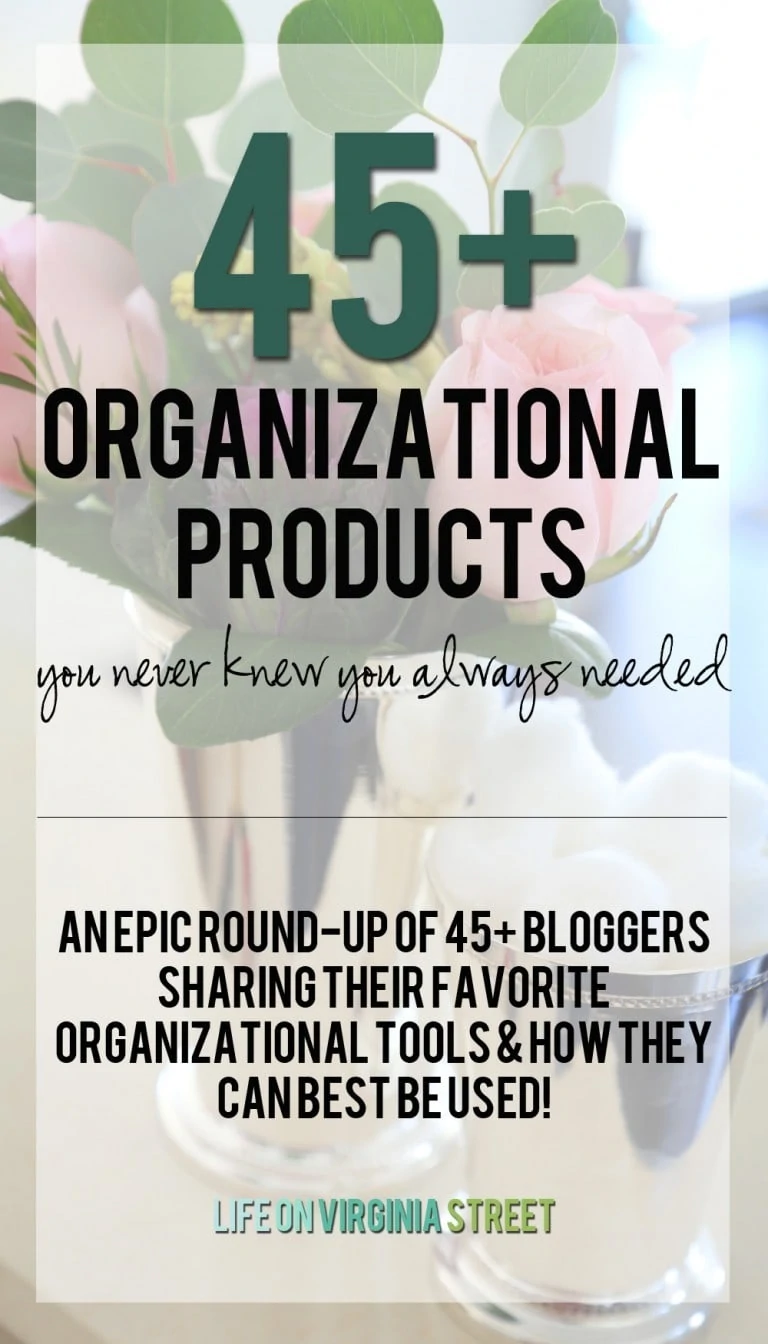 **NOTE: Each link contains affiliate links to Amazon. These posts are not sponsored and each blogger has selected their items based off personal preferences and experiences. Neither the bloggers participating, nor Amazon and their vendors, can guarantee that the prices won't change during or after the publishing of this post and are hereby released of any price matching guarantees or liability. Please understand, these are personal recommendations from popular bloggers in the industry. Enjoy!
I have recently become obsessed with using mint julep cups in various sizes for organizing. Not only do they help corral miscellaneous items all over your home, but they look beautiful and help add a bit of bling to otherwise bland spaces like bathrooms or office desktops. Ranging from $10-30, they are a fairly affordable way to add some glamour to your home. I find them most useful for Q-Tips, cotton balls, pens/pencils, and other small objects. Better yet, they can multi-task as beautiful vases for flower arrangements! You can find my favorite one here (and the larger version here).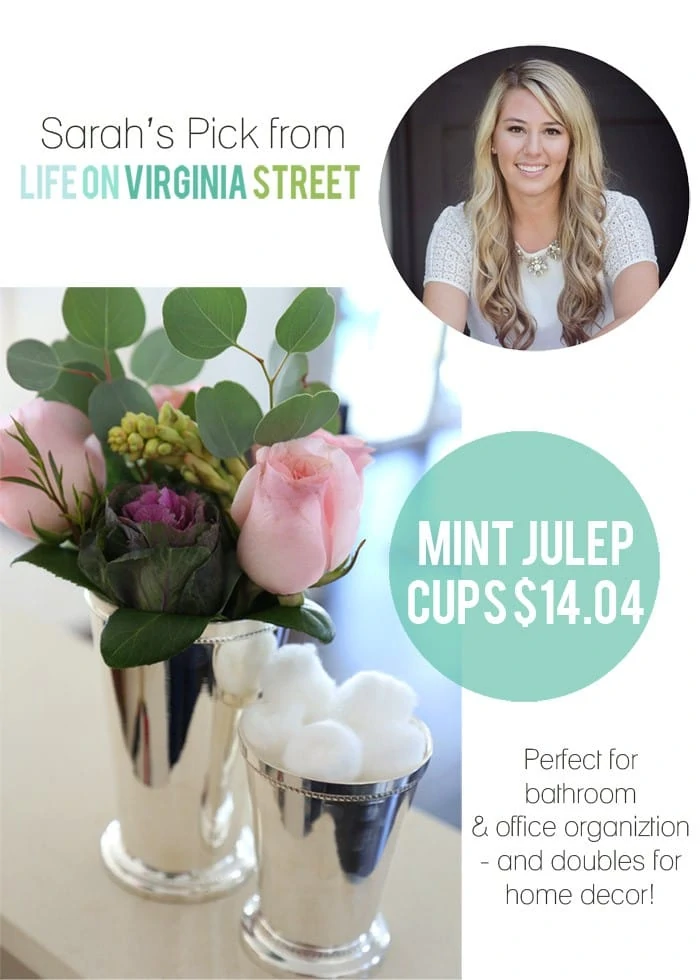 Abbey from The Cards We Drew Blog struggles with keeping weekday outfits organized so it's easy to get her kids out the door in the morning. Abbey suggests this awesome Fashion Organizer for $14.99 off Amazon. With the organizer, you can set out your whole week's worth of clothes all at one time and label the sides of the organizer with the day so that your kids and family will have five outfits selected before the weekday chaos even starts! No more sorting through the laundry or through closets and drawers looking for socks, underwear, or matching clothes…be one step ahead of the game and get everyone's fashion organized and in gear this new year. Purchase it for $14.99 HERE!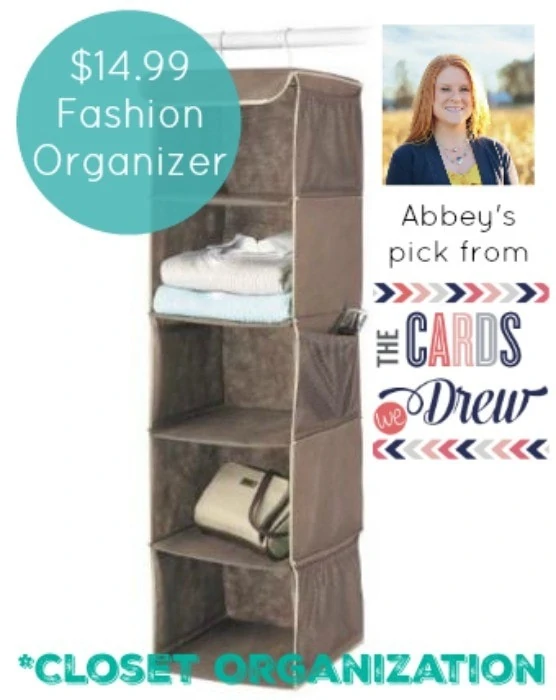 Valerie from Occasionally Crafty has the hardest time keeping her linen closet organized. Everything seems to spill into everything else!  Her favorite solution is metal shelf dividers.  They look classy, keep towels and sheets in their own spots, and are even customizable with some printable labels!  Better yet, you can use them in your clothing closet to keep your clothes and purses organized too! There are many different types of shelf dividers, and you'll need to choose the kind that fits your shelf best, but she recommends these ones for standard wooden shelves.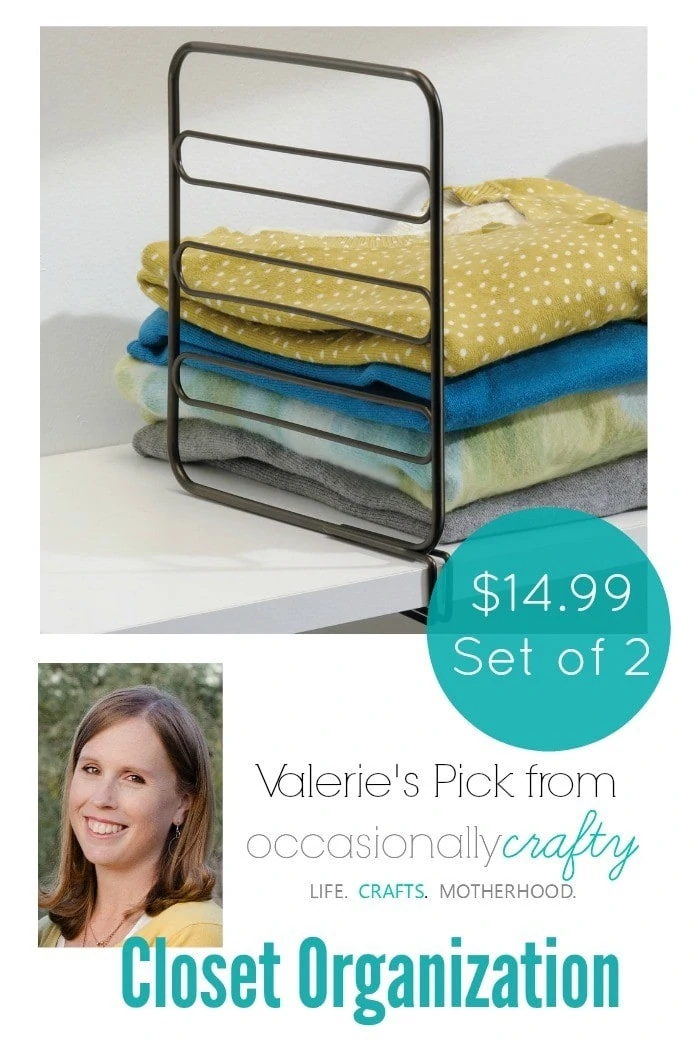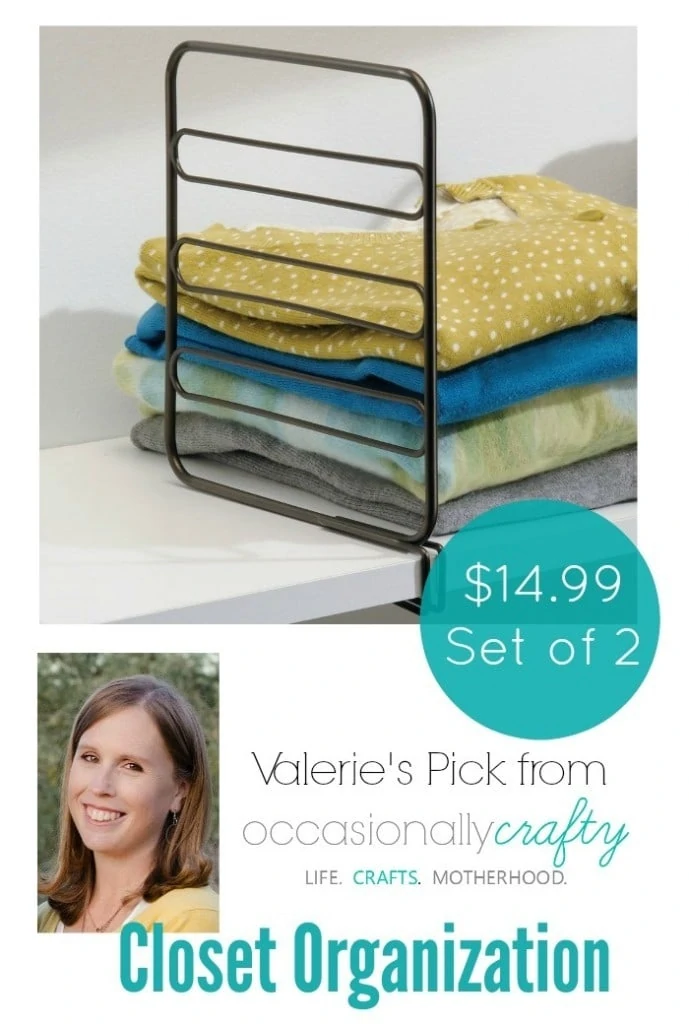 Ashley from Simply Designing recently completely a makeover on her Laundry Room to help make it a beautiful and functional space.  She got rid of her wire shelf and replaced it with beautiful new shelving.  But once the new shelving was in place, she realized that she didn't want to put her "ugly" plastic laundry containers back up on her pretty shelves.  Her solution was to purge what she didn't need, then transfer necessary laundry products into beautiful glass jars and pretty containers making the space both functional and beautiful!  There are so many beautiful options of pretty containers out there, but she particularly loves and recommends this Glass Canister (set of 3) with Hermetic Seal Bail & Trigger Airtight Lock that you can pick up for under $30!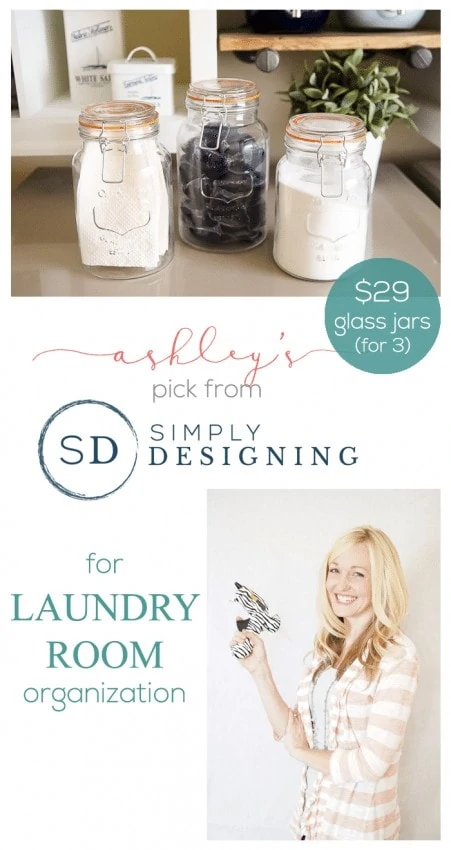 Marissa from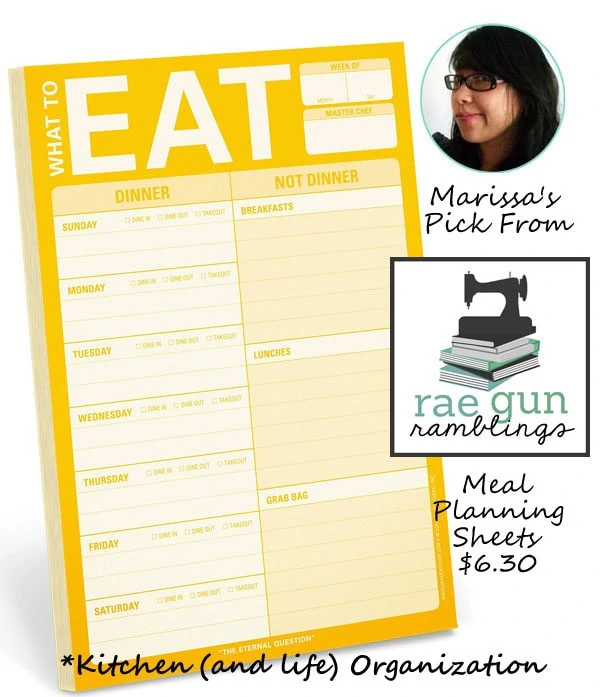 Debra from Housewife Eclectic loves a clean and organized pantry. Debra suggests these fantastic chalkboard labels for $9.99 and jars for each of your pantry items! No more looking for the sugar or grabbing the wrong container. If you change your mind about what is in a container, no problem, simply wipe off the label and start again. These labels are awesome for kids toys, offices and so much more! They are cute too.  Purchase them for $9.99 here!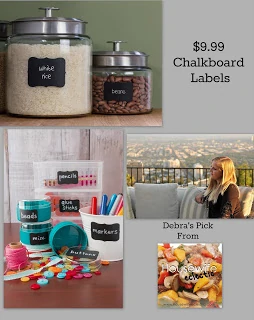 Vanessa from Our Thrifty Ideas can't even find her glasses when they are on her face….so can you imagine how hard it is to find something that doesn't have a "spot" for it to live? So the fact that these organization cubes are smaller in nature so they can fit virtually anywhere, yet accomplish complete organization, makes them one of the most perfect organizational products. For just $21.13 on Amazon you can make single cubes or up to 4 in a square. Imagine putting all the kids stuffed animals, sports balls or even their clothes in each of the cubes. The ideas and organizational ideas are endless with these cubes! Purchase your own for just $21.13 HERE.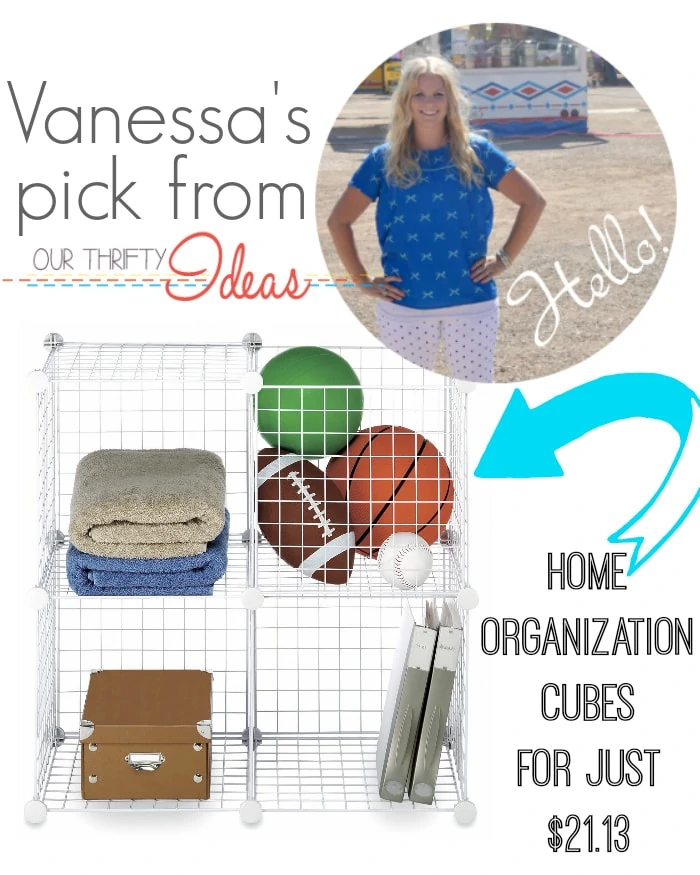 Michele from The Scrap Shoppe love to keep things organized, especially small, easy to lose things. Michele suggests this 26 drawer cabinet for less than $20 to keep little items organized! This drawer system is not just for the garage. Bring it into the house and keep little items in the craft room, kitchen, or even the kids' Legos in order. Purchase it for $19.76 HERE!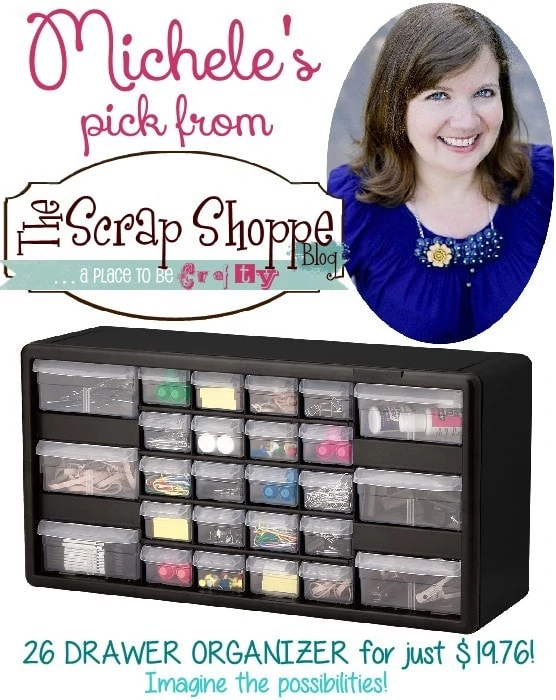 Vanessa from Tried & True absolutely loves each and every masterpiece her boys create but is, quite honestly, overwhelmed with the piles and piles of artwork all over her small house! Framing some of the really special pieces was great but she also needed a quick and easy solution to display and appreciate a large amount of children's art at once and found salvation in the unlikeliest of items…an Aluminum Slide Check Rack! They come in a huge variety of sizes (most under $20) to fit any wall space from the smallest corner to a large blank wall. You can even put multiple sliders together to cover a really really large space! Check out how I put one to use to create an easy easel for an art space and buy your own HERE!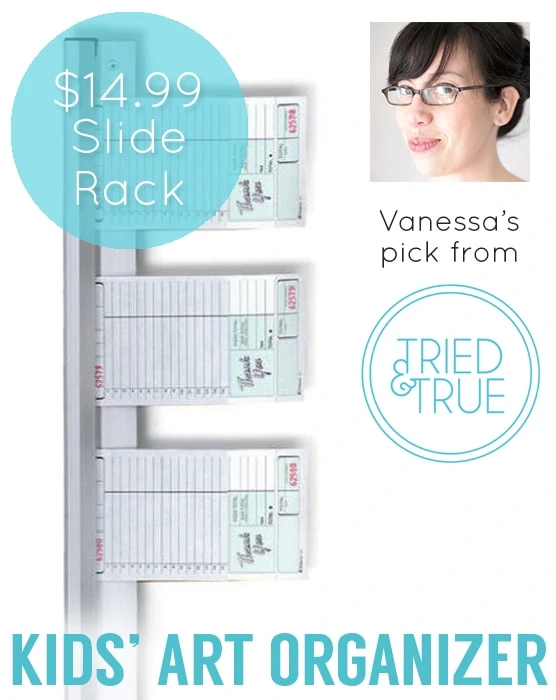 Tracie from CleverlyInspired would be lost in the kitchen without her iPad. It is a go to tool for figuring out what's for dinner, making a new recipe, ordering a new kitchen gadget right away on Amazon. This chic iPad holder keeps it protected, provides 3 viewing angles for the iPad to rest on and is great looking to boot! It has a card holder and a magnetix clasp to….so many days it doubles as my purse! At only $14.99 it is a value and has held up great! Comes in many colors but I really do like a gold. Click on this link to purchase!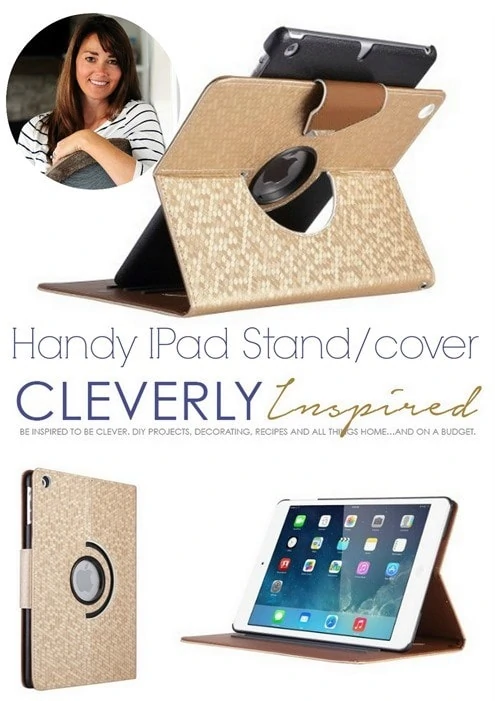 Kylie from Made by a Princess loves her pink girly office. It is full of cute jars, cake stands, crafts, ribbons, and a pink chair she calls "Dolly". One thing she cannot live without in this pretty pink space is her 4ft folding table. This table is where she creates her Sizzix designs and hand embellished invitations, pays bills, and occasionally enjoys a glass of champagne listening to the Justins (Timberlake & Bieber) while sketching out a party design. Before her husband bought it for her she was crafting at the dining room table (as so many of us do). Now she can craft her heart out and have all she needs at her finger tips…and can close the doors so no one can see the mess! The best thing about this little table is that it is lightweight and portable which means it can easily be used folded up and transported to the party location or a photo shoot. Also, when not in use it collapses quickly and can be hidden behind a door or in a closet. It is very affordable at around $40. You can pick up your own adjustable folding table HERE.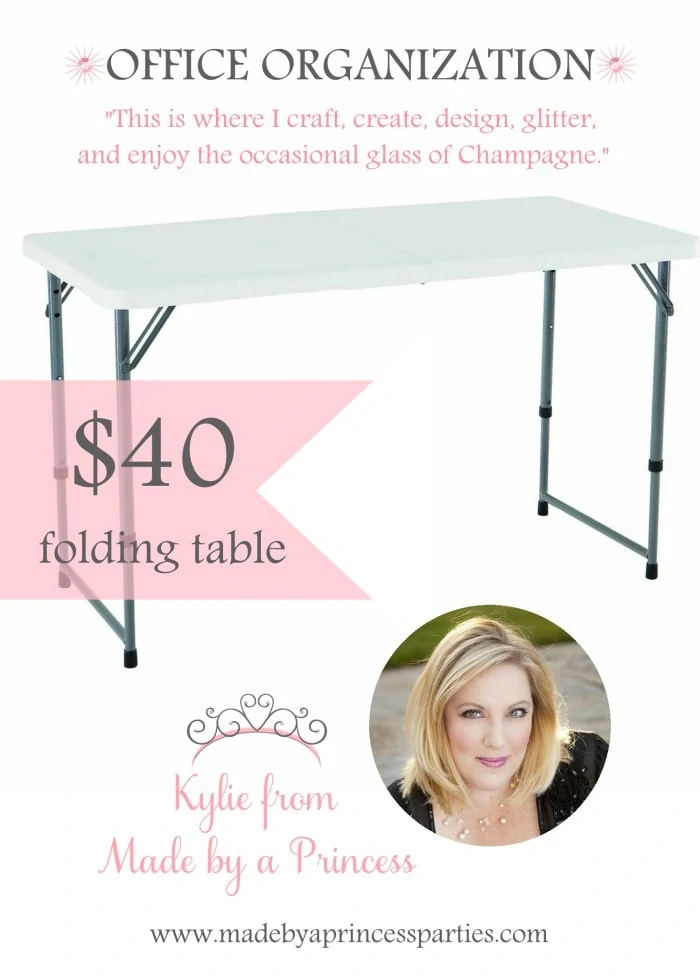 Jamie from C.R.A.F.T. has a slight obsession with vertical organization! Her secret weapon: Command Hooks! These handy dandy hooks can help you get every room in your house organized! See how she turned a door into a vertical storage kitchen masterpiece using the hooks. She also used them to organize all things school and kids and hang towels on doors. But, y'all these are also awesome for hats, scarves, robes, backpacks, and jackets. Oh and best of all, they don't rip paint off of the wall when you're ready to take them down, and they are re-useable! At only $7.19 for a pack of 6, I suggest getting 2 packs! Click this link.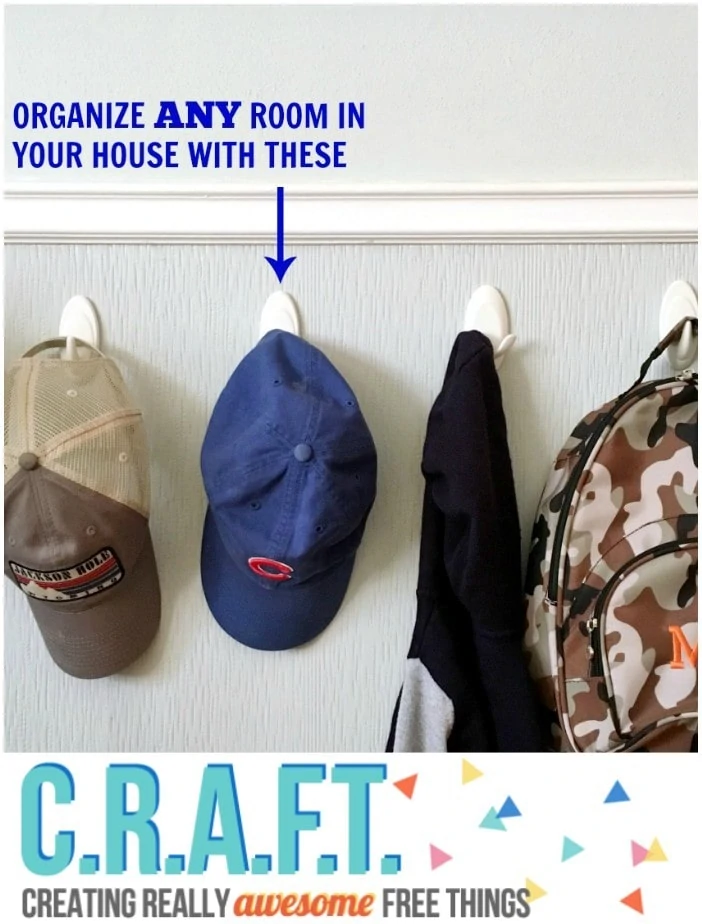 Britni from Play. Party. Pin. doesn't have enough cabinet space in her kitchen and pantry for all of her baking supplies and spices. Britni suggests these awesome under shelf hanging baskets for $10.99 (medium size) or $17.99 (large size) off Amazon. With the under shelf hanging baskets, you can double the amount of space you have in your cabinets hanging a basket from each of the shelves. They're perfect for smaller things like spices, measuring cups, kid sized cups, and more! Or use them in your craft room for paints, washi tape, or any other small supplies. Never run out of storage again! Purchase baskets starting at $10.99 HERE!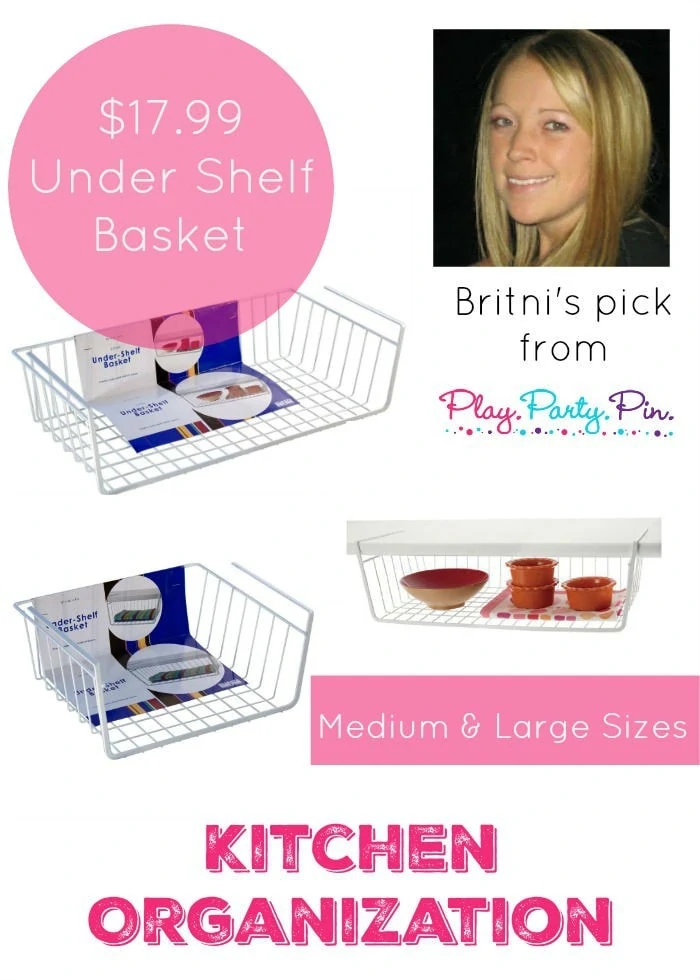 Melanie from Reasons To Skip The Housework struggles with all of the little things that get shoved into the junk drawer.  There are push pins all over in three separate drawers because there's no ONE place to put them.   Melanie suggests these Stainless Steel magnetic containers from Amazon. The set is $19.95 and will be to you in one day with Free Prime Shipping. With the organizer, you can have a place for all of the little things.  You don't have to use them as magnets, but if you put up a magnetic strip (you can buy them at Home Depot) you can have all the little things in easy reach!  Purchase it for $19.99 HERE!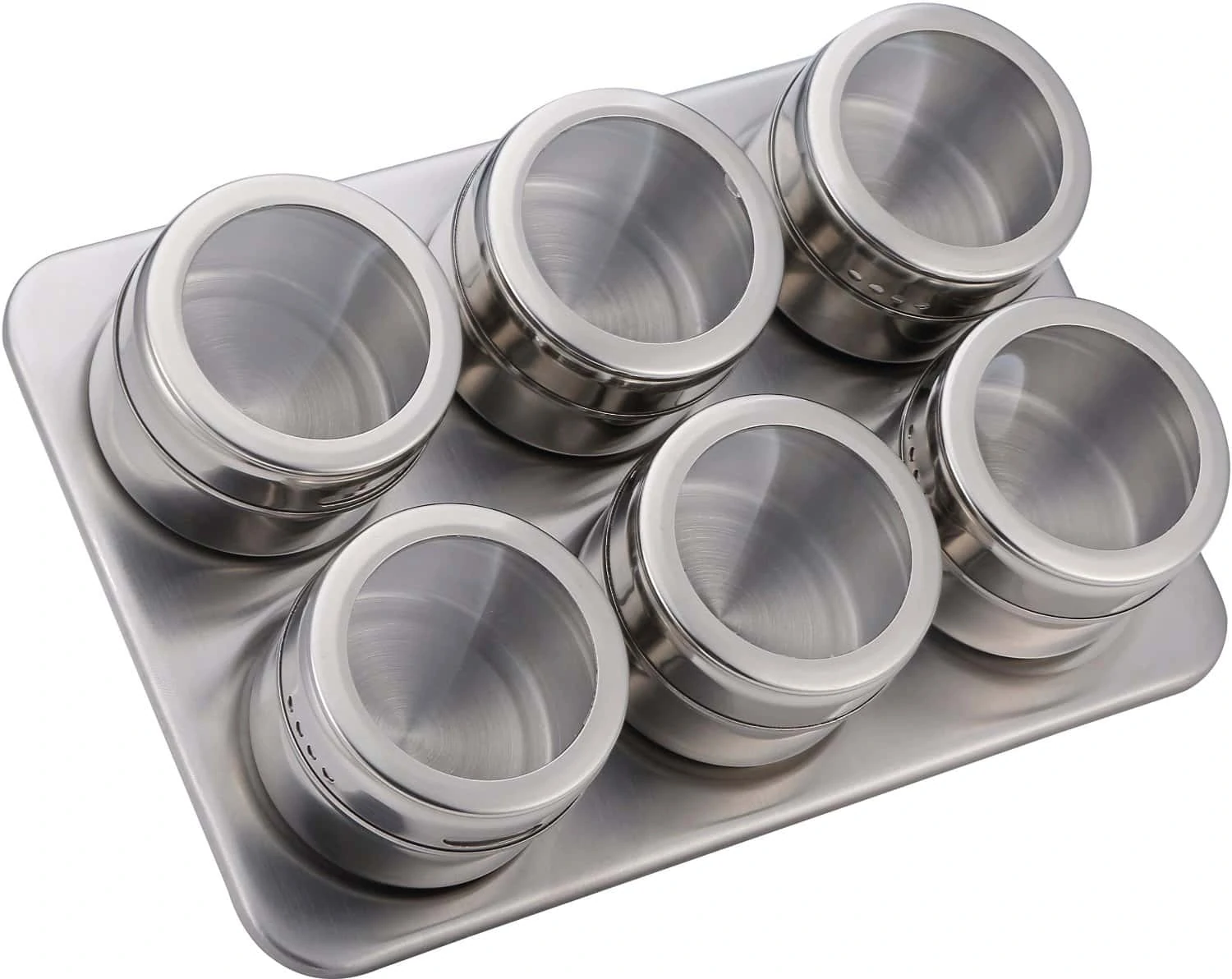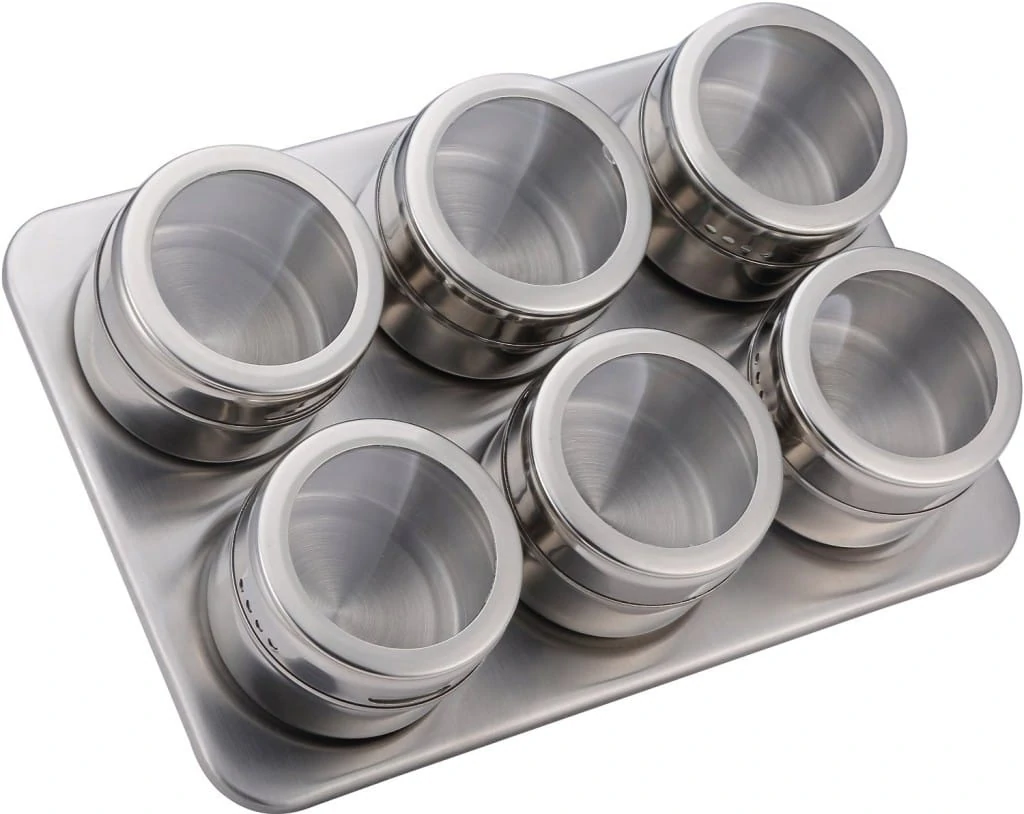 Susan from Oh My! Creative needs help with kitchen organization. Last year she discovered these OXO Good Grips Turntables
can keep her refrigerator organized as well as a few kitchen cabinets. Susan recommends two for the refrigerator one on each shelf. Place those items not used every day like extra sauces, olives, capers, and other recipe ingredients. When they are needed to make a recipe just give the turntable a whirl and you will easily locate the ingredient needed. This is also a great way not to have things pushed to the back of the fridge never to be seen again! They also work well in kitchen cabinets. Buy a few today for just $16.99 to get organized – OXO Good Grips Turntables
!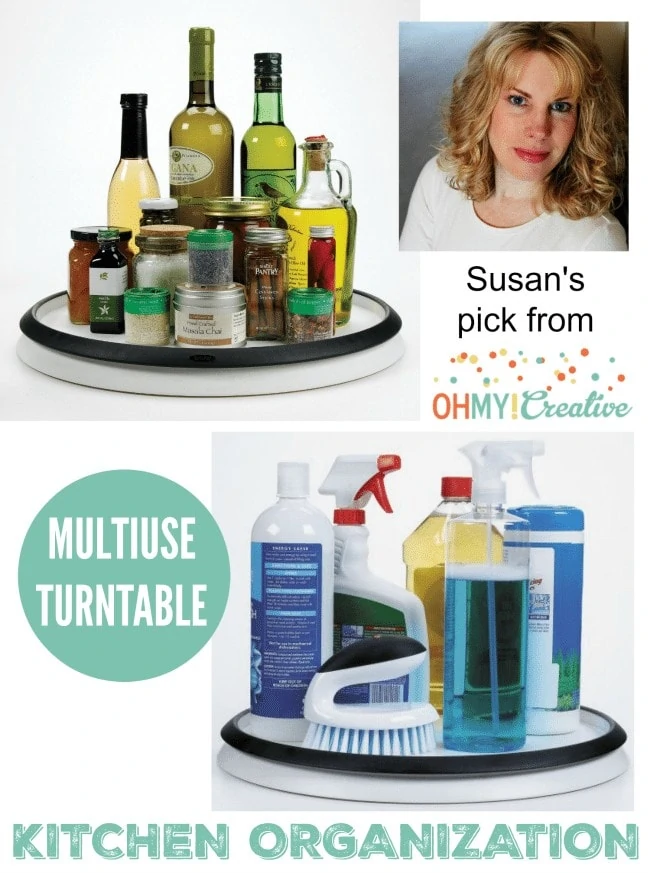 Nat & Holly from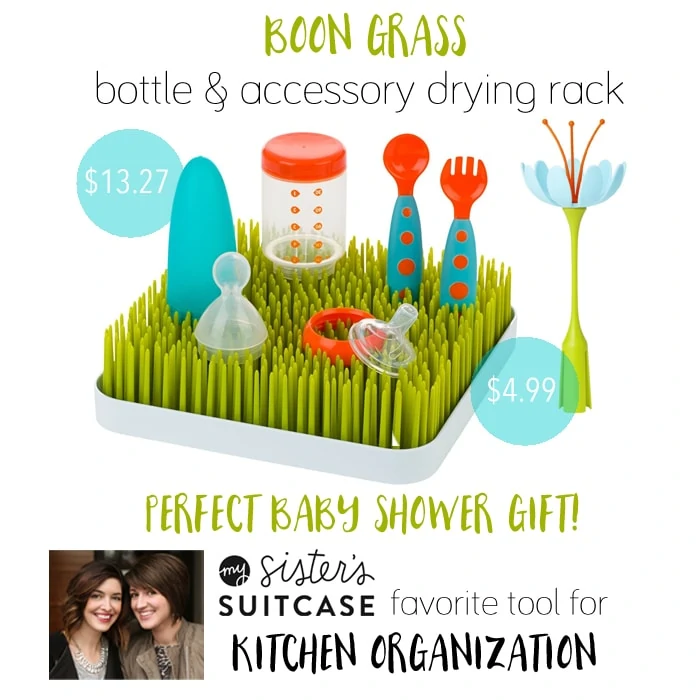 Sydney from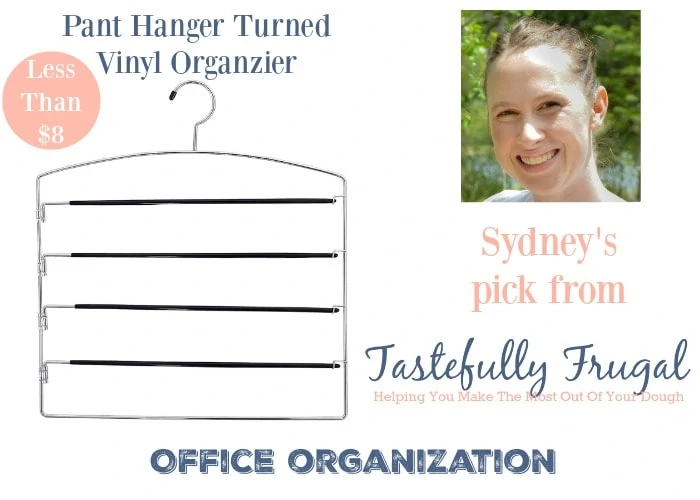 Randi from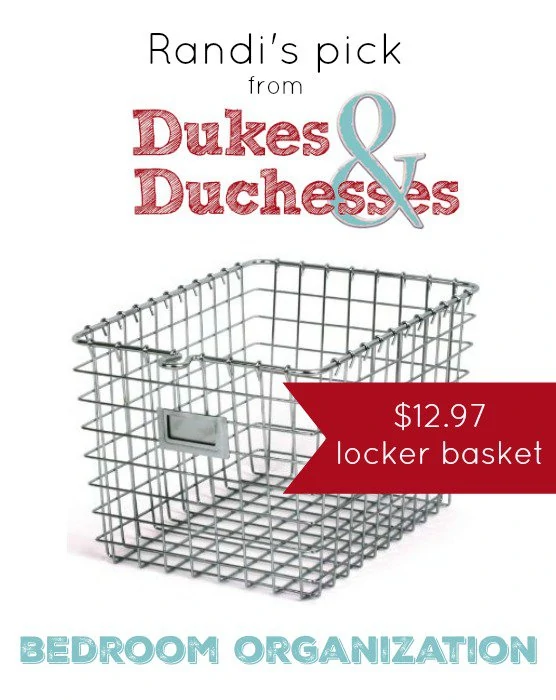 Stephanie from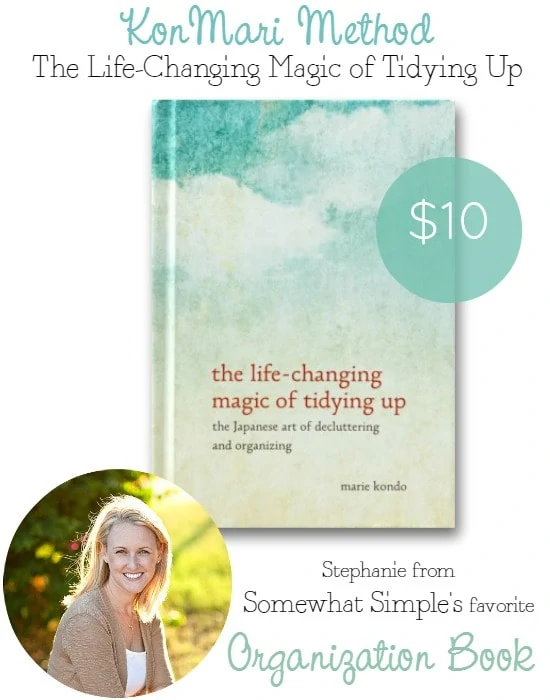 Beckie, from Infarrantly Creative, was tired of fighting the small storage she had for storing spices, constantly dropping bottles as she was searching for the spice she needed.  She found the You Copia Spice Stack to fit perfectly in her small cabinet.  She grabbed two 18 bottle stacks and put them one on top of the other.  She marked each spice with a labeler, and now she never struggles to find spices by just pulling the drop down drawer out to grab the spice she needs.  Purchase it HERE from $19.99 – $39.99 depending on size.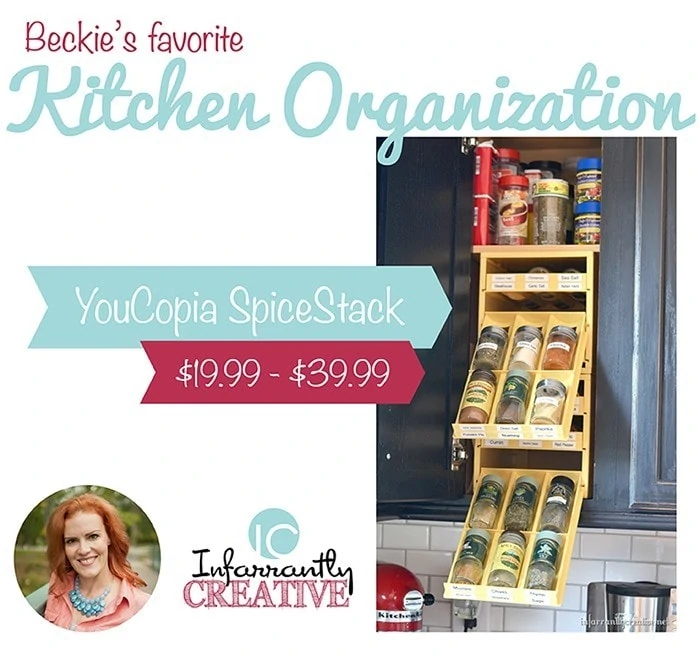 Jillene from inkhappi believes pretty packaging is almost as important as the gift itself. Even the simplest of gifts seem extraordinary when they have that extra wow factor on the outside!  It makes them more desirable. The only problem? Who has time to dig through the closet to find the perfect bow and tag? That's why Jillene likes to keep her wrapping organized and easy to grab when she has very little time before running out the door with her gift in tow. This gift wrap organizer from Amazon costs $14.99 and is her quick and simple solution for wrapping a pretty gift in a hurry. But there's more this can do! This multi-purpose organization tool has many functions. With some creativity, it can be used for toys or even cleaning supplies and will easily hang on a door or in a closet.  You can check out what Jillene did with her gift wrap organizer HERE. You can also pick up some cute, free printable tags and several tips to get you on your way to some "pretty packaging" yourself!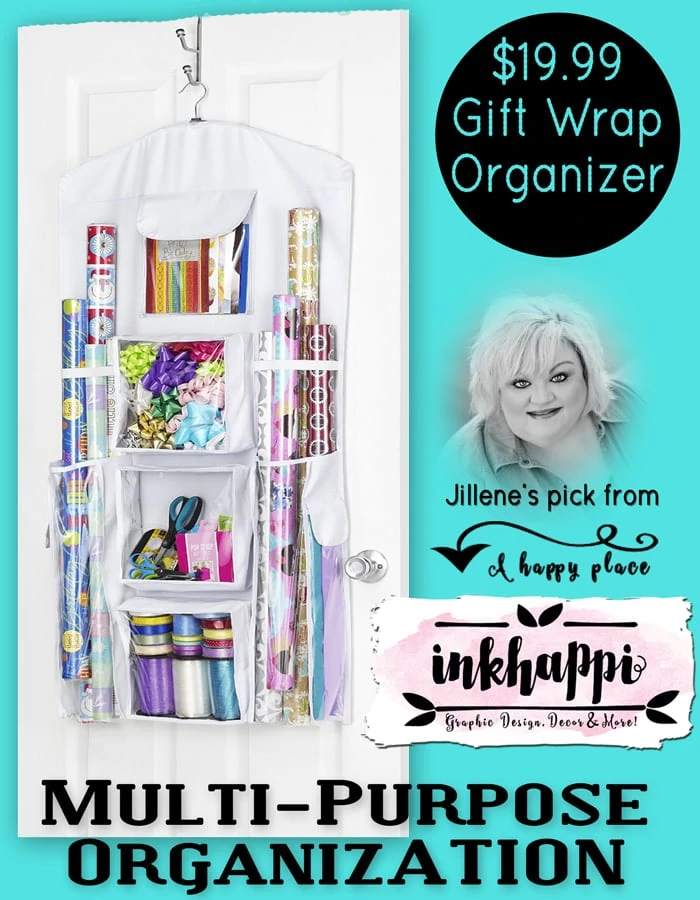 Andrea from Andrea's Notebook has more craft and sewing supplies than space in her craft closet. Her pegboard wall helps organize all the supplies she likes to keep close at hand, like her scissors, ribbons, thread and vinyl! These pegboards are easy to attach to any wall and with the use of J Hooks or other pegboard hooks you can hang almost anything. You can buy giant sheets of pegboard at most hardware stores but this pegboard kit from Amazon gets delivered to your door. Plus, it's only $16.99 HERE, which is a good price!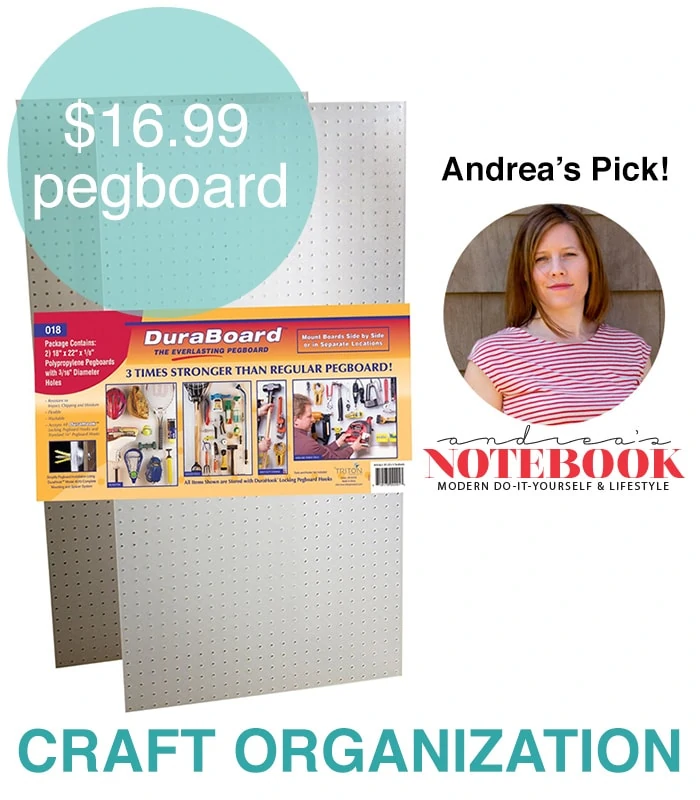 The girls from My Mommy Style have a lot of kids and that means a lot of shoes! I am sure you can relate with this problem and the fact that shoes seems to appear in any corner of the house or right in the middle of your kitchen. We love this Stackable shoe organizer because you can adapt it to fit any shoe size or space that you need it to fit (you can change the pieces to be more vertical or horizontal, whichever you prefer.) This shoe organizer is a little more expensive, but the cost is worth it because it is more sturdy and adaptable to whatever space you may need. Another good idea is to use a label maker to make each cubby specific to its owner or shoe type.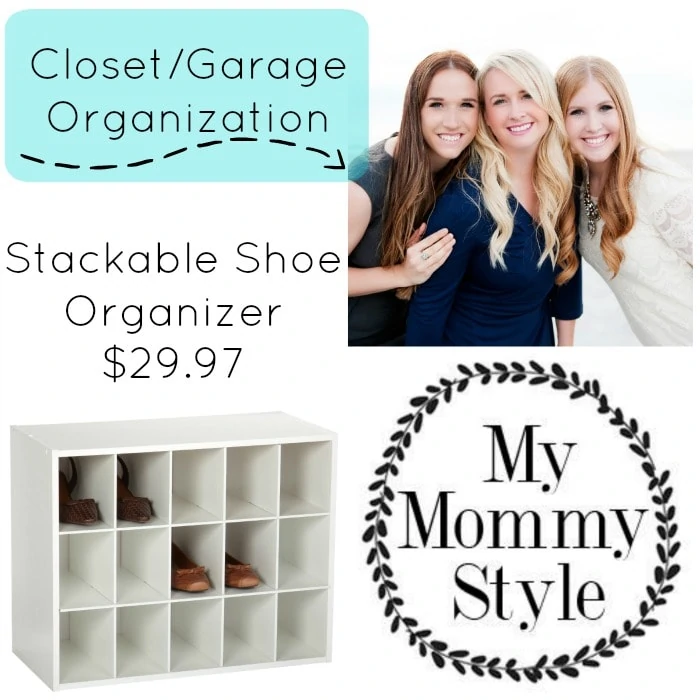 Jenn from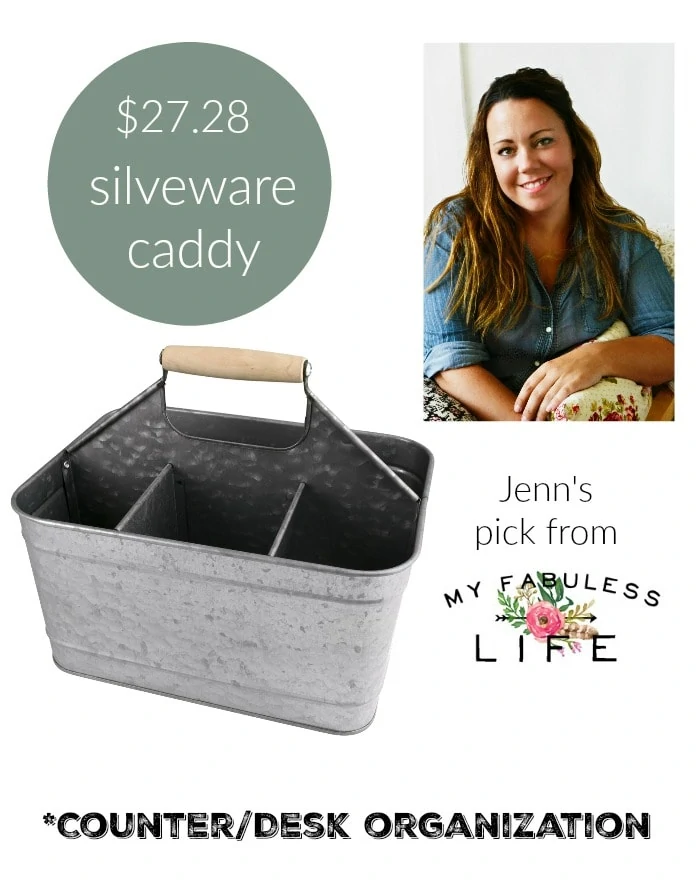 Raquel from Organized Island has saved lots of valuable time by labeling storage with her DYMO LabelMaker 160. With its easy use and font variations it is a great deal for about $15! You can find it on Amazon.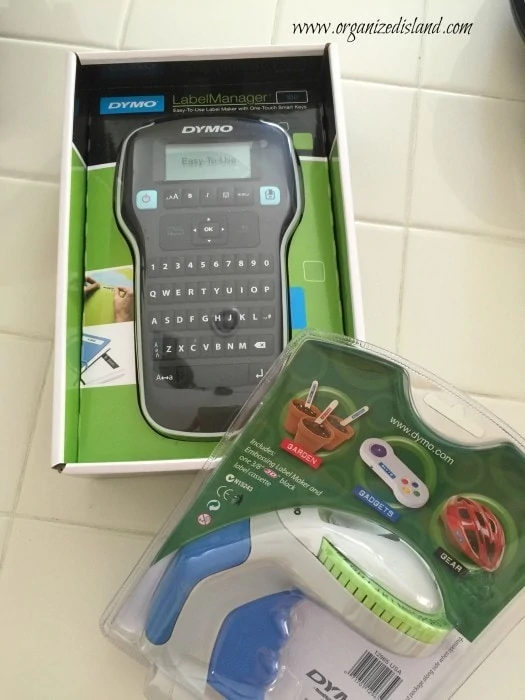 Katie from The Casual Craftlete loves making paper crafts and pretty packaging.  Her favorite way to store large 12 x 12 paper pads is with an Essential Storage Box.  This box is not only great for keeping paper safe from damage, but it can easily hold a variety of crafting tools and supplies such as scissors, punches, ribbon, and embellishments.  This light weight-light heavy duty large open box securely closed with two latches and has a molded in handle that makes carrying easy.  Perfect for taking to a scrapbook retreat crop-hop.  Grab an Essential Storage box for $8.99 HERE!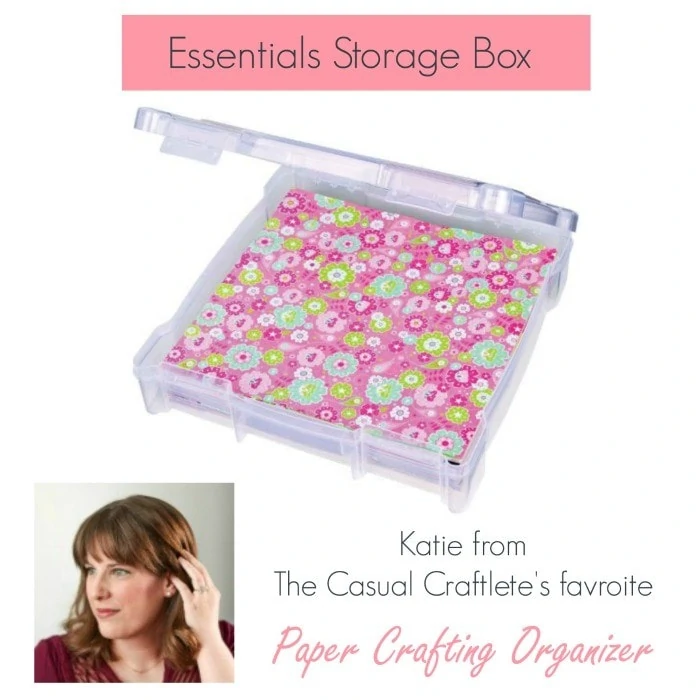 Chelsea from
Two Twenty One
swears by these
drawer organizers
.  They're perfect for keeping smaller items organized in dresser drawers.  Chelsea's favorite place to use them is in her son's nursery dresser.  She rolls up his clothes and puts them into their designated organizer, making those tiny clothes easier to find.  The drawer organizers are also great for curtailing socks, burp cloths, bibs, pacifiers, travel-size toiletries, baby accessories, and more.  But they aren't limited to only baby items.  The
organizers
can also be used for adult socks, underwear, belts, and more.  They also fold to save space when not in use, making them an organizational must have.  You can purchase a 12 pack set of drawer organizers for $31
here
!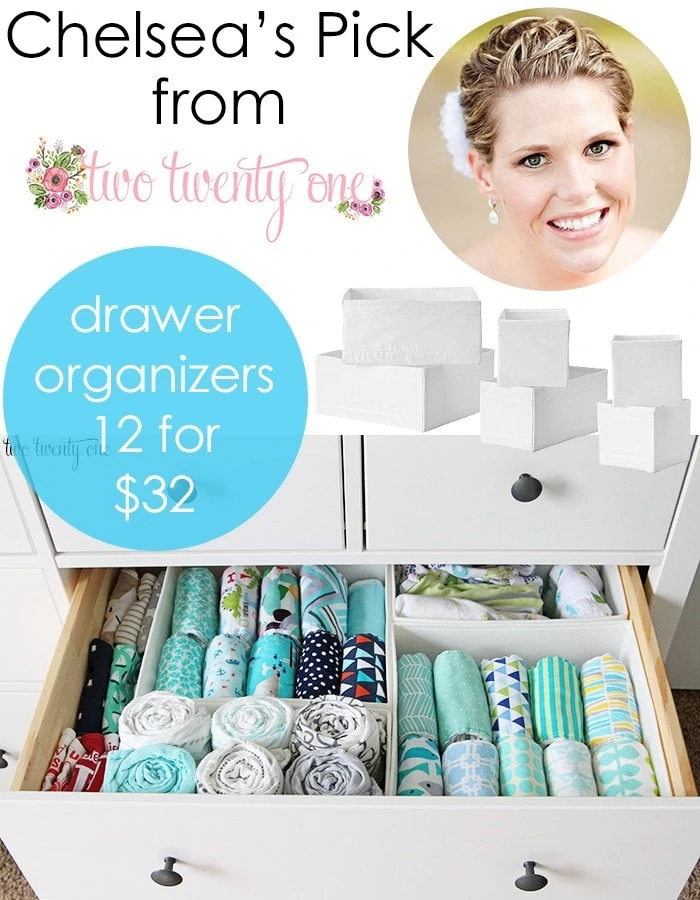 Cori from Hey, Let's Make Stuff is a new mom of twins and can't believe how many toys two tiny babies can have! To wrangle all those toys, Cori suggests this cute Elephant Toy Box from Amazon. With this $24.99 toy box, you can store your baby's (or babies'!) toys out of the way but still accessible. Plus, it's cute but not baby-overload. Not into elephants? There are a bunch of options! Purchase one HERE for $24.99.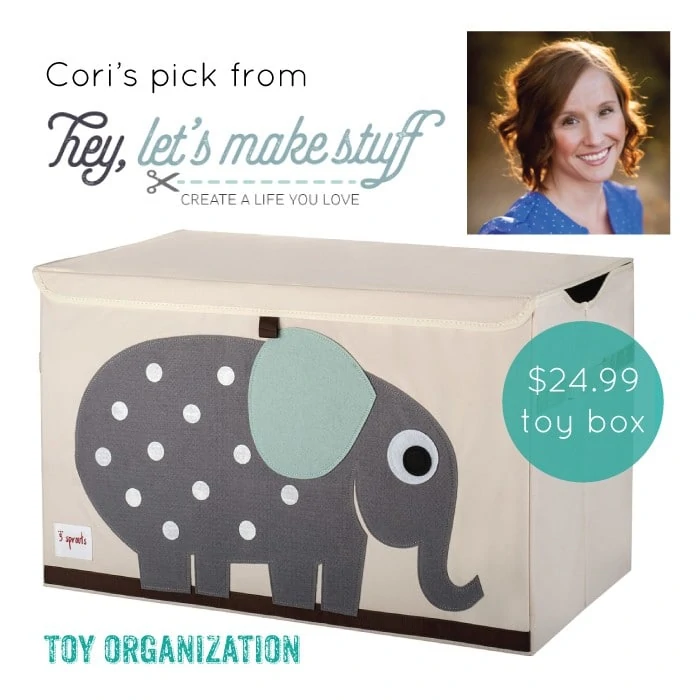 Taryn from Design, Dining and Diapers LOVES this simple Kitchen Organizer from IKEA. Easily add this steel rail to the end of your kitchen cabinet and store pot holders or dish towels. It provides easy access to things you use multiple times a day and it looks pretty too! You can get TWO rails for just $15! Purchase HERE.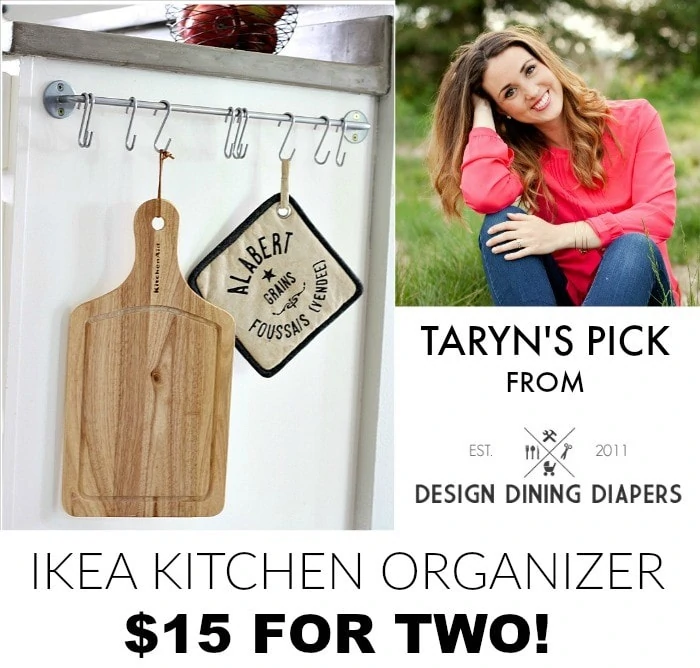 Christina from Christina's Adventures is working on getting her kids to help with their never-ending dirty laundry (and trying to figure out a better system for herself!). She suggests this durable 3-bag laundry sorter for $45 on Amazon.  These heavy duty canvas bags will hold a load of laundry each, and can be easily unhooked from the organizer and carried using the handles to the washing machine.  So much easier for us moms, but also kid-friendly when trying to carry this down two flights of steps to the washing machine!  Purchase it for $45 HERE!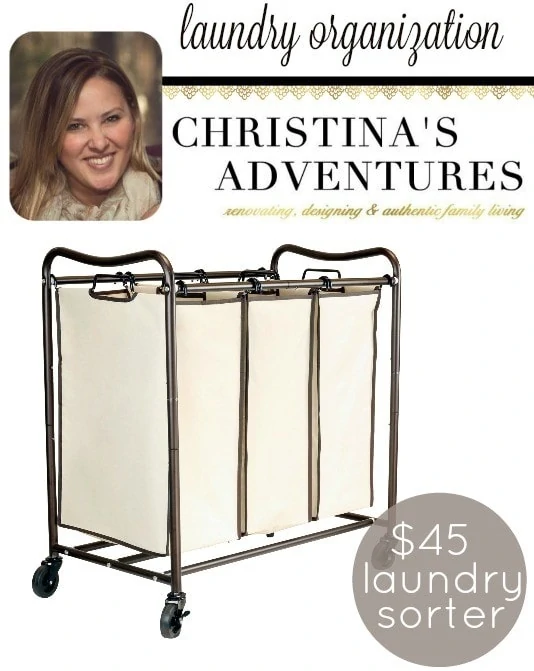 Kelly from Live Laugh Rowe is a fanatic about tidy closets.  Kelly suggests using these awesome Stackable Crates of various sizes (large for $10.79) at Amazon. With these stackable crates, you can make the most use of your closet space.  They work great in the pantry, linen closet, laundry room and more! No more random piles and having to rummage through disorganized closets.  Start that New Years resolution of getting organized right with these clever stackable storage solutions! Purchase a set of these Large Stackable Crates for $10.79 each!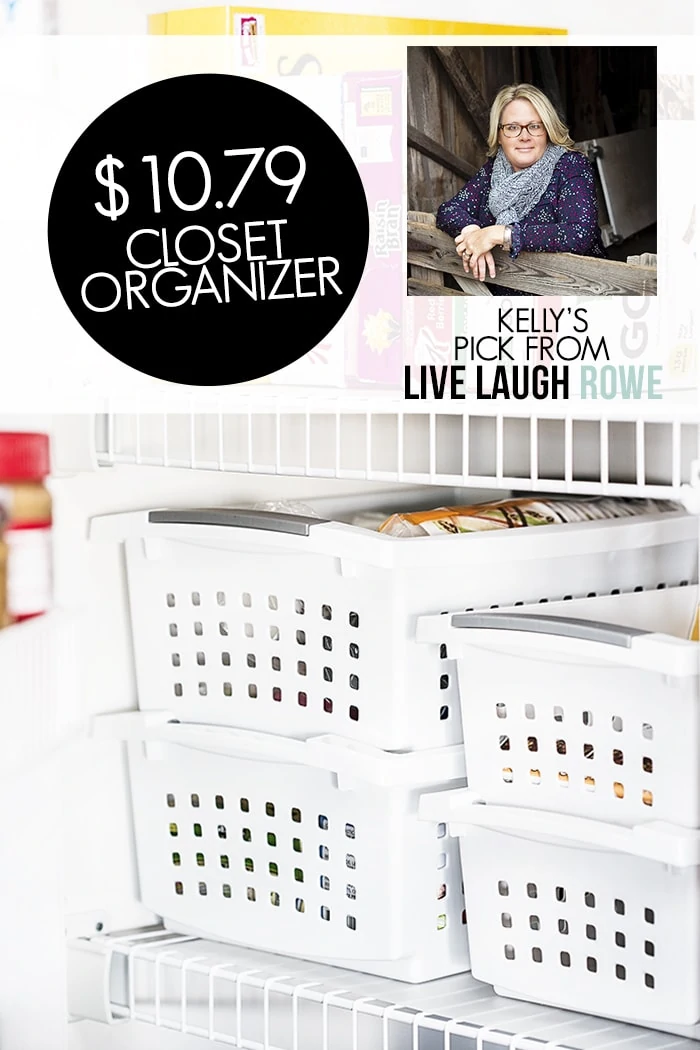 Marie from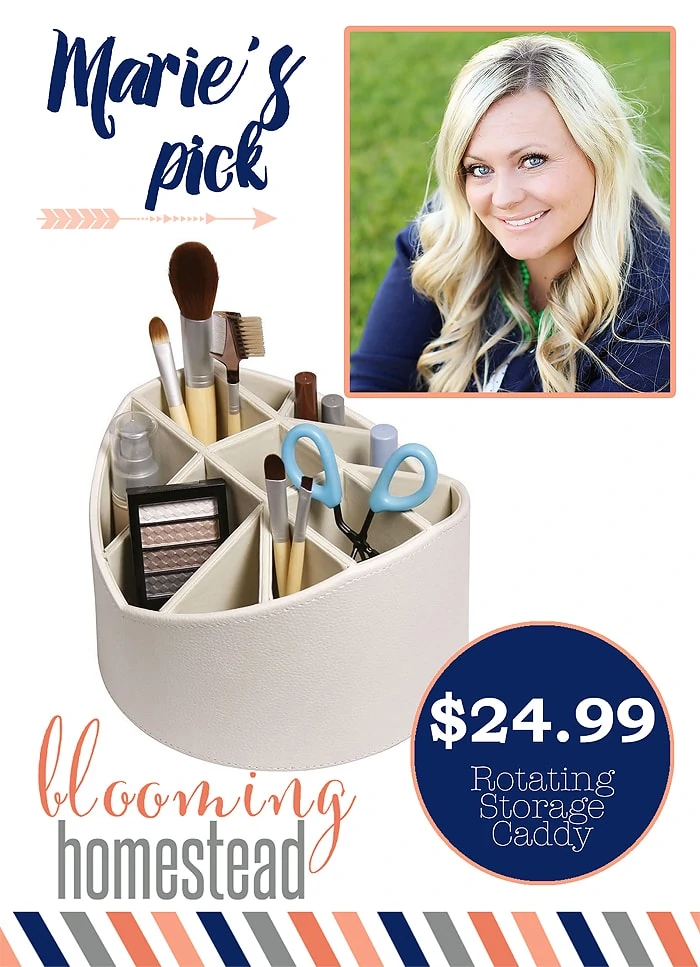 Hi! I'm Stacy from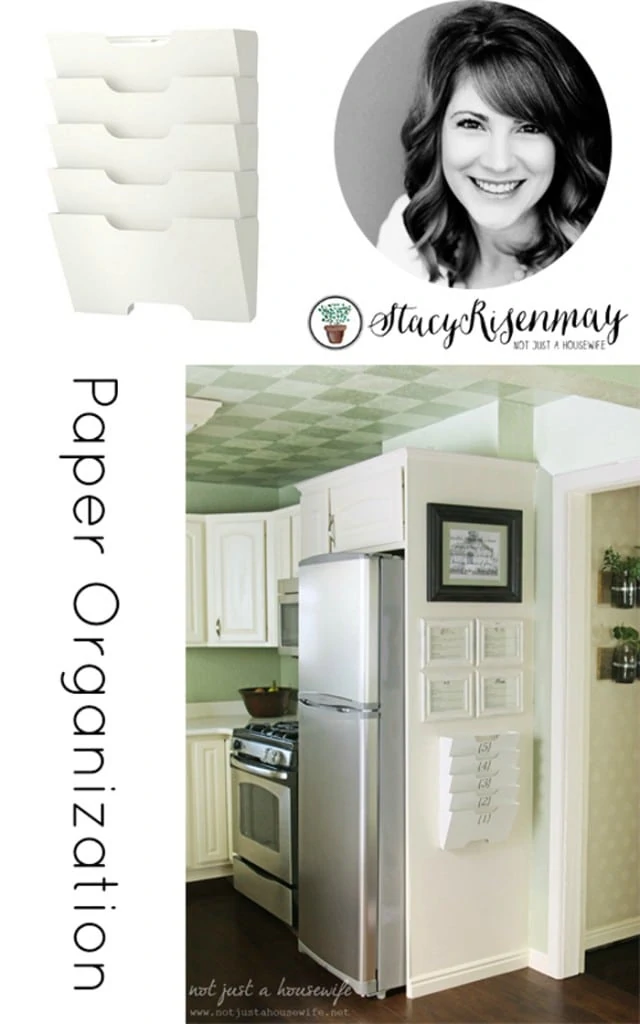 Mariah from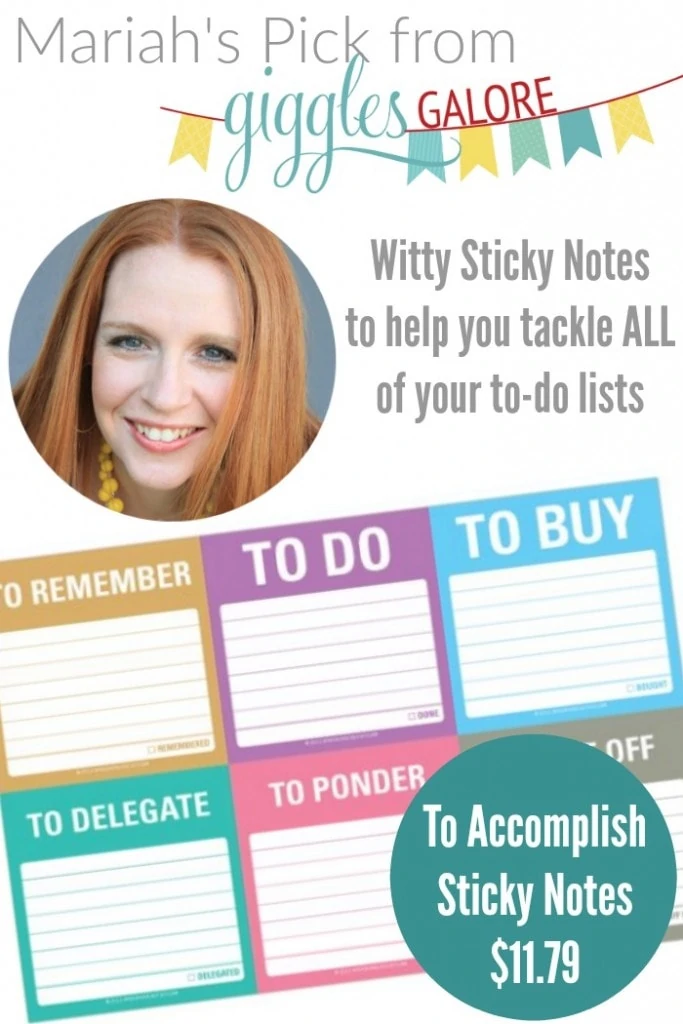 Aniko from Place Of My Taste used to struggle to keep her daily mail overflow and paperwork that came home from school each day organized. But not anymore. She found an excellent way to keep her entryway organized and clutter free. She found this amazing magazine rack that (she spray painted it, so it goes with her entryway decor), and now she uses it on a daily basis. She drops in, and outgoing mail, magazines, folders, paperwork from school and it keeps her life organized. Purchase this awesome magazine rack HERE.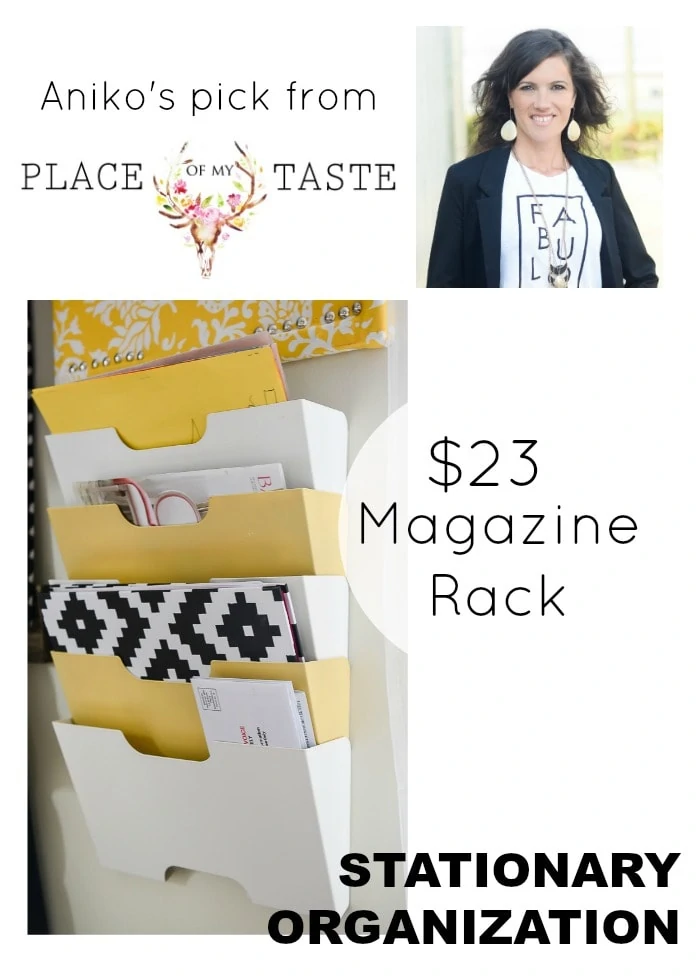 Hello there! I'm Kristen Duke from Capturing Joy, and I love to share on my site all about the fun family adventures in life, and how we create joy. I'm currently trying to manage the shoe situation in my small closet. Piles of shoes end up on the floor, and I'm worried I'm going to snap a heel, or pierce it into my foot! Which is worse?!? Hmmmm…. I love this hanging shoe carousel, and think it's a great solution for shoes and bags!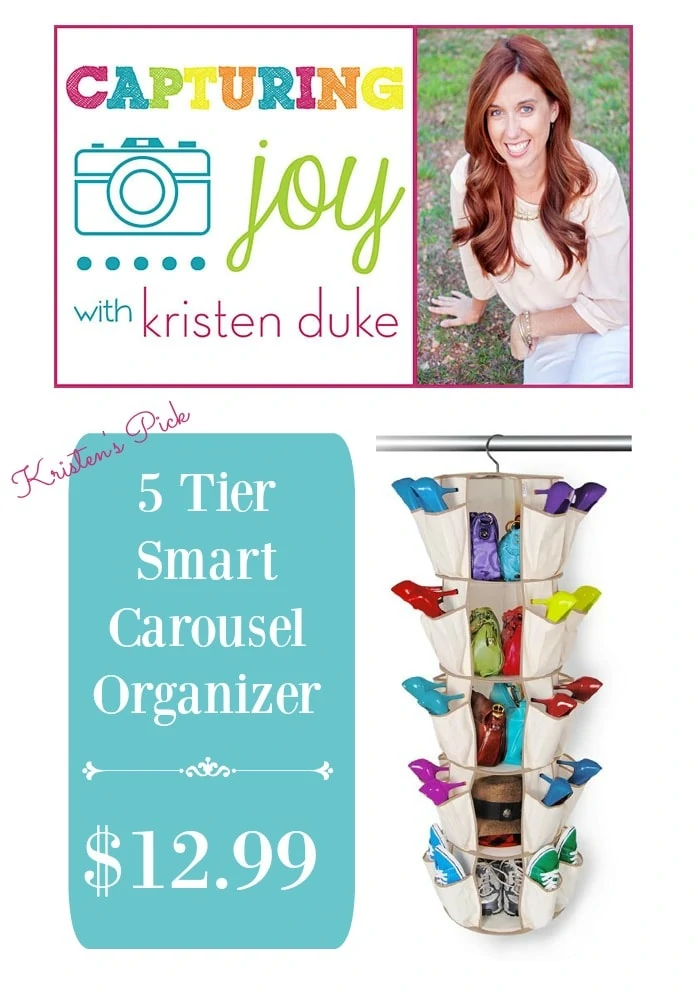 Kimbo from A girl and a glue gun has 3 kids and a busy schedule–she loves to be able to see whats going on with a quick glance! Use this fun chalkboard calendar  to write the menu on, get one for each kid and write their chores on it, or use it to help keep you straight on soccer practice, dance practice, meetings etc!  Pair it with some fun chalk markers and get organized! Get your chalkboard calendar HERE for $12.99!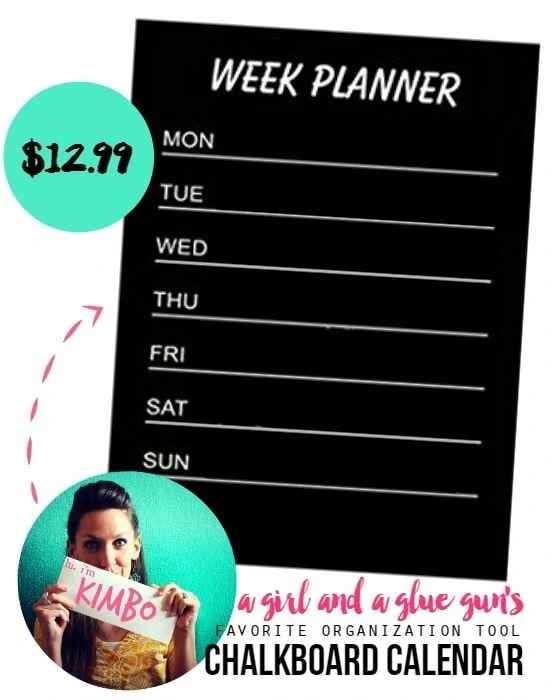 Lindsay from Frenchie picks the Stair Basket with Handle from Amazon. How easy is clean up with a basket on the stairs that you can take up each night? Each one of my kids have these and when they leave something downstairs, instead of nagging them, I just throw it in there. They're responsible to clean it out once a week and it has been life changing. Grab it here.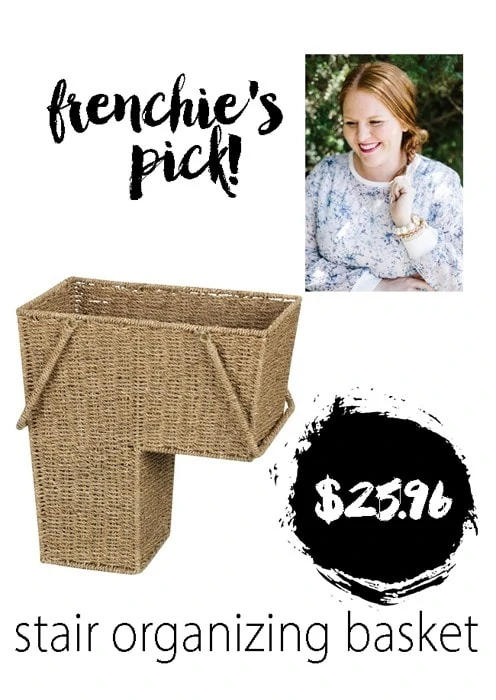 Kelli and Kristi from Lolly Jane love organizing. It seems to help keep them organized if it's pretty organization! The twins suggest this darling American Crafts diagonal printed clipboard from Amazon. There are several coordinating clipboards if you wanted to keep different family member's papers organized in style, have all your to-do's neatly layed out in coordination, etc. Purchase this gold plated clipboard!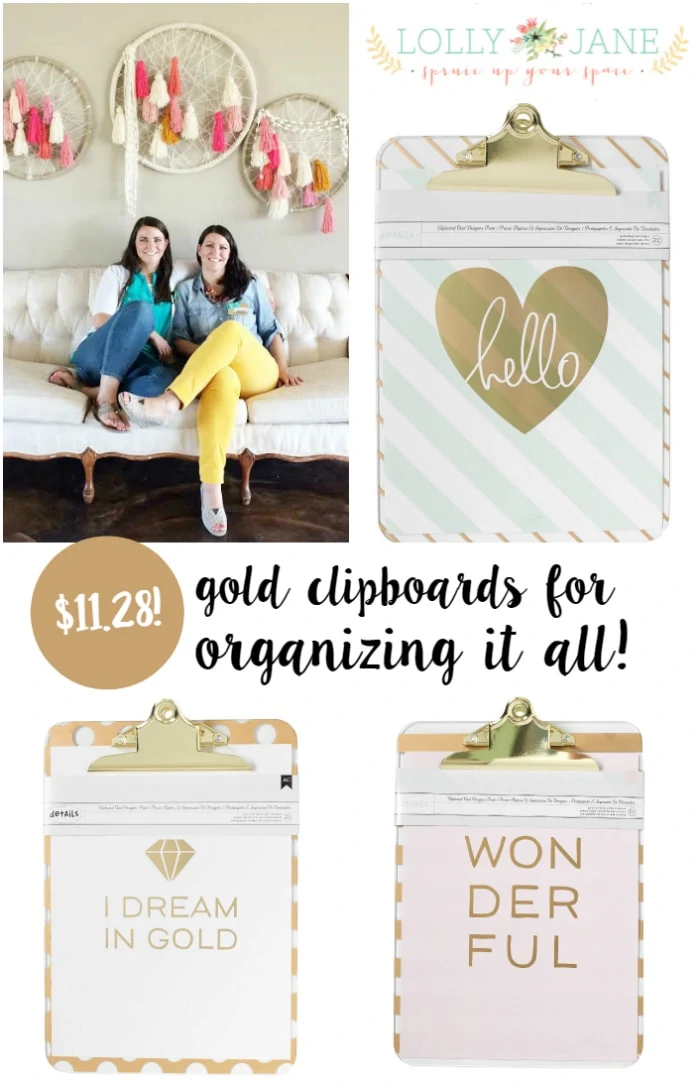 Mique from Thirty Handmade Days has learned the power of a slow cooker in her life. This is one thing that has helped her keep organized with a crazy busy schedule and shuttling her big(ish) kids around in the afternoon and evenings. She especially likes make ahead freezer meals and to help with that she uses freezer meal baggy stands. They hold up the bags so that you can pour ingredients into the bags without making a mess. Life changing!! You can purchase them HERE.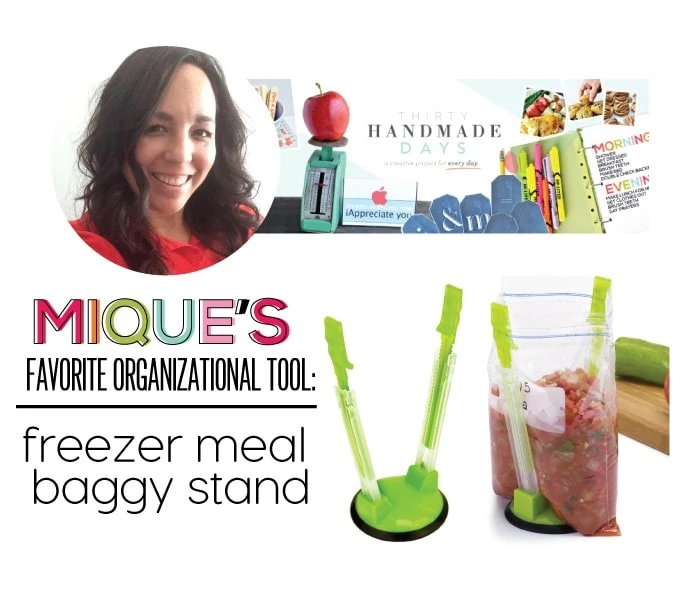 Sara from Mom Endeavors knows how crazy mornings can get when trying to get everyone out the door. Making lunches just adds to the busyness. To help, Sara recommends Easy Lunchboxes! Her family has been using them for the last 5 years and LOVES them!! With these awesome stacking bento boxes, you can just grab a box and fill in the divided containers. No messing with baggies or various different sized plastic containers. They stack beautifully in the cupboard, helping you stay organized and making lunch prep a breeze! Purchase a set HERE!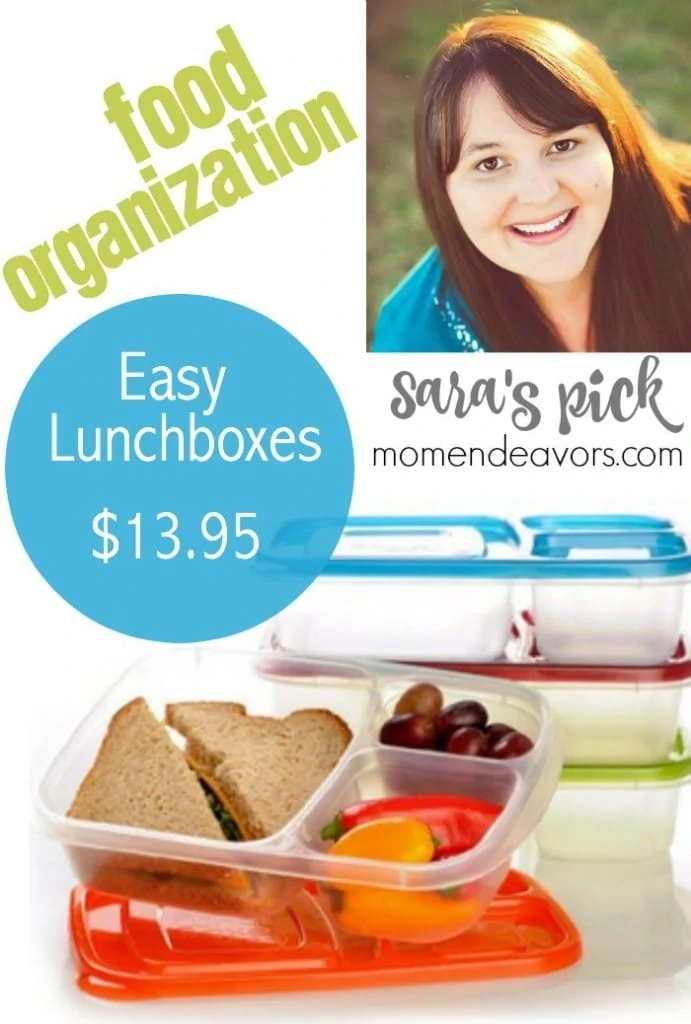 I hope you enjoyed this epic round-up of the best organizing tools and found some new ones you can add to your arsenal! Do you have any other suggestions for organizing products you love? I'd love to hear more!
Want to get a head start on organizing?! We've teamed up to give TWO lucky winners $375 in Amazon gift cards to purchase whatever you need to get organized for the New Year!
The giveaway details: Giveaway winners enter via Rafflecopter widget below. Giveaway begins Friday, January 15th and ends Friday, January 22nd at midnight. Winners will be selected and emailed on Saturday, January 23rd. Winners have 48 hours to respond via email otherwise a new winner will be selected. Facebook, Instagram, Pinterest, and Amazon are in no way associated with this giveaway and are hereby released of any liability.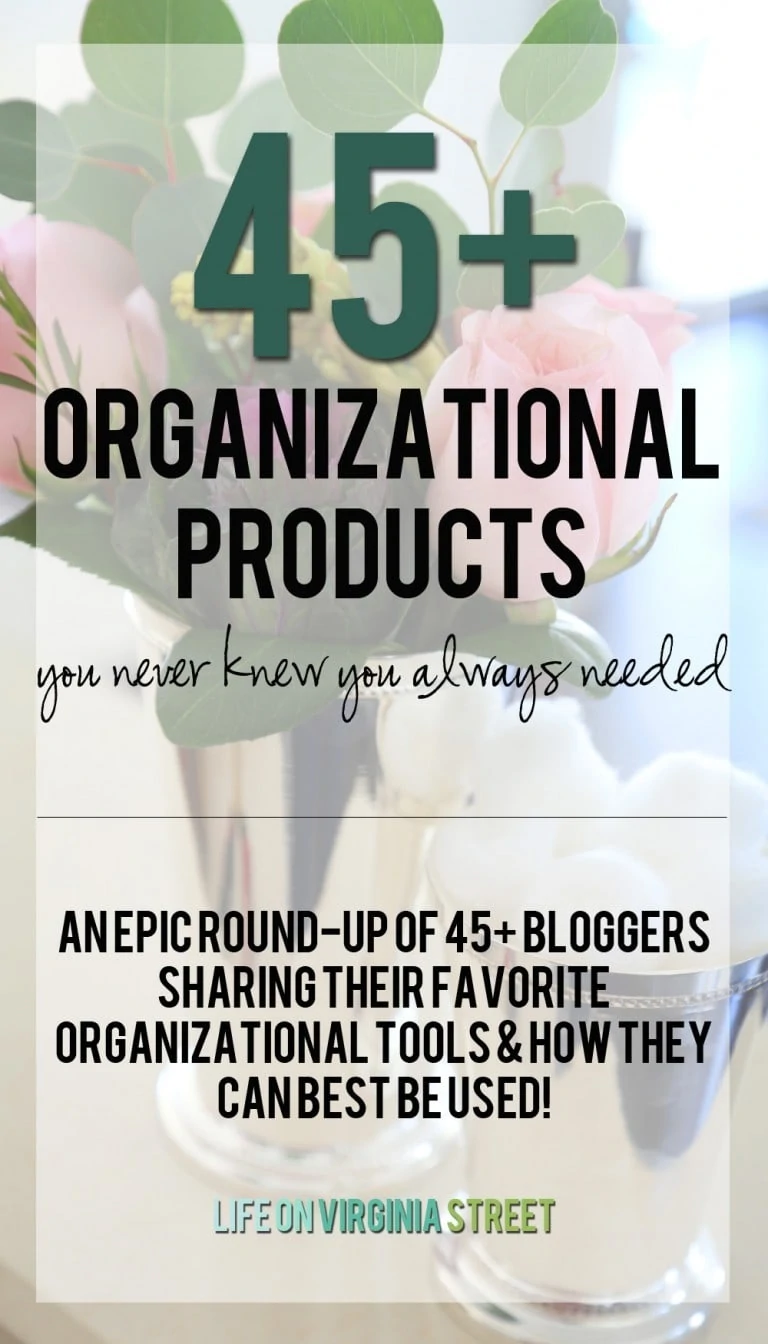 If you would like to follow along on more of my home decor, DIY, lifestyle, travel and other posts, I'd love to have you follow me on any of the following:
Pinterest / Instagram / Facebook / Twitter / Bloglovin' / Google
disclosure: some affiliate links used in this post