This post brought to you by Andre Champagne. The content and opinions expressed below are that of Life On Virginia Street and is intended for readers that are 21+ in age.
So remember in February when we went to Cabo and I convinced my husband I needed some Otomi linens? He said I would never use them. I promised him I would host a summer party just so I could use them and he finally gave up. Well, up until last weekend that party hadn't occurred yet and I ran out of precious summer weekends to honor my promise.
Last weekend, I put together a really fun taco bar and made a killer champagne sangria recipe to pair with it! It was such a simple meal and drink pairing but it felt so festive and perfect for an end of summer celebration. Because the Otomi I purchased is so colorful, I decided to go bold and colorful with everything and I love how it turned out!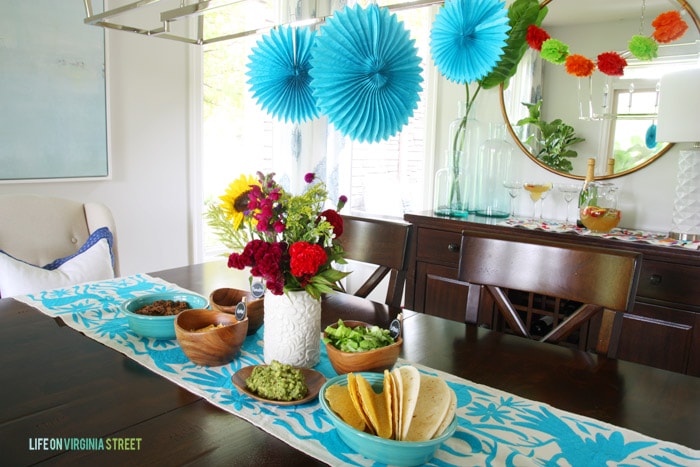 Here are all the fun details.
First up, I prepared the champagne sangria using Andre Brut Champagne. The recipe was adapted from this one but I put my own spin on it. You can find the full recipe below.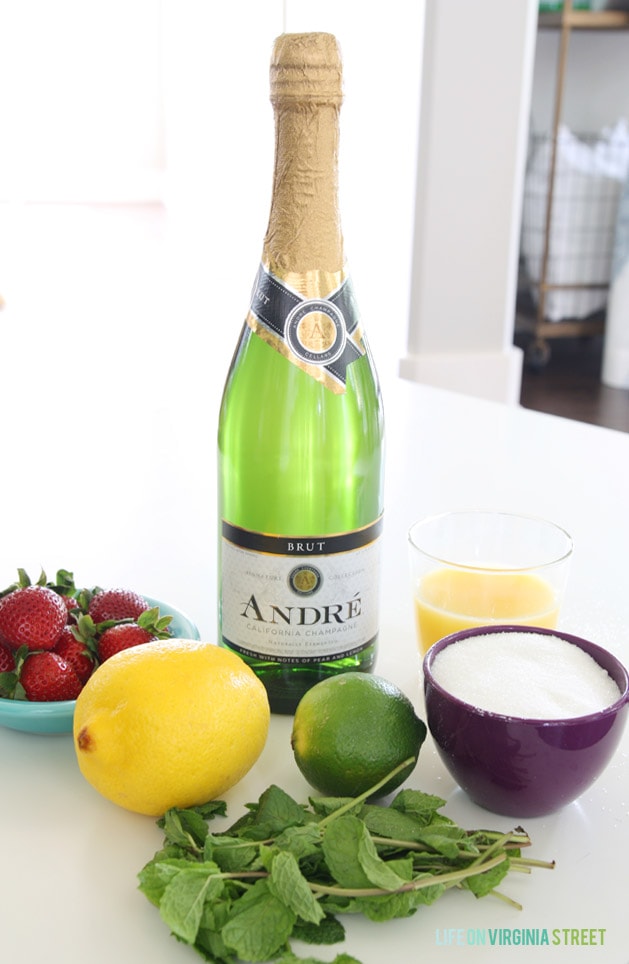 Champagne Sangria
Author:
Life On Virginia Street
Prep time:
Cook time:
Total time:
The perfect festive drink for any occasion!
Ingredients
1 (750-ml) bottle of Andre Brut Champagne, chilled
½ cup pulp-free orange juice
2 cups mint simple syrup (see additional recipe)
1 lemon, thinly sliced
1 lime zest
1 lime, thinly sliced
½ cup sliced strawberries
5 fresh mist springs
2 cups sugar
2 cups water
1 cup packed fresh mint leaves
Instructions
In a large sangria pitcher, combine the Andre Brut Champagne, orange juice, lime zest and mint simple syrup to taste (recipe below - I used the full two cups but it may be too sweet for some). Add the sliced strawberries, lemon slices, lime slices, and mint springs.
Fill glasses with sangria and a few pieces of the sliced fruit - garnish with a lime slice on the glass edge. Serve immediately.
Mint Simple Syrup Directions: In a small saucepan, combine the sugar, water, and packed mint over medium heat (do not use the 5 mint springs for this step). Bring to a boil, reduce heat, and simmer for 5 minutes, stirring occasionally, until the sugar has dissolved. Remove the pan from the heat and allow to cool for 20 minutes. Strain before use.
Once the drink was prepared and in the fridge getting cold, I put out the decor. I found some cute paper products at the craft store for $2.99 and thought they would add a fun, festive element to this fairly simple meal. I also used some wood bowls for the toppings and some aqua ceramic bowls for the hot taco mean and shells. I love how the tablescape turned out – and that the colors from the food next to the colors of the drink look so pretty together! I made a simple flower arrangement with some colorful blooms to complete the overall look.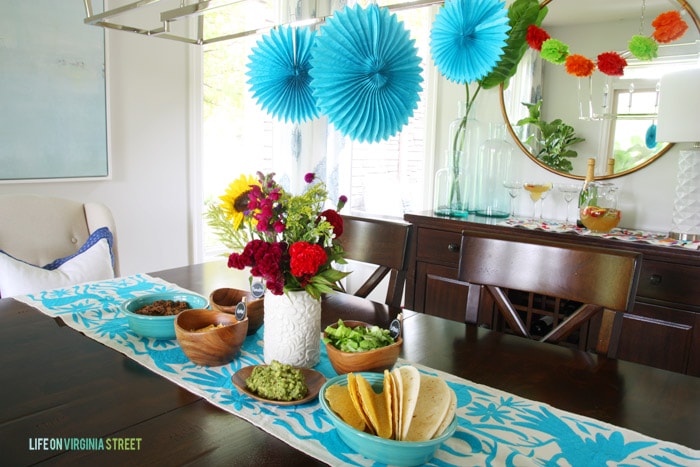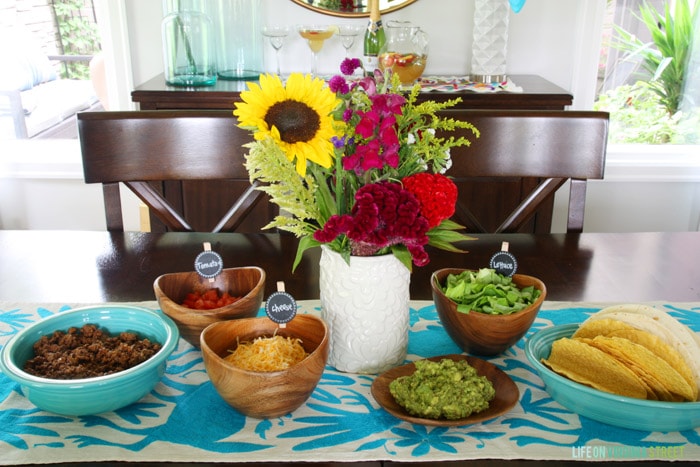 I'm not going to lie. The champagne sangria is one of the best drinks I've ever had. My husband really enjoyed it too (although he would have liked it better with a bit less simple syrup, as it was pretty sweet for his normal liking). Doesn't it look so pretty in the pitcher though? Such a fun drink for parties and it would be easy to make a big batch fairly quickly.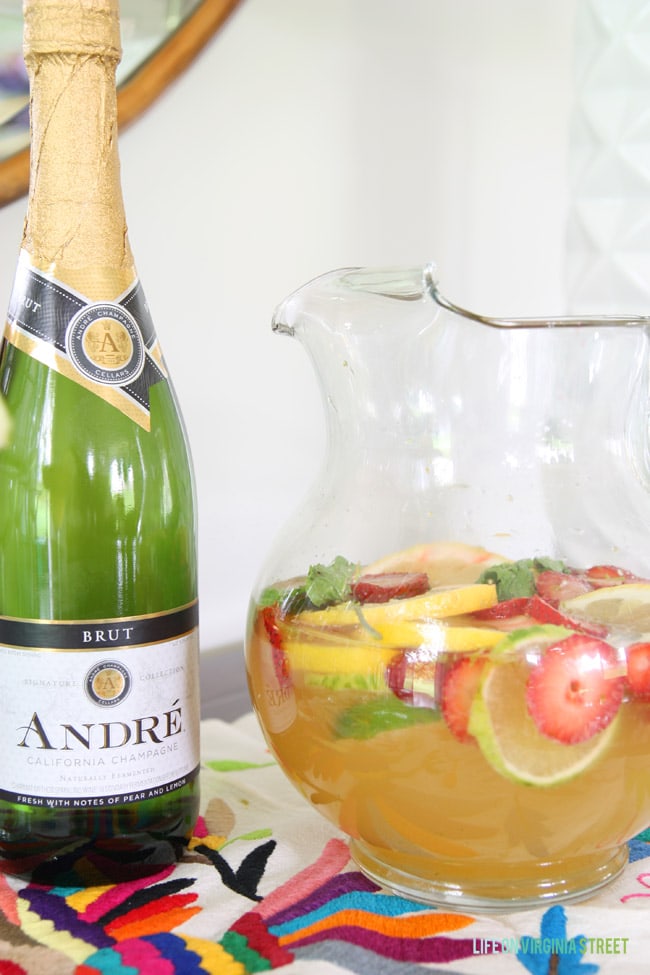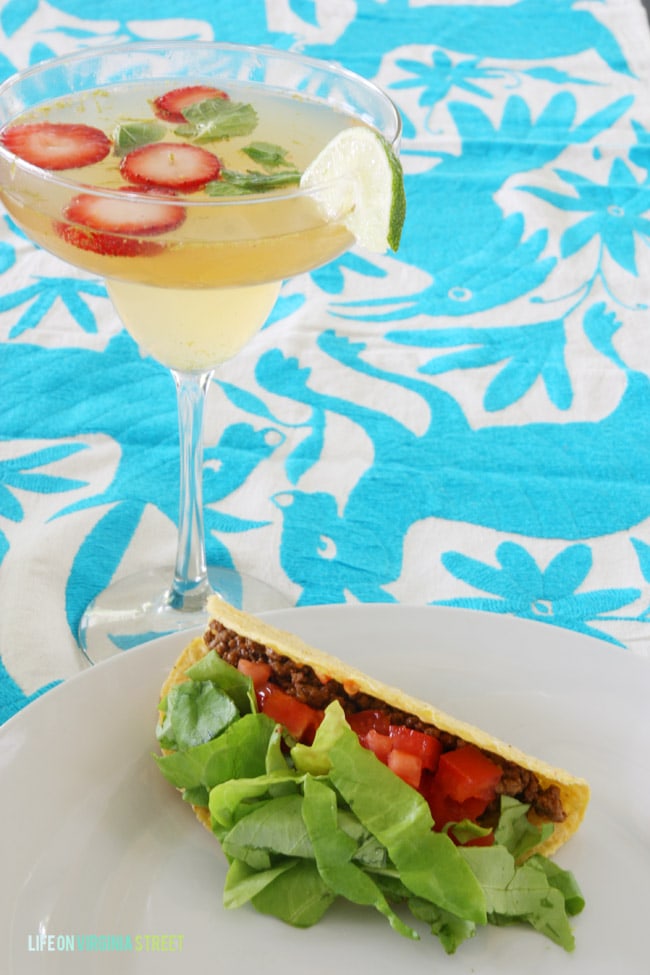 I think I convinced my husband that my Otomi purchase was worth it for this meal alone. The good news is I also enjoyed everything so much, I may be making the taco bar and champagne sangria again in the very near future! Do you have any end of summer blowouts planned this weekend?
I'll be back Monday with my fall home tour and I also have some big reveals scheduled on Tuesday and Thursday. It's going to be an exciting week! I hope you all have an amazing Labor Day weekend!
If you would like to follow along on more of my home decor, DIY, lifestyle, travel and other posts, I'd love to have you follow me on any of the following:
Pinterest / Instagram / Facebook / Twitter / Bloglovin' / Google
#EpicWithAndre Andre Brut Andre Champagne