It is crazy to me that the Labor Day weekend is already here! It is always a bit bittersweet for me, as it signals the unofficial end of summer to me. However, my birthday typically falls at some point during the weekend, so the blow is softened a bit. Inevitably, we have a party or two every Labor Day weekend with friends and/or family and I always have such great memories and count this weekend as one of my favorites of the year.
For the next few days, I thought it would be fun to share to entertaining type posts ahead of the long weekend. You'll find plenty of decor and style weaved in as well, so don't stop reading if recipes or entertaining aren't your thing. Both posts incorporate ideas you can use on your own as well!
Today I'm sharing one of my all-time favorite "meals" and how to make the perfect meat and cheese tray. My husband has been out of town a lot the past two months so I've been having to fend for dinner by myself at night. I can't count how many times I resort to a makeshift meat, cheese and fruit platter paired with a glass of wine (or two)!
Following are steps to create the ideal meat and cheese tray for any occasion – even those nights home alone or for a family movie night at home.
For this particular tray, I went with a variety of four Italian-style cheeses. I typically like to go with a mix of dry, harder cheeses along with a softer variety. I find that have at least two varieties allows for fun pairing combos – some go better with the meat, some taste better with the fruits, etc. It's almost fun to see who can come up with the best flavor combination! After our visit to Italy this summer, I feel like preparing a meat and cheese tray has become somewhat of an art form!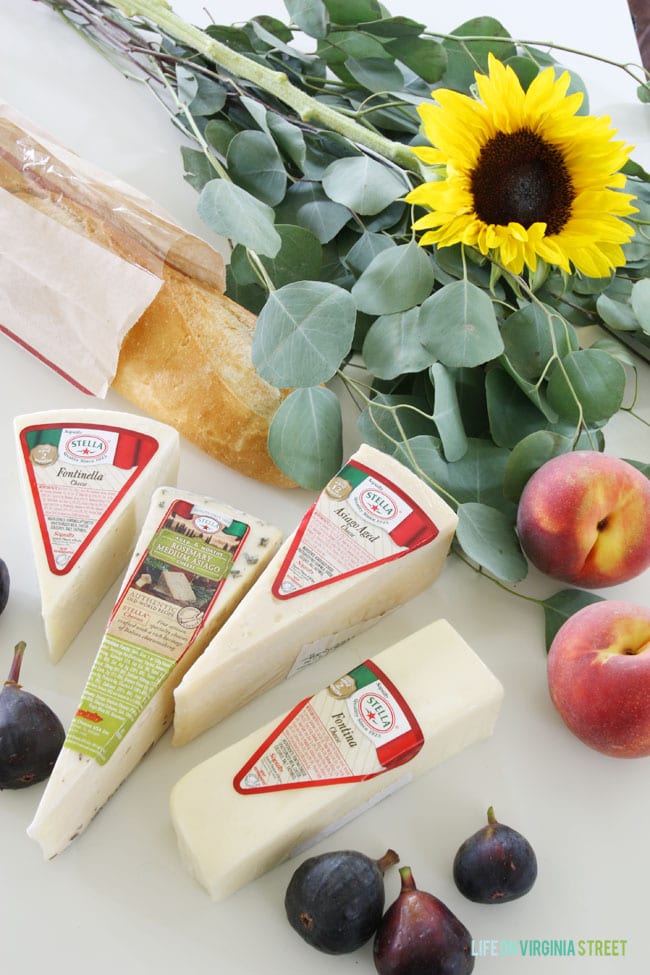 I think it's fun to mix up the elements of the meat and cheese tray every time I make one, but a lot of the key elements remain the same:
A mix of at least two types of cheese (I used these amazing Italian-style cheeses from Stella – love that they are at most grocery stores around us). I specifically chose the Fontinella, Rosemary Medium Asiago, Asiago Aged and Fontina.
A mix of at least two types of meat (I tend to always have a prosciutto and one other Italian style meat)
Seasonal fruit (typically apples, but I added some peaches this time of year and they were so good with the cheese!!) – I also added in some figs and grapes
A variety of olives
A carb – I mix in and out French bread and/or crackers
We typically pair ours with a wine
A pretty tray for guests – or sometimes, in my case, a regular ole' dinner plate!
Get creative with your display! In this case I found a chalkboard table cover and labeled my spread with my favorite chalkboard marker. See what I mean by art?!
And voila! I'm actually pretty obsessed with how this turned out!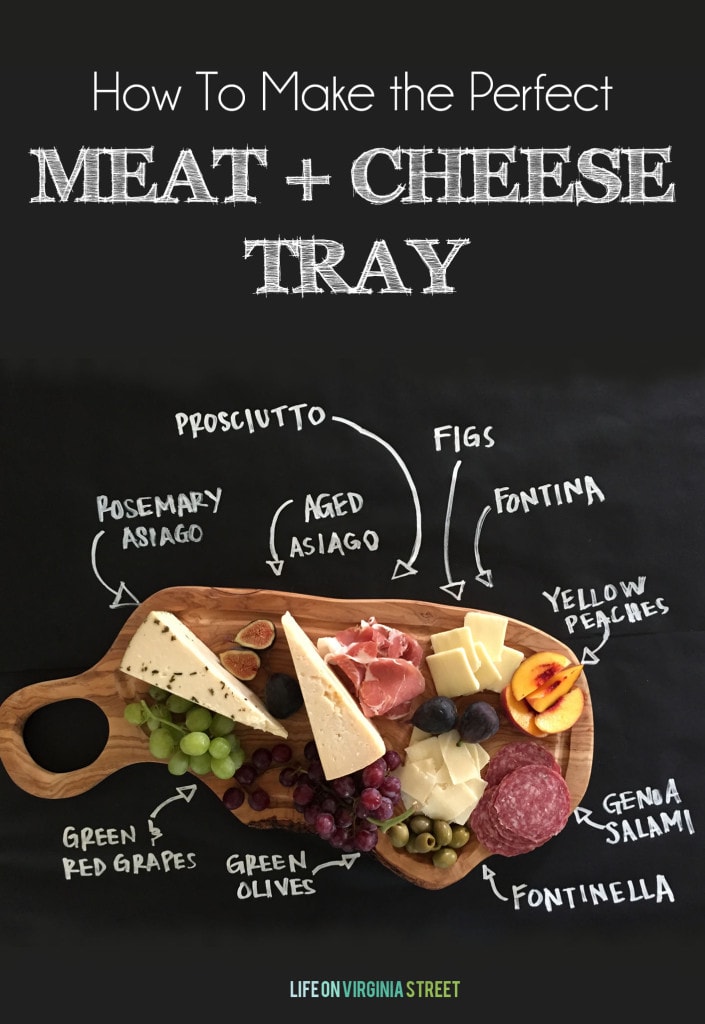 And, because I know you'll ask, the tray (which is olive wood) is from HomeGoods and I used my favorite chalk ink markers and this chalkboard paper tablecloth (it's long enough for a few uses). I've rounded up a few of my other favorite meat and cheese boards below:


These meat and cheese trays are great for parties or even a night in. My husband and I just wrapped up the last season of The Good Wife and it was fun to make a night of it at home having a show marathon, curled up with some blankets, a meat and cheese tray and some wine. It's fun to make an event out of such simple event!
If you would like to follow along on more of my home decor, DIY, lifestyle, travel and other posts, I'd love to have you follow me on any of the following:
Pinterest / Instagram / Facebook / Twitter / Bloglovin' / Google
disclosure: some affiliate links used