Happy Labor Day! It also happens to mark the start of fall home tour day/week! As you likely know, home tours are pretty much my favorite thing of all time and I anxiously await the arrival of these days throughout the year.
If you're stopping in from A Stroll Thru Life, welcome! Marty is the talent and the brains behind this fall home tour, and if you had the opportunity to visit our summer home tours, you know this is an amazing round-up of blogger home tours. Marty's home looks so beautiful for fall and I am loving her mix of throw pillows and throws! At the end of the post, you find links to all 30 fall home tours that will be occurring throughout the week and I assure you, you don't want to miss any of them!
If you're new here, welcome! I'm Sarah with Life On Virginia Street and my husband and I moved into our current home almost three years ago. After three years of DIY and home decor projects, it's starting to really feel like "ours" and we love it more with each passing day!
Typically, my decor tends to be fairly neutral with additions of blue and green throughout. This year for fall, I decided to take things a bit warmer with deep navy, plums, and wine colors to warm our home up for the cooler months that are forthcoming. I tend to not be too theme-y in my seasonal decor (with the exception of Christmas), but rather try to change up the layers and the textures to fit the season. I've tried to source things along the way, so pull up a chair and enjoy our tour!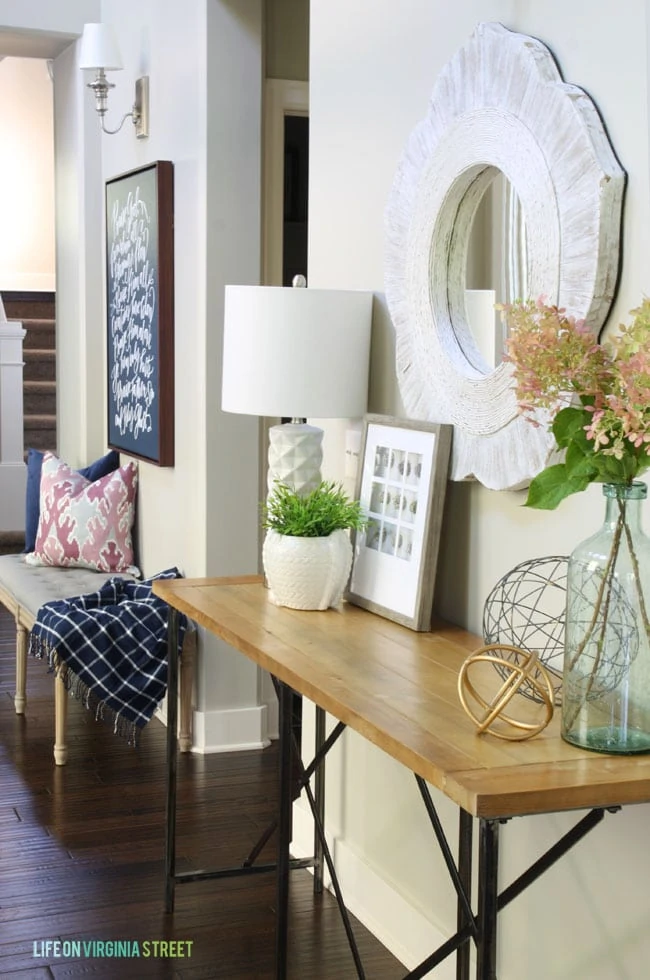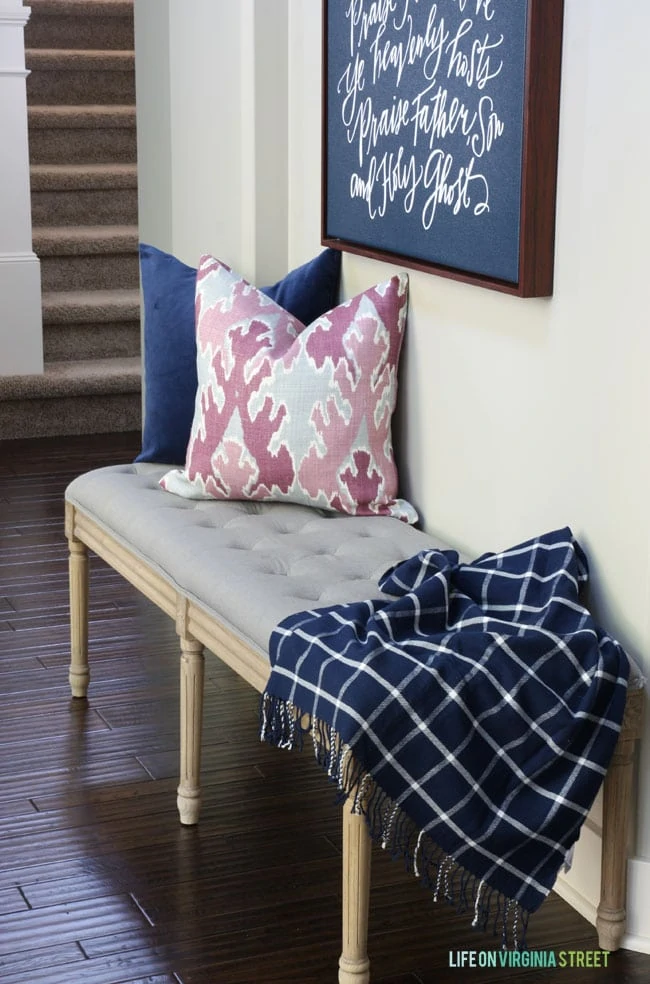 Console Table | Chandelier | HomeGoods Mirror, Vase, Lamp & Bench (similar bench) | Doxology Canvas | Plaid Throw | Navy Velvet Pillow
I'm a huge fan of cozy throws, especially in the cooler months. I recently rounded up a great selection of fall throws under $30, many of which would look perfect in our space right now! I also love that they can brighten up dark leather furniture, as I did in our living room.
As you can see in our living room, I continued the same colors that we saw in the entryway.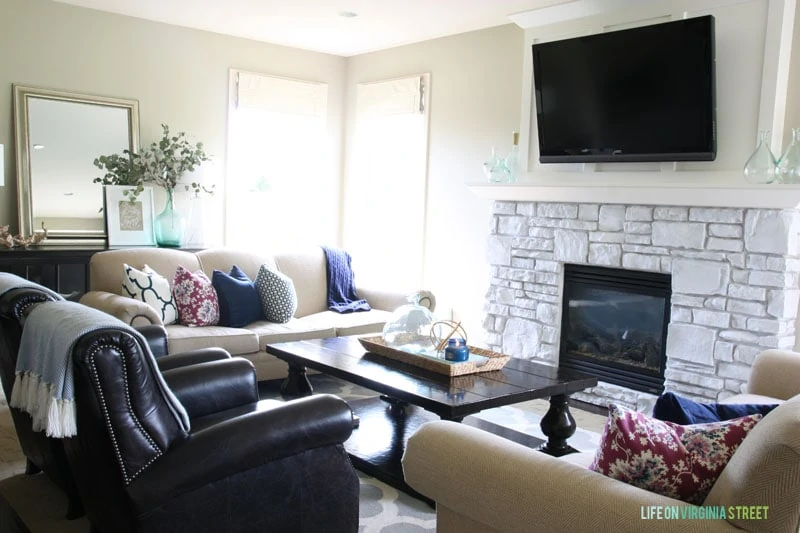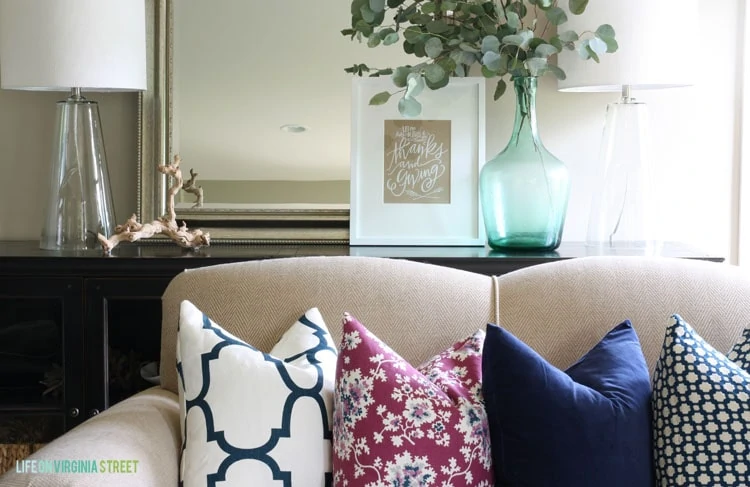 Lamps | Thanks and Giving Print | Gold Orb | Herringbone Throws (similar) | HomeGoods Vases | Navy & White Riad Pillow | Floral Pillow | Navy Velvet Pillow | Navy Betwixt Pillow
In the dining room I added some layers to warm the space up for fall. By bringing in some textured throws and pillows, the space feels warmer than it did when I did the dining room reveal a few weeks back with more of a summer vibe.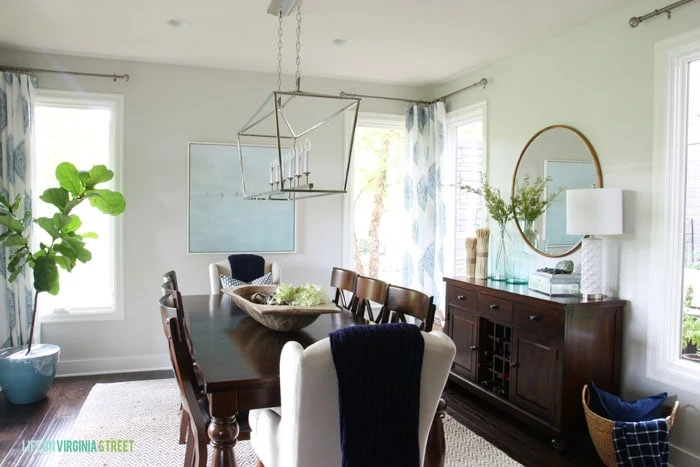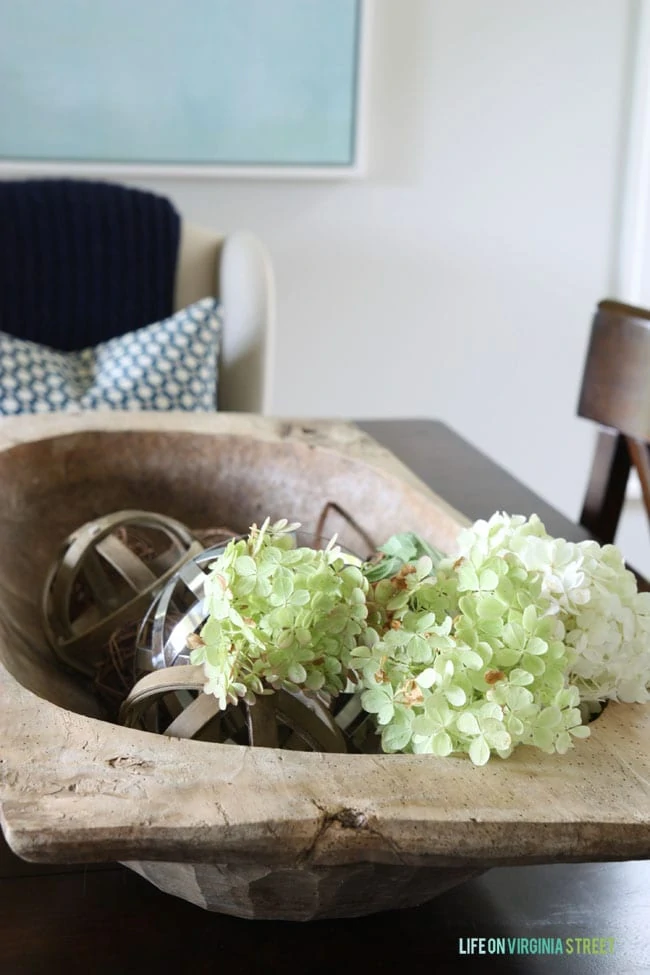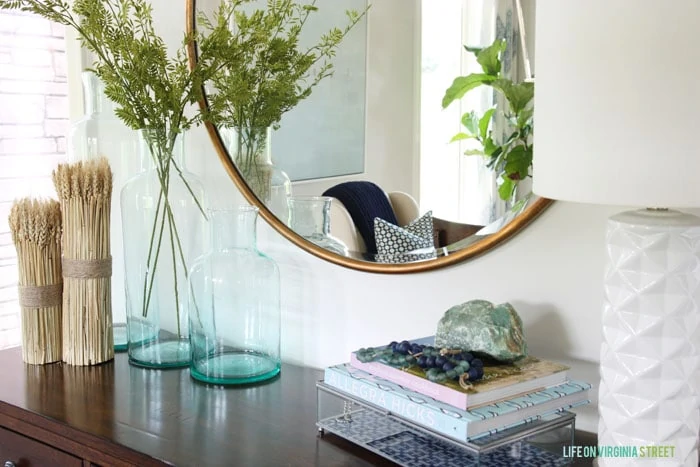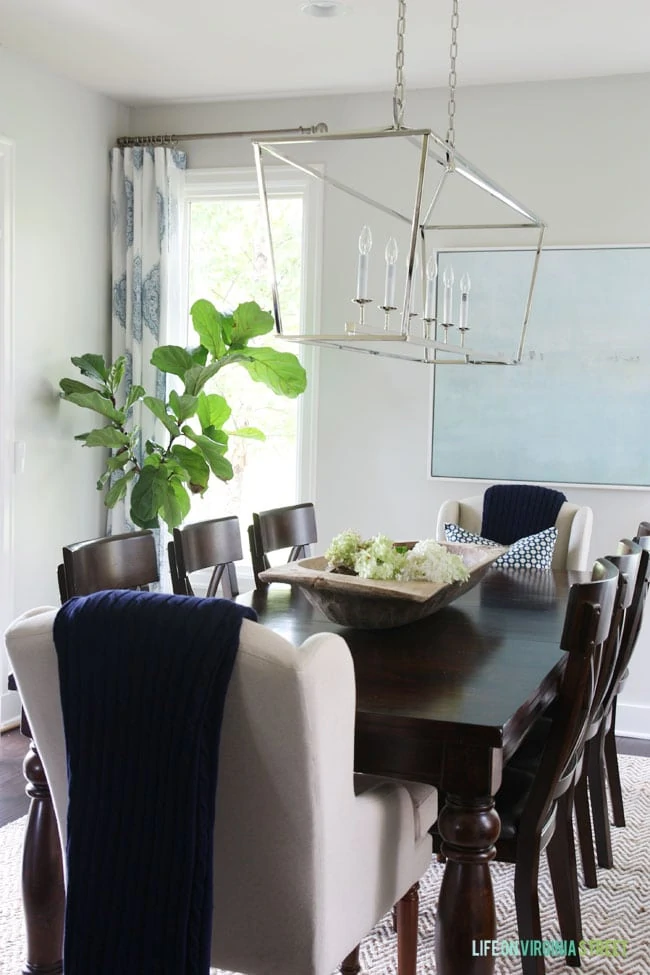 Chandelier | Art | Rug | Wood Tray | Drapes | Dining Room Set | Navy Cable Knit Throws | Mirror
I also wanted to share a little sneak peak of a recent room refresh I just did in one of our guest bedrooms. You can see the prior look in this post. There are still quite a few changes that will be taking place here between now and Thursday (when I share the reveal), and it will likely include completely different pillows (I haven't finished sewing them yet), but for now I'm loving the fresh new look. The headboard is definitely the star of the show!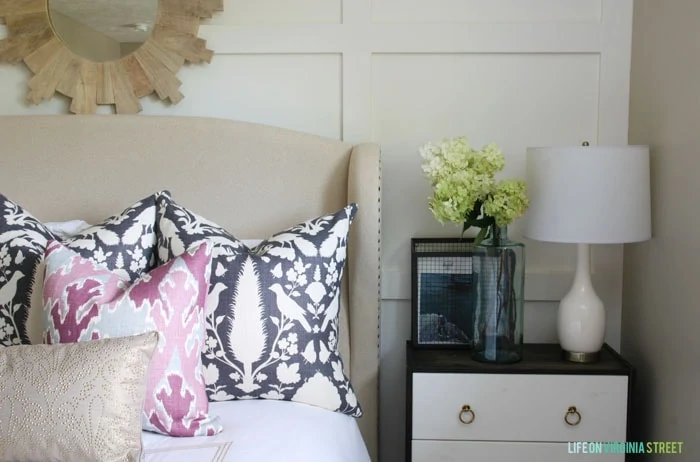 Headboard | Metallic Linen Stud Pillow | Chenonceau Pillow | Pink Bengal Bazaar Pillow| Mirror | HomeGoods Lamp, Vase and Magazine Holder | IKEA Rast Hack
In our unfinished mudroom, the primer is still doing a great job of pretending to be paint so in photos I can make it appear much more presentable. I recently added a DIY Gold Stick Art project to add a touch of fall to the space.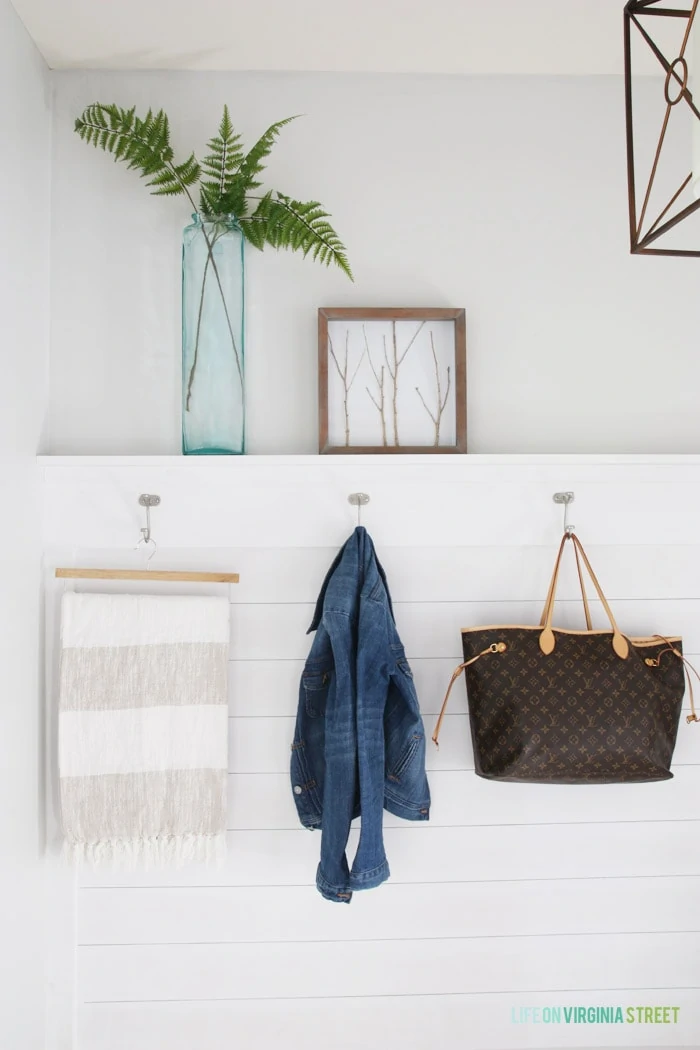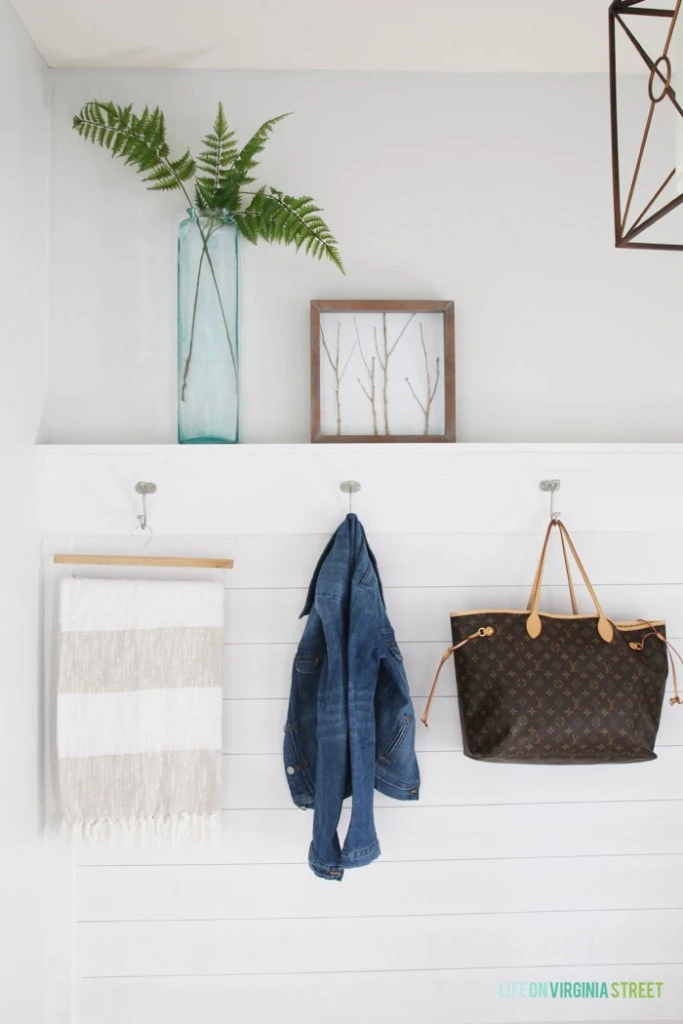 Vase: HomeGoods | Blanket: HomeGoods | Copper Chandelier | Stick Art Frame | Denim Jacket
Lastly, one of my favorite spaces in our home – which is actually outside – is our courtyard. It is wrapped by my office, the long entryway hallway and our dining room and it is the perfect space for conversation with friends while roasting marshmallows around the firepit! I didn't get a chance to shoot any new photos of the space but wanted to include an older image because we use this space so much in the fall!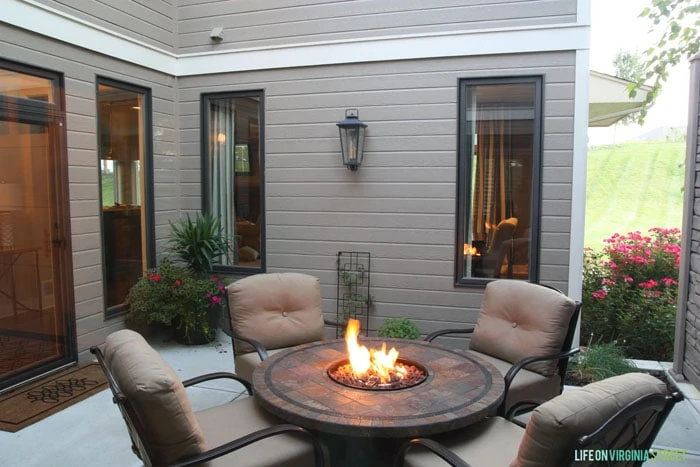 Firepit Set from Costco
Thank you so much by stopping in at our home tour! I hope you enjoyed this little preview of fall in our home. And if you haven't already, be sure to enter my amazing NYC trip giveaway at the end my post on How To Make the Perfect Meat & Cheese Tray!
The next stop on the tour is Jeanette from Snazzy Little Things. I had the opportunity to meet Jeanette at Haven and not only is she talented and beautiful, she is so sweet and down to earth and a lot of fun to talk to. I know you'll love her tour!
For the full schedule of tours, be sure to check out all the information below!
Monday – Sept 7th
Tue – Sept 8th
Wed – Sept 9th
Thurs – Sept 10th
Fri – Sept 11th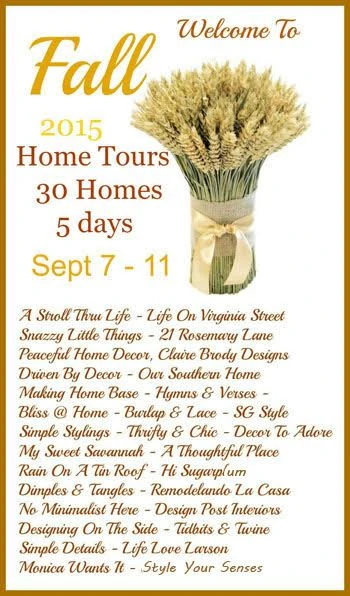 If you would like to follow along on more of my home decor, DIY, lifestyle, travel and other posts, I'd love to have you follow me on any of the following:
Pinterest / Instagram / Facebook / Twitter / Bloglovin' / Google
disclosure: affiliate links used