Sharing a huge collection of summer outfit ideas and warm weather favorites! Includes tees, shorts, swimsuits, dresses, accessories and more!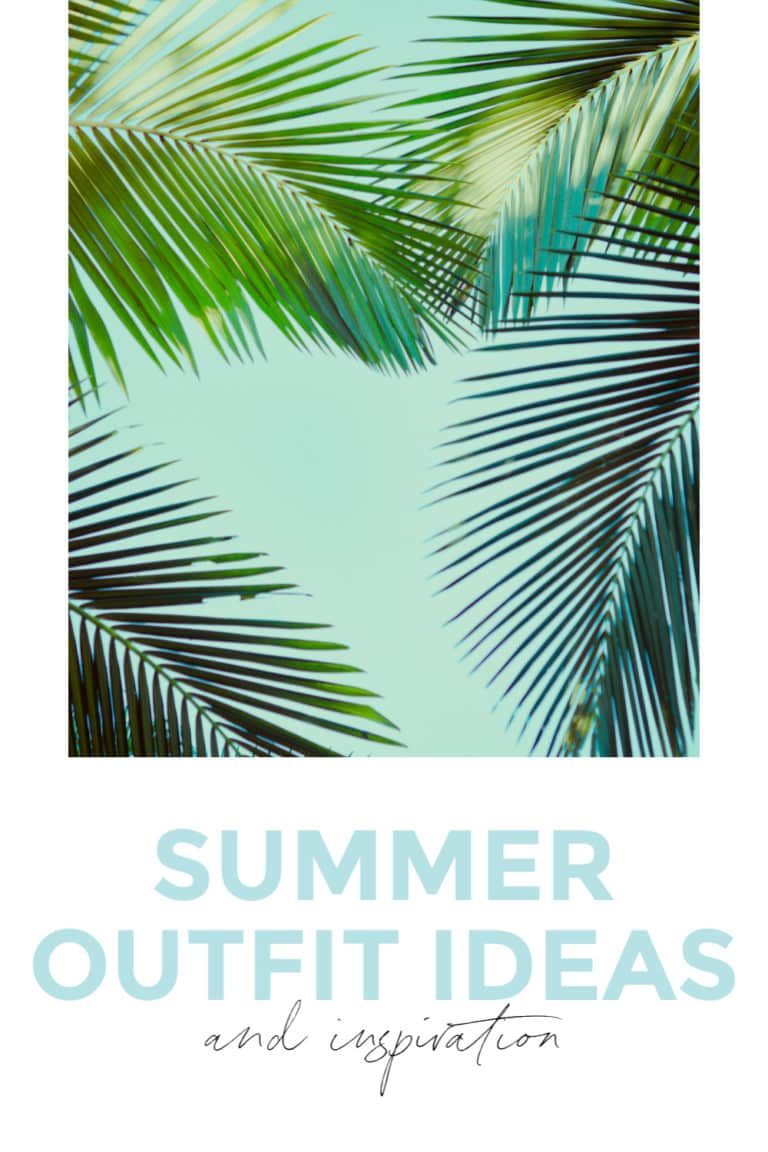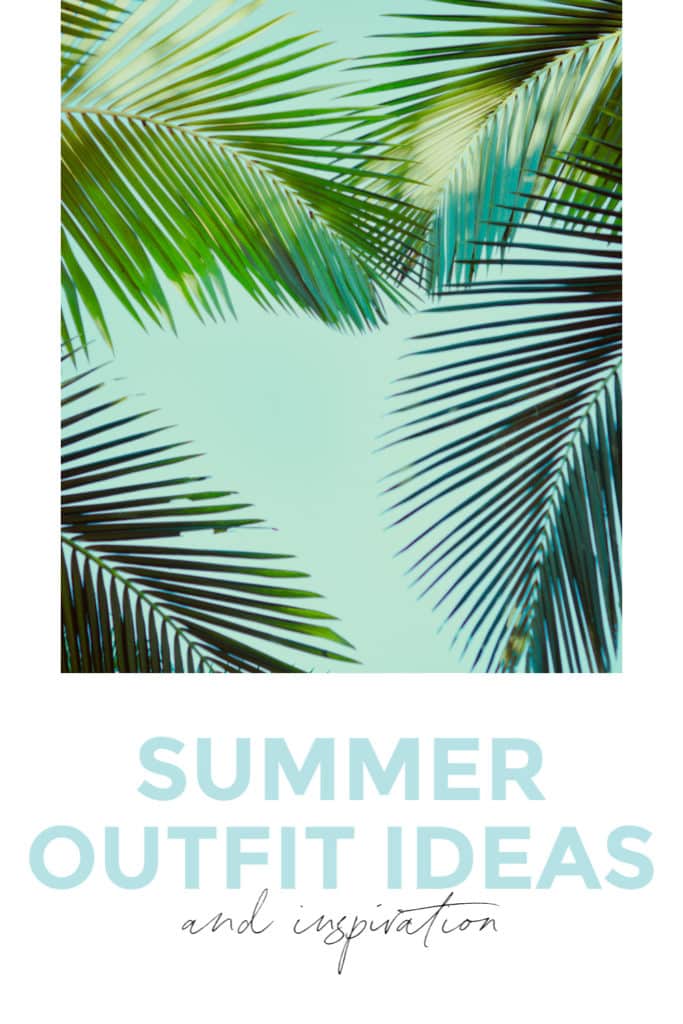 Happy Friday! Who's ready for the weekend? I'm excited to get outside this weekend without the constant sound of fireworks in the background 😉 Over the past several months, I've randomly shared my summer outfit ideas and other warm weather favorites. But they've been added to random posts here and there. So today, I thought I'd compile a master collection of all those looks, as well as share a few more along the way! I'll also be sharing fit tips for the items I already own and love.
This post contains affiliate links for your shopping convenience. Click here to read my full disclosure policy.
Summer Outfit Ideas & Warm Weather Favorites
J. Crew just launched some new summer arrivals and I loved so many of the items I made this colorful collage around a few of my favorites! I was excited to see they brought back the Montauk Tee, but in a reverse colorway. I got so much use out of mine last summer!
This next collage was inspired by the colors in that cute sweatshirt! And I love that the ruffles on this swimsuit reverse to a lighter teal! I'm already a huge fan of the brand, so I may have to give this one a try! Side note: I love this SPF part powder. It keeps your scalp sunburn free, and also almost acts like a dry shampoo! A little bit goes a long ways – I usually only use half a pump!
I actually have the ric rac bathing suit above in the navy blue colorway and love it so much I'm considering getting it in another color! It also comes in a cute two-piece option now too!
I shared this next collage in this week's Wednesday Watch List, to feature the cute floral dress in the image. Mine is supposed to arrive today so I'll keep you posted! It runs small so order up at least one size (I went with XL).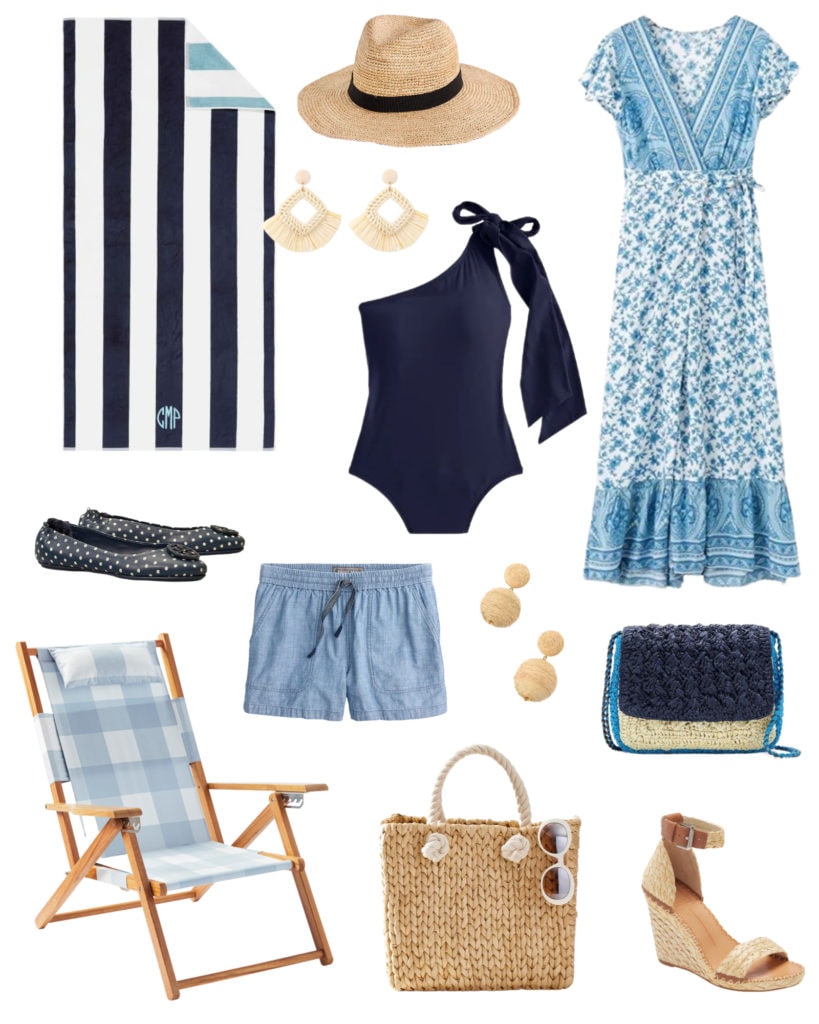 SOURCES: Striped Beach Towel | Straw Hat | Raffia Tassel Earrings | One Shoulder Bow Swimsuit | Blue Floral Wrap Dress (also available here) | Polka Dot Ballet Flats | Chambray Shorts | Raffia Circle Earrings | Colorblock Raffia Purse | Buffalo Check Sun Chair | Seagrass Tote | Jute Espadrille Wedge Sandals
And if you noticed that packable straw hat and striped beach towel in multiple graphics and flat-lays, it's because they're two of my all-time favorite summer accessories! I use both of them multiple times a week.
I made this collage a month or two back and still love so many of the items!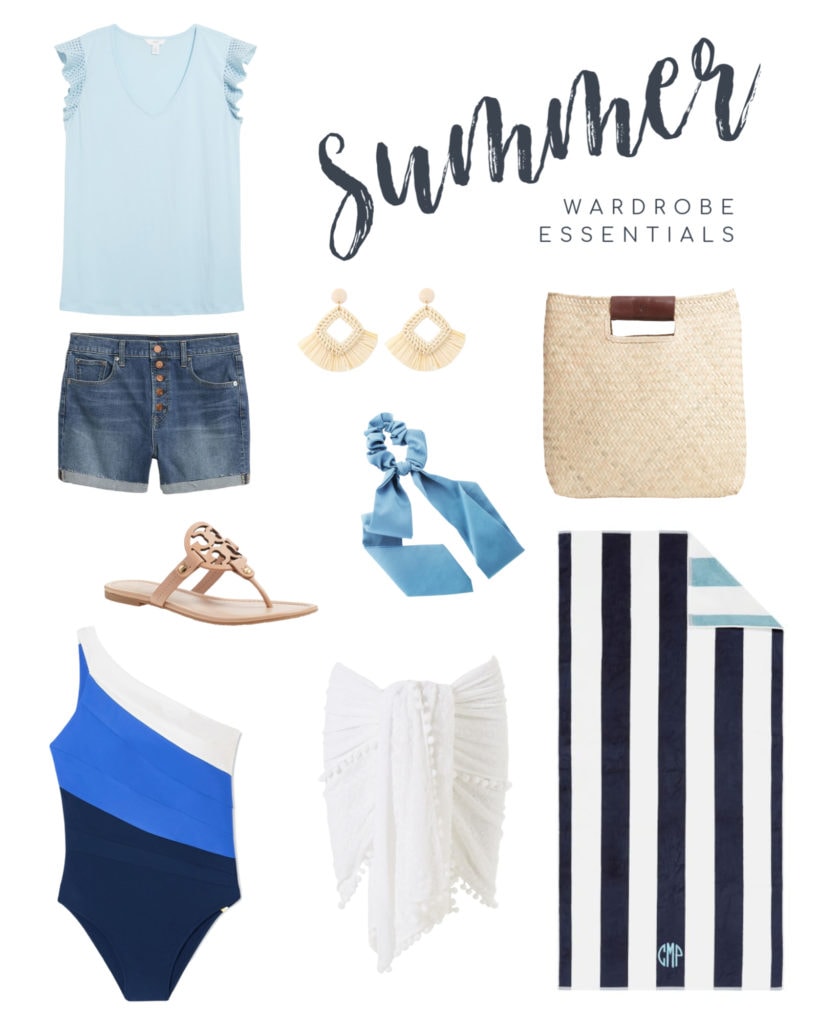 SOURCES: Ruffle Sleeve Top | Button Front Denim Shorts | Raffia Earrings | Hair Tie | Straw Tote | Tory Burch Miller Sandals | One Shoulder Swimsuit | Pom Pom Pareo | Striped Towel
That cute top was one of my favorite purchases all last year. I realize this isn't the best photo but it's the only one I have of me wearing it. It's a bit of an investment but it now comes in four new colors (I just ordered the light blue). The sleeves make it feel so much more unique than a basic tee!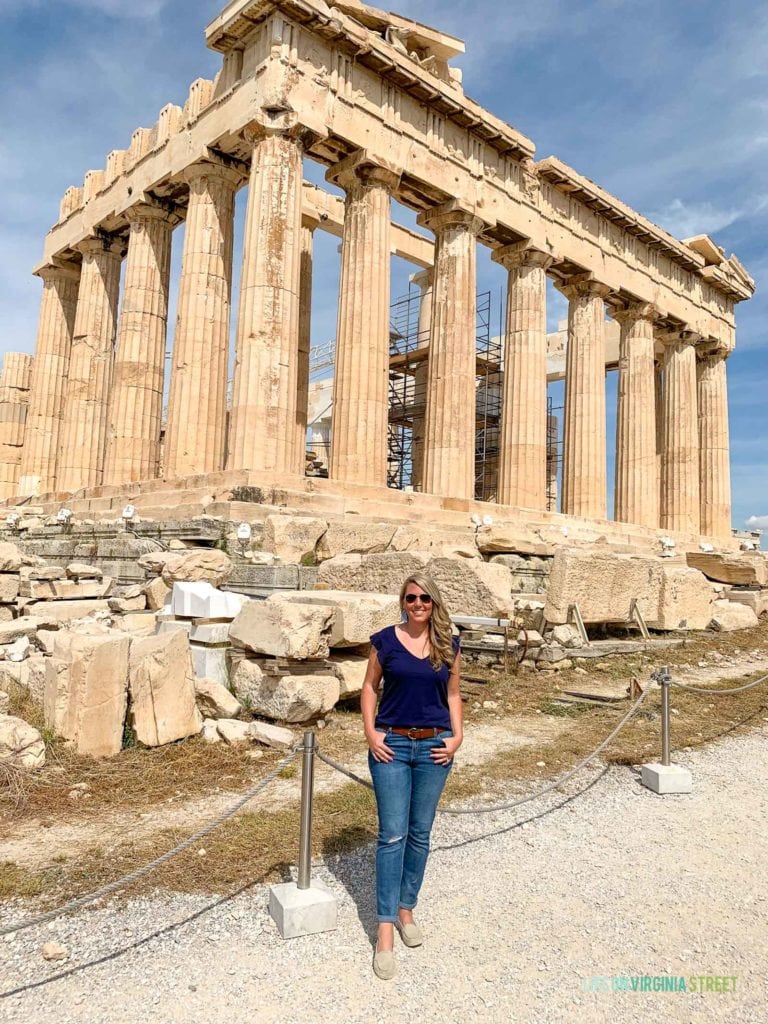 It's no secret I'm a huge fan of block prints, and that translates over just as much into fashion as it does home decor! These pieces below have a bit of the grand-millennial vibe that is so popular right now.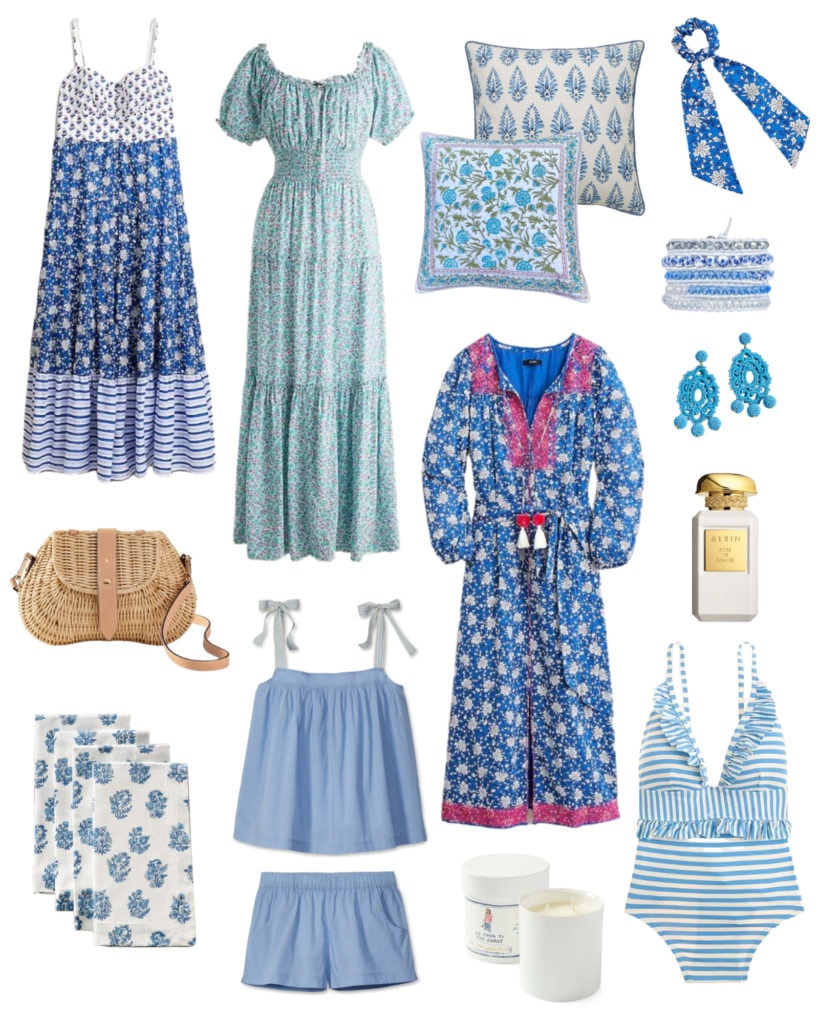 SOURCES: Block Print Maxi Dress | Smocked Puff Sleeve Floral Dress | Block Print Pillow | Block Print Floral Pillow | Block Print Hair Tie | Wicker Purse | Block Print Tunic Dress | Bracelet | Bead Earrings | Perfume | Block Print Napkins | Shoulder Tie Pajamas/Day Short Set | 'Blue Jeans, White Shirt' Candle | Ruffle Striped Bathing Suit
I've had the striped bathing suit above for a few years and still love it! It fits fairly true to size, but if you're between sizes, I would order up one size. I also like that the straps are adjustable for us longer-torsoed ladies. The back side actually has full coverage, but I had tucked it all under so the nude lining didn't show for the photo 😉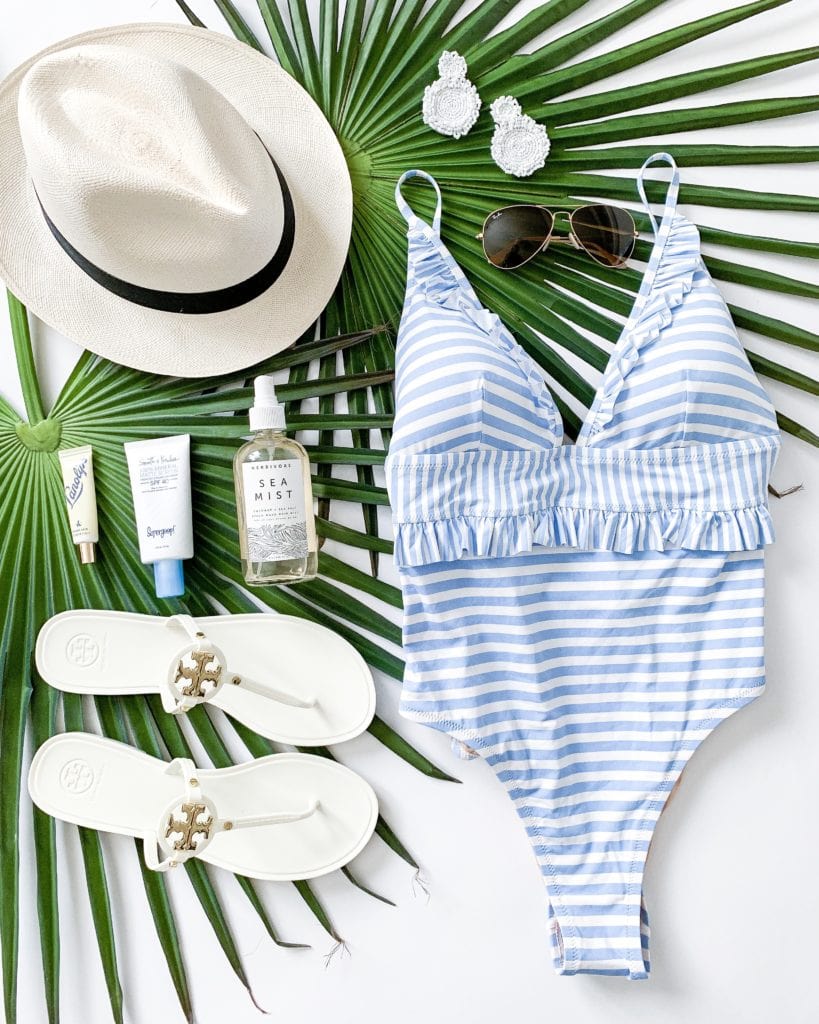 SOURCES: Bathing Suit | Tory Burch Jelly Sandals | Panama Hat | Beaded Earrings | Aviator Sunglasses | Banana Lip Gloss | Mineral Matte Face Sunscreen | Beach Hair Mist
I shared this next look in a recent Wednesday Watch List and that tank dress is still a reader favorite!
I've already raved about this cute and colorful collection but wanted to included it again here! They've done a lot of restocks recently so if you missed something the first time around it may be back in stock! I'm in a Large in all of the pieces except for the colorblock maxi (in a XL and it's too big). Use code SARAH25 for 25% off anything in the collection!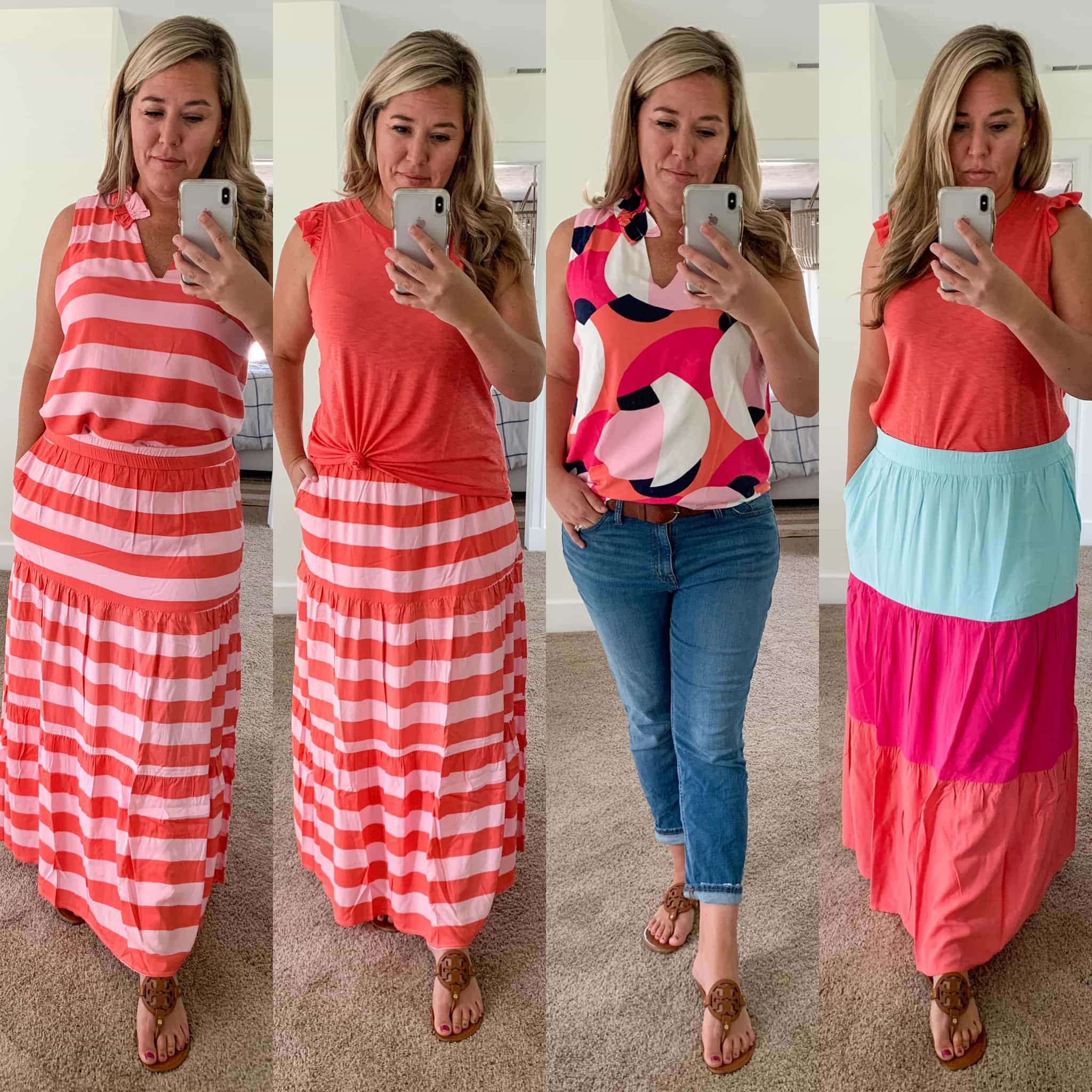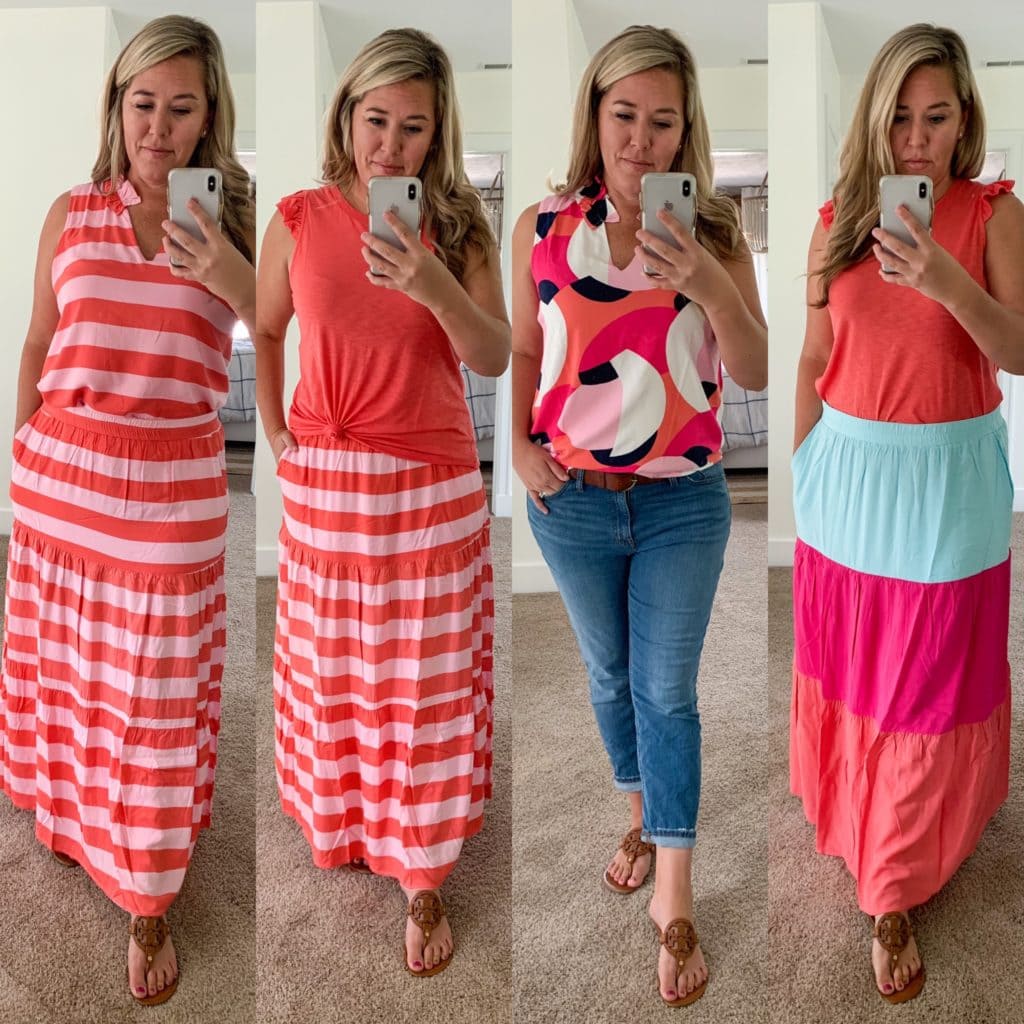 SOURCES: Ruffle Collar Top | Maxi Skirt | Ruffle Shoulder Tee | Sandals
Some more colorful ideas!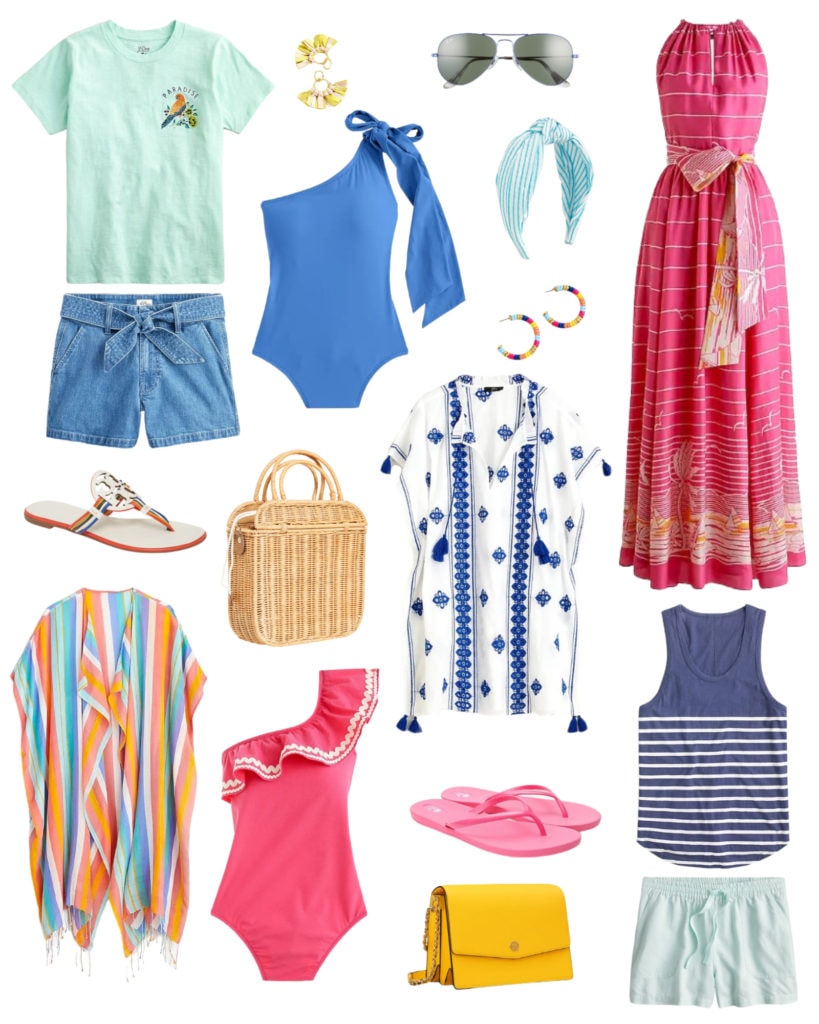 SOURCES: Paradise T-Shirt | Bow Tie Shorts | Tassel Earrings | One Shoulder Bow Tie Bathing Suit | Blue Aviator Sunglasses | Striped Knot Headband | Tropical Silk Dress | Rainbow Tory Burch Miller Sandals | Striped Poncho Cover-Up | Wicker Bag | Ric Rac Bathing Suit | Rainbow Hoop Earrings | Tassel Embroidered Poncho Cover-Up | Flip Flops | Yellow Tory Burch Purse | Striped Tank | Drawstring Linen-Blend Shorts
I raved about this flattering swimsuit last week on Instagram and so many people chimed in and said it was also their favorite. My mom also promptly wanted to order one after seeing mine. It really is that good! I feel like it fits true to size, and although I have a long torso, the regular size works for me thanks to the one shoulder strap.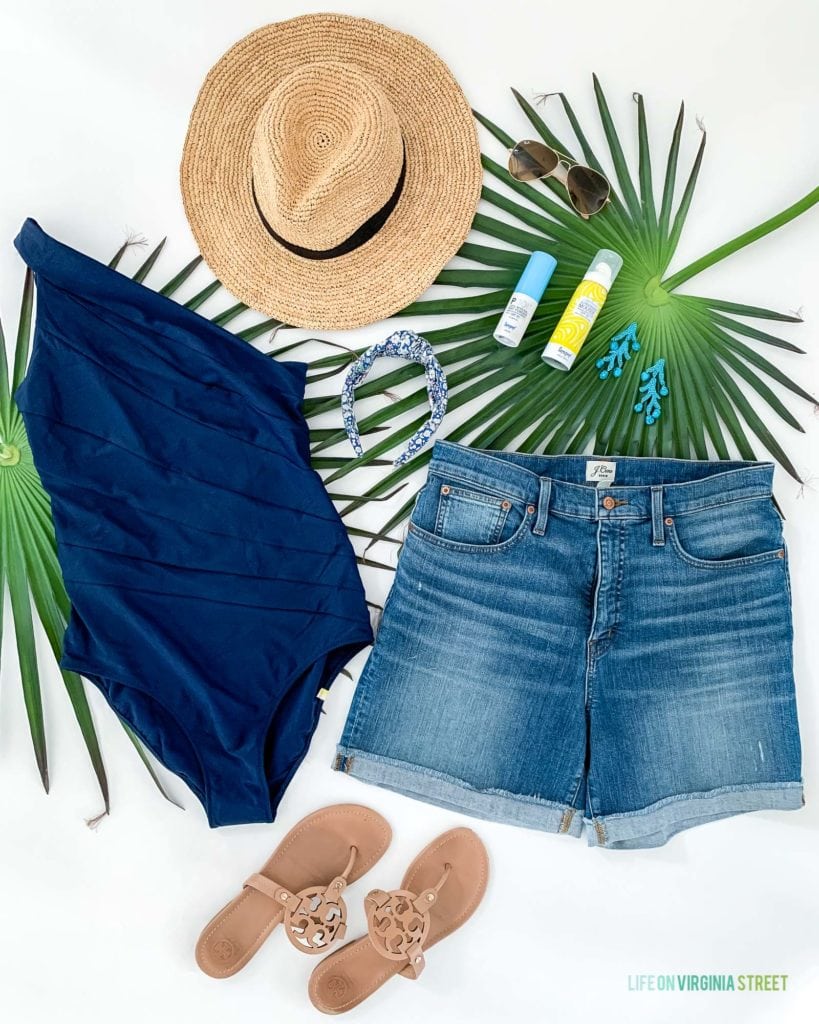 Sources: One-Shoulder Bathing Suit | Packable Straw Hat | Aviator Sunglasses | SPF Part Powder | Mousse Sunscreen | Floral Knotted Headband | Turquoise Earrings | High-Waist Denim Shorts | Tory Burch Leather Flip Flops (color: Makeup)
I own almost everything in this next graphic and they've basically been my uniform this summer! Give me all the graphic tees and comfy shorts!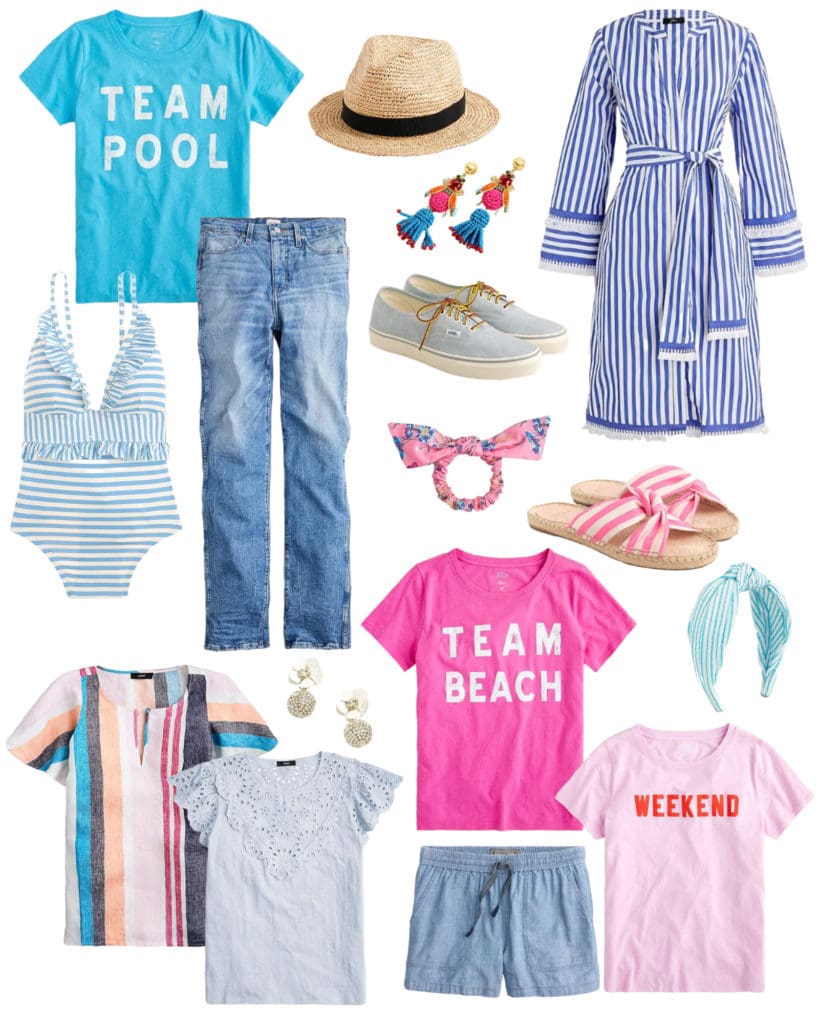 SOURCES: "Team Pool" Tee | Jeans | Striped Ruffle Swimsuit | Packable Sun Hat | Beaded Earrings | Canvas VANS sneakers | Hair Tie | Striped Tassel Tunic | Striped Linen Top | Embroidered Top | Enamel Flower Earrings | "Team Beach" Tee | Chambray Shorts | Striped Sandals | Striped Turban Knot Headband | "Weekend" Tee
Those chambray shorts continue to make it into all of my collages because I've been obsessed with them. Particularly in quarantine when stretchy waists  are even better. I actually have the chambray as well as three pairs of the solid color shorts. And I wouldn't be sad if I got even more of them next time they go on sale. They're that good! And these tanks run pretty big, but I love the length.
I bought this next boho style dress for Kurtis' work trip early this year and I still love it! It's one of those easy, breezy dresses you can throw on. Mine is the "blue" color and I ordered my normal size Large. You can see me wearing this one (along with a few other dresses) at the end of this post.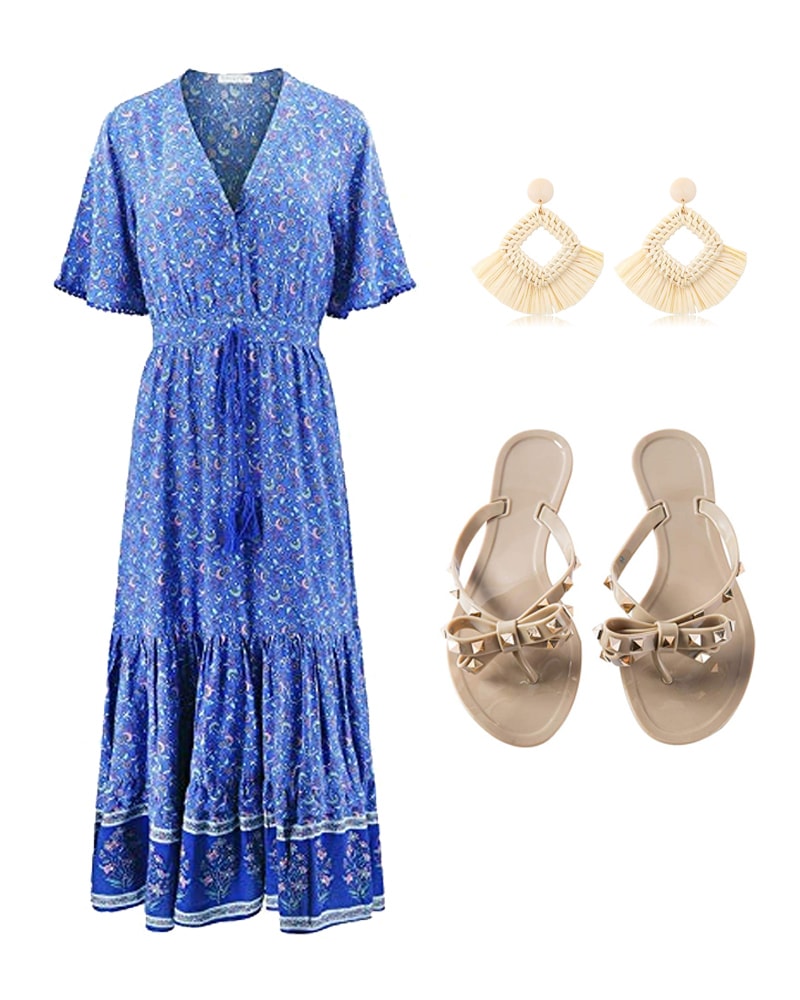 RESORT WEAR SOURCES: Floral Block Print Dress | Raffia Earrings | Sandals
I also love pulling out all my oversized earrings in the summer months! It's an easy way to dress up a tee and flip flops!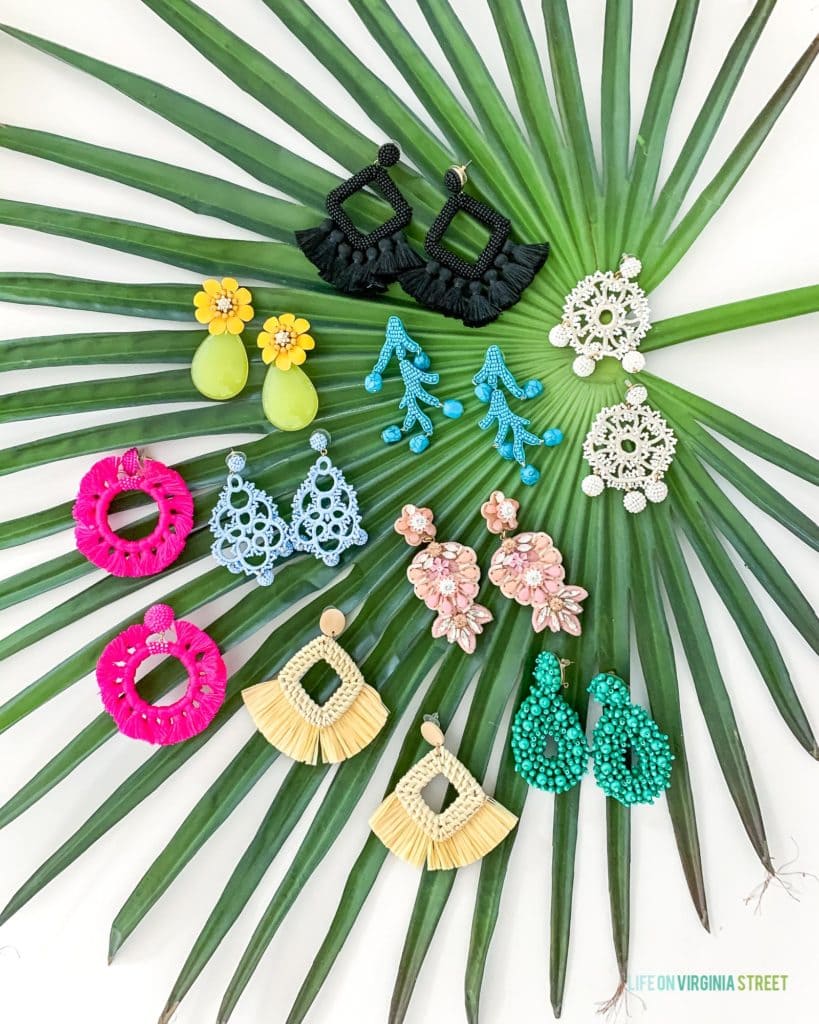 Sources: Black Bead Earrings | Yellow Flower Earrings | Turquoise Earrings | White Crocheted Earrings | Hot Pink Tassel Earrings | Light Blue Bead Earrings | Leather-Backed Pink Earrings | Raffia Earrings | Green Bead Earrings
I made these next two graphics in the early spring. So, while not everything is fully stocked, it can provide some ideas for other cute summer pieces! And some are on major sale right now!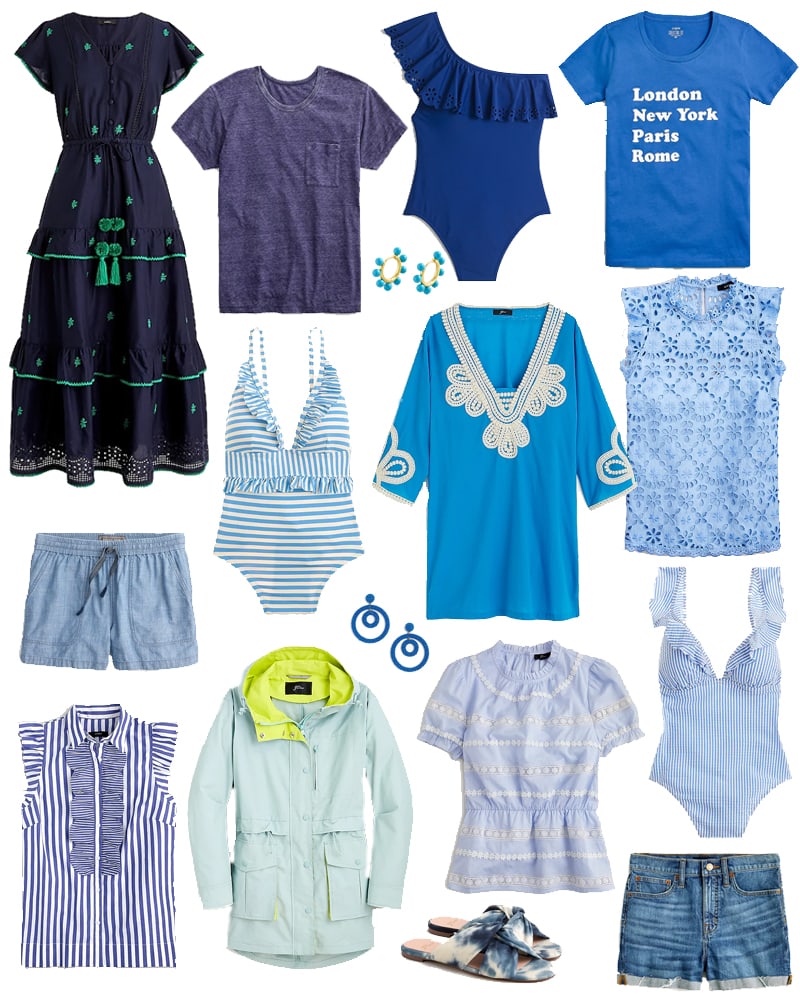 SOURCES: Embroidered Dress | Burnout Pocket Tee | One-Shoulder Laser Cut Swimsuit | City Graphic Tee | Huggie Hoop Earrings | Chambray Shorts | Ruffle Stripe Bathing Suit | Corded Trim Tunic Cover-Up | Lace Sleeveless Top | Striped Ruffle Sleeveless Top | Raincoat | Beaded Double Hoop Earrings | Embroidered Peplum Top | Seersucker Ruffled Bathing Suit | Tie-Dyed Sandals | Denim Cut-Off Shorts
I'm always a fan of bright colors in the summer months! I have this eyelet top in both the pink and yellow and they're some of my favorite tops to wear in the summer months. I always receive compliments when I wear them – and they're on major sale right now! I wear a size Large and it fits great. I love that a color-matched cami is included!
Summer Travel Favorites
While I realize most of us won't be traveling over the next few months, I thought I'd include some of these travel favorites. I've used the laptop backpack multiple times this year and still love it so much. It comes in a bunch of new colors now too!
Additional Summer Outfit Ideas & Inspiration
Looking for even more resort wear inspiration? Be sure to check out these other posts I've written in the past. Click on any of the titles below to read the post.
I hope you enjoyed these summer outfit ideas and found some new pieces you love!
If you would like to follow along on more of my home decor, DIY, lifestyle, travel and other posts, I'd love to have you follow me on any of the following:
Pinterest | Instagram | Facebook | Twitter 
disclosure: some affiliate links used