Details on my five minute makeup routine that help me look polished without much time or effort! Also including details on my tried and true beauty favorites (along with a few new finds)!
This post is sponsored by Nordstrom and ShopStyle and contains affiliate links for your shopping convenience. As always, all thoughts and opinions are my own. Click here to read my full disclosure policy.
So often when I'm talking on Instagram Stories about home decor or sharing a photo of me with an outfit, I get more questions about my makeup than anything else. It always baffles me, but then I realize I do the exact same thing when I'm watching others. I'll think, "What lip color is she wearing?! It's so good!" Haha! So I totally get it. With that being said, today I'm sharing my five minute makeup routine along with some new and old favorites I use on a daily basis. Now that I'm officially 359 days away from turning 40 (not that anyone's counting), I've made a few recent changes to my makeup routine. But, I also have some products I've used for nearly a decade and still swear by!
Following are all the products I used for this look! I love that they're all available at Nordstrom and ship for free – many times with free product samples! I also noticed that they're price matching a few of these items today at 15% off and a few even come with a free gift with purchase!
I'll be sharing even more details on each of these products below.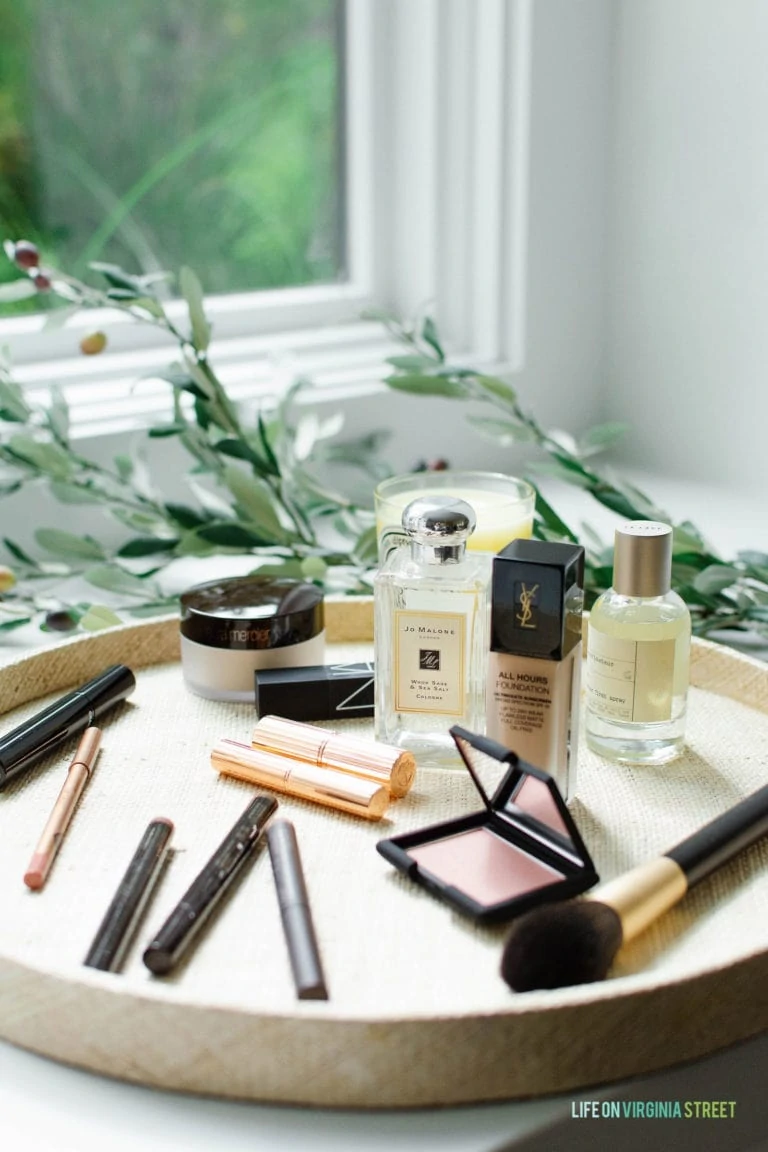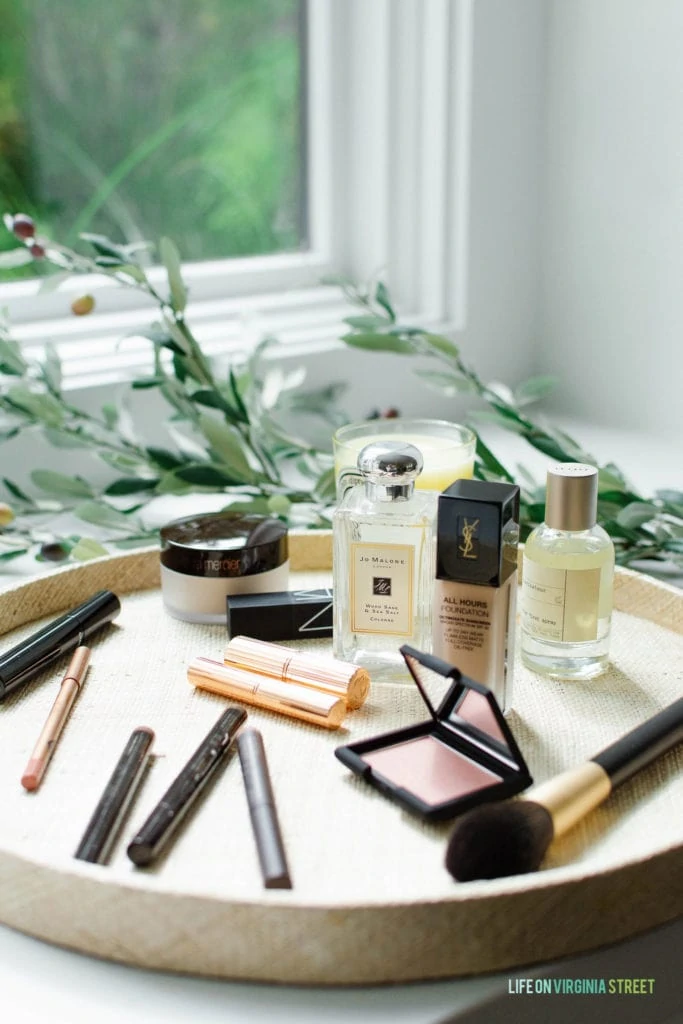 In the summer, it's pretty common for me to be make-up free at least four or five days a week. I think a subtle tan helps with that, but I also feel a lot less willing to wear makeup when the temps are hot and humid!
However, in the fall and winter months, as the tan fades, I typically won't leave home without makeup. Today I thought I'd share my five minute, everyday makeup routine that helps me feel polished and presentable! I have never been a makeup junkie and so often just grabbed items at random from the drugstore. Admittedly, up until recently, my routine hadn't changed much from my high school and college years! I'm also not willing to spend a lot of time primping (my hair already takes too long!), so I keep my routine very simple!
My Five Minute Makeup Routine
After buying my foundation at the drugstore for more years than I can count, I recently upgraded to the YSL All Hours Foundation (color: B40 Sand). I turned to my makeup junkie friend (and former aesthetician) for advice, and she immediately said this was the best option for my skin and was a national favorite. It works well for my "aging" skin and covers my pores well without looking too heavy. I also love that it doesn't settle into my strong forehead lines or fine lines around my eyes. Since the upgrade, I'm only slightly annoyed that I've been wasting my money on drug store options for the past 20 years 😉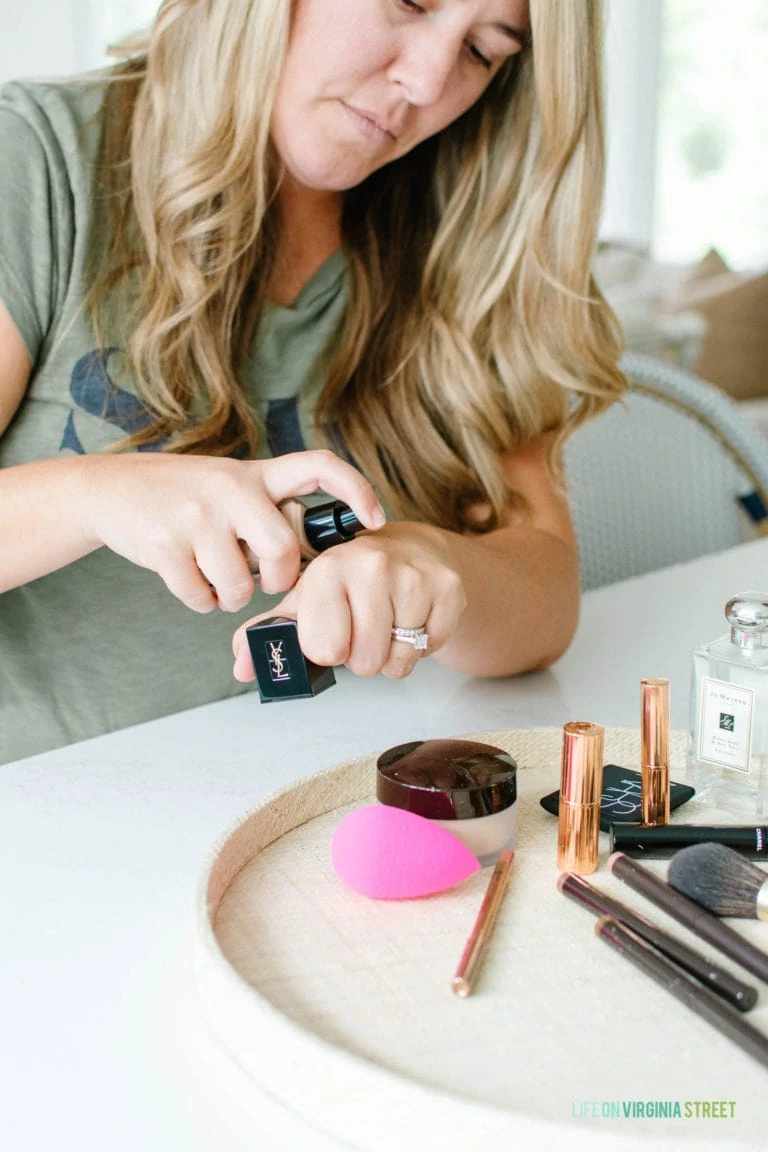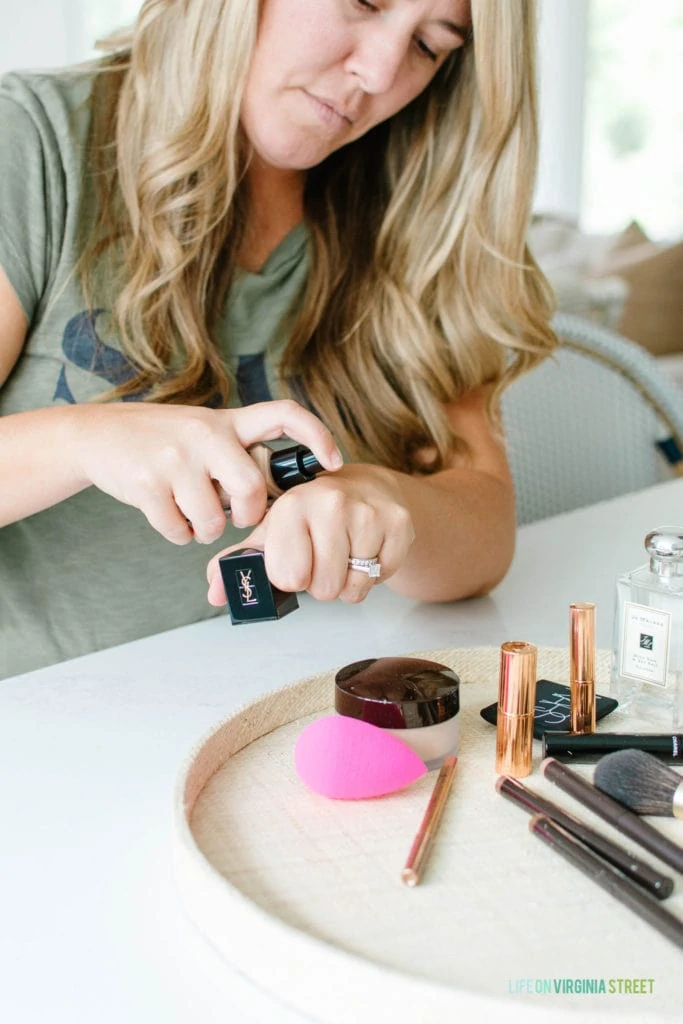 I'm a recent Beautyblender convert and finally gave it a try after hearing so many great things about it! I've used knock-offs in the past, but I have to say, the original is so good! It helps work the makeup onto your face, and I feel like I use far less foundation with it! I simply wet the Beautyblender, wring it out well, pump a little foundation on my hand, and then add it with the blunt side of the Beautyblender. I really only use the pointy end for getting around my nose, etc.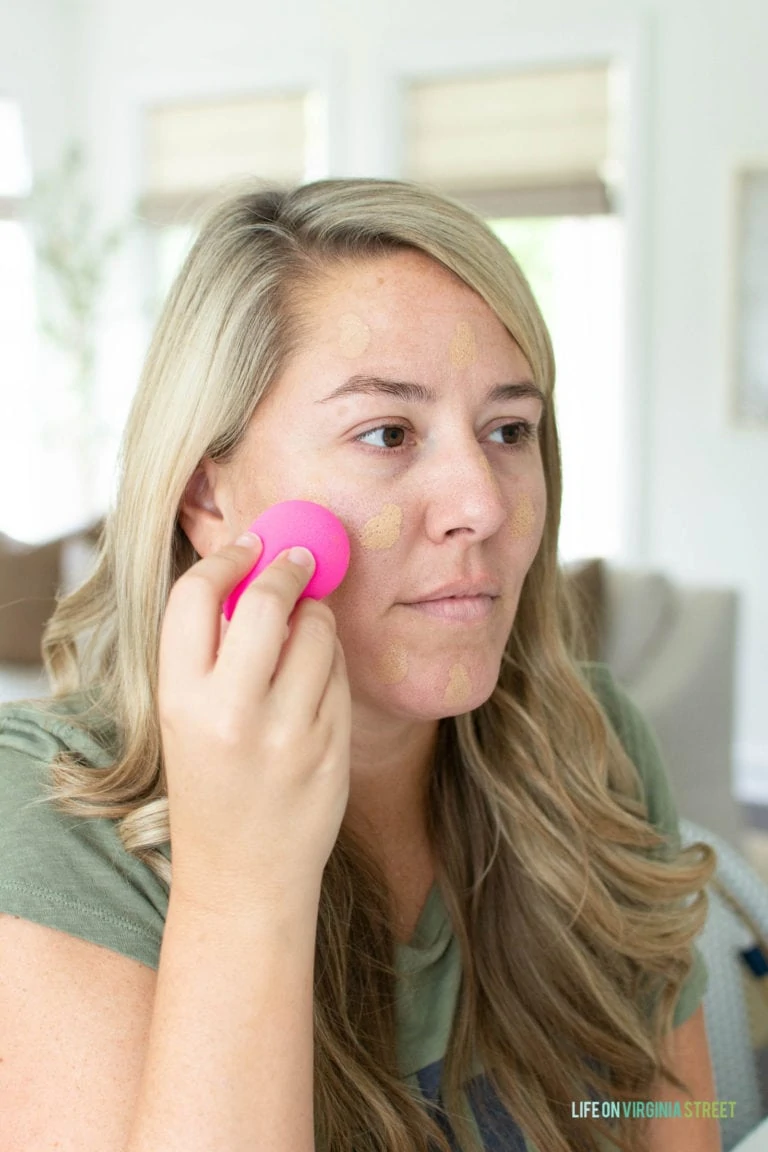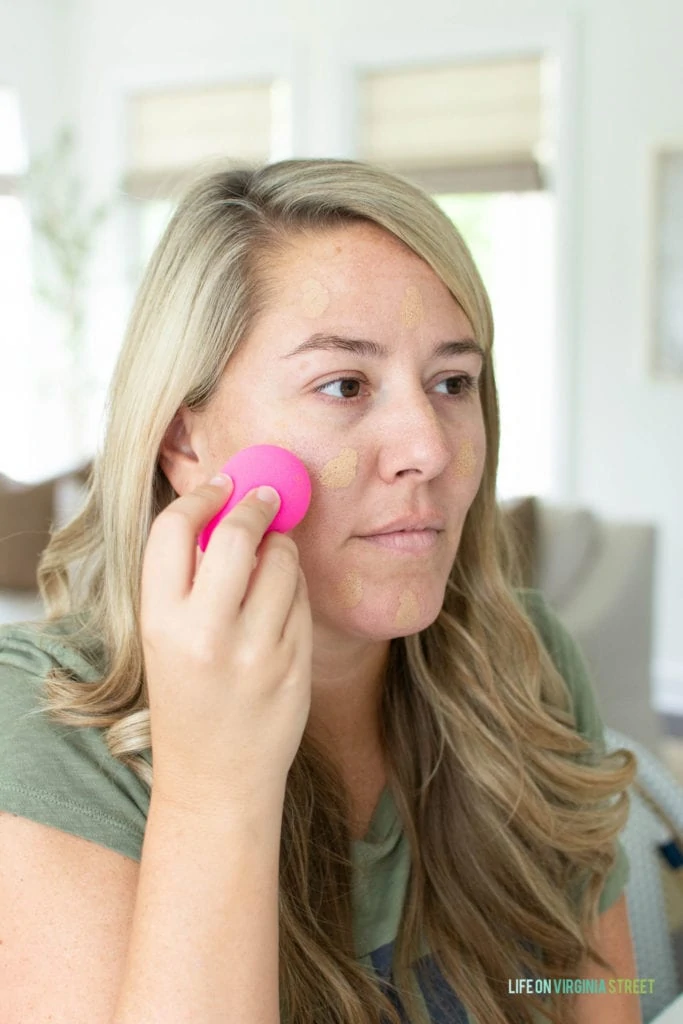 I allow the foundation to dry and then use my Laura Mercier Translucent Loose Setting Powder. Not only does it help set my foundation, but it also adds a subtle matte finish and keep oil at bay throughout the day. I use a super small amount and apply it where I know oil is most likely to show up. I love how soft my skin feels afterwards!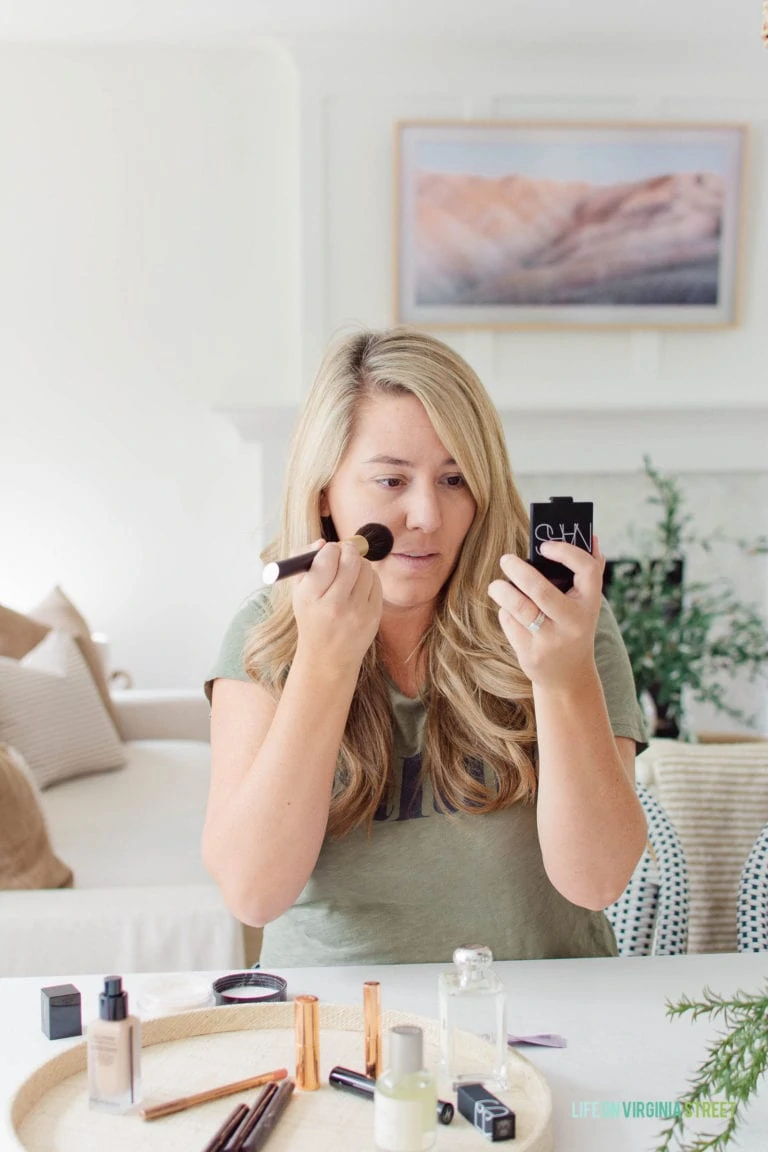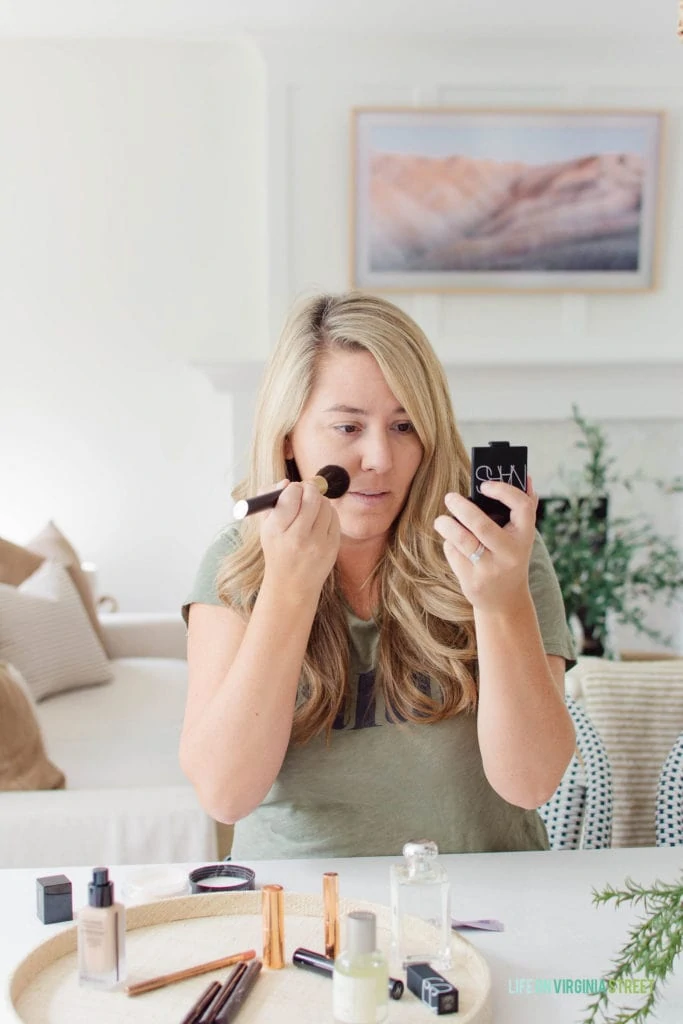 Moving onto the eyes, I've used this Urban Decay Eyeshadow Primer for years, and I swear it's magic. I have oily skin and prior to using this, my eyeshadow would basically be gone within a few hours. With this primer, it's still there when I go to wash my face before bed! It also helps avoid "the crease" where my eyeshadow would all pool up in the past. I'm not even willing to try a new brand at this point after using it for so many years!
These Laura Mercier Caviar Sticks are my latest obsession. Guys, I am so terrible at applying eyeshadow. I feel like I always mess it up! But these sticks make it pretty much foolproof! They layer beautifully and basically just swipe them on my eyelids and blend with my fingertips. No need to use a brush and they make the perfect, subtle smoky eye! For fall I'm loving the Khaki and Amethyst from the regular collection and the Au Natural from the matte collection. I typically use drug store mascara on a daily basis, but have also been using the Le Volume de Chanel mascara when I'm feeling a bit fancier! I also swear by the Benefit Gimme Brow Gel (in shade 03 Medium/Light Brown). It's easy to apply and doesn't look weird or unnatural once it's on. I actually ran out right before we took photos for this post but already have more on the way because I love it so much! This is especially true now that I feel like my eyebrows have started to fade the last few years.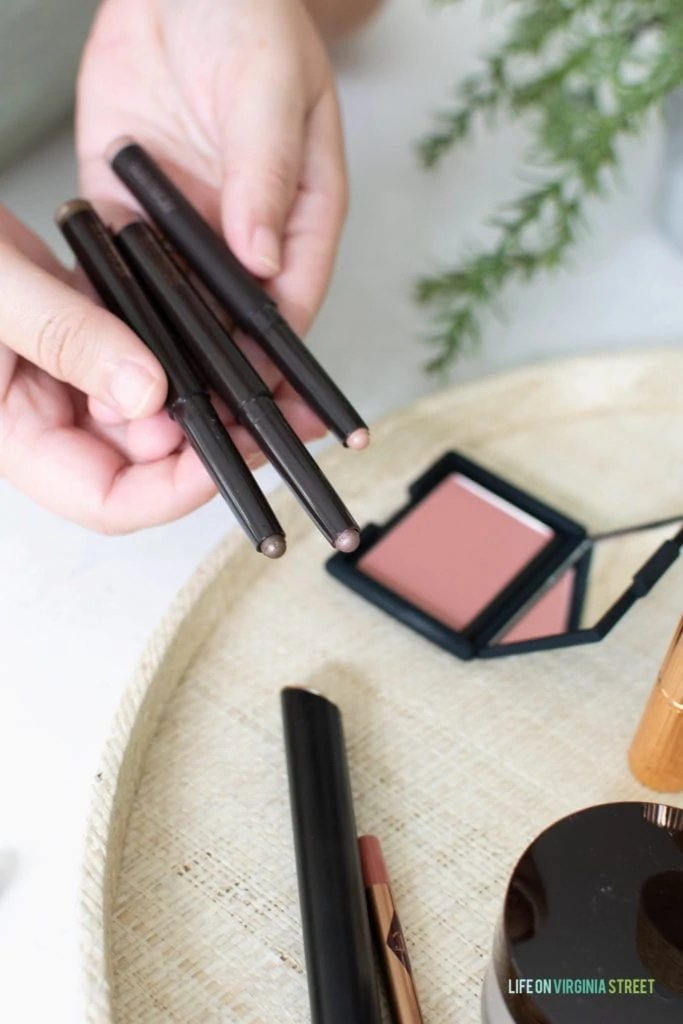 The older I get, the more I realize how important adding lip color can be. I used to just wear gloss, but I feel like my face looks to flat without color now! I am completely obsessing over this berry lip look for fall, and I've found a few favorites I can't get enough of. First, I've been lining my lips with Charlotte Tilbury Lip Cheat Lip Liner in Pillowtalk (the lip color everyone has been raving about lately)! I also have the matte lipstick and glossy lipstick (currently sold out) in Pillowtalk and they're a perfect neutral shade. In the photos below, I'm wearing my newest favorite color. The NARS Sheer Lipstick in Shrinagar. It's such a pretty, universally flattering berry color that doesn't look too harsh since it's slightly sheer!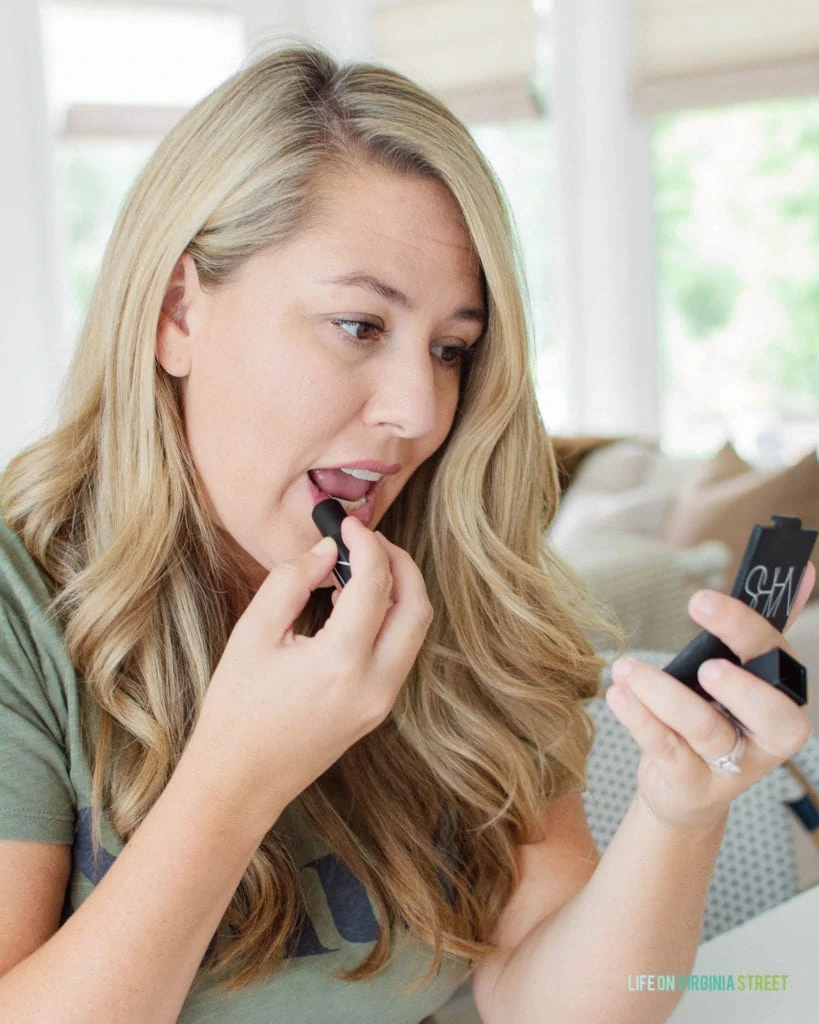 Lastly, I apply my blush (and/or bronzer). In the summer months, I've used NARS Laguna/Orgasm combo for as many years as I can remember. It's such a pretty duo! For fall, I picked up a new NARS blush shade called Dolce Vita and absolutely love it!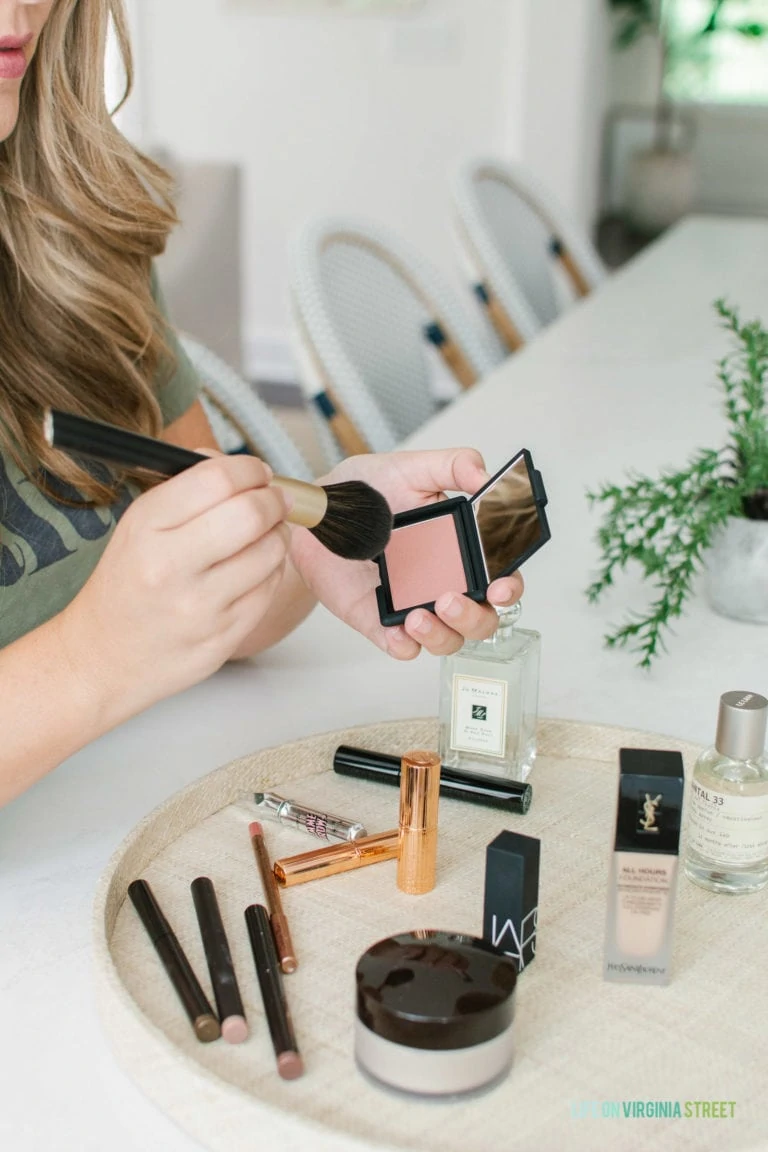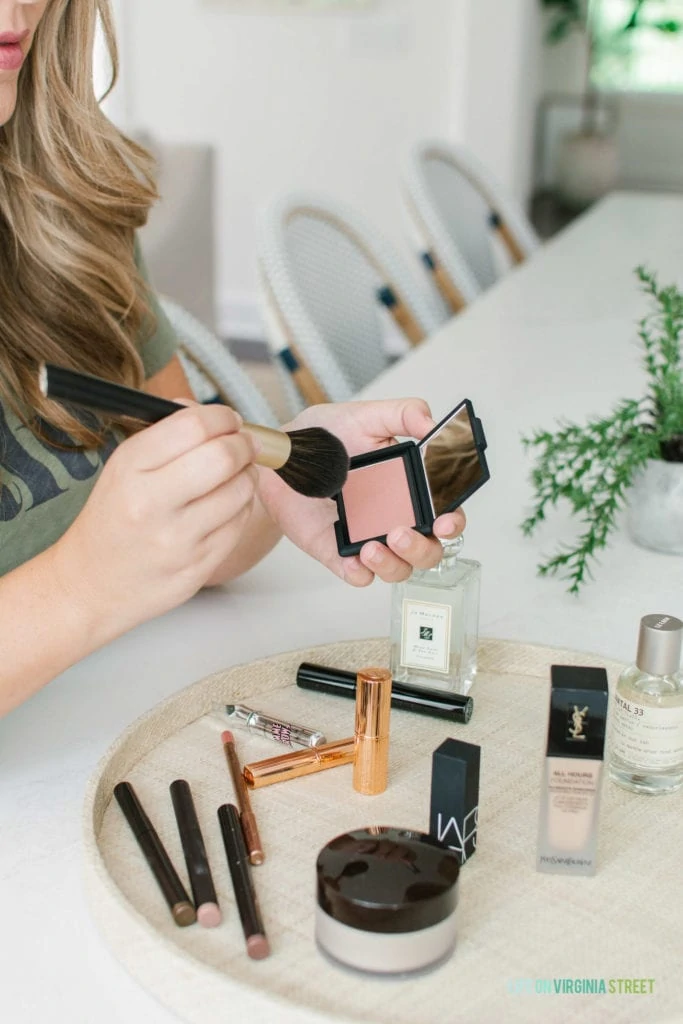 I then finish up with one of my two favorite scents: Jo Malone Wood Sage & Sea Salt or Le Labo Santal 33! I've been using the Jo Malone scent for coming up on four years now, and I'm not sure I'll ever stop loving it! The Le Labo scent drew me in last fall and I loved it in the fall and winter months. They're both such unique scents and I frequently get asked what I'm wearing. Love them both!
And because we all love a good before and after, image, following is my makeup-free face and then after using the products I mentioned above.  I love this quick, five-minute update!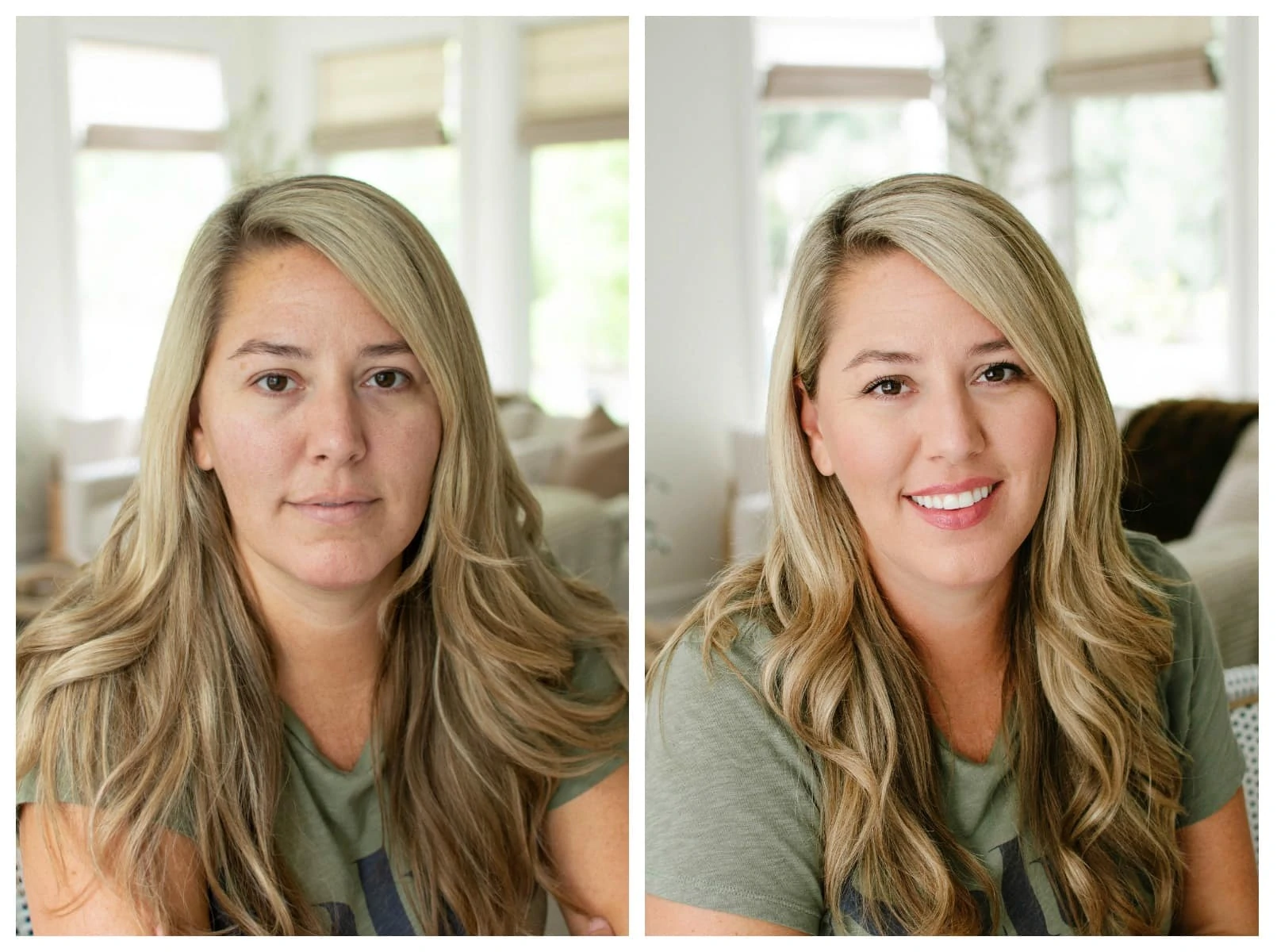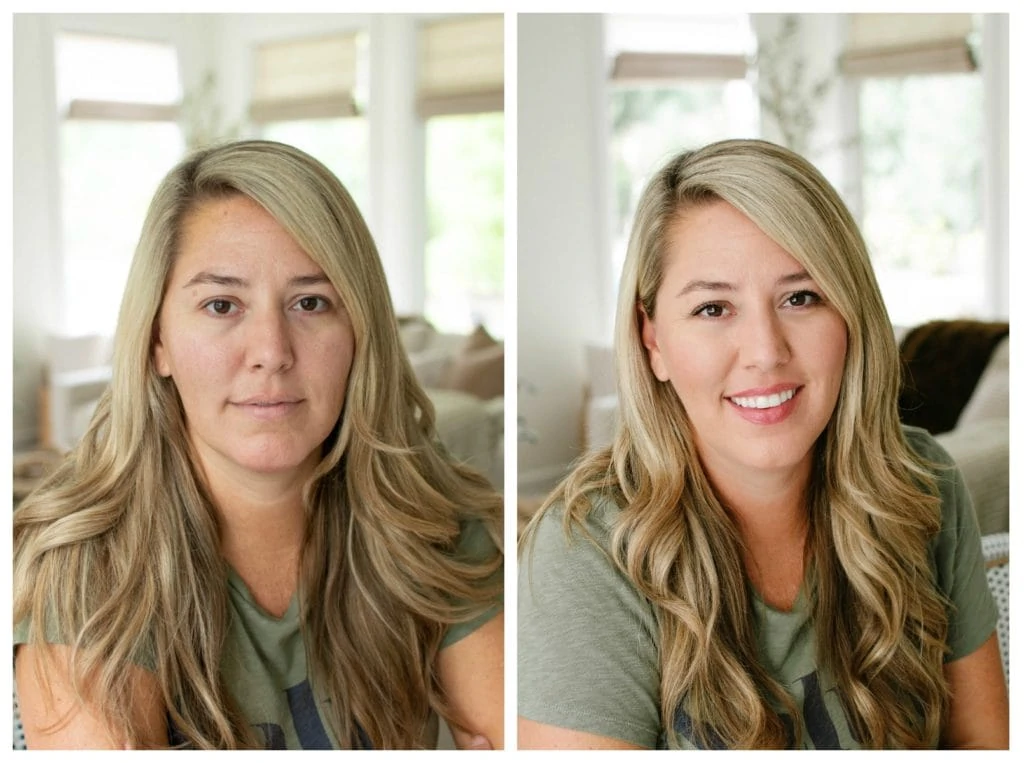 I hope you found something new you'd love to try!
If you would like to follow along on more of my home decor, DIY, lifestyle, travel and other posts, I'd love to have you follow me on any of the following:
Pinterest | Instagram | Facebook | Twitter 
disclosure: some affiliate links used
Photos by the talented Mandy McGregor