Here is a collection of my resort wear favorites !
It never fails that, when mid- to late-January rolls around, I'm ready for warmer weather. Especially when I start getting resort wear catalogs from all of my favorite retailers! With a few warm-weather vacations on the horizon, I thought I'd share some of my resort wear favorites I've seen and what items I always like to bring along on a warm weather vacation!
This post contains affiliate links for your shopping convenience. Click here to read my full disclosure policy.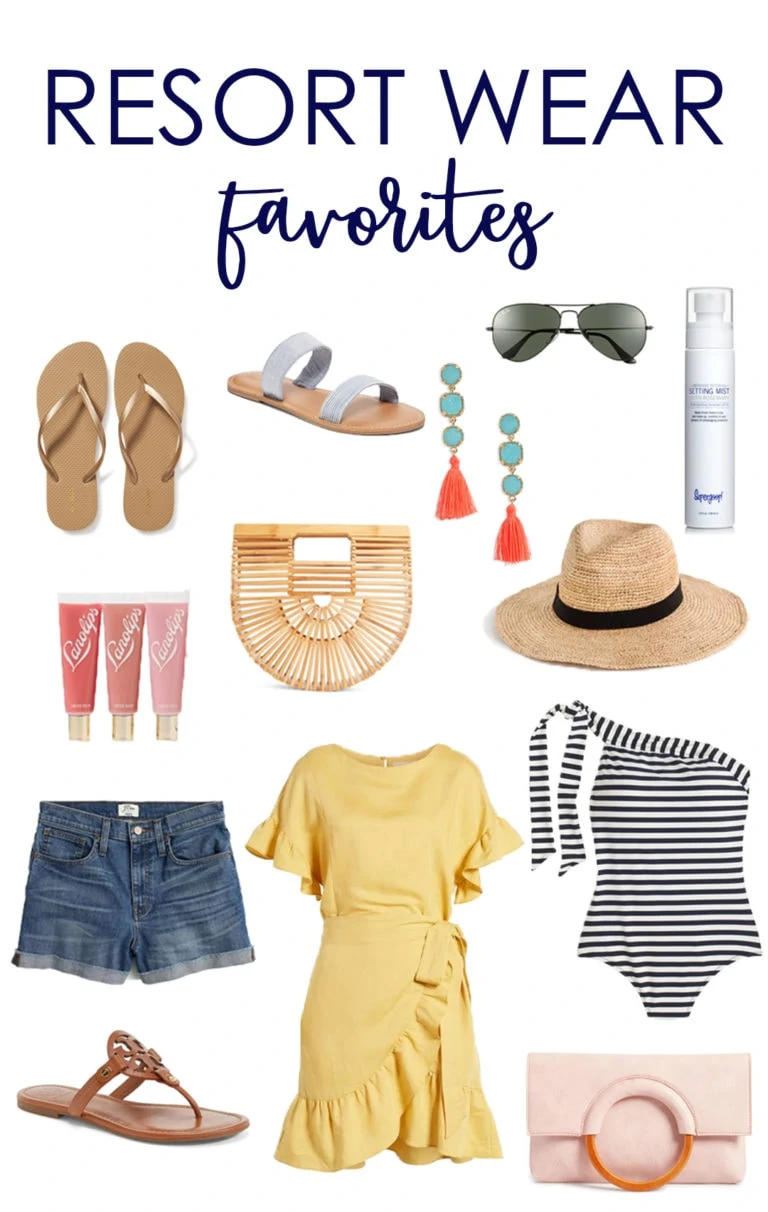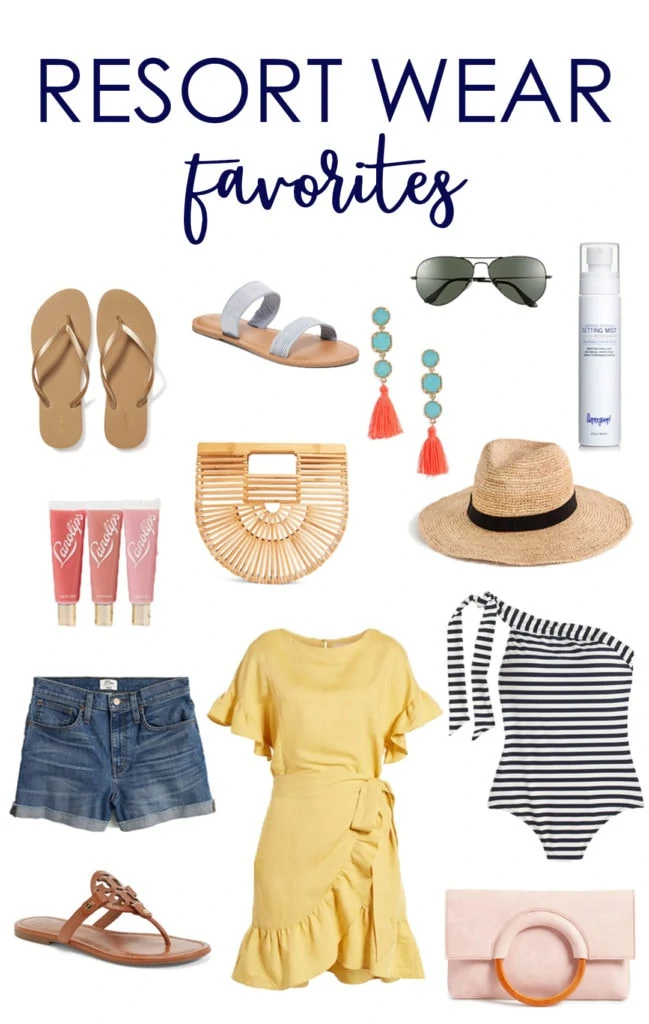 Gold Flip Flops | Slide Chambray Sandals | Earrings (similar here and here) | Sunglasses | Face Setting Spray | Lip Gloss | Wood Bag | Packable Straw Hat | Cut-Off Denim Shorts | Ruffle Dress | Striped Bathing Suit | Leather Sandals | Pink Clutch
Following are my favorites in each of these categories. I love that all of these will transition so well into warm summer days at home, as well! Click on any of the images below to learn more about each of the items listed.
Bathing Suits
As frequently as I wear bathing suits, I actually only bought one last year. At this stage in my life I'm definitely a tankini style girl, and occasionally a one-piece. I have a longer torso so typically the tankinis work best for me. And since I'm lacking anything resembling abs right now, bikinis aren't really an option 😉 I'll probably invest in two or three this spring and they'll carry me through vacations and pool season, and likely into next year. Here are a few I have my eyes on.

Bathing Suit Cover-Ups
Cover-ups are another vacation item that I get a lot of use of. I like ones that are rather loose so they're easy to take on and off. I'm really liking the options from Athleta, as they have a bit of a sportier cut and don't feel so mom-ish. Here are a few cute options I've seen this year:

Sandals
I am a flip-flop girl at heart, and to be honest, I still prefer my gold Old Navy flip flops that I've had for at least five years. Sure, I'll splurge on fancier ones occasionally, but the reality is, these are the ones I wear over and over! My "fancy flip flops" are usually in my suitcase regardless of destination, as well.

Sundresses
I'm all about sundresses while on vacation. I've found they're the easiest way to look put together, stay comfortable, work for a variety of restaurant types, and they're typically very easy to pack.

Shorts
I always seem to have the best luck with shorts from Old Navy, J. Crew Factory and J. Crew. I know nine times out of ten they'll fit me, so they are what I stick with. I typically don't do less than a 5″ inseam but I am liking these denim cut-offs.
Beachy Clutches and Totes
So, I splurged a bit this year and got the mini version of the current "It" bag. It's half the price of the full-size, and it's every bit as cute. I did find a pretty legit knock-off here. I hate lugging around my everyday purse on vacation (it's way too big and full of crap), so this is perfect for the essentials. This pink clutch with a wood handle is perfect for nights out, as well. The size is decent to hold your essentials and has a fun vibe, with a great pricetag. I also think this striped reusable tote is perfect for headed to the beach. The fabric is durable and, with a price like this, you won't worry about it getting ruined in the sand!

Skin Essentials
I love a good rash guard and wear them quite a bit in the summer if I feel like I'm getting burned. However, I have never loved the super tight fit. So, I'm excited to get this sun shirt that has a slightly looser fit. The reviews are excellent and it comes in a variety of colors. I've also said it before, but this SPF make-up setting mist is a game changer. Not only does it add extra SPF, but it mattifies and sets your make-up. I can't say enough great things about it!

I obviously always pack a bunch of tops as well, but to be honest I haven't found any beach worthy ones I'm in love with this year so far. Typically I bring plain t-shirts, graphic tees and a few tank tops. Nothing fancy, just enough to usually go to breakfast in or throw on over a bathing suit. Otherwise, as I mentioned above, I throw on a sundress.
So, do the resort wear catalogs get you in the mood for spring and summer as well? What are your must-have items on a beach vacation? I'll be doing a more general travel post soon, sharing all of my favorite travel essentials, regardless of where we are traveling to!
If you would like to follow along on more of my home decor, DIY, lifestyle, travel and other posts, I'd love to have you follow me on any of the following:
Pinterest / Instagram / Facebook / Twitter / Google+
disclosure: some affiliate links used