Well, perhaps its time to change the name of this series to "Backyard Progress" because the pool is DONE!
If you're new around here or have missed my other progress reports, you can get up to speed here:
A Pool + Backyard Update | Progress: Week 1 | Week 2 | Week 3 | Week 4 | Week 5 | Week 6 | Week 7 | Week 8 |Week 9 | Week 10 | Week 11 | Week 12 | Week 13 | Week 14 | Week 15
If you read my Weekend Recap, you saw that we finally had blue waters by Sunday!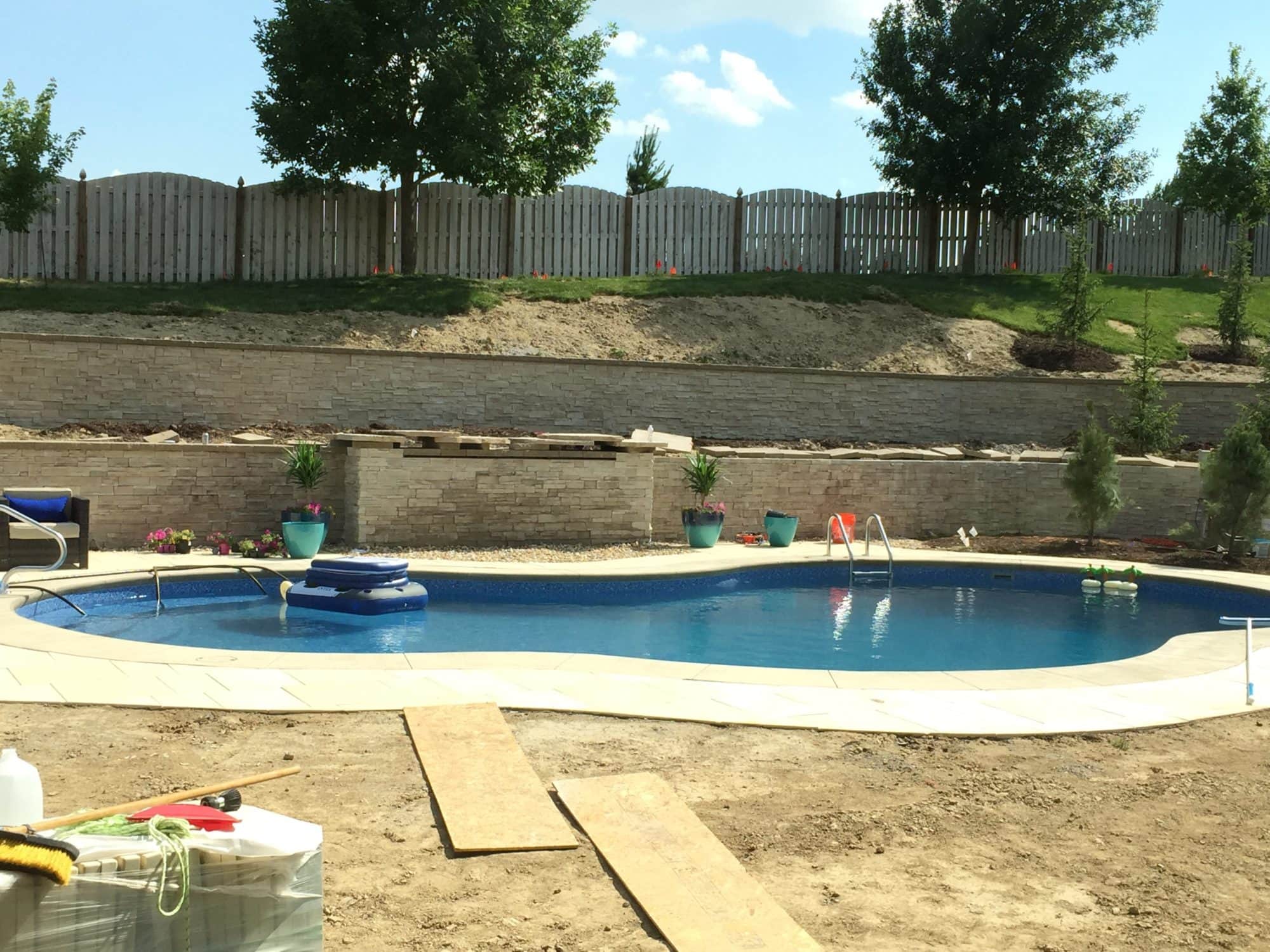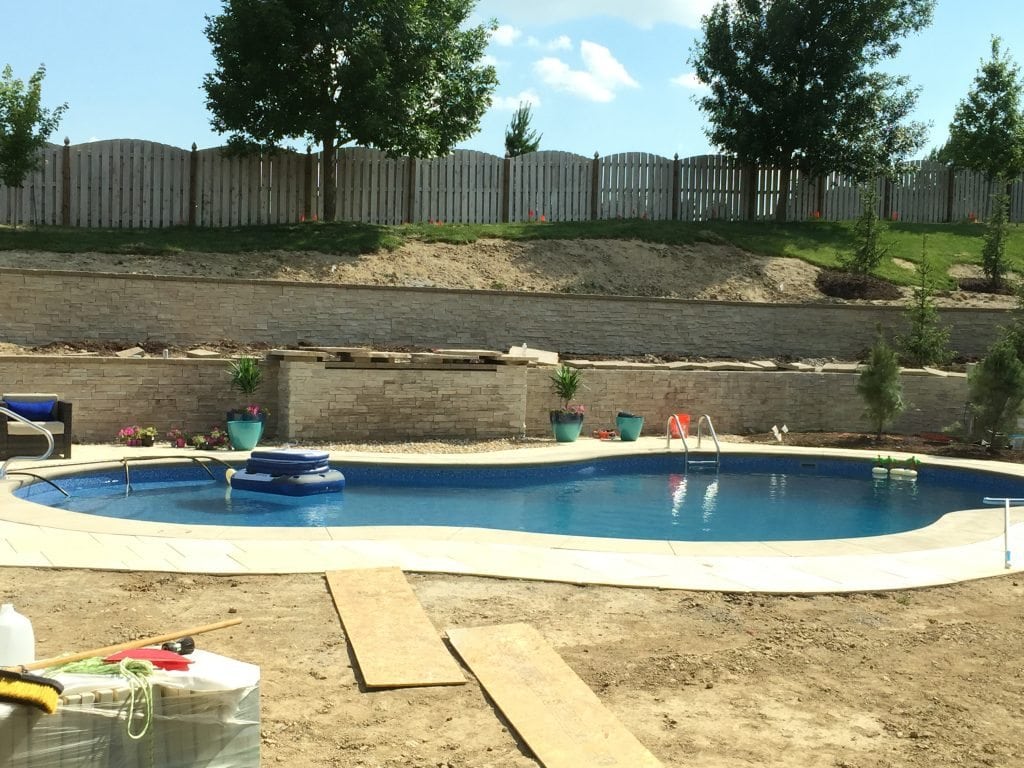 And perhaps the most exciting news of all – we got sod on Monday!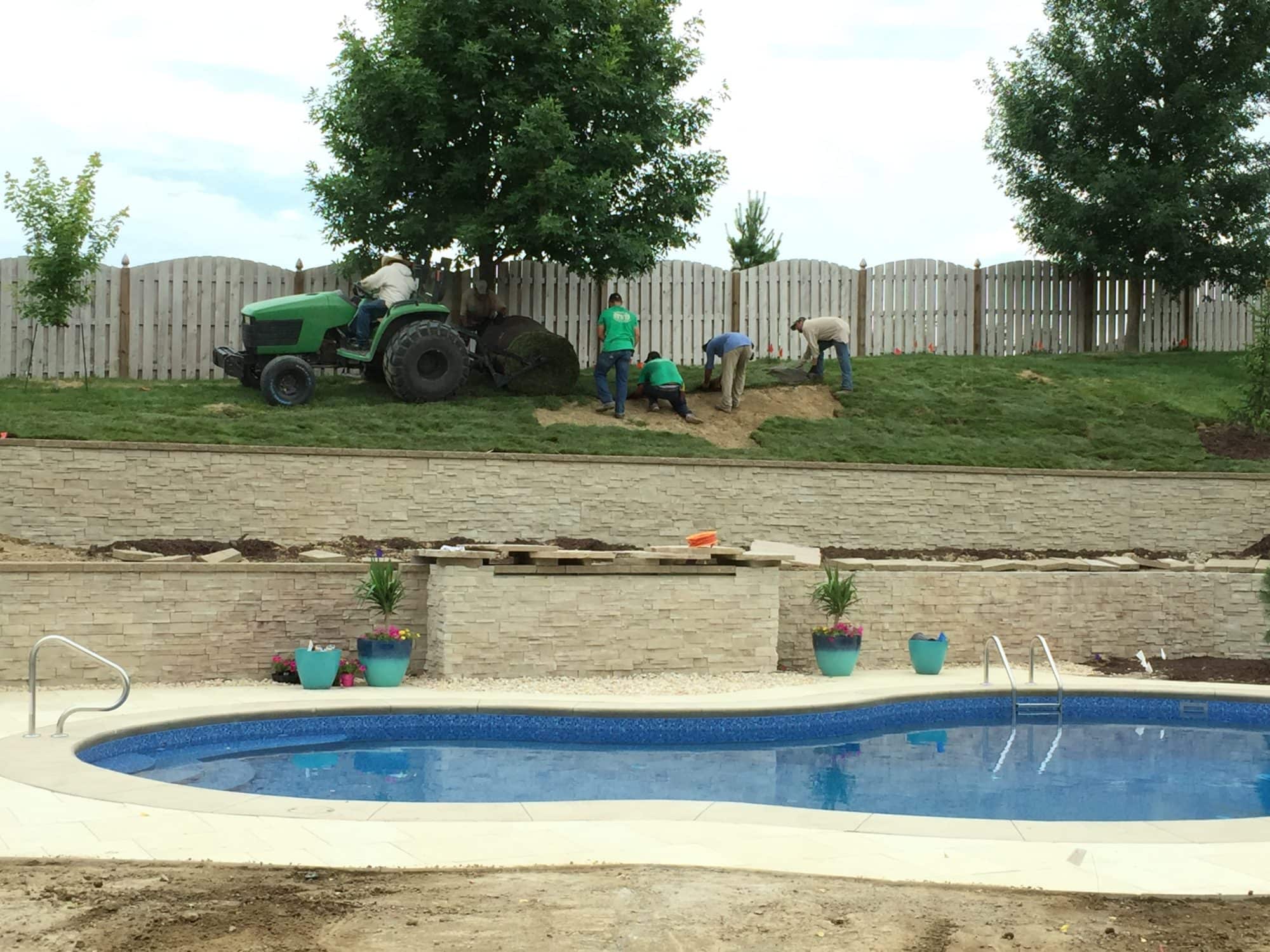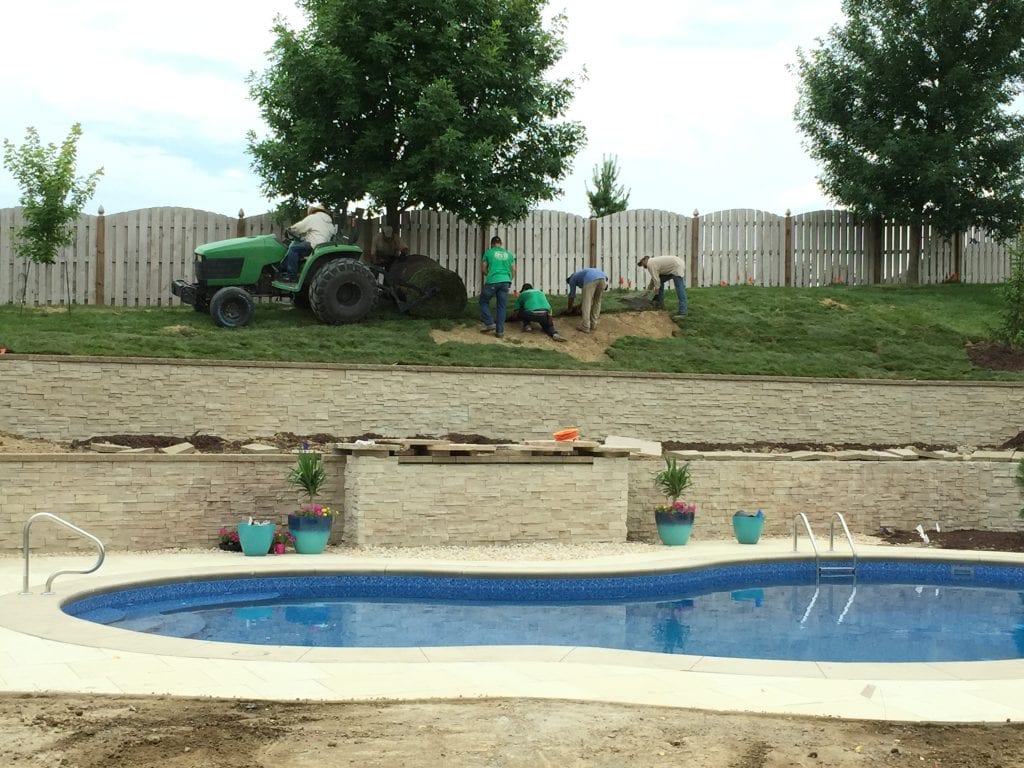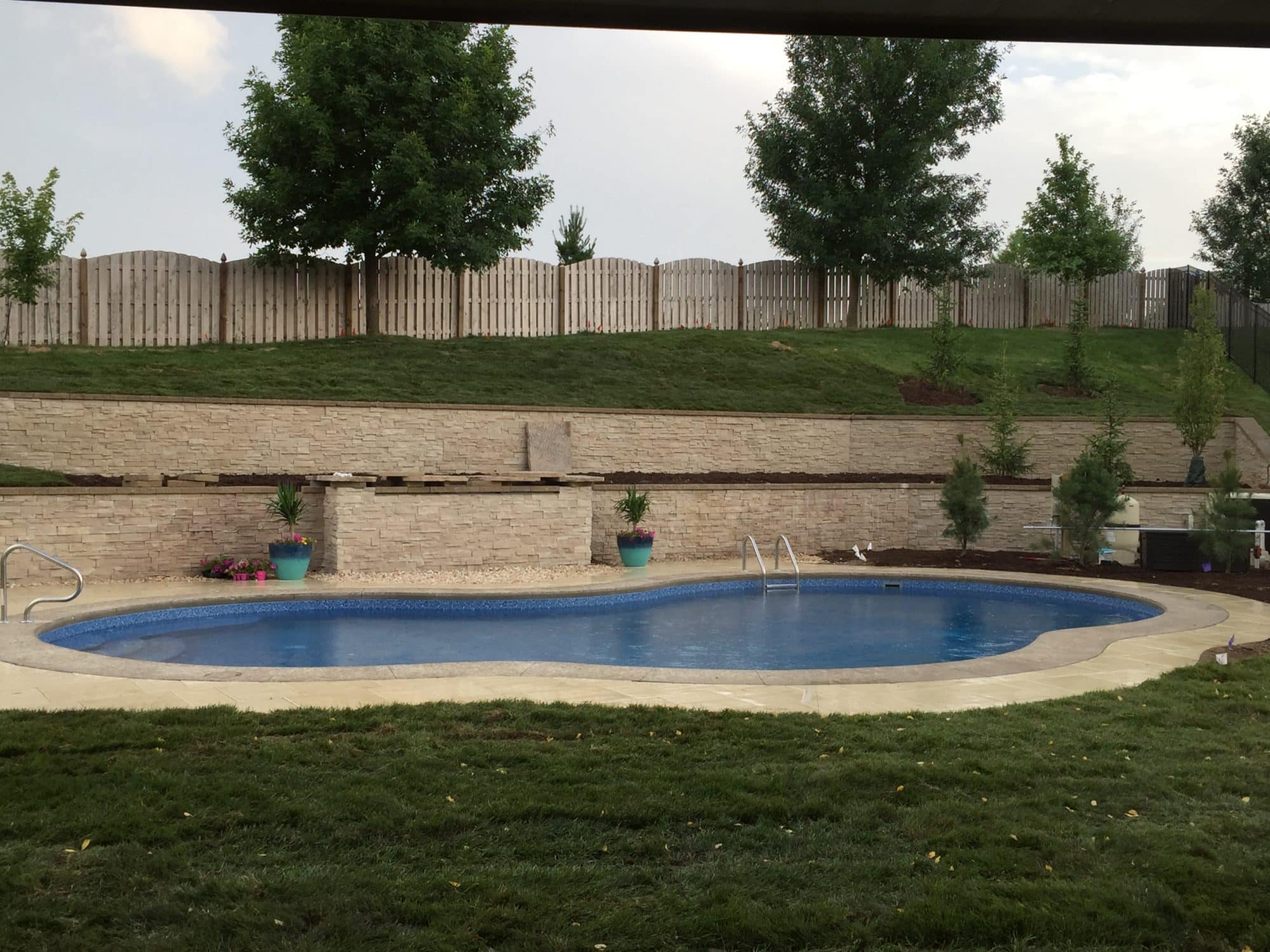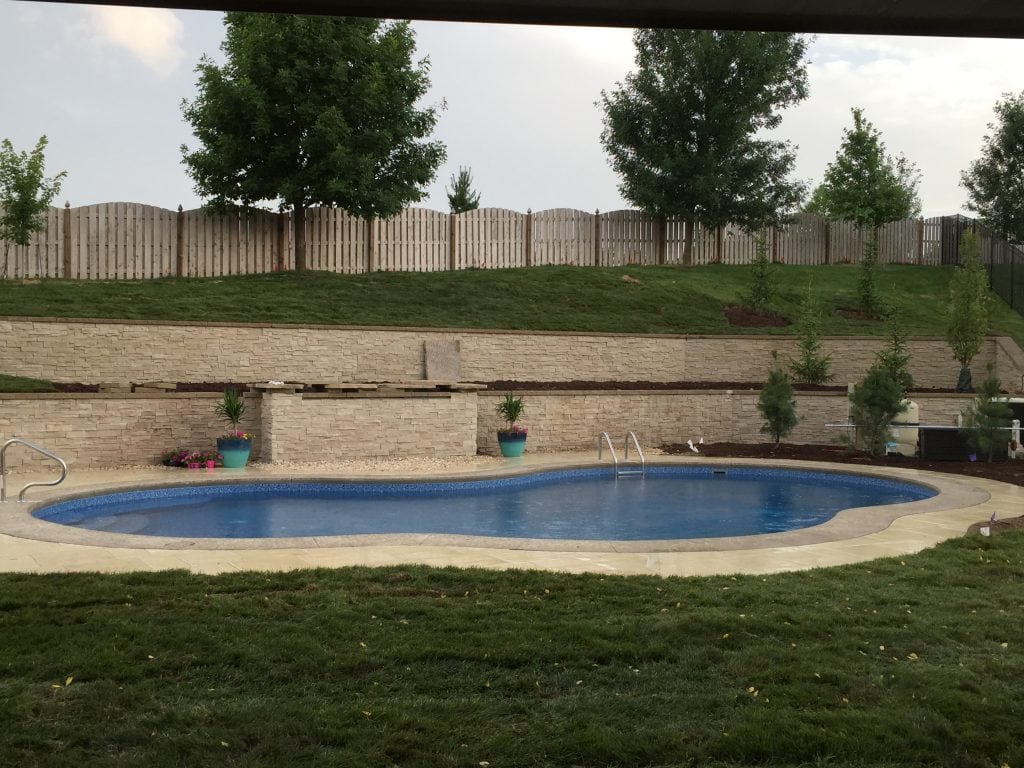 We went for a swim a few nights this week after work and it was wonderful! Definitely a great way to unwind after a long day at work.
Last night, Shane, the owner of Phoenix Pools, came out to officially show us how to work the system. For the past week, they had it in a mode that just let us enjoy it before we became 'official' pool owners with responsibilities 😉 Since we went with the salt water and the in-ground cleaning system, it doesn't require constant work – but rather weekly maintenance that shouldn't be too time consuming.
A few of you have asked about budgeting and costs. Once everything is fully wrapped up and I feel I can give a good review on everything. I'll also talk about how we budgeted and just how much we went over budget. I likely won't share actually numbers, but I think the percentages will be helpful for those of you that mention you're looking into tackling a similar project of your own.
So, what's left?
Here's the water feature as of last night. It is fully functional, but Kurtis and Justin have to wrap up cutting the stones on the top (the stone won't be propped up on those wall caps like it is now). We do love the sound of the water so far when it's running.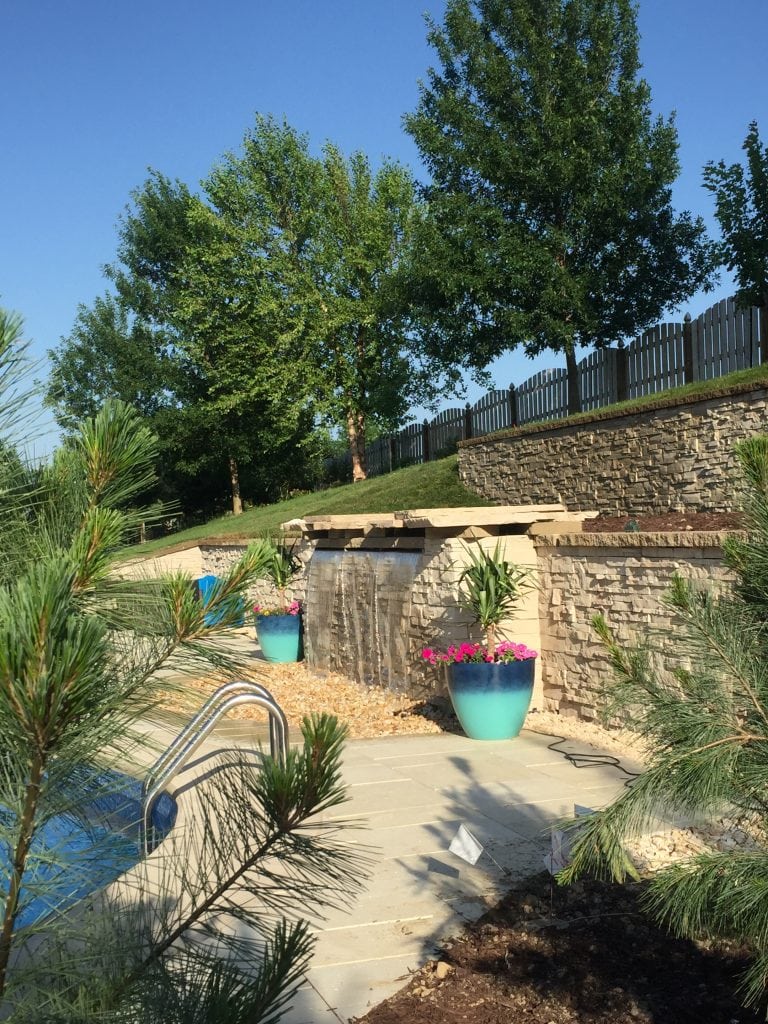 And Kurtis is pretty excited about his LED lights that he had to have. It feels a bit Vegas-y to me, but you have to pick your battles 😉 We also need to get it hardwired so we can use our remote control. Supposedly you can make the lights 256 colors, but I think it's a gimmick that men fall for. So far I've seen three colors. Haha!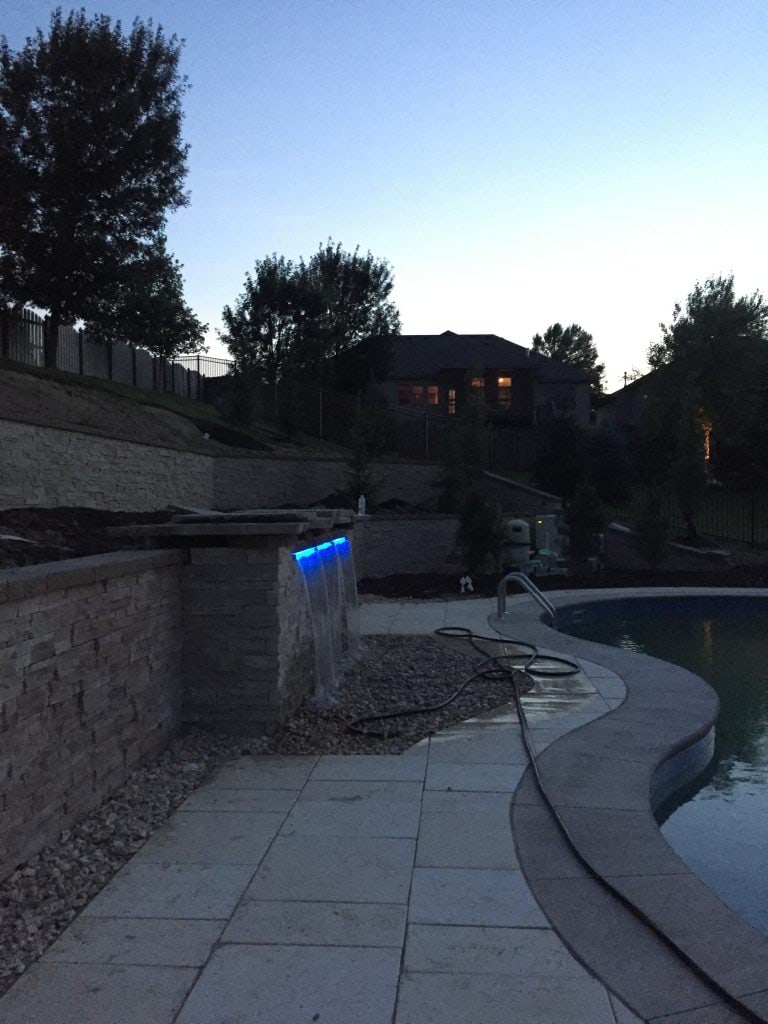 Here's the pool lit up at night as well. It can change color too, but I believe only has eight or so colors. I prefer blue and white. Not much else. And actually, the red freaks me out because it totally looks like blood.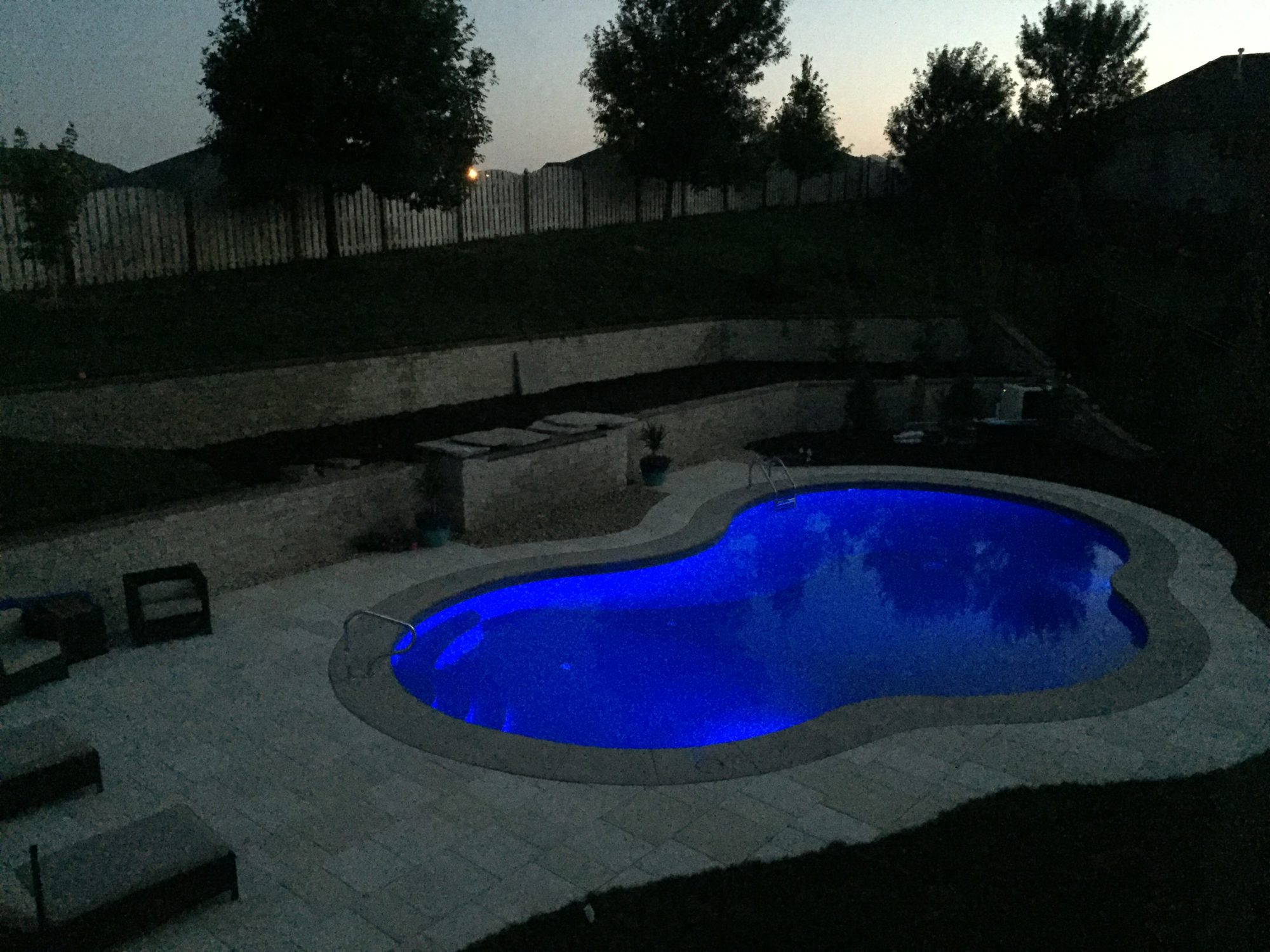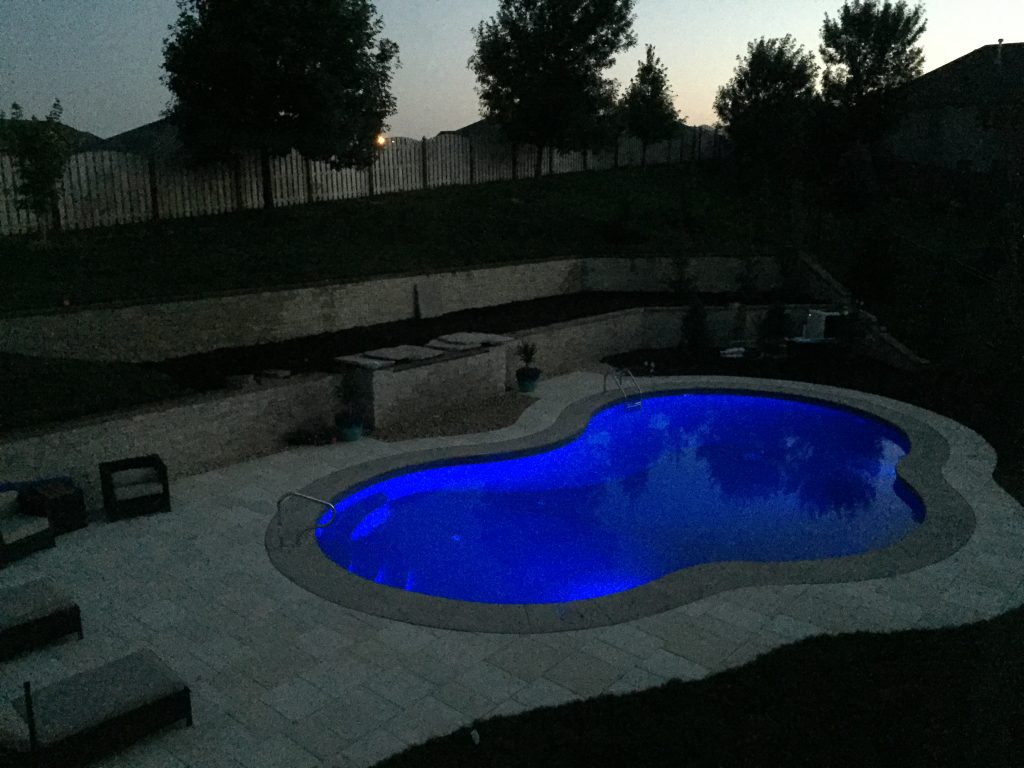 We definitely want to seal the veneers, especially behind the feature so it doesn't get uneven 'wet' lines or stain again from the mulch. Here's a sample of veneer that Justin sealed (on half of it). The whole piece is wet, but you can clearly see on the left, the color doesn't change and the water drips off (much like Rain-X on a windshield). We also need to seal the pavers on the pool deck. Since they are so light, the slightest color show up on them. And I don't know what berry concoction the birds have been eating around here lately, but it is wreaking havoc on those pavers! You can also see in the photo above all the places water was recently hitting the walls from sprinklers and the water feature. It dries pretty quickly but we don't love the wet look – hence once of the reasons for the sealer.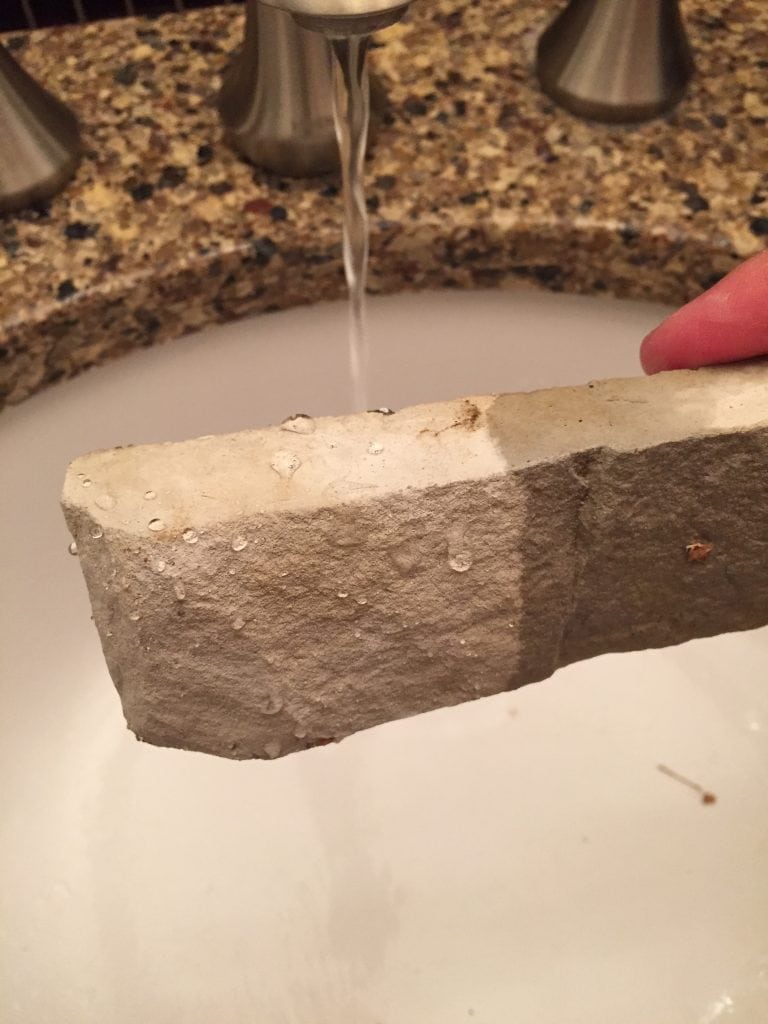 We're contemplating adding a few more trees. Now that the sod is in, it's so much easier to visualize the finished space, and I think we're both in agreement that a few more trees might be necessary. And then we'd like to add some landscaping lights to the trees.
We also have a little bit more furniture to assemble (and waiting on a few other items to arrive) – but we're so close!
I also need to clean up our covered patio. I plan to get more done shortly and share a preview of the space on Tuesday and Friday next week. It's a filthy trainwreck (and dumping zone) right now.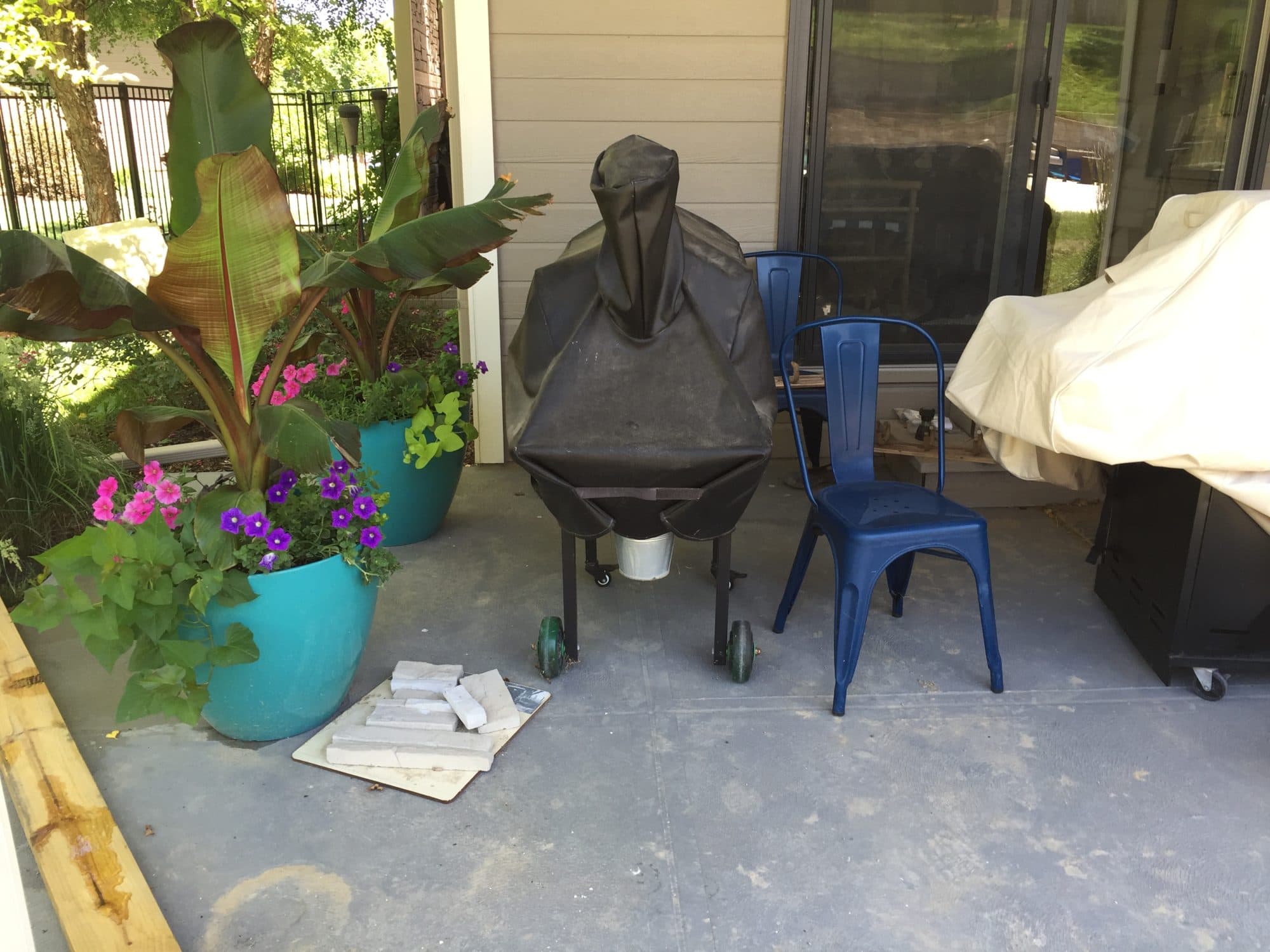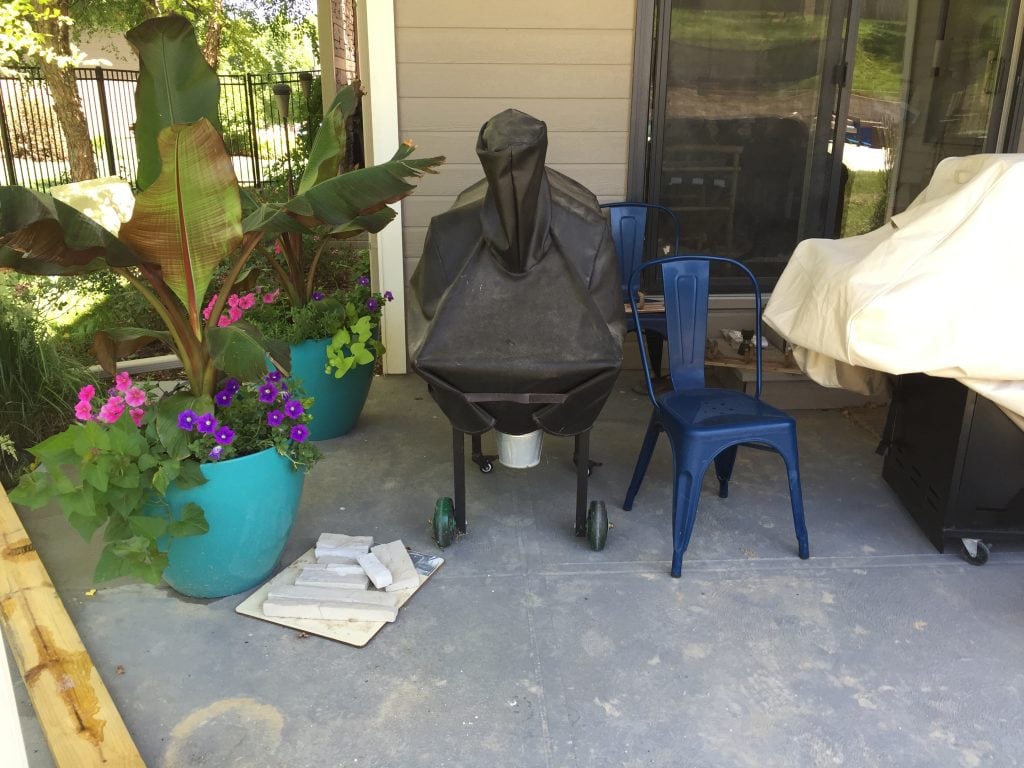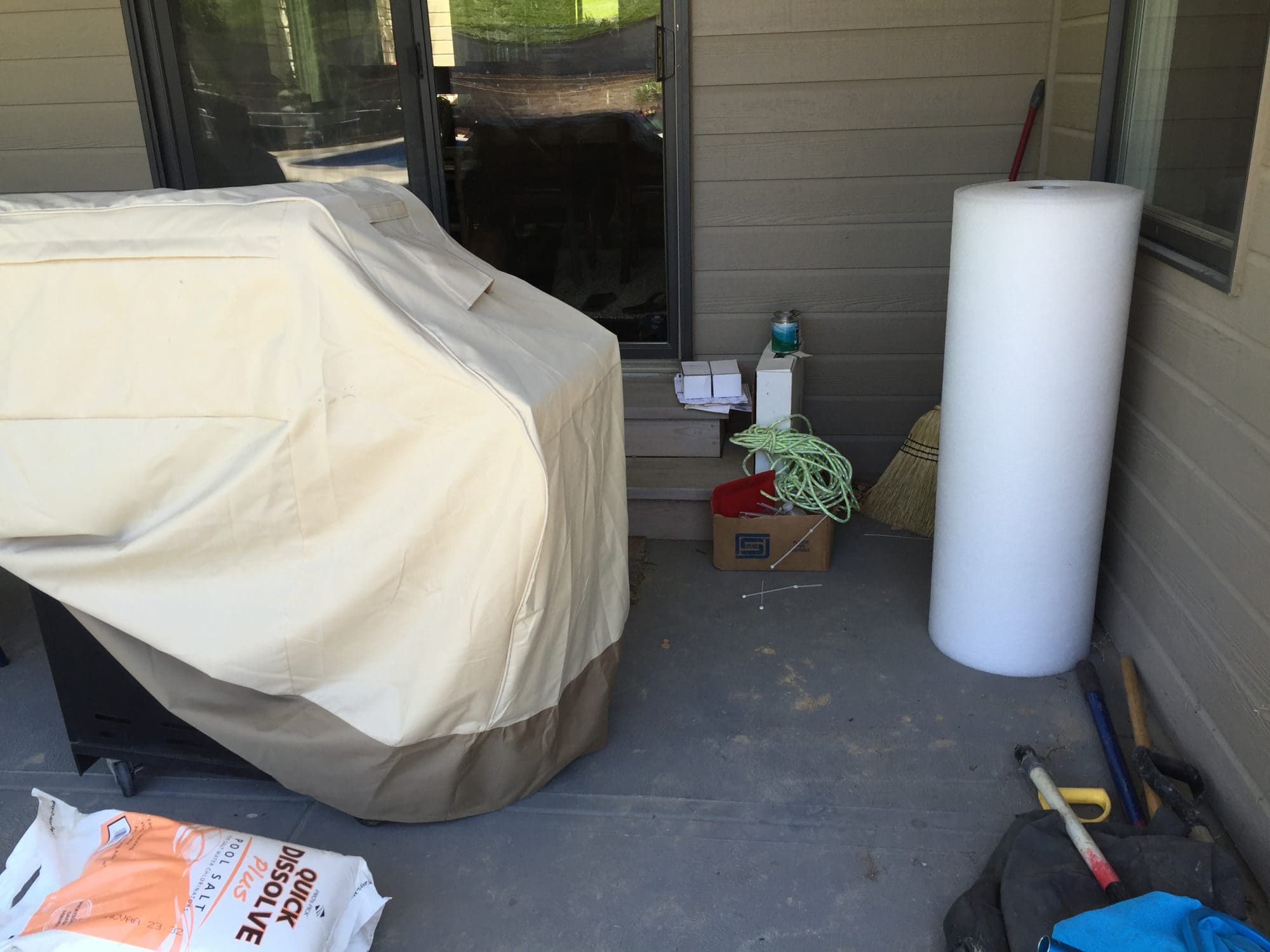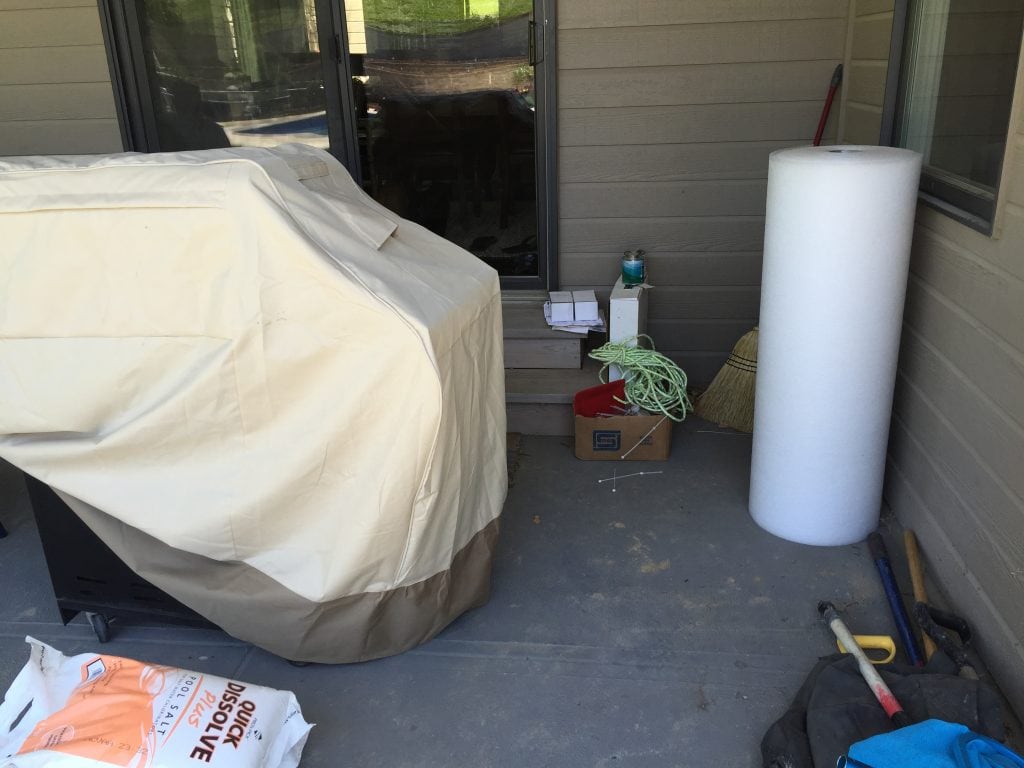 Justin also needs to lay the pavers between the house (covered patio) and the pool deck pavers. We're going the route with grass spacers in between and we hope to have that done in the next week or so, as well!
I won't be able to share the full, styled reveal until mid-July (which, shockingly, isn't that far away), but I'll continue to share physical updates on the project until they are completely wrapped up. I think the full reveal will be worth the wait though!
Lastly, don't forget to enter my giveaway for a  20v MAX* Lithium Cordless Drill AND a Circular Saw from BLACK+DECKER. You can enter in this post.
I hope you all have an amazing weekend!
If you would like to follow along on more of my home decor, DIY, lifestyle, travel and other posts, I'd love to have you follow me on any of the following:
Pinterest / Instagram / Facebook / Twitter / Bloglovin' / Google
disclosure: some affiliate links used in this post.