Suddenly, it actually feels like we are at ten weeks (or a thousand?) into this project and its no longer flying by. Weeks with weather delays are the worst. Construction-wise, virtually nothing happened on the pool/backyard project this week, yet we still managed to make a tiny bit of progress. To be honest, the entire week felt like a bit of a letdown. But we knew it would likely happen eventually.
If you're new around here or have missed my other progress reports, you can get up to speed here:
A Pool + Backyard Update | Progress: Week 1 | Week 2 | Week 3 | Week 4 | Week 5 | Week 6 | Week 7 | Week 8 | Week 9
I took this picture on Monday. You can see the trees are gradually starting to fill in and there was still a lot of standing water over by the driveway. But, the sun shone most of the week and helped dry everything out for the most part. The plan was for the pavers to officially start today but now it's been moved to Monday. Which has 100% chance of rain. Wednesday doesn't look great either in terms of rain. So, while it felt like we were flying the first 8 weeks, it literally feels like nothing will happen until mid-May, and suddenly it will be June before the pool guys can even come back. Our Memorial Day goal when my parents fly in very likely won't happen, which is a total bummer, since it seemed so easily achievable a few short weeks ago. But, it is what it is, and we're trying to roll with it.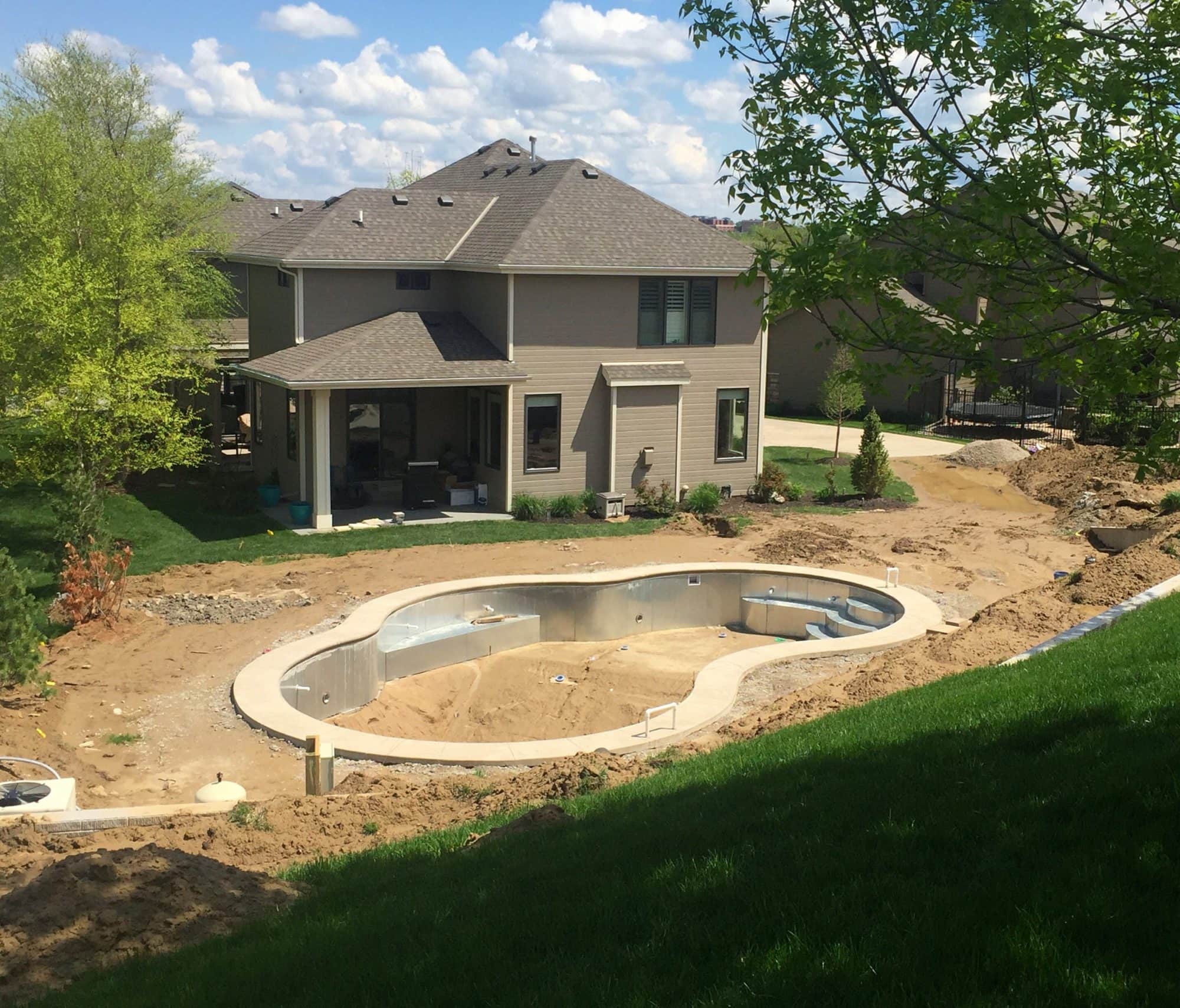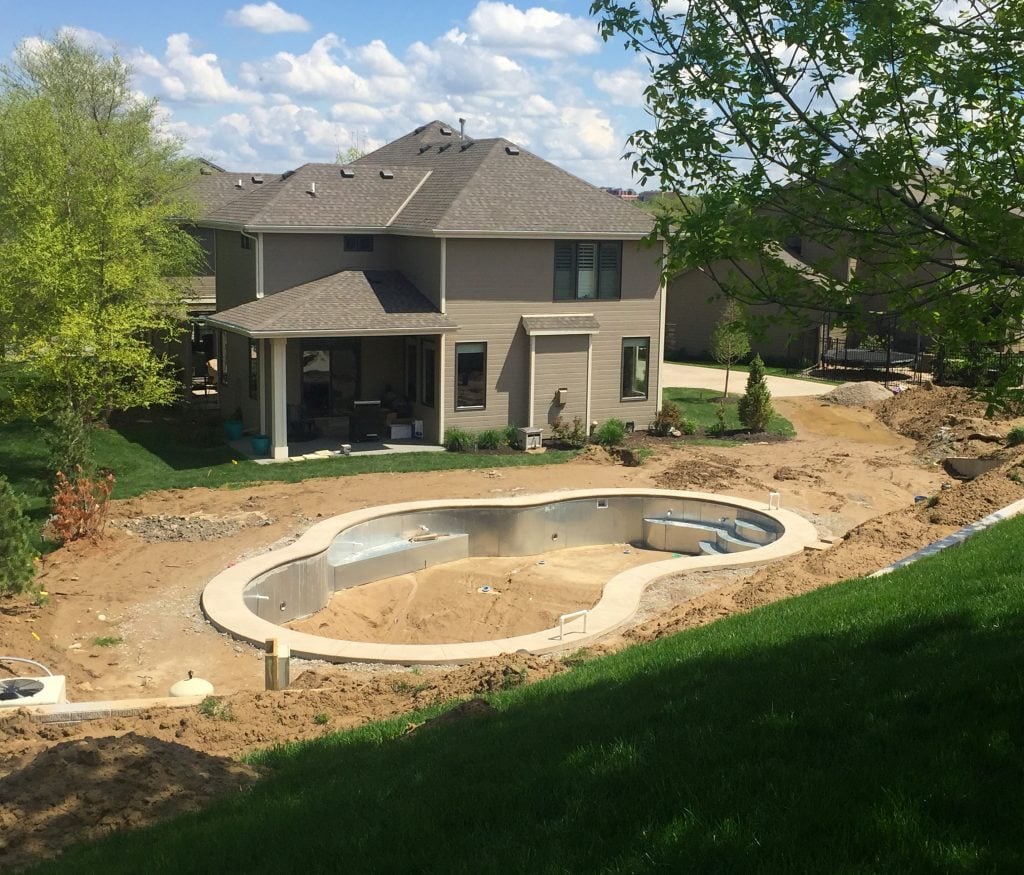 I wanted to share this updated view of the neighbors' windows now that some of the leaves have filled in. As you can see, there is a significant improvement in terms of privacy, even without us adding more trees (which we still plan to do).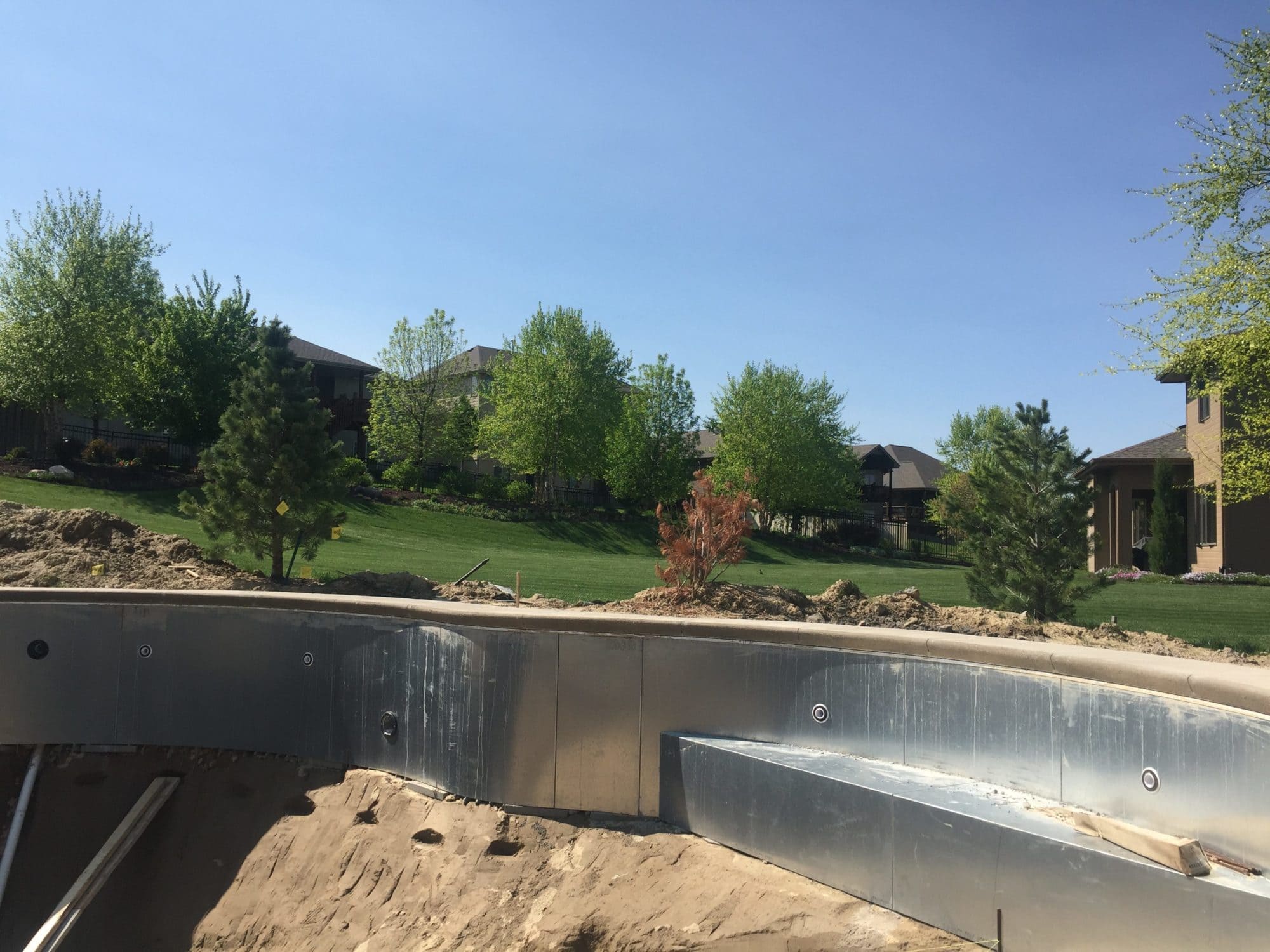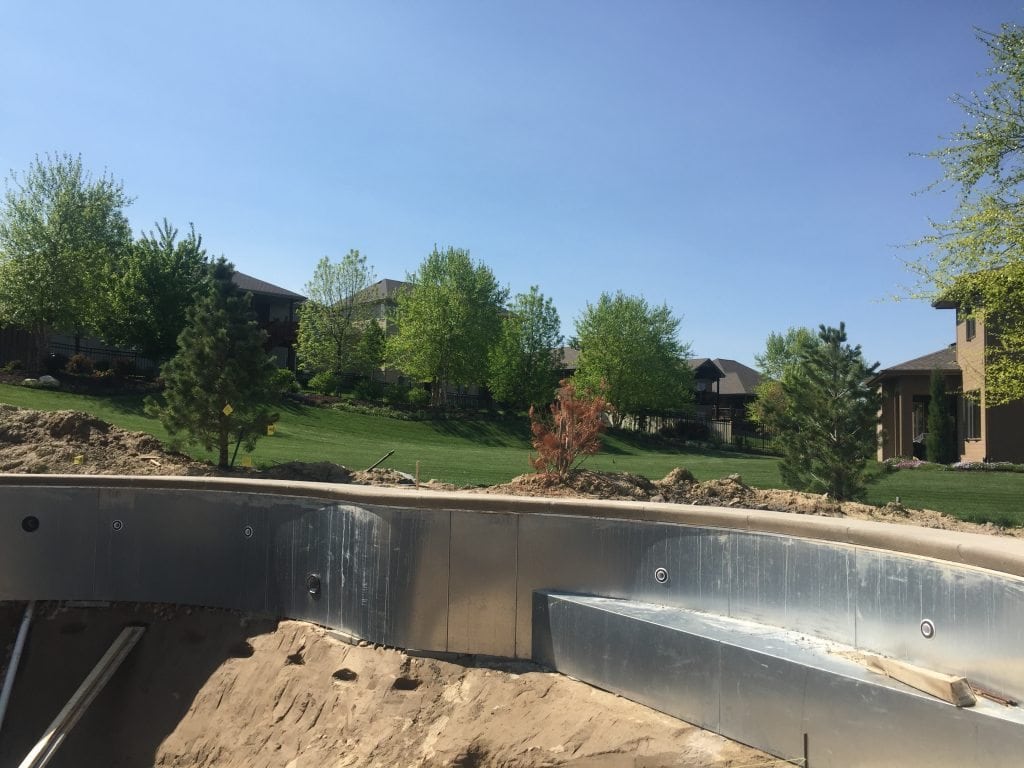 This is the final remaining angle we need to address immediately. Nothing a few evergreens won't fix! We're thinking we'll plant one right where the transition of the walls is (right above the pool unit that I have no idea what it is). We hoping to block the covered deck and windows with another Vanderwolf Pine.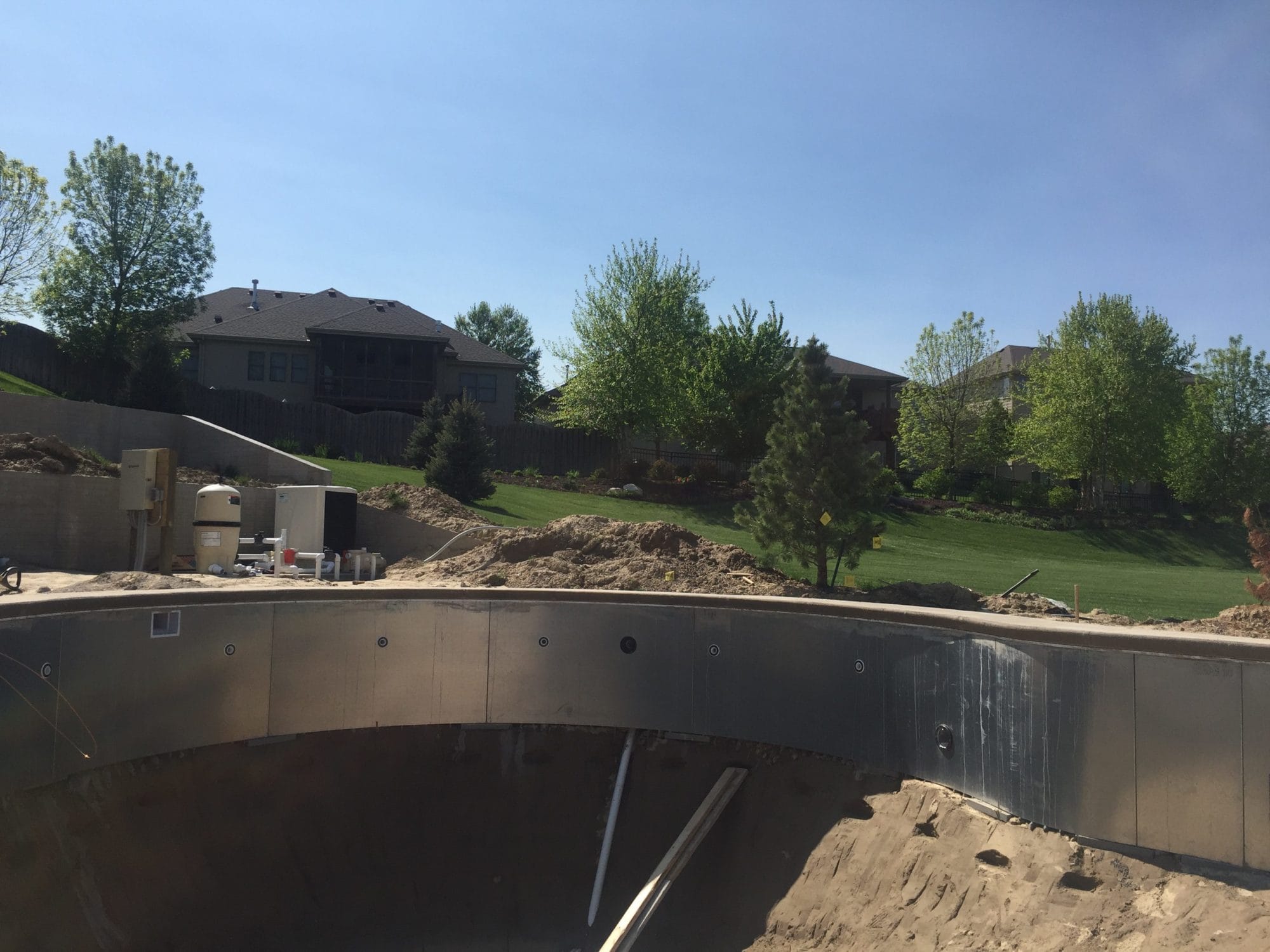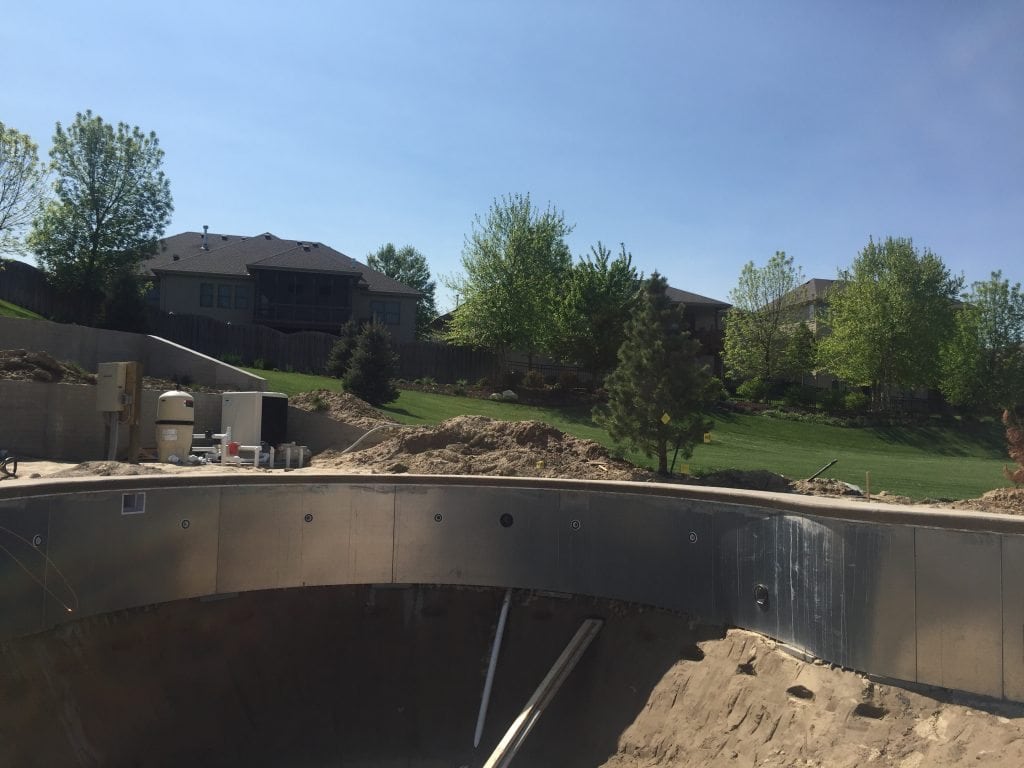 Monday all of our stone veneer for the retaining wall arrived. All 9,000+ lbs of it. If you look closely in the photo below, you can see four of the five pallets of veneer near our curb on the street. We ended up ordering it from Supply Dog online because the cost savings was so much. Not sure if I mentioned this yet, but we were originally planning to add the veneer to the wall ourselves. But ultimately decided we didn't want it hanging over us. After multiple bids, and being told it would likely take two full weeks, we decided it wasn't a 'weekend' project for us so a DIY was not a great idea. Even though it won't be cheap, it just seems like the most logical option at this point – especially if it means everything is done sooner.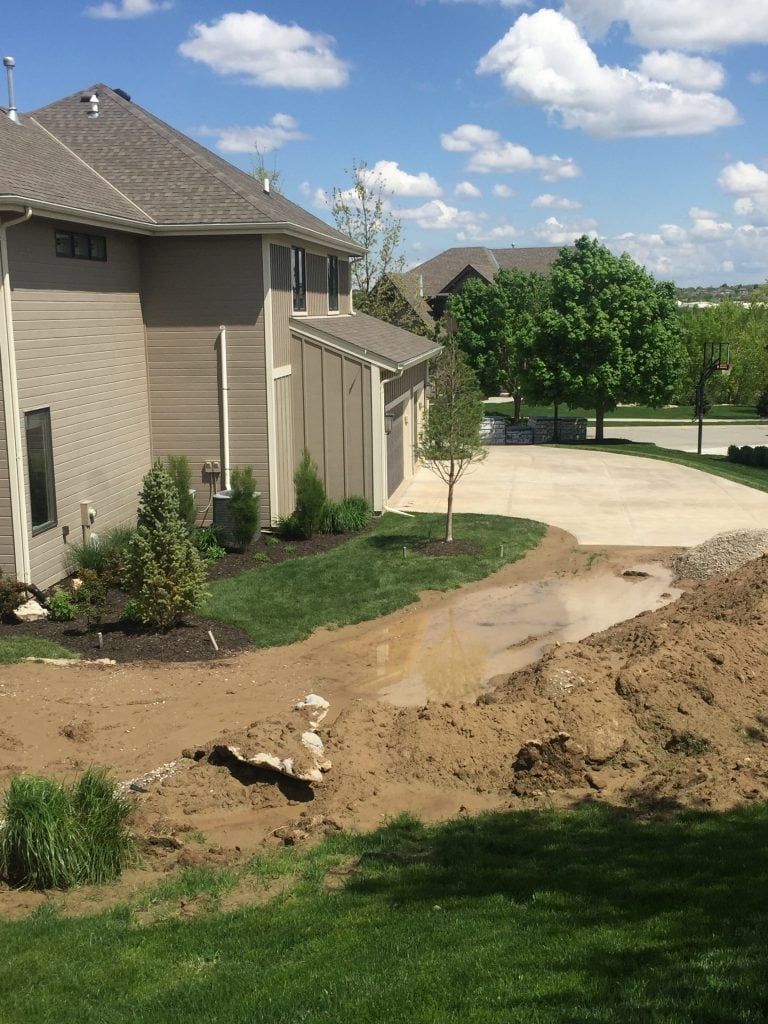 Monday night, we met Justin, our designer, and The Rock Place to make some decisions on the small rocks that will be used under our water feature and to cover our drains along the base of the lower wall. It will be used in a 1-ft wide area that will span the length of the 145-ft wall.
Originally we were considering the Mexican Beach Pebble but we both worried it would give too much contrast and a modern zen vibe, which really isn't our beachy style.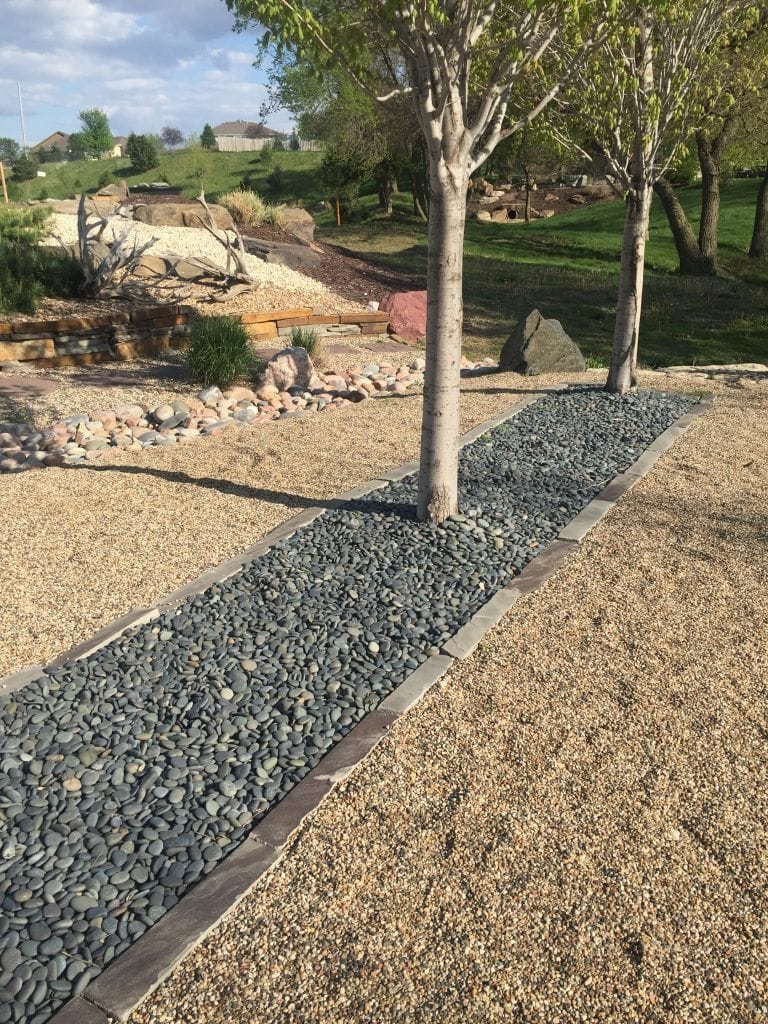 After wavering back and forth on multiple options, I think we've finally settled on Indian Sunset – shown below. I don't love the shape of the rocks as much, but I think the colors will be a better fit.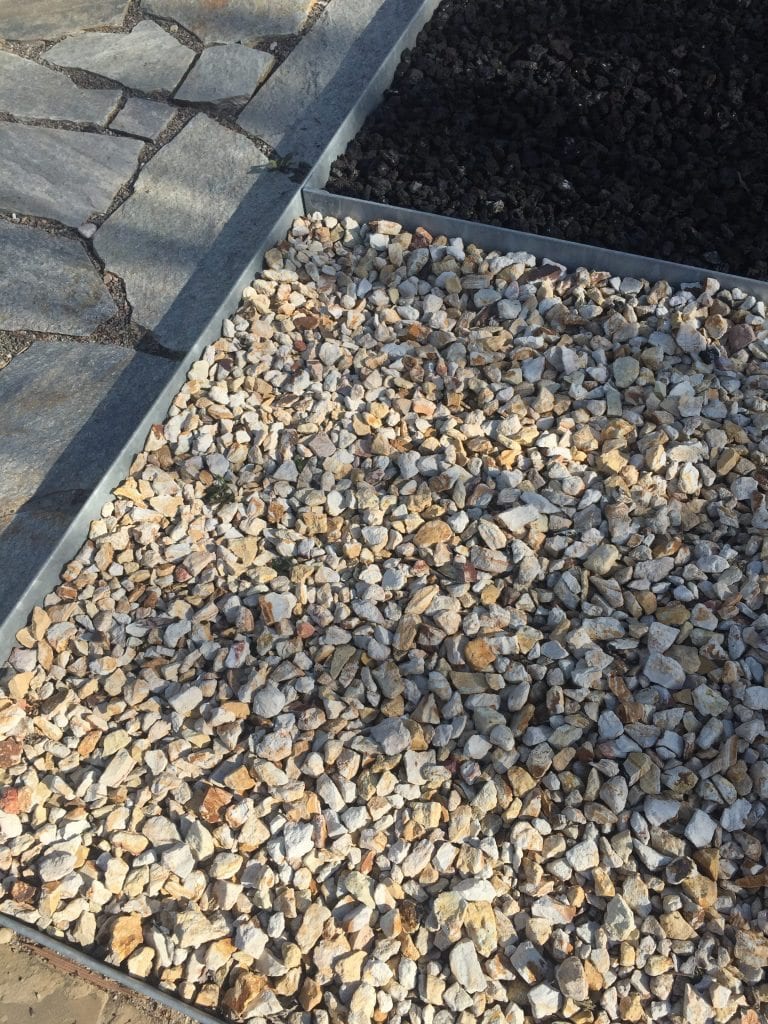 Here's a better pic from The Rock Place's website: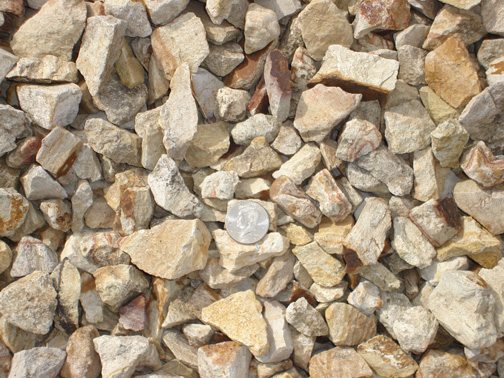 Looks beachy/sandy, right?
Last night, we were supposed to meet at a tree farm to try and find some trees – specifically to add some privacy along the west side of our house. But, it didn't work out. So, we're back to square one on actual landscaping. Another stall that we can hopefully get sorted out soon.
I've finally settled on ordering these outdoor curtains from Pottery Barn (once they offer a sale – hopefully soon). It seems to be the only place I can get the 124″ length, which I need for our covered patio. But, if you need some in shorter lengths, be sure to check out this post.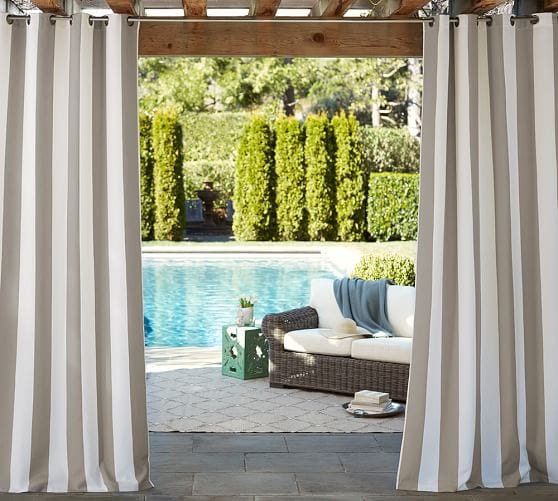 I have to head to Houston Monday thru Wednesday next week for work, so I'm really hoping something actually changes in our backyard. But, with the forecast, my hopes aren't too high. But, I'm really hoping the weather and scheduling turns around soon so I can share some progress! Have a great weekend everyone!
If you would like to follow along on more of my home decor, DIY, lifestyle, travel and other posts, I'd love to have you follow me on any of the following:
Pinterest / Instagram / Facebook / Twitter / Bloglovin' / Google
disclosure: some affiliate links used