I didn't get nearly enough stuff done this weekend, but honestly, I needed a bit of a break.
I shared this office image from Studio McGee on Friday on my Instagram account and mentioned that every time I see it, I think I need to go down the path of bright white trim and walls with navy board and batten in my office. I love the floors too, which are similar to what we've been talking about replacing the office carpet with. For those interested, the paint on these walls is Deep Royal by Benjamin Moore. In my office, the navy wall would be super easy. It would be painting all the trim that would take forever. Didn't I just say I needed a break?!
Beautiful right? I just find myself in a decorating rut in times with the way my office currently stands. I probably use more brown-tones in my decorating that others do, but the current Urbane Bronze well just feels so brown (although its also grayish at times) and I'm not sure the color is 100% me. We've talked about other change to the room down the road too, so it may be time to work on this soon 🙂
I ordered these palm tree drink floats and can't even stand how excited I am to use them this summer!
Friday night we headed to my sister-in-law's house for dinner to have a belated birthday celebration for Kurtis. You can never go wrong with homemade pizza! After we ate, we played a few mean rounds of Euchre and then headed outside to sit around their fire pit and enjoy the beautiful evening!
Saturday morning, Kurtis wanted a legit breakfast so we headed to Over Easy, a local fave. He had the chicken and waffles (surprising really good) and I had the pineapple coconut french toast (amazing)!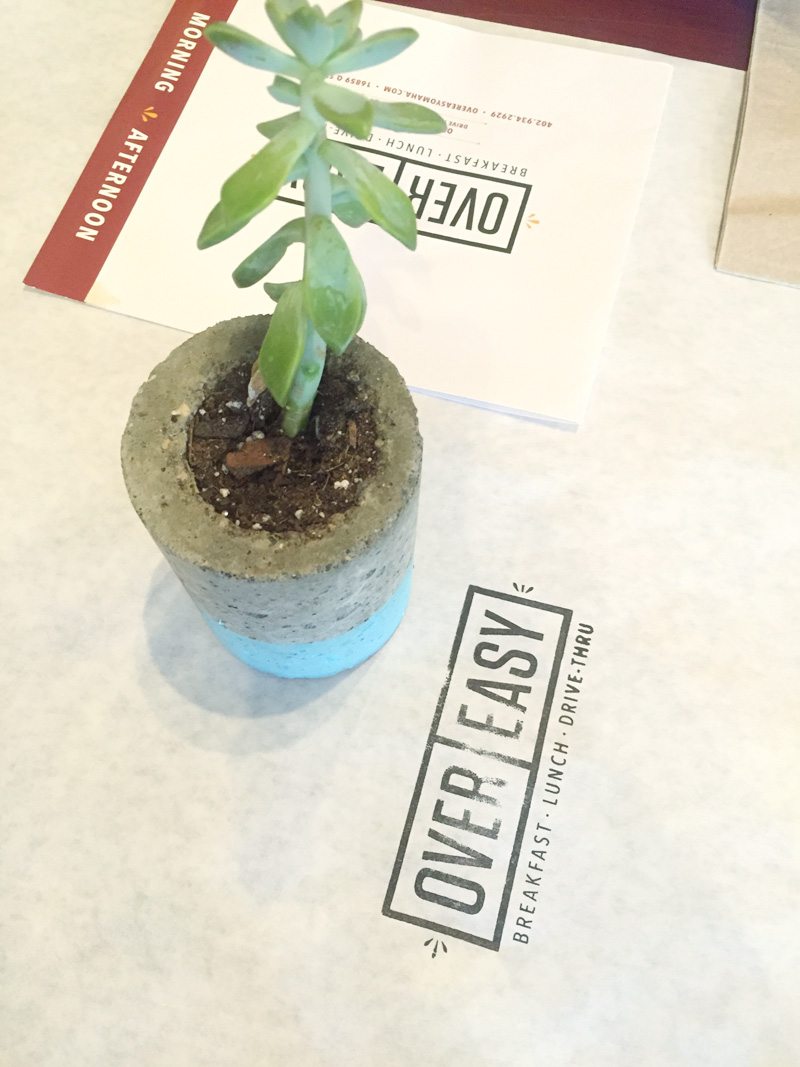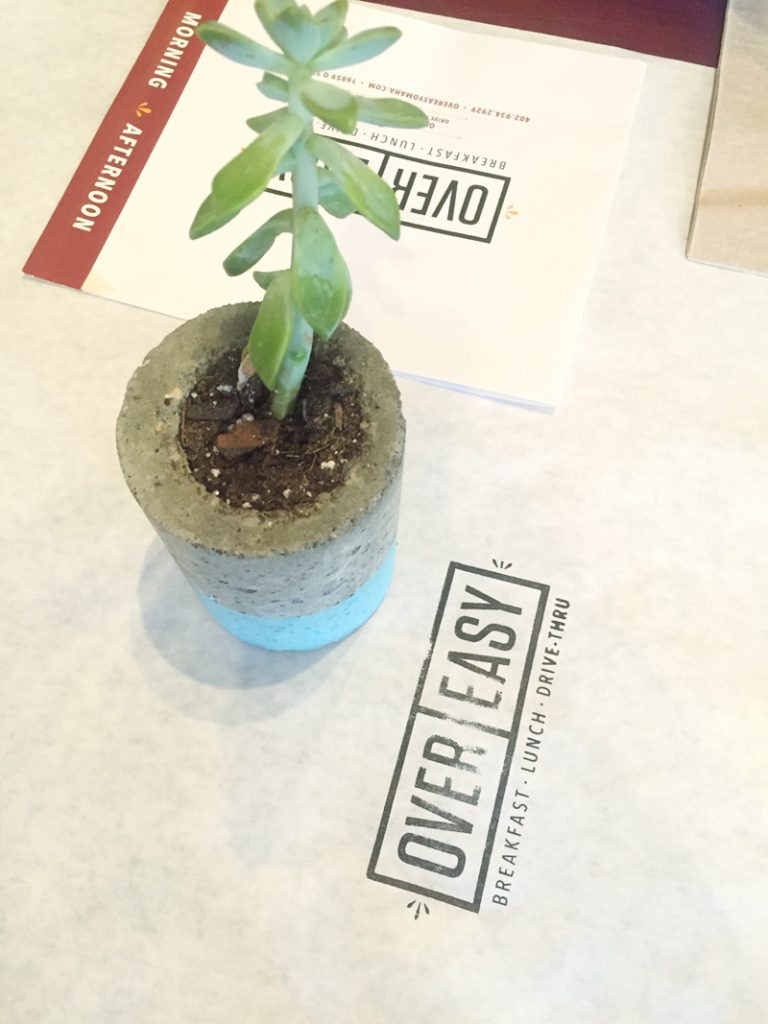 After breakfast we made a quick trip to Lowe's and Lanoha Nurseries to get some plants to start on my planters. Things were pretty picked over at both places (likely because it was Mother's Day weekend), but I got enough to do my three planters out front – which really are the most important to get started at this point in the season. I was bummed out that I couldn't find any palms or dracaena spikes for my big porch planter or courtyard planter, but hopefully they'll be replenished soon!
Out front I usually go with some spikes in the middle and then a rotation of wave petunias (both large and small) mixed with different colors of potato vines. Since this area gets extreme sunlight all day in the summer, I've found these to be the hardiest. I also love the colorful combination. This year was the first year I found potato vines in the green color (it almost looked like large ivy leaves). In the past, I'd only seen the lime green and the purple, so I'm excited to give this 'true' green color a try as well!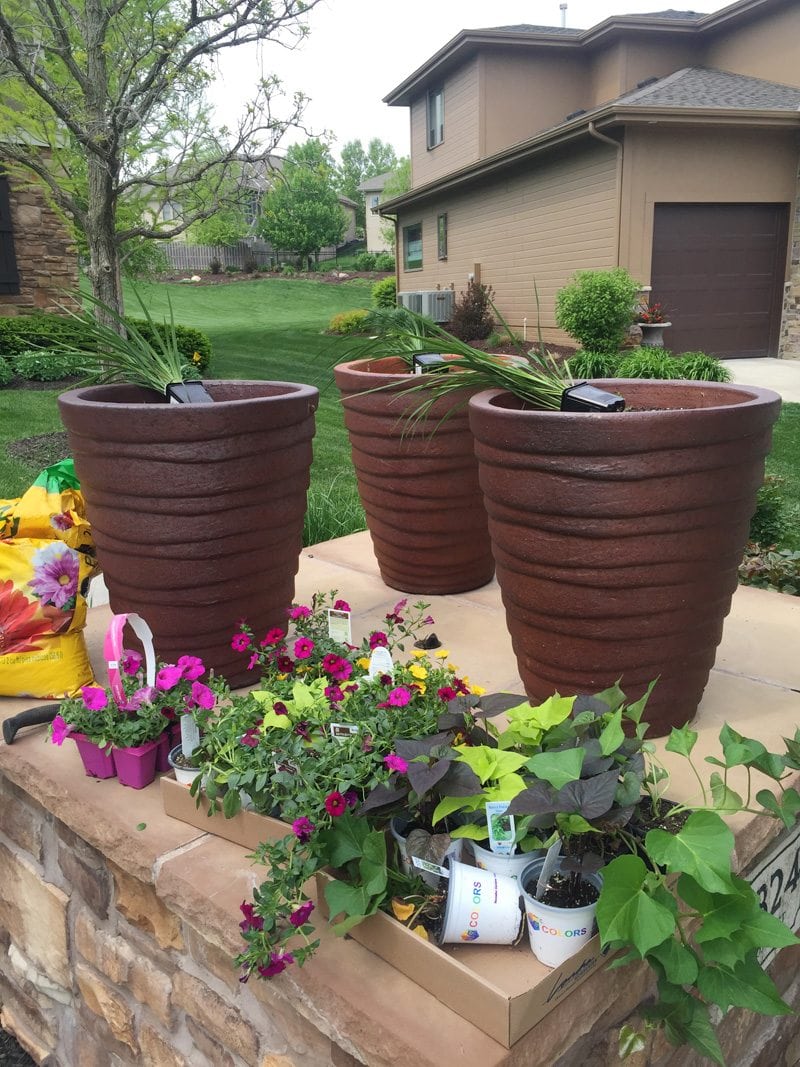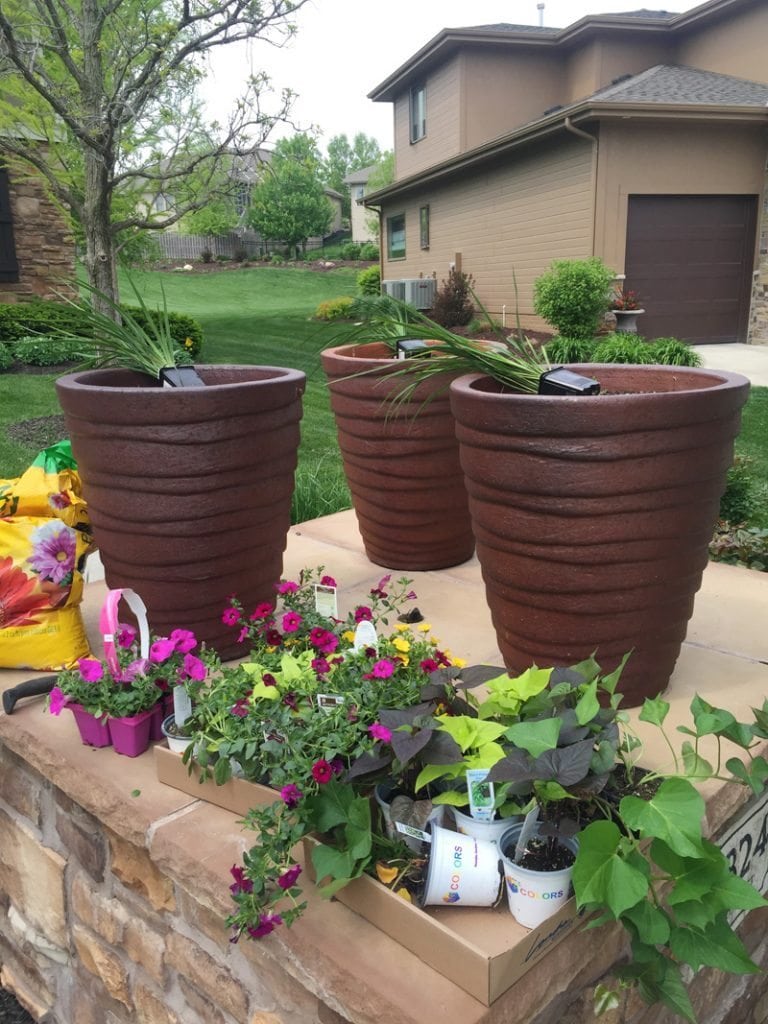 They may look small now, but I added my all-time favorite fertilizer and within a few weeks I can guarantee the planters are going to be overflowing! A time-lapse video on my planters would be so fun to watch!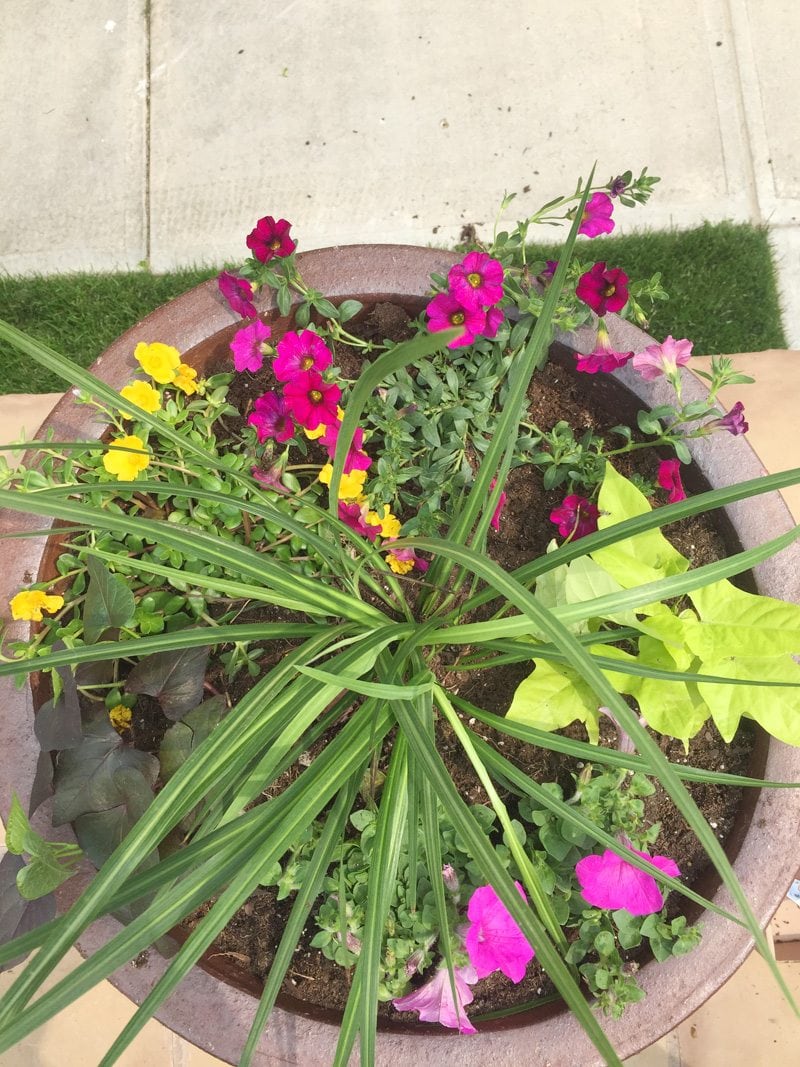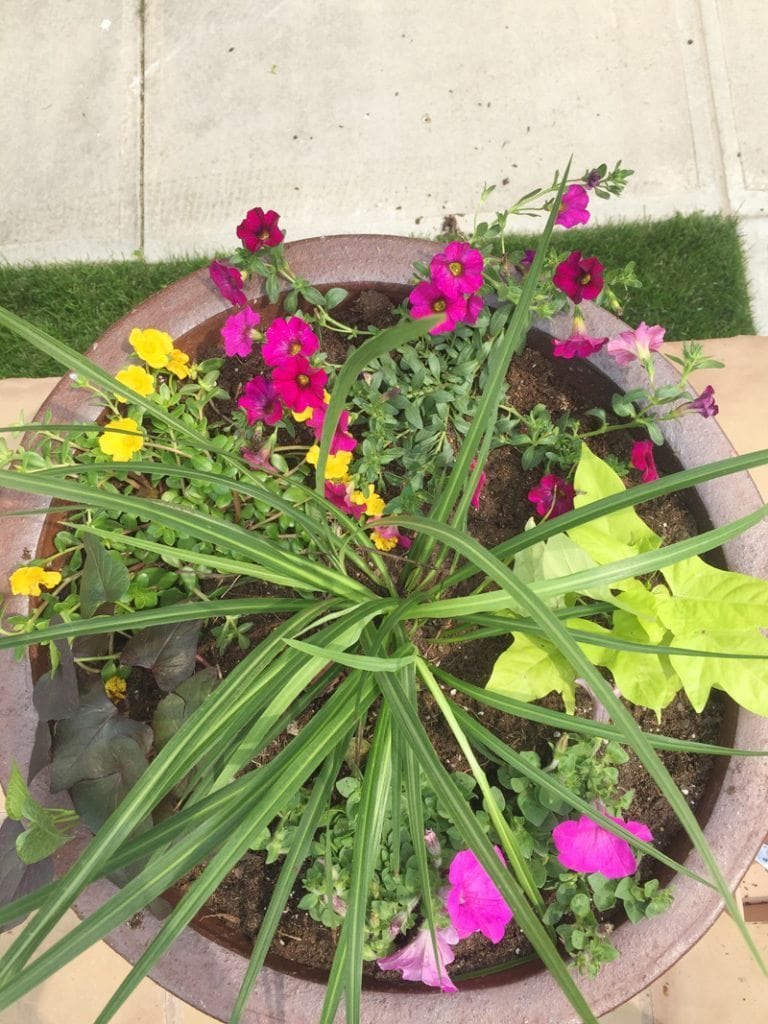 Late Saturday afternoon, we headed down the street to our friends Nick and Jill's house. We watched the Kentucky Derby with some Kentucky Mules in hand and grilled steaks for dinner.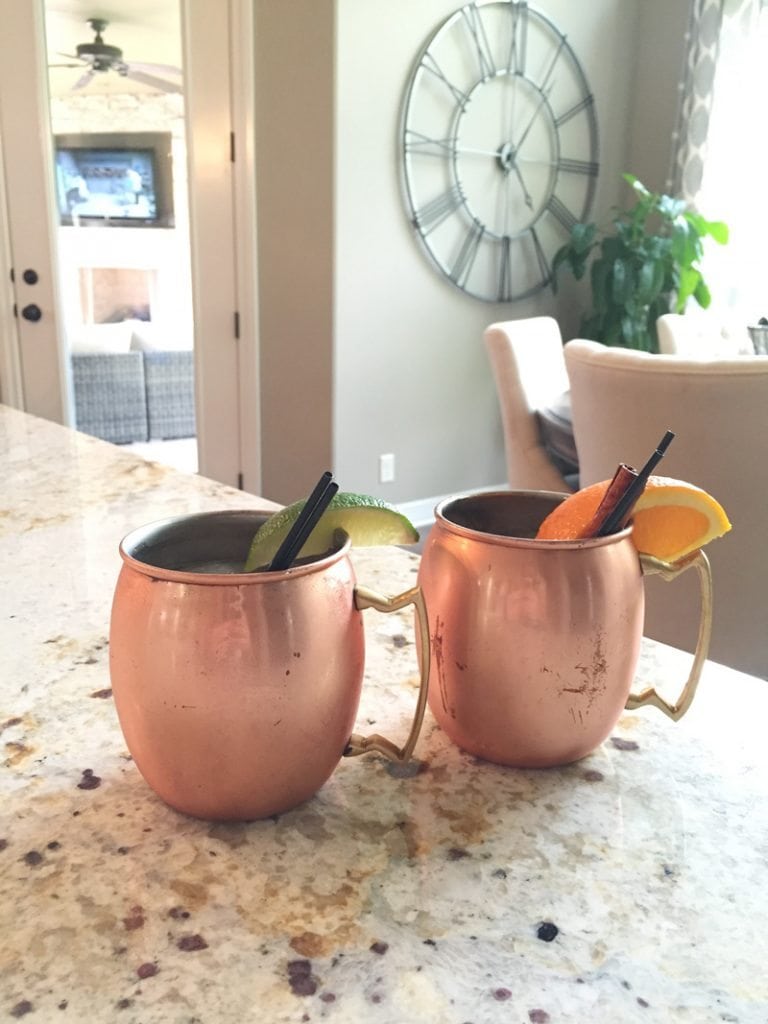 A warm night isn't complete without a firepit. So, after the race and dinner, we sat outside with a few drink and marshmallows and enjoyed the nicer weather. They live on the area of our neighborhood that backs a reserve, and the tree-line is so pretty (even if the trees haven't all filled in yet)!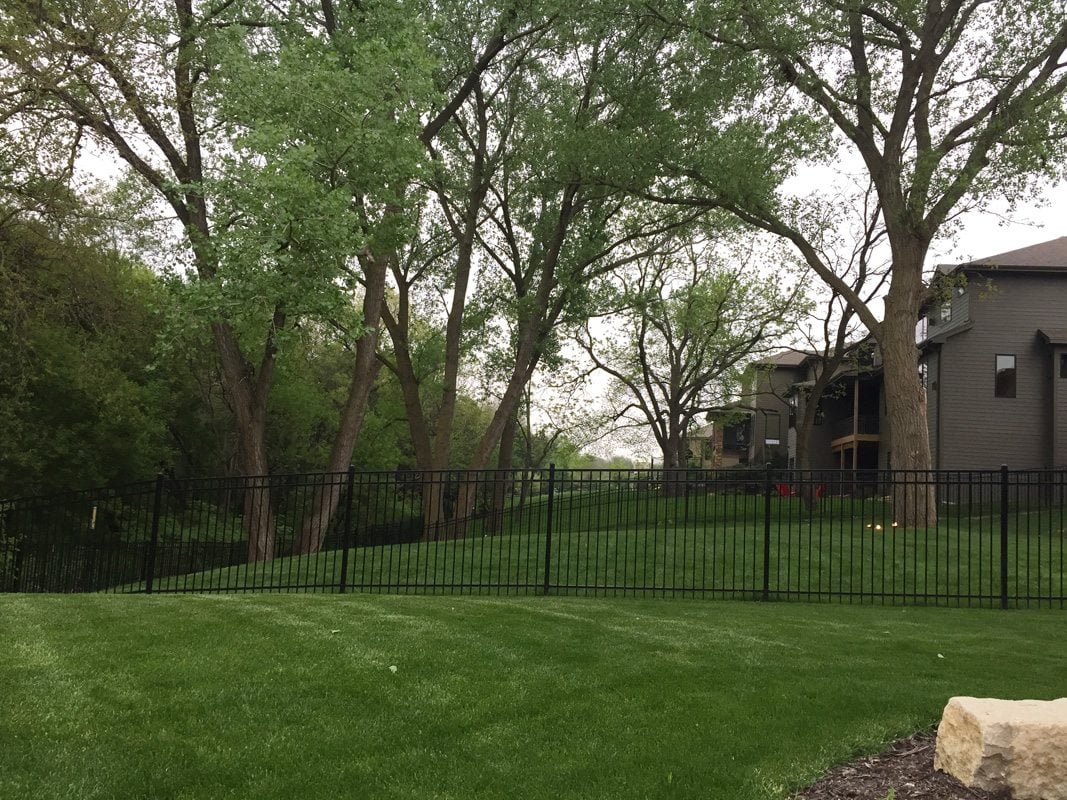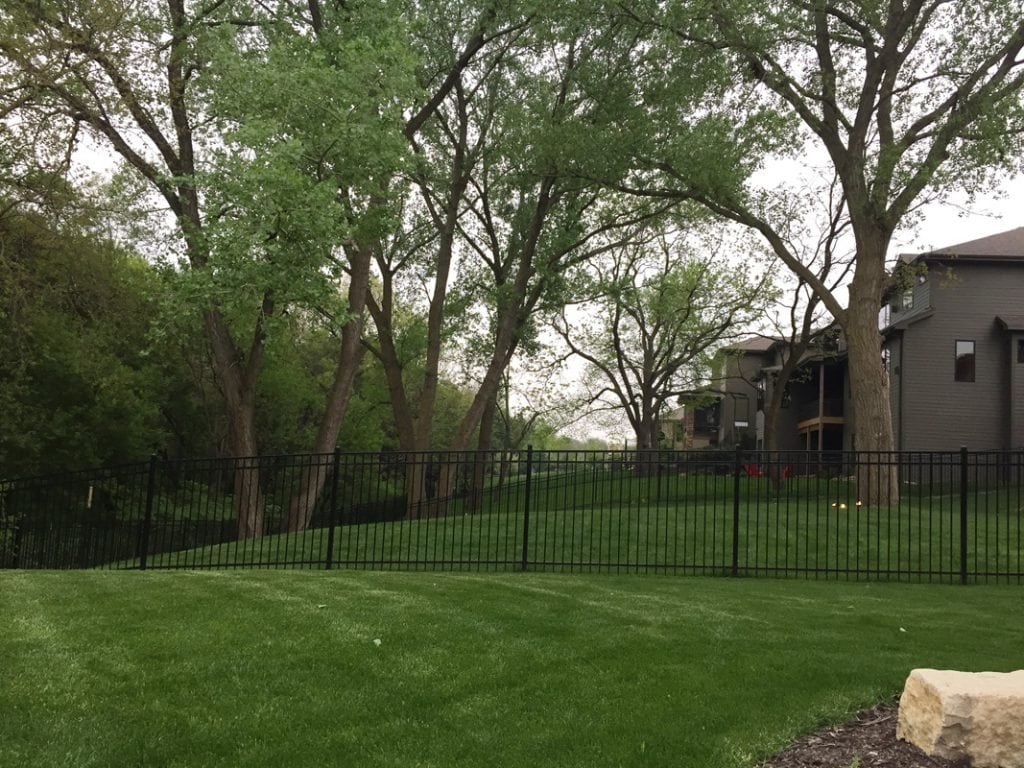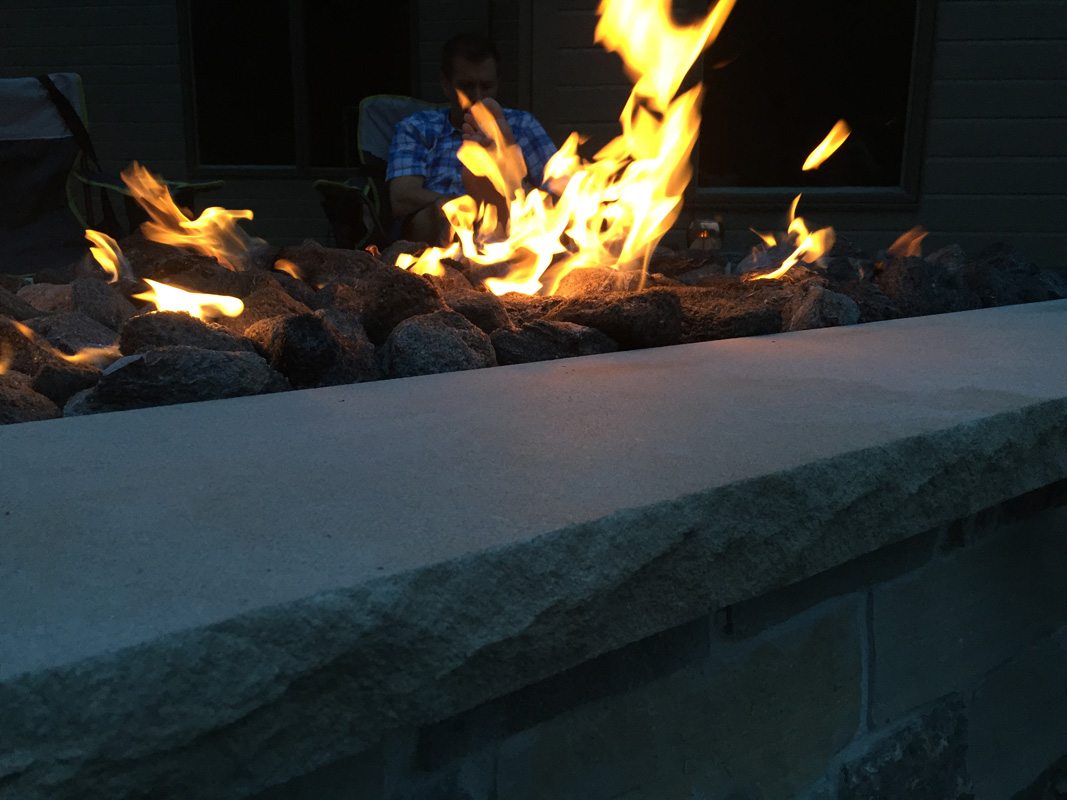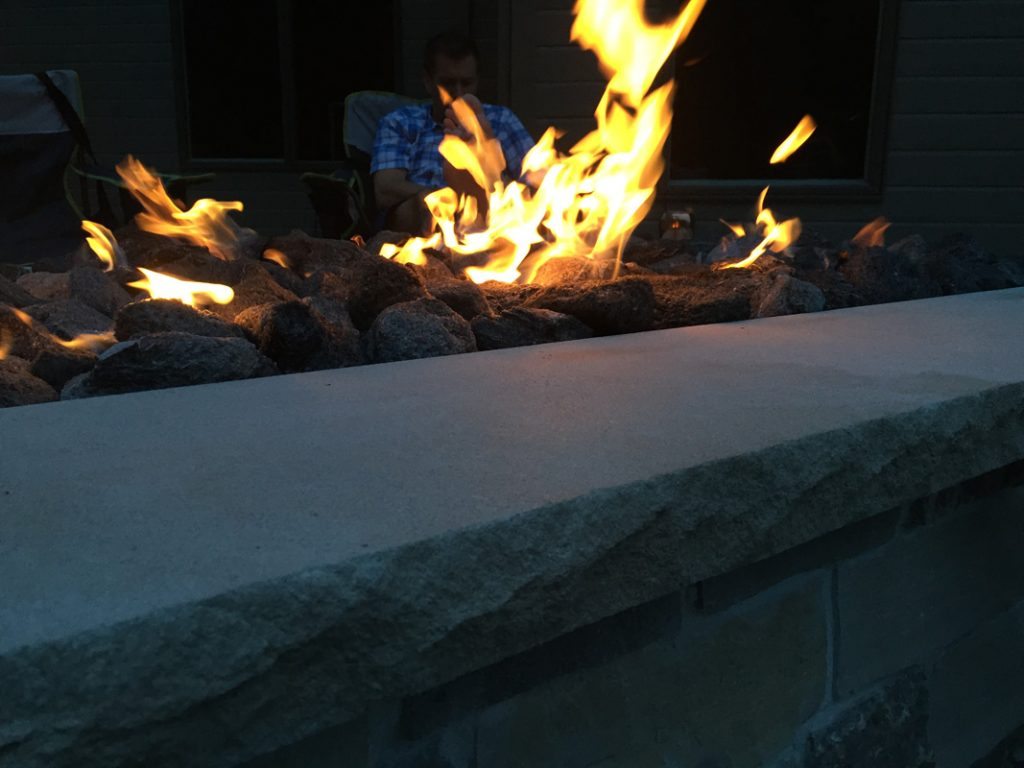 I ordered this sugar-free coconut syrup and have been adding it to my Coke Zero lately. Sometimes I'll also add some lime juice for an even more tropical taste. The syrup is a bit like having Malibu rum but without the calories or the alcohol. A bit of a placebo effect, if you will 😉
Early on Sunday, I was supposed to be finishing up my laundry room for the One Room Challenge. But, since I was leaving town again today, it was giving me anxiety that our bedroom looked the way it did. As you can see below, I've basically taken various piles out of my suitcase from all of my trips in 2016 and lined them under our window. I had washed all the dirty clothes, but these piles were more like the unworn clothes/souvenirs/swag bags I'd acquired for the past five months. As much as I knew I had to work on the laundry room, I couldn't deal another minute with all these piles in our room. It took me a little over an hour, but I can say the area is officially clean!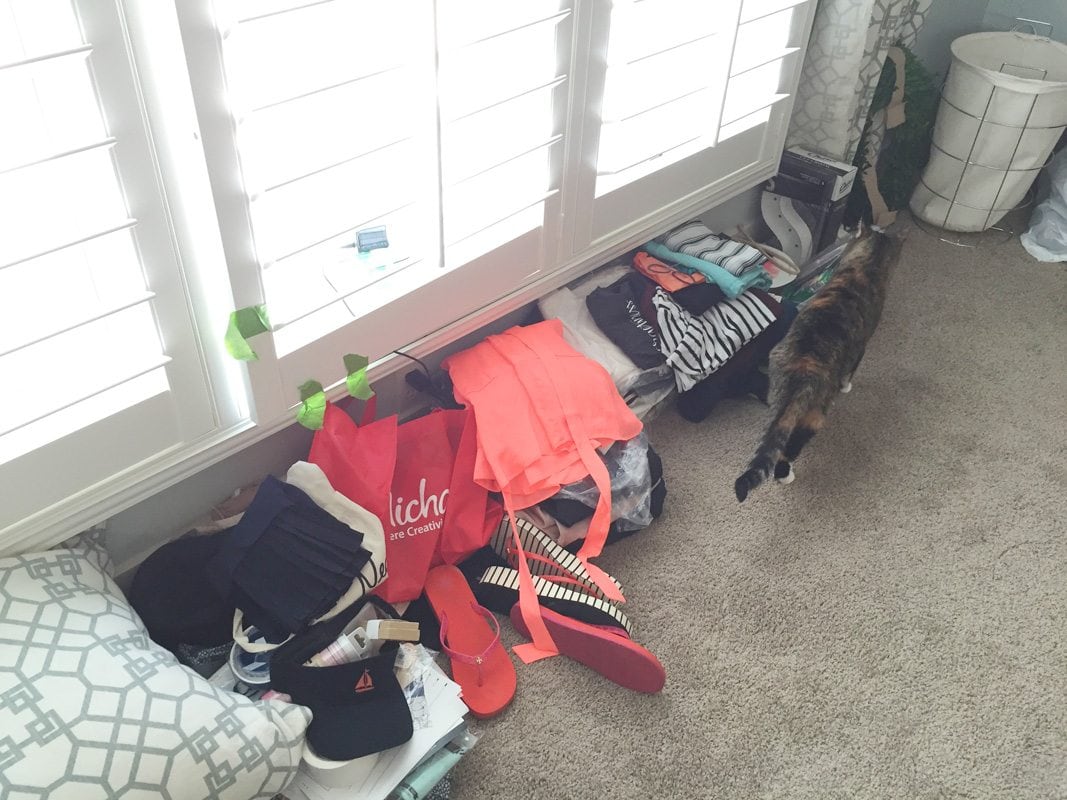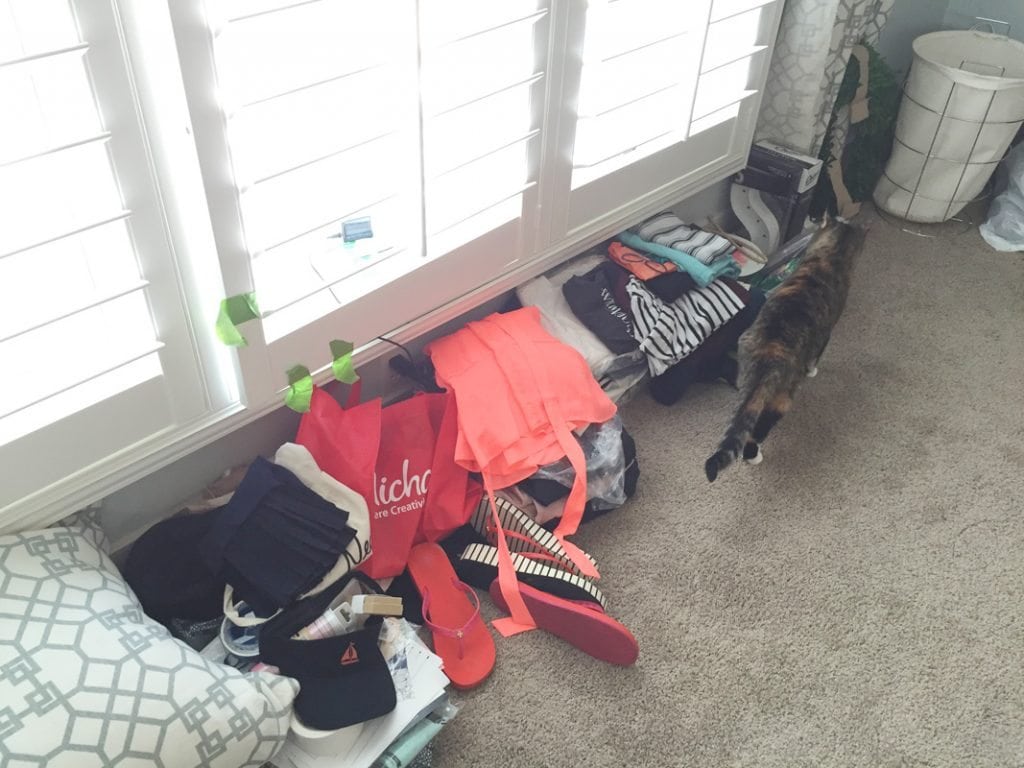 I did end up finishing the paint on the laundry room cabinets but you'll have to wait to see how it looks on Thursday's post. My room reveal is likely going to be much closer to another update since I haven't managed to finish finding all the accessories for the space.
Kurtis had hit his breaking point in our mudroom. I think my Instagram post from last week clued him in to just how long our mudroom has been a total shitshow. My side was fairly clean already, but he emptied the cabinets, replaced the doors, hung up his coats from the winter and it looks so much better now. If anyone ever questions me again when I say our trim is not white, I'll show them this picture. Real white versus our trim and cabinet colors. I promise some day this room will be finished and that gross cabinet color will be white.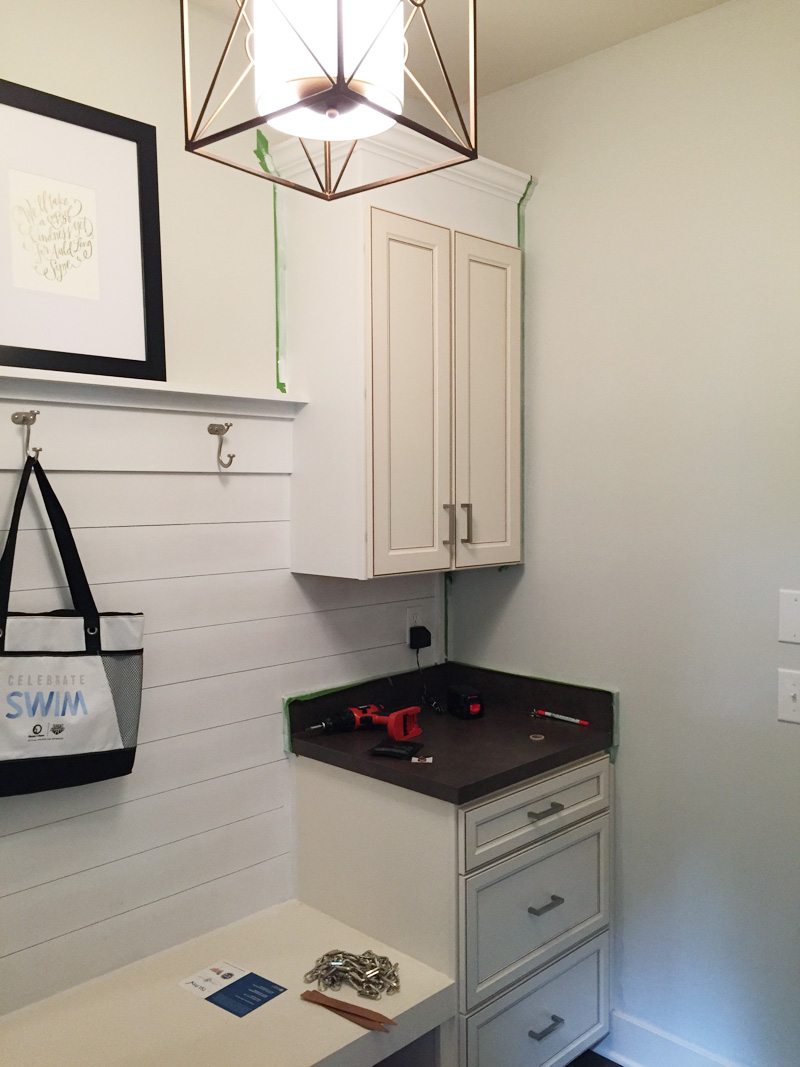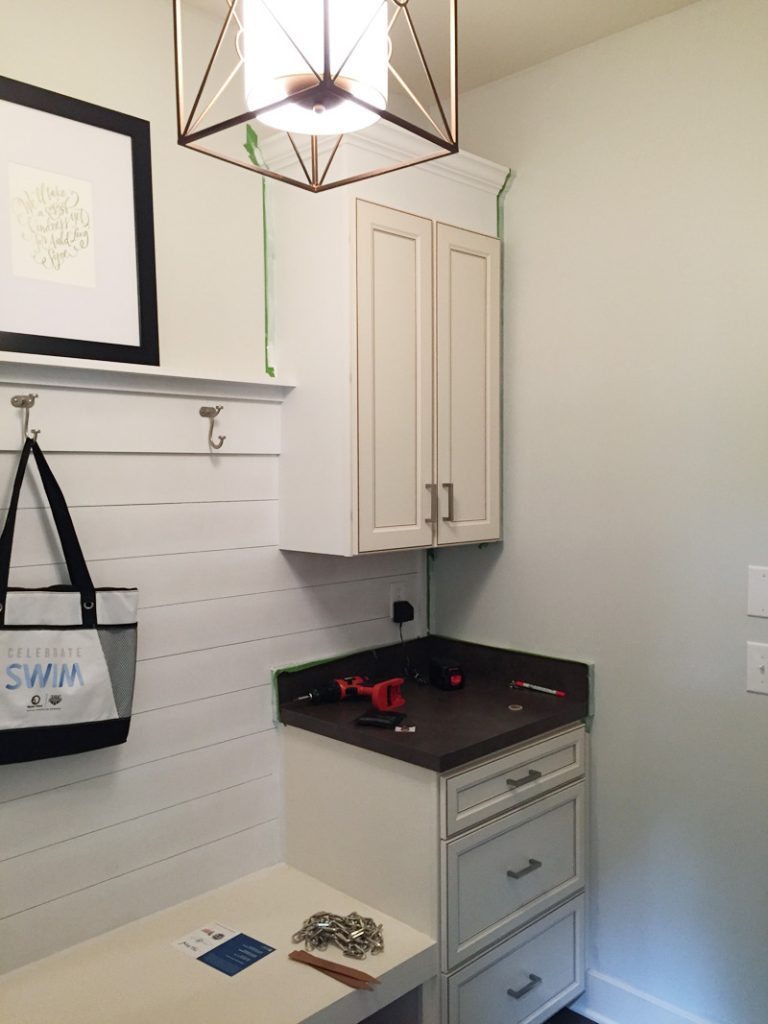 Wow, right?!?!
Sunday afternoon, we made use of our potted herb garden and tried a variety of basil on our caprese salad (one of my favorite things ever). We also tried a few cheeses along with the Tangerine IPA from Stone Brewery #dreammeal. Some of my basil leaves got a bit 'burned' in the early morning temps over the past week, so we wanted to use them before they went bad. We're really coming around to the Italian version of caprese which is olive oil and salt on the tomato and fresh mozzarella, in lieu of balsamic. When we were in Italy last summer, we were told the balsamic addition was the symbol of bad ingredients and tended to be something only American did (likely because our ingredients aren't always fresh). So, this summer be sure to try your caprese with olive oil and sea salt. So good!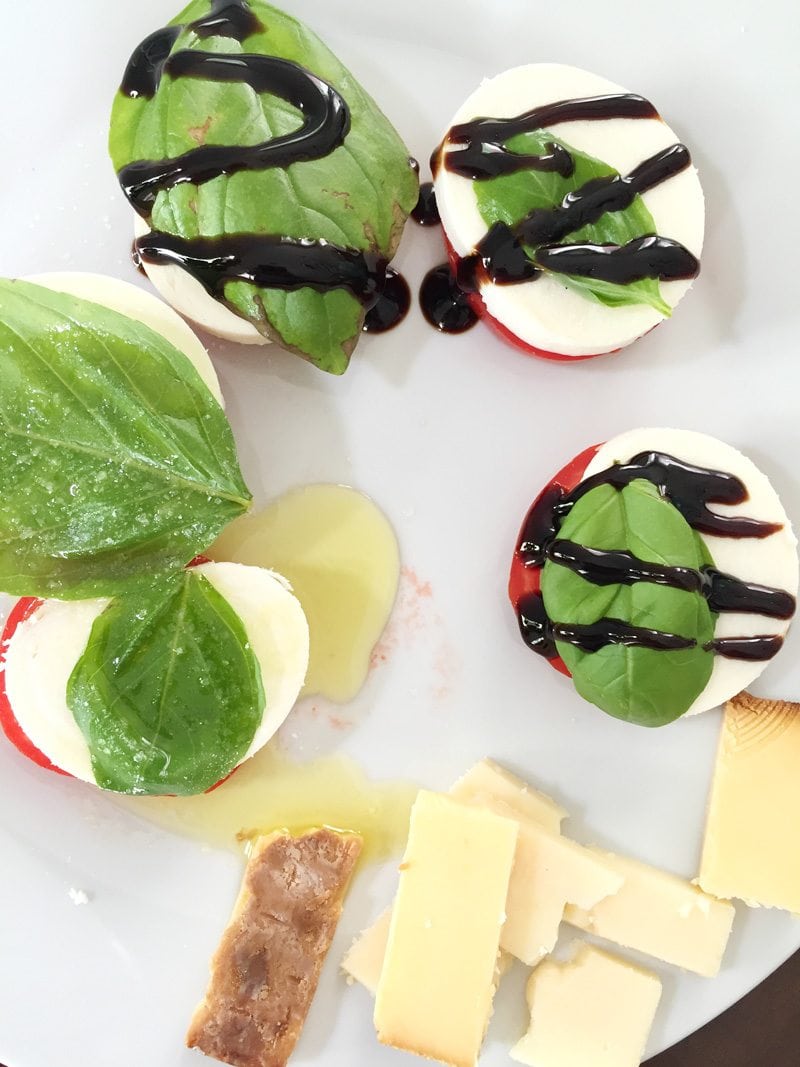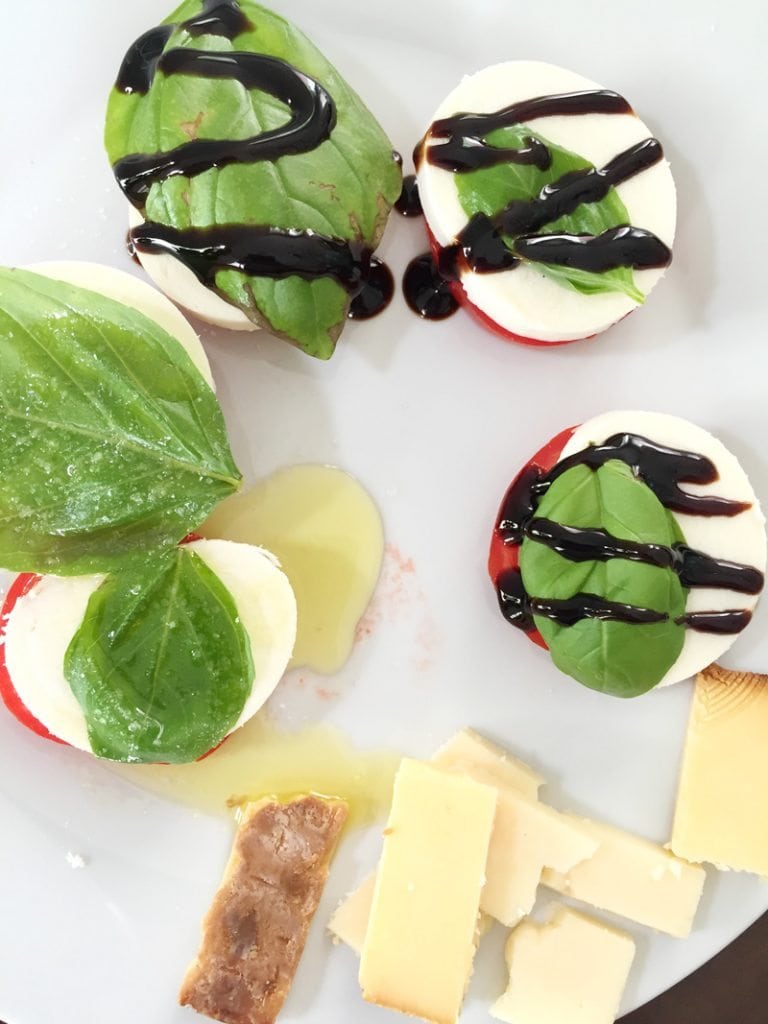 I'm flying to Houston at 6 am today for a business meeting that runs through Wednesday afternoon. I'm hoping for some pool progress by the time I get home! Have a great week everyone!
If you would like to follow along on more of my home decor, DIY, lifestyle, travel and other posts, I'd love to have you follow me on any of the following:
Pinterest / Instagram / Facebook / Twitter / Bloglovin' / Google
disclosure: some affiliate links used