Thank you to The Home Depot and Procter & Gamble for sponsoring today's post. Be sure to check out the giveaway at the end just for my readers!
Welcome back to the fifth week of the One Room Challenge! I'm still not even sure how it's possible that there is only one week left. It's going to be a busy weekend for me!
If you didn't catch last week's post, be sure to start there to get all the details on our laundry room makeover plans, as well as to get caught up on where we are to date! You can also check out all the posts below:
Week 1 | Week 2 | Week 3 | Week 4
You may recall we started our journey with these two images. Our laundry room when we moved in three and a half years ago and then how the space looked right before I started this makeover. You can see a lot of progress was made, but the original laundry room makeover no longer felt like my style and it was time for some simple changes.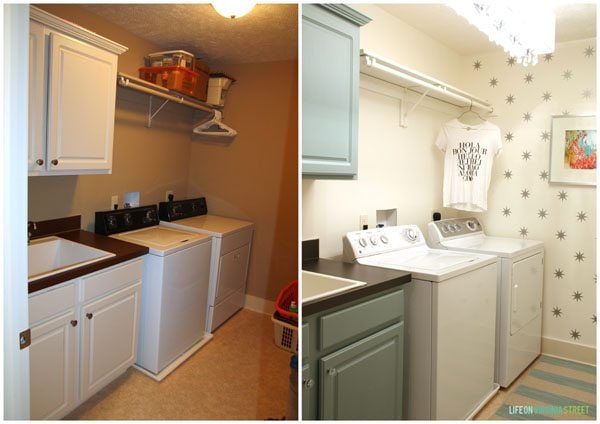 And following is the design plans for the space (the Week 3 post has all the sources for the items shown below).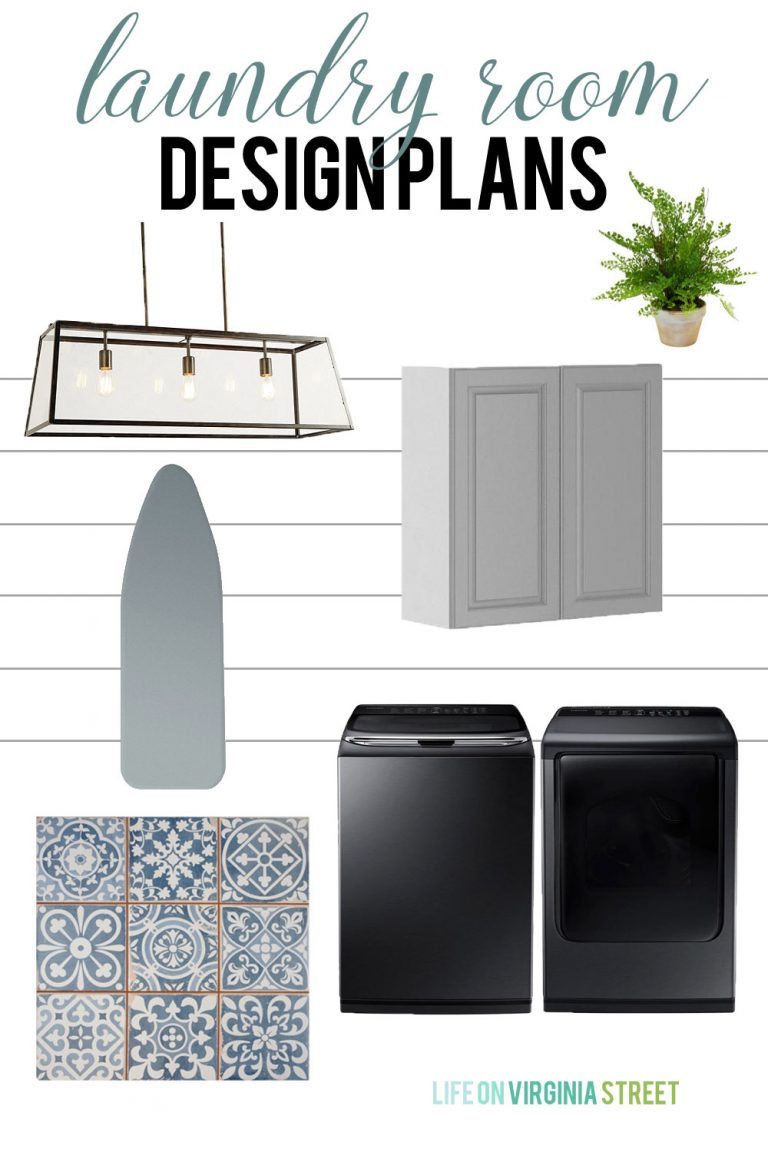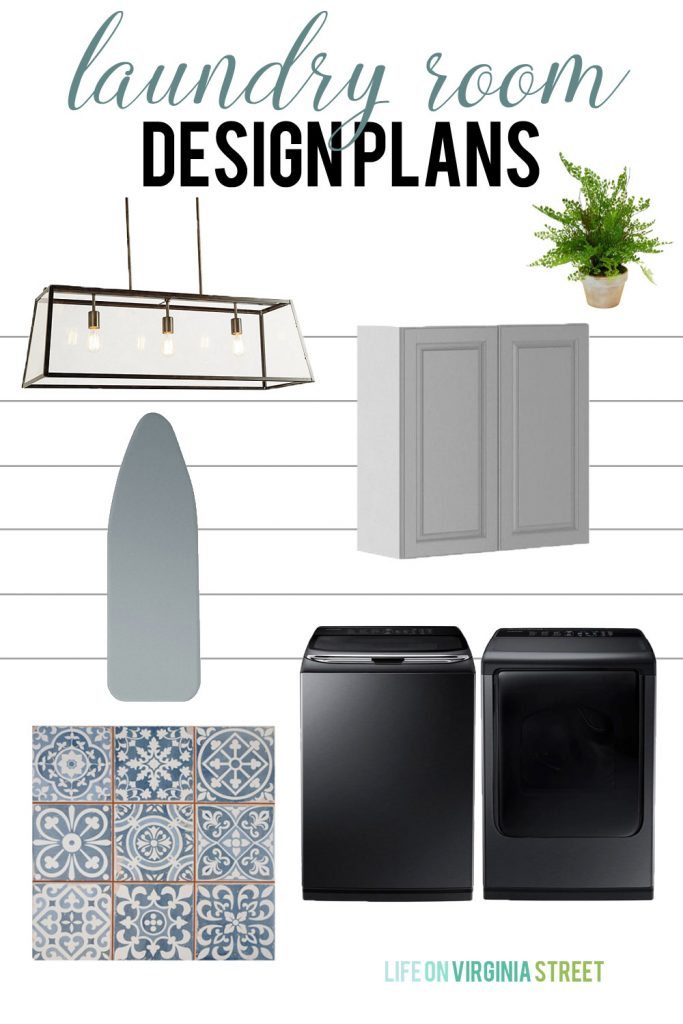 This past week, I was able to mostly finish painting the laundry room cabinets a really pretty gray color. I'm not going to show you how they look yet, but will give you a sneak peak of the 'in progress' shot. You'll have to wait for the final reveal next week to see the end result! But I'm very happy with the color (Country Chic Paint in Pebble Beach which I had on hand from another project). PS – could the faucet in our laundry room be any littler?!?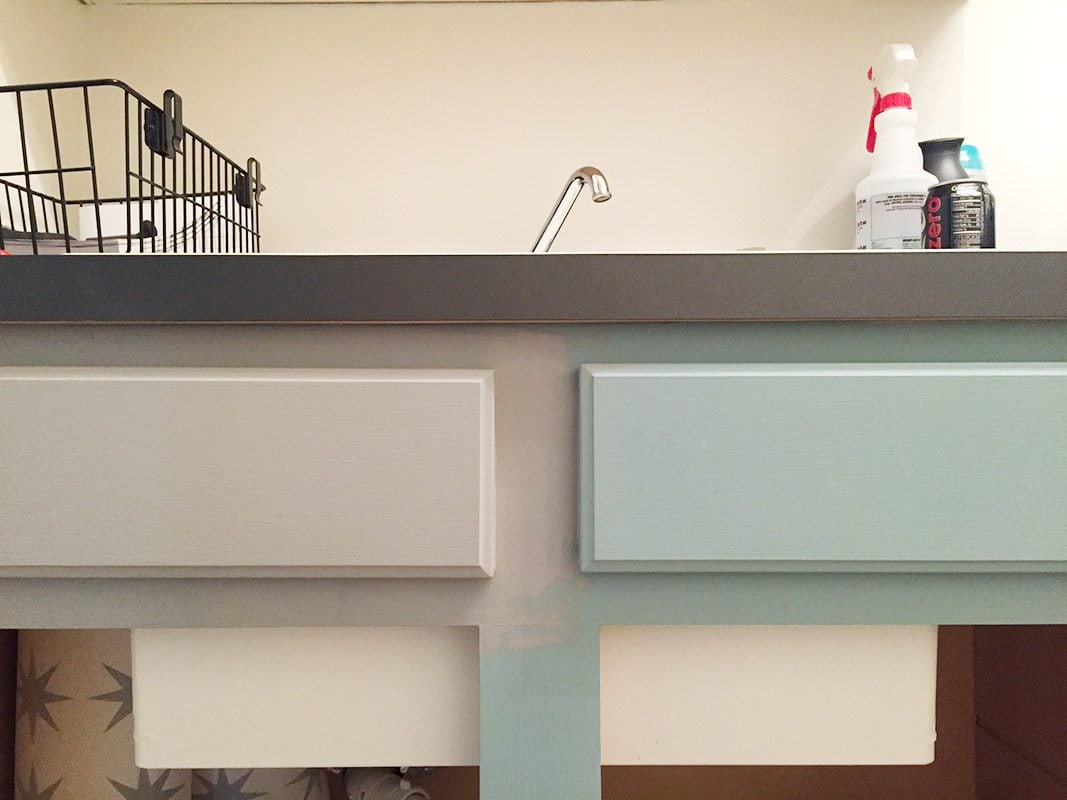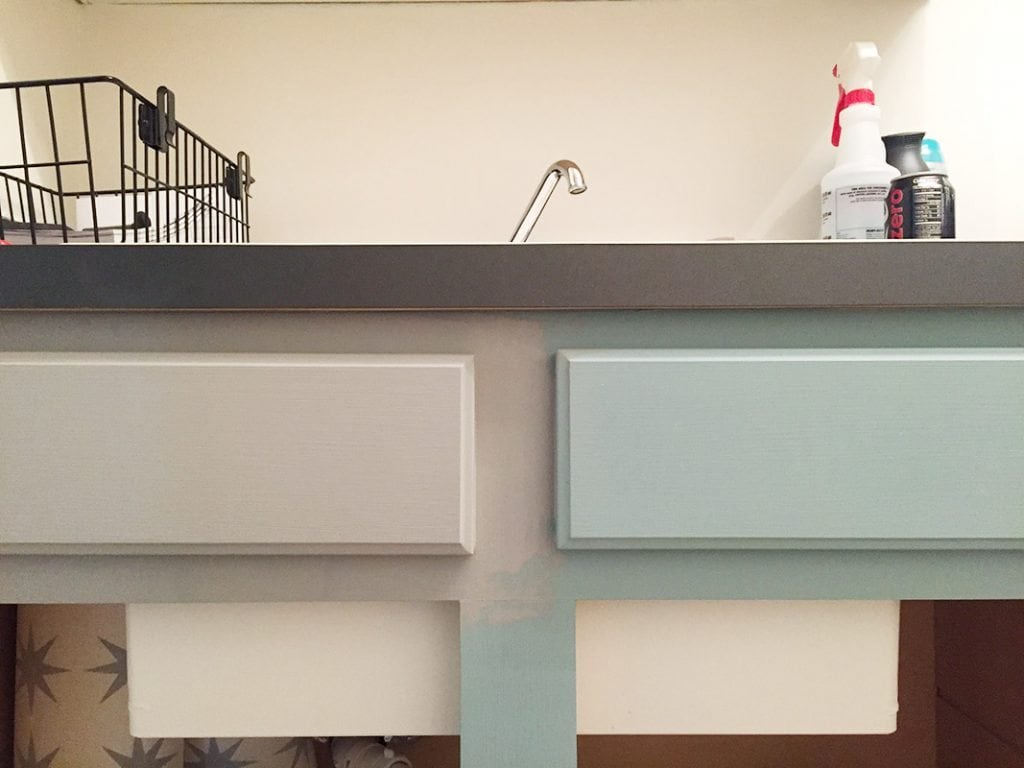 In the Week 2 update, I showed you the progress once I peeled off all the stars. But I didn't go into much detail. Surprisingly, the vinyl peeled off easily and came down pretty quickly!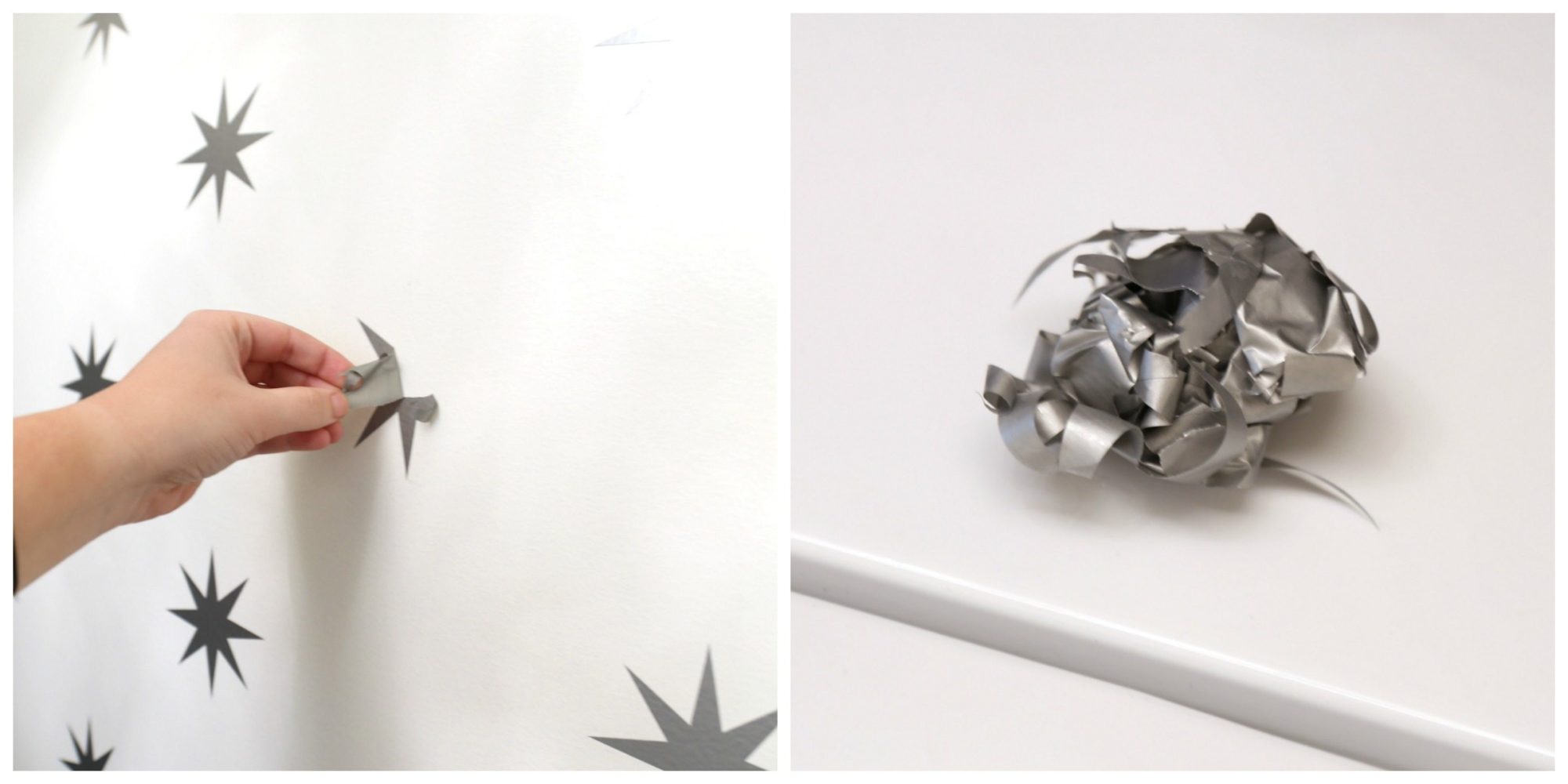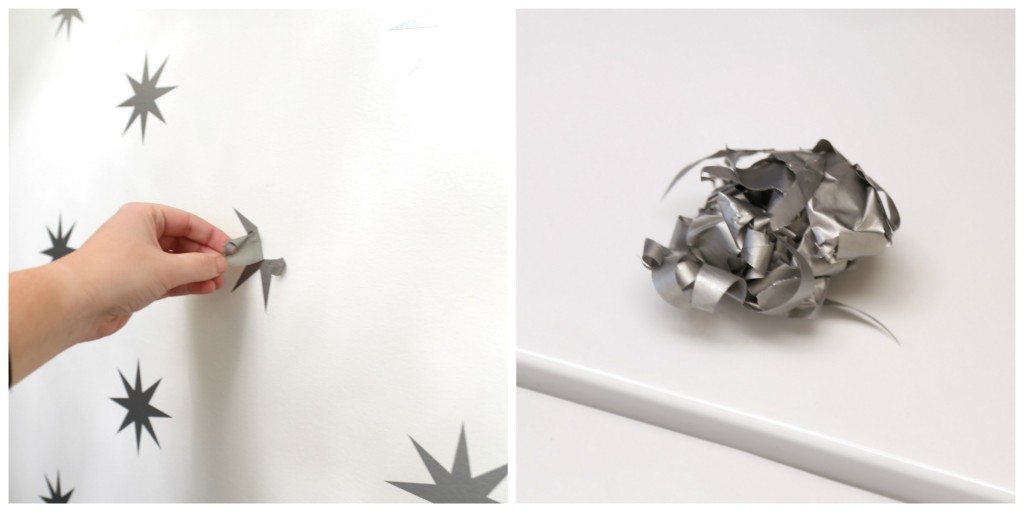 But, I could still slightly see the star shapes in some areas. Not sure if there was residue left or if it was more that the stars protected the wall for the last few years from dirt and grime. So, once they were all down, I quickly used a Mr. Clean Magic Eraser and wiped everything down. Is there really anything these things don't work on?! True story: Louis Vuitton even recommended them to me to clean the dirty handles on my bags. For reals!
On the walls, I simply used a damp Bounty paper towel to wipe everything all off after lighting scrubbing with the Magic Eraser. The walls were good as new!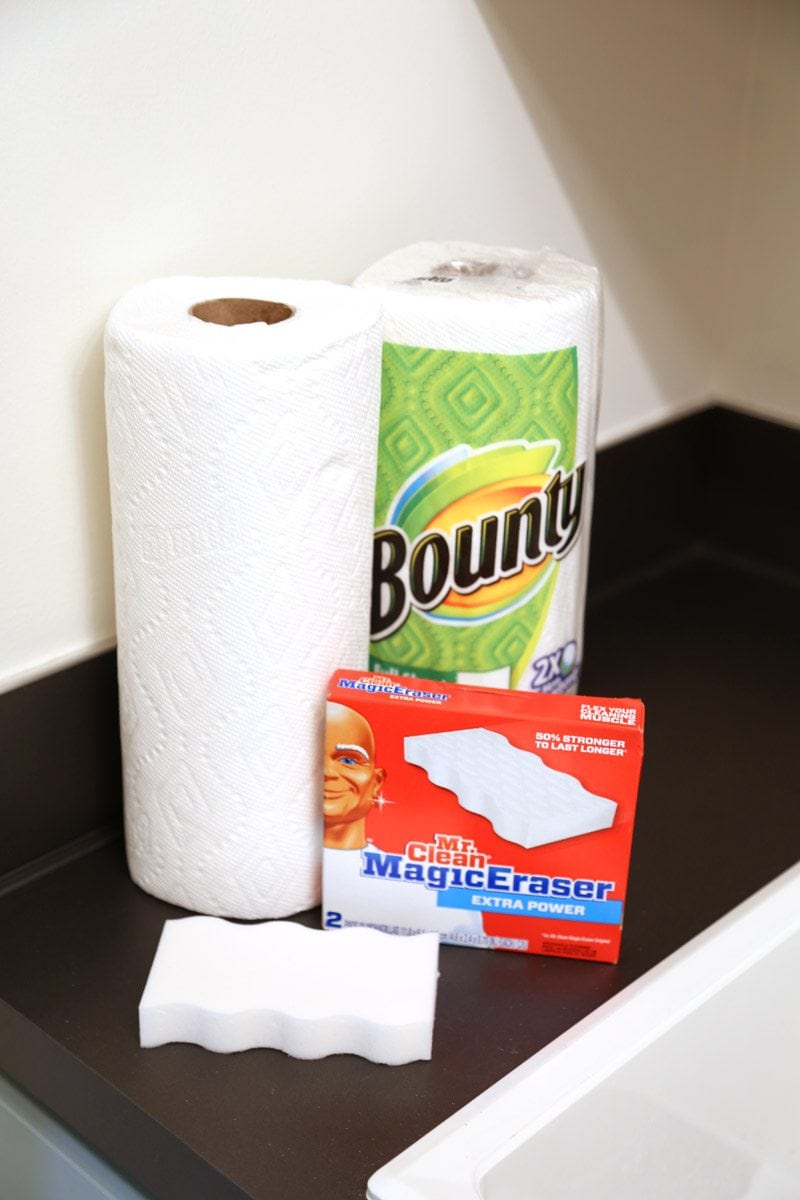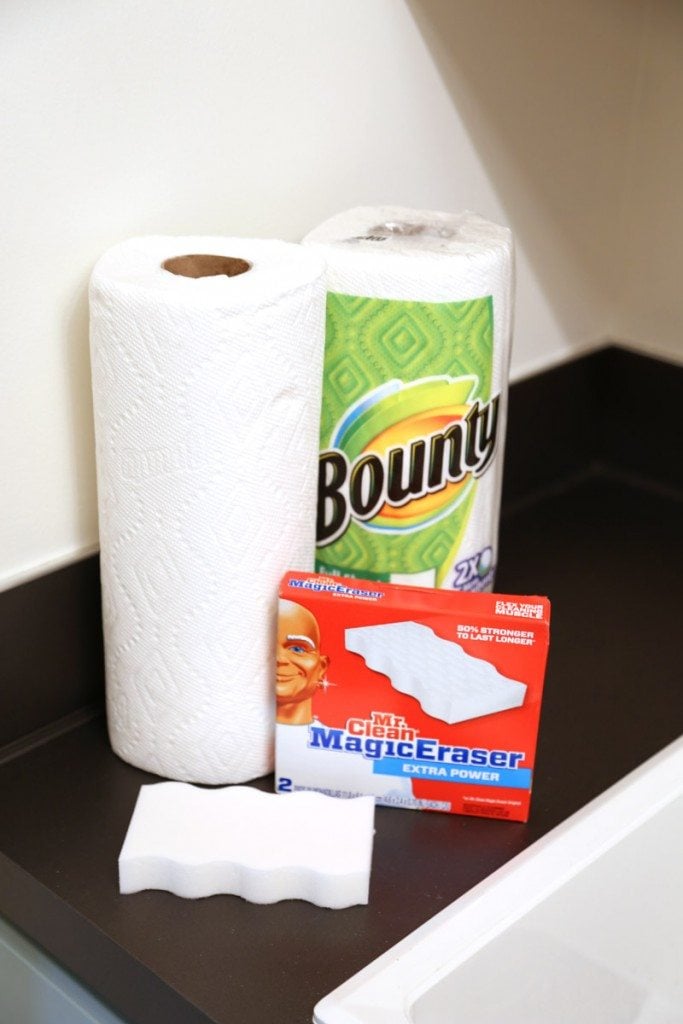 Easy peasy. Now they are ready for some fresh artwork! I actually wiped down all the baseboards in a similar fashion. It's amazing how much lint and grime can accumulate on laundry room baseboards, even when you think the room looks clean!
Next up, I knew we needed to create a solution in our laundry room for our ironing board and iron. At the start of the One Room Challenge, I mentioned this was one of our top tasks we needed to achieve over the six week window. The ironing board and iron were living in a random guest bedroom closet and were definitely not easy to access. I had seen pre-made iron/ironing board shelf sets online, but most were made of coated wire and I wanted something a bit more pretty and substantial. So, we decided to make our own.
We headed to The Home Depot for supplies. We weren't really sure what we were looking for so we spent some time wandering the aisles to see what we could concoct on our own, really with no set plan in mind. Only the end game.
We headed to the primed MDF board section because I wanted a base to hold the hooks and baskets I was planning to add. We love these boards and have used them in all of our board and batten projects as well as updating our mudroom storage wall.  At just over $10 for the entire 8′ board, it was the perfect start to our ironing station.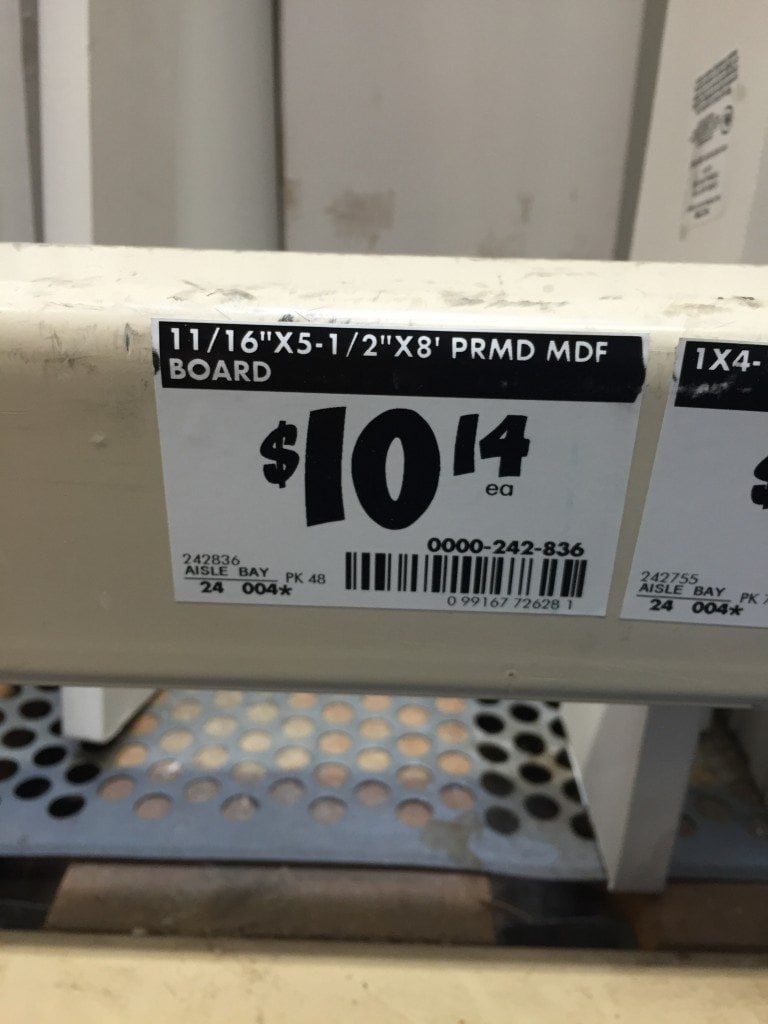 We also purchased two hooks (the exact model we used is shown below) to hold the ironing board. The profile on this particular knob was perfect to tuck away behind our laundry room door.
Tip: If you're looking for hooks, be sure to not only check the hardware section (where you would find cabinet pulls, knobs, etc.) but also check the bathroom section for "robe hooks" (near the towel rack bars, toilet paper holders, etc.). You typically can double your options to pick from when you check both places!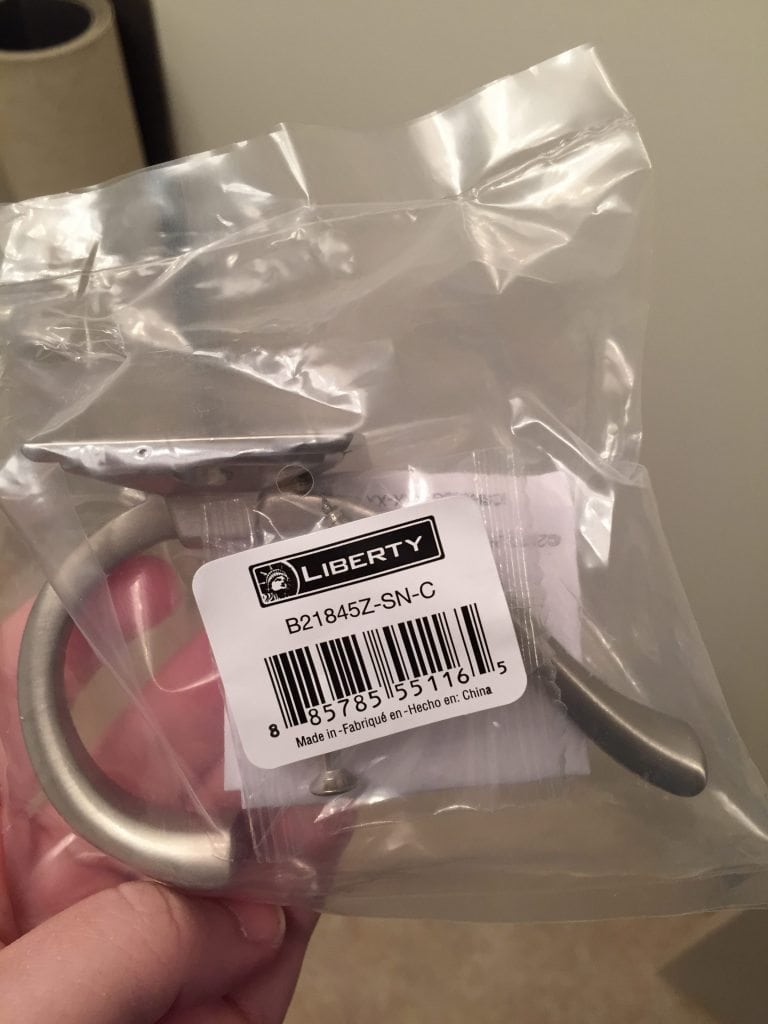 We also found a basket we could use to hold the iron (we found it at Target in the laundry and shelving area). This one appealed to us because it had a bracket system we could take apart and easily modify to screw into our board. However, this wouldn't have been completely necessary (you could really use a regular basket) and then use an assortment of hardware to attach it to the board.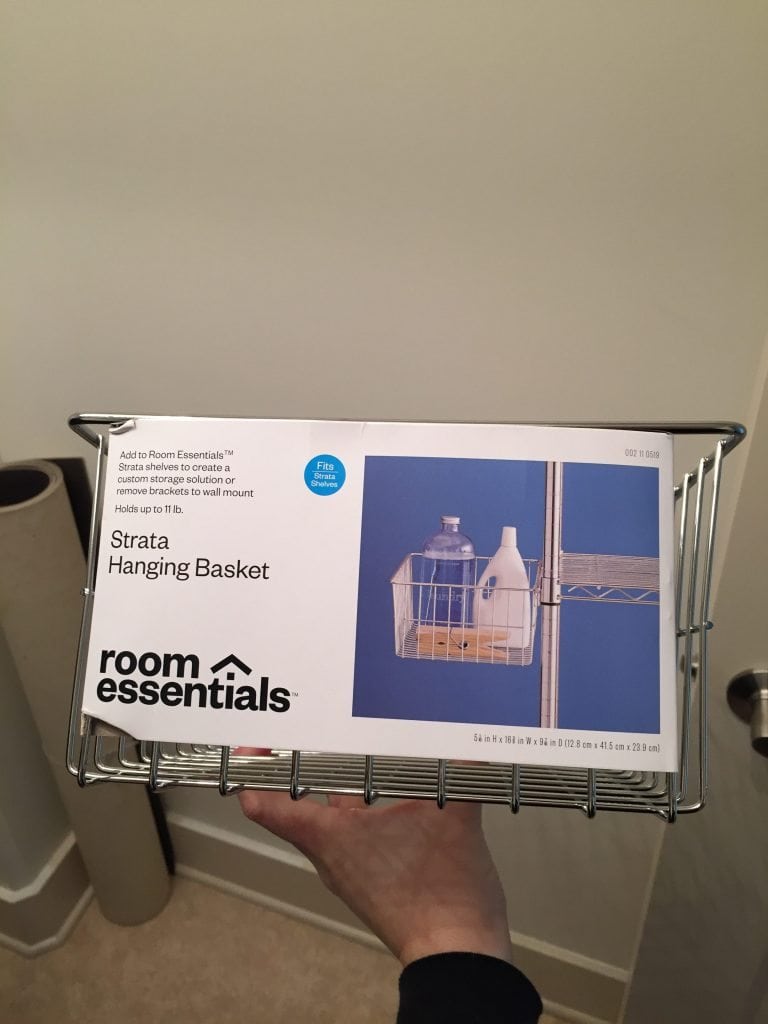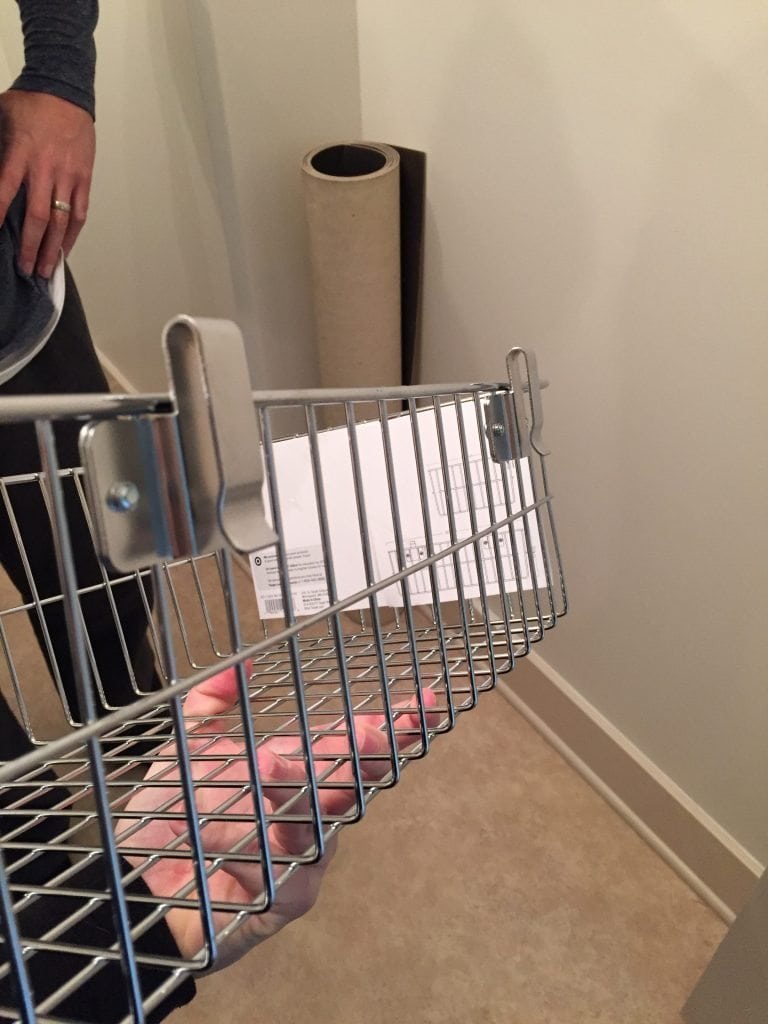 We simply attached the MDF board to the wall at the height we wanted it (using the length of a hanging ironing board as our guide). We found the studs to make sure the board was secure to hold the weight of the ironing board and iron.  We then pre-drilled holes to affix the basket as well as the hooks, but didn't mount them until after the next few steps.
I opted to then fill holes, caulk and paint before we attached the hooks and basket. The spackling shown below is always my go-to. I love that it goes on pink and then turns white once it's dry. I like to move quickly at this stage, so the sooner I can paint the better!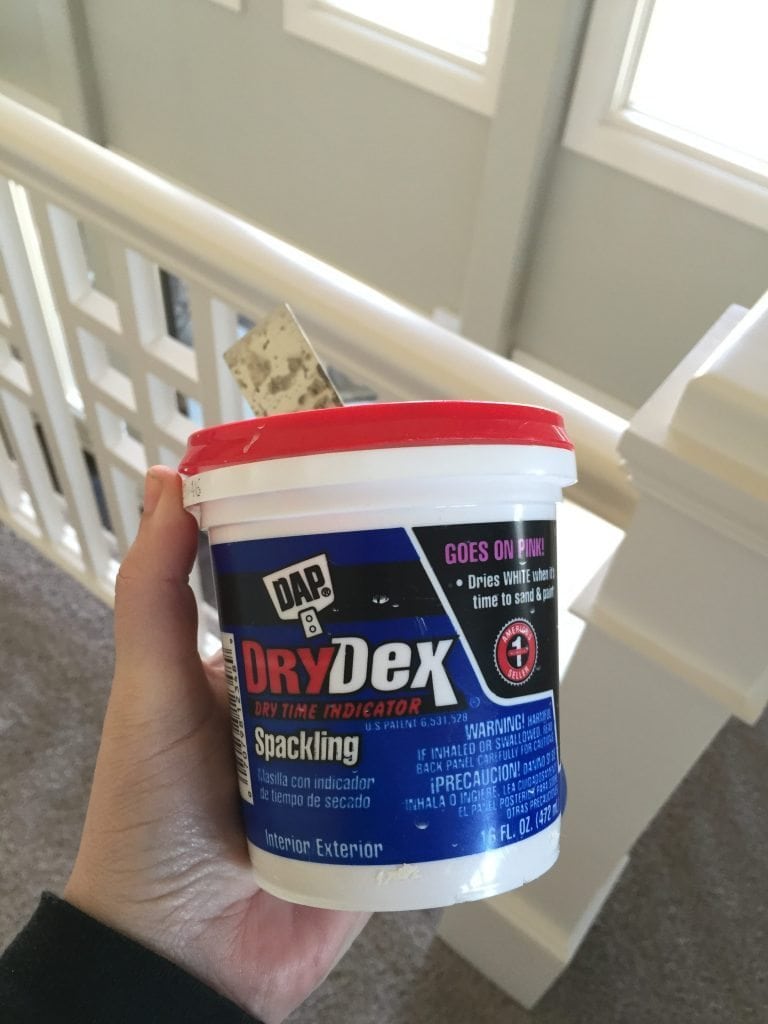 Next up was caulking all the seams. Caulk is actually one of my favorite things ever. Crooked saws/boards and walls that aren't totally straight can be disguised in a matter of minutes 🙂 Once you paint over it, everything looks perfect!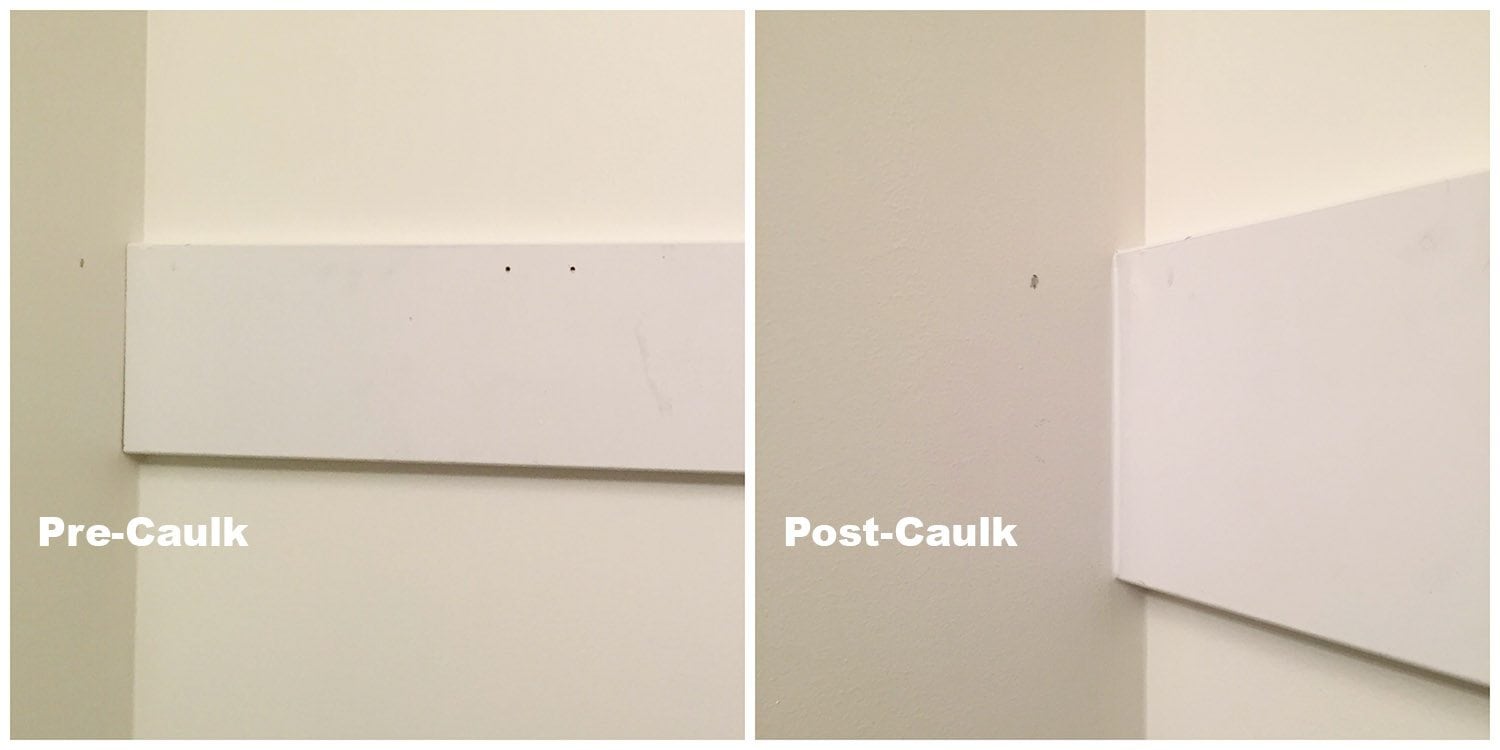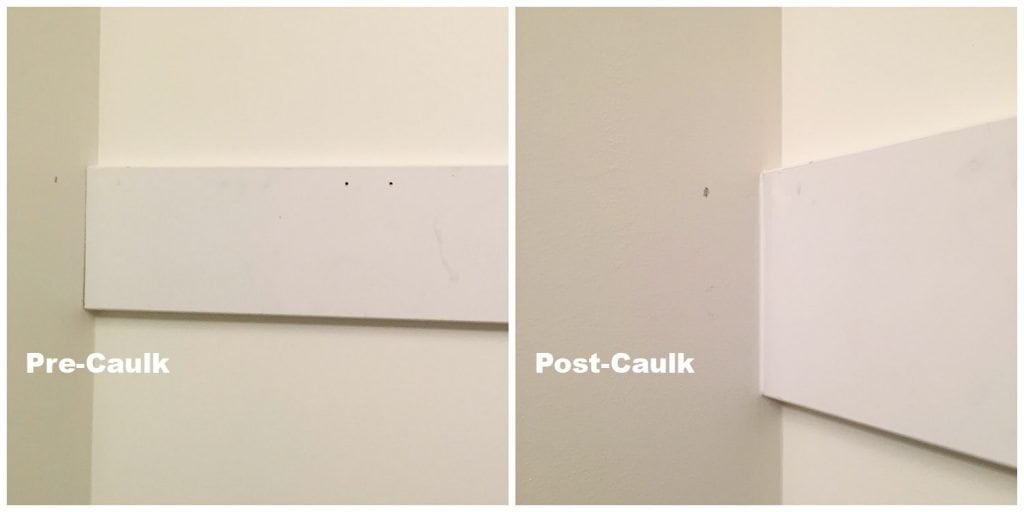 I then painted the board with the same paint we used on the walls – Behr Swiss Coffee in an eggshell finish. Oh, and we had to touch-up where Kurtis hammered the wall….oops.
Once the paint was fully dried, we attached the the basket and hooks with screws, drilled right into the pre-drilled holes we had previously made. Then we were finished!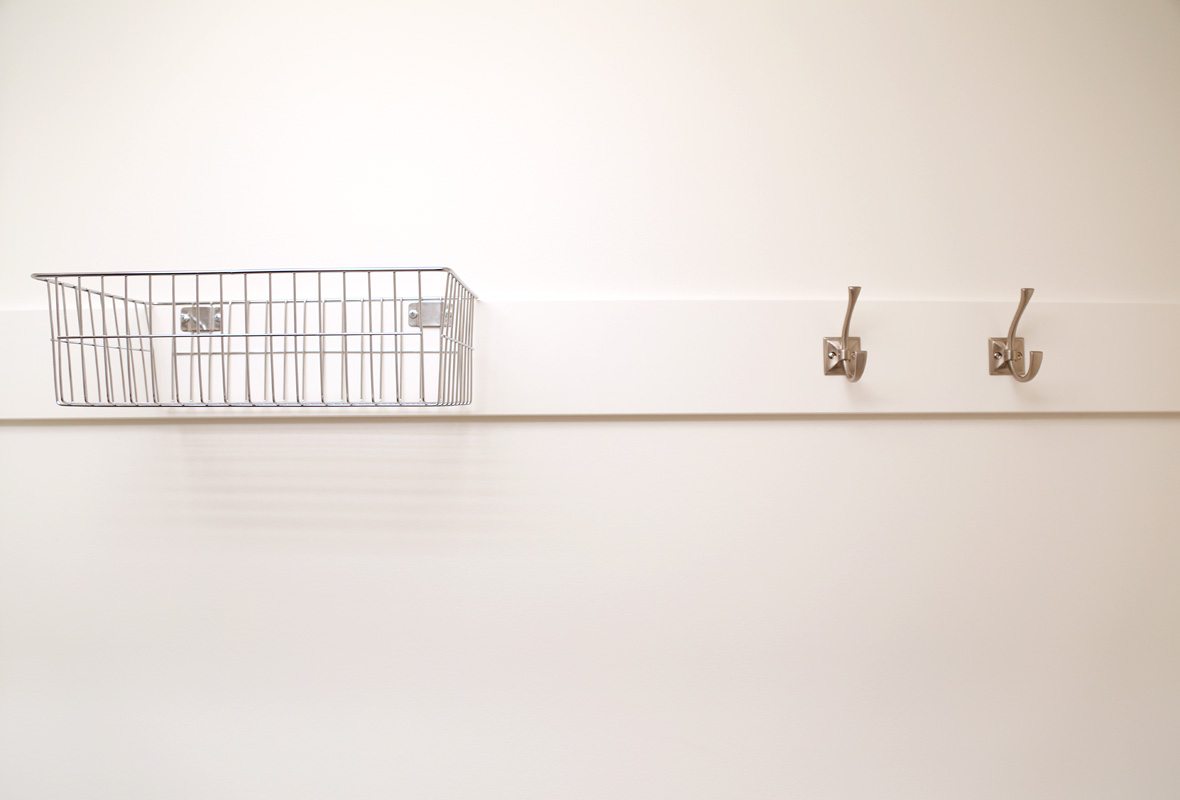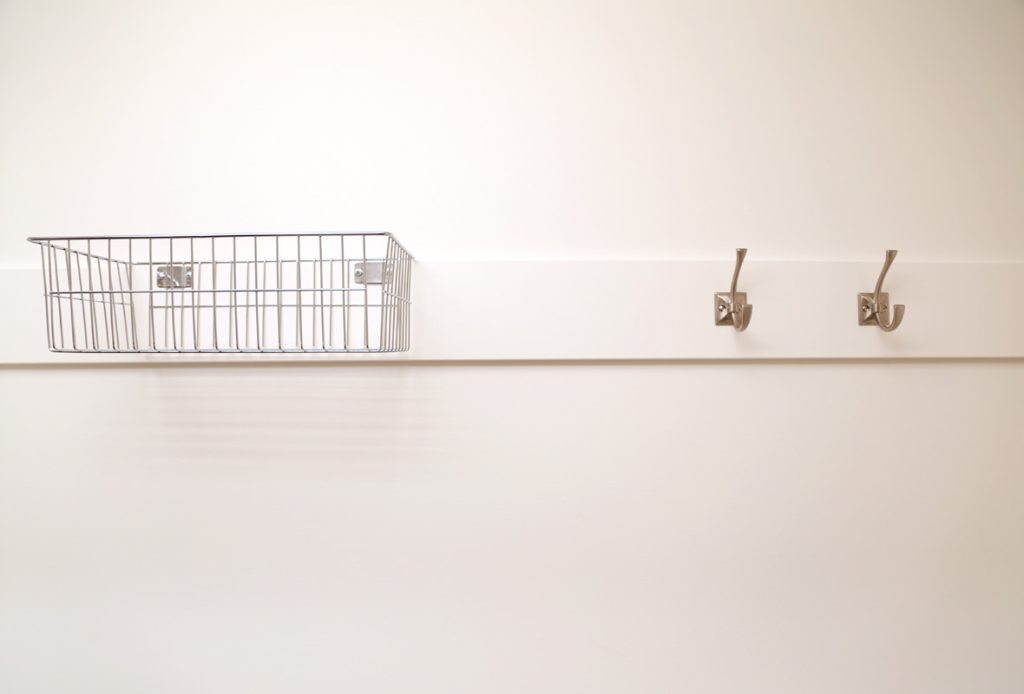 The hardest part of this entire project? Photographing it 😉 Our laundry room is fairly narrow and this area sits opposite the washing machine and cabinets. Photographing it is not an easy task, but hopefully you can see the end result and how it's all laid out. Let me know if you have questions about positioning or anything. Our ironing board has clearly seen better days but my husband refuses to part with it because its so sturdy (even with taped legs and rust). So, I found a new cover for it at Marshall's to at least make it presentable for photos.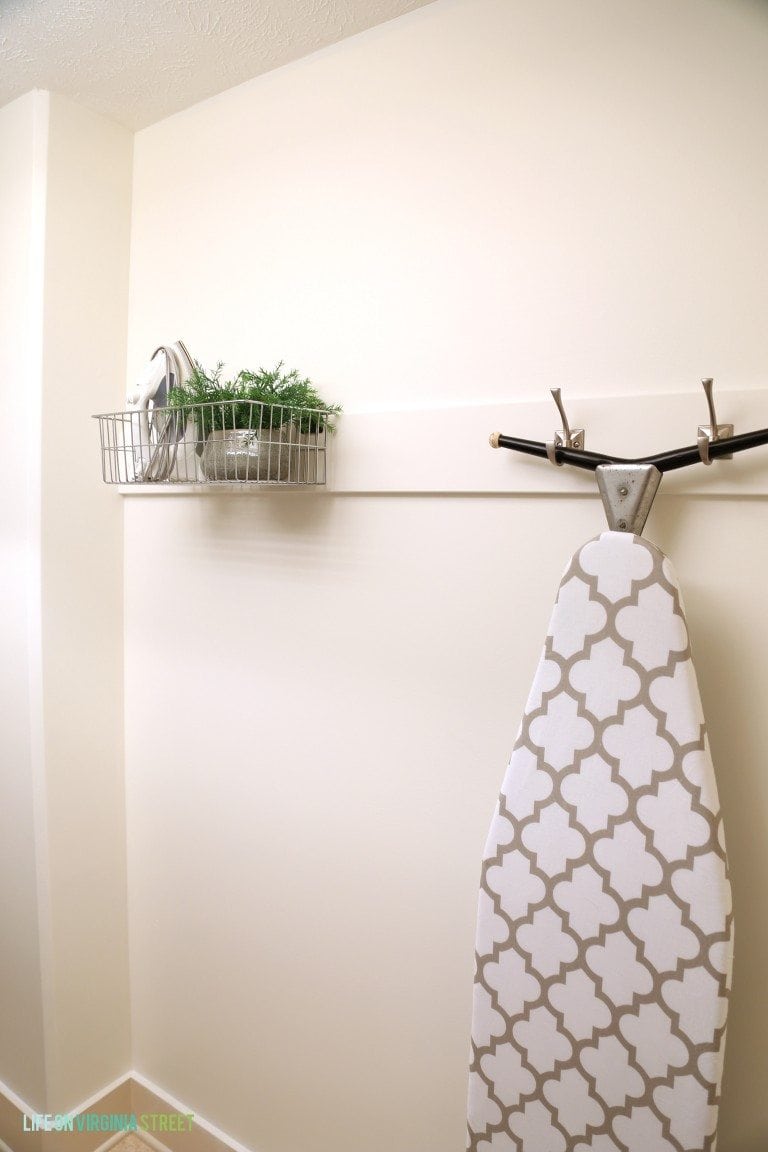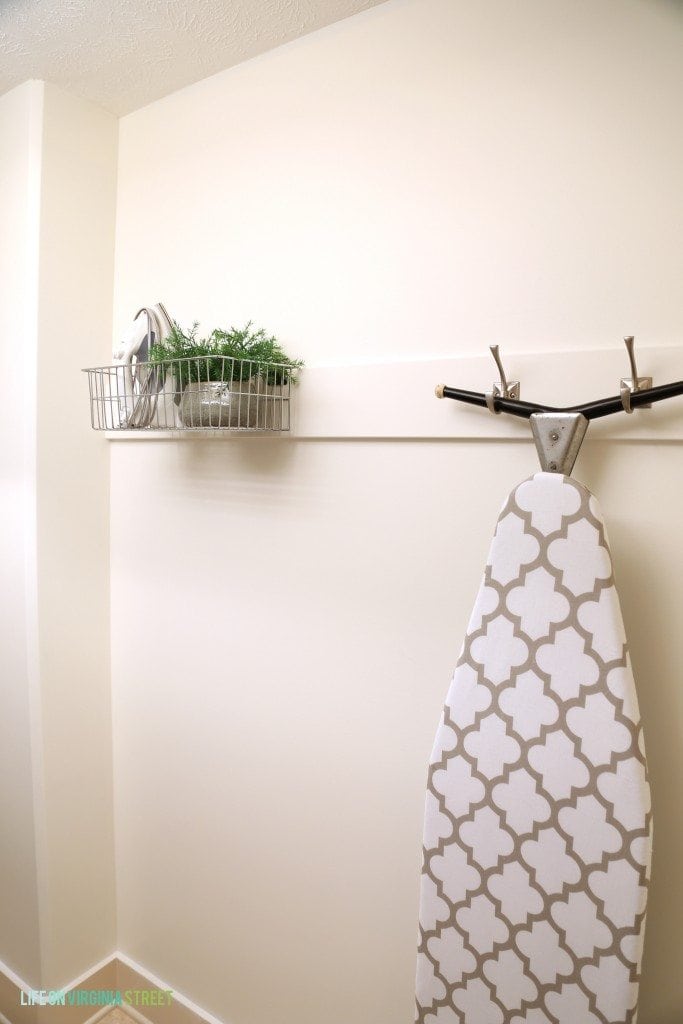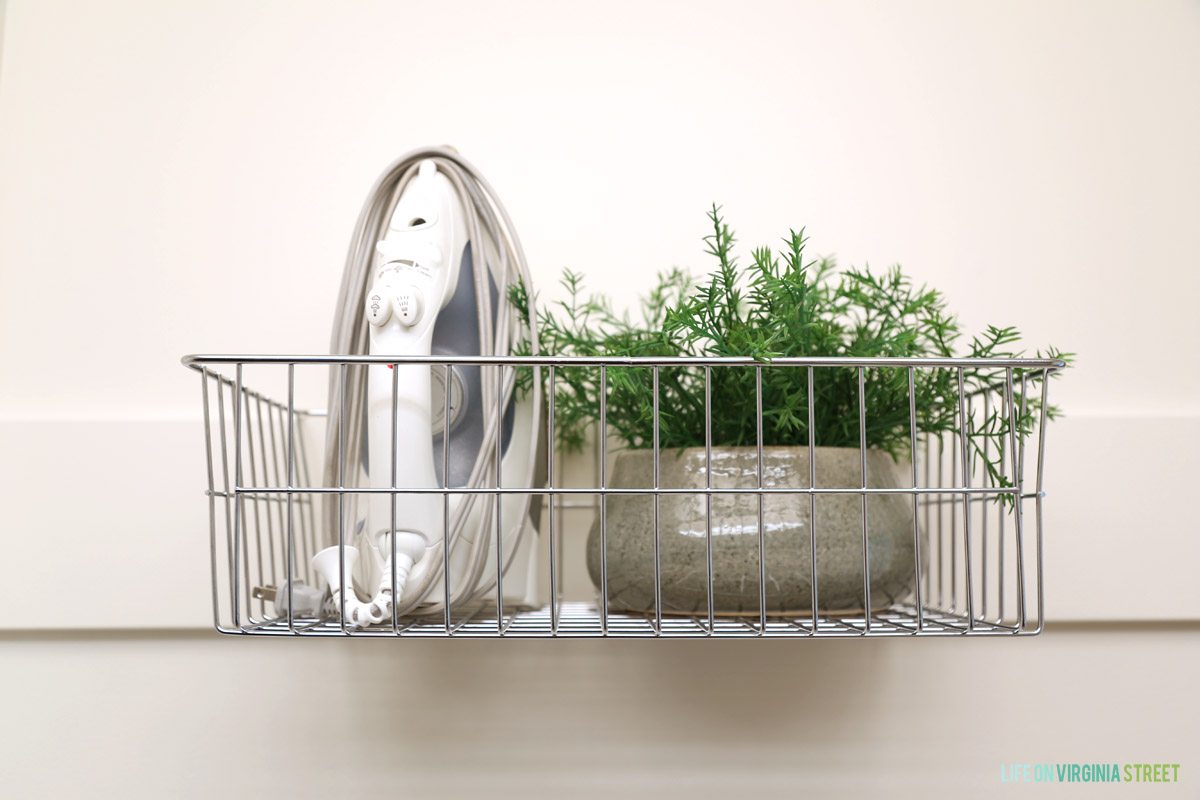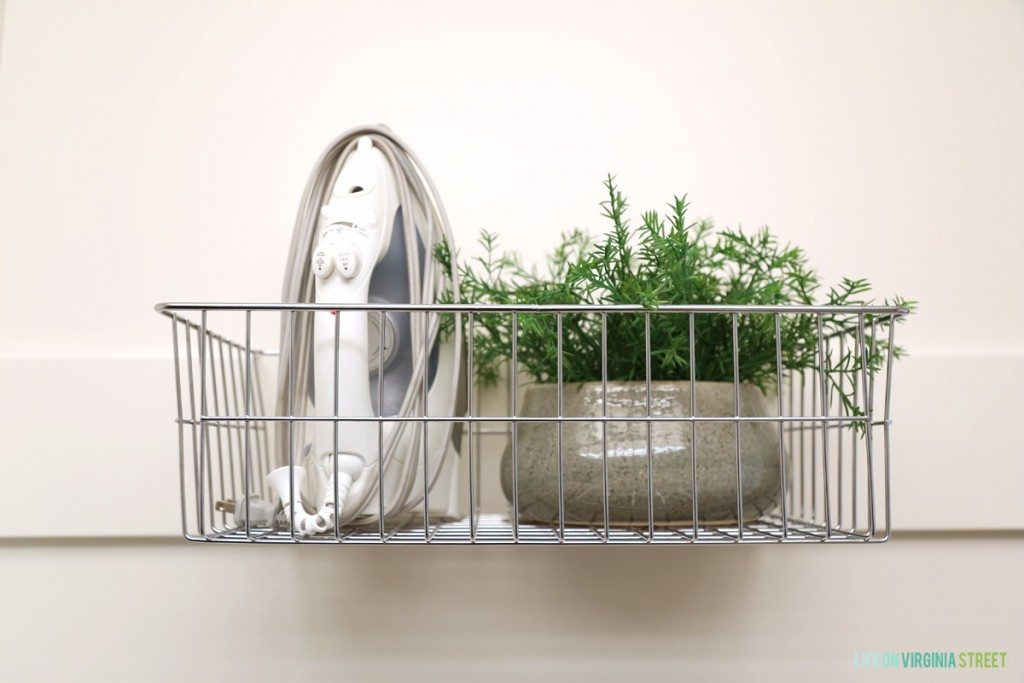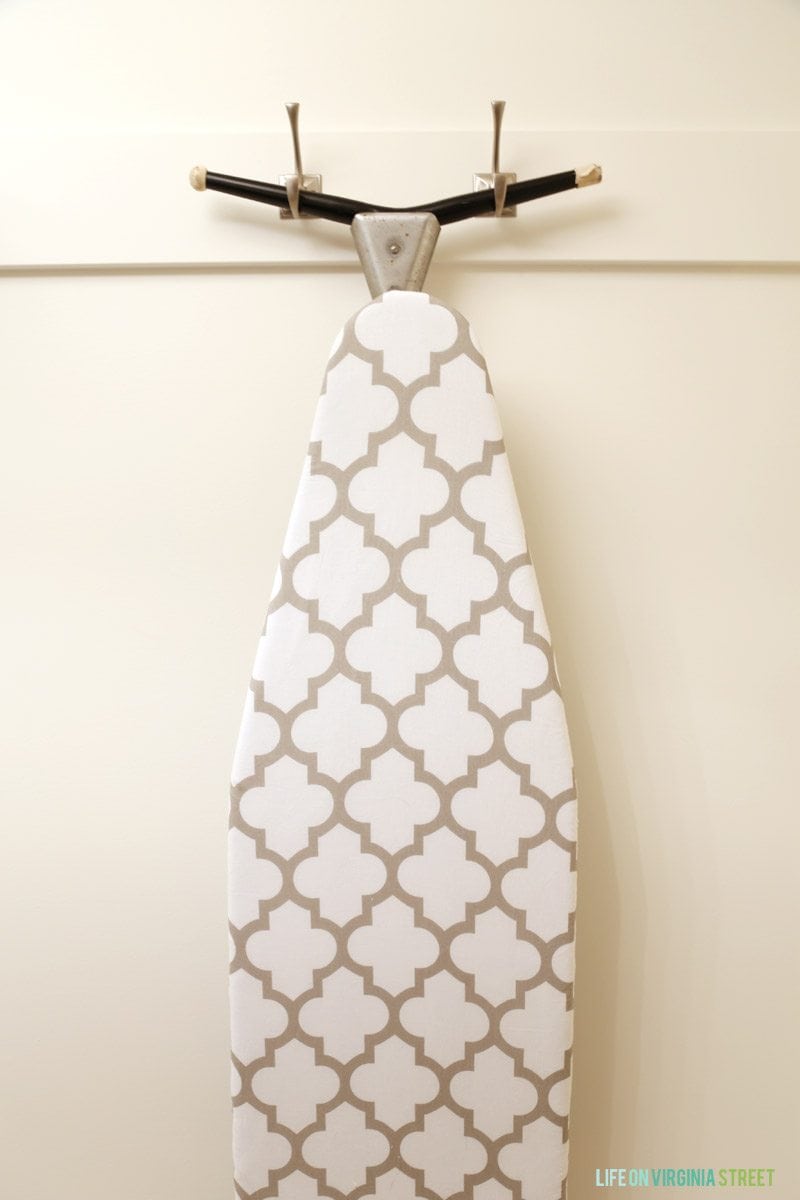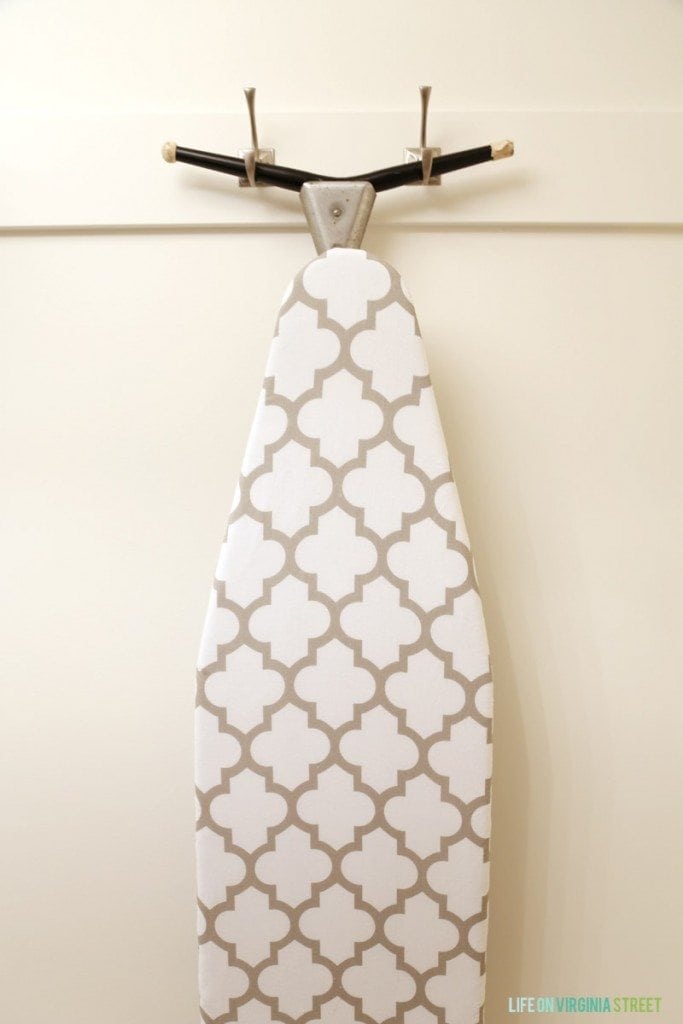 Whew! There you have it. An easy project to add storage and functionality to your space. If you needed extra storage, it would be easy to add additional baskets or modify this approach slightly to fit your needs. It is such a relief for us to have a legit place to store our iron and ironing board now! I can't believe the final reveal of the laundry room is already next week! Eeek! I still have a lot to do, but we're so excited about the progress so far.
Now for the giveaway! The Home Depot will be offering one lucky reader the following gift pack so you can do your own spring cleaning and create a spring project of your own!
$75 The Home Depot gift card
Bounty Paper Towels
Dawn
Tide Pods
Mr. Clean Magic Erasers
**To enter the contest, simply take this fun quiz and then share your results in the comments on this post! That's it! Giveaway is open to all residents of the US age 18+ and will be open until 11:59 PM Central on 5/12/16. So, which Spring DIY Project Are You Destined To Do?
You can also get $5 off your next in-store purchase of $50 or more here.
***THIS GIVEAWAY IS NOW CLOSED – WINNER IS SHOWN BELOW***

Thanks for stopping by week 5 of my One Room Challenge project. And thank you again to The Home Depot and Proctor & Gamble for sponsoring today's post and the giveaway for you! I'm really excited to share the final reveal with you next week!
If you would like to follow along on more of my home decor, DIY, lifestyle, travel and other posts, I'd love to have you follow me on any of the following:
Pinterest / Instagram / Facebook / Twitter / Bloglovin' / Google
This is a sponsored conversation written by me on behalf of P&G, The Home Depot. The opinions and text are all mine.