Hopefully you didn't start laughing when you saw the words "One Room Challenge" in the title of this post. If you followed along at my last attempt for an ORC six-week room makeover, you know it didn't end well. As in, I still haven't finished the room. If you're not familiar with the One Room Challenge, there is essentially a group of 20 "official" bloggers asked to participate each Wednesday and then every Thursday, other bloggers playing along can link up. Each group is tasked with completing an entire room makeover in just six short weeks.
BUT, this time around, I think I can accomplish the changes I'm hoping to make. Hopefully.
If you're new around here, we've lived in our home almost four years. In those four years, our dining room has already undergone two major makeover. The first was two days after we moved in and I painted the green walls gray. You can see the room before we moved in and then after the first makeover below.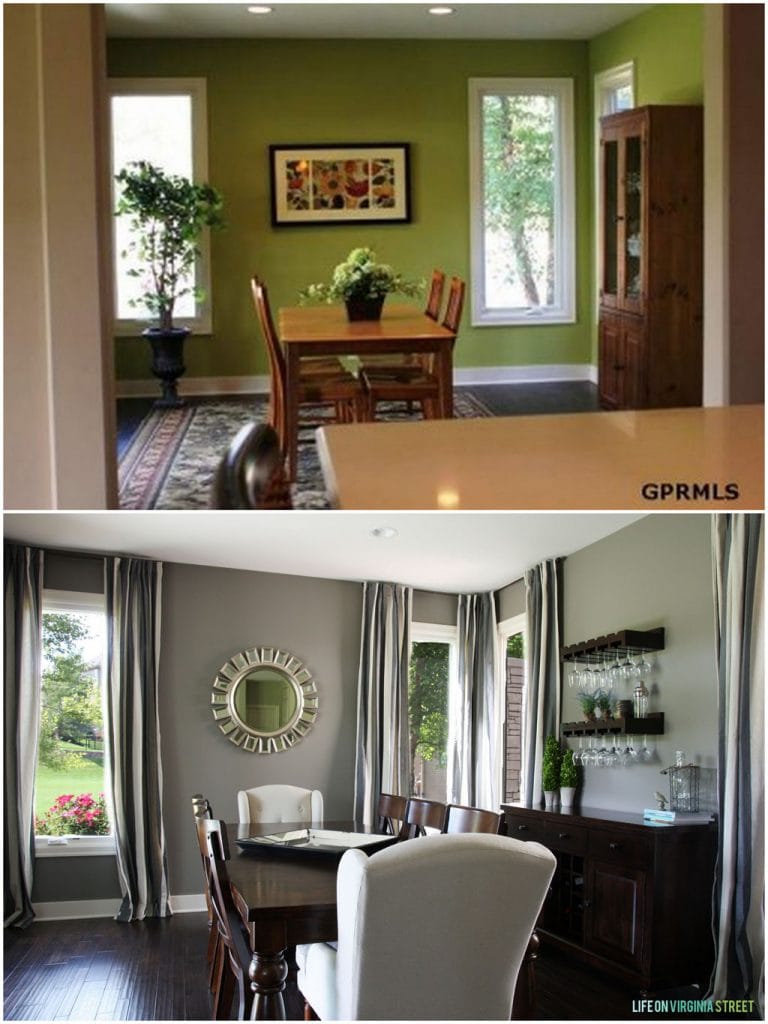 The updated room served us well for several years, but it just didn't flow correctly with the rest of our house. My style is much more beachy, airy and bright. At the end of last summer, I revealed the latest version of the dining room. You can read more about that makeover here (includes a source list for all the current items).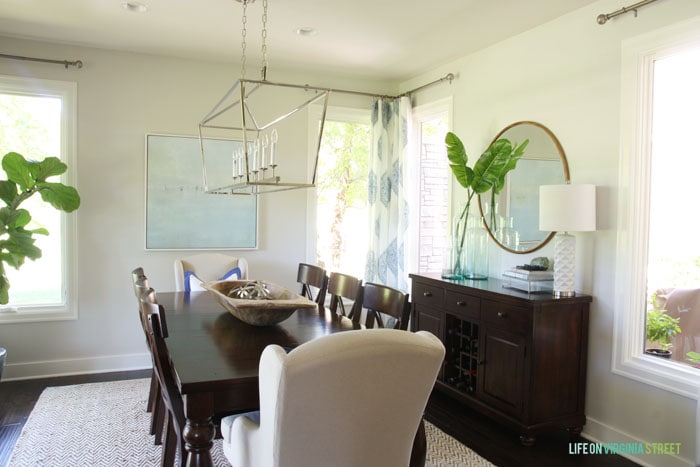 The lighter and brighter vibe worked so much better, but honestly, the space has never really felt finished. Here was the space this spring, which was really the furthest I ever got with the space. Sometimes I get a fresh coat of paint on the walls and I kind call it quits. The room feels better, but never 'done'.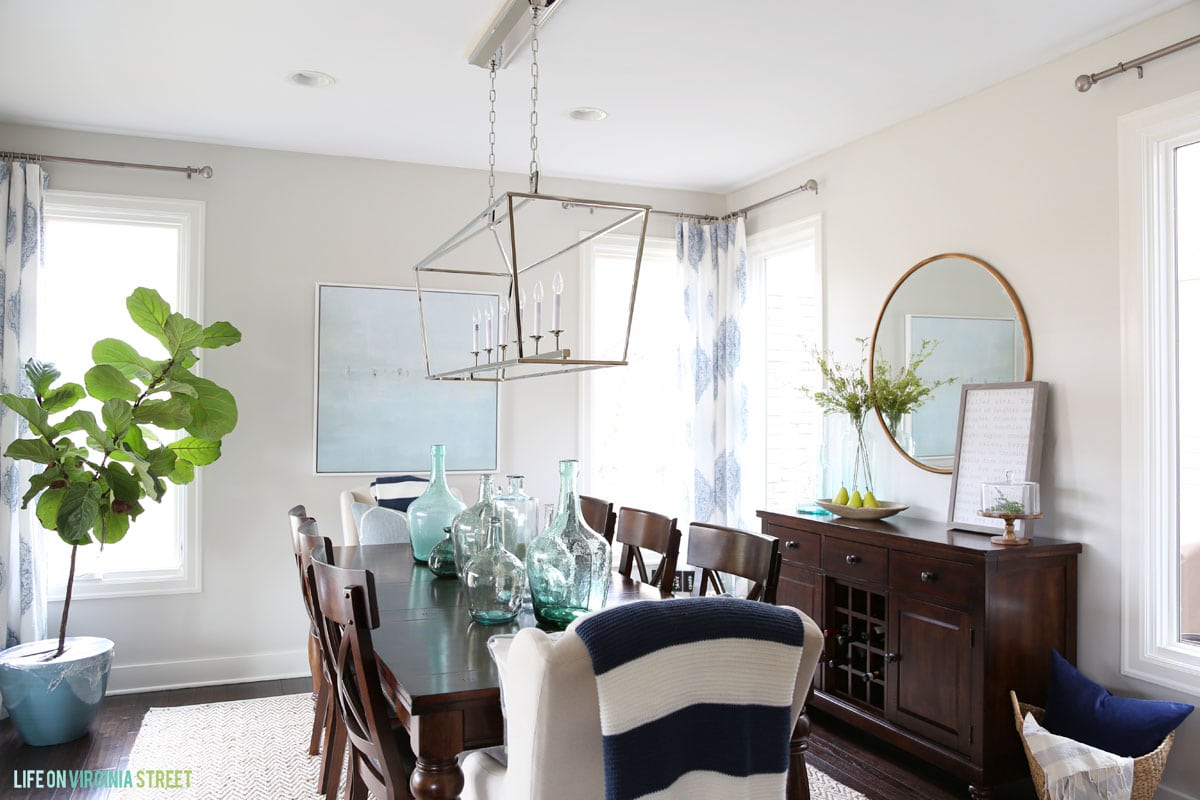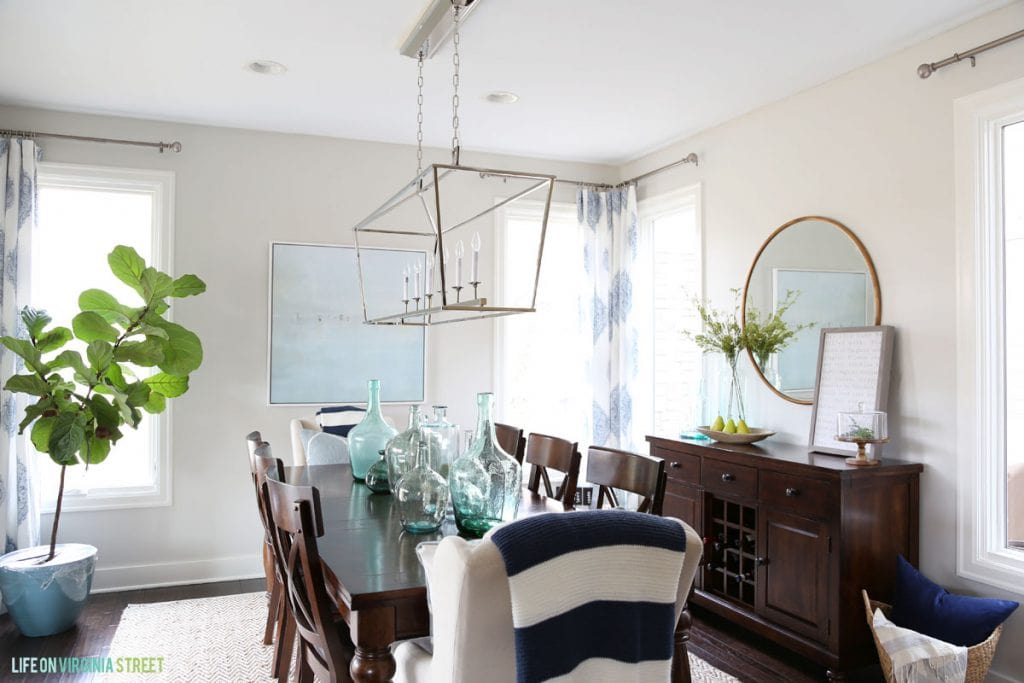 I think the toughest part is that I love our dining room furniture, but it is just so dark in this room. I still love the lines of everything so I came up with a new plan. In August, I shared that I was painted one of the chairs to give it a driftwood look.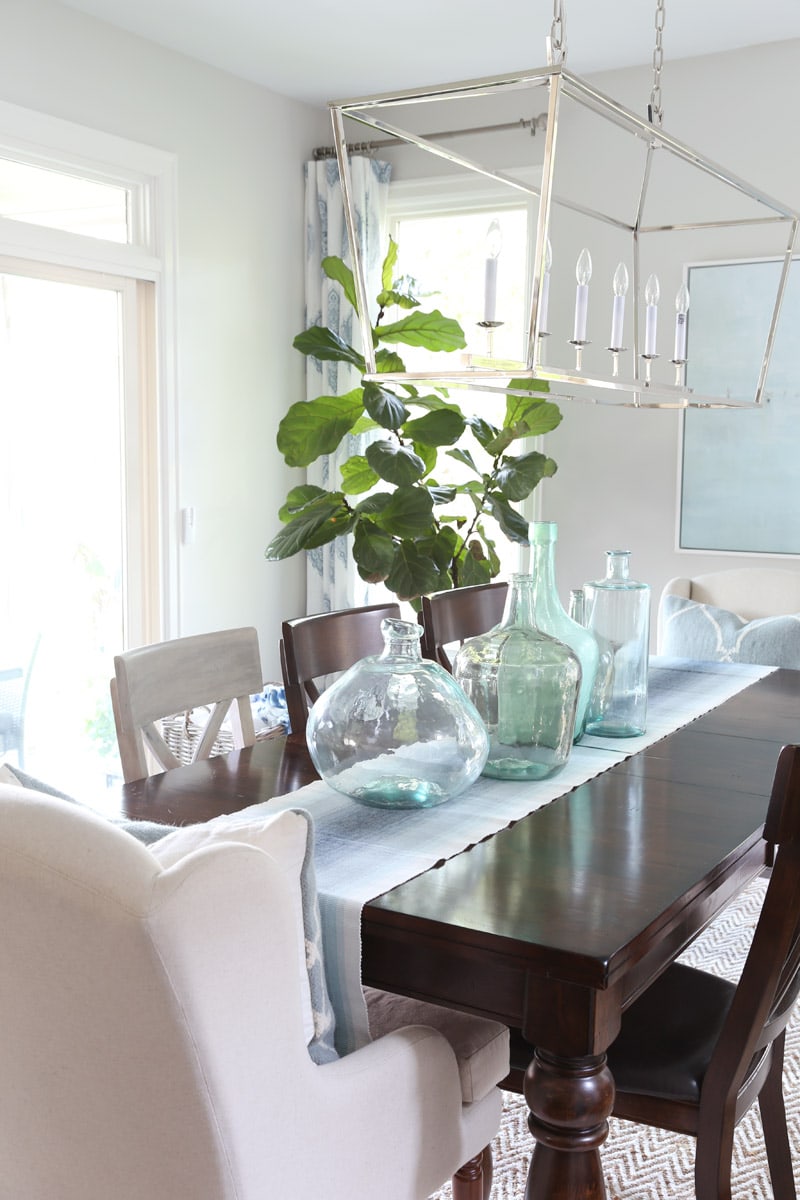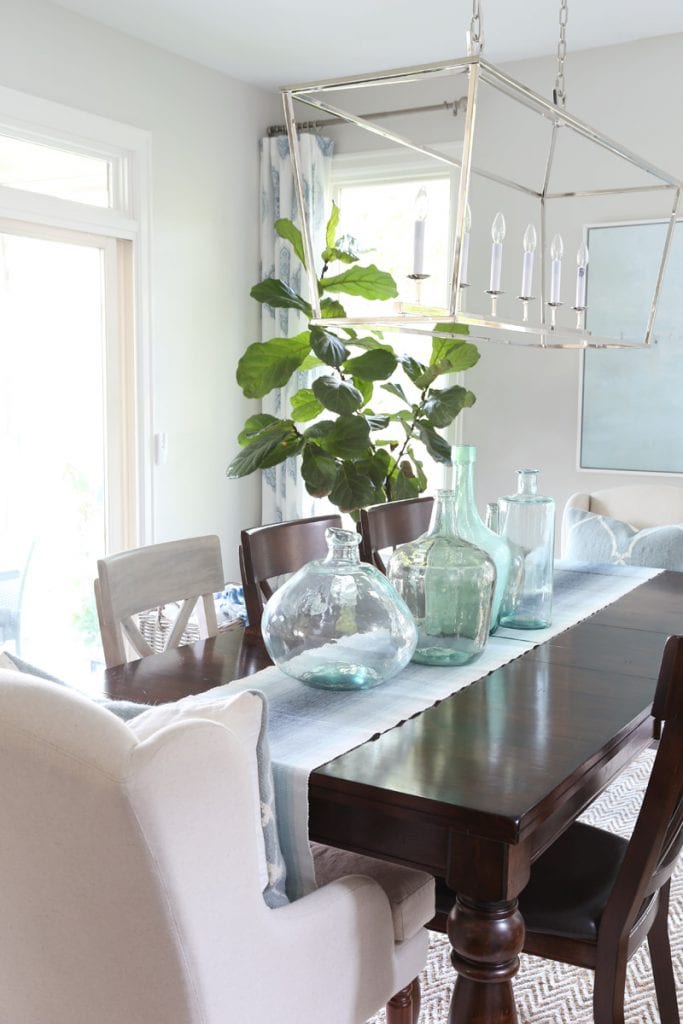 And here's the 'bar area' from my summer home tour this year. We love the wine glass racks, but if I change the furniture, they may no longer match. And I feel like our Target bar cart is a bit too small for the space. But functionally, it works perfectly here.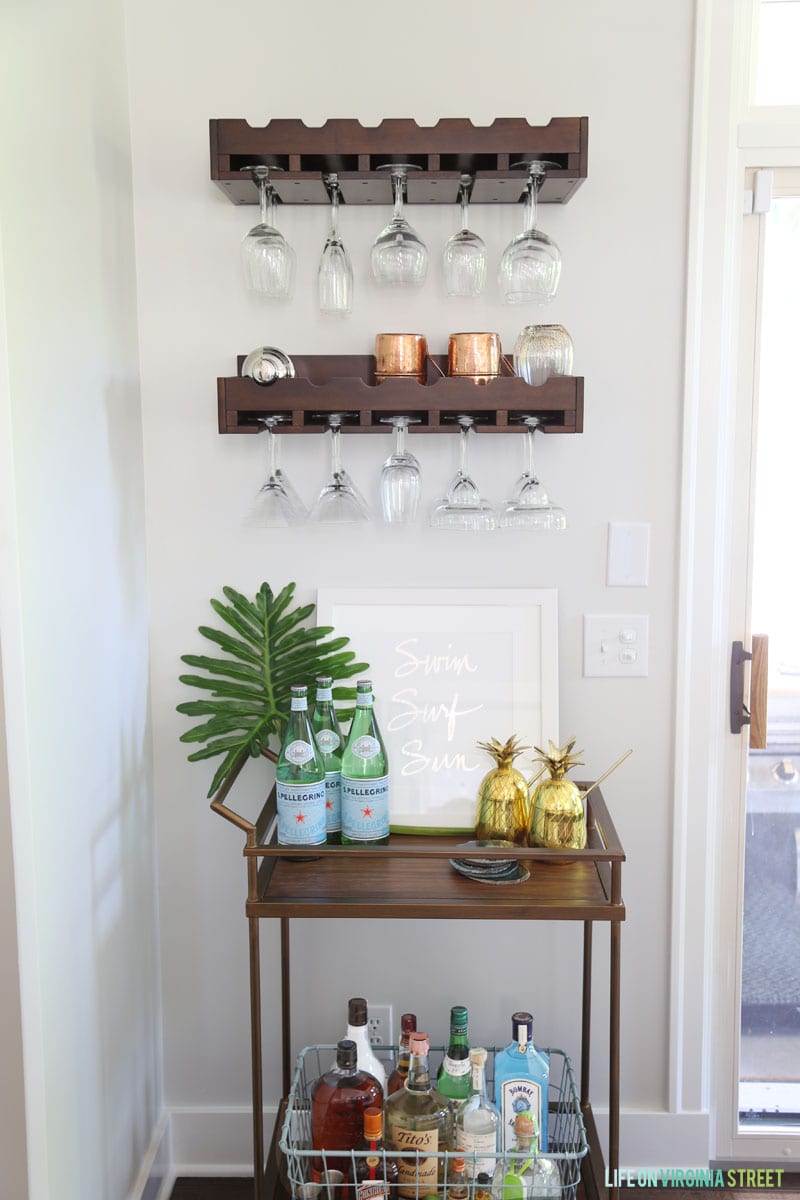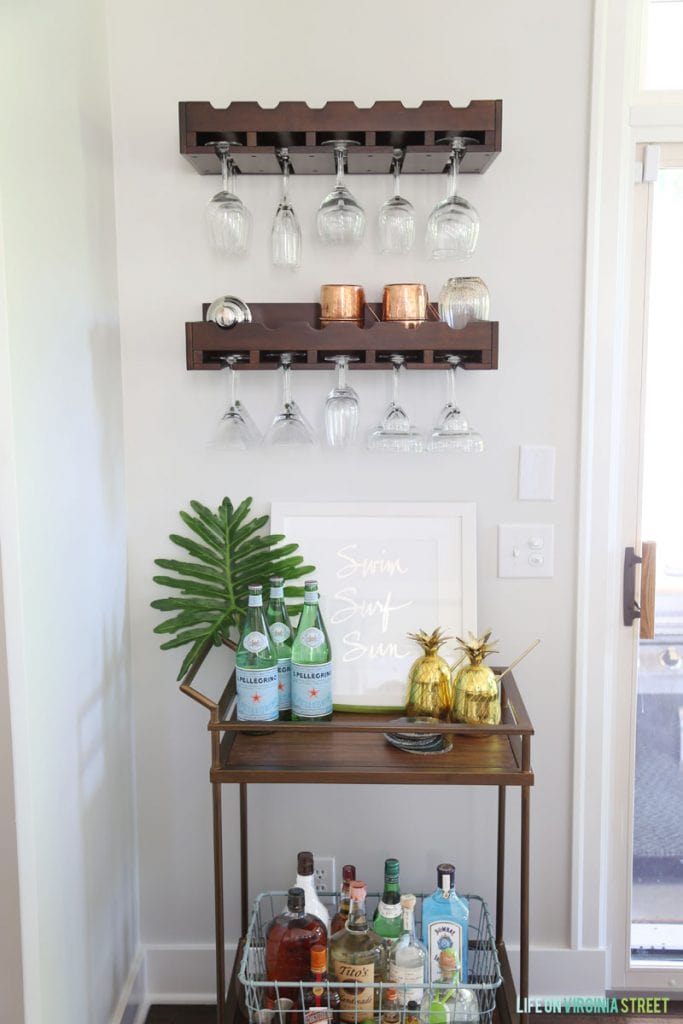 I actually think the finish turned out really well, but I'm not sure I have the heart or patience to paint the whole set. So, I'm trying to sell the dining set (short of the buffet table for the time being) on a local Facebook page. I think it's just time for something new.
A few things to keep in mind. This room is the area that leads to our new backyard and pool area. So, as much as it feels like a 'formal' dining space, it needs to remain fairly casual (but polished). It's also become the storage space for our pool towels and other accessories (which I don't love), but it makes practical sense. So, I'd love to also find a way to address those needs too.
So, for the One Room Challenge, following are the items I'm hoping to complete. It isn't a crazy expansive list, but hopefully I can get everything done!
New table and chairs. We've had the current set over five years, and as much as I love it, it just isn't working in our space. The new selection has been made and you'll see it next week on the design board! Get excited for this one. Think driftwood and linen.
Finish painting the ceiling. This should be quick, but I still need another coat around the edges of the ceiling and I still never painted up under each light fixture so there are tiny rings around them. For reals. It's come a long ways though since I painted the ceiling from peach to white.
Paint the walls? This is a maybe. Once I get the new furniture, I'll see if the walls need to be warmed up slightly.
Figure out the buffet table situation. I'd love a taller cabinet, but storage is critical and this one is doing the job now. I could also paint the existing one but still wonder if selling this one and getting a new one is the much easier route.
The art. I love the art we have for warmer months, but as we head into the holidays, the beach scene doesn't seem to really fit.
Address bar cart area. Larger bar cart? Paint the shelves? New shelves? I still need to figure this out.
Find a killer fabric. You all know I'm a fabric addict, and I'd love to have a killer fabric to either use on new window coverings or as pillows at the head chairs. To be determined.
Window coverings. I love our window coverings right now, but not where the two windows meet together in the corner (on the right side of the photos above). It just looks off to me. So, I may go the roman shade route or something entirely different. I'm still thinking through this part.
The rug. I love our rug, but our cats love it because they love to destroy it. It's like their secret mission to unweave everything. Plus I wonder if I need more contrast (especially if I go with a lighter-toned table and chairs). Still up in the air but I hope to make a decision by the time I show my mood board next week.
Storage.  This room is by no means overly large, and with the four windows and sliding doors, it makes furniture and storage placement difficult. However, I still want to try and maximize storage for dining supplies as well as pool necessities.
The chandelier. It will stay for the rest of my life because I'm still obsessed with it.
Again, I'll be sharing a mood board next week for the look I'm going for. The project isn't intended to be a major overhaul and nothing crazy drastic, but enough that I feel like it will be a tight window to accomplish it in six weeks! Am I crazy for slightly re-working this room again?
If you'd like to check out all the other participating link-up projects, click the logo below!
If you would like to follow along on more of my home decor, DIY, lifestyle, travel and other posts, I'd love to have you follow me on any of the following:
Pinterest / Instagram / Facebook / Twitter / Bloglovin' / Google