The Nordstrom Anniversary Sale is now live to everyone! As a cardholder, I was able to shop last week and ordered some of my top favorites. Once they arrived this week, I tried everything on, and today I'm going to share pictures of the items I ordered and fit tips on everything. At the end of the post, I'm also rounding up my favorite finds from several departments. You can also check out my original 2018 Nordstrom Anniversary Sale Picks for even more ideas! Then, in a separate post, I plan to share Kurtis' top picks for men, and my 22 year old assistant Tristen's top picks for the slightly crowd! So, let's dig into what I ordered and all of my thoughts on what I love and what I'll be returning.
If you're not familiar with the sale, it's the only one I know of where you can buy styles for the upcoming season at 30-50% off (rather than end of season sales)! It opens for a week to cardholders only (which started 7/12), and today it opens to the public! And if you are a cardholder, you likely know that Nordstrom will re-stock some of the items that sold out previously on the first day of public access! But, things will likely sell out quickly again!
This post contains affiliate links for your shopping convenience. Click here to read my full disclosure policy.
For reference, I am 5'8″ and currently wearing a size large in tops (and mediums in t-shirts) and size 12 pants. Below, I have referenced each of the pieces I'm wearing (the name is clickable if you want to see more product details. I also listed what size I'm wearing and if I felt it was the right choice or not. I also want to know I wasn't necessarily putting together outfits – more just trying on in random orders to get through everything.
The lighting wasn't great the day I took these (and I clearly haven't mastered my mirror selfie posing), but I was hoping to at least show the silhouette of may of the pieces. I also tried to place the images in order of what I can wear now to the much heavier cold fall/early winter pieces. I should also note I don't usually wear skinny jeans unless I'm wearing a tunic/long shirt/long cardigan, but I wore them with random tops here, just so I could get through everything. I am clearly not a fashion blogger, but I thought it maybe be helpful to see how some of these items fit in real life versus on a stock photo and/or model. Since I now work from home, I tried to order pieces that are comfy enough to wear during the day but could also multi-task for going out to dinner, etc. with a few simple accessory swaps.
Let me know if you have any further questions on any of these items!
Nordstrom Anniversary Sale Fit Tips
Lace Yolk Crinkle Top (L) – One of my favorite buys! I love the navy blue but it comes in other colors and the lace and crinkle combo is unique and cute. I also love the mock neck and soft ruffles along the neck and chest. This top fits true to size, but it does not have much stretch in the upper half and it is slightly sheer on the lower half. I love that I can wear it now and into fall with a cardigan or jacket on top.
Ankle Skinny Jeans (Size 12) – Fits true to size, but are a little short for taller girls.  They would be good with flats! Side rivets stick out a but more than average (I thought one was broken until I realized they were all like that). I'm a big fan of this brand though because their prices are great and the ab-solution technology suck in your stomach and booty. Jeans are shown in next four sets of photos.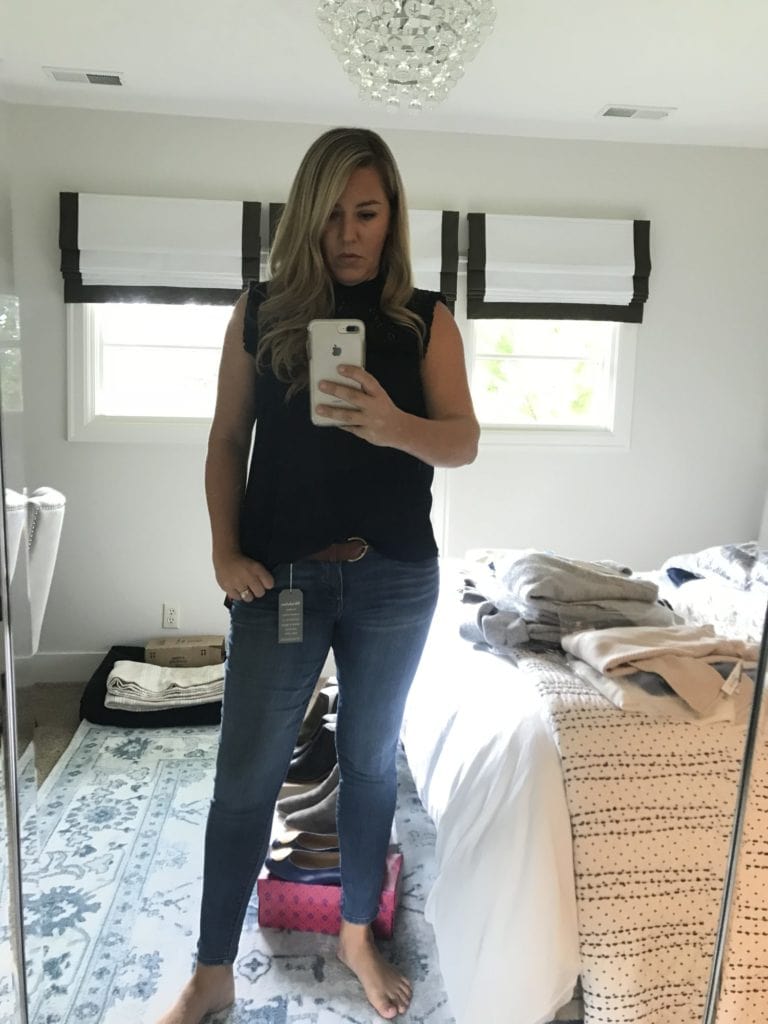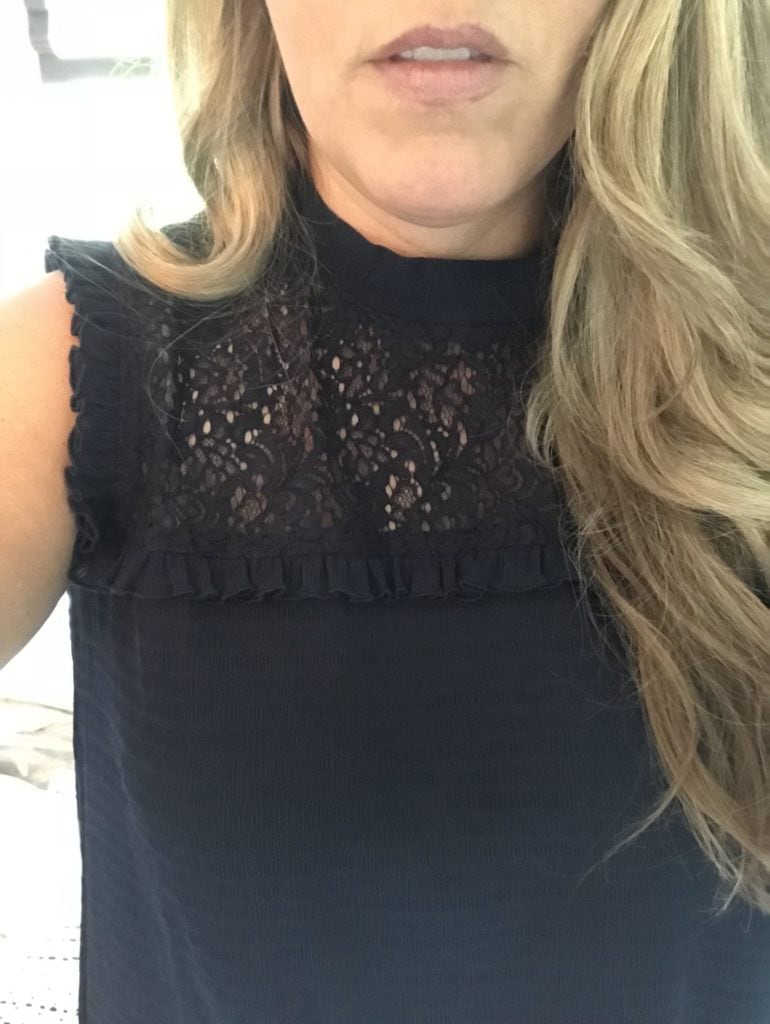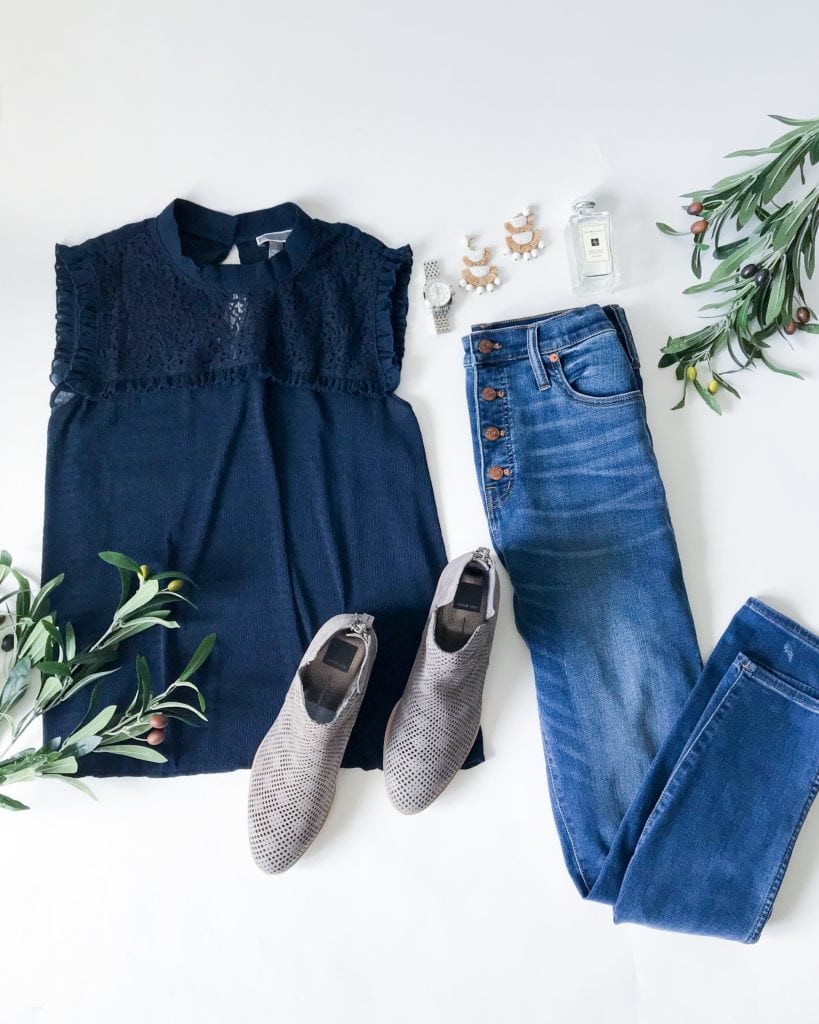 Lace Yolk Crinkle Top | High-Waist Skinny Jeans | Perforated Booties | Watch (same brand, similar style) | Earrings |  Favorite Cologne
Caslon Flower Print Top (L) – This top is a little boxy on the lower half, but the smocking on top fits normal (and is darling!).  I love the print in pretty fall colors. I really wanted to love this and make it work, but the boxy shape just didn't fall right on me so I'll be returning it.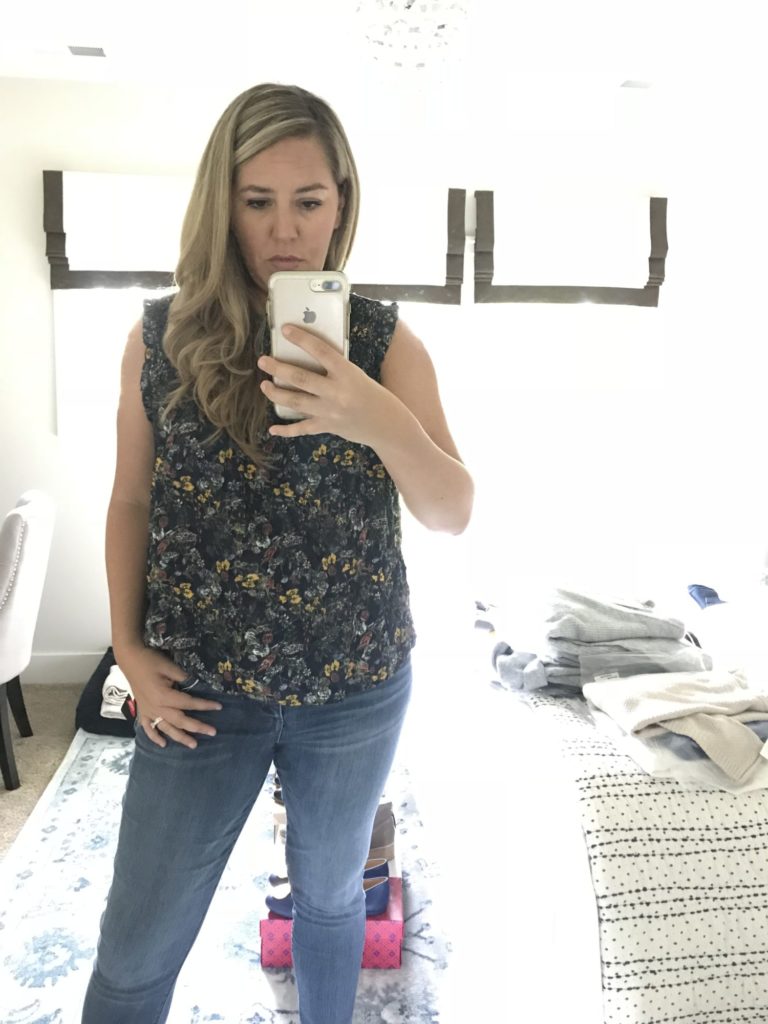 Lace Trim Blouse (L) – Such a beautiful top! I like that this top is longer, but it is a little sheer. I love the ruffle around the neck and think the top looks cute untucked or with a slight front tuck! This one's a definite keeper.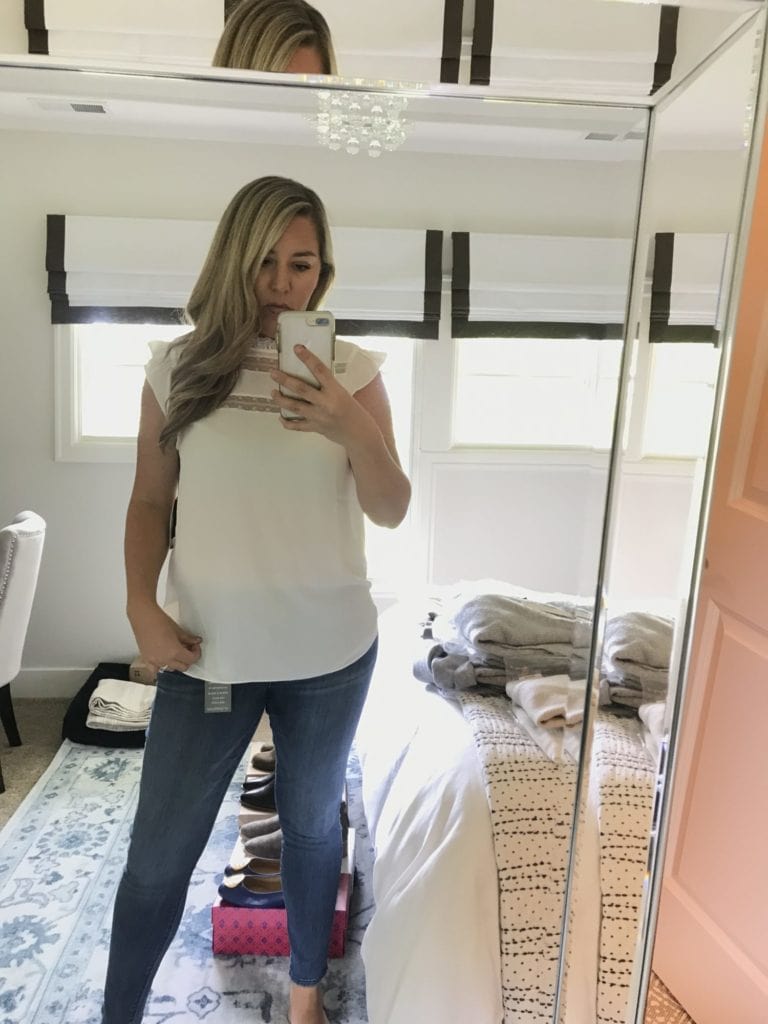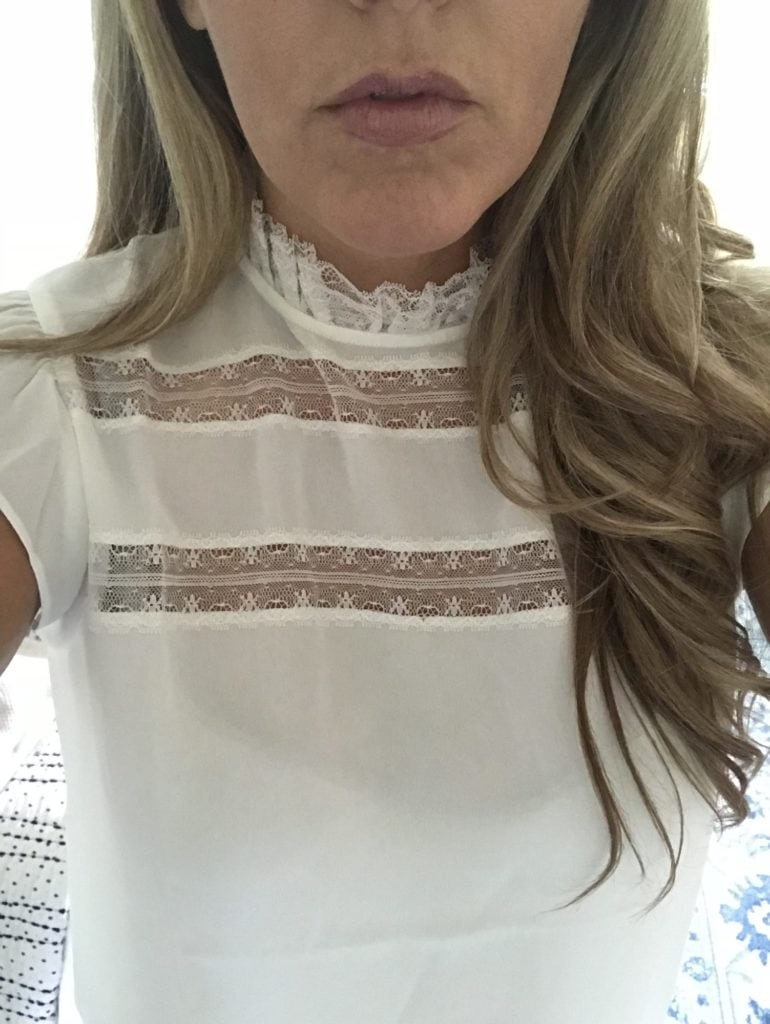 Swiss Dot Top (L) – This top fits a little smaller – the knit material is rather fitted.  Overall, it's a little clingy, but I really like the unique sleeves. If you're between sizes, I'd go up on one on this. Such a pretty silhouette with the sheer sleeves!
Tory Burch Ballet Flats (Size 10) – I used to have the original Tory Burch ballet flats that were gathered in the back and I hated them. They were so uncomforable! I feel like most of her shoes run small lately, but these definitely do not. My feet do not fluctuate in sizes much, but my usual 10 was almost a bit loose – but they are super comfy! I would recommend if you are between sizes to size down! The color is hard to see in this shot but they are more blue than navy, but also come in a really pretty blush color and black.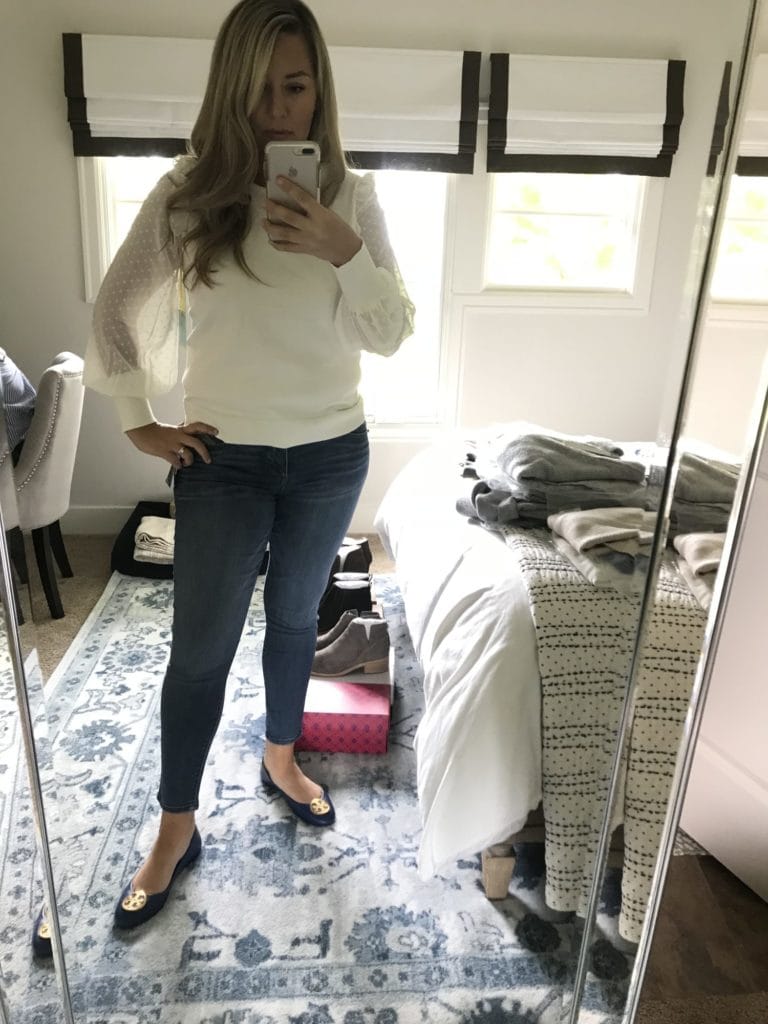 Smocked Neck Blouse (L) –  I really wanted to love this pretty top, but it felt a bit large and too boho on me. I still think it's beautiful if this is your style. It's also a bit sheer so keep that in mind. I love this dusty pink color though, and it looks cute untucked or tucked and would work well in the office or going out. I'll be sending this one back because it just didn't feel like me (but my assistant Tristen said it was one of her favorites)!
Wit & Wisdom Black Bootcut Denim (Size 12) – Better fit than the Skinny Denim, and fits true to size. I wish they were a bit longer though. I'm sharing them with the next three tops to get a better feel for the look and length (and also with boots). These jeans always fit like a dream though and have enough stretch to be comfy all day!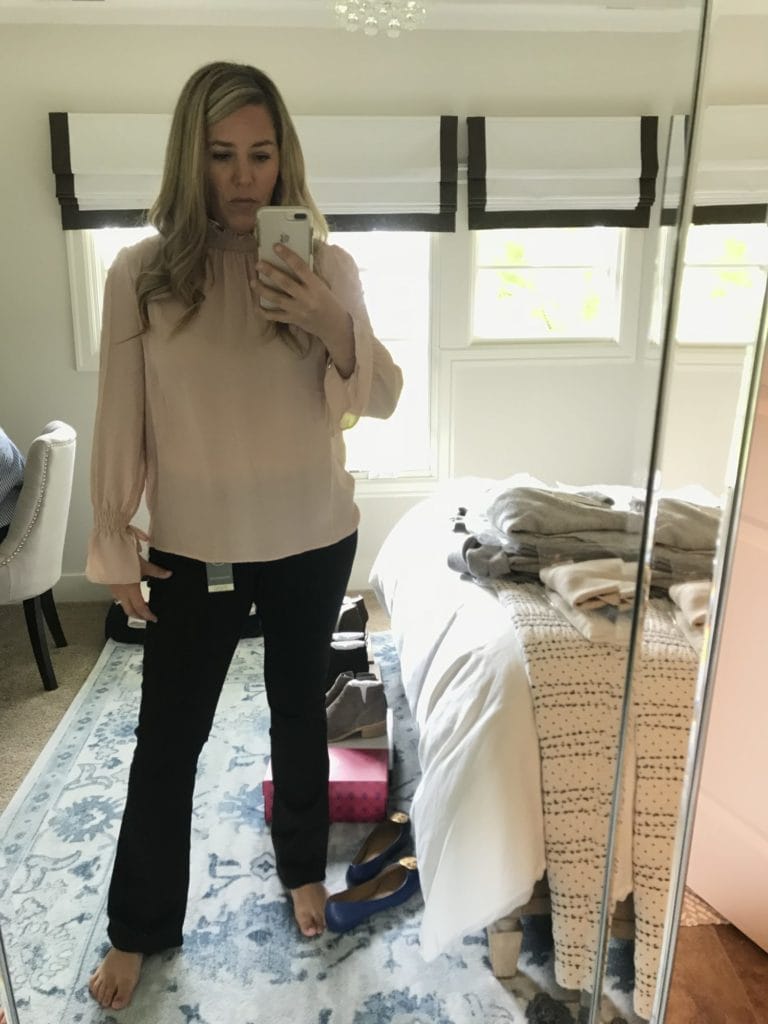 Side Button Hooded Sweater (L) – This one felt at least one to two sizes too big. I love the side buttons, but I'd need a smaller size and wish it were just a bit longer for my 5'8″ fram so I could more comfortably wear it with leggings or skinny jeans.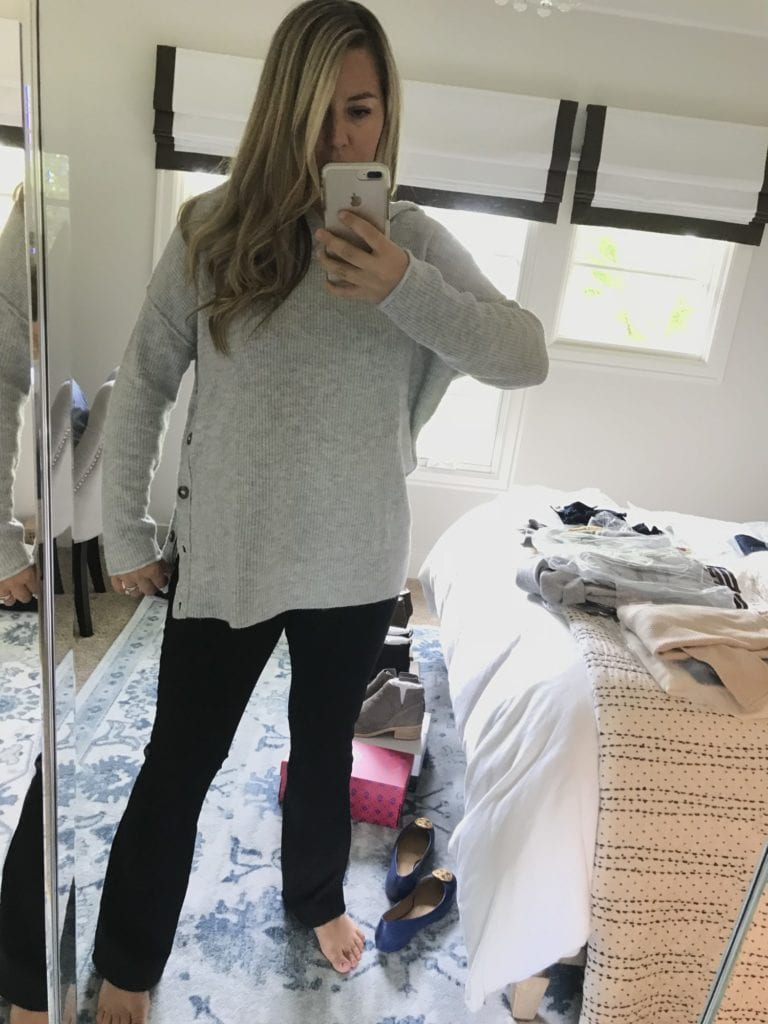 Detachable Sleeve Sweater (L) – Fits true to size, but definitely has a clingier silhouette! When I first tried this on, I was worried the ruffles were a bit overpowering. But after a few minutes, I actually loved it and I think it looks just as cute (or more so) with the sleeves unzipped and going sleeveless.  It started as a 'no' but now it's one of my favorites. It comes in a several color options and I think it would be especially darling during the holidays!
Madewell Bonham Bootie (10) – This was the item I was most disappointed in. They looked so cute and promising online but the quality seemed lacking and I felt like I was wearing cowboy boots and not booties. These were a major miss for me.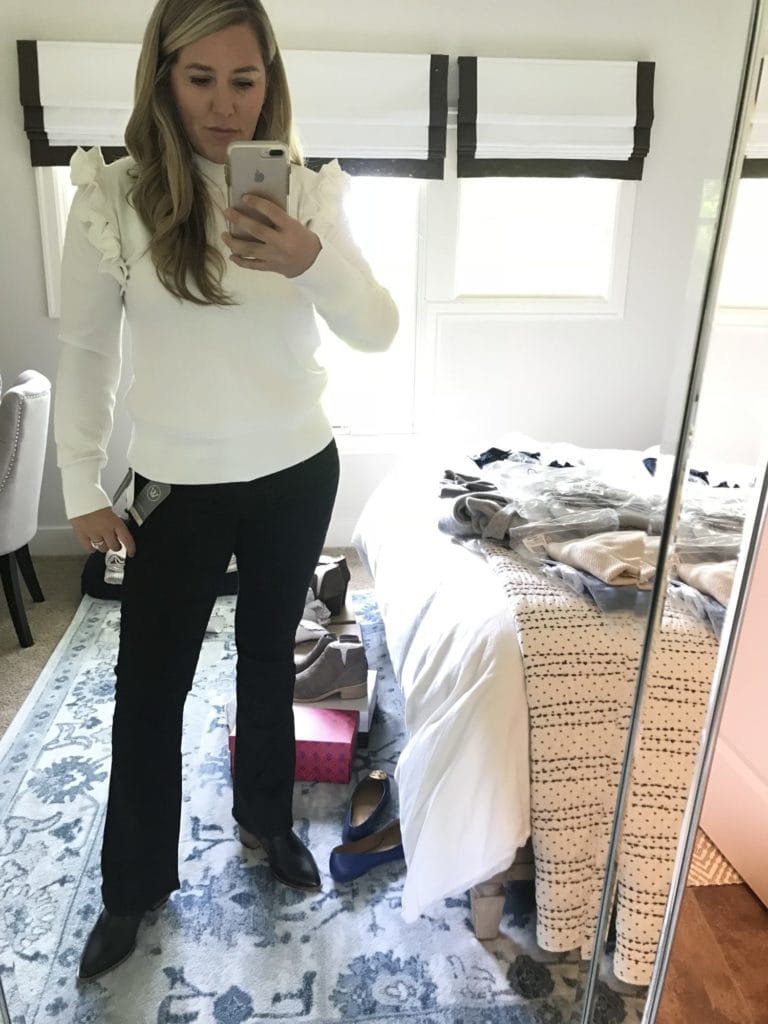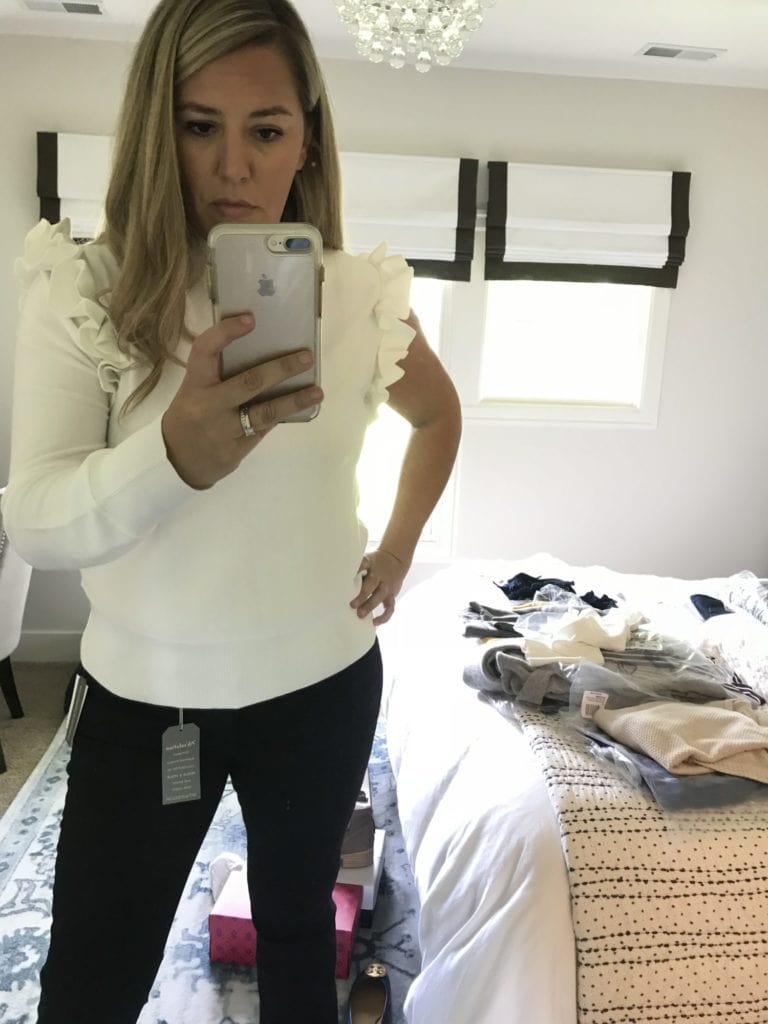 Caslon Honeycomb Side Tie Sweater (M) – The notes said it ran large and to order one size down so I did (which was the right call). This sweater is more of a tunic length and could definitely be worn with leggings as well as denim! I just happened to still have the bootleg jeans on, but I'd prefer it with skinnies or leggings and flats or knee-high boots. I love the tie detail on the side and the lighter weight this one provides!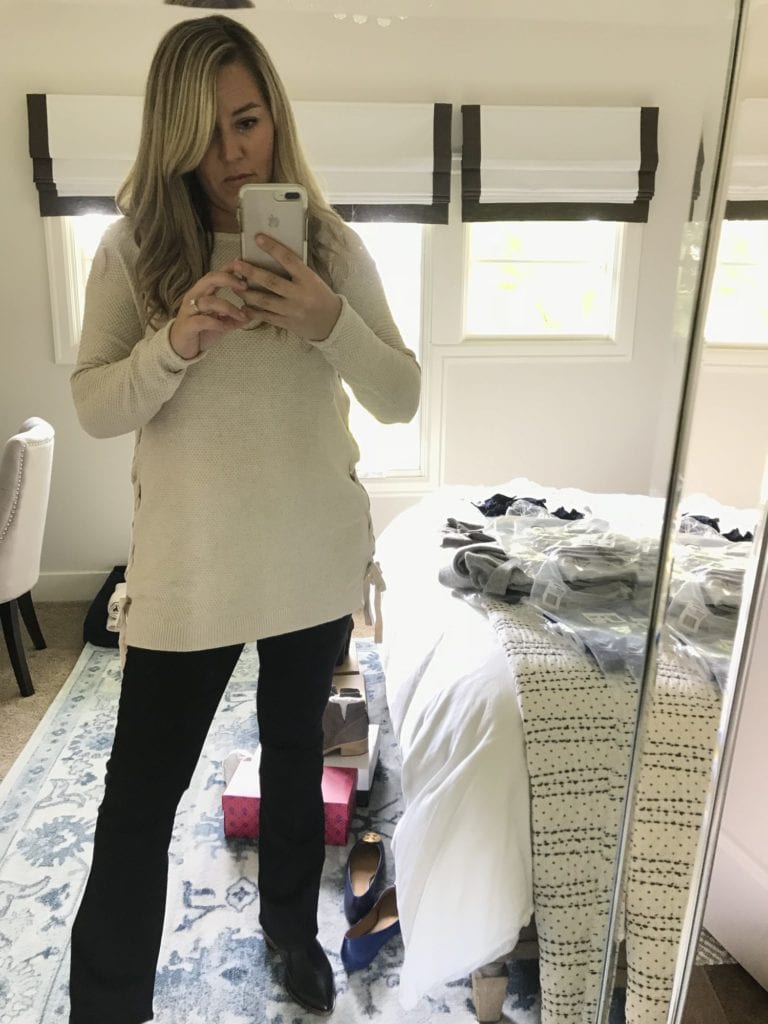 Tie Knot Sweatshirt (M) – If you want a looser fit order your regular size, but I went down one for a less baggy fit. I bought this sweater in maroon last year during the sale and loved it, so I had to get another one this year! Definitely one of my top picks – so comfy and the price is right!
Stretch Bootleg Jeans (12) – These jeans are long (I'm wearing wedge booties below), but I loved that! This brand will give you legs for days and the jeans have stretch so they're super comfy. They fit true to size, but if you're between sizes, I'd probably go down one, simply because of the stretch. I'll likely be ordering another pair in the lighter color because I love them so much and I need some non-skinny jean alternatives!
Wedge Booties (Size 10) – This was my top shoe pick of the sale. I love that they boots make your feet look a little smaller and they are super comfy so far.  I also love the open side detail! I can't wait to wear them this fall!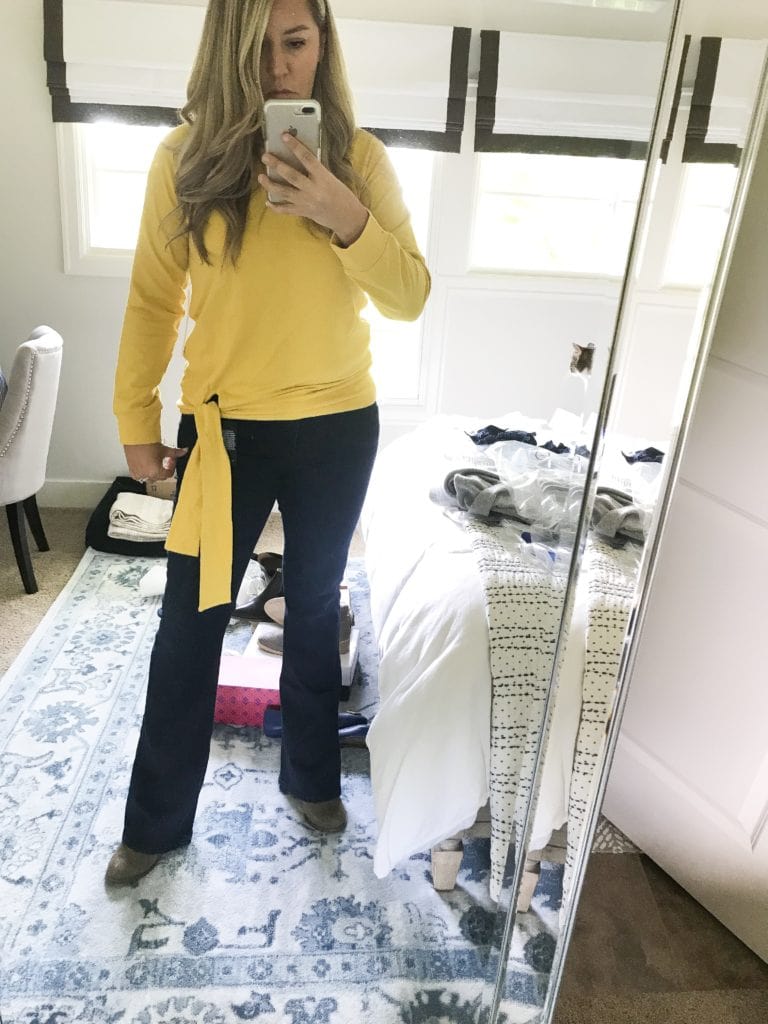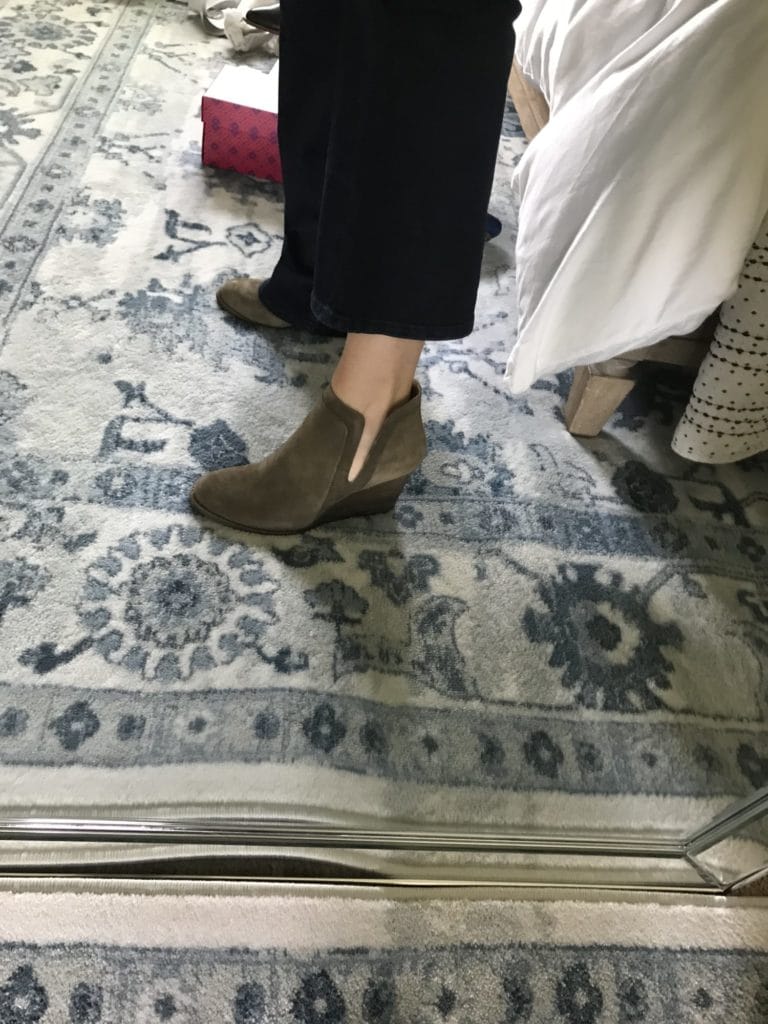 Halogen Scalloped Sweater (L) – This sweater is a little more fitted and I really like the scalloped neckline/ruffle sleeve details! It comes in several fun colors options.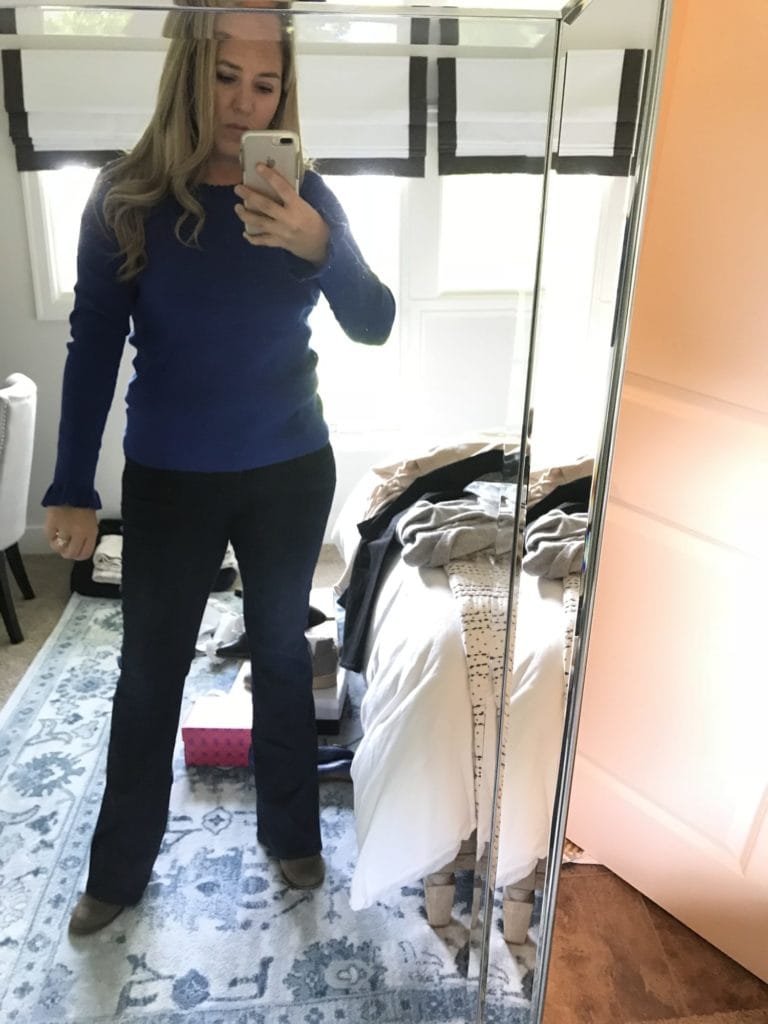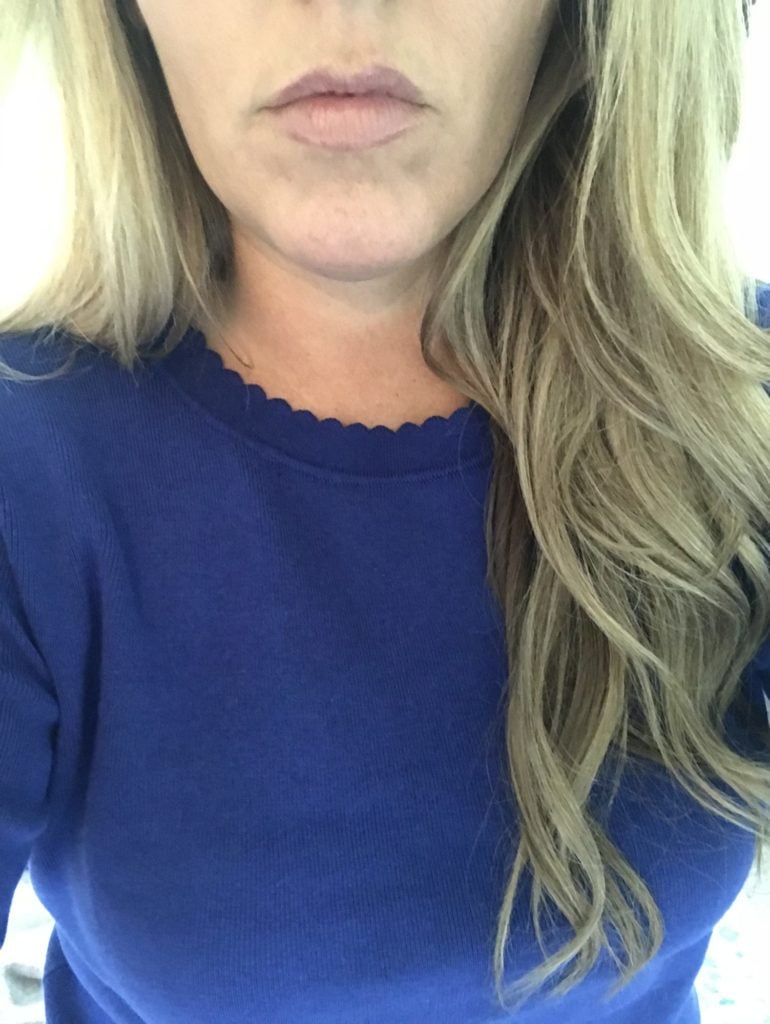 Varsity Knit Cardigan (L) – This cardigan is perfect for fall and super cozy! I love the preppy vibe and the maroon and navy color combo with the gray. Fits great too – and pockets! It also comes in three solid color options, but I'm partial to this fun combo!
Madewell High-Waist Skinny Jeans (Size 31) – These are the jeans of the sale! They sold out in the early days in most sizes but I'm hoping they re-stock. I love the exposed button fly and high waist.  I haven't decided if I love them or hate them on me (the summer beer belly isn't helping). I would say if you are comfortable in skinny jeans to go for these!
Perforated Booties (10) – A fun alternative to your basic bootie! They fit true to size and are more forgiving than most boots because of the perforations on top – definitely not constricting!
Halfmoon Fringe Earrings – Super cute earrings! The color on this fringe is perfect for fall and I may have to order the black option as well!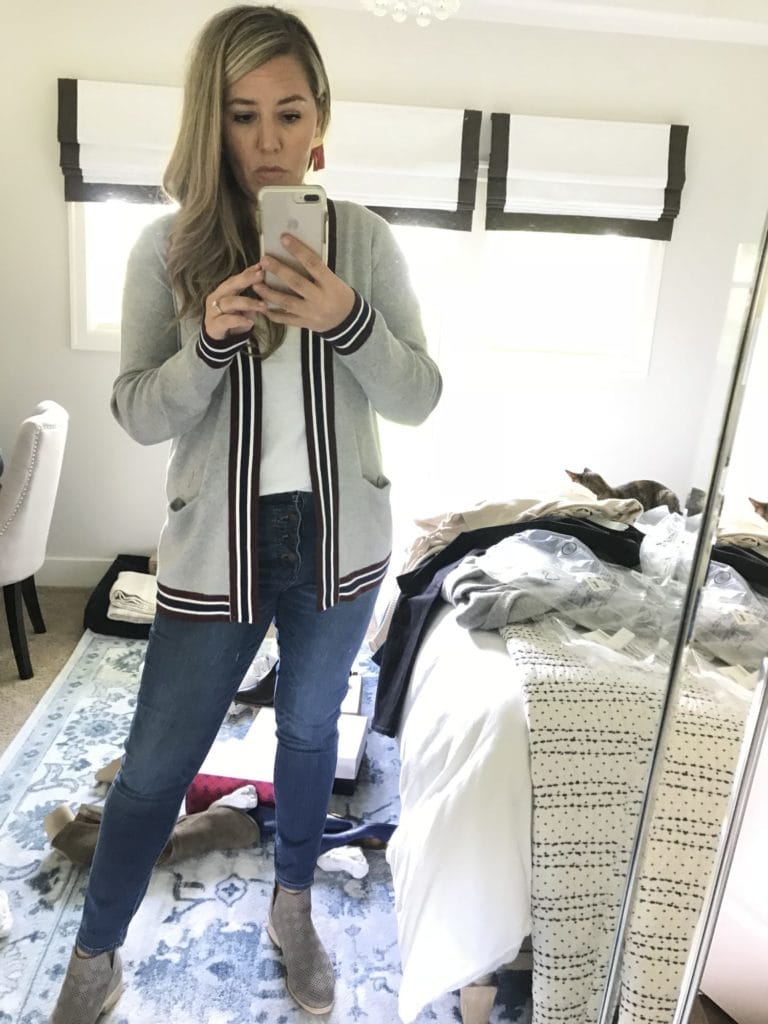 Hooded Cinched-Waist Cardigan (L) – This was a top seller last year for good reason! The cinch is a little high on the cardigan if you are taller, but other than that I love it.  It would be perfect for running errands or just lounging around! My mom also ordered this (she's a few inches shorter than me but has similar taste in clothing) and she wishes it were slightly longer for leggings. But she's also keeping it and loves it!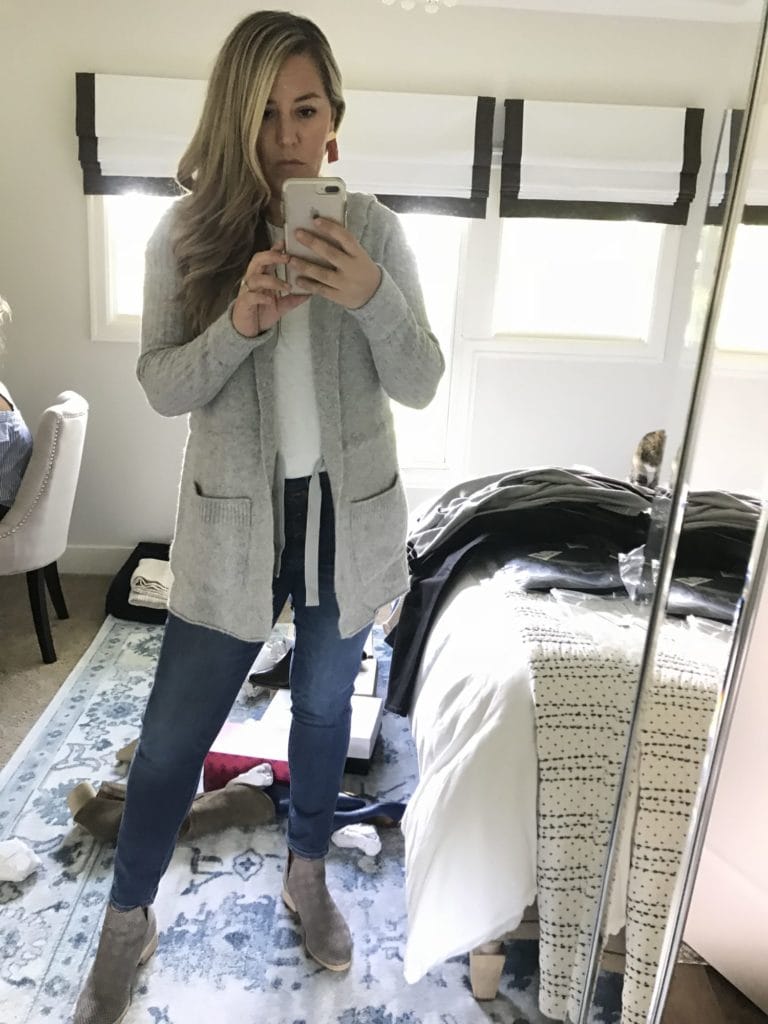 Barefoot Dreams Coastal Hooded Cardigan (L) – Literally a dream. I bought a shorter Barefoot Dreams cardigan last year and had to get another one! I wanted this to be a little loose, so the size is perfect! I love the added striped detail on this one, because it feels less robe-like to me than some of their other styles. I refused to buy anything from this brand for so many years ($$$) but once I did, I fully understood the hype. I see myself living in this one this winter!
Released Hem Jeans (Size 31) –  I've been wanting a pair of released hem jeans for nearly a year. But I've hated every pair I've tried. These are the exception and fit fairly true to size , but if you're between sizes, I'd order up.  I would likely only wear these (and most other skinny jeans) with a tunic or long cardigan.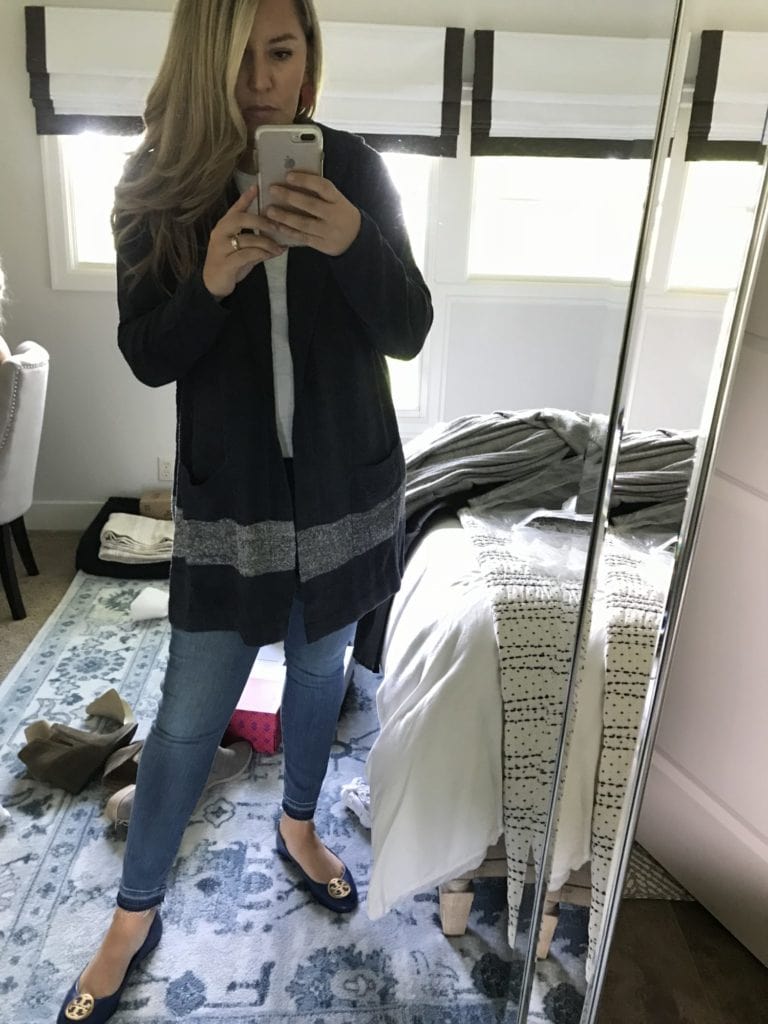 I hope you found all these fit tips helpful! There were a handful of other items I had ordered that sold out immediately so I got an email a few days later saying they couldn't fulfill my order. I'm hoping for a restock to grab one or two of them. Includes this jacket (in the mushroom color) and these shoes (in camel). I also got this throw (in ivory) and absolutely love it. It isn't super wide so that's my only complaint, but a gorgeous option if you've wanted one of these chunky woven throws for ages like I have!
Now, a few more of my favorites!
Nordstrom Anniversary Sale Women's Clothing Favorites
Simply click any of the images below to learn more about each item.

Nordstrom Anniversary Sale Shoe Favorites
Simply click any of the images below to learn more about each item.

Nordstrom Anniversary Sale Accessory Favorites
Simply click any of the images below to learn more about each item.

Nordstrom Anniversary Sale Beauty Favorites
Simply click any of the images below to learn more about each item.

Nordstrom Anniversary Sale Home Decor Favorites
Simply click any of the images below to learn more about each item.

If you would like to follow along on more of my home decor, DIY, lifestyle, travel and other posts, I'd love to have you follow me on any of the following:
Pinterest / Instagram / Facebook / Twitter / Google+
disclosure: some affiliate links used