Welcome to our 2019 fall home tour! Today I've joined Marty from A Stroll Thru Life, along with 30 other bloggers, to share my most recent home tour. If you're stopping in from Hymns & Verses, welcome! Isn't Doreen's home just made for fall?!
I'm still a tiny bit in shock that we're already this far into September. I shared my 2019 fall home decor trends the first day of August, and my fall design boards a few weeks ago, but somehow I still can't believe fall is basically here! I've made a few updates to my design boards that you'll get to see in real life today, and I hope you enjoy the changes and tour!
I should start off my tour with the following fact. As much as I love seeing beautiful homes with fireplaces overflowing with pumpkins and porches elaborately decorated, I keep things super simple in our home (especially for fall). Rather than fill our spaces with pumpkins, etc. I like to change up pillow covers, greenery and other simple items for the new season. I'm summer's biggest fan, so I need to keep fall simple and cozy to really appreciate it! I'll be sharing sources along the way, and if you are looking for paint color details, you can check out my Paint Color page with details on every room!
This post contains affiliate links for your shopping convenience. Click here to read my full disclosure policy.
Welcome to our home! As you walk into our entryway and down the hallway, I made a few simple updates for fall with a vase full of faux oak leaves and various textures in the the other pieces. It's nothing major, but has a totally different vibe than our summer home tour!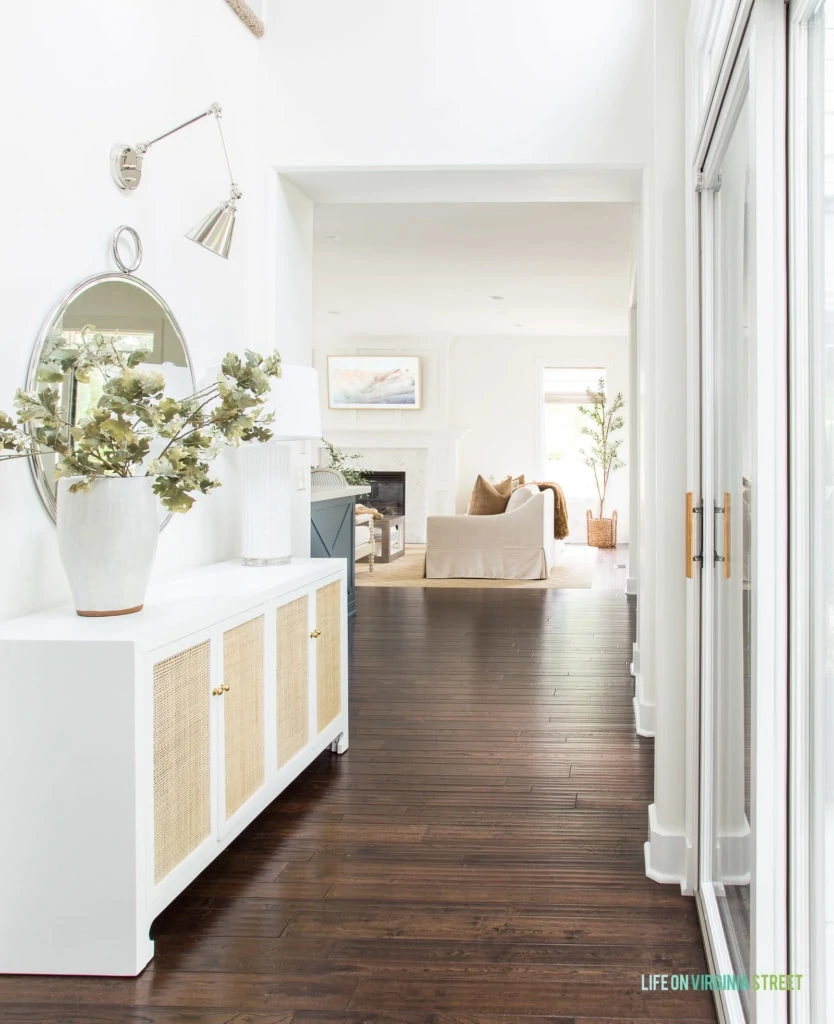 ENTRYWAY HALLWAY SOURCES: Cane Console Table | Similar Mirror | Vase | Similar Faux Oak Leaves | Swing Arm Sconce | Bamboo Lamp (old from HomeGoods)
Moving into our kitchen, you can see I incorporated a new color tone for the season: gold/camel/cognac! The striped runner I received from The House of Brooke & Lou inspired my fall kitchen updates and I couldn't love it more! It's an indoor/outdoor rug (which is great for kitchen traffic, spills and our cats!) but is also soft underfoot. And you know I can never say 'no' to a good stripe! The colors look so good against our blue island! They have so many beautiful items in their new fall collection but I can't get enough of this rug!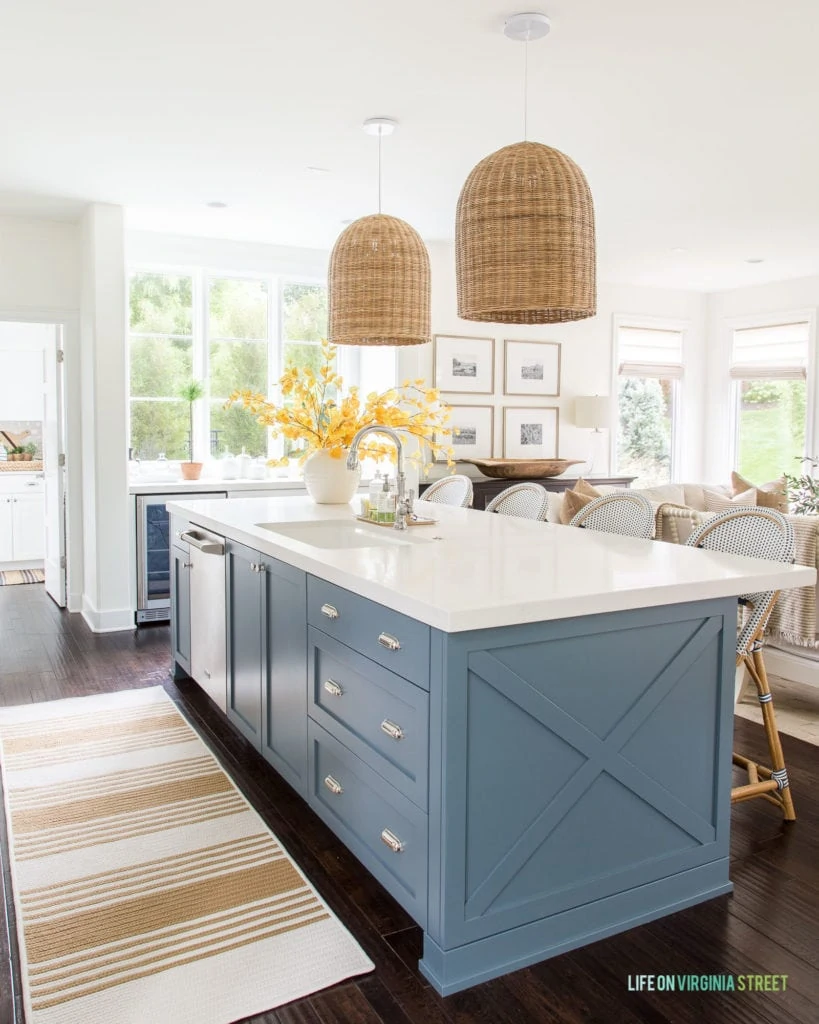 On the countertop near our window, I filled the space with a collection of white vases. This view is one of my favorites in our home as the colors outside change. It offers the best view of so many trees and plants and the colors are always changing! The white ceramic pieces seem like the best fit to not compete with what's happening outside.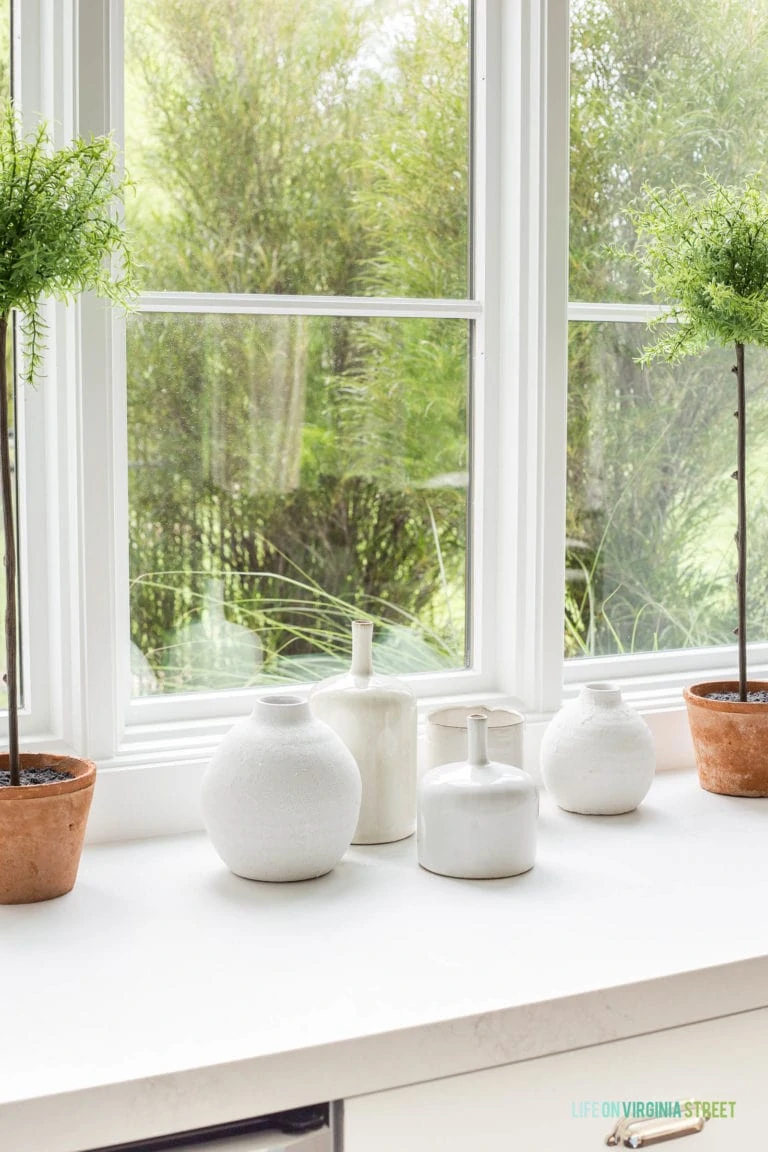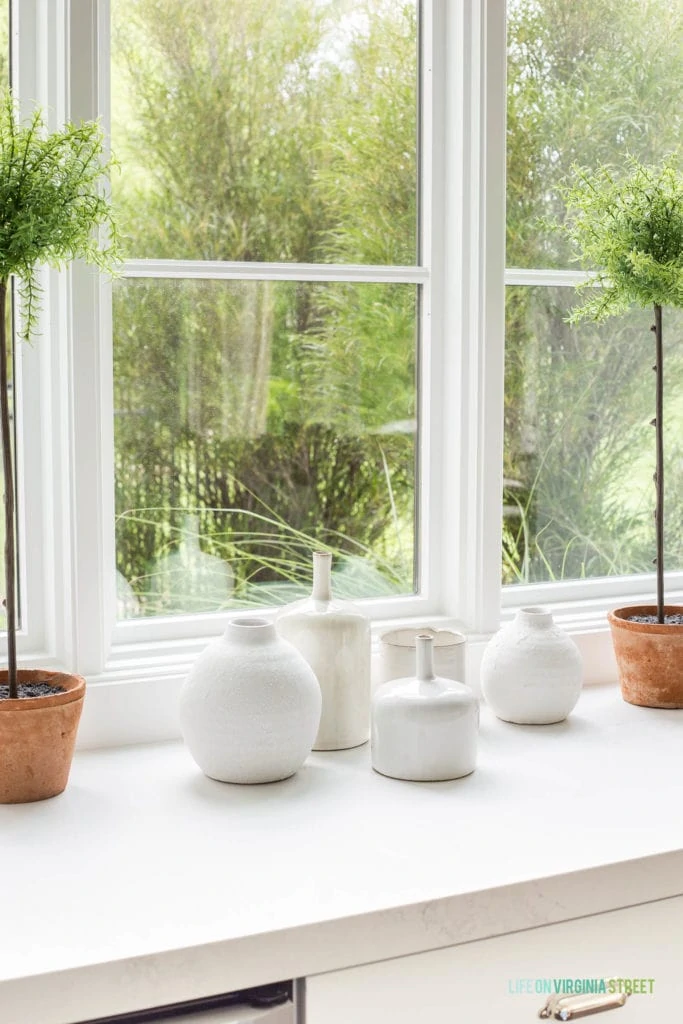 The faux aspen stems are a fun departure from the green I usually add to our kitchen. They remind me of growing up in Utah in the fall! Aspen trees were always one of my favorites and I'm so sad they don't love Nebraska humidity!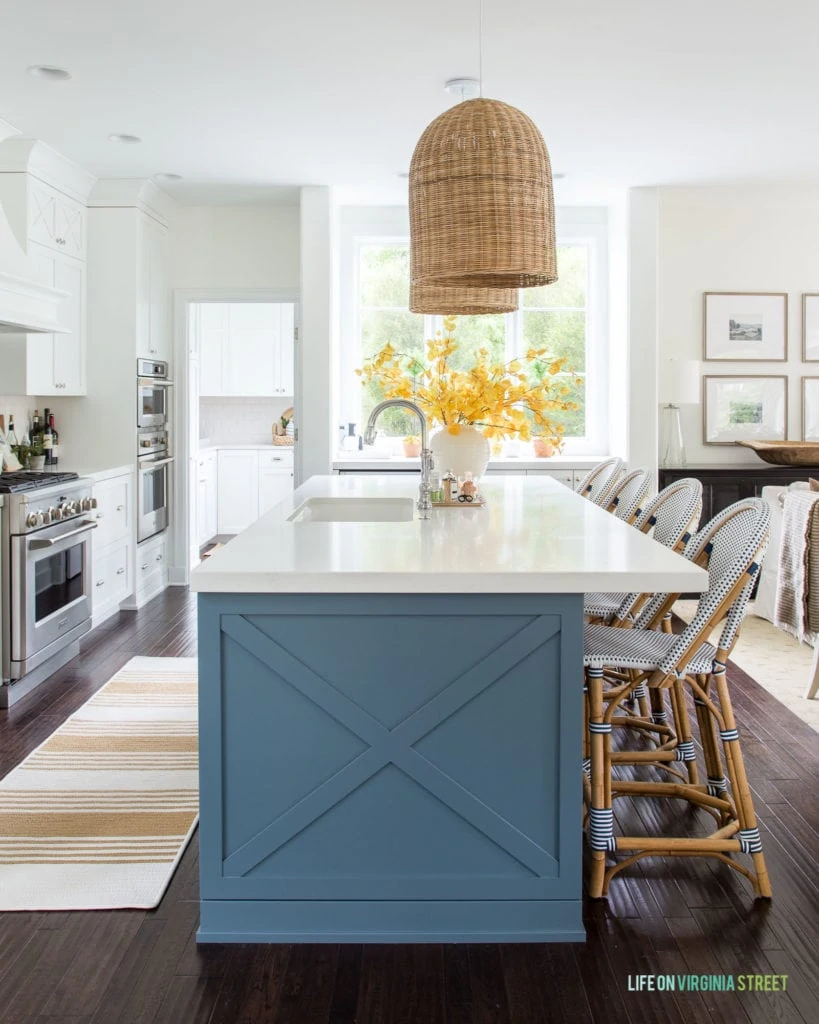 I picked up this Oranger Diptyque candle in Chattanooga last week as a birthday splurge. It smells so good and reminds me of all things fall! It has orange undertones with a bit of spice. It reminds me of the smell of a good Old Fashioned but in a sweeter way! And if you don't have one of these wick trimmers, I promise you'll thank me come the end of candle season. They make it so much easier to clip old wicks without dropping all the soot and ashes!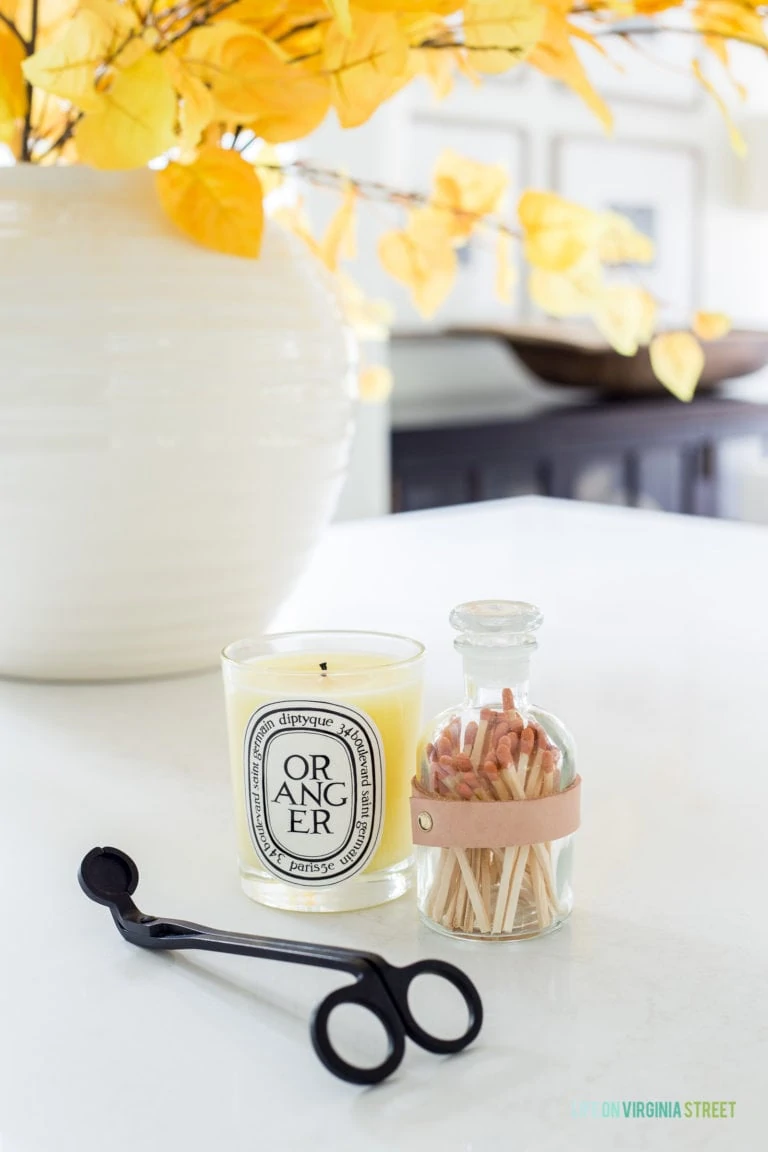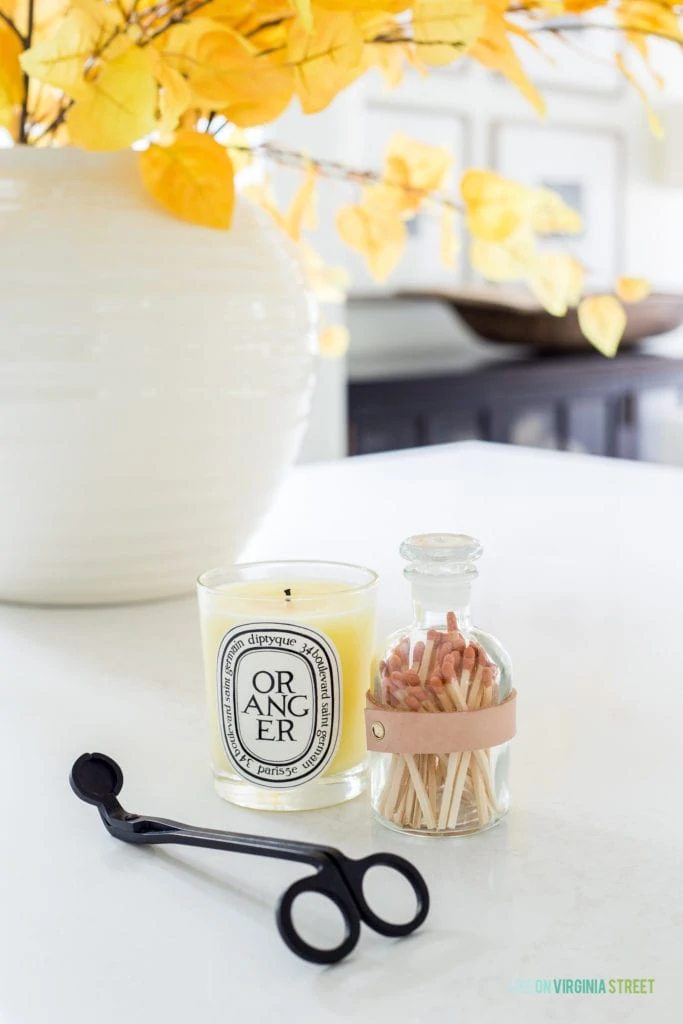 KITCHEN SOURCES: Basket Pendant Lights | Bistro Counter Stools | Striped Runner Rug c/o from Brooke & Lou | Similar Vase | Faux Aspen Stems | Topiaries | White Vases – Amethyst Home and Anthropologie (old) | Oranger Diptyque Candle | Wick Trimmer | Leather-Wrapped Matches Jar – Amethyst Home | Cabinet Hardware: Knobs and Bin Pulls
Our kitchen and living room back one another so I try to make sure their decor is cohesive. I didn't bring the yellow tones into the living room, but I think the warmer tones all work well together!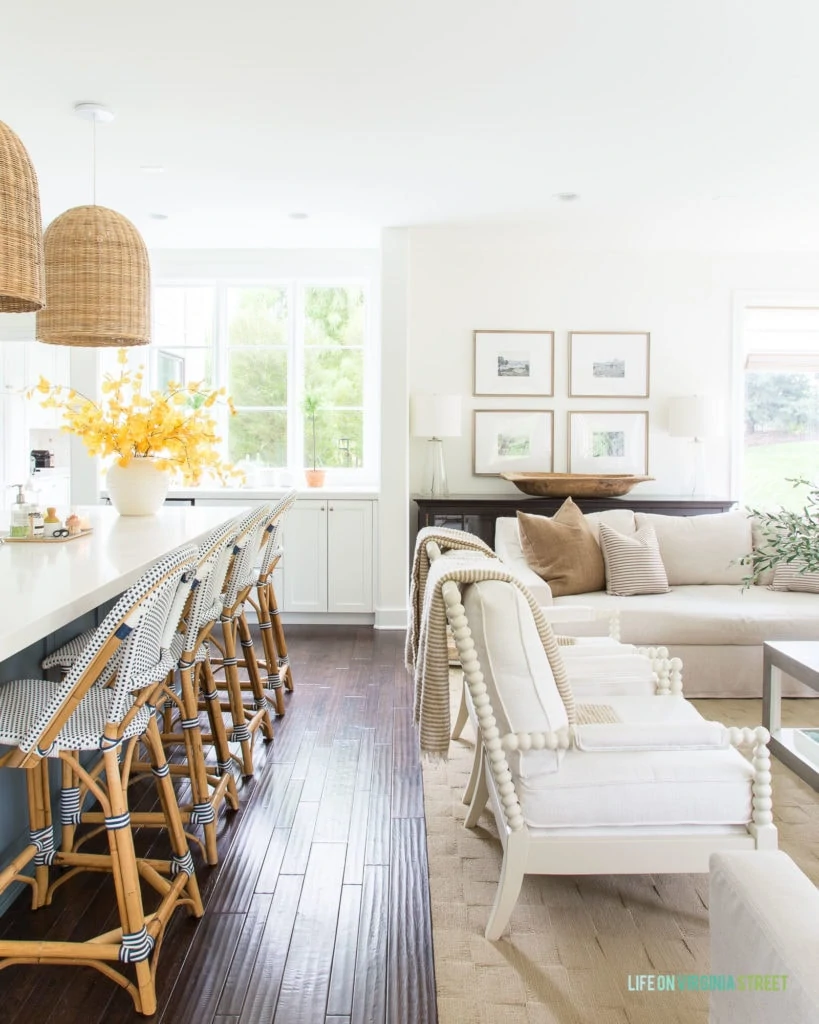 I used the same bronze linen pillow from last year and paired them with this striped pillow I found on Etsy, and I'm loving the warmth (and simplicity) they both bring to the space!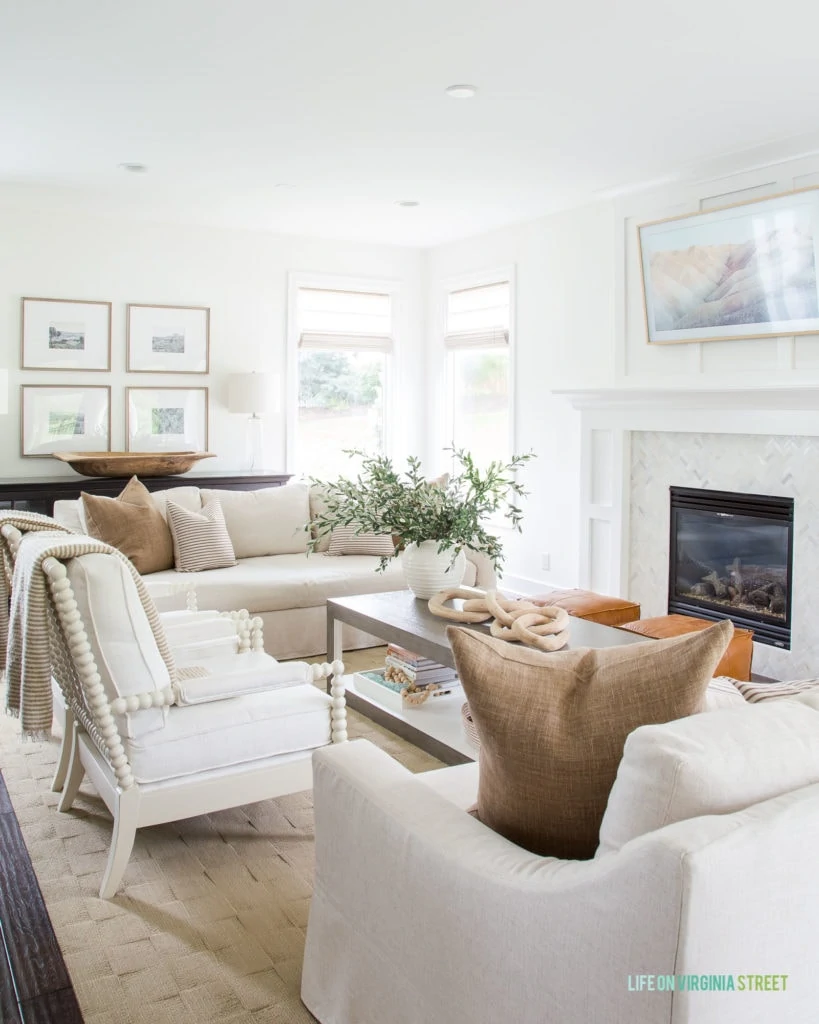 I added this gallery wall to our living room a little over a year ago and I love how easy and affordable it is to switch up the images seasonally! For fall, I simply re-used the black and white prints from our trip to Italy that I used last year.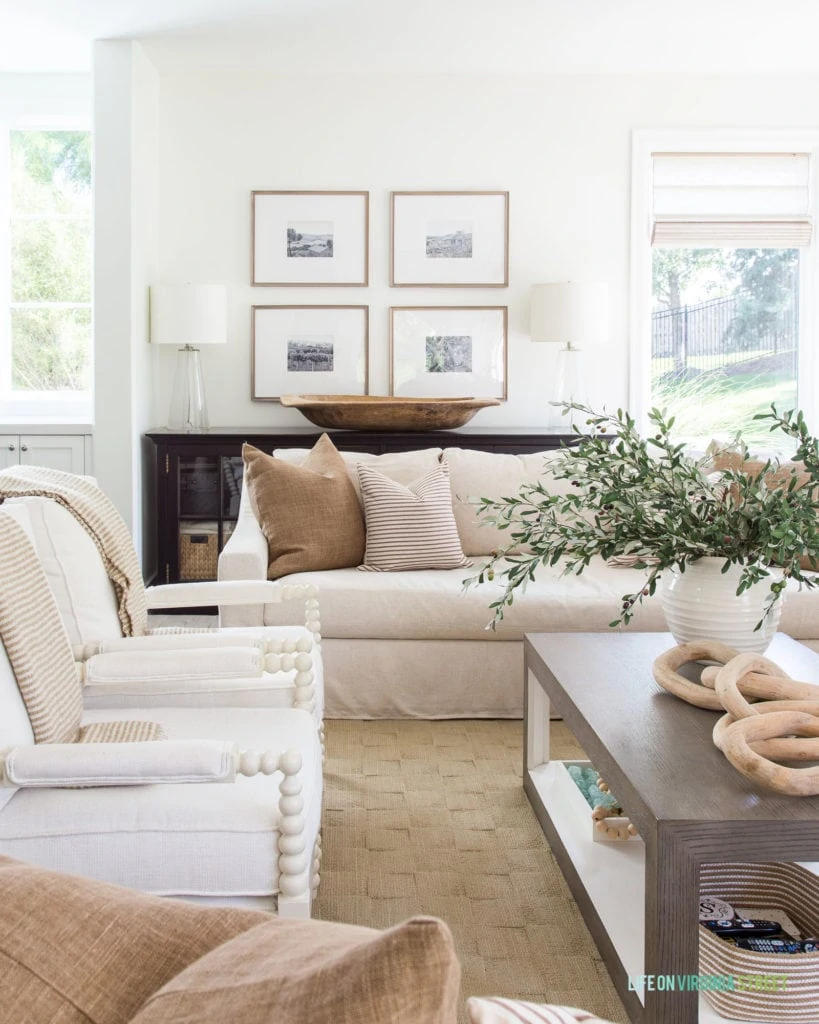 And fall wouldn't be complete without my faux olive stems! These are the largest and some of the most realistic options I've found so far.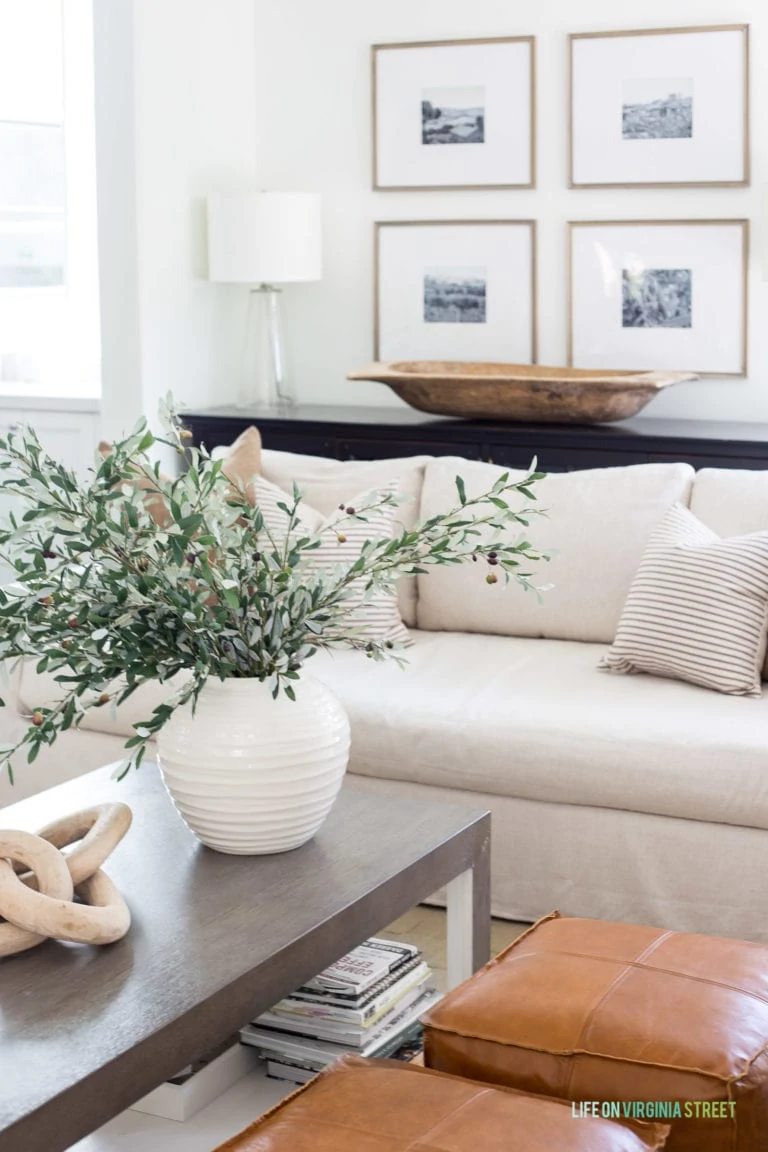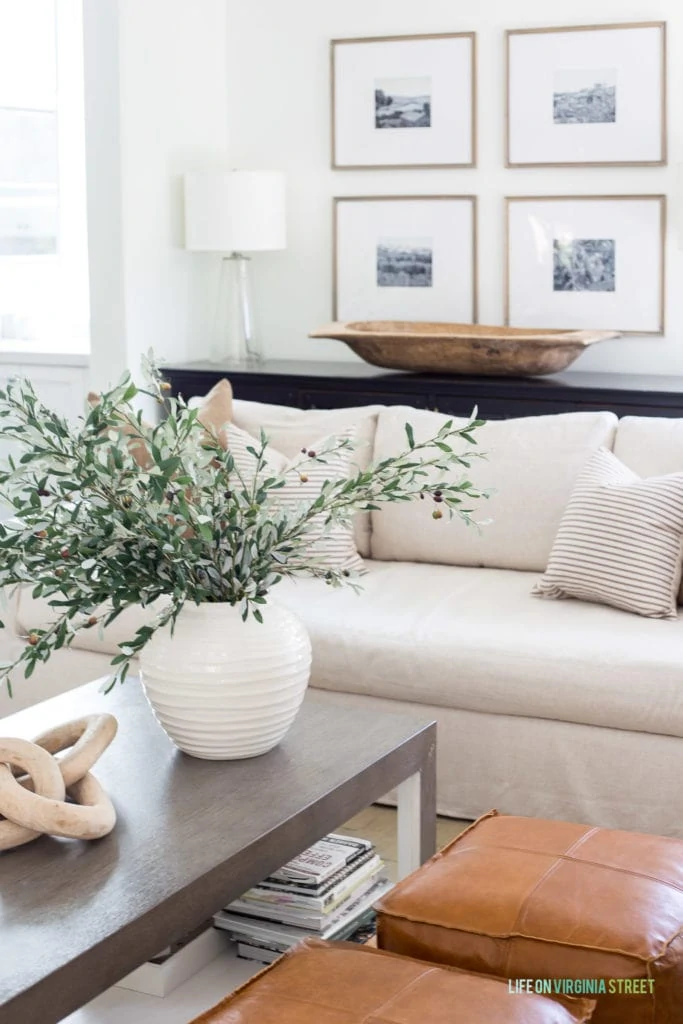 Lastly, this faux olive tree is one of my favorite purchases of the season. I love how streamlined it is!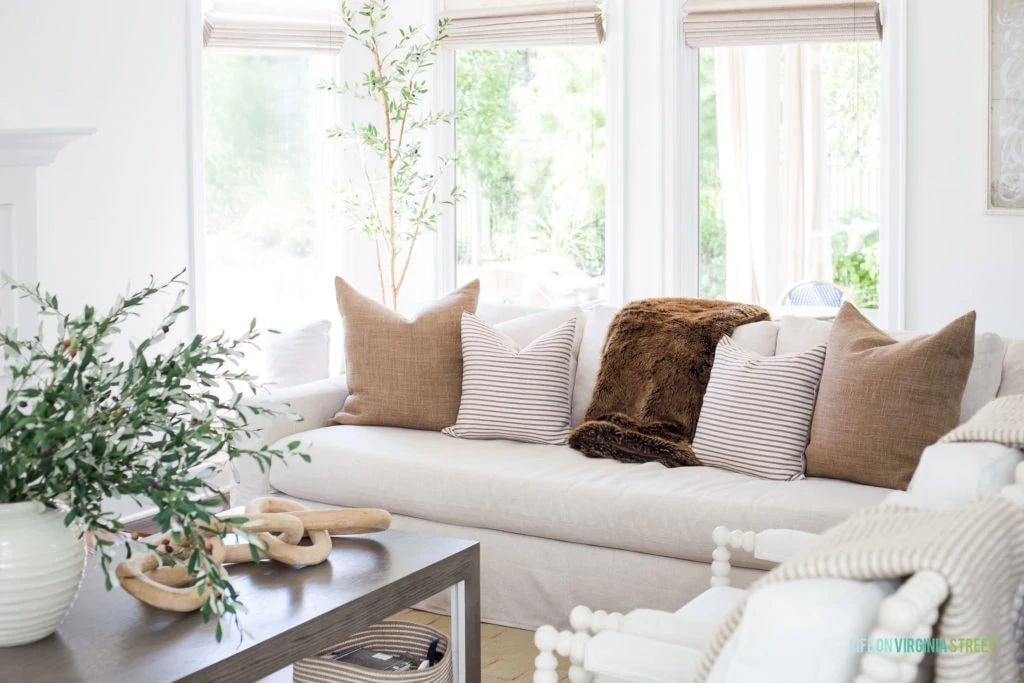 LIVING ROOM SOURCES: Linen Sofas | Spindle Chairs (similar here) | Coffee Table | Leather Poufs | Bronze Linen Pillows | Striped Pillows | Similar Wood Chain | Similar Vase | Faux Olive Stems | Gallery Wall Frames (similar here) | Wood Dough Bowl | Lamps | Faux Olive Tree | Faux Fur Blanket – Restoration Hardware (old)
As we moved into our dining room, the real star is our new striped rug (also available here) I received from Dash & Albert. It's also an indoor/outdoor rug and the colors could not be prettier. Not only that, it's one of the softest rugs I've ever walked on! The cats are equally obsessed and I'm finding them sprawled out on it daily! I kept everything else in the space super simple because I basically only want to look at the rug day in and day out. I love having a striped rug back in this space because I feel like it helps tone down the formal feel a bit. There's a reason why this brand continues to be one of my favorites of all-time!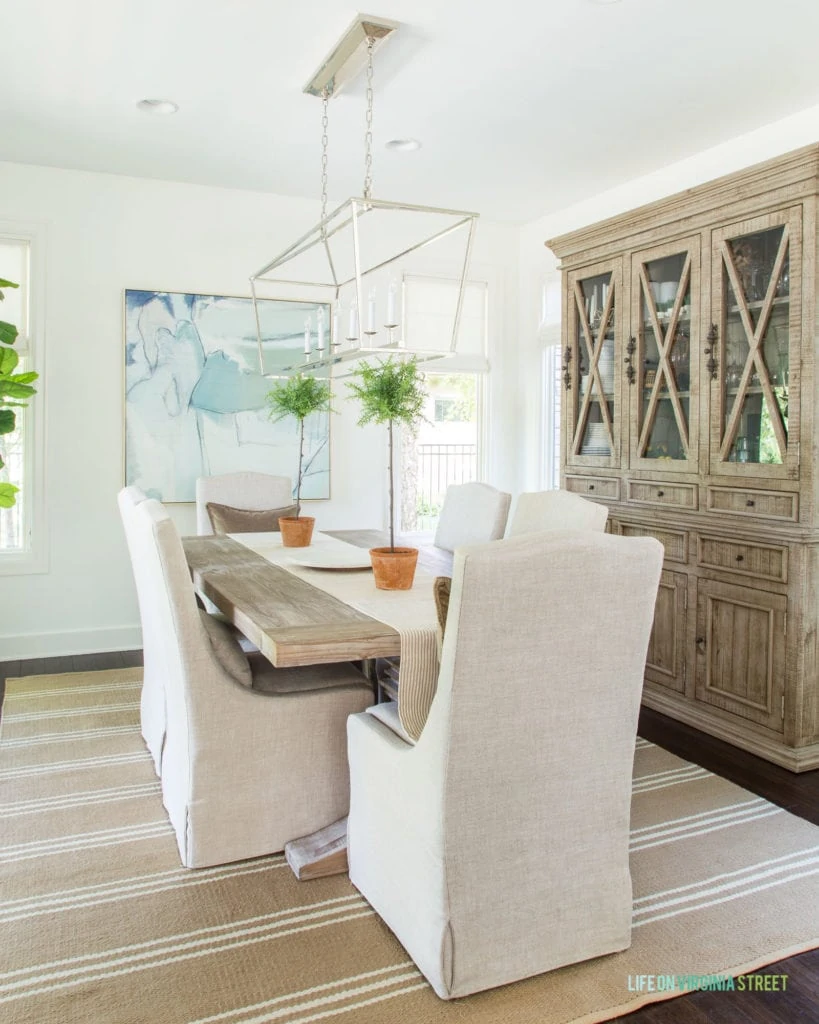 I had originally bought this vase thinking it would work well on my kitchen countertop. Turns out it's a beast and works better as a planter. I'm loving it paired with our faux fiddle leaf fig tree! I've always paired the tree with a seagrass basket in the past, so it was fun to change up the look a bit!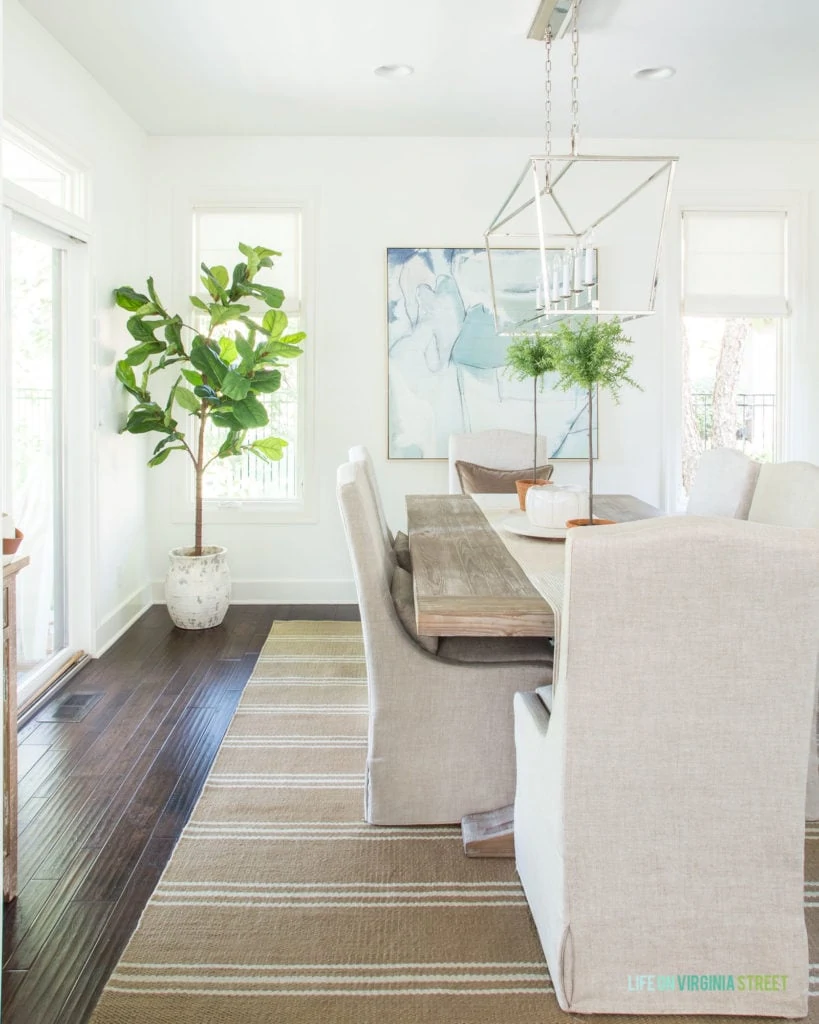 DINING ROOM SOURCES: Dining Table | Linen Dining Chairs | Striped Rug c/o from Dash & Albert (also available here) | Chandelier (look for less here) | Velvet Pillows | Striped Table Runner | Topiaries | Pumpkin Shaped Serving Bowl | Marble Lazy Susan | Hutch details | Abstract Art | Faux Fiddle Leaf Fig Tree | Ceramic Planter
As we move upstairs to our master bedroom, I made a few simple updates since the reveal post this spring! The overall vibe is very similar, but with a bit more texture and dark accents for fall.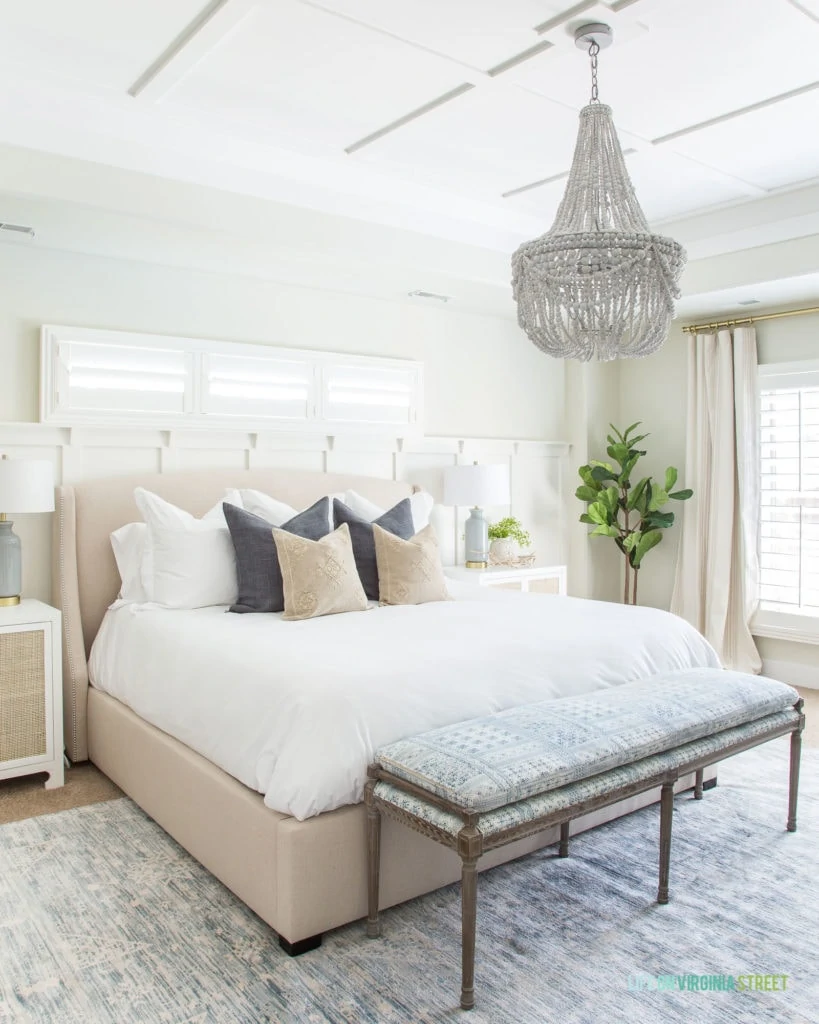 I bought this bench in January after eyeing it for a few years. It's every bit as perfect as I imagined it would be. It just looks terrible with the rug our friends gave us when they moved to use as a placeholder 😉 But, 9×12 rugs are no joke to order, so I'm keeping this one here until we find the perfect alternative!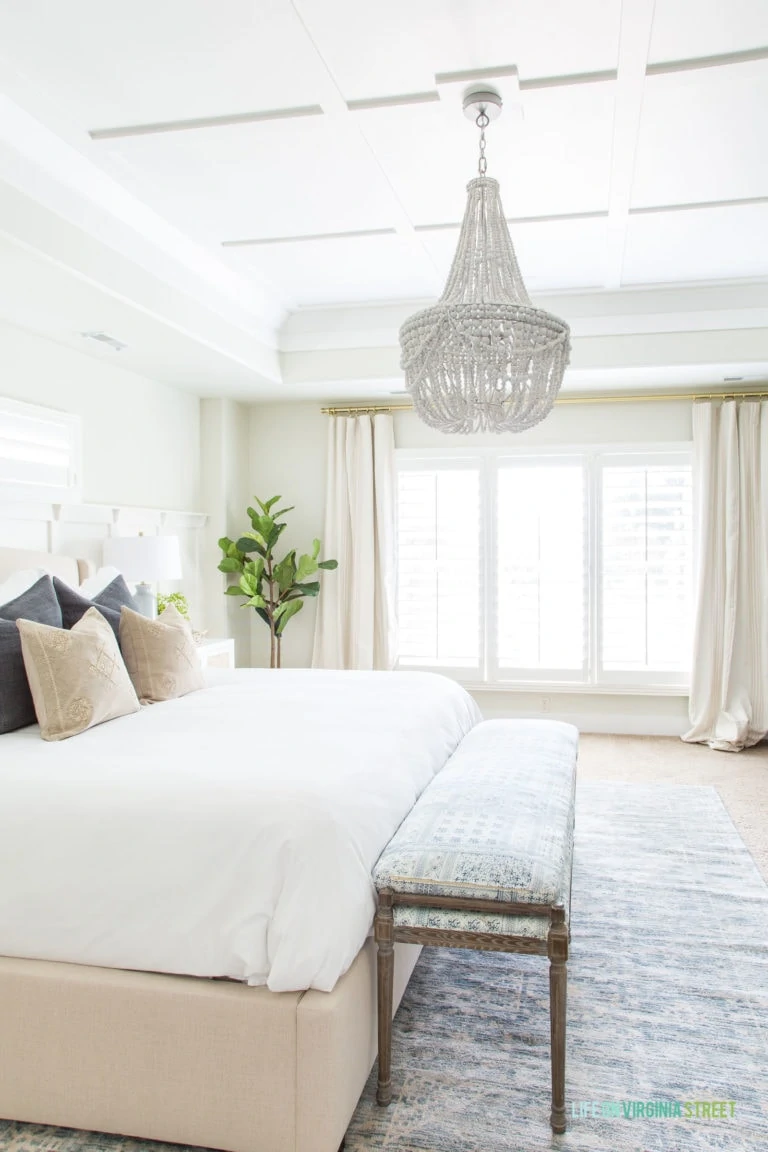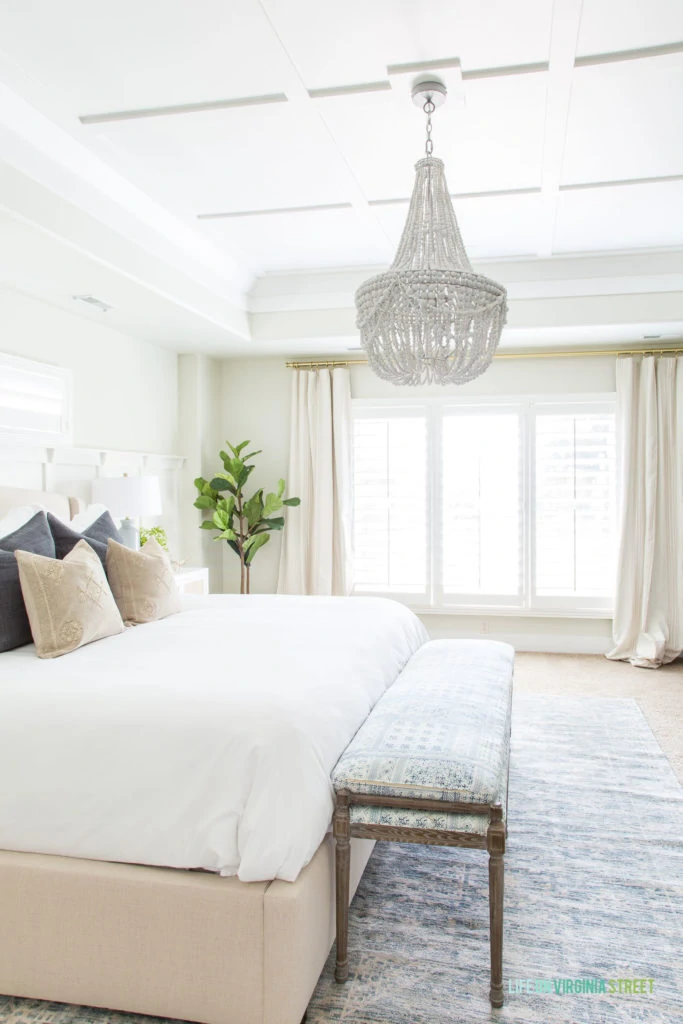 It's possible I'll never love another piece of furniture as much as I love our cane nightstands. I love the combo with these affordable USB lamps, the manzanita branch, and speckled vase with faux maidenhair fern. Basically all of my favorite textures!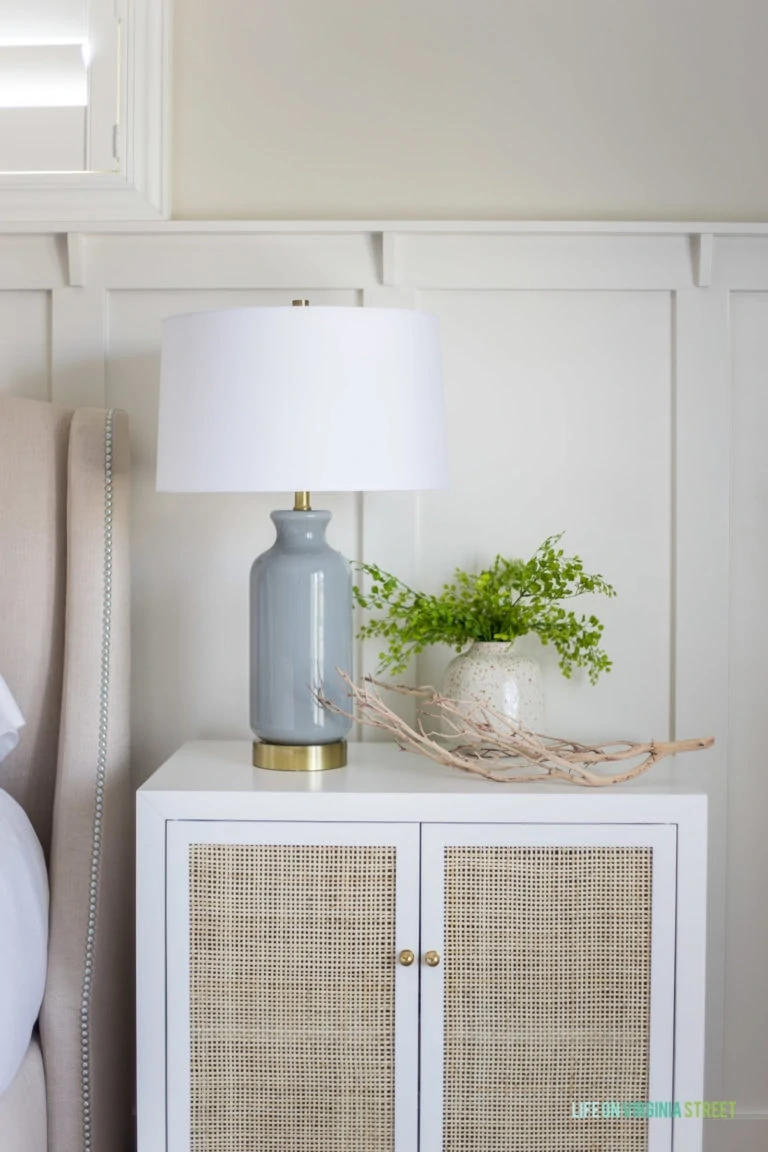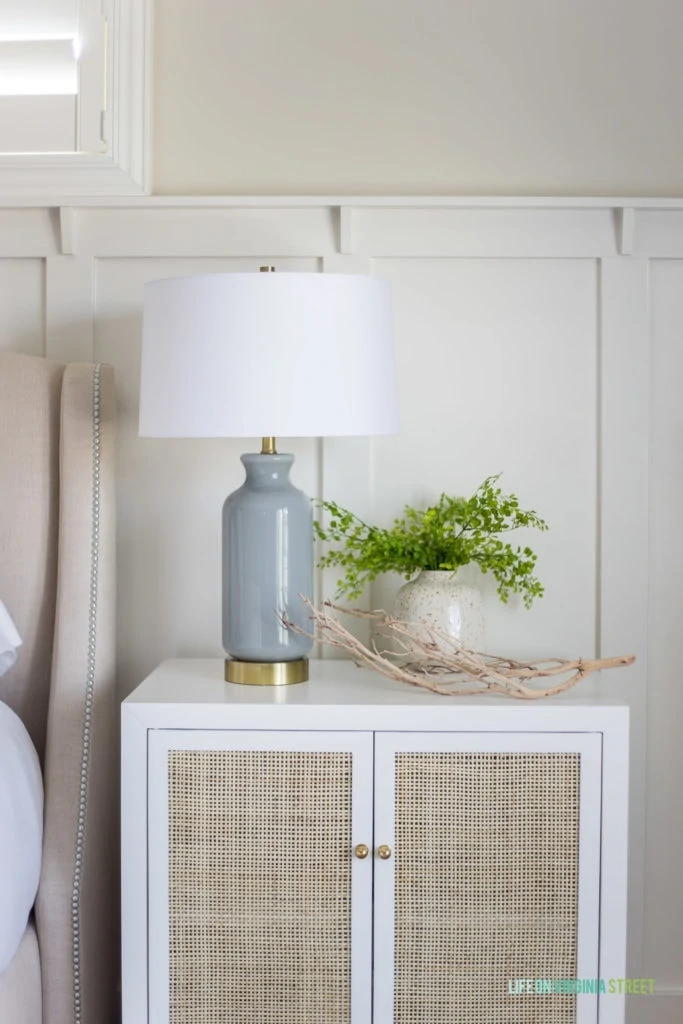 I'm still every bit as obsessed with our wood bead chandelier as the day we installed it. It makes me smile every time I walk in the room! And I can't get enough of these embroidered pillows for fall. They're even better in person!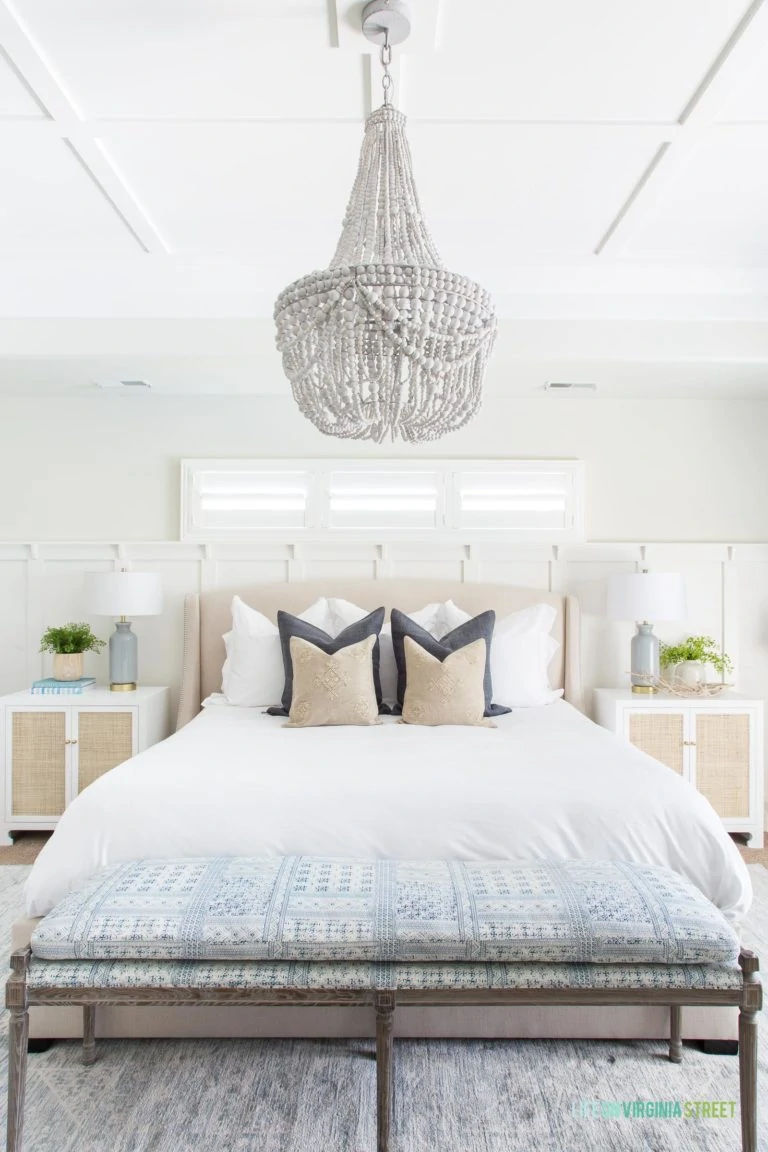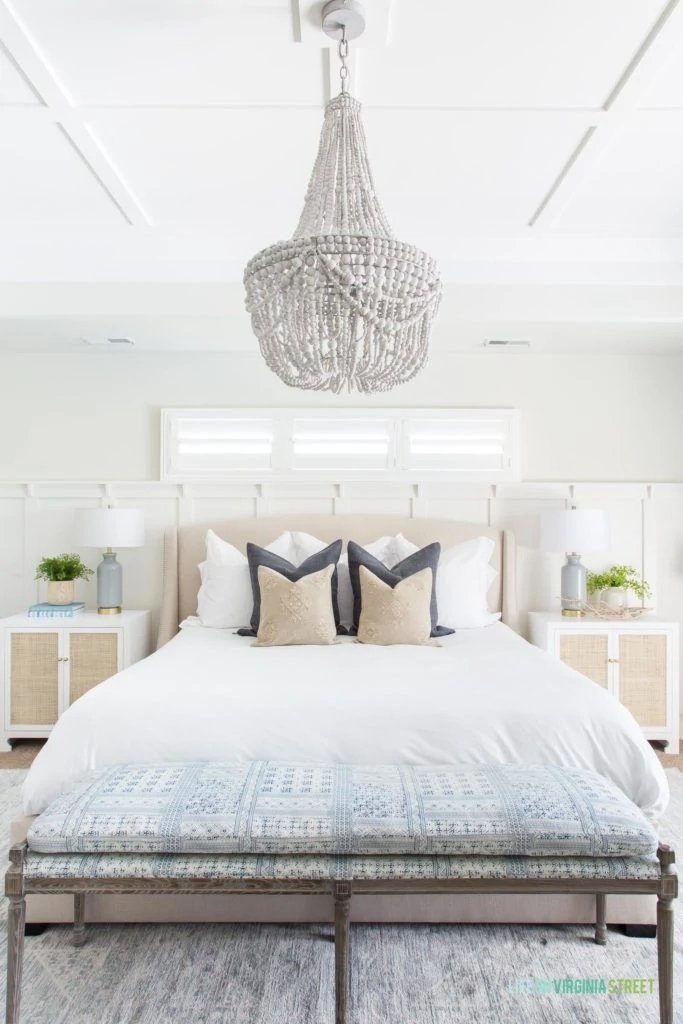 MASTER BEDROOM SOURCES: Similar Bed | Wood Bead Chandelier | Bench | Duvet Cover | Linen Pillows (color: Gunmetal) | Embroidered Pillows | Striped Curtains | Gold Curtain Rod | Faux Fiddle Leaf Fig Tree | Cane Nightstands | USB Ceramic Lamps | Rug | Manzanita Branch | Spotted White Vase
Moving down the hallway to our den, I made a few other fun changes for fall! Our den reveal earlier this year was one of my favorite room makeovers ever! And since I hadn't touched the space since the May reveal, it was fun to make a few simple changes for fall.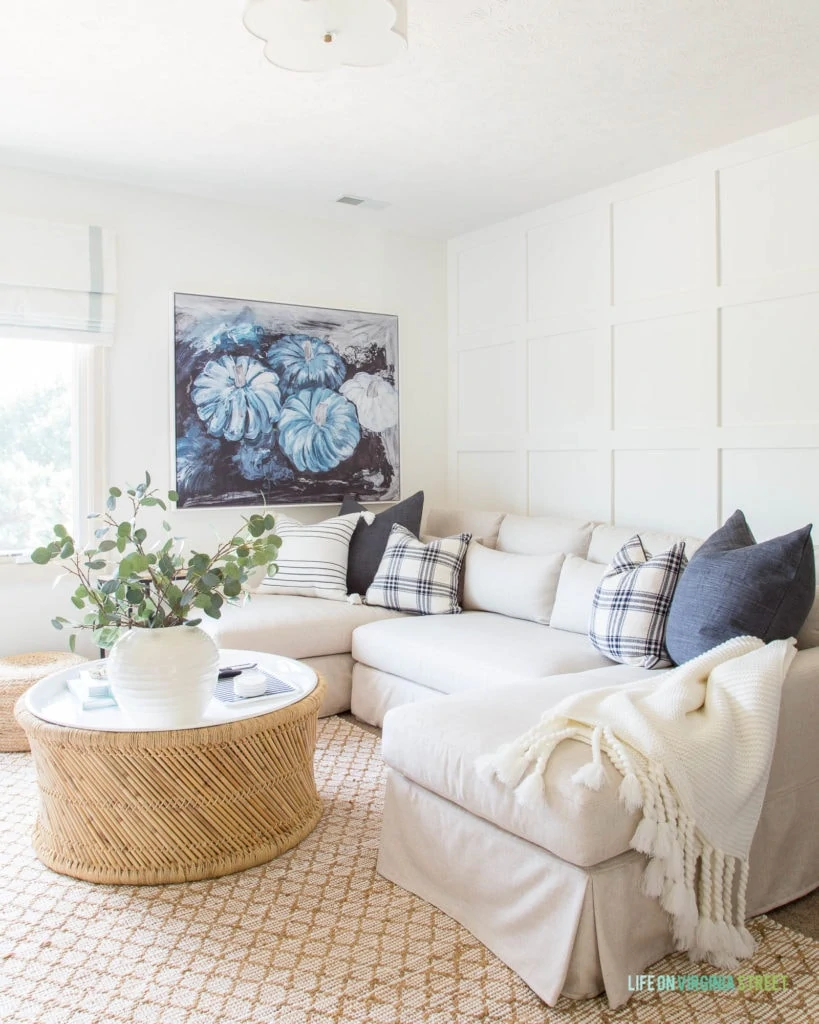 After using the room for a few months, we ultimately decided a standalone lamp made more sense than a small side table with a lamp. This wood tripod lamp was the perfect solution and looks like it was made for the space!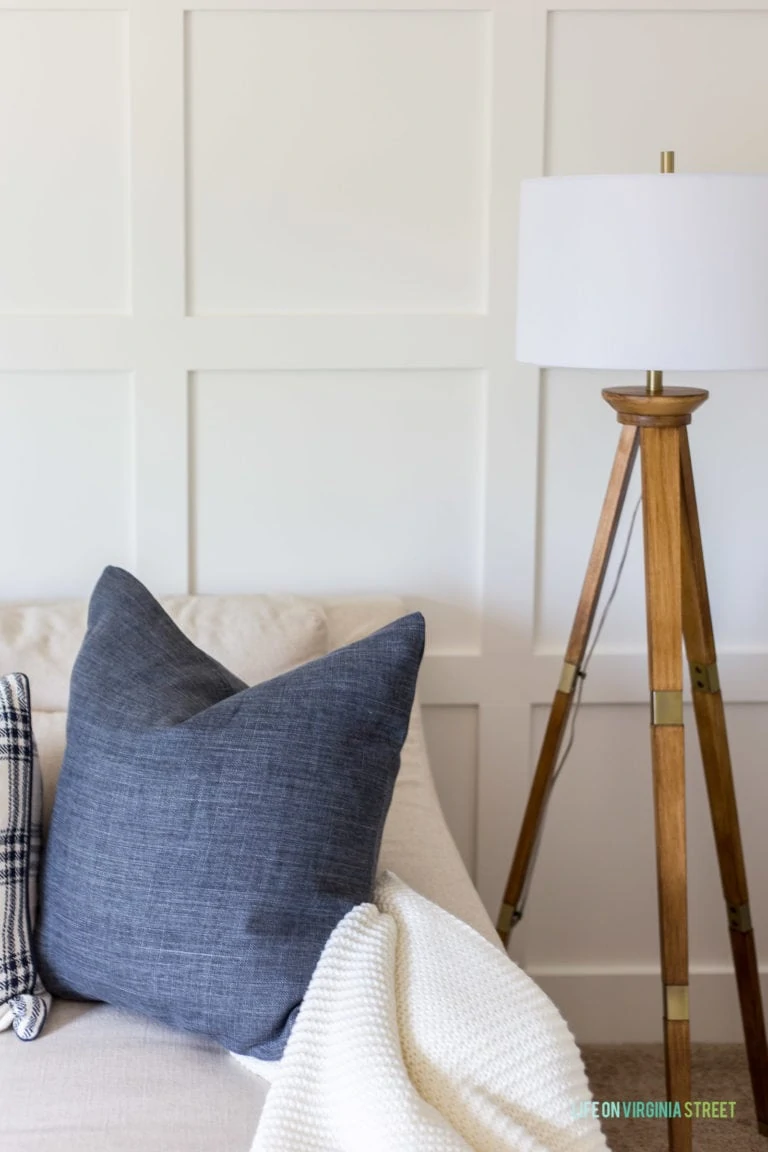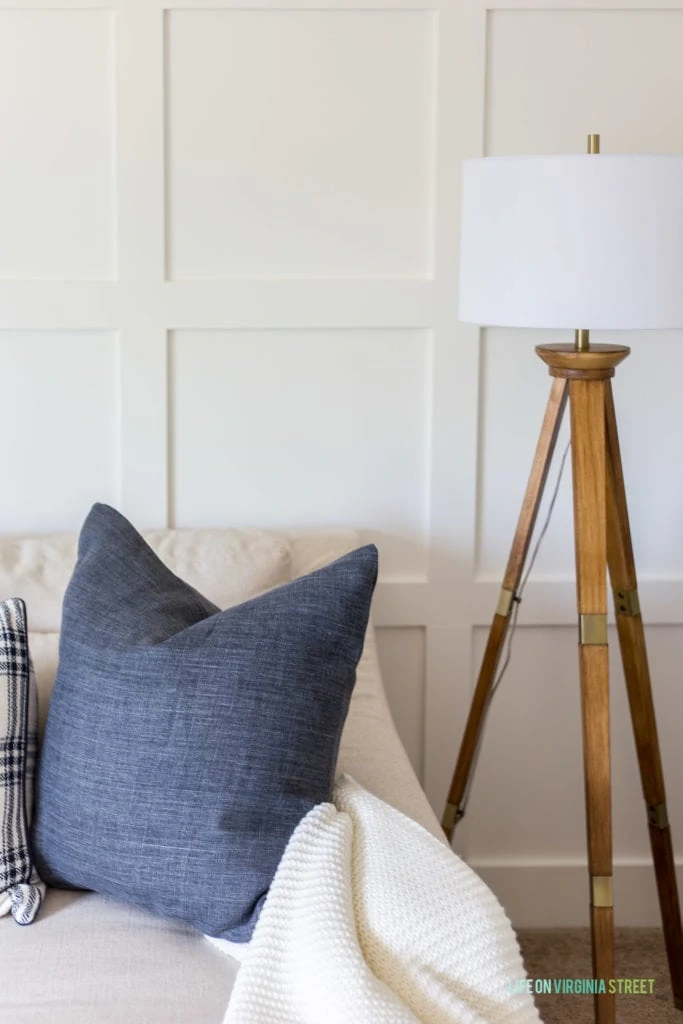 I've had these faux eucalyptus stems for a few years now and every time I bring them out, I'm still surprised by how life-like they are! They work for nearly every season and save me a trip to Trader Joe's.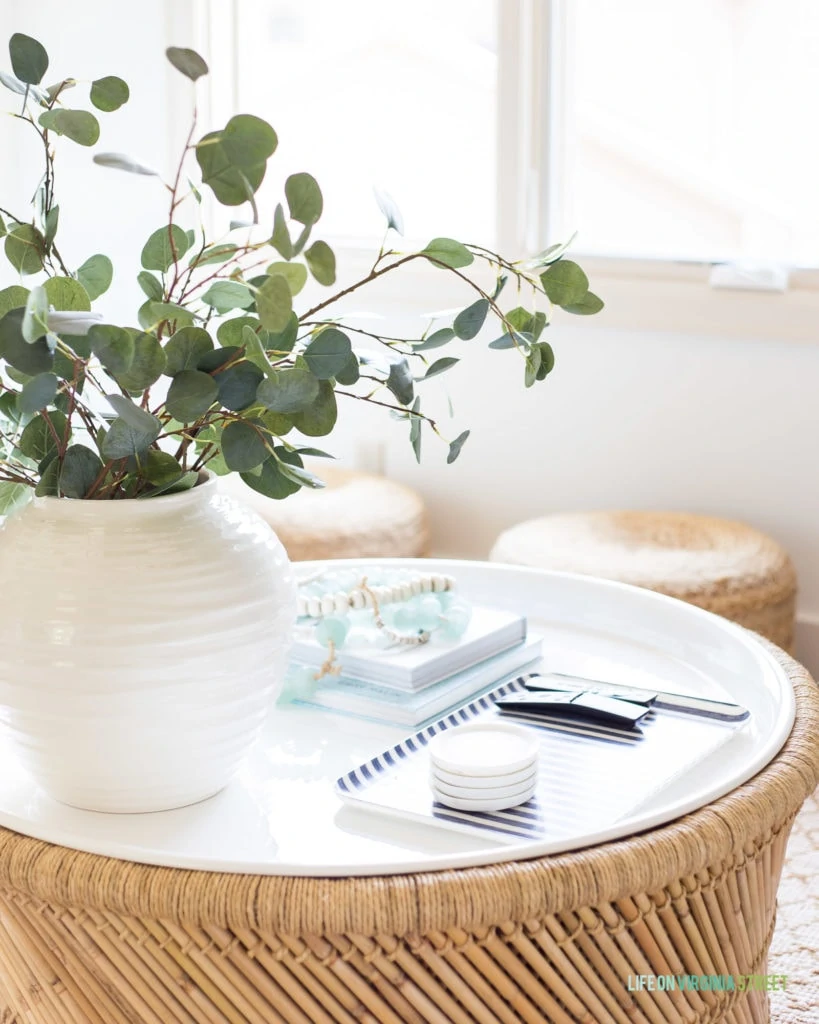 I used to hang this blue pumpkin art in our office, but it felt like it was made for our den! I'm not sure I'll ever be able to decorate this room without some touches of blue – regardless of season!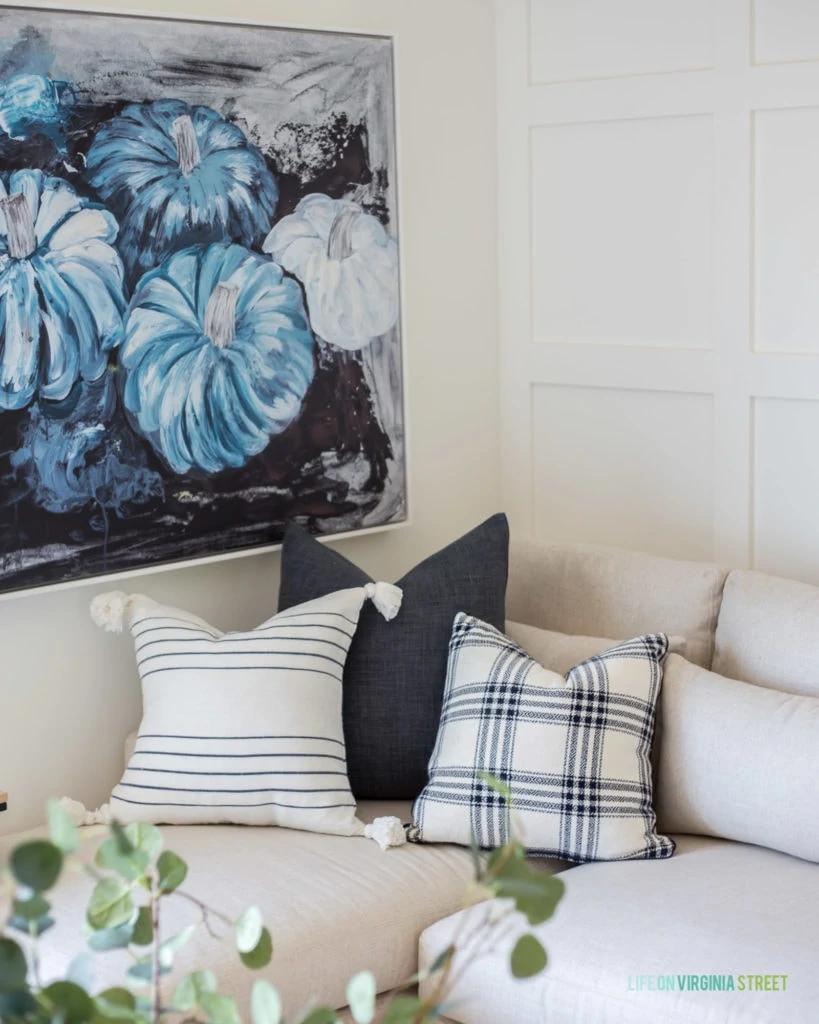 I love how cozy this room feels every time I enter. And I'm loving this new look for fall! As a football widow, I feel like this room is about to get more use than it ever has in the past!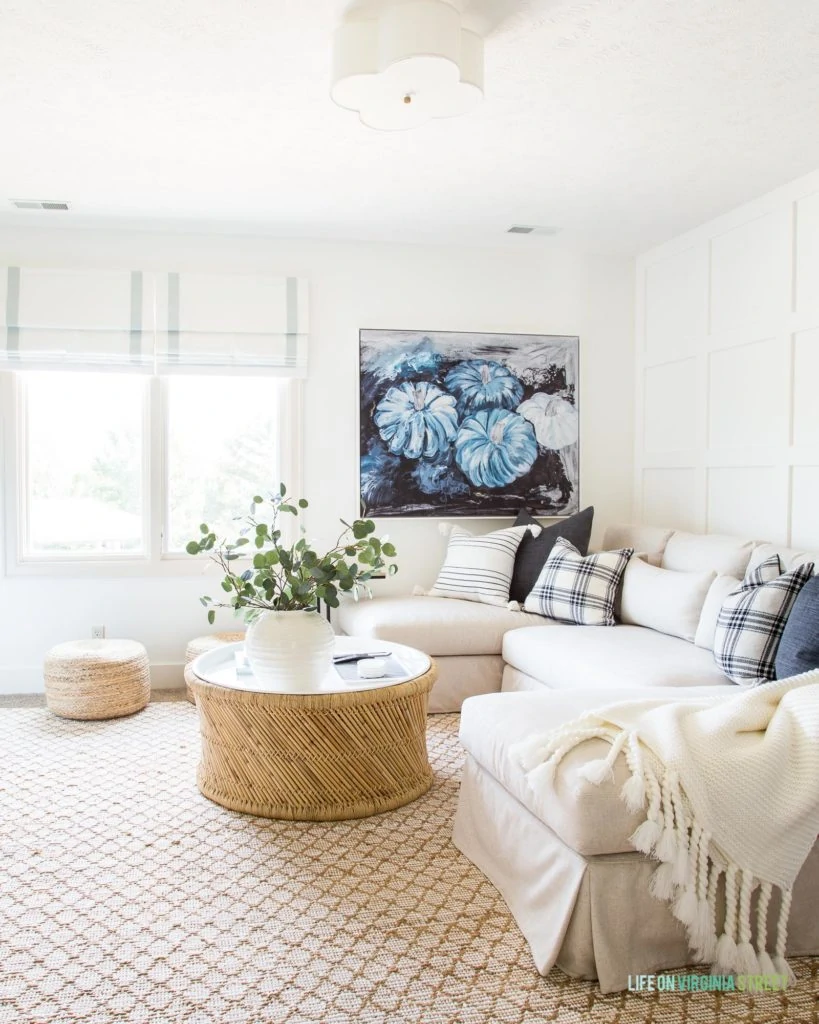 DEN SOURCES: Linen Sectional | Coffee Table | Rug | Blue Pumpkin Art | Jute Poufs | Roman Shades | Scalloped Light Fixture | Similar Vase | Faux Eucalyptus | Linen Pillows (color: Gunmetal) | Striped Tassel Pillow | Plaid Pillow (old from HomeGoods) – similar here and here | Chunky Tassel Throw (old) – similar here | Wood Tripod Lamp
I hope you enjoyed this year's version of our fall home tour! The next stop on the tour is Thrifty & Chic. Alicia's home always looks so beautiful, regardless of season and her dining room this year is no exception! Be sure to also visit all the other stops on the tour for even more inspiration!