If you follow me on Instagram, you saw that over the weekend, I started planning and laying out my summer pillows for the living room. Back in April, I ordered some pillow covers from H&M (at $12.95 and $17.95 it's sometimes hard to justify making your own).
Here's the image I shared on Instagram with a preview of what I have so far: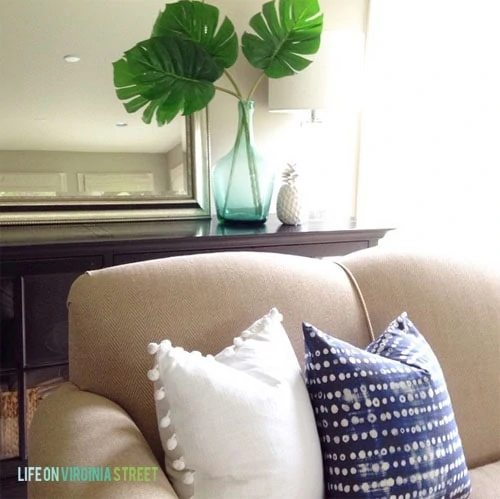 White Pom Pillow Cover / Blue and White Pillow Cover
I've known for a few weeks that I want to add a floral to the mix, but haven't been able to find "the one". I was hoping for something with a white background with various shades of blue and some green to tie in other elements for the room.
Unfortunately, I made the mistake of spending a few hours yesterday morning pouring over fabrics online. I came across one that I can't get out of my head. The problem is, it costs $200+ per yard, with a minimum of a two yard order. No way can I justify spending $400+ for a few new summer pillows for the living room. May I present the summer fabric of my dreams – Schumacher Citrus Garden in Pool. I've seen this fabric in other colorways before and liked it but knew it was never something I would use because of the bold colors. However, the Pool colorway is perfection in every way. The blues, the greens, the lemons. Perfection!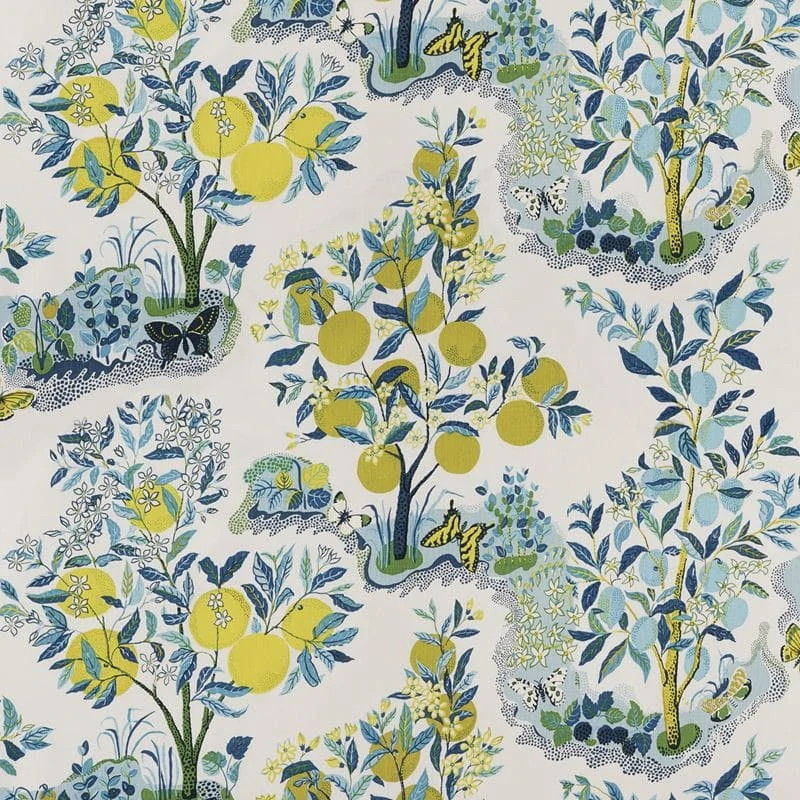 I'm pretty sure I'll be dreaming about this one until I stalk the internet for the rest of my life and find some at a lower price to buy!
After searching for lemon tree fabrics, I came up short trying to find anything that looked even remotely similar. Dang that Schumacher for always making fabrics I have to have but can't afford. I did find this beauty as well, but of course, also a Schumacher (and I can't locate anywhere to buy it):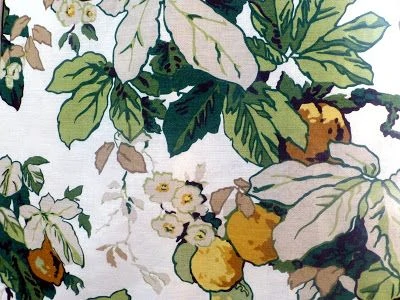 After coming up short on any florals I really loved, I then decided to turn to this pretty paisley from Lacefield Designs: Bindi Kelly. But…..it was sold out.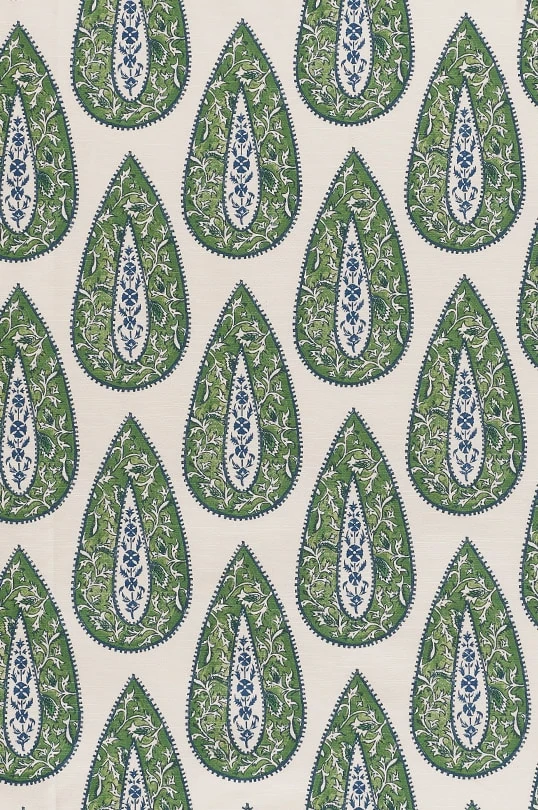 I ended up buying this Duralee John Robshaw Kedara fabric. It's a pretty blue paisley with green accents. It didn't have as much green as I would have liked, but I was able to find it at House Fabric for $26.08 per yard in lieu of the $60+ I saw it for on most other online stores. Knowing how long it can sometimes take me to find the "perfect" fabric, I decided to move forward with this one so that it wasn't suddenly Christmas and I still didn't have summer pillows. I think the scale will work well with the covers I already have.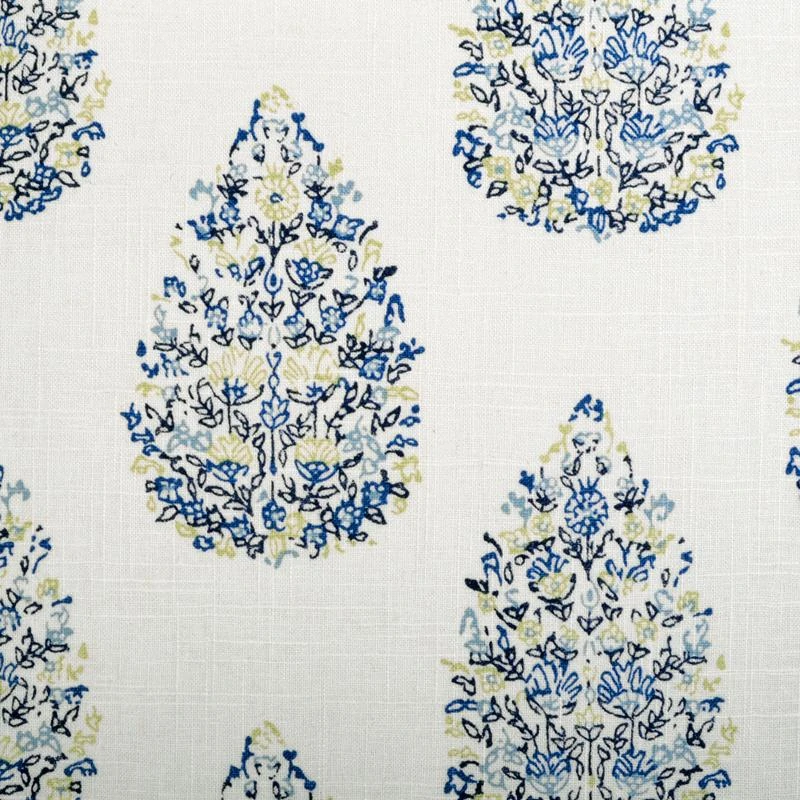 I also added a yard of this Doodle Indigo print to my cart. At $12.71 a yard, I thought I could get two or three 18″ pillows out of it for another fun accent pillow.
This is the first year I'll be changing out my pillows for the season, but that is the beauty of already having all the pillow forms. I can swap up my covers at will with no extra storage required 😉 With the long holiday weekend next week, I'm hoping the fabric will be here so I can get everything sewn and finished up! Just in time for the start of summer!
I've also want to get a statement piece of art above the long black credenza behind the couch in the first photo above. I currently have a mirror on it that worked well in our last house, but I feel like the space needs art in this house. You may remember a years or so back I was obsessed with the Thom Filicia Warm Memories canvases (Warm Memories I and Warm Memories II). I still love them, but also love there are now a lot of similar pieces from different artists at a lower price point.
I am loving a lot of the art lately at One King's Lane. I feel like they do a beautiful job of curating their pieces. So much so that I find I love multiple pieces for the same space. This weekend I fell in love with this triptych piece at but can't justify the price (I would need the largest size) and I worry it might be a bit too white.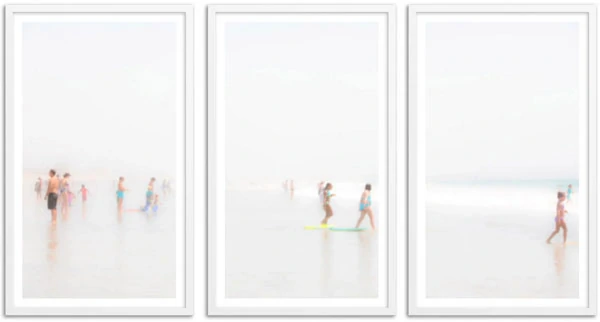 Here are a few others I liked: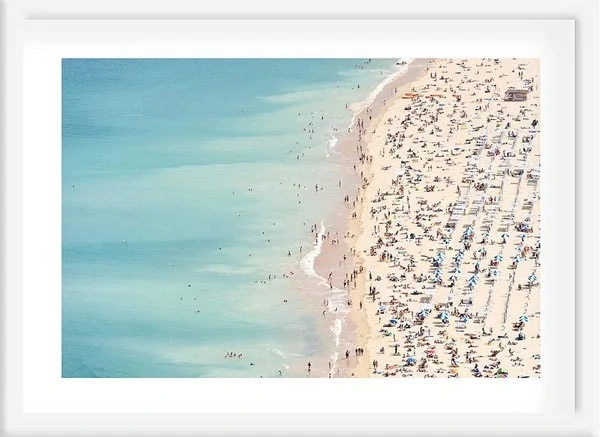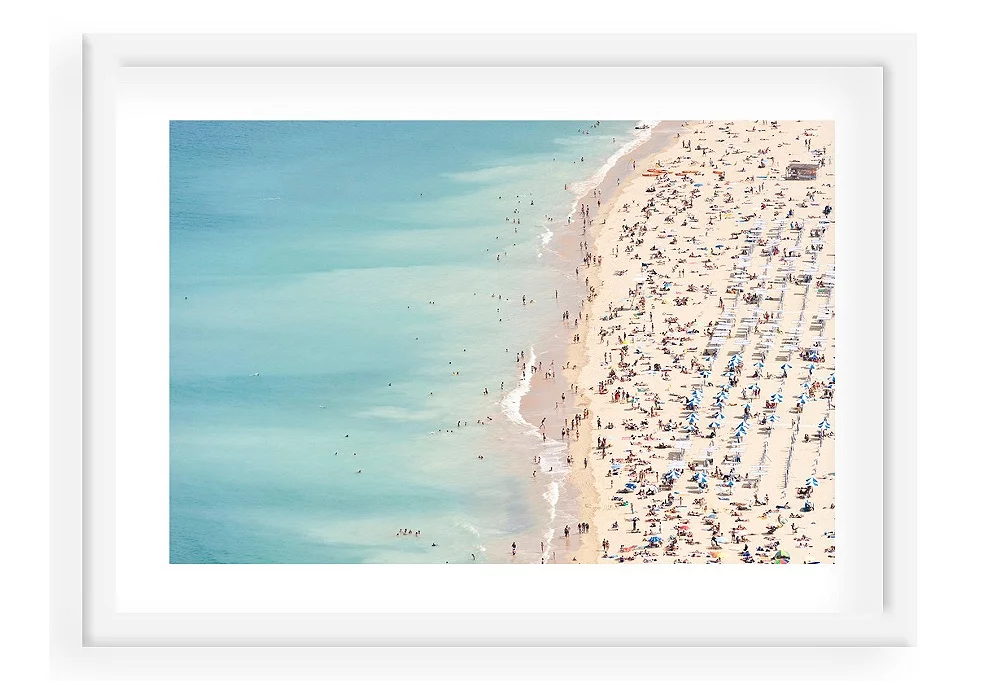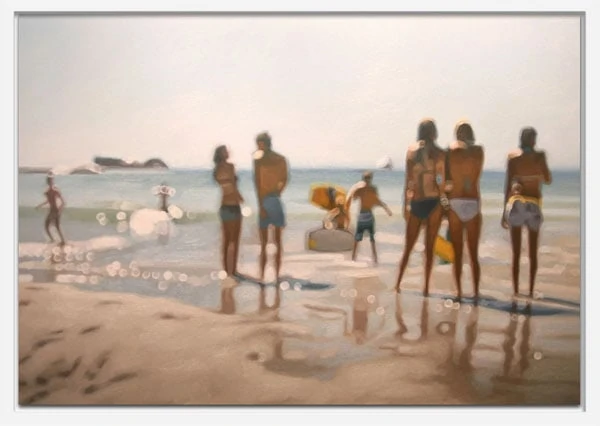 I think these all work best when they are extremely large. I also may attempt a DIY like this large-scale photo art that Danielle Oakey did instead of buying something.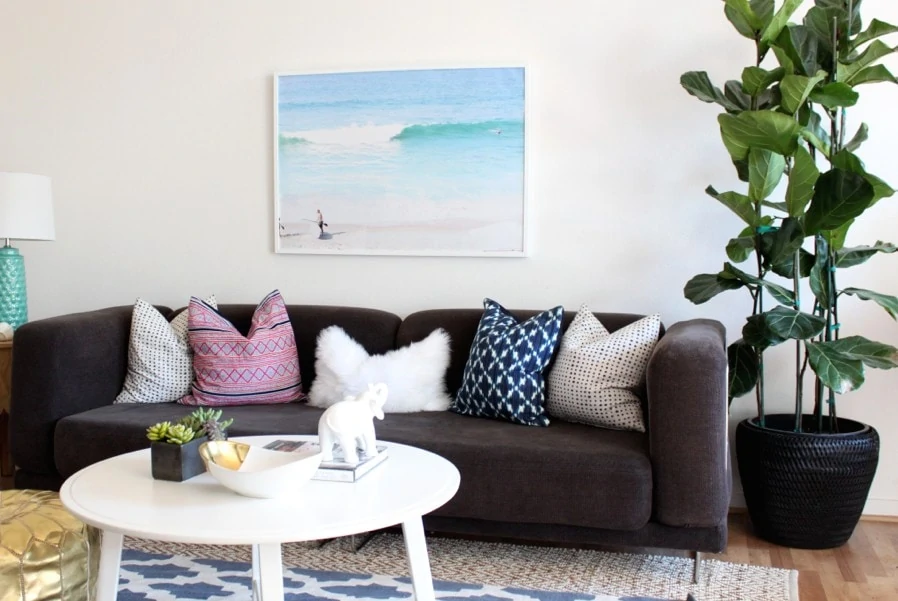 I have quite a few images I've taken in the past that I could likely add a blur effect to in order to get something similar to the Hazy Memories look. Thoughts?
Do you change up your rooms' looks slightly with the changing seasons?
If you would like to follow along on more of my home decor, DIY, lifestyle and other posts, I'd love to have you follow me on any of the following:
Pinterest / Instagram / Facebook / Twitter / Bloglovin' / Google
disclosure: some affiliate links used