Welcome to this week's Wednesday Watch List, where I share the random things that capture my attention and stole my heart over the past week!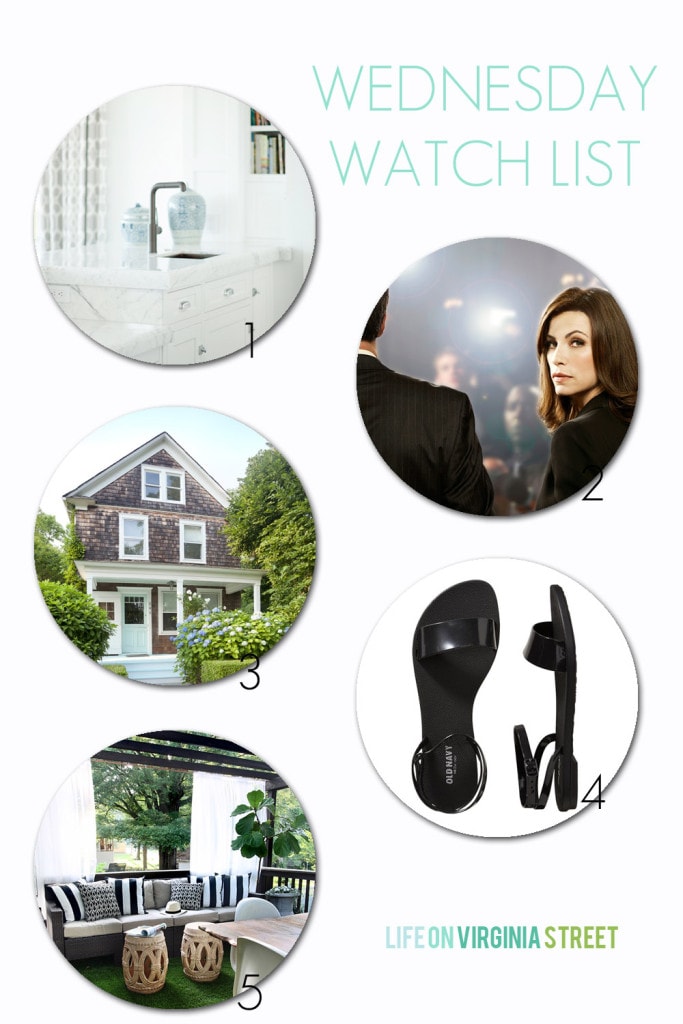 This post contains affiliate links for your shopping convenience.
1 – Part II of Becki Owens' marble countertop posts is now live and I find the second post even more helpful than the first. Although, don't get your hopes up that this means my husband is also on board with marble. He pretty much couldn't have made it more clear that it isn't an option. Apparently "patina" is not a word in his vocabulary 😉
2 – Over the last several months…strike that. Over the last nearly ten years of our marriage, we've had an ongoing debate in our household about the necessity of cable TV. I literally watch maybe two shows a years and my husband literally watches 2 million (okay, maybe not quite). A month or two back, we finally purchased Amazon Prime after hearing nothing but great things from family and friends. Now we not only get free 2-day shipping on almost every purchase on Amazon, but we also have access to tons of free television (and maybe books?). We think it may be the catalyst for the end of our cable TV package. My husband got me to start watching The Good Wife with him (which streams free with Amazon through his XBox) and we have fallen in love with this old-ish show. We're still on Season 1 but we have been really enjoying it and it gives us something to watch together. This in combo with Amazon Prime has made me lazier than normal. Ugh.
3 – This was a really cute beachy Hampton's home tour. It's a little more cottage-y than my typical style but there is no doubt I would still love to have the space! I'd love to paint our front door this color some day. But, you know how that goes. It would first require we paint our house, our exterior stone, etc. 😉
4 – Remember when I posted about these neon Tory Burch sandals? I found an extremely cheap, semi-similar option that I purchased over the weekend. With a sale Old navy was having, these neon ankle-strap sandals rang in at just over $7. I also bought the black pair because I needed a new pair of black sandals. Granted, there isn't a leather portion on the Old Navy version, but I like the look and think this is a much more realistic option for a trendy summer color. I do find it funny that both brands offer them in the exact same colors – white, black and the neon yellow. Maybe it really is intended to be a knockoff?
5 – I loved this fun astroturf patio makeover from Kristin at Hunted Interior. Not only did she create a gorgeous space, but she did so with some very affordable items. I love how the space turned out and suddenly I feel like I need some astroturf in my life!
If you would like to follow along on more of my home decor, DIY, lifestyle and other posts, I'd love to have you follow me on any of the following:
Pinterest / Instagram / Facebook / Twitter / Bloglovin' / Google
disclosure: affiliate links used